Lai Huat Signatures serves a
zi char
buffet in the CBD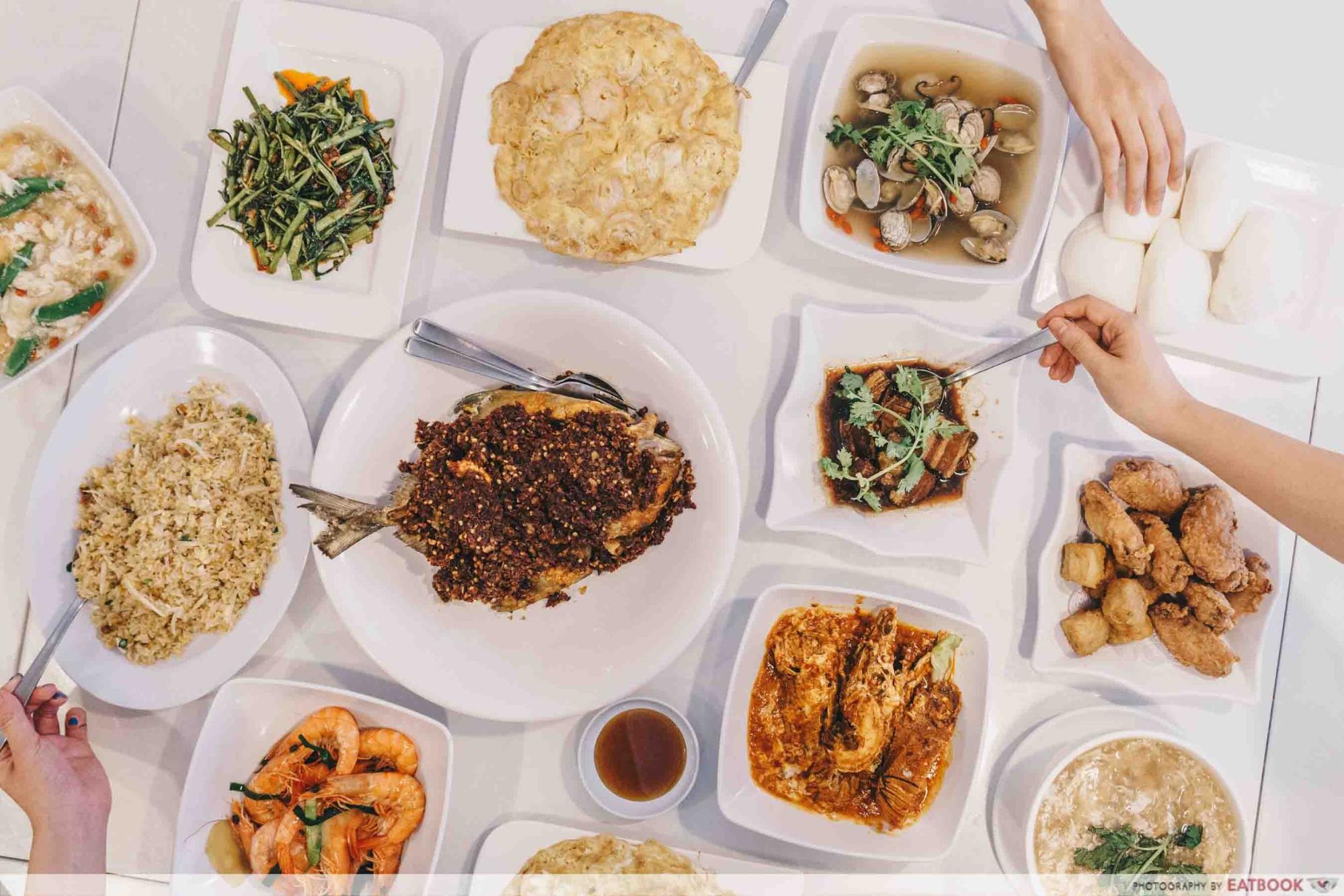 When I think of zi char, I think of my family ordering favourite dishes from our usual coffee shop zi char stall across the road. But times have changed and work gets in the way. If you ever want to treat your family while reliving the good ol' memories of feasting, a zi char buffet sounds apt. Make your way to Lai Huat Signatures, which serves up classic dishes at an affordable price.
Food at Lai Huat Signatures
At $29.90++ per person, you can get an entire menu's worth of food, with 12 categories such as Fish, Lala, Pork and Sotong. Everything on the menu is free-flow except for six signature dishes, which includes Signature Sambal Fish, Fish Maw Soup and more. These dishes can only be ordered once for every four diners at the table, so definitely order them all to get the best bang for your buck.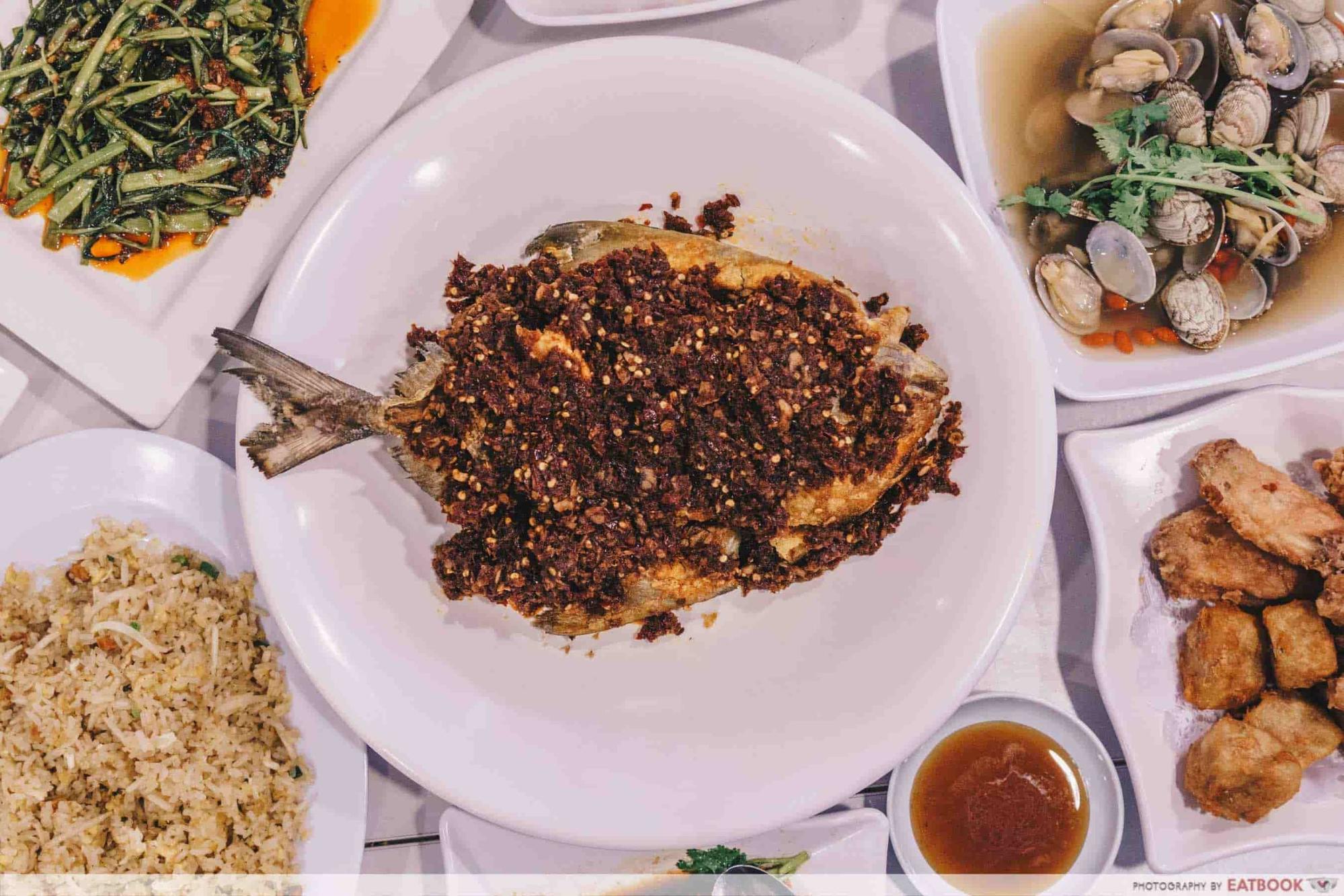 To forgo the Signature Sambal Fish is akin to going to a movie theatre for its pre-show advertisements. Having made their name with this dish, the restaurant's pride and glory is embedded within this crispy deep-fried pomfret and fragrant sambal chilli. Seeing how the fish costs $34++ when ordered a la carte, you can tell that the buffet is already value-for-money.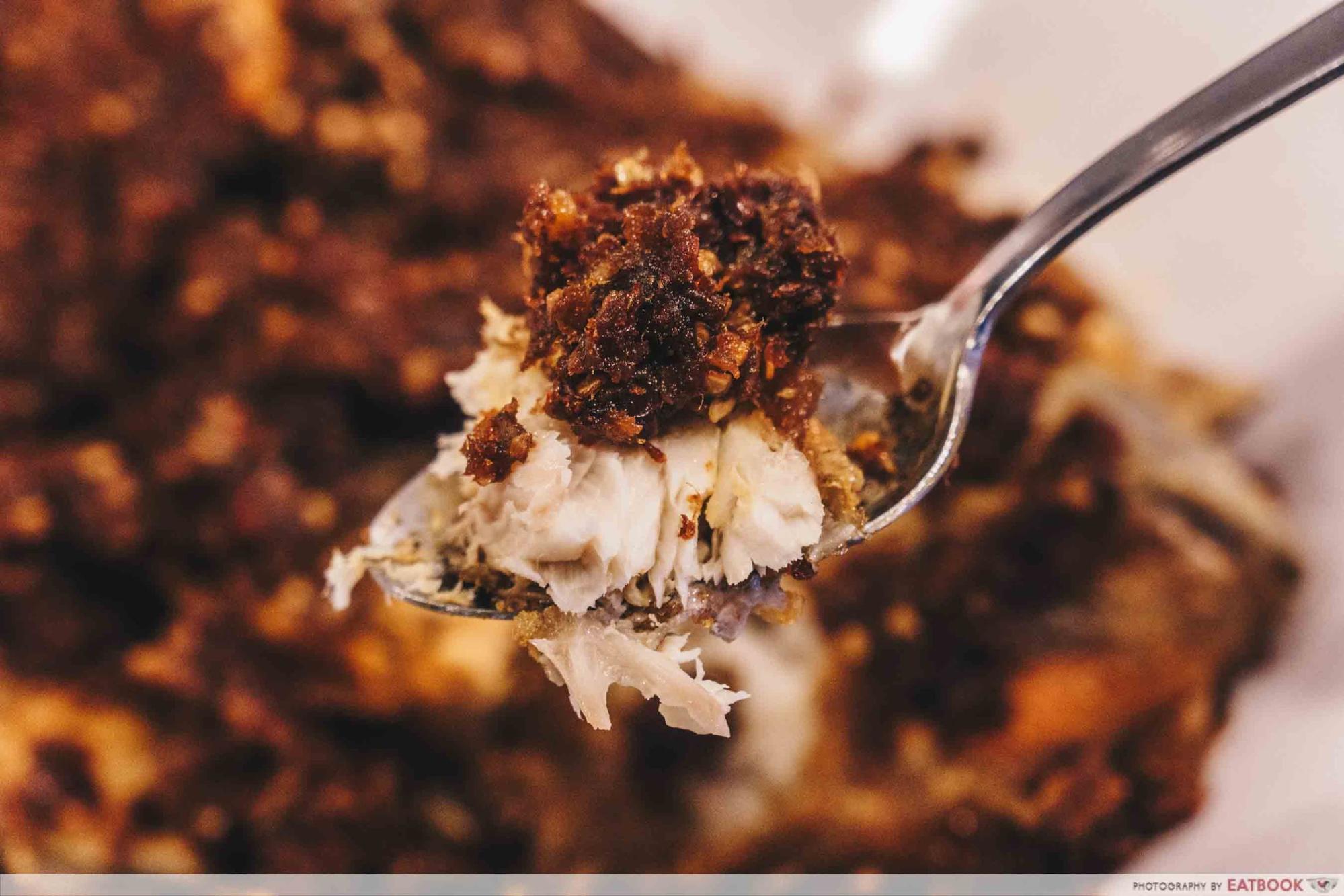 My favourite fish is pomfret because of their plump and flavourful flesh. But the pomfret here—while crispy, lacked much-needed moisture. This might be due to it being deep-fried for too long. 
That being said, I appreciated how the large fish was skillfully sliced into smaller portions for easier sharing. 
The redeeming quality of the fish was its sambal. Sweet with a hint of spiciness, the sambal was so addictive my dining companion devoured it alone with a bowl of rice. Its oiliness slightly rescued the dry fish meat, while its piquancy elevated the dish's overall flavour. We would definitely order this again on a return visit, just because of the sambal.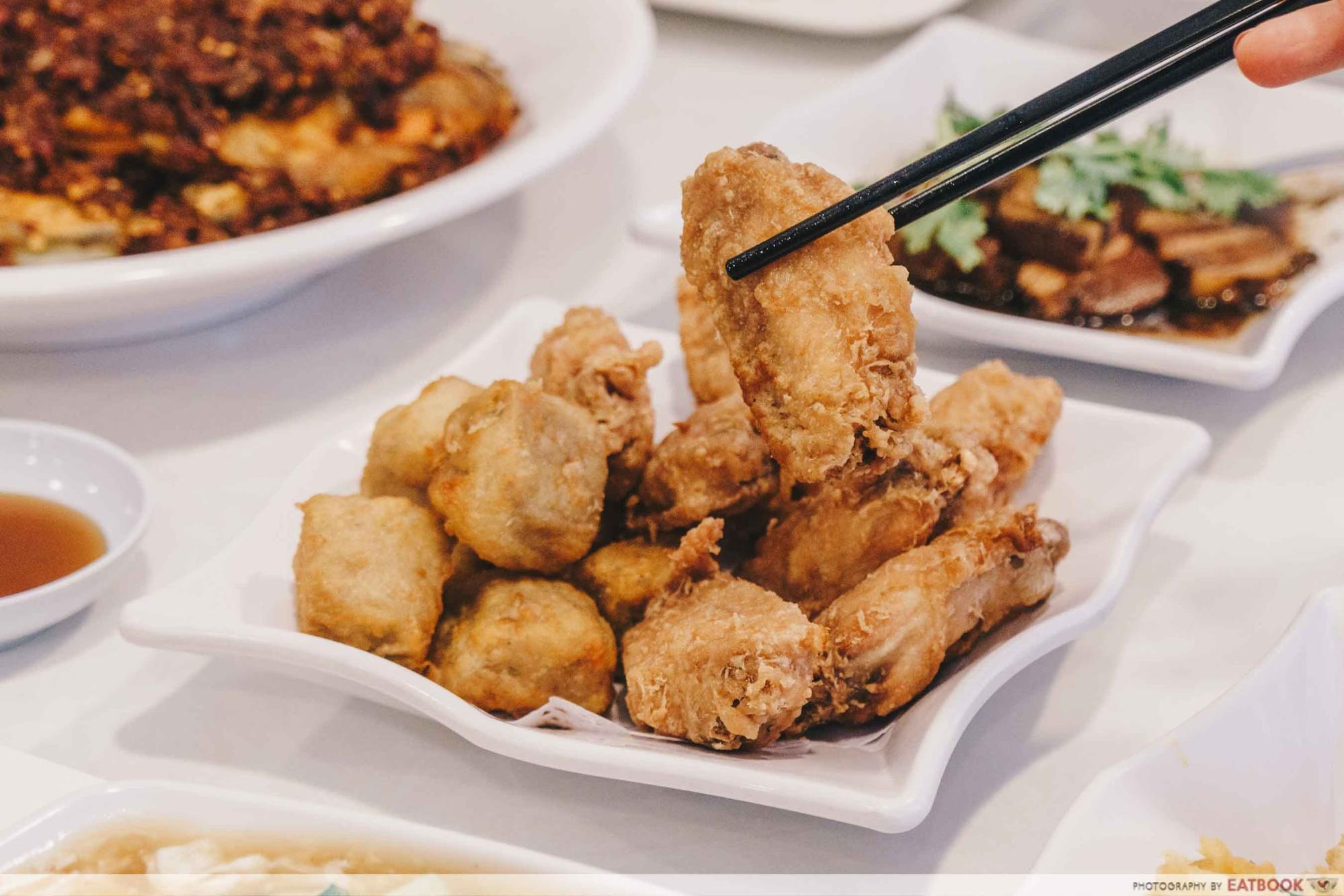 Another classic must-order dish on their signature menu is the Prawn Paste Chicken with Fried Prawn Roll.
The chicken was pleasantly succulent. We tore it apart with our hands to reveal the tender, juicy meat encased within. The aroma of the shrimp paste was subtle, so it was mainly the meaty flavour of the chicken that shone. Although the batter was thin, the skin remained crispy for a long time. This made the har cheong gai less jelak than usual.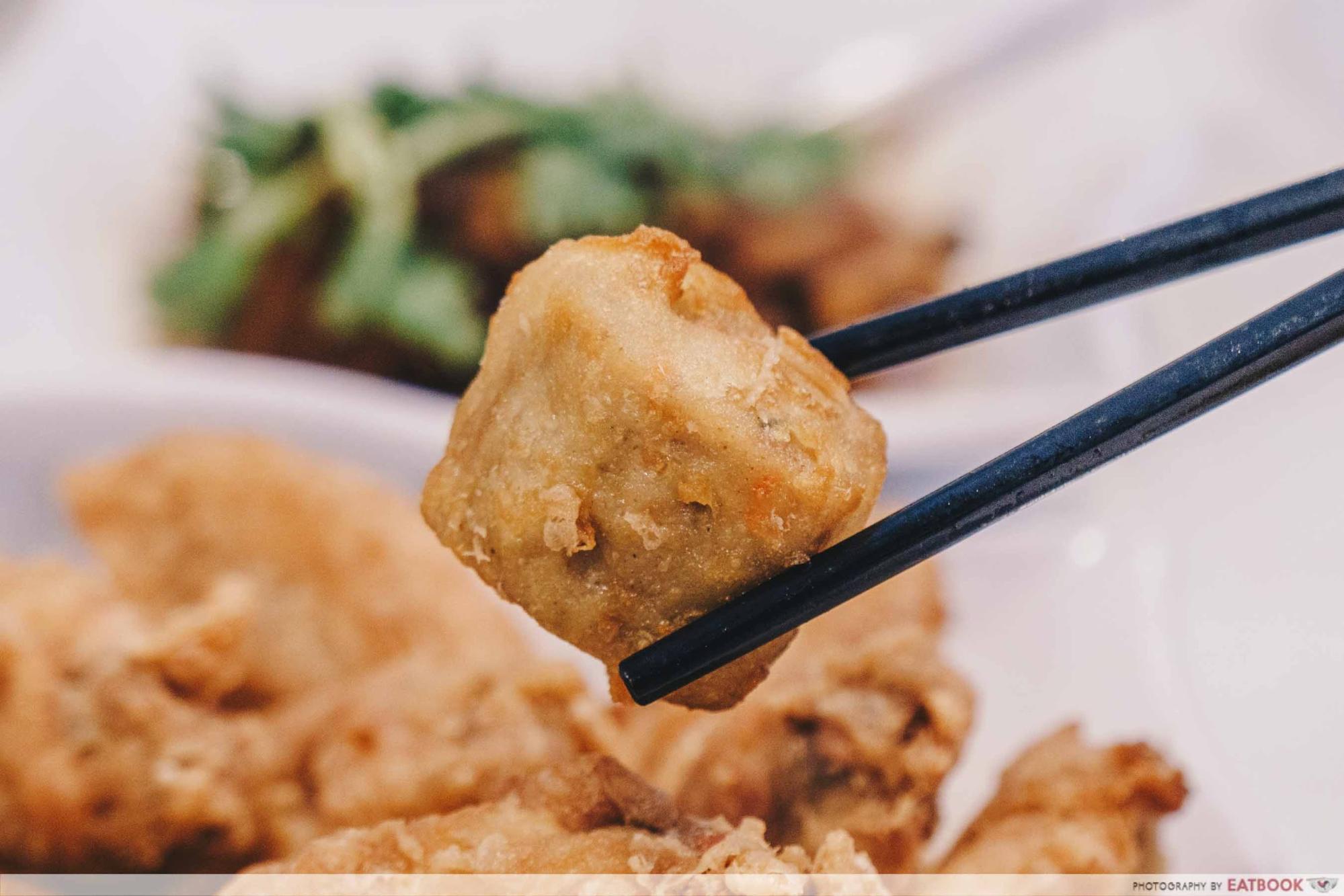 On the other hand, the prawn rolls were a delightful accompaniment to the chicken. They were delicious but tasted more like ngoh hiang than a prawn roll, as the prawn meat was eclipsed by a strong pork flavour.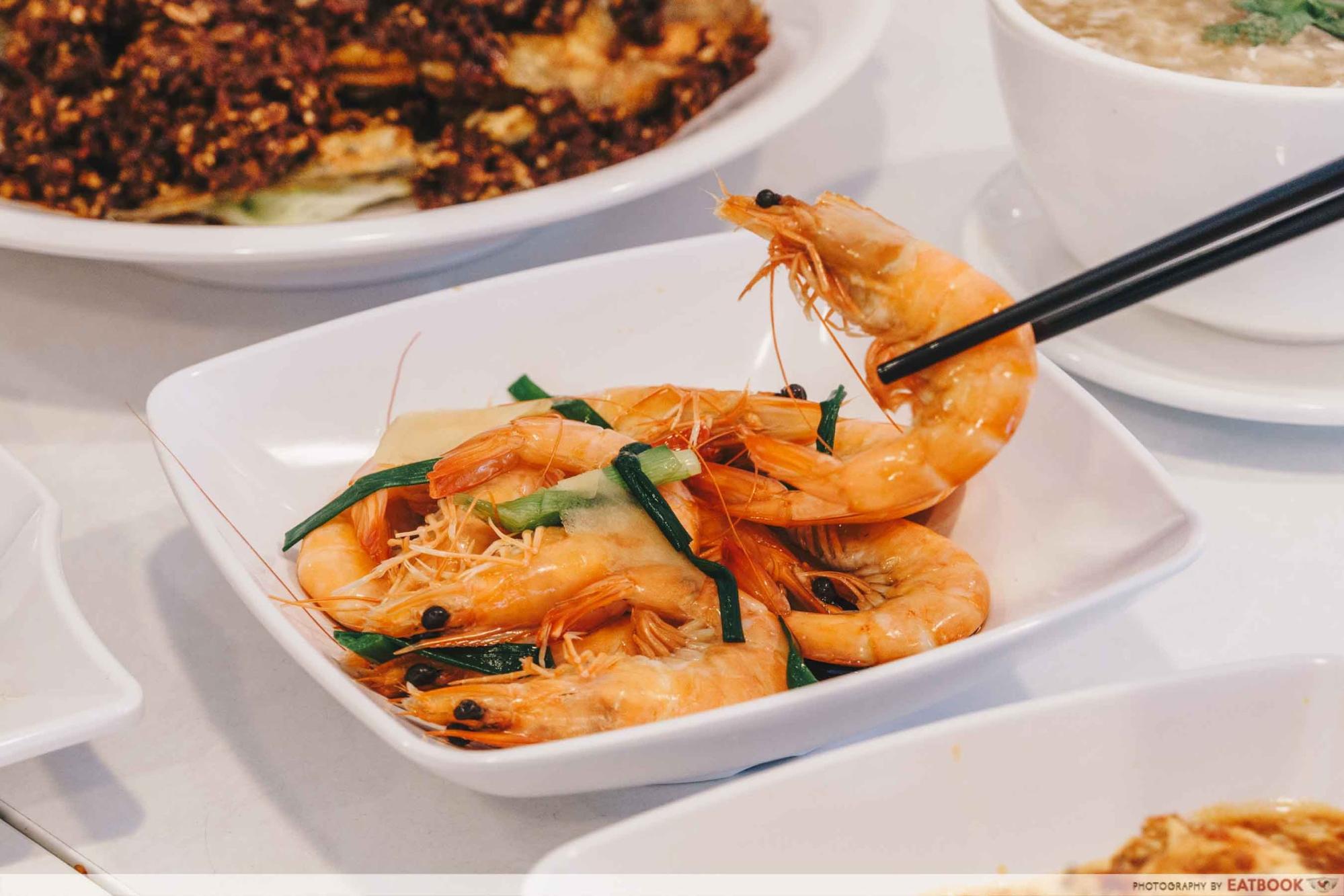 My personal favourite from the signature menu would have to be the Poached Prawns. The mere fact that the prawns were poached indicates that fresh prawns were used, as no batter and oil were needed to compensate for any staleness. And true enough, every bite of these prawns was juicy and succulent. 
The seasoning was on point too. Once poached, the prawns were showered in a savoury ginger-soy sauce, before being topped with fresh scallions. The sweetness from the prawn, combined with the aromatic sauce, made every bite burst with umami flavour.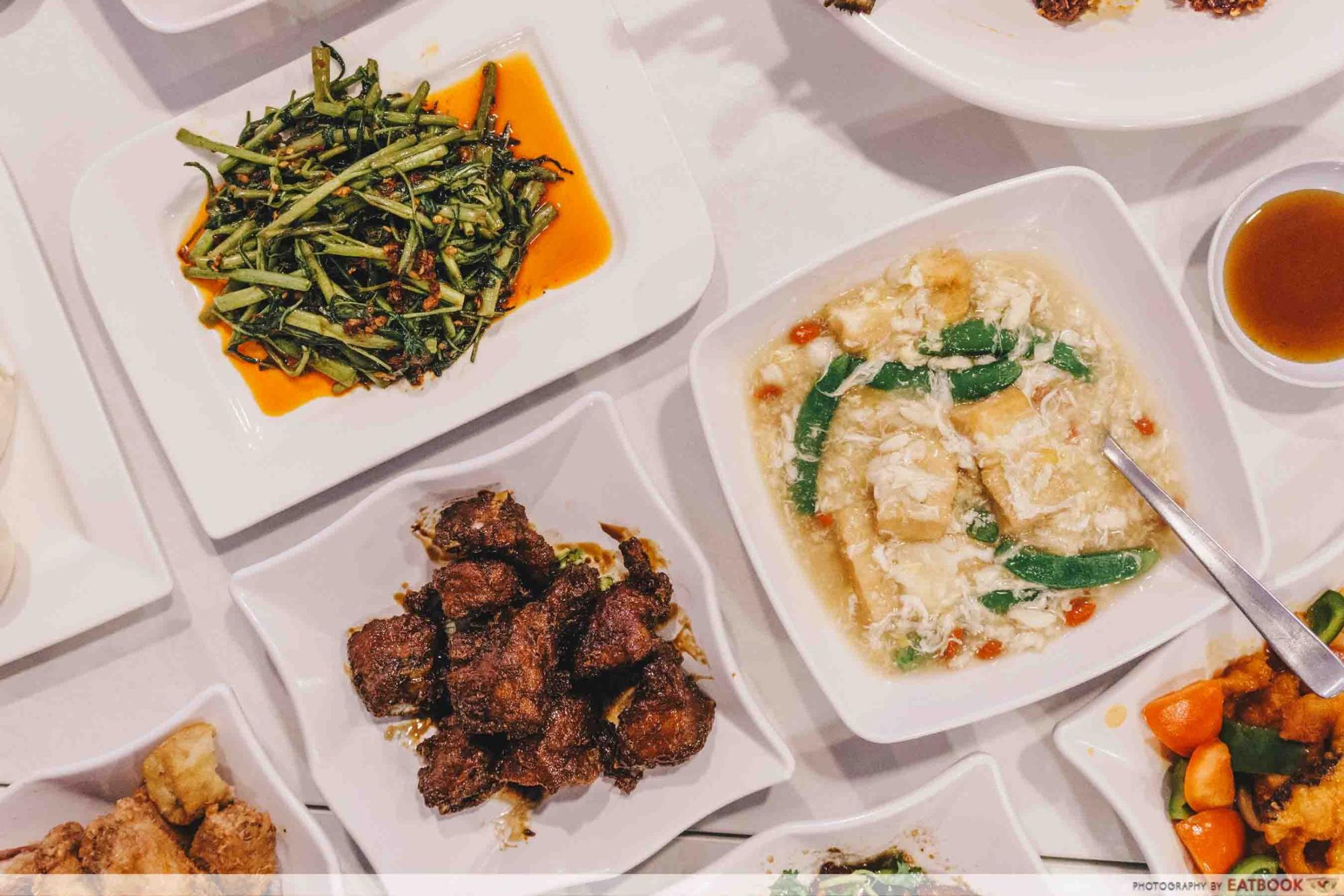 The non-signature dishes are served upon order in an all-you-can-eat fashion, with 11 categories of dishes available such as Fish, Lala, Pork, Rice, Noodles and Soup. We tried as many as we could and narrowed down some of our favourites: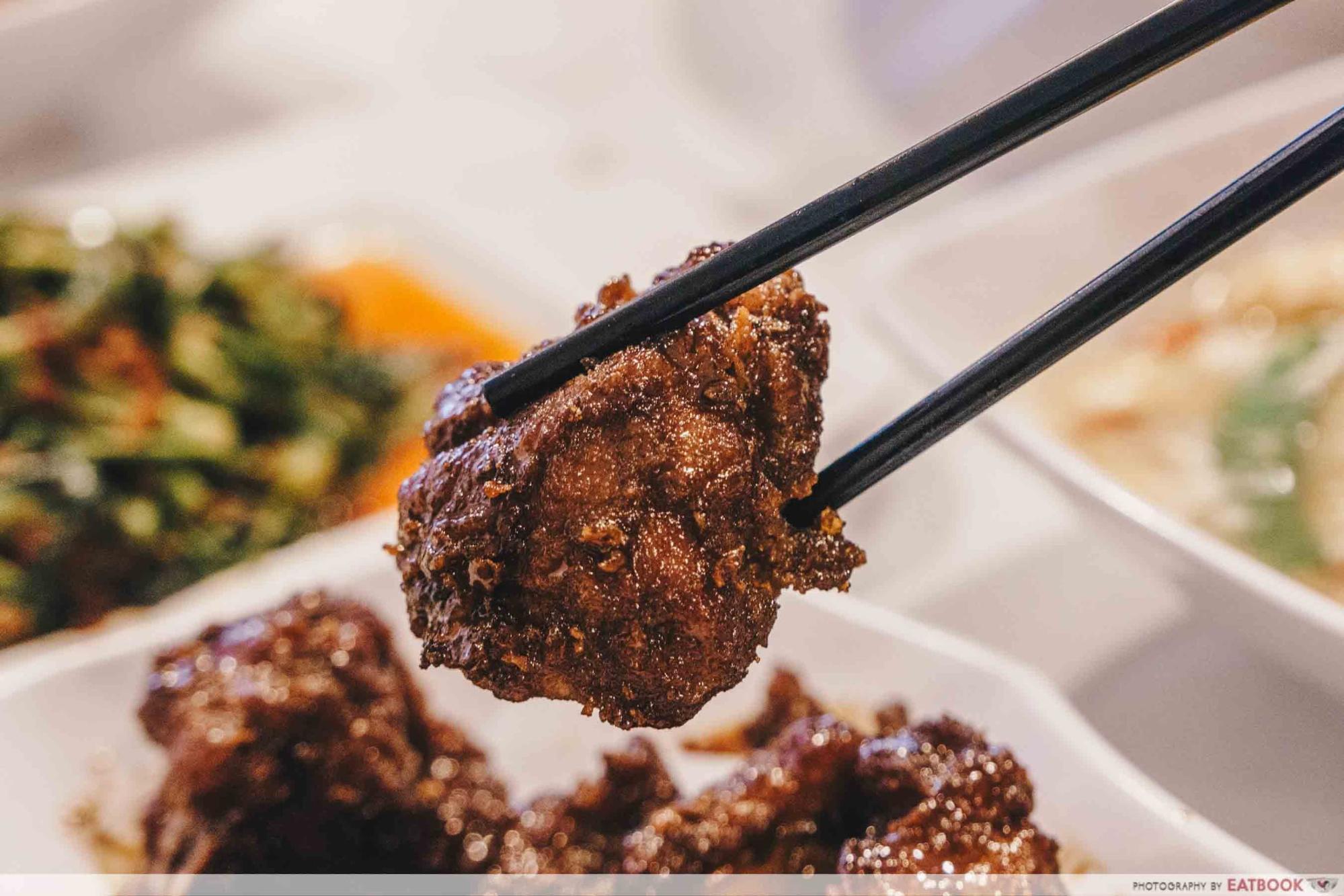 The Coffee Pork Ribs definitely made an impression. I have always wondered how coffee and pork pairs so well together, and it is perhaps the novelty of this combination that makes it a mainstay in any zi char dining experience. 
It is hard not to love coffee pork ribs, and the one served to us at Lai Huat Signatures was no exception. The fragrant coffee enticed our senses before we bite into each morsel of pork, which then struck our tongues with porky flavours. The roasted aroma from the coffee, together with the char from the ribs, formed a match made in heaven.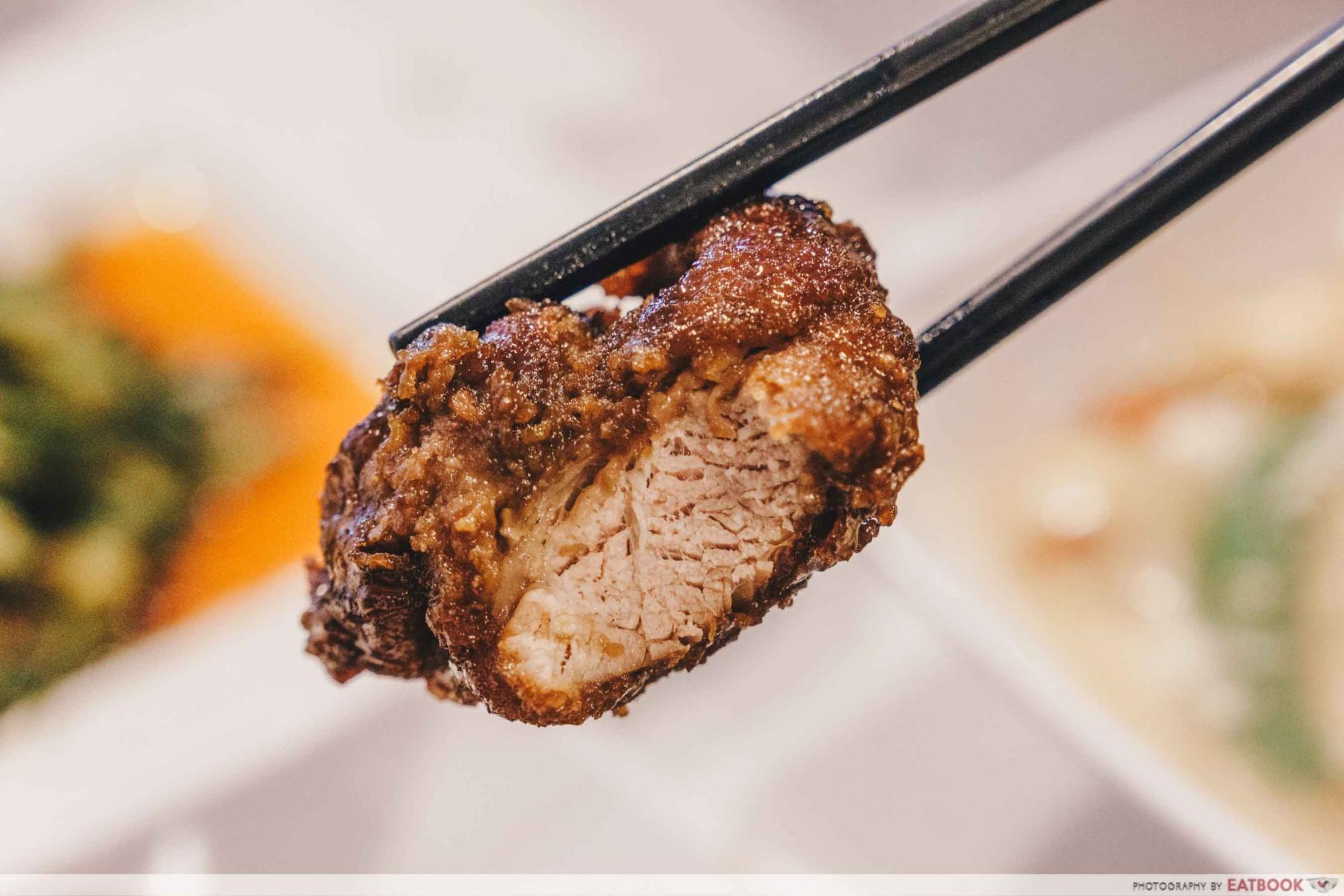 What made these pork ribs outstanding was the texture of the pork. We were initially disappointed by the small morsels served to us, as that might mean each piece risked being overcooked and dry. To our surprise, each chunk had a generous fatty layer beneath the batter. Every piece was an indulgent combination of coffee, pork and fat.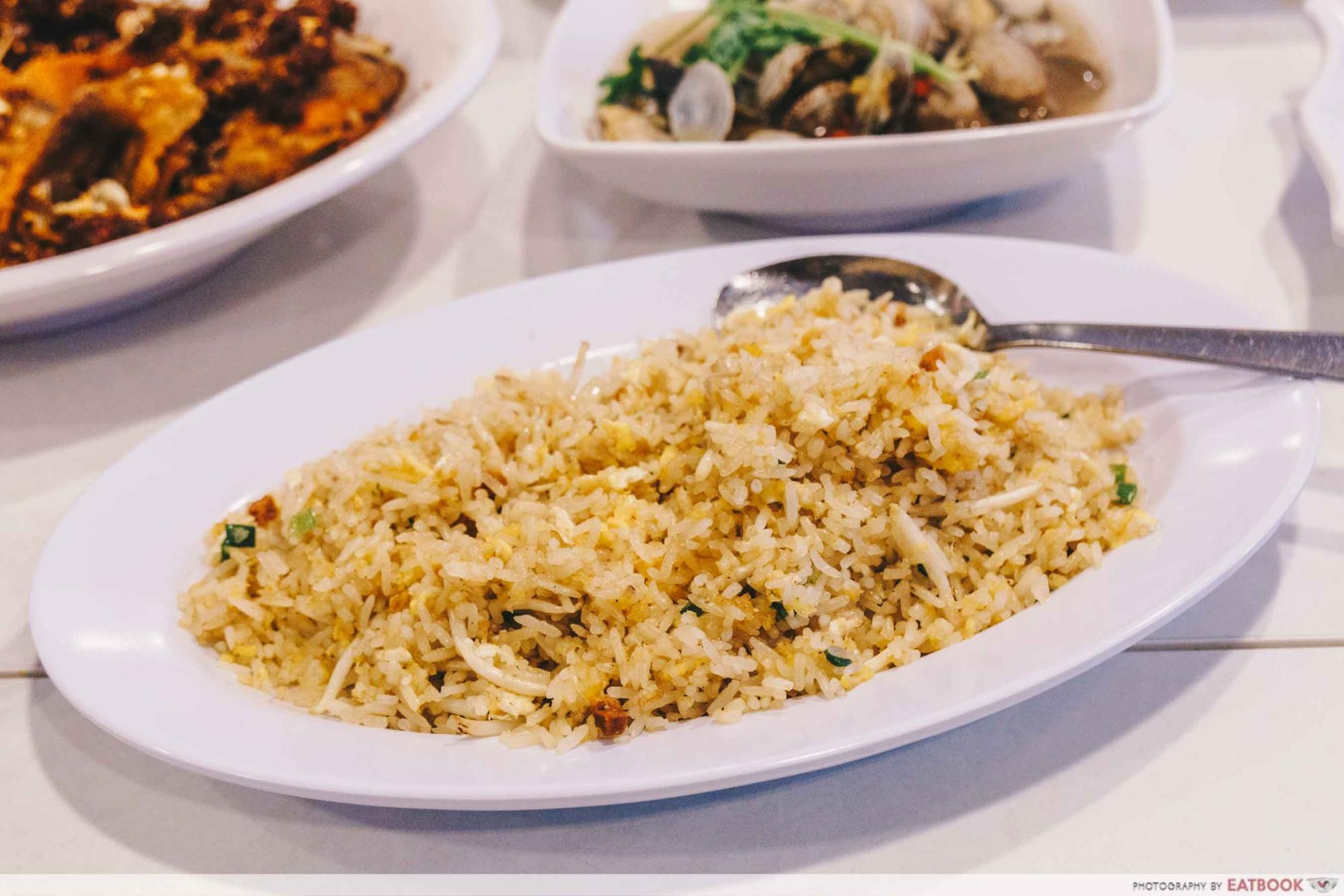 There were so many dishes to pick from, but we were glad to have chosen the Salted Fish Fried Rice. Fried upon order, every mouthful of rice effused a distinct wok hei fragrance.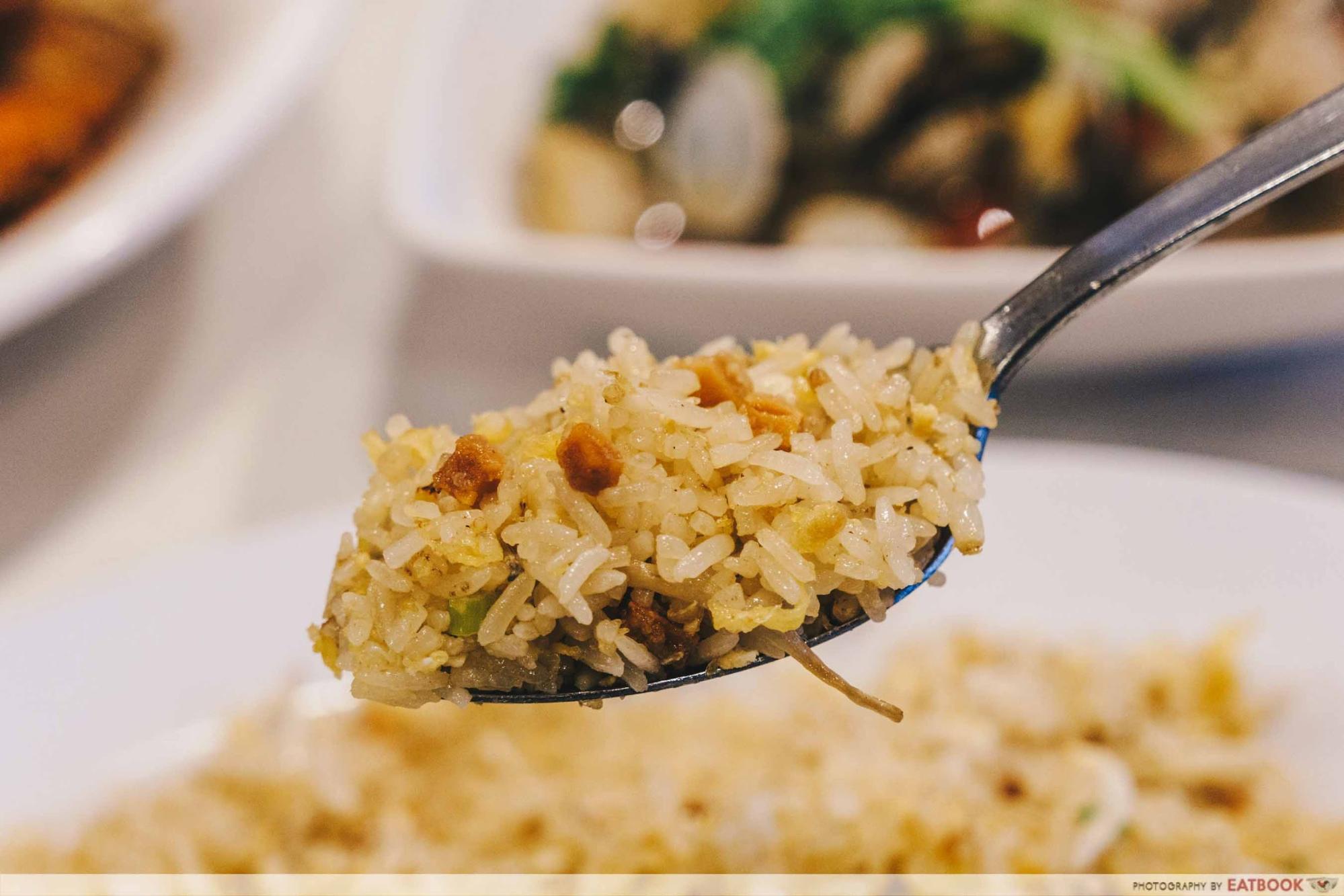 We could tell that a generous amount of salted fish was used, as almost every spoonful had a deliciously salty crunch. Yet, it managed to not be overwhelmingly salty.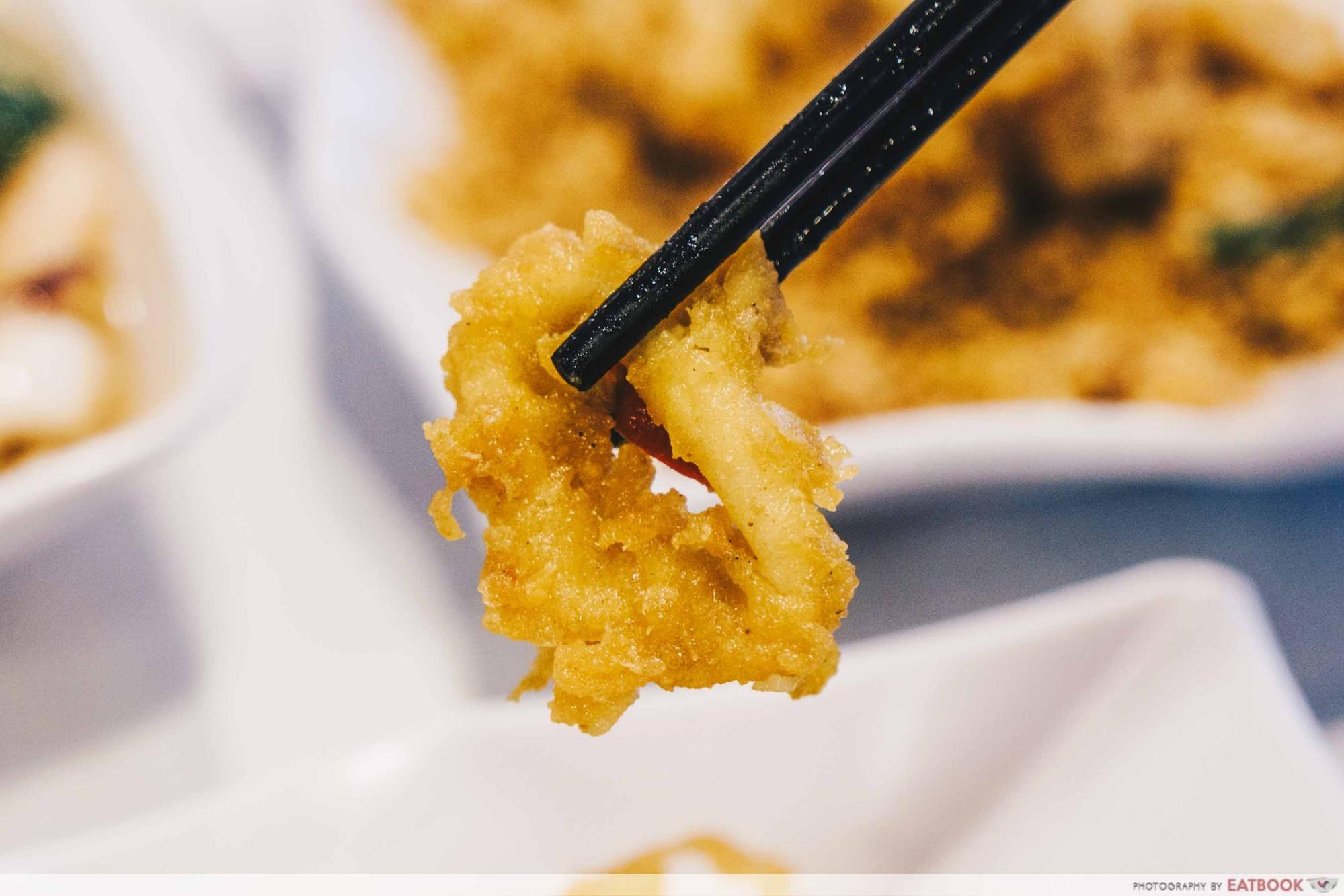 The last dish to cast into the spotlight is the Salted Egg Sotong. I love all things salted egg, so this dish had to be on the cards for our buffet spread. Though we found the sotong sliced too thin for our liking, the salted egg coating had a good mix of salty and buttery notes. It did not have the mealy texture, which is commonly found in salted egg zi char dishes that use store-bought salted egg powder mix.
TungLok Seafood Review: Dim Sum Buffet With Unlimited Sashimi At $28.80++
Ambience at Lai Huat Signatures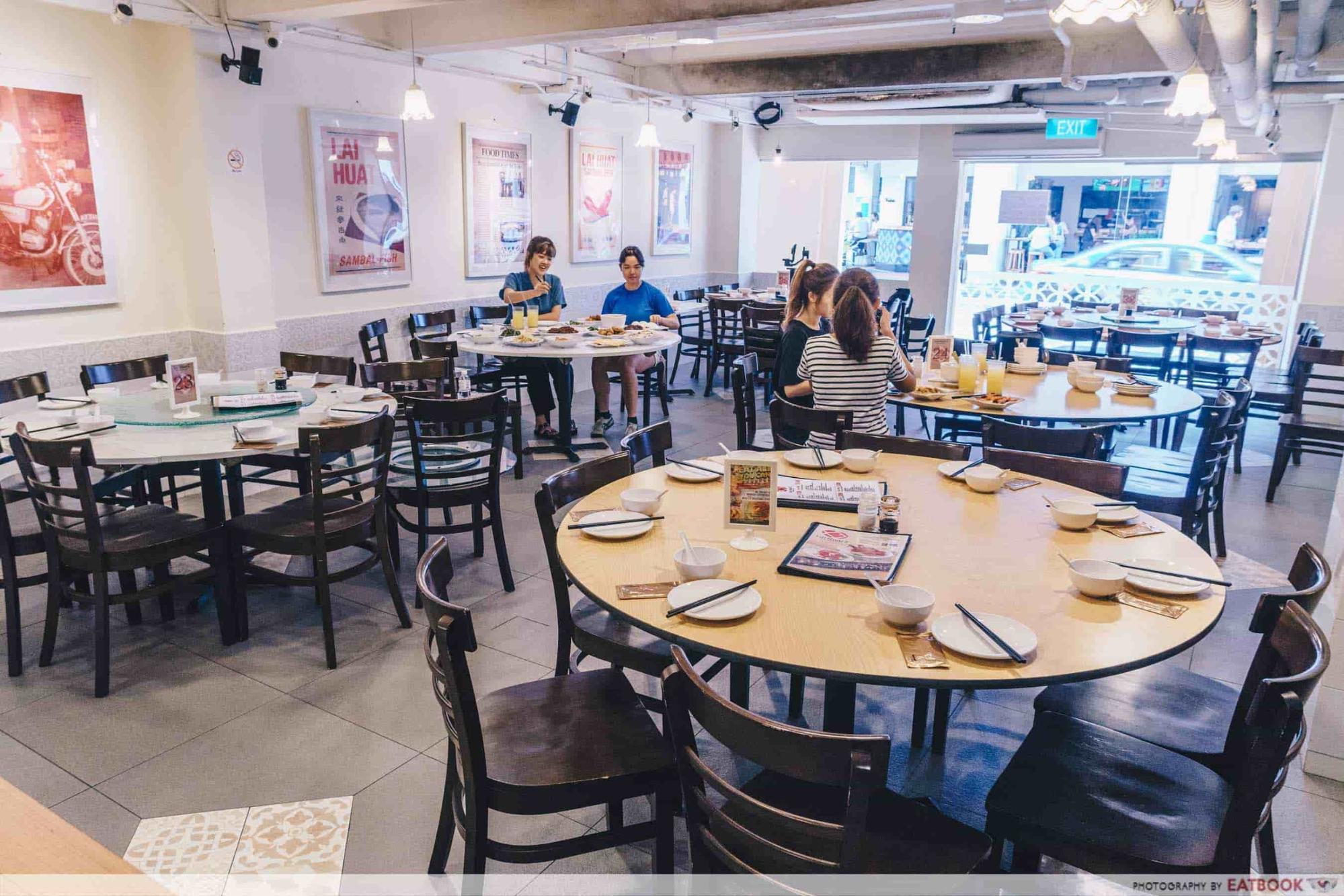 The entire dining area is air-conditioned with large, round tables, making the place very suitable for family gatherings and company lunches. Right in the heart of the CBD, the restaurant is just a five-minute walk from Telok Ayer MRT Station.
The verdict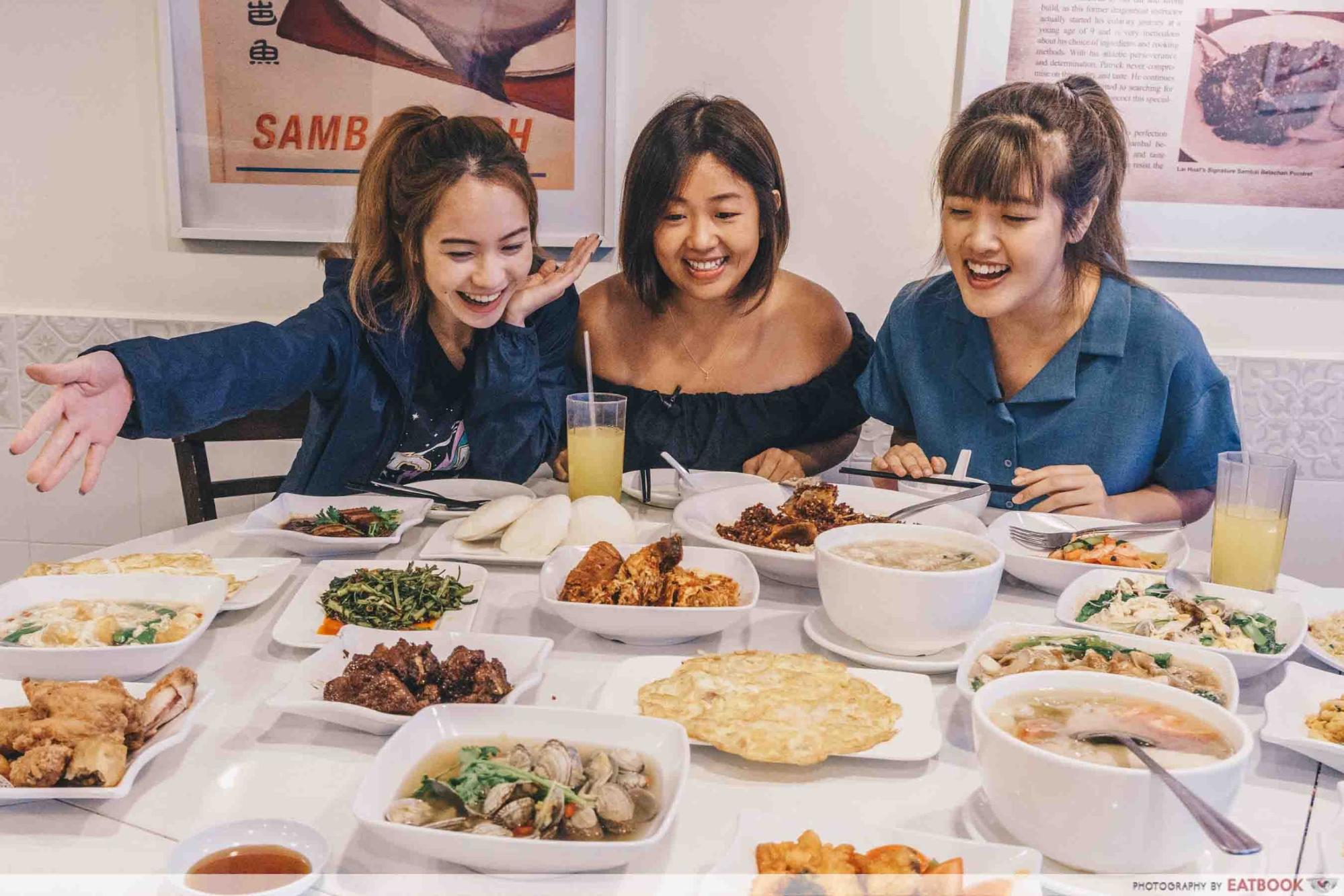 With 12 categories of zi char available free-flow, you'll be spoilt for choice at Lai Huat Signatures. Just note that any dish left unfinished will be charged separately at a la carte pricing, so make sure you only order what you can finish! For zi char lovers with big stomachs, Lai Huat Signatures is definitely a value-for-money place to consider visiting.
Address: 23 China Street, Singapore 049565
Opening hours: Daily 11:30am to 2:30pm, 5pm to 10pm
Tel: 6636 3828
Website
Lai Huat Signatures is not a halal-certified eatery.
Photos taken by Rae Fung.
This was a media tasting at Lai Huat Signatures.
Summary
Pros
– Value for money
– Quality ingredients
– Convenient location
Cons
– Some dishes were overcooked
– Signature dishes are not free-flow
Recommended dishes: Poached Prawns, Coffee Pork Ribs, Salted Fish Fried Rice, Salted Egg Sotong
Opening hours: Daily 11:30am to 2:30pm, 5pm to 10pm
Address: 23 China Street, Singapore 049565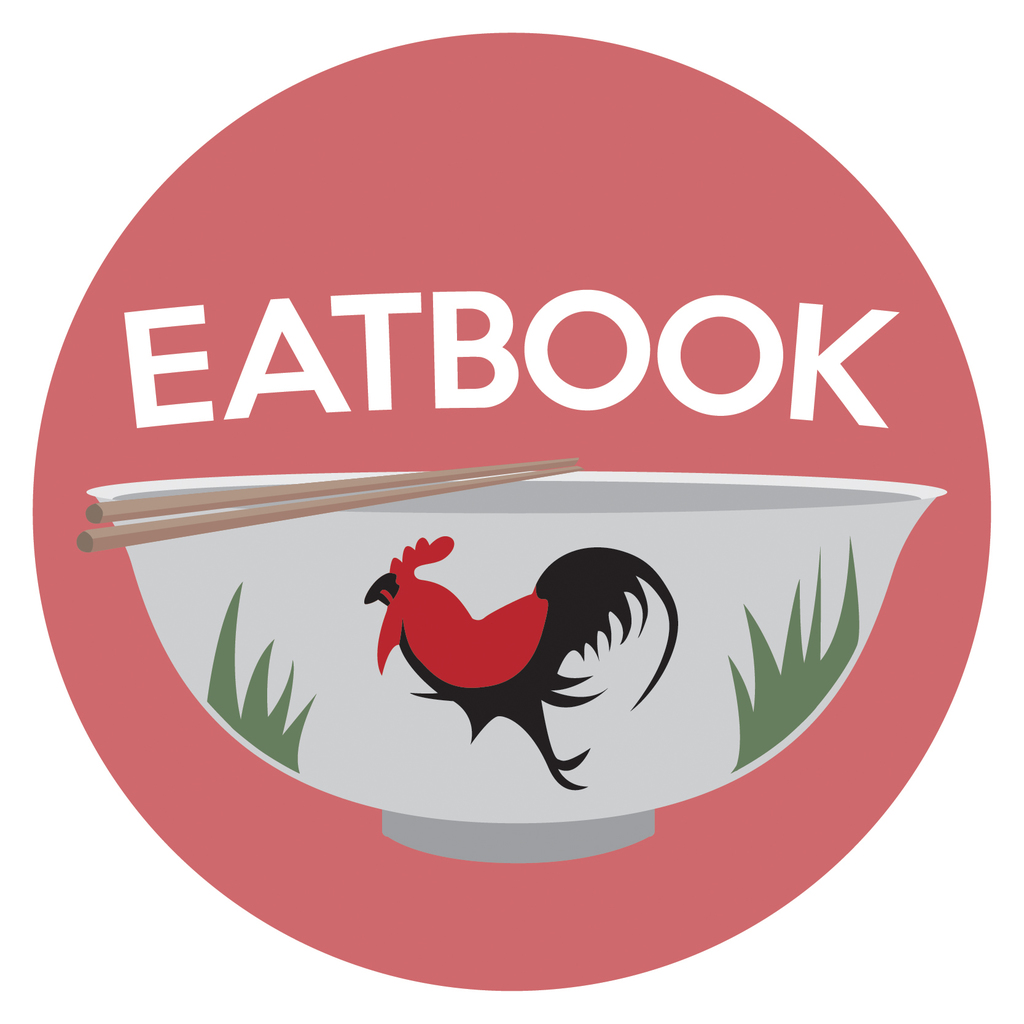 Drop us your email so you won't miss the latest news.