Marble Bistro impresses with their 7-course dinner
Update: Article and headline have been edited to reflect the latest price ($39+) of the 7-course dinner.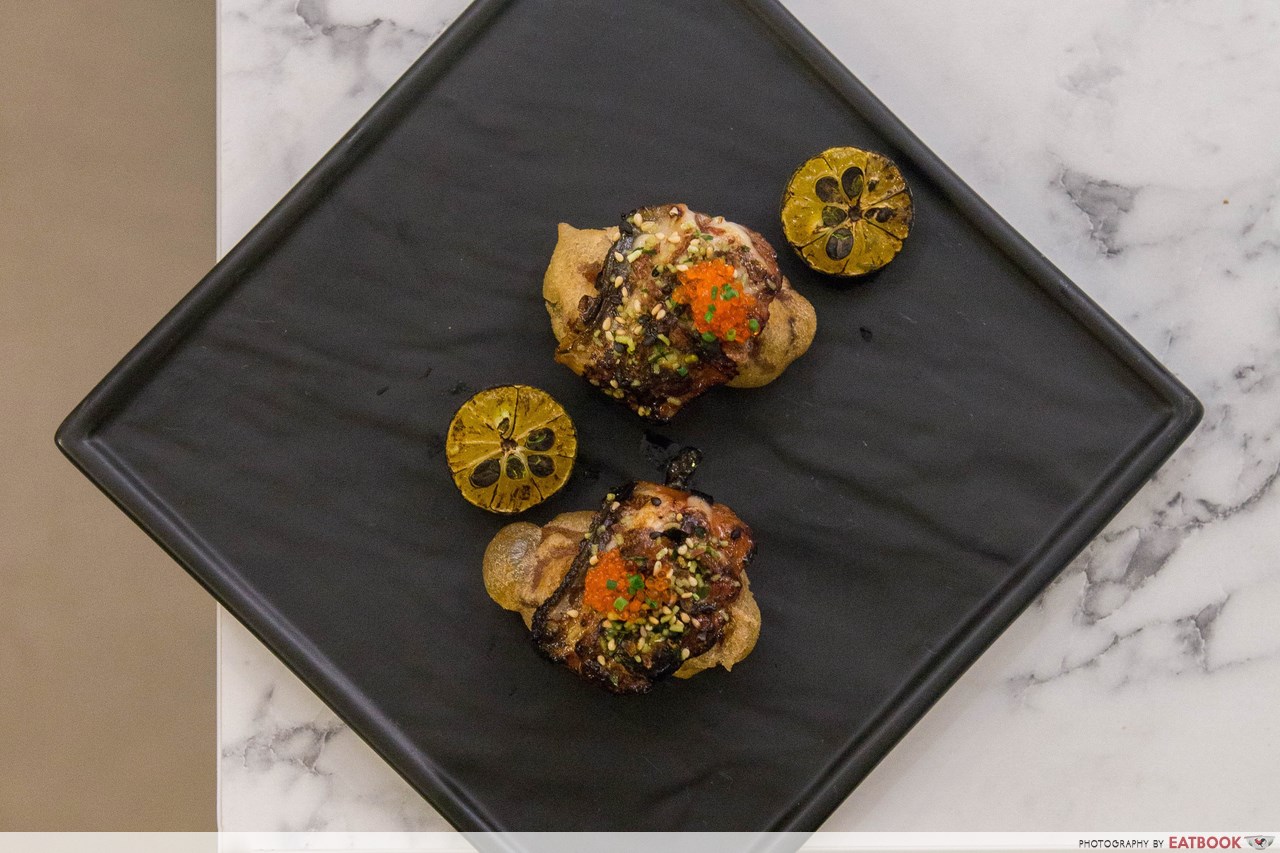 My grand dinner affairs usually involve a main and dessert, but never any other fancy-schmancy stuff unless you count the occasional mushroom soup that came for free. So when I stepped into Marble Bistro, which bears an interior true to its name, I wasn't prepared for anything that was about to come my way. I ordered their 7 Course Dinner Set ($39+, with a minimum of two diners) and prepared myself for the feast to come.
Food at Marble Bistro
When I heard that the first course was a Mushroom Macchiato ($6.50 a la carte), I got a shock. I love coffee, except this one sounded like it was going to be a mushroom coffee and suddenly I wasn't so keen. But it turned out to be neither mushroom coffee nor macchiato – it's soup.
My first apprehensive sip had an aftertaste that reminded me of chicken essence I used to drink before an exam, but mushroom-flavoured and weaker. Add truffle foam to the equation and it transformed into a creamier version with a distinct truffle fragrance that enhanced, without overpowering, the dish.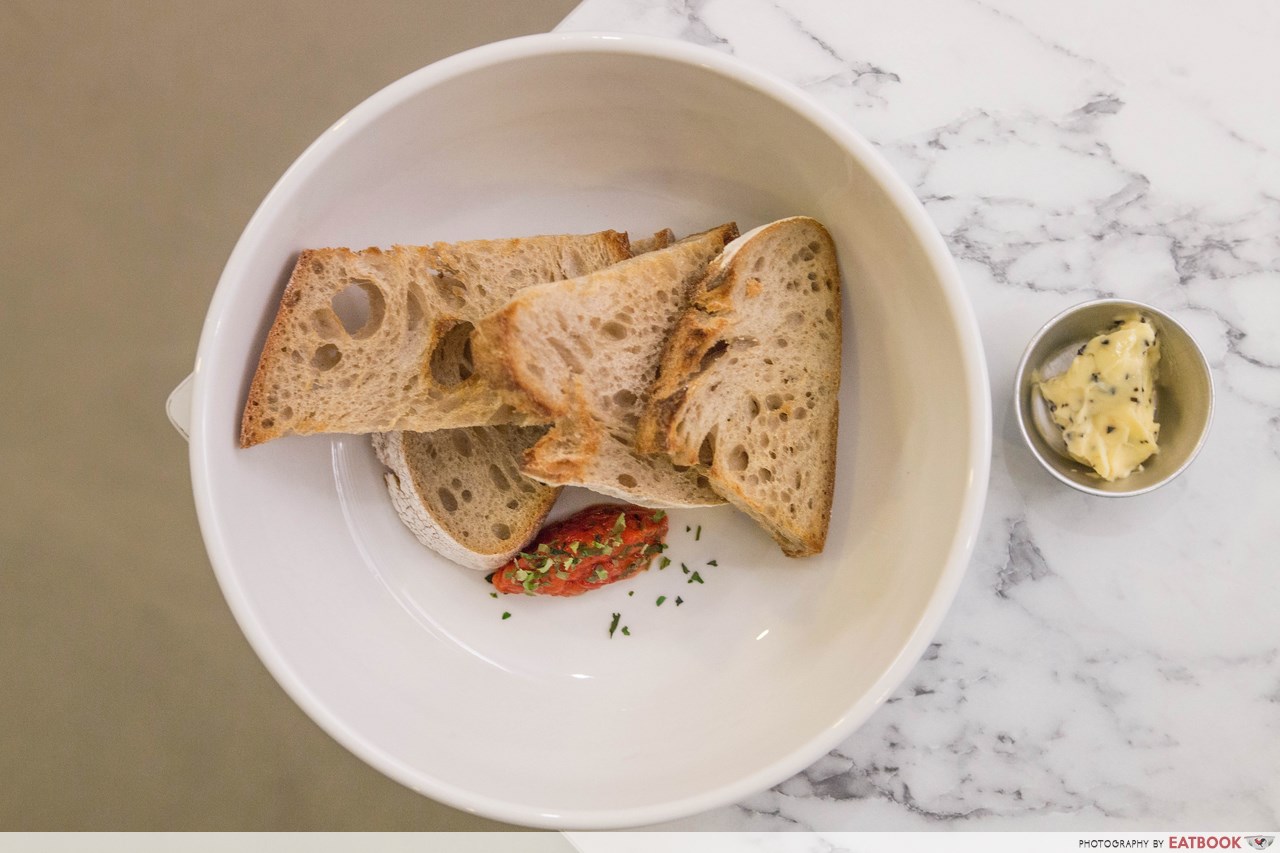 With soup comes bread, and their Rustic Bread ($7 a la carte) was served with red capsicum chutney and kombu butter that you could spread on the crisp sourdough. The capsicum chutney tasted strongly of the pepper and was a little sweet, while the smoked kombu butter gave it an umami touch.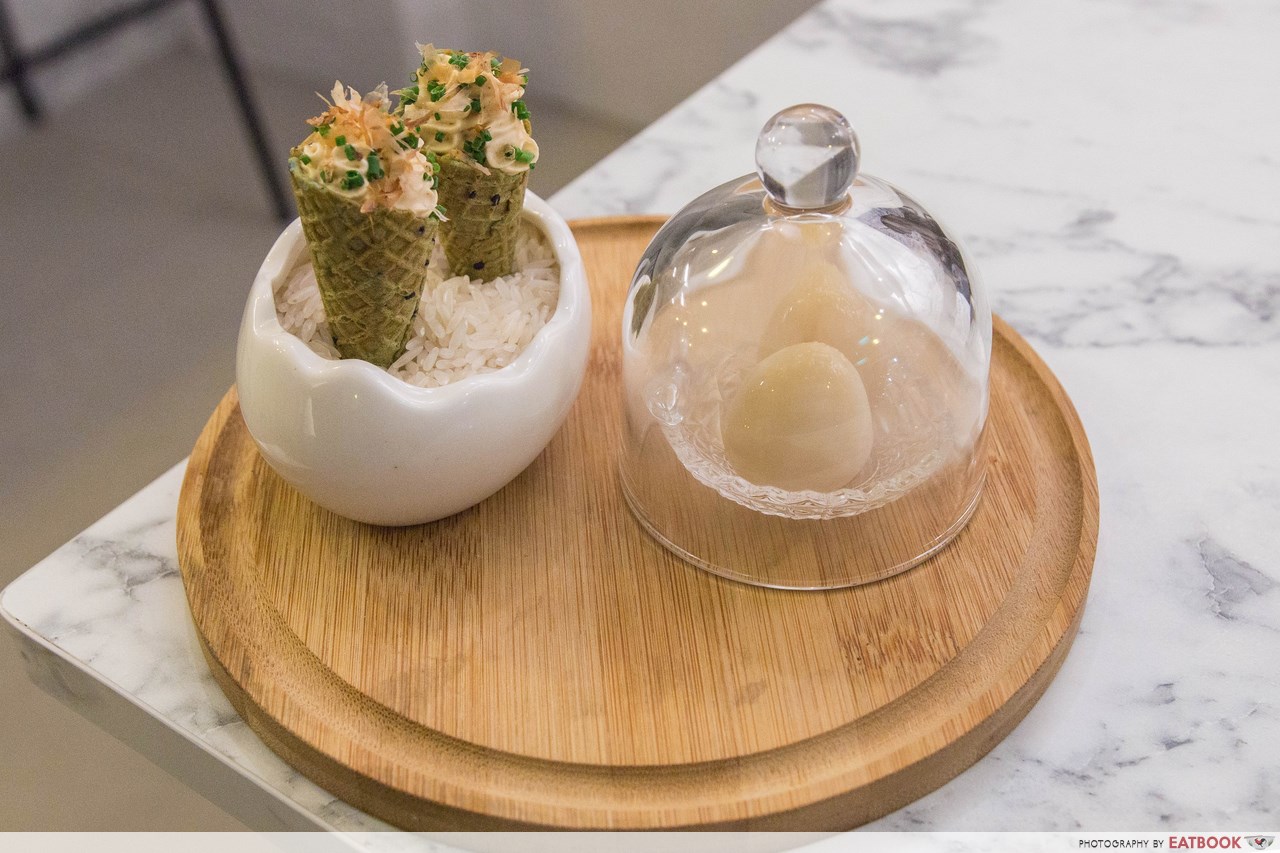 Now this was what I'd been looking forward to. Deviled Eggs ($8 a la carte) was presented beautifully with spiced yolk mousse in pesto cones topped with bonito flakes, and shoyu quail eggs inside a smoked chamber.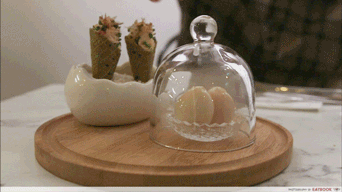 The eggs had runny yolks and a slightly sweet, smoky exterior – we enjoyed it so much we wished they were 10 times larger.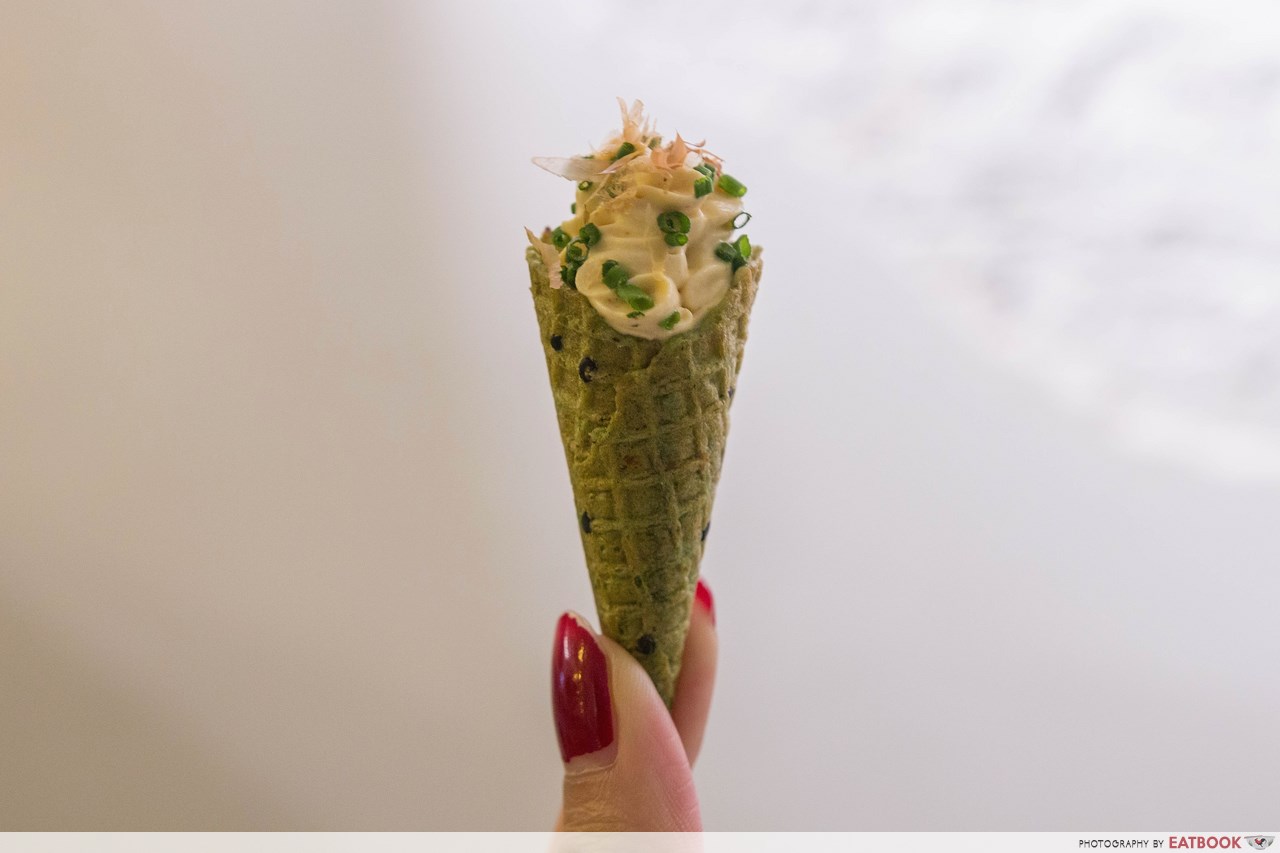 Piped in the cone was a light and creamy mousse filling reminiscent of the mashed egg and mayo combi in an egg sandwich. The sprinkling of bonito flakes and pesto cone added on to the explosion of flavours, making this dish taste as good as it looked.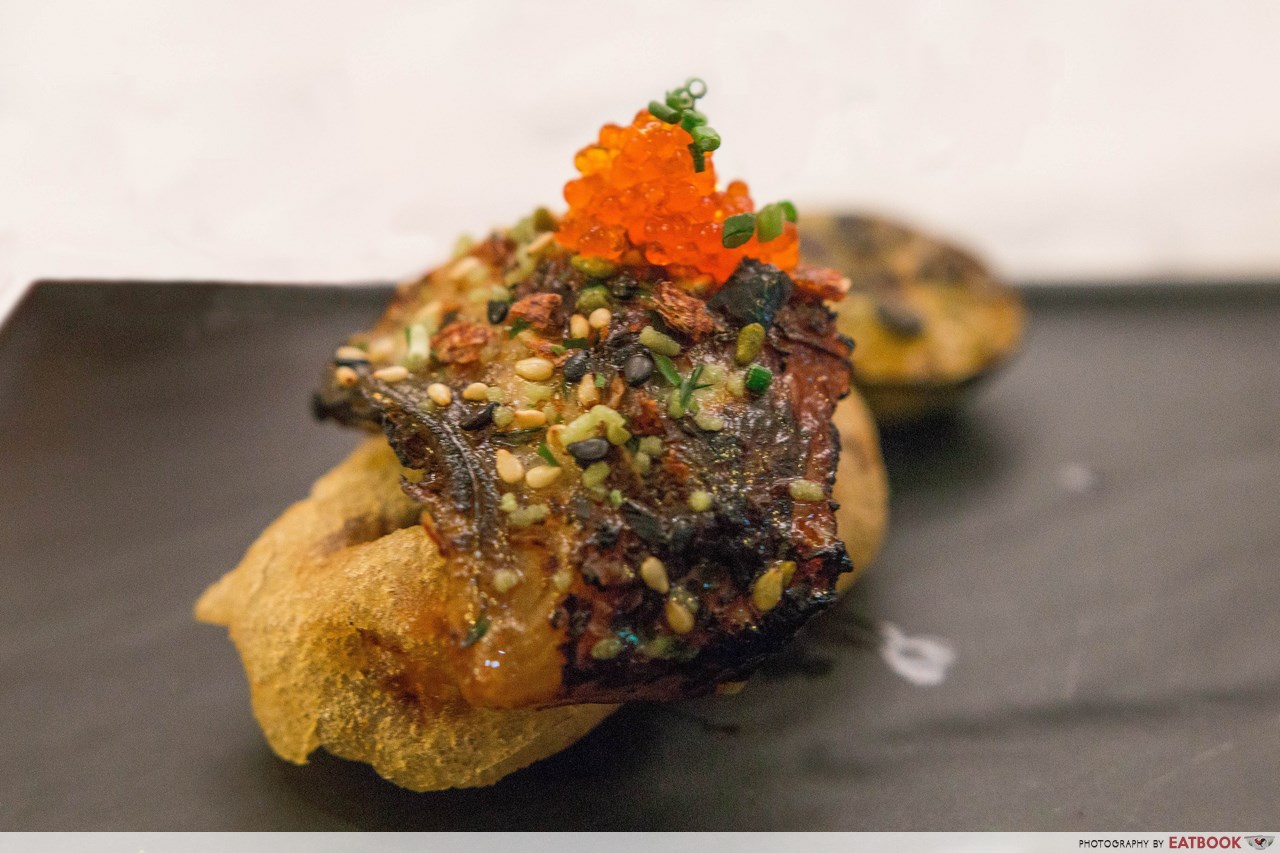 Fish & Chip ($8 a la carte) is Marble Bistro's take on the English classic. You get aburi unagi on a triple-cooked potato that's decorated with wasabi, furikake, tobiko and chives. It might look tiny, but this packed a massive flavour punch. There's crunch from the fried potato and the occasional tobiko, citrus from the lime, and savouriness from unagi and furikake. It was over all too quickly.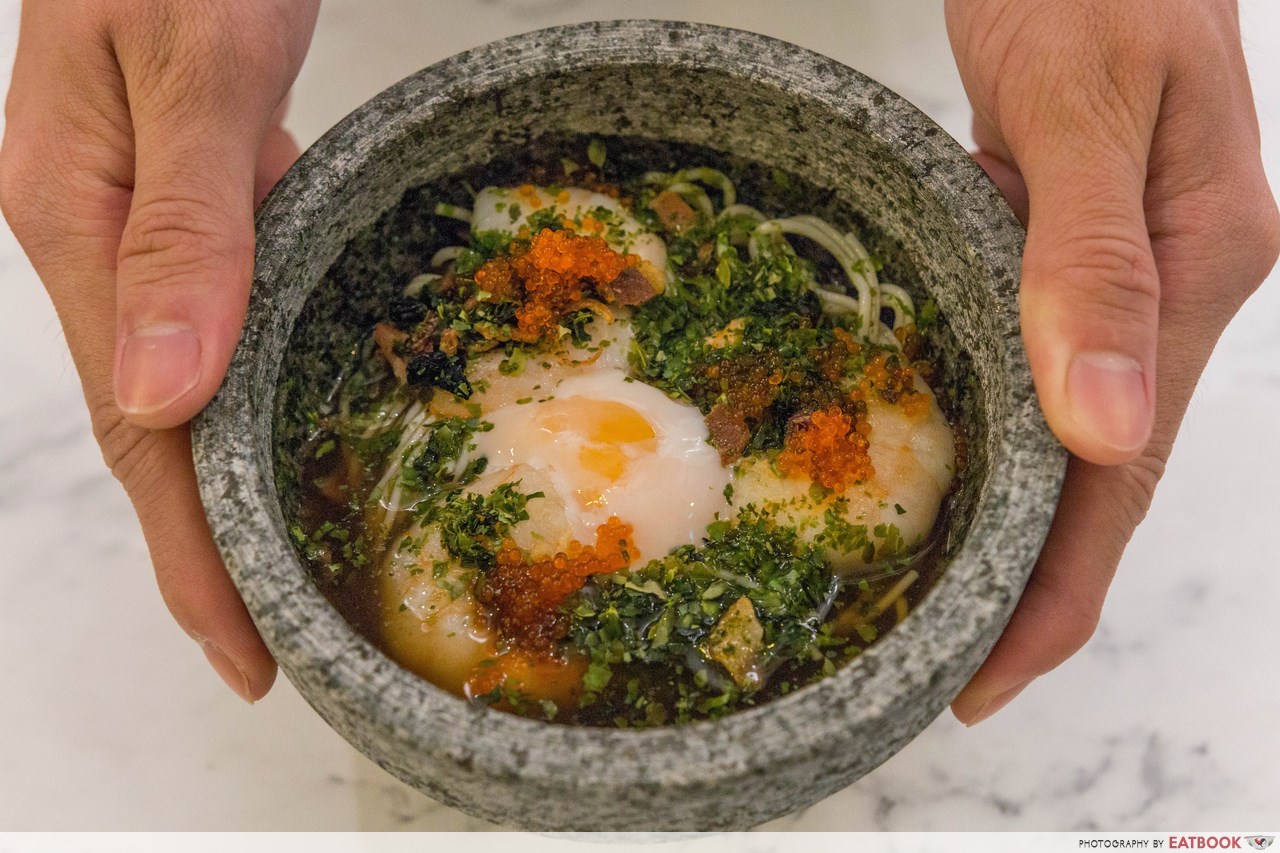 If there were to be a Japanese version of prawn mee, this would be it. Prawn Pot Noodles ($8 a la carte) featured somen served in a chilled prawn tsuyu broth with prawns and a wobbly soft-boiled egg.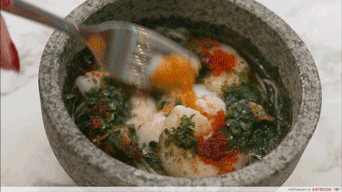 Whip the egg into the broth to thicken it and mix it all up for a forkful of bacon bits, seaweed, tobiko, somen and a crunchy prawn.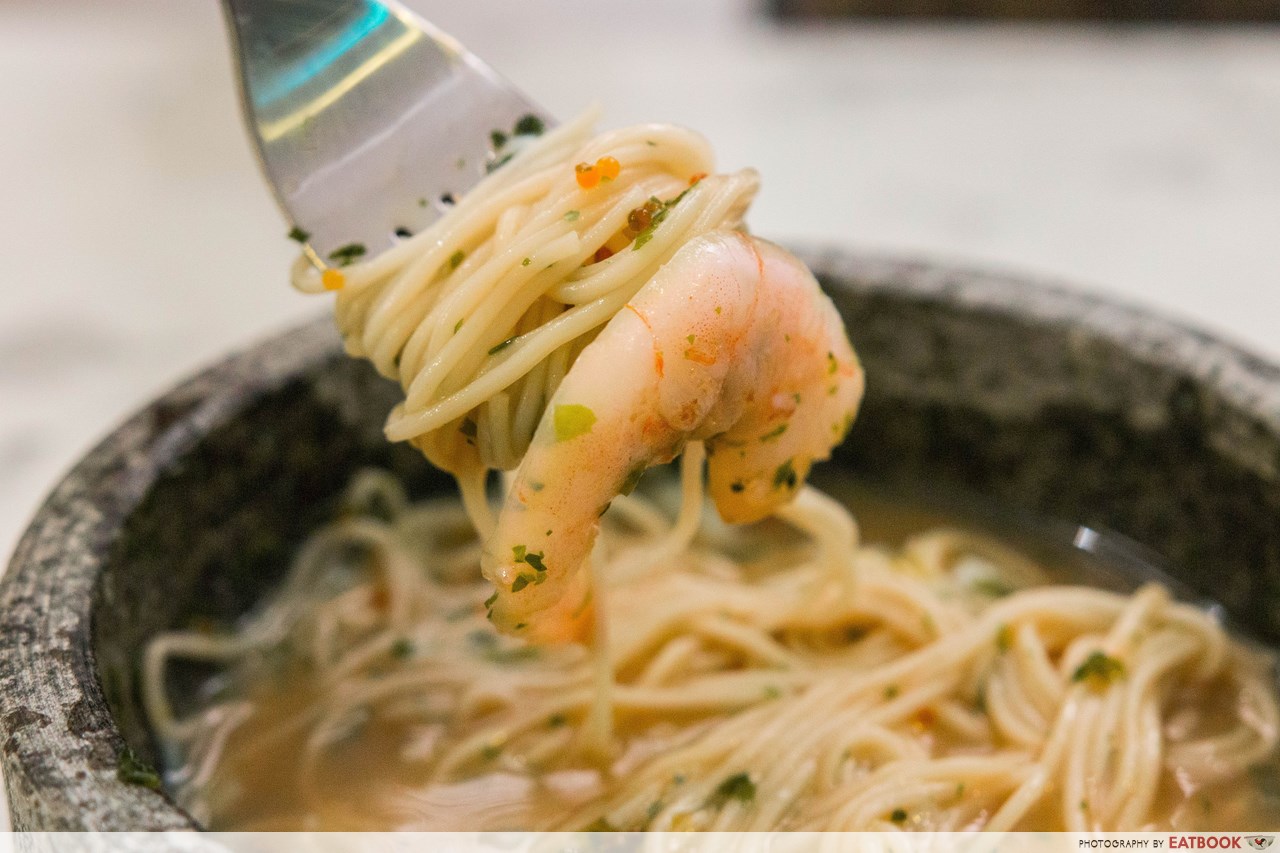 This dish did a good job at incorporating many elements without causing it to become a confusing one. Individual ingredients managed to shine in their own way, allowing for a balanced and light, yet flavourful dish.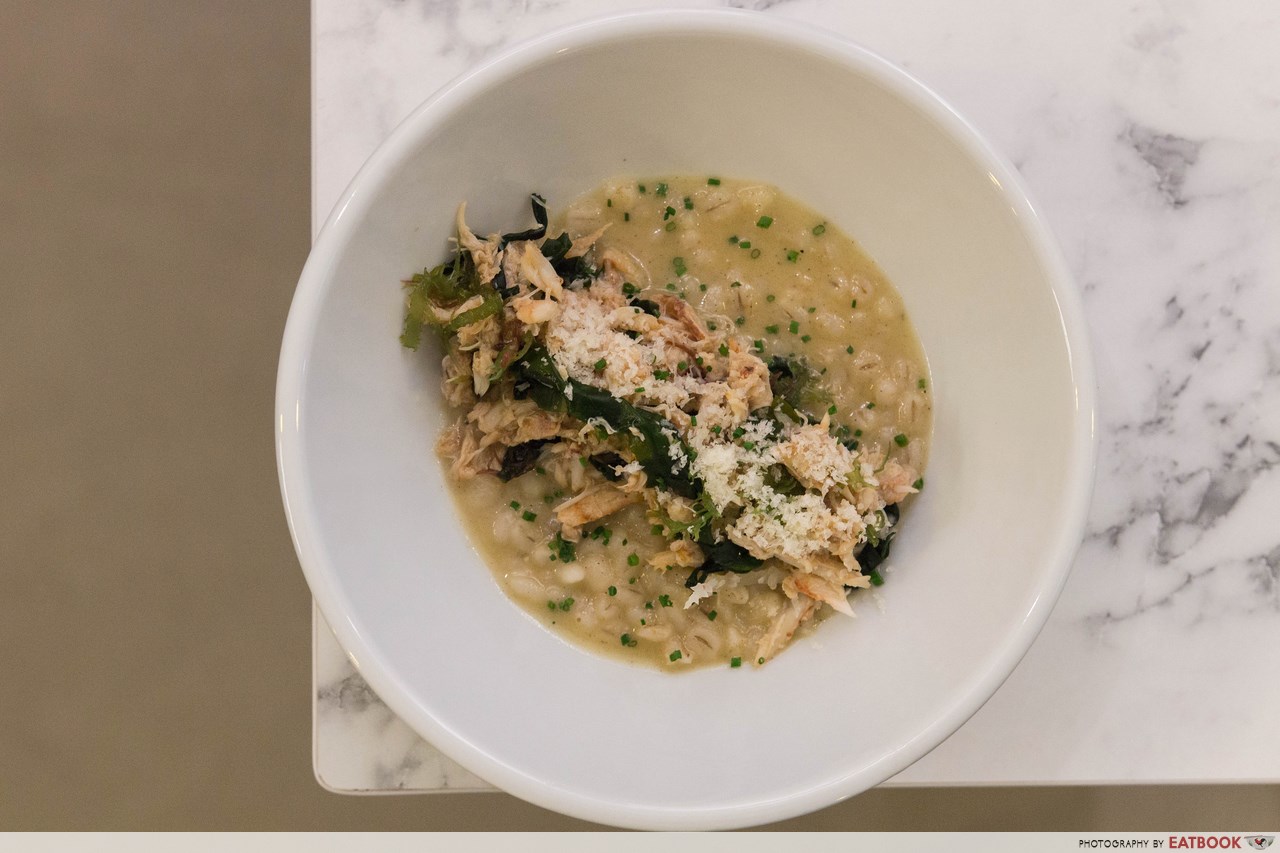 Crab Porridge ($8 a la carte) has a bed of pearl barley instead of rice, resulting in a chewier base. A heap of blue swimmer crab rests on the barley, so you'll definitely have enough of the crustacean to go around with every bite.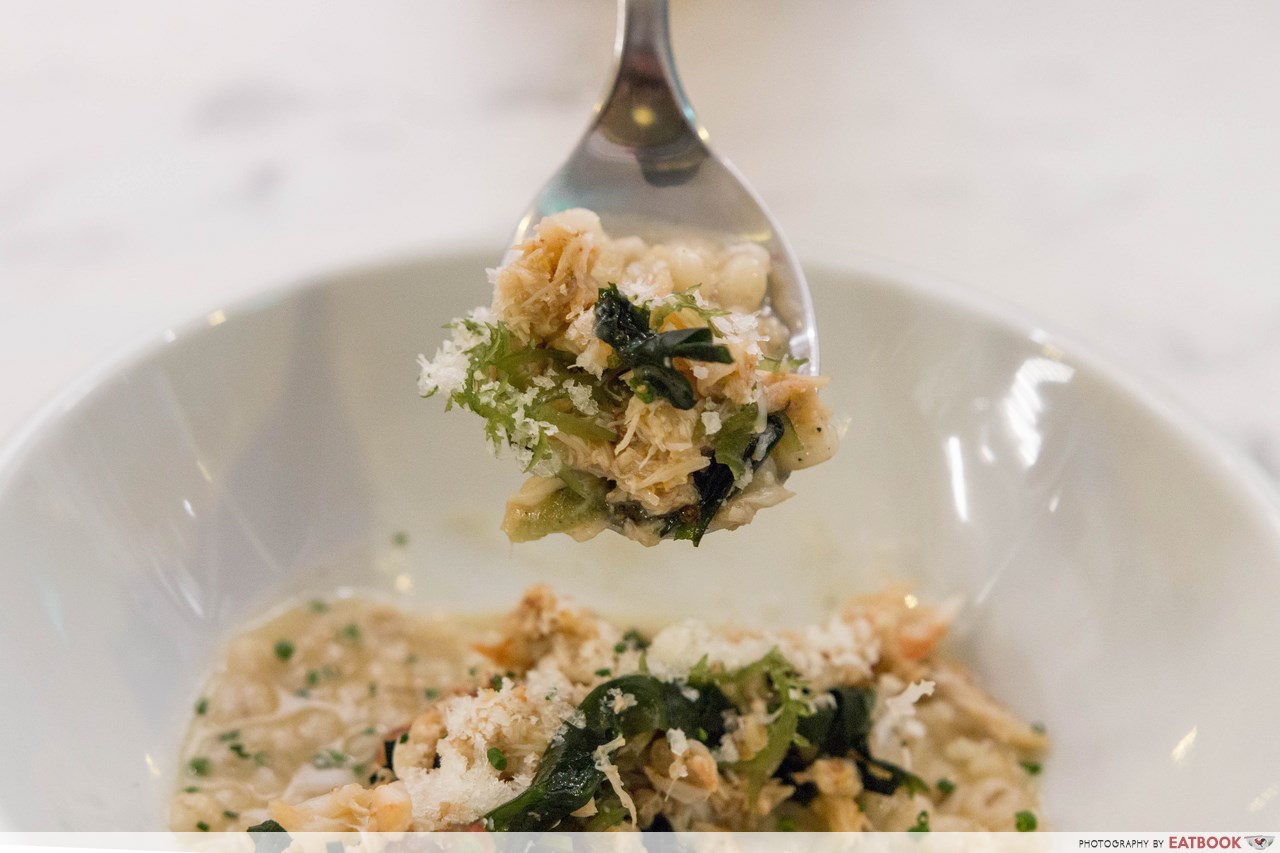 While I liked how this dish wasn't heavy, I found myself missing the satisfaction I would get from rice. I would've loved it more if they'd used the usual rice.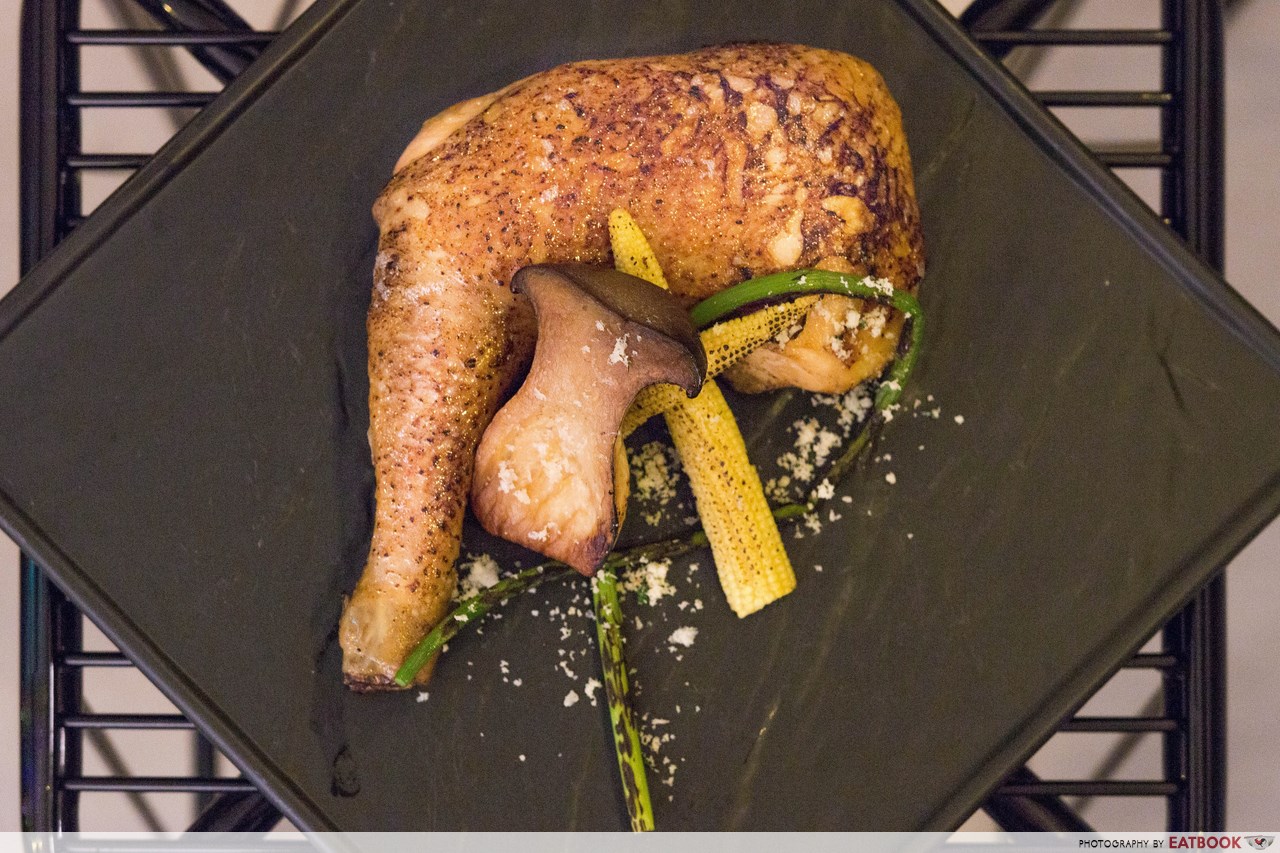 I'm usually a beef-over-chicken kind of girl, but that stand was shaken a little when I first tasted this Leg of Poulet ($15 a la carte). With a slightest bounce to the supple meat and moist flesh, this chicken thigh was cooked to perfection.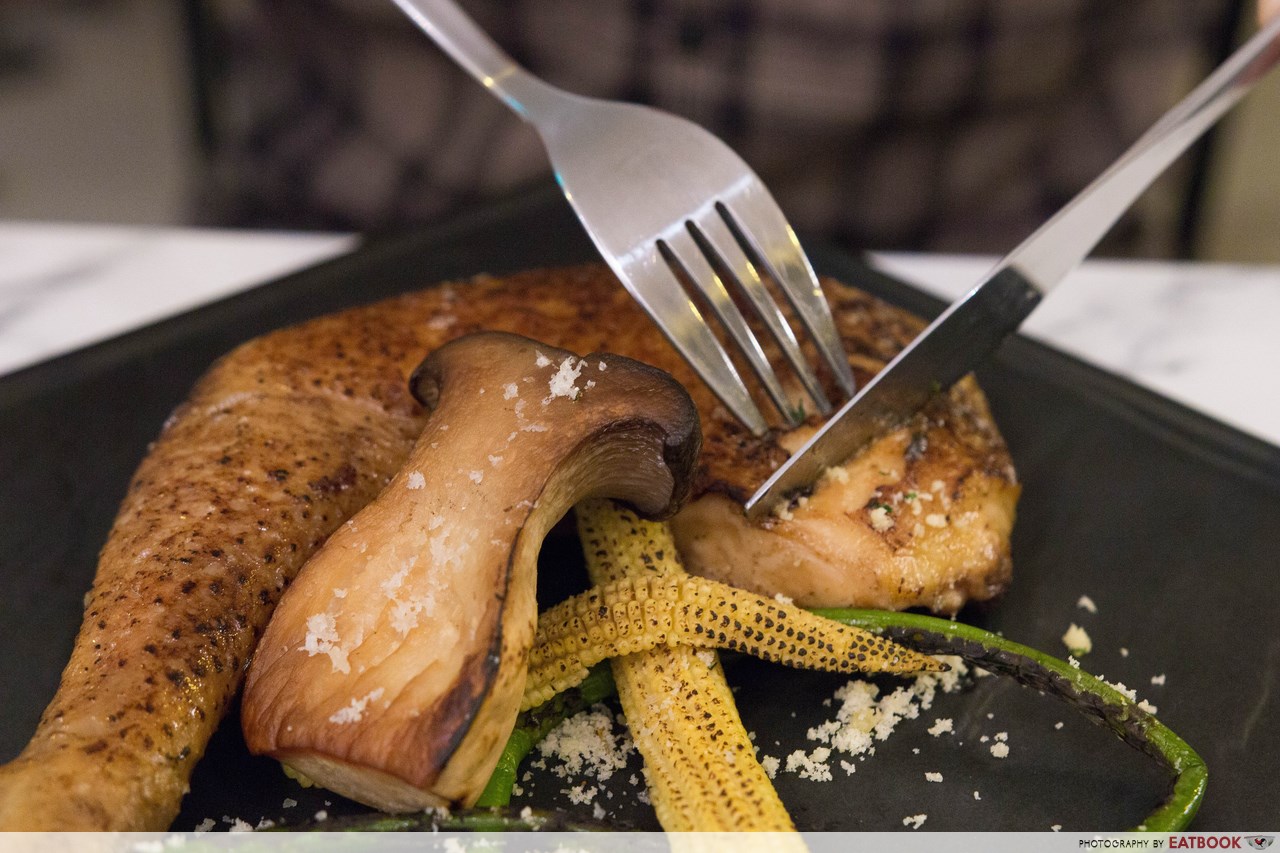 I was initially worried when I sliced into the chicken and saw pinkish meat, but the hostess assured me that it's been cooked through and is safe for consumption. Fully cooked chicken may sometimes still retain a pink tinge even after the chicken has reached an internal temperature of 165 degrees.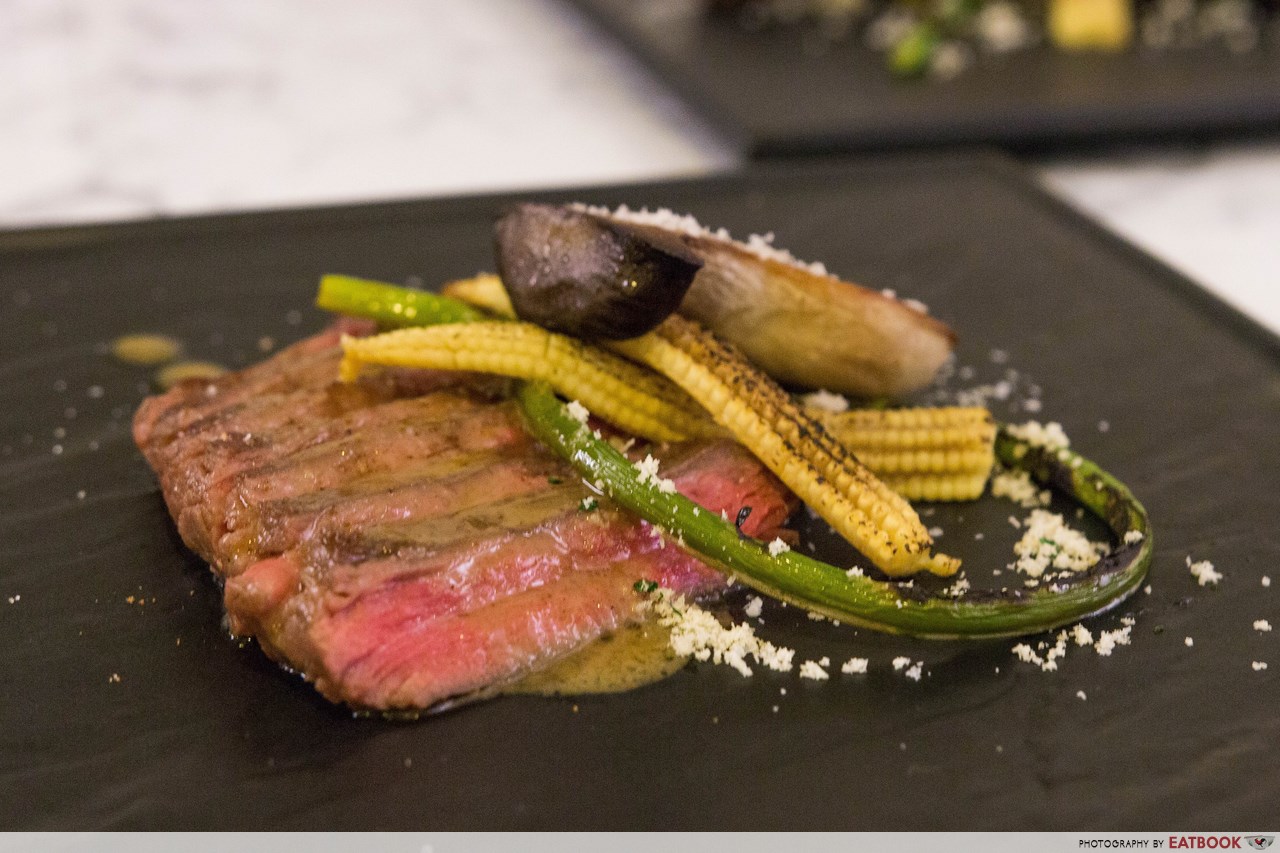 Beef to me is like what salt is to salt bae. And the Beef Steak ($16 a la carte) I was served was one juicy, tender, and luscious flank – all thanks to a 6-hour sous vide. The accompanying sauce was made with a blend of Chinese herbs and a butter emulsion that elevated the steak's flavours.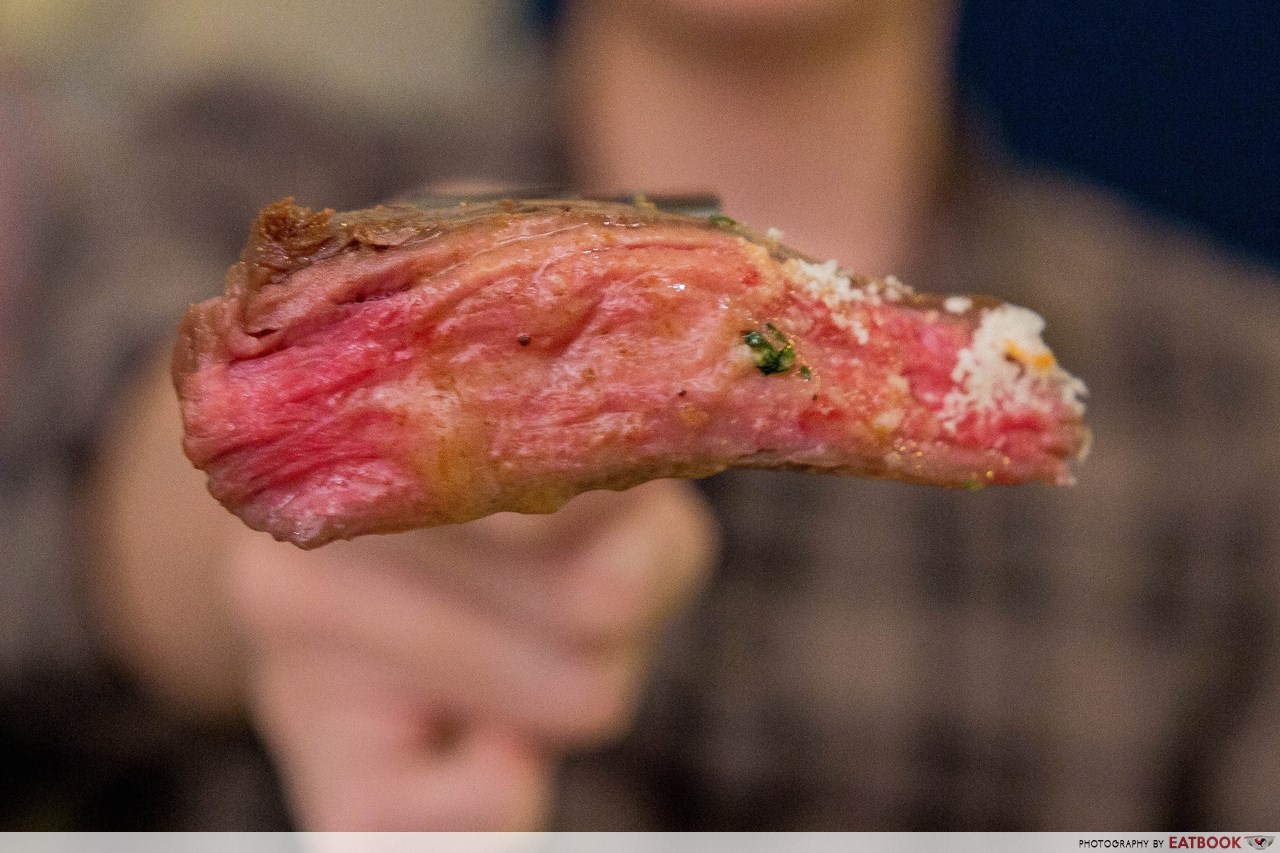 I loved how the cut was chewy without adopting the texture of gum, and how well the meat was marinated. The vegetables on the side helped to cut through the savouriness of the dish and I enjoyed chewing on the king oyster mushroom on the side.
To end the meal, we were served Double Chocolate Brownie with Fig & Honey Ice Cream ($7 a la carte).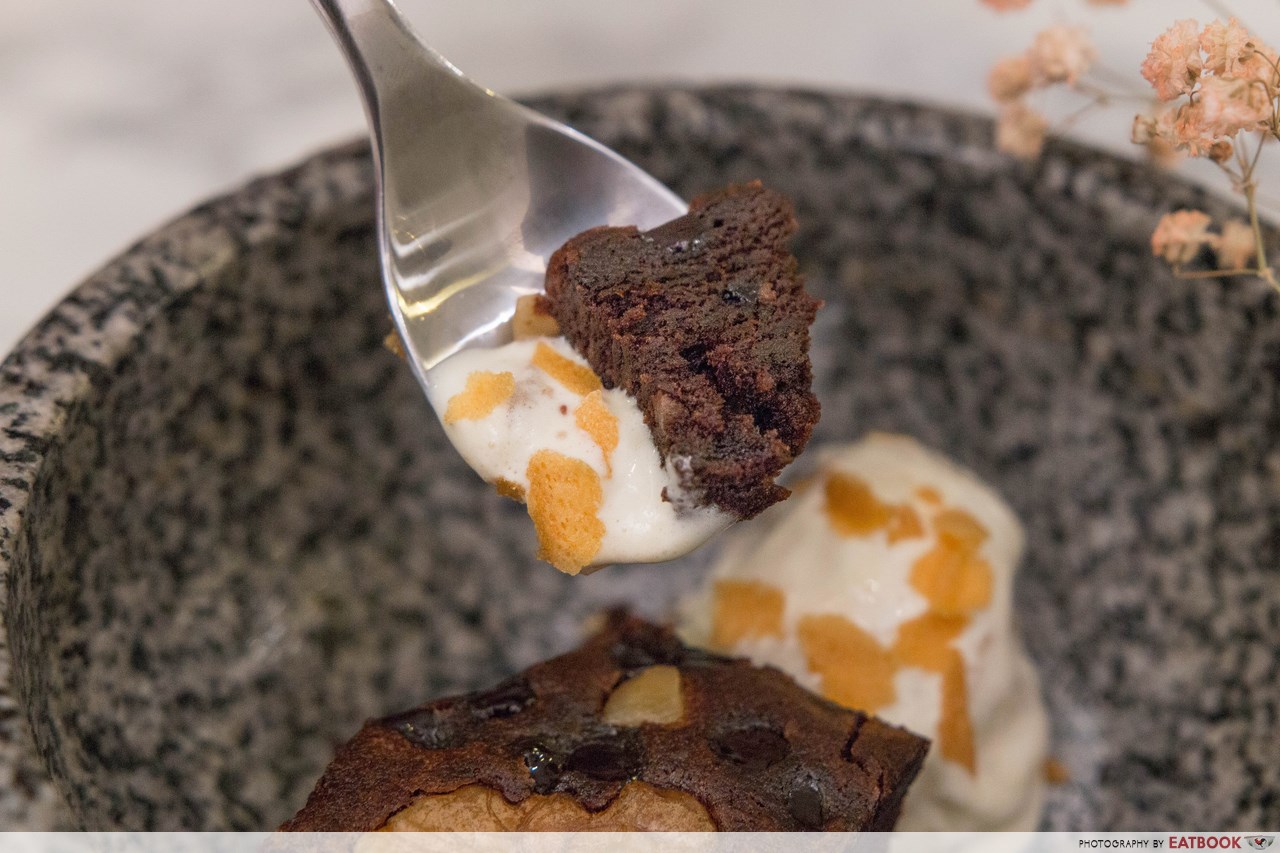 The ice-cream has a higher sugar content than regular ones because of the seasonal honey used – ours was manuka –  so it melted rather quickly. Paired with the indulgent double chocolate brownie, it was familiar and comforting.
Ambience at Marble Bistro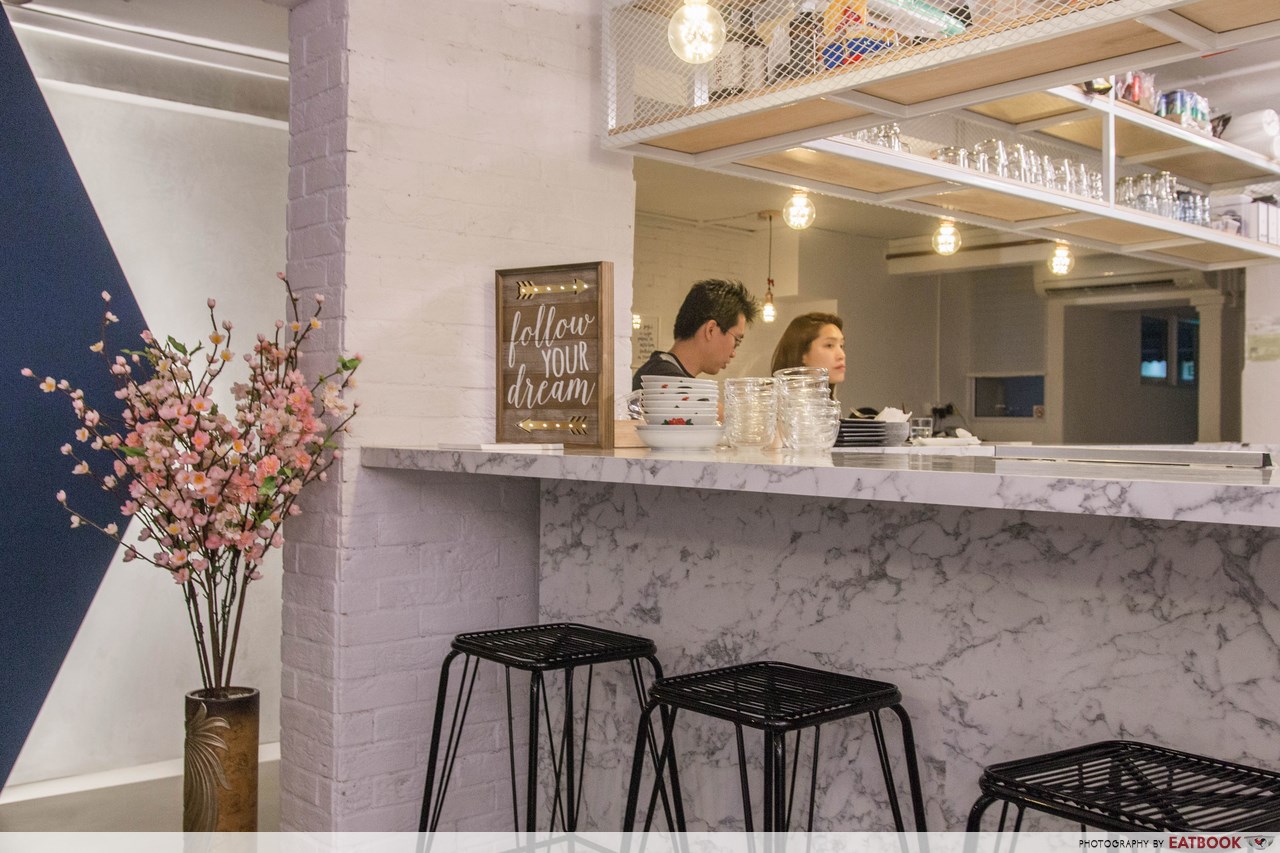 The bistro has a casual and relaxed vibe but the service you'll receive is equal to that of a classy restaurant. Its light, minimalist interior is great for those living the #IGlife, or are into food photography.
The verdict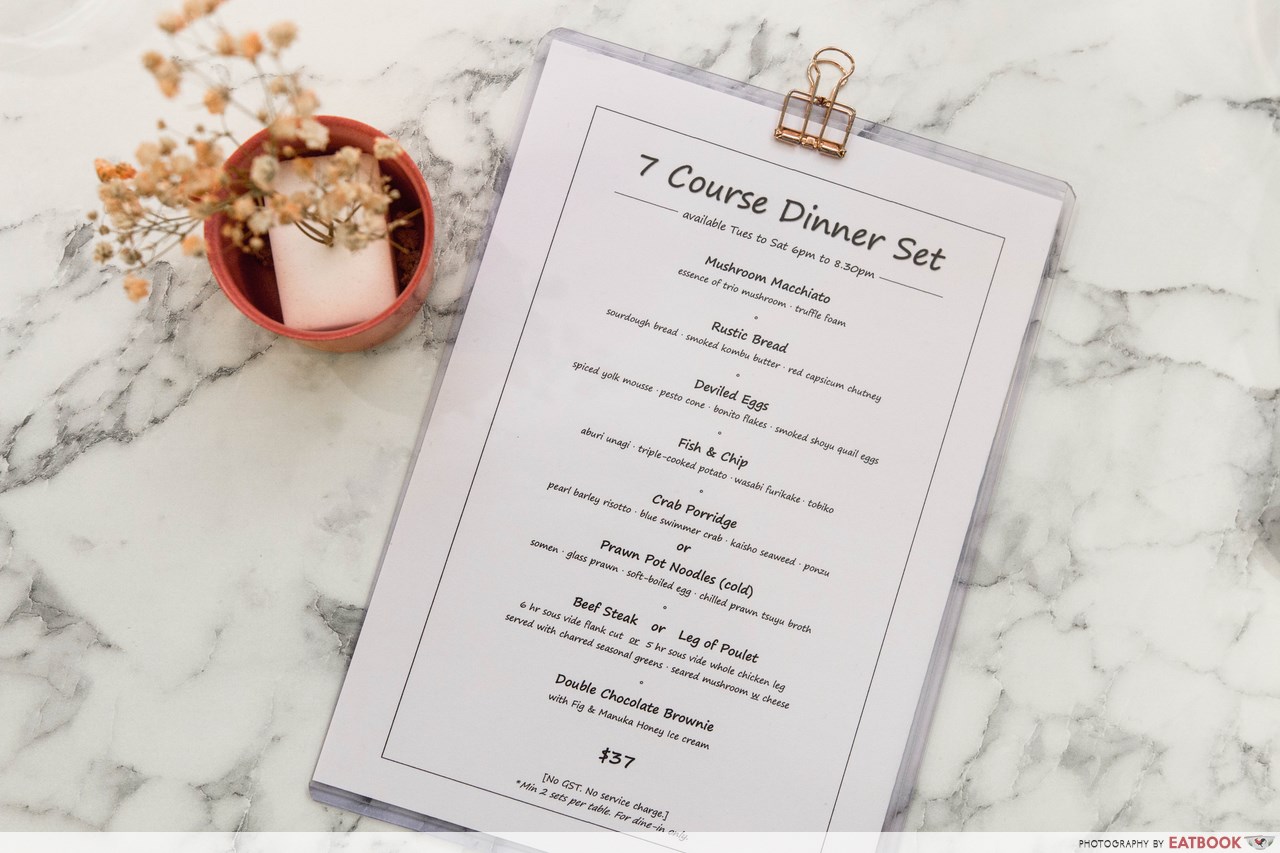 Marble Bistro is perfect for those who want to one-up their dinner game without compromising on the quality of food or going mighty broke. If you're interested in having a full course dinner for a special occasion, hit them up for an unforgettable experience!
This is an independent review by Eatbook.sg.
Summary
Pros
– Friendly owners
– Unique dishes
– Comfortable environment
– Nett prices
Cons
– Limited seats
Recommended Dishes: 7 Course Dinner ($38)
Operating Hours:
Tuesday – Saturday: 11:45am to 5pm, 6pm to 9:30pm
Tel:
9795 7262
Address: 6 Everton Park, #01-18, Singapore 080006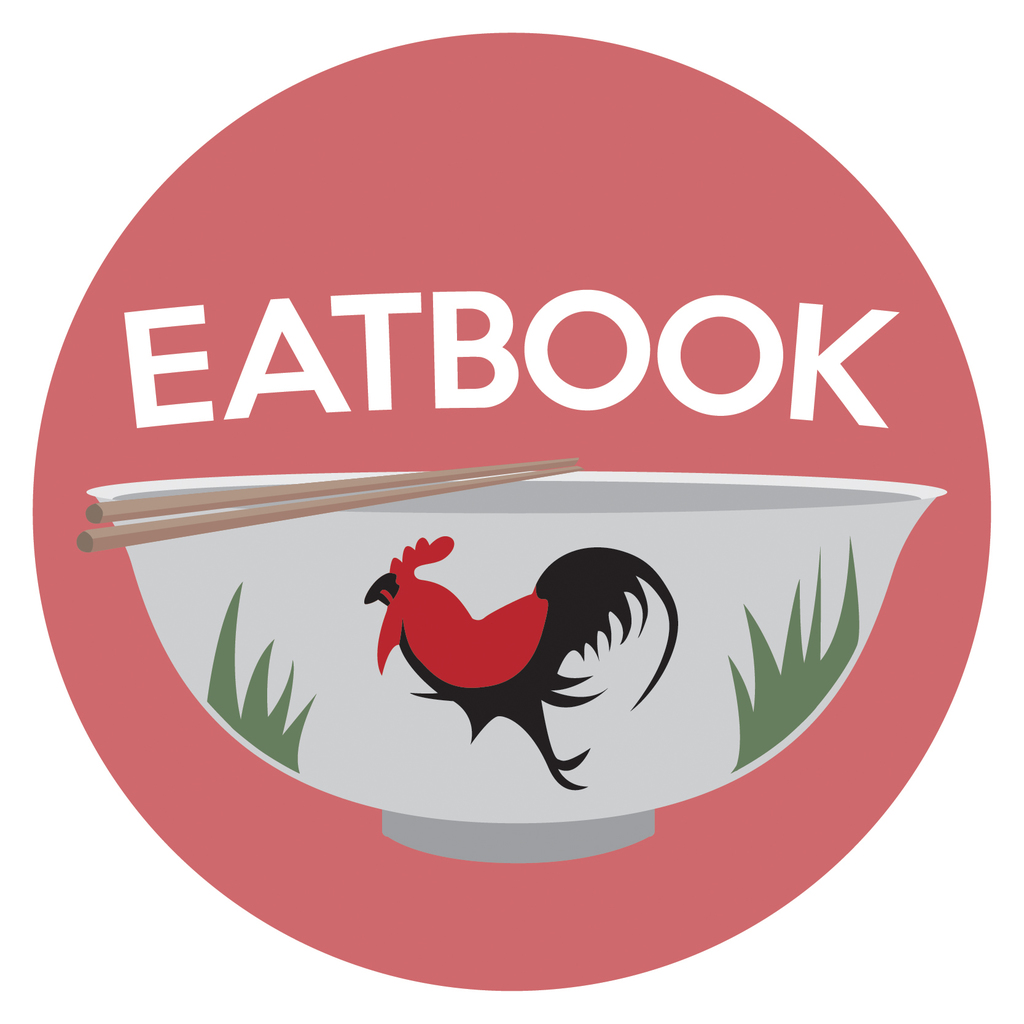 Drop us your email so you won't miss the latest news.