MASH at Pek Kio serves up Western grub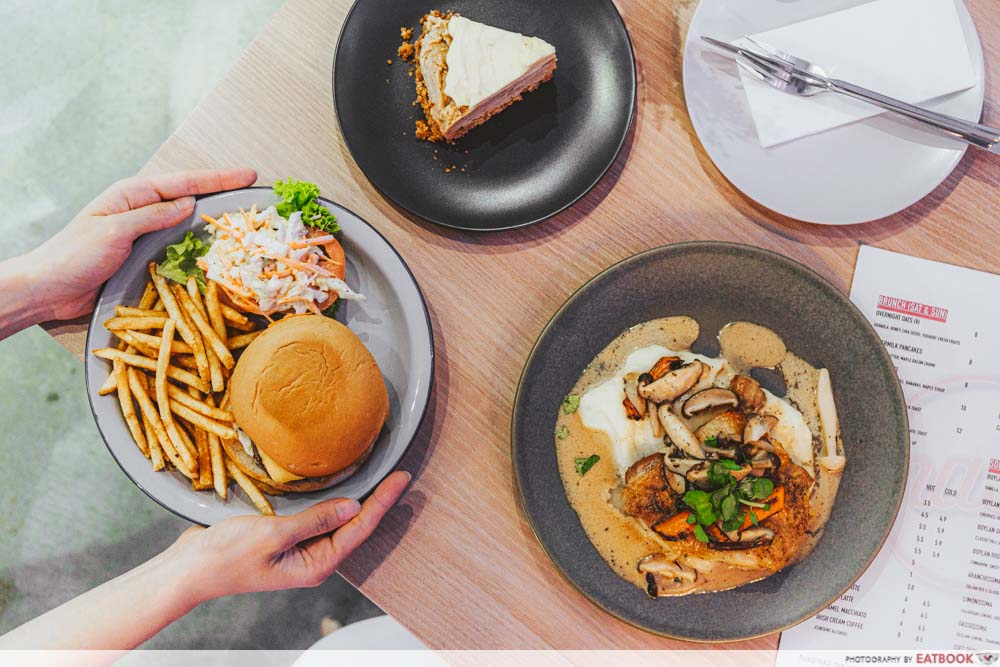 MASH at Pek Kio brightens up Pek Kio neighbourhood with their pop of pastel colours. It was recently launched by one of the owners of the now-defunct Grit, which served burgers and loaded fries at hawker prices. MASH delivers Asian and Western delights to all who come with empty stomachs.
Food at MASH at Pek Kio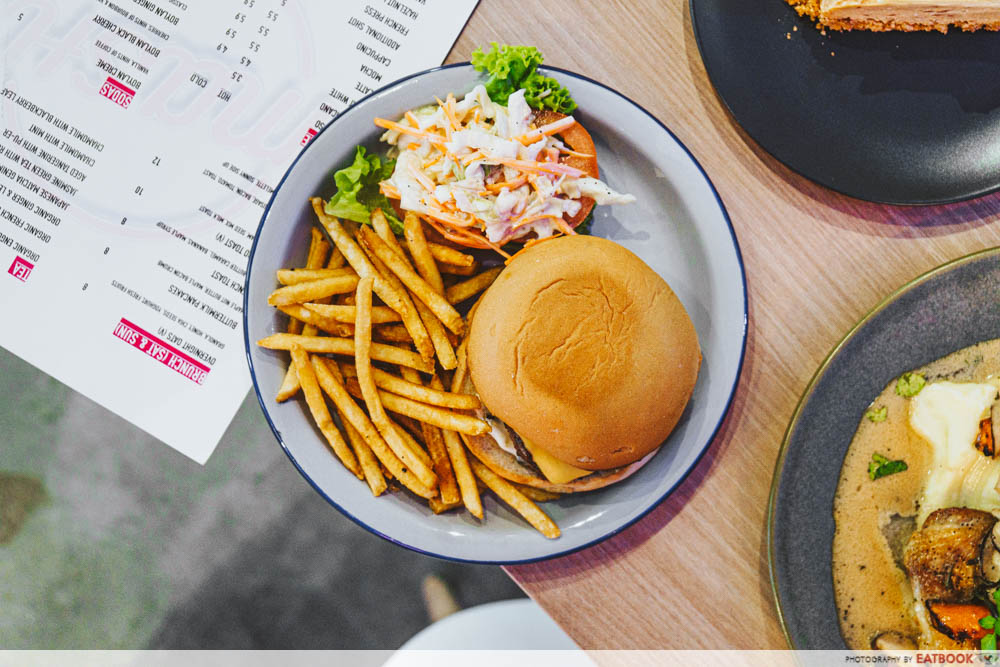 With an extensive menu offering both cuisines, MASH is great for those who enjoy having options. As they are committed to quality, all dishes are house-made, along with their quirky dessert creations.
The Cheeseburger ($10) was recommended by the staff, who emphasised that it's a crowd-pleaser. The unassuming burger was served with fries and slaw, and the usual condiments of ketchup and chilli were provided at each table.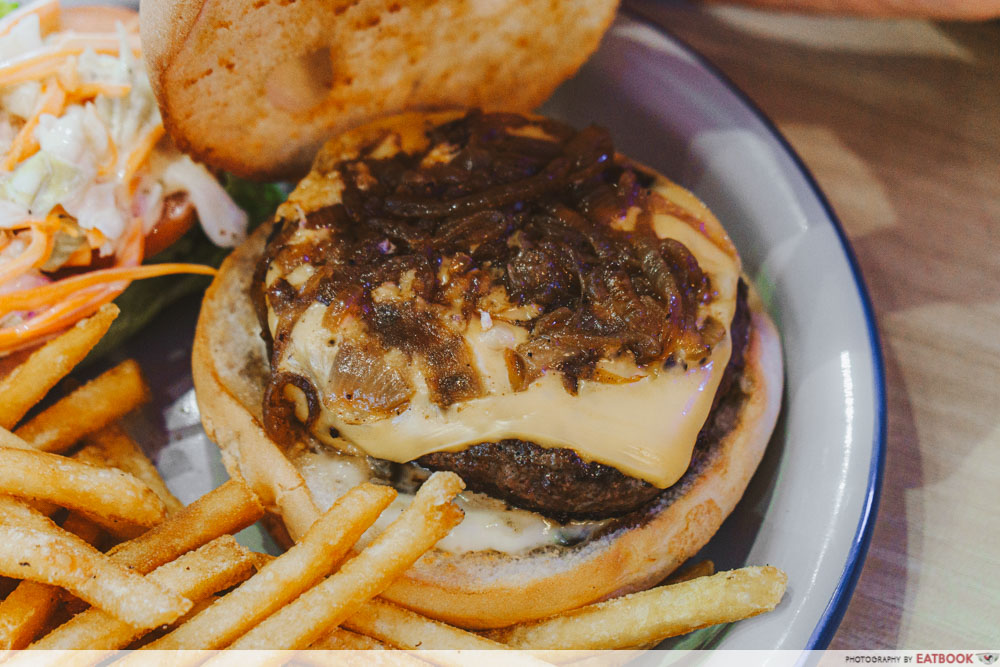 Sandwiched between two bread buns was a beef patty. It might be small in size, but its thickness made up for it. Taking a bite into the burger, the taste of the juicy patty hit me first, followed by the melted cheddar and house-made relish mayo. I especially liked the relish mayo, and wished they served it as a dipping sauce alongside the fries.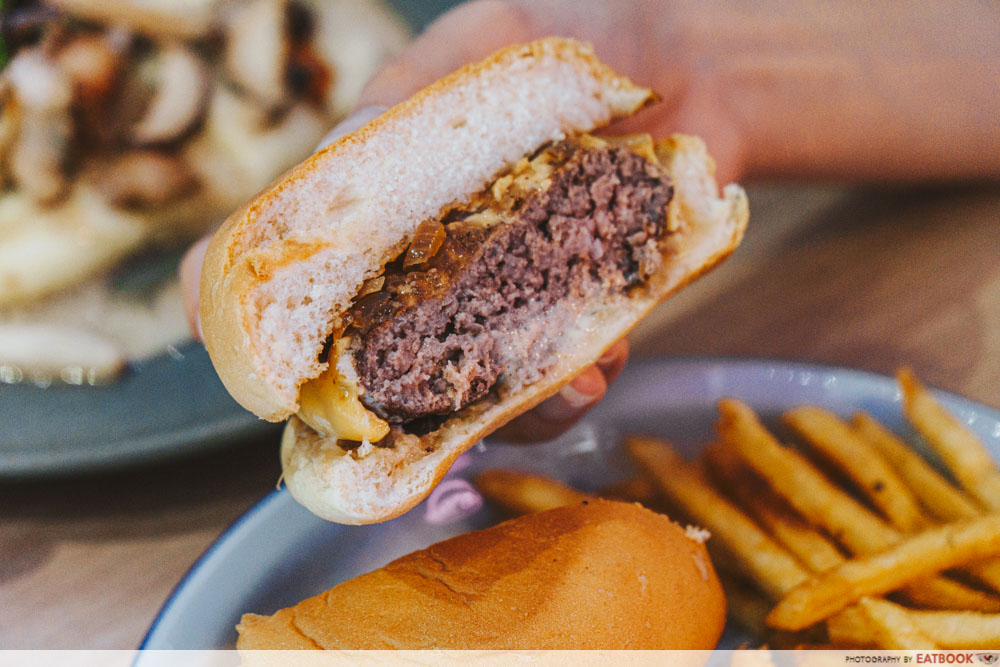 The beef was medium-well with a slightly pink centre. However, the patty was burnt on one side, making it a tad tougher than I was expecting it to be.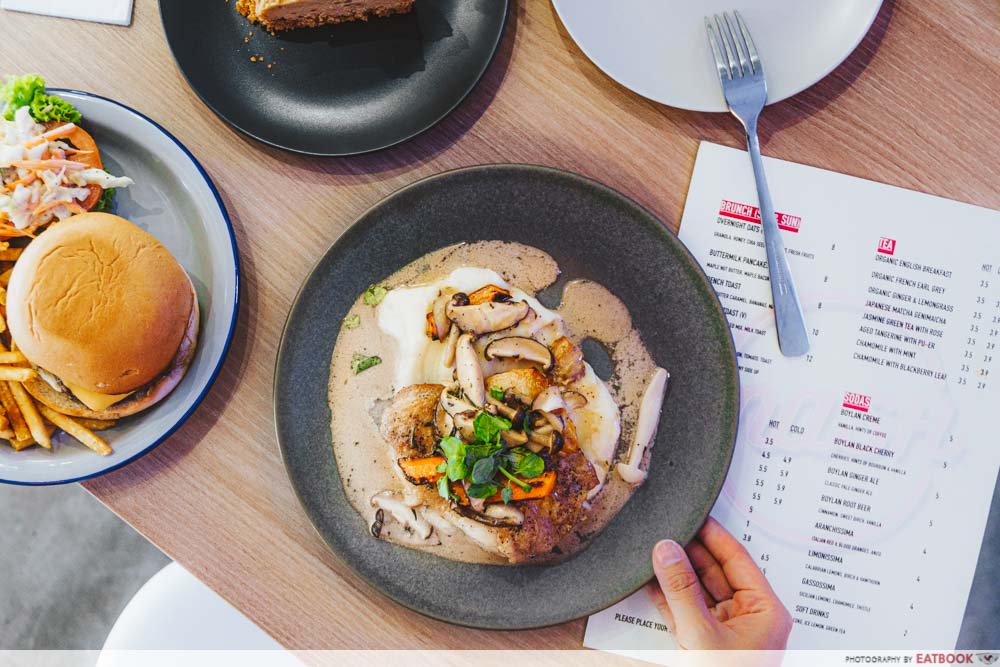 Apart from burgers, MASH also does mains such as Chicken Leg ($10). The plating of this dish had a rustic charm, with contrasting colours from the various elements. It also makes a great Instagram shot!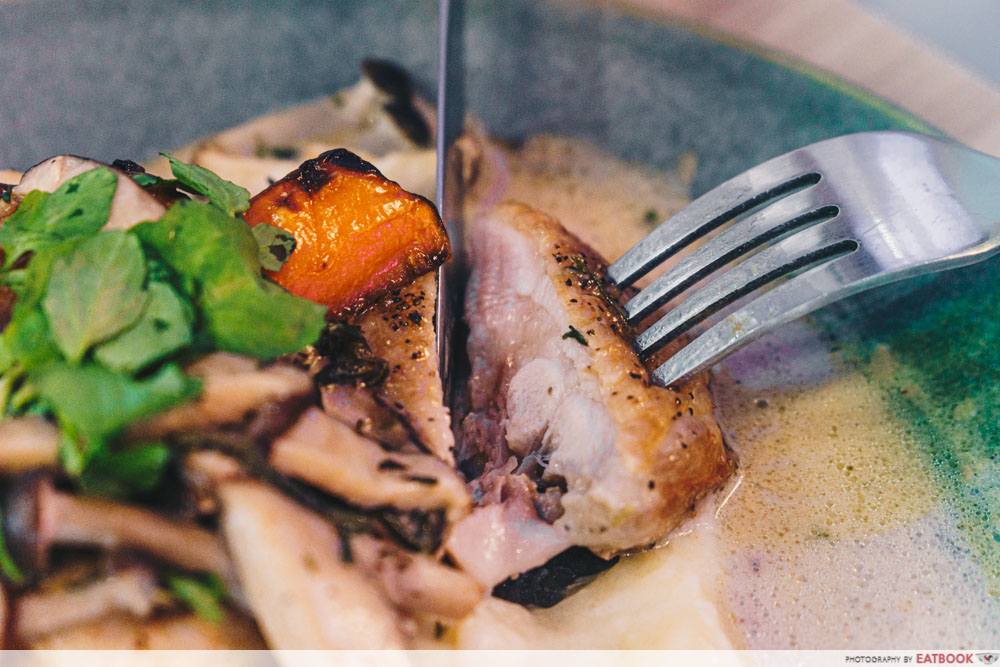 Matching the homely presentation of the dish, each mouthful of the meat was juicy and succulent. The chicken was well seasoned, from its crispy skin to savoury flesh. Don't be afraid to use your hands to get every morsel of chicken off the bone.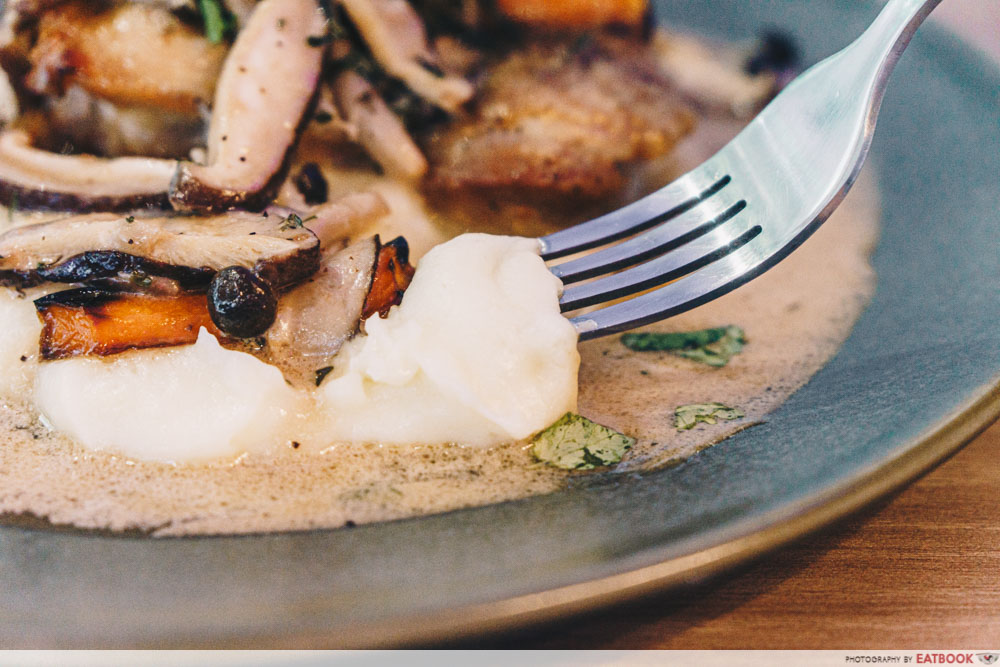 Underneath the chicken leg lies a slab of velvety mashed potato. This was by far the creamiest mash I've ever had, yet the buttery notes were not too overwhelming on my palate. It goes well with the charred vegetables and mushrooms in complementing the savoury chicken.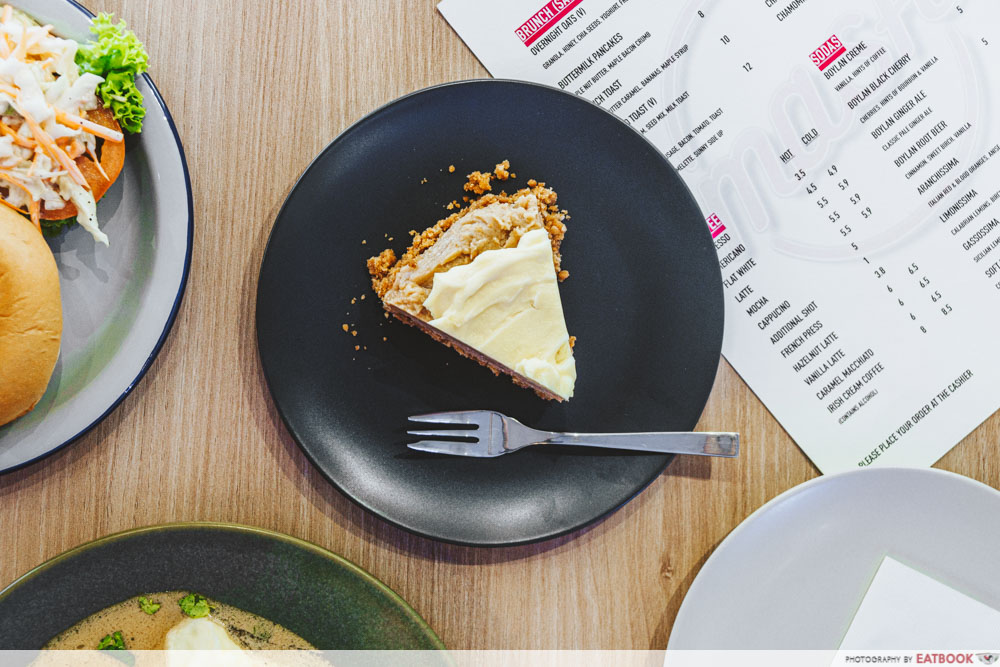 As desserts at MASH are crafted according to what the kitchen has on hand, we had the chance to try a slice of their Peanut Butter & Cheese Pie ($4).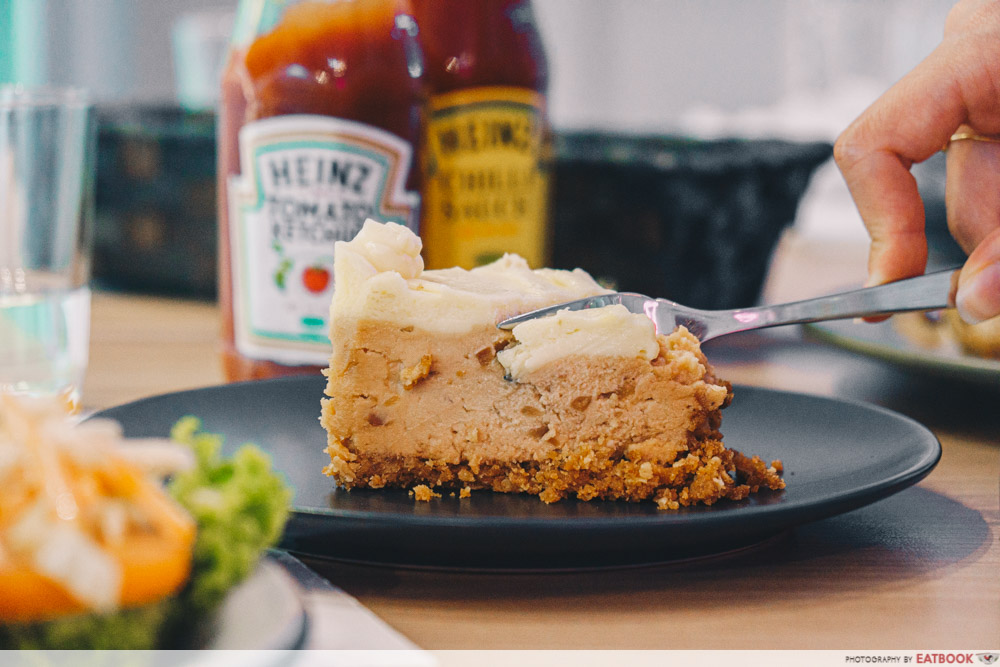 The peanut butter pie filling topped with cream cheese proved to be an interesting duo. With both components on the soft side, the peanut chunks and biscuit base provided a contrasting crunch. Though I would prefer the base to be more solid than crumbly. 
Ambience at MASH at Pek Kio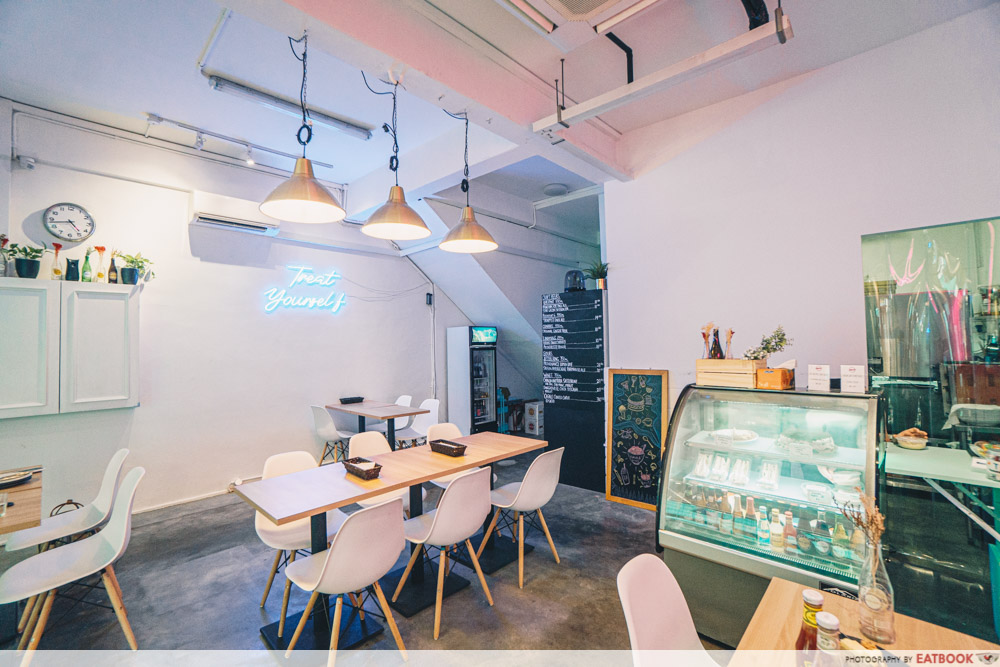 Tucked away in Pek Kio, this compact and modern cafe offers a welcoming atmosphere. As seats are limited, lunch hours can get hectic with workers streaming in from nearby offices. Its running pastel colour scheme, from its storefront to neon signs, screams out to millennials.
The verdict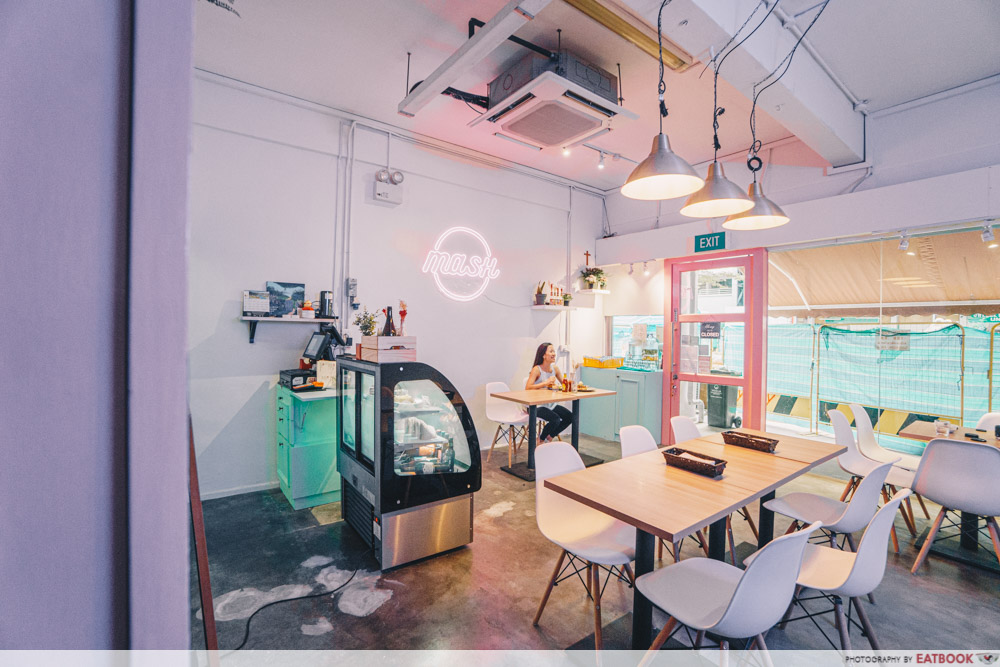 This mum-and-pop cafe is a hidden gem in the heartlands, serving hearty meals at nett prices. Though dishes are made fresh upon order, they are quickly pushed out of the kitchen. I would definitely be back to try out their daily lunch specials, which they unfortunately ran out of.
If you're looking for more HDB cafes, check this out!
10 HDB Cafes Around Singapore With Chill Vibes And Affordable Food And Desserts
Address: 44 Owen Road, #01-315, Singapore 210044
Opening hours: Mon-Sat 11am to 9pm
Tel: 8200 3288
Website
MASH at Pek Kio is not a halal-certified eatery.
Photos taken by Huy Pham.
This is an independent review by Eatbook.sg.
Summary
Pros
– Wallet-friendly
– Well-seasoned dishes
– Prepared from scratch
Cons
– Limited seating
Recommended dishes: Cheeseburger ($10), Chicken Leg ($10)
Opening hours: Mon-Sat 11am to 9pm
Address: 44 Owen Road, #01-315, Singapore 210044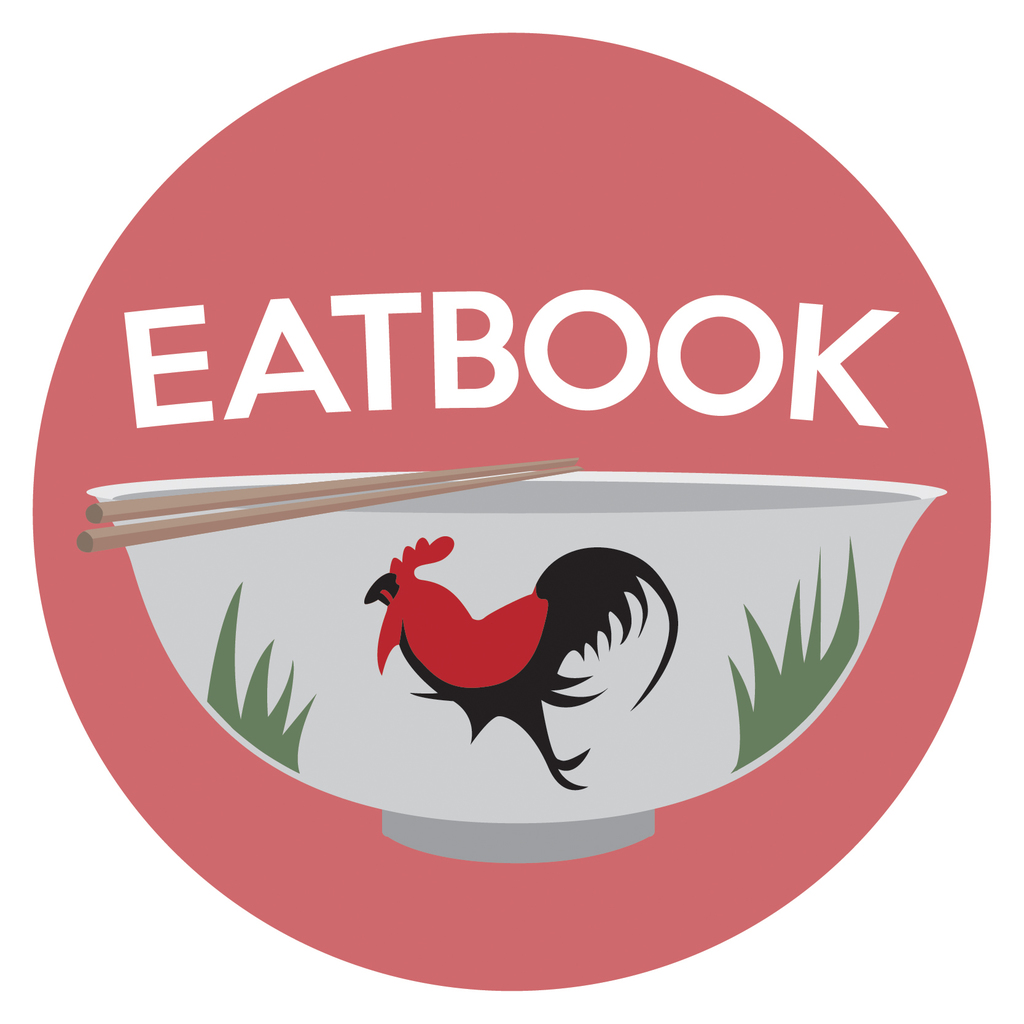 Drop us your email so you won't miss the latest news.