Minami Maki has affordable Japanese food in Bukit Merah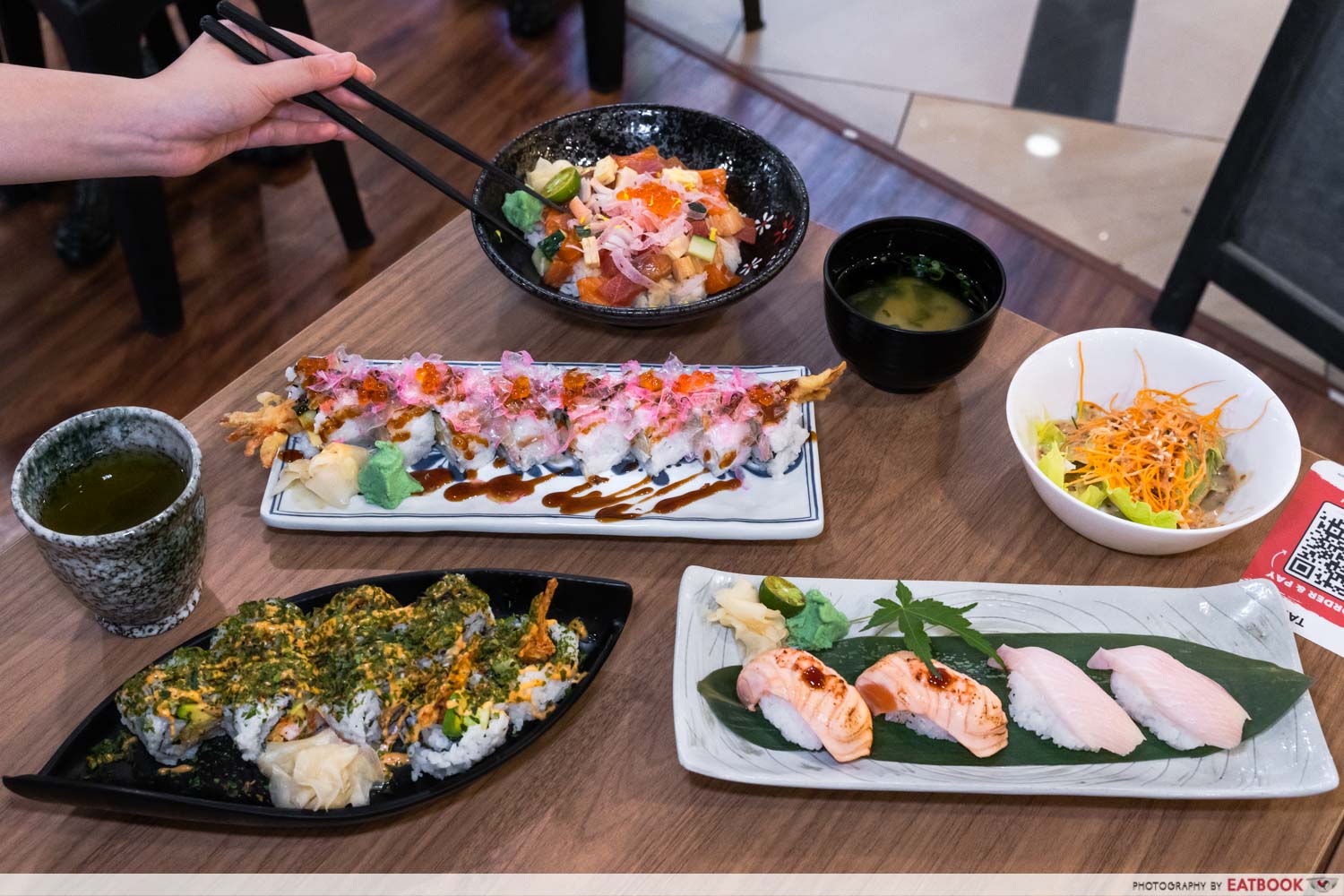 Maybe I visit Alexandra Central Mall way more than the average person, but really, there's just too much good food there that's overlooked due to how quiet the place is. For example, come up the escalator to the second floor and you'll find Minami Maki, a quiet Japanese eatery with tasty food at affordable prices.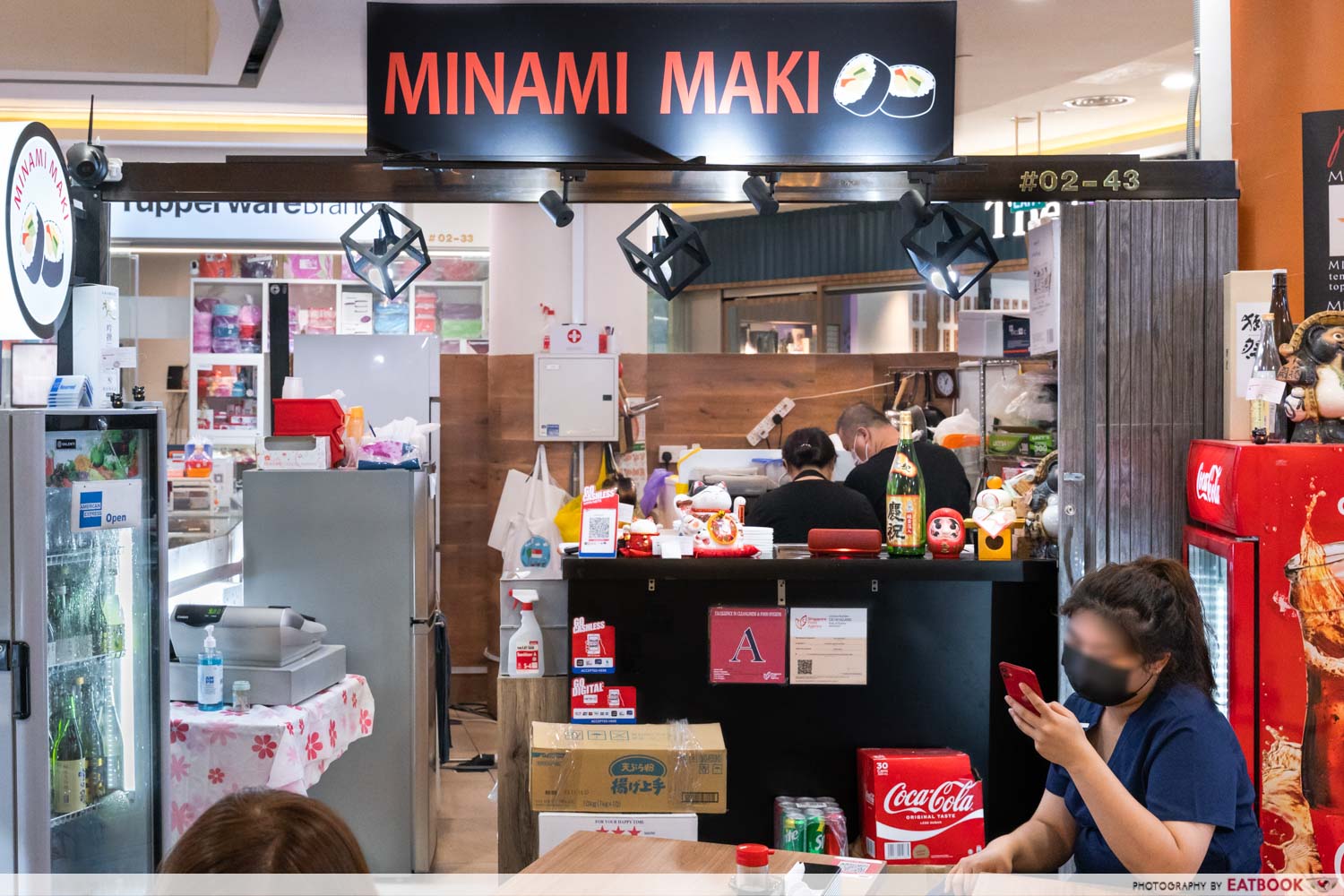 Minami Maki is run by a pleasant and hardworking couple who wanted to strike out on their own and have been doing so successfully. The husband, Stanley, even said that the signature menu items are his own original creations, so we were pretty excited to try them. 
Food at Minami Maki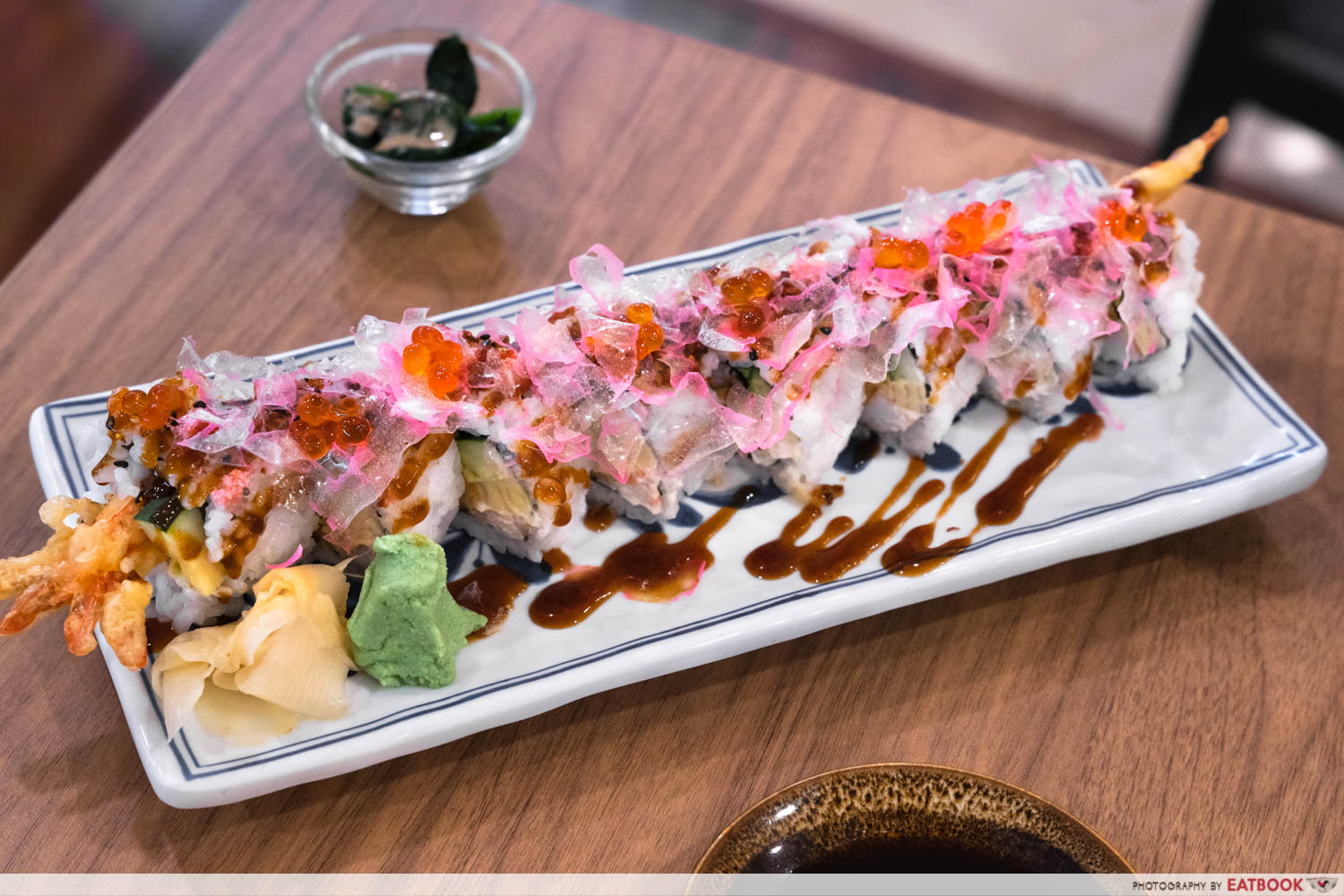 We started strong with the hand-rolled maki rolls, of which the Signature 1 ($14.80) is quite possibly the prettiest sushi roll I've ever seen. Crunchy tempura prawn, sweet omelette, cucumber, crabstick, and avocado were tightly rolled up in pearly short grain rice, then topped with salmon roe, striking pink bonito flakes, and drizzled with takoyaki sauce.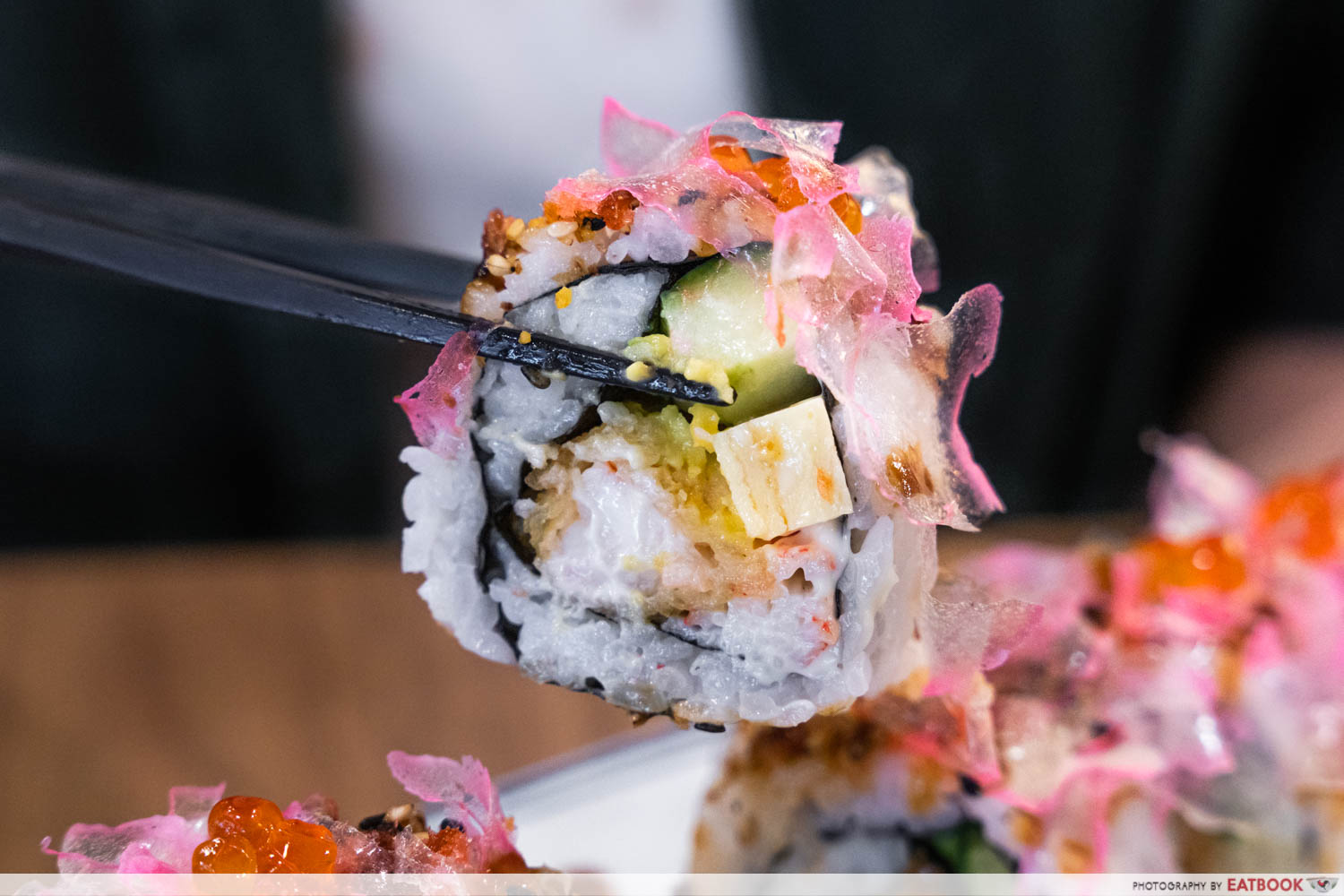 This roll left a sweet taste in my mouth, mostly due to the presence of the takoyaki sauce and the sweet egg. However, the sweetness was not overpowering as it was tempered by the umami salmon roe and slightly salty bonito flakes.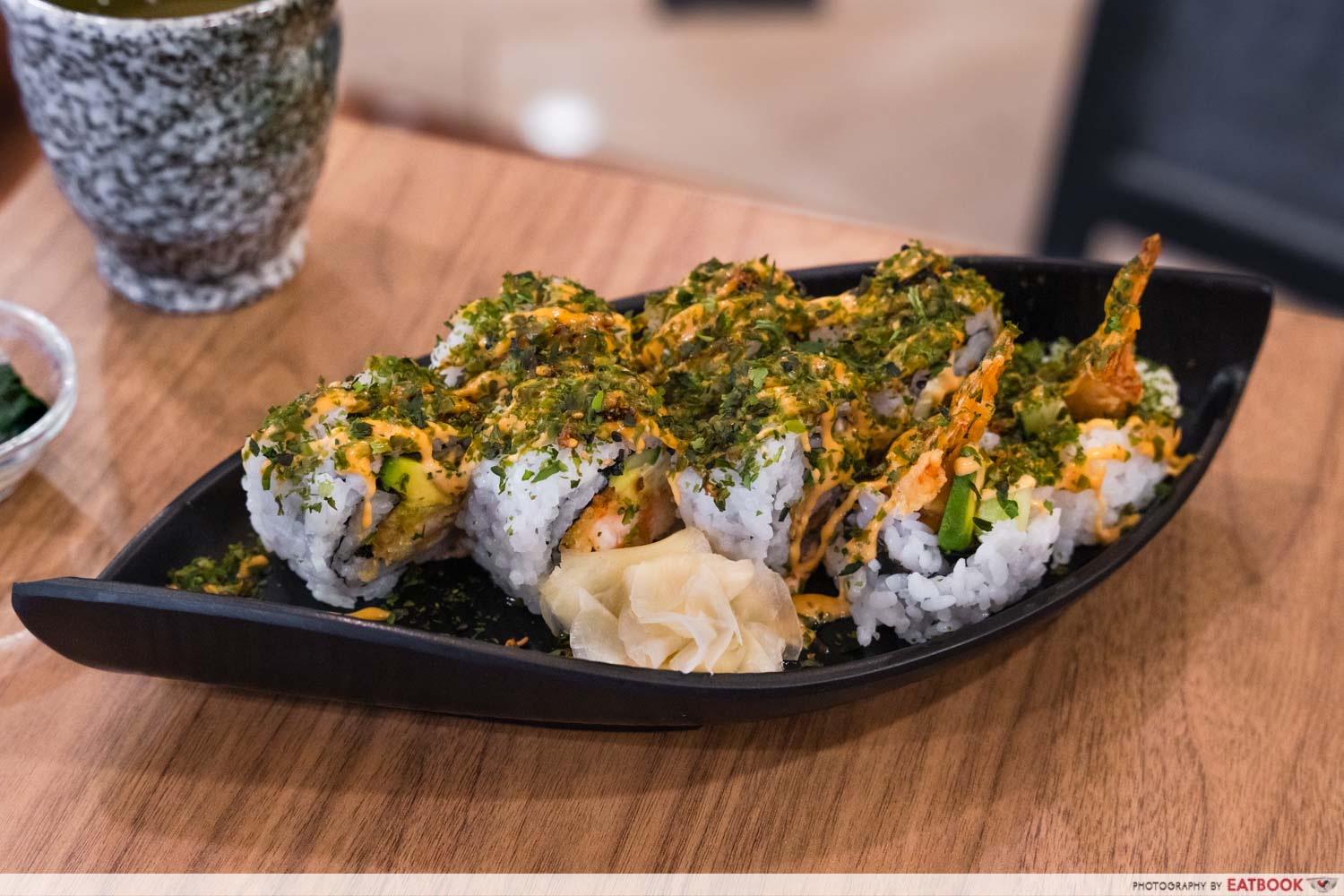 Signature 2 ($12.80) on the other hand was less striking than Signature 1, but it packed a stronger punch in terms of flavour; no wonder it is the most popular dish here. The spicy yellow sauce drizzled over top was concocted by Stanley, and together with the mentaiko sauce hidden under the rolls, this meant that the sushi was a lot creamier and spicier than what you'd expect from its unassuming appearance.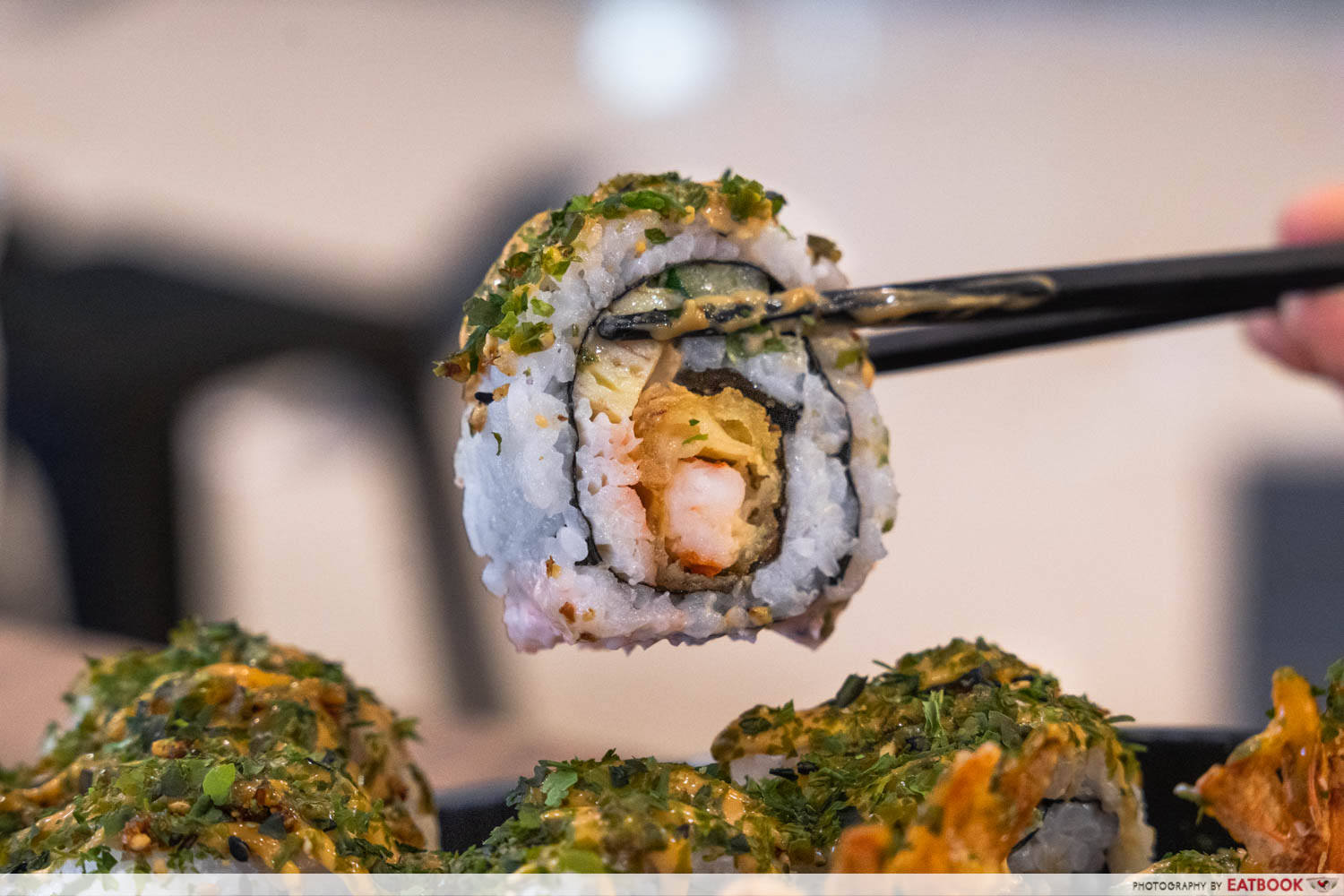 Topped with ao noriko and furikake, the insides were of a similar make-up to Signature 1: tempura prawn, egg, avocado, cucumber, and crabstick. The sauces are truly what differentiates it from the other, and while I liked the appearance of the other better, I found the taste of this roll much more memorable. 
Ichi Umai Review: Wallet-Friendly And Unique Japanese Food By Ex-Chef In Yishun Junction 9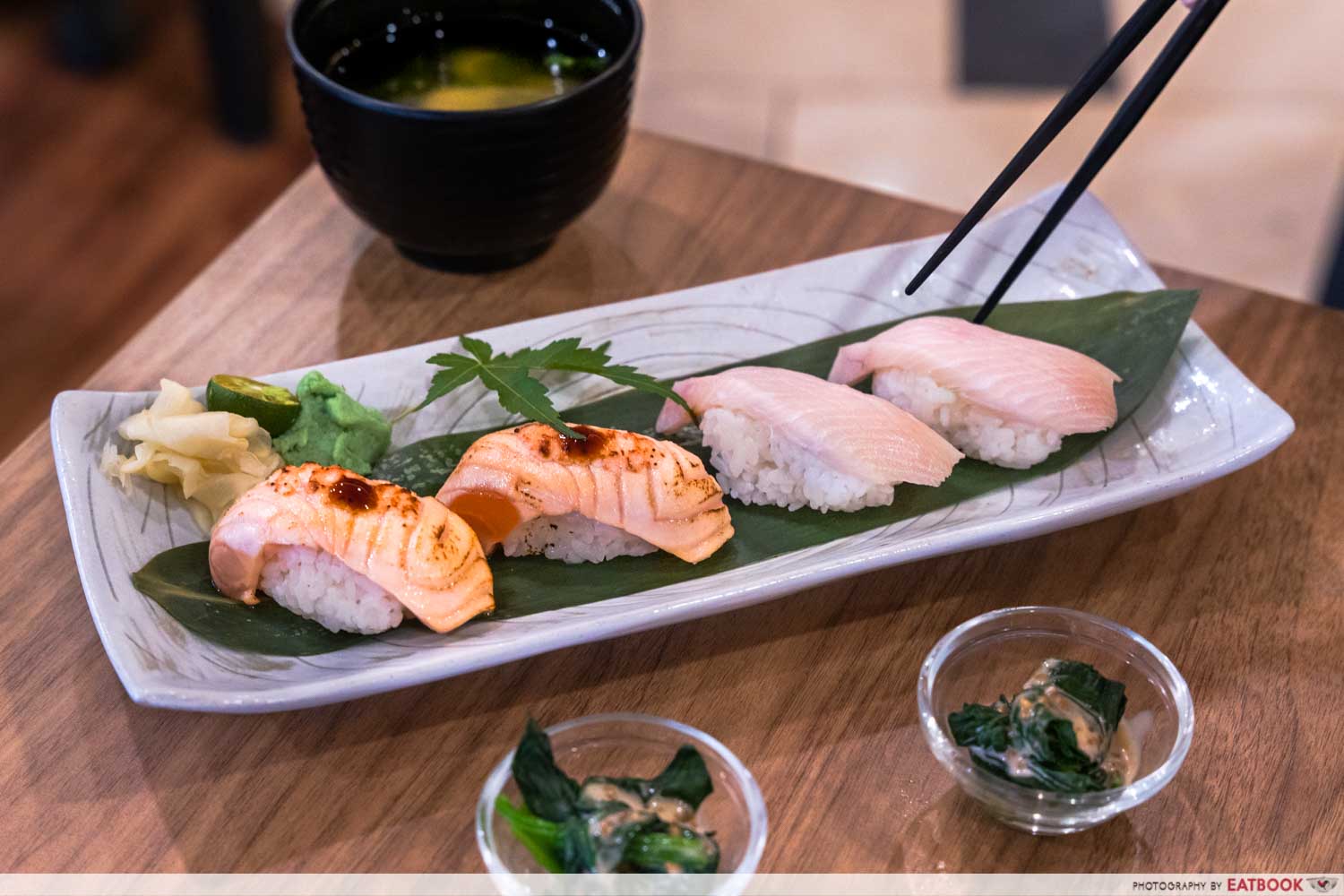 Minami Maki gets their fish fresh and direct from Japan, so we decided to get some nigiri from their large selection to share. The Hamachi Nigiri ($4.90) and Aburi Salmon Nigiri ($4.50) both came with a good fish to rice ratio, and my friend felt for the price, the slices of fish here looked to be thicker than the nigiri she had elsewhere.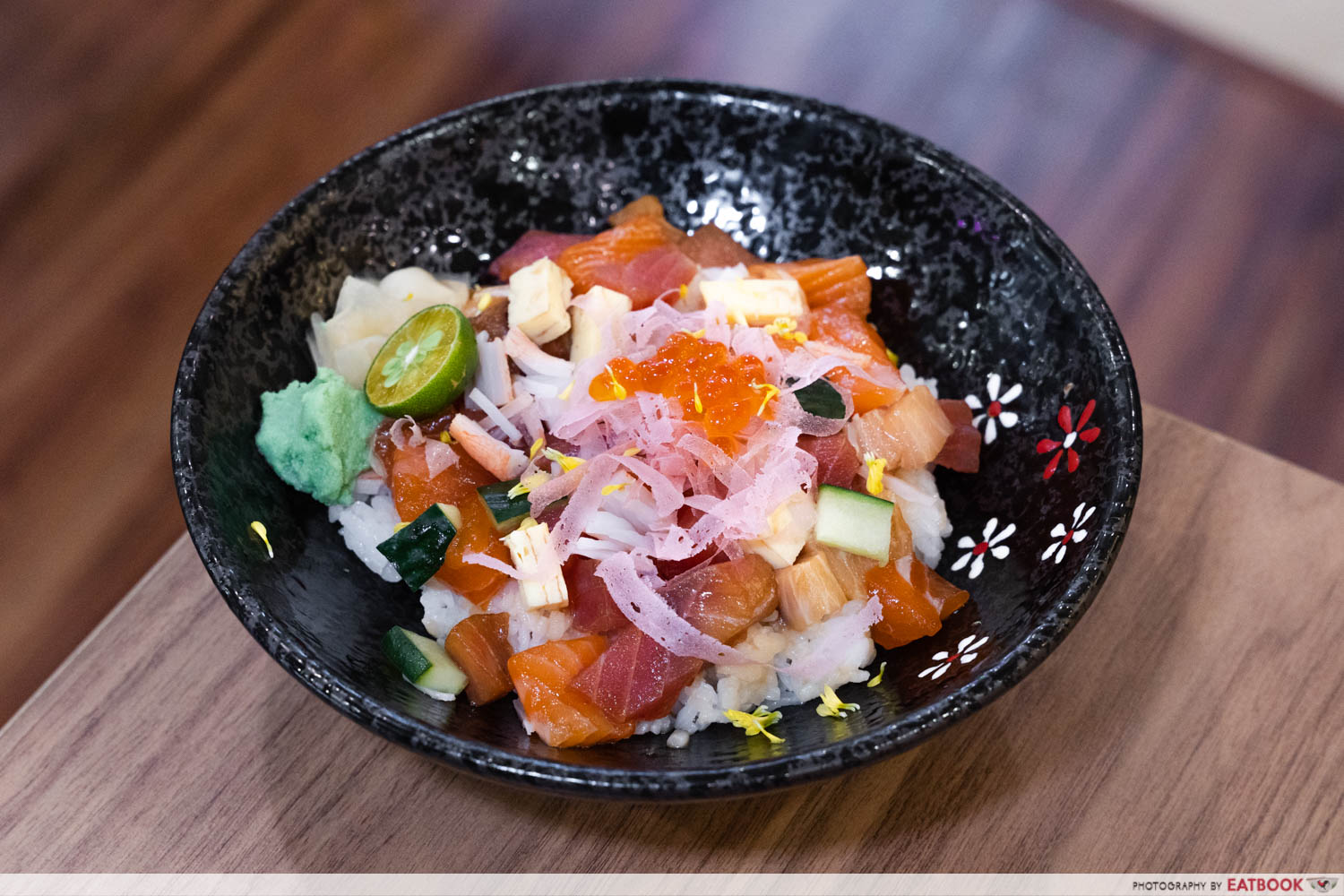 We decided to get a Bara Chirashi ($12.80), which came with a colourful assortment of slightly sweet sashimi cubes, omelette, cucumber, bonito flakes, and salmon roe over rice. You can consistently expect your dish to have tuna, salmon, and swordfish sashimi, but what else is included depends on whatever fish Stanley had on hand that day. On top of those three fish, our bowl also came with added amberjack and scallop.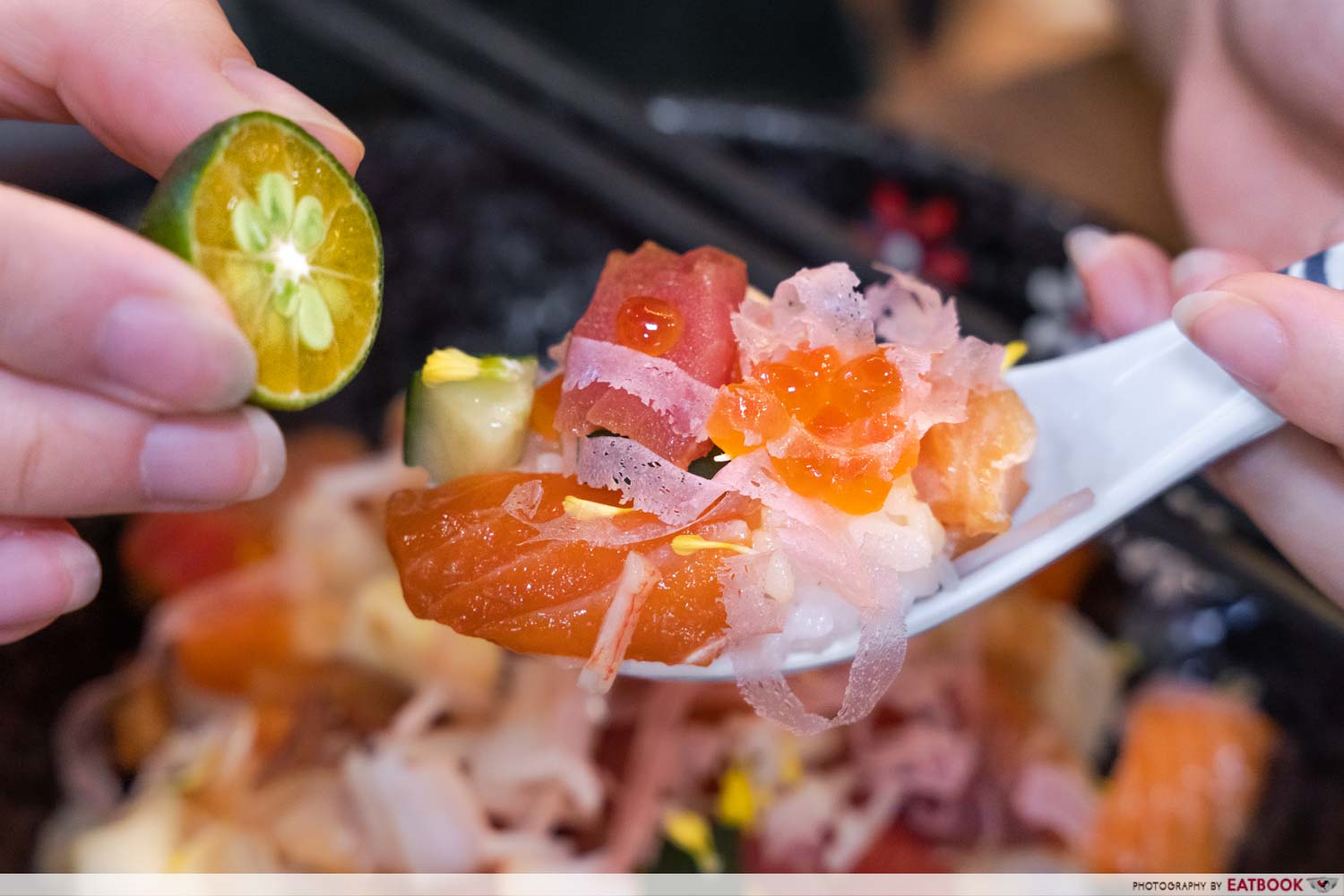 Other than the generous assortment of ingredients and lack of fishiness, there wasn't much noteworthy about this dish except for the random half a lime included, and in case it wasn't for decoration we decided to squeeze it over our bowl. Surprisingly, the added tanginess of the lime juice to the sashimi cubes elevated the bowl out of the tier of a pretty average chirashi.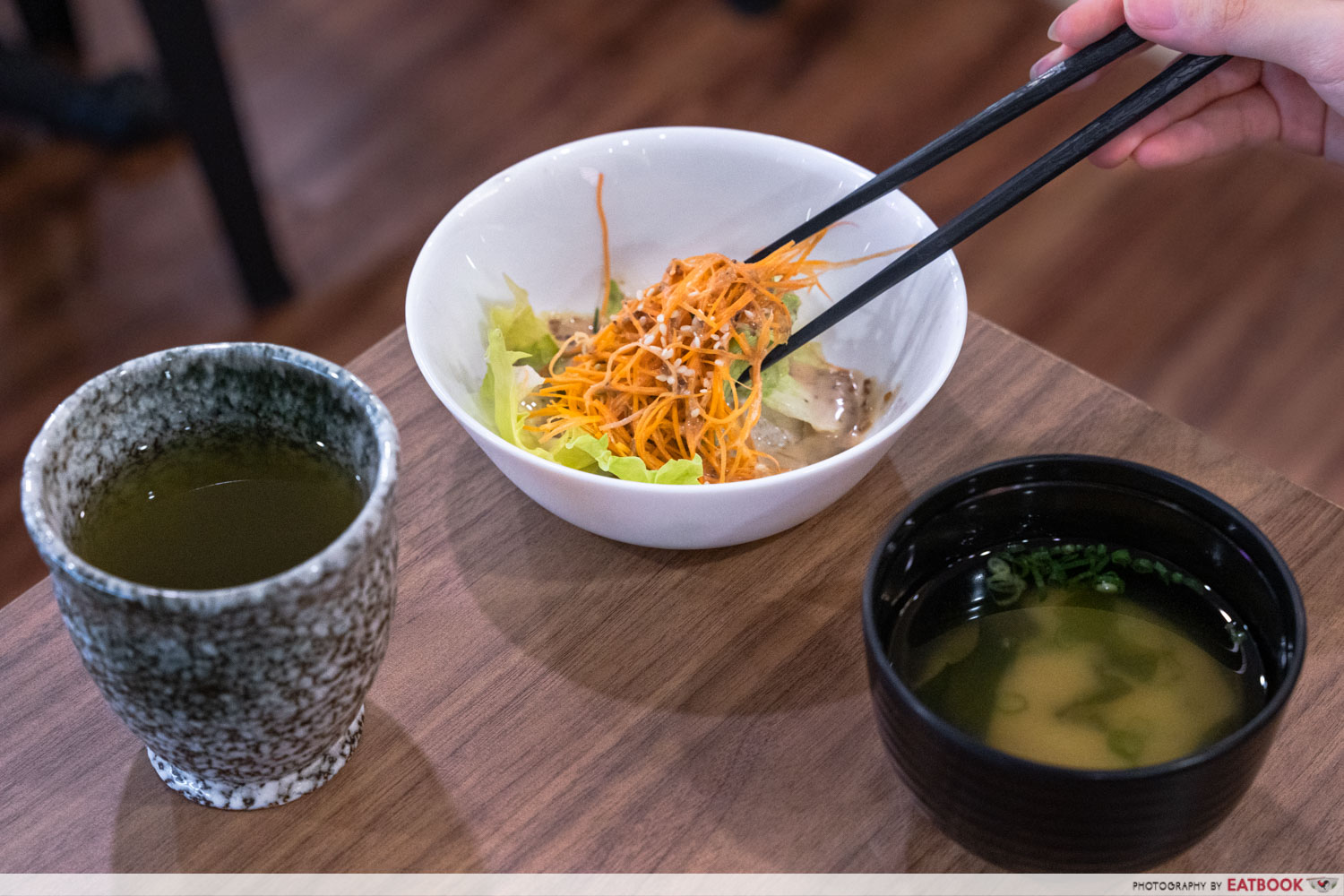 Minami Maki also offers a $3 Set Meal, consisting of miso soup, a simple salad, and hot Japanese green tea.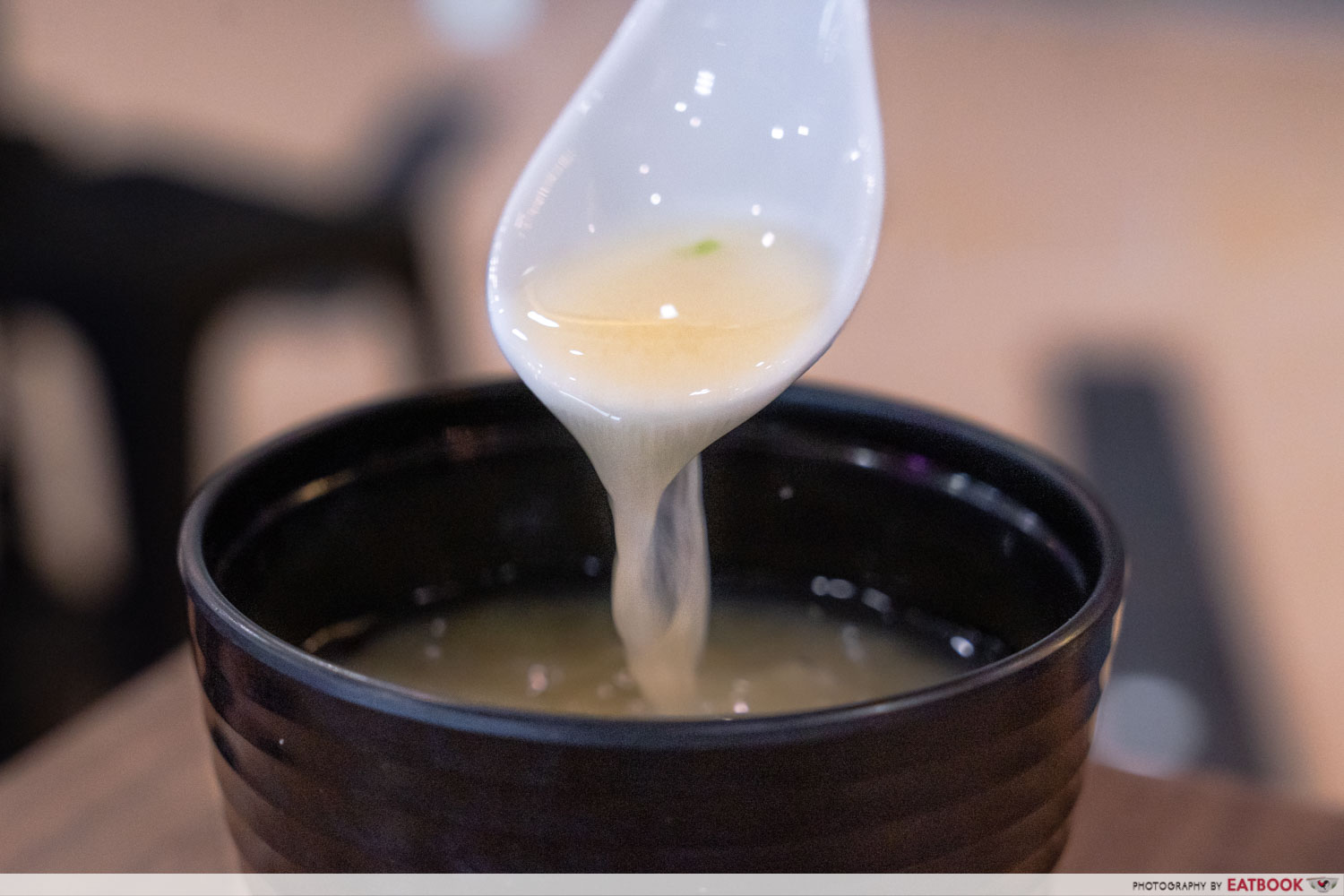 The salad wasn't anything special, and while I like vegetables, I rarely like them with any sort of salad dressing, so I ended up not finishing it. On the other hand, sipping the hot green tea and salty, clear miso helped cut through the creamy affair that was Signature 2, so I felt that the set meal was a pretty good purchase on our part. 
Ambience at Minami Maki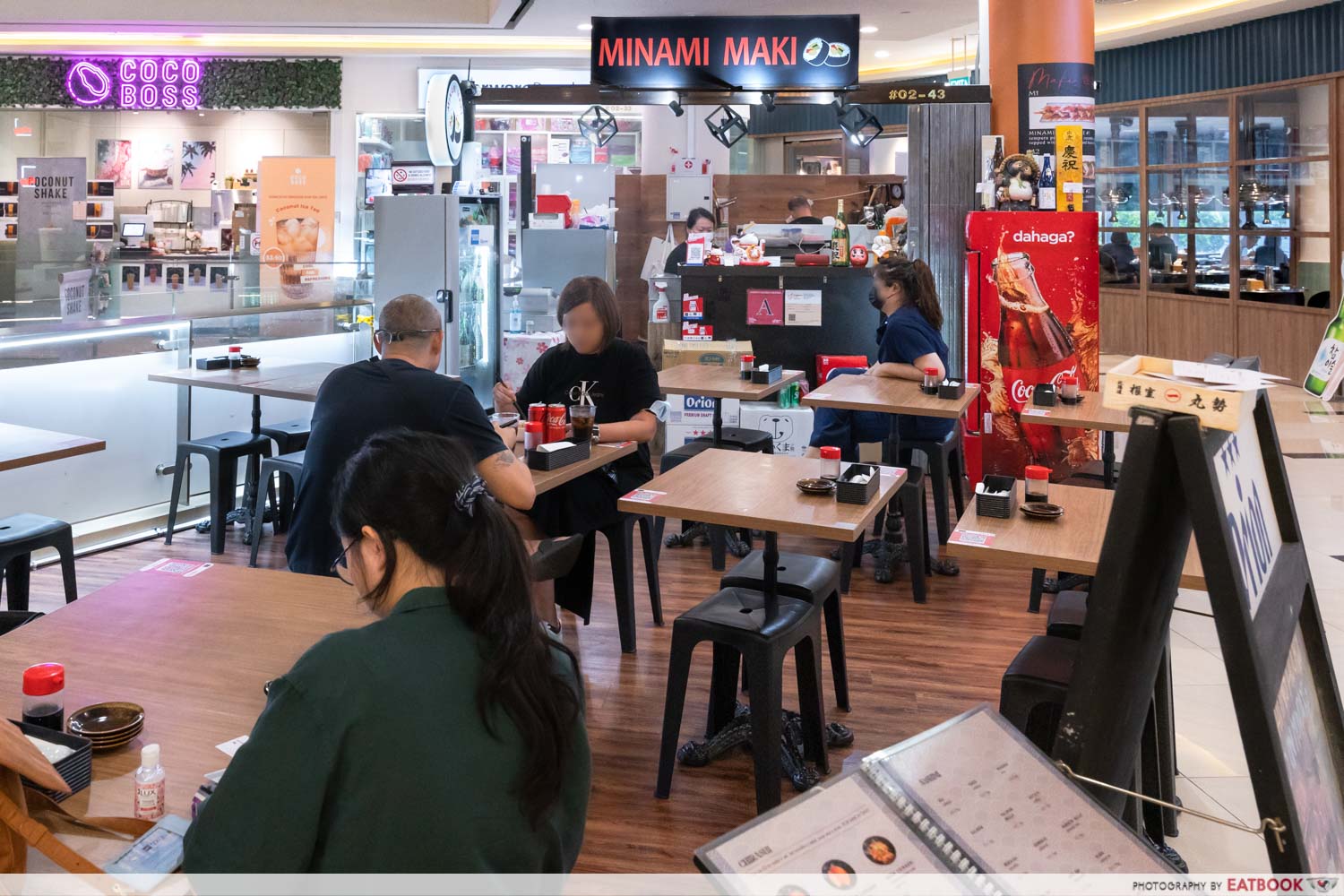 Minami Maki's setup is a rather small but open space with limited seating scattered throughout. Although there were people dining in even after lunch hour around us, save for the soft J-pop songs playing from the kitchen it's a rather chill and quiet environment.
I got here easily due to a direct bus from my house, but if you're coming here via MRT your route would be much more complicated. It's 16 minutes away from Queenstown MRT Station, and there's no direct bus between the two locations. If you're visiting on the weekend though, you could make use of the free IKEA shuttle bus service from Tiong Bahru MRT Station and Bouna Vista MRT Station at various timings as the mall it's in is right next to IKEA Alexandra. 
The verdict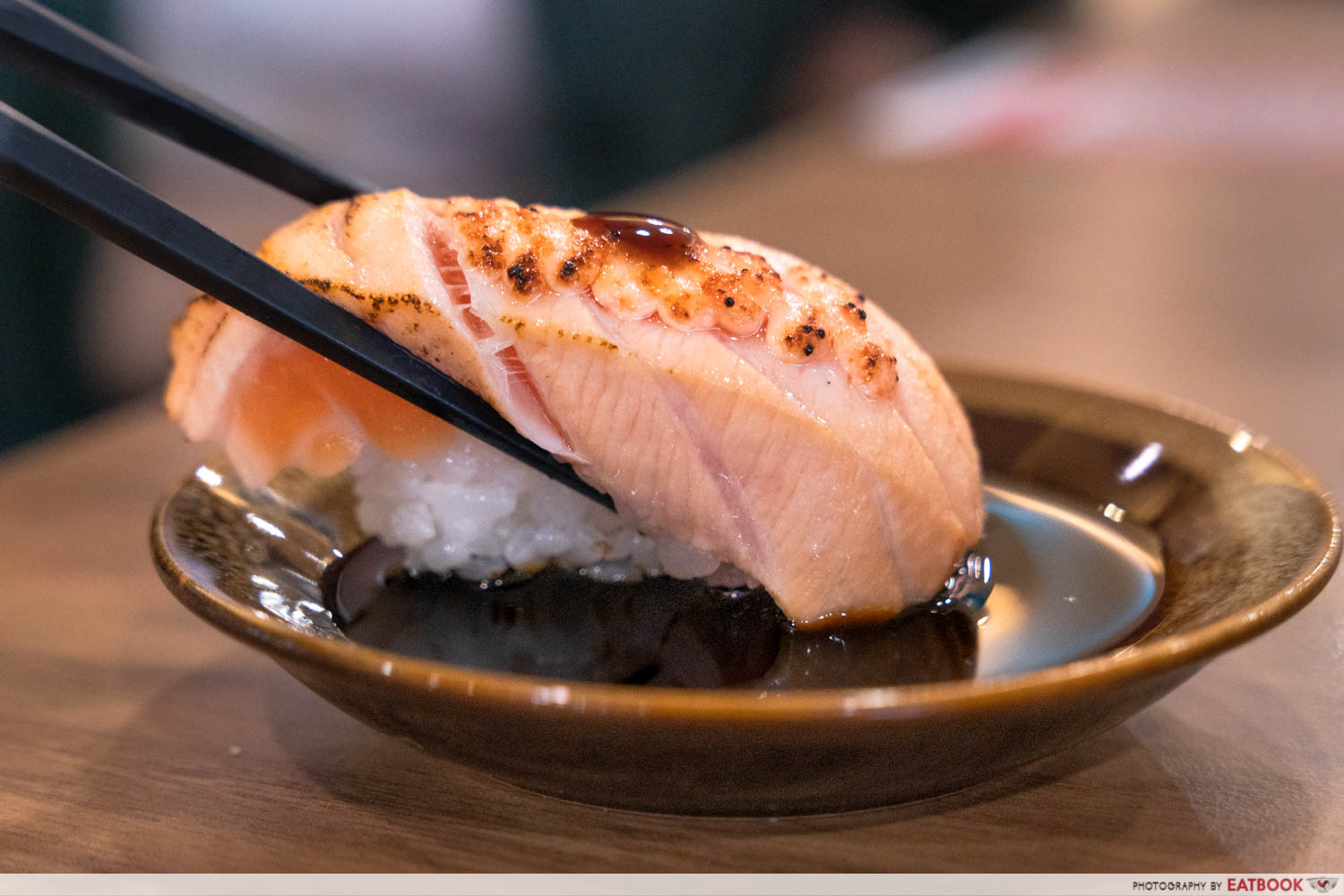 As the one running the kitchen, Stanley has been cooking Japanese food since he was a kid, and his decades of skill in preparing said cuisine are most obvious when tasting the delicious original maki rolls at Minami Maki. I would recommend stopping by, if not for the maki rolls, then for the other simple but high quality Japanese food on the menu.
For more affordable hole-in-the-wall Japanese food around, check out Ichi Umai in Yishun. Otherwise, read our Alexandra Central Mall guide for some of my favourite spots to eat in the area. 
Address: 321 Alexandra Road, #02-43 Alexandra Central, Singapore 159971
Opening hours: Tue-Sun 11:30am to 2:30pm, 6pm to 9pm
Tel: 6542 0302
Website
Minami Maki is not a halal-certified eatery.
12 Alexandra Central Mall Food Places For Korean BBQ, Deep-Fried Crab Bao And More
Photos taken by Tan Jia Hui
This was an independent visit by Eatbook.sg
Minami Maki Review: Affordable Japanese Eatery With Unique Maki Rolls In Bukit Merah
Minami Maki Review: Affordable Japanese Eatery With Unique Maki Rolls In Bukit Merah -

7.5/10
Summary
Pros
– Unique maki rolls were delicious
– Friendly owners
– Simple but good Japanese food

Cons
– Not close to MRT
Recommended dishes: Signature 1 ($14.80), Signature 2 ($12.80)
Opening hours: Tue-Sun 11:30am to 2:30pm, 6pm to 9pm
Address: 321 Alexandra Road, #02-43, Alexandra Central, Singapore 159971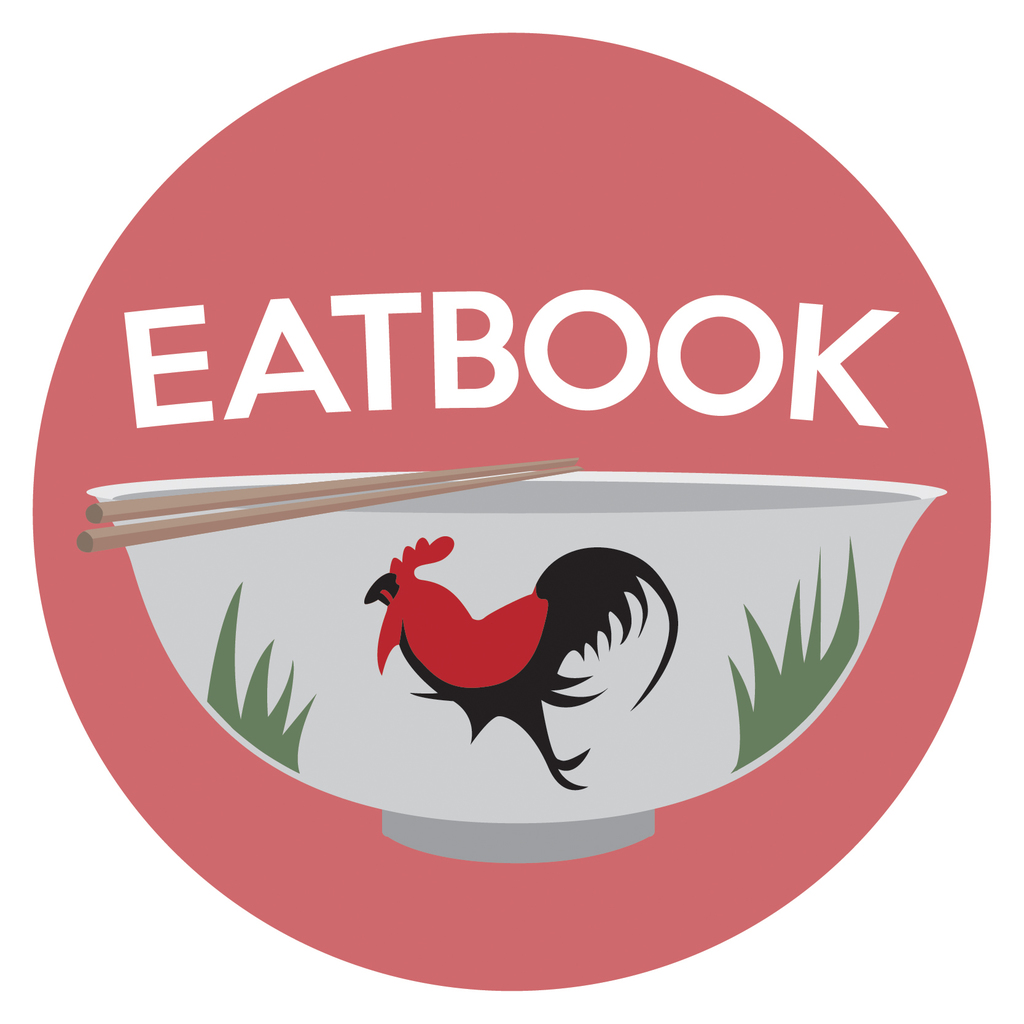 Drop us your email so you won't miss the latest news.