Massive burgers and loaded fries at Mischief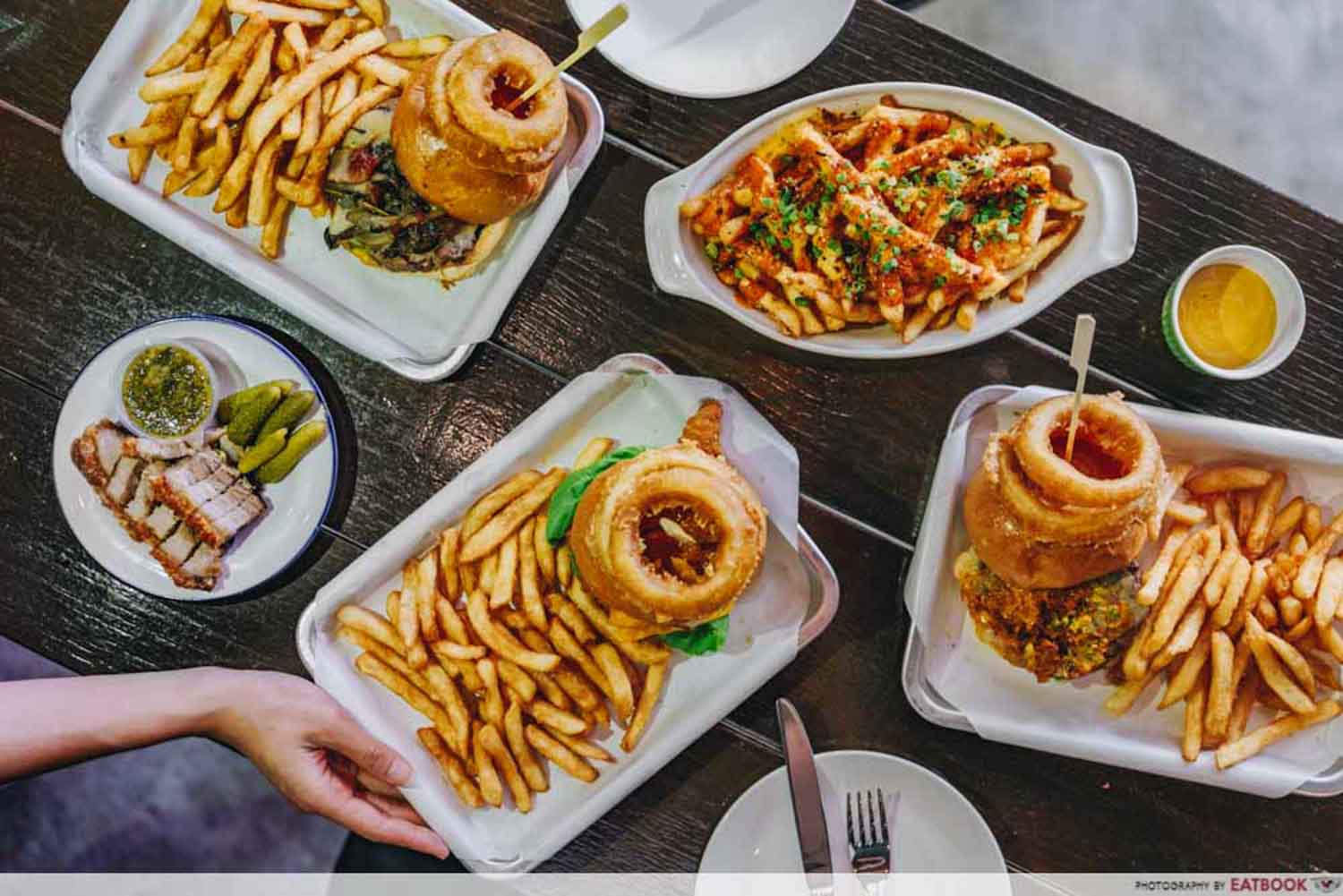 Just like any other working adult, I take joy in counting down the minutes until the end of work on Fridays. Not only does this #TGIF mean the start of the weekend, but it personally denotes cheat meal time. As someone who believes in the 80/20 rule when eating, I satisfy my cravings over the weekend with burgers, hearty Western food, and anything that's delicious. Since I only have these two days for indulgences, I won't waste my calories on anything mediocre. So when Mischief, a casual-dining bar at the Esplanade, launched their latest menu highlighting hefty burgers, I jumped onto the opportunity to try them out.
Food at Mischief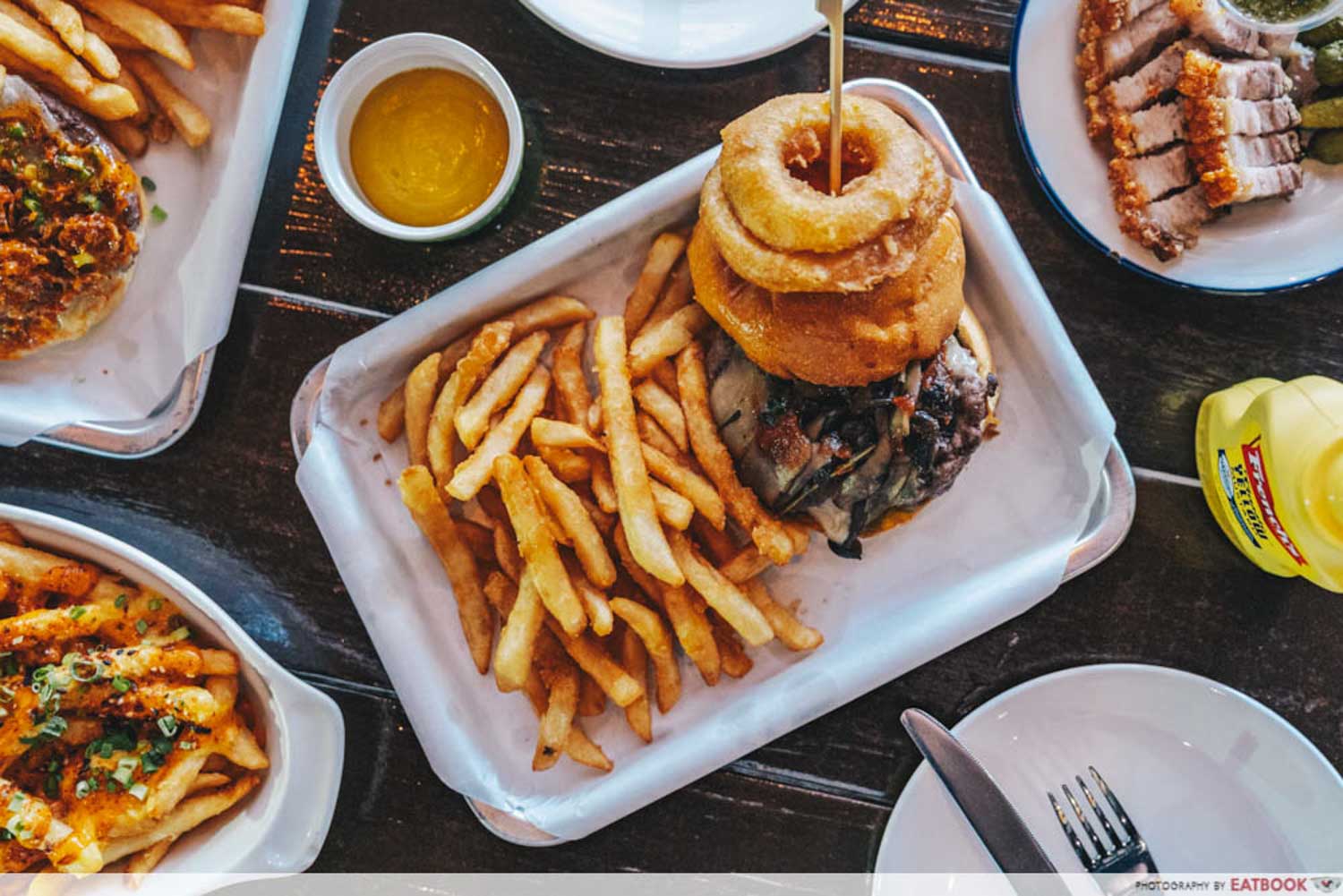 At first glance, Mischief seems to be a typical bar serving ordinary finger food, but their spanky new menu offers appetising dishes to match their trendy location.
I started off easy with one of their less sinful burgers: Stoners ($24++). This beef burger featured Australian wagyu paired with slow-cooked mushrooms.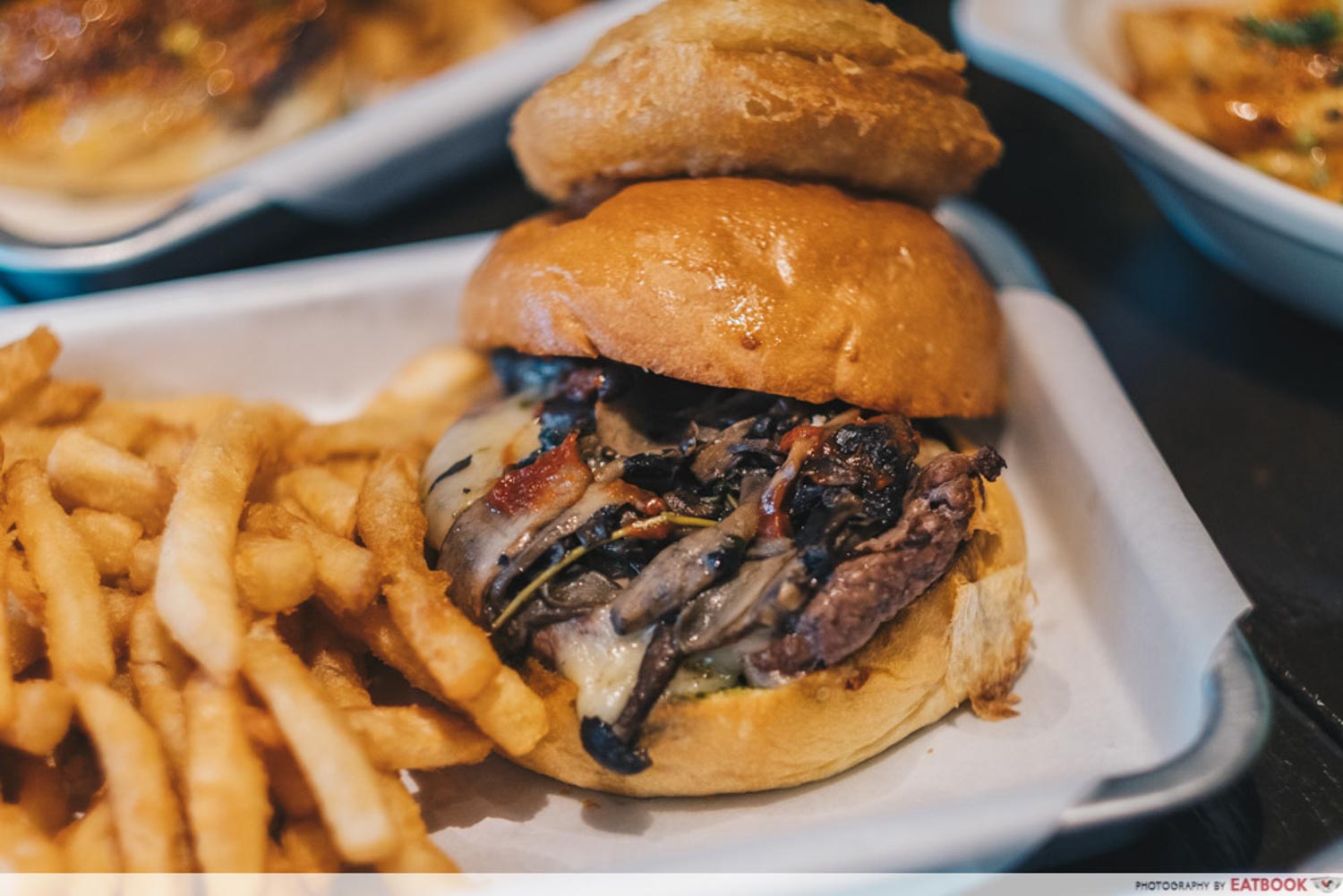 Buttered brioche buns sandwiched a grilled beef patty that was cooked till medium, with a warm, pink centre. The mushrooms were cooked until tender in an aromatic blend of herbs, including rosemary, basil, and oregano.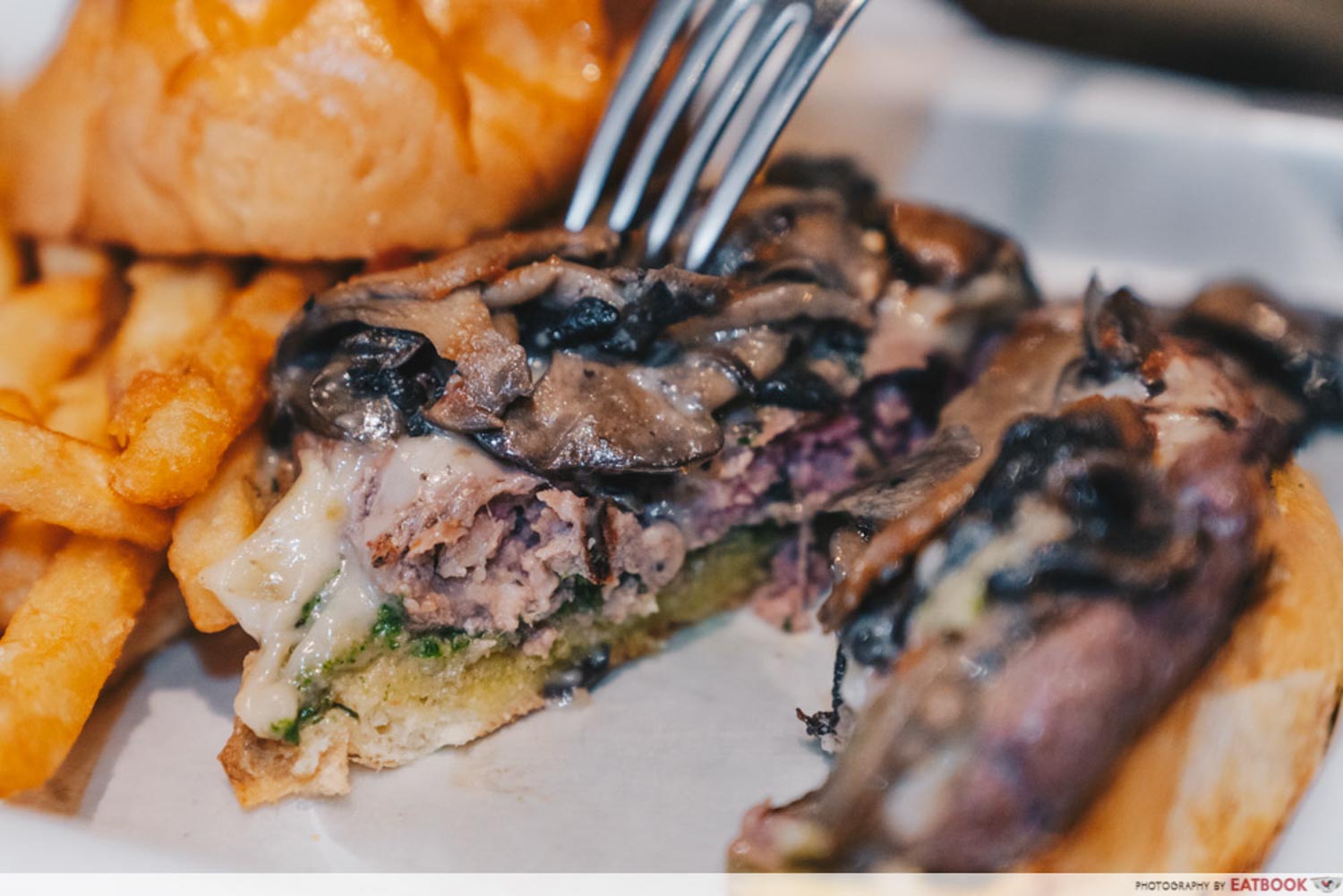 Each bite of this hefty burger was bursting with well-rounded beefy flavours, with complementary earthy notes from the soft mushrooms. The melted cream cheese pulled together these savoury elements in harmony and added a nice gooey touch.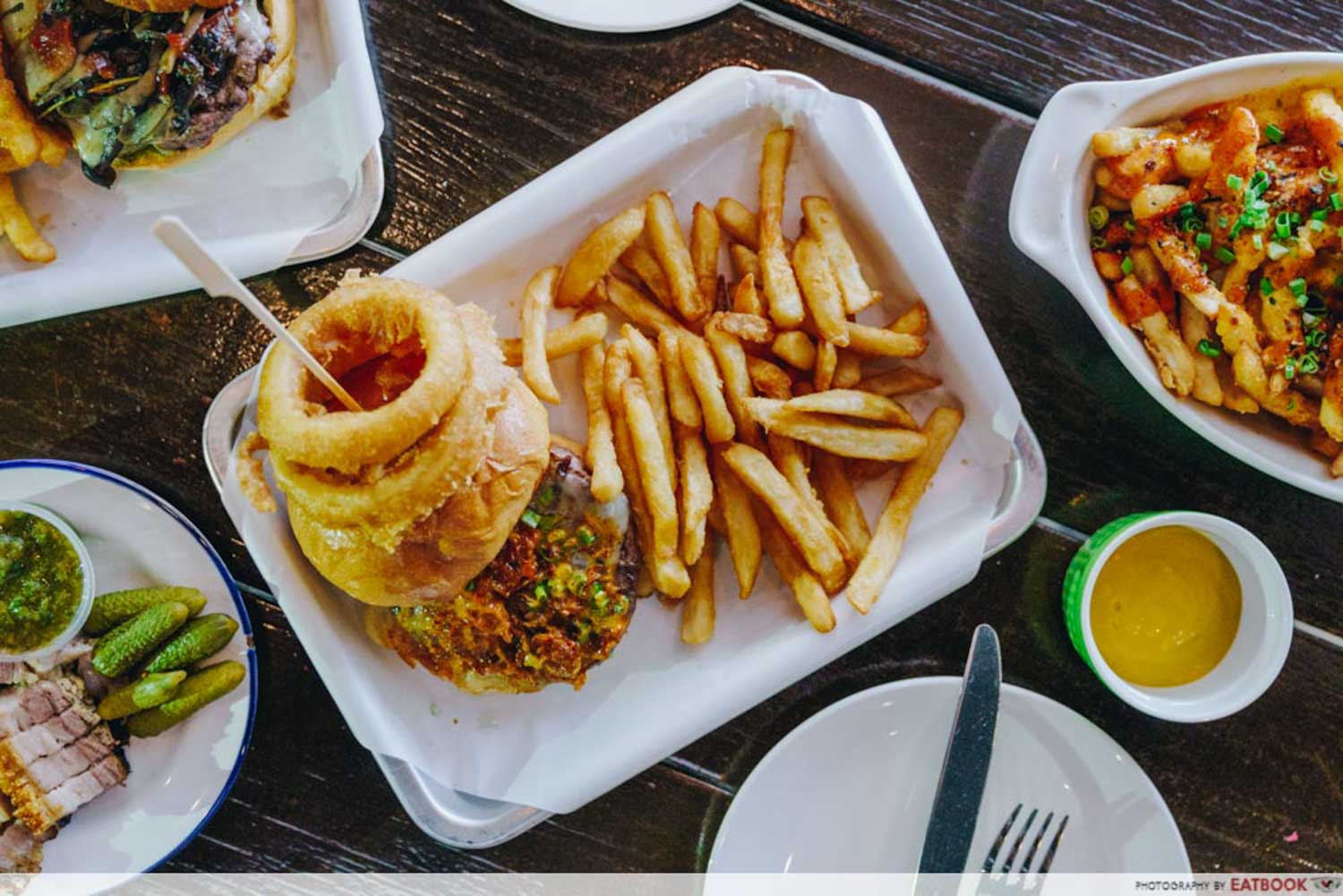 Mamacita ($20++) turned up the heat by pairing Australian wagyu beef with a house-made roasted chilli blend. Spice lovers would love the finishing touch of sriracha mayo on this bad boy.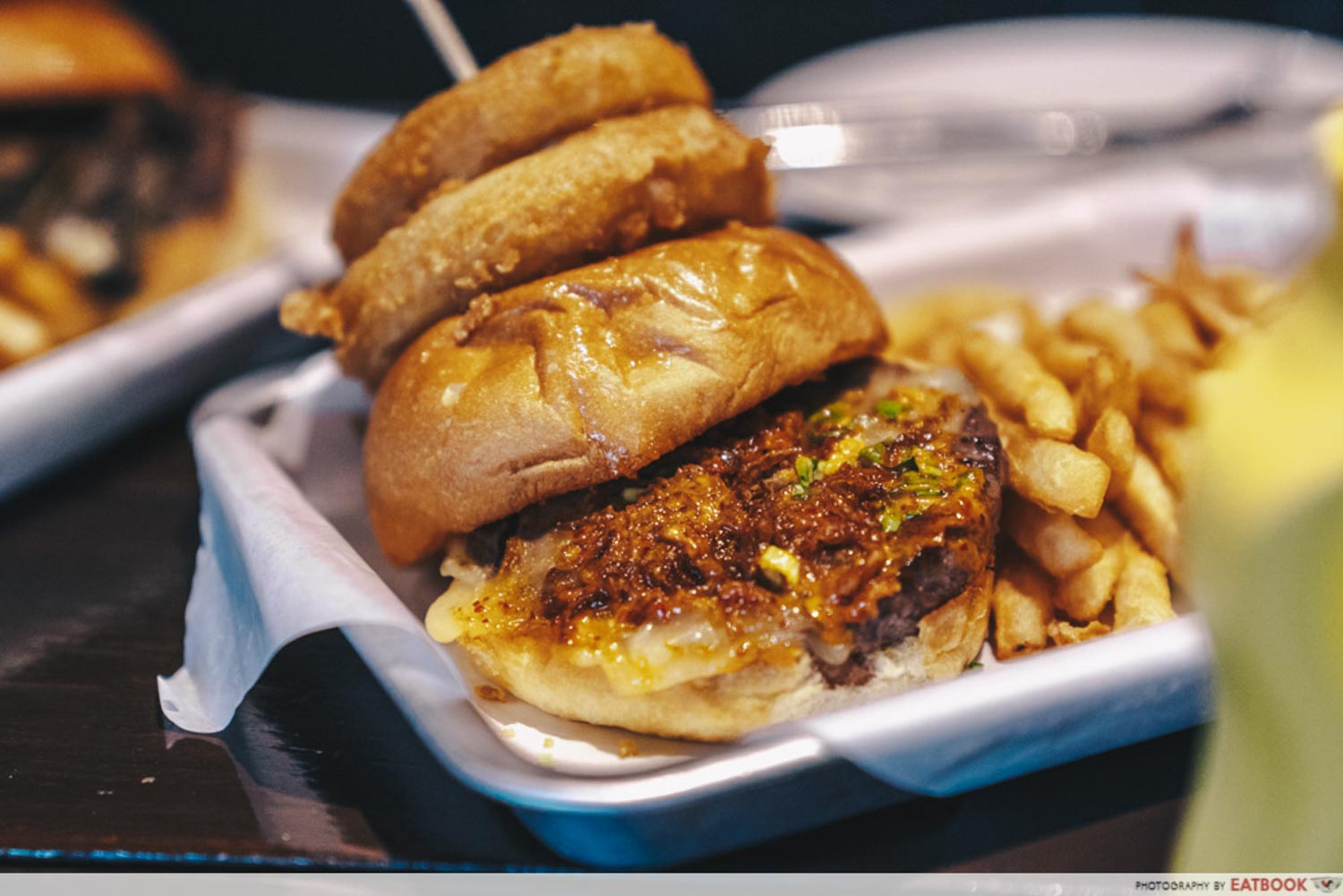 Generously slathered with spicy sauce, the charred beef patty boasted red hues which acted as a warning for the heat that was about to come.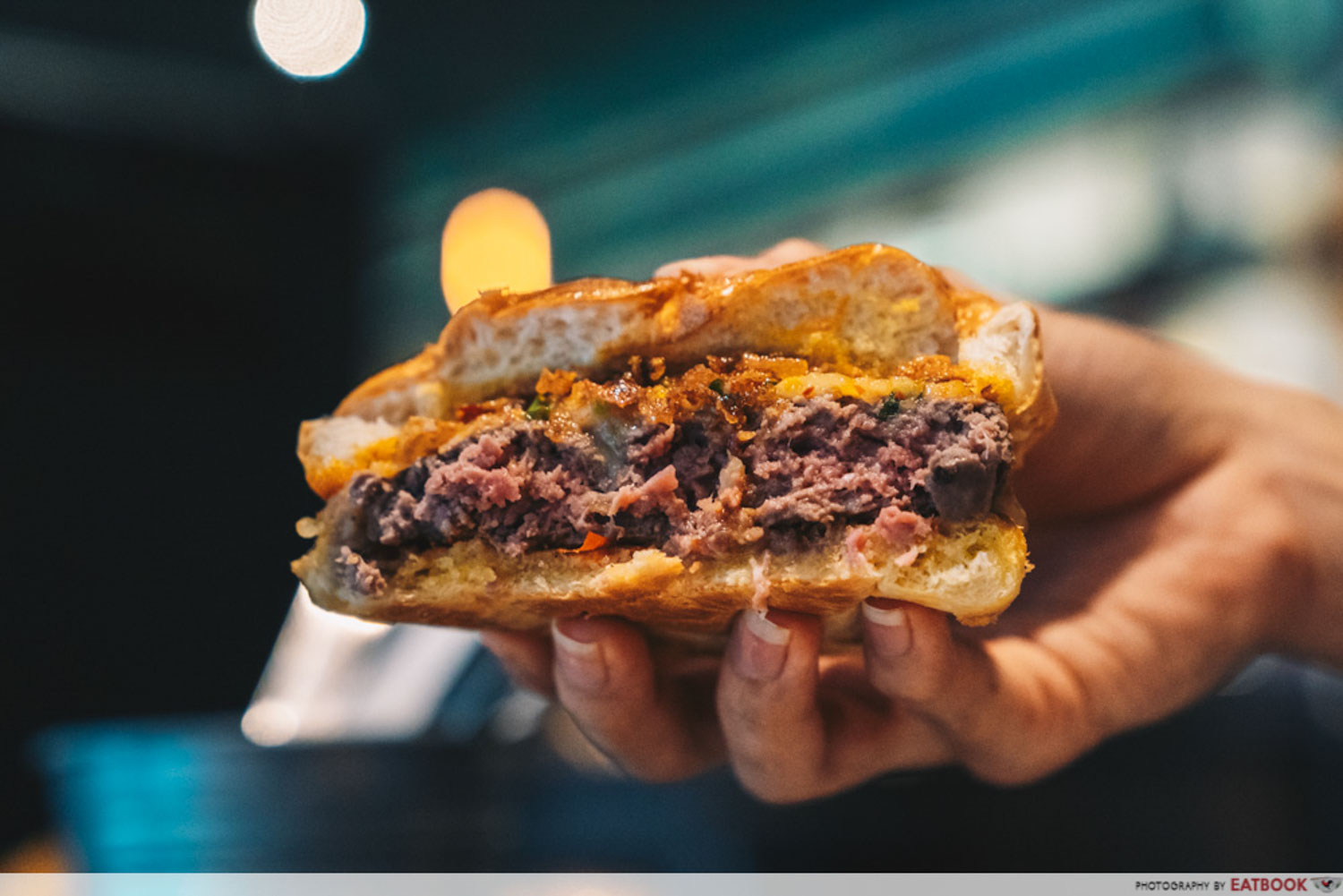 The sprinkles of golden-brown fried shallots added an aromatic touch to the burger, and also helped to cut through some of the heat from the spicy sauces. Instead of being tongue-numbing, the in-house roasted chilli mix elevated the robust beefy flavour of the patty.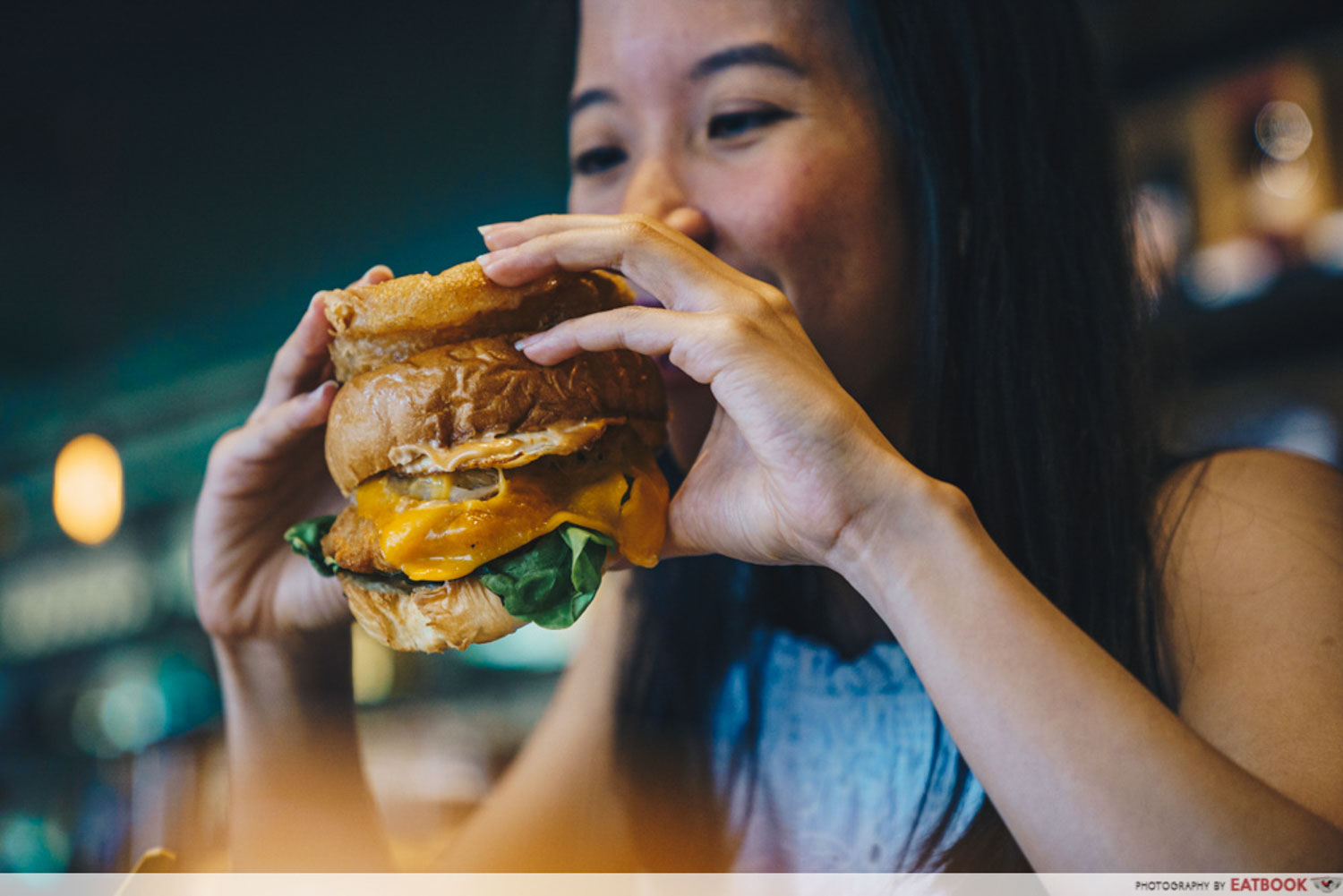 If you're not into beef patties, then hit up The Lovebird ($20++) for some deep-fried chicken action.
This massive burger has two golden-brown chicken thigh patties and a fried egg stacked between two buttered brioche buns.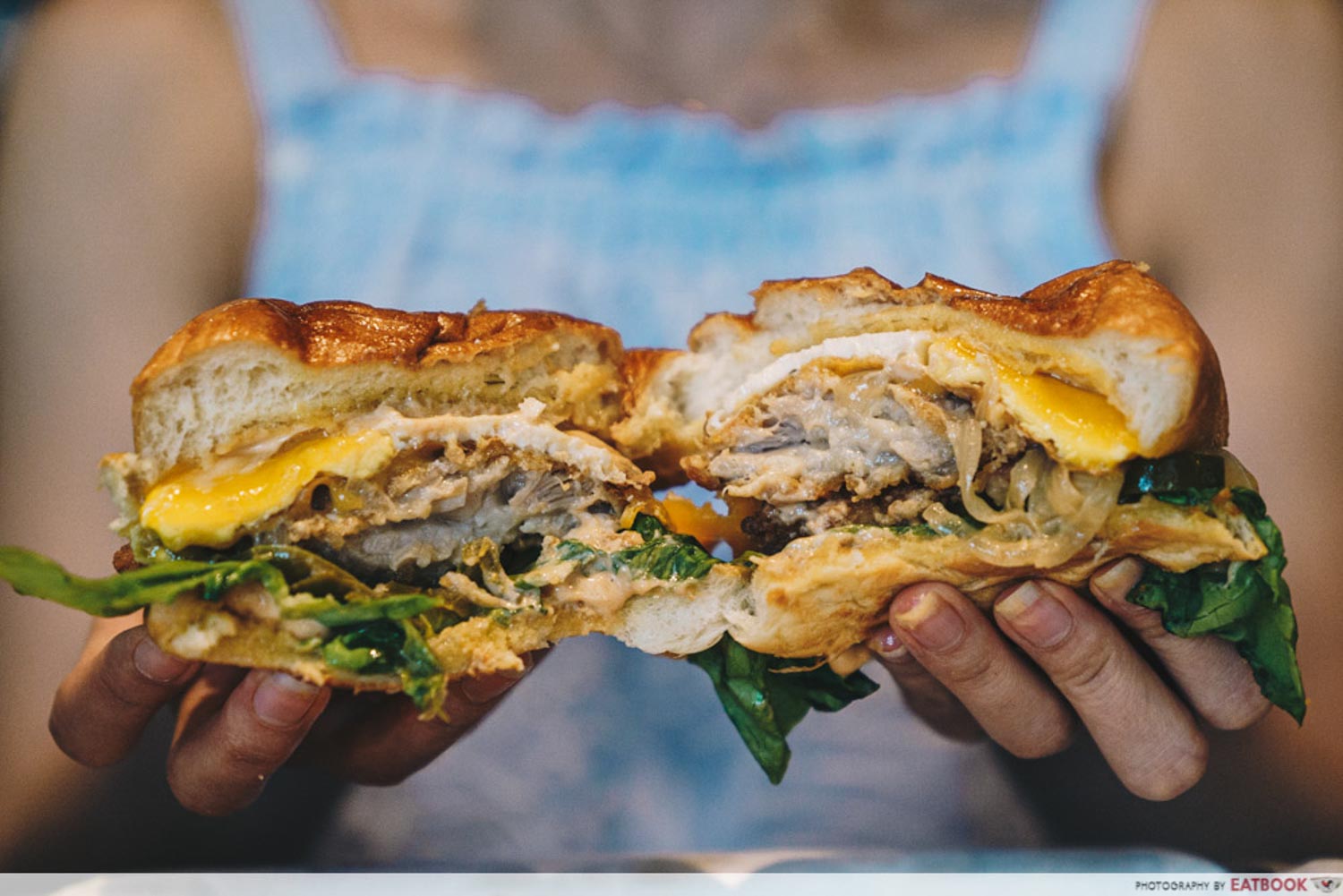 You'll have to stretch your jaw to take an entire bite of this chunky chicken burger. Glistening in all of its oily glory, the deep-fried thigh was succulent and oozing with natural juices. The pickled jalapenos cut through the grease with hints of tanginess.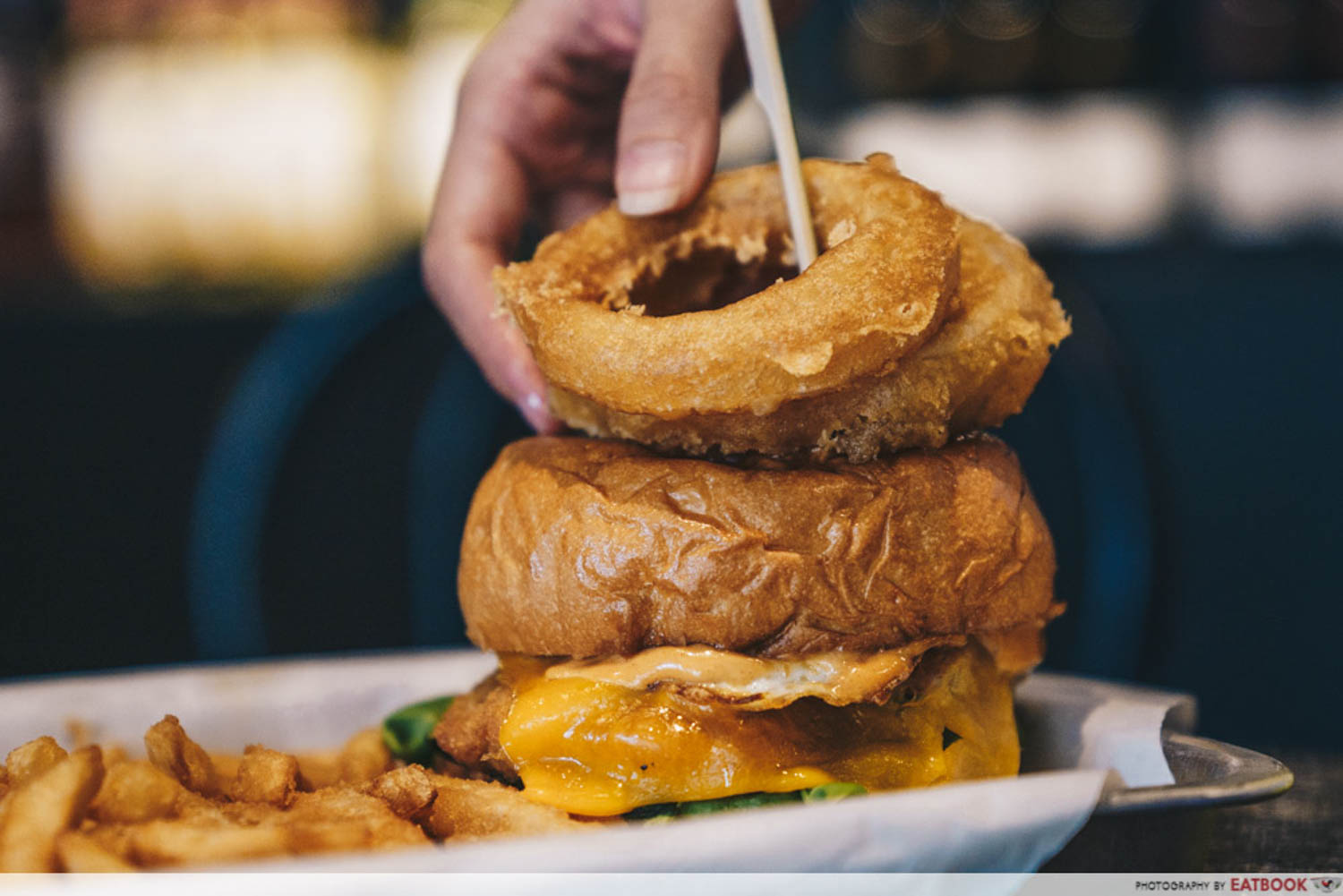 Each burger is skewered in the middle to hold everything together. Two large crispy onion rings lay on top of the burger like a crown, and burst with natural sweetness in each bite.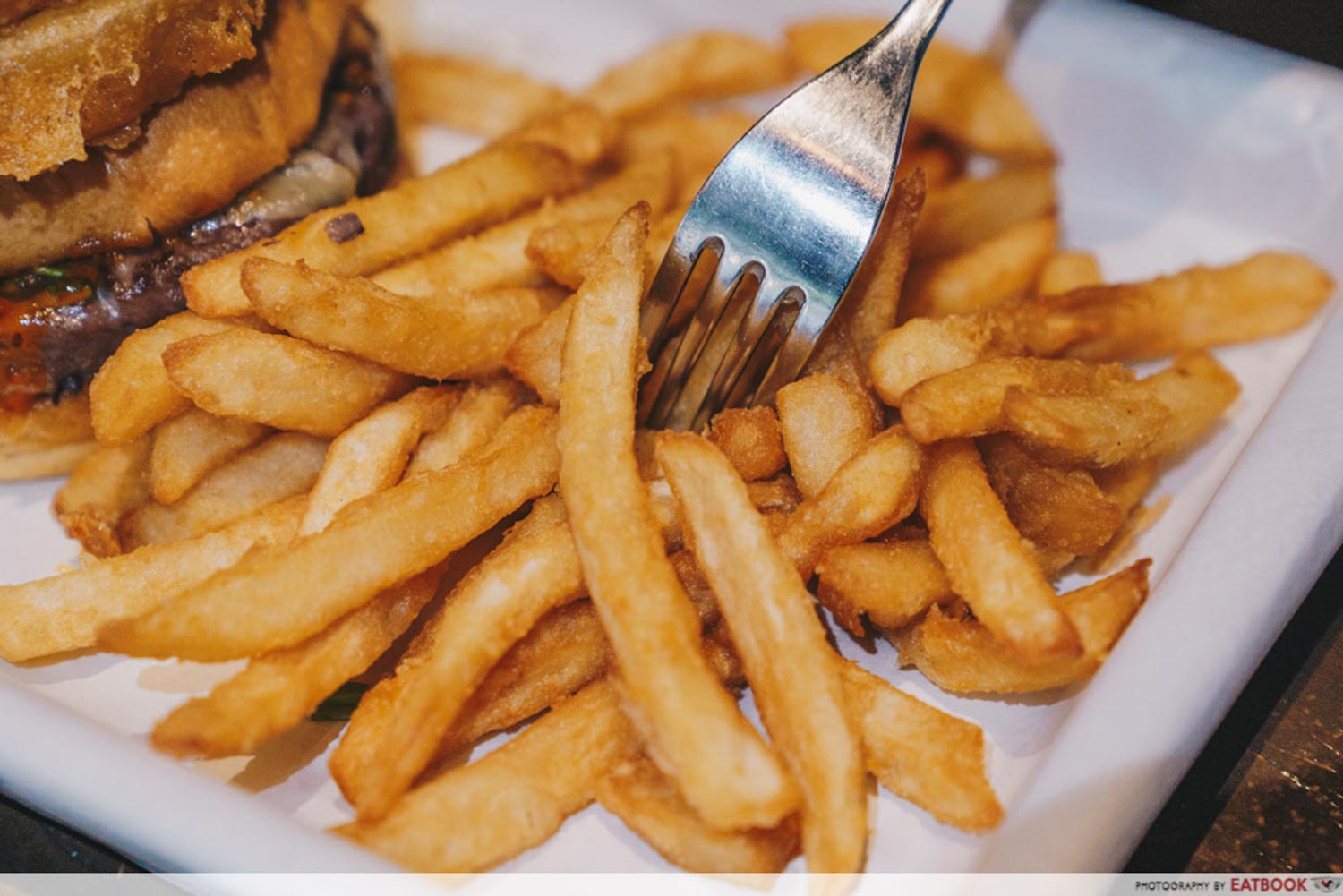 Each order of their burger comes with a side of crunchy thick-cut fries.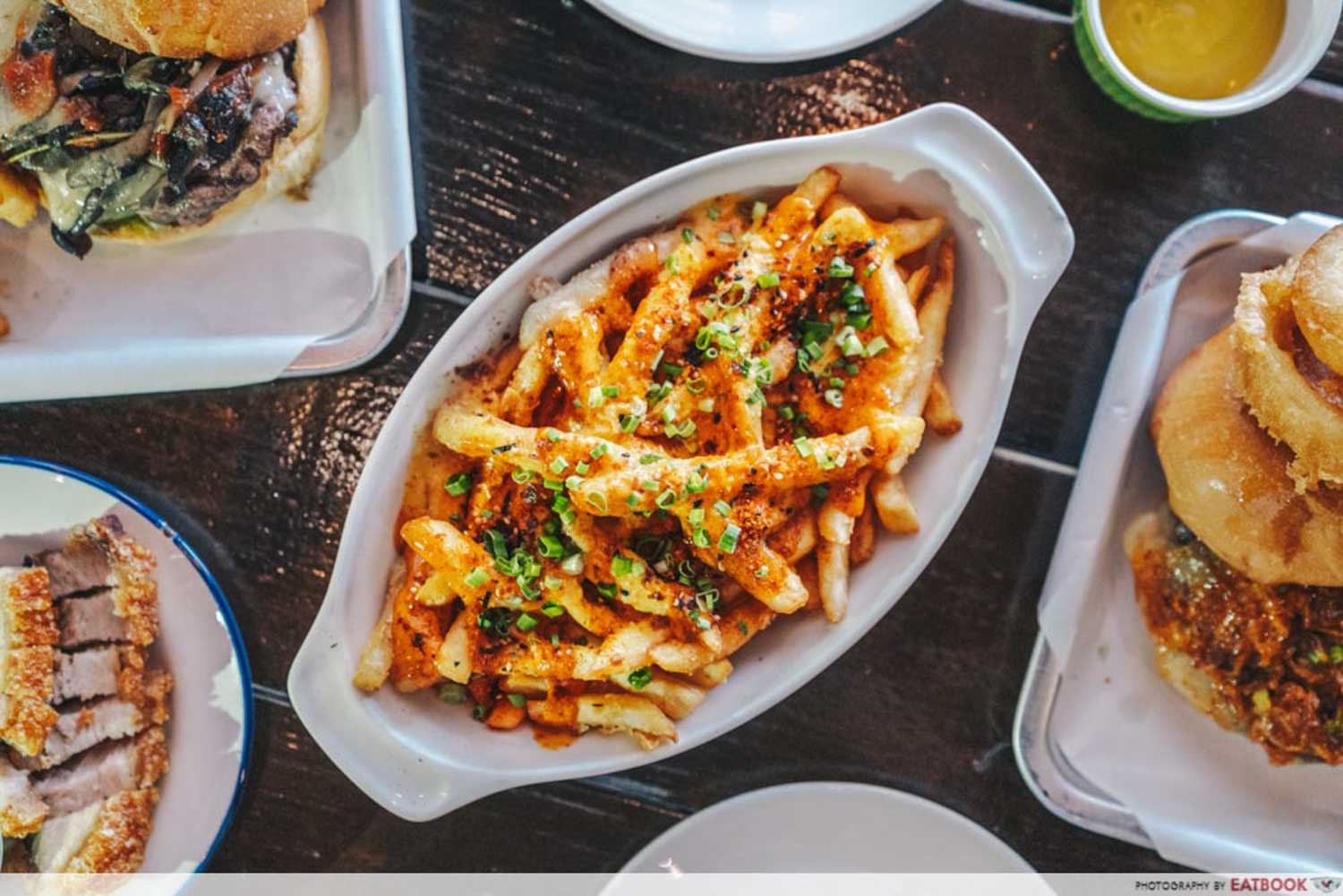 If you're a fan of thick-cut fries and chilli, don't miss their Atomic Fries ($14++)! The name of this dish gives an inkling of the spiciness you'll feel.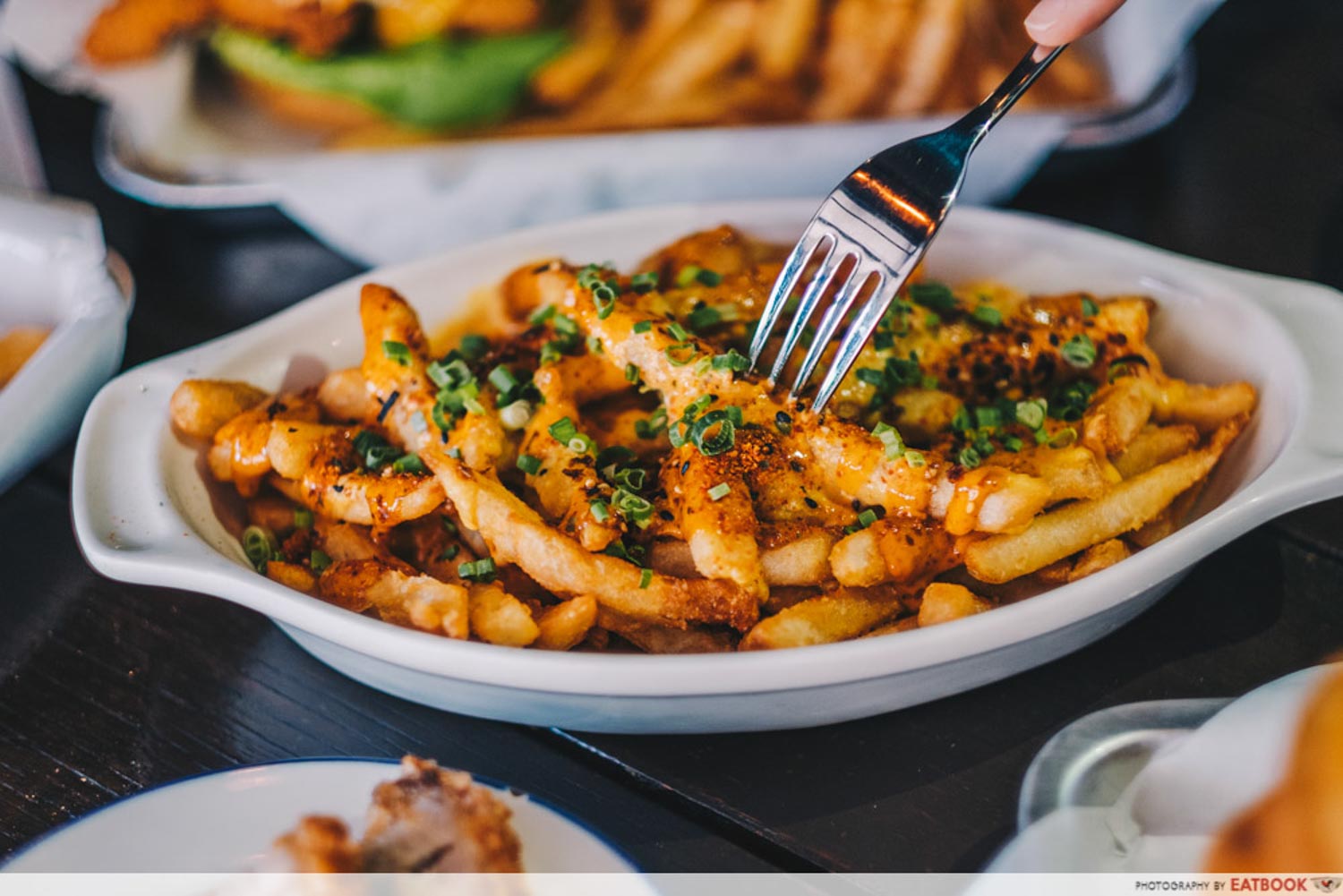 These spicy fries are a test of one's spice tolerance as they are loaded with a blend of cheese, sriracha mayo, and Japanese spices including red chilli peppers and peppercorns.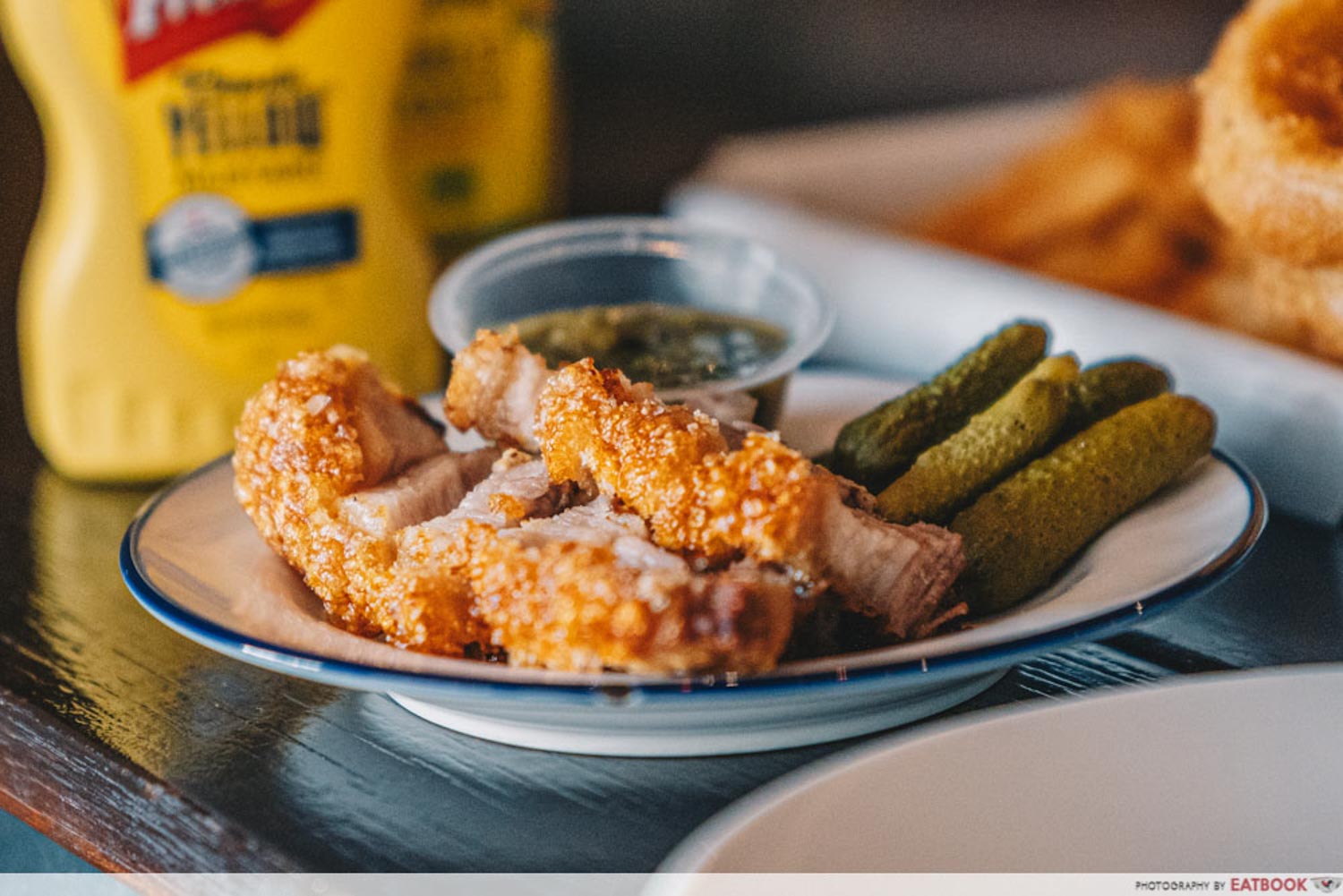 Another great side dish to nibble on is the Crackling Pork Belly ($12++), which comes with an oregano-based dipping sauce and pickles.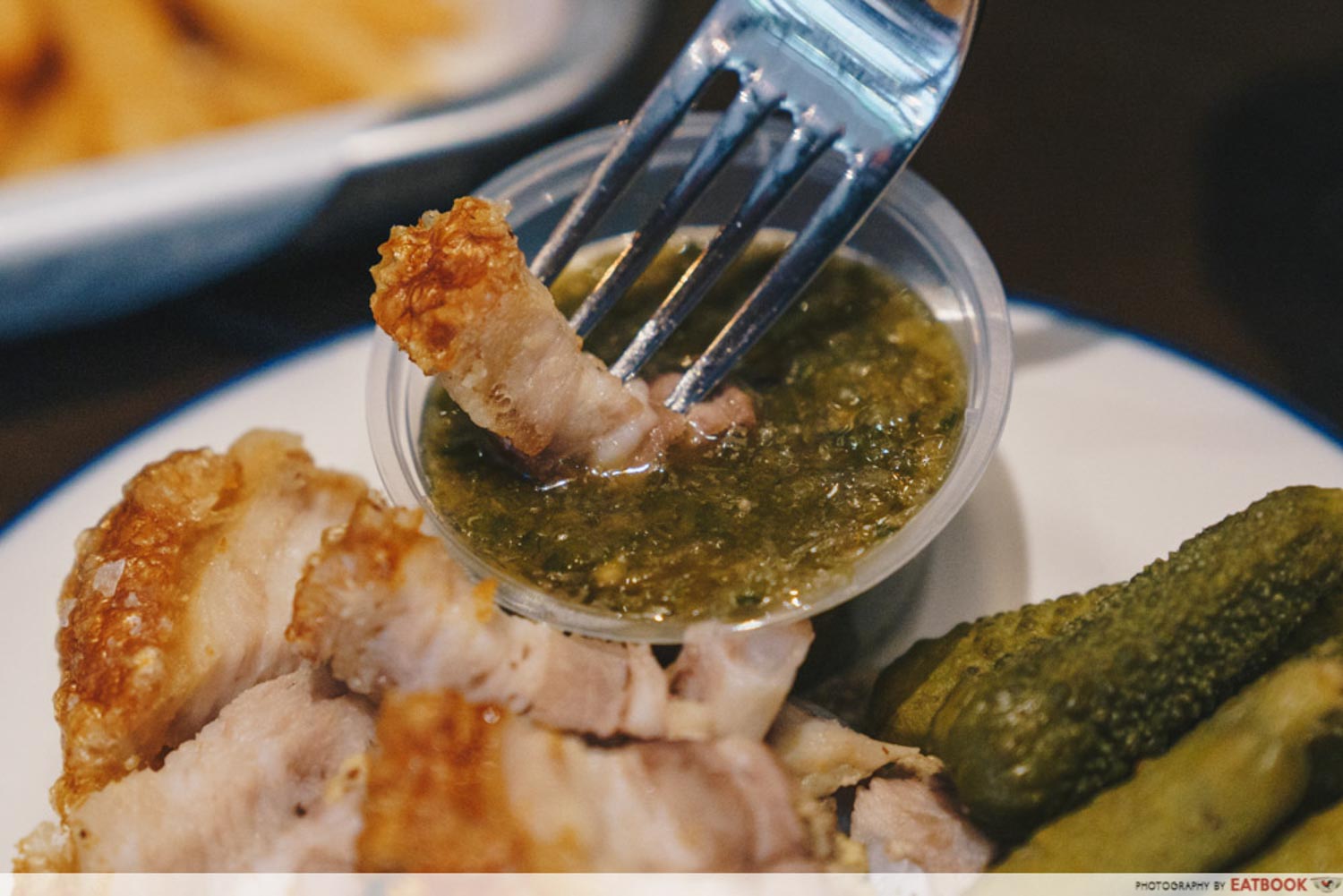 Each chunk of pork belly had golden-brown crispy skin with a decent ratio of fat to meat. Dipping a piece of pork into the tangy sauce elevated the savoury profile of the meat.
The side of pickles acted as a refreshing and tart palate cleanser from the otherwise jelak pork belly.
Ambience at Mischief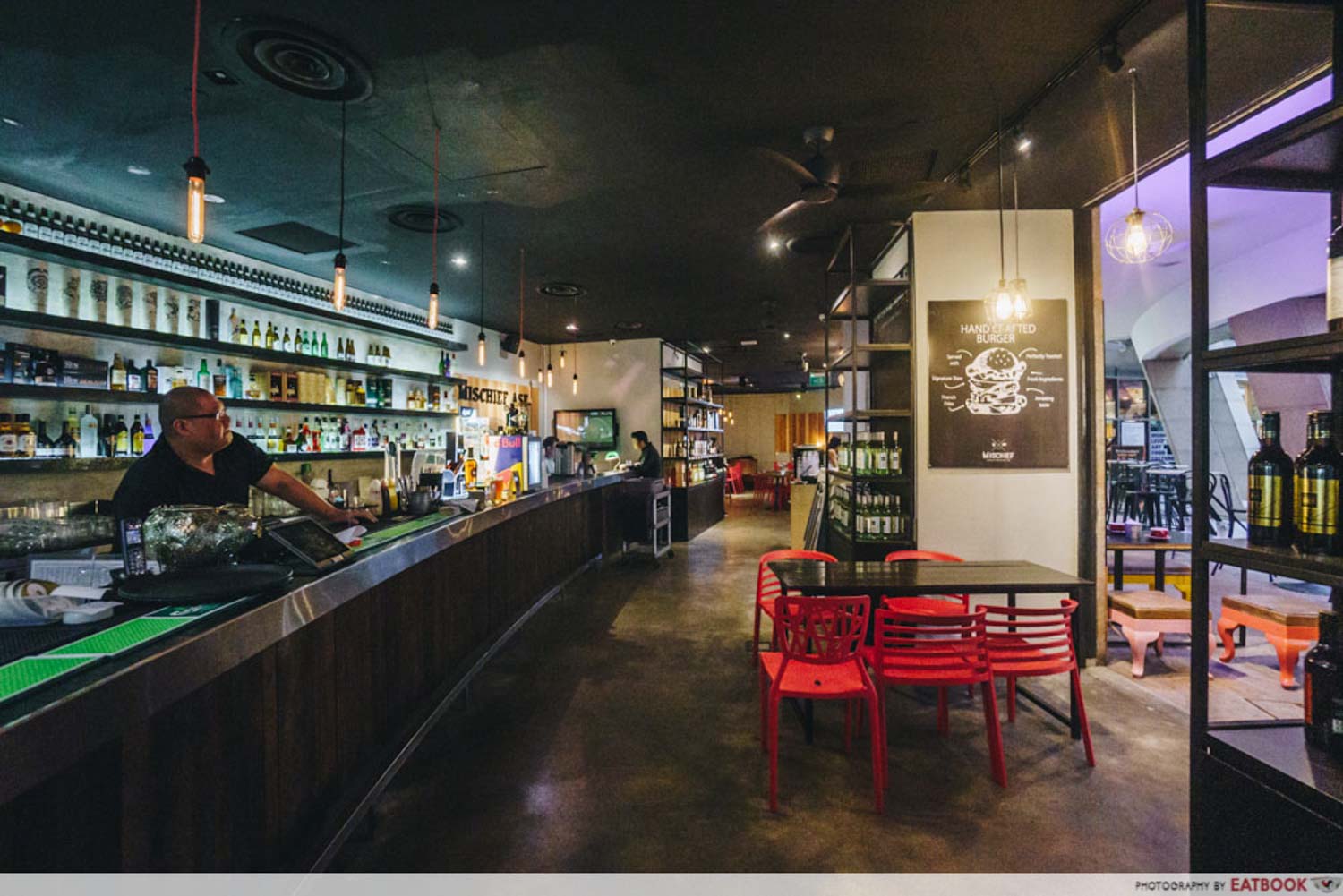 Lined with hanging fairy lights, Mischief's alfresco dining area turns to a lovely setup once the sun dips into the horizon. If you prefer to stay cool, head indoors for their air-conditioned seats. This indoor seating option has dim lighting, making for a more intimate dining setting. 
The verdict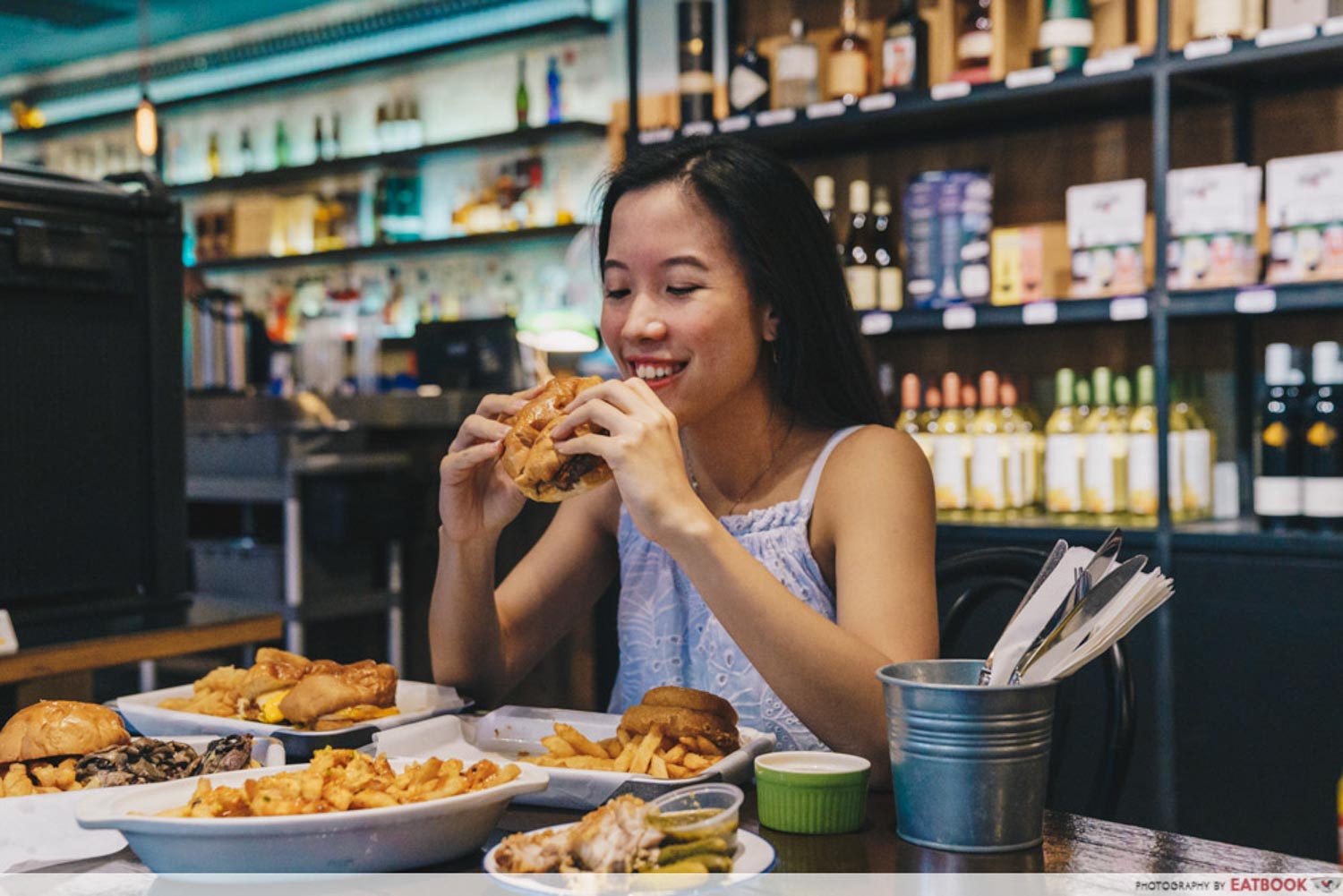 Mischief joins my list of places for a great cheat meal. Although their burgers are packed with flavour, I found myself reaching out to wipe the grease off my fingers one too many times. But I suppose it's this oiliness that makes burgers and fries so good yet sinful.
Address: 8 Raffles Avenue, #01-12, Esplanade Mall, Singapore 039802
Opening hours: Mon 5pm to 11pm, Tue-Thur 5pm to 1am, Fri-Sat 5pm to 3am, Sun 5pm to 12am
Tel: 6532 0106
Website
Photos taken by Huy Pham.
This post is brought to you by Mischief.
Summary
Pros
– Prices are reasonable
– Generous portions
– Flavoursome burgers
Cons
– A tad oily
Recommended dishes: Mamacita ($20++), The Lovebird ($20++), Atomic Fries ($14++)
Opening hours: Mon 5pm to 11pm, Tue-Thur 5pm to 1am, Fri-Sat 5pm to 3am, Sun 5pm to 12am
Address: 8 Raffles Avenue, #01-12, Esplanade Mall, Singapore 039802