Get your cuppa from MSpace at Maybank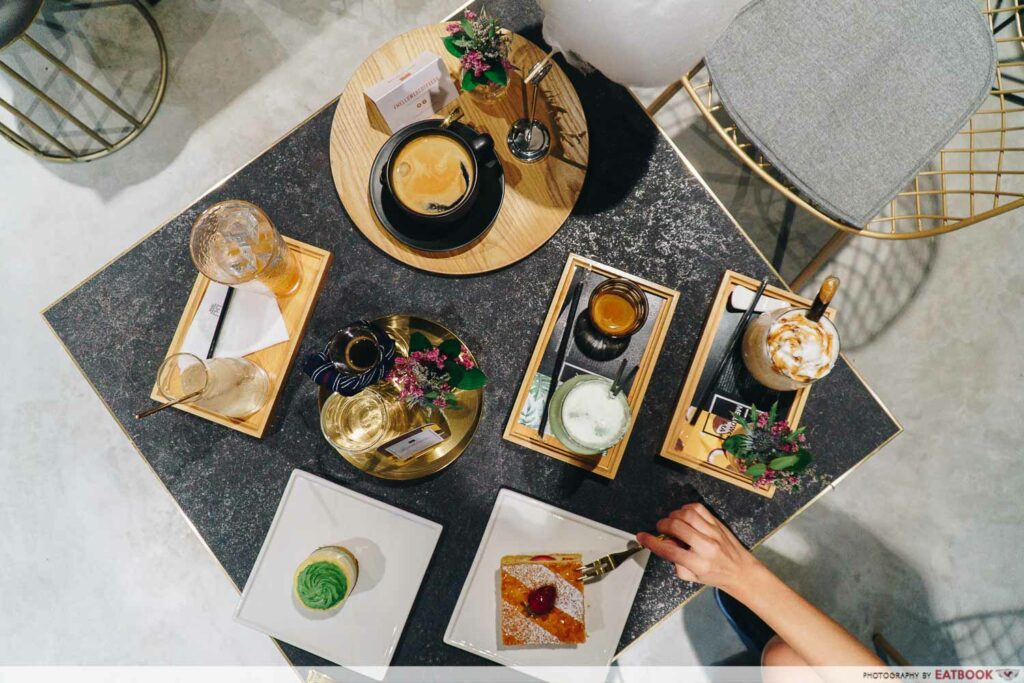 Coffee, cakes and a nice place to unwind. That's my idea of a perfect afternoon. And a new favourite joint to spend my weekends at is MSpace at Maybank. Opened on 22 November, it is concept Maybank branch with a café by Mellower Coffee, where you can come by and chill out with a cup of Joe – no strings attached.
Plus, aside from the usual lattes and flat whites, you will find exclusive drinks crafted for MSpace at Maybank showcasing ingredients from Malaysia like Gula Melaka, where Maybank originates from.
Drinks at MSpace at Maybank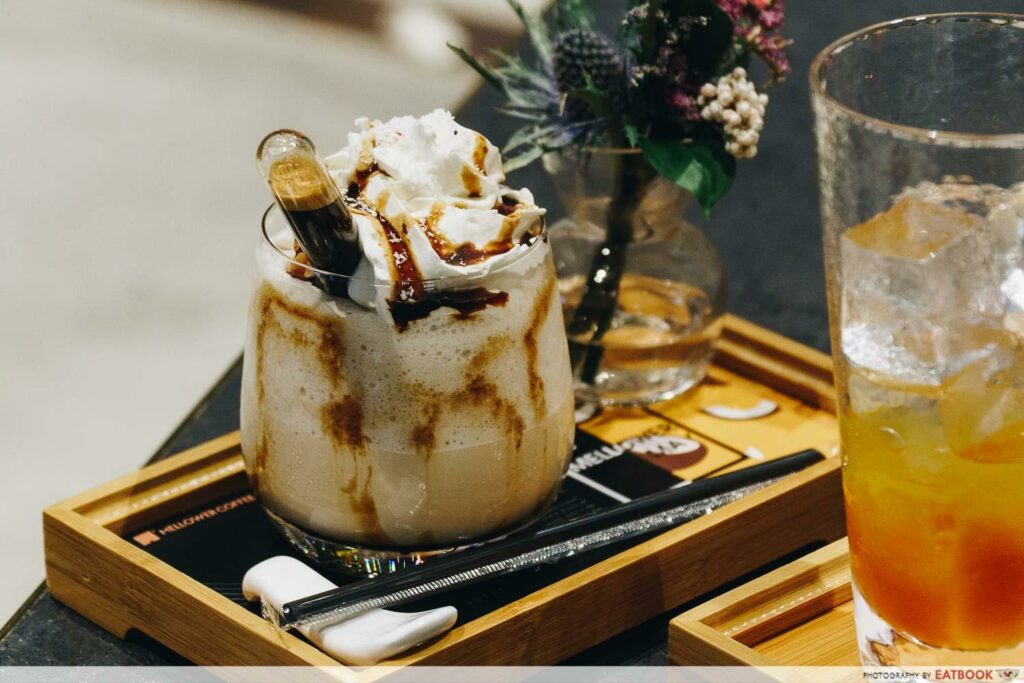 Set to be a crowd favourite is the Mellower May ($9.80). Pretty to the eyes and extremely tantalising, the toothsome beverage is lined with gula melaka and topped with light whipped cream and coconut shavings.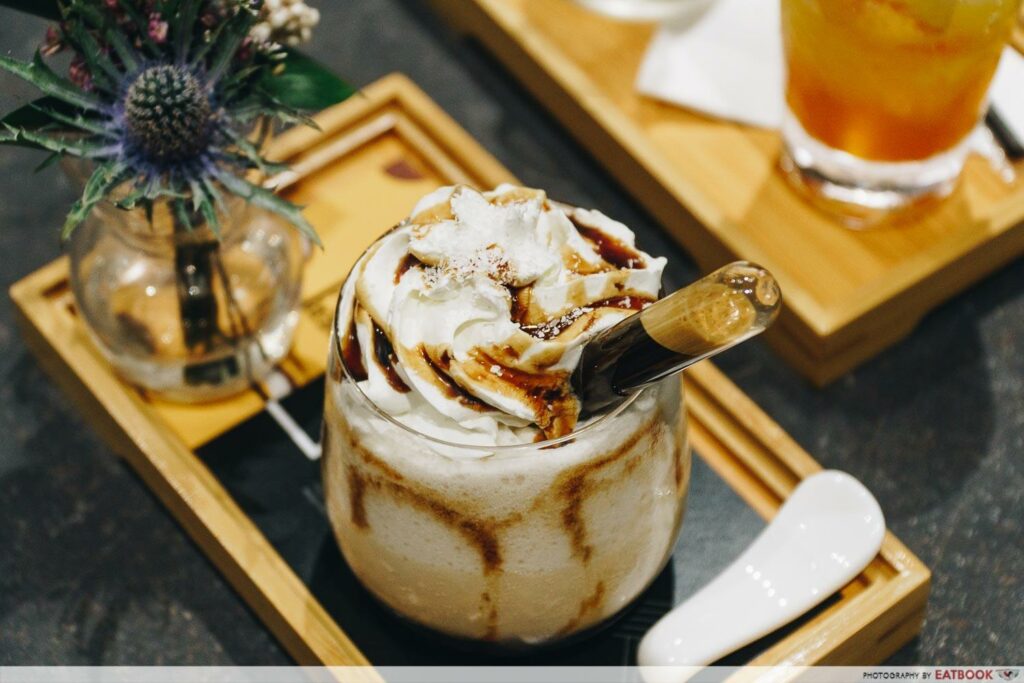 There's also a tube of roasty Mellower Single Origin Sumatra espresso injected into the drink, which you are advised to only take out after taking a sip of the creamy creation. This lets you experience the full flavour of the drink, and you will find that the espresso shot helps balance off the sweetness of the palm sugar.
Feel like a million dollars when you order the Gold Rush Sparkling Mango ($7.80). Pour in the accompanying carbonated water to the fruit puree base, and be dazzled by the swirls of gold specks.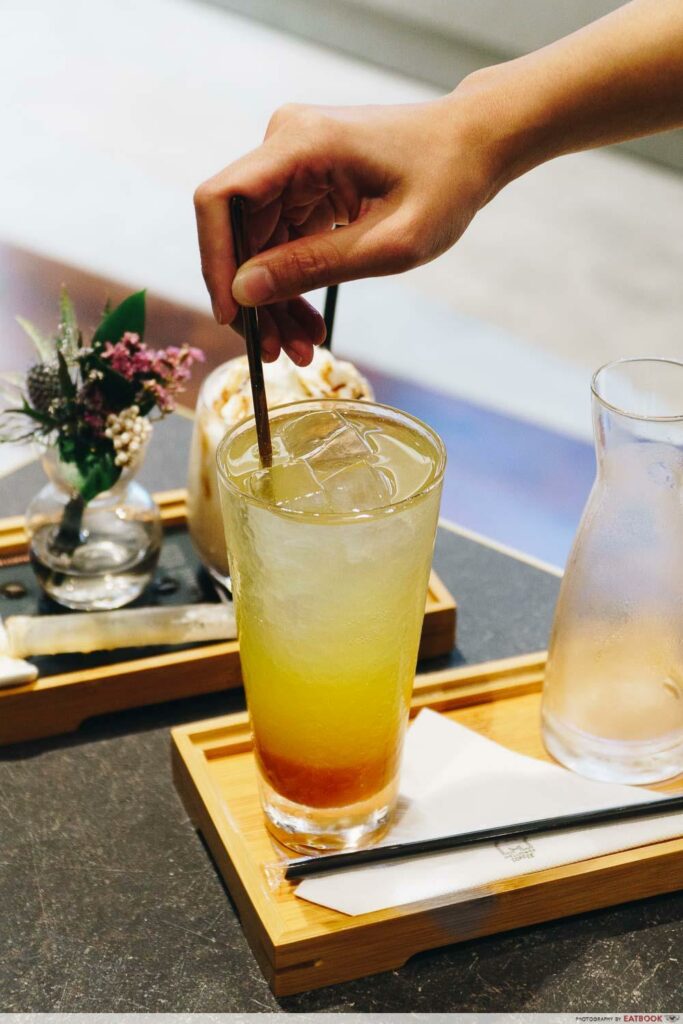 Crisp in taste and deliciously fruity, the bubbly drink makes for a great thirst-quencher, refreshing your palate on a hot summer day.
At MSpace at Maybank, you can also enjoy Mellower's range of signature coffee such as the Ondeh x Latte ($9.80) and Sweet Little Rain ($9.80).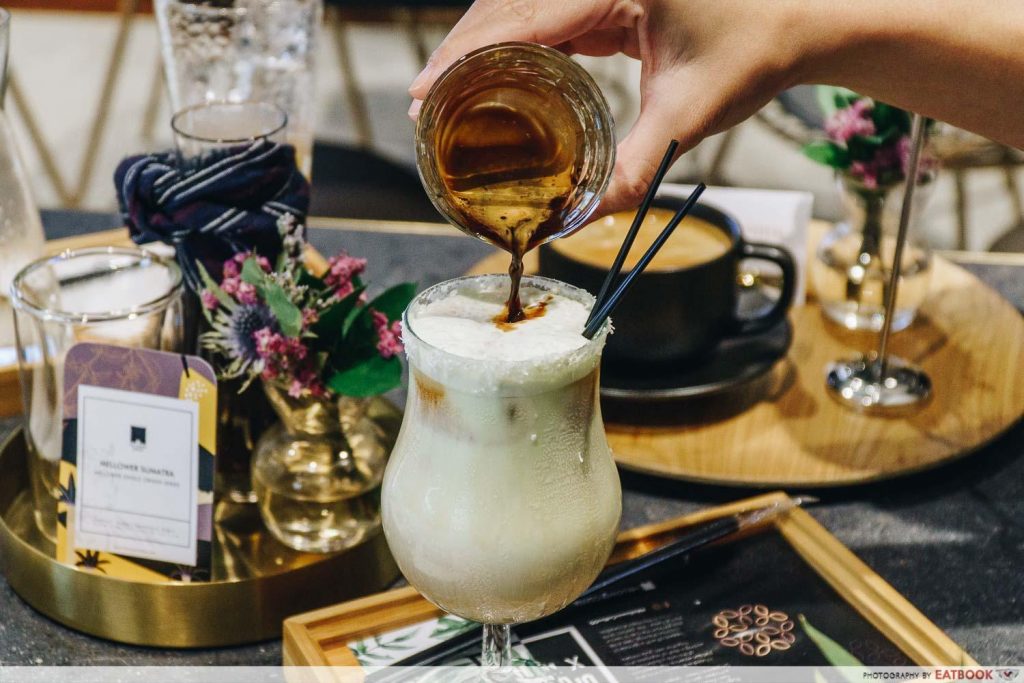 The former is an interesting concoction, where the floral fragrance of the pandan and richness of the coconut milk shines through the mild bitterness of the accompanying espresso shot.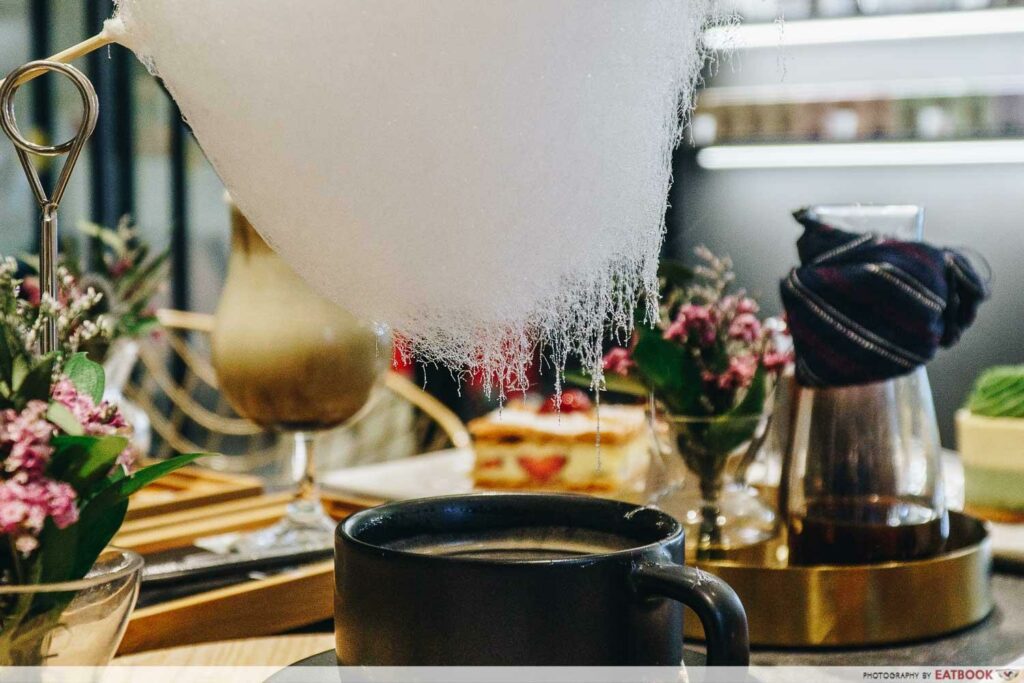 The Sweet Little Rain, however, will please those who prefer their coffee black. This Insta-worthy drink comes with a cloud of hand-crafted cotton candy, which melts slowly and drips into the steaming hot Americano.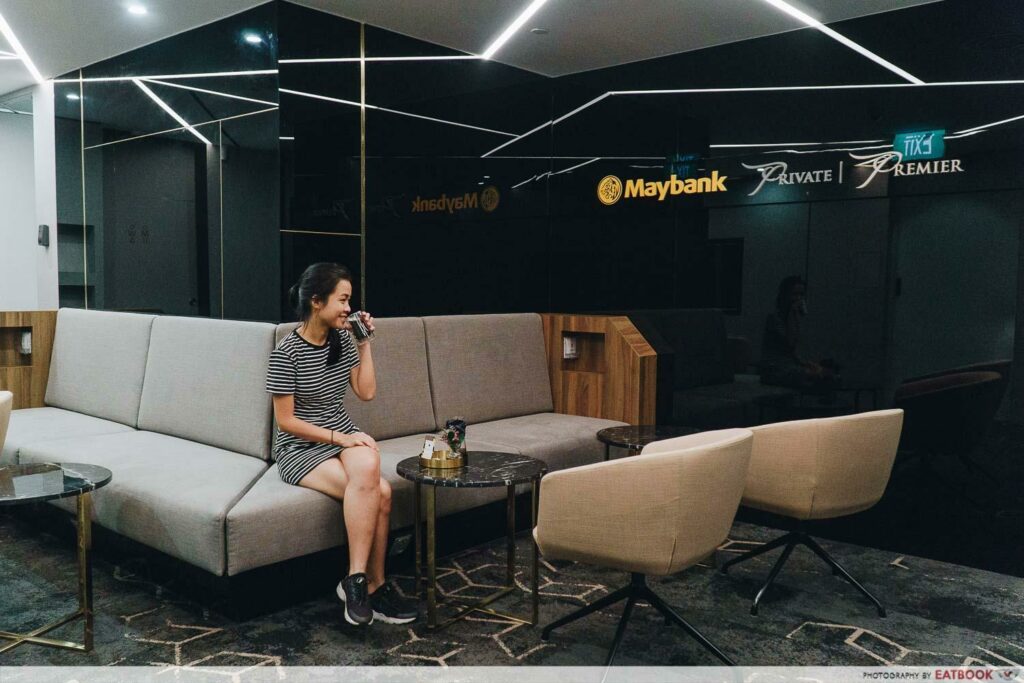 High-net-worth customers of Maybank can also gain access to the premium lounge on the mezzanine floor. There, they can rub shoulders with fellow Crazy Rich Asians, as well as settle all their banking needs in the private rooms with the relationship managers.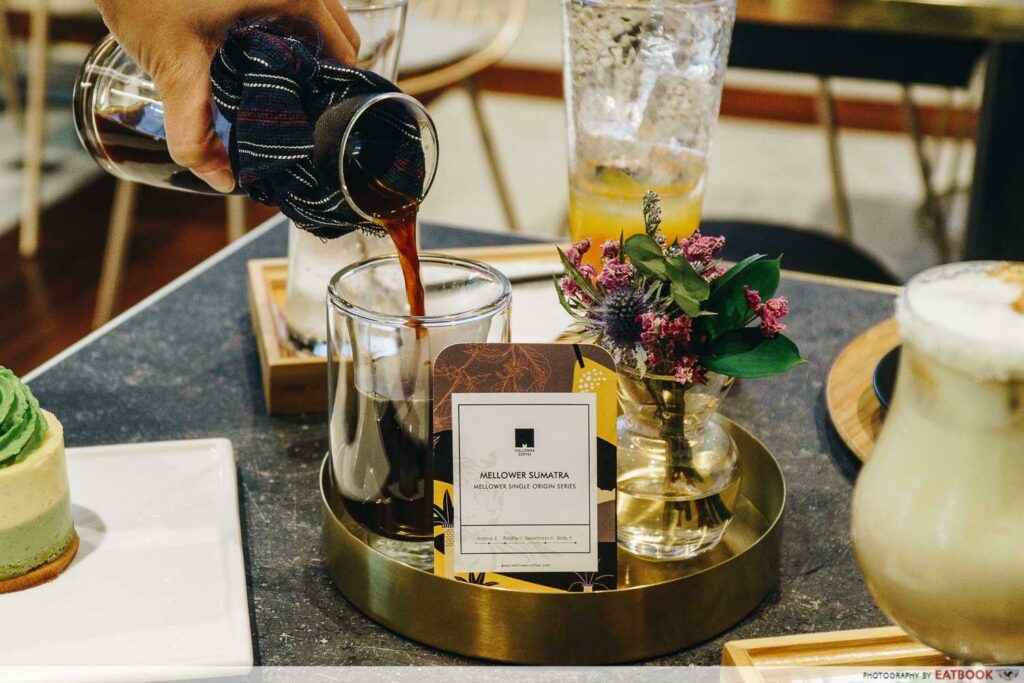 Those who have a chance to go into the lounge must make sure to order the Mellower Sumatra ($9.80). An exclusive blend for premium lounge clienteles, the widely aromatic brew is full-bodied with a smooth finish.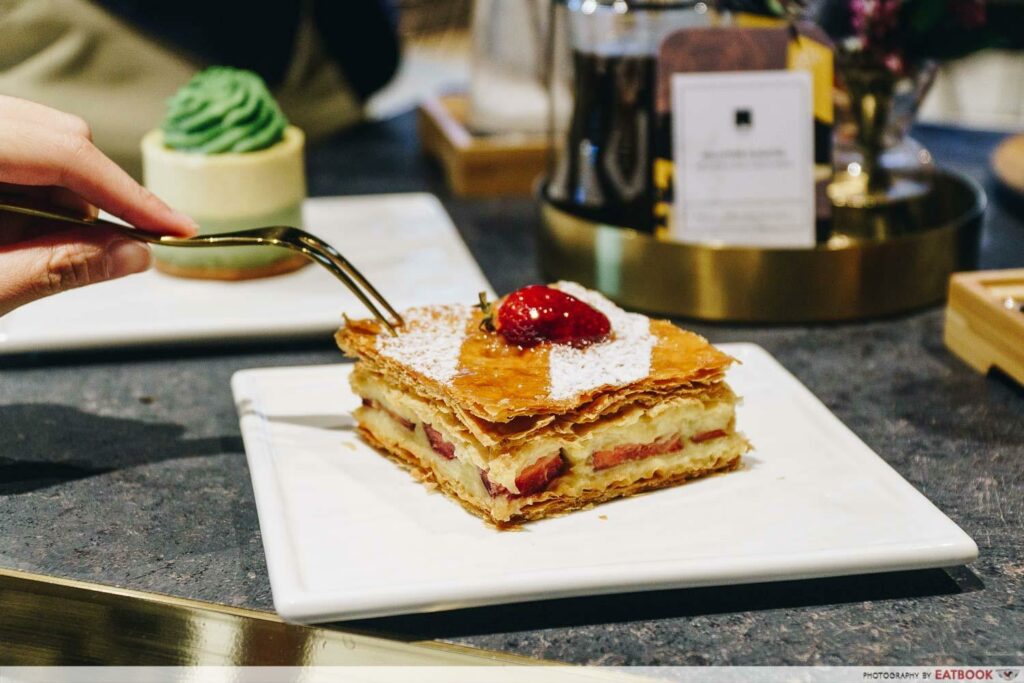 If you're feeling hungry, they also have a selection of cakes and pastries for you to munch on including a decadent Mille-feuille Strawberry ($8), with layers of light, buttery pastry sandwiching an airy vanilla custard.
Ambience at MSpace at Maybank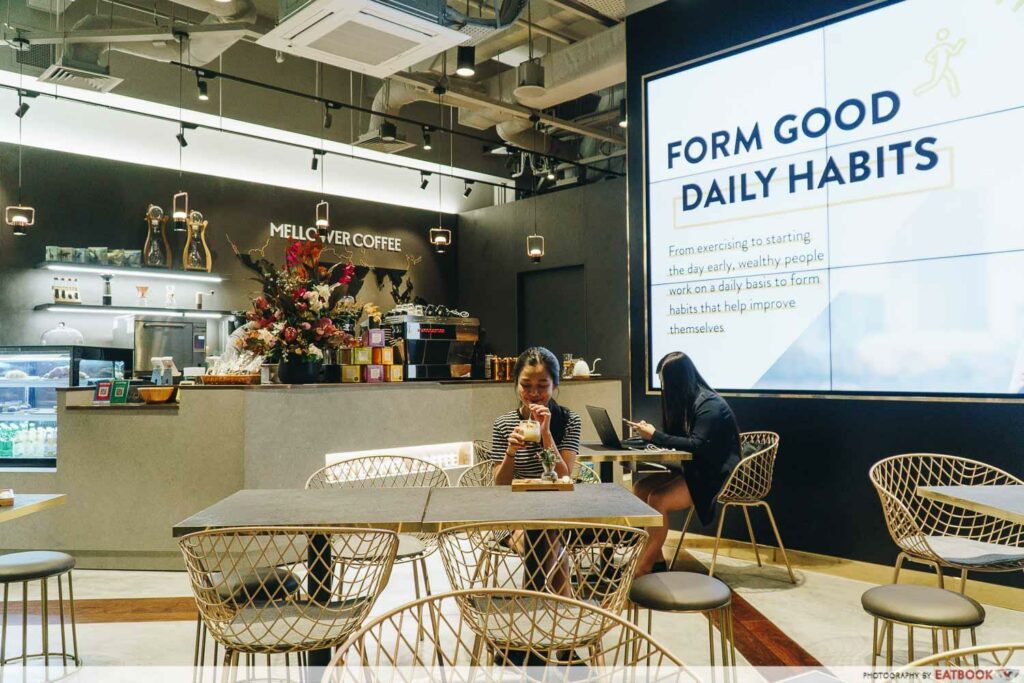 As you can see from the picture, this coffee joint is tastefully designed, with gold accents chairs against granite table tops. It's really spacious too, and you won't find yourself squeezing with other cafe-goers. There are also counter seats facing the floor-to-ceiling windows, allowing you to watch the world go by. The icing on the cake are the numerous USB ports available to charge my phone – great for a tech-savvy millennial such as myself, who can't live without my phone.
Maybank customers will be pleased to know that they can get all their banking needs done here too, with bank tellers and ATM machines situated in the cafe. The best part? They don't have to stand in line and can leisurely enjoy their coffee until their turn is called.
The verdict
MSpace at Maybank is a cool banking concept. Coffee connoisseurs will also be glad to know that all the brews served here feature single origin coffee beans. For those who only frequent Starbucks Reserve, single origin beans are speciality coffee beans that boast a more consistent flavour profile, as they are sourced from only one region. Hence, the espresso-based drinks here are slightly costlier than those that serve elsewhere.
Address: 321 Orchard Road, #01-01/02, Orchard Shopping Centre, Singapore 238866
Opening hours: Sun-Thurs & P.H. 8am to 8pm, Fri-Sat 8am to 10pm (banking facilities, Mon-Sun 11am to 7pm)

Photos taken by Pepita Hope Wauran.
This post is brought to you by Maybank Cards.
MSpace at Maybank Review: A New Cafe At Somerset That Serves Insta-worthy Drinks
Summary
Pros
– Quality coffee
– Convenient location
Cons
– Slightly expensive
Recommended drinks: Mellower May ($9.80), Ondeh x Latte ($9.80)
Opening hours: Sun-Thurs & P.H. 8am to 8pm, Fri-Sat 8am to 10pm (banking facilities, Mon-Sun 11am to 7pm)
Address: 321 Orchard Road, #01-01/02, Orchard Shopping Centre, Singapore 238866