Muugu Fork offers new Rainbow Cheese Dippers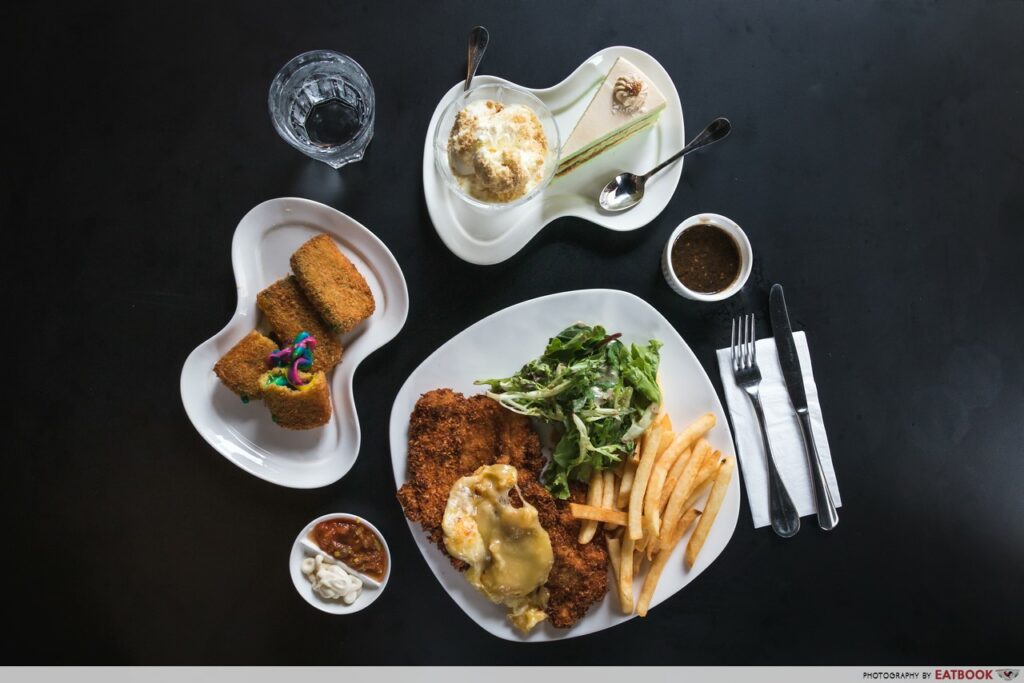 Scrolling through Instagram's Explore page while travelling to work keeps me occupied. Photos that I always double tap are those that involve gorgeous and eye-catching food, such as rainbow dishes or cheese pulls. And a halal-certified cafe, Muugu Fork, just came up with a dish that combines both of that!
Food at Muugu Fork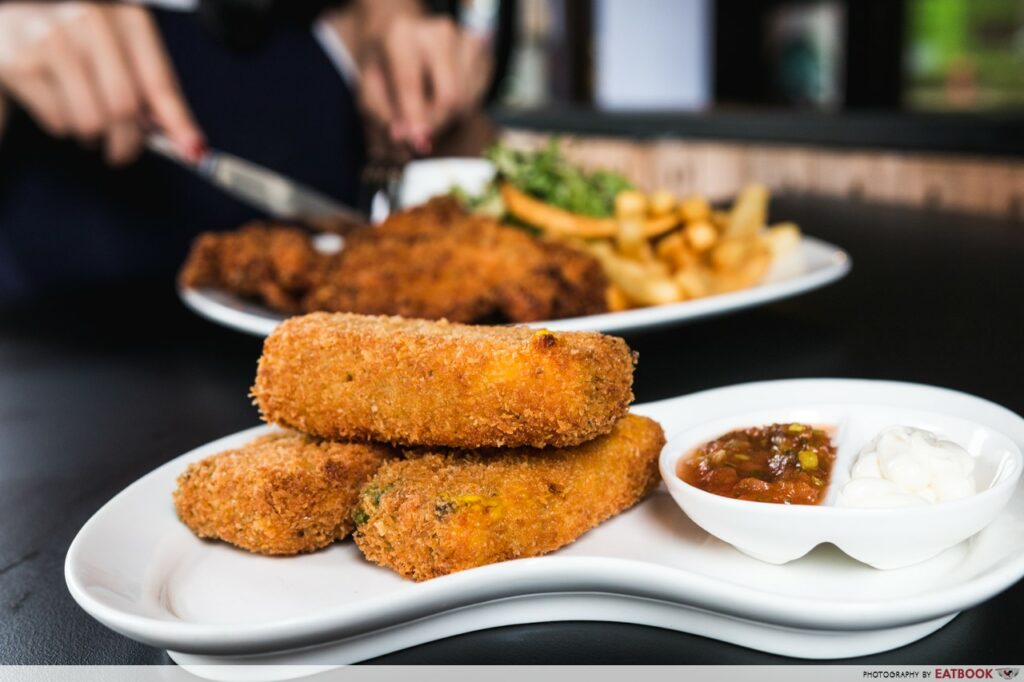 We got our highly anticipated MuUnicorn Rainbow Cheese Dippers ($9.90+) as starters. It came along with two house-made dips – salsa and truffle mayonnaise. We could see drips of gooey cheese oozing out of the crust, as if it were teasing our hungry souls.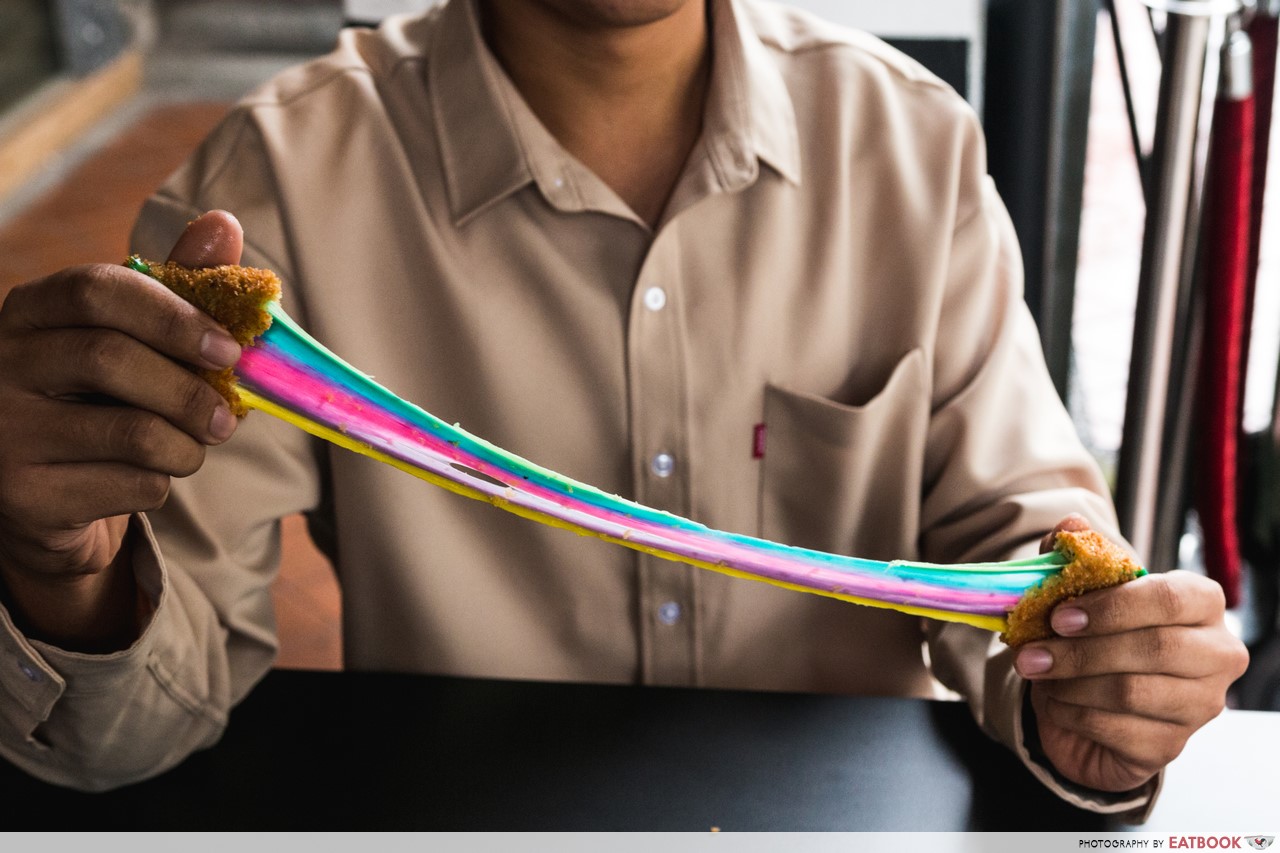 My colleagues were armed with their phones, ready to capture the colourful cheese encapsulated in the fried batter. I deftly snapped the crispy batter into half and proceeded to stretch it.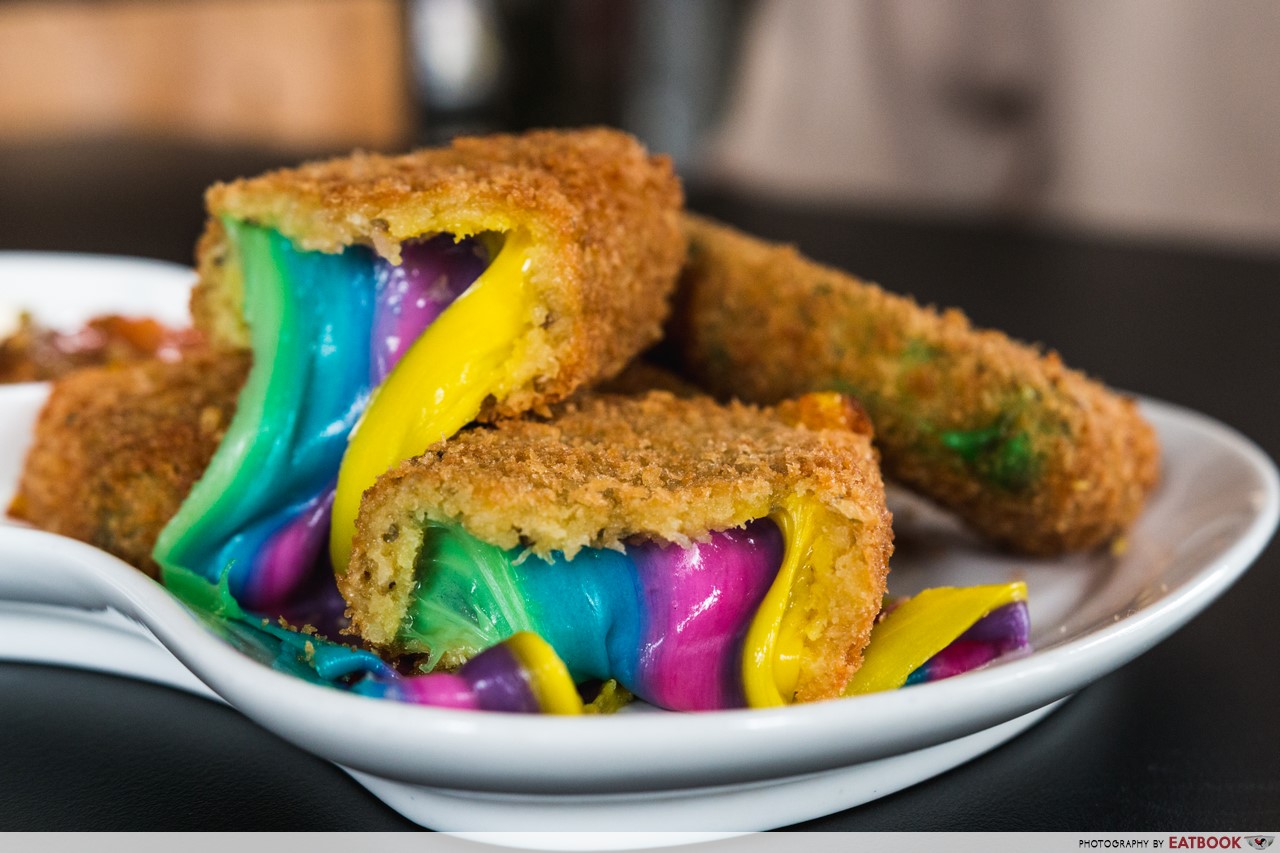 The mozzarella was piping hot and really stringy, showing a colourful trail of that dairy goodness hanging between my outstretched hands, reminding me of Spongebob's iconic meme. The batter was thin, light, and addictively crispy. The milky mozzarella had a herby note to it, and there was a slight aftertaste of the colourings.
To counter that, dip the stick into the sauces. I was skeptical of the truffle mayonnaise at first but I fell in love with it at first bite. The truffle oil's earthy notes added a unique flavour and a touch of extravagance to the dish.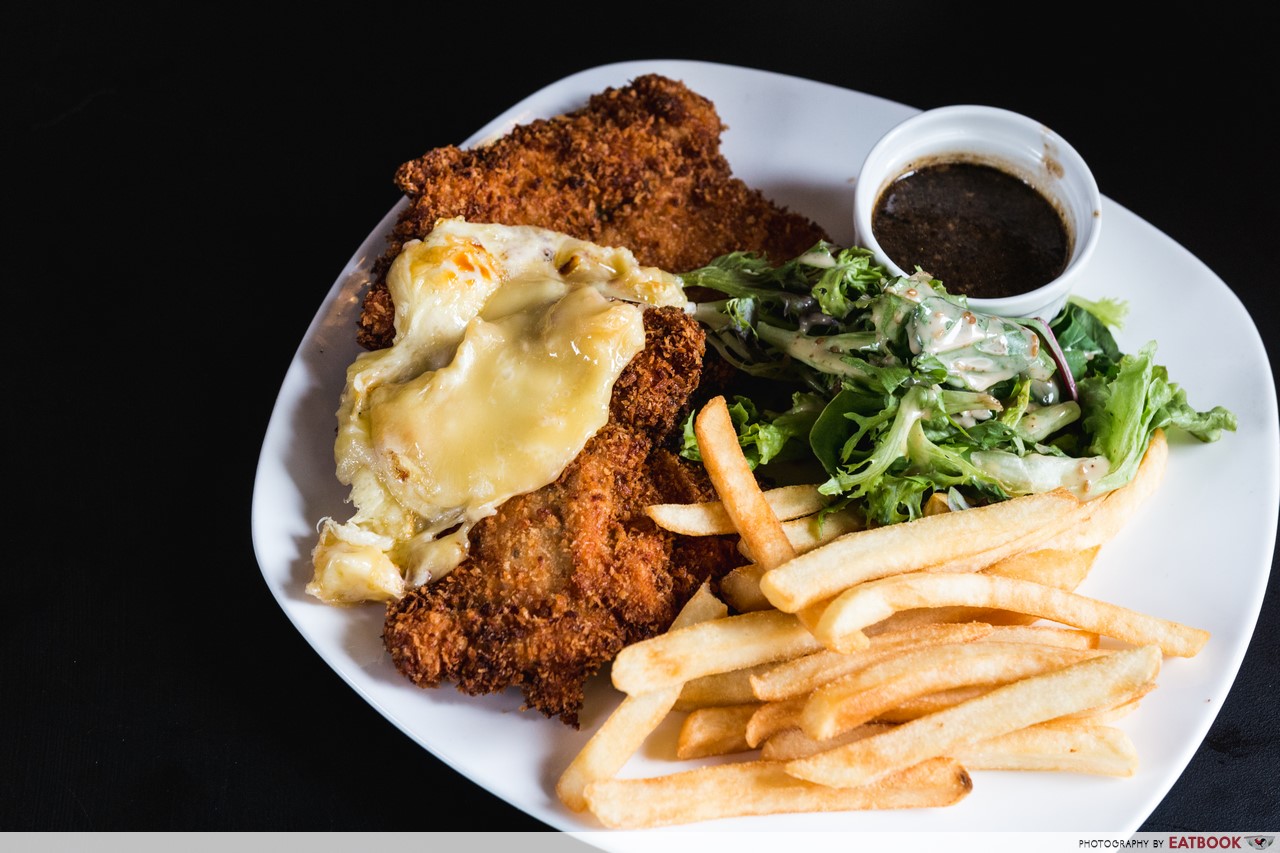 I can't live without meat so I had to order their Rac and Chicks ($19.90+). The big plate of chicken cutlet was served with a side of french fries, house-made black pepper sauce, and arugula salad.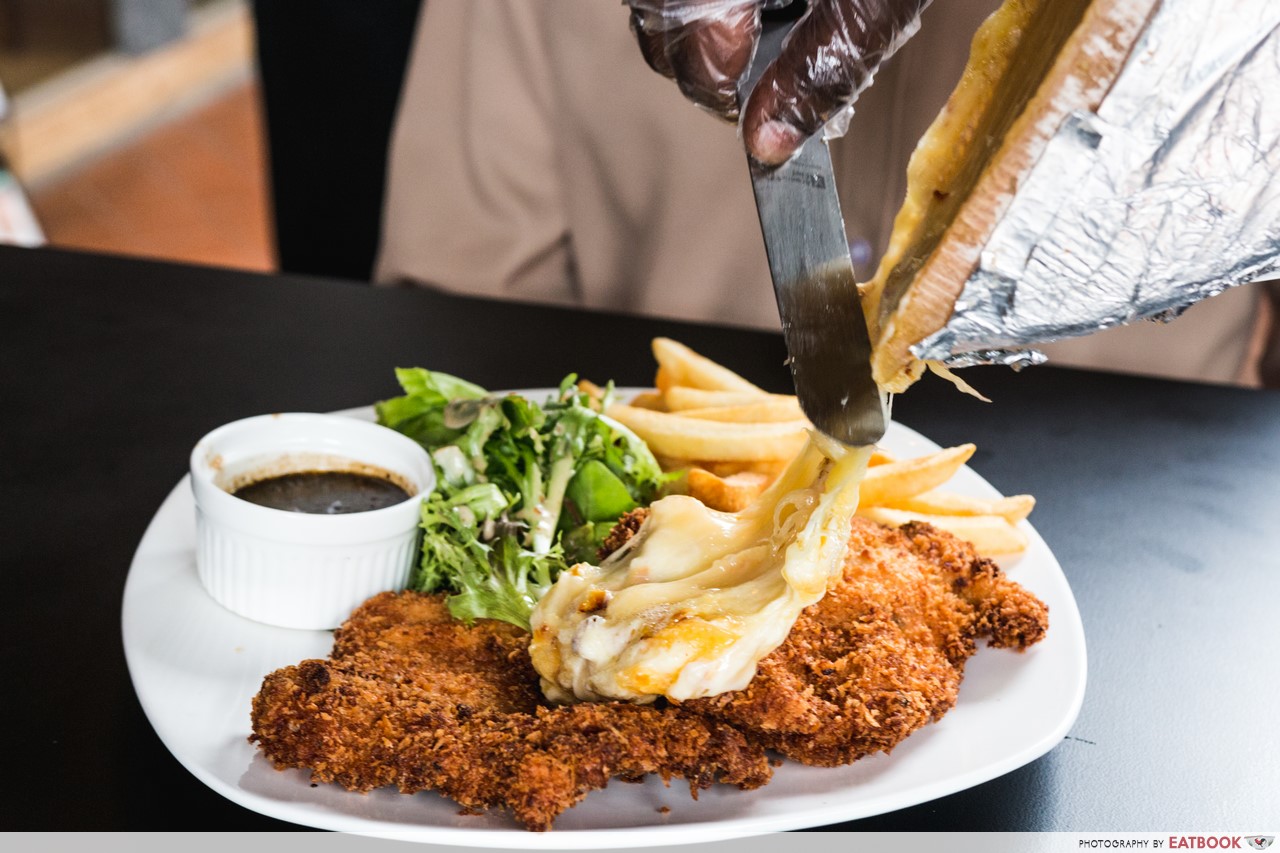 A torched raclette cheese wheel was carried to our table by a staff member. It was more than pleasing to watch an avalanche of gooey cheese flowing and blanketing the chicken cutlet.
Filled with anticipation, I cut into the crispy chicken. The raclette tasted sharper than regular cheese, and when eaten with the chicken, made this a standout dish.  
The chicken was a tad dry so I dipped it into the garlicky black pepper sauce. The fries were basic but I absolutely loved the salad; it was drizzled in a roasted sesame dressing which was so full-bodied in flavour, adding depth to every bite.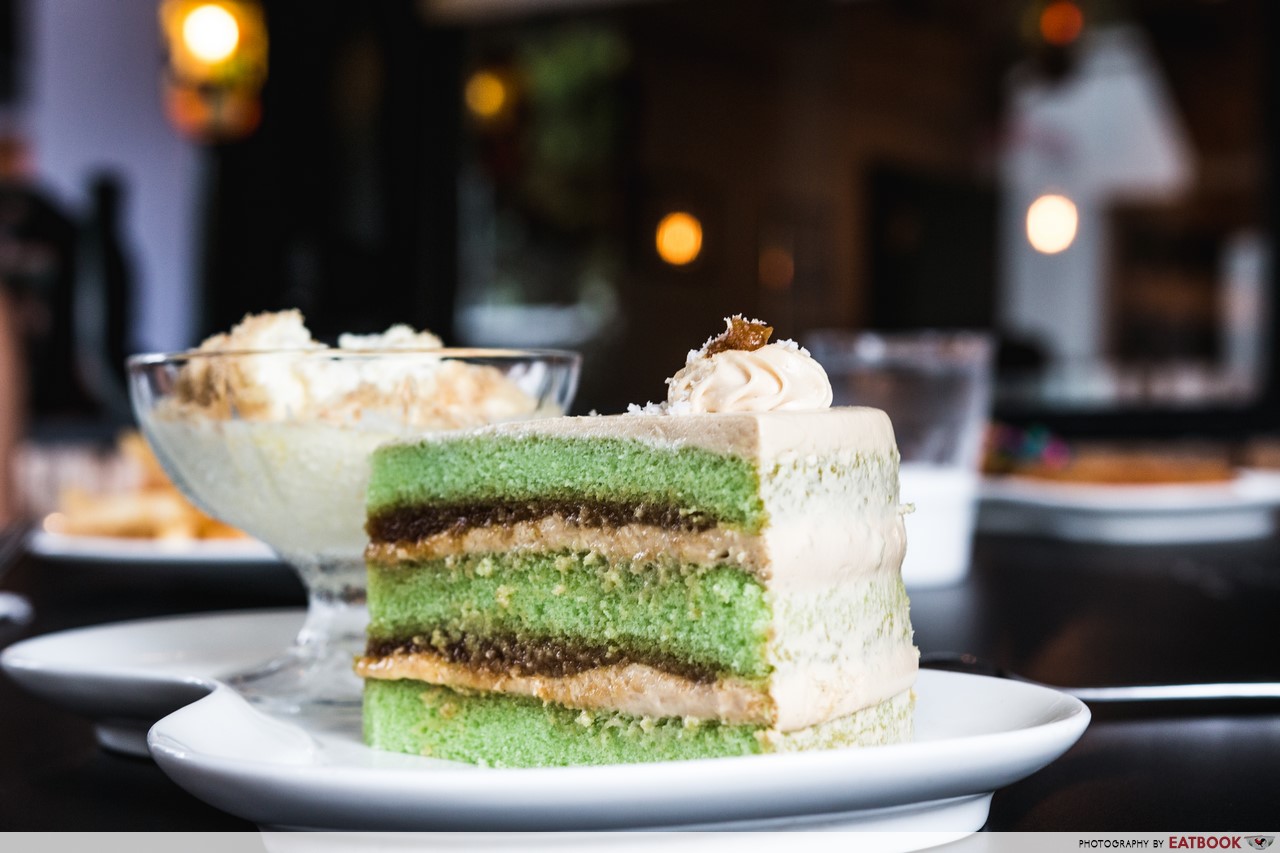 After all that fried food, we ended our meal with Ondeh Ondeh Cake ($8.90+). It consisted of three layers of pandan sponge, slabbed with gula melaka cream and grated coconut shavings sandwiched between every layer. My spoon sliced through the cake effortlessly, without it crumbling into a mess.
Fragrant and airy, the pandan layers complemented the sweet gula melaka cream wonderfully. The bits of coconut made the cake's texture stand out from regular cakes, and really reminded me of the Peranakan kueh.
Ambience at Muugu Fork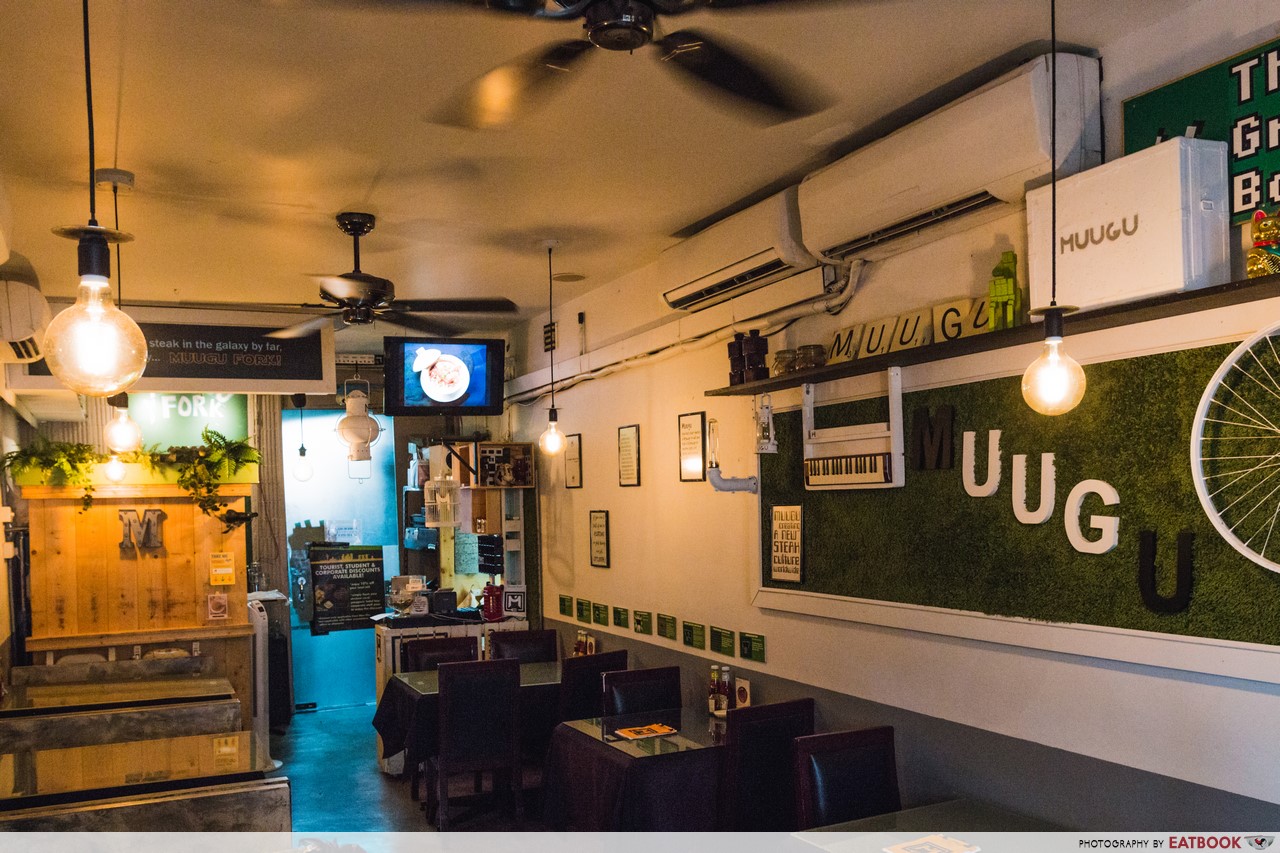 Nestled along Arab street, Muugu Fork is found just across Village Hotel Bugis. This dimly lit cafe is decorated with whimsical props on its walls such as bicycle wheels, keyboard, and antique lights. They have outdoor seats as well if you prefer some cool breeze. Do note that they collect service charge and only cash and NETS are accepted. The staff member was really friendly and understanding, attending to us warmly when we needed it. To avoid disappointment, do reserve their MuUnicorn Rainbow Cheese Dippers in advance as they only have limited quantities every day.
The verdict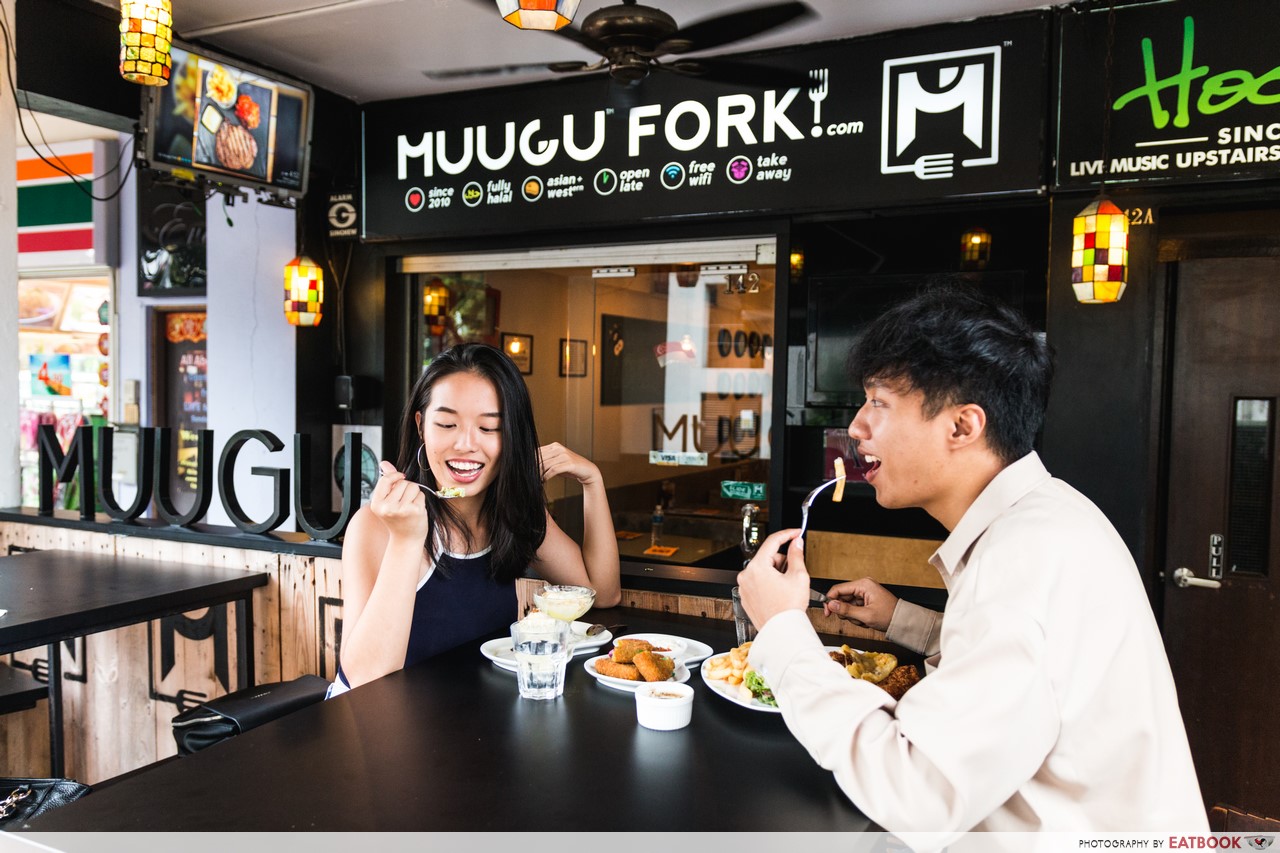 Overall, we had a great experience at Muugu Fork. I would definitely bring my friends back here for a good meal on a weekend, especially since we're all huge fans of cheese. Check out our guide to raclette dishes around Singapore or these decadent cheese buffets!
Address: 142 Arab Street, Singapore 199828
Opening hours: Mon-Thur 12pm to 10:30pm, Fri-Sun 1pm to 11:30pm
Tel: 6292 7363
Website
Muugu Fork is a halal-certified eatery.
This is an independent review by Eatbook.sg.
Summary
Pros
– Convenient location
– No GST
– Friendly service
– Delicious ondeh ondeh cake
– Insta-worthy food
Cons
– Dim interior
– Limited quantities of rainbow cheese dippers every day
– Dry chicken cutlet
Recommended Dishes: MuUnicorn Rainbow Cheese Dippers ($9.90+), Rac and Chicks ($19.90+), Ondeh Ondeh Cake ($8.90+)
Operating Hours: Mon-Thur 12pm to 10:30pm, Fri-Sun 1pm to 11:30pm
Address: 142 Arab Street, Singapore 199828