MyEureka has new popcorn flavours for CNY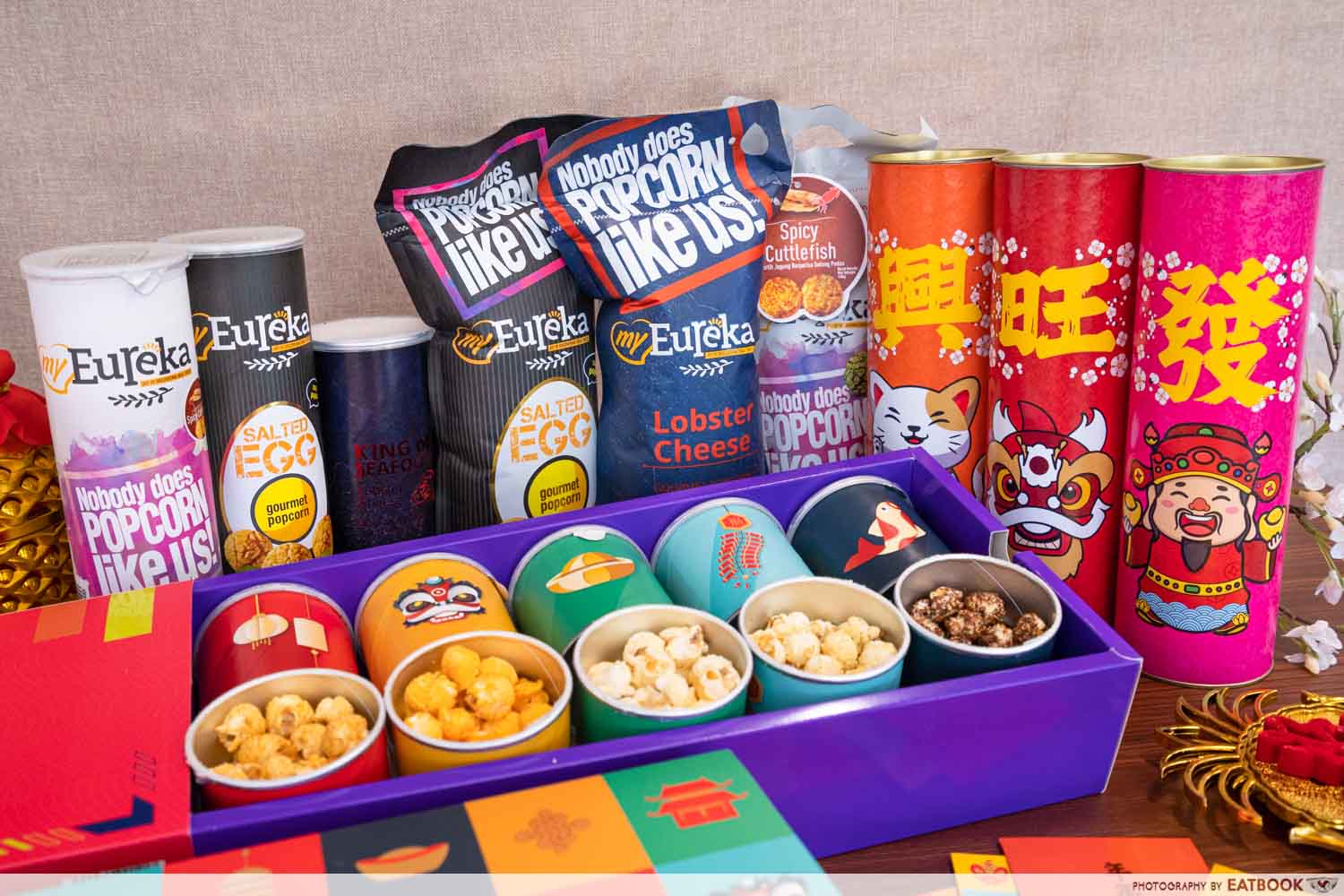 The season of festivities and feasting isn't over just yet—with Chinese New Year just around the corner, get ready to huat with myEureka's all new CNY popcorn gift boxes and promotions!
Originally established in Malaysia, myEureka has grown its footprint across Asia. They've since become hugely popular in Singapore for their assortment of gourmet popcorn, available in unique flavours. The popcorn is made with no preservatives, with non-GMO kernels too. 
You'll also find that myEureka's popcorn is larger and rounder in shape. That's because they use imported mushroom popcorn—these kernels have more grooves, and are known to coat better with the variety of 20 and more flavours myEureka has to offer.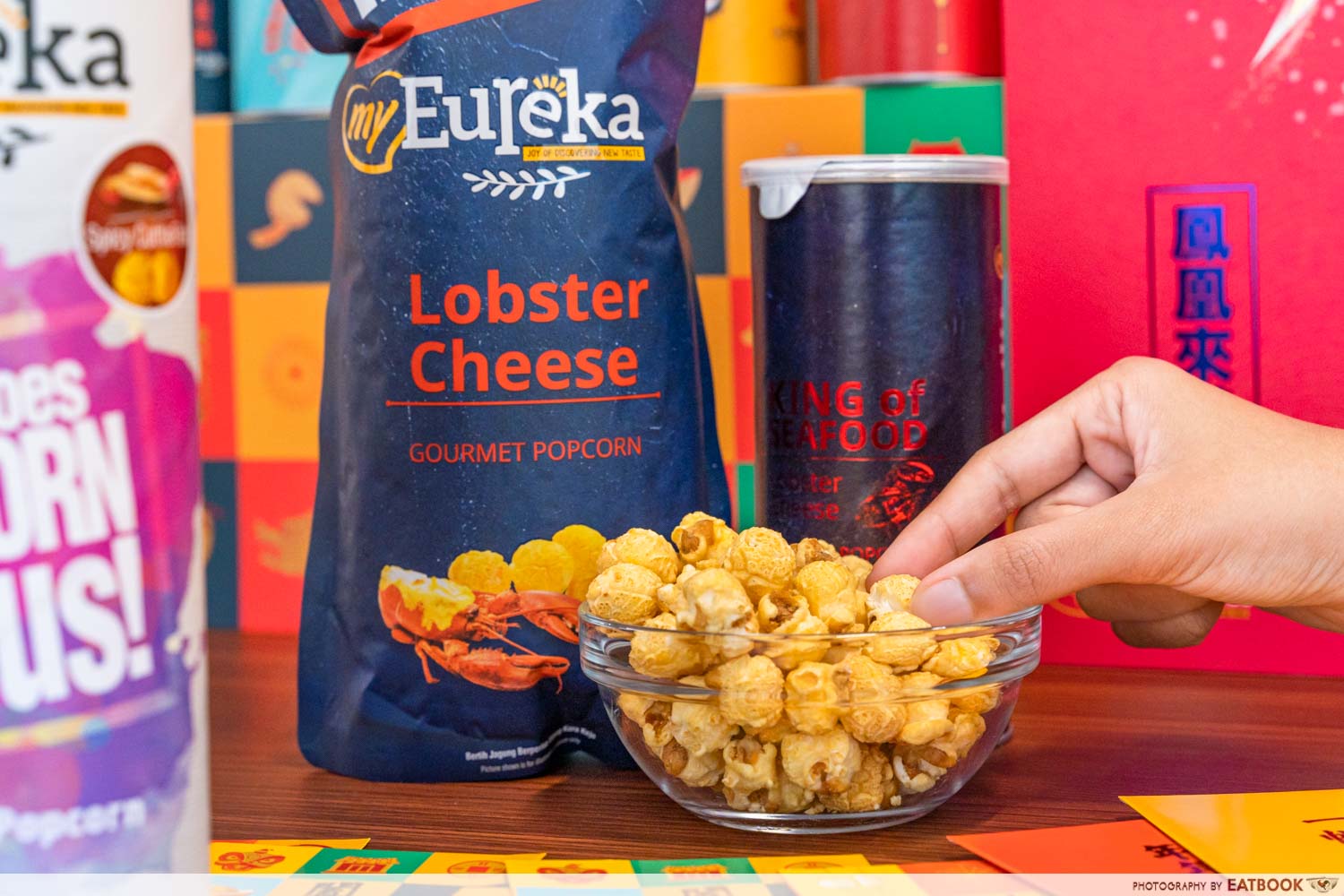 To jazz up your array of new year goodies, be sure to check out their premium, all-new Lobster Cheese flavoured popcorn.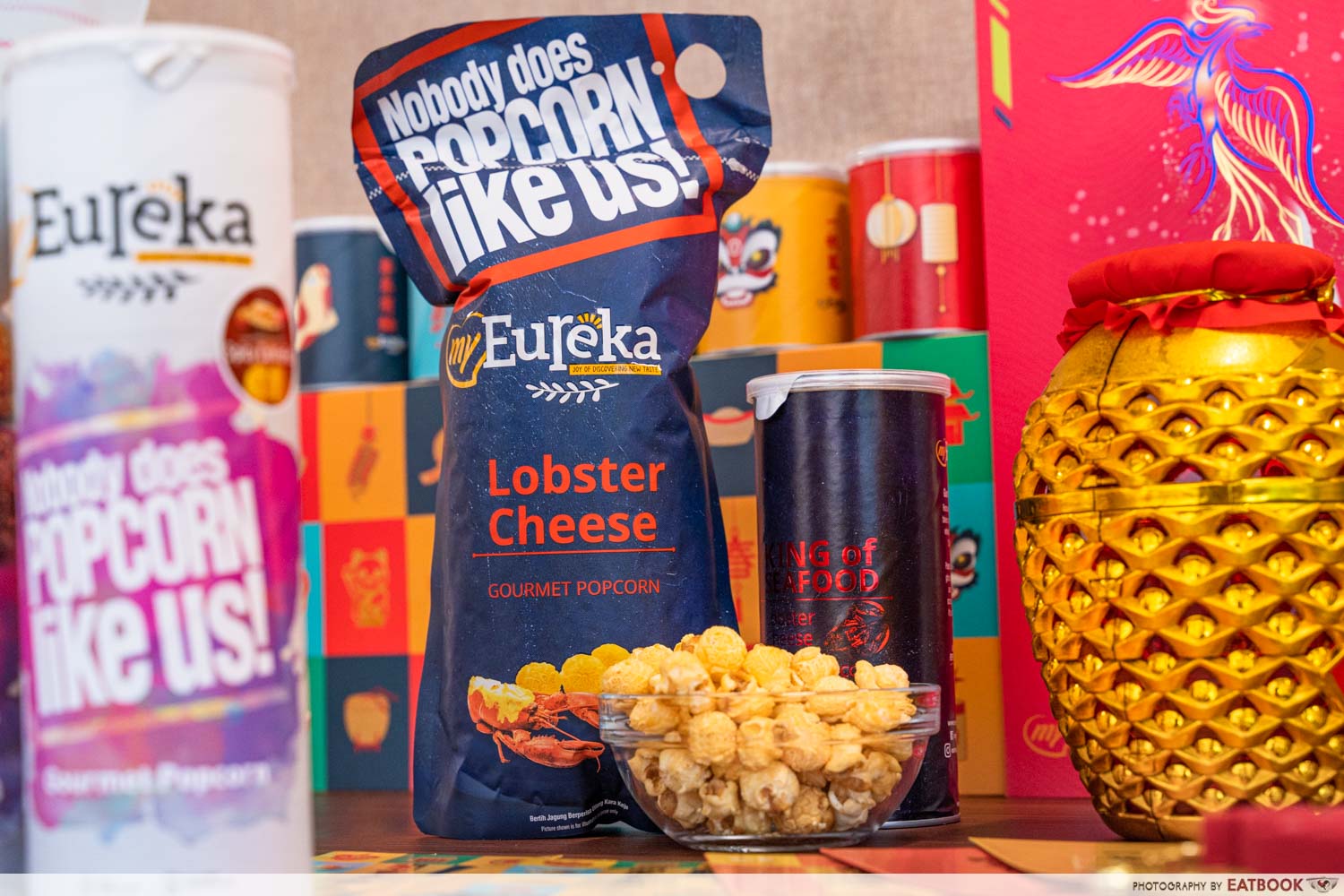 Cheesy and packed with seafood goodness, this is one bound to impress your guests. The popcorn comes in two sizes: a 70g can ($10.80) and a 140g aluminium pack ($14.70).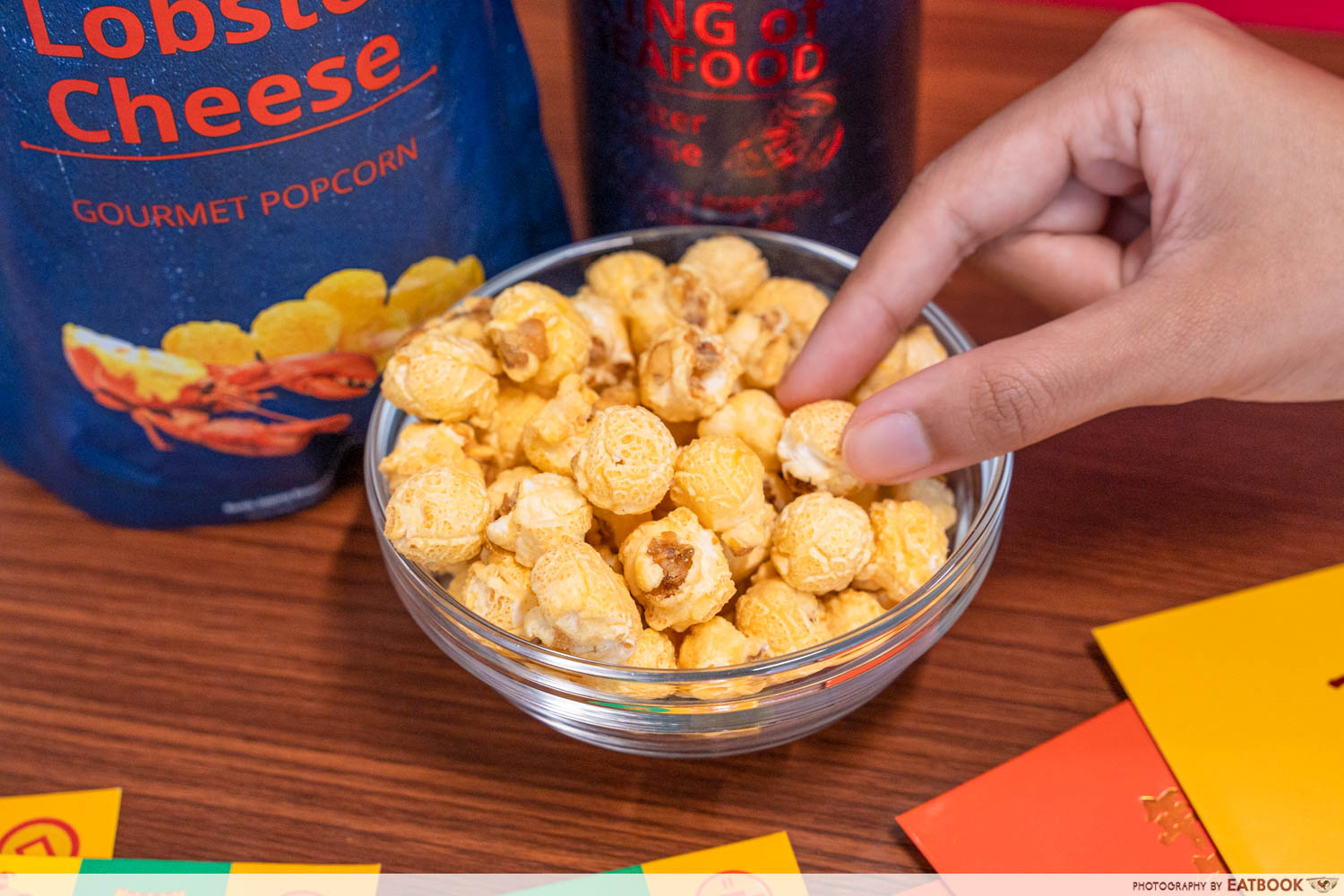 Another unique flavour is the Spicy Cuttlefish, a spicy and umami popcorn that closely resembles the taste of hae bee hiam rolls, AKA crispy shrimp rolls. The 90g can will set you back $9.40, and the 140g aluminium pack $12.60.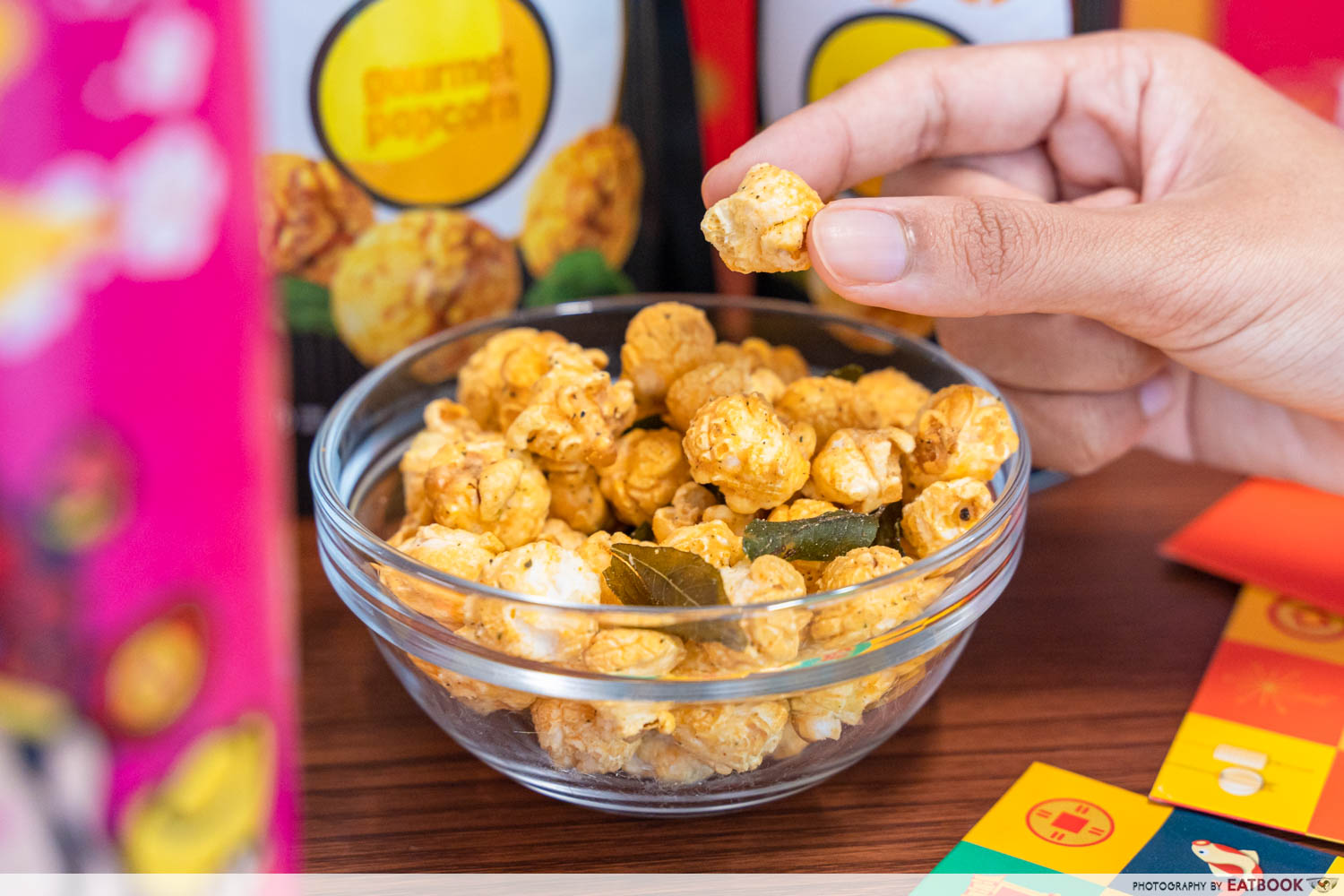 Salted egg fans can go for the Salted Egg flavoured popcorn, coated generously with sweet and savoury salted egg seasoning and garnished with fried curry leaves. This flavour is also priced at $9.40 for the 90g can, and $12.60 for the 140g aluminium pack. 
Get your hands on these delicious popcorn flavours with an in-store promotion happening at all myEureka outlets: get 140g each of all three flavours (Salted Egg, Spicy Cuttlefish and Lobster Cheese) with free, exclusive ang pao packets at $8 off (U.P $39.90).This promotion will only be available from 13 January to 15 January 2023, so snag them up while you can!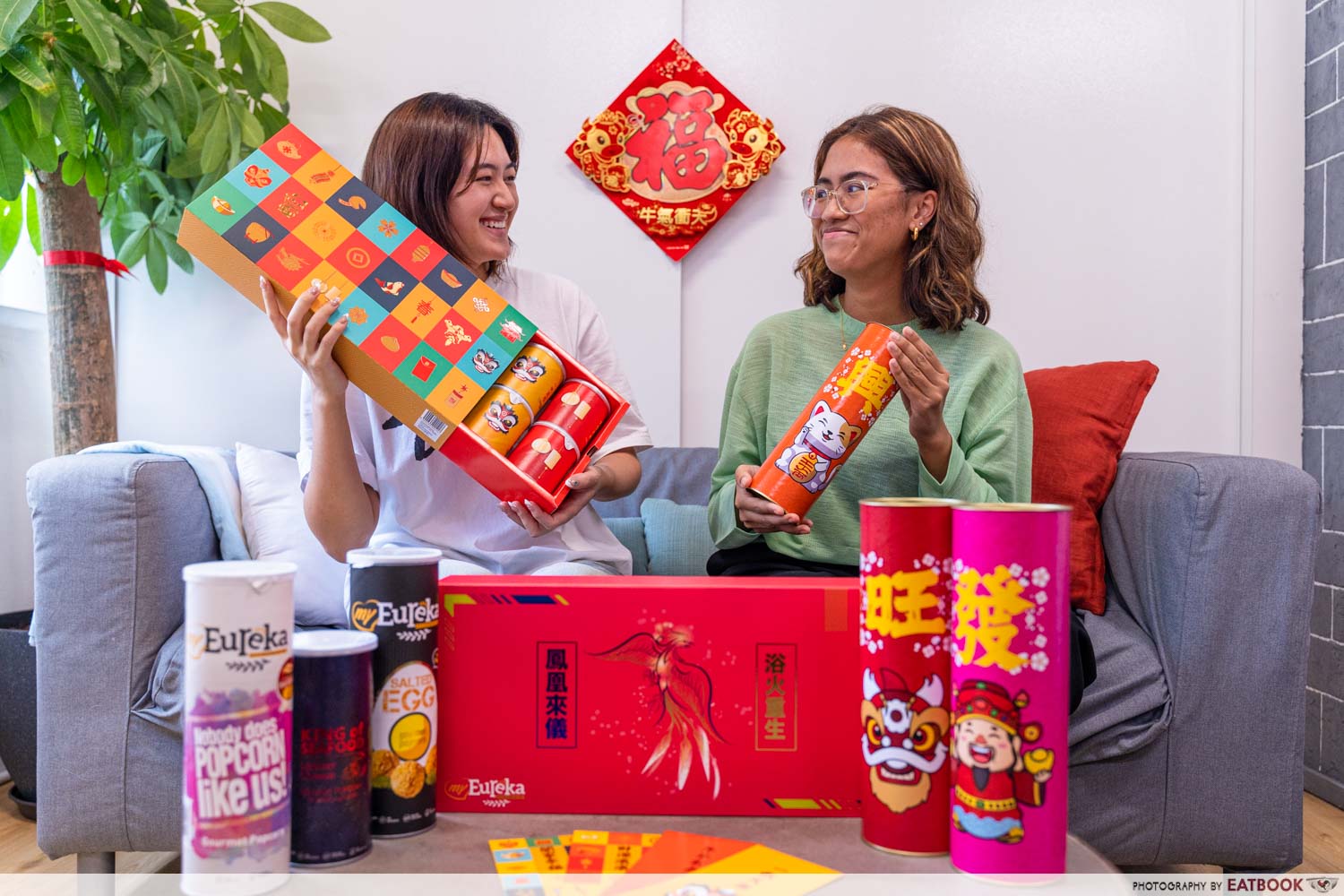 If you're looking for something to treat your friends and family to this CNY, then check out myEureka's Chinese New Year Gift Box set and Chinese New Year Gift Can set!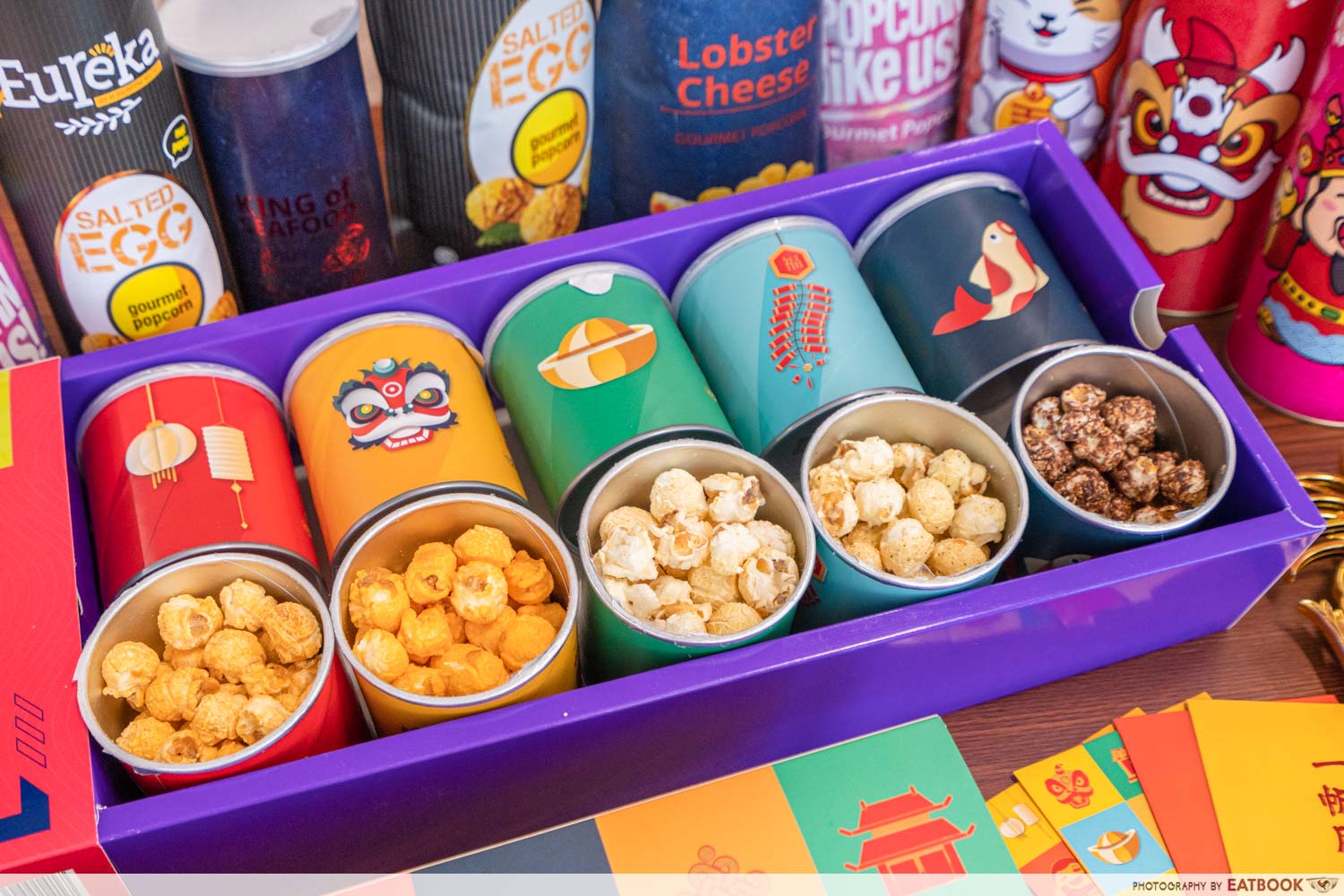 Although this Chinese New Year Gift Box is currently sold out, it features 10 mini 35g cans of popcorn in 10 different flavours: Caramel, Tomato, Sour Cream & Onion, Dark Chocolate, Cheese, Wasabi, BBQ, Original Sea Salt, Curry, and Cocoa Malt.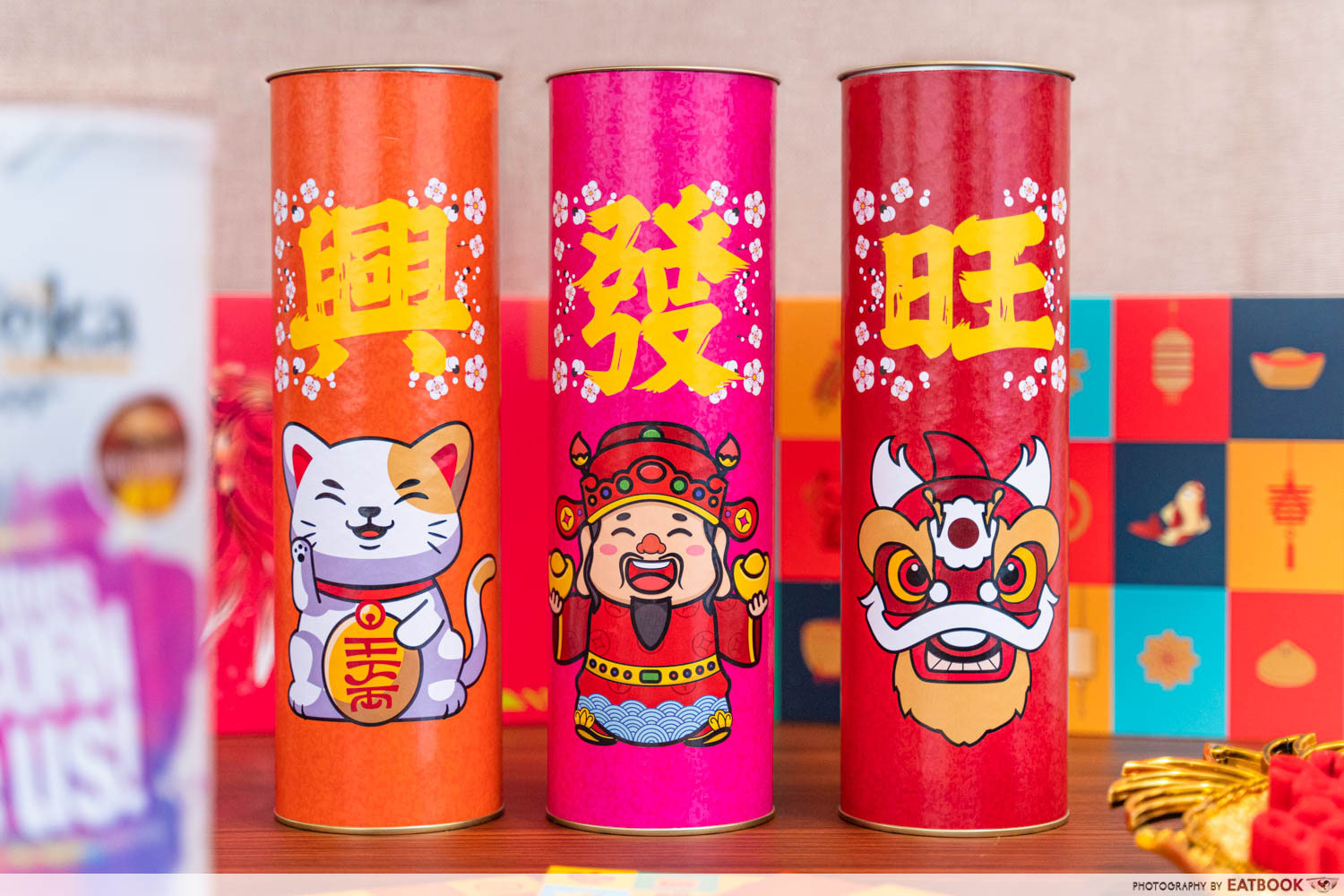 Meanwhile, the Chinese New Year Gift Can set is great as a smaller gift. In this entire set, you'll score yourself nine mini 35g cans of popcorn in nine different flavours.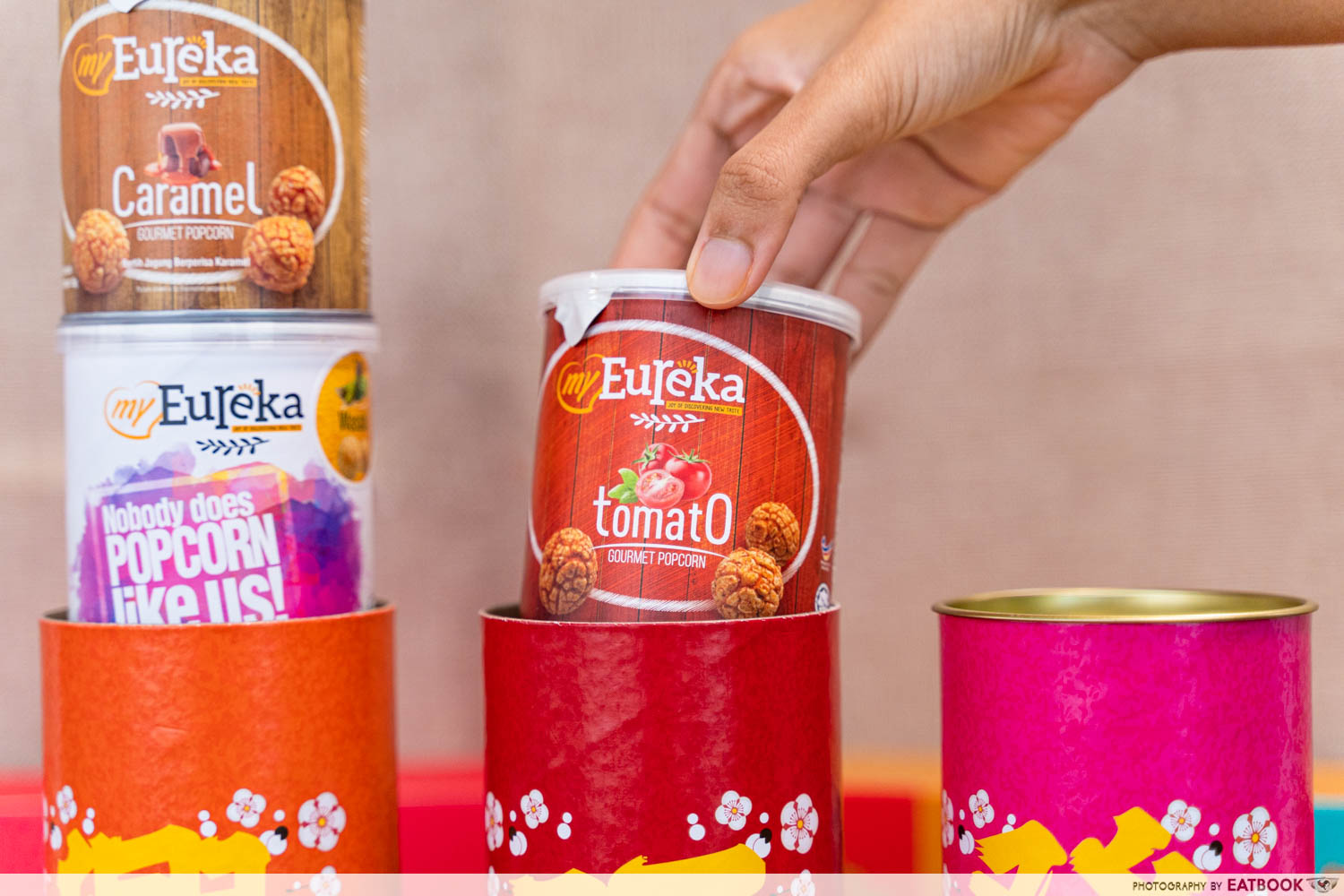 In each CNY gift can, you'll find three mini 35g cans of popcorn, in three different flavours. These are the flavours as follows:
Fortune Cat (orange can):

Cheese

,

Caramel

, and

Wasabi

.

Prosperity (red can):

Sour Cream

,

Tomato

, and

Cocoa Malt

.

Wealth (pink can):

BBQ

,

Original Sea Salt

, and

Curry

. 
myEureka has also got two other deals you cannot miss! Firstly, get two Chinese New year Gift Box sets with a free baby can of popcorn and ang pow packets at $60 (U.P $69.50)! However, do note that this promotion is currently sold out and will be restocked due to popular demand.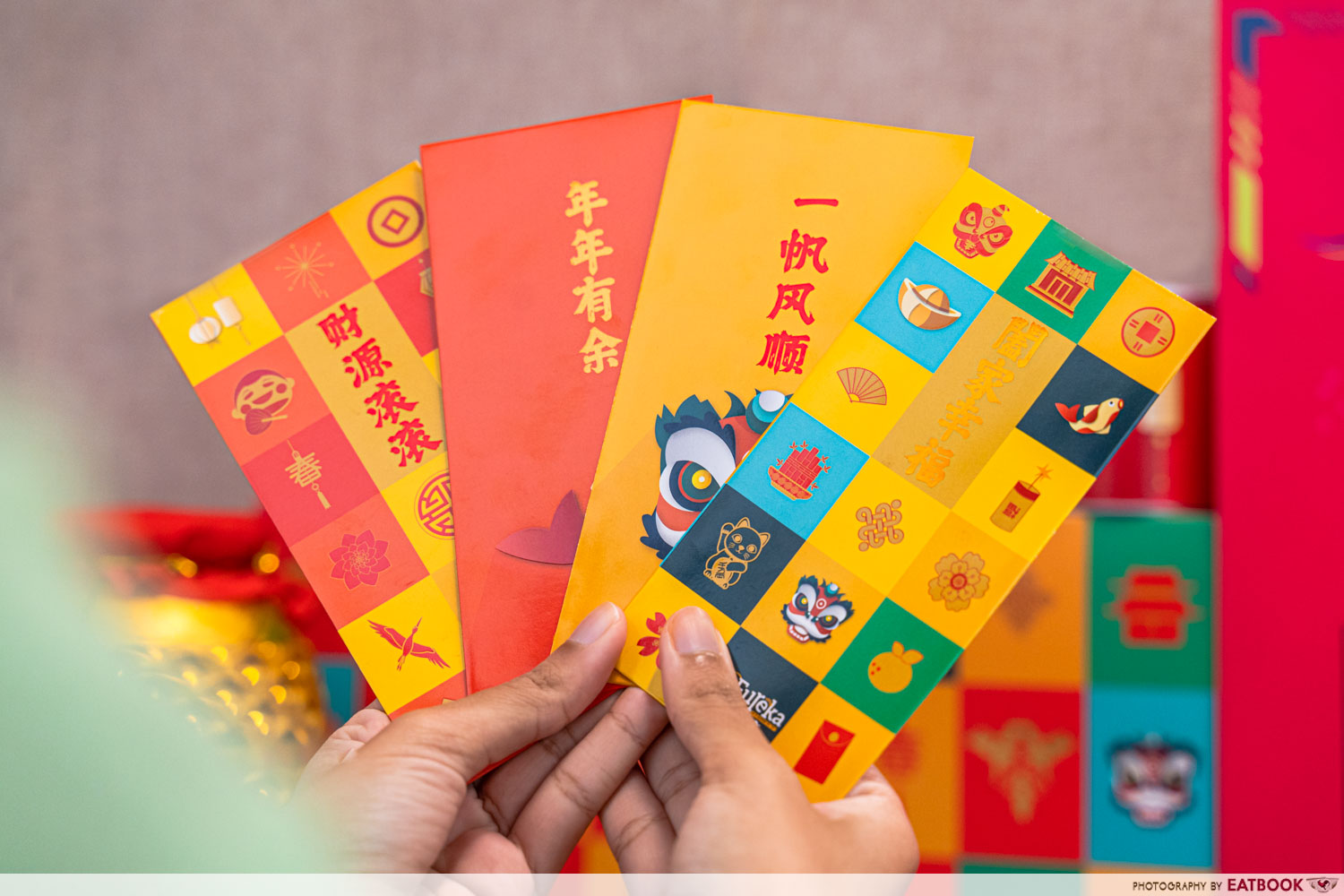 Alternatively, purchase two Chinese New Year Gift Can Sets and receive a free baby can of popcorn and ang pao packets at $56 (U.P $60)! This deal is also currently sold out, but it will be back in limited quantities on 17 January. Be sure to also use the 'EATBOOKXEUREKA10OFF' promo code with a minimum spend of $20 to get 10% off your purchase via myEureka's website. This promo code will only be valid for three months from 12 January. 
myEureka is also giving away free baby packs of popcorn at all outlets till 21 January 2023 if you participate in their giveaway contest! To participate, take a selfie with or photo of any of the myEureka popcorn MRT ads along the North East Line, then post it on Facebook or Instagram, tagging '@eureka_snack_sg'. Simply present your post to any outlet staff to get your free popcorn. Do note that only the first 100 customers will be able to redeem the popcorn. 
Photos taken by Melvin Mak.
This post was brought to you by myEureka.