Nam Seng Wanton Noodles has famous wonton mee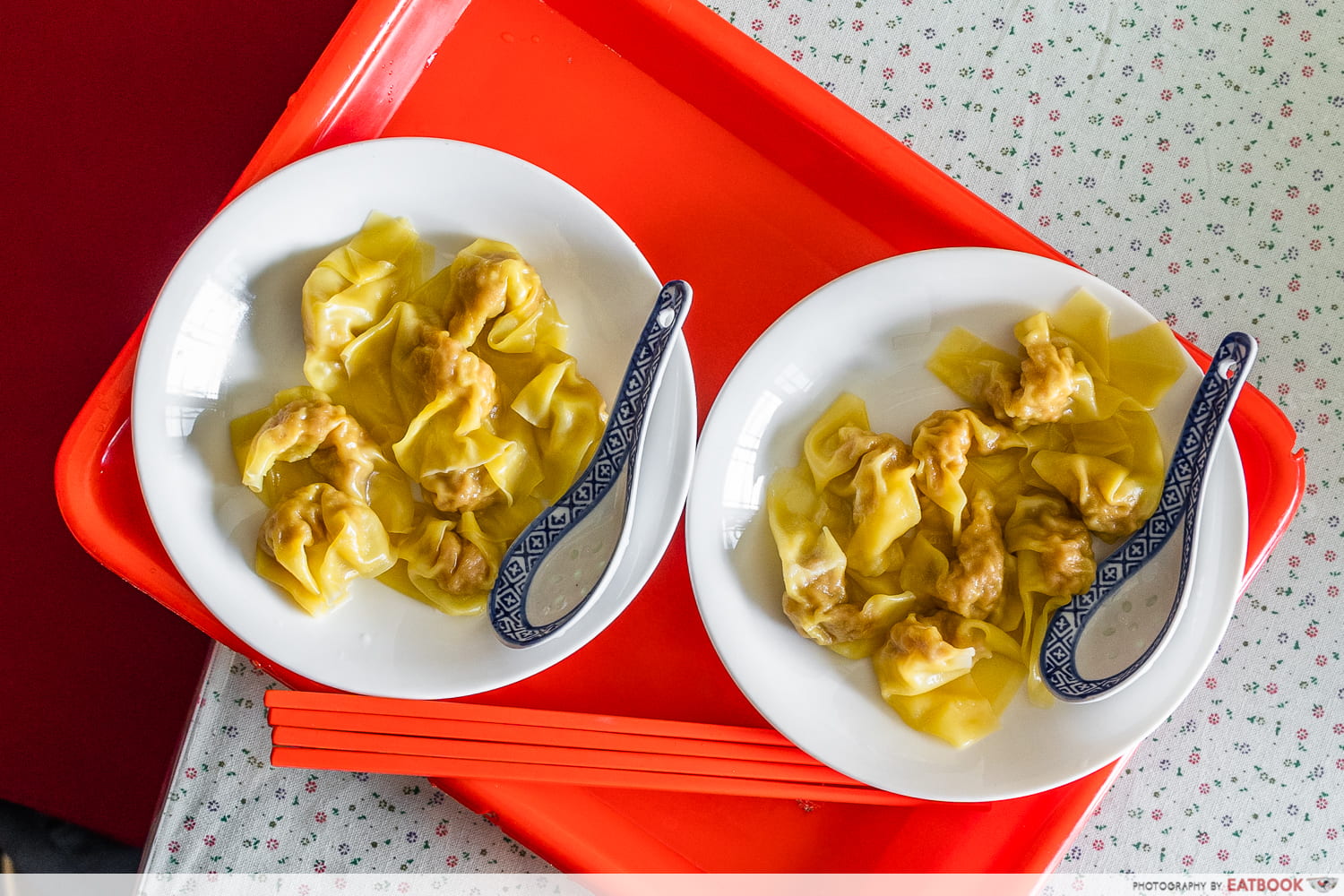 Whenever I'm wrapping wonton and shui jiao with my grandmother, I notice that she'd neatly pinch the skin together, forming perfectly shaped dumplings. I, on the other hand, would merely seal each dumpling, without all the pleats, despite the many times she's taught me how to wrap them her way. 
Hand-making plates full of dumplings for the family is hard work, but it is also my grandmother's expression of love. While she doesn't call me out for my imperfect dumplings like Shang Su Yi in Crazy Rich Asians, she definitely makes sure that her own dumplings are no less than flawless. If there's another person who has successfully balanced self-sacrificial love and high self-expectations to make great dumplings, it's 94-year-old Madam Leong Yuet Meng, AKA Singapore's oldest recorded hawker.
Meet Ah Por, founder of Nam Seng Wanton Noodles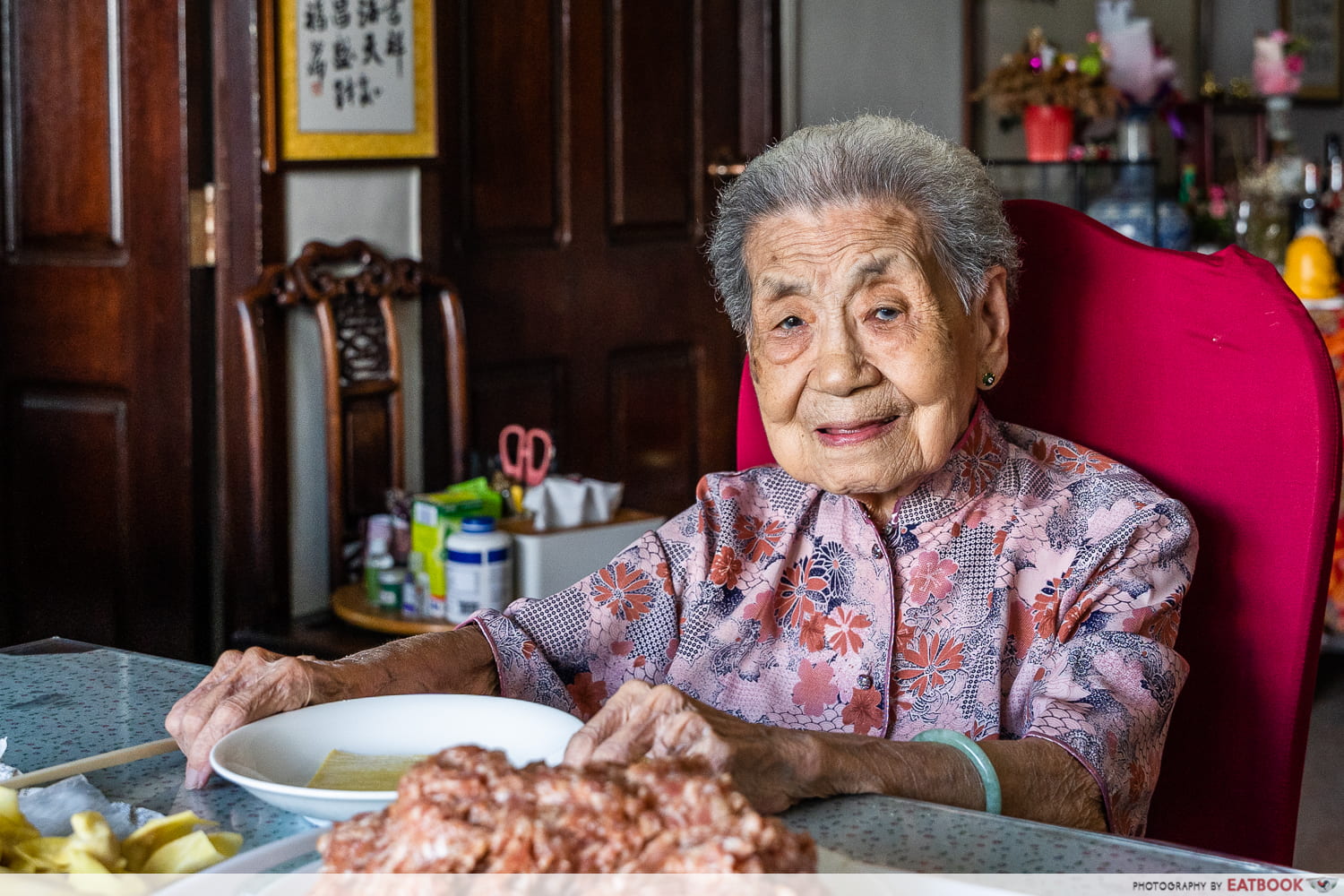 Madam Leong, affectionately known as Ah Por, is the founder of Nam Seng Wanton Noodles. She poured her heart and energy into preparing tasty plates of wonton mee and committed to this one passion for most of her life. Since the closure of her last stall in 2022, her grandson, Bryant Tang, has been seeking new opportunities for her to be involved in the business again. 
Before I arrived at her house, Madam Leong already had a whole tray full of wrapped dumplings before her. I asked where she learned how to do so. "My cousin had a stall in Kreta Ayer selling wonton mee. I just watched how she did it and learned from there. It was easy for me to pick it up," she said. Her cousin's stall closed down in the 1980s.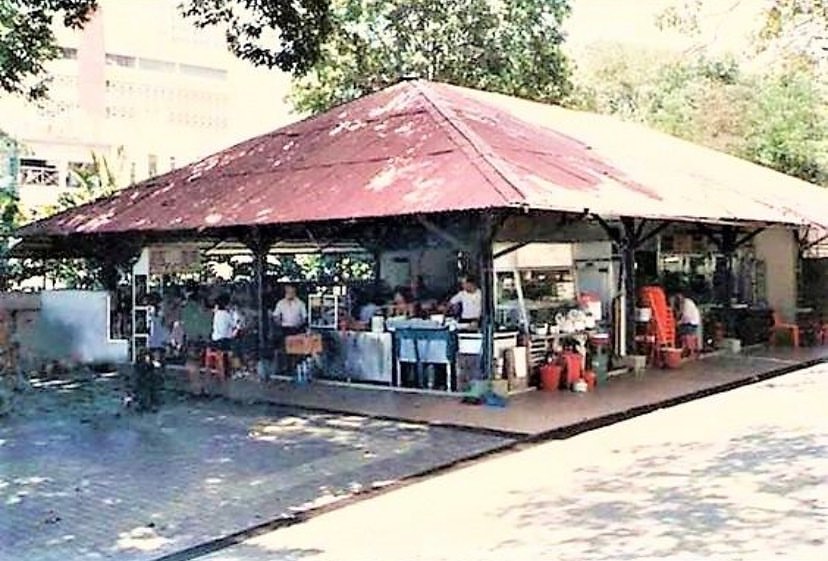 Image credit: @namsengnoodles
In 1962, when she was just 30 years old, Madam Leong opened her own stall in the canteen of the now-demolished National Library building, located along Stamford Road. Her mother-in-law thought of the stall's name. 'Nam' comes from the character, 南, in 南海 (nán hǎi), 'South Sea', while 'seng' comes from the character, 生, in 生意 (shēng yì), 'business'. Fun fact: a bowl of her wonton mee only cost $0.30 back then!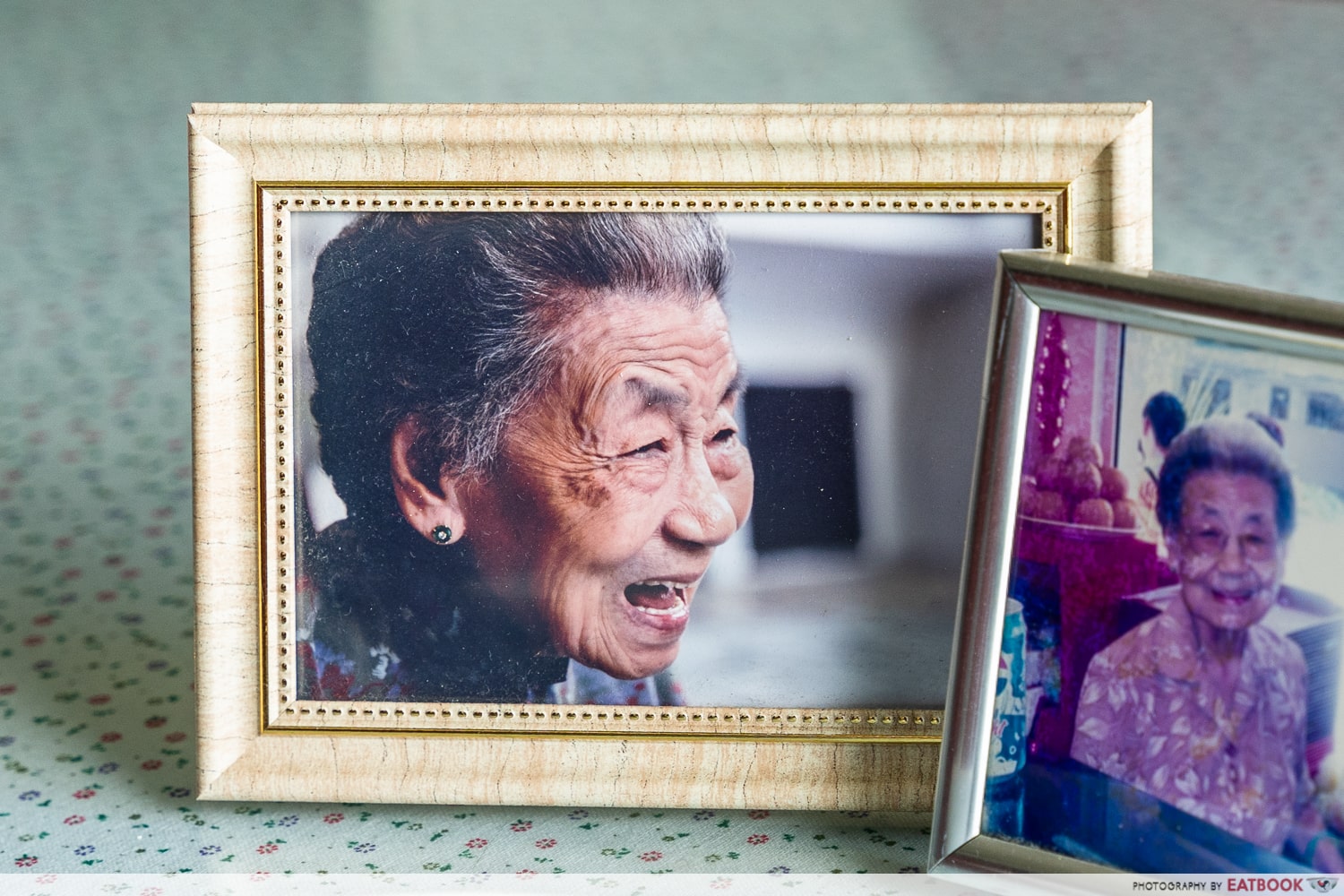 Nam Seng moved to multiple locations throughout the years. After Stamford Road, Madam Leong set up shop in Joo Chiat, then Far East Square, where she operated for approximately 20 years. The stall shuttered for two years in 2020 due to leasing issues and a dip in footfall, but reopened in 2022, in Toa Payoh, to the delight of many regulars.
Forced hiatus aside, Madam Leong has always insisted on avoiding long breaks for the sake of all her customers waiting to eat her food. Most of these customers remain close friends with Madam Leong today.
Ah Por's legacy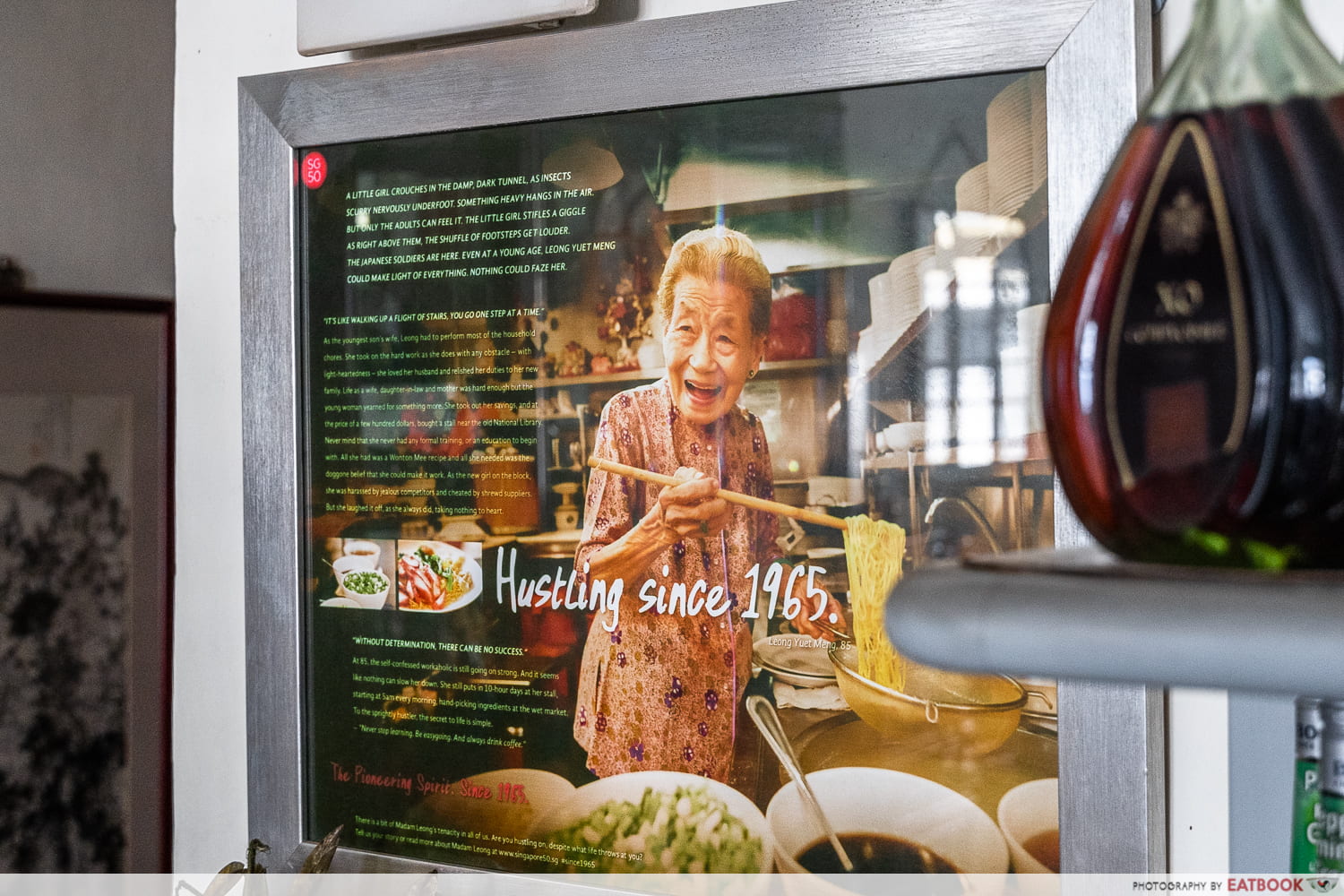 Understandably, cooking food for her beloved customers is one of the main reasons she persevered as a wonton mee seller for over 60 years. "As long as I can cook, I will cook. I just hope they will enjoy (my food)," Madam Leong said.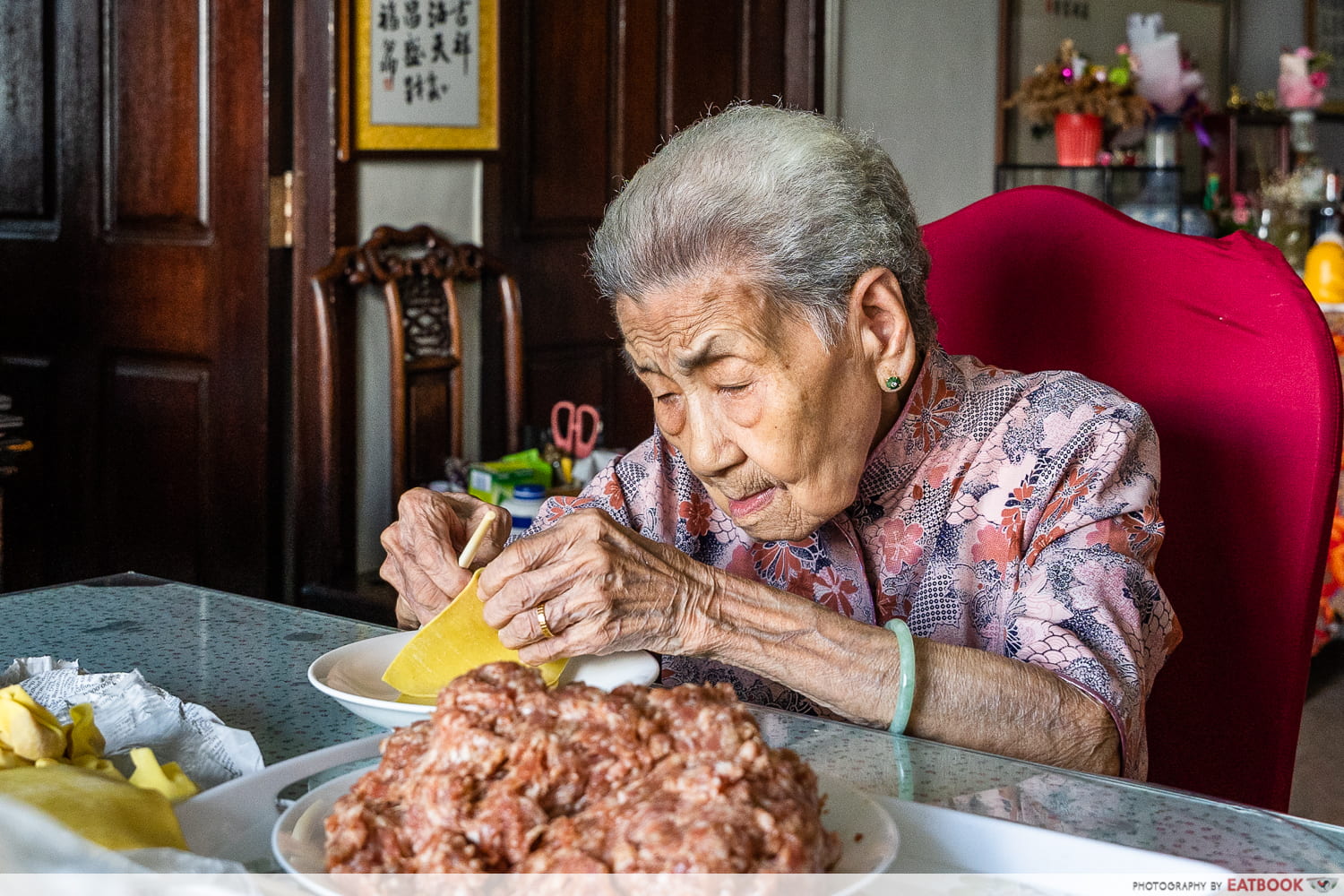 That being said, Madam Leong is transparent about how arduous working in the F&B industry is. When she was still helming the stall in Toa Payoh, her day would start as early as 4am. At approximately 6am, she'd pick up fresh ingredients at the wet market, then arrive at the stall to prepare the ingredients, with the help of other employees.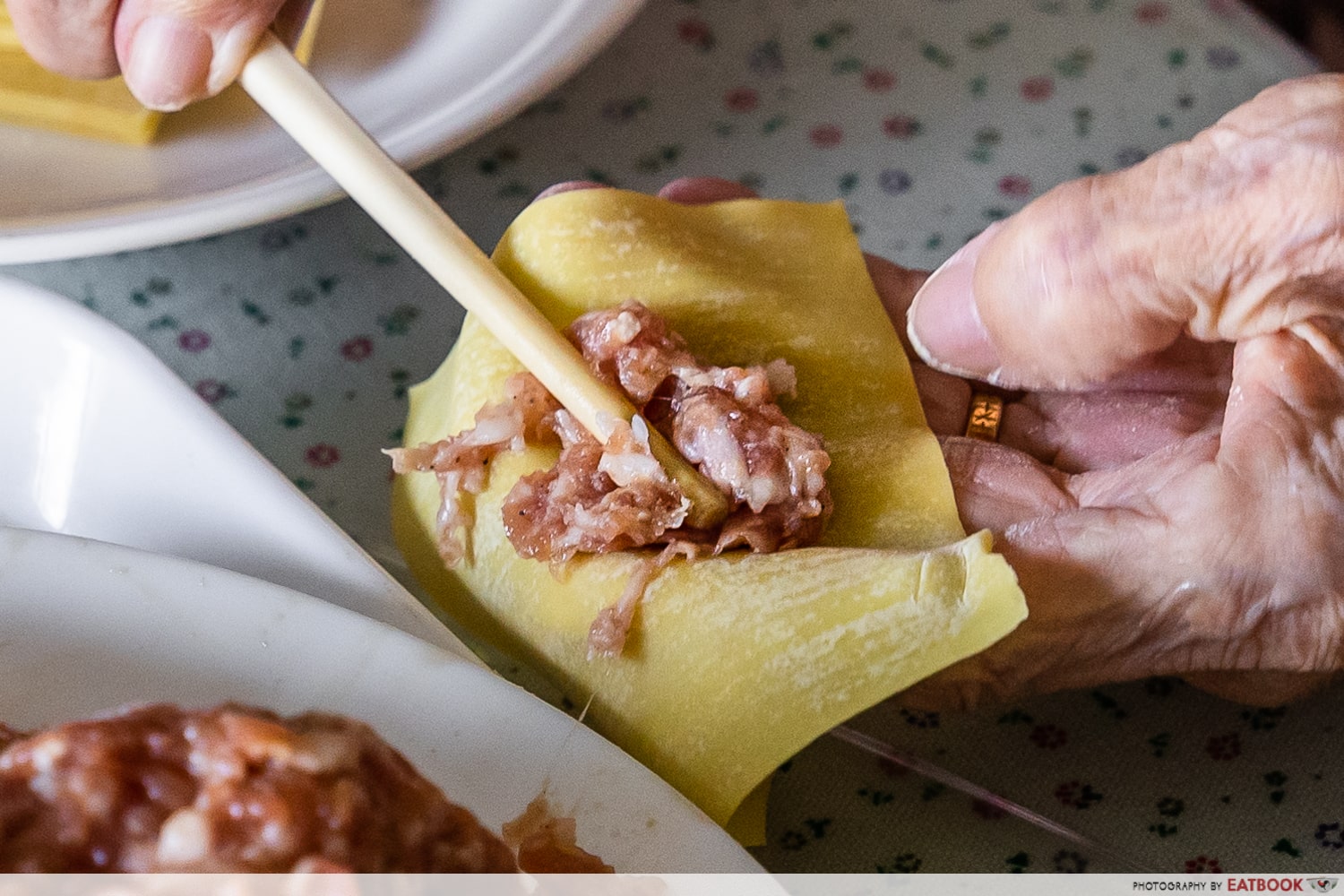 Madam Leong is known for her speed. She can memorise up to 10 orders from customers, and match specific orders to the people who placed them. She never entertained customers who made special requests such as "no chilli" or "extra ketchup" though; they were usually told off by Madam Leong, telling them to help themselves to the condiments on the counter. Bryant told me that it was her way of making sure that she could serve as many customers as quickly as possible.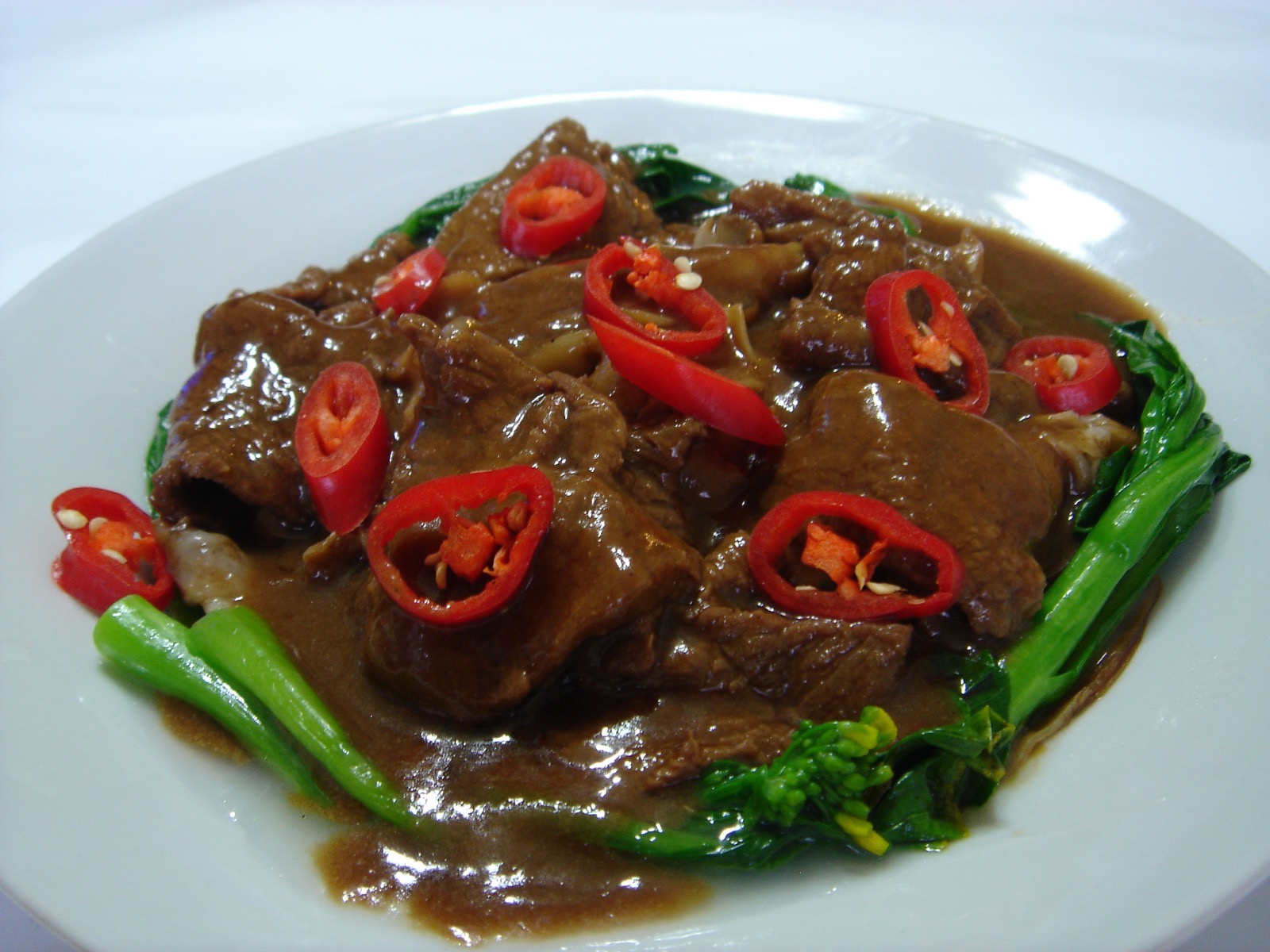 Image credit: Nam Seng Wanton Noodles
Back then, besides selling their classic wonton mee, their menu also included Soya Sauce Chicken Noodles, Nam Seng Signature Fried Rice and more, all of which were cooked to Madam Leong's own recipes. They were popular too, including her Venison Hor Fun, featuring venison meat prepared with her special marinade. Unfortunately, when I asked whether she would ever bring these dishes back, Madam Leong exclaimed in Chinese, "I'm so old, I don't think I can do that anymore!"
When prompted for her succession plans, she seemed to hesitate, saying that it'd be quite difficult to find someone who would prepare her exact recipes without modifying them, which she fears would ruin the reputation she'd built. Even Bryant himself has gone through rigorous training under his grandmother, quipping that she has really high expectations.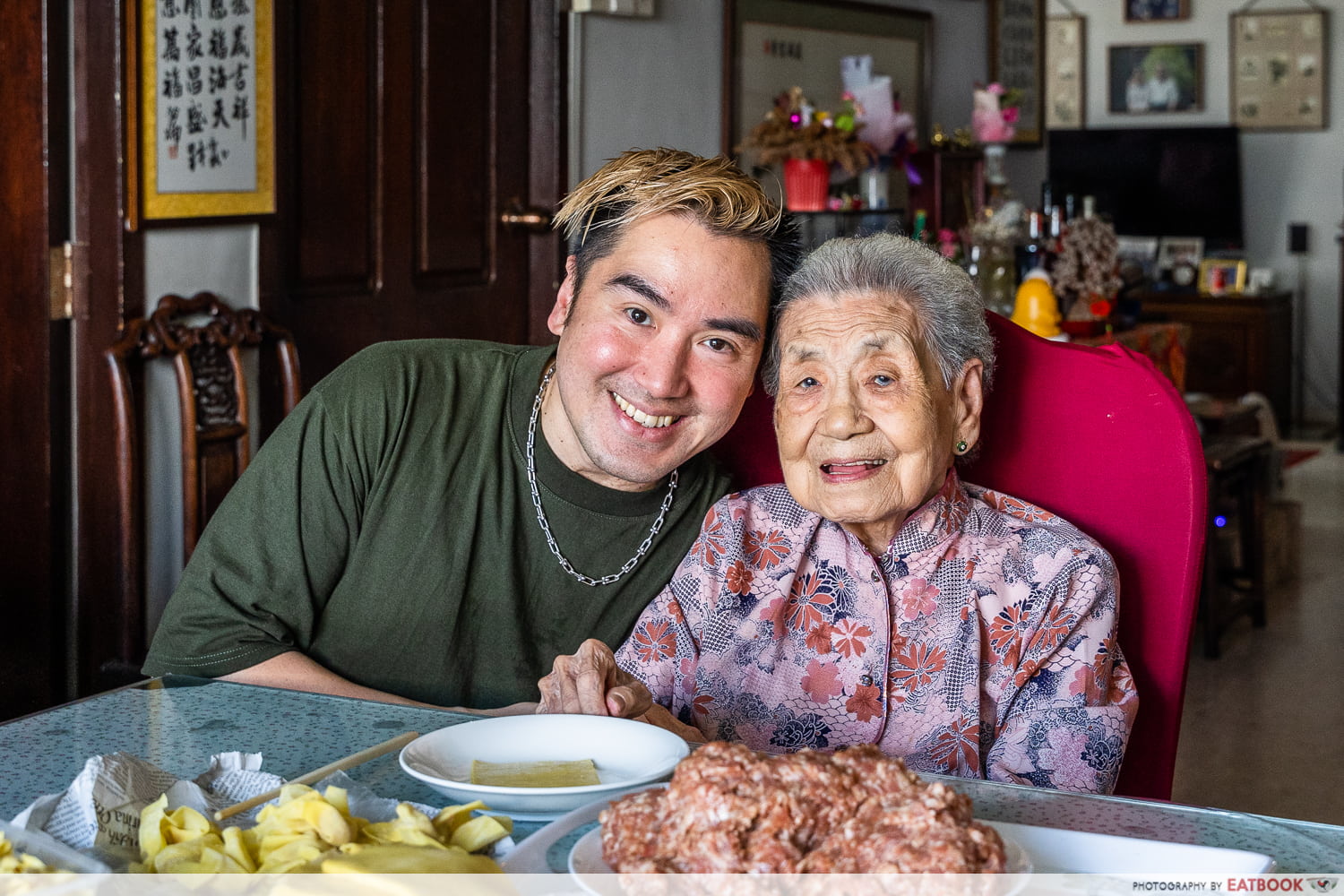 The stall in Toa Payoh, which was a collaborative effort, closed down in 2022 because they couldn't find anyone who could prepare the dishes to Madam Leong's expectations; she refuses to serve sub-par food to her customers.  
Her grandson is currently looking for opportunities to revive the business. "I want my grandma to still be able to help out at the stall and have a sense of purpose. It's heartbreaking for me to see her idle at home, despite being such an active person in the past," he said. 
We tried the OG Nam Seng Wanton Noodles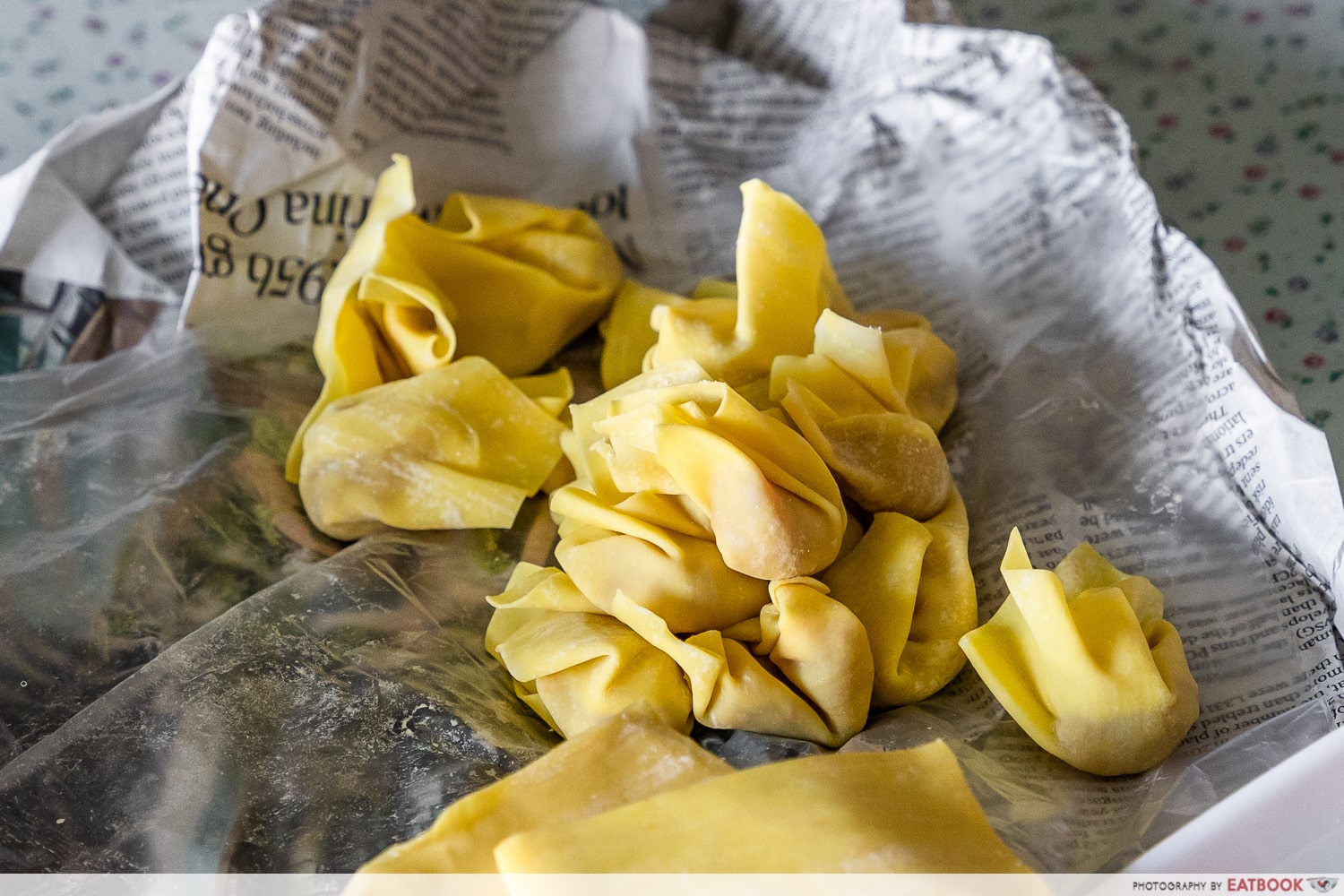 Since we were here with the legend herself, I was eager to try the OG Nam Seng Signature Wanton Noodles, especially as I'd never had the opportunity to before. Unfortunately, since the stall is no longer in operation, Madam Leong didn't have any of the specific ingredients on hand, such as char siew and noodles, from her old suppliers. However, Bryant kindly prepared a plate of wonton mee for us, making do with noodles and dumpling skin sourced from elsewhere, though he said that they're quite similar to the ones they used in the stall.
Madam Leong was unable to personally cook for us as the pain in her knees hindered her from moving around. Nevertheless, we still got to try the dumplings she had personally wrapped, in the wonton mee that Bryant prepared for us.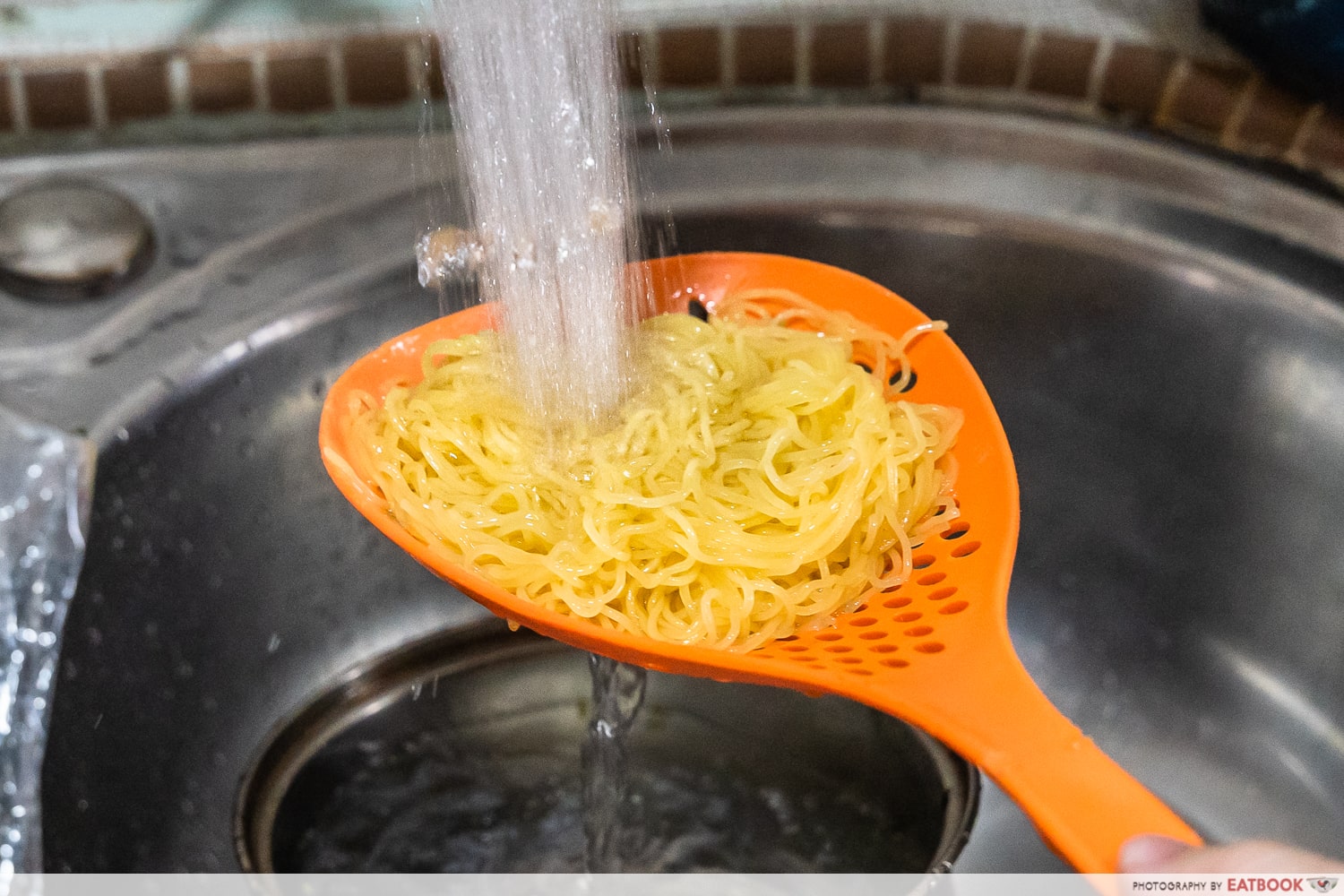 The cooking process is quite standard but I did notice that Bryant had specific steps for cooking the noodles. He would strain the boiled noodles, run them under tap water, and quickly dip them into the boiling water again. This method, he explained, prevents the noodles from clumping together, while retaining an al dente texture.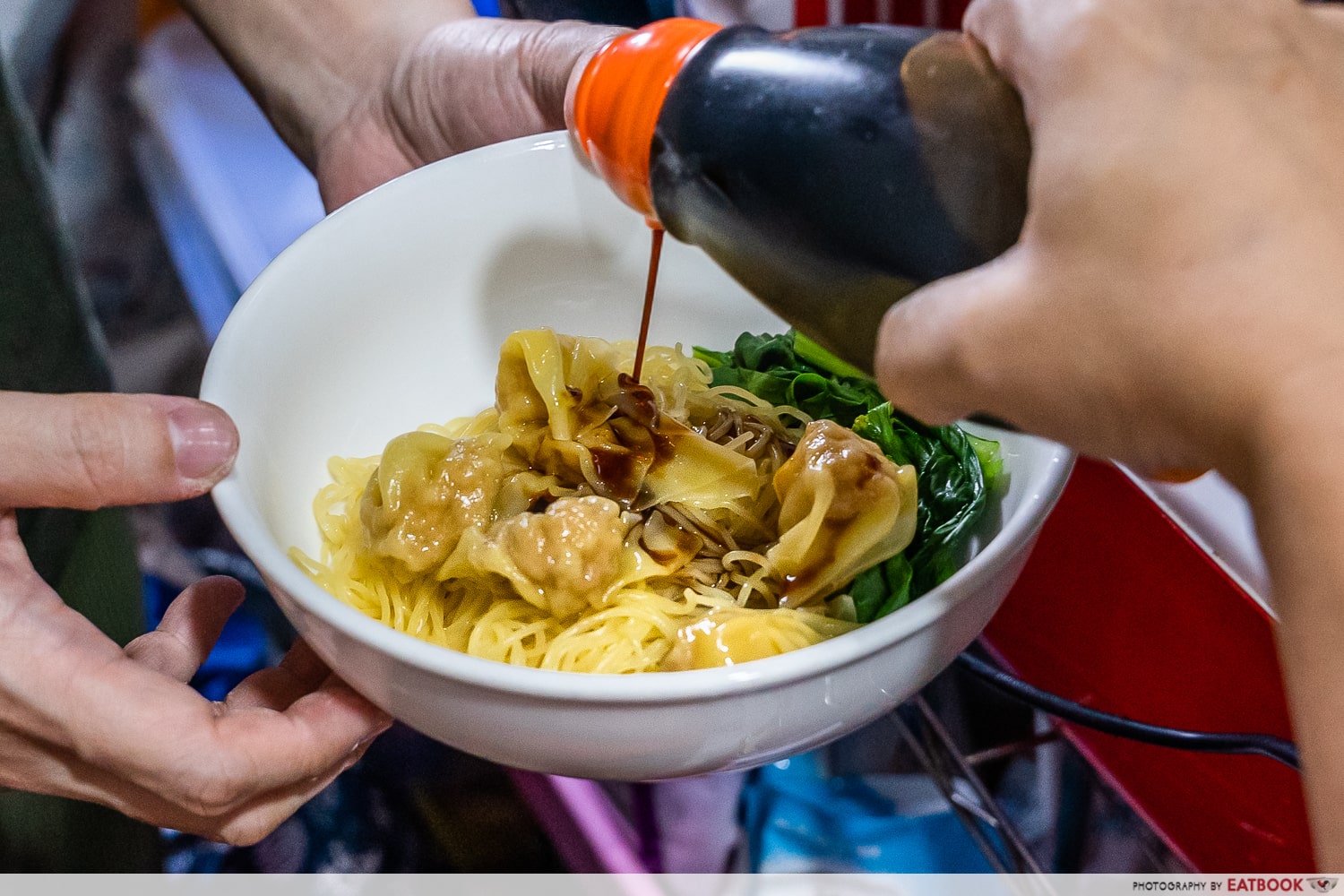 Lastly, he simply drizzled soya sauce and sesame oil over the noodles. We asked if there was anything else in the soya sauce bottle, and were told it was Madam Leong's secret.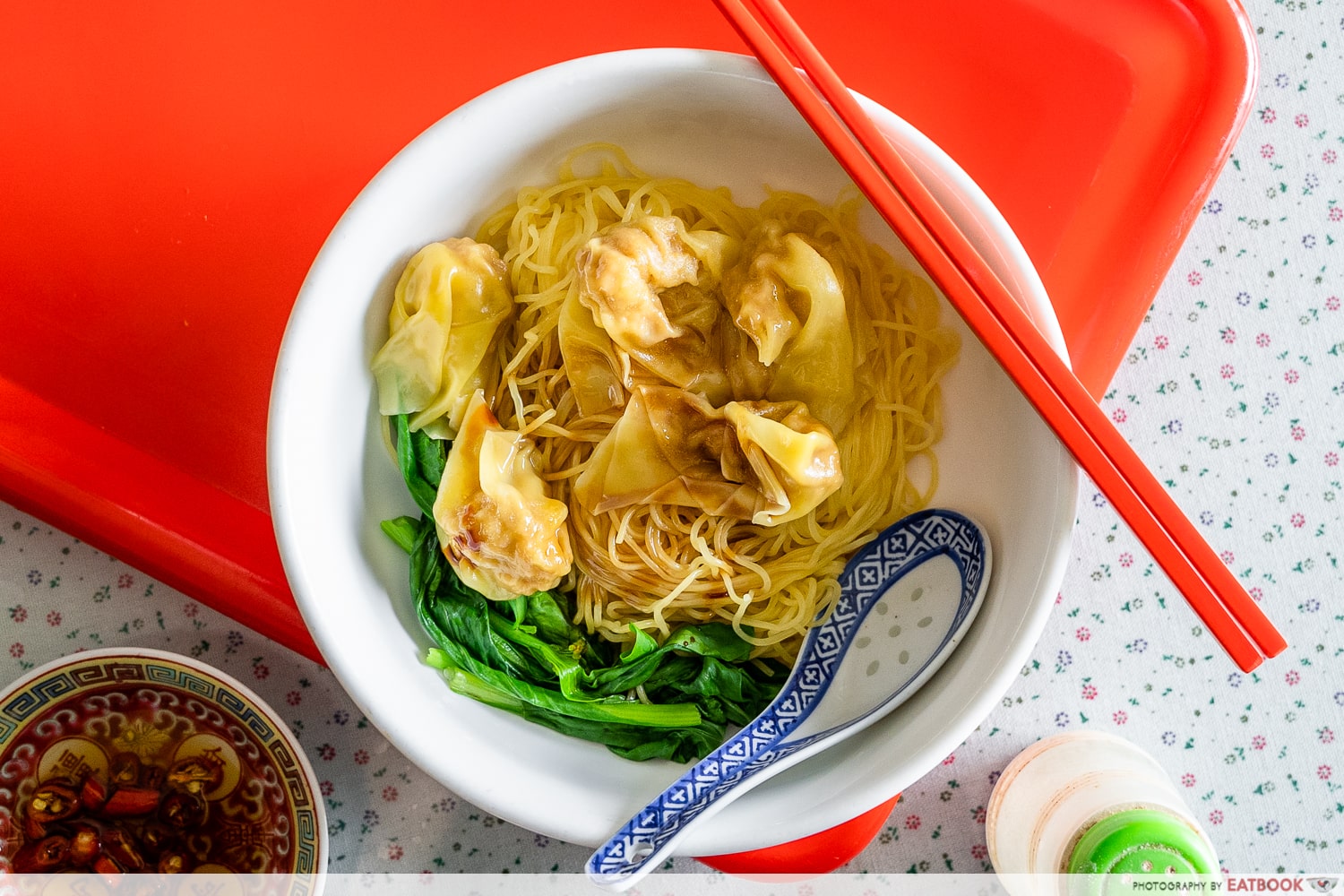 Bryant told us that we should eat the food while it was hot, as the texture of the noodles and dumplings would be affected if we waited too long.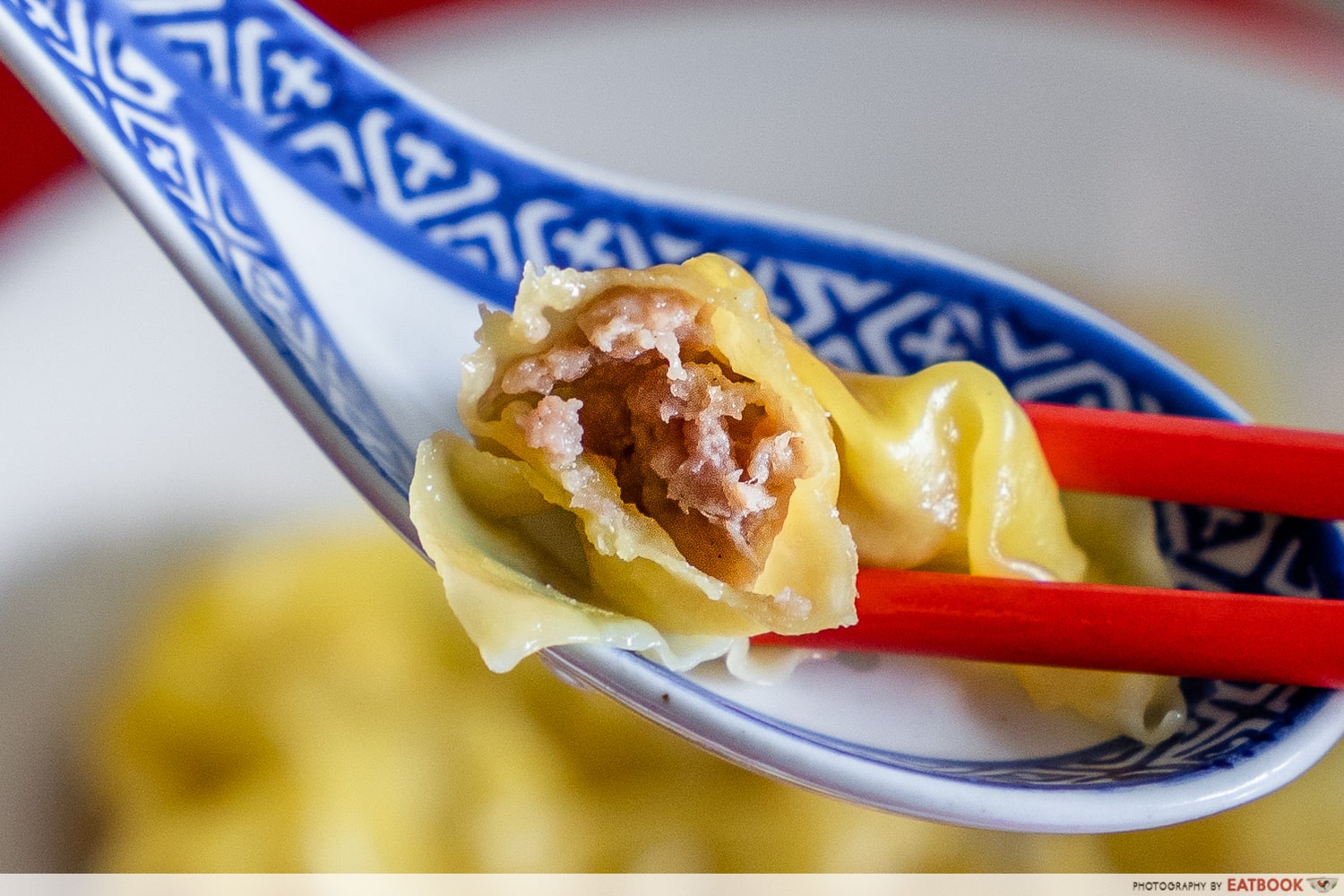 I usually prefer shui jiao to wonton for its meatier filling, but each of Madam Leong's small dumplings boasted sweet-tasting and flavourful minced pork, with a hint of pepperiness. The filling was also juicy, with a slight chew. Wrapped in a silky smooth, thin eggy skin that didn't sport an off-putting alkaline taste, I found the dumpling quite well-balanced in flavour.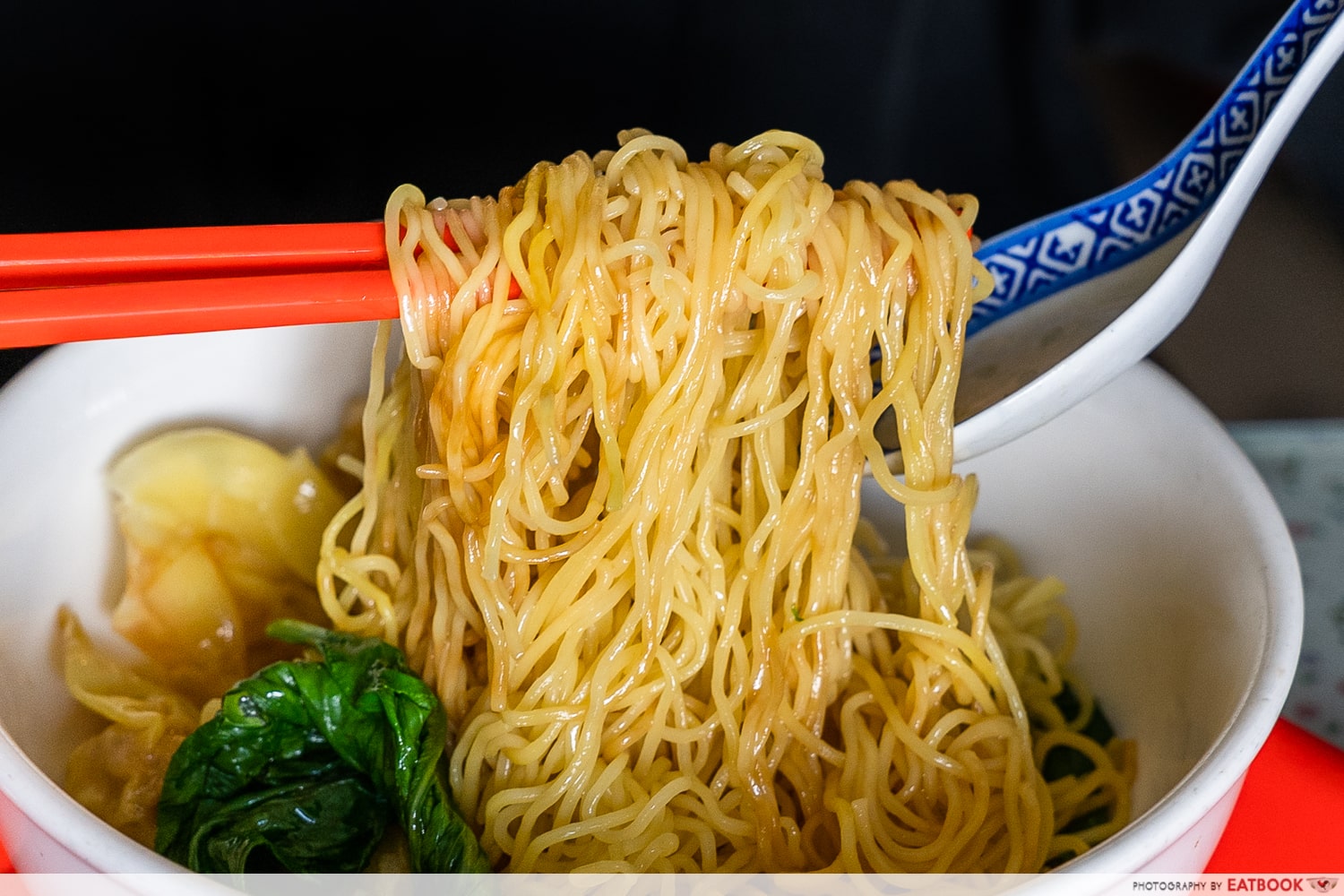 I've eaten wonton mee drowned in sauce that's too sour from too much ketchup, too salty, or even just bland and tasteless. Here, the noodles are simply dressed lightly with sauce. I appreciated that the al dente noodles didn't have a strong alkaline flavour, which allowed the umami soya sauce and the nuttiness of sesame oil to stand out. This no-frills wonton mee was not fancy, but it was one of the best old-school wonton mee I've tasted. 
Out of curiosity, I added ketchup to the noodles, since that's what others have done. Some might consider this an abomination, but the sweetness and tanginess of the ketchup actually paired well with the chewy noodles.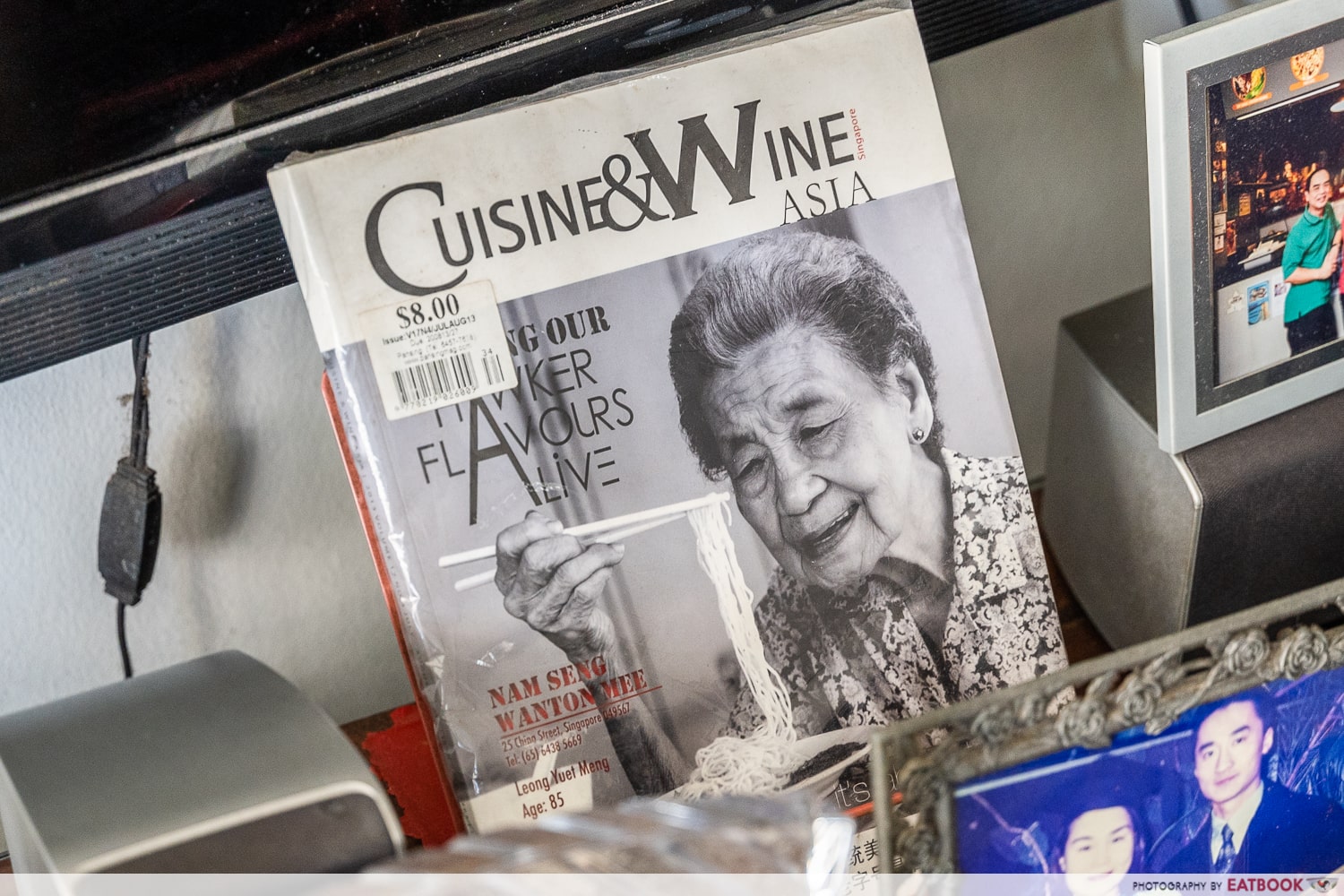 Even though we weren't able to try Madam Leong's char siew, there's actually an interesting story behind it. Back at her stall along Stamford Road, Madam Leong used to roast her own char siew over charcoal. She would also prepare her own marinade for the pork━a tedious process in all. 
Eventually, she switched to sourcing her char siew from an external supplier. Customers were divided since some people didn't mind this drier version, which is commonly found in most old-school wonton mee in Singapore. Others preferred their wonton noodles to come with juicier cuts of the roast meat. 
The History Of Satay Bee Hoon, And Why It's A Fading Hawker Dish In Singapore
The road ahead for Ah Por and Nam Seng Wanton Noodles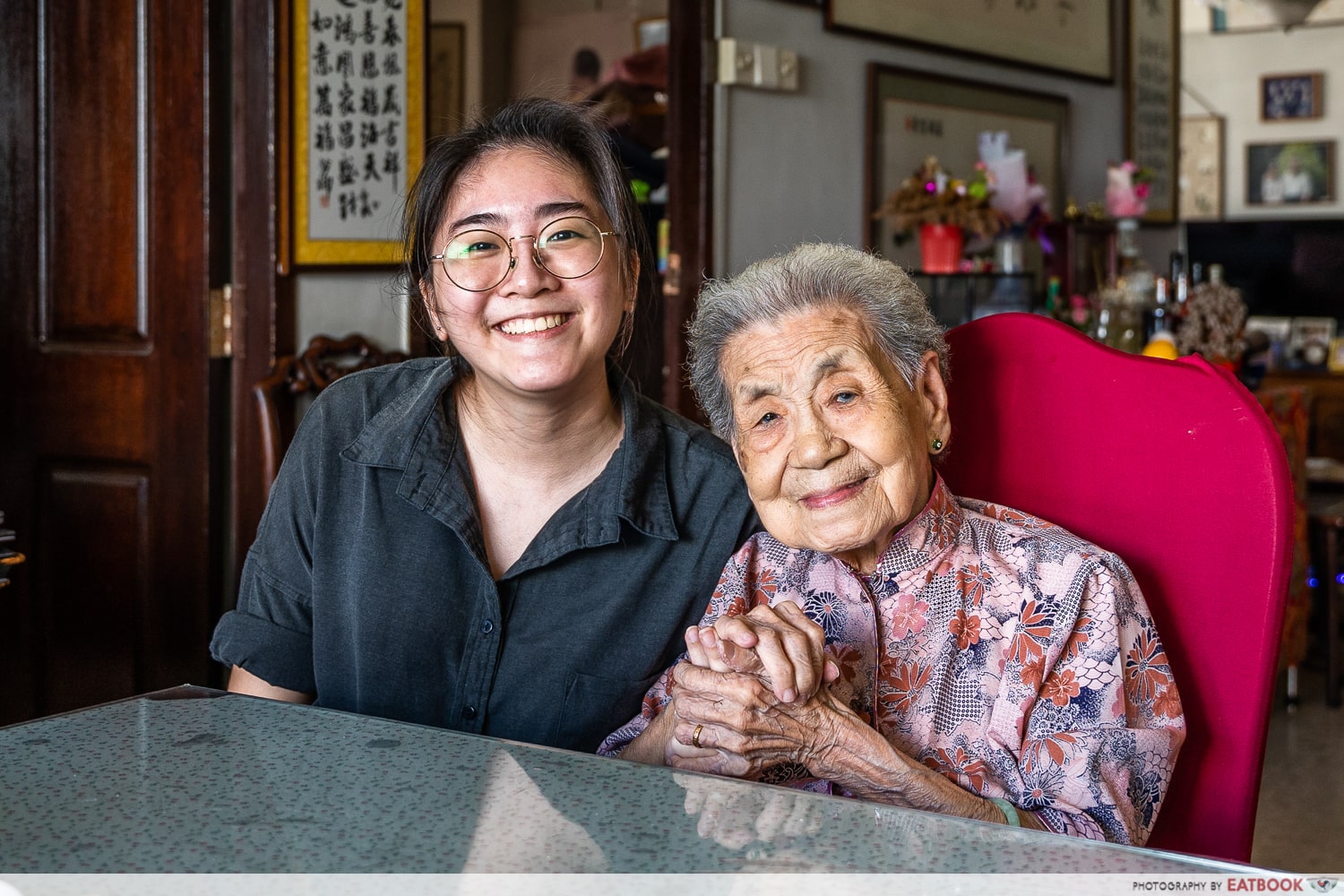 Since Madam Leong has not been working, she's kept herself busy by reading the newspapers daily so that she's aware of the current affairs in the world, and playing mahjong with her friends. Meanwhile, Bryant is looking into other suitable opportunities, such as preparing frozen dumplings for sale, so Madam Leong can help out in the little ways that she loves. As for the business, it seems they will try to keep it within the family to honour Madam Leong's legacy.
For more insight into heritage hawkers in Singapore, read our story about the history of satay bee hoon in Singapore. Alternatively, for another popular wonton mee stall recommendation, check out Joo Heng Noodle in Toa Payoh for their green spinach noodles and juicy wonton. 
This Popular Toa Payoh Stall Serves Wonton Mee With Green Spinach Noodles And Juicy Wonton
Photos taken by Zi Hui Tan.
This was an independent visit by Eatbook.sg.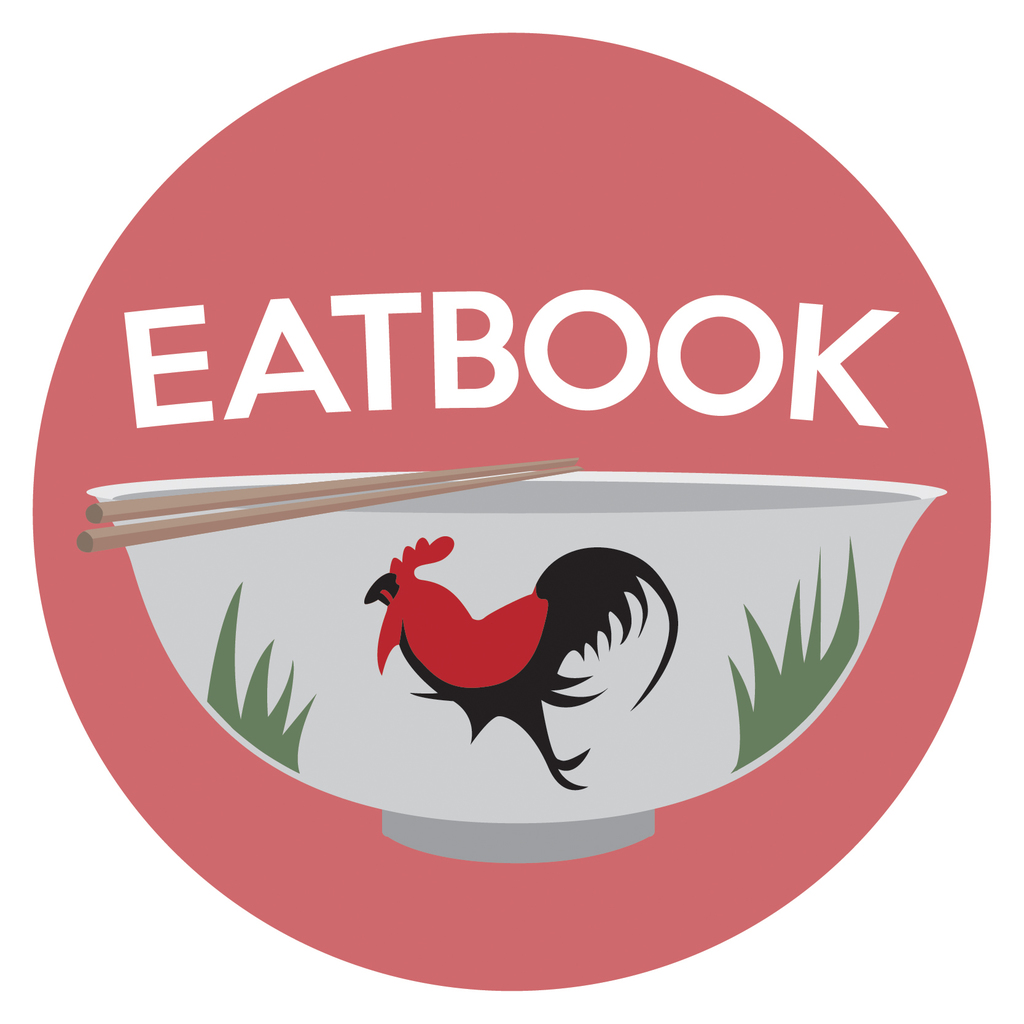 Drop us your email so you won't miss the latest news.