Cheap tacos at Beauty World that come with a local twist
Update: Narco > Taco has is now permanently closed.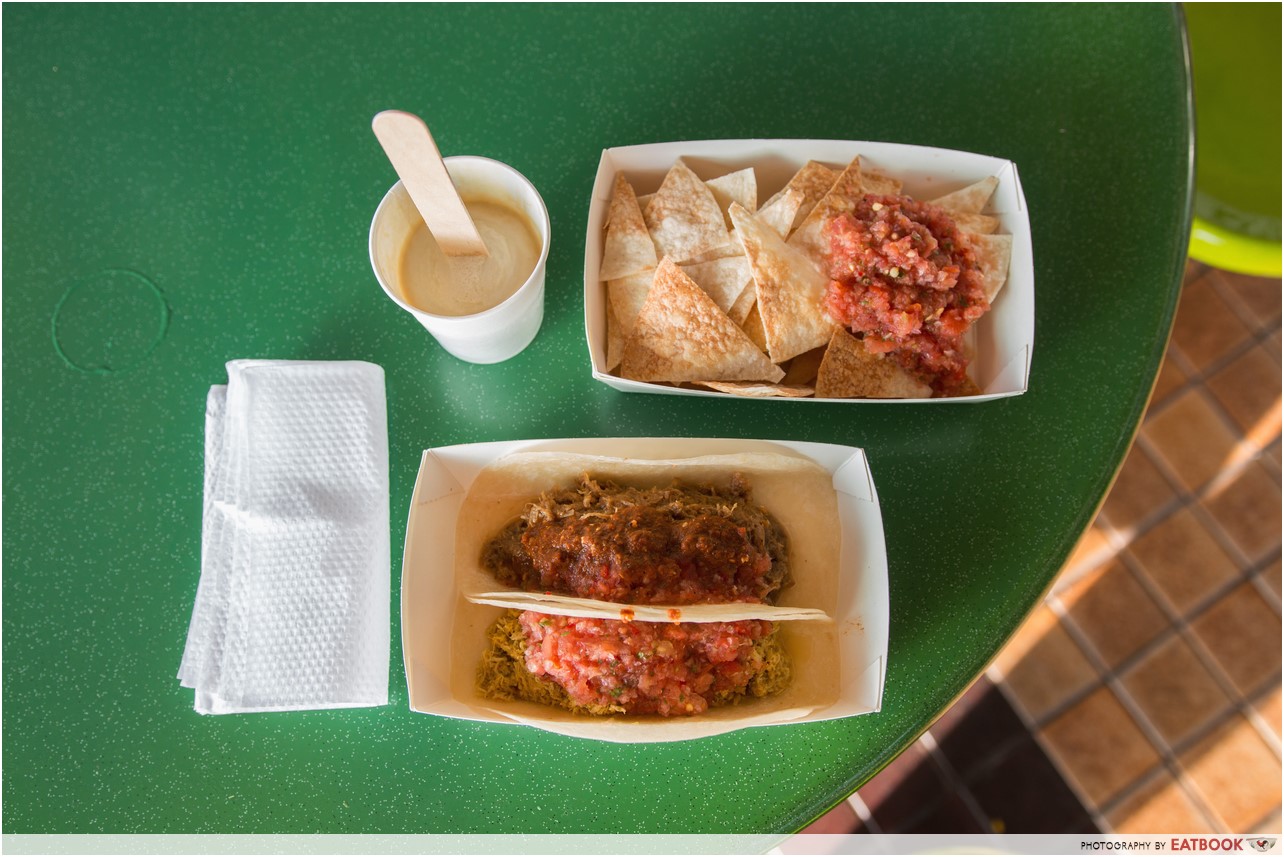 One thing most, if not ALL, Singaporeans are proud of is our food scene. Featuring cuisines from all over the world, including fusion ones like Ko-Mex, deciding on what to eat is our favourite #firstworldproblem.
Dipping his feet into the fusion scene, Sean, the owner of Narco >Taco at Beauty World, has come up with the world's first Singa-Mex stall. This tacos and ice-cream hawker stall ticks all the right boxes for our love of cheap, convenient and tasty dishes, plus it's all MSG-, preservative- AND dairy-free.
Food at Narco >Taco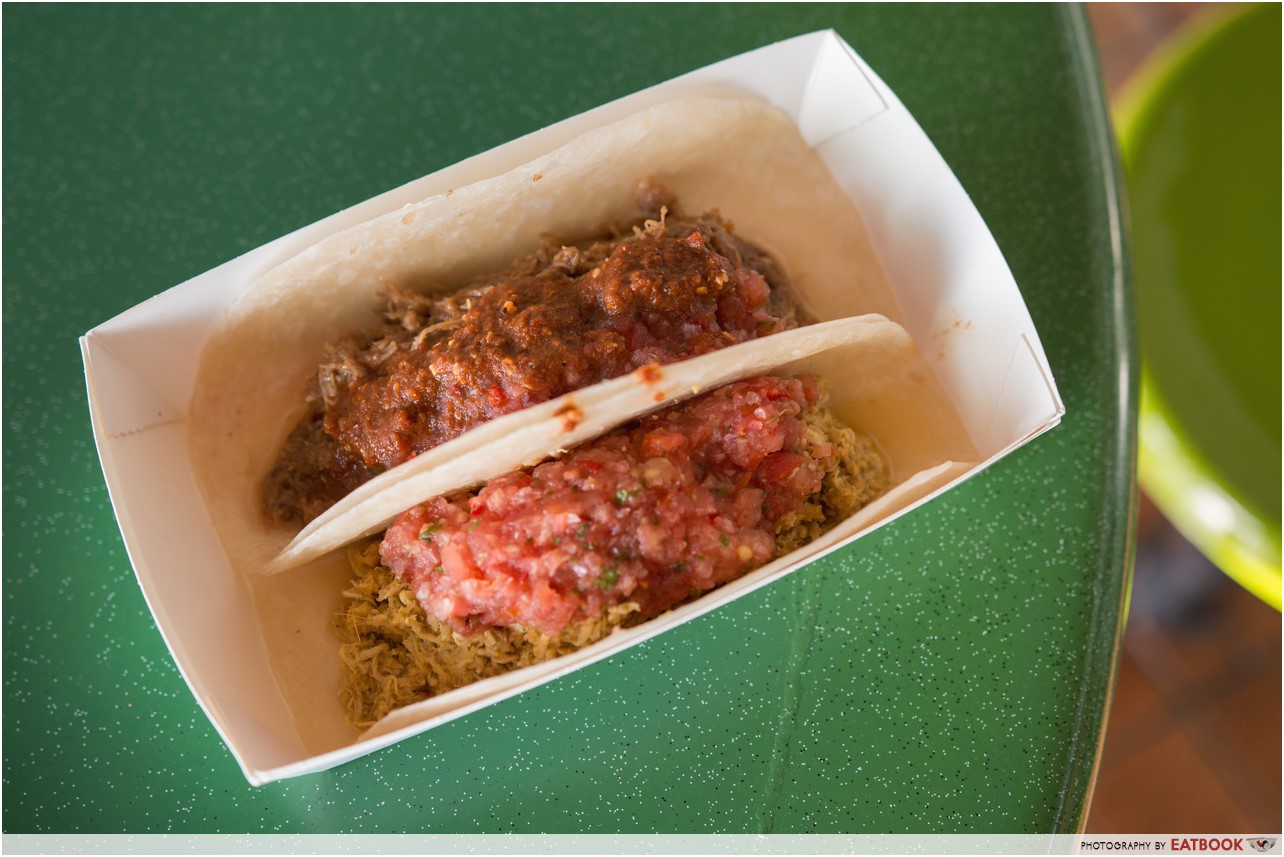 Inspired by Netflix's Narcos, Sean hopes his food will be equally exciting and stimulating with every bite. Besides tortillas, everything from pulled chicken to salsa, sauces and ice-cream is freshly handmade every morning for a minimum of eight hours. Recipes were developed by Sean himself, who gained culinary experience during his university days overseas.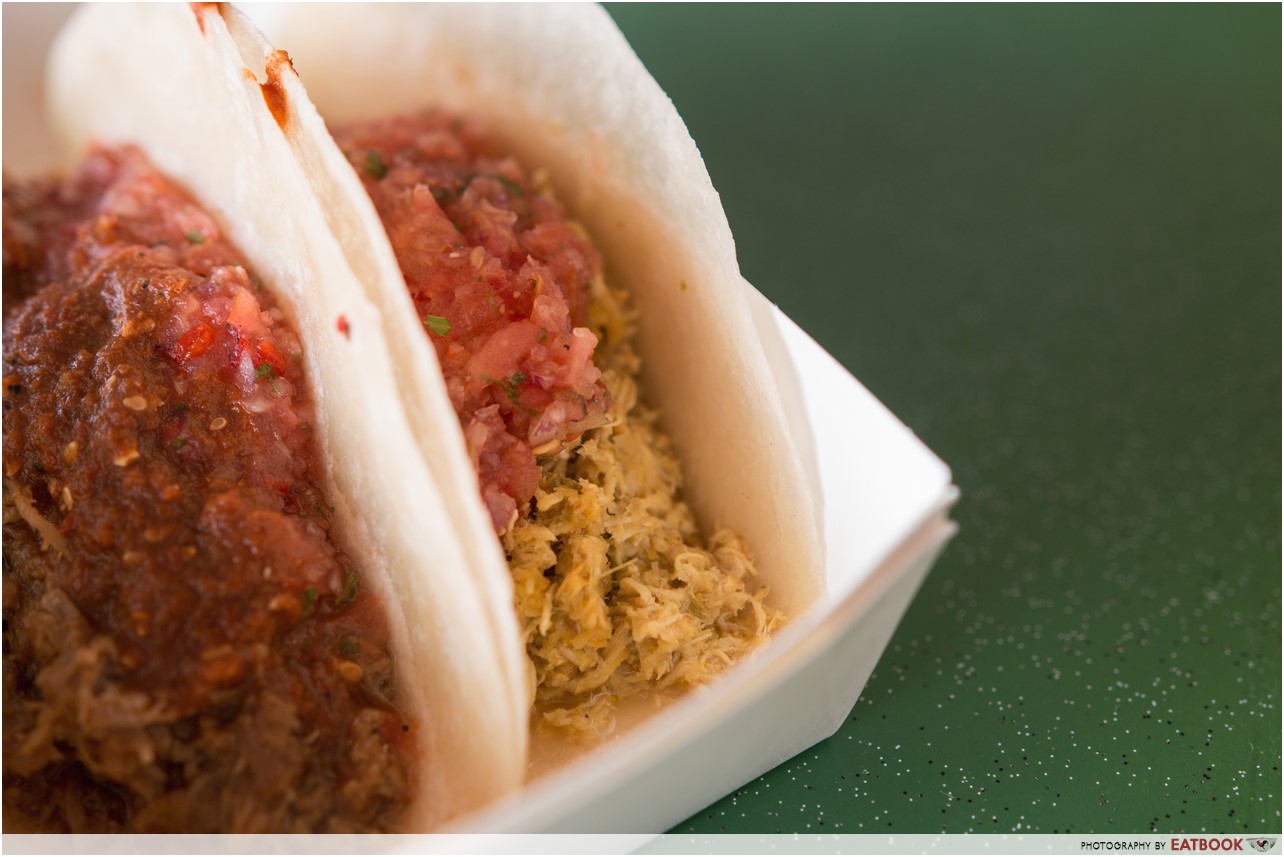 The most expensive dish on Narco's 3-item menu is Singaporean Tacos ($5 for two tacos). Served as a pair, the tacos are made with chicken instead of the usual pulled pork. I could hardly tell the difference as the meat looked incredibly stringy and moist.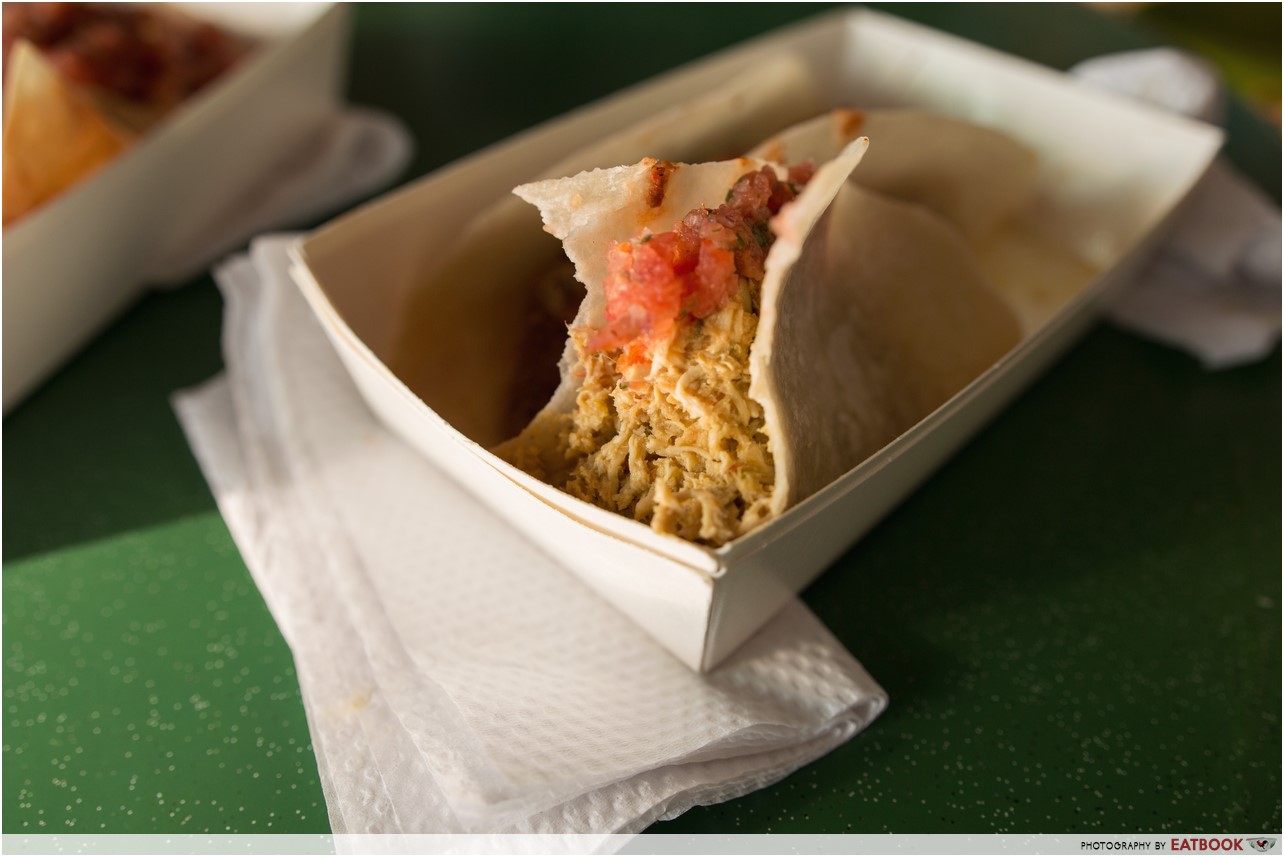 First up, Ayam Rendang. This Peranakan-inspired taco comes with a rempah (spicy paste) base that includes slow-cooked ginger, lemongrass, turmeric, galangal, shallots and garlic. This fresh paste creates an aromatic, herbal and spicy flavour without any heaviness of coconut cream, and reminded me of a mild version of curry chicken in the form of a taco.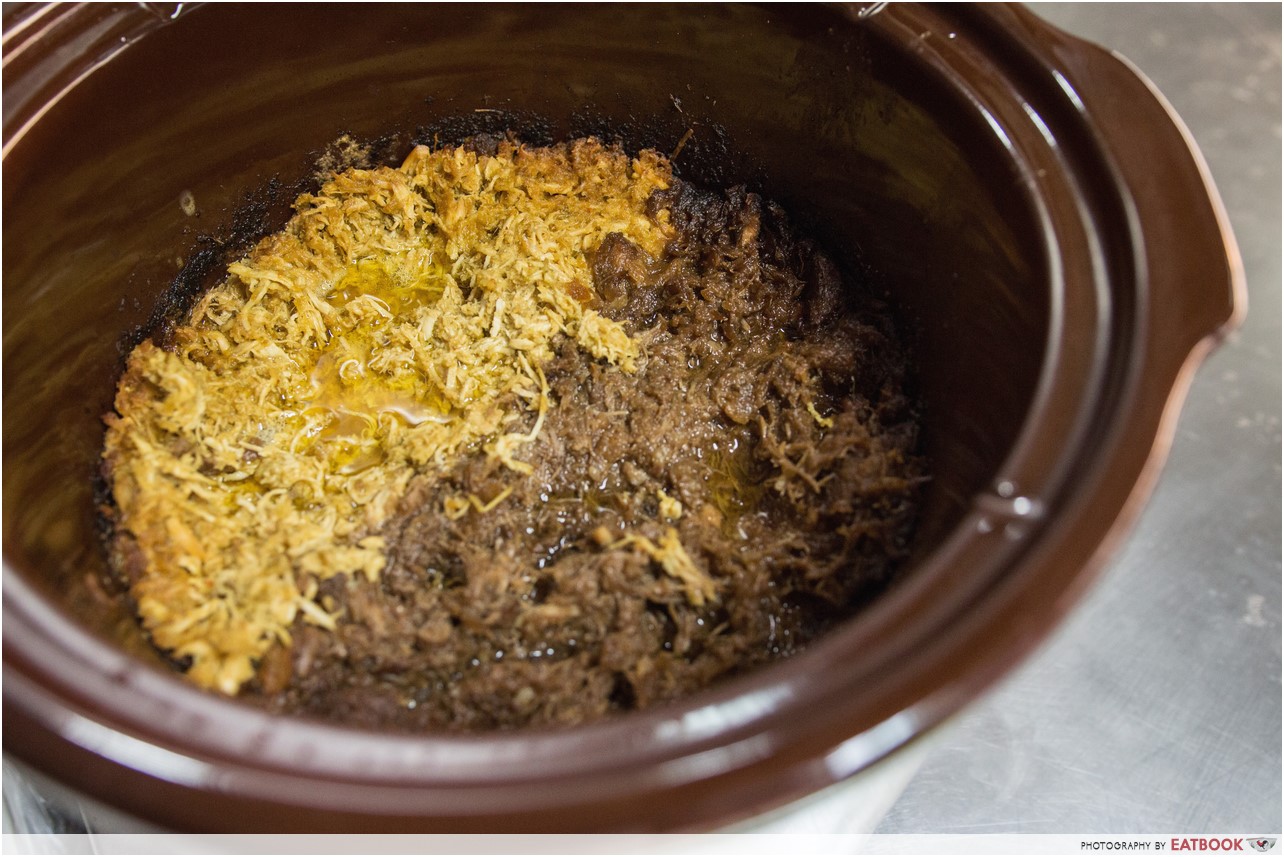 I was afraid the chicken breast meat would turn out dry, but that worry was washed away the moment I bit into the taco and juices started flowing down my forearm. This generous serving of chicken was topped with pineapple-lime picante, which is a smooth-textured salsa that adds a refreshing touch to the earthiness of the spices without being overly citrusy.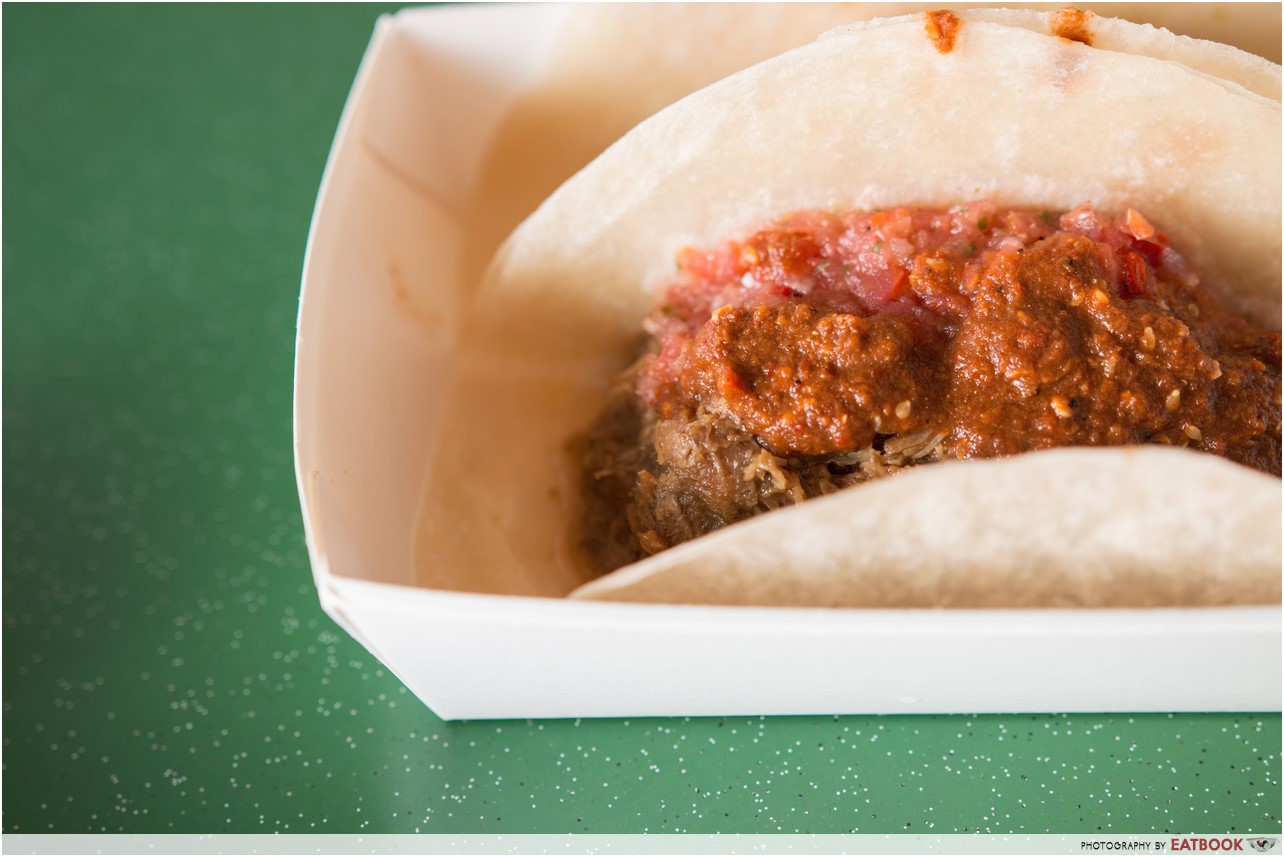 Chicken Smore, or chicken stew, was my favourite taco of the two. It's made with a shiitake mushroom base that's packed with umami flavour. Sean used chicken thigh for this mix, and married it with homemade kecap manis (sweet soy sauce) with brown sugar to avoid MSG and preservatives.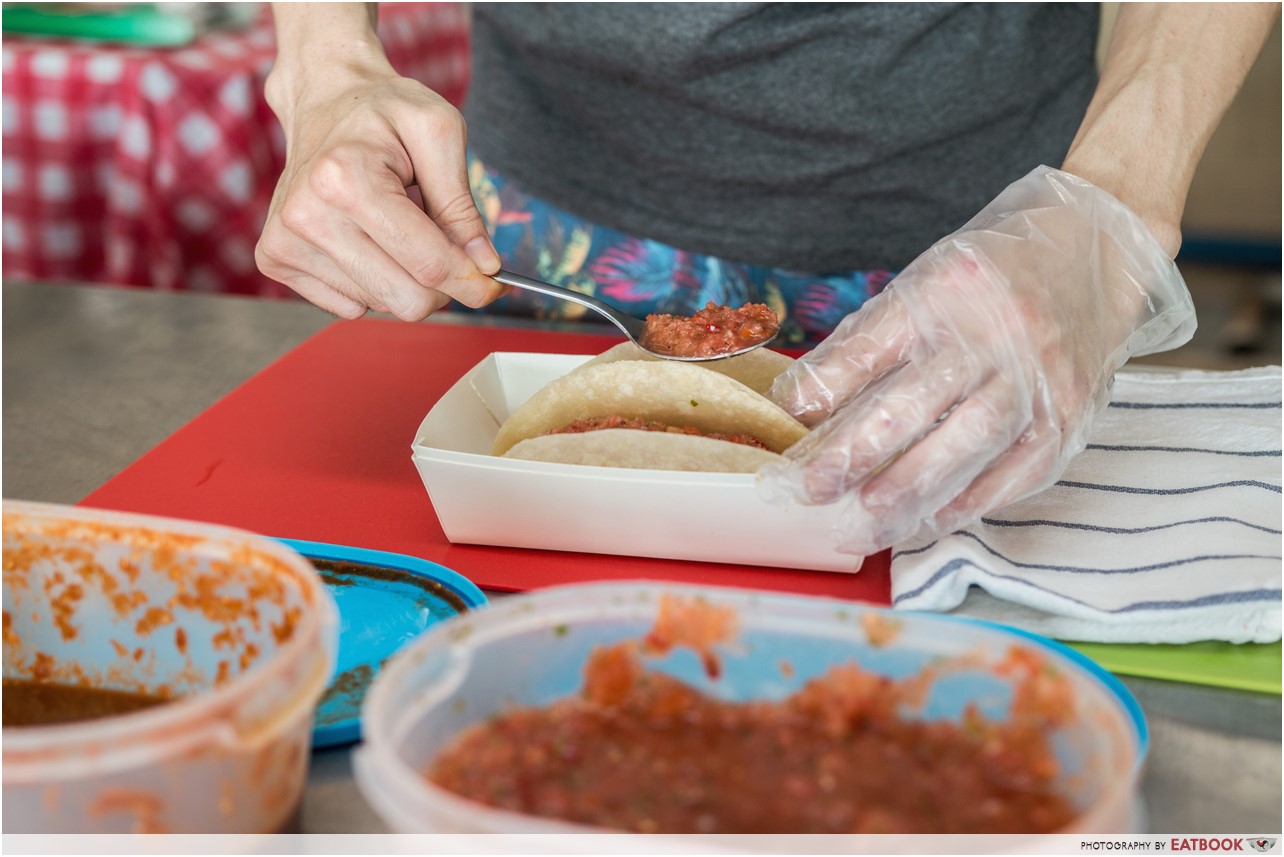 Best of all, it's served with a mouth-watering sambal belacan that reminded me of a sweet-spicy satay sauce. The only downside to the tacos was the large amount of zhap, which made the tortillas a challenge to eat without getting the juices all over my hands and table.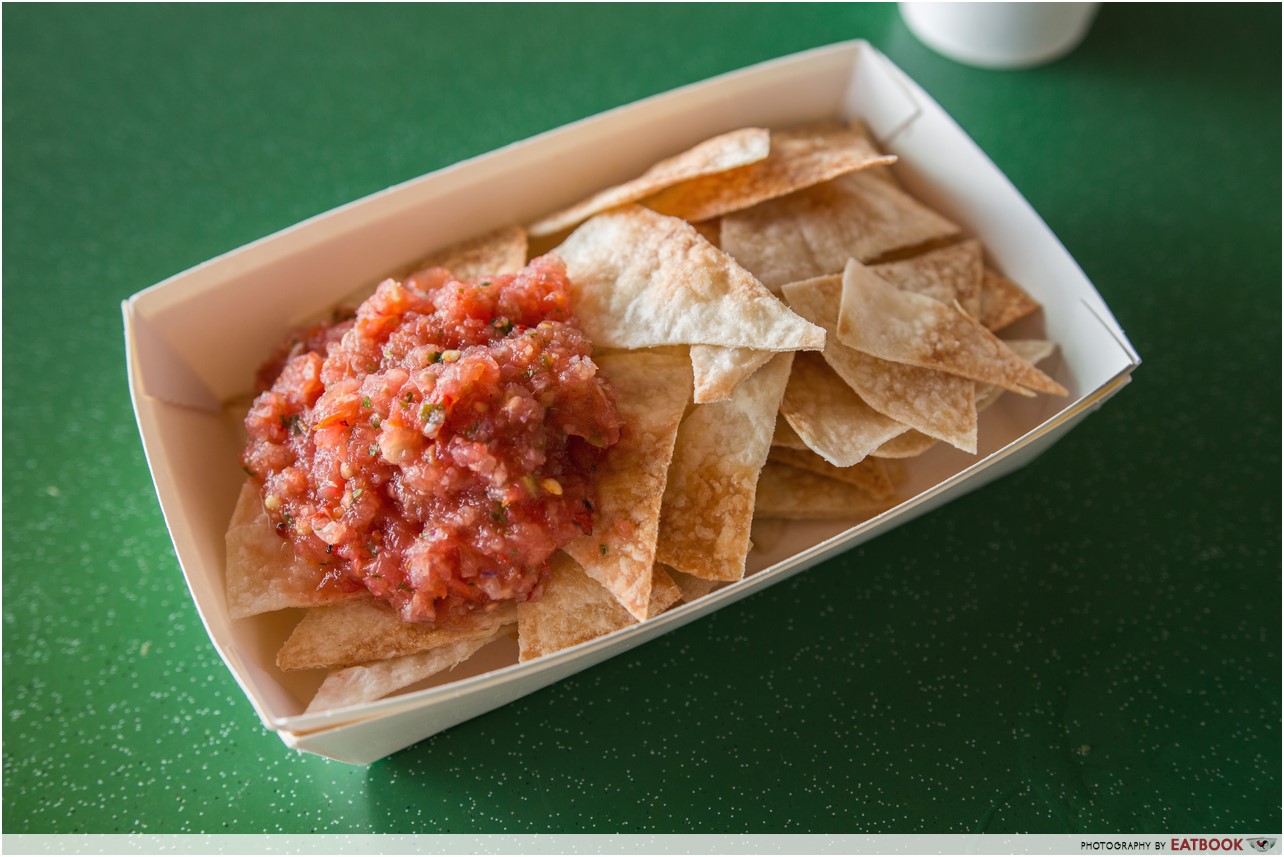 Chips & Salsa ($3) comes with oven-baked flour tortillas directly sourced from a supplier who uses machinery and flour imported from Mexico. Hitting the #eatclean trend on the head, no salt or seasoning was added. Instead, the tortilla chips are served with a simple pineapple-lime picante on the side.
The picante doesn't have that punch of flavour traditionally associated with Mexican cuisine, making this dish slightly bland. But in terms of texture, I like how the chips stayed crunchy even after I dapao-ed it home. This is a definite go-to for the health-conscious.
The dairy-free Sagume Pelatas ($3) is a smooth and creamy gula melaka popsicle topped with sago for added chewiness. Sean chose gula melaka to stick to the roots of Southeast Asian cooking, and was also drawn to its richness and fragrance.
True to its flavour, the gula melaka had a strong hit of caramel taste that was just nice for a sweet-tooth like me. However, the dessert might come off as one-dimensional and too jelak for some.
Ambience at Narco >Taco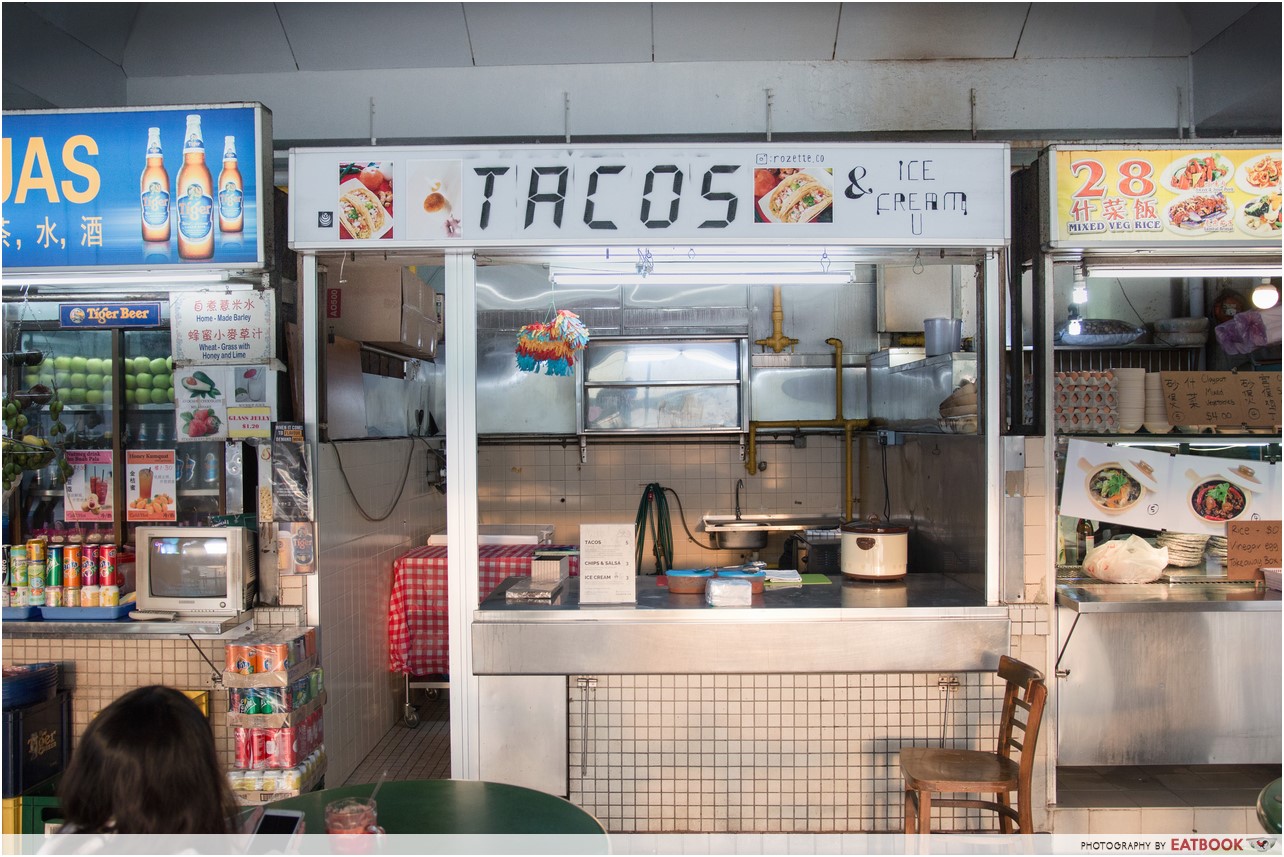 Housed on Beauty World Centre's rooftop, Narco >Taco provides a view that can rival some of Singapore's rooftop bars. Other than the blazing setting sun in my eyes, this is a casual environment to kick back with a group of friends while digging your fingers into cheap tacos, chips and ice-cream.
The verdict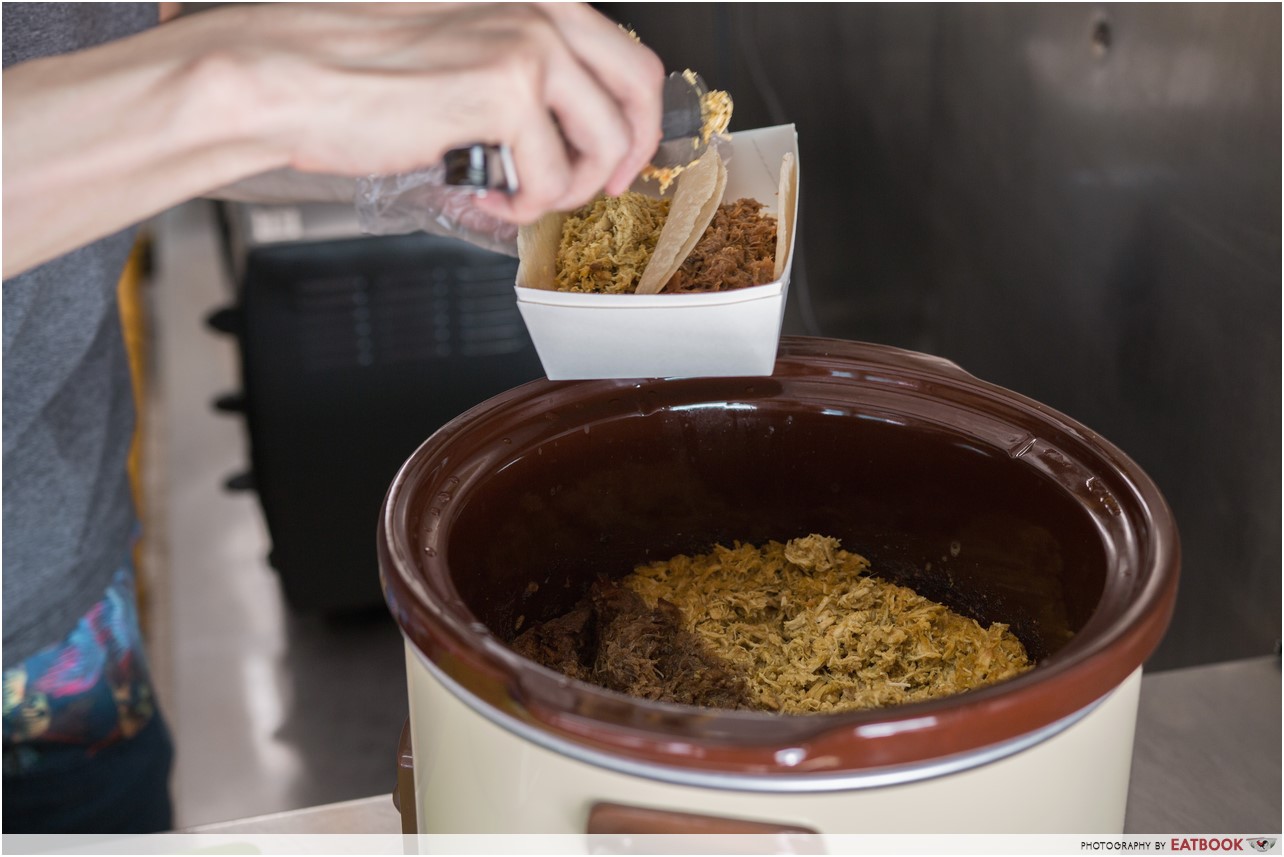 Sure, we may have Michelin-starred stalls amongst our midst, but young hawkers taking the initiative to open up new stalls with new ideas are becoming rare. Equipped with more than a fresh idea, Narco >Taco prides itself in producing handmade fusion food at affordable prices.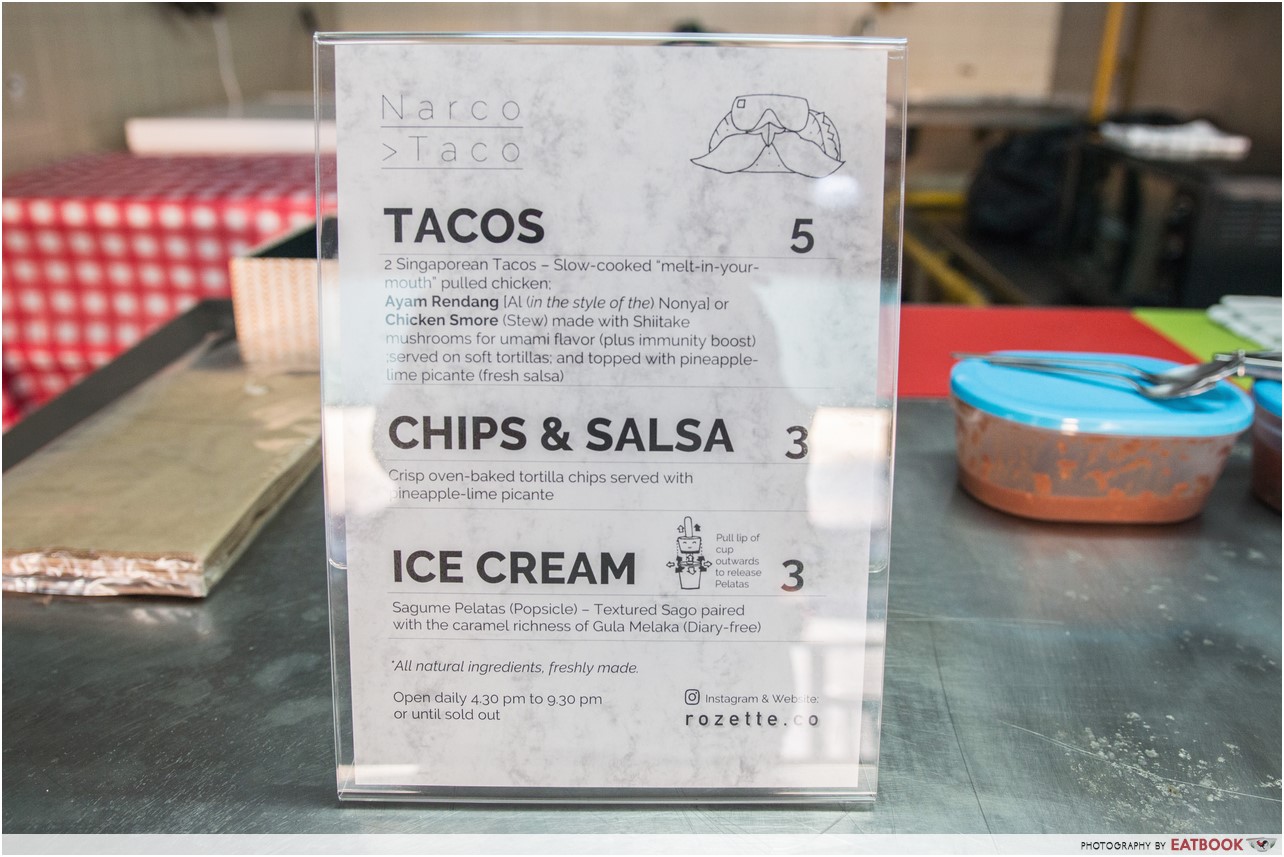 The next time you're craving for tacos, head for this Singa-Mex fare at nett prices. A healthy alternative to typical Mexican food, this is definitely one to get your hands messy for.
This was a media tasting at Narco >Taco.
Summary
Pros
– Affordable
– Convenient location
Cons
– No air-conditioning
– Limited menu
Recommended Dishes: Tacos ($5 for two), Sagume Pelatas ($3)
Operating Hours:
Monday – Friday 6pm to 9pm
Saturday – Sunday 12pm to 2pm, 6pm to 9pm
Address: 144 Upper Bukit Timah Road, #04-49, Beauty World Food Centre, Singapore 588177