---
Nature Valley granola bars
---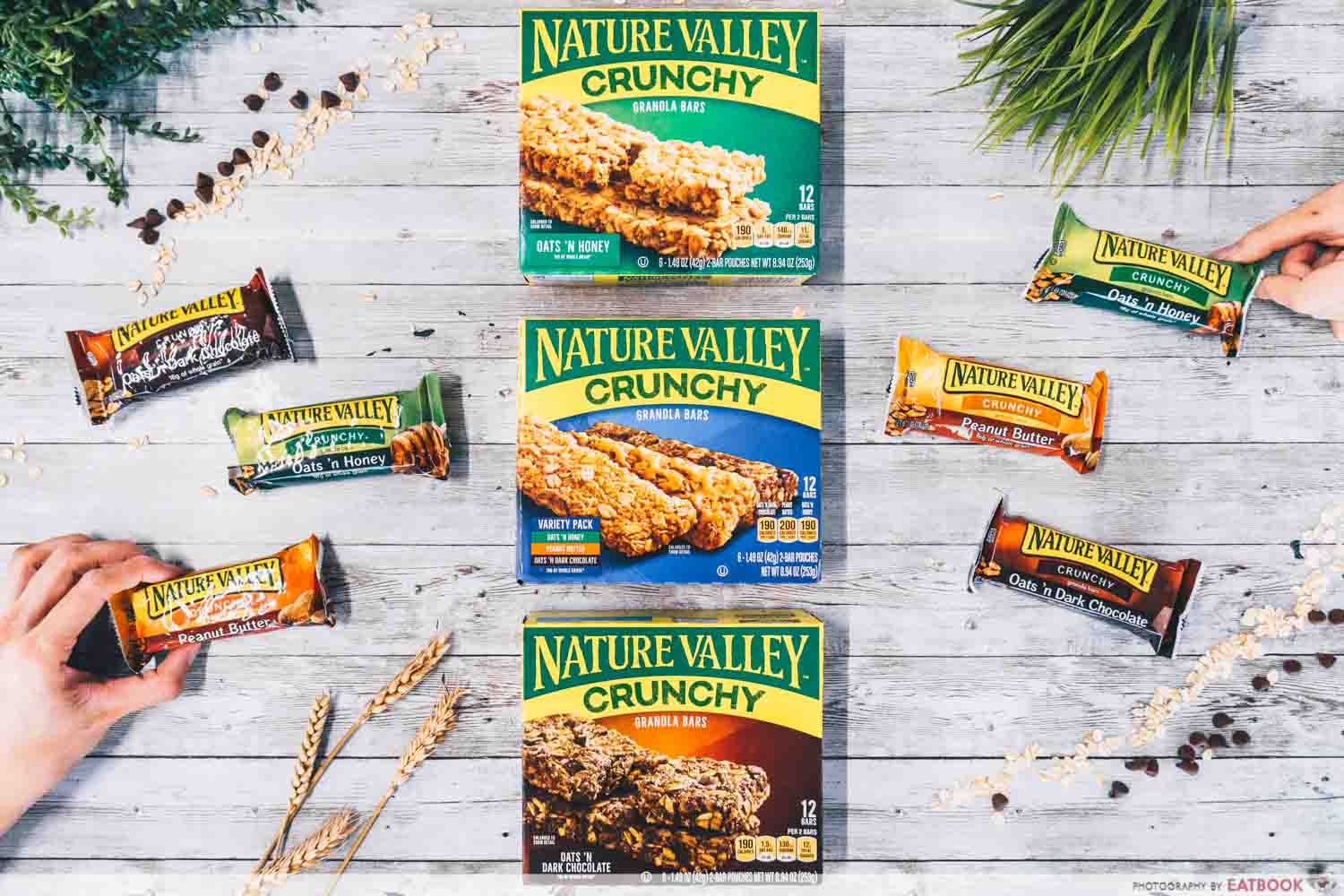 Granola bars are one of the most versatile snacks I can think of—nutritious, fuss-free and perfect for any time of the day, be it a quick breakfast, pre-workout boost, or midday pick-me-up. I have found Nature Valley granola bars to be my favourite, as they are delicious and full of goodness, containing whole grain oats, alongside fibre and protein—an easy way to get my nutrients in without any preservatives and artificial additives.
These Nature Valley granola bars also come in different flavours, including Oats' N Honey, Peanut Butter, and Oats' N Dark Chocolate, adding variation to the usual monotonous granola bar. You can enjoy all three flavours in their Variety Pack ($5.85). Otherwise, the brand offers single flavour packs ($5.85) as well.
The versatility of these bars is extended to the infinite ways you can enjoy them, on top of having them on their own. With that, we've curated a list of 4 ways you can use Nature Valley granola bars to atas-ify snacktime.
---
1. Top your fruit and yoghurt bowl
---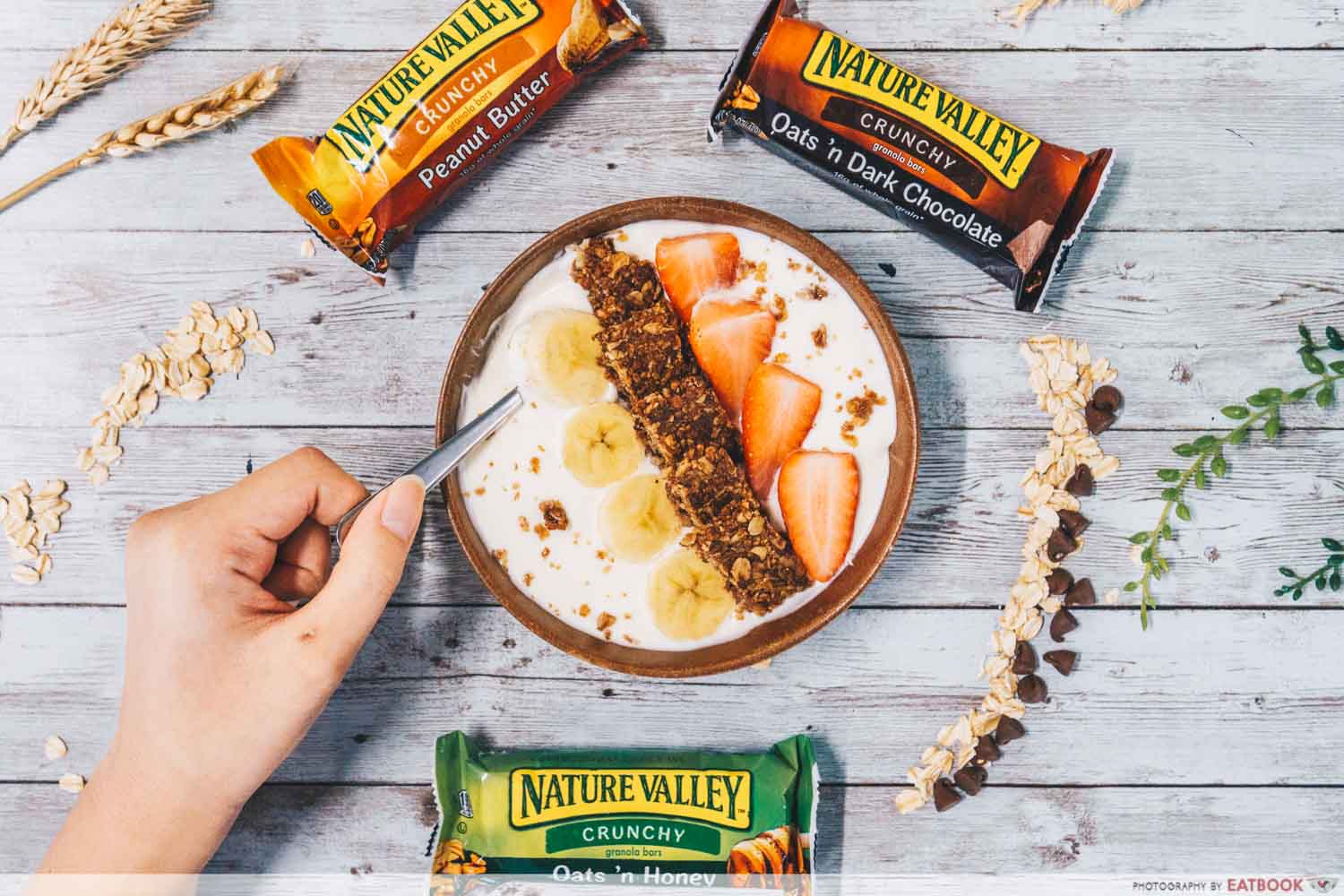 Fruit and yoghurt are the yin and yang of sweet and sour, and make a classic combination when served in a yoghurt bowl. 
In a bid for a more balanced meal, we've decided to pair our yoghurt bowl with Nature Valley's Oats 'N Dark Chocolate granola bar, which adds a good dose of complex carbs. We also added sliced bananas and strawberries, though you're free to add any other fruit or topping as you please.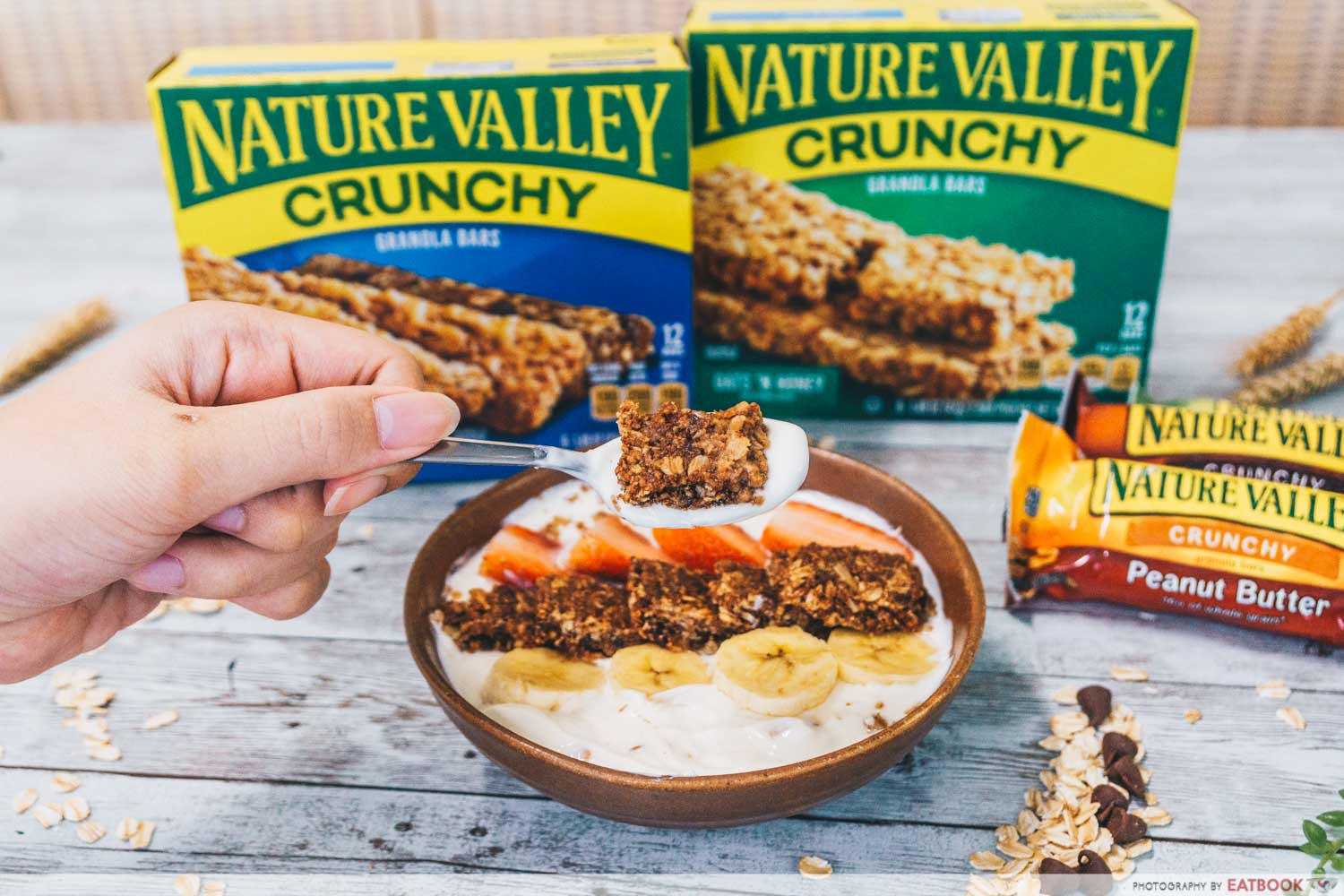 The dark chocolate granola brings a rich, malty sweetness—a contrast to the tart strawberries and tangy yoghurt.. Meanwhile, the granola bar already provides an element of crunch to the yoghurt bowl.
---
2. Blend into your smoothies
---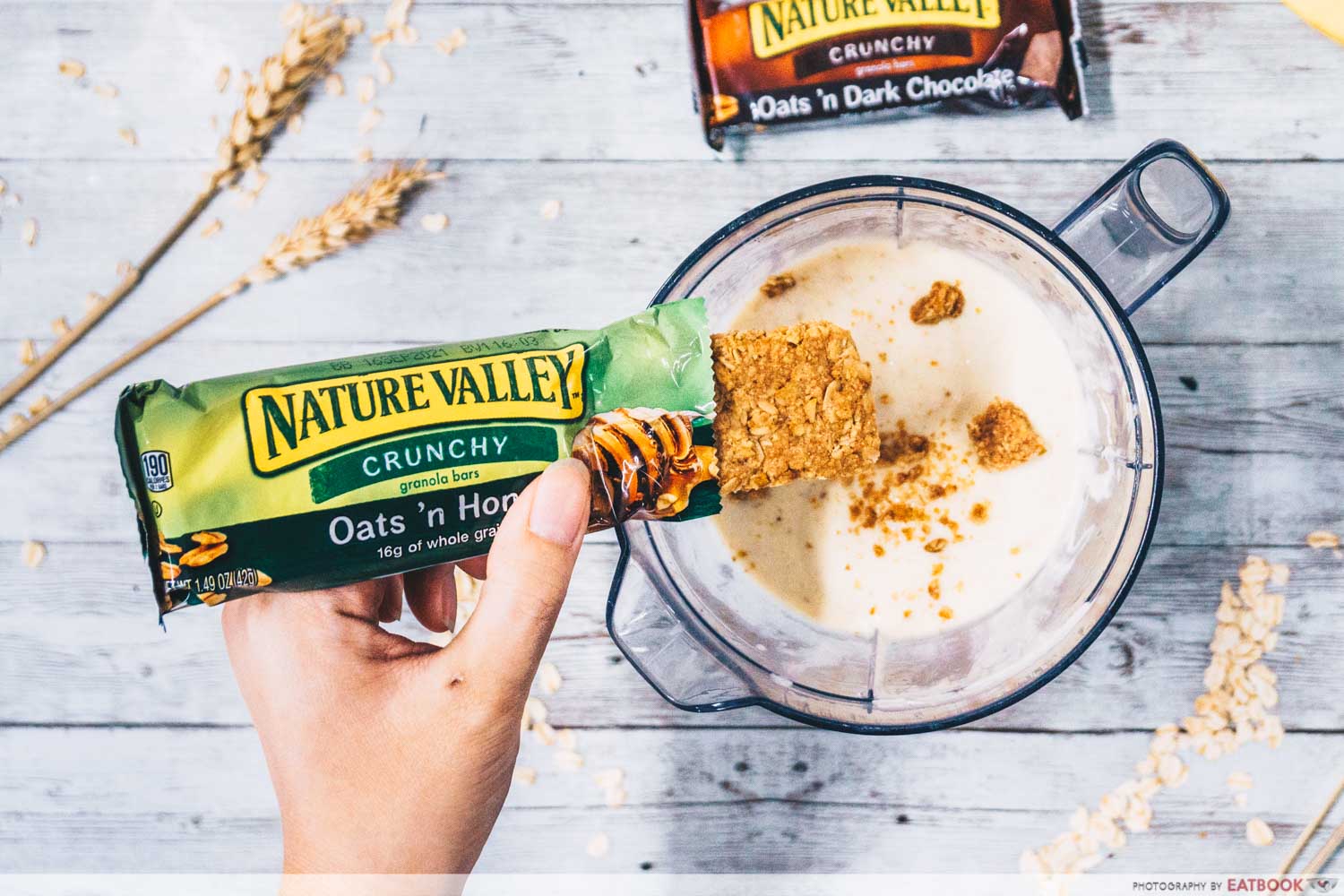 Smoothies are the perfect in-between of no-frills and luxe—they're quick to make, easy to chug down, yet substantial enough to feel like a treat. 
Our smoothie saw a mishmash of a Nature Valley's Oats N' Honey granola bar, banana, mango, yoghurt, and soy milk, to blend into the mix.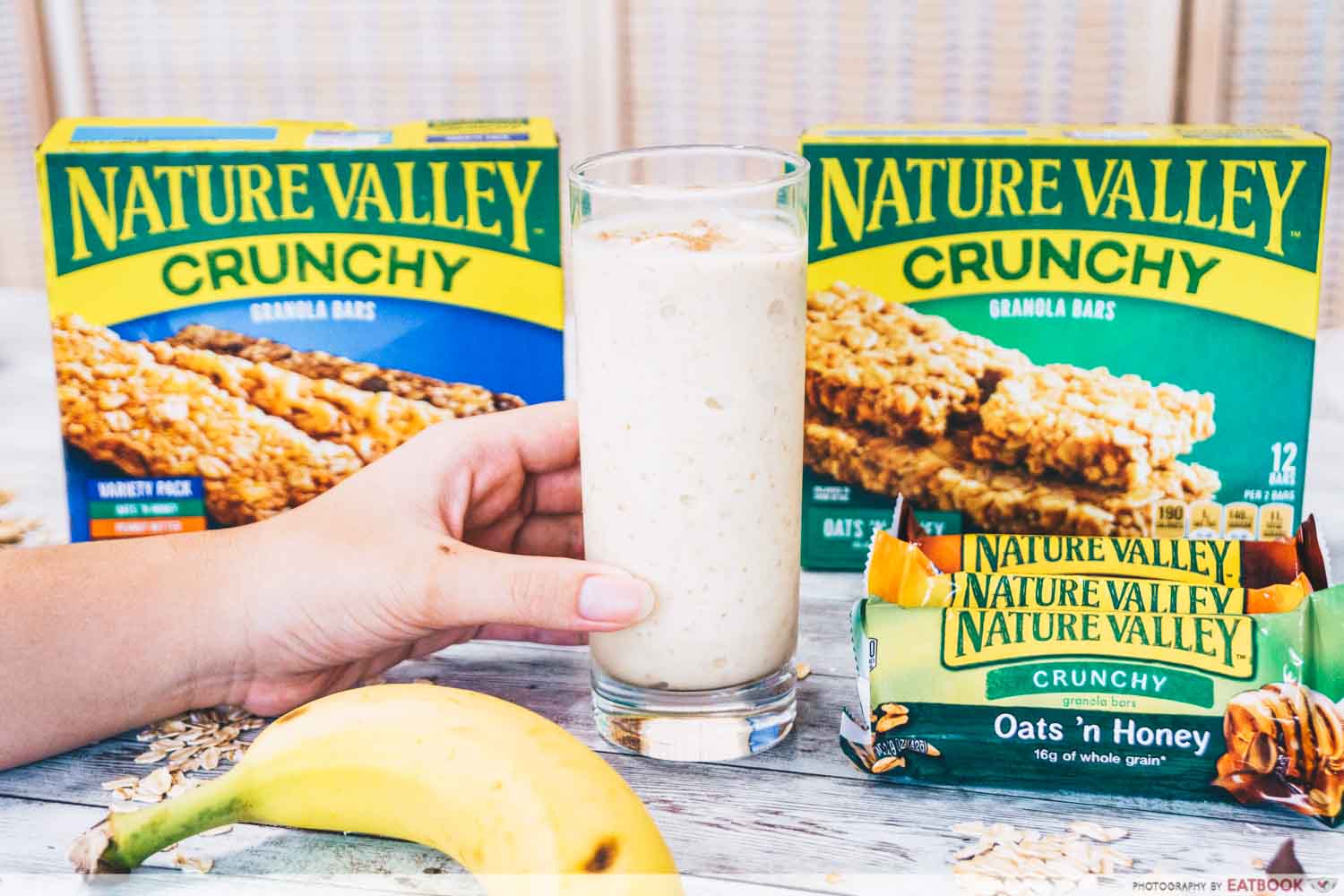 The Oats 'N Honey granola bar made the smoothie so much more filling, further thickening the drink. You can chew on the crumbly bits of the bar scattered throughout the smoothie, which made it more fun to drink. It also perfumed the smoothie with a light, honeyed fragrance.
---
3. Top your acai bowl
---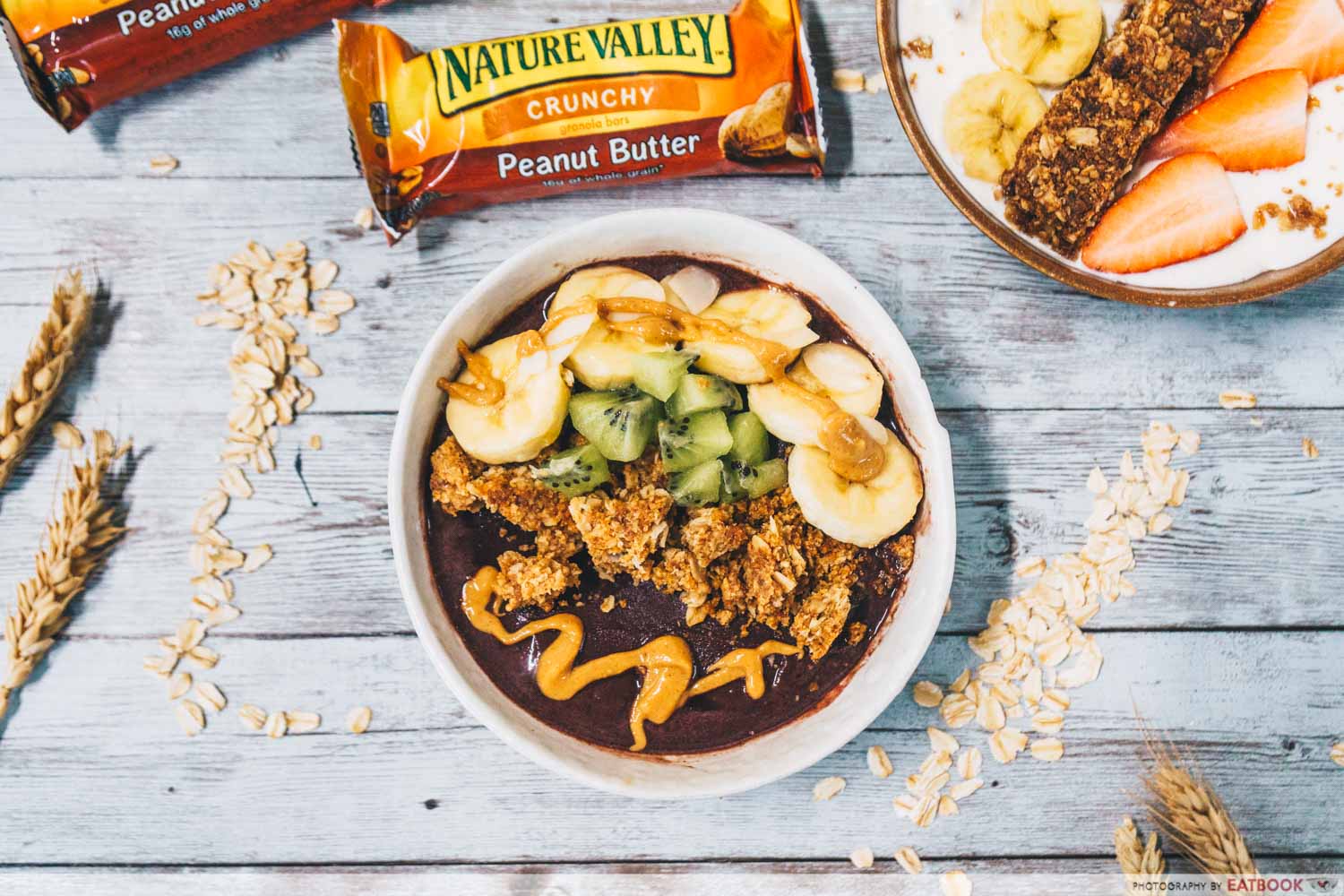 Acai is known to be a superfood packed with a ton of antioxidants. This nutrient-dense fruit is often enjoyed in the form of an acai bowl.
Acai bowls are usually served with nut butter, and it was with that in mind that we decided to top ours with crumbled Nature Valley's Peanut Butter granola bar, alongside drizzles of peanut butter, chopped kiwi, and sliced bananas. While you're here, this gorgeous assembly also makes for IG-worthy material, a bonus as you document your snack time.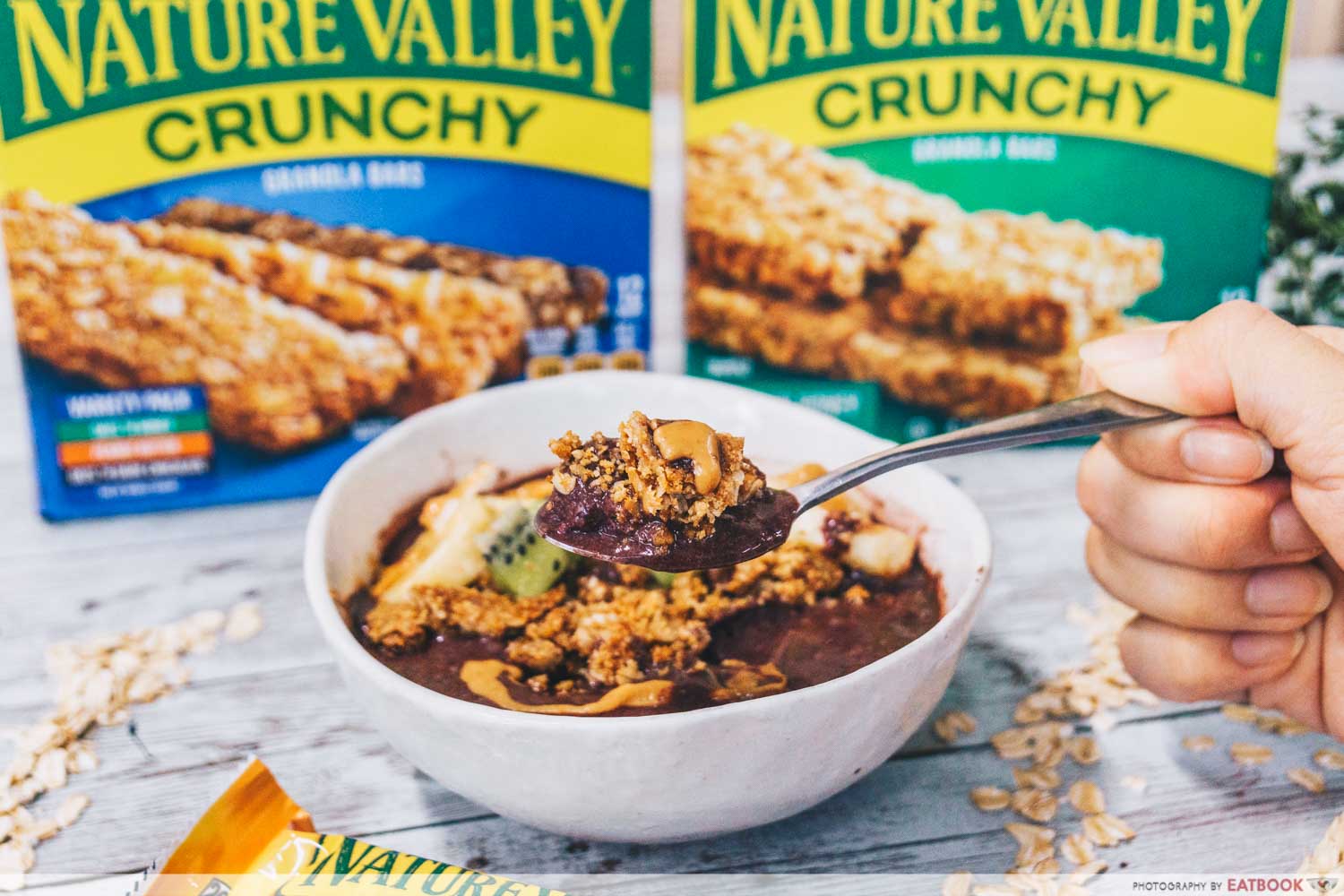 For those uninitiated to acai, this dark purple-coloured paste has a slight acidic berry flavour, and an earthy sweetness akin to cocoa. I liked how the granola bar retained its saltiness, instead of going down the 100 percent sweet route, which most peanut butter desserts tend towards. Its savoury-sweet profile paired well with the earthy acai and sweet fruit.
---
4. Have it on its own
---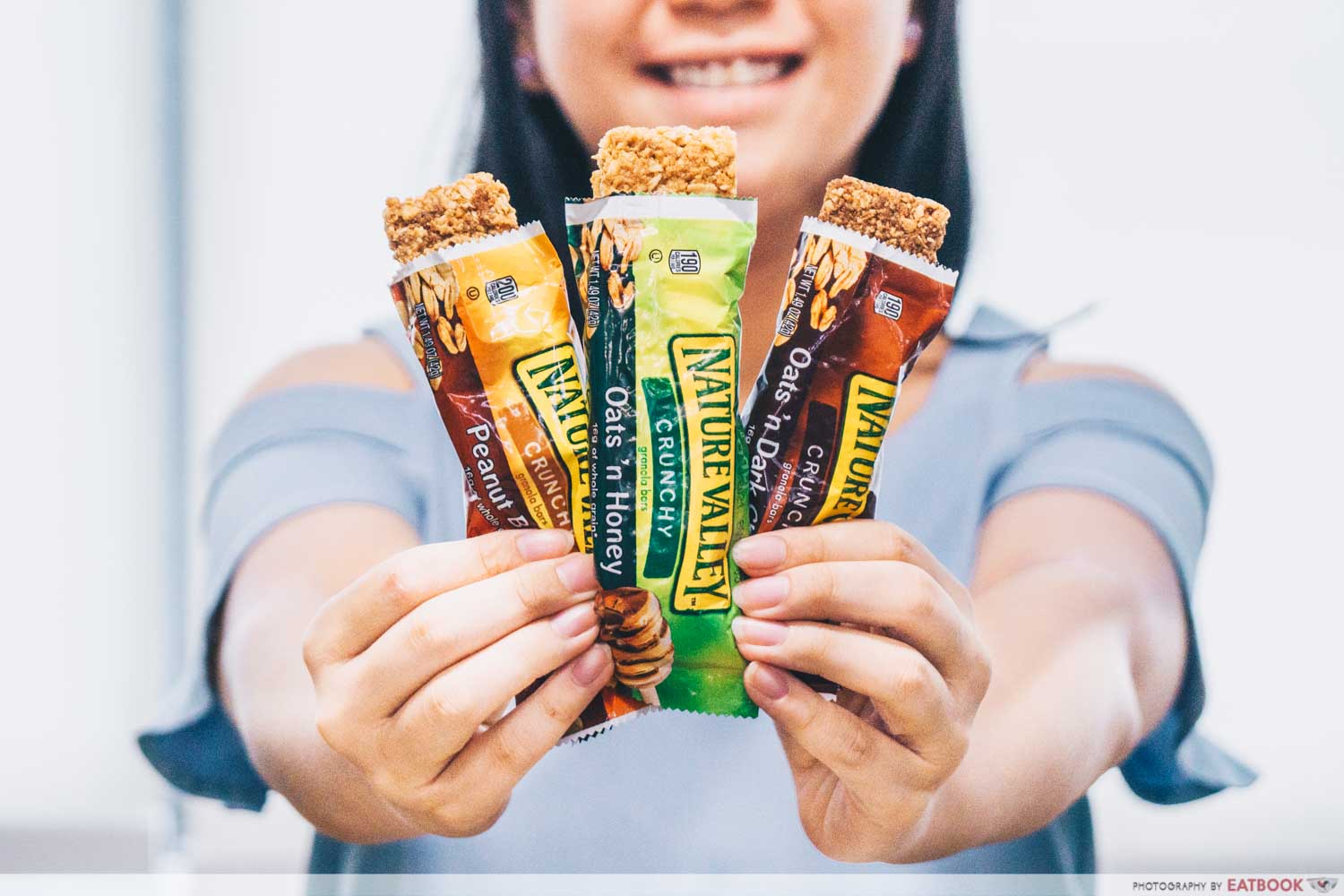 I'll be honest, having Nature Valley's granola bars on their own still makes for a fulfilling snacktime, as opposed to just grabbing the nearest pack of biscuits. These are crunchy and substantial, where you can taste the distinct oat grains throughout the bar.
As a peanut butter lover, my favourite has to be the Peanut Butter granola bar, slightly sticky from the nut butter laced throughout. If you're a purist, go for the Oats 'N Honey bar, lightly sweetened with fragrant honey. Meanwhile, for those who prefer something more indulgent, consider the Oats N' Dark Chocolate bar, which has a richness from dark chocolate, minus the guilt.
---
Eating Nature Valley granola bars
---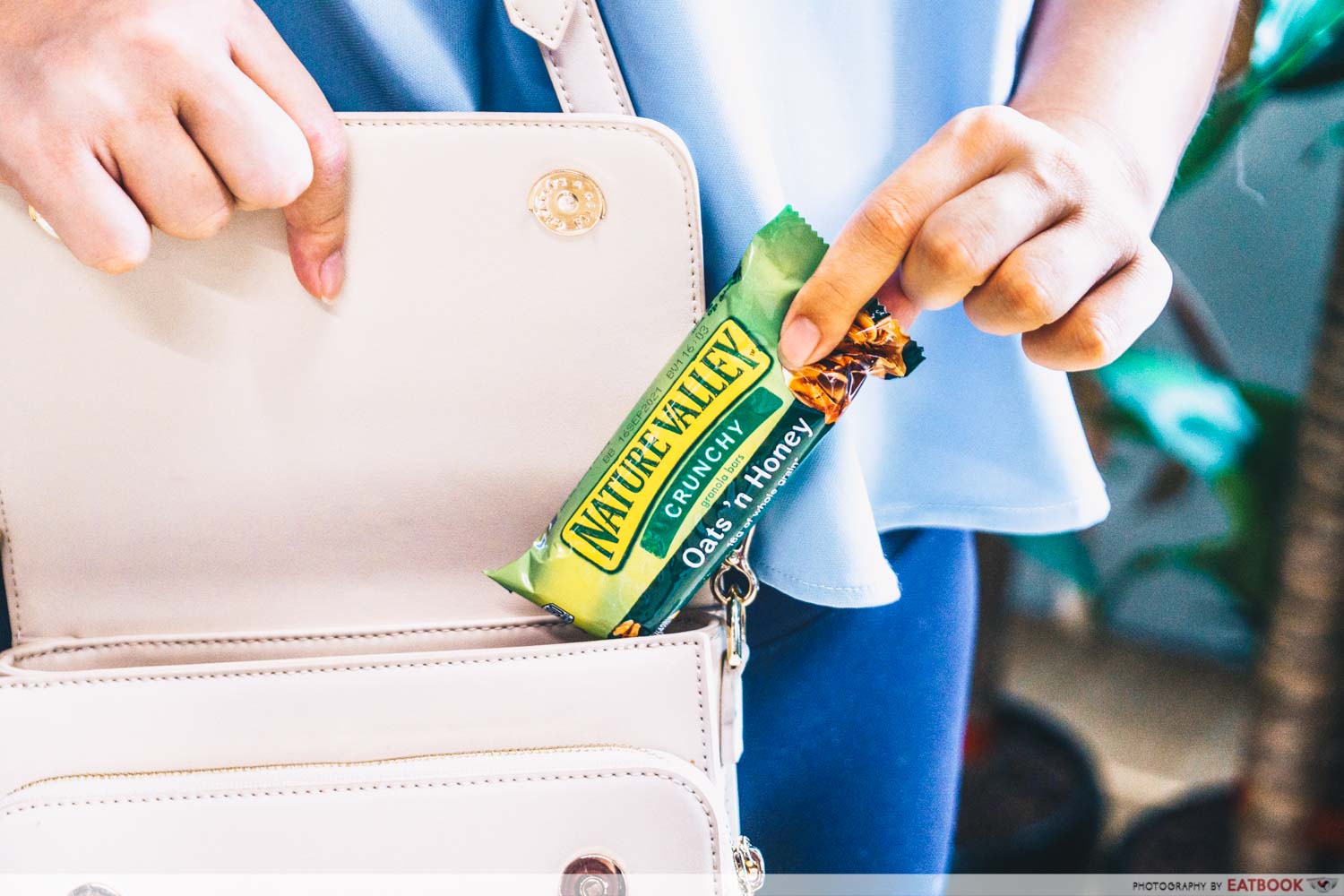 You can find Nature Valley granola bars available at all major supermarkets in Singapore. From 1 April to 31 May, spend a total of $8 on any Nature Valley products and stand to win Le Creuset prize sets and weekly shopping vouchers! 
These pocket-sized bars make the perfect grab-to-go breakfast when you're in a morning rush, or as a pre-workout snack for an energy boost that isn't too heavy on the stomach. Otherwise, if you have a little time to spare, our list has three other ways to atas-ify your snacktime with Nature Valley. There are even more ways to zhng-up the bars that we haven't explored.
Whether you're looking to top your yoghurt bowls, or include a more substantive ingredient into your fruit smoothies, Nature Valley granola bars have got you covered.
Photos taken by Chew Yi En.
This post was brought to you by Nature Valley.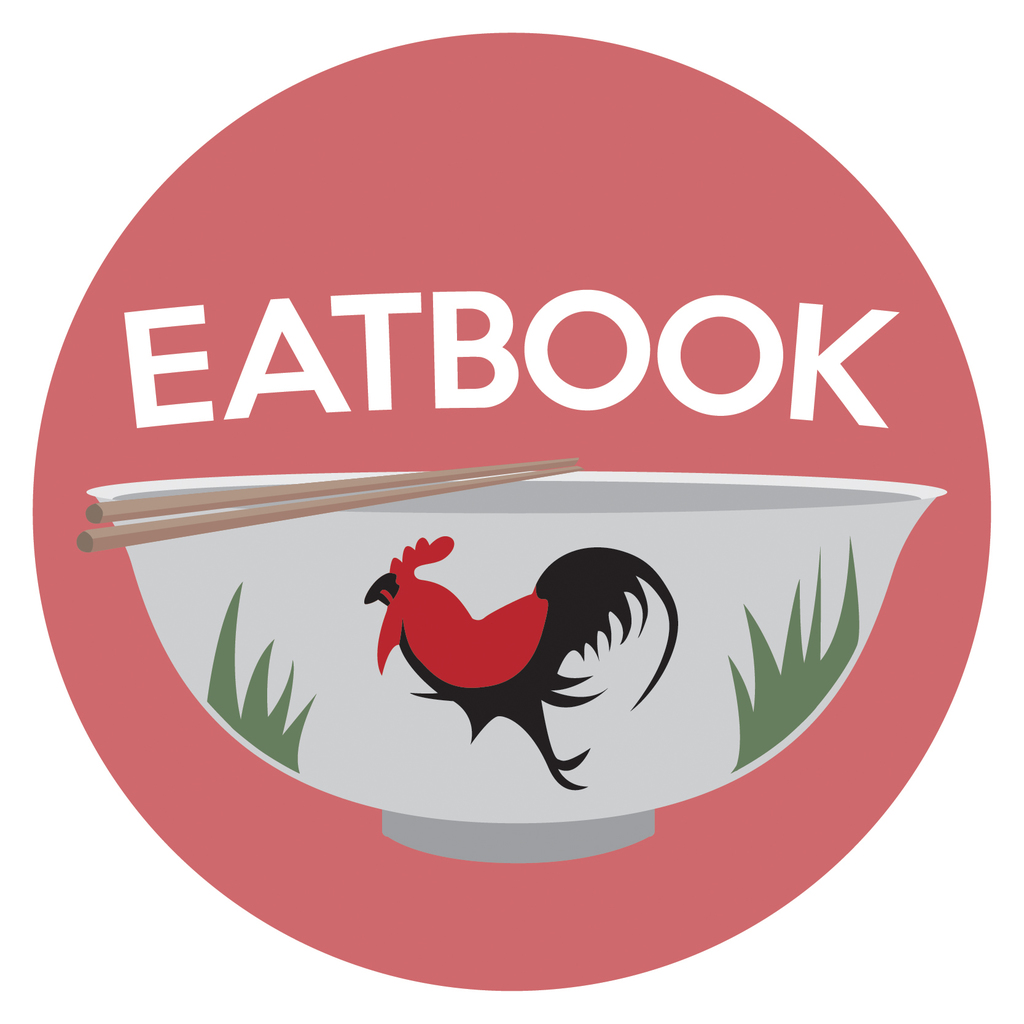 Drop us your email so you won't miss the latest news.