---
Exciting eats and new restaurants at City Square Mall
---
I used to think of Little India and Farrer Park as a place for school excursions. However, ever since City Square Mall came into the scene, it brought along a crowd, making this place a convenient go-to for a meal on weekends or after work. Recently, the family mall's got a host of new restaurants such as Beyond Pancakes, Saute-San, OSD by Old School Delights, and Itacho Sushi, offering hearty brunch food, vegetarian options, and more. Check out this list to see what's good the next time you pop by!
---
1. Beyond Pancakes
---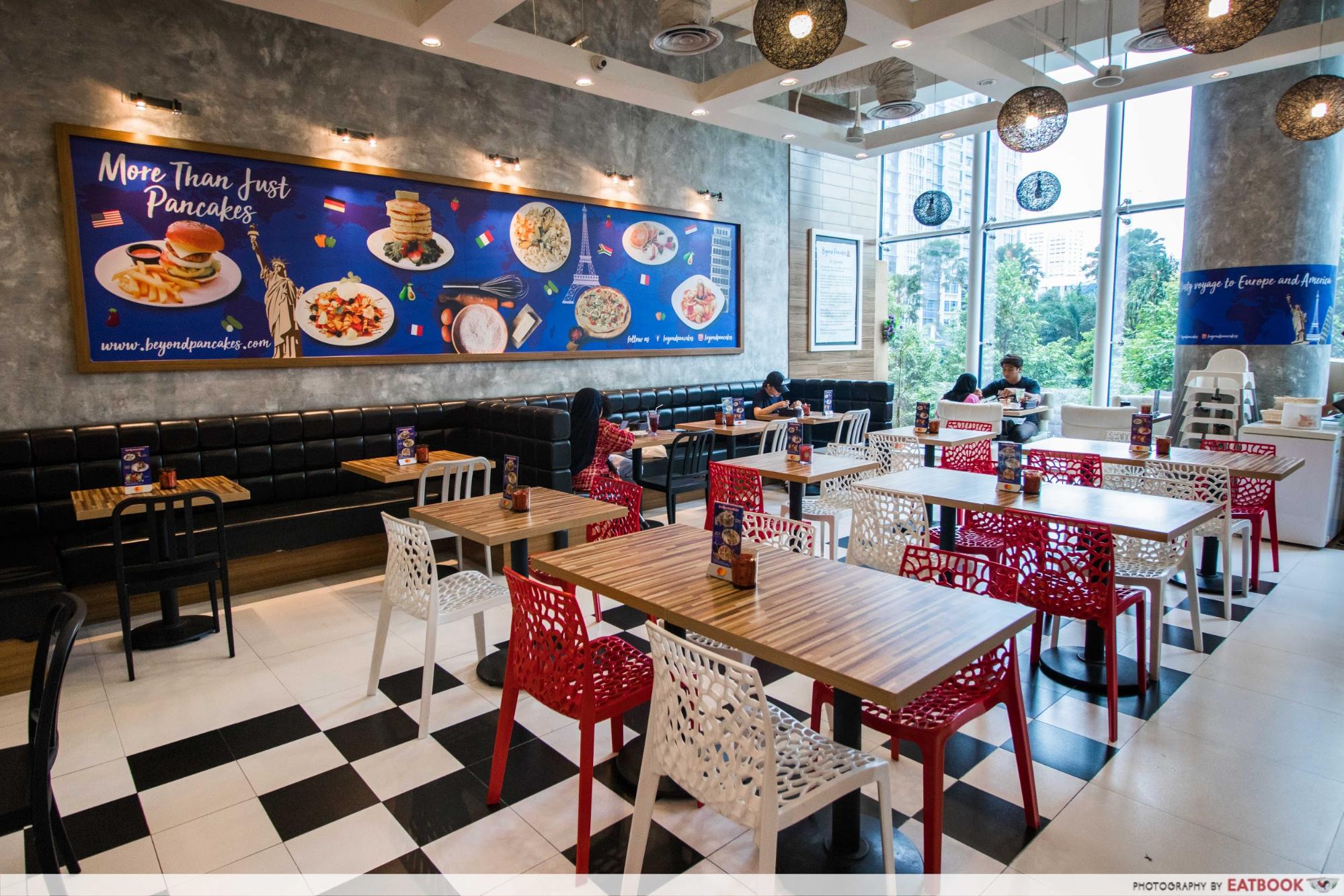 Snaffle some pancakes at Beyond Pancakes. The menu is split into sweet and savoury pancake dishes, with simple options alongside more experimental ones. Like their name suggests, they offer a selection of American and European dishes on top of pancakes. This halal joint makes a great spot for family meals or group dinners after work.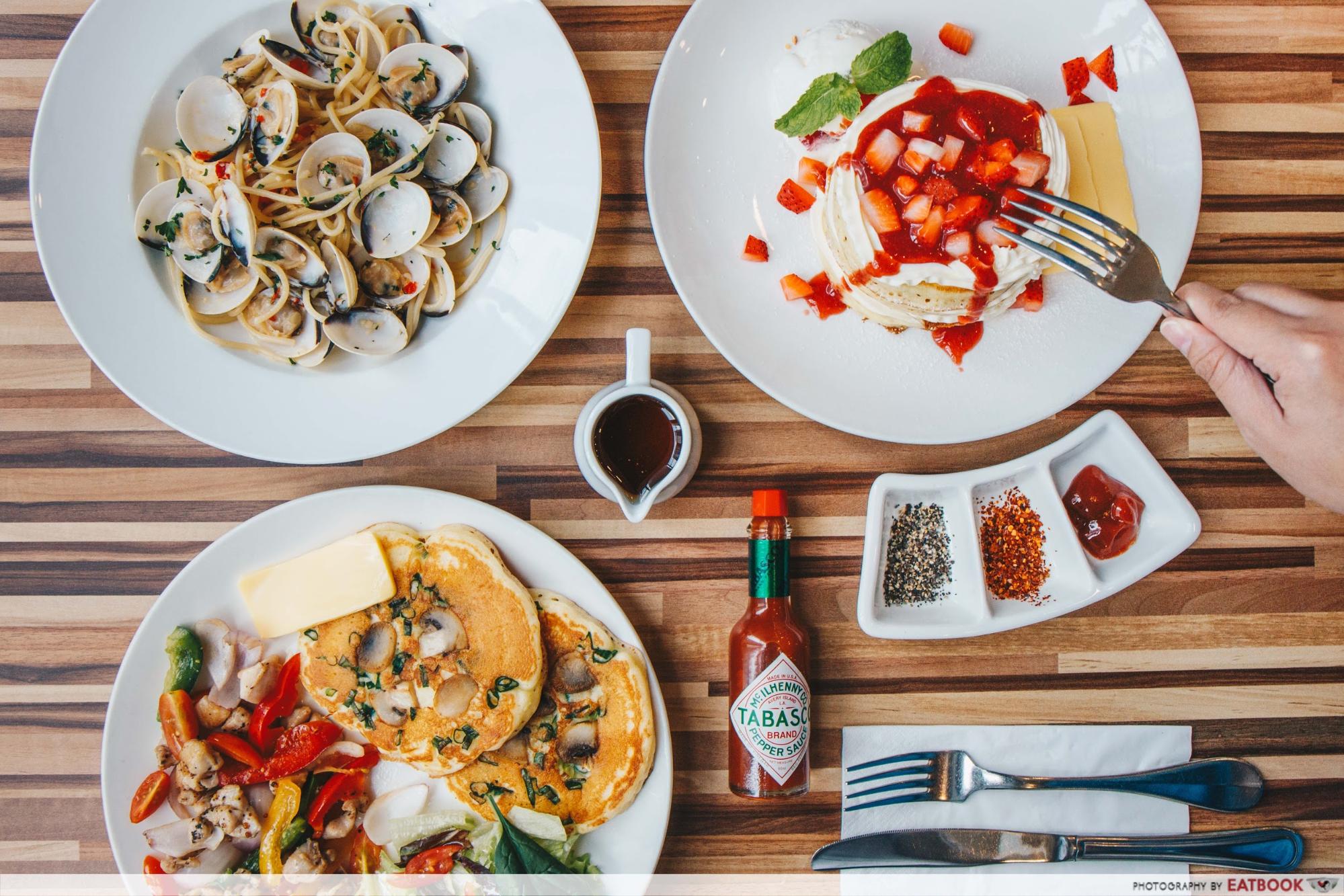 We recommend trying Strawberry Cream Cheese Pancakes ($10.90++/$12.90++/$14.90++) from the sweet section, and Le Poulet ($14.90++) from the savoury section. The pancakes here hit right in the middle between fluffy and dense, making me reach for more. If diving into a hefty pile of pancakes topped with maple syrup is not your thing, you can opt for Western plates such as Pasta Vongole ($14.90++) and Fish & Chips ($14.90++) as well.
Unit number: #02-35/36
Opening hours: Daily 11am to 10pm
Tel: 6909 6265
Website
---
2. Saute-San
---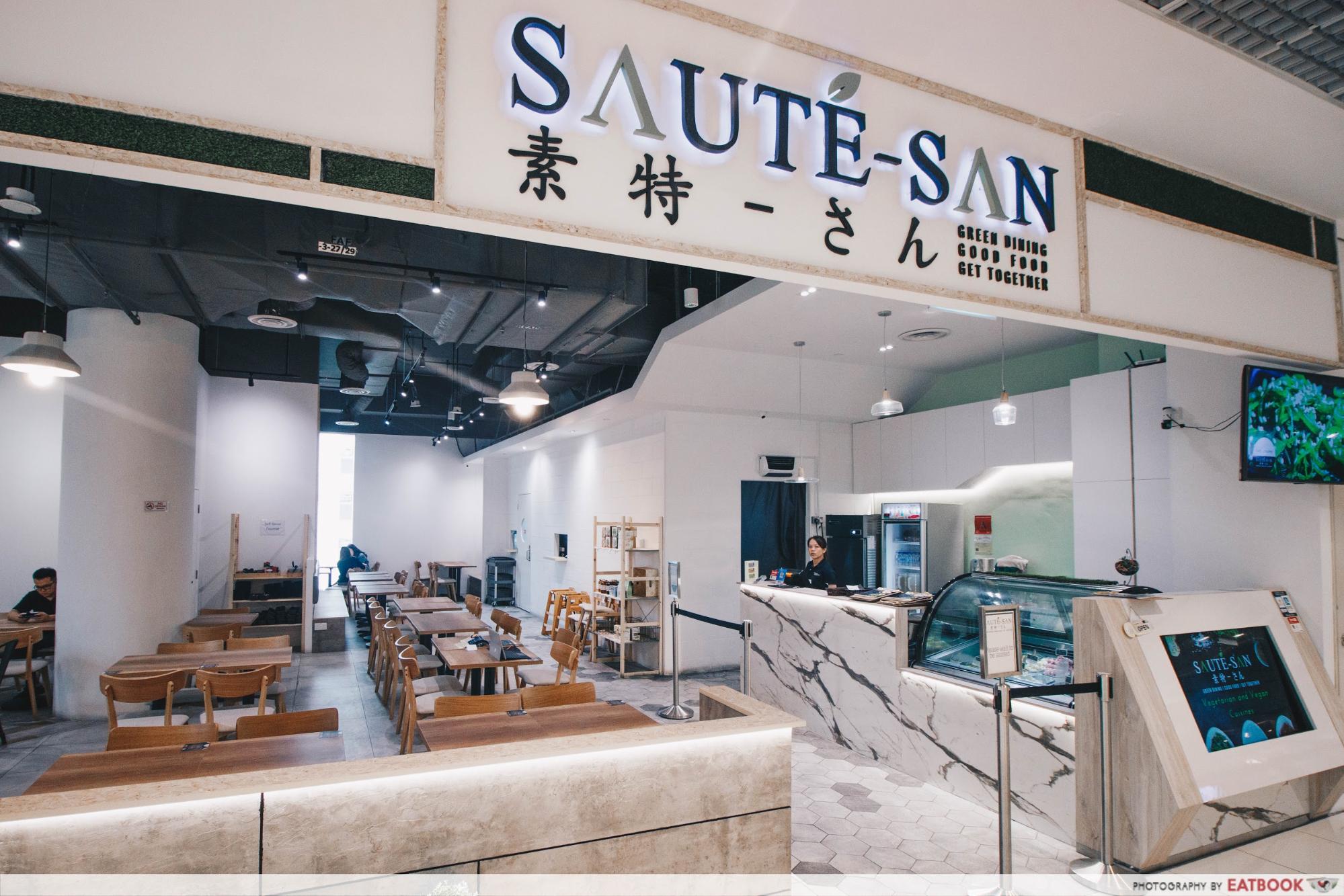 Sprucing up the vegetarian food scene is Saute-San, a minimalist restaurant that should be high up on your list of places to eat here. They are firm in their commitment to using only natural ingredients with a "no meat, no onion, and no garlic" philosophy. This means more work behind the scenes, but the food that they serve is sumptuous and exceeds expectations.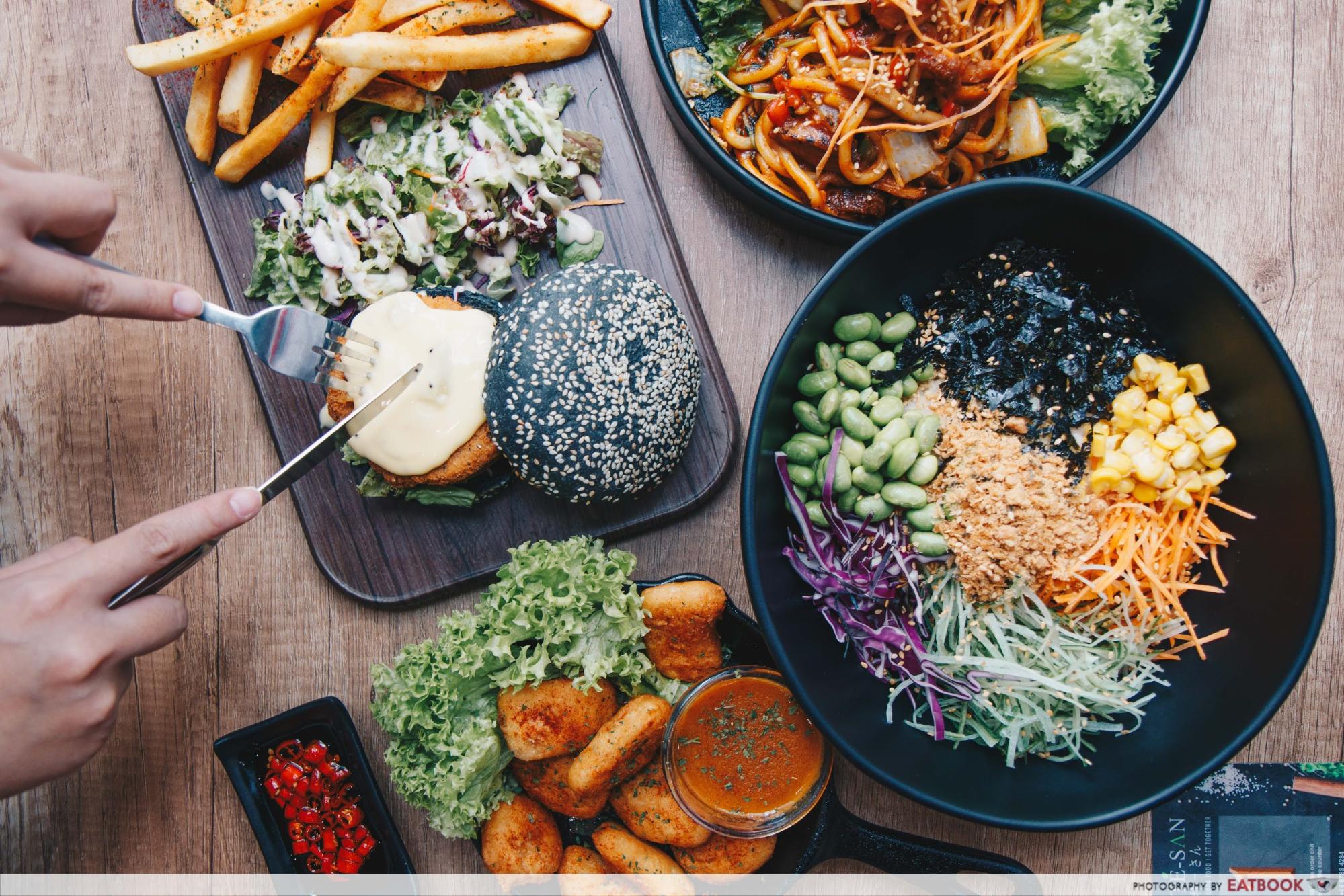 You won't find anything like tasteless tofu in Saute-San. The star of the show is Lion Mane Spicy Bulgogi Stir Fried Udon ($12.90). It's spicy, it's sweet, and it's absolutely slurp-worthy. Not only are portions big, the flavours are also huge here. Crispy Mushroom Nuggets with Japanese Curry Dipping Sauce ($8.90) and Breaded Shroom Patty with Golden Salted Yolk Sauce ($15.90) both come with delicious sauces that make it hard to put the fork down.
Unit number: #03-23/24
Opening hours: Daily 11am to 10pm
Tel: 8788 4284
Website
---
3. Tang's Express
---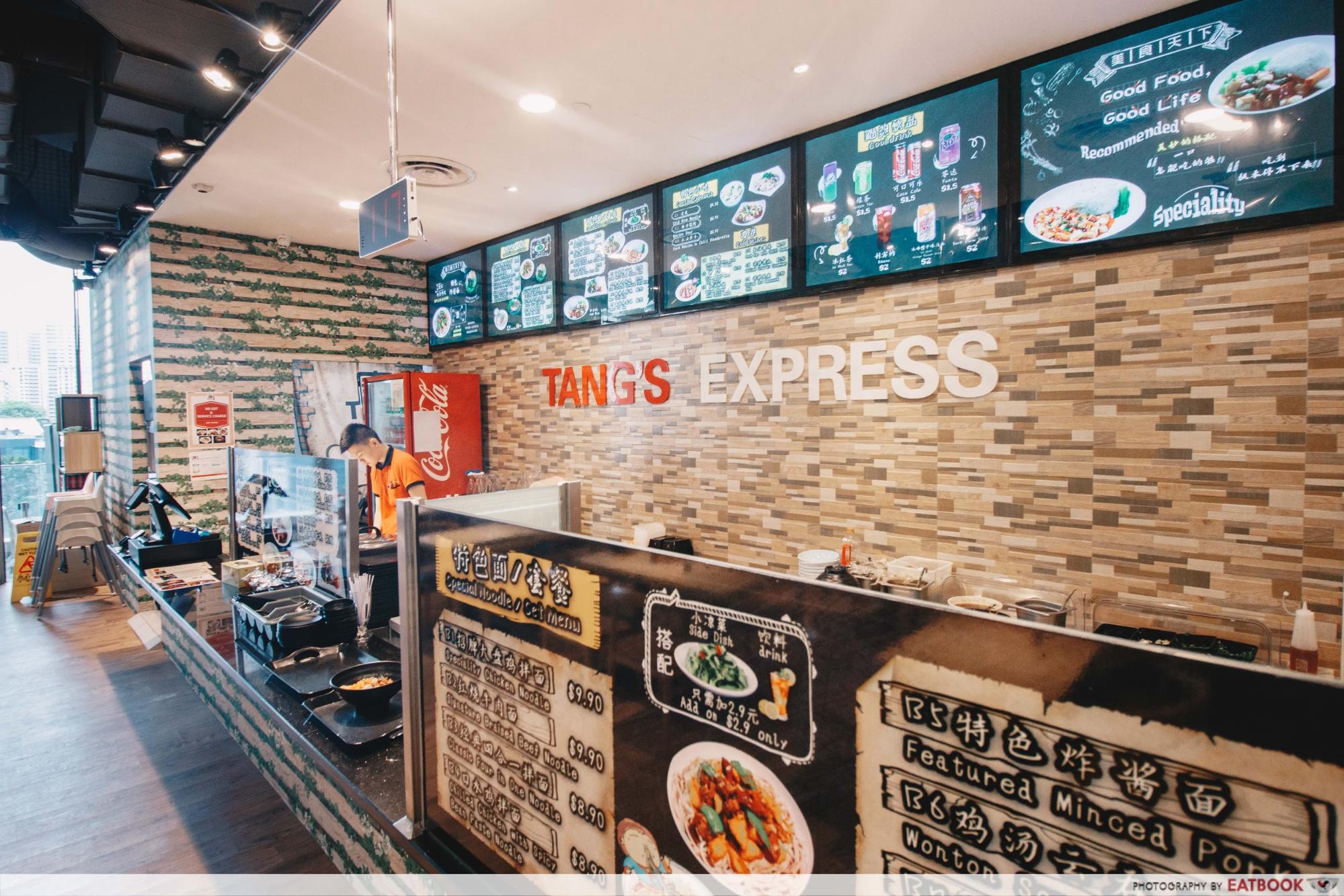 Have your chopsticks at the ready! Tang's Express is the place for affordable Chinese comfort food. The food comes quickly, is tasty, and prices are reasonable. Don't miss it just because it is located on the fourth floor, and away from other restaurants.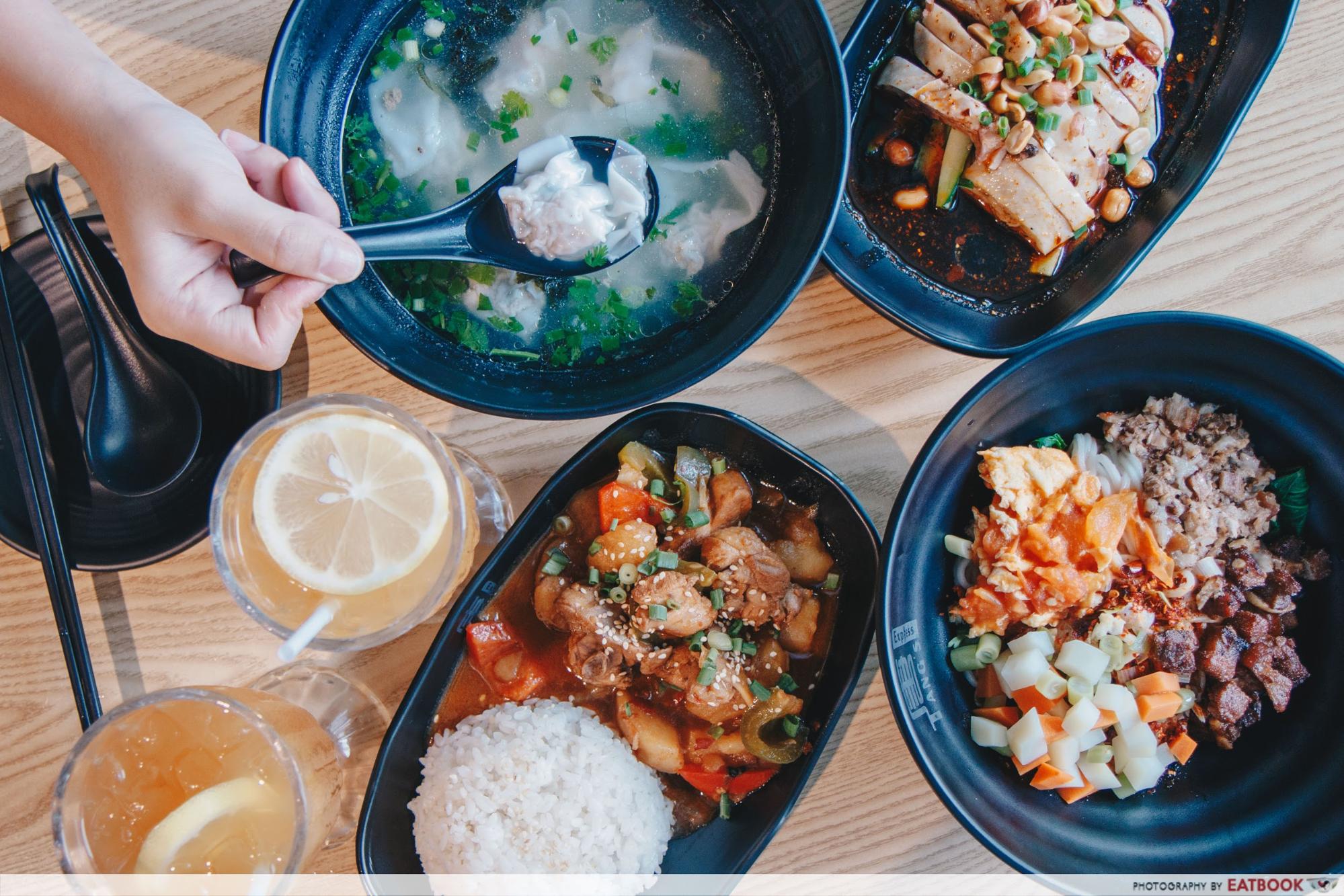 My favourite dish here is Classic Four in One Noodle ($8.90) – springy noodles topped with a medley of diced vegetables, stir-fried egg and tomato, and tender pork done two ways. It's great when you're having a meal alone as you get a good variety in one bowl. A must-have for sharing is Chilled Chicken with Spicy Bean Paste ($8.90). Better known as 'saliva chicken', this cold dish is one I just couldn't get enough of.
Unit number: #04-18
Opening hours: Daily 11am to 10pm
Tel: 6636 9128
Website
---
4. OSD by Old School Delights
---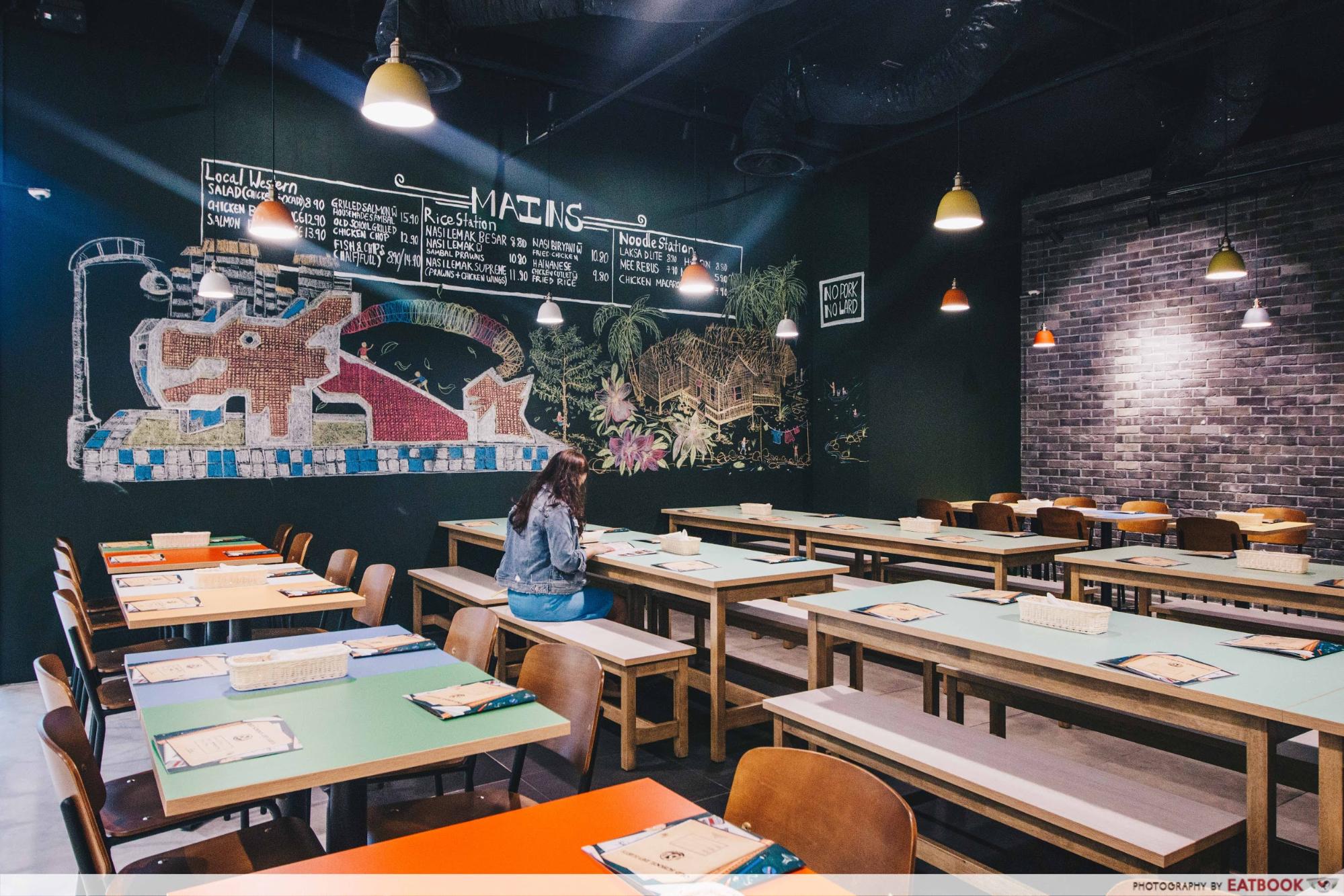 OSD by Old School Delights turned their cafe into a vintage nook with a chalk drawing of the iconic dragon playground in Toa Payoh. Sitting ourselves down on their wooden benches, we were almost instantly brought back to the past. The familiar colours of orange, blue, green, and pink brought back childhood memories of my primary school tuckshop.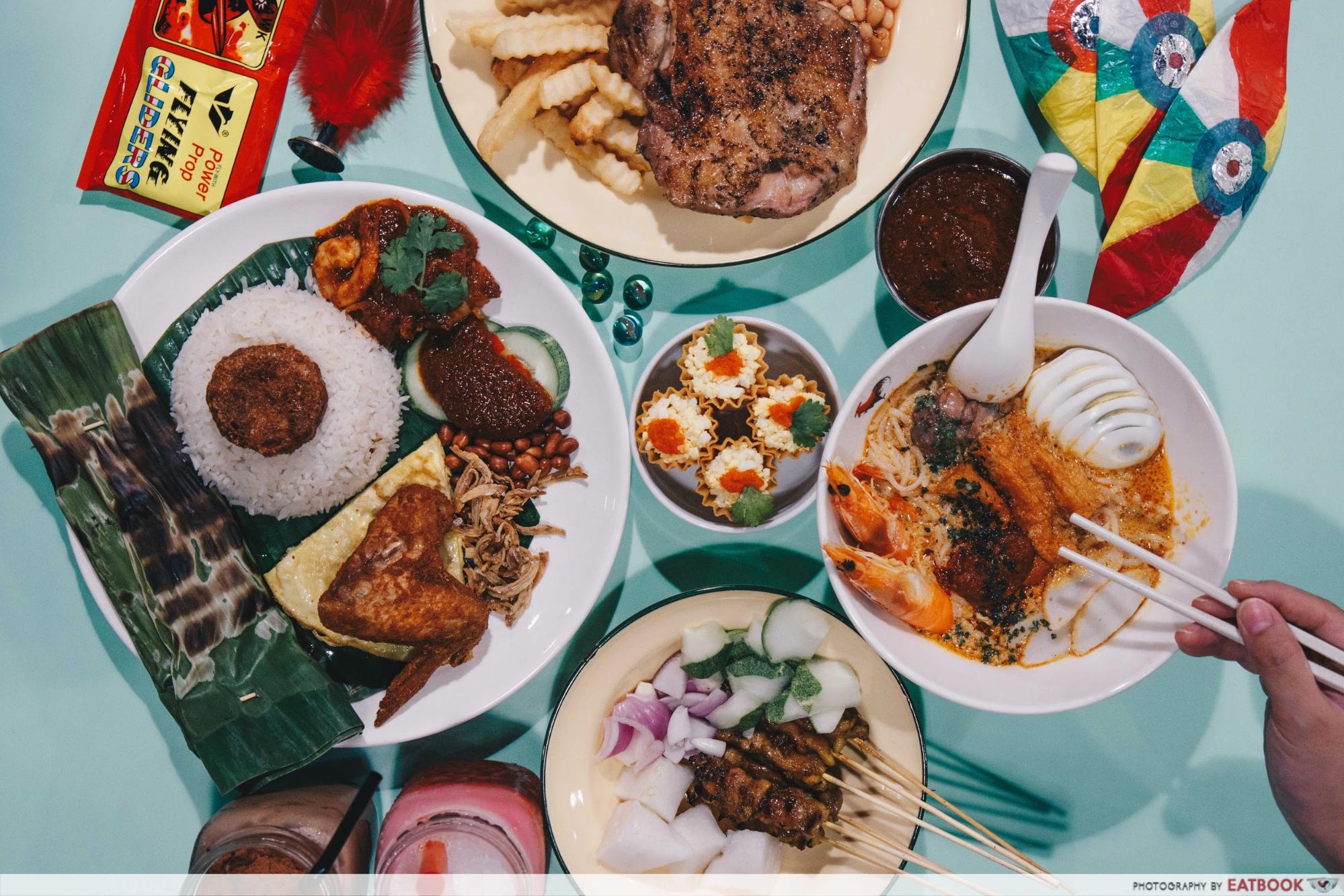 As far as food goes, the menu is a mix of Asian and Western cuisines, including everything from Laksa D'Lite ($8.80+) to Grilled Salmon with House-made Sambal ($15.90+). Chow down on their Nasi Lemak Supreme ($11.80+), heaving with ingredients such as fried egg, chicken wings, otah, sambal prawns and bergedil, and Old School Grilled Chicken Chop ($12.90+), which is marinated with dry herbs and cooked with olive oil.
Unit number: #02-23/24
Opening hours: Daily 11am to 10pm
Tel: 6458 4518
Website
---
5. MANLE Hotpot
---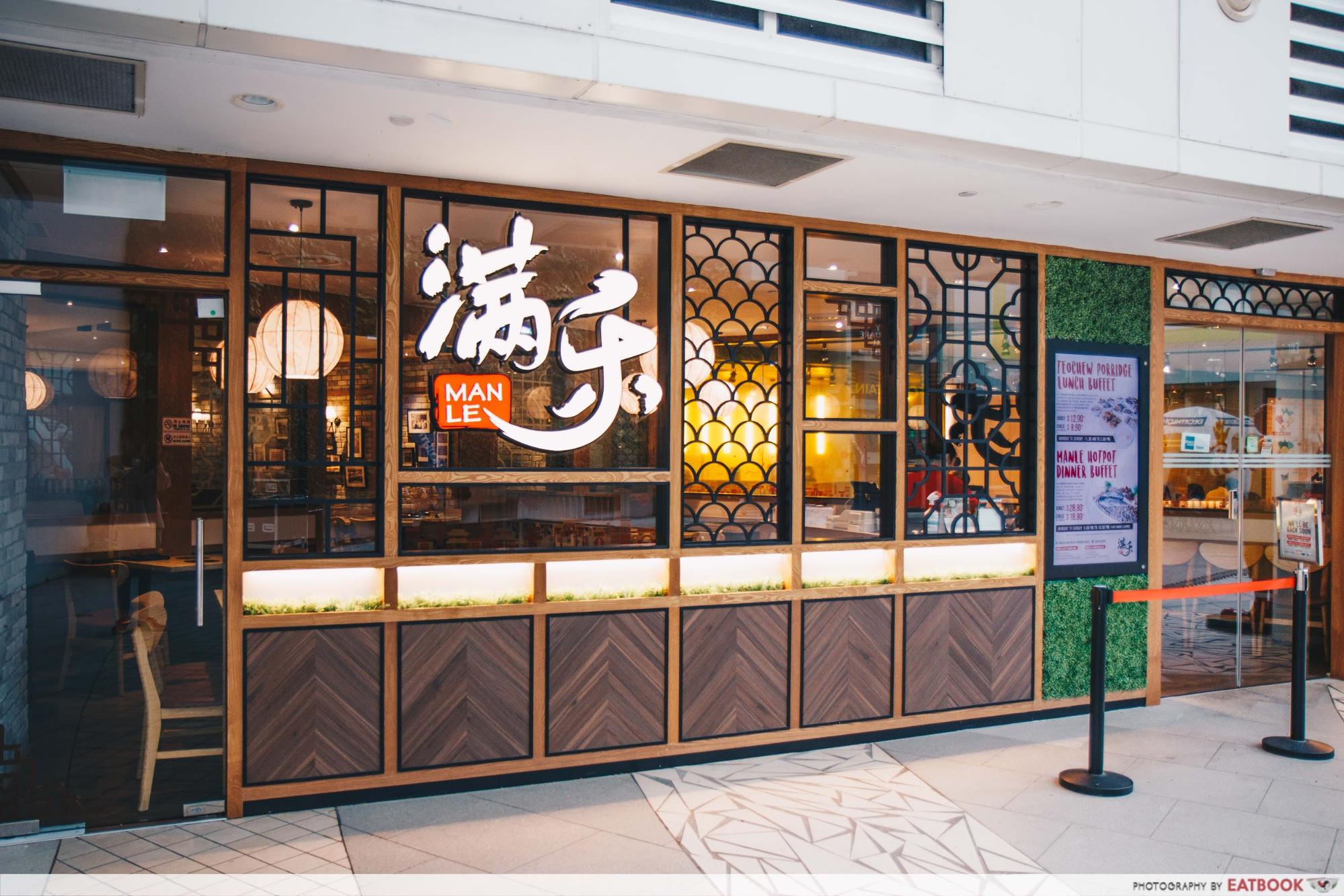 Sibling to the popular ASTONS is MANLE Hotpot. Hidden in plain sight, this Chinese hot pot dinner buffet boasts a spread of hot and cold dishes, a la carte items, and a DIY rojak station. You will also be delighted to find that the hot pots come in small individual pots, so the more makan kakis you have, the more kinds of broth you get to try.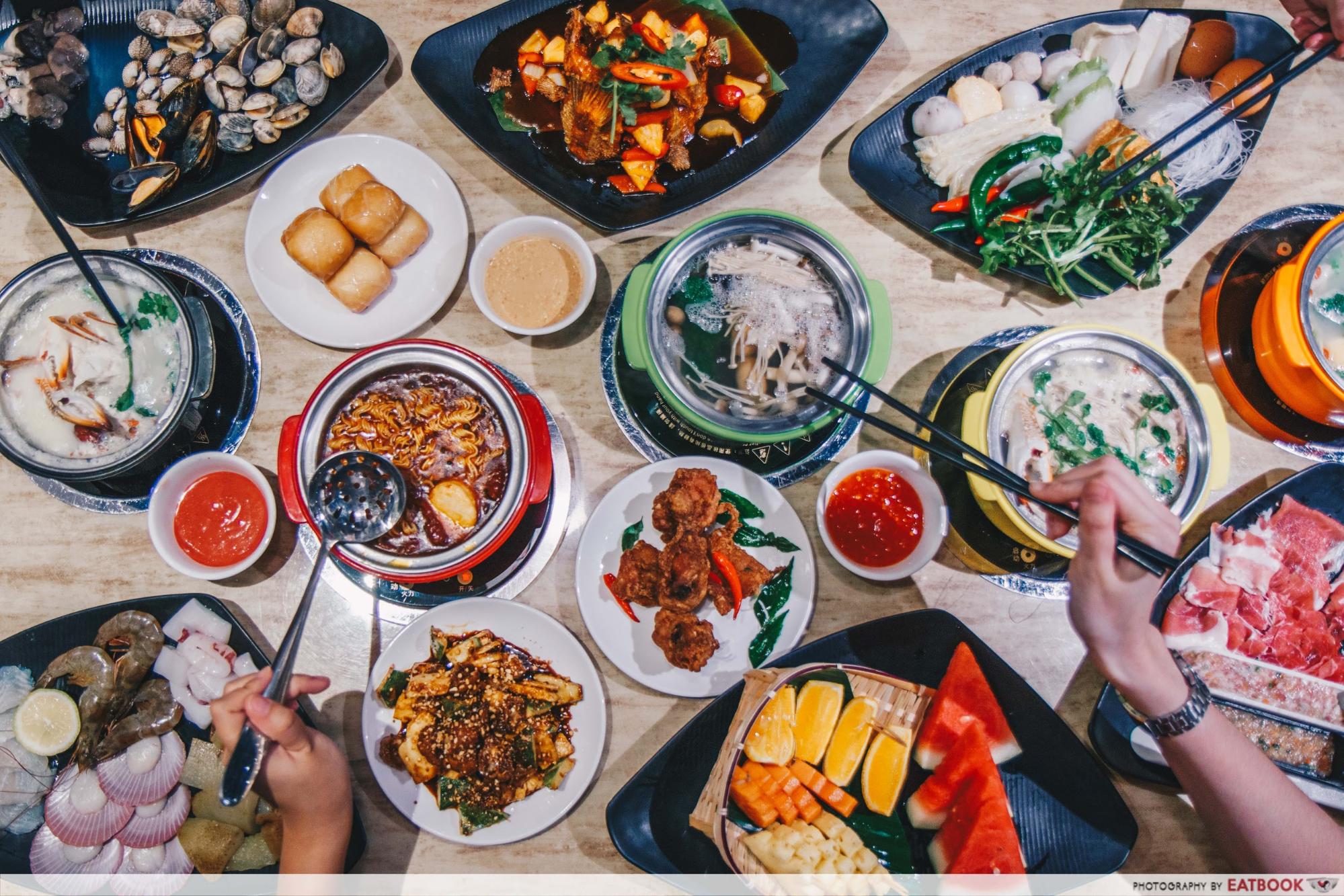 Adults pay $28.80+ and children pay $18.80+ for all days of the week. MANLE Hotpot dinner buffet is stocked with more than 100 types of fresh seafood, sliced meat, minced meat, vegetables, and sauces. The buffet price also covers free-flow soft drinks, fruits, and desserts. Choose from a variety of five broths for your pot. Kick off with a fiery ma la base or a wholesome bone marrow soup. Make the rojak of your dreams at their DIY rojak station! I know mine would consist of only fried you tiao and cucumbers.
Unit number: #B1-01/2
Opening hours: Daily 11:30am to 3pm (Teochew Porridge Lunch Buffet), 5pm to 10pm (MANLE Hotpot Dinner Buffet)
Tel: 6634 2538
Website
---
6. Din Tai Fung
---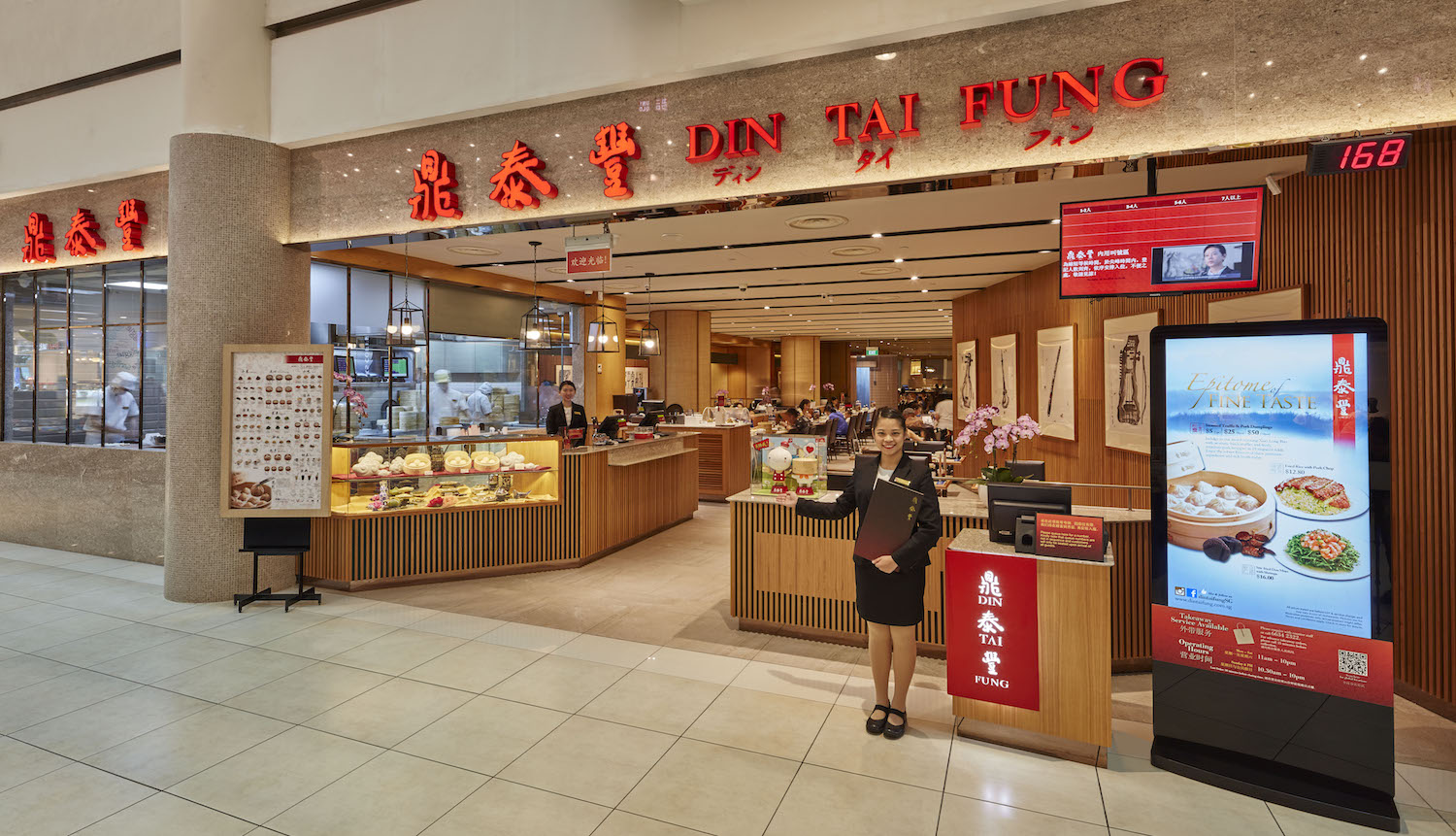 It is a headache looking for a restaurant with food that satisfies everyone in the family, and Din Tai Fung is usually our best bet. With appetisers, steamed dumplings, soups, noodles, rice, and desserts, there's something for everyone. Not to mention, Din Tai Fung at City Square Mall is the first Taiwanese restaurant to be awarded the BCA Green Mark (Gold Plus)!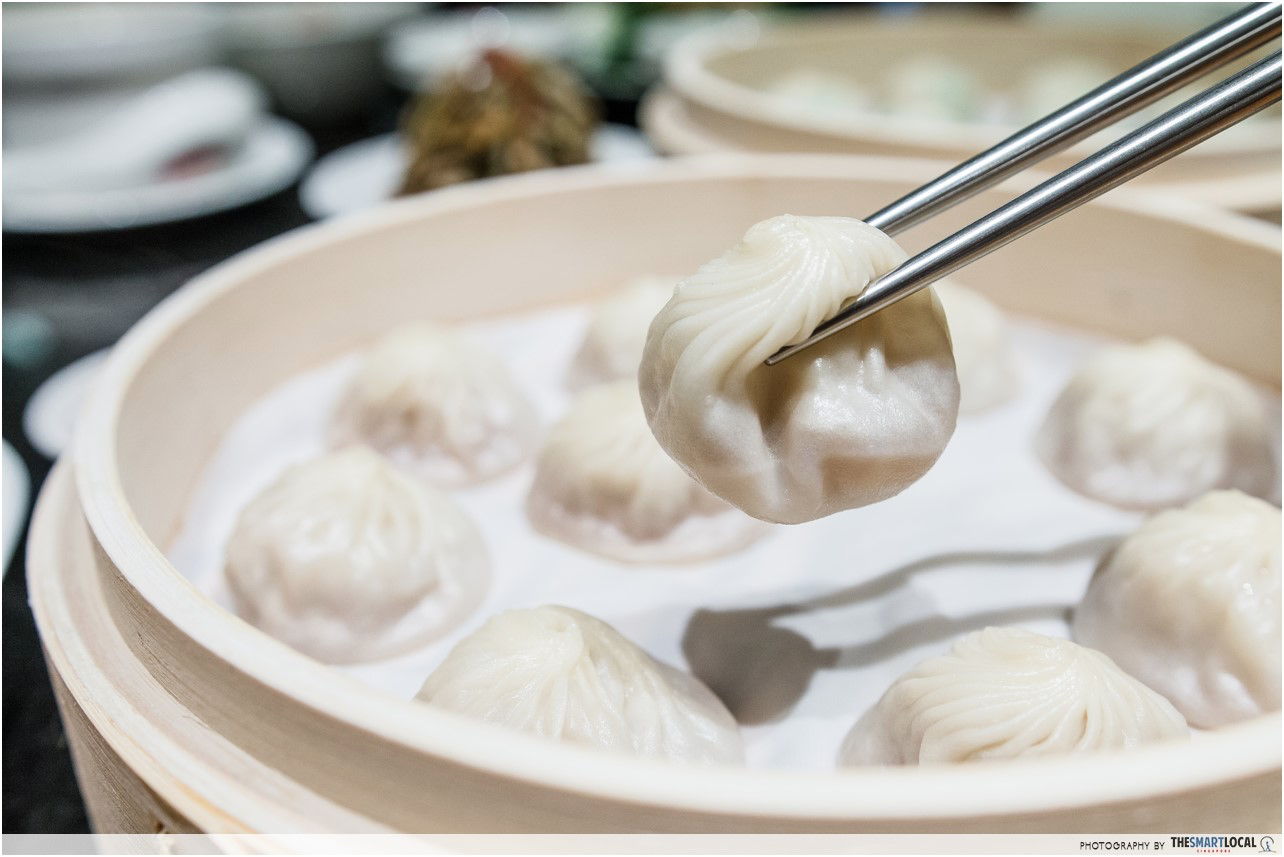 Whet your appetite with their Oriental Salad in Special Vinegar ($4.80++). Dressed in their special sauce, this salad is a piquant and pleasant start to the meal. A dish synonymous with Din Tai Fung, their Steamed Pork Dumplings ($10.30++ for 10 pieces) is also a must. Finish the meal with a sweet treat, Steamed Yam Paste Dumplings ($10.30++ for 10 pieces), which is made with yam that's finely mashed before being skillfully wrapped with a minimum of 18 exquisite folds within a thin, translucent dumpling skin.
Unit number: #01-10
Opening hours: Mon-Sat 11am to 9:30pm, Sun 10:30am to 9:30pm
Tel: 6634 2322
Website
---
7. Watami
---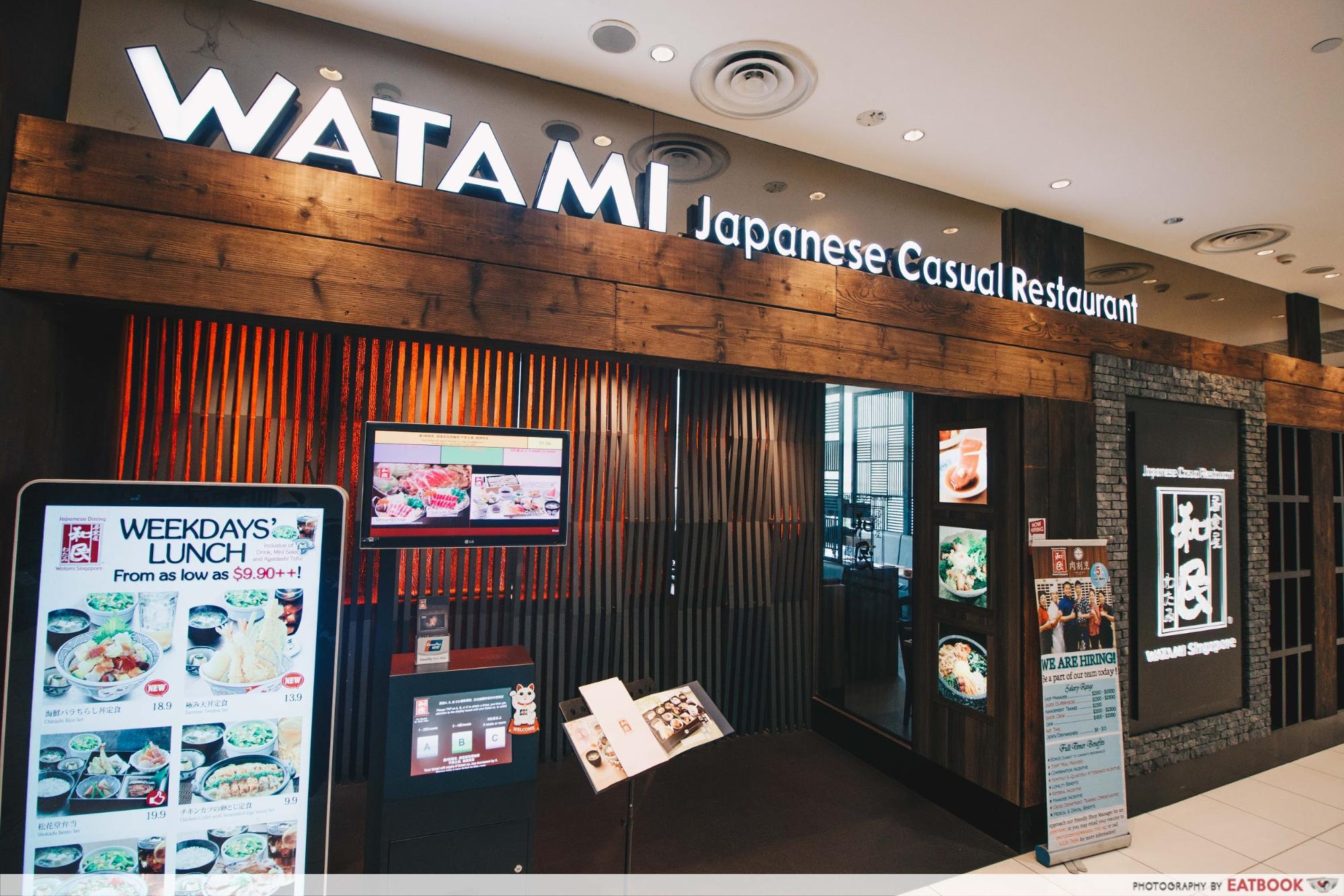 Every time my family dines at Watami, we would each order a set meal. Not only are prices reasonable at this Japanese casual restaurant, the ambience is cosy, and service is always on point. Students and office workers can also keep a lookout for lunch specials that usually come with a main, salad, and soup.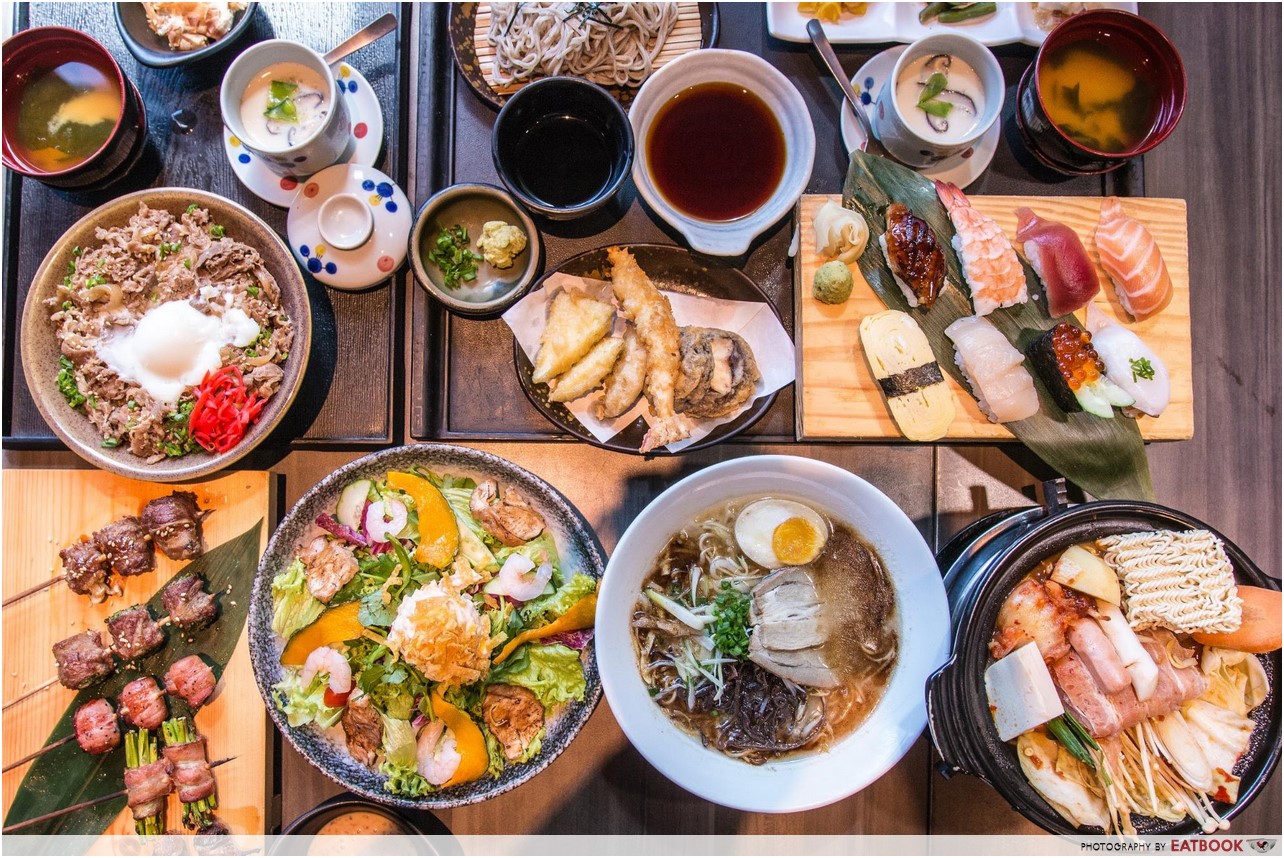 This bustling restaurant serves colourful set meals that brighten up the table. There is no lack of options here. If you're dining with a group, be sure to get their value-for-money Tokusen Set for three ($76++), which comes with a salad, two appetisers, two side dishes, a hot pot, rice or noodles, and three drinks. For individual options, we recommend getting Chicken Cutlet with Scrambled Egg Sauce ($11.90++) or Roasted Mackerel ($9.90++). You can complete your meal by opting for add-ons such as Salmon Sashimi & Rice Set ($6.90++).
Unit number: #03-53/55
Opening hours: Daily 11:30am to 11pm
Tel: 6634 7954
Website
---
8. Wok Master
---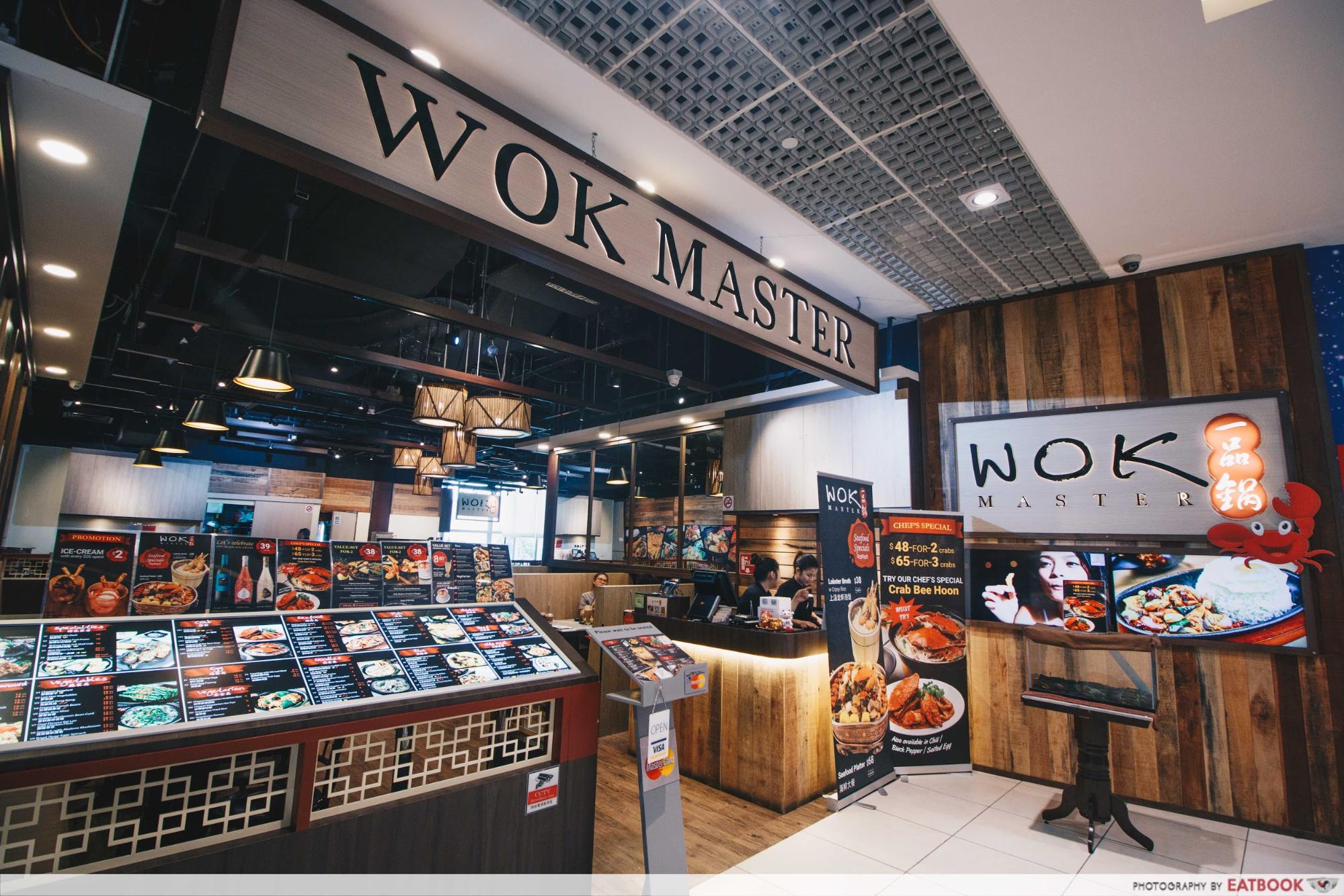 For fantastic food in a jiffy, Wok Master is the place to head to. They serve hearty zi char dishes in the comfort of an air-conditioned space. From seafood to duck dishes, hot plates to claypots, be spoilt for choice with their extensive menu. Great for families, even kids have a menu on their own.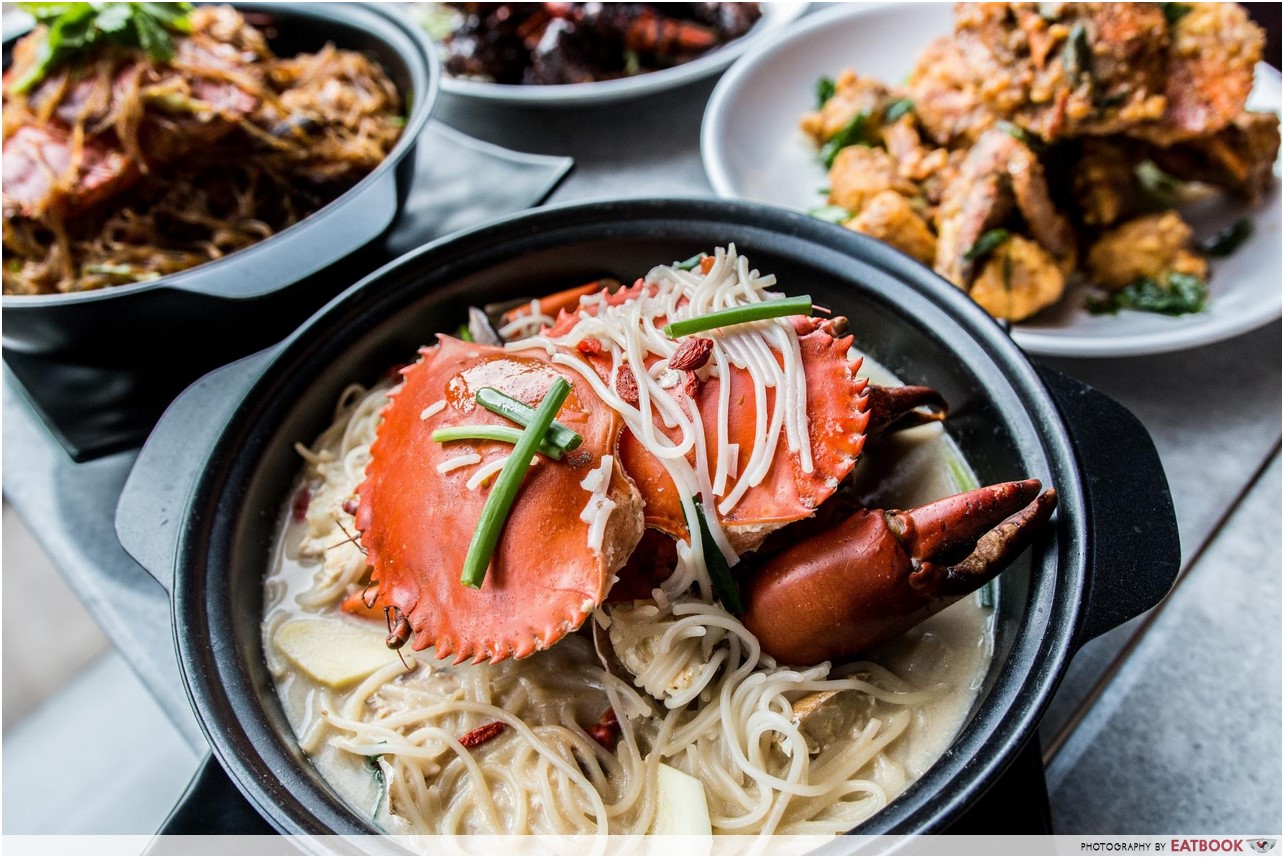 Those looking for a fiery kick, Wok Master offers spicy seafood dishes such as Sizzling Sambal Sotong ($14++) and Sizzling Chilli Crayfish ($25++). Child-friendly dishes such as Prawns Fruit Mayo ($18++) and 'Bi Feng Tang' Soft Shell Crab ($18++) are also great for sharing. Do not be fooled by the modern ambience of the restaurant, the familiar local flavours here will keep you coming back for more.
Unit number: #02-51/52
Opening hours: Daily 10am to 10pm
Tel: 6835 9096
Website
---
9. Itacho Sushi
---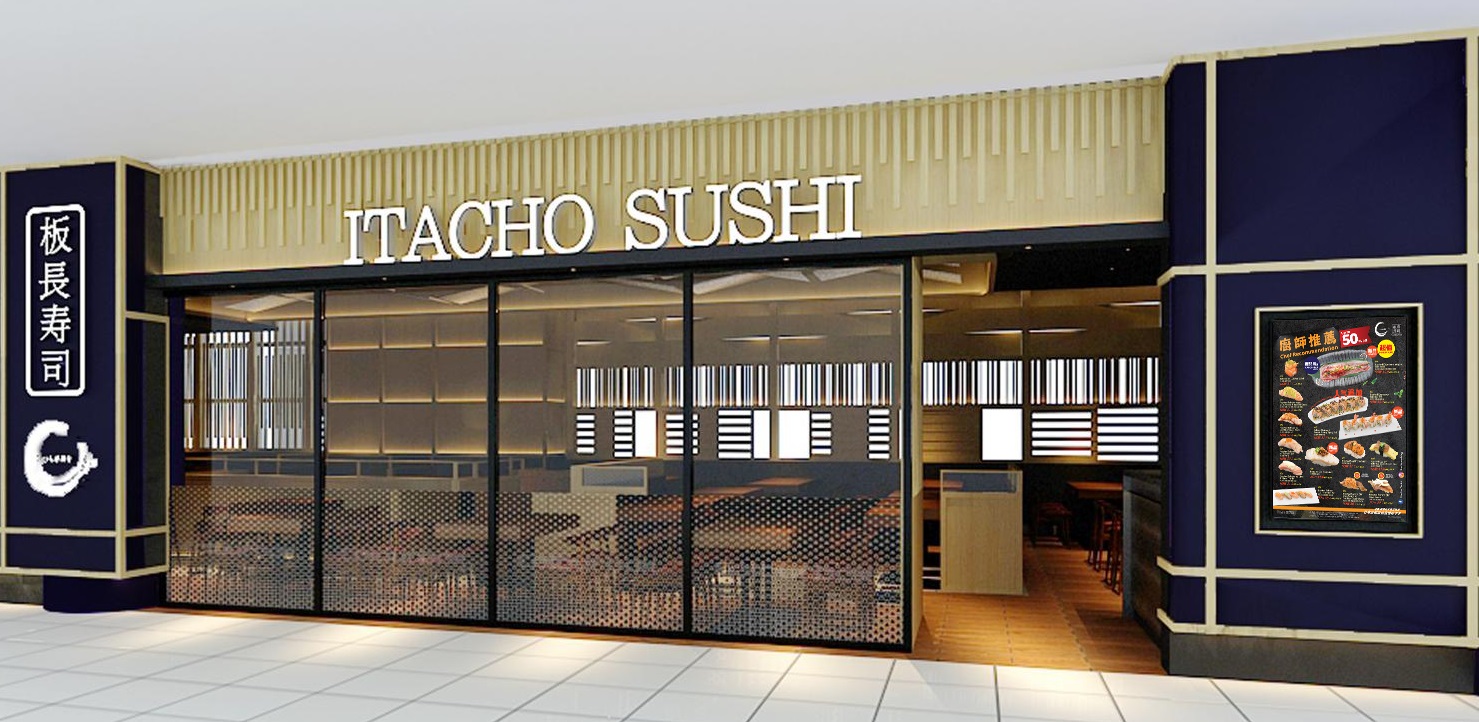 Itacho Sushi first enticed us with their affordable prices and wide variety. This hot spot for Japanese food has always been a family favourite and a new outlet will be opening at City Square Mall at the end of July.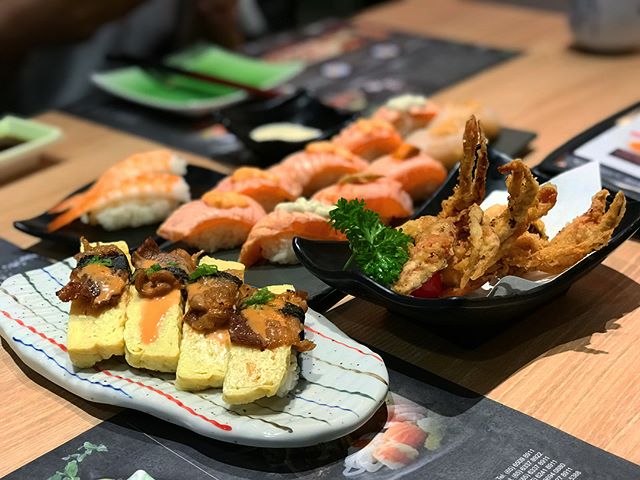 Image credit: @hwang_meiyu
Itacho Sushi serves up both classic Japanese dishes such as Curry Beef ($13.50++) with a choice of rice, udon, or soba, and more innovative specials like Spicy Salmon with Crab Stick and Egg Roll Mentaiko Mayo Sauce ($7.80++). Regulars can also look forward to the popular Roasted Salmon Skin Soya Sauce ($0.60++), and Roasted Kagoshima Wagyu Beef Sushi ($9.90++), which is new on the menu. These are promotional prices for the sushi, so be sure to head over soon to catch them!
Unit number: #04-11/13
Opening hours: Sun-Thur 11am to 10pm, Fri-Sat 11am to 11pm
Tel: 6509 0833
Website
---
10. Coffeemin Lite
---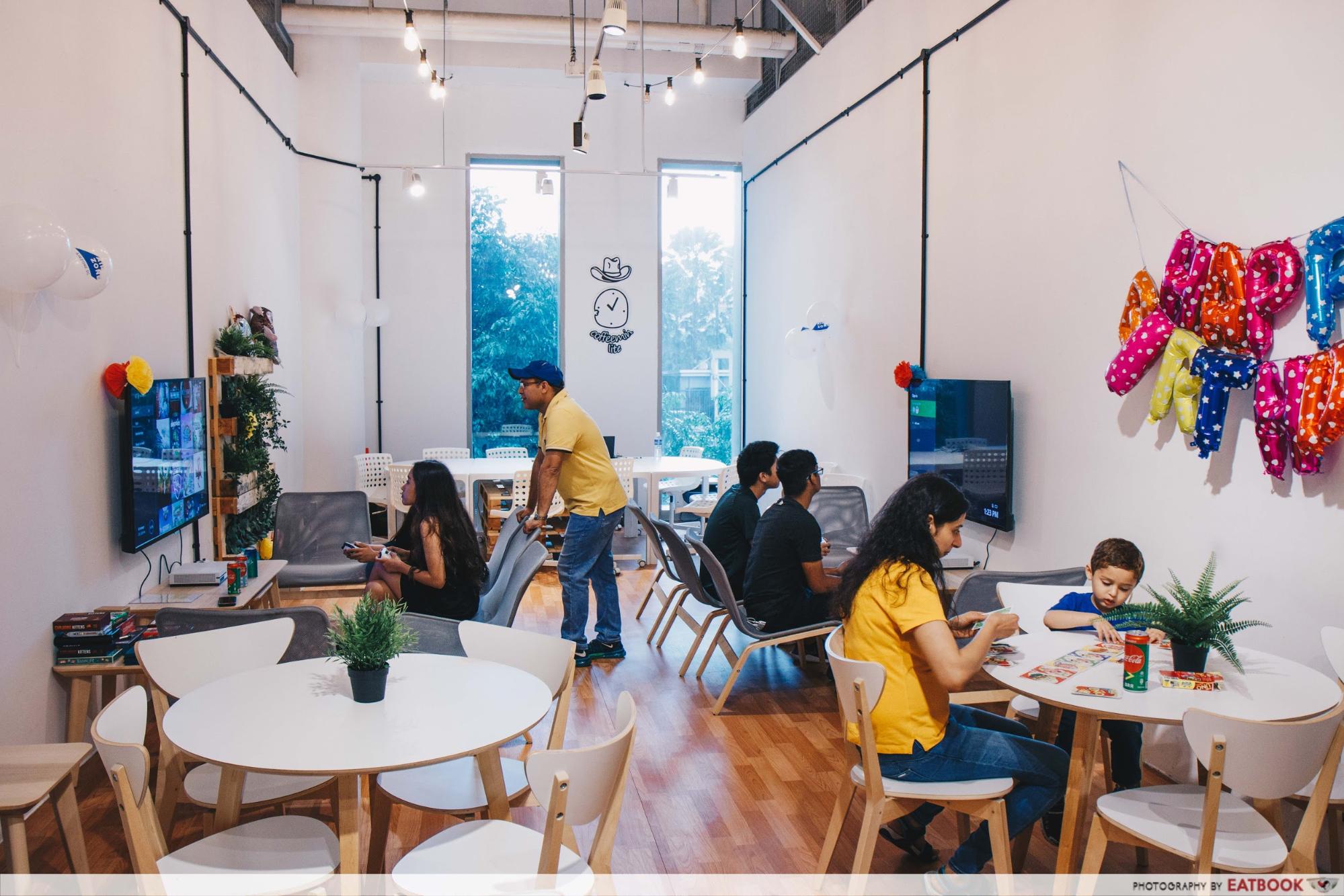 Coffeemin Lite is one special cafe. Everything here comes free except for the time you spend. The cafe is armed with board games, two Xbox consoles, books, and free Wi-Fi. The best part is that Coffeemin Lite is in partnership with AIRZONE at City Square Mall, Singapore's only suspended net playground. This means a time of literally elevated fun with free-flow drinks to quench your thirst anytime you decide to take a break.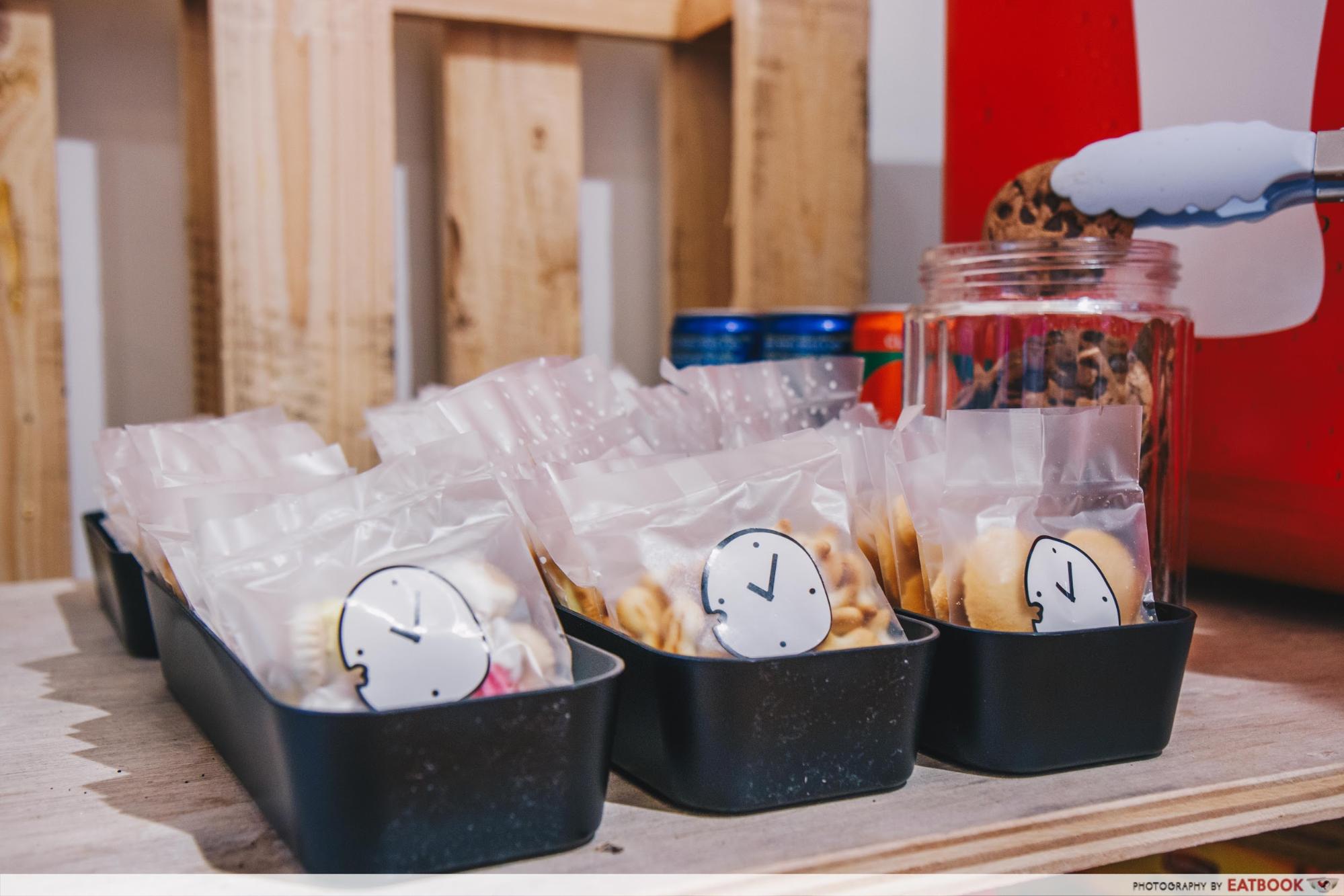 On a weekday, Coffeemin Lite charges $6.50 per person for the first hour, while on a weekend or public holiday, it is $8.50 per person for the first hour. Subsequent time will be charged at $1 per 10 minutes. If you're looking to chill out with your friends, or just want somewhere comfortable to work at, I recommend opting for their full day package at $30 per person.
Unit number: #02-29
Opening hours: Daily 11am to 9:30pm
Website
---
Redeem vouchers by eating at City Square Mall
---
As if all the good food isn't enough, you can even eat them free by shopping at the mall. With $150 spent – $250 if you're including NTUC FairPrice receipts – you can redeem a $5 City Square Mall F&B voucher. This is limited to the first 3,000 redemptions.
If you spend $200, inclusive of an F&B receipt, you can redeem a $10 City Square Mall F&B voucher. The amount goes up to $300 if you're including NTUC FairPrice receipts for the $10 voucher redemption. This is limited to the first 1,500 redemptions.
As if that's not enough, those who drive can get free parking for their first 1.5 hours on weekday lunch hours (excluding public holidays)!
Find out more about City Square Mall's promotions!
This post is brought to you by City Square Mall.