---
New restaurants to visit in October 2018
---
It's just two months to December and we're all ready to end off the year in style with these new restaurants. From pastel-hued soft serve to bak kwa katsu, check out these restaurants in the month of October for a belly good time.
---
1. Aqua S
---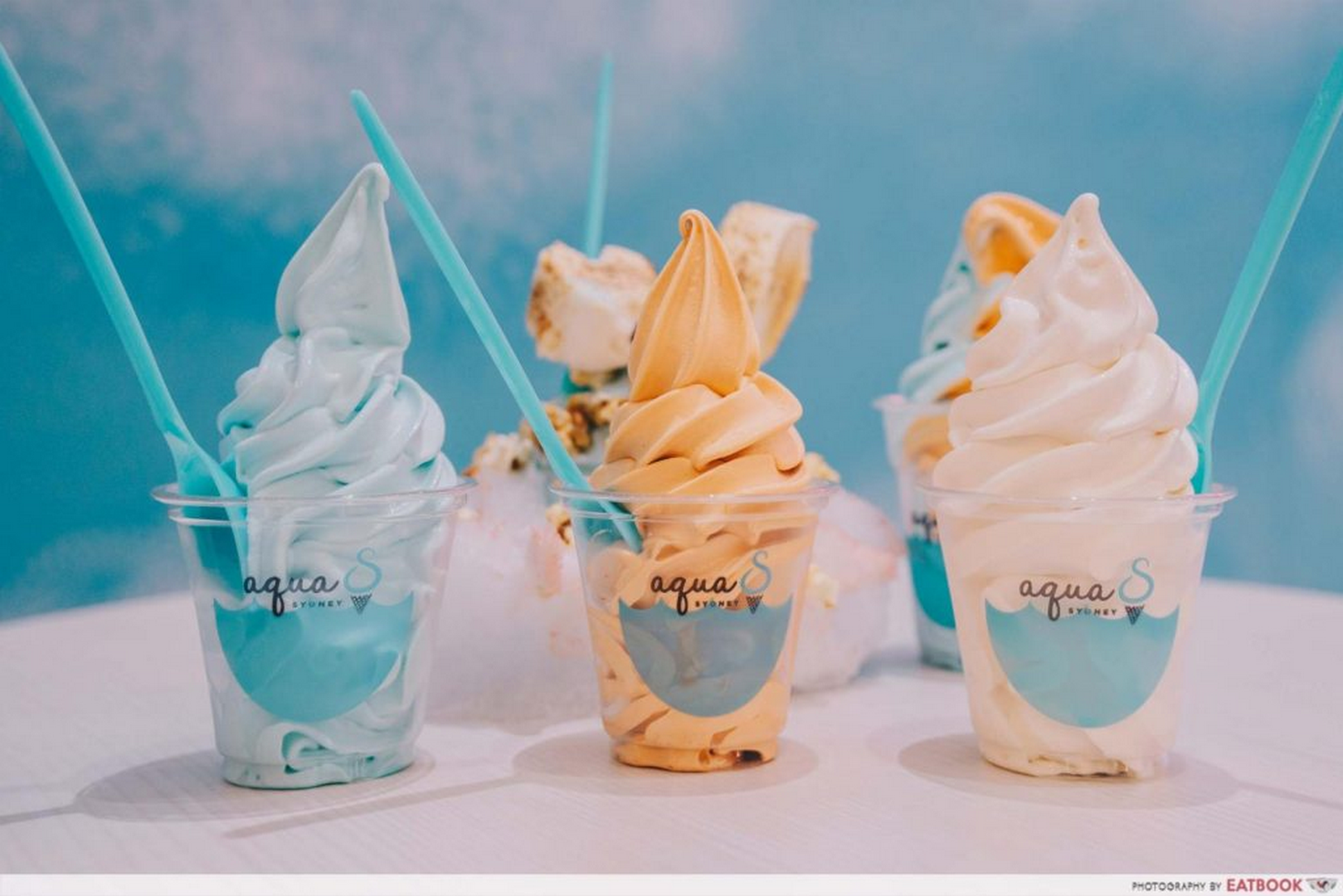 Another highly Instagrammable entrant on the list is Aqua S from Sydney. More than just a pretty treat that's great for the 'gram, their soft serves are also lip-smacking delicious. A regular cup sets you back $5.40, while a large cup or black waffle cone is priced at $6.40. Toppings go at $0.80 a pop, and include fairy floss, popping candy, sweet popcorn and torched marshmallow.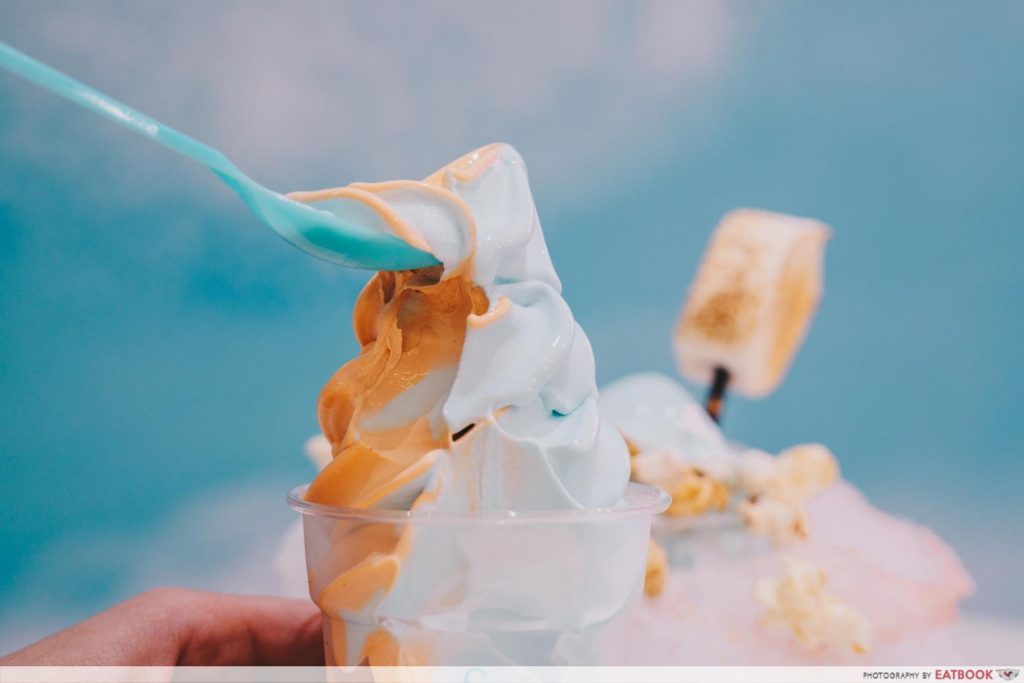 Do not be weirded out by their signature flavour, Sea Salt. It might sound like an odd flavour, but you will be surprised by the delicious and whimsical mix of sweet and salty flavours. Aside from their signature Sea Salt, they also offer two other soft serve flavours, which change every 15 days.
Aqua S Review: Sea Salt And Thai Milk Tea Soft Serve With Fairy Floss From Sydney
Address: 437 Orchard Road, #B1-01, Orchard Xchange, Singapore 238878
Opening hours: Daily 10am to 10pm
Website
---
2. Wine & Chef
---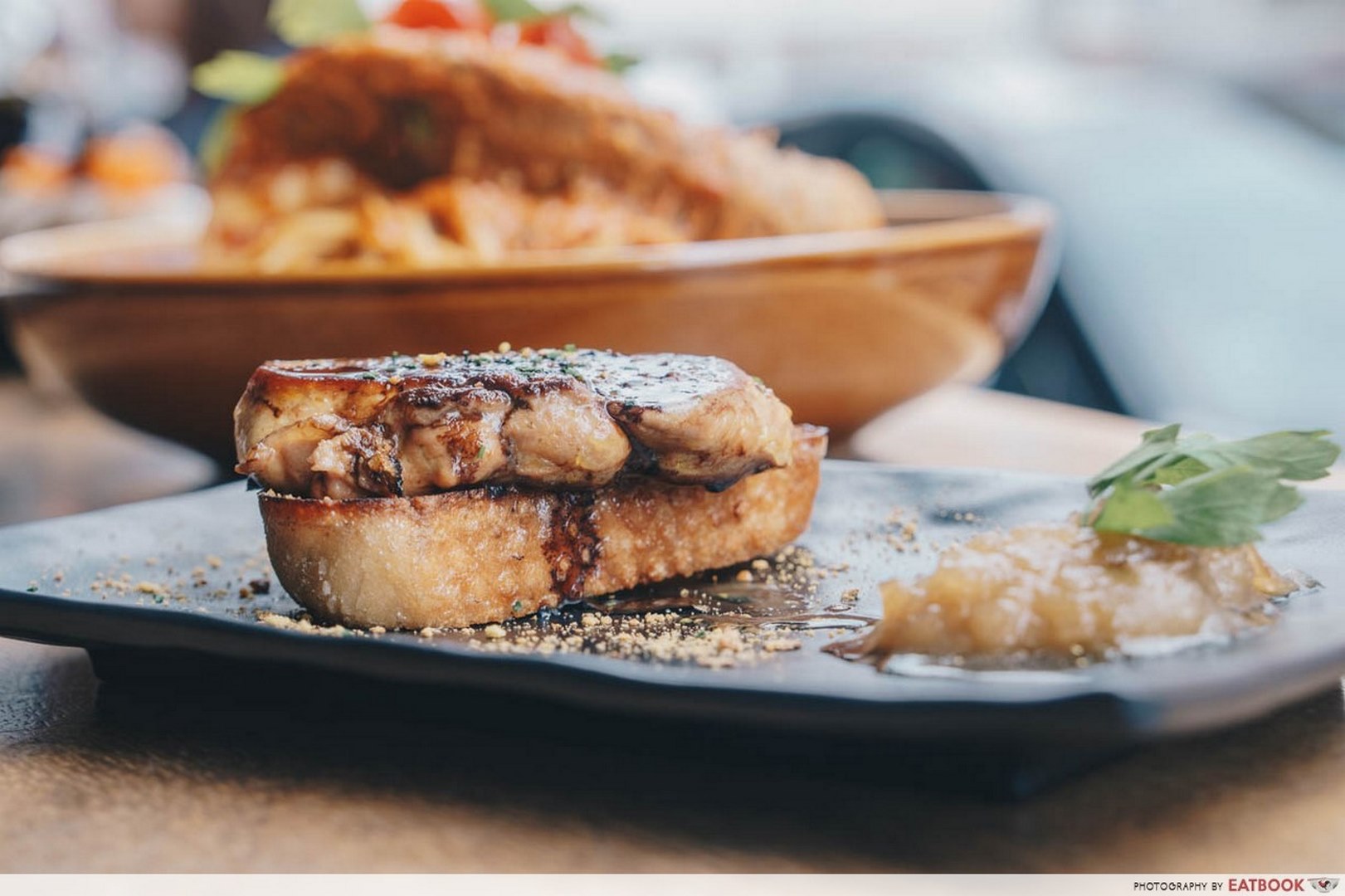 If you're looking for a good date-night spot, look no further than Wine & Chef. The menu comes replete with gourmet European fare boasting a hint of Asian influence. For starters, order their Pan Seared Foie Gras ($16++), which comes served on toasted ciabatta, with a side of house-made apple and thyme brandy compote to cut through any fatty richness.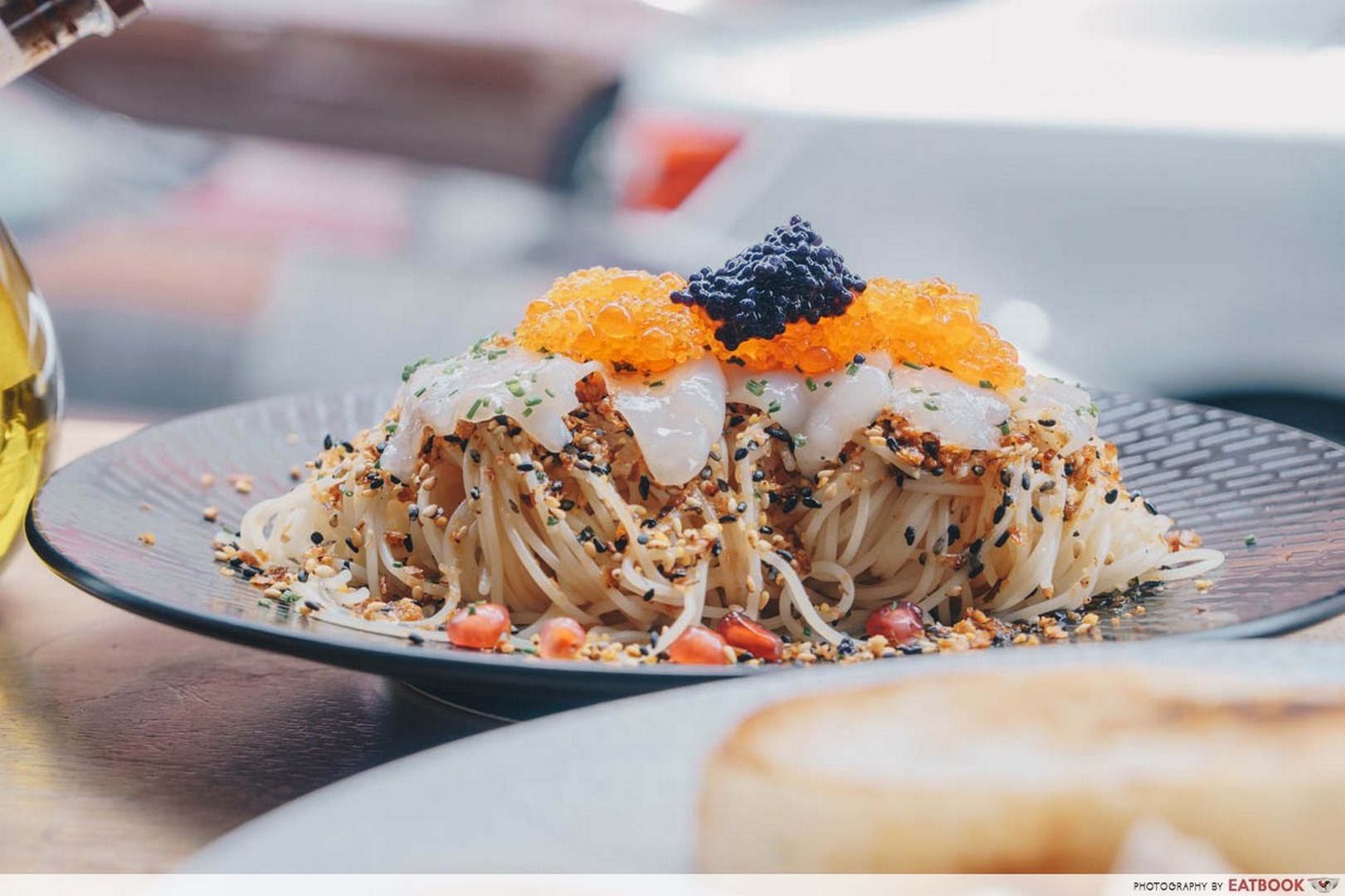 It is easy to see why their Scallop Capellini ($28++) is a mainstay on their menu. A cold dish that hits the spot on a hot sunny day, thin pasta strands are tossed in a scrumptious truffle and soy sauce combination. Afterwhich, sweet Hokkaido scallops, ikura, fried shallots, shio kombu and furikake are added on top, adding a medley of textures to this simple dish.
Address: 7 Keong Saik Road, Singapore 089115
Opening hours: Mon-Sun 11am to 11pm
Tel: 6221 9279
Website
---
3. Restaurant Ibid
---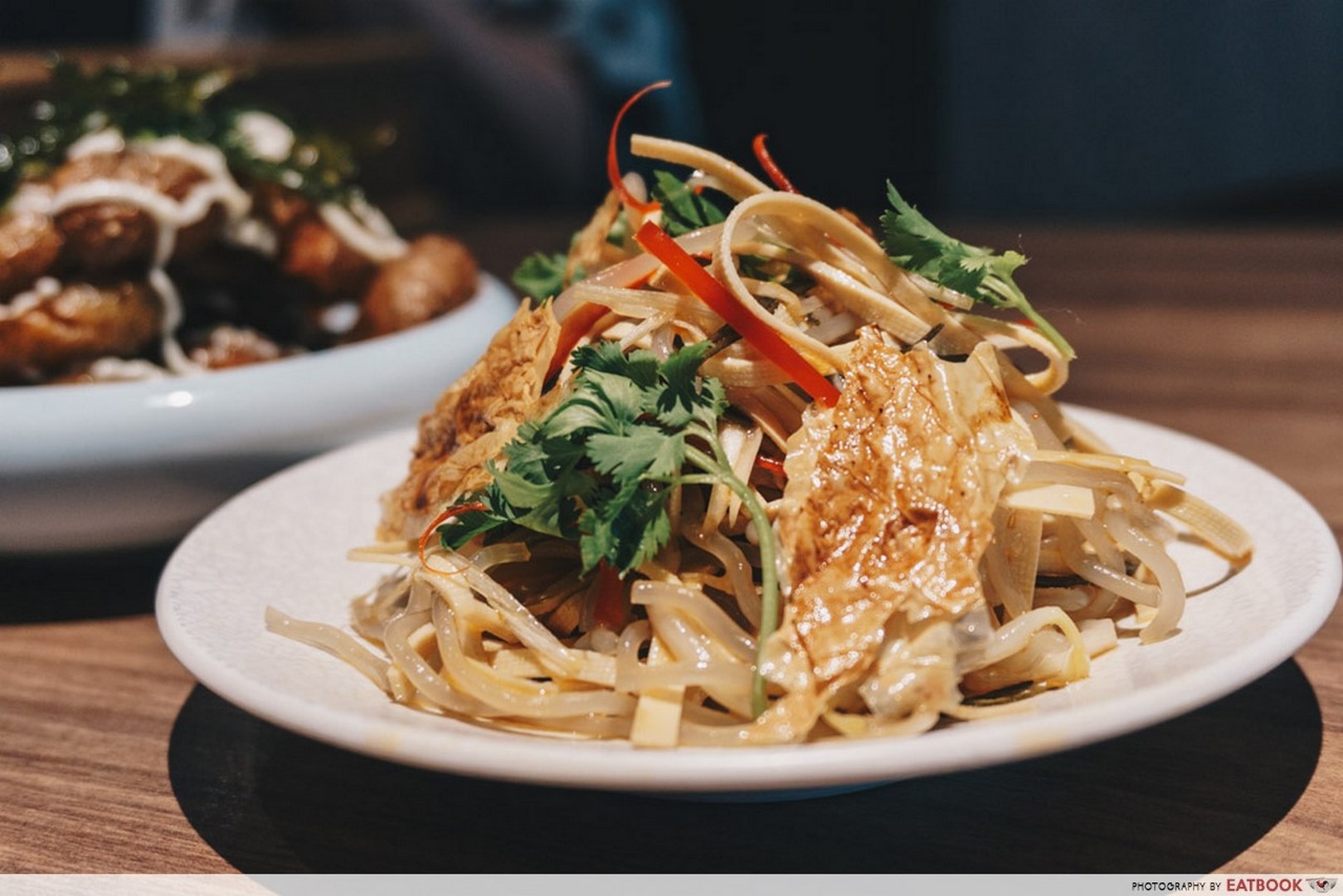 Opened by Woo Wai Leong, winner of Masterchef Asia Season One, you can expect Restaurant Ibid to serve outstanding grub. And while their omakase dinner service may be a tad pricey at $78++ for four courses, their recently launched lunch set ($18++ for two courses, $28++ for three courses) won't burn a hole in your pocket.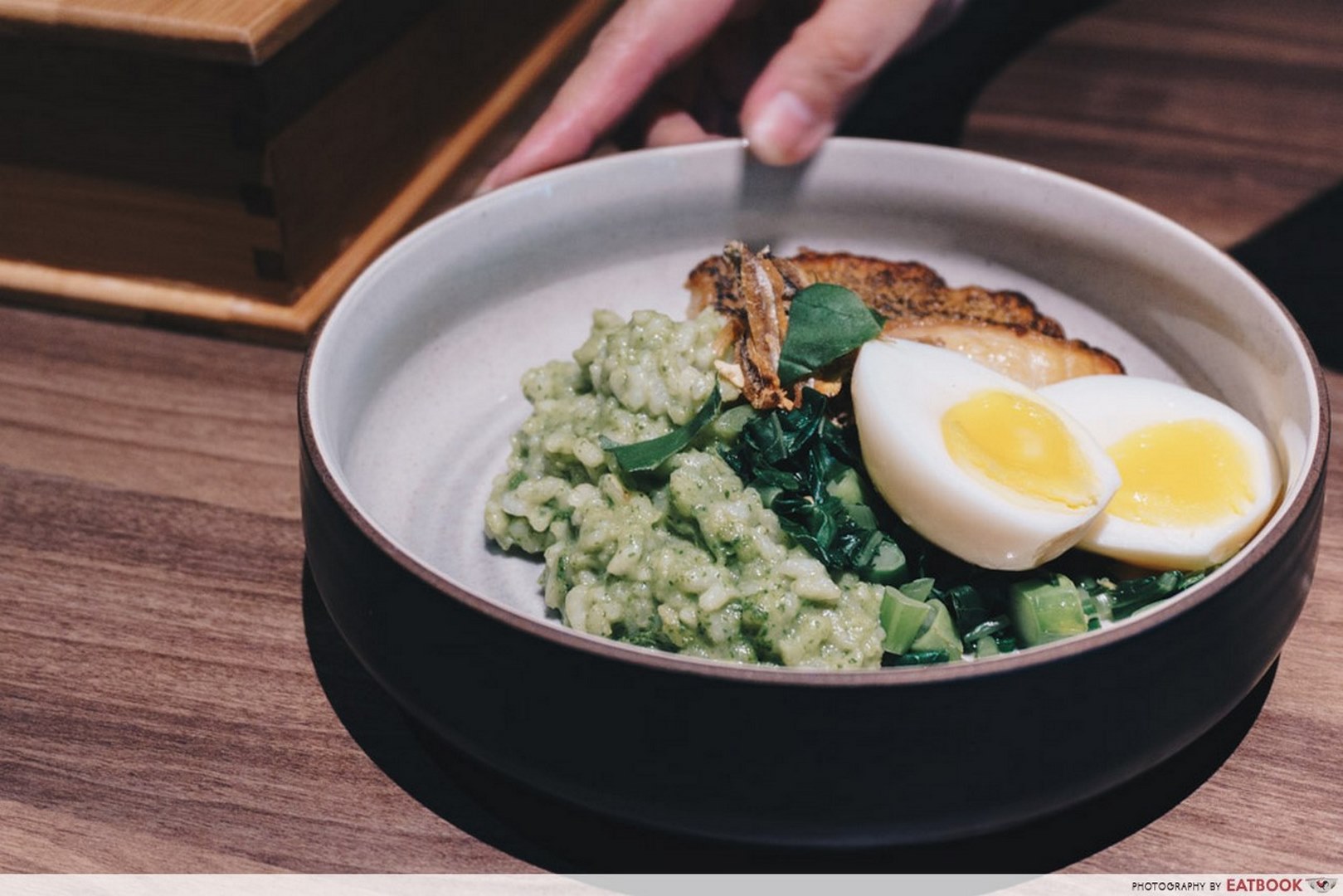 Available from Wednesday to Friday, the two-course lunch set allows you to choose between a small plate and dessert to go with your main. The small plates are definitely worth the calories, and my favourite was the Fried Baby Potatoes garnished with Xi'an spices and laksa leaves. Sure to whet your appetite is the tangy flavour from the Xiao Cai that's doused in a Sichuan peppercorn dressing. There are three mains offered, including a scrumptious Shaobing Burger and Tea Rice with fish of the day. The latter is a modern take on thunder tea rice, where risotto is used instead.
Address: 18 North Canal Road, Singapore 048830
Opening hours: Mon-Tue & Sat 6:30pm to 10:30pm, Wed-Fri 12pm to 2pm, 6:30pm to 10:30pm
Tel: 9151 8698
Website
---
4. Fatburger
---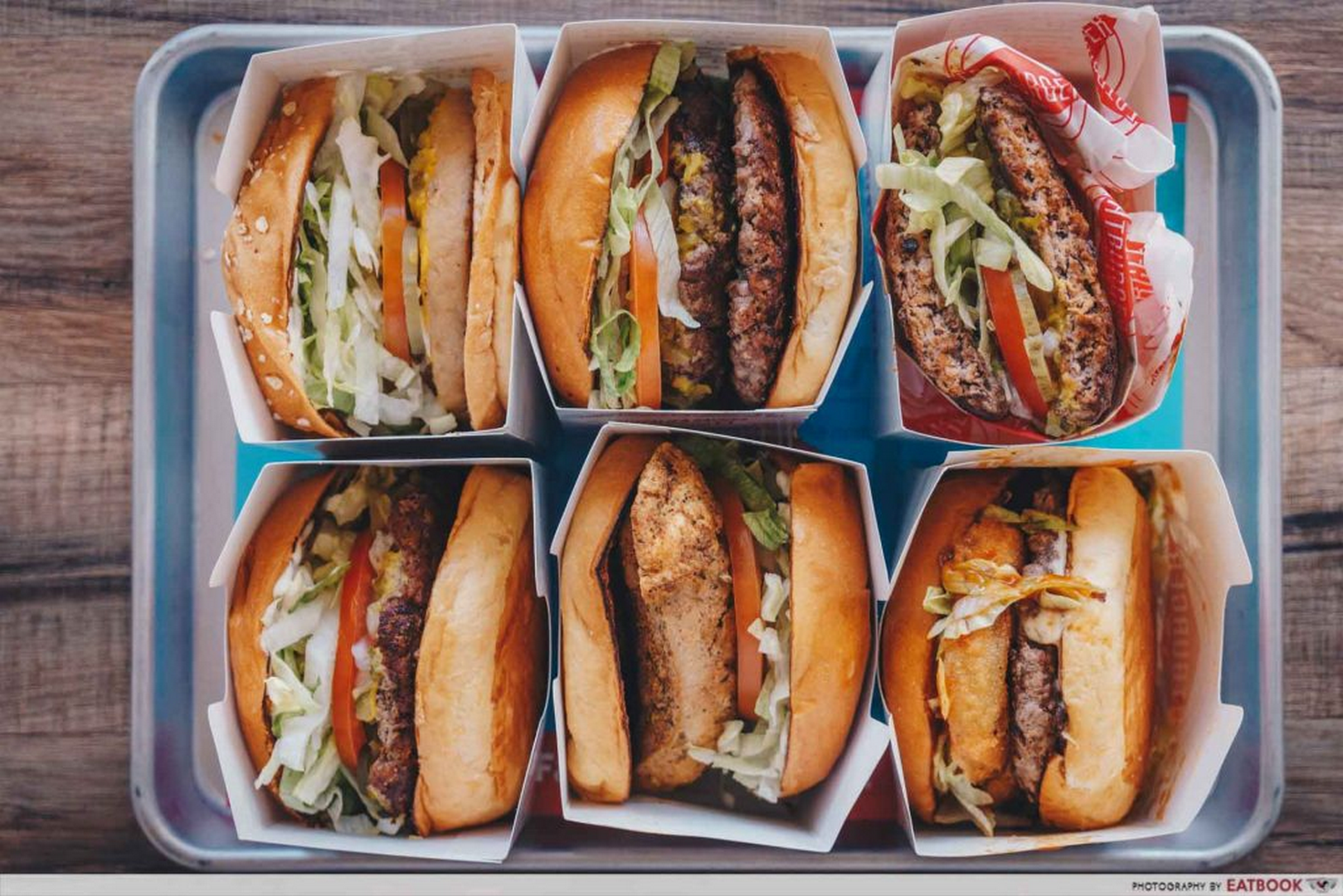 Even though Fatburger is marketed as a fast food joint, it is far from that. In fact, you don't even have to stand around waiting for your food, as they will be served to you! But more than just good service, the food served is of restaurant quality, and none of their Alberta Angus beef chuck patties are ever frozen.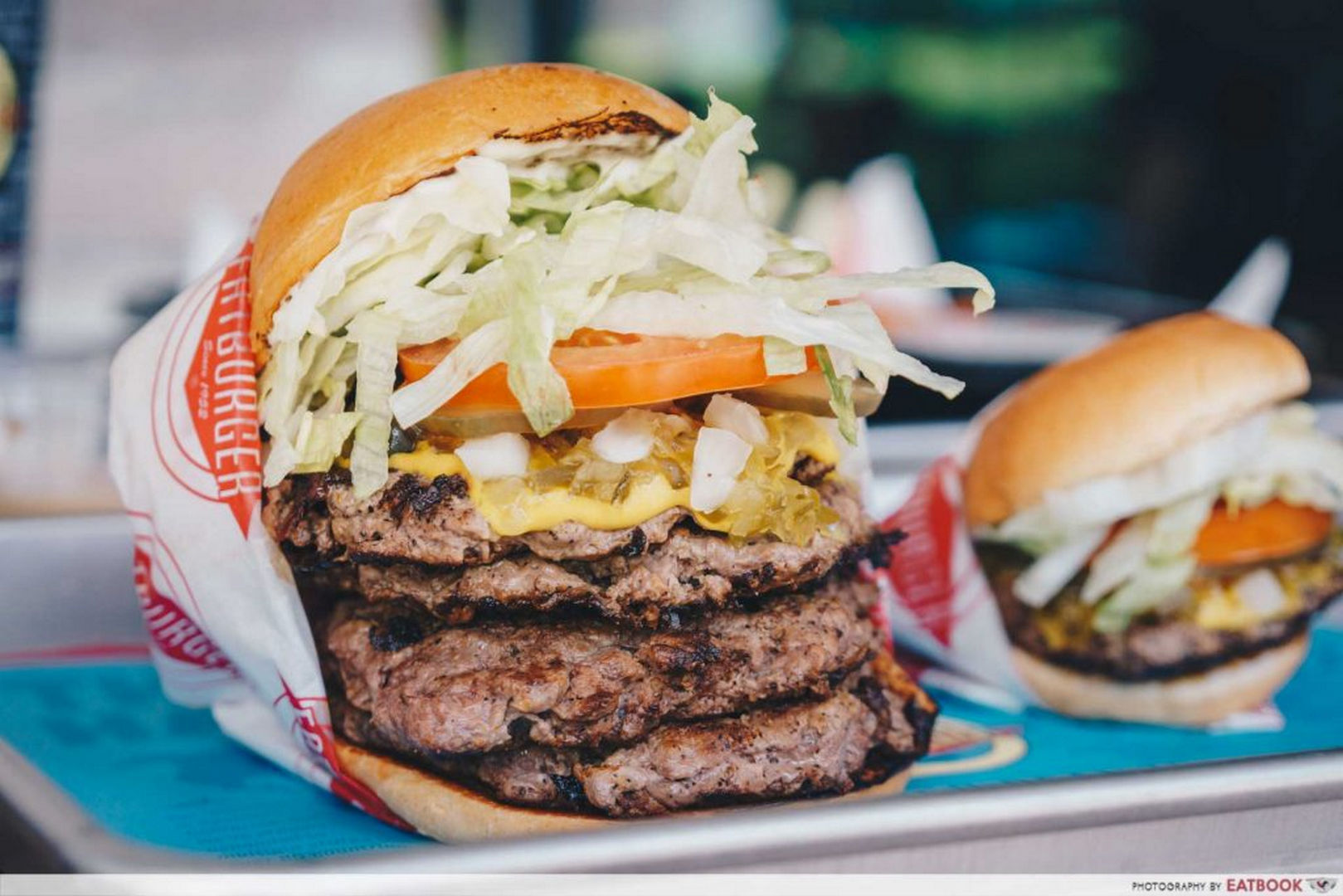 For those with a big appetite, challenge yourself by getting their Quad Burger ($15.90). Here, four stacks of juicy patties are stacked between buttery brioche buns, alongside a bunch of toppings including lettuce, tomatoes and relish. The burger joint also serves up bites from Buffalo Express, and a must-get is the Death Valley Boneless Chicken (from $8.50 for six pieces). The fiery red sauce is so spicy, you will be sweating buckets once you're done.
Address: 11 Tanjong Katong Road, #01-70/71/72, Kinex, Singapore 437157
Opening hours: Daily 10am to 10pm
Website | Full list of outlets
---
5. Bee Cheng Hiang Grillery
---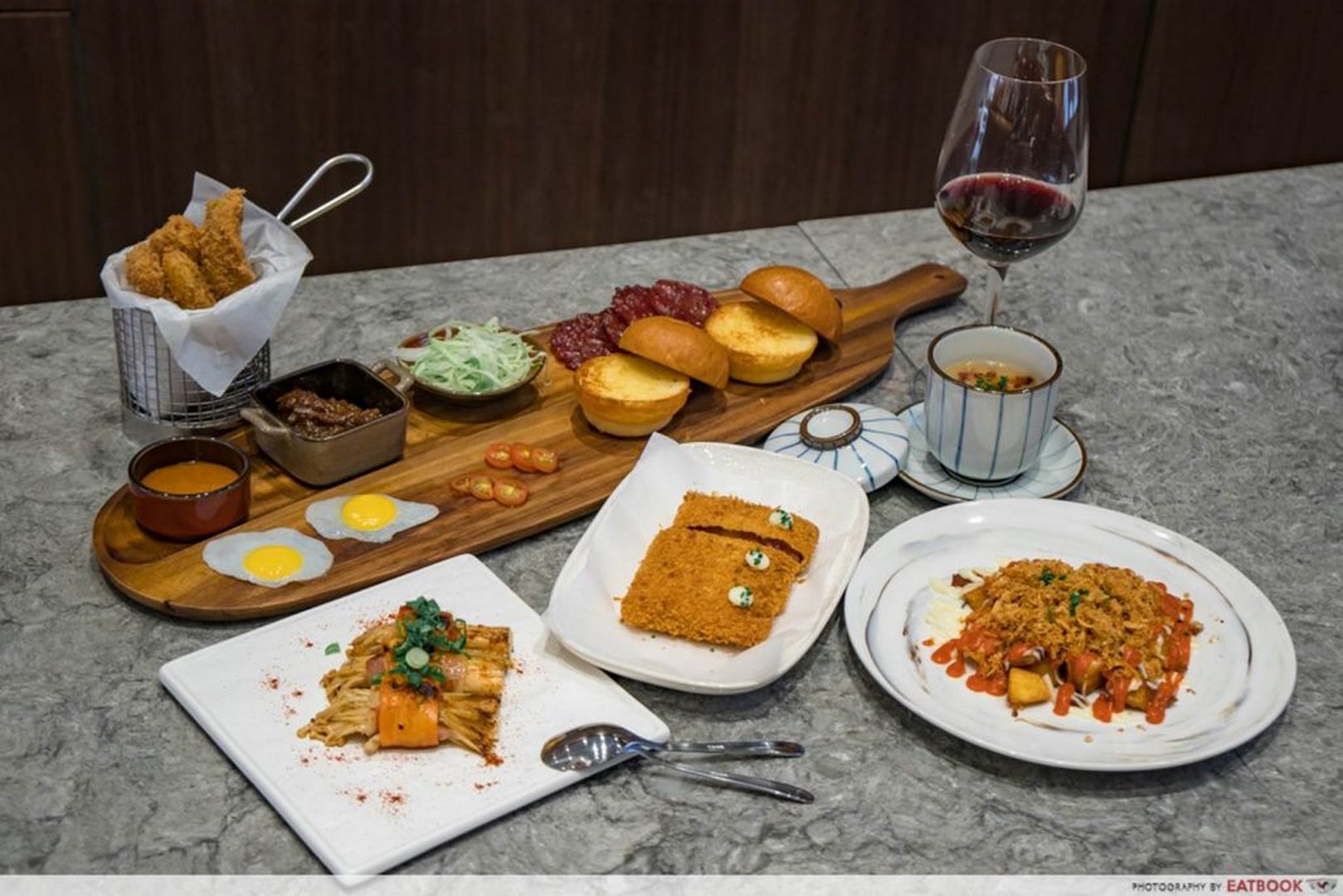 Yes, there's a restaurant that serves up just bak kwa. You won't find sliced bread and bak kwa at the Bee Cheng Hiang Grillery though. Instead, you'll find plenty of sharing plates that are centred around everyone's favourite Chinese New Year snack and pork floss. For those who want to opt for a touch of elegance in their meal, the restaurant also offers a selection of red wine that goes well with bak kwa.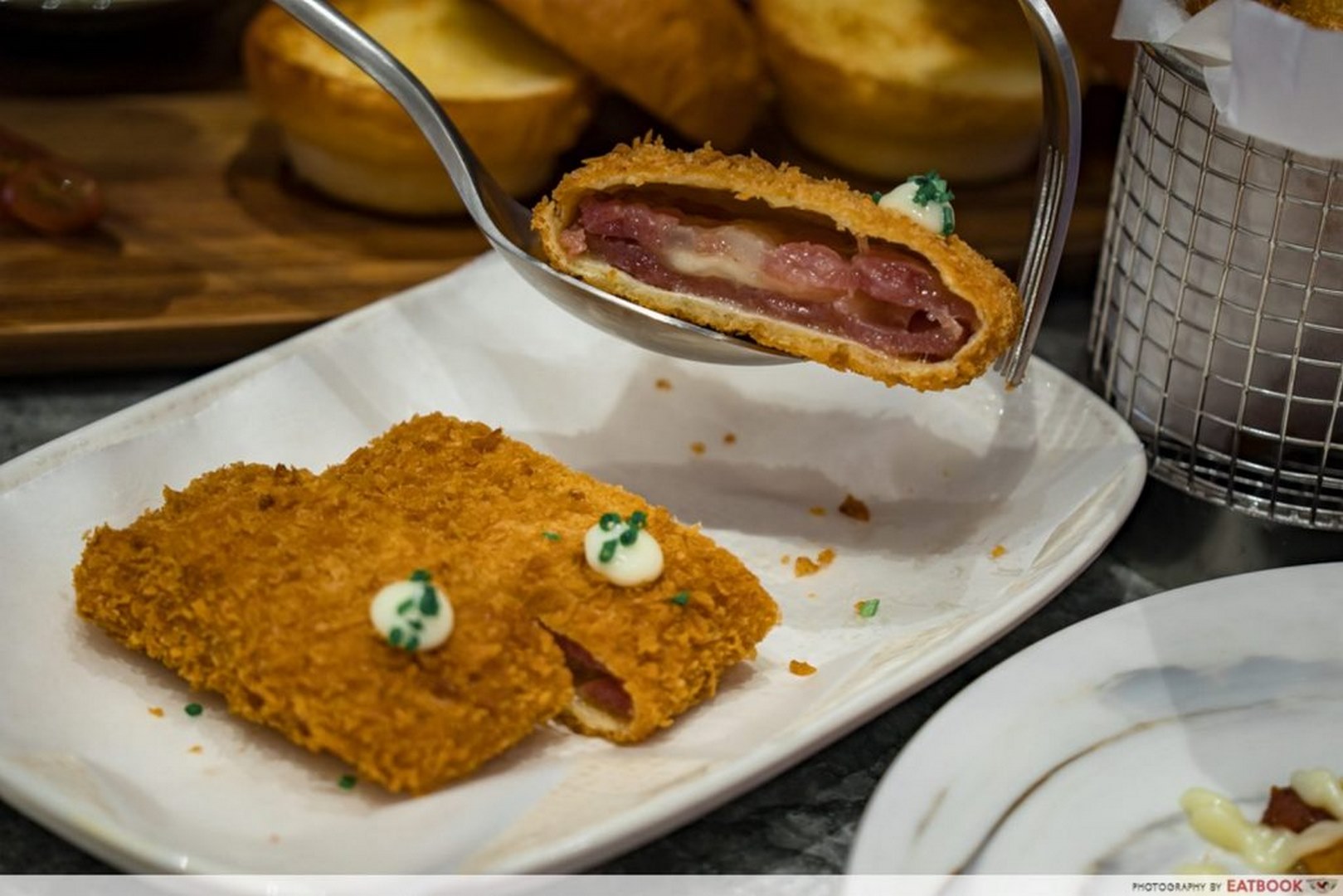 Mozzarella Katsu ($10+) was an interesting item on the menu, with mozzarella that is wrapped in bak kwa, then coated with panko (bread crumbs). Tasting a little like tonkatsu, the sweetness of the bak kwa really stands out in the dish, blending in nicely with the cheesy and stretchy mozzarella.

Bee Cheng Hiang Grillery: Get Deep-Fried Bak Kwa, DIY Bak Kwa And More
Address: 1359 Serangoon Road, Singapore 328241
Opening hours: Daily 11am to 9pm
Tel: 6291 5753
Website
---
6. Beef Sukiyaki Don Keisuke
---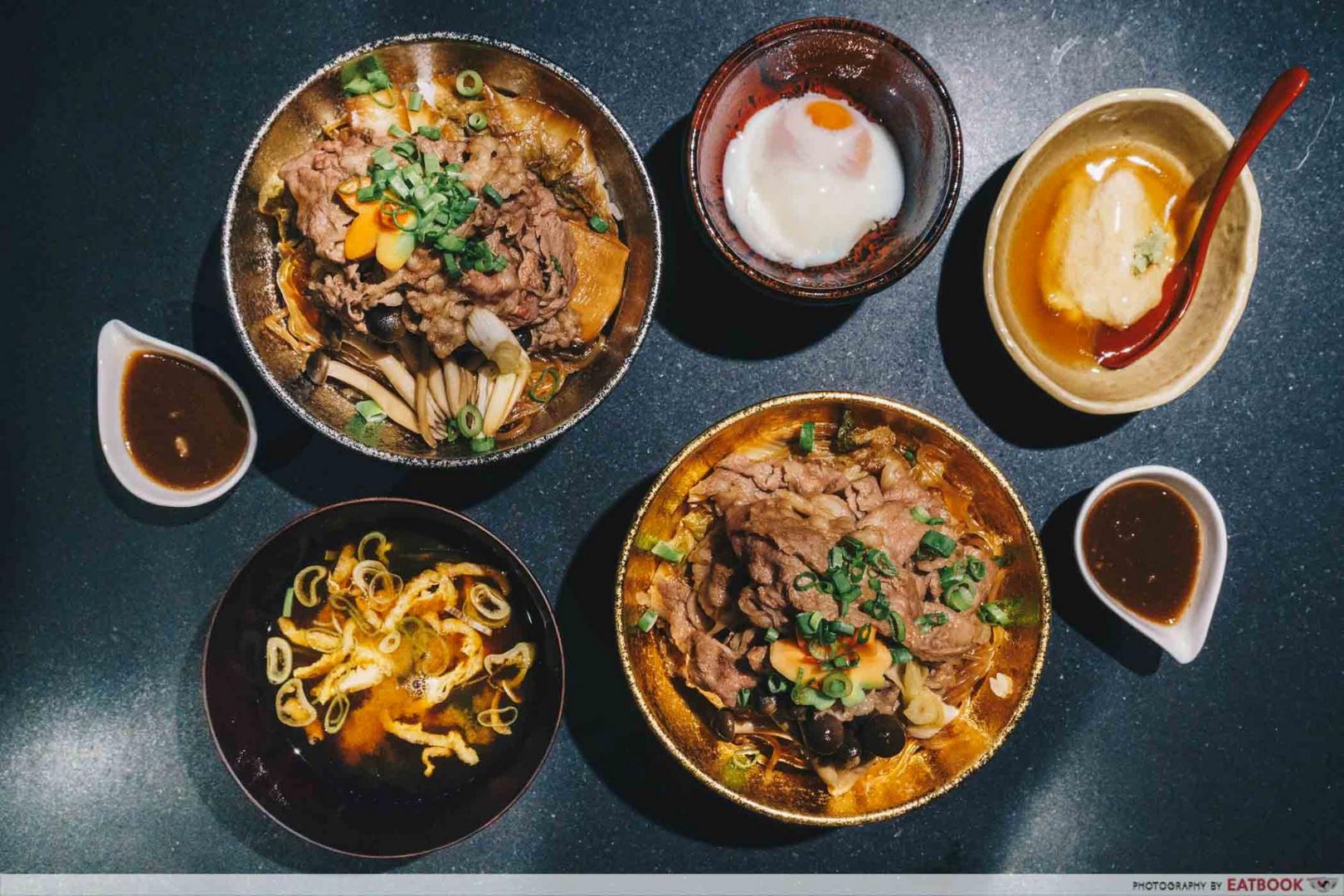 Combining sukiyaki and beef bowls, Beef Sukiyaki Don Keisuke is the newest restaurant from the Keisuke group. Featuring gourmet versions of regular beef bowls, It's all about experiential dining at this 14-seater restaurant with the order prepared right in front of diners.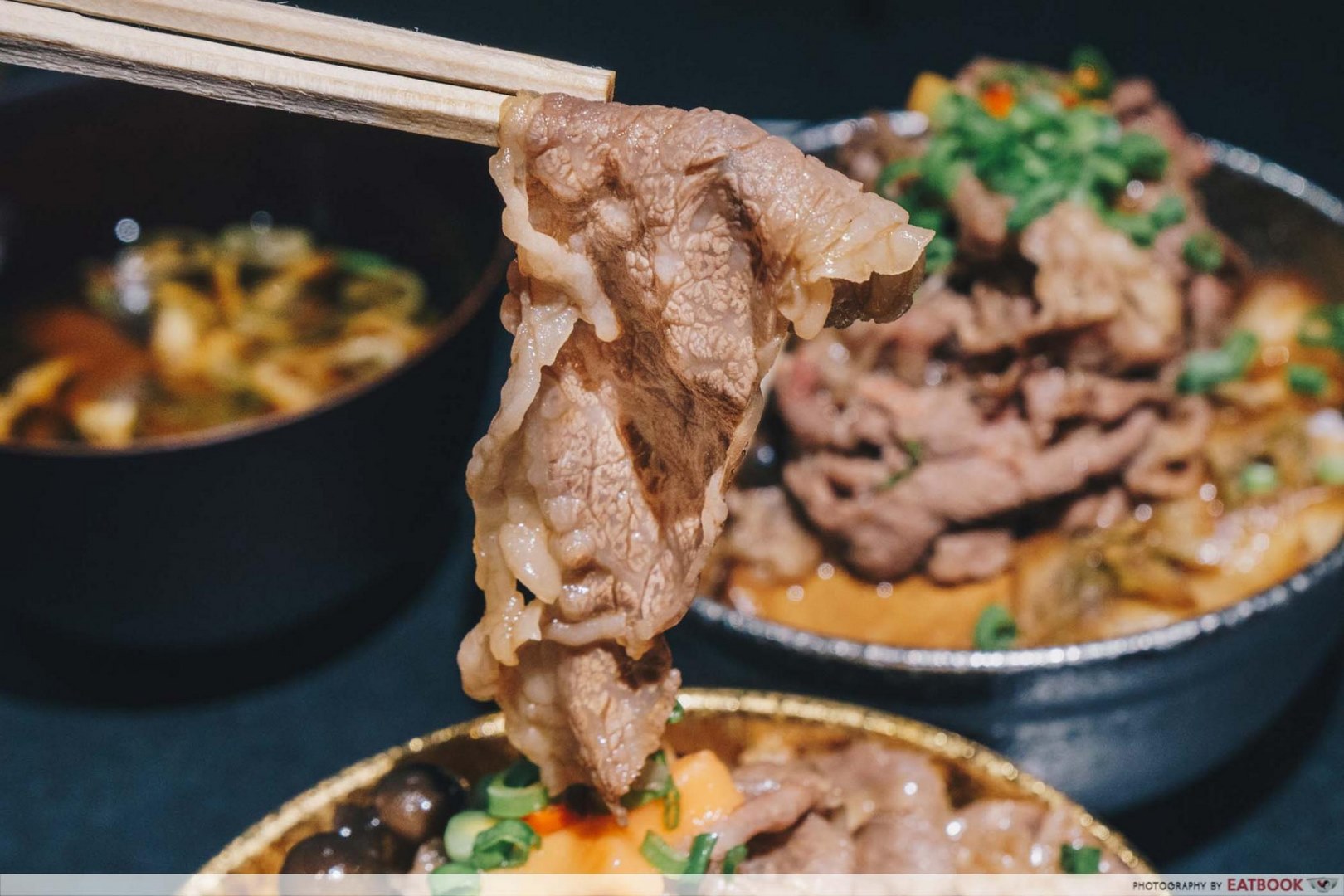 There are only two items on the menu, but go for their Kiwami Wagyu Sukiyaki Don ($29.90++) which uses A4 wagyu from Yonezawa, often compared with Kobe and Matsusaka as the best beef in Japan. The superior marbling of the beef gives just the right amount of meat and fats, resulting in that melt-in-the-mouth texture. While the sukiyaki sauce was a little too sweet for us, you can ask for less sweetness when the dish is being prepared.
Beef Sukiyaki Don Keisuke Review: Gourmet Yoshinoya-esque Beef Bowls From $13.90++
Address: 11 Kee Seng Street, #01-01, Onze @ Tanjong Pagar, Singapore 089218
Opening hours: Mon-Sun 11:30am to 2:30pm, 5pm to 10pm
Tel: 6535 1129
Website
---
7. Jin Shang Yi Pin Buffet Hot Pot
---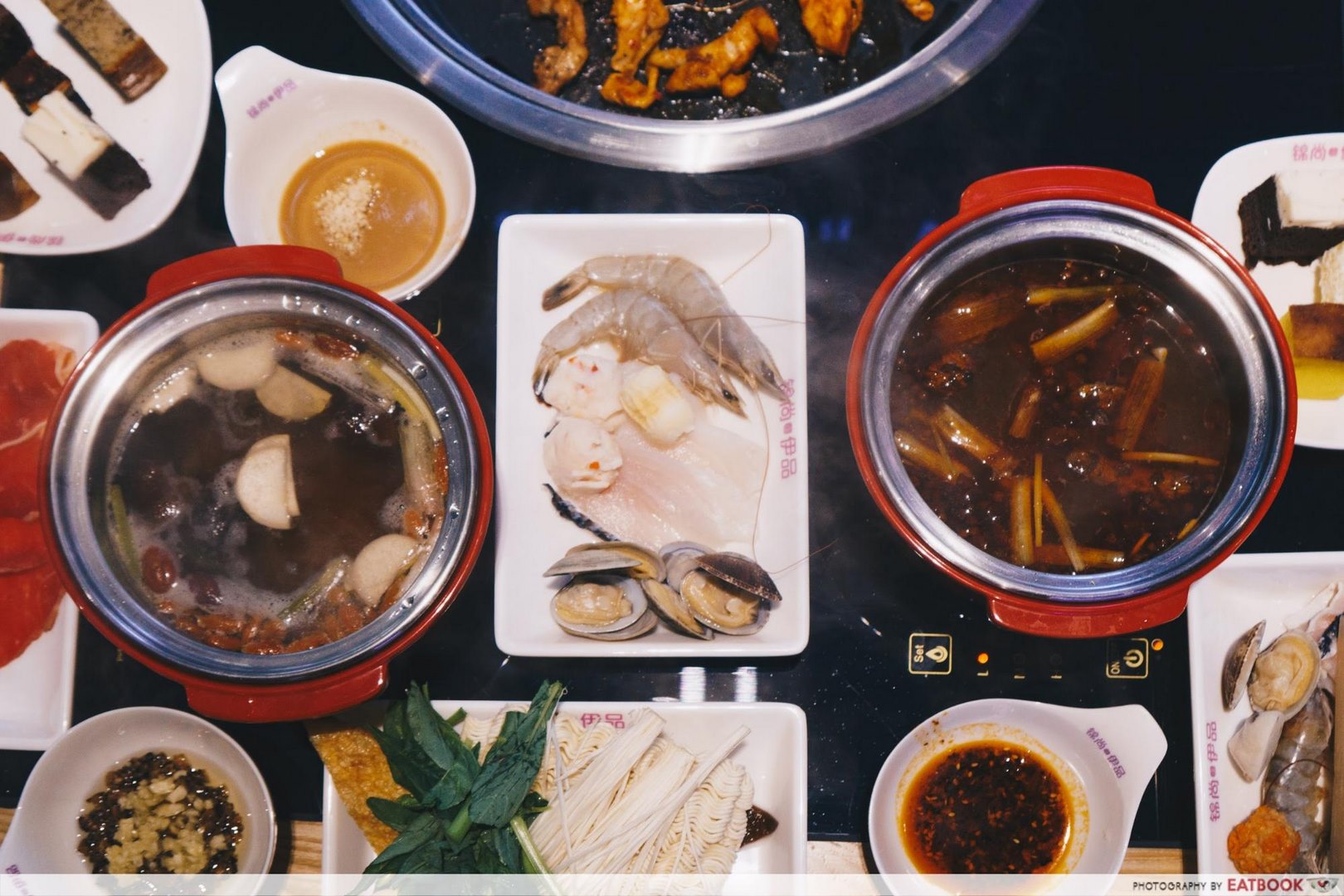 Tucked at the back of Eastpoint Mall, Jin Shang Yi Pin Buffet Hot Pot serves halal authentic Chinese hotpot – a rarity in Singapore. Their hotpot buffet will set you back ($35++) with an additional $4.90 for their barbecue.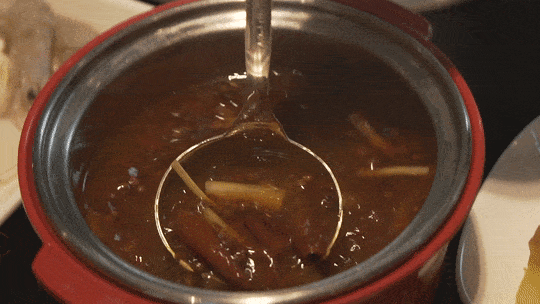 While it might be a tad pricey for some, there's no denying the quality and taste of the ingredients here. The Mala broth will fool some with its wateriness but make no mistake, it'll leave you with a tongue-numbing sensation thanks to the copious amounts of peppercorn and chilli flakes. Other standouts include their buttery beef slices and plump toman fish.
Address: 3 Simei Street 6, #01-20, Eastpoint Mall, Singapore 528833
Opening hours: Daily 11am to 3pm, 4pm to 10pm
Tel: 6909 7355
---
8. Boon's Noodles
---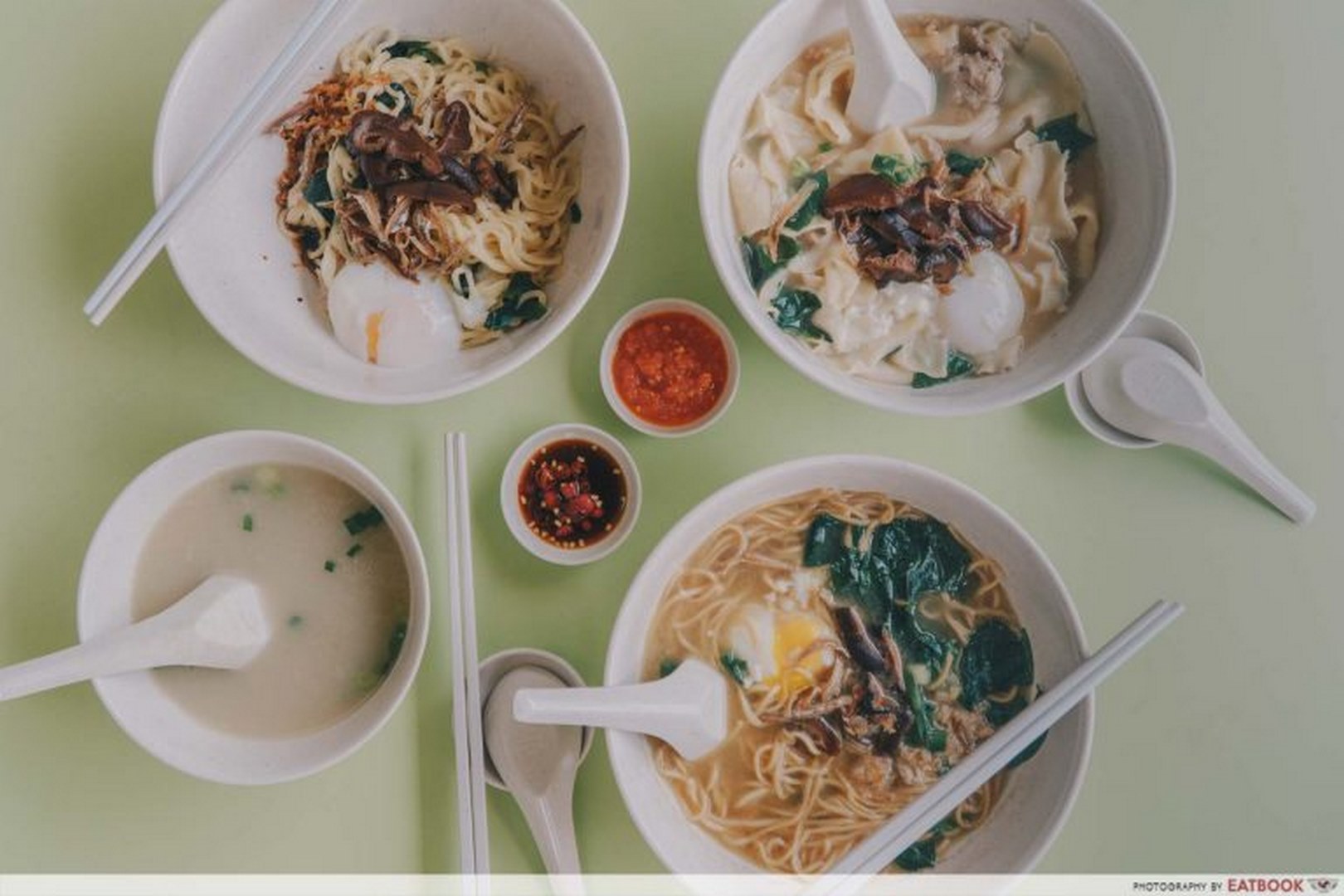 Opened by a Raffles Alumnus, Boon's Noodles serves up affordable noodles at generous portions. Most of the ingredients such as ikan bilis and chilli sauce are made by hand, with the owner refusing to go for factory-made ones.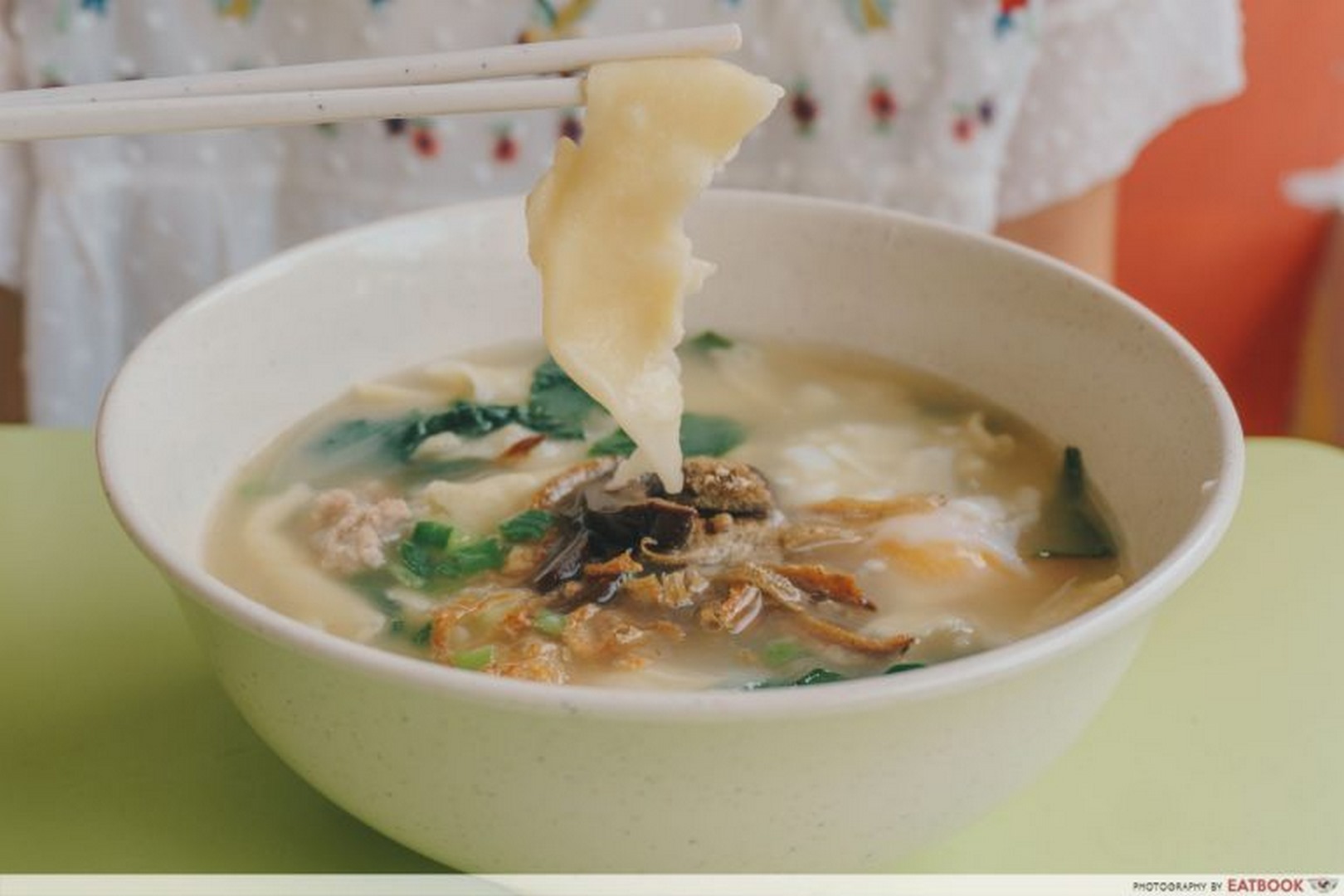 Their Mee Hoon Kueh (Soup) ($3.50) here is one of the best we've tried in a while. Served in a fragrant light brown broth, the bowl comprises bite-sized mee hoon kueh, a half-boiled egg, sayur manis, minced meat, and braised mushrooms. The mee hoon kueh is also generally soft, with a slight bite to it, giving a nice balanced texture.
Boon's Noodles Review: Raffles Alumnus Starts A Handmade Mee Hoon Kueh Stall
Address: 505 Beach Road, #01-86, Golden Mile Food Centre, Singapore 199583
Opening hours: Mon-Sat 9am to 3pm
---
9. My Little Pony x Kumoya Cafe
---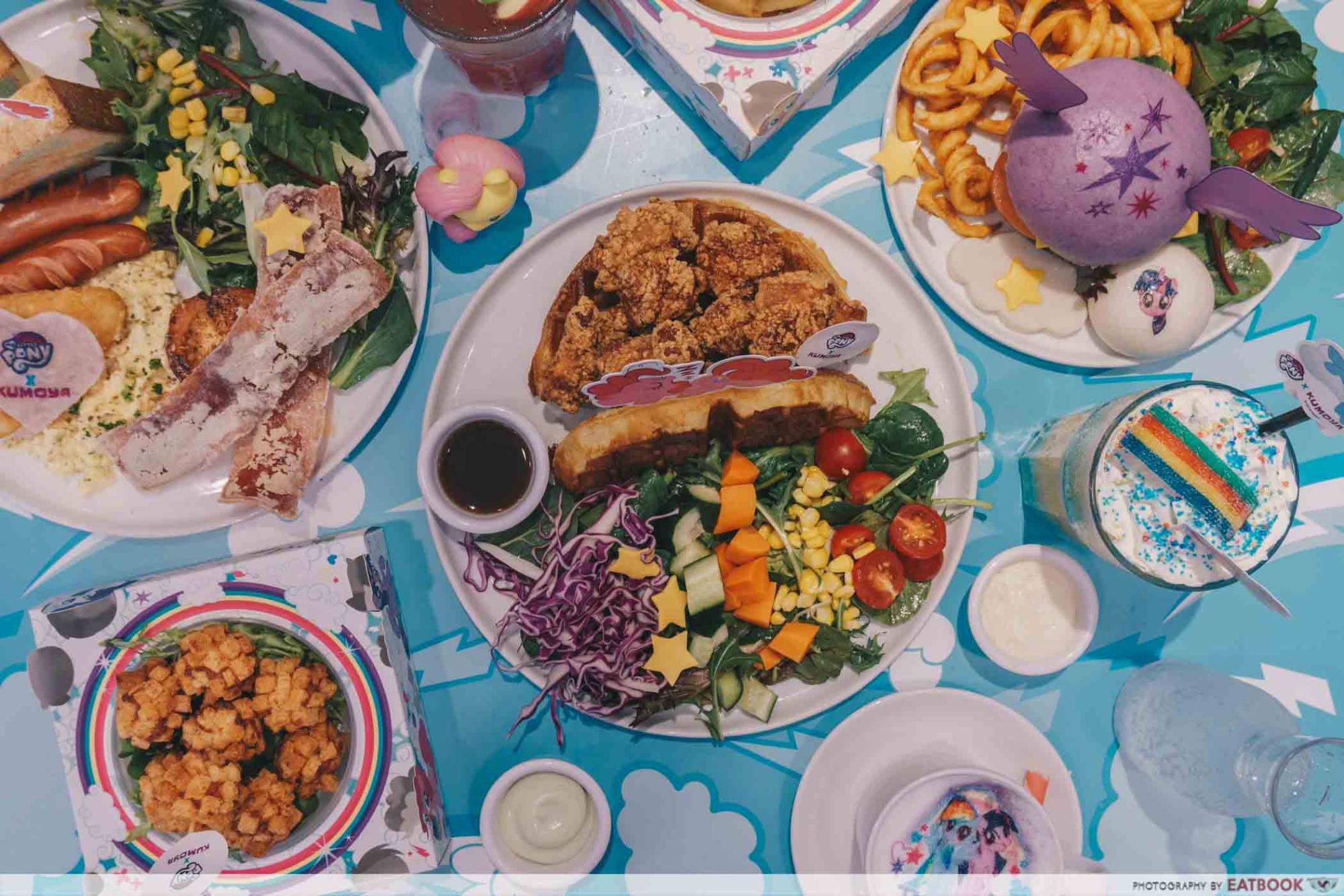 Here's one for all the bronies and pegasisters out there, the My Little Pony x Kumoya Cafe is a pop-up cafe that lets you enjoy waffles, burgers and desserts while you're surrounded by the Mane Six and other ponies in Equestria.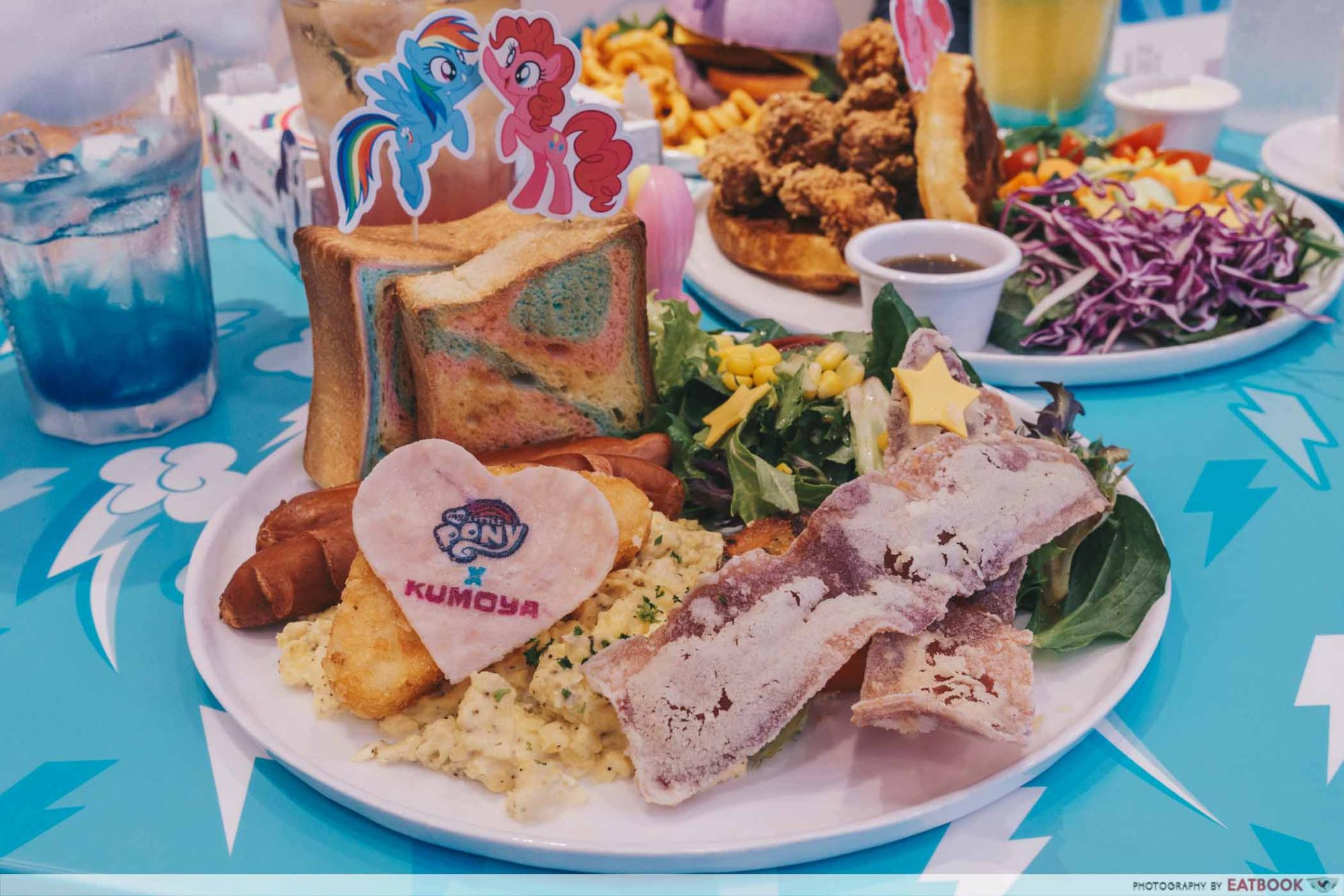 Be sure to check out their Magic Friendship Rainbow Big Breakfast ($24.90+). Filled with house-made rainbow bread,  chicken and beef sausages, turkey bacon, chicken ham, scrambled eggs, hash browns and a side of salad, this meal will fill up any hungry pony. The thick rainbow bread was baked just right, and also had a nectary sweet flavour. The pop-up cafe will only be available from 27 September 2018 to 30 December 2018, so be sure to visit before then!
My Little Pony x Kumoya Cafe Review: Equestria-Themed Burgers And Cakes Near Bugis
Address: 8 Jalan Klapa, Singapore 199320
Opening hours: Tue-Thurs, Sun 12pm to 9:30pm, Fri 12pm to 10pm
Website
---
10. The White Tiffin 
---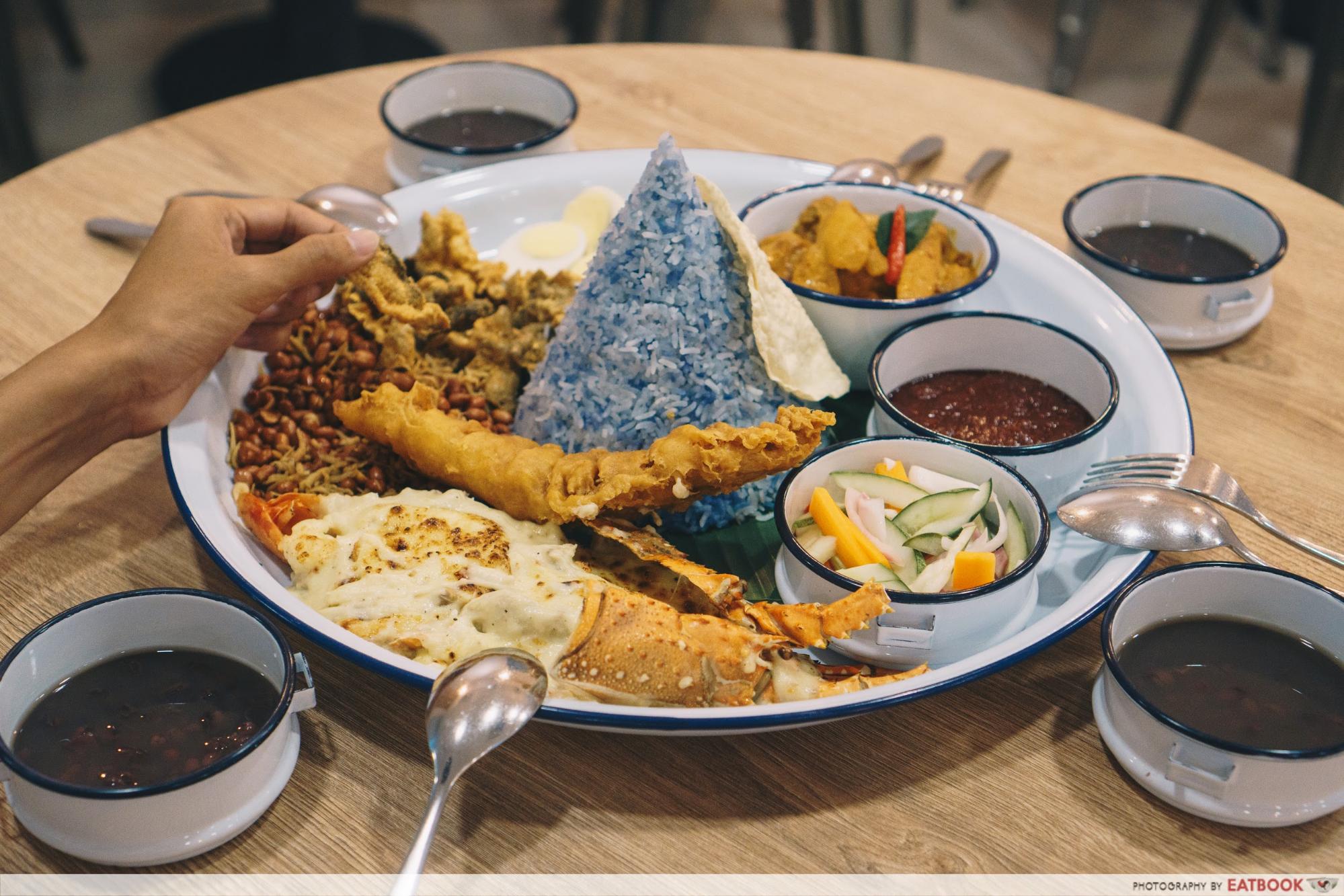 Started by the folks behind Manna Pot Catering,  a food catering company, The White Tiffin is a result of individuals demanding individual portions for their signature items such as curry chicken and nasi lemak.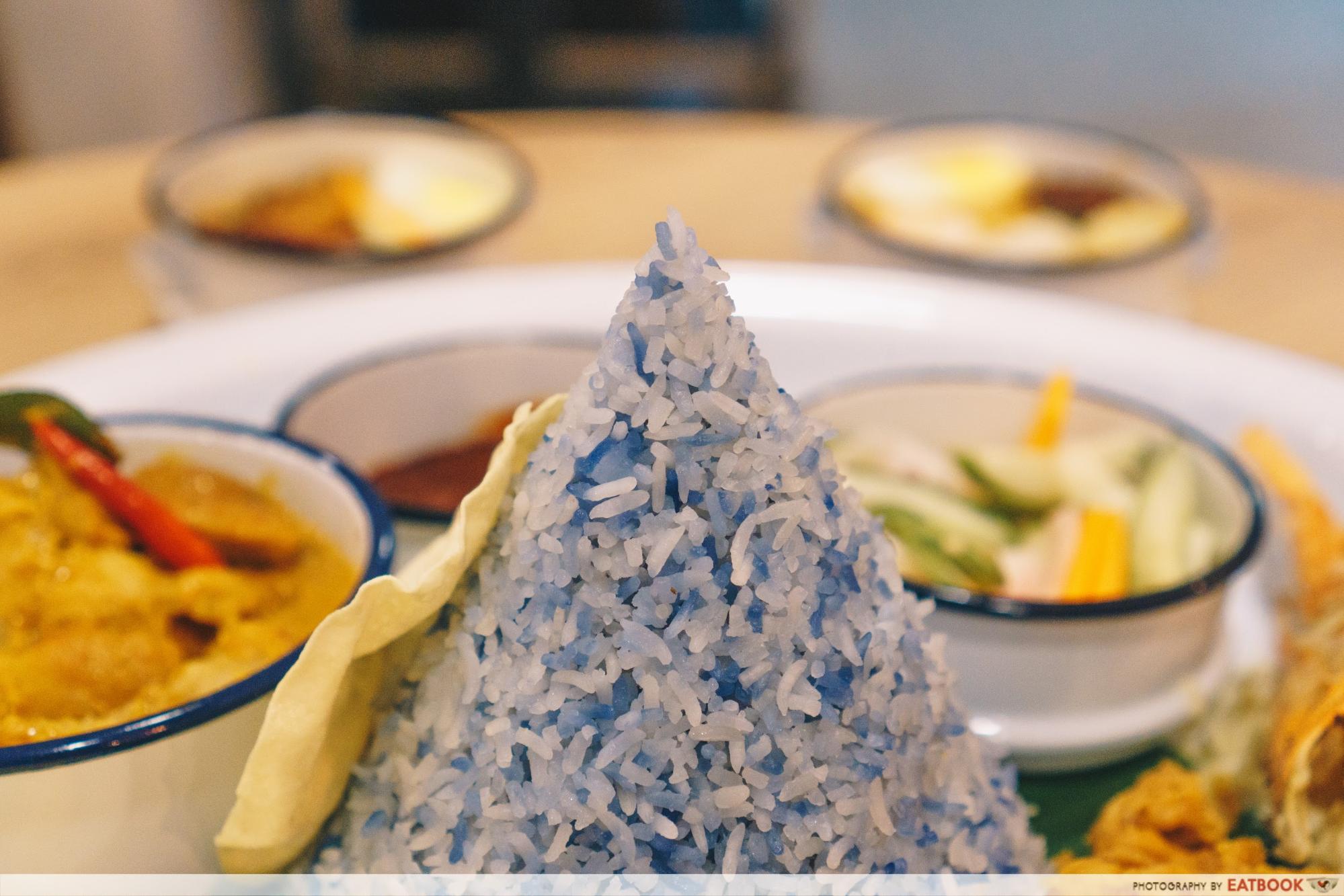 The Nasi Lemak XXL ($38) comes in a huge plate that serves up to four people. Inside you'll find coconut rice, lobster gratin, chicken curry, salted egg fish skin, battered fish fillet and a variety of other condiments such as ikan bilis and achar. We liked how the coconut rice stained by butterfly pea flower dye had a fluffy and firm bite, while having a faint coconut flavour to it. The lobster meat found in the lobster gratin was also succulent and fleshy, with a slight sweetness to it. 
Address: 456 Alexandra Road, #01-06, Fragrance Empire Building, Singapore 119962
Opening hours: Mon-Fri 11am to 3pm
Tel: 6853 1568
Website
---
Bonus 1: Tori Yard
---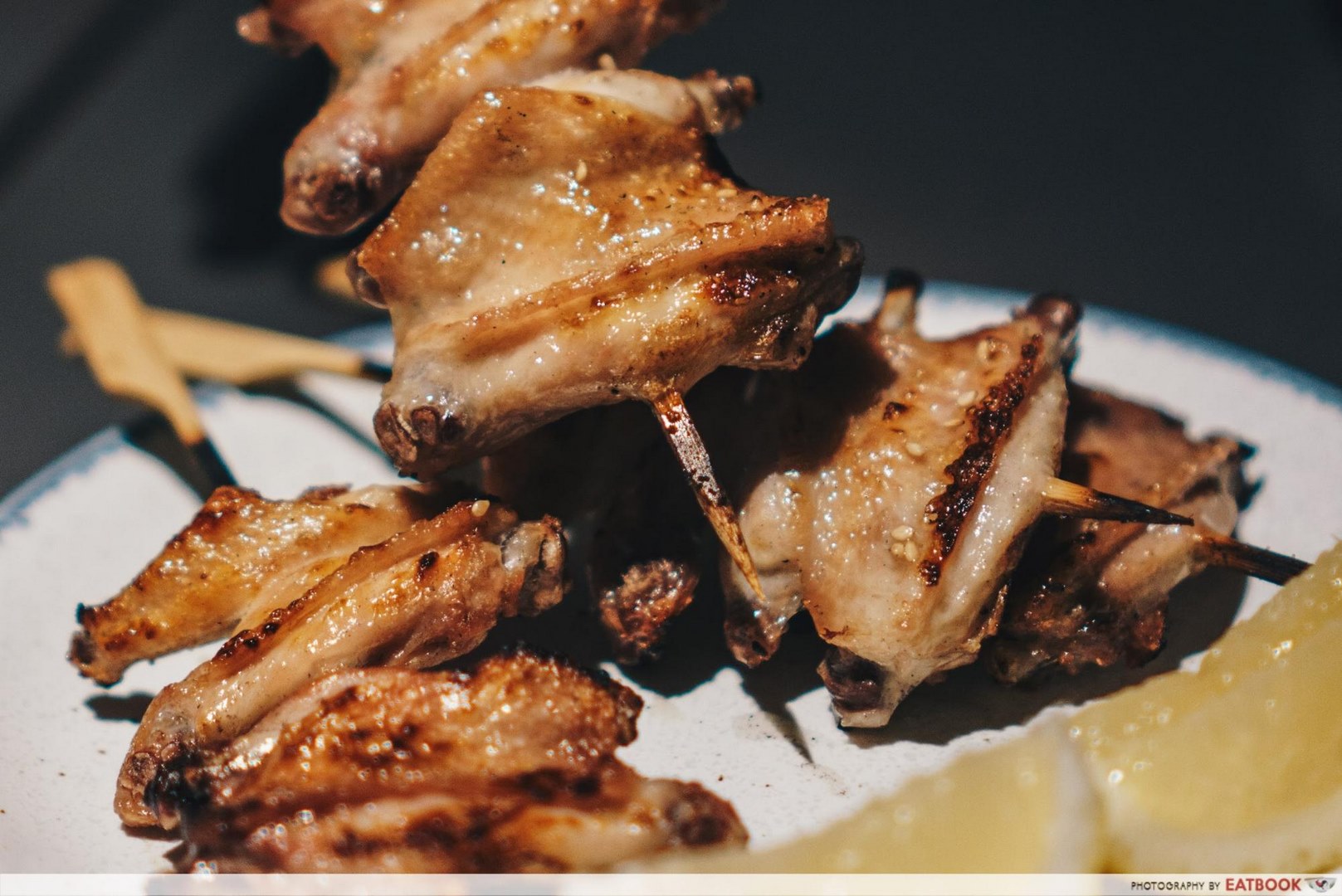 If you're looking for a chill and relaxed meal with your friends or family, Tori Yard is the place to go. Located in the heart of Bishan-Ang Mo Kio Park, Tori Yard's setting is minimalist and aesthetic, with an industrial twist. Indoor and outdoor seats are available, depending on how close to nature you want to be.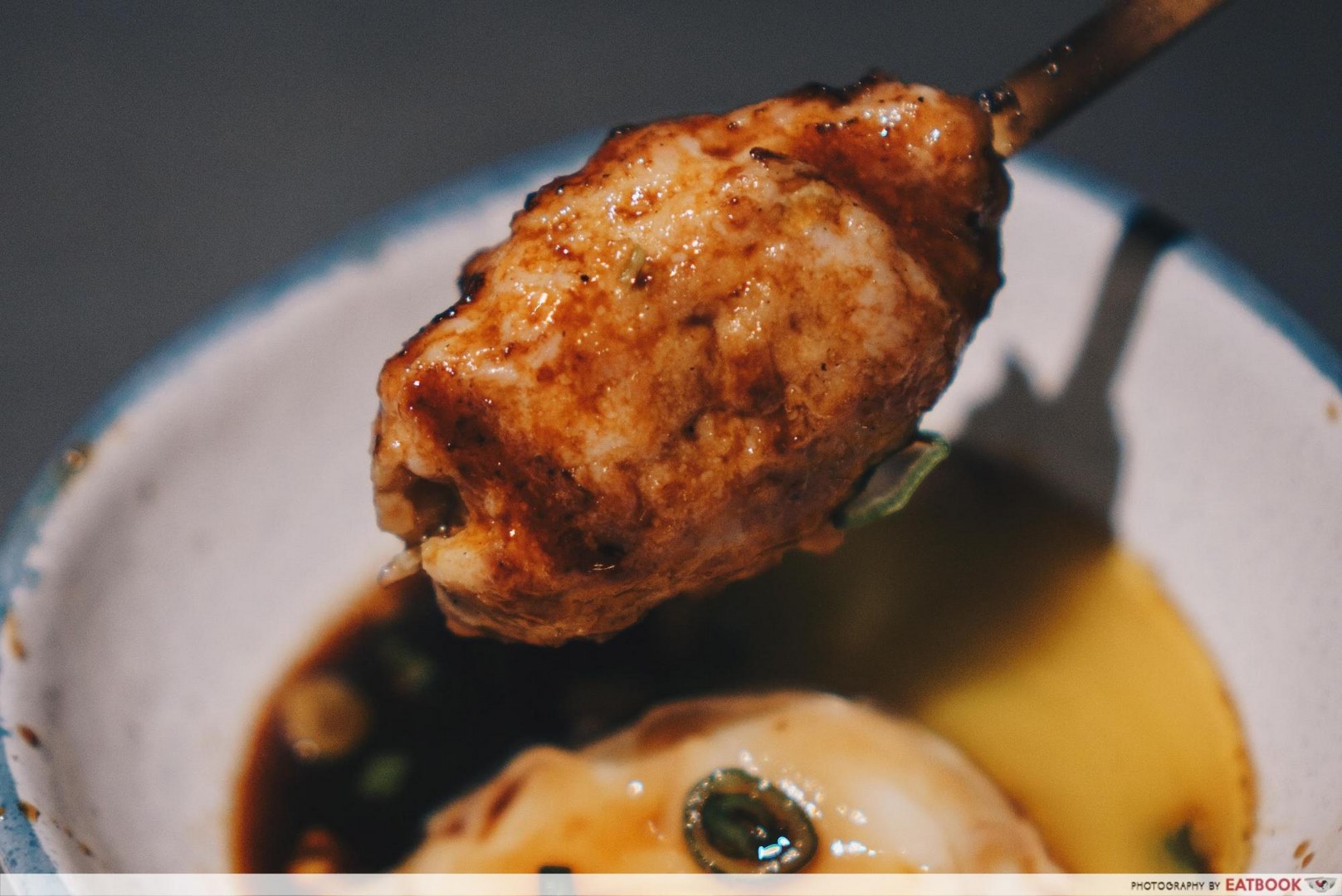 Tsukune ($8++) is something you should definitely look out for. When the dish was served, I was surprised to see a large chicken meatball on a skewer, served in a bowl with an onsen egg and sweet teriyaki sauce. The Tebaski Gyoza ($15++) is a newer item on the menu. The deceptive chicken wings were stuffed with juicy meat.
Address: 1380 Ang Mo Kio Avenue 1, Bishan-Ang Mo Kio Park, Singapore 569930
Opening hours: Sun-Mon, Wed-Thur 11:30am to 2:30pm, 6pm to 10:30pm, Fri-Sat 11:30am to 2:30pm, 6pm to 11pm.
Tel: 6251 1465
Website
---
Bonus 2: The Song of India
---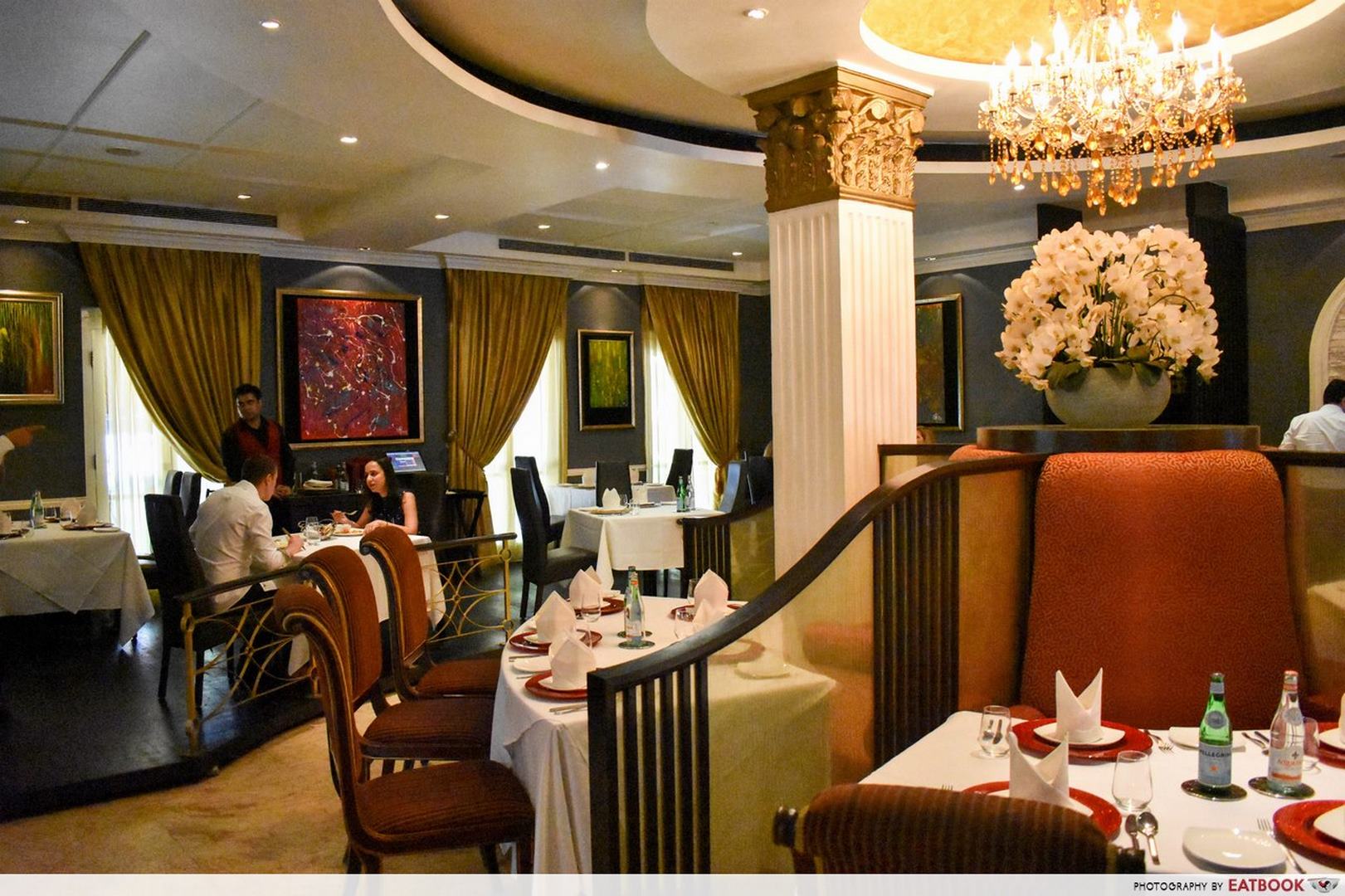 Everything about The Song of India screams regal – from its black & white colonial house setting to the opulent interior. Here, you'll truly dine like a king as this restaurant has been awarded a Michelin star for three consecutive years.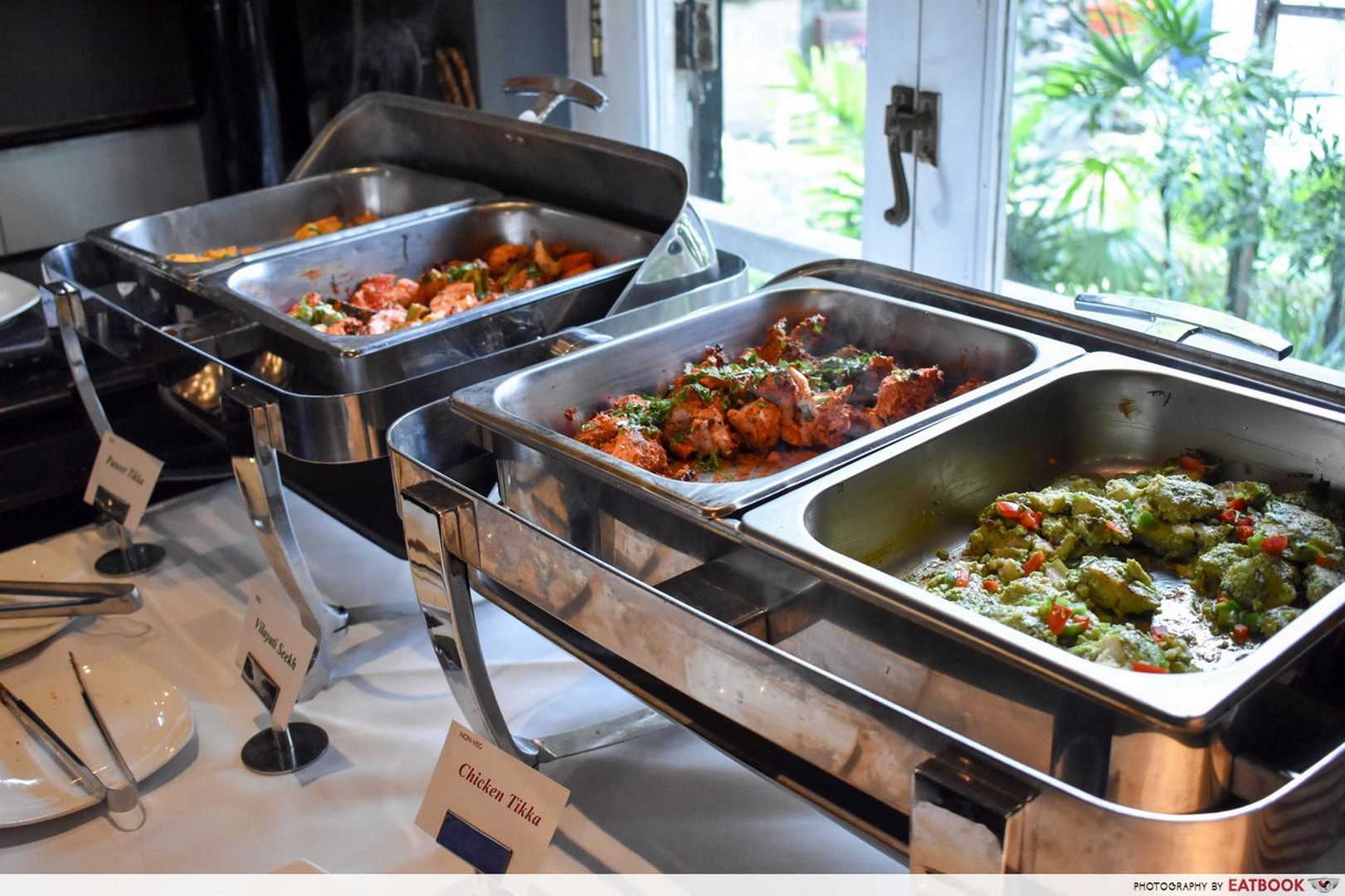 That said, you don't have to shell out big bucks to indulge in the Indian cuisine here. Their Lunch Buffet ($36.90++) boasts nearly 30 dishes from every corner of India. Their butter chicken, in particular, was divine. Its tenderness combined with the thick, creamy sauce made for the perfect companion to crispy naan.
Address: 33 Scotts Road, Singapore 228226
Opening hours: Daily 12pm to 3pm, 6pm to 11pm
Tel: 6836 0055
Website
---
New restaurants and cafes in October
---
While there are no public holidays to celebrate in October, spice up the month by visiting these exciting cafes and restaurant!