Donburi
It Out
This was an undercover review with expenses covered by Eatbook.
Ninja Bowl has taken Duxton Road by storm, ninja-style. Opened by The Astronaut Group, the team also behind Babette and Chillax Cafe, this cafe is roping in crowds looking to slay their donburi-cravings, with their range of vibrant grain bowls and fusion brunch items.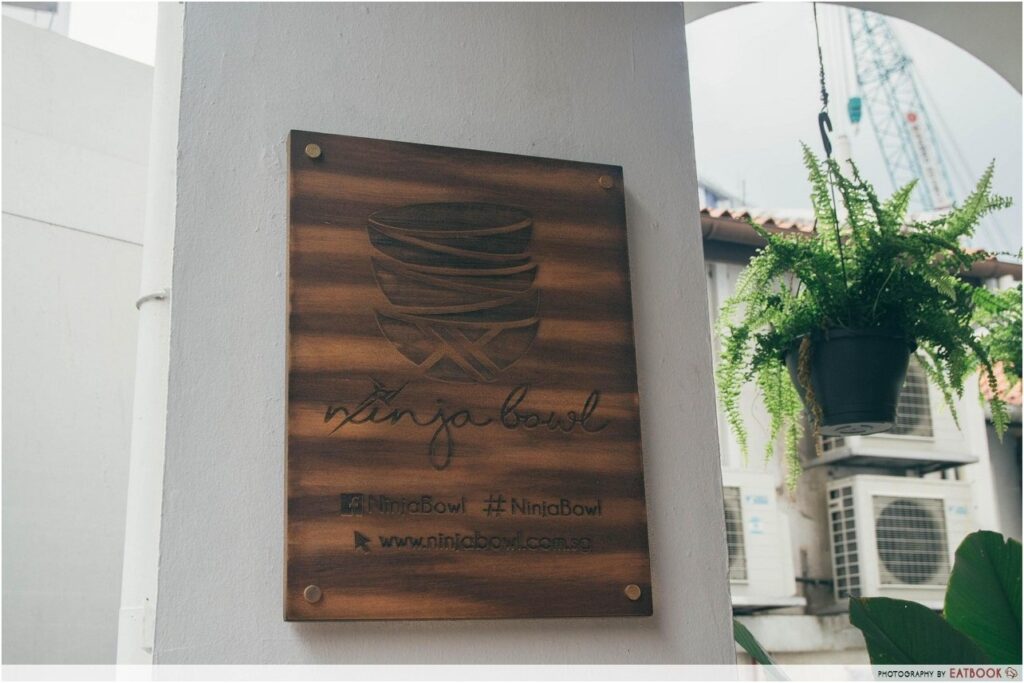 I love grain bowls – from their beautiful presentation to the mix of flavors and textures – and I've been dying to get my Japanese food fix for ages. Ninja Bowl fuses both these elements together in their Japanese-inspired bowls, and so I made a trip down on a Saturday afternoon to try them out.
Even though they've only been open for a couple of weeks, Ninja Bowl is packed on a weekend afternoon. You might have to wait a bit for a seat if you're coming in a group of 4 or more, as I did.
After securing your seat, you'll have to head to the counter to place your order. Service is friendly and cheerful – plus, all prices are nett. Hooray for no service charge or GST!
For Sharing
Poutine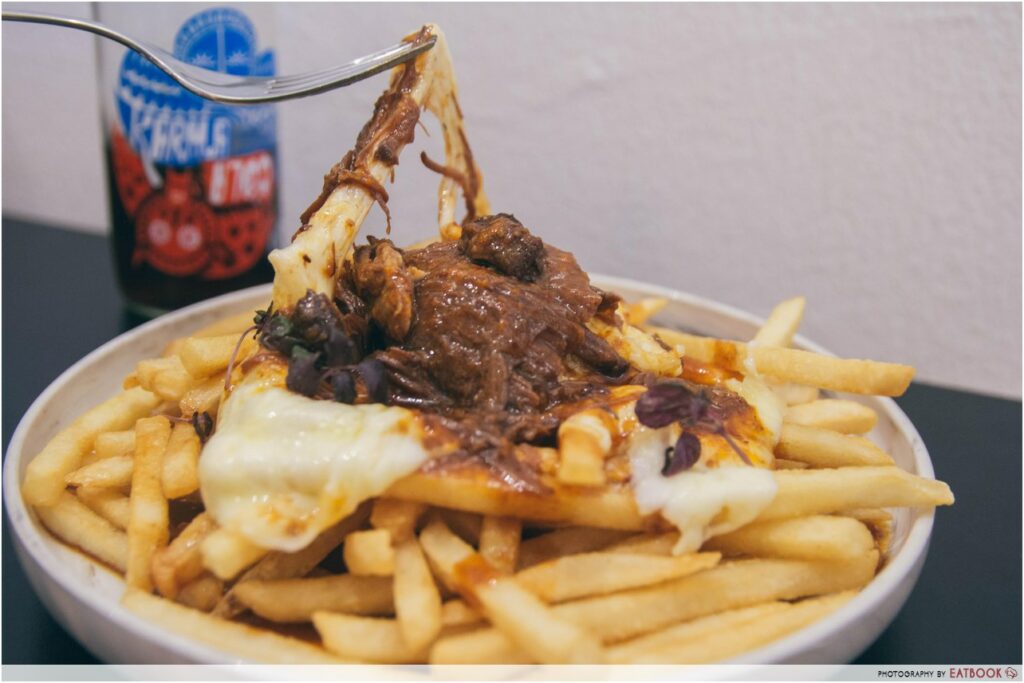 We ordered the Poutine ($14) to share, as it sounded promising. This classic Canadian fast food dish was given an Asian shake up, with melted cheese and stewed beef chunks in place of the usual gravy and cheese curds.
Unfortunately, this starter was thoroughly unimpressive. I was expecting a heap of fries topped with hot oozing cheese, but the dish was served almost room temperature, with the "melted" cheese being disappointingly congealed. The shoestring fries were nothing special either,and they turned soggy quickly.
While the beef chunks were delicious and well-seasoned, the portion was megre, especially at its price. For $14, I definitely expected more.
Ninja Bowls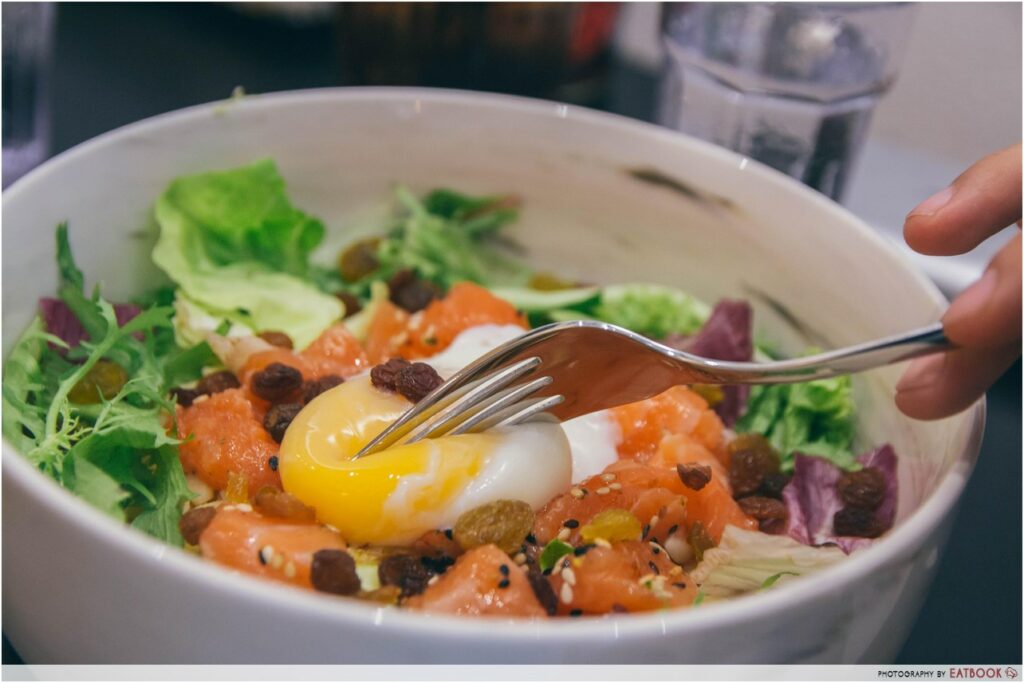 Wait for it…
The Ninja Bowls ($14-$16) all have a specific combination of ingredients that give each bowl a distinct and unique flavor. Do note that you'll have to top up an extra $2-$3, depending on whether you get Quinoa ($3), Orzo ($2) or Ninja Rice ($2), the last being a mix of seasoned Japanese rice and brown rice. All (excluding the Kaisen) come topped with a perfectly wobbly onsen egg.
After a rather lacklustre starter, can the Ninja bowls be the saving grace of the meal?
Yasai
: Salmon
Poke
, With Quinoa and Orzo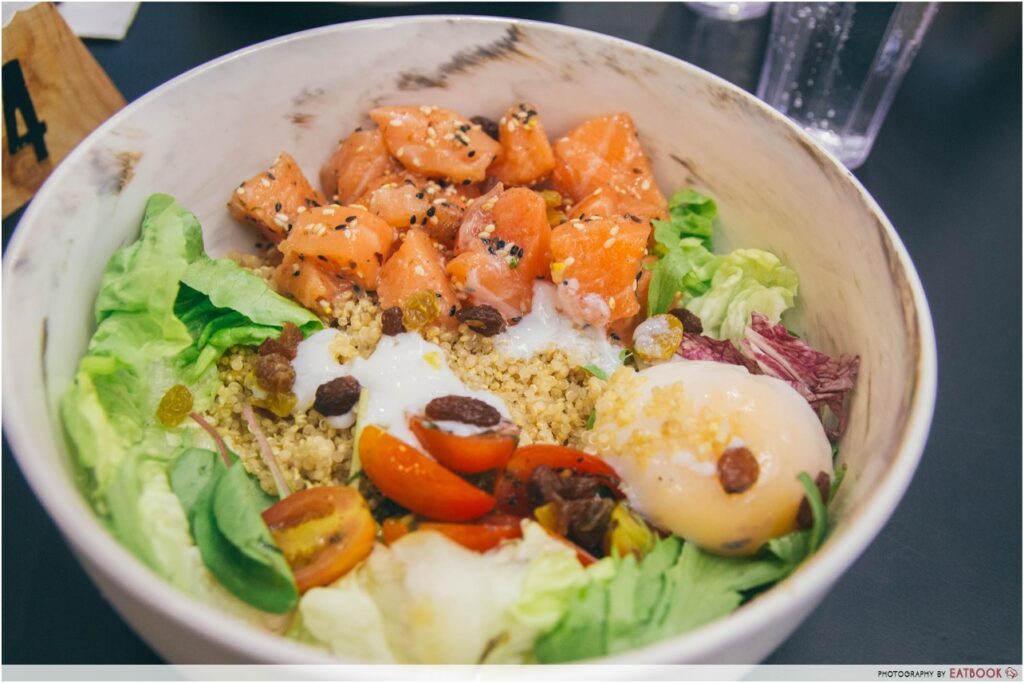 The Yasai ($16) is a colourful bowl chockful of Omega-3 – consisting of salmon poke (a Hawaiian speciality of marinated sashimi-grade fish), mixed sultanas, cherry tomatoes, salad greens and an onsen egg.
Between Quinoa (+$3) and Orzo (+$2), quinoa is the far better choice. The quinoa absorbs the mix of flavors from the egg and marinated poke, making for a more vibrant-tasting bowl as compared to the bland, "cleaner" tasting orzo.
The salmon chunks were velvety and melt-in-your-mouth, delicious especially when paired with the light-yet-flavorful marinade. The salmon-to-grain ratio was more than decent – if you're the type of person who likes more liao than rice, then the proportions in the Yasai are for you.
The sultanas added a nice sweetness, but they got distracting – I ended up picking them out halfway through the bowl. A juicier, more tangy variety of raisin would have worked better. The salad greens were also rather superfluous.
Mix it all up, and you get a brightly-flavored bowl that's refreshing, nutritious and tasty. Sashimi-lovers, ADVANCE.
Buta
: Japanese Aburi Char Siew, with Ninja Rice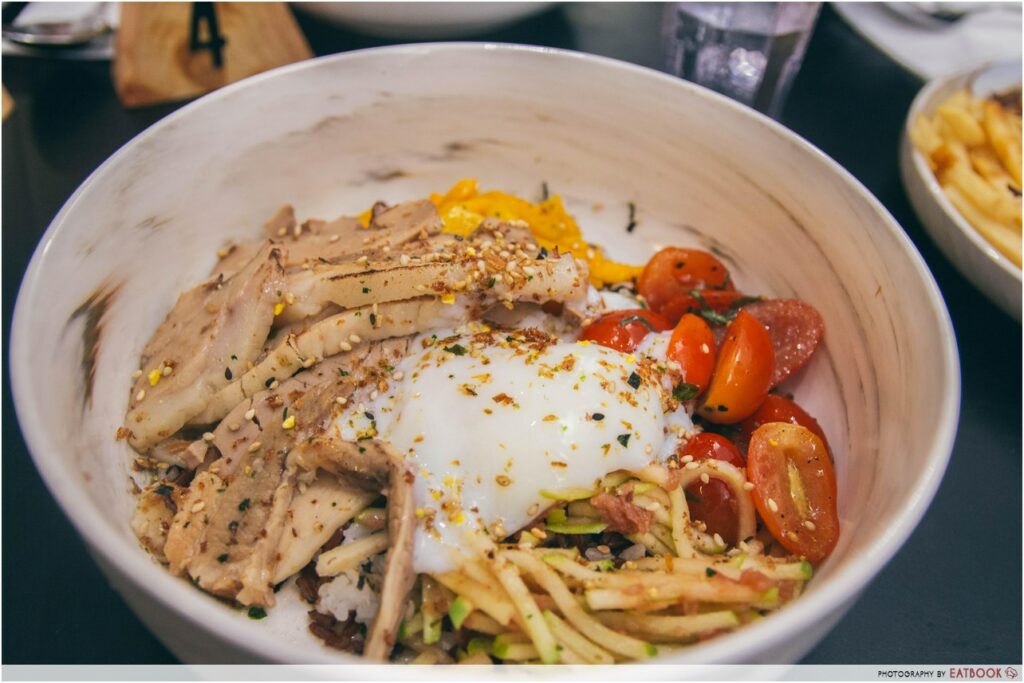 The Buta with Ninja Rice ($16) was a bowl of aburi chashu slices, shredded ume-pickled apples, roasted pumpkin, cherry tomatoes and an onsen egg, atop a heap of Ninja Rice.
The ninja rice base, with its blend of regular sushi rice and brown rice, made for a healthier alternative to pure white rice without compromising on taste. I actually quite enjoyed the added chewy texture provided by the brown rice.
The slices of pork belly chashu were sweet and creamy, with a good balance of fats and lean meat – it reminded me of the chashu slices that you'd find in ramen, with an added smoky kick from the torching. This was not overwhelmingly rich, thanks to the pickled apple slaw that provided a refreshing tanginess to round off the bowl.
Fans of chashu ramen will take comfort in this donburi.
Noka
: 24-Hour Braised Beef Cheek, with Ninja Rice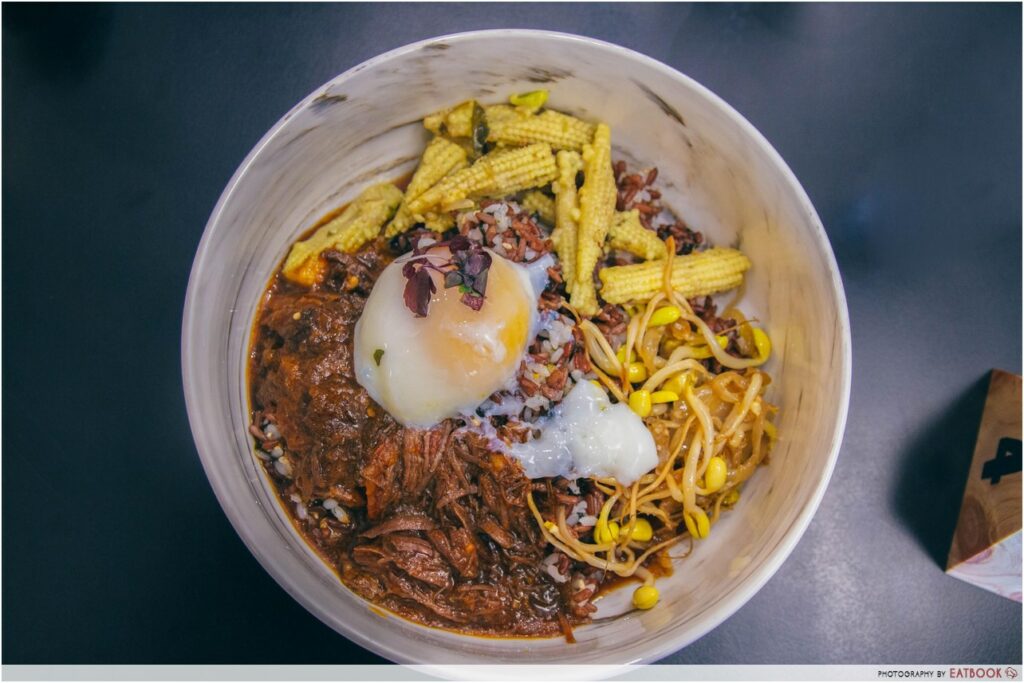 If you're into richer tastes, the Noka with Ninja Rice ($16) is the bowl for you.
The combination of tender 24-hour braised beef cheek, grilled baby corn, Korean bean sprouts, mixed nuts and onsen egg resulted in one power-packed bowl. Meltingly-tender and infused thoroughly with the deep, umami gravy, the braised beef cheek was delicious, although the sauce did lean towards being on the salty side. The addition of crisp veggies also provided a crunchiness that balance out the robust braised beef and creamy onsen egg.
The intensity of this bowl could get overwhelming for some, especially if you prefer lighter flavors like I do. But if you love strong, meaty flavors, then you'll enjoy the savory robustness of the stewed beef cheek.
The Verdict
Ninja Bowl does its part in delivering a wide variety of Japanese-inspired grain bowls, and is an interesting alternative to your regular donburi. If you're a health nut who's craving something Japanese, you'll like Ninja Bowl's concept.
However, I wouldn't say that they lived up to the hype surrounding them. While I did enjoy the grain bowls at Ninja Bowl, they weren't special enough to bring me back for seconds.
The only reason why I might return, is to try out the intriguing fusion brunch items on the menu. I also hear that they serve one of the best french toasts in Singapore. Ninja Bowl may be worth a re-visit.
The Place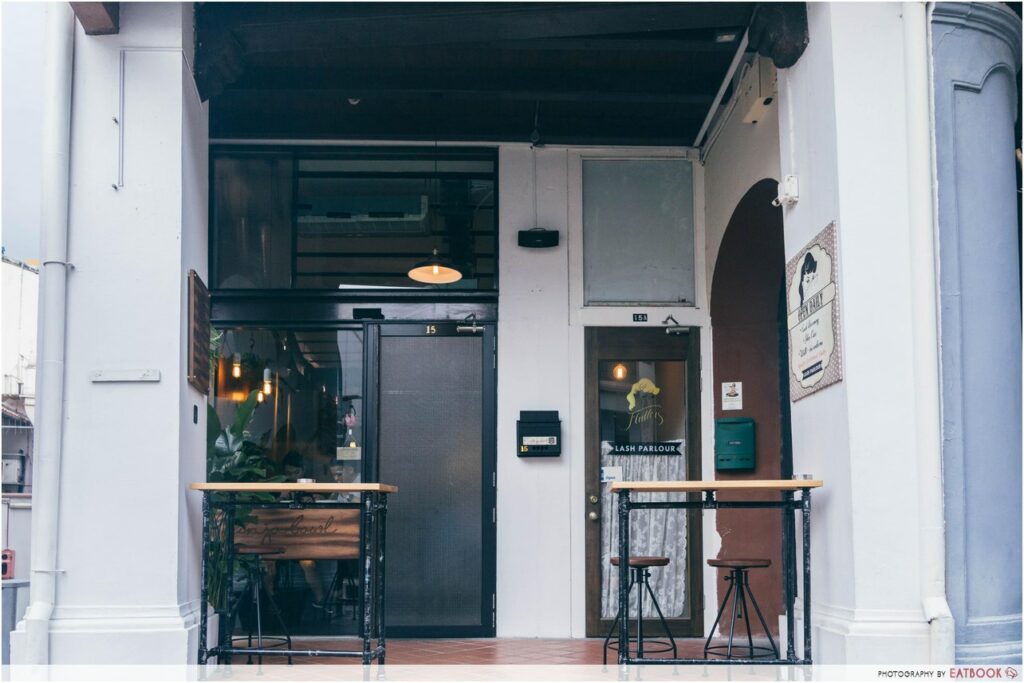 Summary
Pros
– Good variety of interesting grain bowls
– No GST or Service Charge
– Warm service
Cons
– Plain-tasting orzo
– Nothing particularly exceptional about the grain bowls, in terms of taste
Recommended Dishes: Noka with Ninja Rice ($16), Yasai with Quinoa ($19)
Operating Hours:
9am to 7.30pm (Monday to Friday)
9 am to 6 pm (Saturday to Sunday)
Address: 15 Duxton Road, Singapore 089481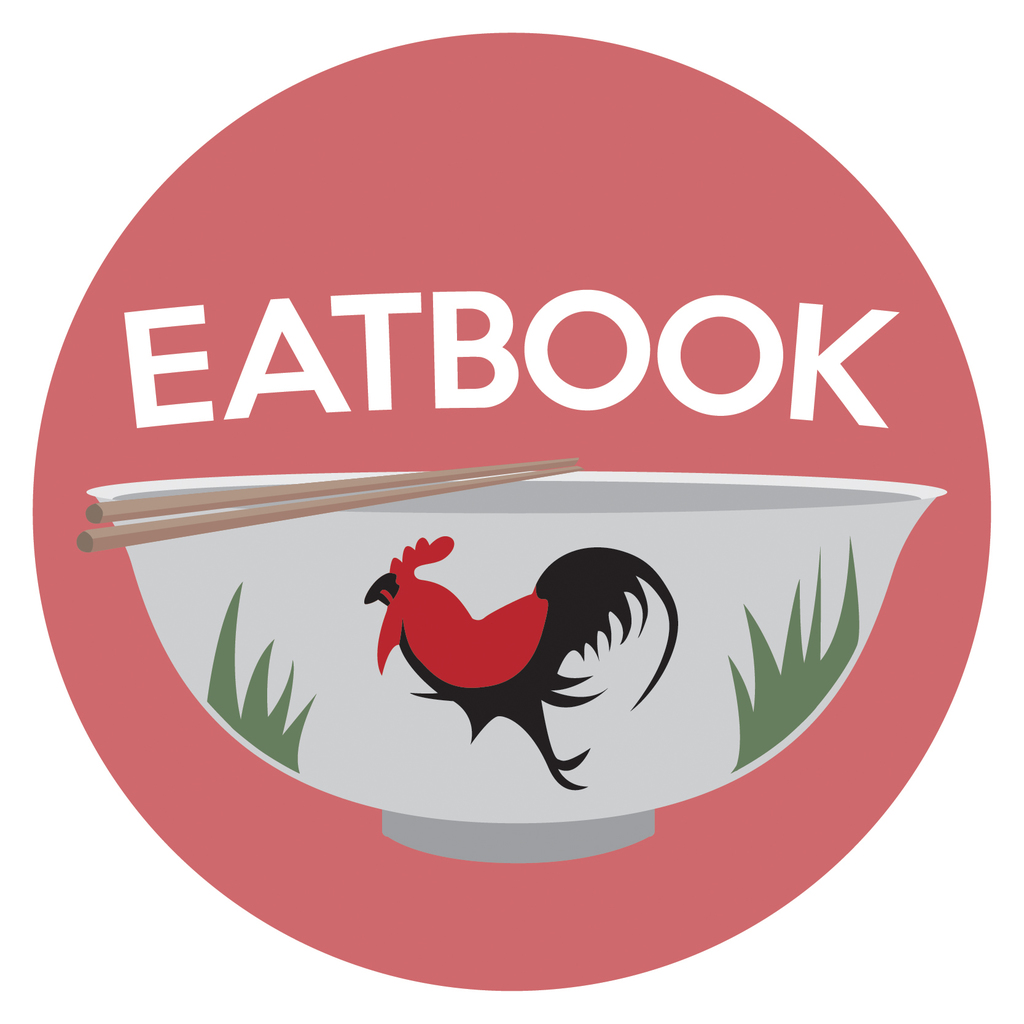 Drop us your email so you won't miss the latest news.