NOW Bakery's MSW Durian Mochi and fluffy Blancmange rolls
I was at a photoshoot when I casually mentioned that I'd be trying NOW Bakery's new mochi and cakes to a colleague. Two other people in the room turned to us, one of whom said, "Wow NOW Bakery! My condo keeps doing group buys for their cakes." The envy in her voice did not go amiss, and my excitement to try these coveted goodies only grew.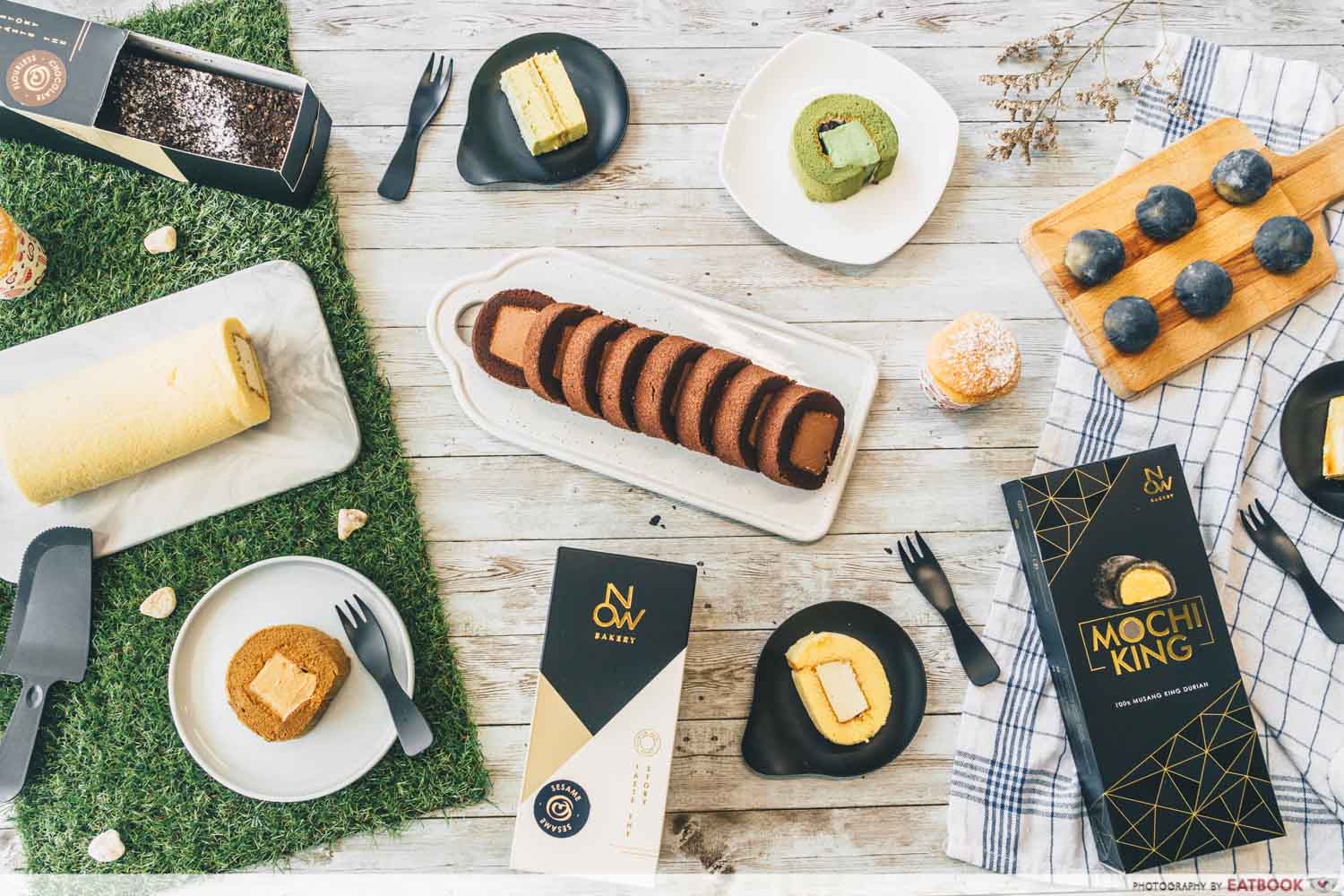 A little context: NOW Bakery opened last October in Capitol Piazza, drawing long queues. The cake store's signature was their Blancmange Rolls, but they eventually expanded to making Swiss rolls, Classique layer cakes, Hokkaido cream cupcakes and, their latest, Musang King Durian Mochi. Everything at the bakery is made with quality ingredients sourced from Japan and Taiwan.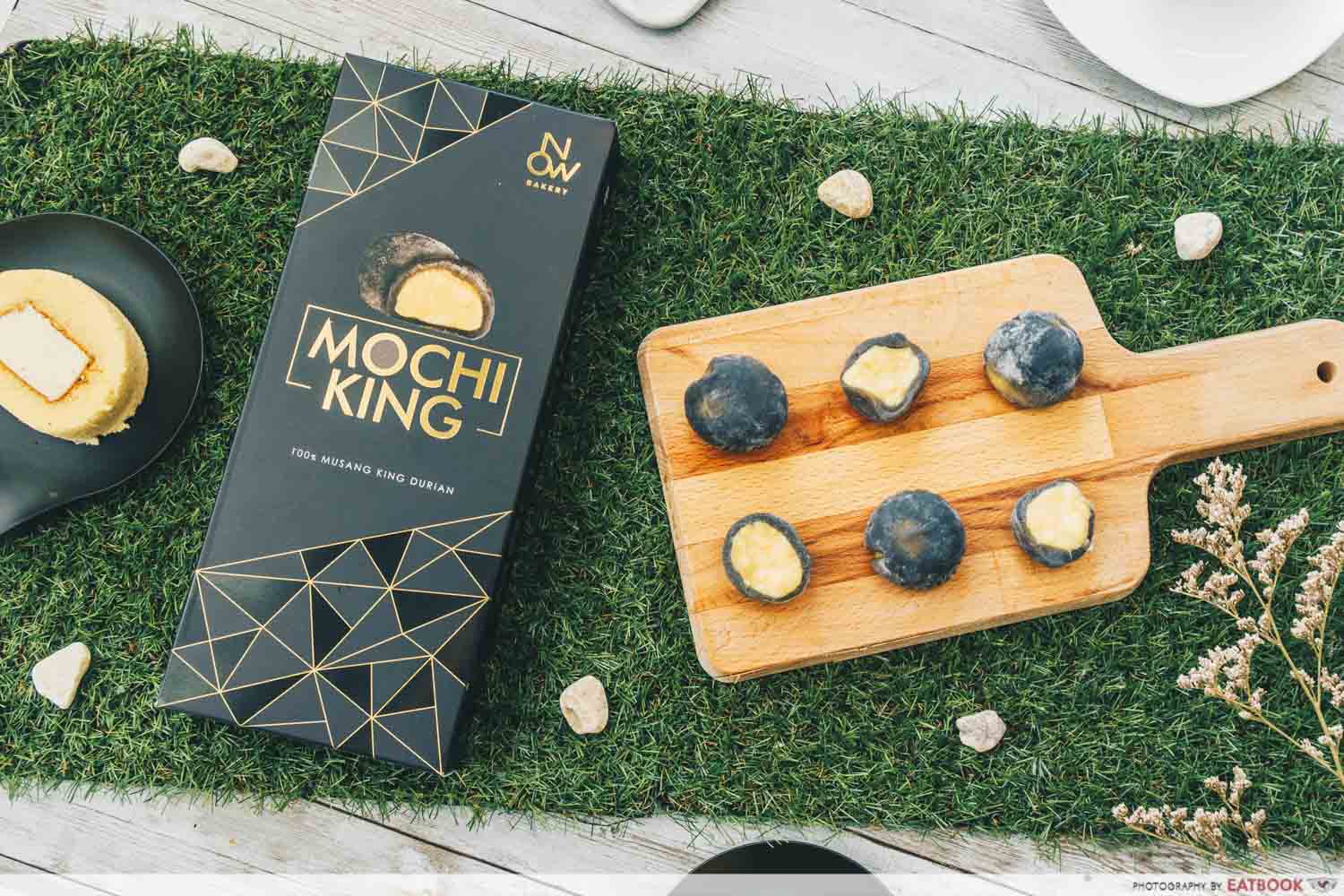 The Musang King, or Mao Shan Wang (MSW) Durian Mochi ($33.90 for 10 pieces) is dangerously addictive. Being a lifelong durian lover, I had to force myself to share this with my colleagues because I was this close to eating all 10 alone.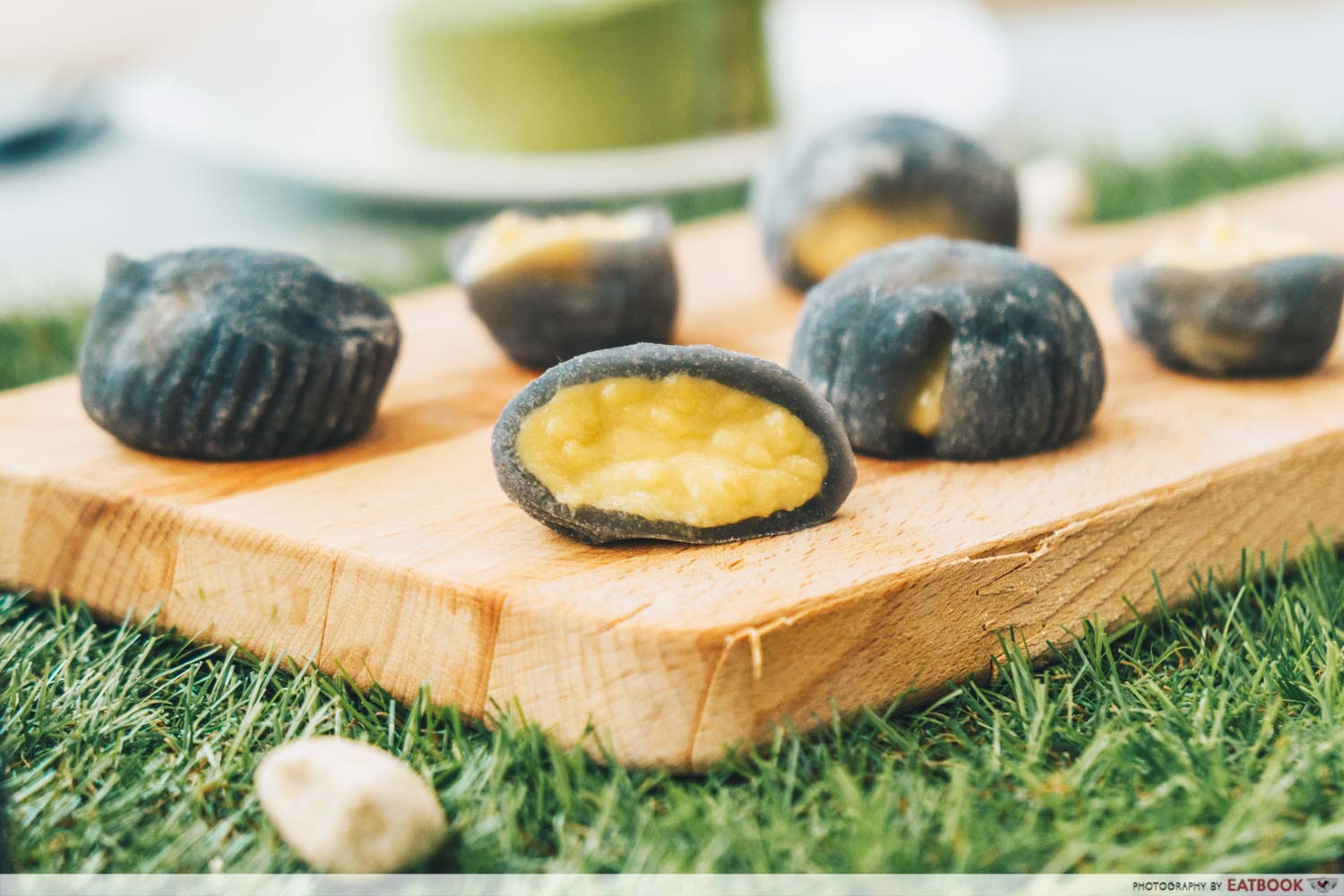 Perfectly bite-sized, the charcoal skin on the mochi is thin and chewy, breaking easily to let the 100% premium MSW durian pulp shine. These arrive frozen, so it's best to let them thaw just a touch before eating so the durian gets really creamy. Rave reviews from the Eatbook crew were a given, naturally.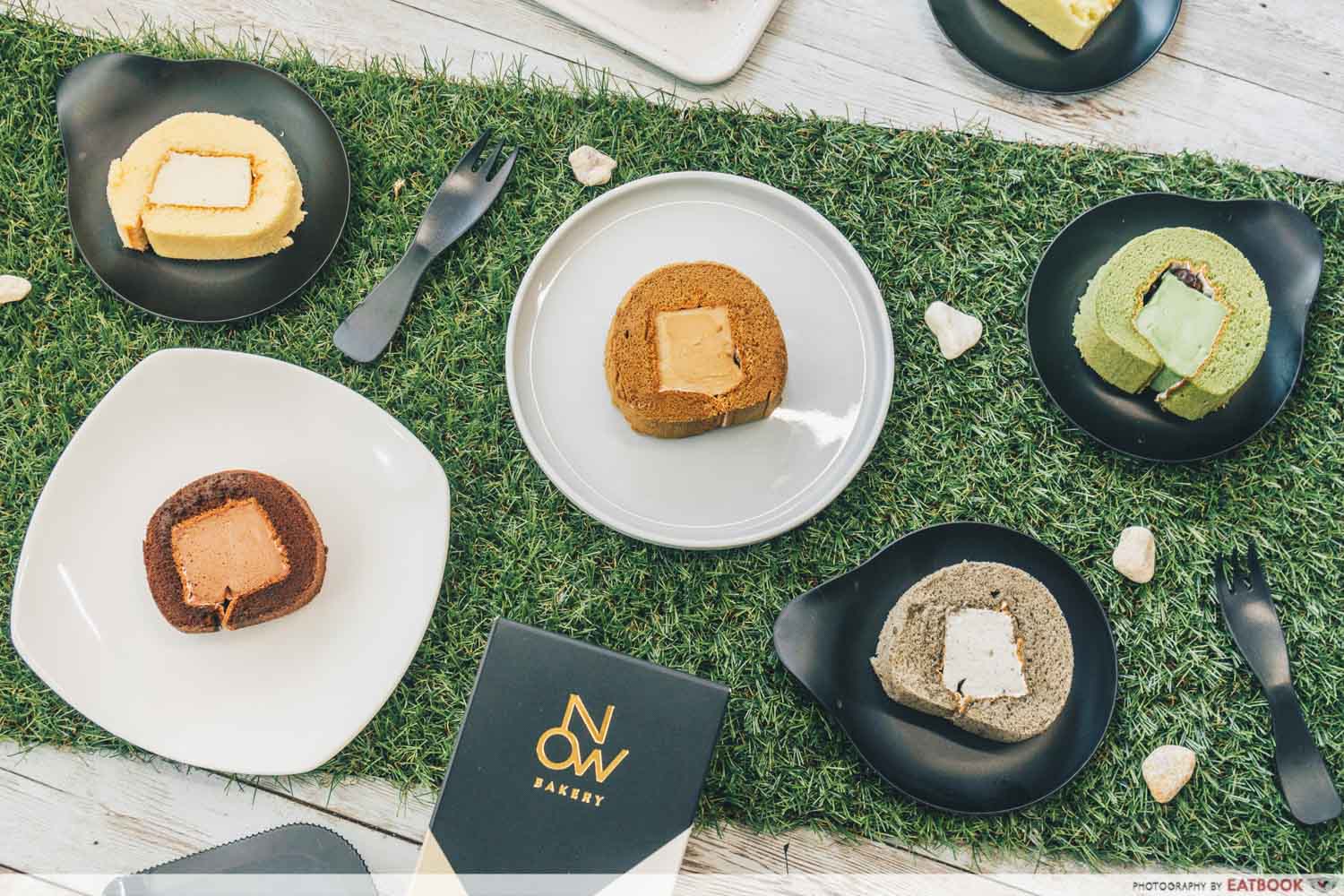 Next, the Blancmange Rolls. Perfectly smooth cake rounds are filled with a rectangle of jiggly Japanese-style milk pudding that match the flavour of the roll itself. In total, there are five flavours.
Texturally, I was in awe with how the airy sponge meshed with the lush, almost fudgy pudding.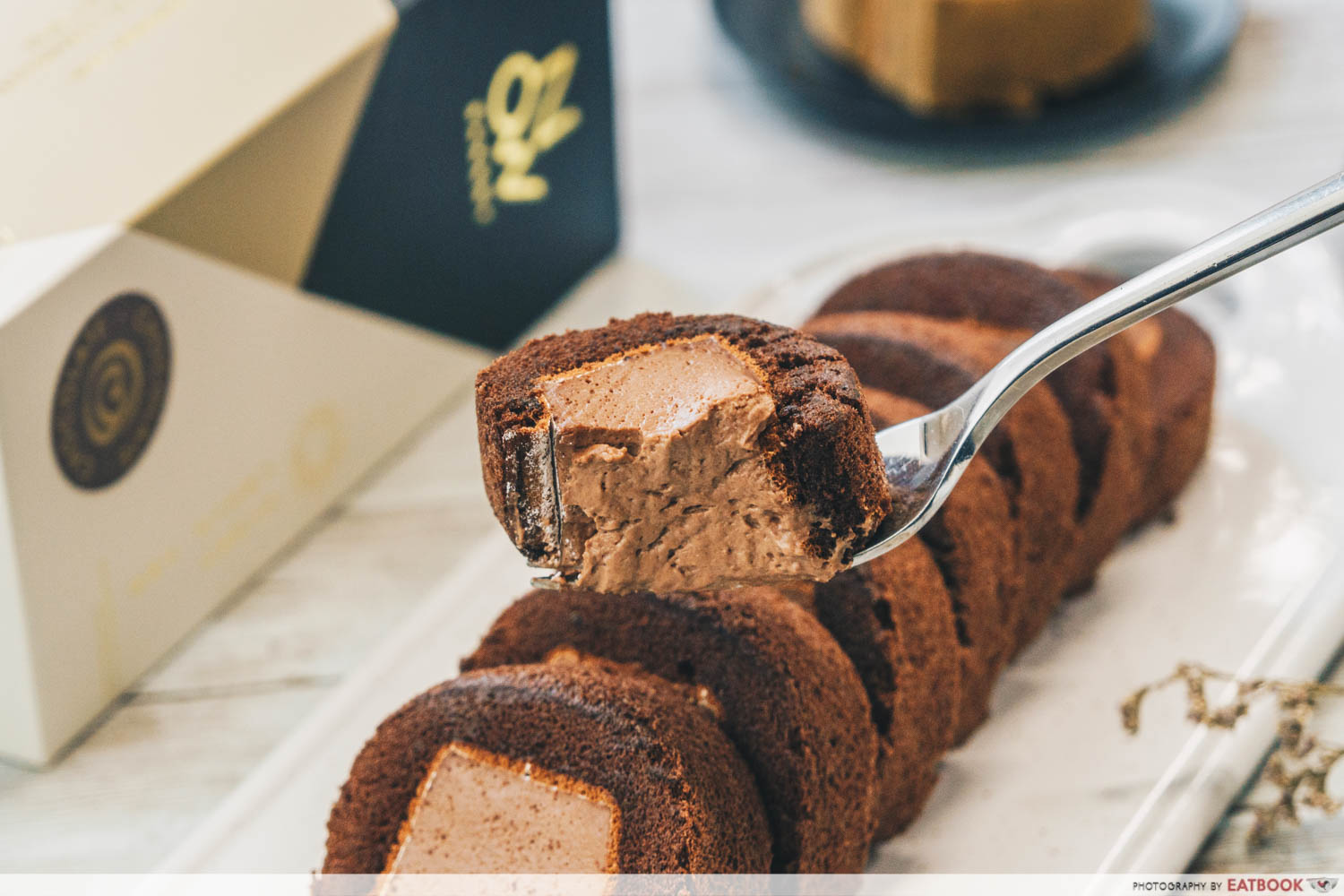 The crowd favourite was a tie between the Chocolate ($15.90) and the Gula Melaka Coffee ($14.90).
The Chocolate flavour is made with 75% cocoa. Not sugary at all, the mellow dark chocolate comes through with every velvety bite, made silkier with the chocolate milk pudding middle.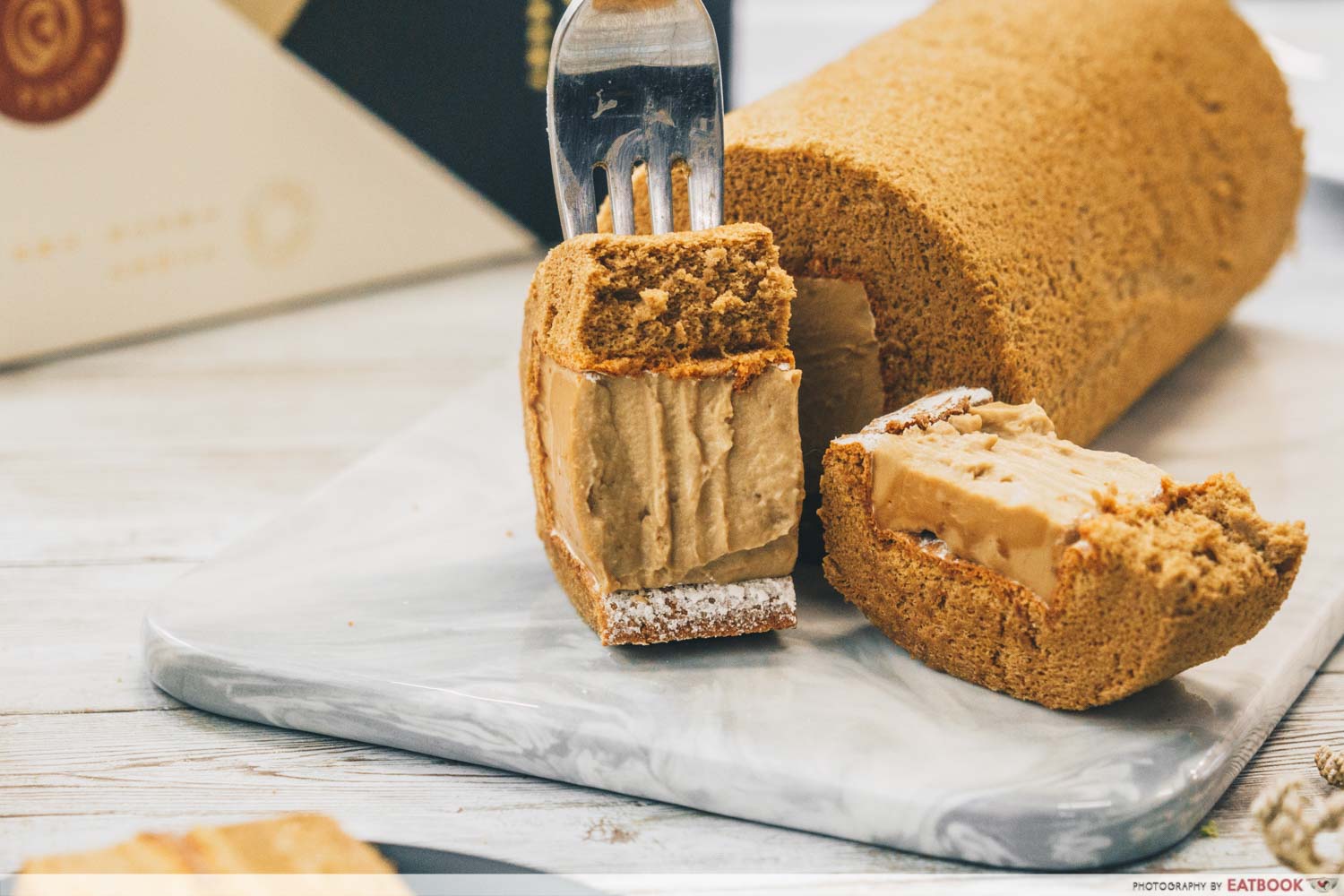 As a twist on a coffee cake, the Gula Melaka Coffee Blancmange Roll is as fragrant as can be, so much so I want it for breakfast along with my kopi every morning. Only palm sugar, not white sugar, is used along with top-grade beans so that every bite is suffused with coffee.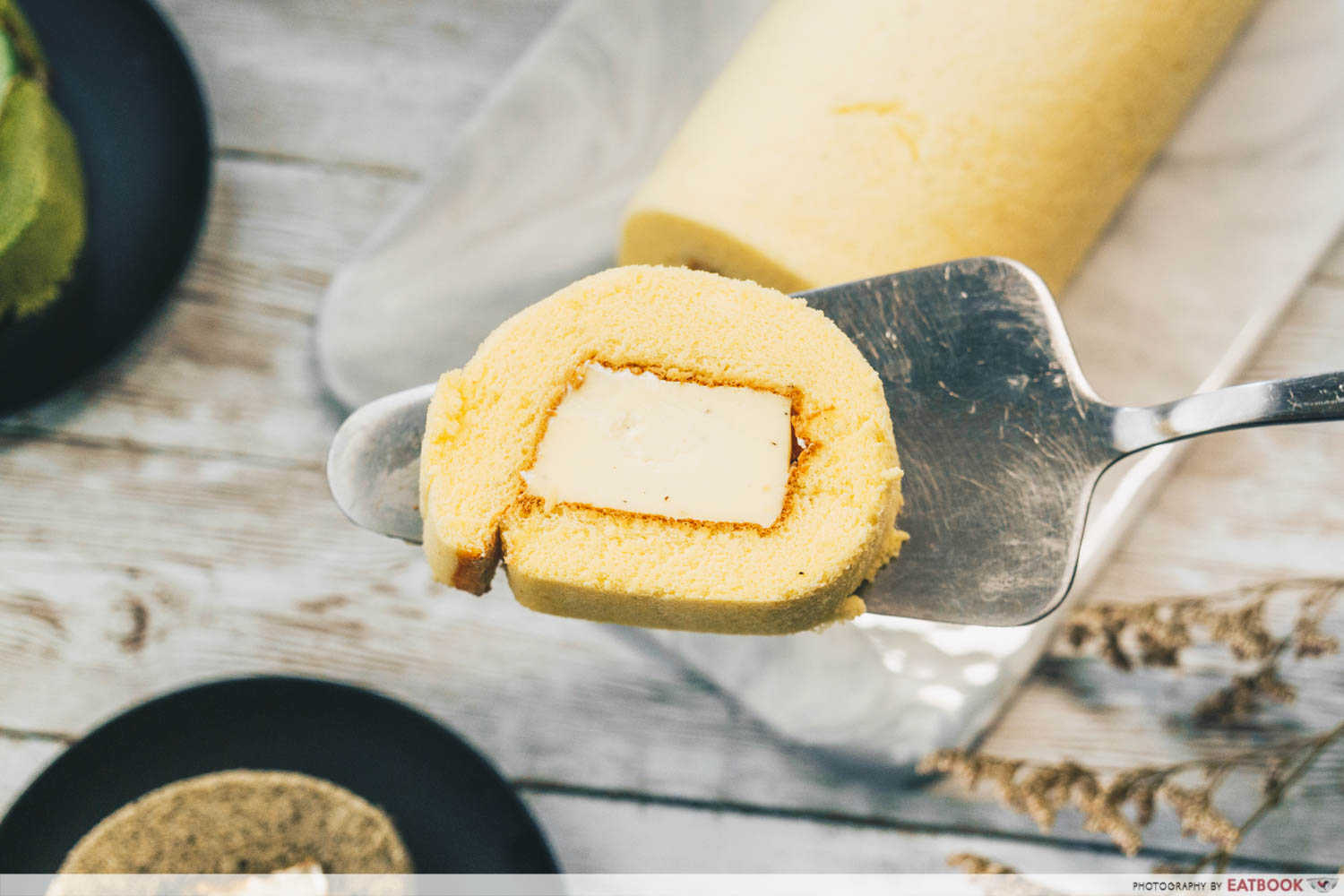 The classic Vanilla ($15.90) is great if you like milky Japanese desserts, but it is discernibly milder in flavour. Real Madagascan vanilla beans are used in the recipe and are speckled through the pudding and sponge, so you know you're getting the good stuff.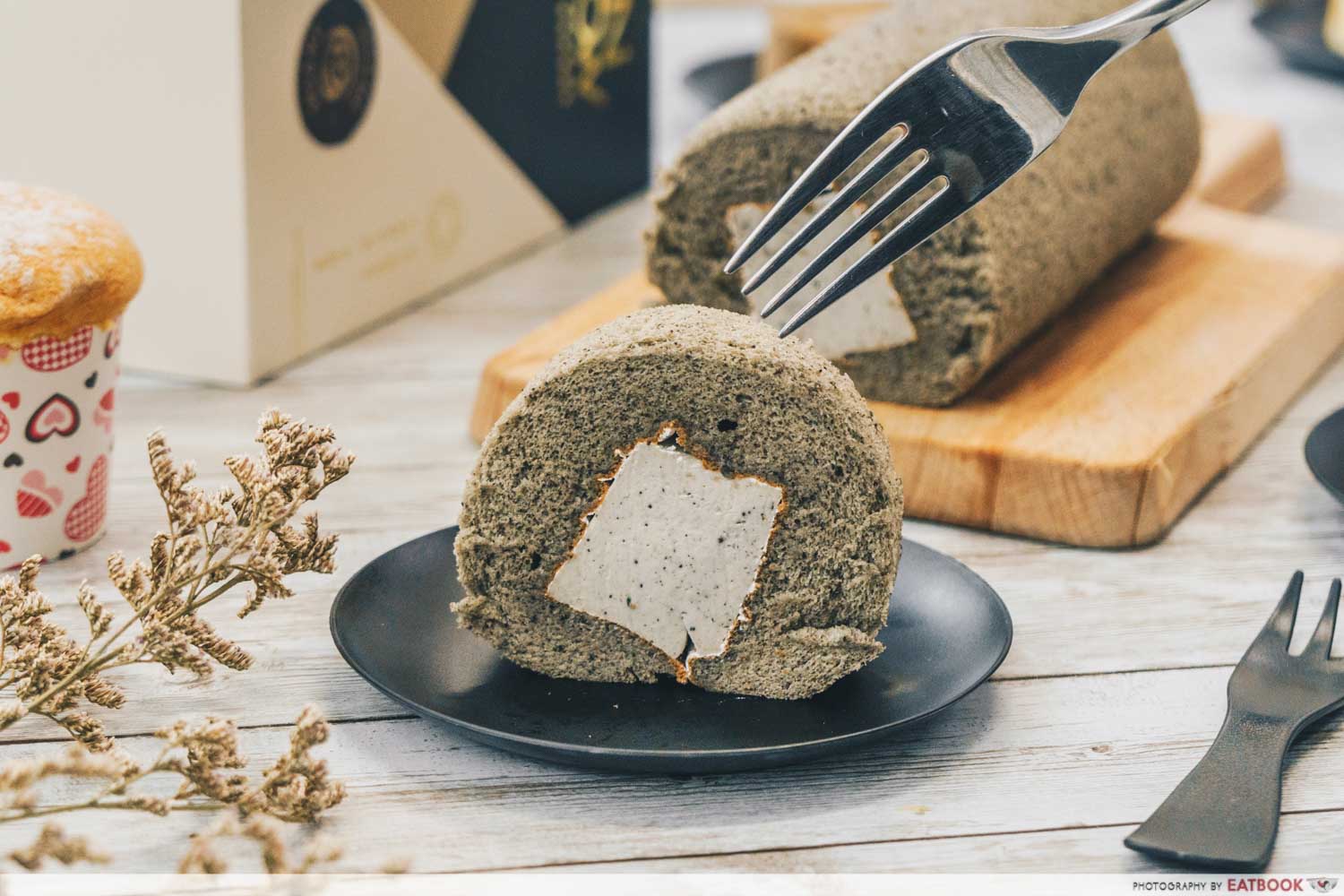 There is also the earthy, nutty Black Sesame ($14.90) for goma fans, though we wished this was just a touch sweeter. The Green Tea Red Bean ($15.90), however, was a win for matcha enthusiasts, so vibrantly green and aromatic with premium Japanese matcha.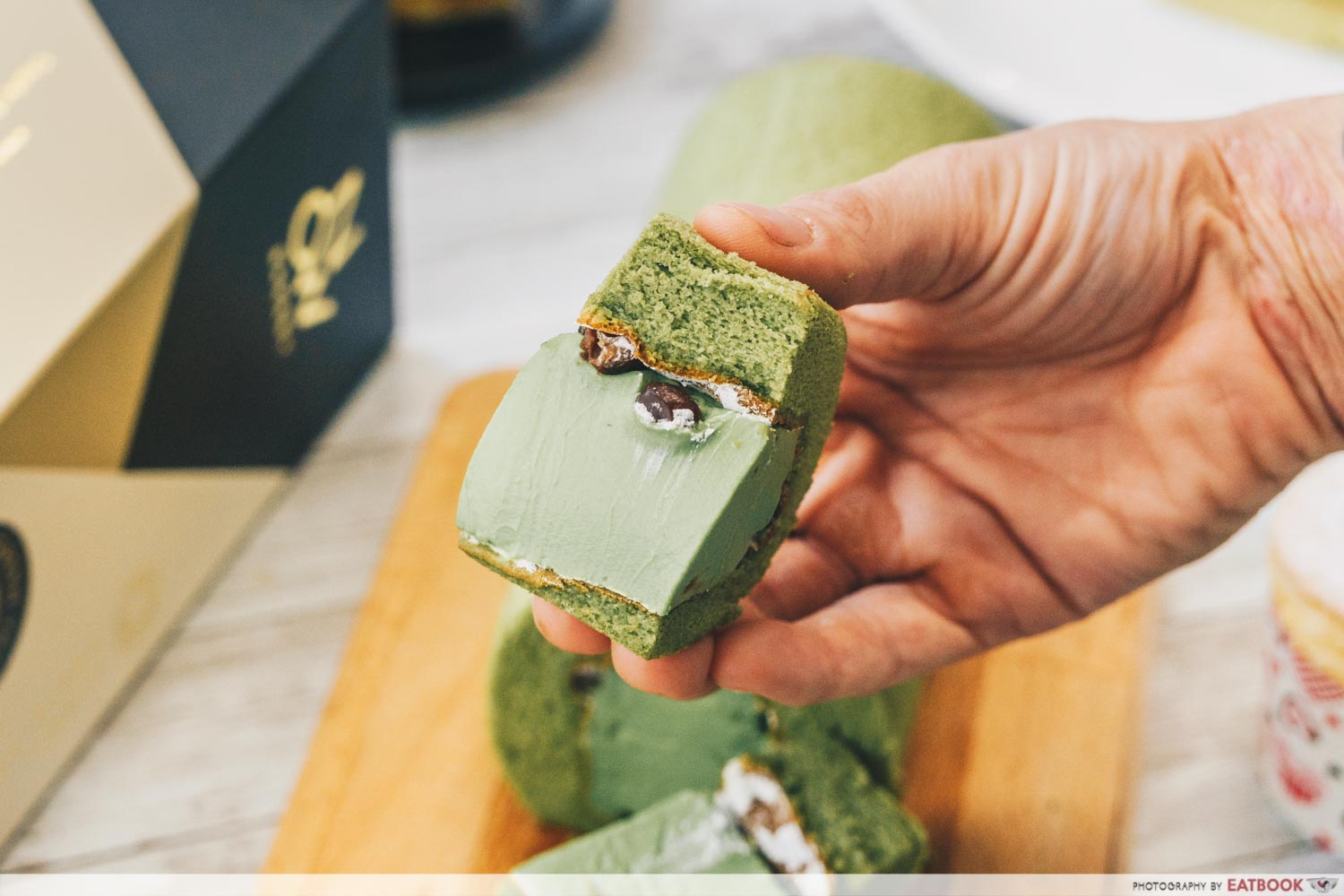 Apart from the Blancmange Rolls, NOW Bakery's Classique range is another menu highlight that will appeal to those who enjoy denser cakes. These compact layer cakes come in five flavours. The Classic Chocolate ($15.90), a flourless cake, is a must thanks to the rich dark chocolate ganache, and the Pandan ($13.90) is another, with pillowy chiffon-like sponge sandwiching Madagascan vanilla cream. Only fresh pandan juice is used to make this cake.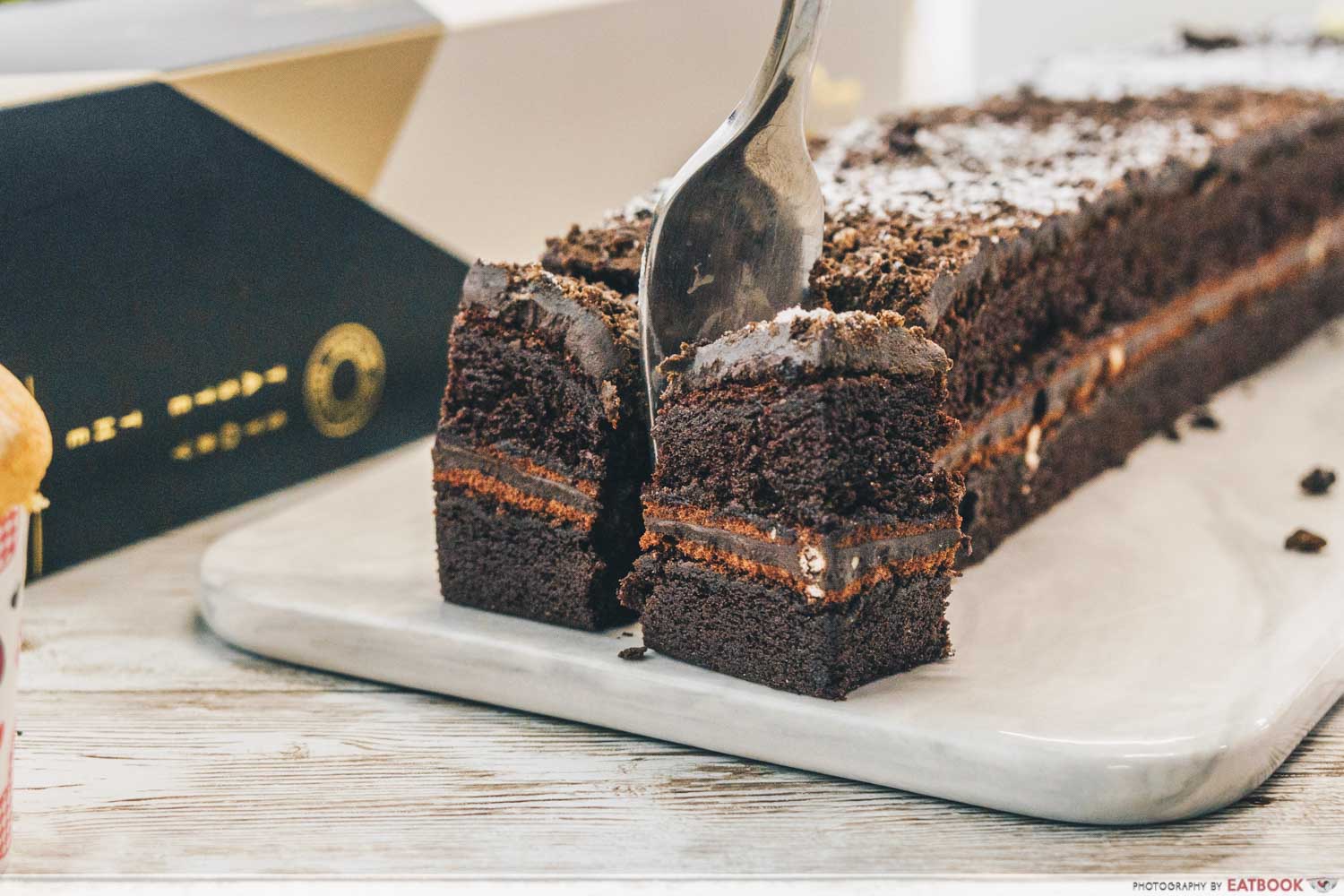 Other flavours include Almond Sesame ($14.90), Almond Coffee ($14.90) and the Sushi Cake Roll ($15.90), savoury with ham, chicken floss, cheese and seaweed.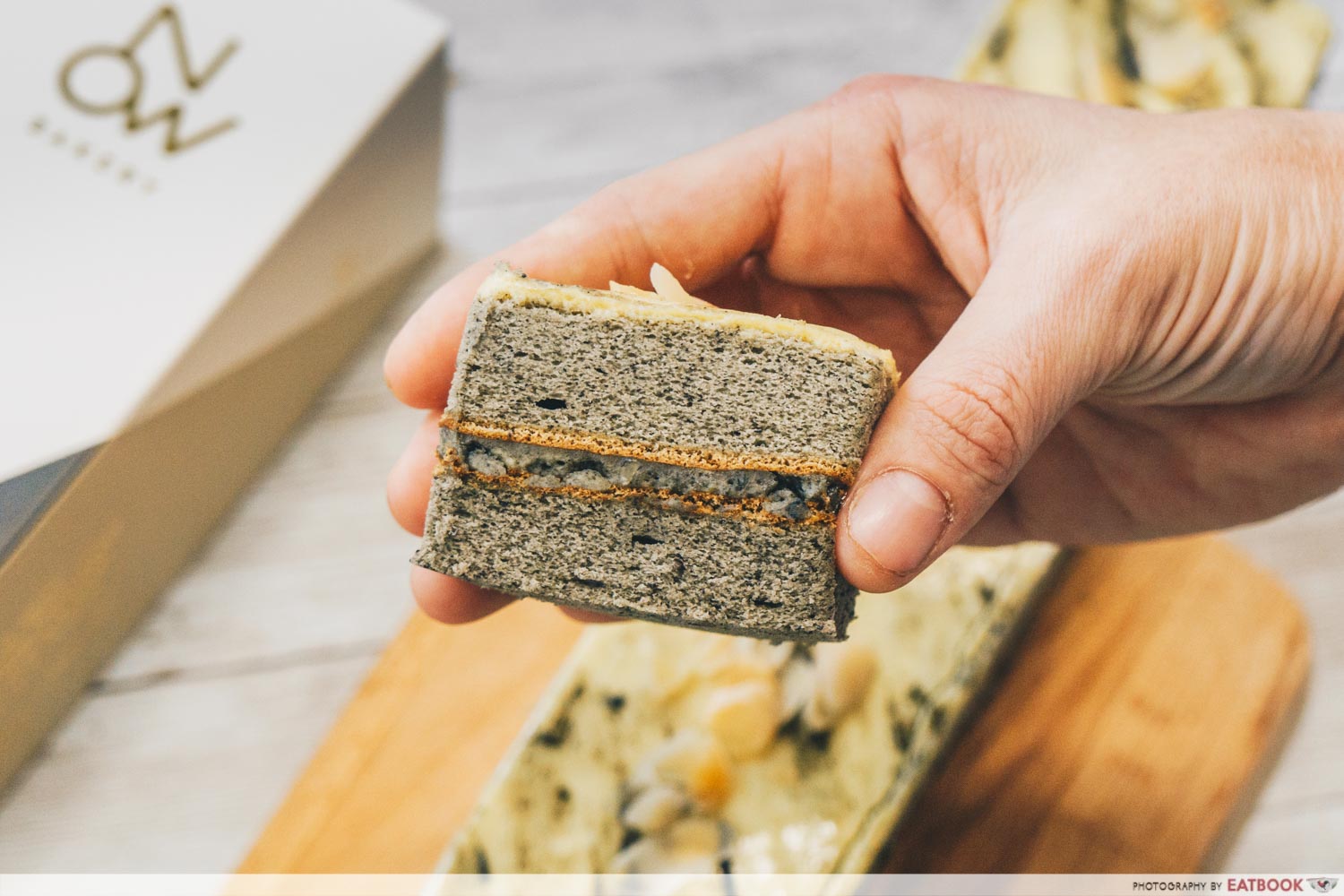 To celebrate their one year anniversary, NOW Bakery is having some engaging promotions, including their 10 Seconds Challenge game! For every $10 spent, get one chance at the game, where you have to stop the clock at exactly 10.0000 seconds to win a Classique cake. This can only be played in-stores.
They will also be having a 50% discount off your second box of Musang King Durian Mochi, redeemable in-stores and online. This discount is only applicable once per person.
Address: 13 Stamford Road, #B2-22, Capitol Piazza, Singapore 178905
Opening hours: Daily 10:30am to 9pm
Tel: 8891 9843
Website
Photos taken by Hay Thi.
This post is brought to you by NOW Bakery.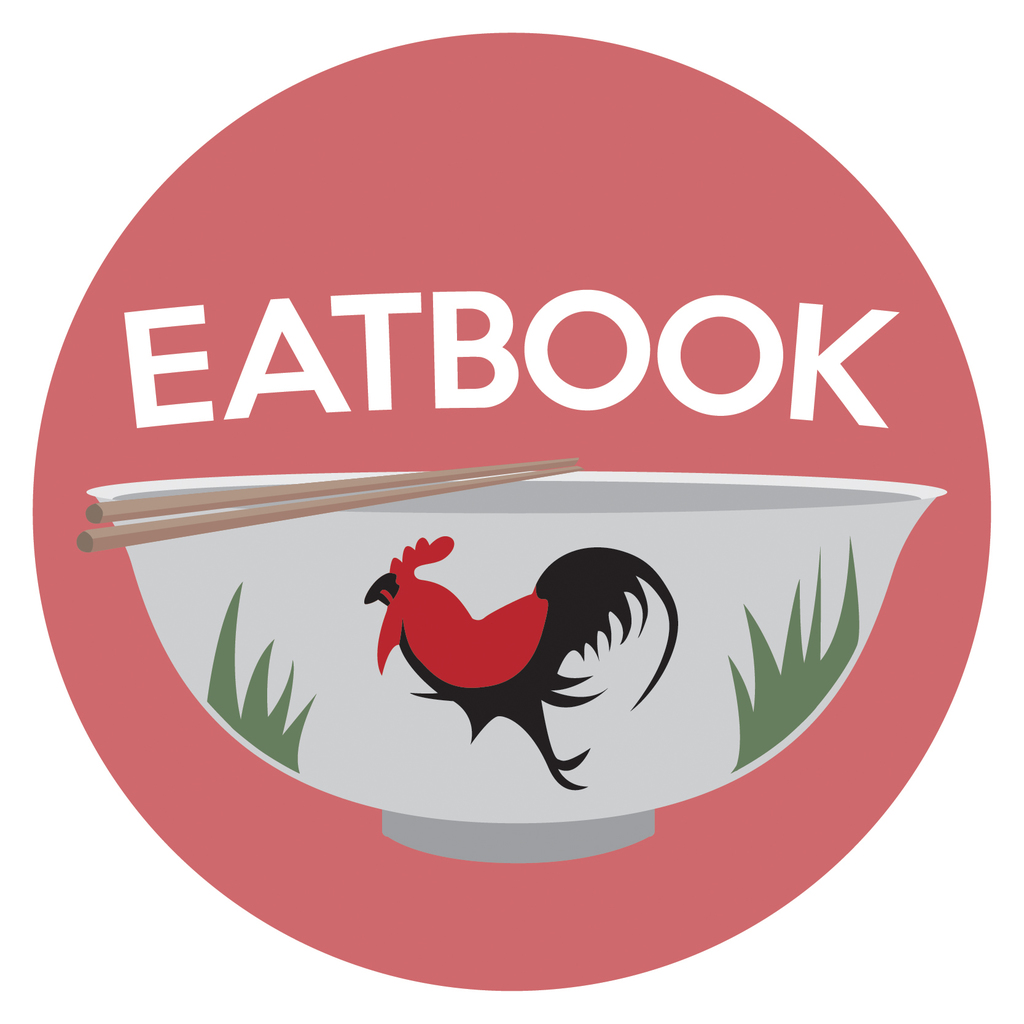 Drop us your email so you won't miss the latest news.