Easy Mexican food at home
In my household, Sundays mean family dinners. Though it's nice to always come together and dine, it does become a bit of a hassle sometimes when we either run out of ideas on what to cook, or just feel plain lazy. Enter a game-changer: Old El Paso's DIY Mexican products and meal kits.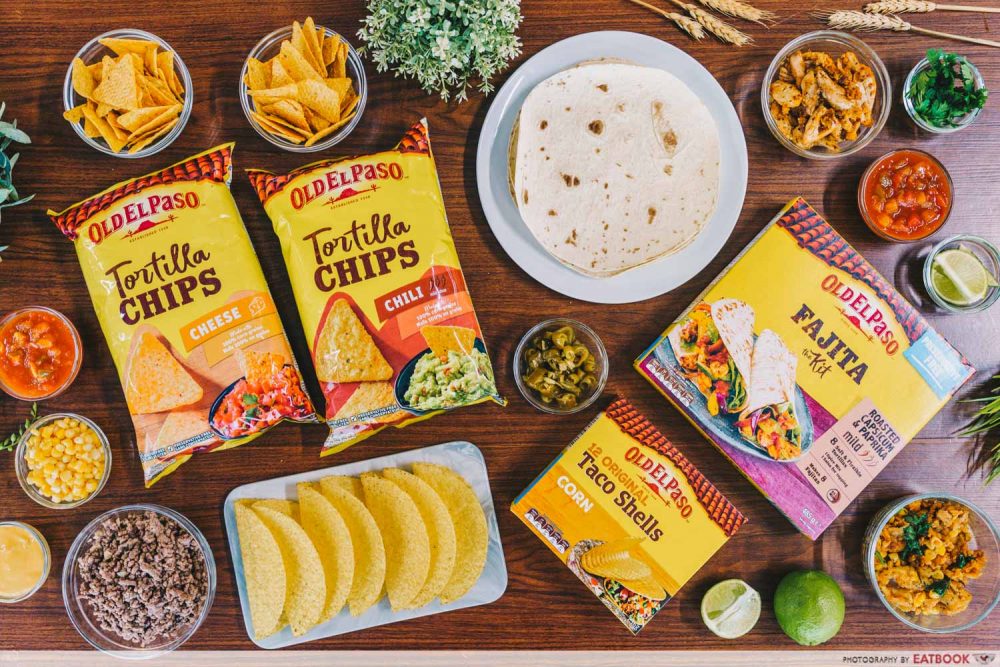 Not only are their products a gateway to an easy Mexican meal, but the DIY nature of Old El Paso also allows the whole family to come together, interact, and have a good time over putting together different combinations on their plate while at the dinner table.
The Mexican food brand has a wide array of products to help you make a Mexican feast at home with minimal fuss, and maximum fun. Their Taco Shells (from $7.50), for instance, come in a pack of 12, and include a handy spice mix that you can use to make an easy beef filling that is equally delicious.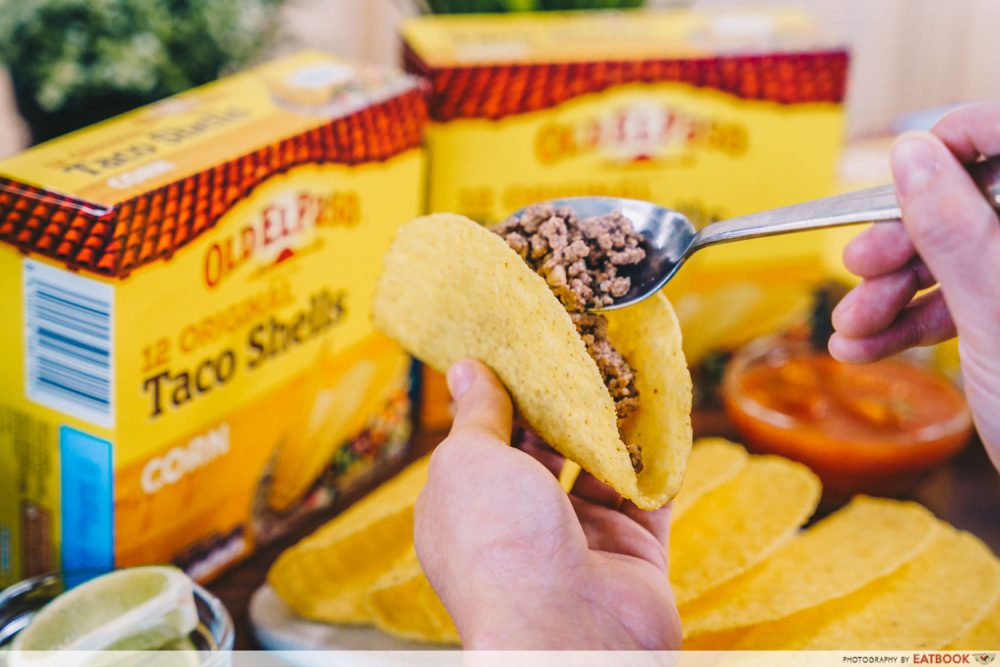 If that wasn't easy enough, the pack makes it extra-accessible to make fillings for your tacos with straightforward instructions on it. Simply heat up a pan, cook your minced meat with the spice mix and grated carrots, and you're done.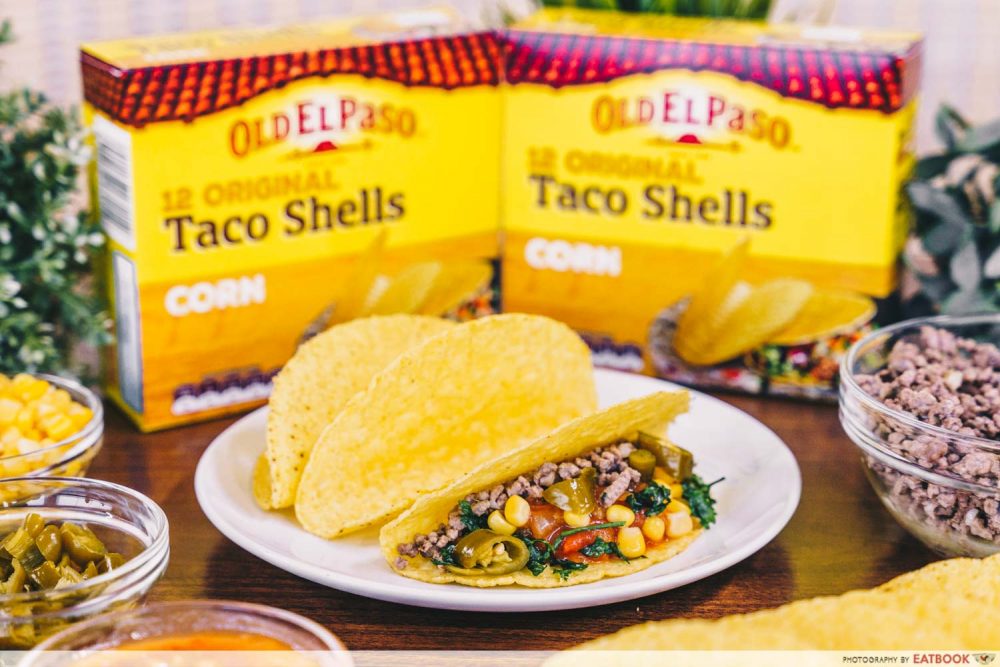 The taco shells themselves require minimal prep too—simply heating them up in the oven renders them extra crispy and dinner-ready. At home, I like to lay the taco shells out on the table after they have been warmed, accompanied by a spread of other fillings, such as lettuce, chopped tomatoes, guacamole, sour cream, cheese, and salsa so that the family can DIY their own combinations for dinner. Trust me, it's taco night at home with less than 20 minutes of work.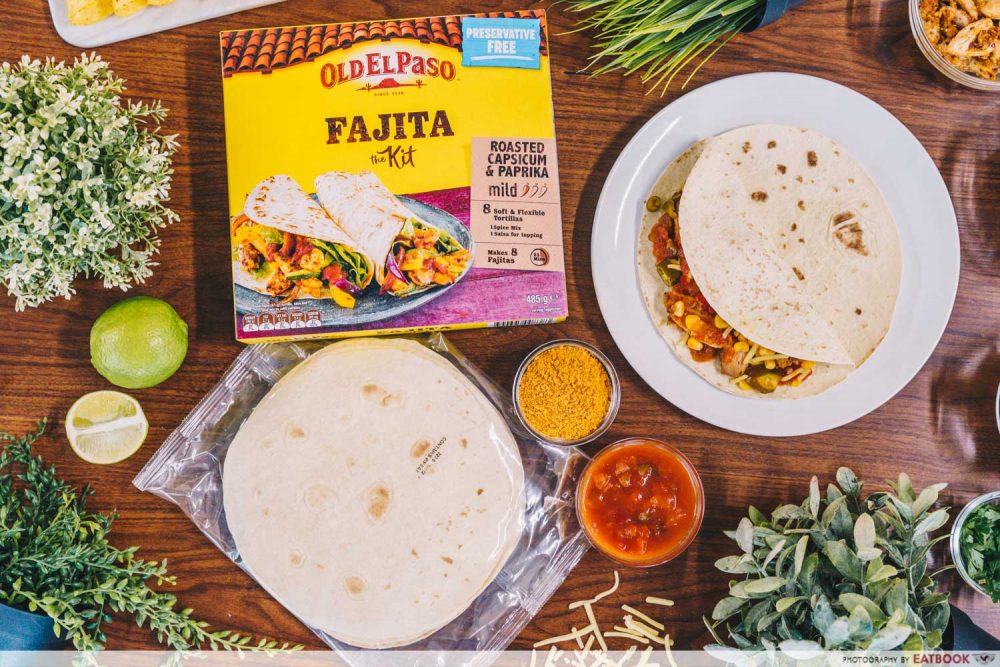 Introduce some more variety to the table with the Old El Paso Fajita Kit (from $11.80). Comprising eight soft flour tortillas, salsa, and a spice blend, the kit also comes with simple instructions to lead you to a fajita-focused meal in three steps.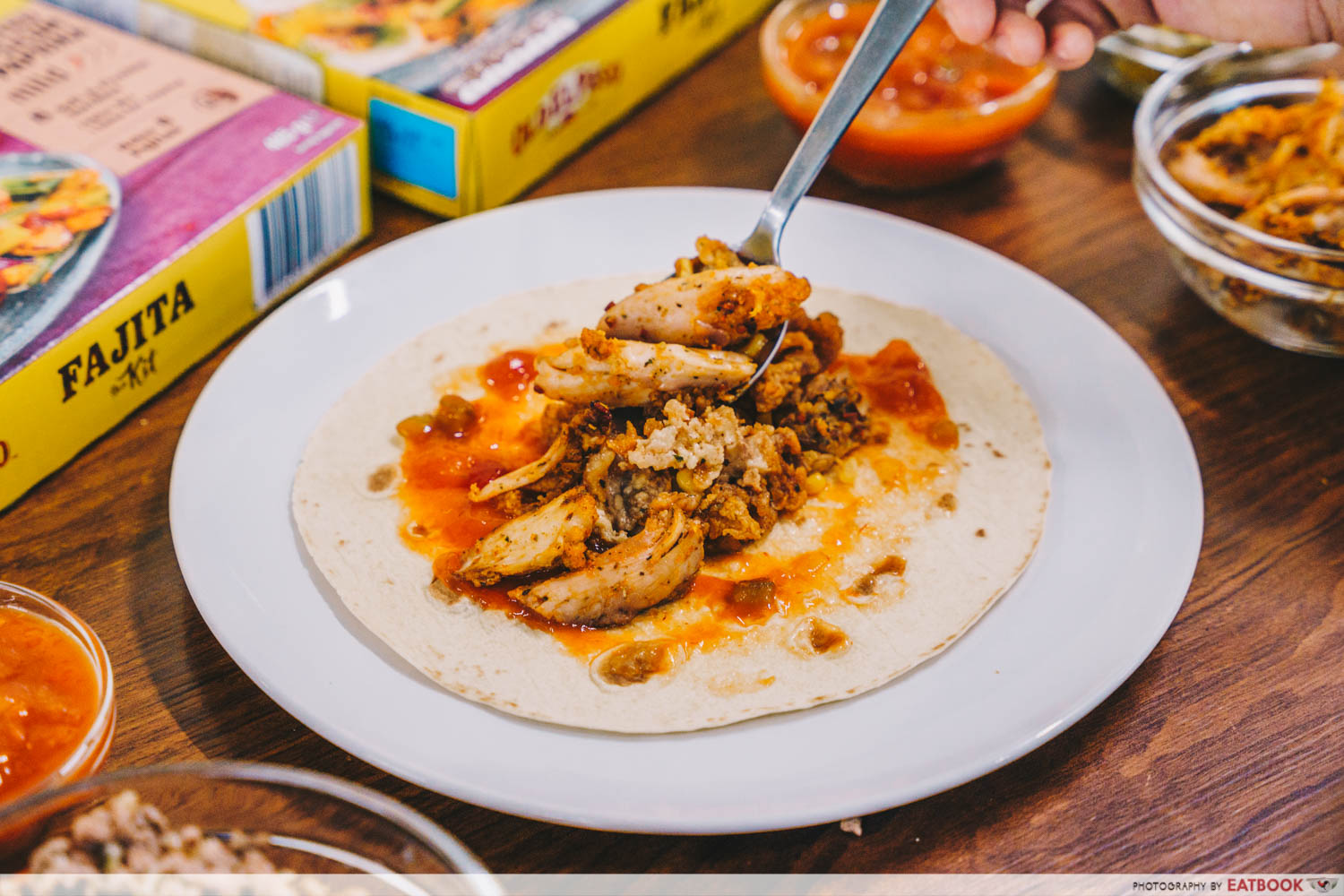 All you need is some chicken and veggies. Toss 'em in a pan with the spice mix, and you get the filling in under 10 minutes. While the pack recommends a mix of capsicums, and onions to accompany the chicken, you can really experiment with whatever vegetables you and your family enjoy the most.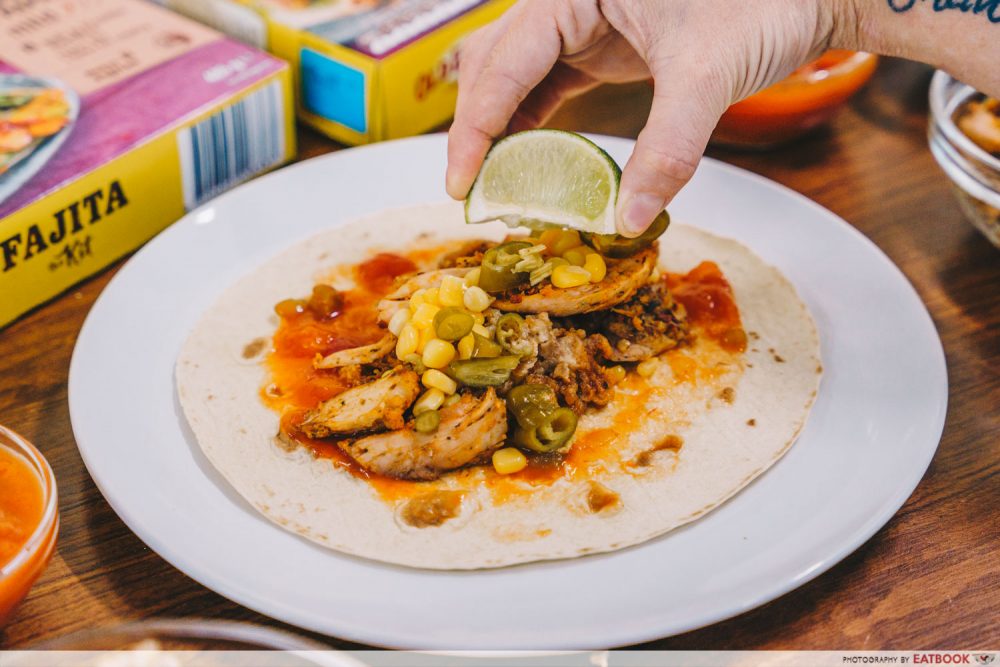 Fajitas are meant to be put together by diners at the table. All you have to do to get ready for the meal is to heat up your tortillas briefly on a hot pan or in a microwave and serve them to the table. Let the fam assemble their fajitas as they like it. The kit recommends the addition of sour cream, coriander, lime, as well as the salsa that comes with the kit to serve.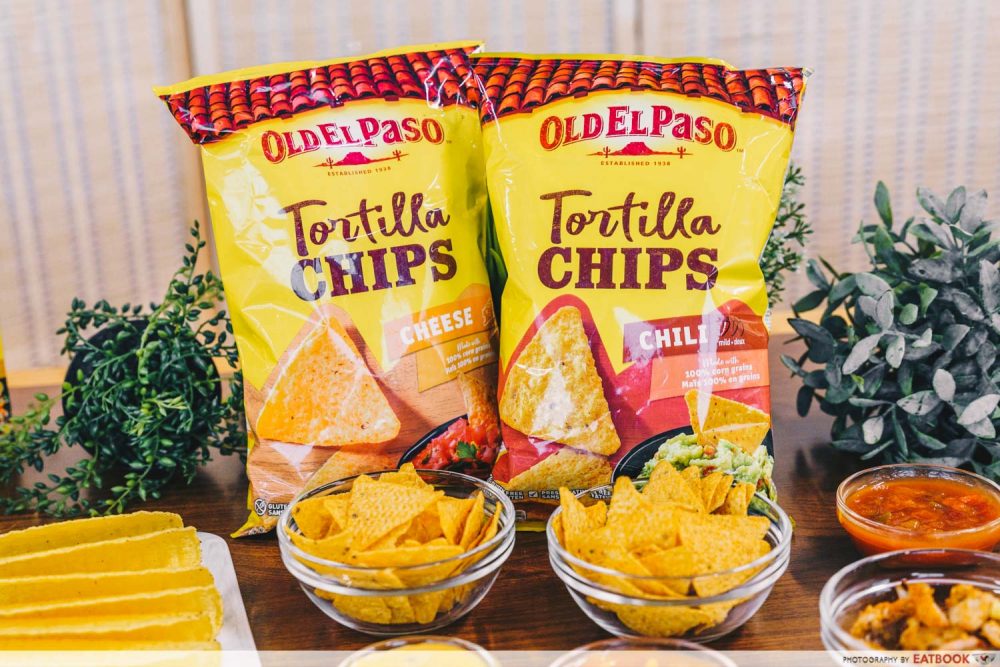 No Mexican meal is complete without chips, so grab yourself a bag of Old El Paso Tortilla Chips to munch on before dinner, or simply as a snack. Priced from $4.85 per bag, these are available in three flavours: Cheese, Chilli and Original.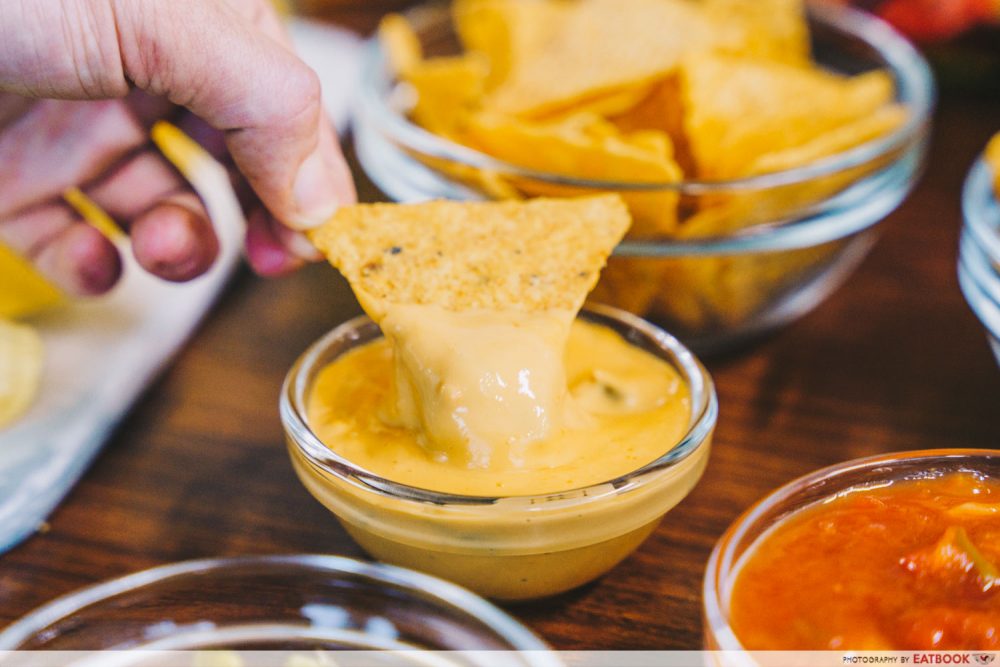 Made with 100% corn grains, these crunchy chips are the perfect vehicle for some cheese dip or salsa, of which Old El Paso also sells if you can't be fussed to make your own.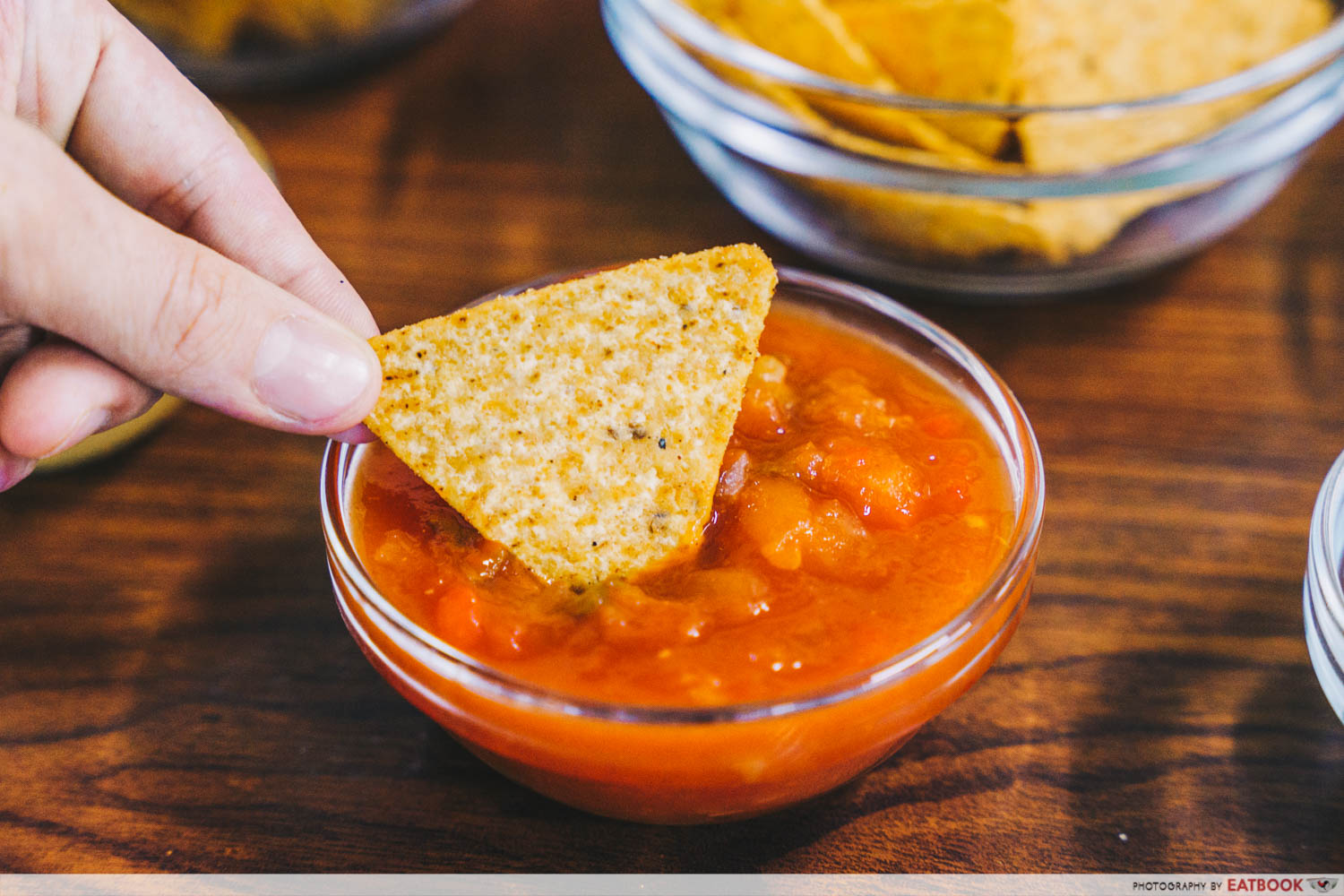 The cheese chips are addictive, with a hint of cheesy goodness. The chilli is family-friendly too, even for the little ones, as these taste more like smokey barbecue. They're so moreish, you won't be able to stop at one.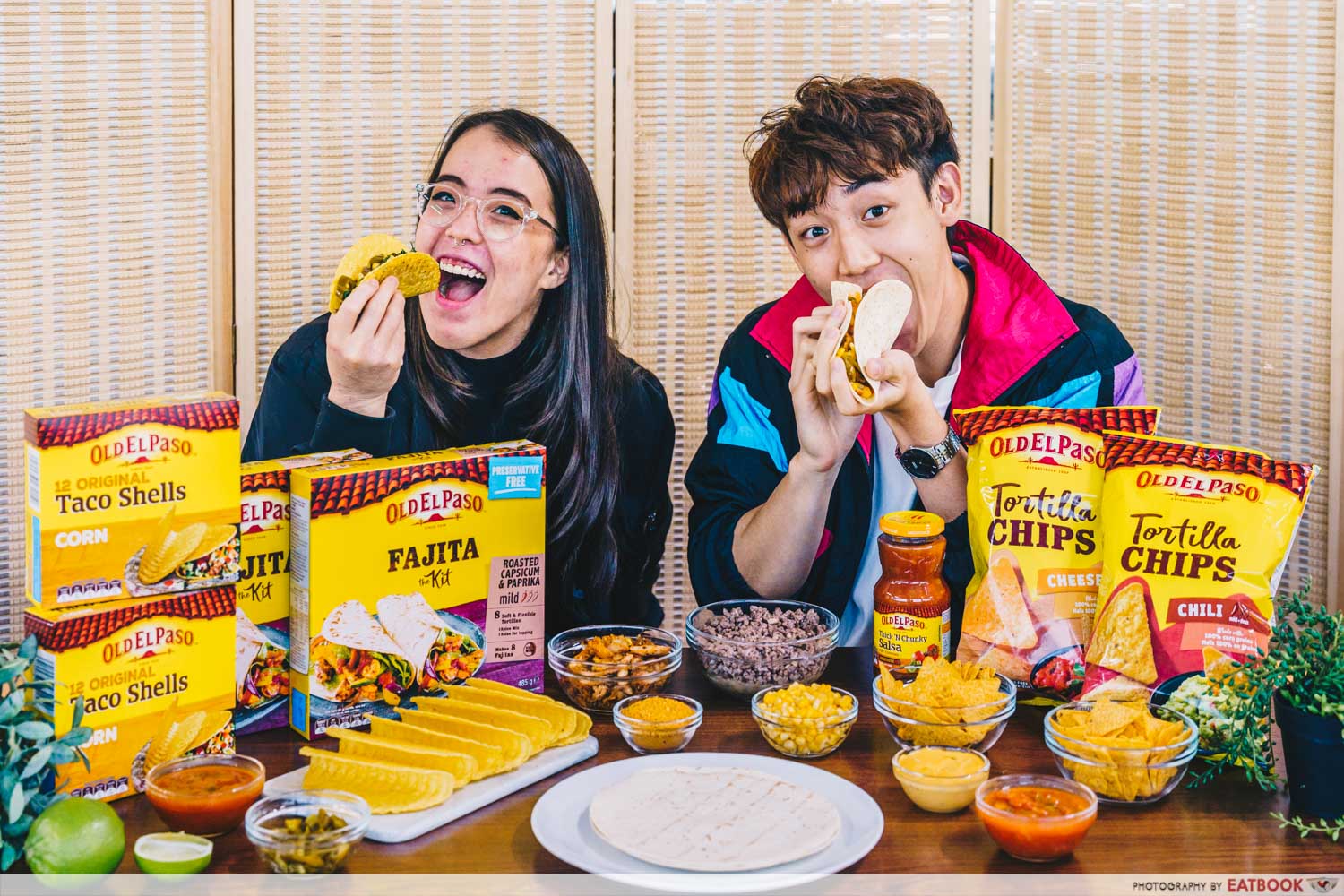 Apart from my personal Old El Paso favourites, the brand has so many more items to help you and your loved ones have a fun, and enjoyable Sunday dinner at home. Mexican food nights may not be the most traditional in Singapore, but given how effortless it can be with Old El Paso, there's no reason why you shouldn't give it a go.
From 1 April to 31 May, spend $8 on an Old El Paso product and stand a chance to win Le Creuset prize sets and weekly shopping vouchers. This promotion is applicable at all major super and hypermarkets.
Old El Paso's products are available at all major supermarkets islandwide.
Photos taken by John Lery Villanueva.
This post is brought to you by Old El Paso.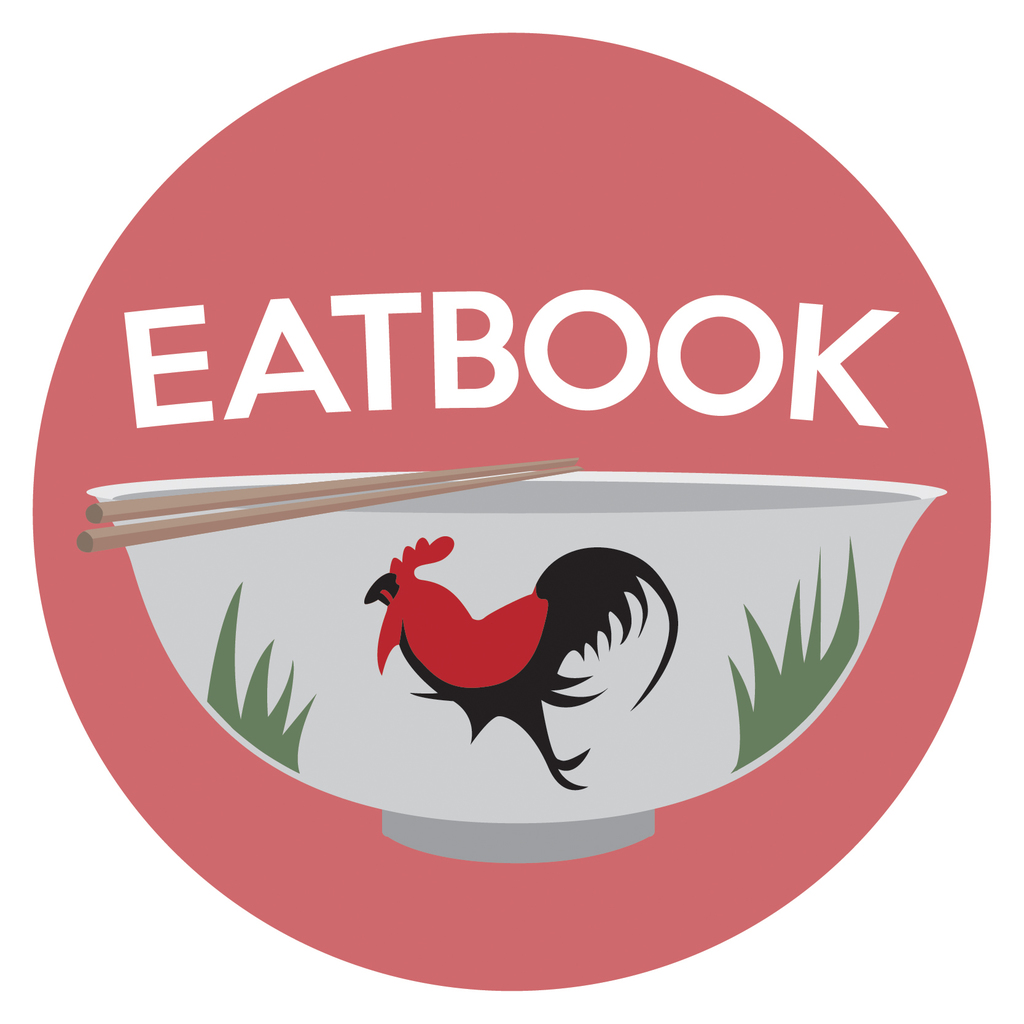 Drop us your email so you won't miss the latest news.