One-pan sriracha pasta for all occasions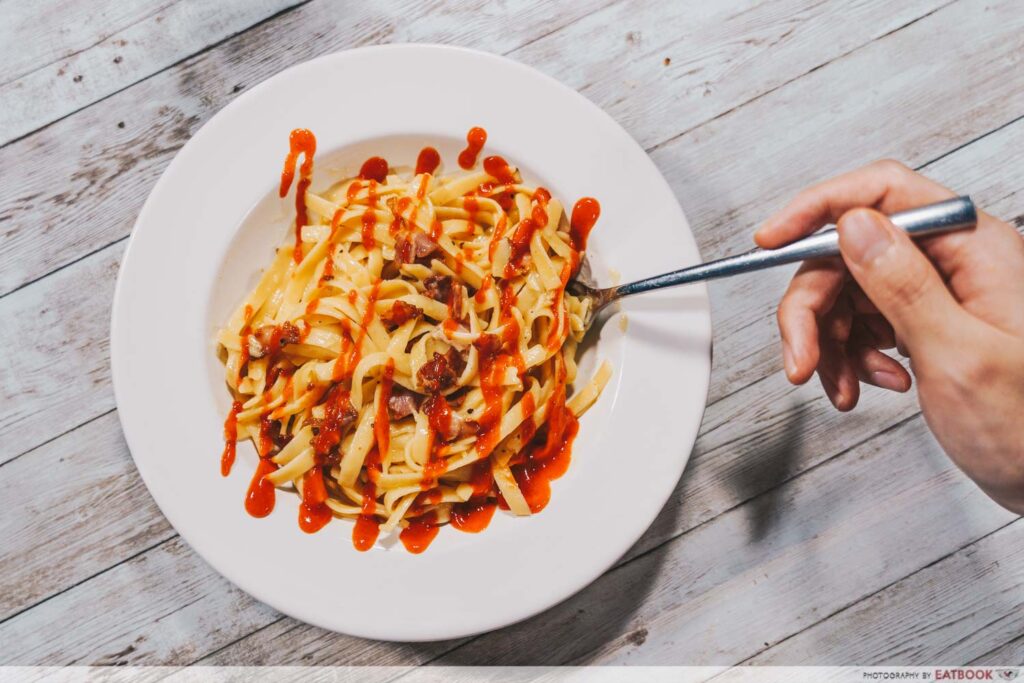 Cleaning up is, without a doubt, the worst part of cooking. From scrubbing pots and pans to mopping the floor, there are times when I can spend even more time cleaning than cooking. For days when I don't feel like cleaning at all, I like to whip up this one-pan sriracha pasta recipe.
Inspired by traditional carbonara, this recipe makes the most out of regular pantry ingredients, and takes a maximum of 20 minutes to prepare from start to finish. And to round everything off with a flavourful boost, I like to lash it with a heavy serving of sriracha sauce. For the full recipe, scroll down to the bottom of this article.
---
The process
---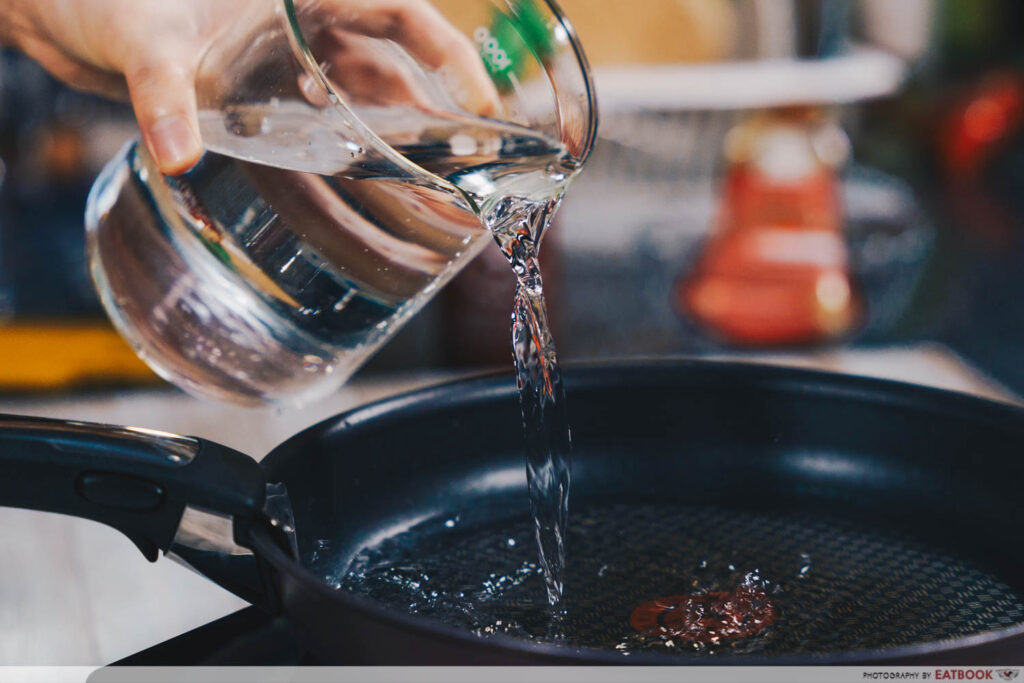 Pour a litre of water into a large frying pan, and bring it to a boil. While pasta is usually boiled in a pot, we're preparing them in a pan instead. Not only does this result in one less pot to wash, it also gives us starchier pasta water, which is great for thickening up the sauce later on.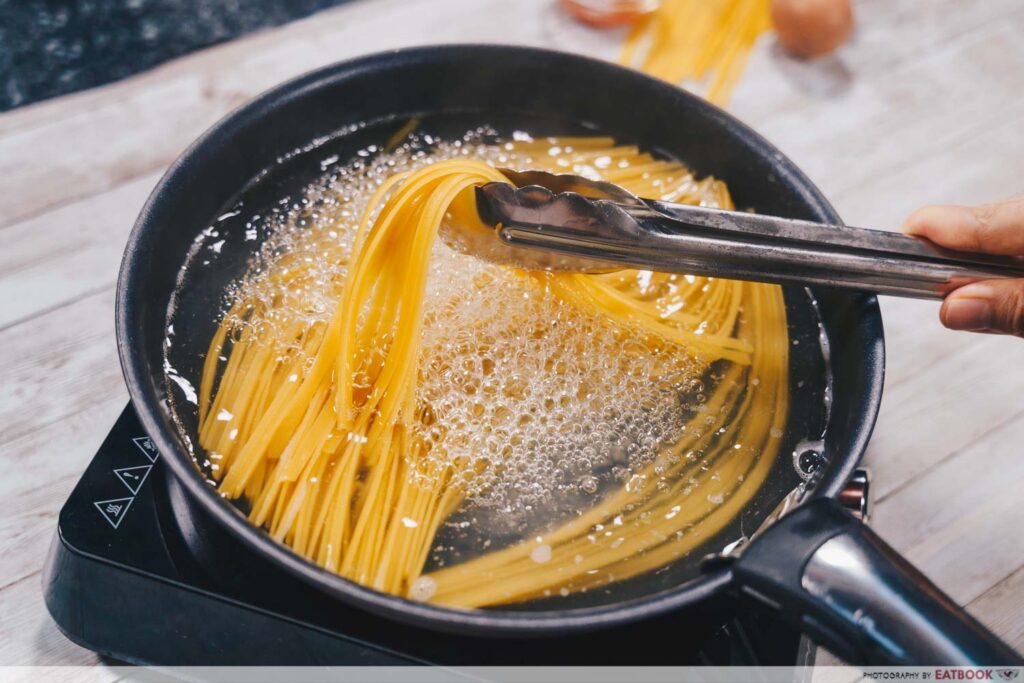 After the water has been brought to a roiling boil, season it liberally with salt and add in fettuccine pasta. Feel free to use any pasta you can lay your hands on. There's no hard and fast rule in preparing this simple recipe. I like using fettuccine as it's a broad pasta that clings nicely to the sauce.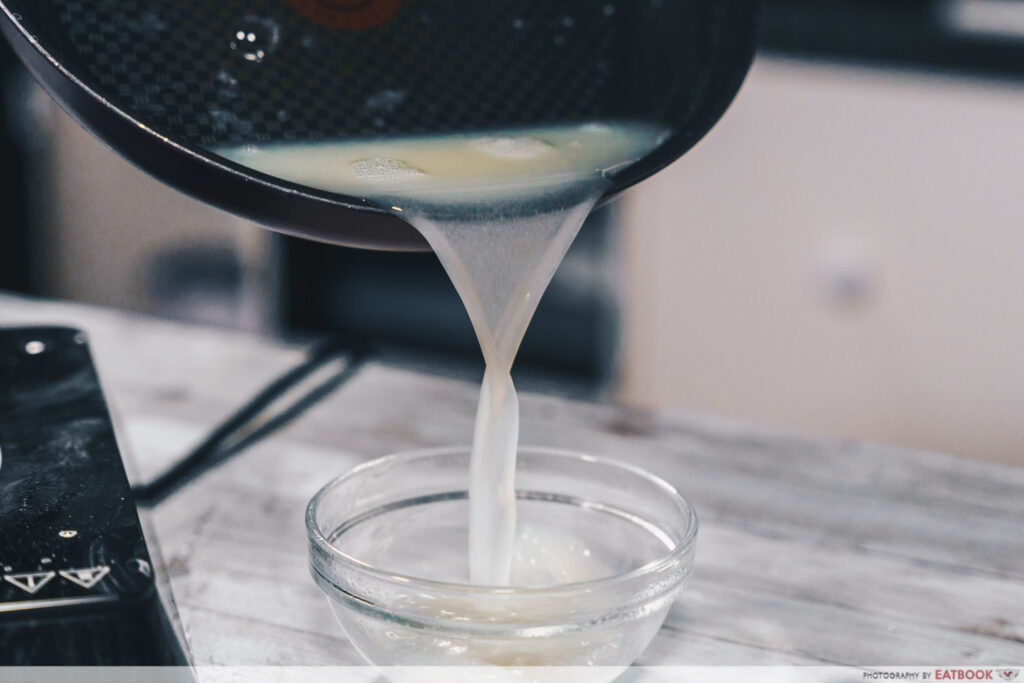 Once the pasta is cooked, drain and remove it from the pan. Be sure to save a cup of pasta water which will be used to thicken the sauce.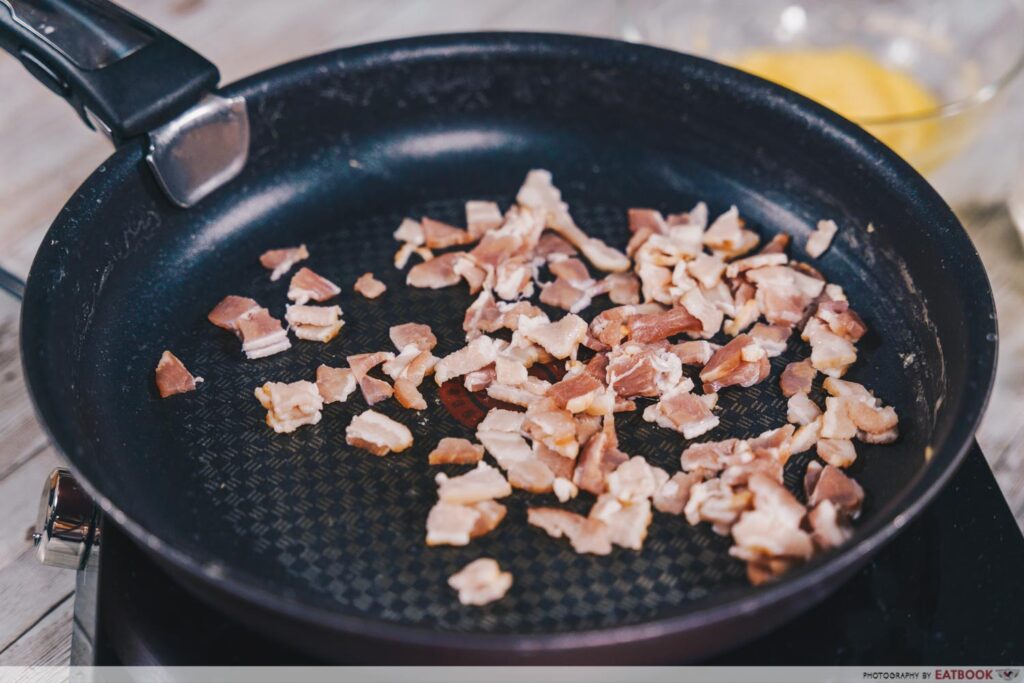 Lightly wipe the pan with kitchen towels and add in chopped bacon.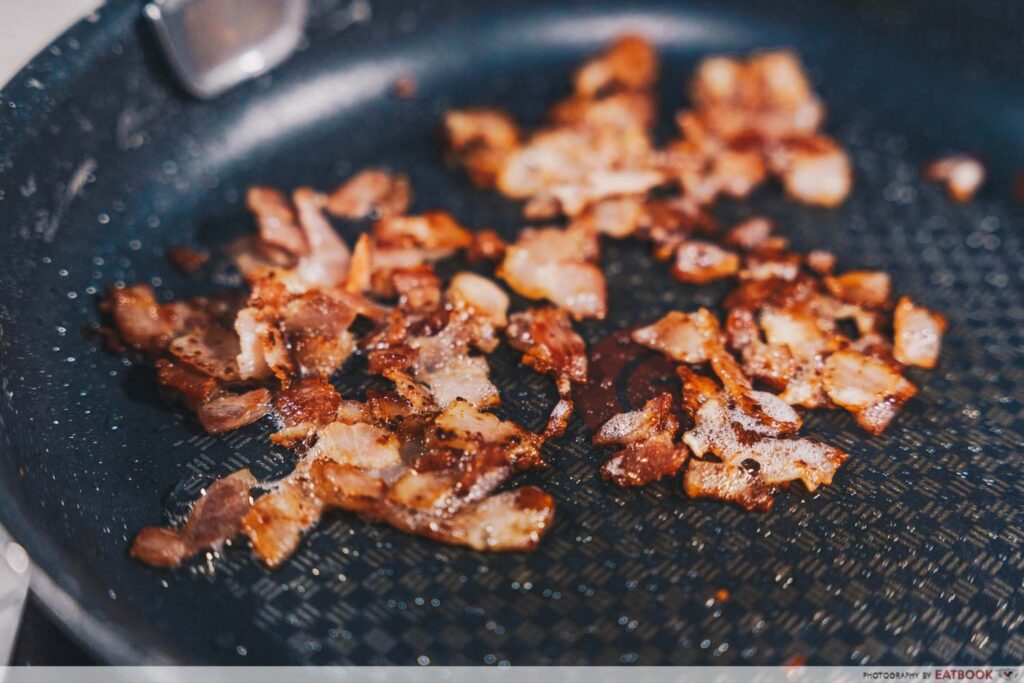 Cook them over medium heat till they're nice and golden brown.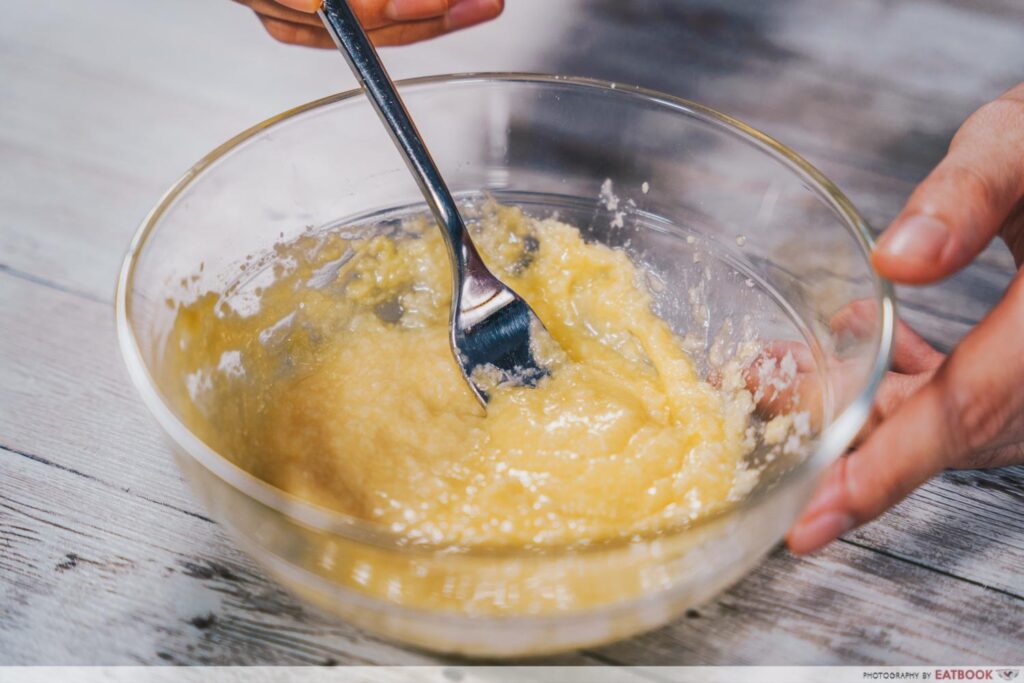 While the bacon is cooking, it's a good time to prepare our sauce. Shred your favourite hard cheese and mix it with an egg. I'm using Grana Padano, a mild Italian cheese, in this recipe. If you prefer stronger flavours, go ahead and use Pecorino Romano or even cheddar.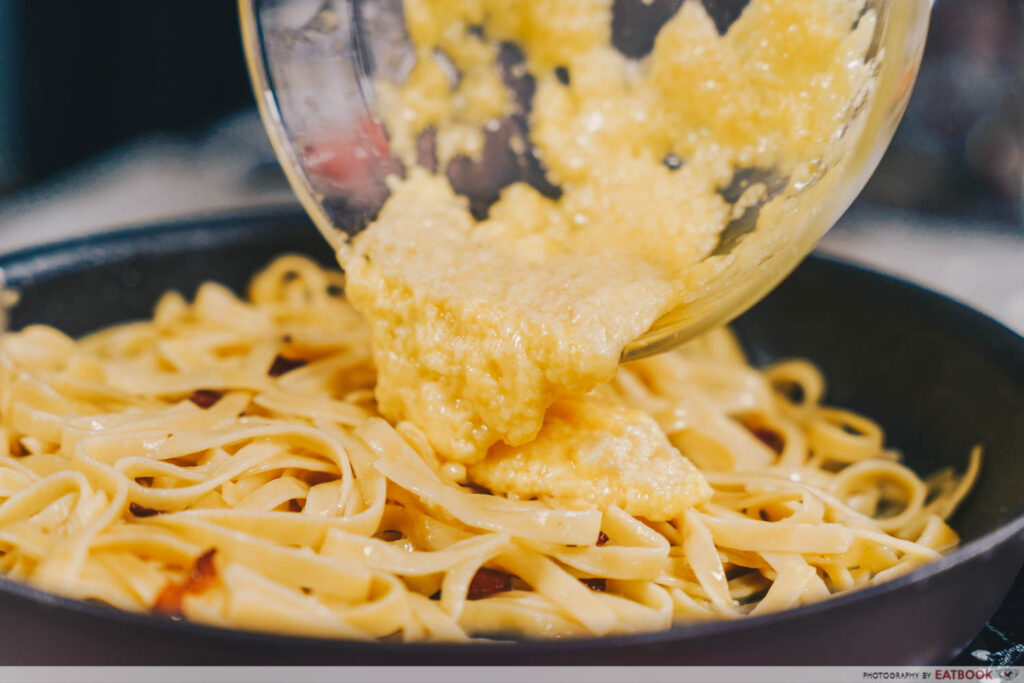 When the bacon is fully cooked, remove the pan from heat and add in the pasta and cheese mixture. Give everything a good hard mix, making sure that the noodles are coated with the sauce.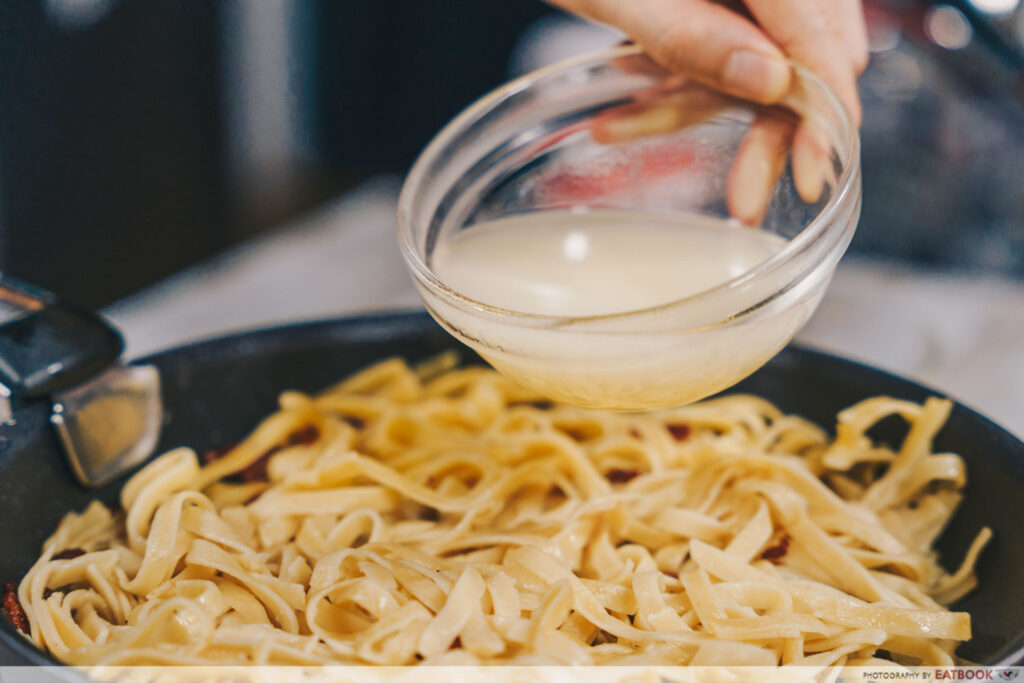 Add a little pasta water to thin the sauce until a smooth emulsion has formed. Don't be tempted to use up all of the pasta water; all you'll need is enough to give the sauce a creamy consistency.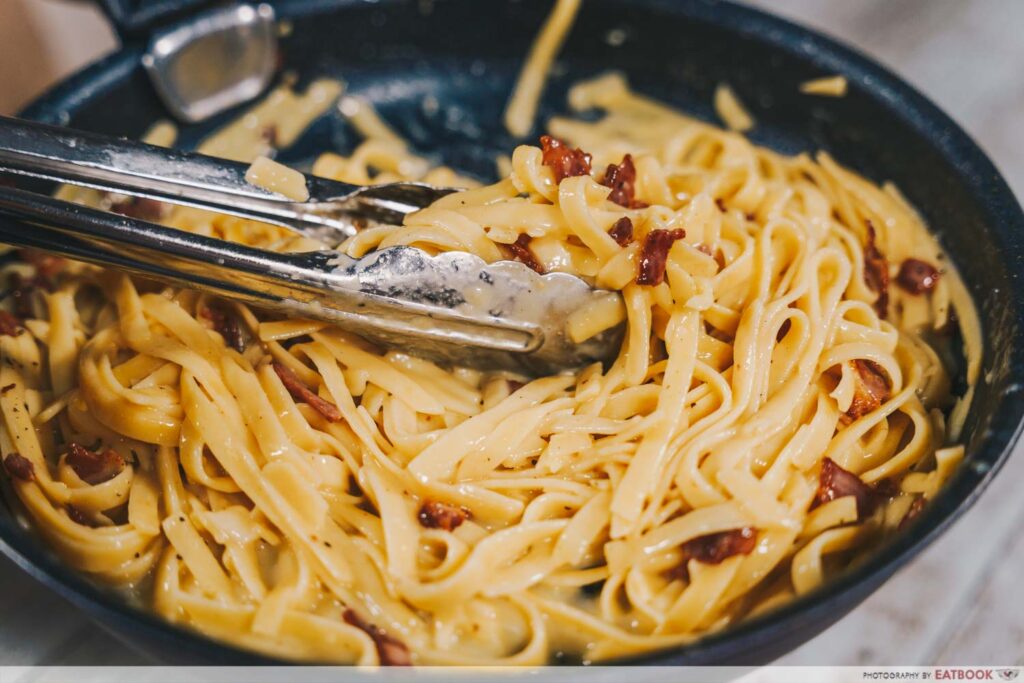 Keep mixing the pasta until it looks nice and glossy. If it appears too watery, shave in some cheese. If it appears too thick, add more pasta water. Don't forget to season the pasta to taste with salt and pepper.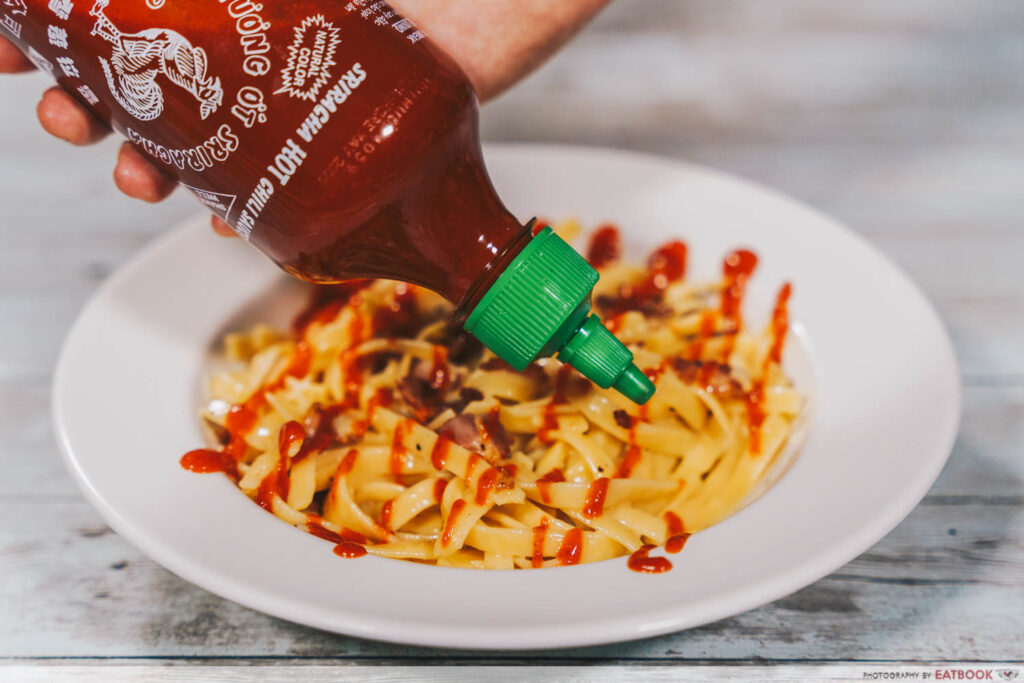 This bit might trigger pasta enthusiasts, but adding a thick drizzle of sriracha chilli sauce opens up a whole new world of flavours. While some might find traditional carbonara pasta to be too thick and rich after a few spoonfuls, the crisp tartness of the sriracha chilli sauce cuts through everything beautifully.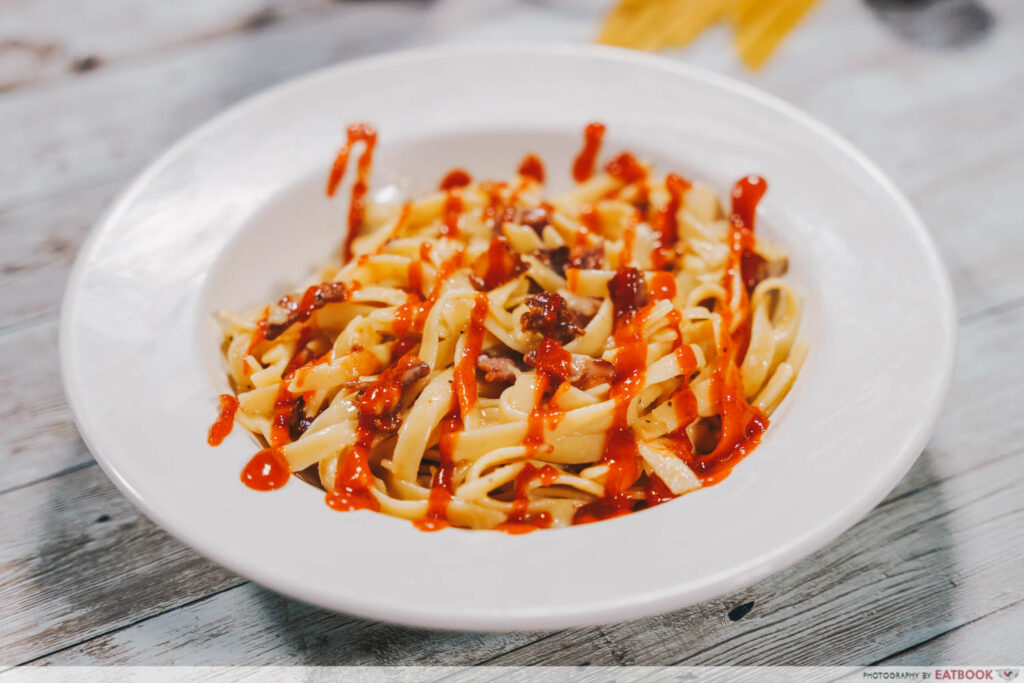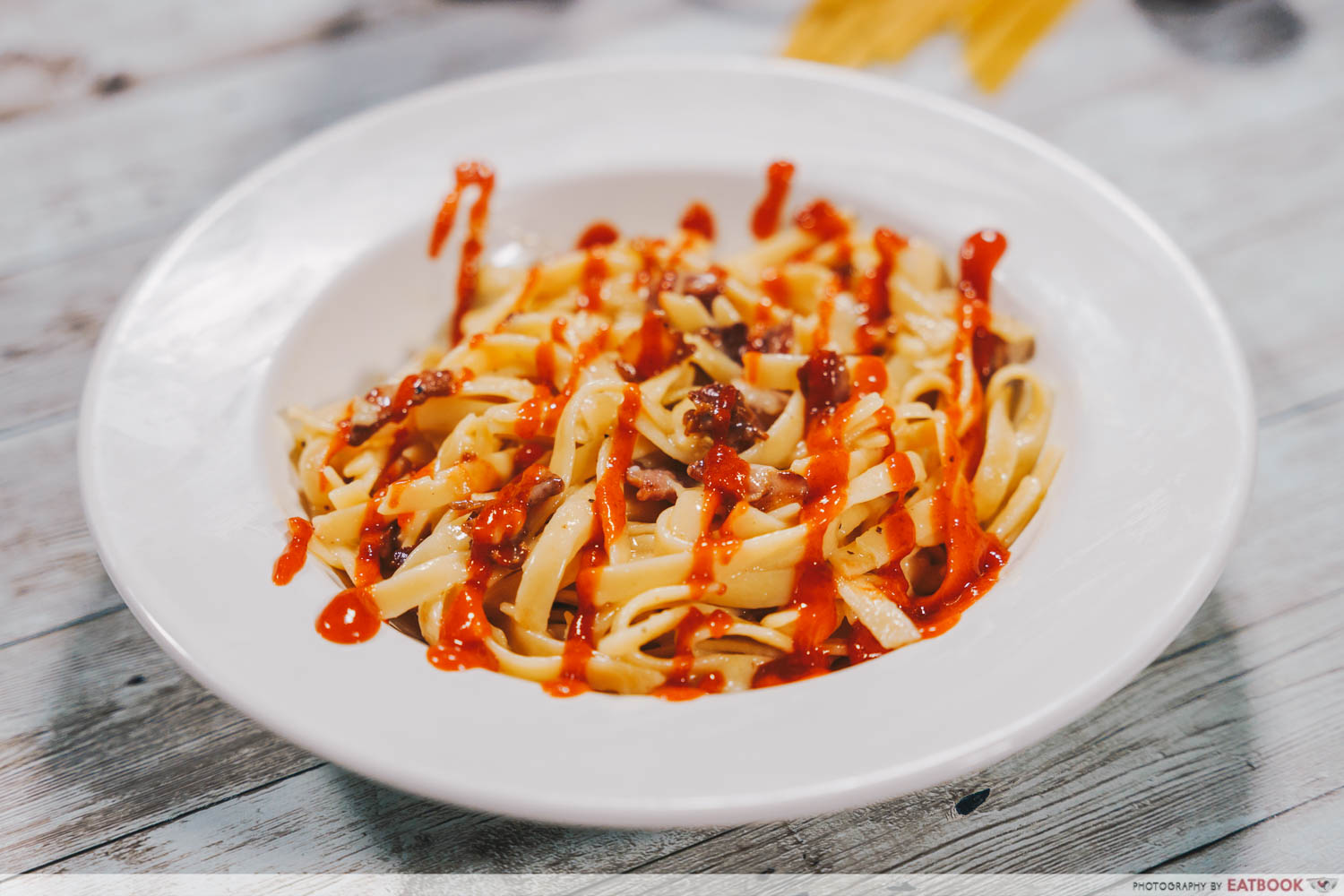 I have to admit that I was a little apprehensive at slathering chilli sauce on pasta at first. But somehow, this recipe seems to work. Give this simple recipe a try and you might just be a convert. 
If you're looking for more simple and easy to follow recipes, be sure to check out our guide to cooking scrambled eggs and omelettes!
Easy Scrambled Egg Recipes For Creamy And Fluffy Eggs That Beginners Can Cook
---
One-pan sriracha pasta recipe
---
Yield: Serves 2
Cooking time: 20 minutes
Ingredients:
80g streaky bacon, chopped, around 6 rashers
200g dried fettuccine pasta
50g Grana Padano, grated
1 egg
Black pepper to taste
Sriracha sauce to taste
Salt to taste

Directions:

Bring 1 litre of water to boil in a frying pan, season liberally with salt, and add in the pasta. Cook according to the manufacturer's instruction. 

Reserve 1 cup of pasta water, and strain out the rest of the pasta. 

Wipe the pan dry with kitchen towels, and add the chopped bacon to the pan. 

Turn the heat to medium, and continue to cook the bacon until it turns golden-brown. When it's done, remove the pan from heat.

While waiting for the bacon to cook, in a small mixing bowl, combine the cheese with the beaten egg.

When the bacon is fully cooked, add the pasta, and cheese and egg mixture. Continue to mix with tongs until well incorporated. Then add a bit of the reserved pasta water until a thick emulsion has formed. There's no need to use up all of the pasta water. 

Season with salt and black pepper to taste and a thick lashing of sriracha sauce. Serve immediately. 
Photos taken by Chng Jia Yan.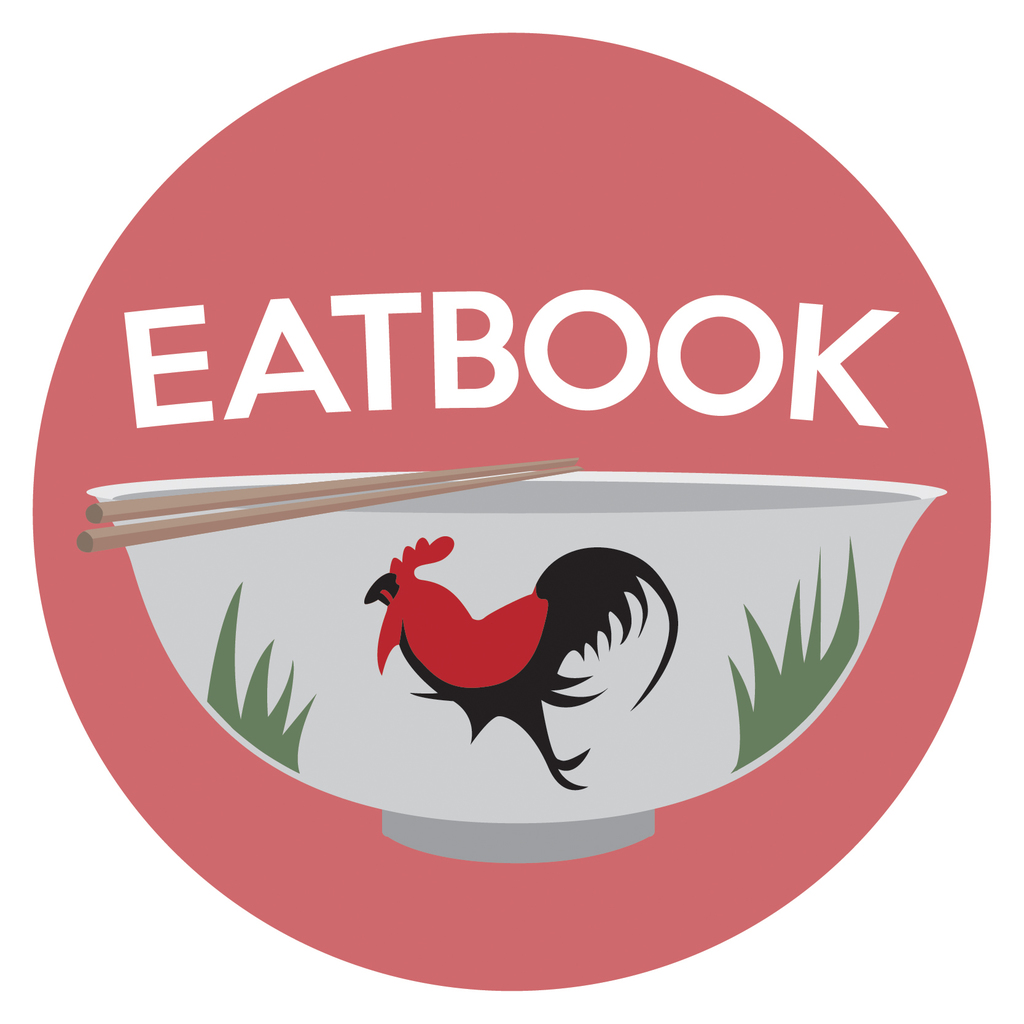 Drop us your email so you won't miss the latest news.