---
Online Mid-Autumn Mooncake Fair 2021
---
Crowds used to flock to the basement of Ngee Ann City every Mid-Autumn Festival for their mooncake shopping at the Mid-Autumn Fair. Due to the pandemic, the physical fair is currently on hiatus. And so, in its place is the equally exciting Online Mid-Autumn Fair. With over 30 brands to browse from, you'll be spoilt for choice.
To help you zoom in on some highlights, here are 10 mooncake brands you should try at the Capitol Singapore and CHIJMES Online Mid-Autumn Festival 2021. 
You also get free delivery islandwide with just $30 spent. If you order two or more boxes of mooncakes and opt for self-collection instead, then you'll be entitled to a $10 Capitol Singapore and CHIJMES gift voucher, limited to the first 2,000 customers. 
Purchase the mooncakes online, and you also get a free box of 50 pieces of face masks, with a BFE of ≥ 95%.
---
1. The Capitol Kempinski Hotel Singapore
---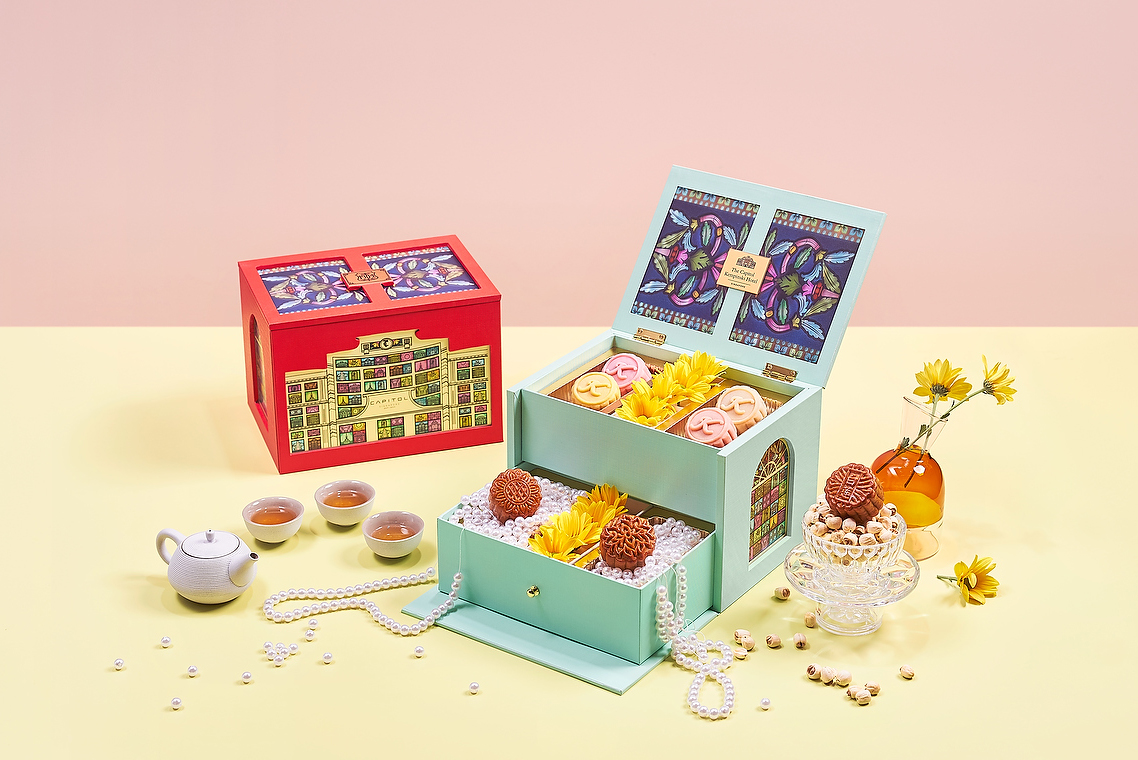 Image credit: The Capitol Kempinski Hotel Singapore  
The Capitol Kempinski Hotel Singapore is offering a selection of mini mooncakes this Mid-Autumn Festival, so you get to save stomach space while feasting on a wider variety of flavours. Each set comes with eight pieces, and you can choose from baked or snowskin options.
For the baked mooncakes, we highly recommend their Mixed Mini Baked Mooncake Combo ($79), where you can pick up to eight pieces in any flavour of your choice. Choose from Black Sesame Melon Seeds, Pandan Paste with Melon Seeds, White Lotus Seed Paste with Egg Yolk, and White Lotus Macadamia Nuts. 
On the snowskin end, try their all-new selection of alcoholic mooncakes, such as the Mini Snowskin Valrhona & Plantation 1840 Truffle ($80), where chocolate meets rum, or their Mini Snowskin Champagne Truffle ($80) for a dose of bubbly in every bite. For non-alcoholic options, get the Mini Snowskin Mao Shan Wang Durian ($94), where each mooncake is chock-full of creamy MSW puree.
---
2. Fairmont Singapore
---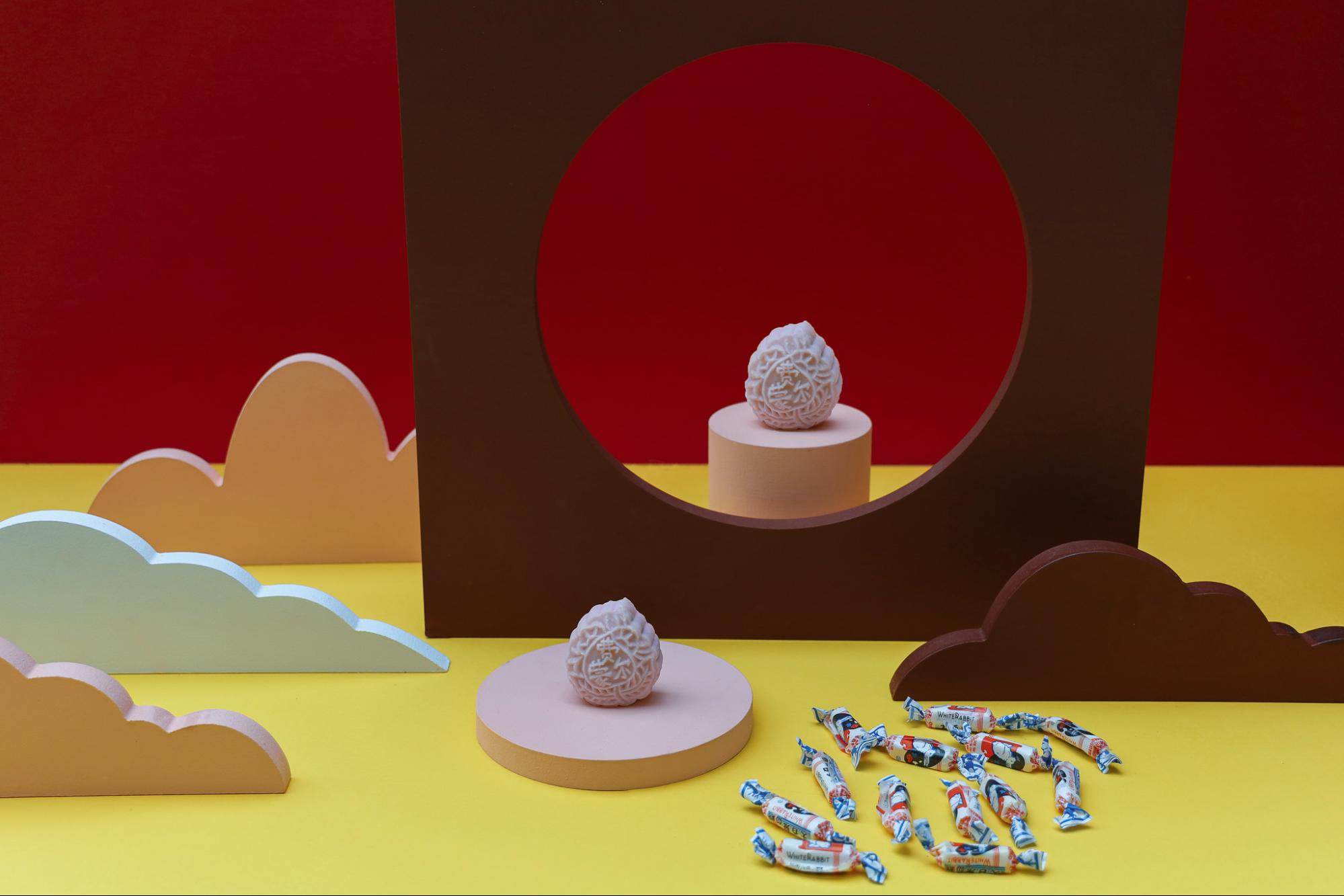 Image credit: Fairmont Singapore
Relive your childhood this Mid-Autumn with Fairmont Singapore's White Rabbit Candy Snowskin Mooncakes. Priced at $76 for a box of eight, these mooncakes are a nod to the milky childhood candy, and even come with a White Rabbit candy core. 
Those not a fan of White Rabbit can instead satisfy their sweet tooth with Fairmont Singapore's other snowskin flavours. These include the Sea Salt Caramel Snowskin Mooncakes ($76), where the sweetness of honeyed caramel is balanced by a touch of sea salt, or the Rum & Raisin Chocolate Truffle Snowskin Mooncakes ($78), which will remind you of the delectable ice cream flavour.
Baked mooncakes are also available in all the classic flavours you know and love, with prices starting at $42. 
Order before 6 September 2021 and get 15% off the prices. Order between 7 September to 21 September and get 10% off. They will also be having flash deals, with discounts up to 35% off, from now till 31 August. 
---
3. Carlton Hotel 
---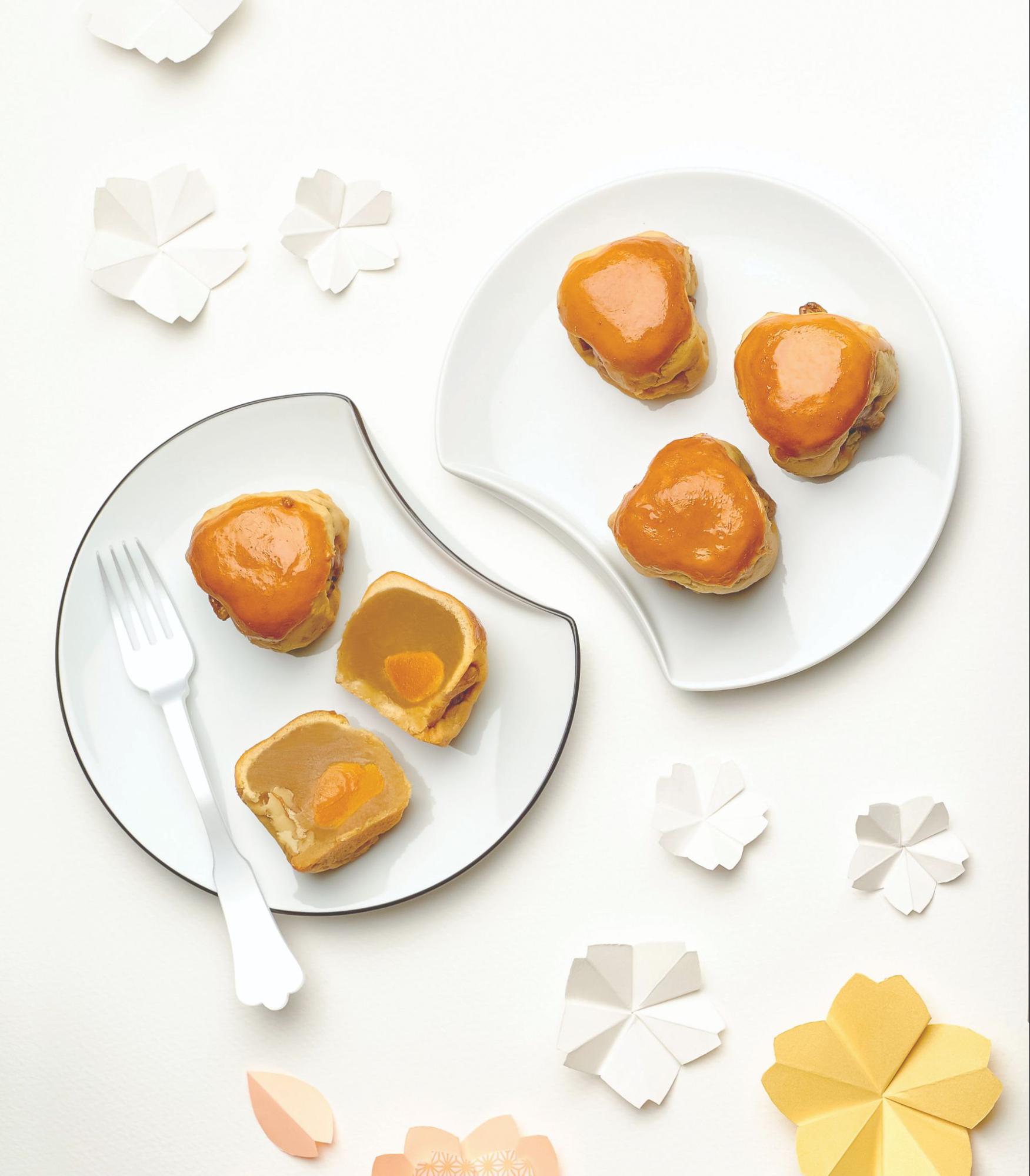 Image credit: Carlton Hotel
Introduce something unique to the Mid-Autumn festivities with Carlton Hotel's moontarts. This new innovation combines a HK-style pastry bing with mooncake filling, perfect for those who enjoy their mooncakes bite-sized, with more filling than skin. The moontarts are available in two flavours: Mini Walnut Moontarts (Low Sugar) ($70), or Mini Walnut Moontarts with Egg Yolk ($73). Each box comes with eight pieces.
Otherwise, order their snowskin mooncakes. The Assorted Snowskin Selection ($77) gives you a sample of all of Carlton Hotel's flavours this season, such as Mini Green Tea, Yuzu & Plum, and Mini Black Forest. A box comes with eight pieces too.
---
4. Mitzo 
---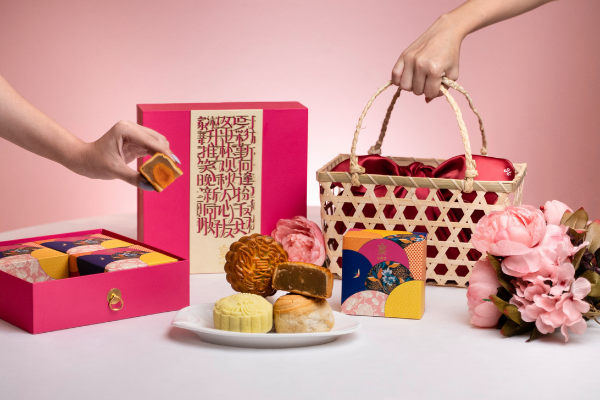 Image credit: Mitzo
Mod-Cantonese restaurant Mitzo has pastry mooncakes to please your Teochew relatives this Mid-Autumn Festival. Get a box of their Baked Yam Mooncake with Salted Egg Yolk (from  $42), where you get buttery pastry whorls wrapped around an earthy orh nee and savoury salted egg yolk core. If you're not big on salted egg, there's also the plain Baked Yam Mooncake (from $40).
Otherwise, pick from a line-up of traditional baked mooncakes, such as Baked Lychee White Seed Lotus Paste (from $40), featuring silky smooth white lotus paste sweetened with lychee, and the Baked White Lotus Seed Paste with Double Yolk (from $42) for a perennial favourite. 
Order before 31 August and get 20% off the prices. Order between 1 September to 21 September and get 15% off.
---
5.  Takumi Artisans
---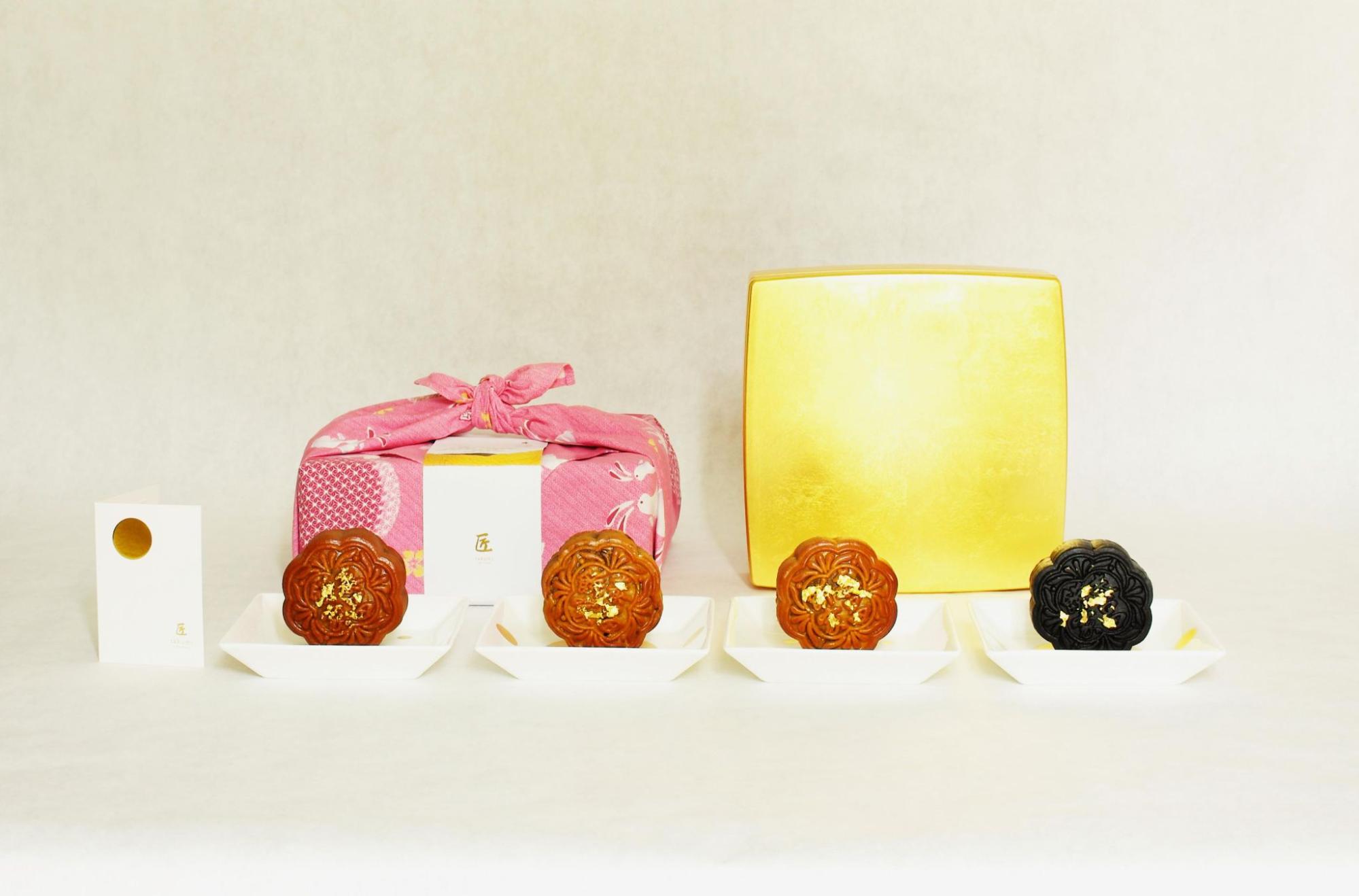 Image credit: Takumi Artisans
Artisanal Japanese bakery Takumi Artisans has collaborated with Tai Cheong Bakery to create the most expensive mooncakes in Singapore this Mid-Autumn Festival. Priced at $480, the Takumi Hazuka Gold Foil Box Gift Set comprises four different flavours of mooncakes housed in a wooden lacquered 24K gold box, crafted in Japan. 
The box is a signature of Takumi Artisans, and a lot of craft goes into each piece. The outer bark is made with a whole piece of tree bark, and the quality of the box is reputed to last a century. Equally treasured are the mooncakes within, available in flavours such as the classic White Lotus with Double Yolk Mooncake, Black Sesame with Yolk Blend Mooncake, and more.
Takumi Artisans also has more affordable mooncake options, including the Takumi Sakura Mount Fuji Bento Box Mooncakes Set. Priced at $78, the hand painted acrylic bento box houses two baked mooncakes, and one piglet mooncake, which is bound to please the little ones in your life.
Order before 31 August and get 10% off the prices excluding the Takumi Bento Box Mooncakes Set.
Takumi Artisans is located at #01-81, Capitol Singapore.
---
6. NOW Bakery 
---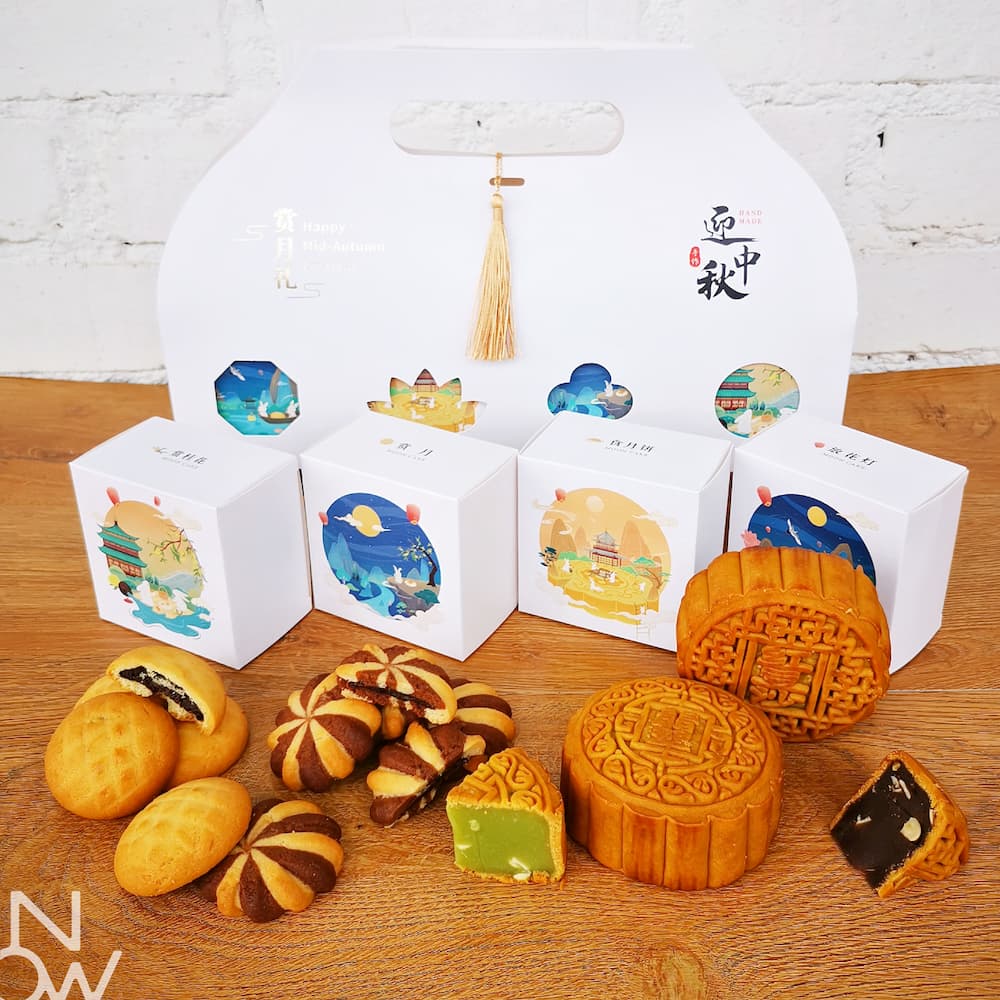 Image credit: NOW Bakery
NOW Bakery, located at Capitol Singapore #B2-22, is best known for their blancmange rolls, but this Mid-Autumn Festival, the homegrown bakery gives you more to be excited about with their mooncakes. They are releasing the NOW Bakery Mid-Autumn Gift Box ($36.80), which comes with two baked mooncakes, and two boxes of cookies. 
The mooncakes are Red Bean Paste with Melon Seeds, and Lotus Pandan Paste with Melon Seeds. The cookies offer something more modern to contrast the mooncakes, so expect flavours such as Almond Cookies with Soft Chocolate Filling, and Tiramisu Cookies with Soft Chocolate Filling.
This is also a great option to explore if you're on a budget!
Order before 21 August and get 18% off the price.
---
7. Aroma Truffle 
---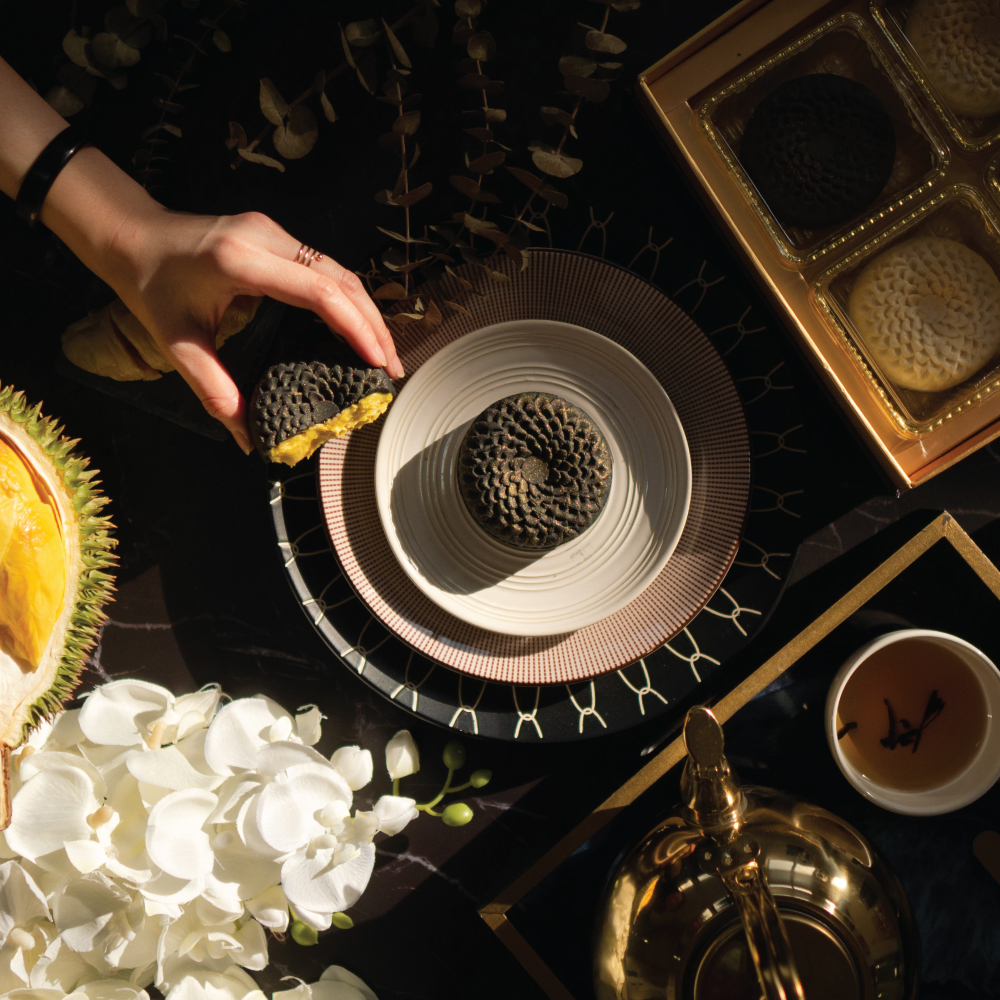 Image credit: Aroma Truffle
Aroma Truffle is known for their truffle potato chips. This Mid-Autumn Festival, they have expanded their repertoire to truffle MSW mooncakes. The king of mushrooms and durians come together two ways at Aroma Truffle: the Onyx Truffle Musang King Mooncake, and the Frosty Truffle Musang King Mooncake.
The former combines the earthy black truffle and charcoal to create a deep black, QQ snowskin, which then wraps around pure 100% MSW puree. The latter features a mochi-like snowskin, with an MSW durian filling that is studded with real bits of black truffle.
Experience a bit of both with the Heritage Bundle ($108), which entitles you to two pieces of each in a gift box. If you'd like your mooncakes to come with a side of truffle chips, then go for the Paragon Bundle ($128), which gives you a box of four mooncakes, as well as your choice of two of Aroma Truffle's signature chip flavours.
Order before 21 September to enjoy up to 30% off your bundles.
---
8. Chng Kae 
---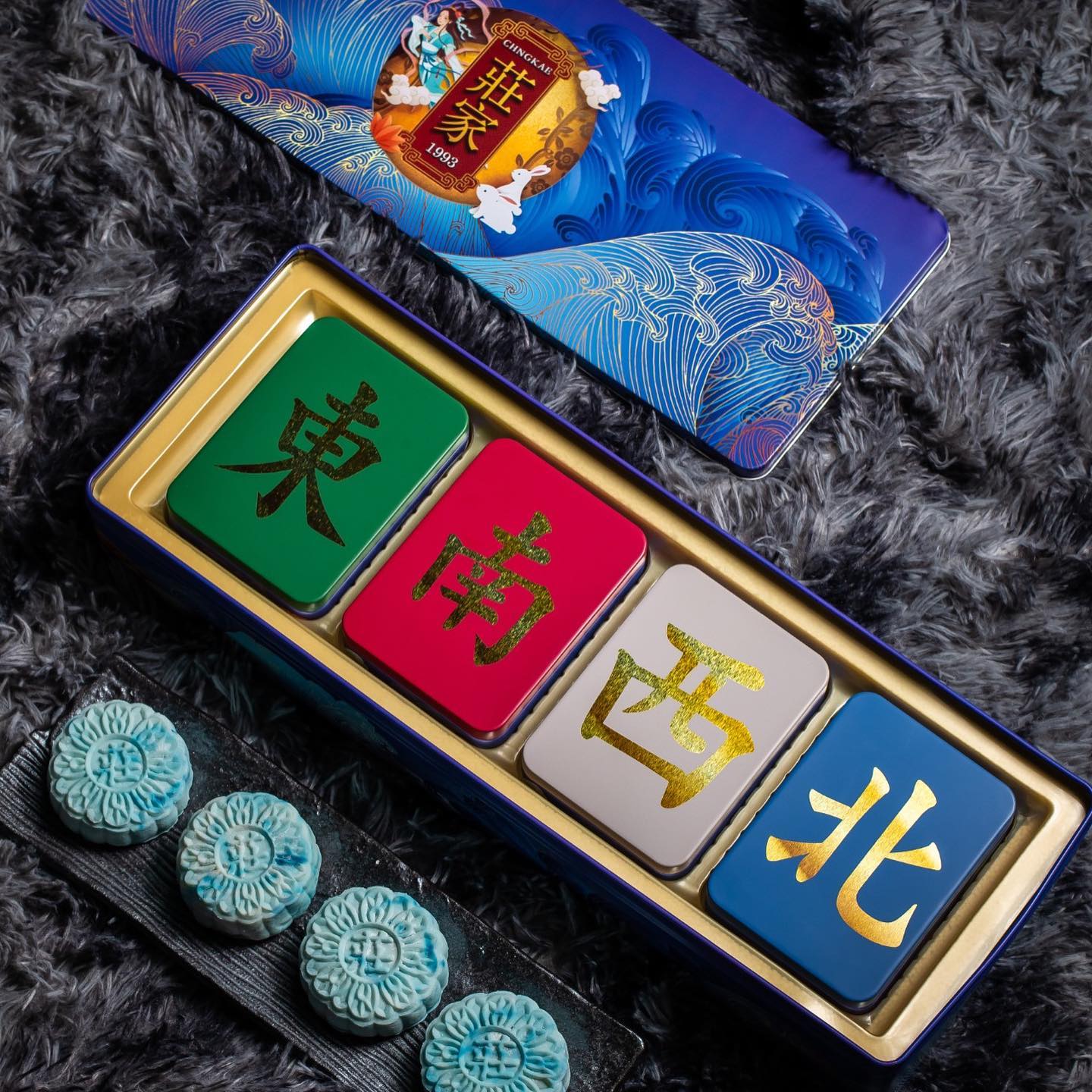 Image credit: Chng Kae
If your mooncakes have to look as good as they taste, order your set from Chng Kae. This new player in the mooncake scene is releasing their signature Qing Hua Mao Shan Wang Mooncakes, where ultra-thin snowskin is marbled in white and blue to reflect Chinese porcelain. Inside, the mooncakes are rich with creamy, moreish MSW puree. A box of four is priced at $118.
Order before 31 August and get 35% off, order from 1 September to 8 September to get 30% off, order from 9 September to 21 September to get 25% off.
---
9. Four Seasons Durians
---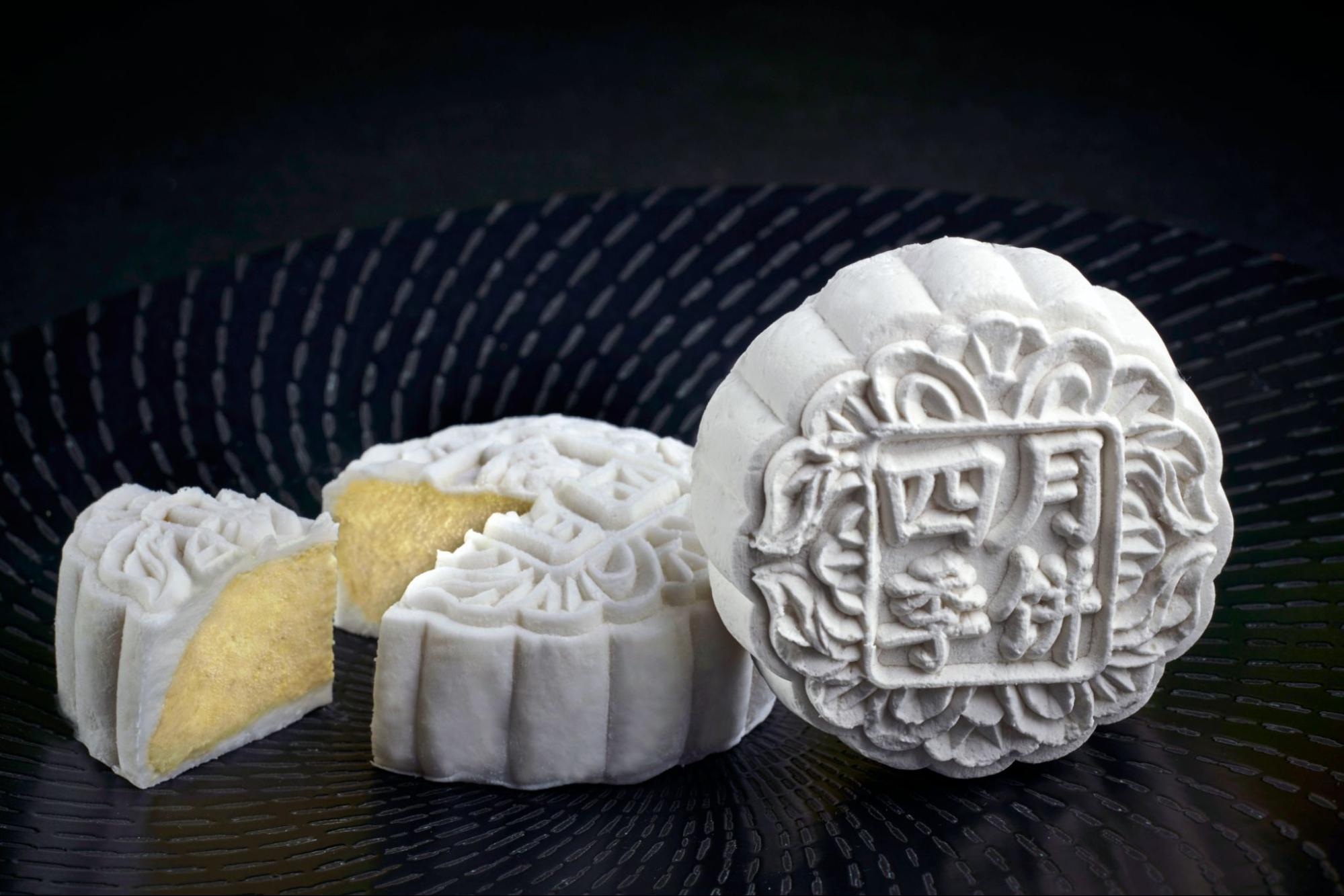 Image credit: Four Seasons Durian
You know and love Four Seasons Durians for their durian puffs, so keep that loyalty going as you try their durian snowskin mooncakes, available at the Online Mid-Autumn Fair. Not everyone is a big MSW fan, so if you prefer the milder flavour of D24, then get the Sultan Durian Mooncakes. These are available as full-sized, at $88 for four pieces, or as minis, at $78 for eight pieces.
Diehard MSW lovers can get the MSW Durian Snowskin Mooncake, packed with 100% pure MSW puree. These are priced at $138 for four full-sized mooncakes or $98 for eight minis.
Get a whopping 50% off when you order either the four full-sized Sultan Durian or MSW Durian Snowskin Mooncakes from now till 19 September.
---
10. Kele
---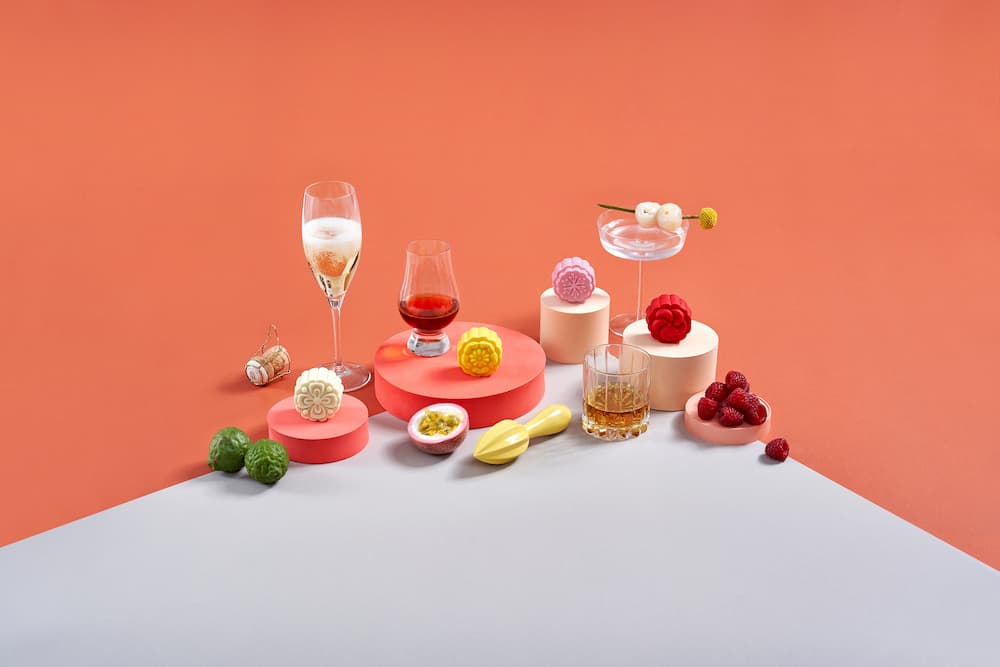 Image credit: Kele
Kele brings a rainbow of mooncakes to the table at the Online Mid-Autumn Fair. Those who enjoy alcoholic mooncakes should go straight for the Kele Booze Snowskin Mooncake, a crowd-favourite selection of four boozy mooncake flavours: Raspberry Whisky, Yuzu Champagne, Lychee Martini, and Passionfruit Cognac. A box of eight is priced at $72. Alternatively, try their new range of Kele Tropical Snowskin Mooncake, comprising tropical-fruit flavoured snowskin mooncakes. Pink Guava Ume, Mango, Sudachi Caramel, and the bestselling Avocado Macadamia are what you can expect from the selection. A box of these is priced at $68.
Order before 31 August and get 25% off, order from 1 September to 21 September to get 15% off.
---
Order mooncakes online at this Online Mid-Autumn Fair
---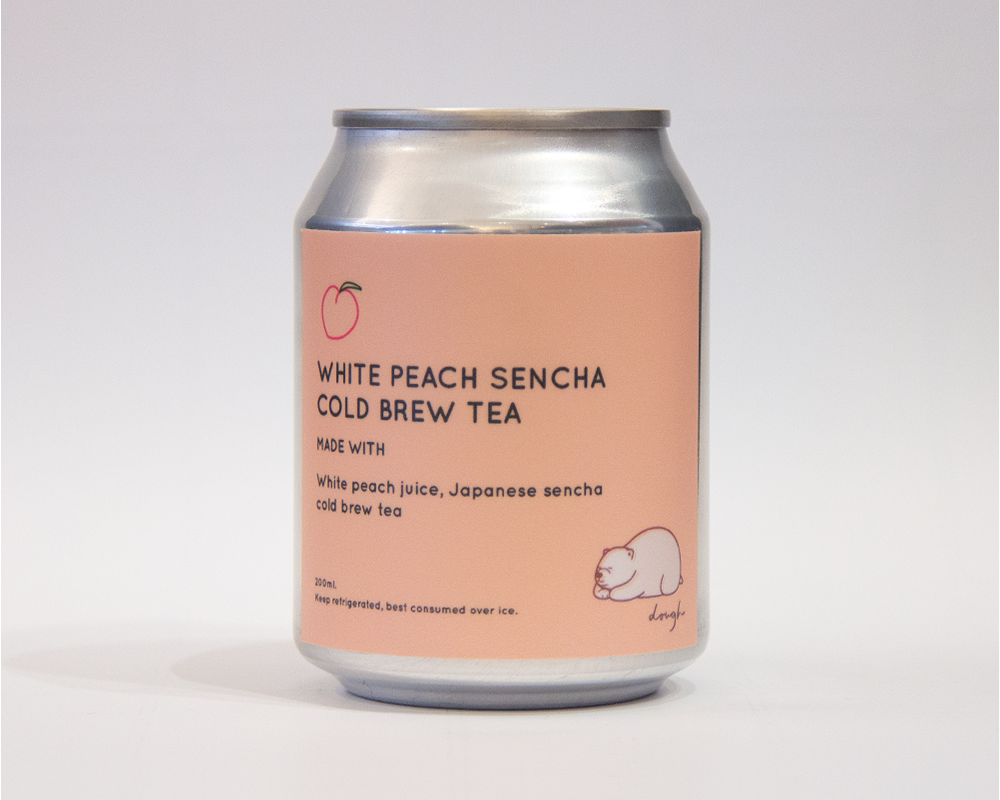 Image credit: DOUGH
Treat the fam and friends to a safe and sweet feast this Mid-Autumn Festival 2021 when you order mooncakes online via this online fair. Apart from mooncakes, the Online Mid-Autumn Fair will also be selling a range of teas from brands such as DOUGH, located at CHIJMES, #01-30, and The Tea Story. Snacks from local labels such as Eureka Snacks will also be available. Round off the festivities by purchasing lanterns for the little ones at the fair, brought in by Partyforte. 
Enjoy additional $5 off with the promo code 'EBSG5' with a minimum of $100 spent. Limited to the first 1,000 redemptions. Other terms and conditions apply.
This post is brought to you by Capitol Singapore and CHIJMES.
Pictures used are for illustration purposes only.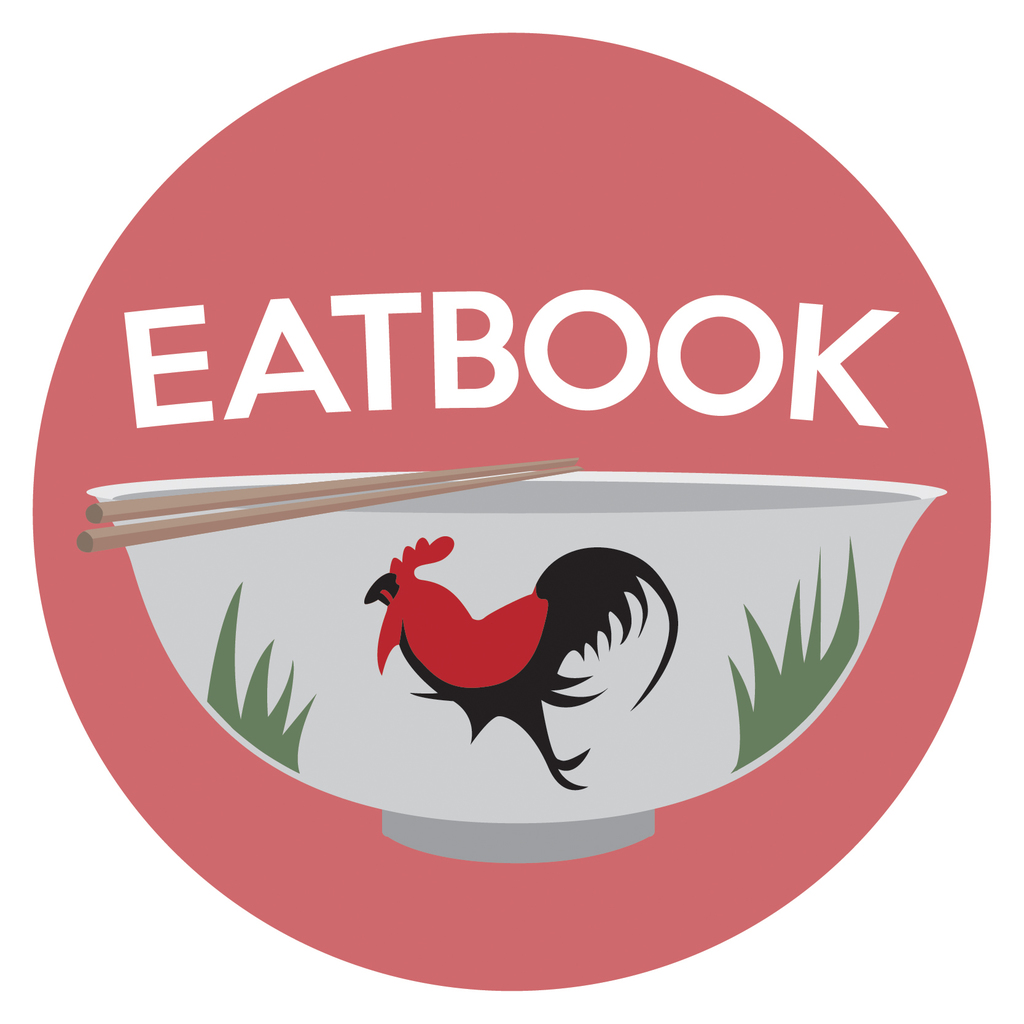 Drop us your email so you won't miss the latest news.