Freshly fried curry pockets at Panko Pocket
If you've been one of the Japanese food enthusiasts eagerly watching Panko Pocket's 'coming soon' sign while visiting Plaza Singapura, wait no further, as they will be opening on 18 October 2019! The crumb-coated creation is a sister brand to Beard Papa cream puffs, both brought here by Japanese company Muginoho.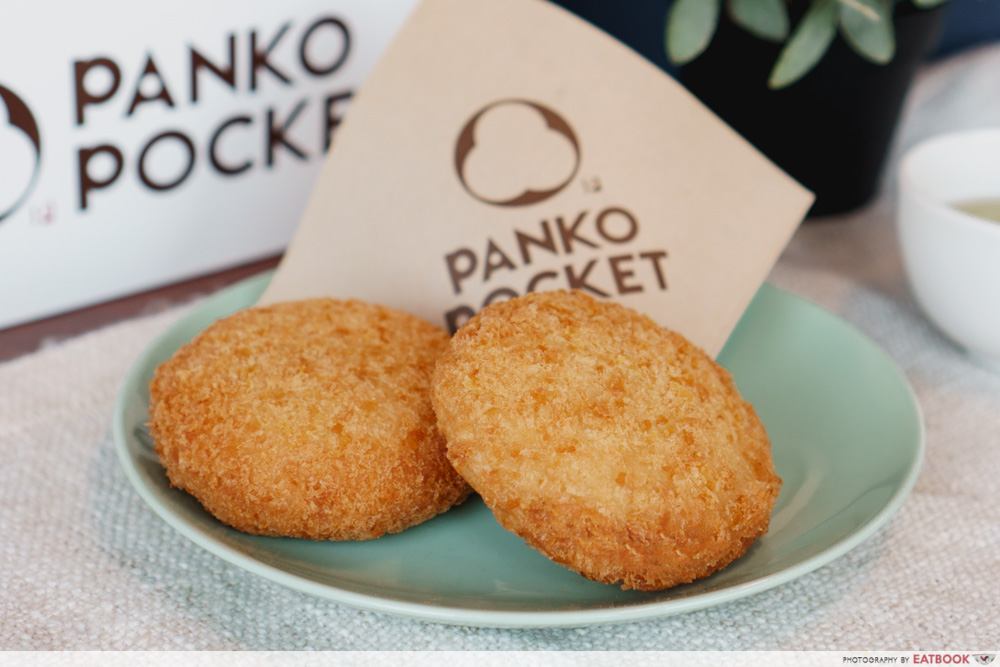 ICYDK, panko is a special kind of Japanese breading that's far lighter and holds less oil than traditional crumb coats. What makes Panko Pocket so luxe is the fact that they grind up their own crumbs in house and use 50% less oil. It's definitely a light snack that's not heavy on calories. The little bombshells of chunky curry are made with premium Japanese ingredients and are served fresh off the pan. 
From 18 October to 19 October, the first 50 customers each day will be able to get their hands on these premium treats at $1! The promotion applies to their Brown Beef Curry pocket on 18 October 2019, and their Yellow Chicken Curry on 19 October.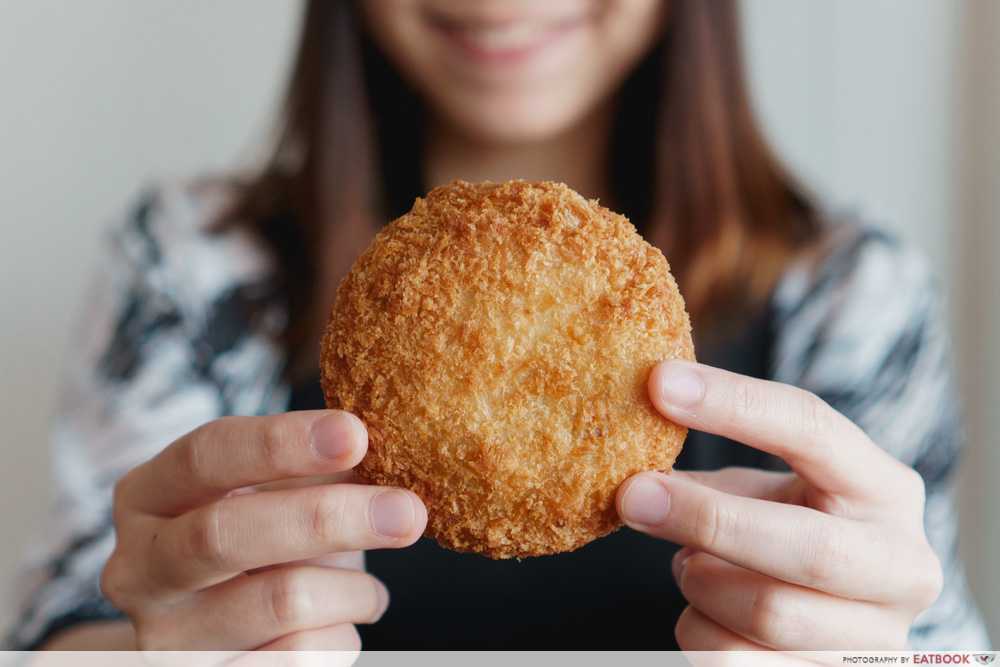 The curry pockets are usually priced at $3.30 for one and $2.90 each for three pieces. There are four flavours in total, namely Brown Beef Curry, Yellow Chicken Curry, Red Veggie Curry, and the seasonal Shrimp Gratin. Each pocket is shaped into a neat little circle with a light golden brown skin. 
Even after being set aside for some time, the little pockets refused to turn soggy. The very first bite took us all by surprise as the crunch echoed through the kitchen.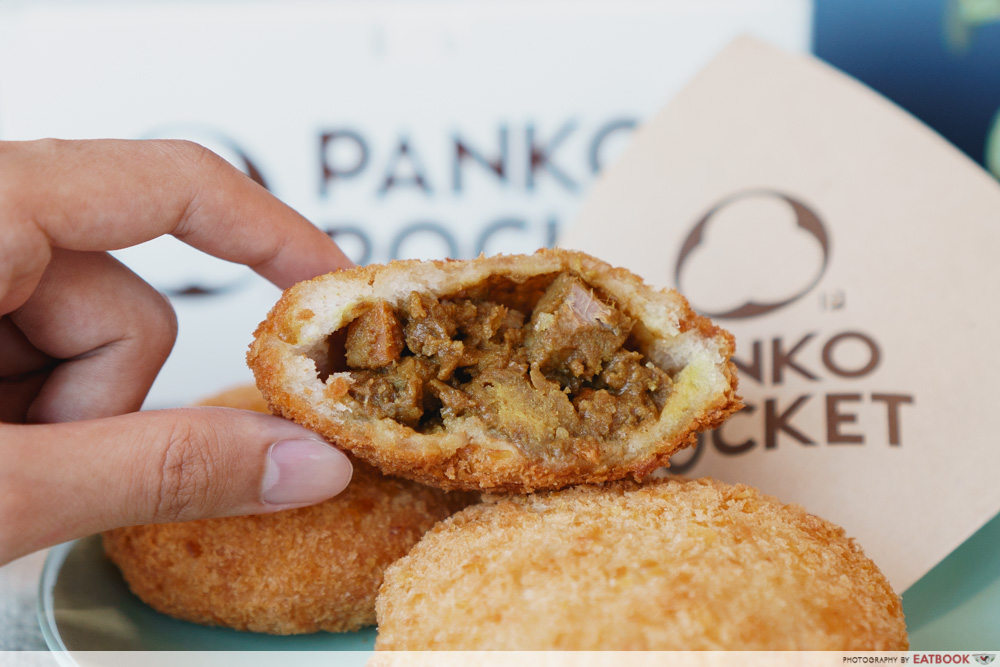 The Brown Beef Curry pocket was meaty and savoury, with huge chunks of chewy beef inside the crisp shell. It shattered with a loud crackling noise, and the breading was light and crispy. The dark curry filled the snack generously.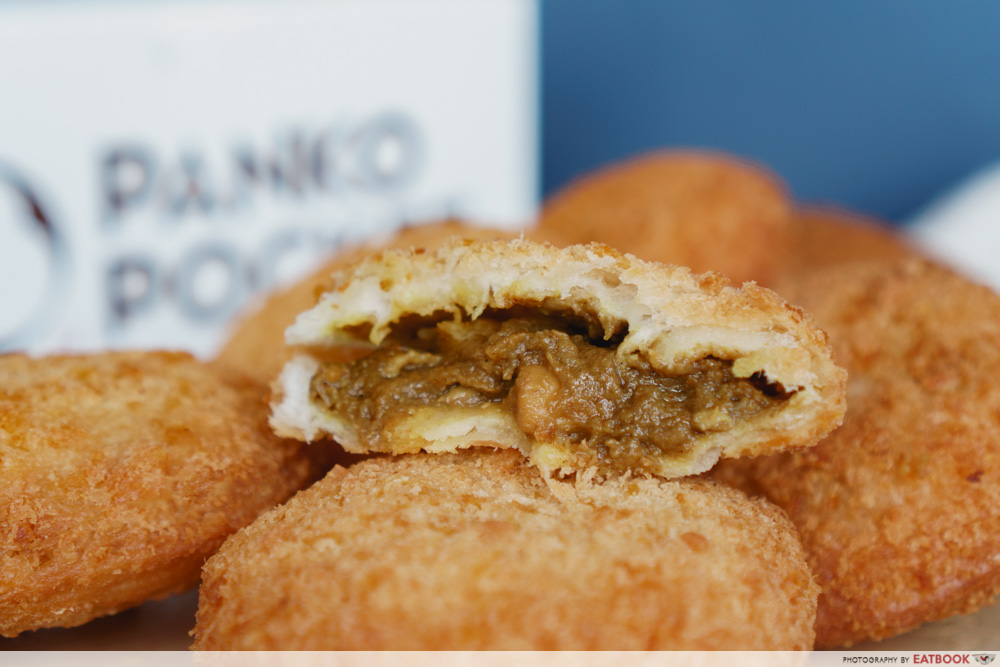 While the beef pocket had huge chunks of meat scattered within, the Yellow Chicken Curry pocket featured a slightly spicier curry and came with shreds of chicken.
The outer layers crunched easily as I bit down, and a coating of crumbs exploded into my mouth. It was sweet and had less of a meaty flavour than the first one, but packed slightly more heat. There was still chicken inside, but it was minced a bit finer than the beef chunks were.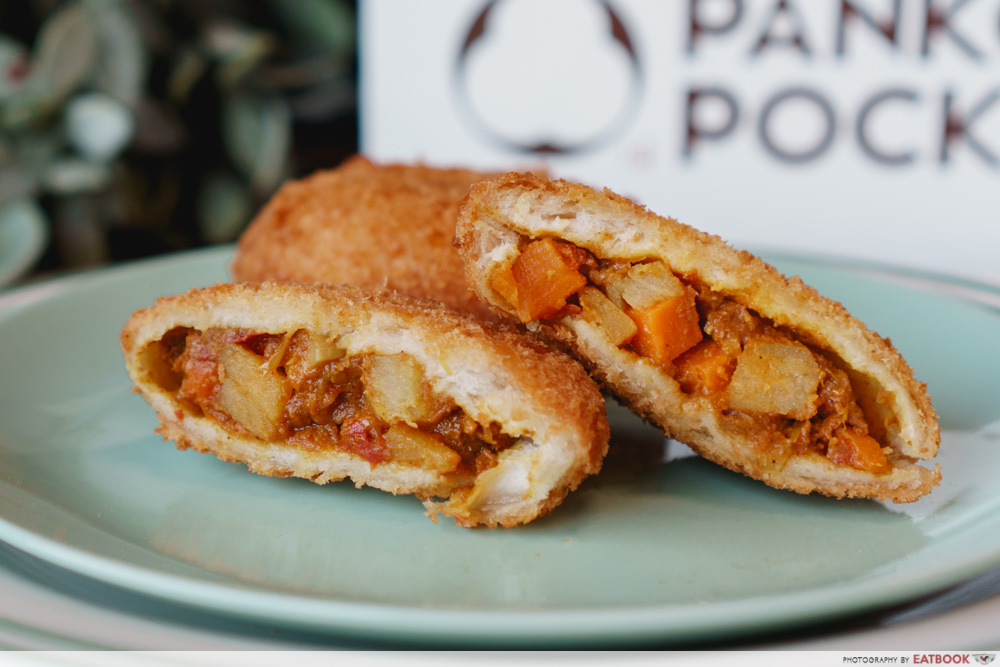 For vegetarians, the Red Veggie Curry pockets provided a much sharper and stronger taste. It was filled with chunks of softened potato and carrot. The curry was spicy and sweet.
True to its name, the curry was a vivid reddish-orange, far brighter than the other flavours. While it didn't have morsels of meat, the sheer flavour of the curry more than made up for it.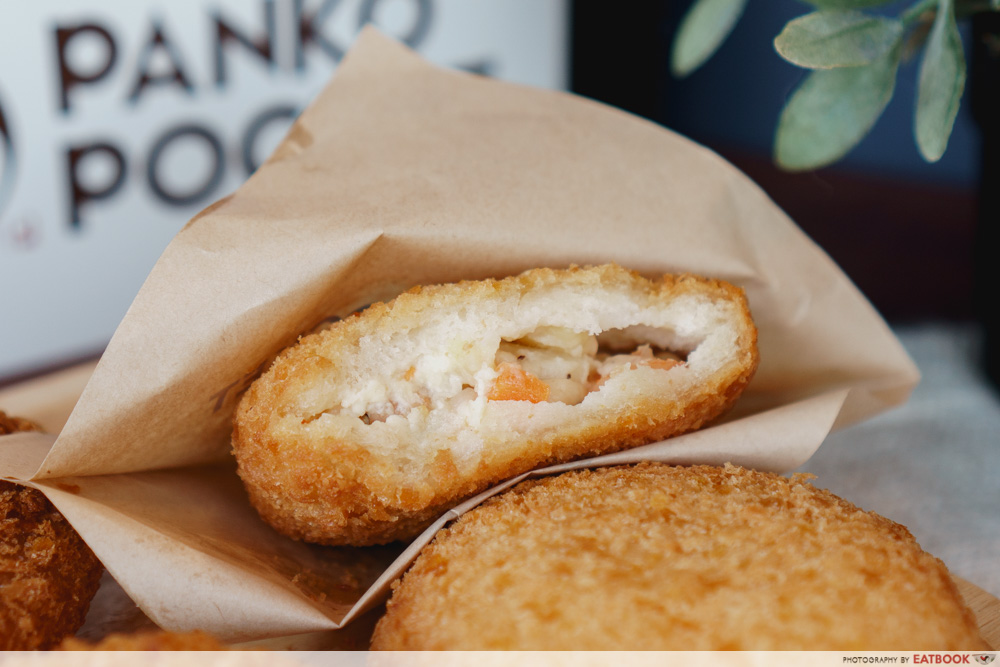 Lastly, the Shrimp Gratin: meek and mild, but as tasty as its siblings. 
Instead of the bright shades of curry and intensely savoury meat, this seafood delight was filled with creamy sauce and vegetables. Bits of macaroni and shrimp were present throughout the soft interior. 
While the other three items are here for the long haul, the Shrimp Gratin is a seasonal item. The creamy treat will be here for six weeks before it's swapped out for a fresh new flavour. Beef stew and chilli crab flavours are in the works, so keep an eye out for them!
My personal favourites out of the four pockets were the Beef and Shrimp flavours. The chunks of meat and thick curry went great with the crunchy shell; it was like eating a katsu cutlet. The shrimp pocket was light and palatable, making for great comfort food.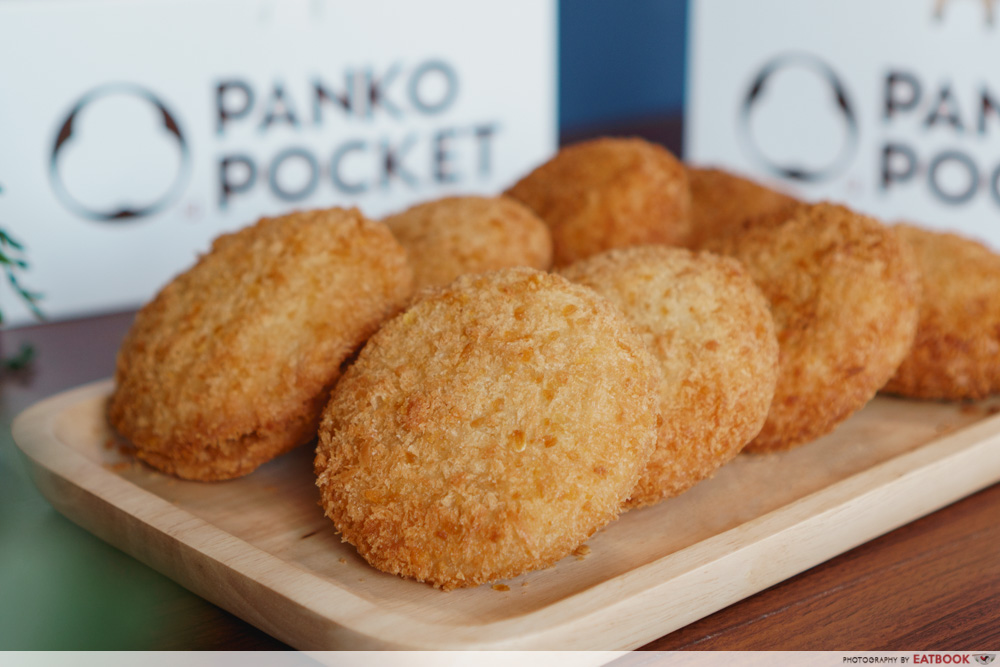 The soon-to-open stall will be found on basement two of Plaza Singapura, close to Exit D of Dhoby Ghaut MRT Station. It's open from 11am to 10pm on the first two promotion days, and from 10am thereafter. Panko Pocket doesn't use pork or lard and is pending halal classification. 
Address: 68 Orchard Road, #B2-32, Plaza Singapura, Singapore 238839
Opening hours: Daily 10am-10pm
Website
Photos taken by Nadia Elijanto.
This post is brought to you by Panko Pocket.