Penang Bagus serves both Penang and Korean food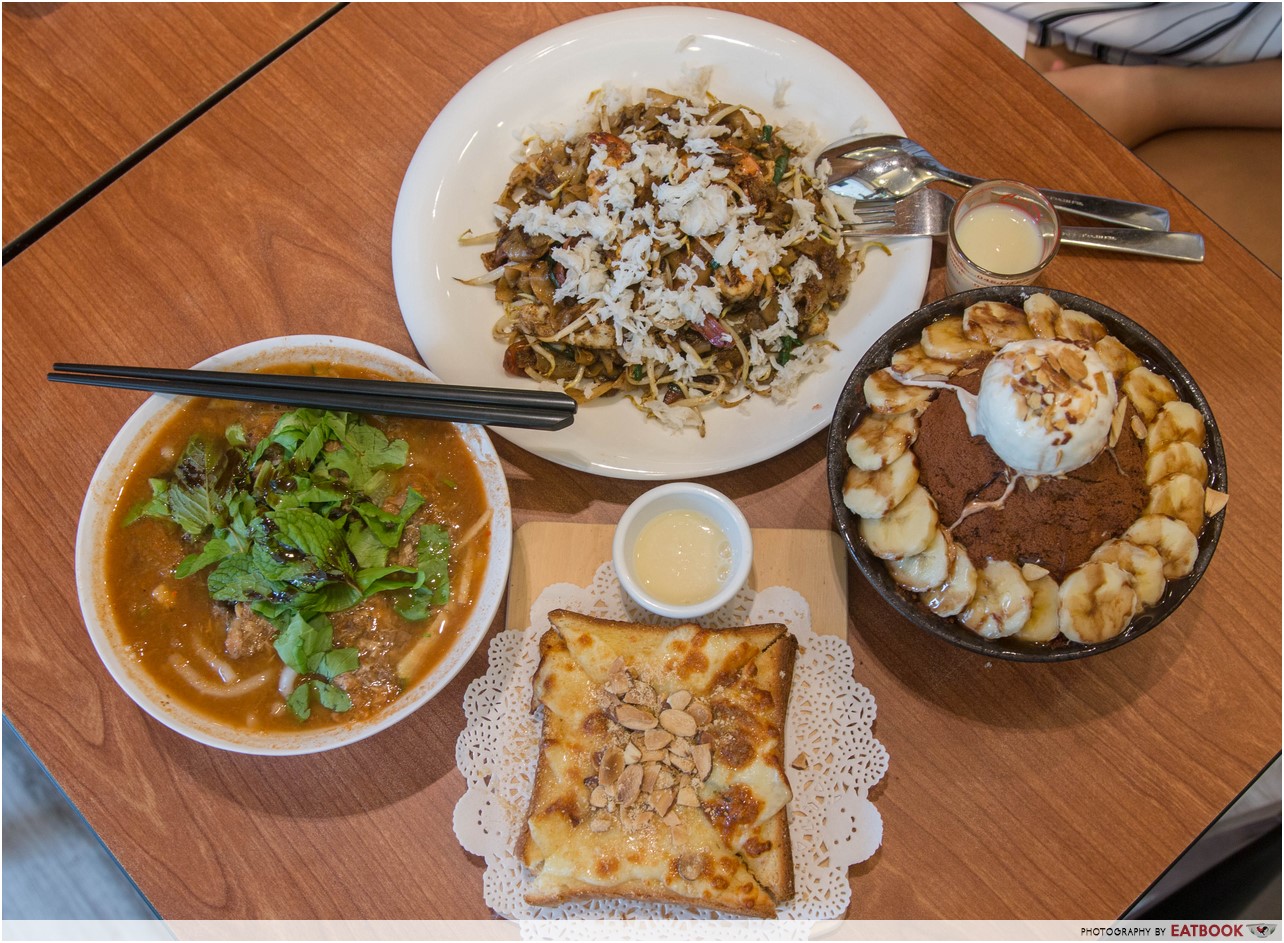 Just last weekend, I had an unbearably strong craving for bingsu and after futile attempts of trying to jio my friends to leave their homes just to have the dessert with me, I gave up and went ahead, by myself. That is how much I love bingsu.
And if you have read my review on Penang Place, you would know that Malaysian food is another of my weakness. When I heard about Penang Bagus, a restaurant that serves both Penang food and Korean desserts, I could not wrap my head around that idea but couldn't resist paying the eatery a visit with my colleague either.
Food at Penang Bagus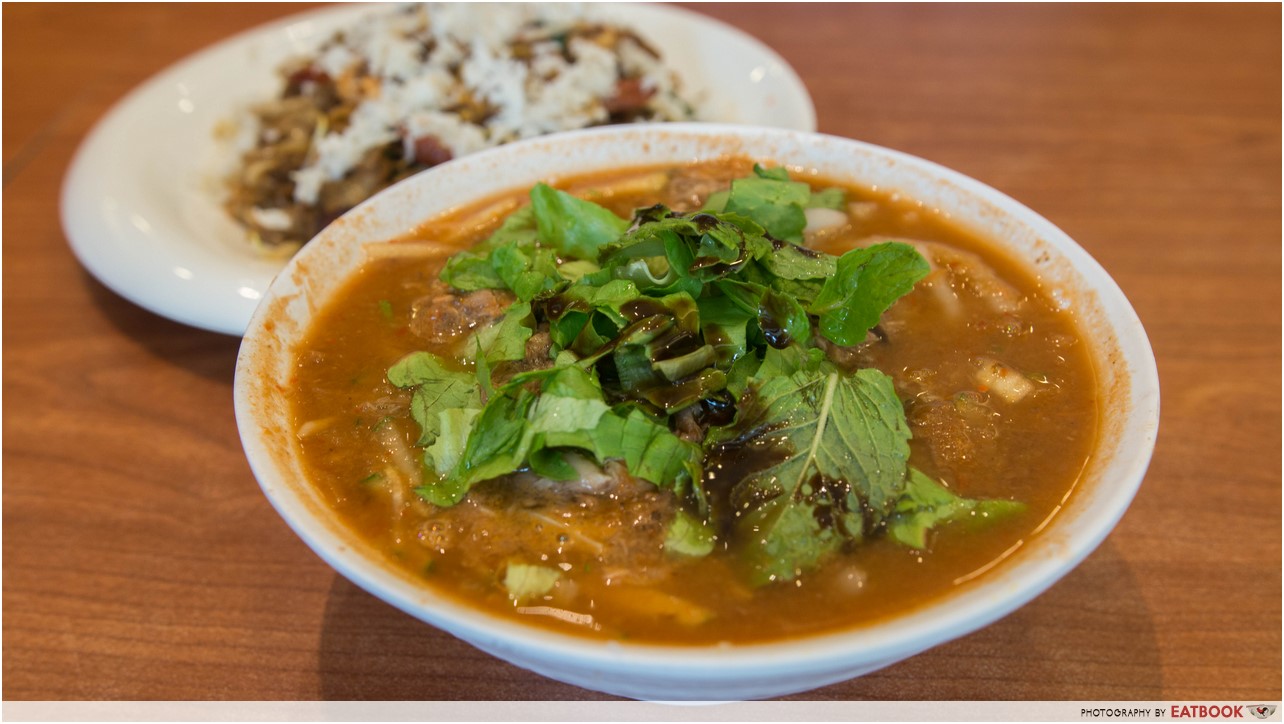 The first dish that we tried was their Penang Assam Laksa ($6). Topped with a heap of mint leaves, the bowl was filled to the brim with thick rice noodles and pungent soup. One whiff and the soup reminded me of sour and spicy clear tom yum from Thai food places.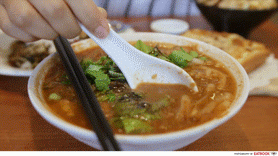 Going straight for the soup, I was surprised by how refreshing it tasted. A mix of sour, salty, and tangy tastes, the spiciness of the soup also kicked in after a while. It was, however, comfortably spicy and only left a light fiery sensation on my lips.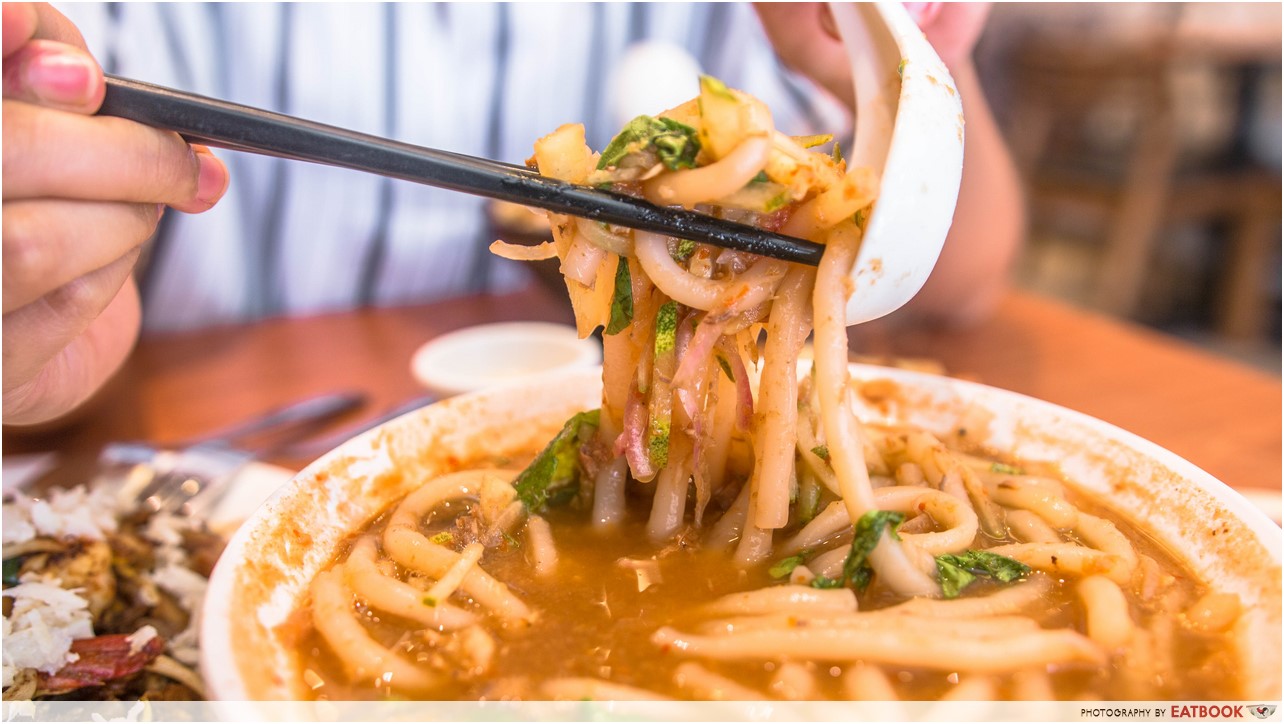 For $6, I thought the amount of noodles was generous. Imported from Penang, the thick and smooth rice noodles balanced the flavour-packed soup well. My favourite part of the dish would be the bits of onions, cucumbers, and sardine that were in the soup. The crunchy vegetables added to the textures of the dish while the sardine pieces absorbed the soup well, making each spoonful especially juicy.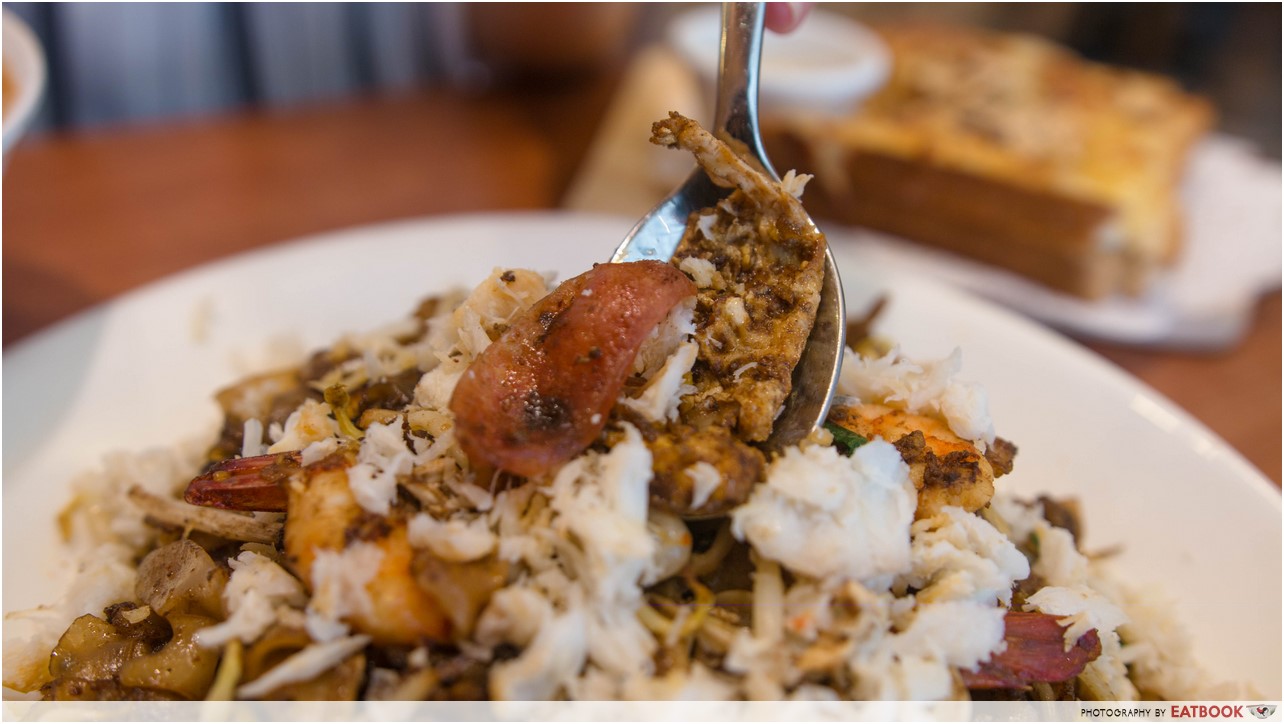 Just as we were going to order their Penang Char Kway Teow ($6), we spotted Special Char Kway Teow ($12) on the menu. The latter is char kway teow with salted egg yolk, crab meat and prawns, and served in a larger portion. Anything with salted egg yolk sounds enticing to me and I could not resist trying that instead.
When the dish arrived, I was impressed by the generous amount of crab meat that sat on top of the noodles. But beyond that, I didn't think there was anything else that looked special about the dish.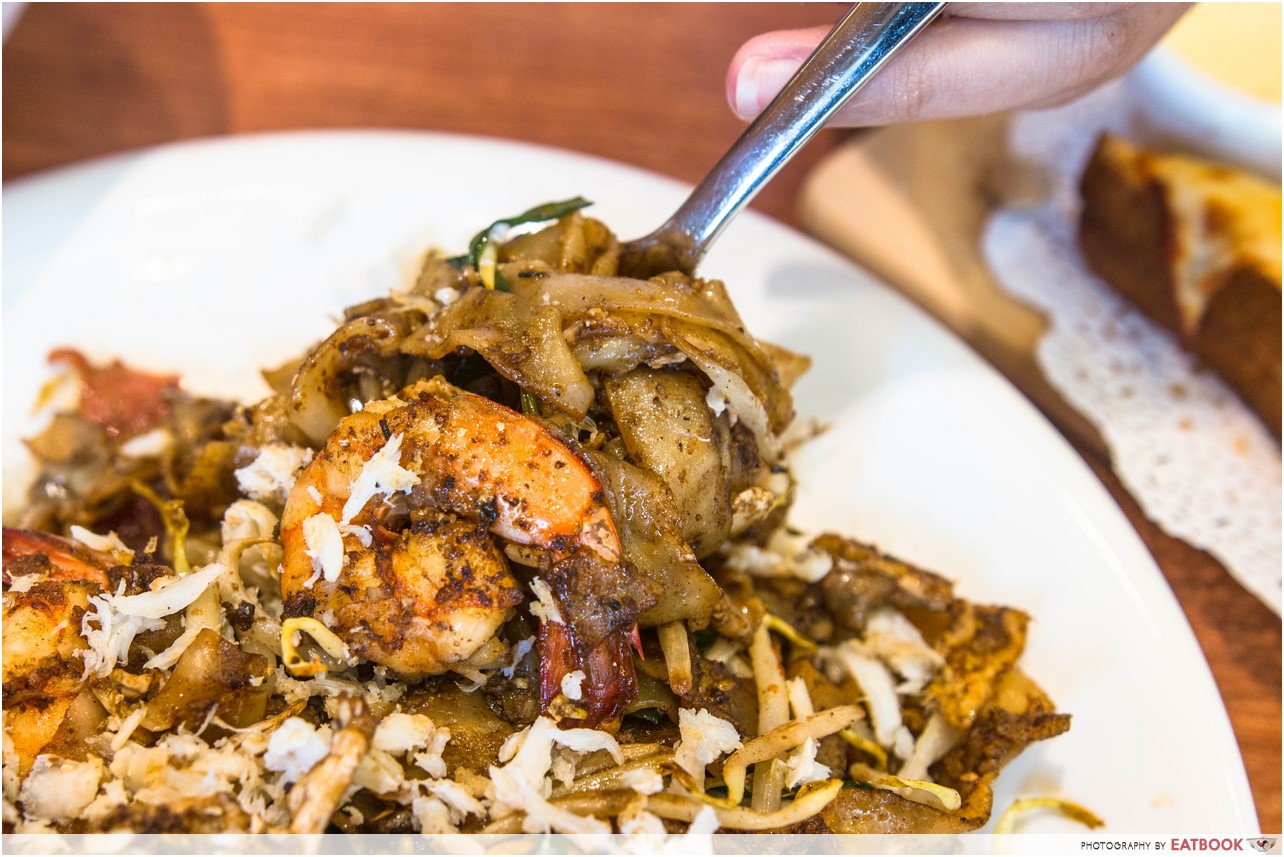 Hoping the taste would prove otherwise, we dove into the kway teow quickly. On top of a distinct wok hei flavour, the noodles also had a grainy texture that came from the salted egg yolk. The taste was just like an ordinary plate of good char kway teow and if untold, I probably would not have realised that there was salted egg yolk in it.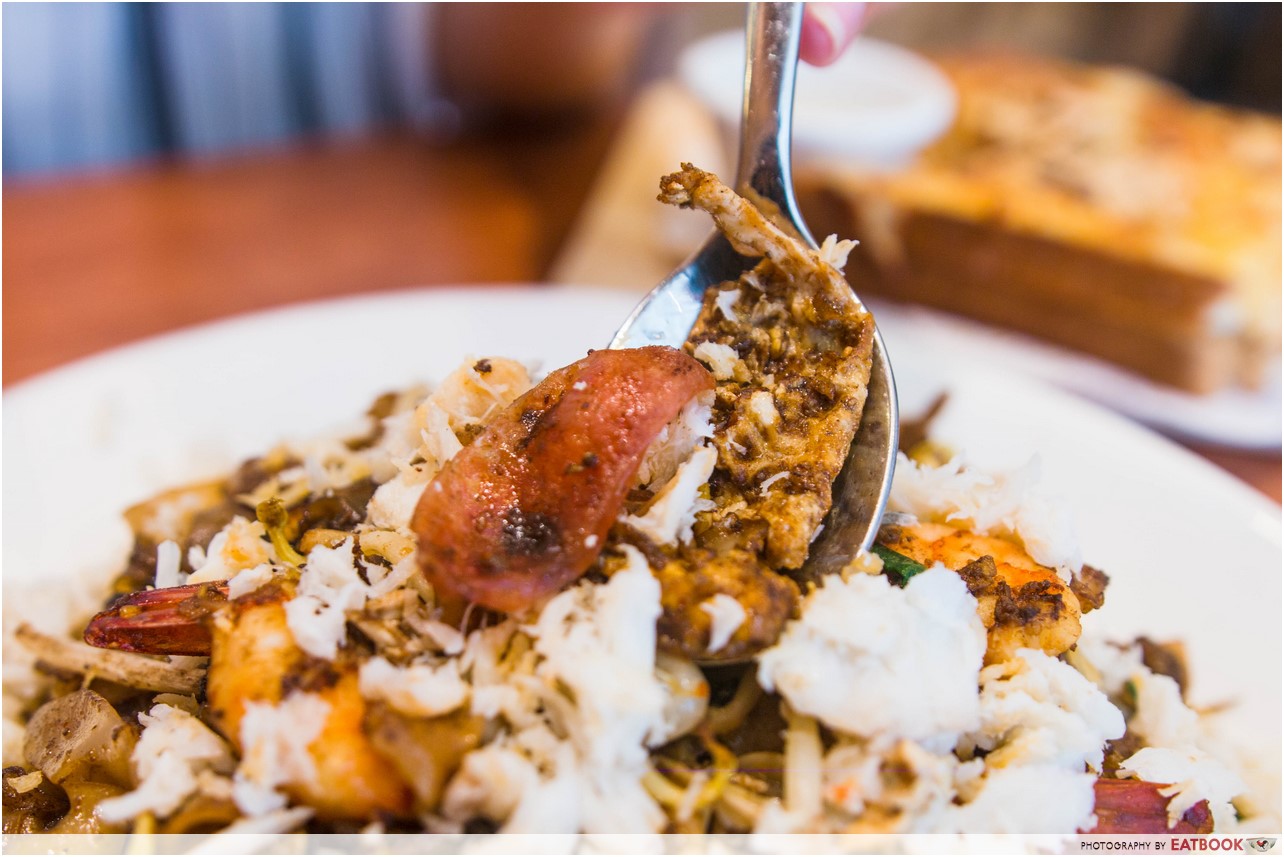 For the other ingredients, the dish also came with a good amount of scrambled eggs, prawns, bean sprouts, and Chinese sausage that added to the variety of flavours. When eaten with the noodles, however, the taste of the crab meat was hardly noticeable.
Overall, the char kway teow was tasty and decently executed. But as a whole, there was nothing to shout about and if I were to return, I would probably opt for the regular char kway teow which is more value-for-money.
On to the desserts, and also my most anticipated part of the meal, we went for their Cheese Injeolmi Toast ($8.90) and Choco Banana Bingsu ($12.90)!
An avid fan of Nunsaram's injeolmi toast, I could not wait to see how an eatery that serves non-Korean food will match up to my favourite cafe – especially with the added cheese factor. With my phone ready for a Boomerang shot, I pulled a slice out but was disappointed that there was neither the cheese- nor the rice cake-pull effect.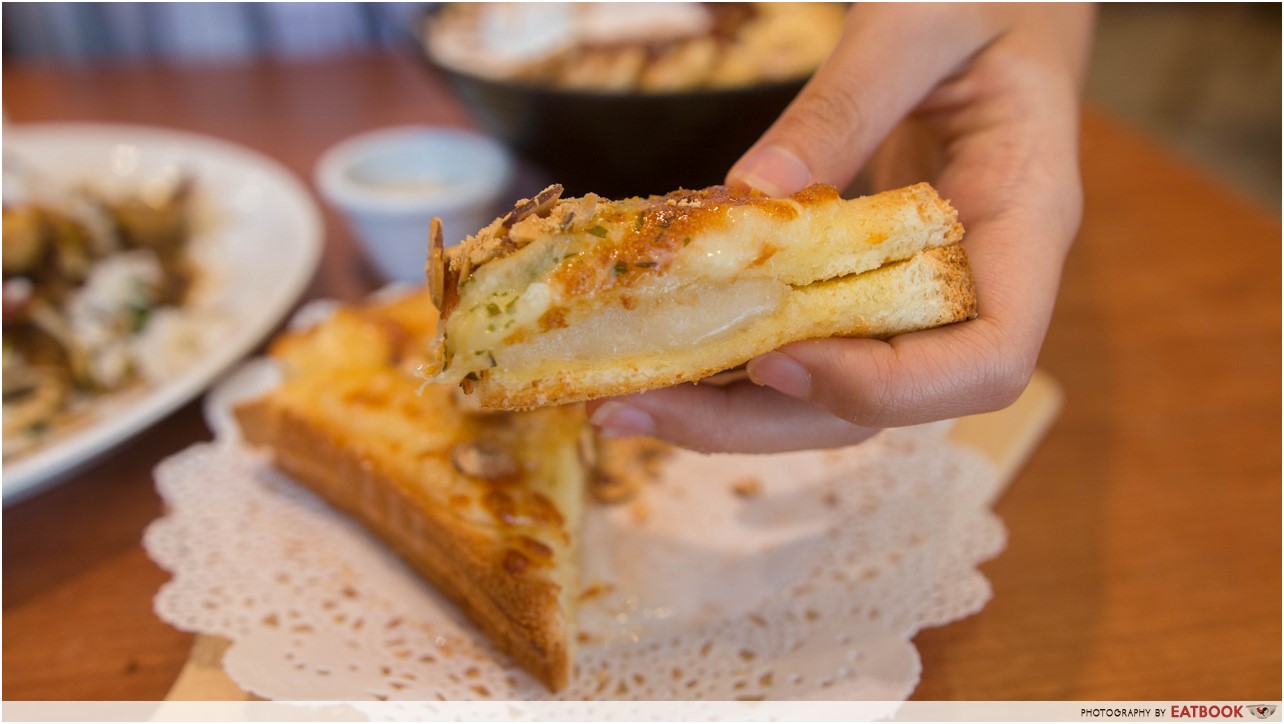 Nevertheless, the toast was surprisingly thick with a huge layer of rice cake sandwiched between the two bread slices. Unlike most chewy injeolmi toasts, each bite of this one was a clean snap. Taste-wise, I had a pretty hard time comprehending what I was eating. Slightly sweet, the cheese layer that was on top was salty and there was also a strong sour taste which did not sit well with me.
Overall, it was not a pleasant experience and the only part that I liked was the chewy ends of the bread which went well with the sweetened condensed milk.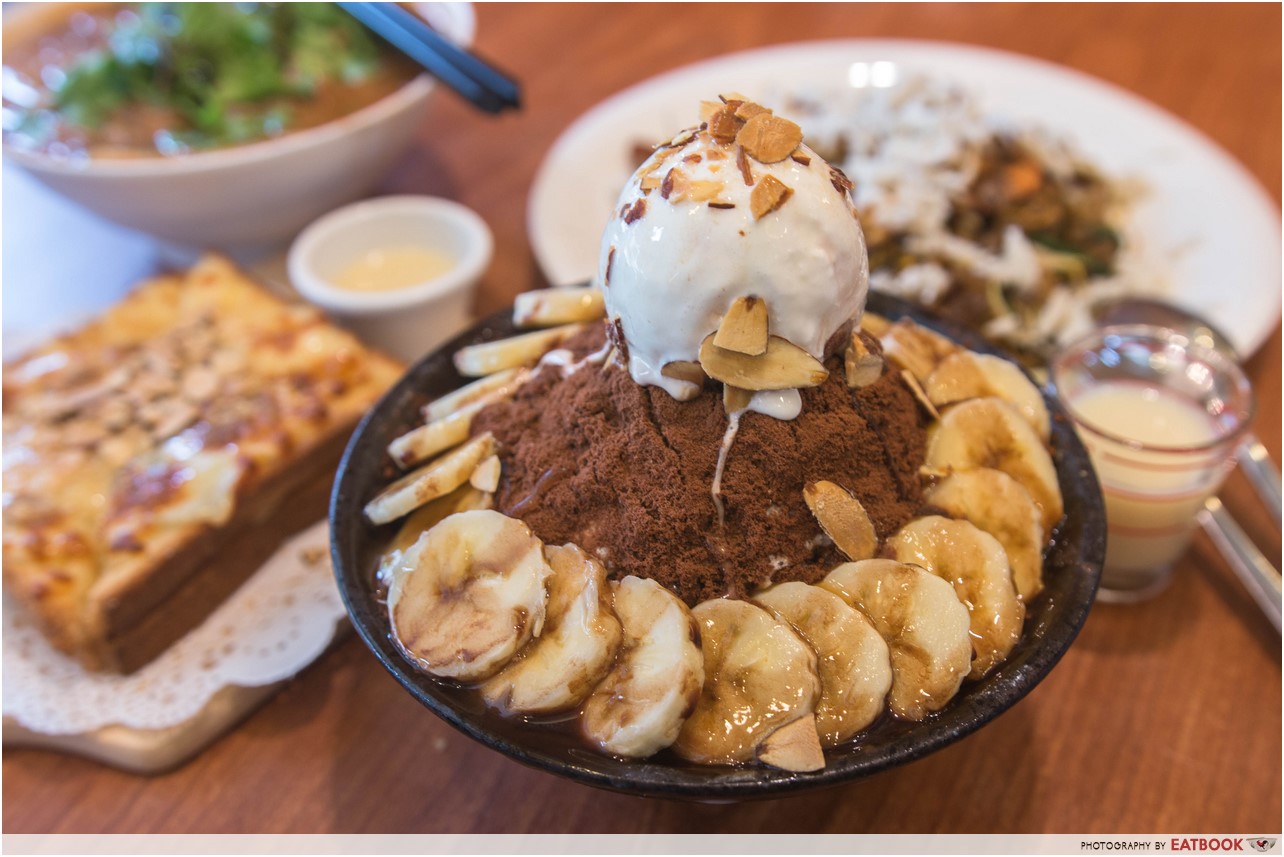 The last dish, and also my favourite dish, was the chocolate banana bingsu. The tiny mountain of shaved ice was covered with what tasted like Milo powder and was topped with banana slices, almond flakes, chocolate syrup, and a scoop of ice-cream that tasted like a combination of vanilla and coconut flavours.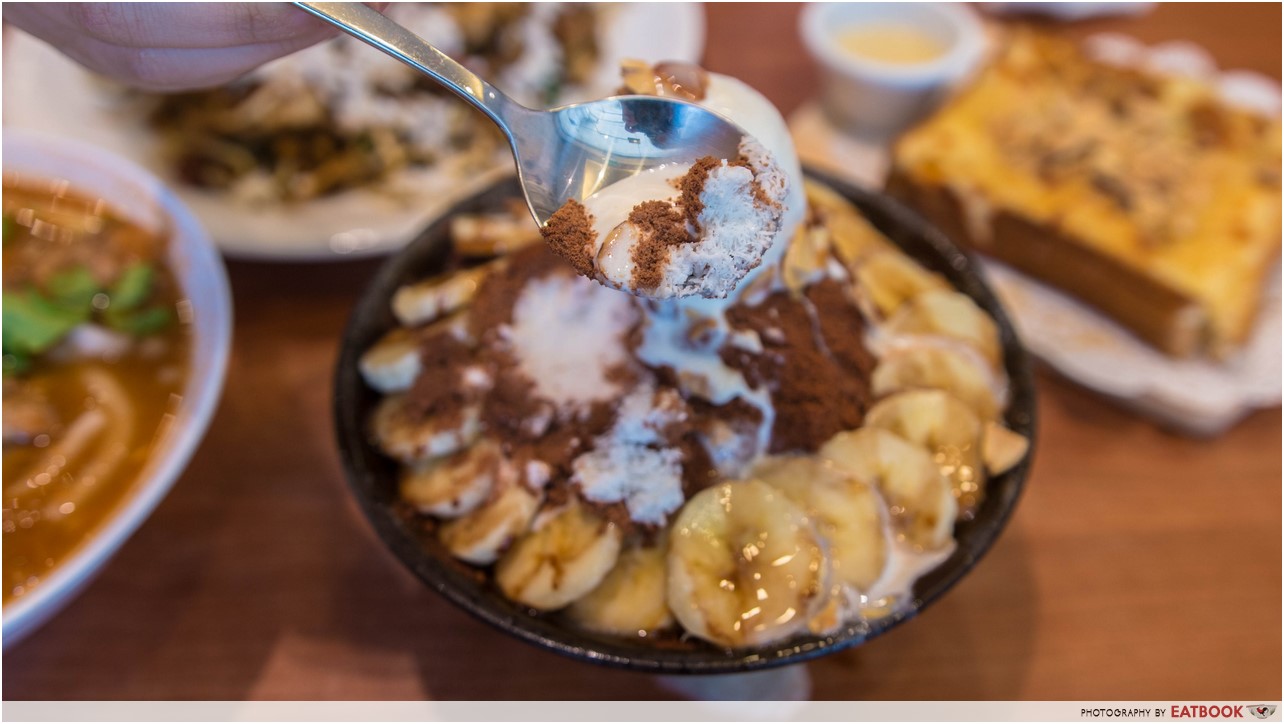 Like most bingsu, the ice shavings were milky and slightly sweet. Even with the ice-cream and chocolate syrup, the dessert was not overwhelmingly sweet and the condensed milk on the side was like the cherry on top of the cake. One aspect that took me by surprise was the subtle coconut flavour which I have never tasted in a bingsu. In terms of texture, the shavings were more icy than creamy and that was only part which I thought could be improved on.
Overall, the dessert was refreshing and sharing the bowl with my colleague was almost like a race to see who could go for the next spoonful first.
Ambience at Penang Bagus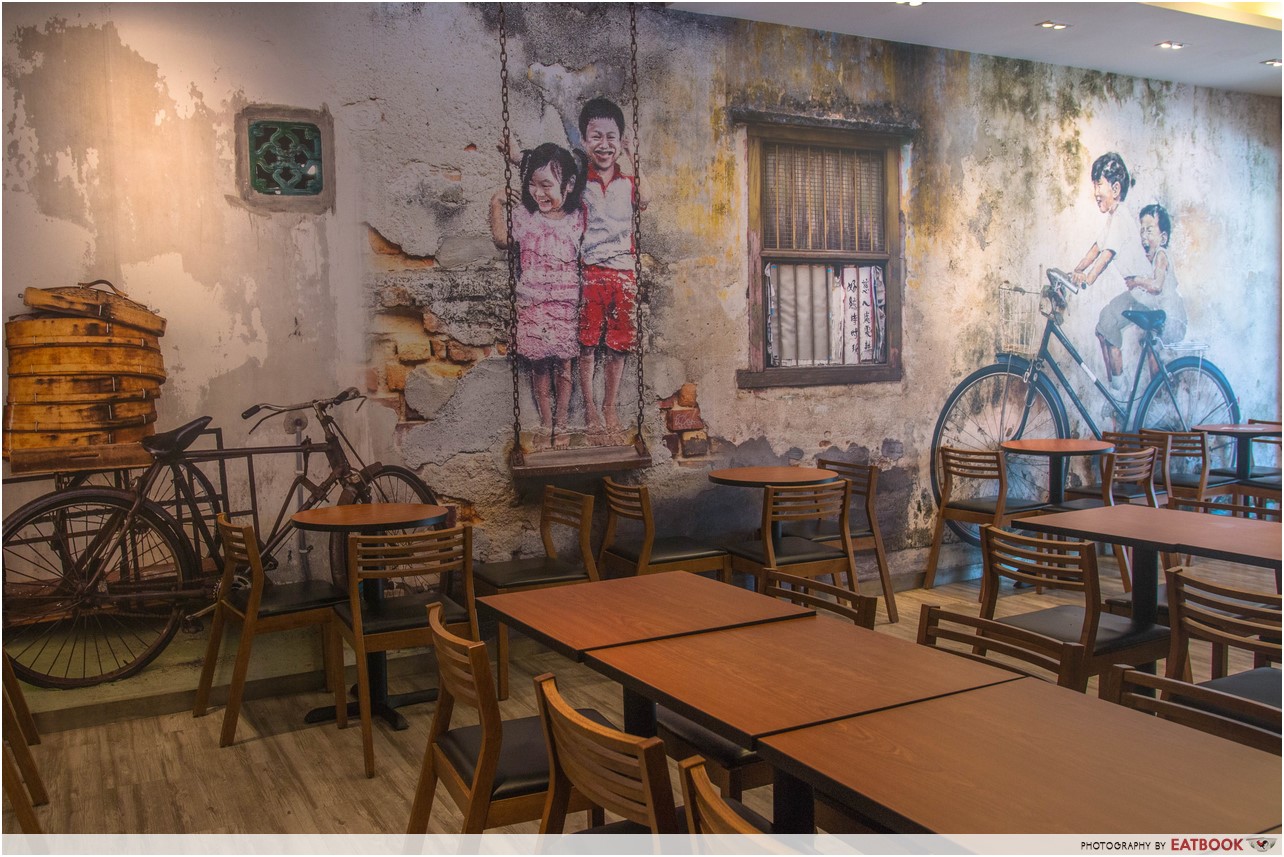 Sandwiched in the middle of a row of shops at Tanjong Katong, Penang Bagus is an air-conditioned restaurant with a laid-back ambience. A striking design of the restaurant would be the mural that shows the famous street arts from Penang. Besides the pop songs that was playing in the background, the clanging of woks that came from the kitchen was also hard to miss. With that, it felt almost like we were dining at a street-side stall in Penang, but with air-con!
The verdict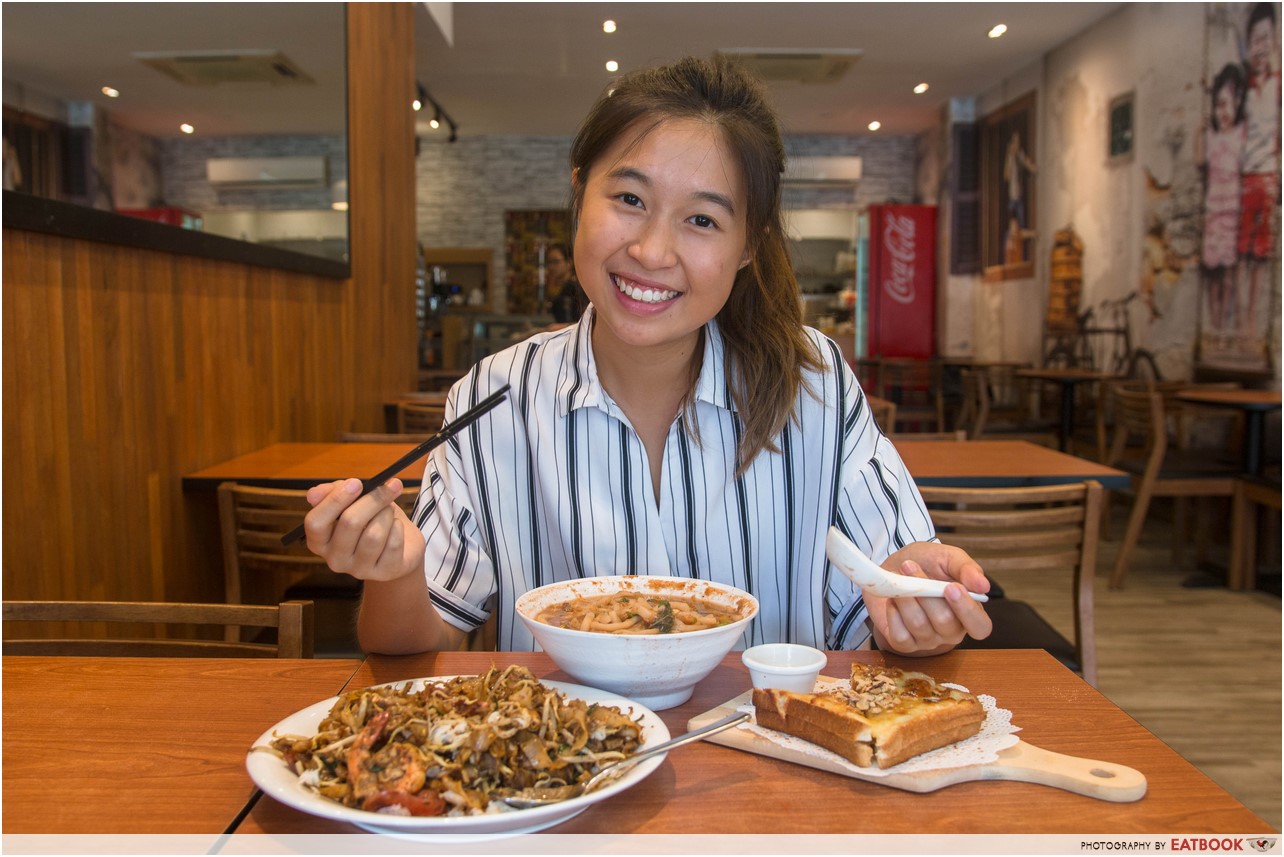 As a whole, my experience at Penang Bagus was an interesting and surprisingly pleasant. Both the Penang food and Korean desserts were satisfactory and I really liked the concept of having the two cuisines in one restaurant. However, I felt that some of the dishes were a little pricey and that was my only qualm. For their bingsu and assam laksa, I will definitely be back.
Address: 232 Tanjong Katong Road, Singapore 437020
Opening hours: Sun-Mon 11:30am to 10pm, Wed-Thur 11:30am to 10pm, Fri-Sat 11:30am to 11pm
Website
Penang Bagus is not a halal restaurant.
This is an independent review by Eatbook.sg.
Summary
Pros
– Penang and Korean food under one roof
– Delicious Penang assam laksa
– No GST or service charge
Cons
– Special Char Kway Teow was mediocre
Recommended Dishes: Penang Assam Laksa ($6), Choco Banana Bingsu ($12.90)
Opening Hours:
Sun-Mon 11:30am to 10pm, Wed-Thur 11:30am to 10pm, Fri-Sat 11:30am to 11pm
Address: 232 Tanjong Katong Road, Singapore 437020