Penang Place offers delicious Penang dishes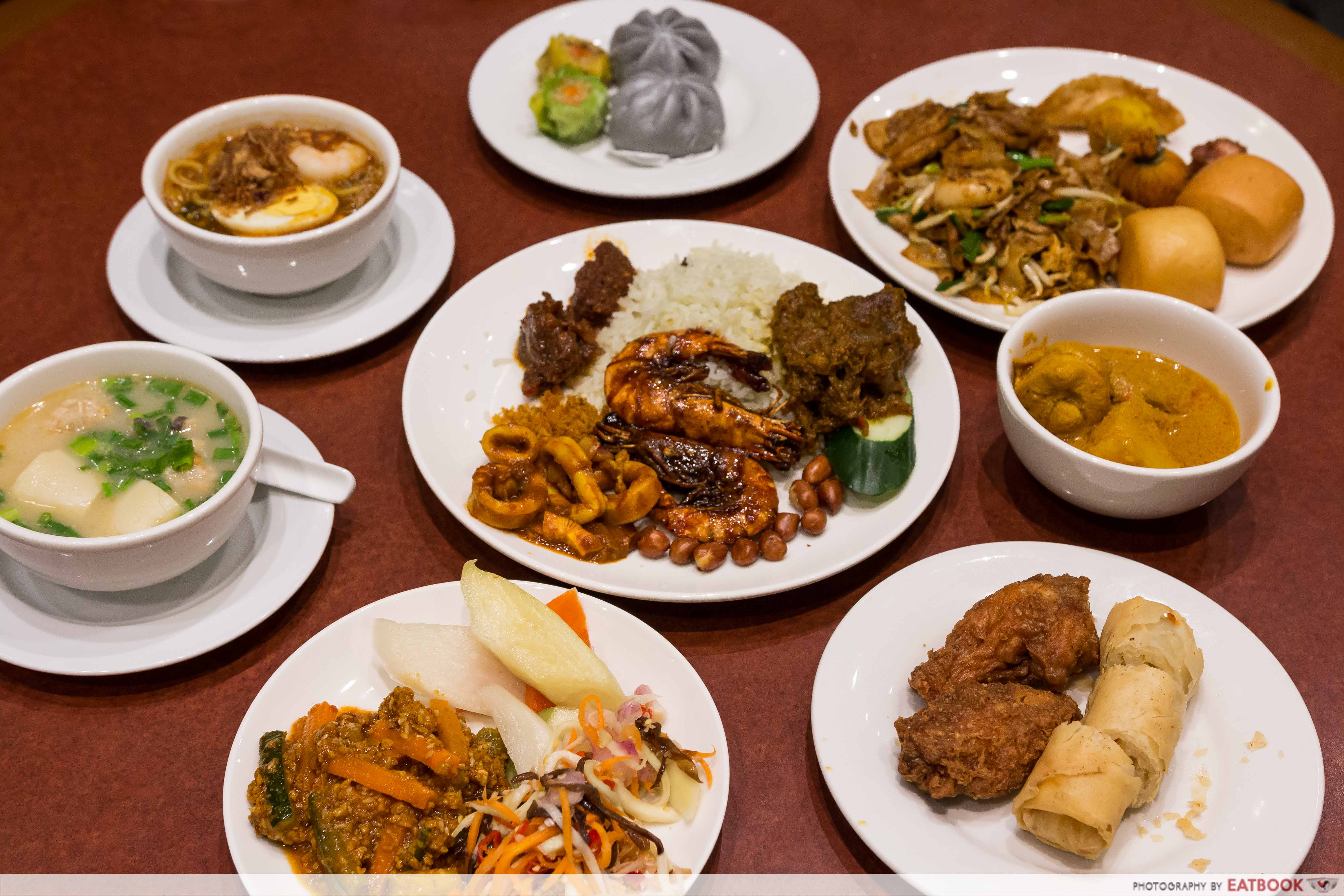 My parents are both from Malaysia and, even though our family has been staying in Singapore since I was born, they have always instilled this thinking in me – Malaysia has all the better food. Whether it's bak kut teh, char kway teow, or even Hainanese chicken rice, I've always had the impression that the best versions are only found across the checkpoint.

So when I first heard of Penang Place, a buffet restaurant that serves Penang food, I was skeptical. Nonetheless, the idea of a restaurant serving over 30 dishes at $24.90++ per person during weekday lunch hours was captivating and my colleague and I decided to give it a try. The buffet costs $27.90++ during dinner hours from Monday to Thursday, and $30.90++ for all other timings, including public holidays.
Food at Penang Place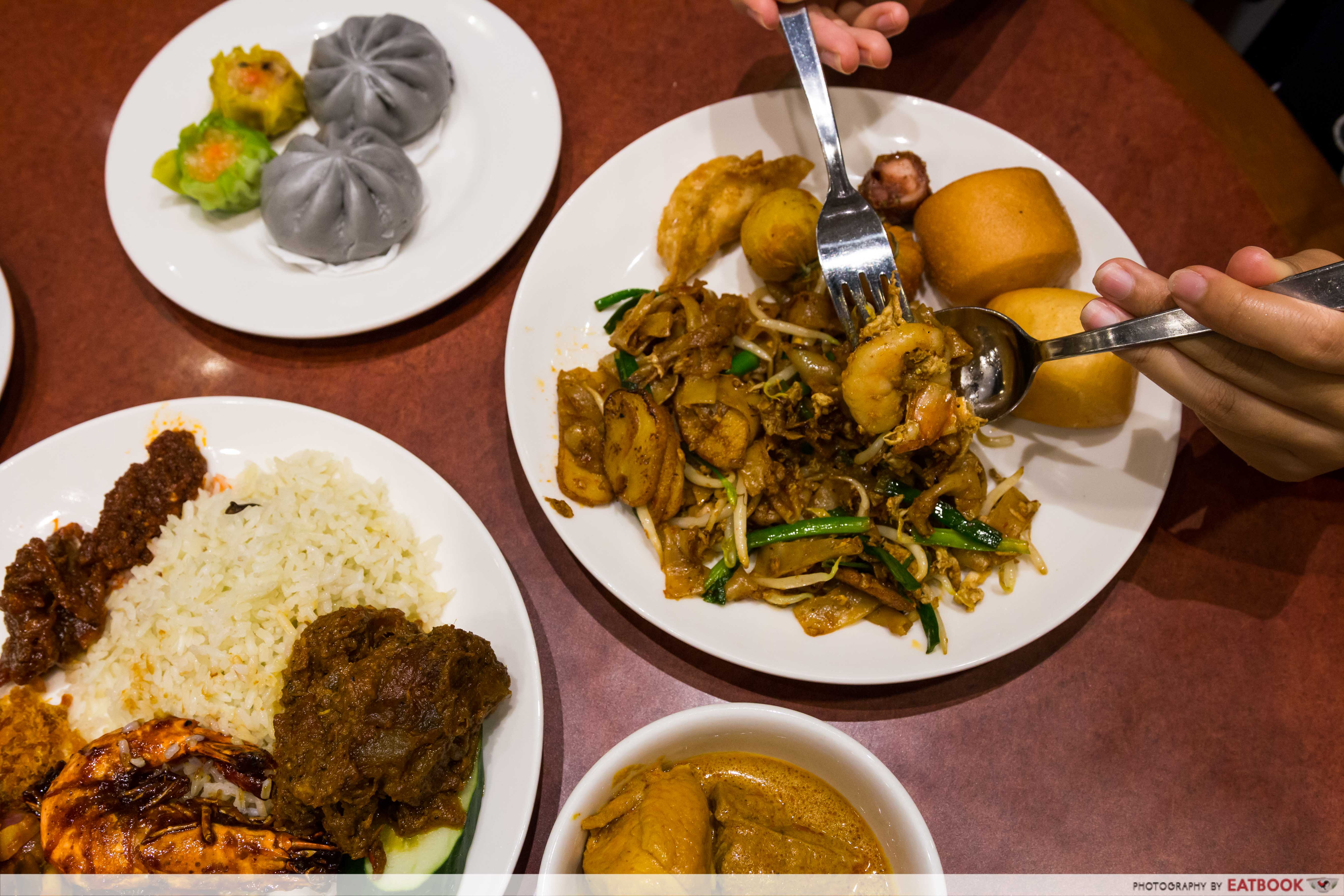 Unlike many buffets where I will dismiss certain unappetising-looking dishes as unworthy of my stomach space, every dish at Penang Place looked too good to be missed. Having read much about their Char Kway Teow, that was the dish that we started with.
Found right at the end of the line of food trays, the aroma of the fried noodles was impossible to miss. If you often find yourself shamelessly digging around the heap of noodles to get the ingredients, you will be glad to know the kway teow at Penang Place comes loaded with prawns, fish cakes, bean sprouts, and eggs.
Taste-wise, the char kway teow was a combination of saltiness, spiciness, and slight sweetness. The prawns, bean sprouts, and fish cakes were also well-cooked to maintain their chewy and crunchy textures that complemented the noodles. A plus point was definitely the way the noodles remained chewy and springy without being overly greasy. As a whole, it was a pleasant way to start the buffet although I would have liked it better if the dish was saltier and came with a stronger wok hei flavour.
At a separate section, there was a live cooking station where we got our Penang Hokkien Mee and Penang Laksa prepared on the spot. Served in a small bowl, the Hokkien mee was made of a mix of yellow noodles and beehoon, topped with hard-boiled egg, fishcakes, and prawns. While the appearance did not impress, the taste was an entirely different story. The broth carried an intense prawn taste and reminded me of the prawn noodle soup that I could only find in Malaysia. Although I have always stuck to the principle of not going for a second helping until I have tried everything at a buffet, I could not resist breaking it for this one.
Another main that we had was their Nasi Lemak. After helping ourselves to the rice that was kept warm in a rice cooker, we went for every single ingredient and condiment. Besides a light coconut fragrance, the rice did not stand out and was a little dry for my liking. However, accompanying each spoonful of rice with hei bee hiam, sambal, and seeni sambol added an exciting and flavour-packed kick.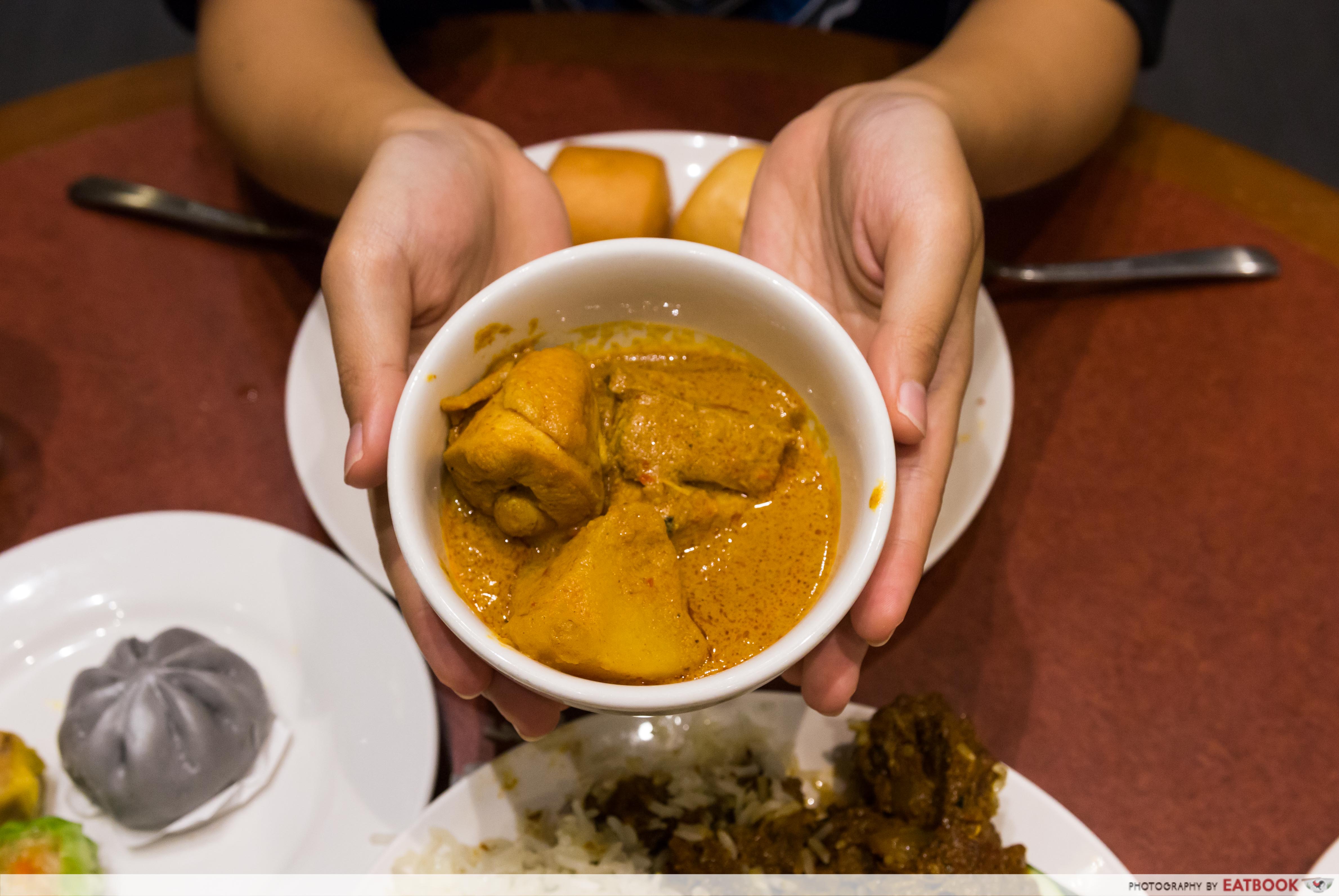 To go with the nasi, get their Dry Curry Sotong, Chicken Curry, and Beef Rendang. Of the three curry dishes, my favourite was the beef rendang. Although the rendang was much spicier than I had expected, the spice mix that coated and marinated the meat was delicious. The meat also came in huge pieces and was laced with bits of fats and softened bones, creating a variety of textures in every bite.
On a separate plate, we also went for their fried dishes, such as seaweed chicken, fried dumplings, ngoh hiang, spring rolls, and fried chicken. I was not expecting much but each dish took me by a pleasant surprise. Not only were they all fried to a good shade of golden-brown, they remained crispy even though they were left on the trays. Even if you are not quite a fan of fried food, the spring rolls and fried chicken are definite must-tries.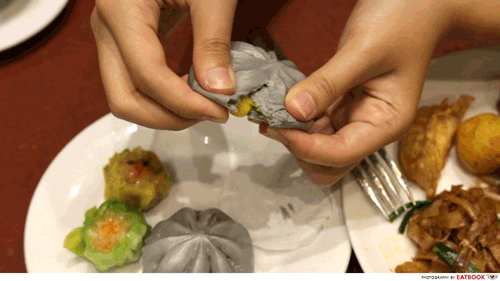 The dim sum section was another one that did unexpectedly well. An especially unforgettable dish was their Charcoal Golden Sand Bun. When I first picked the bao up, I was turned off by the seemingly thick and hard outer layer. The moment I tore open the bun, however, I was shocked to see a generous amount of salted egg custard flowing out. It was something I would expect to find in a Chinese restaurant specialising in dim sum and I was pleased to find it at Penang Place.
Even though we were more than filled after the rounds of beef rendang and Hokkien mee, we were still drawn to the desserts. Besides freshly cut fruits and puddings, there was also a do-it-yourself station where we made our own cendol and ice kachang.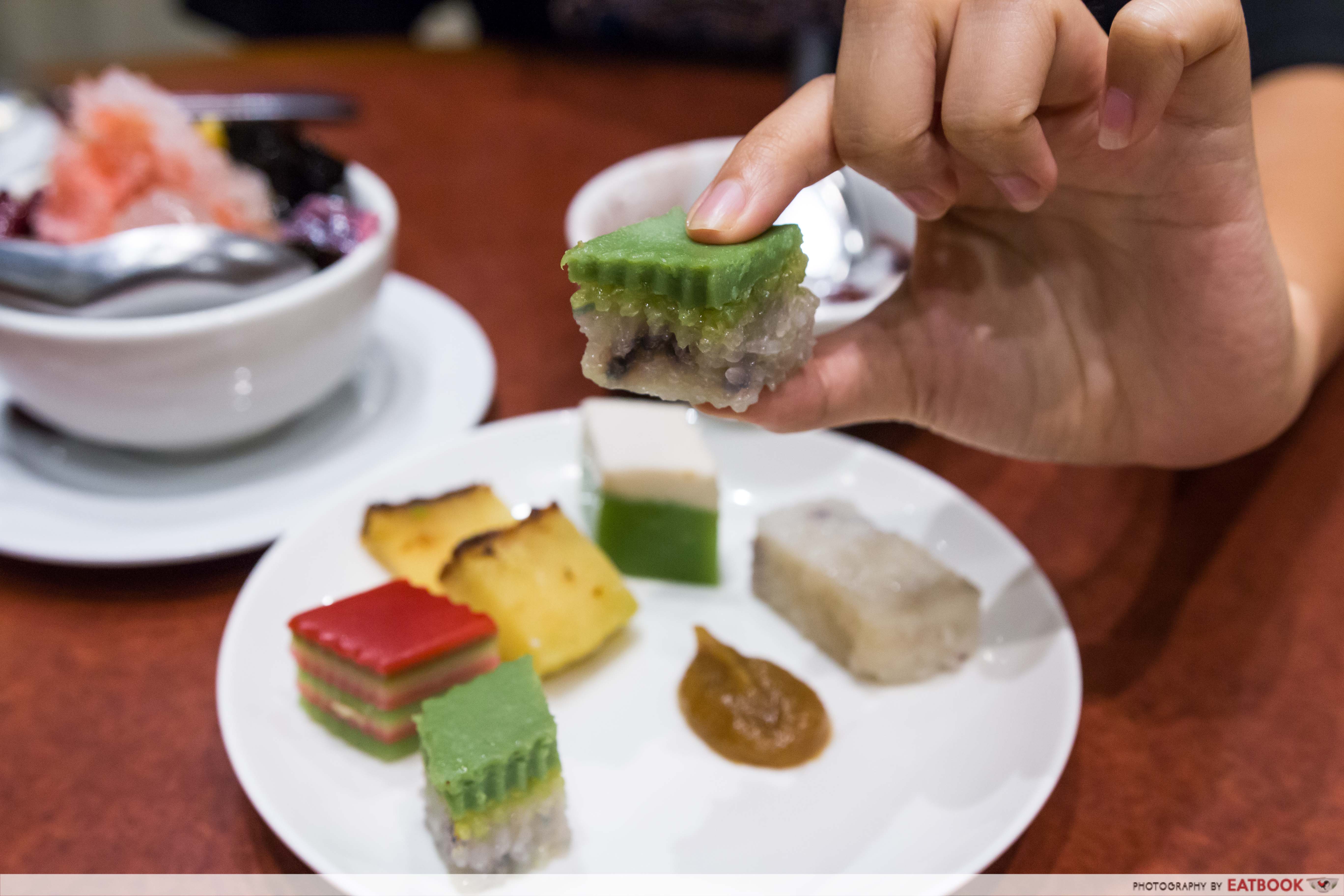 The highlight of the dessert section was the Peranakan desserts. We tried their Pulut Hitam, Kueh Talam, Steamed Tapioca Kueh and Pulut Tai Tai with Kaya. Each had a distinct coconut fragrance and although they were primarily sweet, there was a tinge of saltiness which balanced out the jelak feeling that often comes with these desserts.
Ambience at Penang Place
The first thing that struck me when I entered the restaurant was the size of the place. The buffet section alone was about the size of a hotel ballroom. Tables of different sizes were also available, making it a suitable place to dine at whether you are with your friends, family, or colleagues.
With the clean and laid-back atmosphere, the overall experience was comfortable although you should not expect a quiet and relaxing ambience. While we were there, the restaurant was packed with the office crowd but even with that, the food trays never ran out of food. The staff members were also friendly and efficient, clearing the plates and refilling our glasses on a regular basis.
The verdict
For the price, variety of food available, and quality of food, there is nothing about Penang Place that I can find fault with. From the char kway teow to the pulut hitam, every dish reminded me of what "comfort food" is like. Even though nothing can match up to devouring a plate of decadent kway teow noodles by the roadside stalls in Penang, the food at Penang Place is one of the closest to it that I have gotten in Singapore and this is one place I will bring my family to when we're craving for simple yet delicious Malaysian food.
Address: 3 Temasek Boulevard, #02-314, Suntec City, Singapore 038983
Buffet hours: Lunch 11:30am to 3pm, Dinner 6pm to 10pm
Buffet prices: $24.90++ (Mon-Fri lunch), $27.90++ (Mon-Thur dinner), $30.90++ (Fri dinner, Sat-Sun, eve of PH & PH lunch and dinner)
Tel: 6467 7003
Website
Penang Place does not serve food containing pork or lard.
This is an independent review by Eatbook.sg.
Summary
Pros
– Value-for-money buffet
– Convenient location
– Delicious Penang food
– Wide variety of food
– Suitable for both big and small groups
Cons
– Only plain water is complimentary
Recommended Dishes: Penang Hokkien Mee, Beef Rendang, Charcoal Golden Sand Bun, Pulut Tai Tai with Kaya
Buffet Hours:
Lunch 11:30pm to 3pm, Dinner 6pm to 10pm
Address: 3 Temasek Boulevard, #02-314, Suntec City Mall, Singapore 038983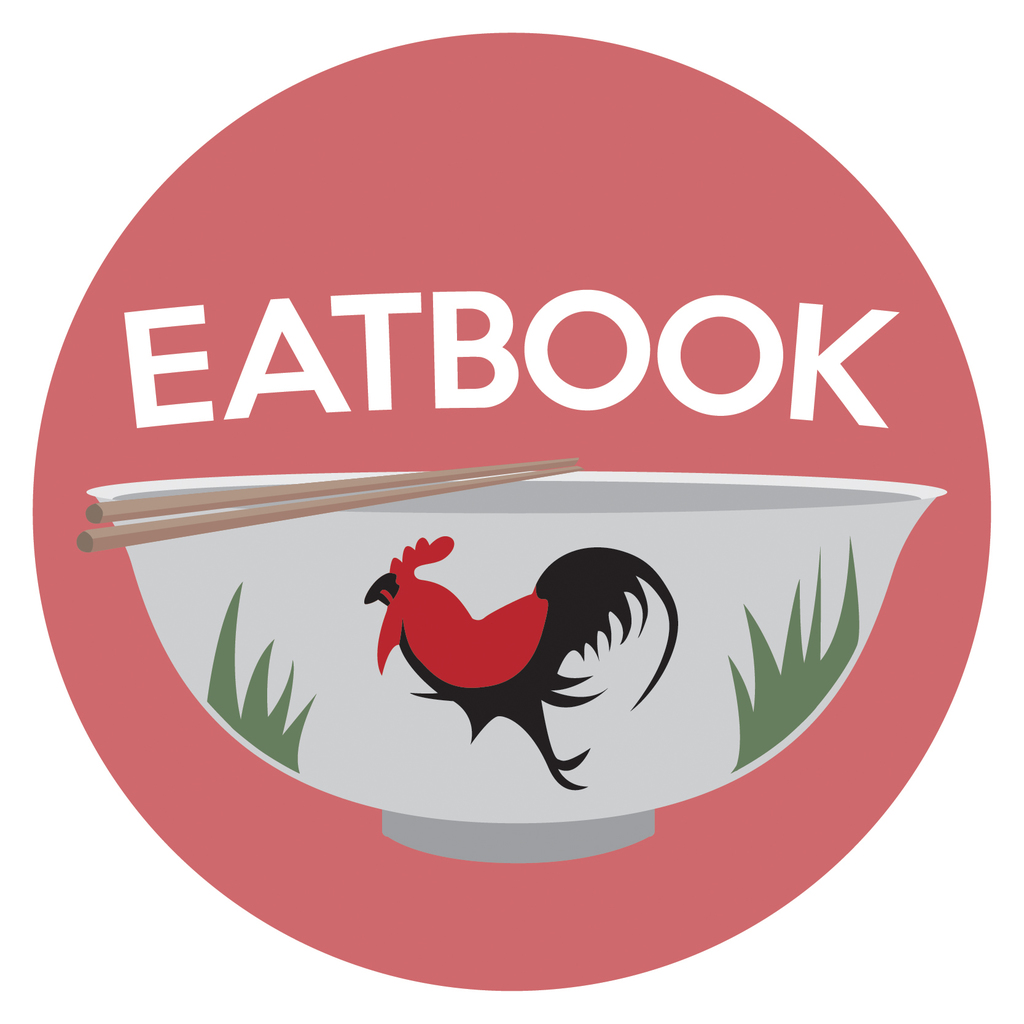 Drop us your email so you won't miss the latest news.