People & Places Cafe is JB's hidden hipster hotbed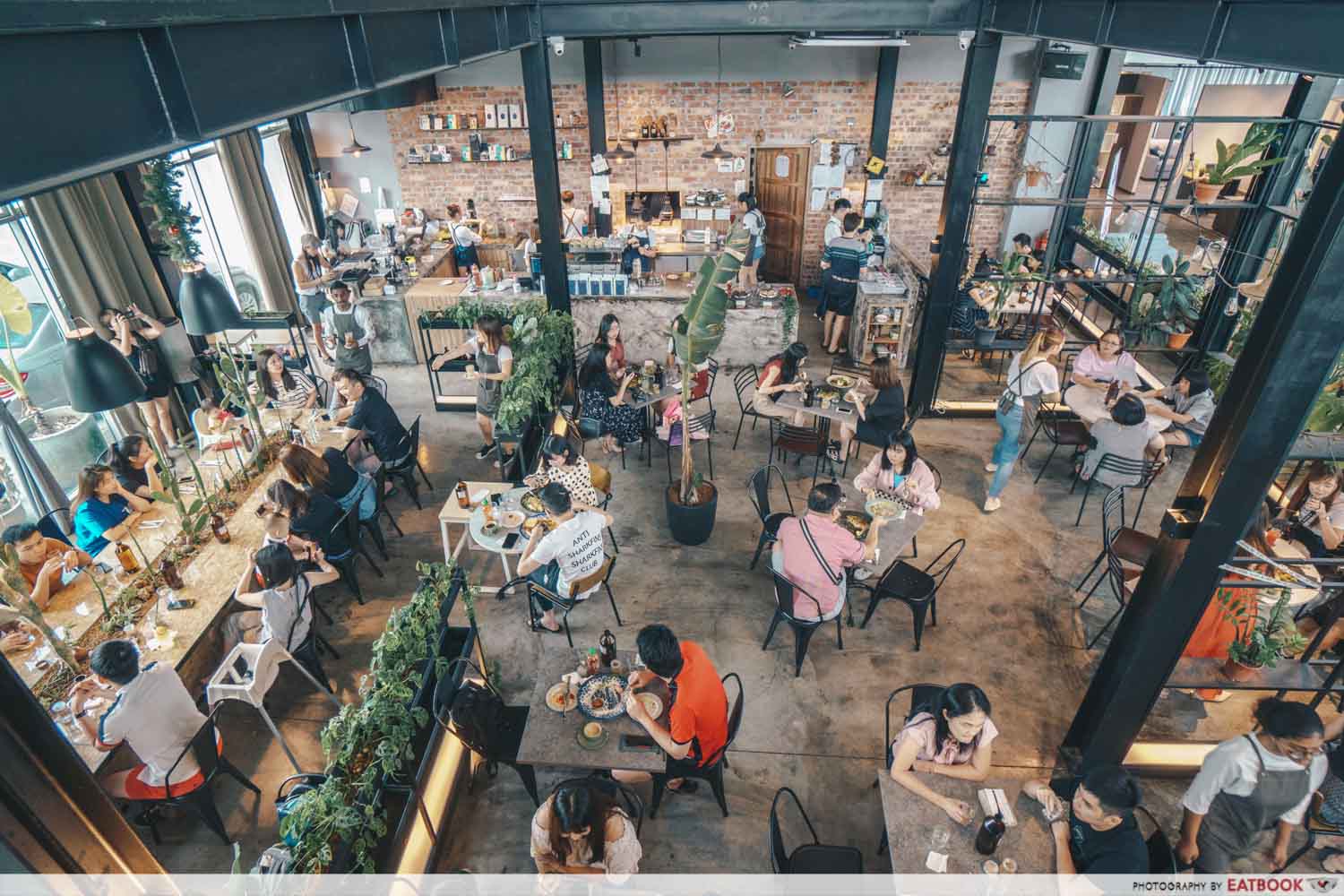 People & Places Cafe brings the famed Melbourne brunch scene to Johor Bahru at a fraction of the price. With high ceilings and massive windows, this charming cafe carries an industrial loft feel that's akin to cafes like Wheeler's Yard in Singapore.
This atmosphere is juxtaposed with a scattering of plants, which injects a natural element into the urban architecture. The result is a stunning, spacious cafe, flushed with natural light that's perfect for your next IG snap.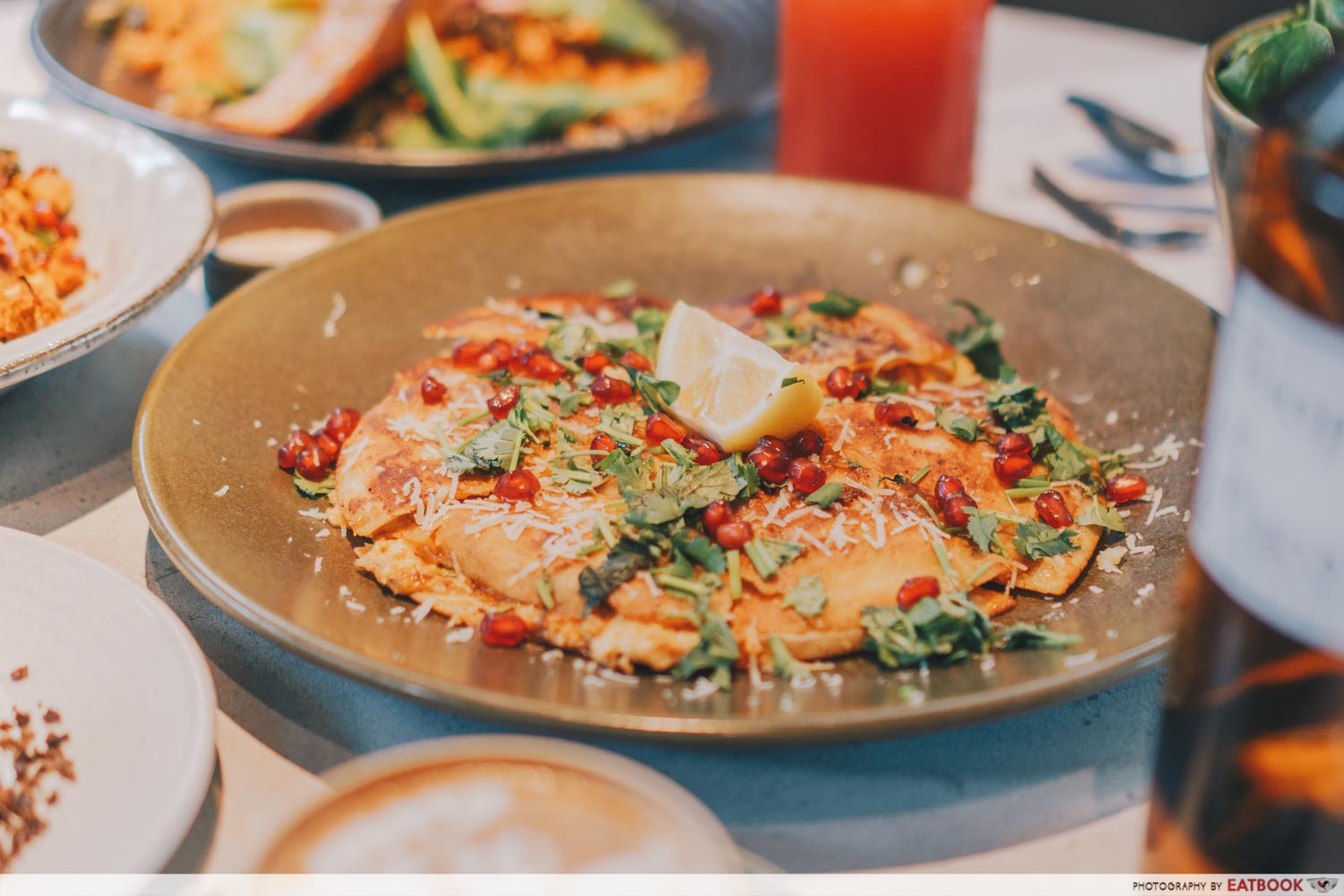 It wouldn't be a true Melbourne-inspired cafe without beautiful, tasty brunch food to back up the aesthetic.
At popular item is the Quesadilla Brekkie (RM 25++/~$8.30++), a pretty platter of soft tortillas stuffed with tom yum scrambled eggs, chicken ham, tomatoes, sriracha aioli, coriander and cheddar cheese. Parmesan, pomegranate and pesto oil are then rained on, giving vivid pops of colour.
This creative Mexican-Thai plate is a welcome change from humdrum brunch fare like eggs Benedict. Its flavour combination is surprisingly successful, with the earthy tortillas holding the piquant yet creamy tom yum eggs well.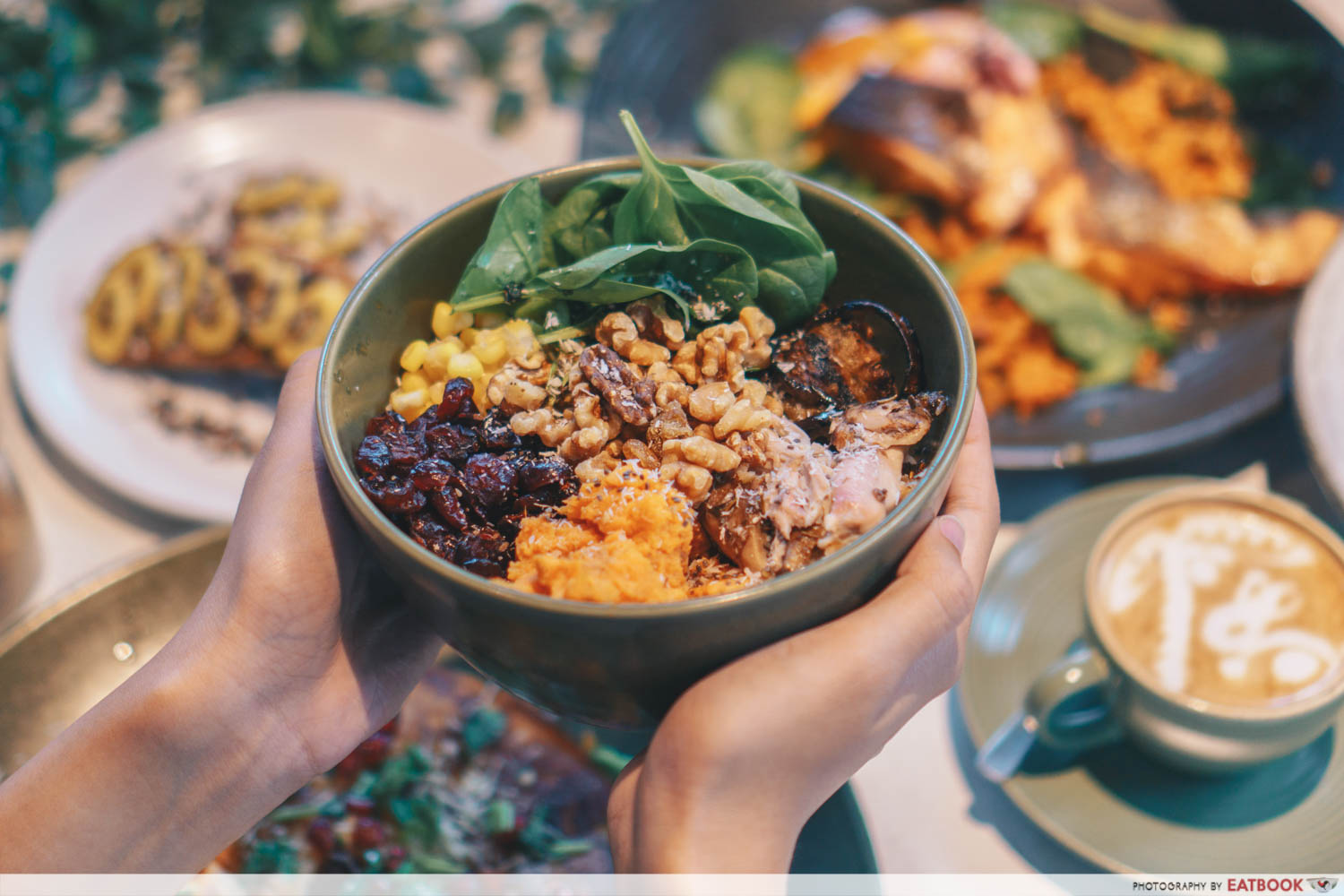 There are plenty of options for those looking to slim down as well, such as the Rainbow Salad Bowl (RM25.50++/~$8.47++). It features balsamic-dressed mixed greens, juicy shredded chicken, grilled aubergine, fresh corn kernels, dried cranberries, walnuts, mashed sweet potato, and spinach leaves, making for a filling and refreshing meal.
If you're trying to stay healthy,but have a ravenous appetite, there's the option to add Streaky Beef (RM5.5++/~$1.83), Smoked Salmon (RM7.5++/~$2.49++) or Avocado (RM 6.5++/~$2.16++).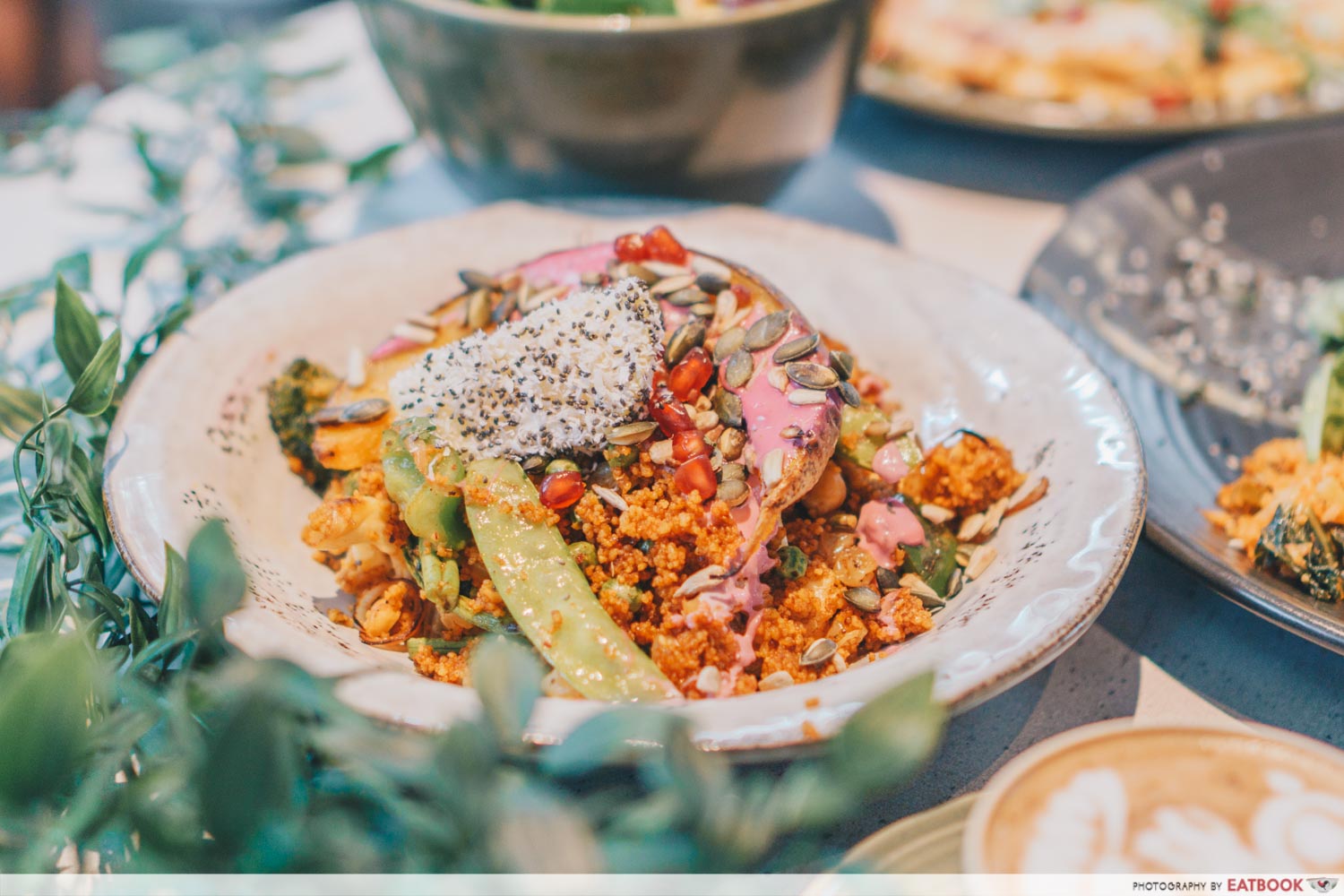 Vegetarians aren't left out of the action either, with stunning plates like Mess of Plants (RM 20.50++/~$6.81++) available.
It's an absolute hodge-podge of colours and flavours, with honey-glazed roasted pumpkin and toasted seeds providing earthy notes, sugar snap peas, green beans and pomegranate granting freshness and tahini yoghurt imparting creaminess.
Carnivores can get in on the action too by adding a side of Smoked Salmon (RM 7++/~$2.32++).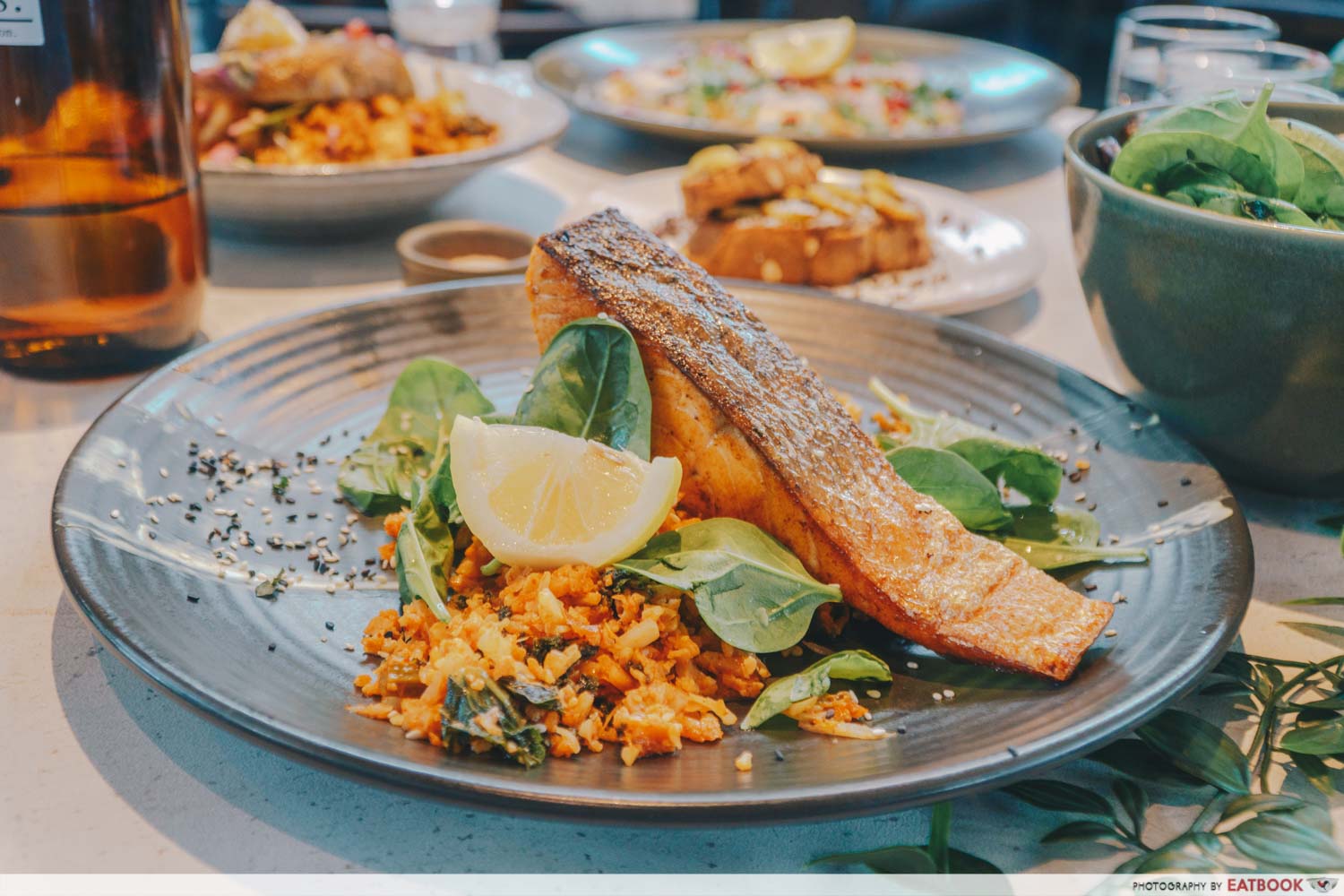 A more filling lunch option is the keto-friendly Pan Fried Salmon With Kimchi Cauliflower Rice (RM34.90++/~$11.59++). This entails fragrant kimchi cauliflower rice that is topped with spinach leaves, a poached egg and lemon mustard cream before being crowned by a thick salmon fillet. The salmon steals the show, boasting luscious, juicy meat and a potato chip-crisp skin.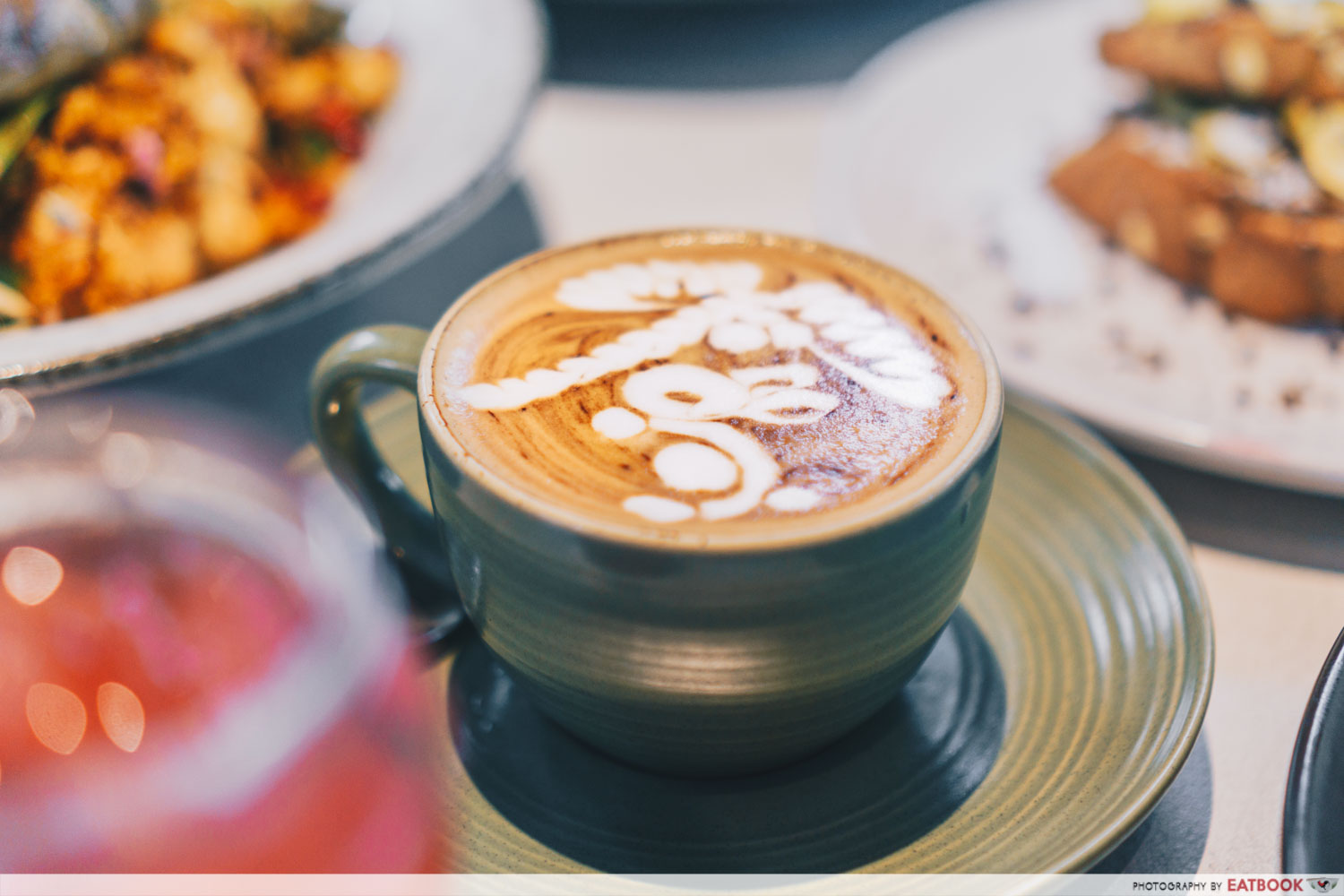 Don't miss out on their coffee either, with their blends changing seasonally. The Latte (RM10.50++/~$3.49++) is smooth, milky, and slightly nutty, great for an afternoon pick-me-up.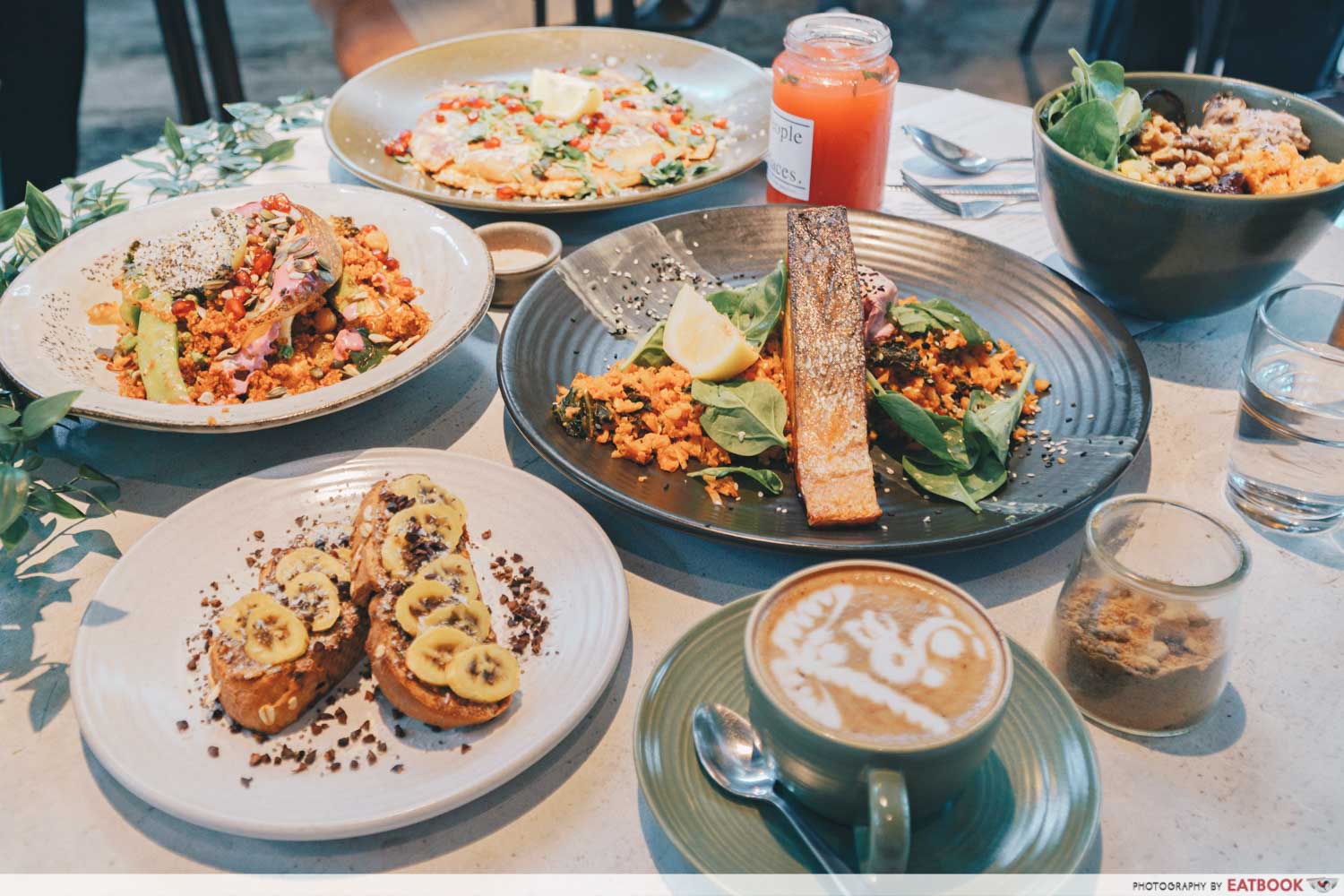 Singaporeans' love for brunch food is showing no sign of waning, but high prices on our side of the Causeway mean it's hard for budget-conscious students to go cafe-hopping. Instead, consider planning a weekend trip to JB with your pals and experience aesthetic cafes with creative food like People & Places at less than half the price!
For more tantalising food in JB, check out our guides to JB seafood restaurants serving cheap crab and lobster and JB cafes!
7 Johor Bahru Cafes Within 10 Minutes From JB City Square With Cheap And IG-Worthy Food
Address: 6 Jalan Kencana Emas 2/3, Kawasan Perindustrian Tebrau 3, Johor Bahru 81100
Opening hours: Mon-Thur 10am to 6pm, Fri-Sun 10am to 9pm
Tel: +60 7-351 5303
People & Places Cafe is not a halal-certified eatery, but their food contains no pork or lard.
Website