Cheap pho at Pho Bo Vietnamese Restaurant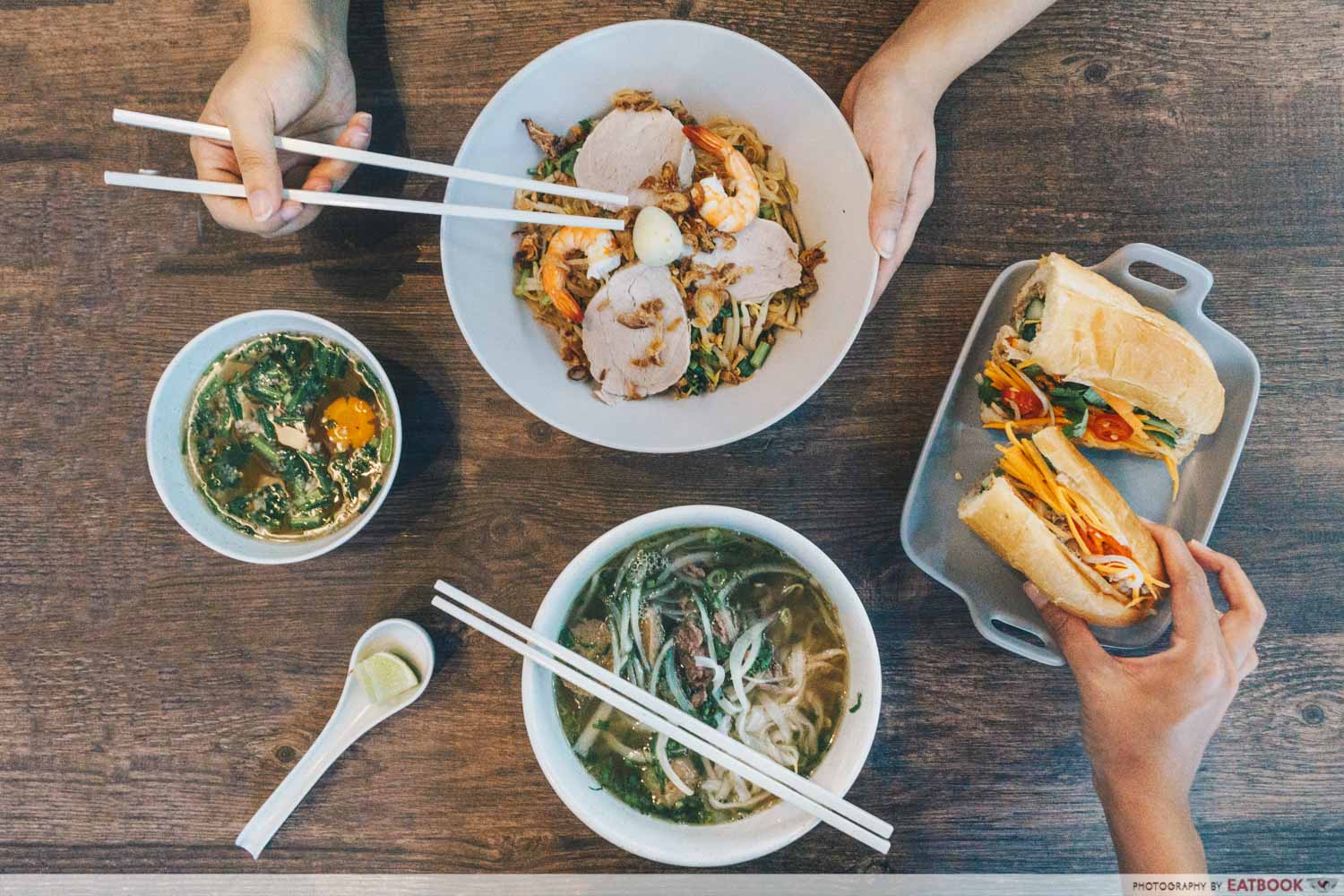 My relationship with Vietnamese food is like a long distance relationship. It's not always easily accessible to me and sometimes, it can cost me a pretty penny to get to it. Nonetheless, I still have an undying fondness for it. The interlacing of light and punchy flavours and the adventurous exploration of spices is just something that isn't replicated in other cuisines. When I chanced upon the affordable grub at Pho Bo Vietnamese Restaurant in Tai Seng, I knew I had to give the place a try. 
Food at Pho Bo Vietnamese Restaurant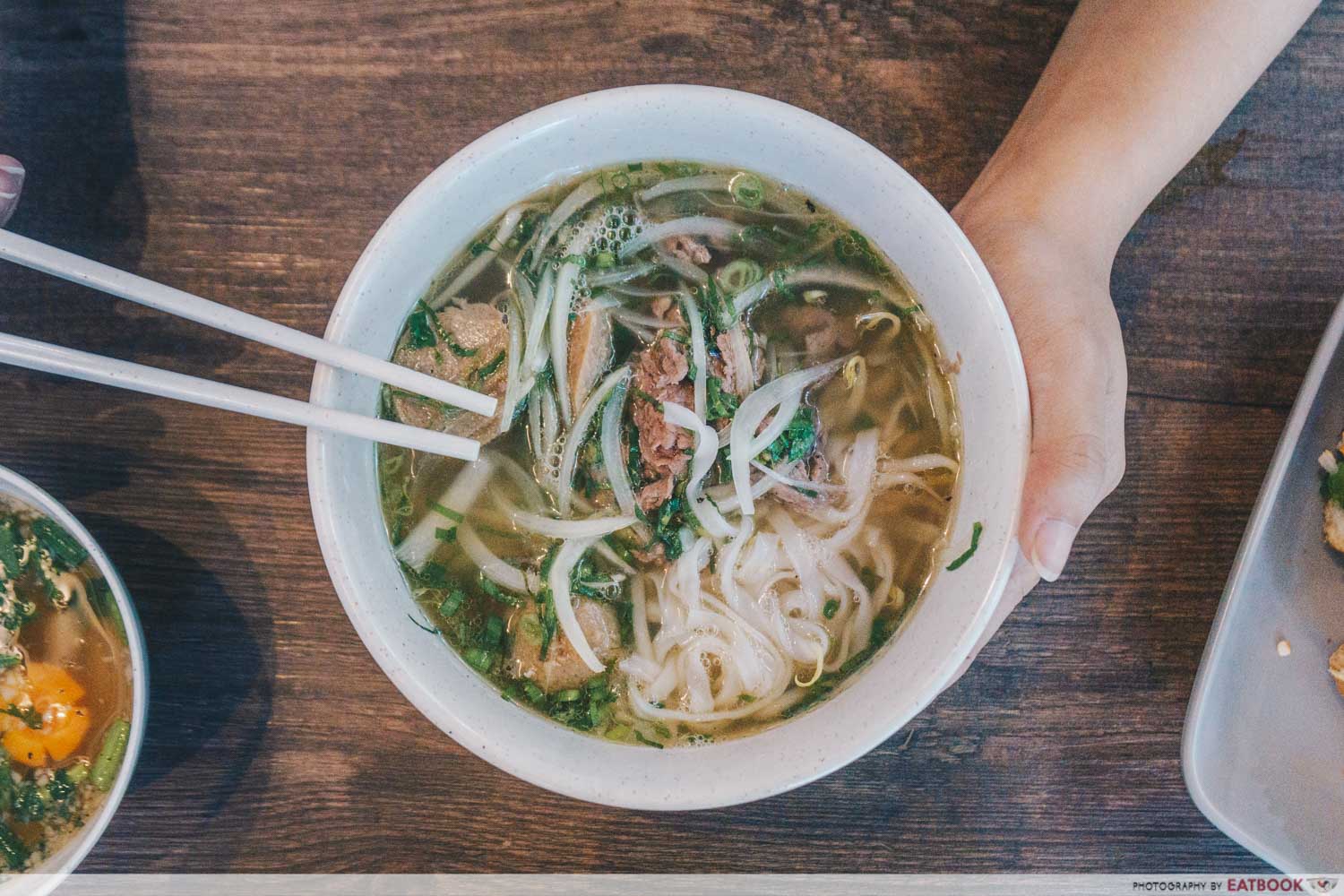 I'm not one to skip out on a comforting bowl of pho, especially when the dish is in the name of the restaurant. The Pho Bo ($6) is a beef noodle soup that originated in Northern Vietnam, influenced by Western and Chinese cooking during the peak of French colonialism.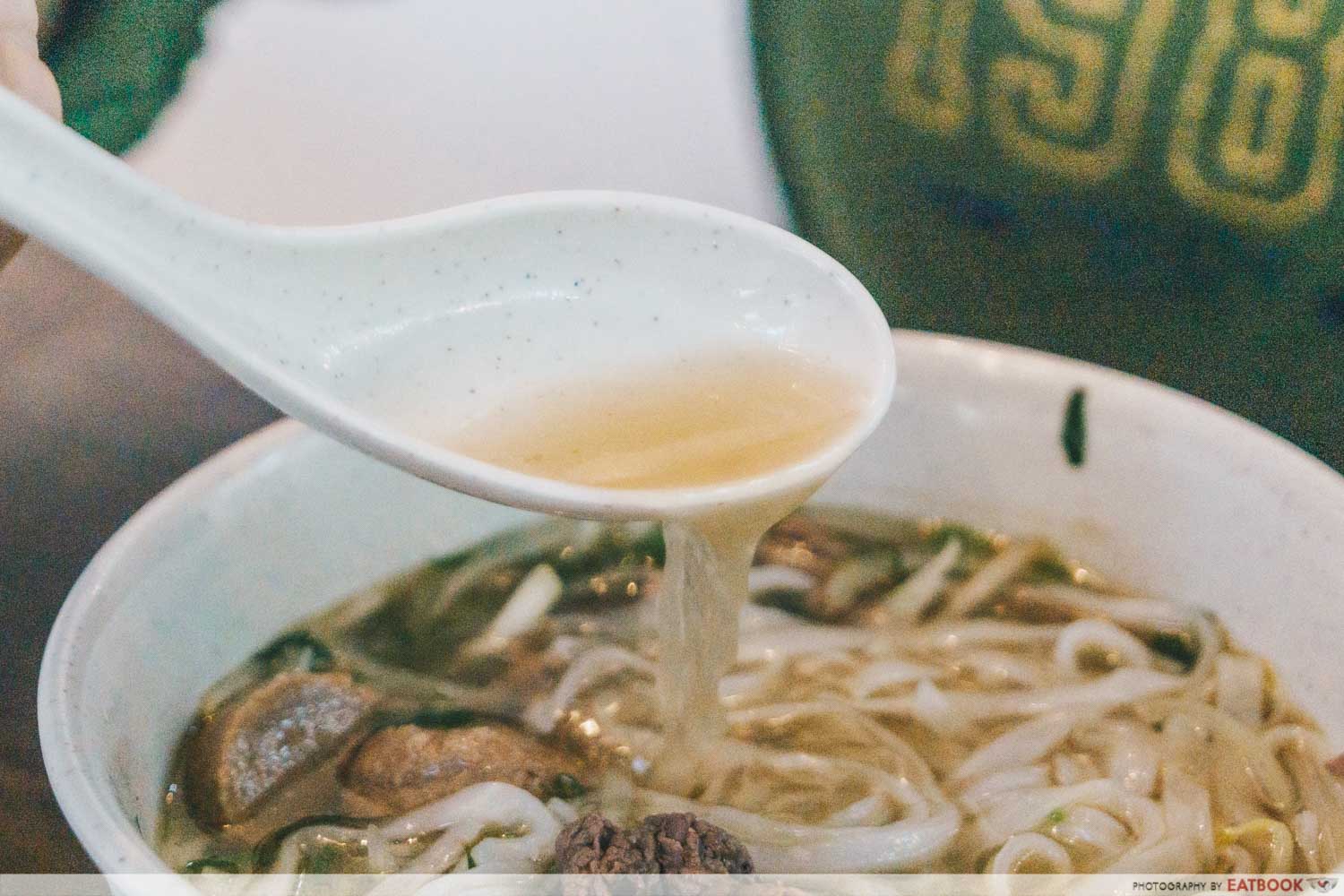 Traditionally, the style of pho varies depending on where the dish is adapted from. The Northern style of cooking has a clear, savoury broth, while the South's variant is much sweeter and richer. The pho bo soup was akin to the Northern-style broth, but after slurping up a few spoonfuls, I found the soup a tad salty.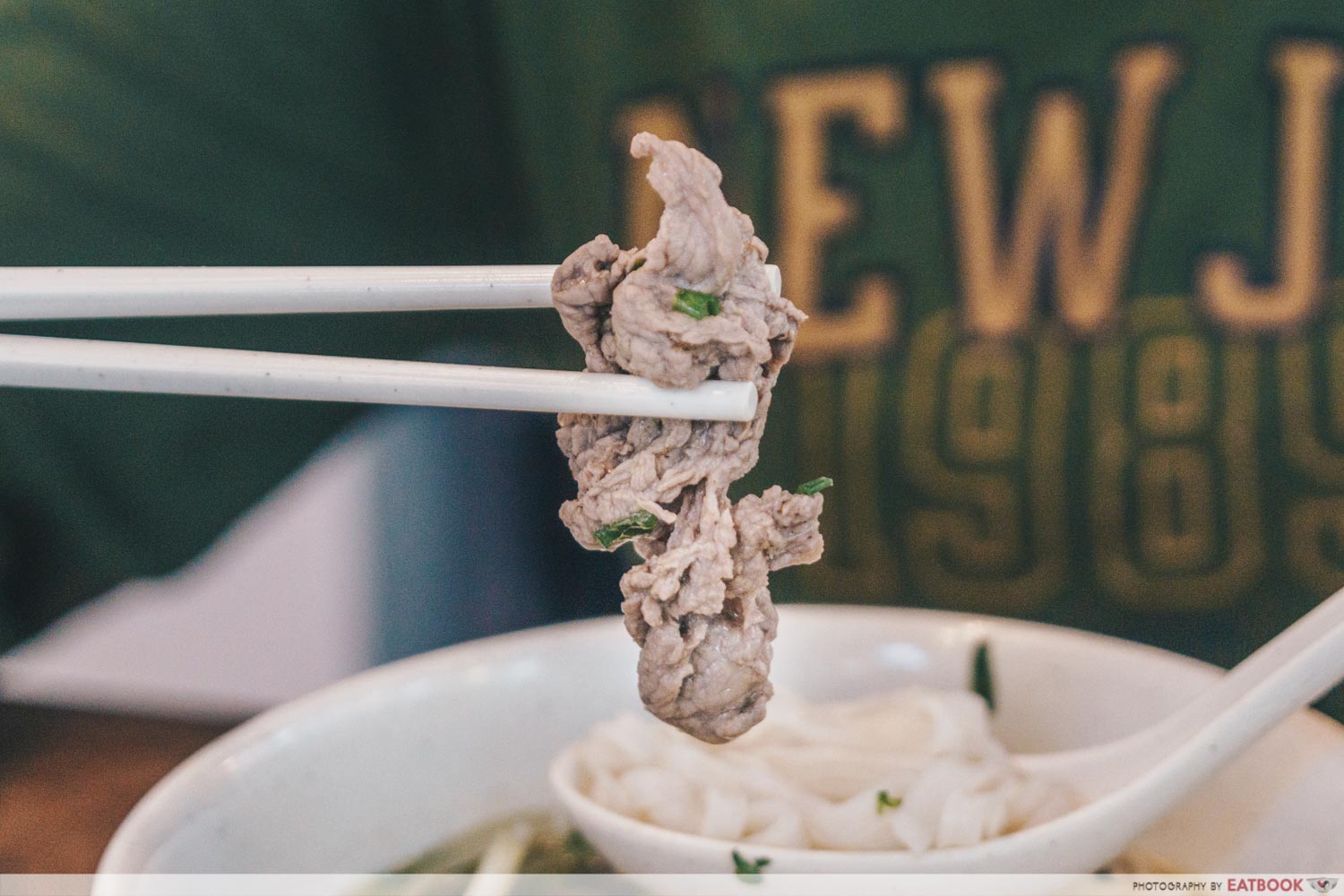 The restaurant didn't scrimp on their beef with this bowl of pho. Copious chunks of thin beef slices swirled between the rice noodles. Picking a piece out to try, I found the meat to be slightly overcooked and tough. That being said, the piece soaked up the savoury broth well and its light seasoning lent some dimension in terms of flavour. 
Besides these slices of beef, the bowl came with a liberal amount of thin onion slices, pork meatballs, and a sprinkling of fresh spring onions.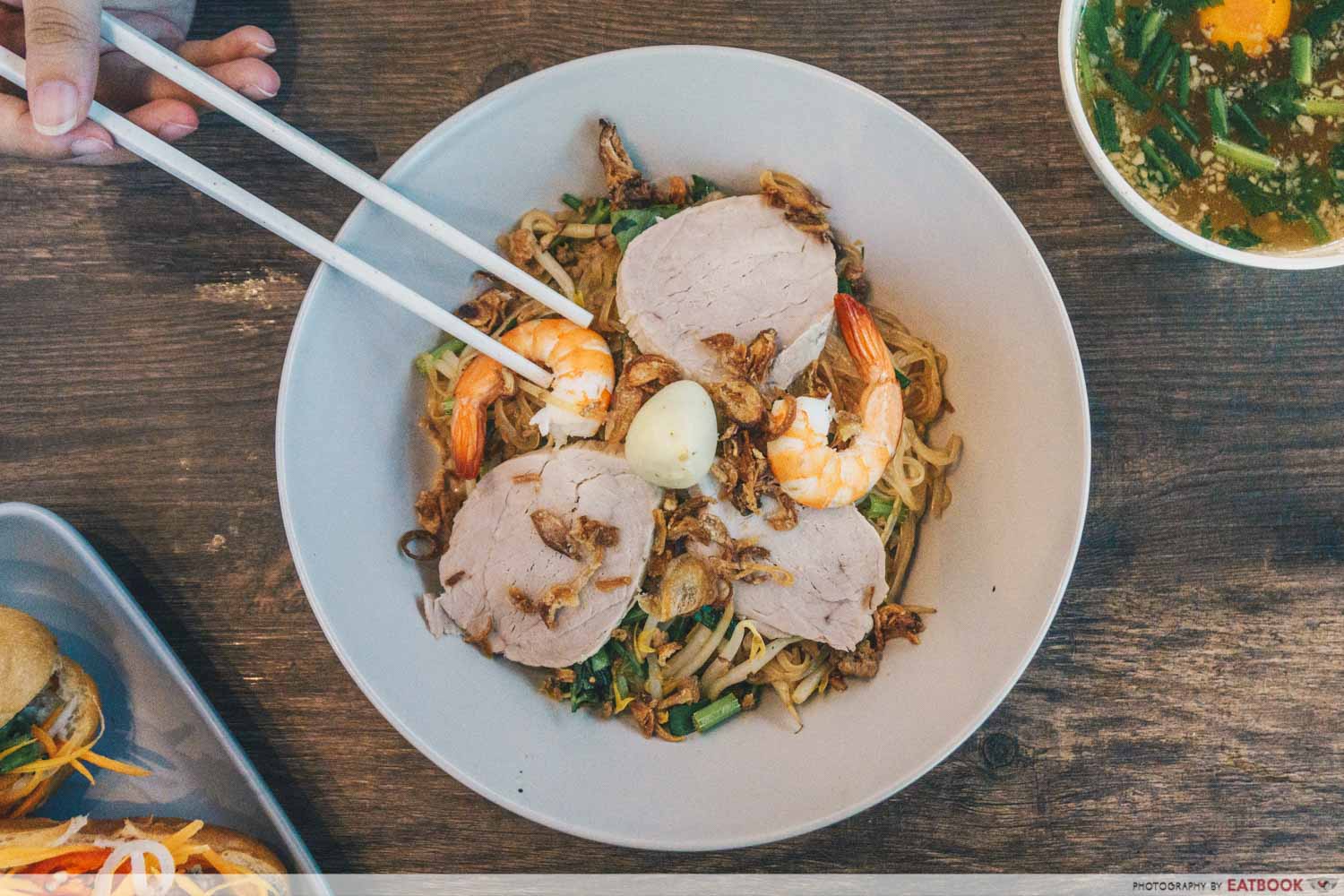 As I've yet to explore the depths of the rich cuisine, many of the dishes in the menu were completely foreign to me. This was the case for the Hu Tieu Nam Vang ($6) which, according to the menu, is a Vietnamese seafood and pork noodle dish that's served dry or with soup. Since I'd already eaten my fill of the soupy Pho Bo, I ordered the dry option. 
I had high hopes upon seeing the bowl. A small mountain of stir-fried rice noodles rested in a giant bowl embellished with pork slices, prawns, green shallots, fried onions, and even a quail egg placed at the summit. It looked and smelled ready for me to devour.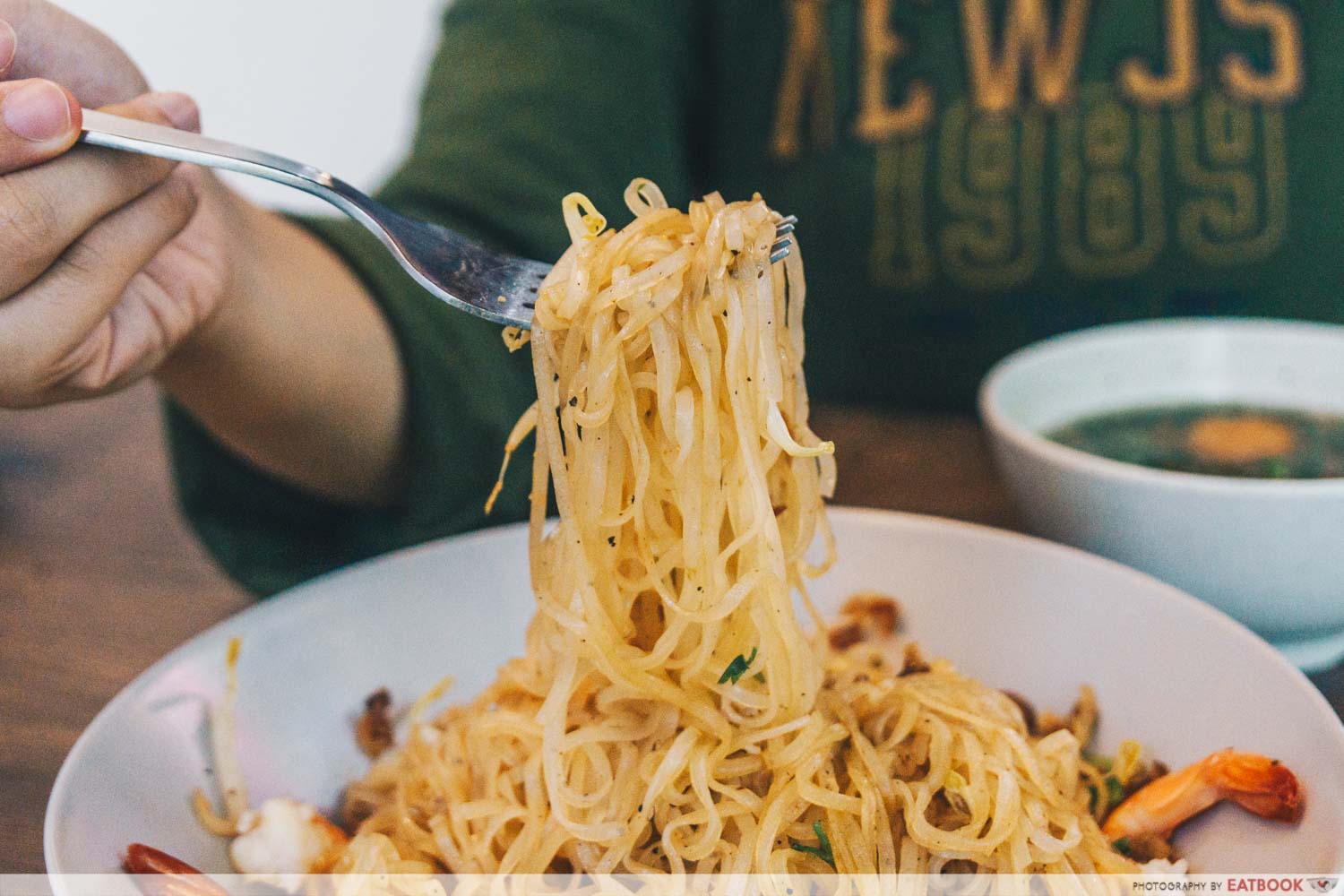 I first tried to dig in with my chopsticks, but much to my chagrin, the dry noodles clumped together and wouldn't budge. Even after switching to a fork, I found it challenging to pull the noodles apart. As expected, the rice noodles were very dry, but bouncy after some teasing. Even though I'm not a fan of oily food, I reckon this dish could've used an extra splash of oil during the stir-frying. 
They were a little too light-handed on the seasoning of the noodles as well. Besides the occasional tinge of tartness from the squeeze of lime, I couldn't detect much other flavours from the noodles.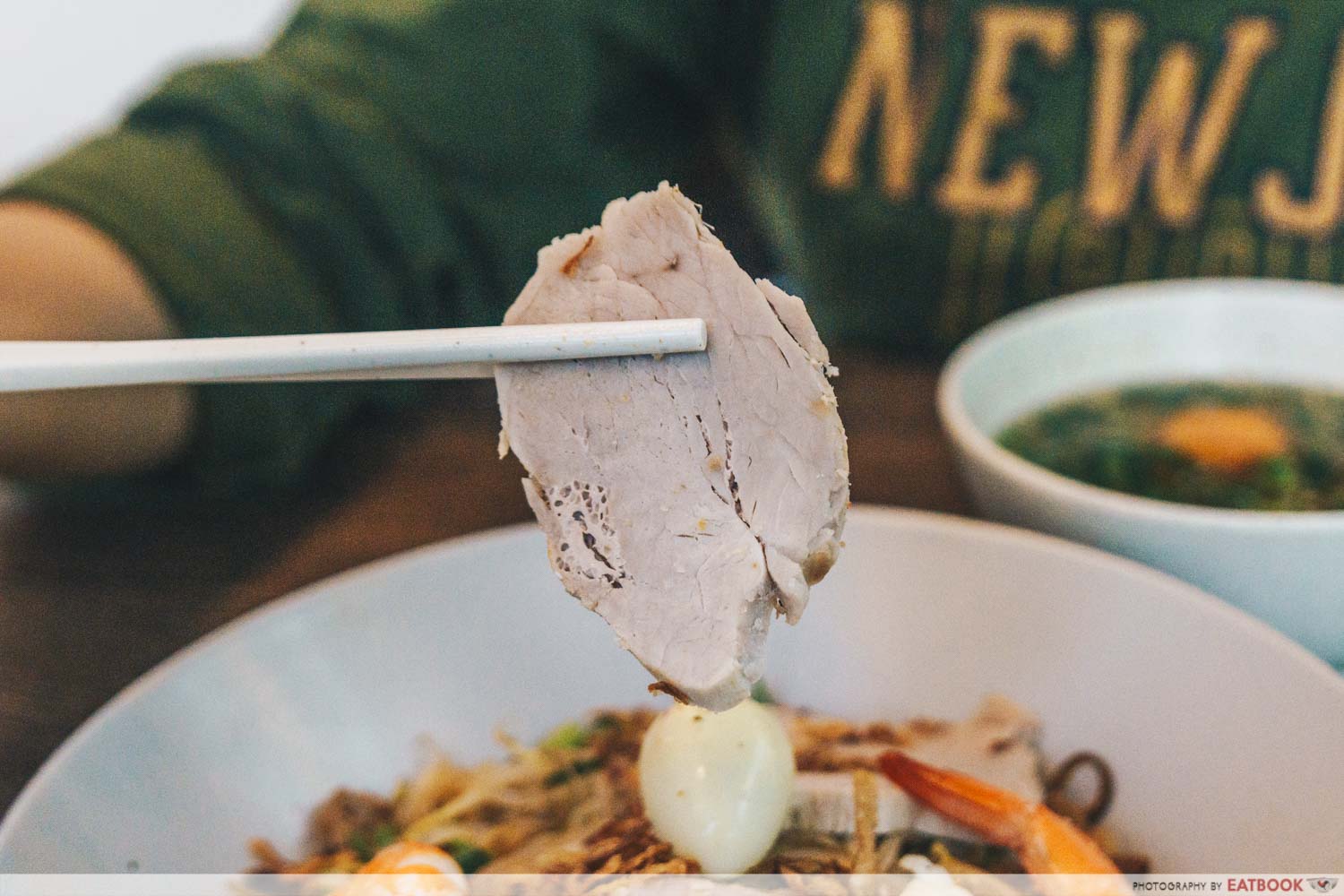 Unfortunately, the pork slices didn't fare much better than the noodles. They were dry, slightly tough, and begged to be dipped in some sauce or soup just to lend it a little more flavour.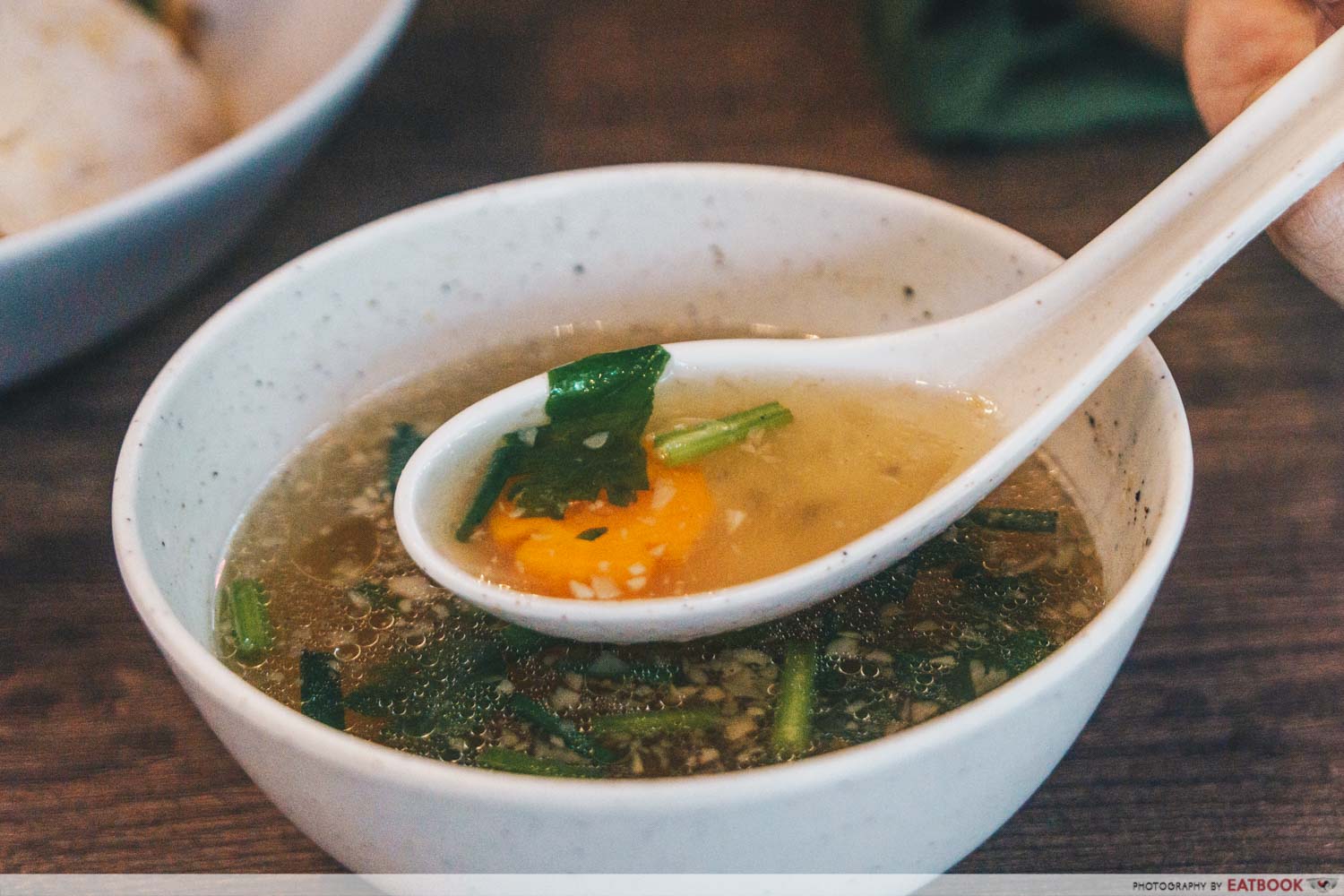 This unassuming bowl of clear broth that came with the noodles ended up being the saving grace of the dish. This soup had sweeter, more aromatic notes as compared to the savoury pho broth. 
I especially liked the discrete leaves of coriander that floated in the broth. Its normally potent fragrance had been infused into the soup, lending it a refreshing element. Seeing how well the accompanying broth fared, I would definitely recommend trying the soup version of the dish instead.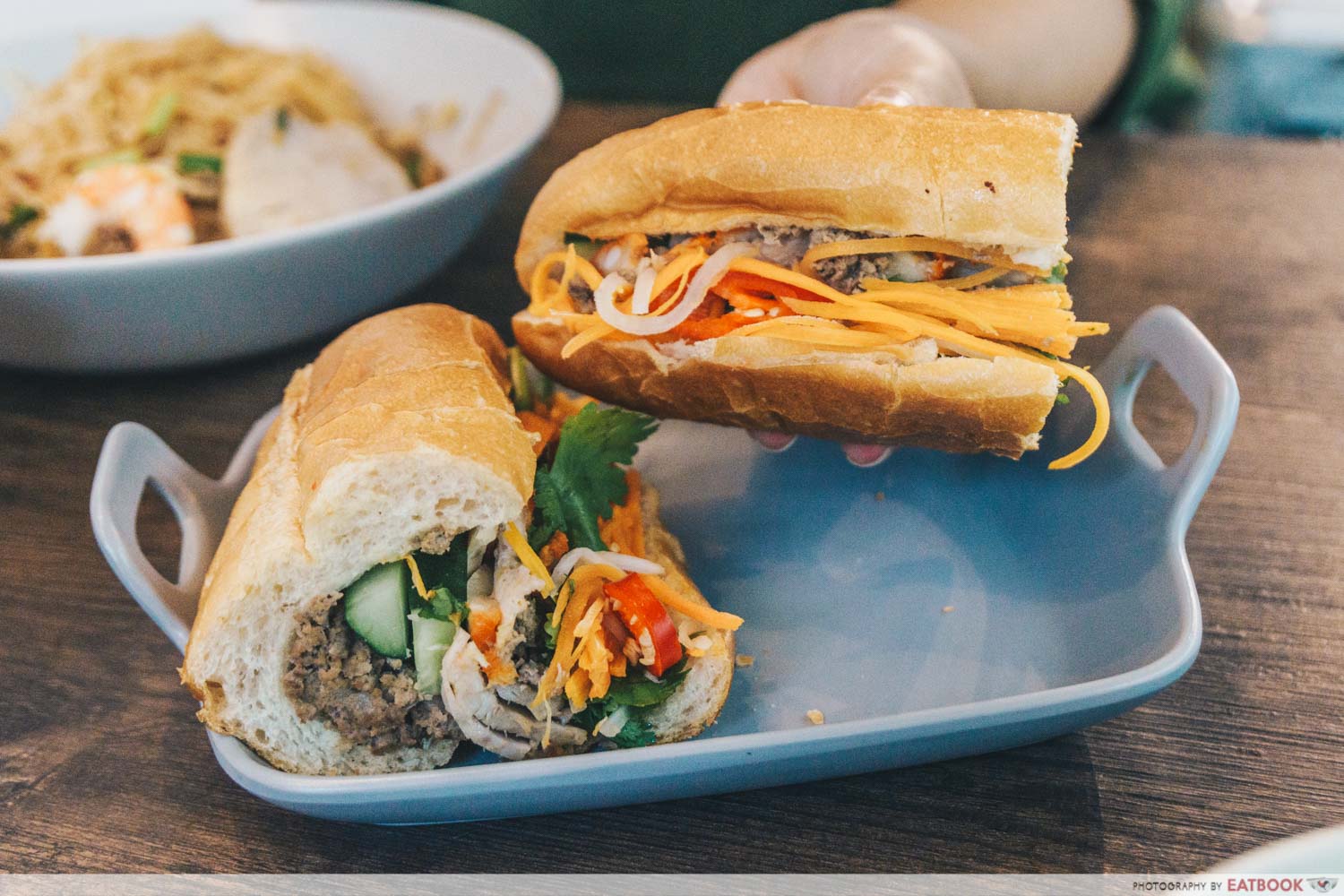 As a symbol of the cross-cultural amalgamation of the Asian roots and Western influences of Vietnamese cuisine, bahn mi is not only easily recognisable worldwide, it also reflects how traditional Vietnamese food has been changed by history. 
Served in a crispy baguette, the restaurant's Bahn Mi ($5) was packed full with vibrantly coloured vegetables, ham, pâté, and sliced pork belly.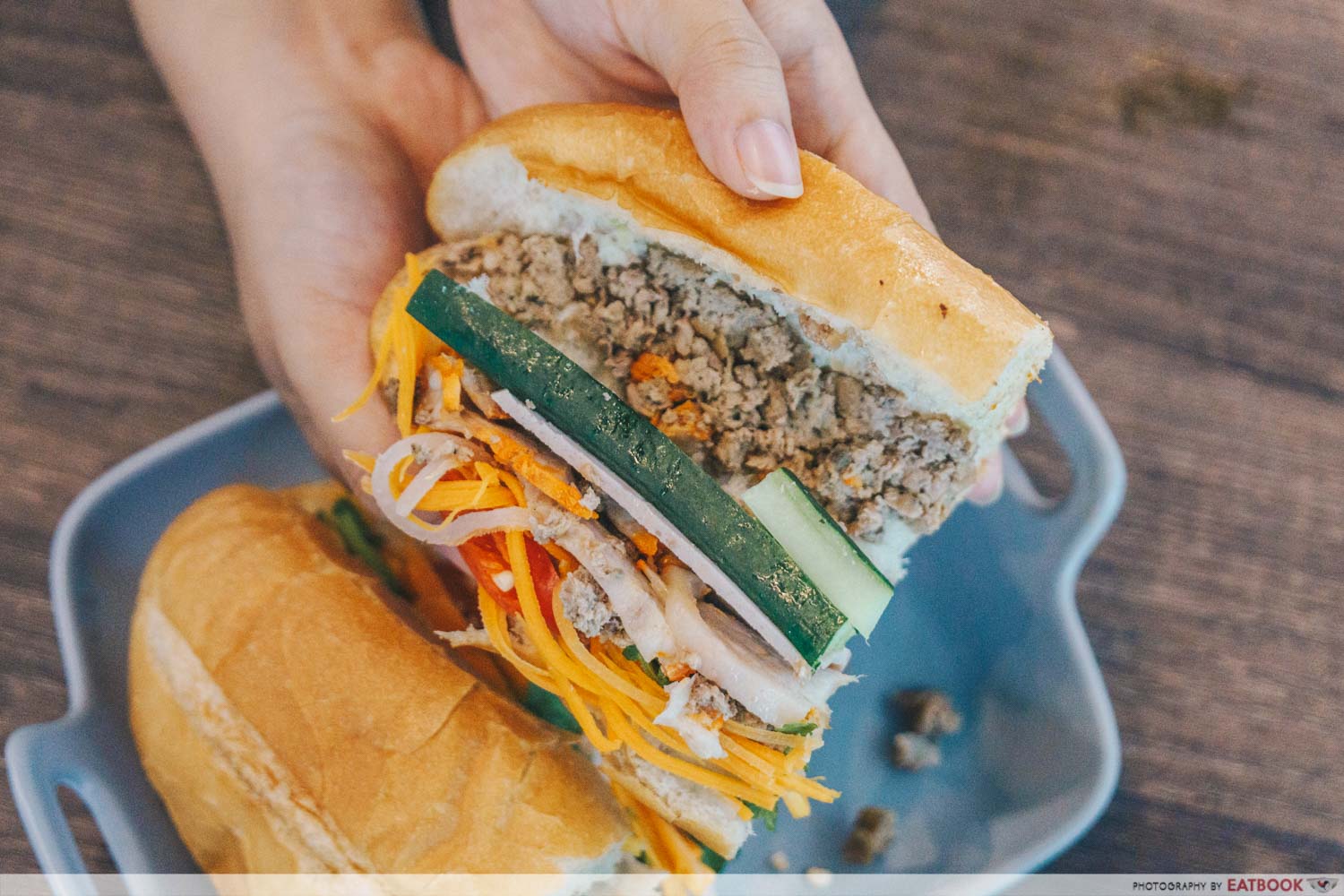 Chowing down on the Vietnamese sandwich was a bit of a jaw workout. While I appreciated the generous heaping of ingredients at such a reasonable price, I felt that the vegetable portions—particularly the cucumber—could have been cut a lot thinner. 
On my first few chews, the tangy pickled vegetables stole the spotlight from everything else. But after a few bites, I could taste the meaty flavours of the pâté and ham. The pork belly, on the other hand, was much harder to detect. 
Ambience at Pho Bo Vietnamese Restaurant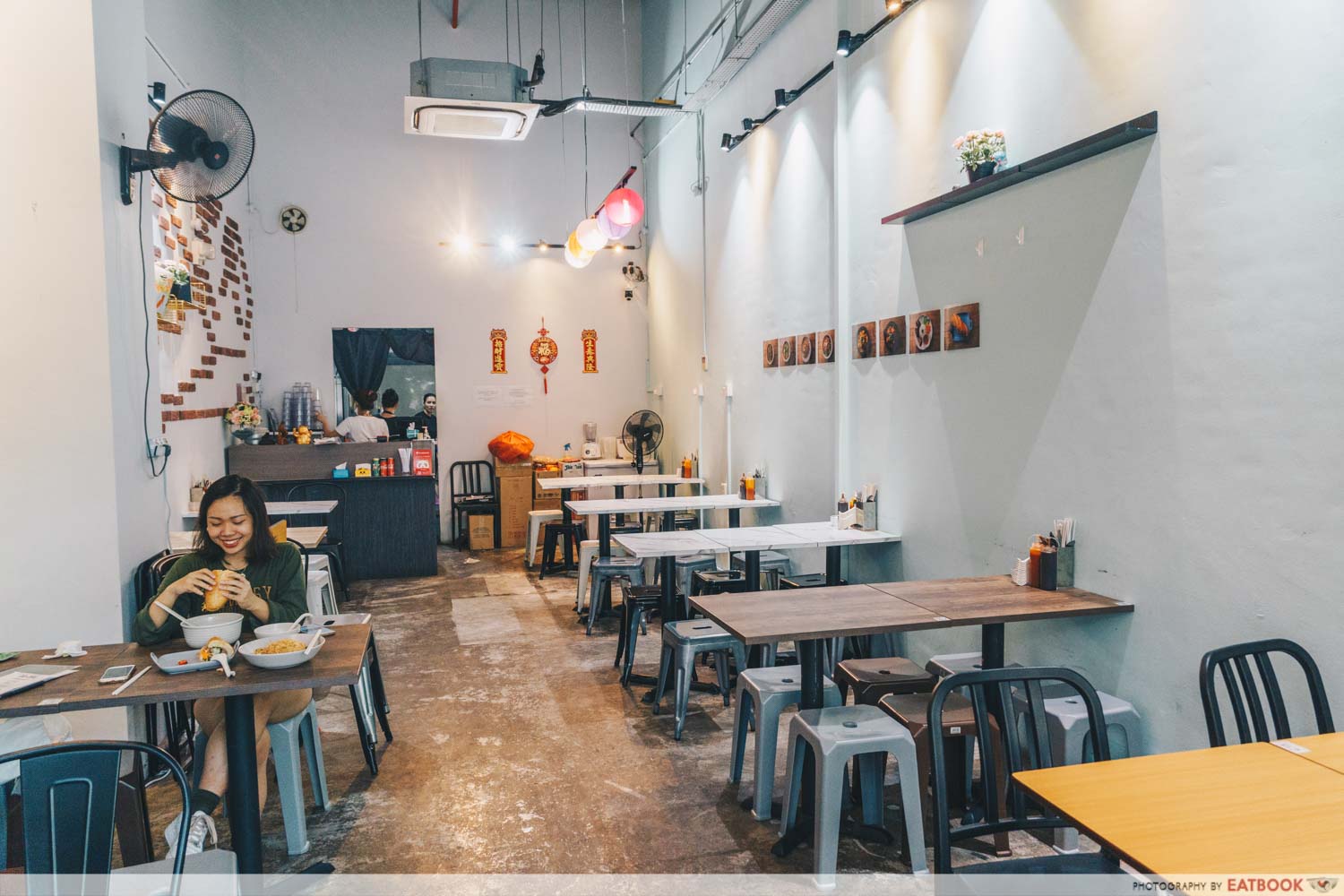 The Vietnamese restaurant is within a three-minute walk from Tai Seng MRT Station, making it very accessible by foot. Its interior has more of a rustic look with its plain white walls and patchy floor. Nonetheless, the dining space was decently comfortable as its high ceilings added a sense of spaciousness, and the air conditioning gave some respite from the afternoon heat. 
Getting a table shouldn't be a problem as they have more than enough seating space to accommodate the crowd.
The verdict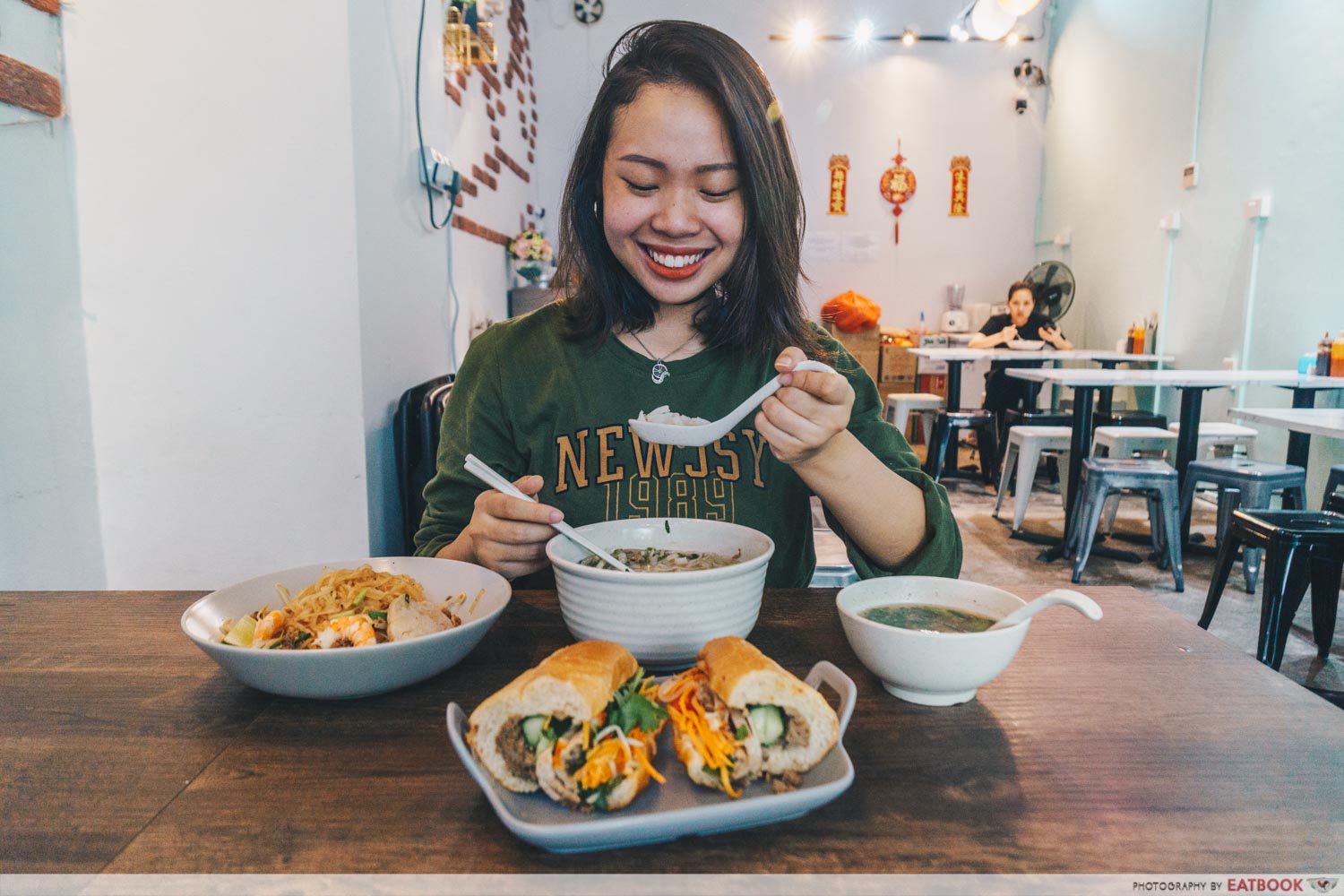 Even though it has been a while since I last had some legit Vietnamese food, my fondness for the flavourful cuisine hasn't diminished at all. Unfortunately, as attractive as the prices were on the menu, the dishes were a bit of a hit or miss for me. Not all hope is lost though. If I'm ever in the area craving Vietnamese food, my memory of their tasty Hu Tieu Nam Vang soup will be enough for a revisit!
Pho Bo is currently open for takeaway orders, as well as delivery via GrabFood, Foodpanda, and Deliveroo. You can also WhatsApp 90905432 to get a delivery slot from their independent couriers.
10 Affordable Vietnamese Food Spots In The CBD With Meals Less Than $15
If you're looking for more cheap Vietnamese fare, check out our list of affordable Vietnamese food. For those looking for more food in the area, check out this list of Tai Seng Food.
Address: 1 Irving Place, #01-30, The Commerze @ Irving, Singapore 369546
Opening hours: Mon-Fri 11am to 8pm, Sat 12pm to 8pm
Website
Pho Bo Vietnamese Restaurant is not a halal-certified eatery.
Photos taken by Chng Jia Yan.
This is an independent review by Eatbook.sg and was written before the Circuit Breaker measures.
10 Tai Seng Food Places Including Acai Bowl, Halal Seafood Bucket And Chicken Pie Shops
Pho Bo Vietnamese Restaurant
Summary
Pros
– Generous portions
– Flavourful Hu Tieu Nam Vang soup
– Affordable prices
Cons
– Pho Bo was a tad salty
– Hu Tieu Nam Vang was very dry
Recommended dishes: Pho Bo ($6)
Opening hours: Mon-Fri 11am to 8pm, Sat 12pm to 8pm
Address: 1 Irving Place, #01-30, The Commerze @ Irving, Singapore 369546