---
Poke bowls in Singapore for a delicious and healthy meal
---
Featuring a mountain of diced fish and carbo, Hawaiian poke bowls seems no different from a bara chirashi don. Yet, the former has surged in popularity in recent years with its refreshing, umami-laden taste and accessibility—you can easily find a poke bowl kiosk near you, especially in the CBD! It is a great lunchtime alternative to salad and cai png, as it is both healthy and tasty. The secret behind a good poke bowl lies in their full-bodied dressing.
Tossed in a heady mix of soy sauce, sesame oil, and rice vinegar, the salty rice highlights the luscious notes of the diced fish. Whether you're a seafood lover or a health junkie, a poke bowl is a dish that you simply must try. With that in mind, check out these poke bowl eateries and enjoy these deliciously healthy treats with us.
---
1. A Poke Theory
---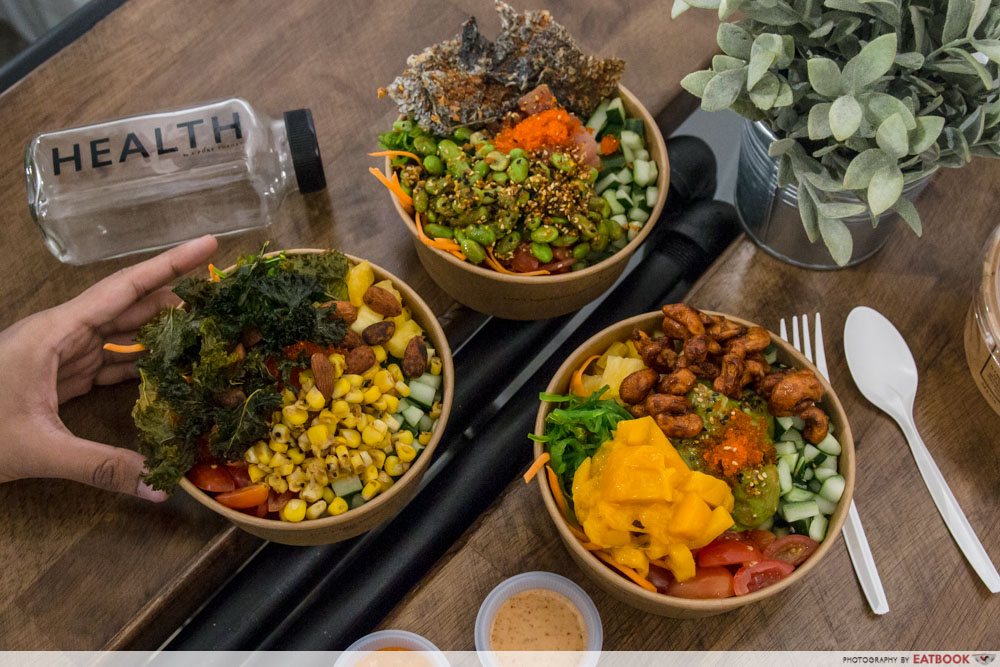 For those new to poke, A Poke Theory provides a fail-safe introduction with their colourful poke bowls. Choose from their chewy sushi rice and fragrant lemon herb quinoa, before adding a splash of colour with blocks of honey pineapple and cucumber. Whether it's the tangy Spicy Mayo salmon or rich Original Shoyu tuna, this bed of toppings provides a refreshing backdrop for their poke to shine against, allowing it to showcase its rich seafood accents.
With the cheapest bowl priced as low as $9.90, you can also satisfy your poke cravings without burning a hole in the wallet.
Address: 27 Boon Tat Street, Singapore 069623
Opening hours: Mon-Fri 11am to 8pm, Sat 11am to 4pm
Tel: 6904 8189
Website | Full list of outlets
Menu
---
2. Aloha Poke
---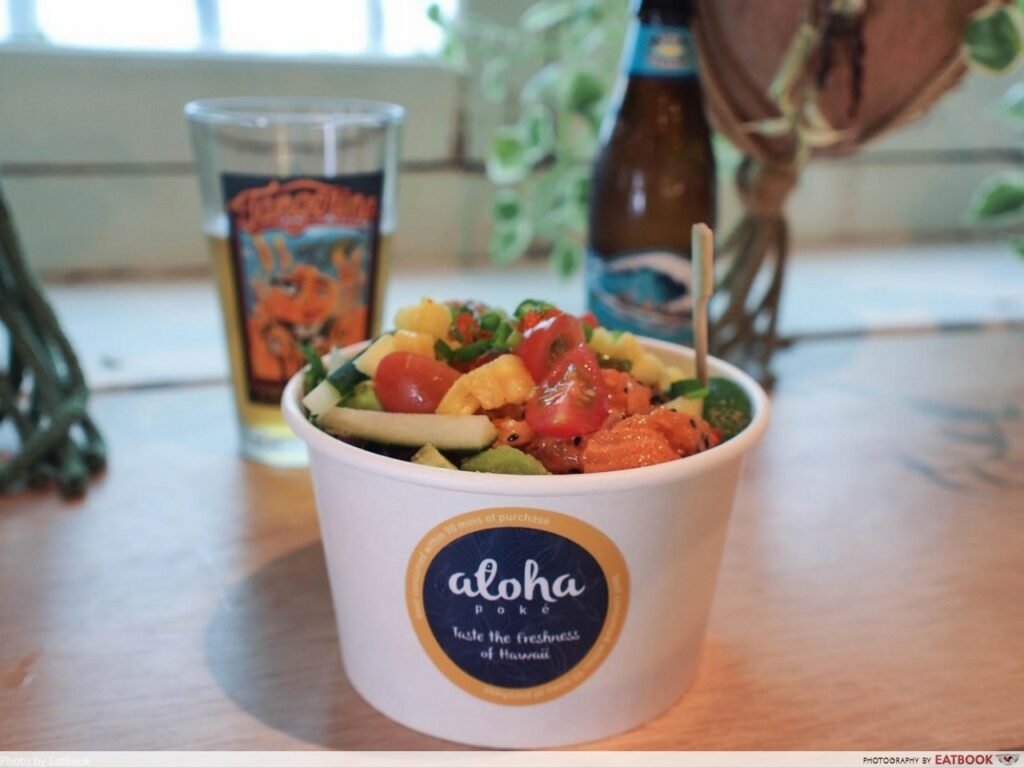 The first poke bowl eatery to open their doors in Singapore, Aloha Poke can take credit for transforming this humble bowl into a trend-worthy dish. This popular eatery has since expanded from its traditional selection, churning up mentaiko salmon, habanero chicken, and other interesting sides. For those who prefer to choose from a fixed menu, dig into their Aloha Sunrise ($16.90) and savour how the fruity sweetness of the golden raisins complement the buttery salmon poke. 
Address: 200 Victoria Street, #04-01, Bugis Junction, Singapore 188201
Opening hours: Daily 11:30am to 8:30pm
Tel: 6266 8553
Website | Full list of outlets
Menu
---
3. Loloku
---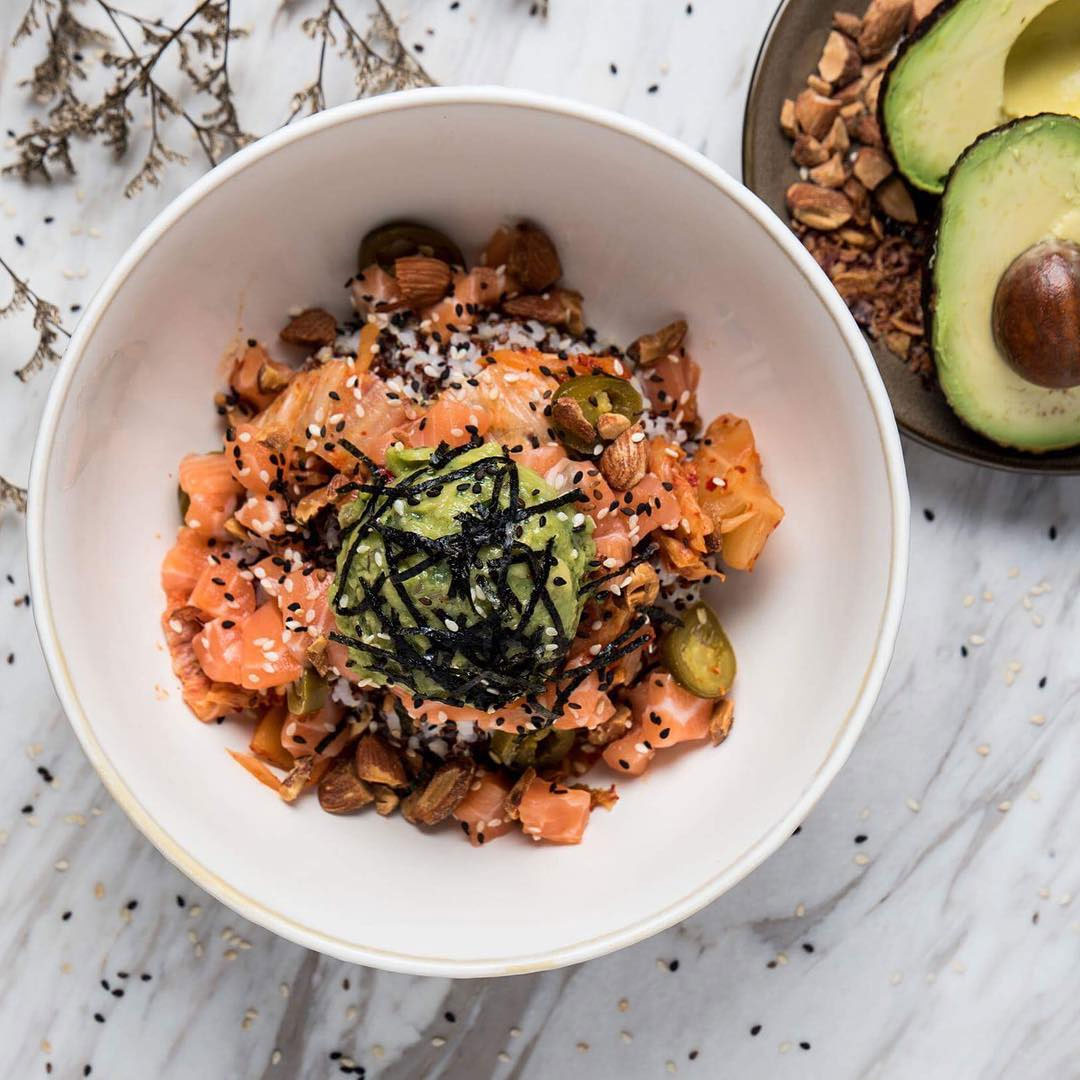 Image credit: @lolokusg
The Wikiwiki 2.0 ($14+) from Loloku looks more like a sashimi platter than a bowl of poke, as its hearty trove of diced salmon completely buries the rice beneath it. Kimchi and jalapeno are also served on the side, cutting across the salmon's greasy undertones with their much-needed astringency.
For those who prefer to experiment with different combinations, opt to build your own bowl and choose from sauces such as chipotle mayo as well as ponzu and wasabi.
Address: 1 Keong Saik Road, Singapore 089109
Opening hours: Daily 8:30am to 3pm
Tel: 6223 5001
Website
Menu
---
4. Unagi VS Salmon
---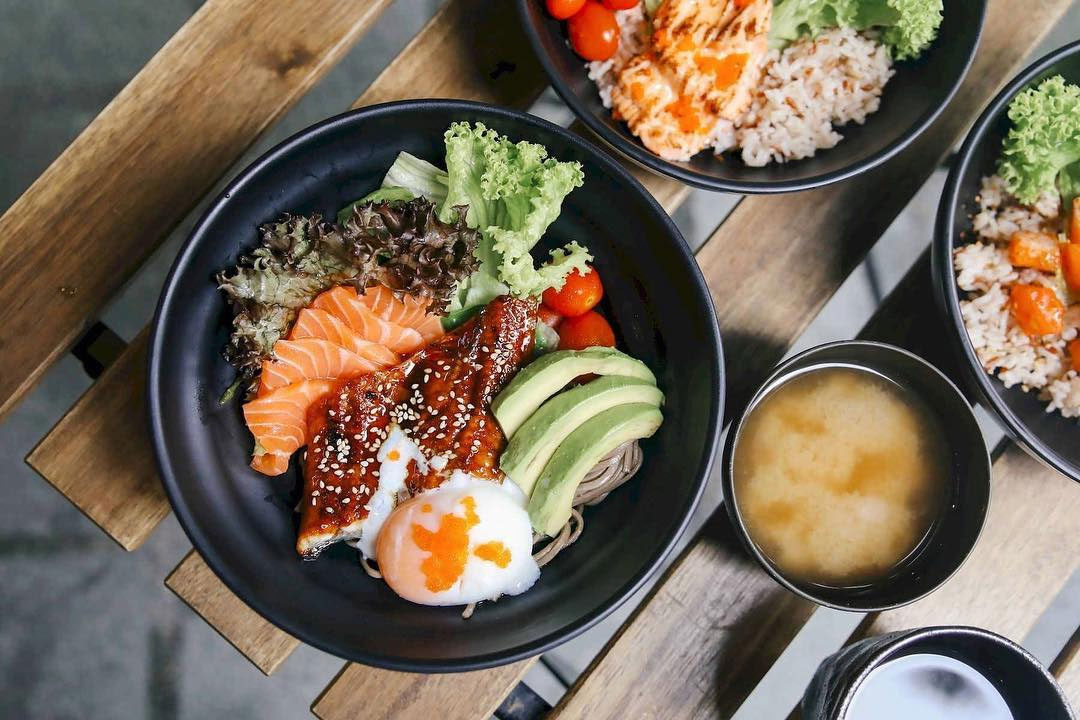 Image credit: @unagivssalmon
We usually struggle to decide between luscious salmon sashimi and savoury unagi, but Unagi VS Salmon puts this dilemma to bed with their signature Unagi Vs Salmon ($15.90). Offering the best of both worlds, this hearty set also features thick wads of avocado, an onsen egg, a refreshing garden of greens, and buckwheat noodles. Mix all these toppings up and savour how tender bits of shoyu-glazed unagi, springy soba, and velvety avocado meld into a delicious medley of flavours and textures.
Address: 12 Gopeng Street, #01-46, Icon Village, Singapore 078877
Opening hours: Mon-Fri 11am to 10pm, Sat-Sun 12pm to 8pm
Tel: 8812 4884
Website
Menu
---
5. Sweetfish Poke
---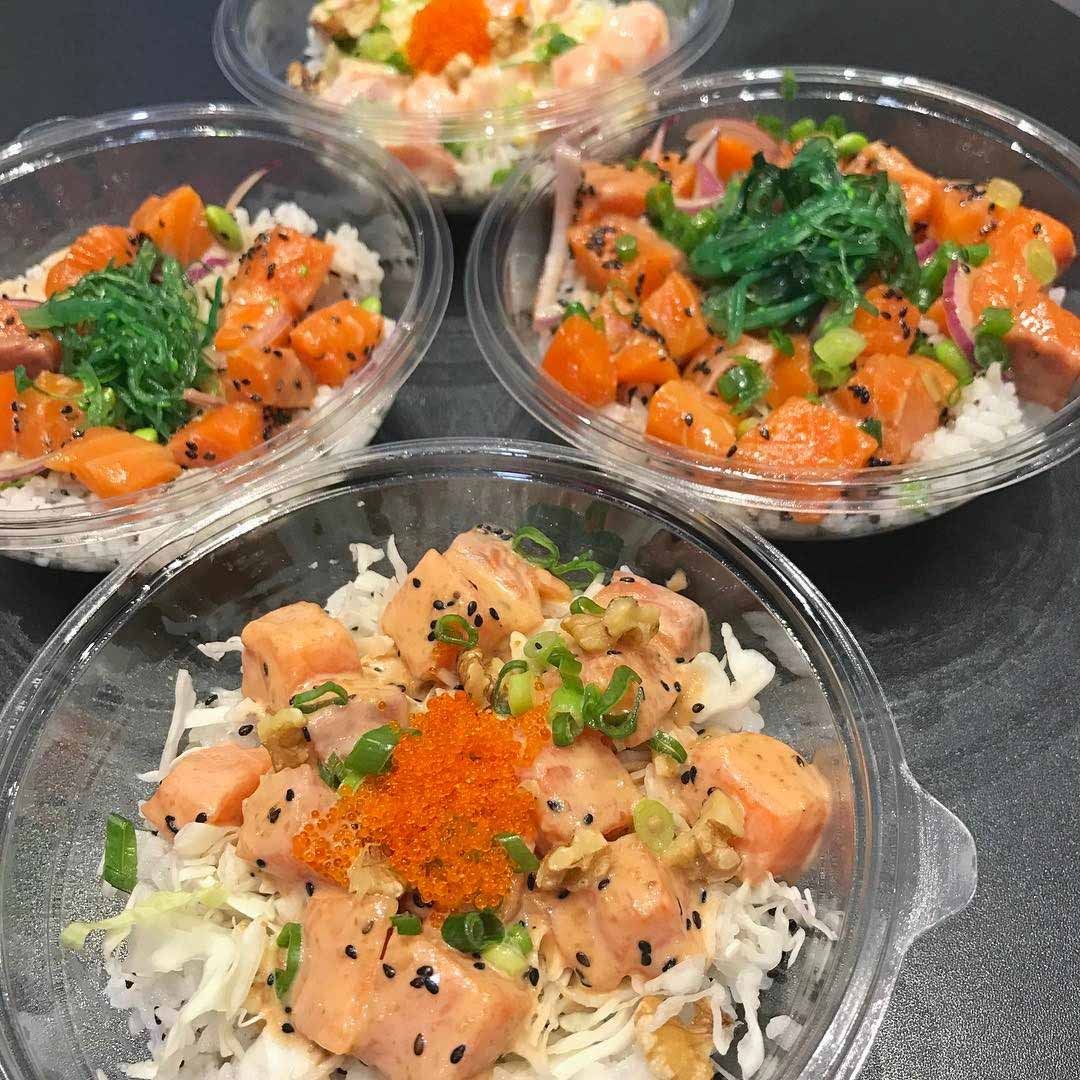 Image credit: @sweetfish_poke
The CBD seems to be a hotspot for affordable poke bowls, with stores such as Sweetfish Poke dishing up filling rice sets. A Hungry ($9) bowl fills your belly with fatty cubes of raw fish but their Starving ($14) bowl will leave you in an inescapable food coma with its whopping mountain of protein. 
Sweetfish Poke may offer a rather lean selection, but their five sets surprise with their interesting flavours. Our favourite is their Sweet Yuzu Cream bowl that spins a refreshing twist to the luscious salmon with its citrusy yuzu sauce and savoury fried garlic.  
Address: 13 Stamford Road, #B2-30, Capitol Piazza, Singapore 178905
Opening hours: Daily 11:30am to 8pm
Website
Menu
---
6. Black Fairy Coffee
---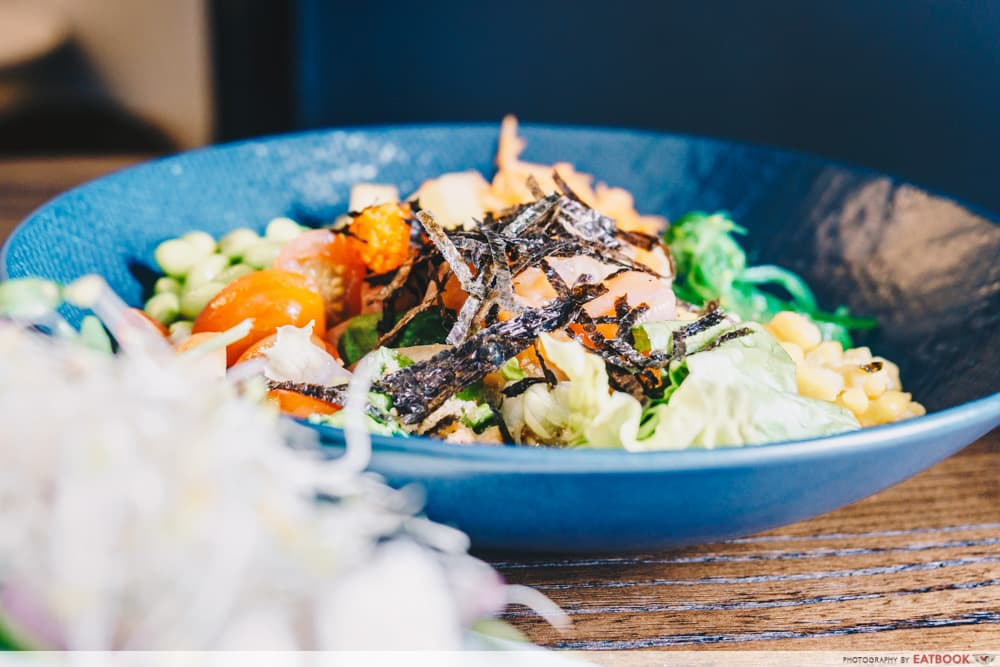 Furnished with a myriad of artworks, the elegant Black Fairy Coffee has garnered a loyal following with their signature Fairy Protein Bowls. We especially love their Soy Salmon Poke Bowl ($10.90) which offers a technicolour garden of edamame, cherry tomatoes, and pineapples. As delicious as it is colourful, this moreish bowl invites you for a second bite with their harmonious medley of zesty, buttery, and aptly sweet flavours.
While you're there, be sure to pamper yourself with their Pork Ribs ($13.90). Kissed with a touch of smokiness, these fatty ribs impress with their fall-off-the-bone tender meat.
Check out our review of Black Fairy Coffee!
Address: 131 Tyrwhitt Road, Singapore 207553
Opening hours: Sun-Wed 9am to 9pm, Thur-Sat 9am to 12am
Tel: 6909 3518
Website
Menu
---
7. Pink Fish
---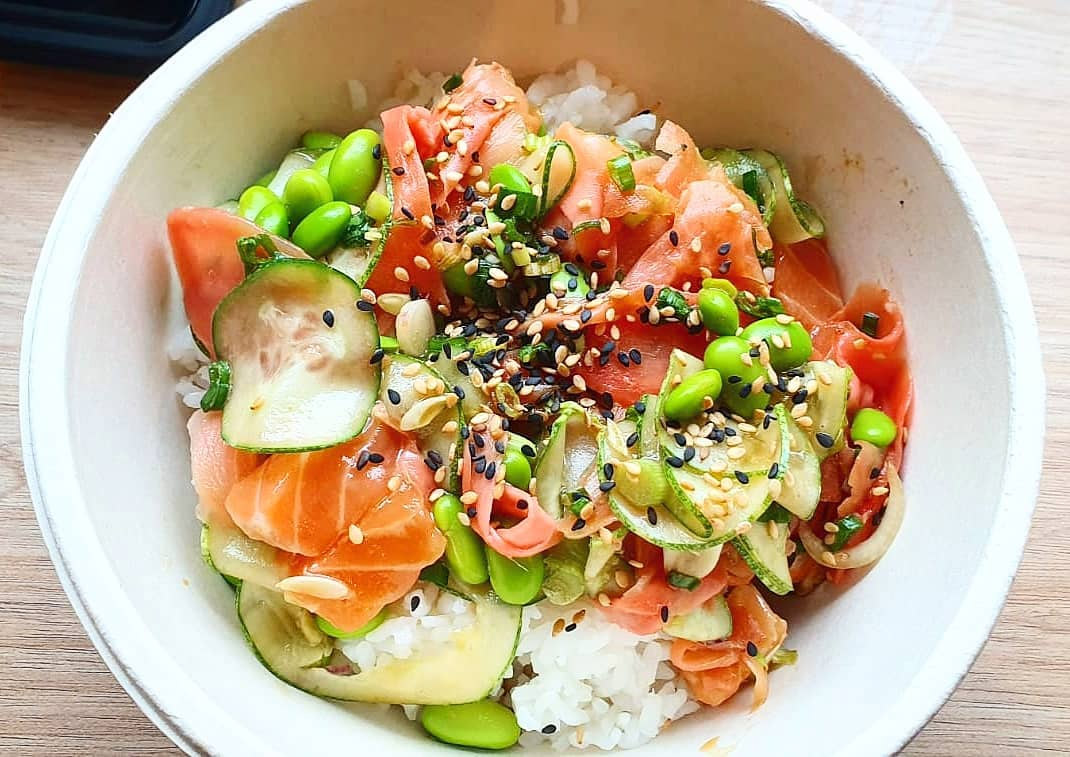 Image credit: @zfoodventurez
Norway has garnered a strong fanbase with her quality salmon, so trust Norwegian fast food chain Pink Fish to impress with their salmon-based selection. This maverick adds a dash of yuzu to their refreshing Asian Raw (from $10.90), elevating this otherwise typical poke with citrusy undertones. Sliced cucumbers and edamame are also scattered across this rice bowl, injecting another refreshing touch to the dish with their satisfying crunch.
Address: 78 Airport Boulevard, #B1-261, Jewel Changi Airport, Singapore 819666
Opening hours: Daily 10am to 10pm
Website
Menu 
---
8. Salmon Samurai
---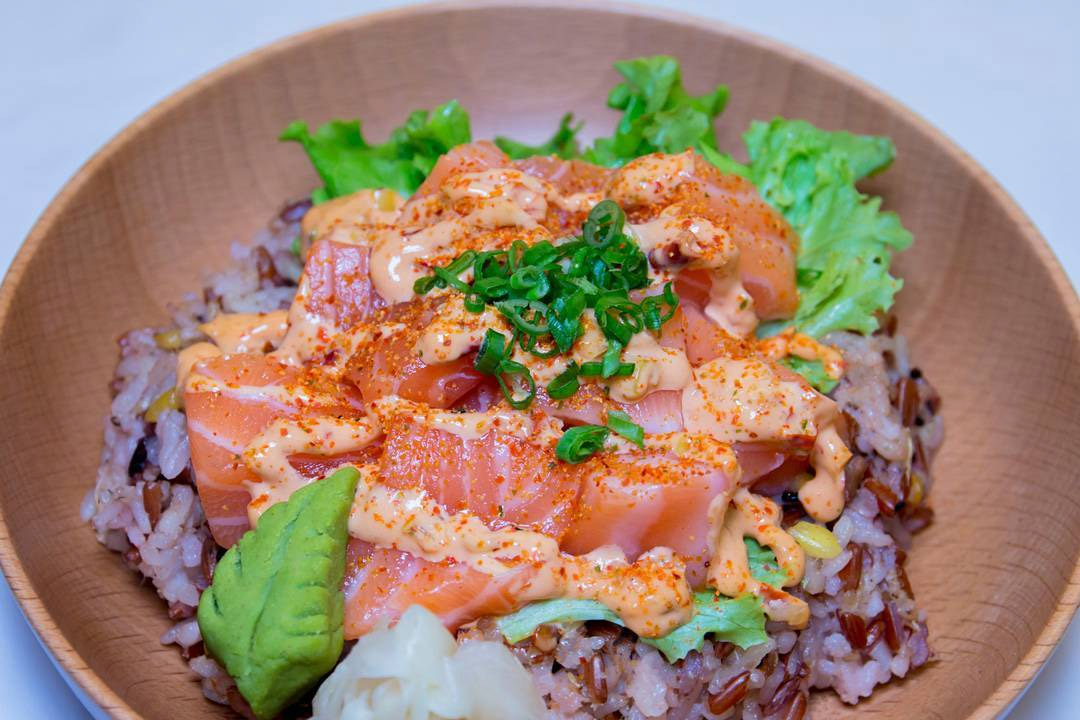 Image credit: @salmonsamurai
Salmon Samurai proves that you don't have to break the bank to enjoy a decent poke, as their customisable salmon rice bowls are affordably priced at $9.90. Start from a base of mixed grained brown rice or chewy udon noodles, before heaping a generous mound of their spicy salmon poke onto it. Marinated with house-made sauce, these luscious chunks of salmon are supported by a well balanced medley of creamy and piquant flavours.
Address: 10 Collyer Quay, #B1-08, Ocean Financial Centre, Singapore 049315
Opening hours: Mon-Fri 11am to 8pm
Tel: 6634 8593
Website | Full list of outlets
Menu
---
9. Alter Ego
---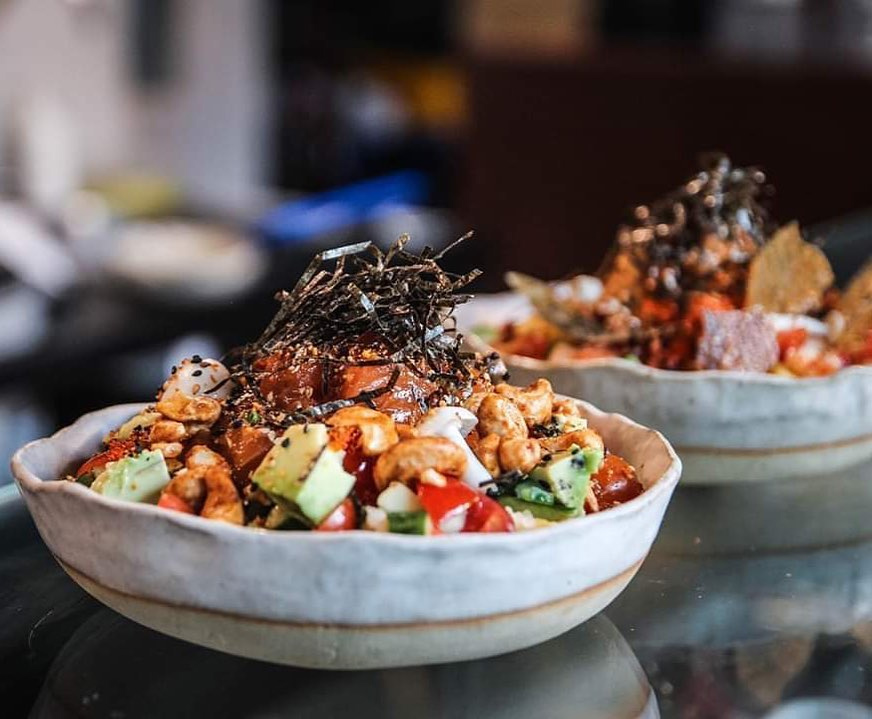 Image credit: @alteregosg
Priding themselves as A Poke Theory's evil twin, Alter Ego won't leave you with a thinner waistline, but they def' leave you feeling gloriously pampered. Make a beeline for their colourful Original Poke Shaker ($17), which zhngs up diced shoyu salmon with lime avocado and spice roasted cashews. Every spoonful of this hearty bowl comes chock full of toppings, exciting your palate with rich, zesty, aptly creamy, and umami-laden notes. 
If that doesn't leave you shook, check out their explosive Dynamite Kickin' ($17), featuring spicy garlic sesame tuna, crisp salmon skin, and smoked almonds. Try leaving Alter Ego without wiping clean this flavour-packed set. I dare you.
Address: 8 Raffles Avenue, #01-13D, Singapore 039802
Opening hours: Mon-Fri 12pm to 11pm, Sat-Sun 11am to 11pm
Tel: 6327 9301
Website
Menu
---
Poke bowls are guilt-free treats
---
Poke bowls prove that you can enjoy a filling meal without guiltily staring at your waistline. So the next time you're looking for a detox, be sure to check out these eateries on our list. Leave us a comment below if we missed out on any of favourite spots. 
If you're searching for more belly-pampering that are both healthy and IG-worthy, check out our list of acai cafes in Singapore. From the refreshing flavours at Acai to the technicoloured bowls at Parallel, these gorgeous treats are definitely worth splurging on. 
10 Acai Bowl Spots For A Refreshing Pick-Me-Up To Combat Singapore's Warm Weather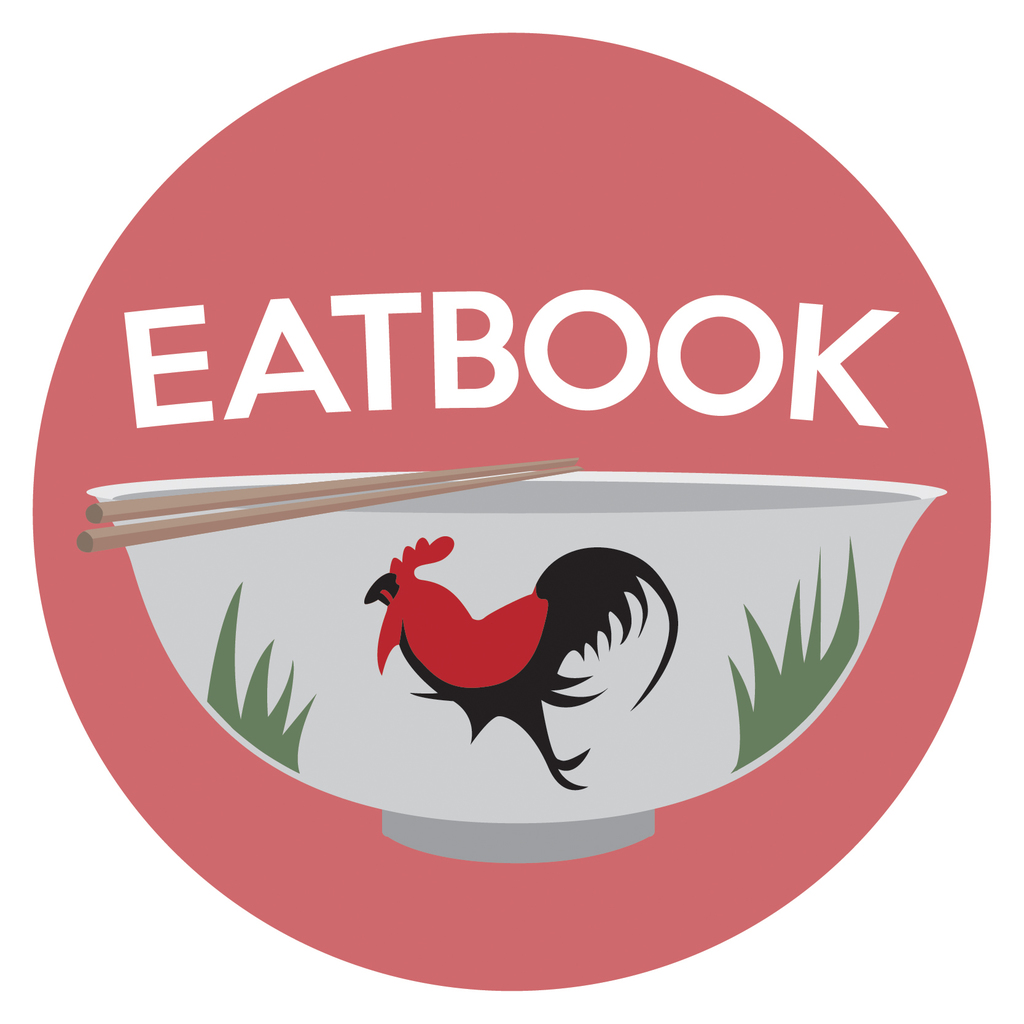 Drop us your email so you won't miss the latest news.