Black Fairy Coffee at Jalan Besar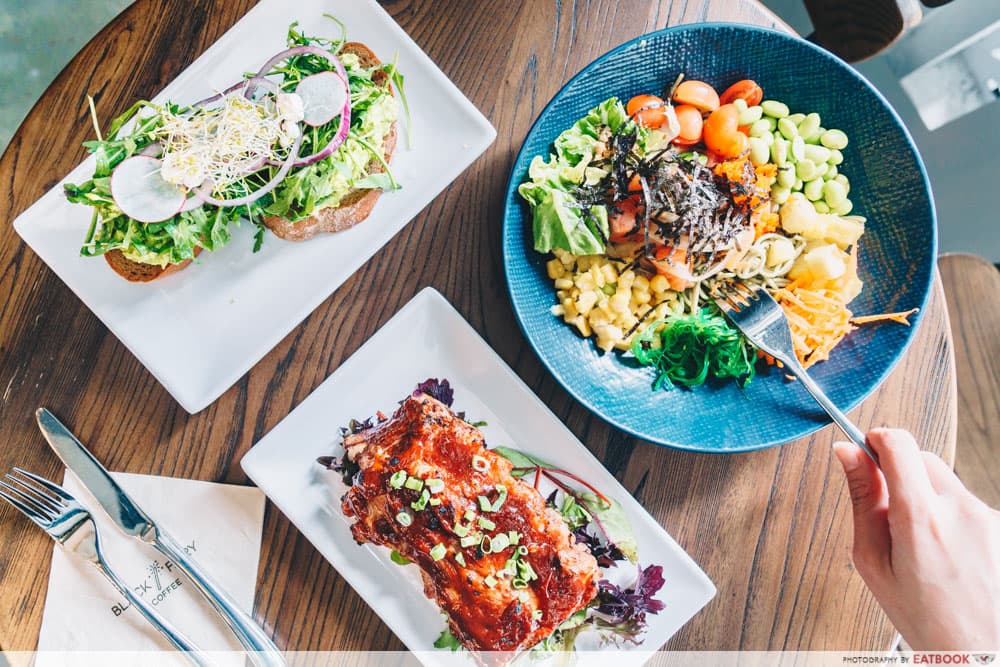 Opened last year, Black Fairy Coffee blends in with the slew of hipster joints along the Tyrwhitt Road stretch. The menu is simple, with no quirky attention-grabbing dishes. But take the chance and step in to unravel dishes that taste better than its plain appearance.
Food at Black Fairy Coffee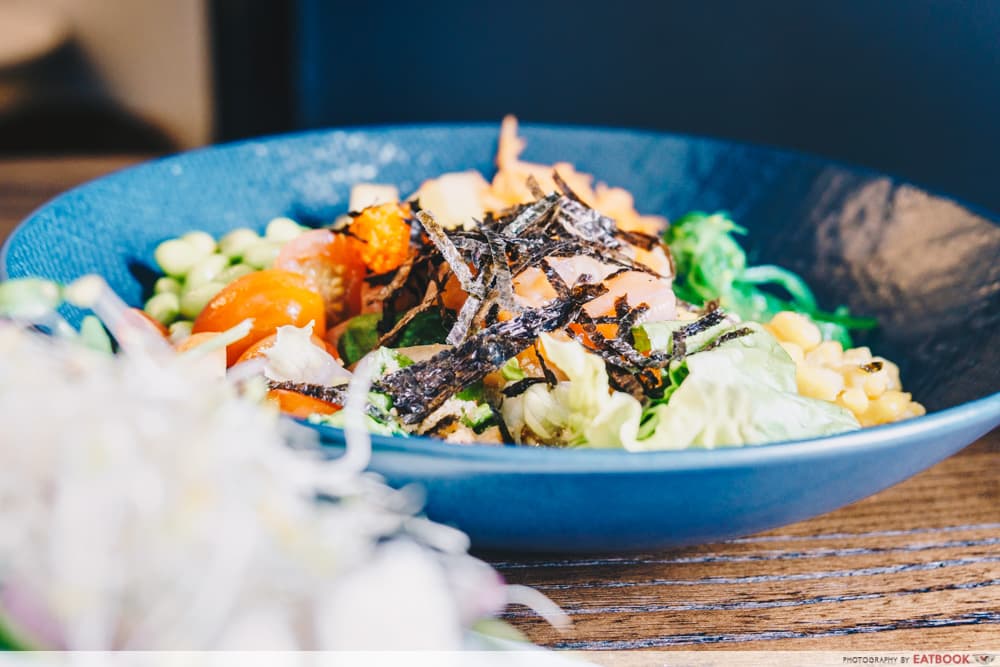 As their Fairy Protein Bowls came highly recommended, we decided to get the Soy Salmon Poke Bowl ($10.90). The grain bowl came with soy salmon, pineapples, cherry tomato, edamame, sweet corn, carrot, seaweed and wafu sauce.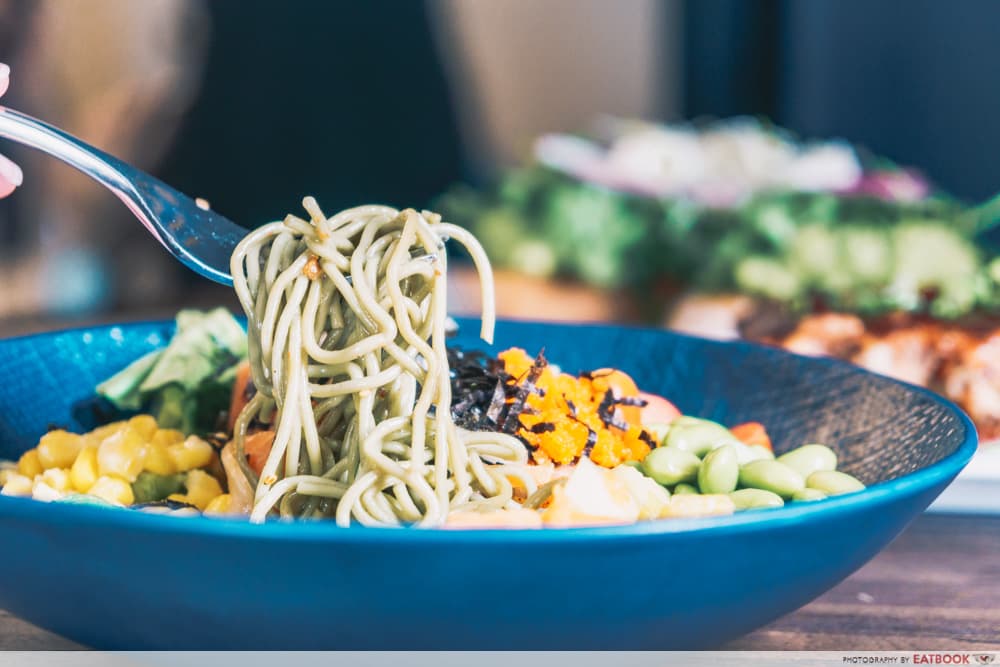 You can choose between rice or soba for your base, and we were glad to have chosen soba, as the grainy noodles managed to capture the Japanese vinaigrette dressing well.
Every component in this bowl complemented the other. The pineapples gave a sweet yet sharp bite to the salty salmon, while the edamame and sweet corn provided a crunchy texture. It was a straightforward dish, but I couldn't stop myself from wiping the bowl clean.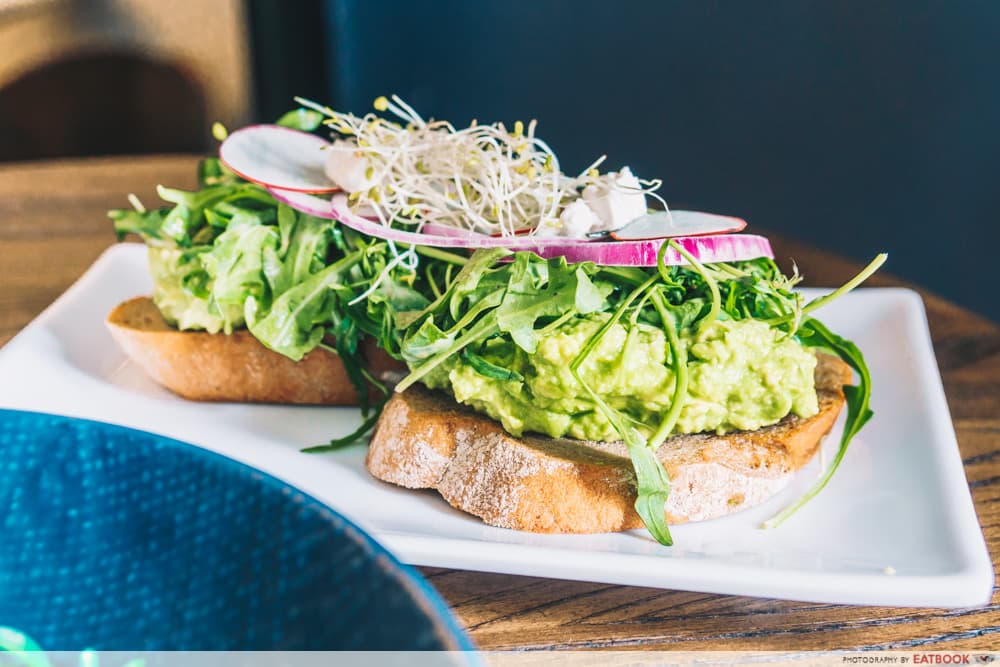 I'm still not over the avocado trend and went for the Happy Avo After Toast ($11.50). This, however, was rather bland, and I could not taste the honey mustard dressing it supposedly came drenched in. That being said, they were very generous with the mashed avocado on the rye bread.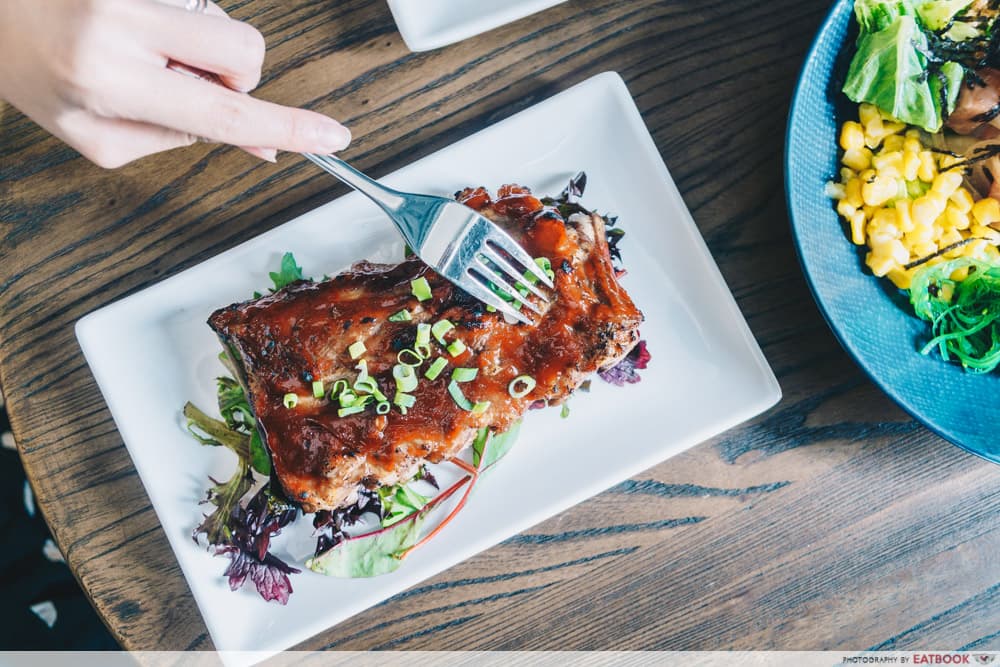 A dish that took me by surprise was the Pork Ribs ($13.90). Even though it's listed under the snacks section of the menu, the slab of fork-tender meat could qualify as a full meal. All it needs is a side of fries.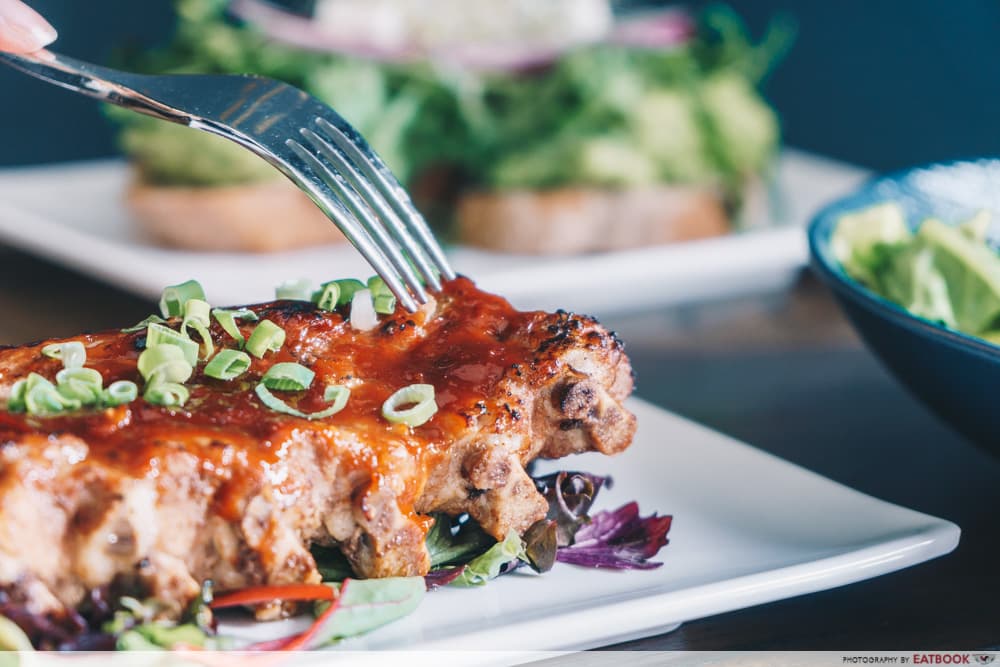 Glazed in a treacly barbecue sauce with a hint of smokiness, the pork ribs took the meaning of fork-tender to a whole other level. No strength was needed to tear the meat away from the bone, and you can leisurely eat this with only a fork.
Seven & Ate Review: New Pork Burger And Spiked Milkshake Bar At Jalan Besar
It was far from dry, with a good layer of fats clinging to the succulent meat.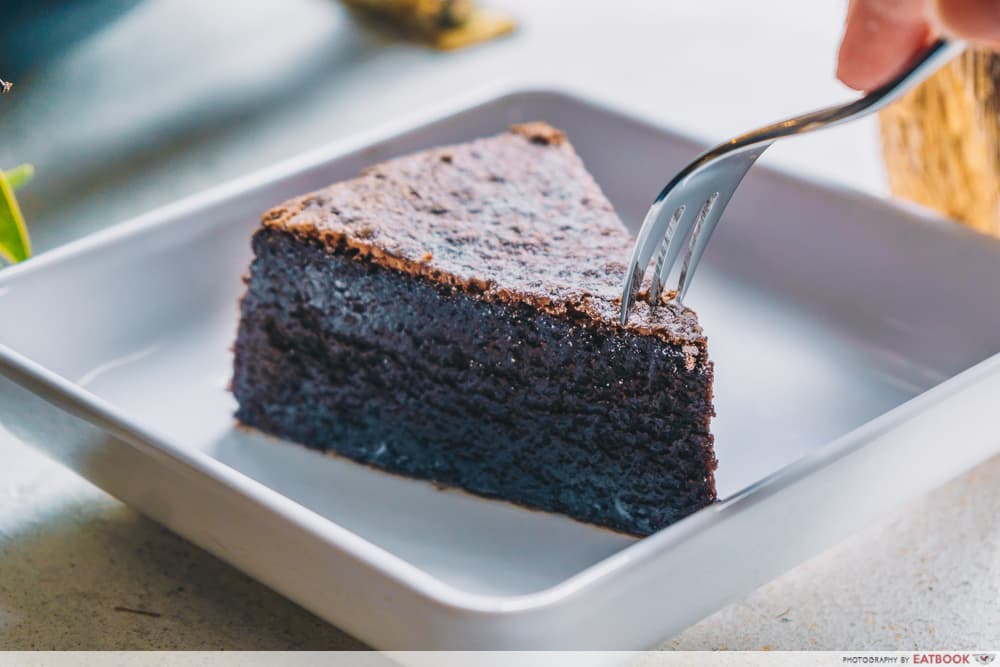 No meal is complete without a toothsome treat. As #BasicB*tches, we opted for their Flourless Chocolate Cake with Vanilla Ice-cream ($9.50).
Rich and dense, this gooey slab of goodness provided a simple decadence. In comparison to the famed Ken's Cafe Tokyo, this fared a million times better. So come here if you want a good piece of chocolate cake without the queue.
Ambience at Black Fairy Coffee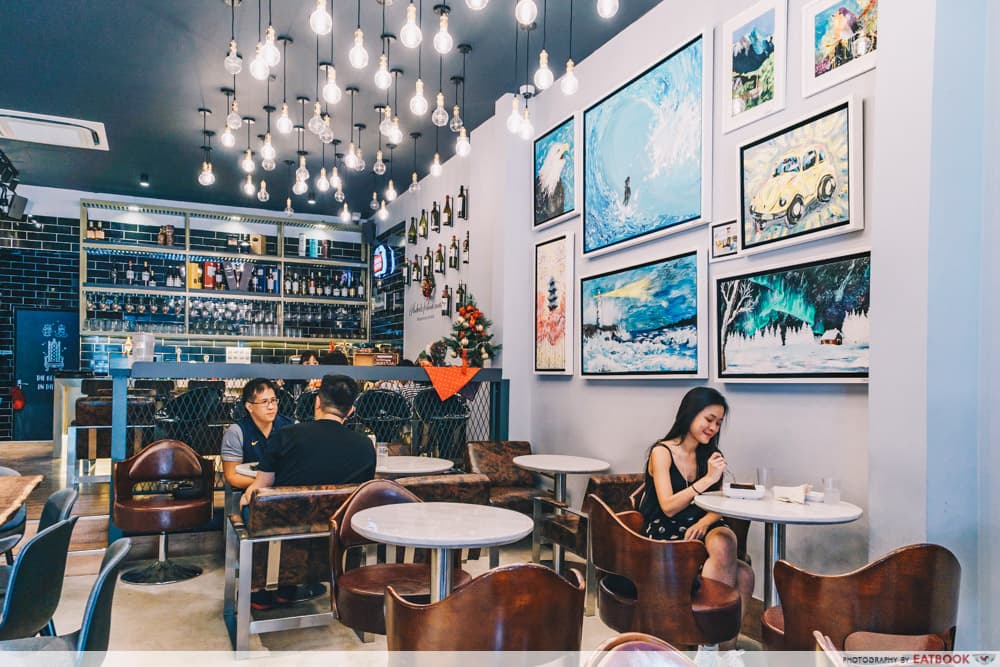 Unlike most cafes in Singapore that are designed to be either minimalist or girly, Black Fairy Coffee exudes a masculine vibe, with mid-century leather chairs marking the space. There are artworks plastered on the walls, although I 'm not too sure if they are available for sale. You have to practice a little self-service here and get your own water, cutlery and sauces. However, I'm cool with that, since there's no GST or service charge.
The verdict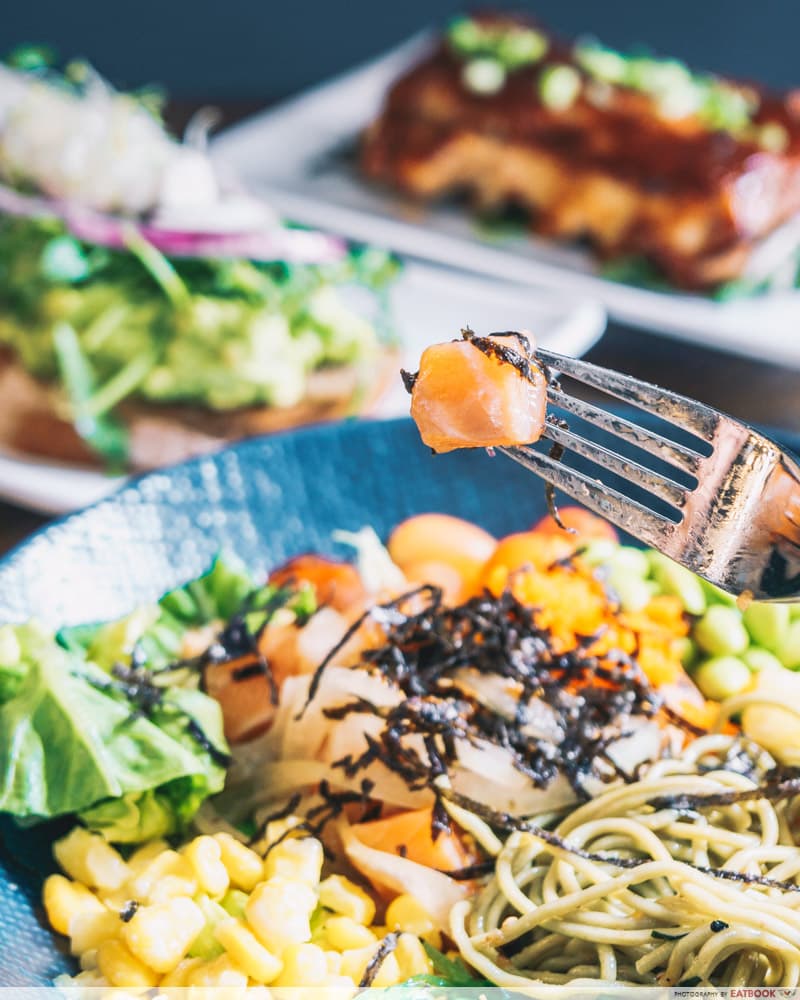 If you're around Jalan Besar and looking to dine in a comfortable setting without breaking the bank, Black Fairy Coffee will do the trick. The food here certainly satisfies but isn't something you would rave about to your mates. That being said, if I'm ever craving for ribs when I'm broke, the ones served here will def' be my first choice.
10 Jalan Besar Food Places To Finally Check Out Now That The DTL Is Done
Address: 131 Tyrwhitt Road, Singapore 207553
Opening hours: Sun-Wed 9am to 9pm, Thur-Sat 9am to 12am
Tel: 6909 3518
Website
Photos taken by Pepita Hope Wauran.
This is an independent review by Eatbook.
Summary
Pros
– Plenty of seats
– No GST and service charge
Cons
– Food is only decent
Recommended dishes: Soy Salmon Poke Bowl ($10.90), Flourless Chocolate Cake with Vanilla Ice-cream ($9.50)
Opening Hours:  Sun-Wed 9am to 9pm, Thur-Sat 9am to 12am
Address: 131 Tyrwhitt Road, Singapore 207553