Popeyes' new Singapore Street Wings are available from 11 April 2017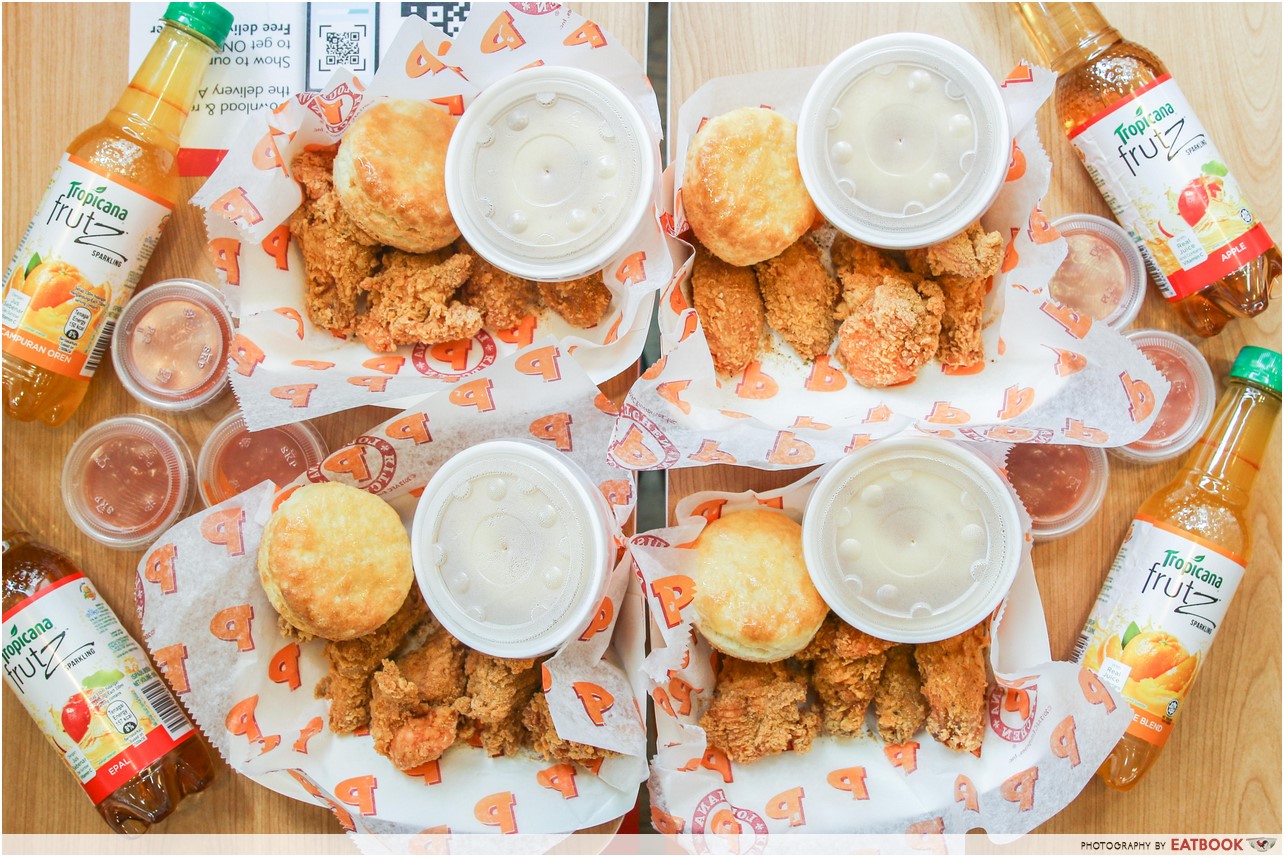 There are two kinds of chicken eaters in the world. The first has a favourite part and the other devours every inch unconditionally.
I used to be in the first group and wouldn't eat anything except chicken wings. If you think I'm silly because the wing has lesser meat, I can tell you that it's the bones in the wings that make them extra satisfying. When it's crisped in sizzling oil, you get delightful bursts of juices as you chomp down on them and that, is how fried chicken addicts are born.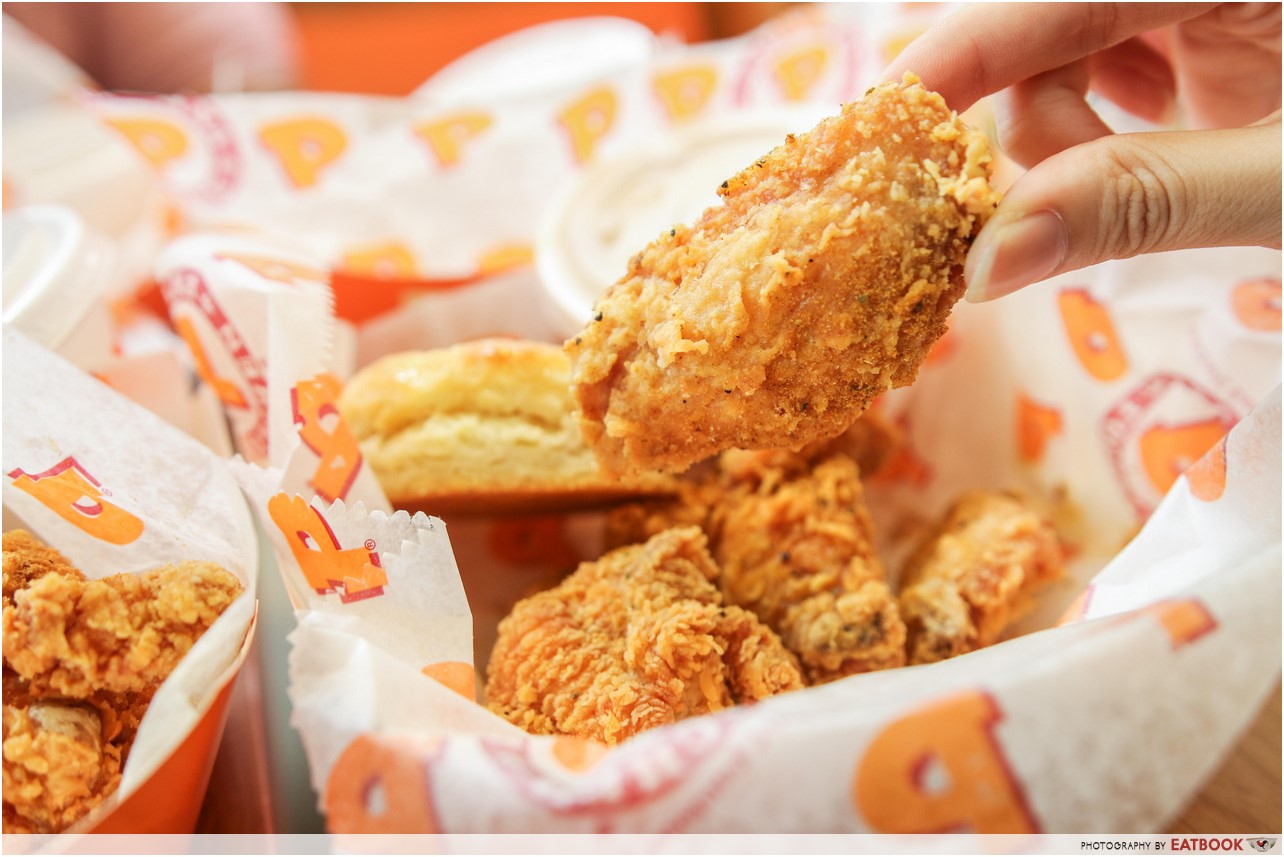 Before you can get flavourful chicken, you need a good marinade. At Popeyes, they marinate their chicken for 12 hours in their signature Cajun seasoning before it's battered by hand, all in the name of staying true to their Louisiana roots.
So imagine taking that already flavourful base and turning it up a notch with their special Louisiana blend of five-spice seasoning. Just when you thought the flavours were rich enough, things get bolder with a Spicy Chilli Garlic Dip. Now that's what I call a fried chicken worthy enough to break your calorie count for.
Singapore Street Wings at Popeyes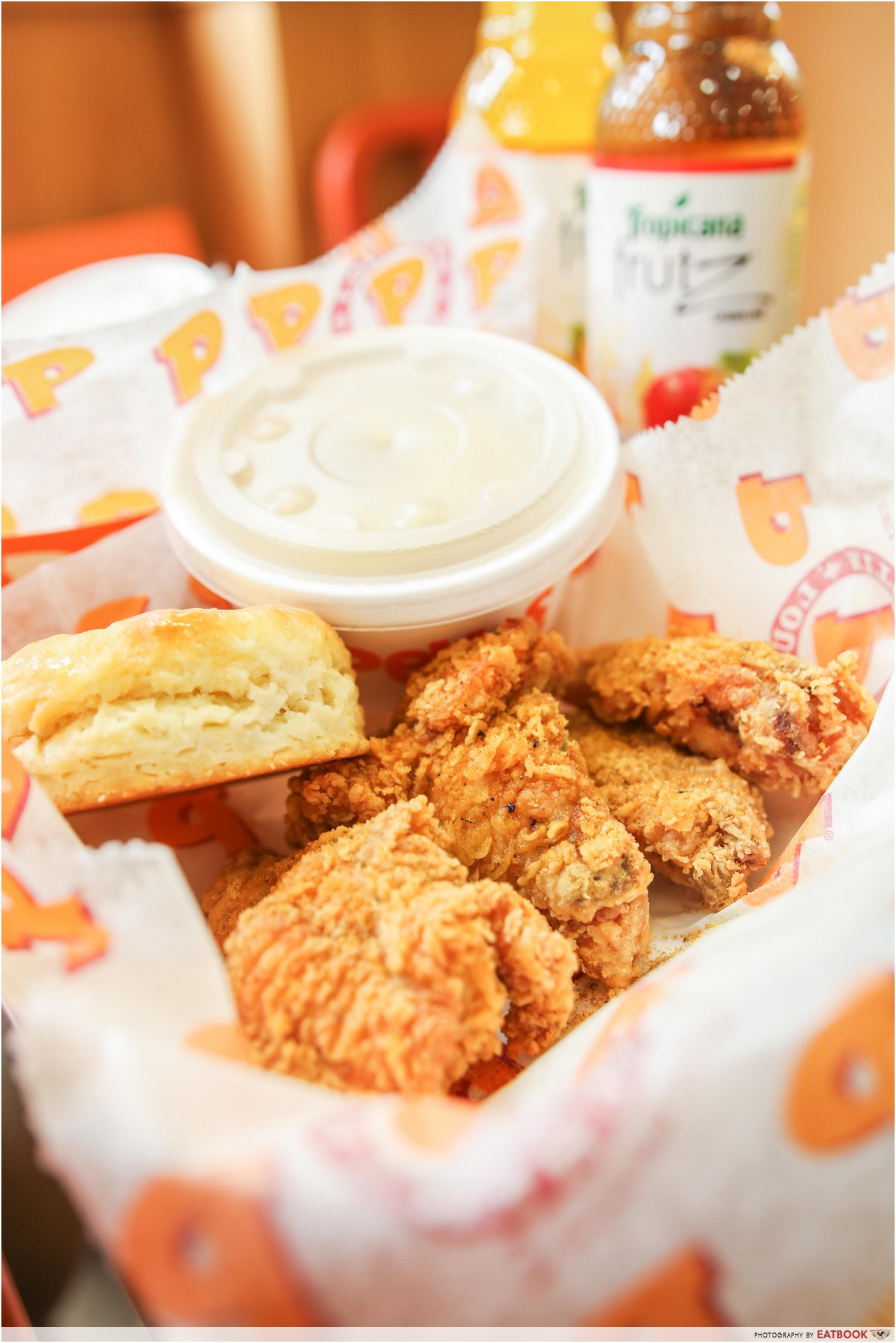 It could've been because we were ravenous, but we smelt the Singapore Street Wings ($7.50 with meal) before they hit our table. Each meal includes 4pc Street Wings along with mashed potatoes, a honey butter biscuit and a bottle of Tropicana Frutz Sparkling in apple or orange flavour, but of course we all dove for the chicken first.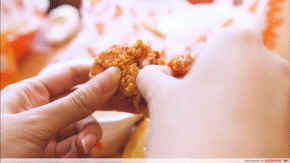 Once I sank my teeth into the crisp golden wing, I got a satisfying crunch and a burst of glorious juices. Juice in fried chicken is what lava is to a good lava cake, and Popeyes gets this result by battering their chicken by hand.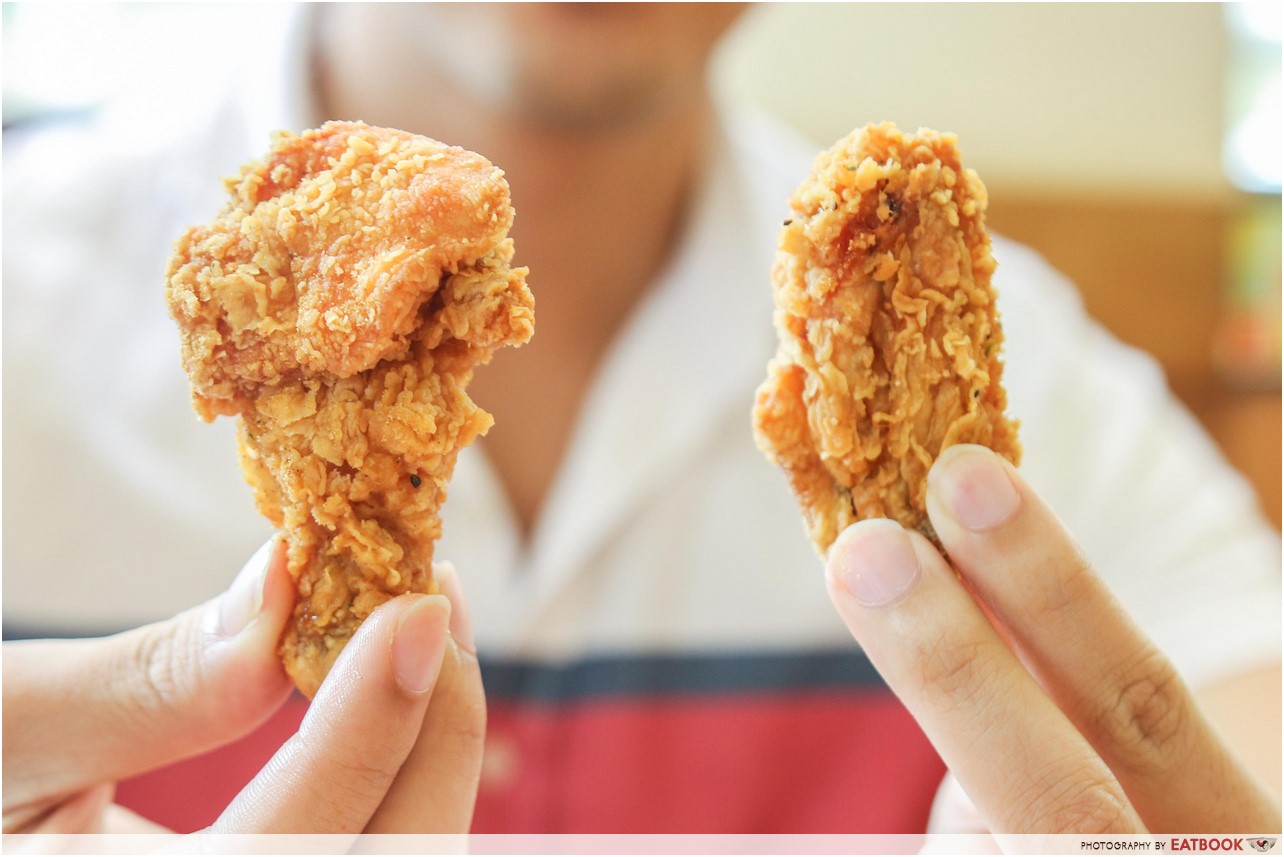 But that's not the only reason why it's addictive. The chicken had a slight kick of spice that accompanied its savoury goodness, and a citrusy flavour that helped to cut through the grease. I struggle to finish off my chicken at a fast food place on most days, but not that day.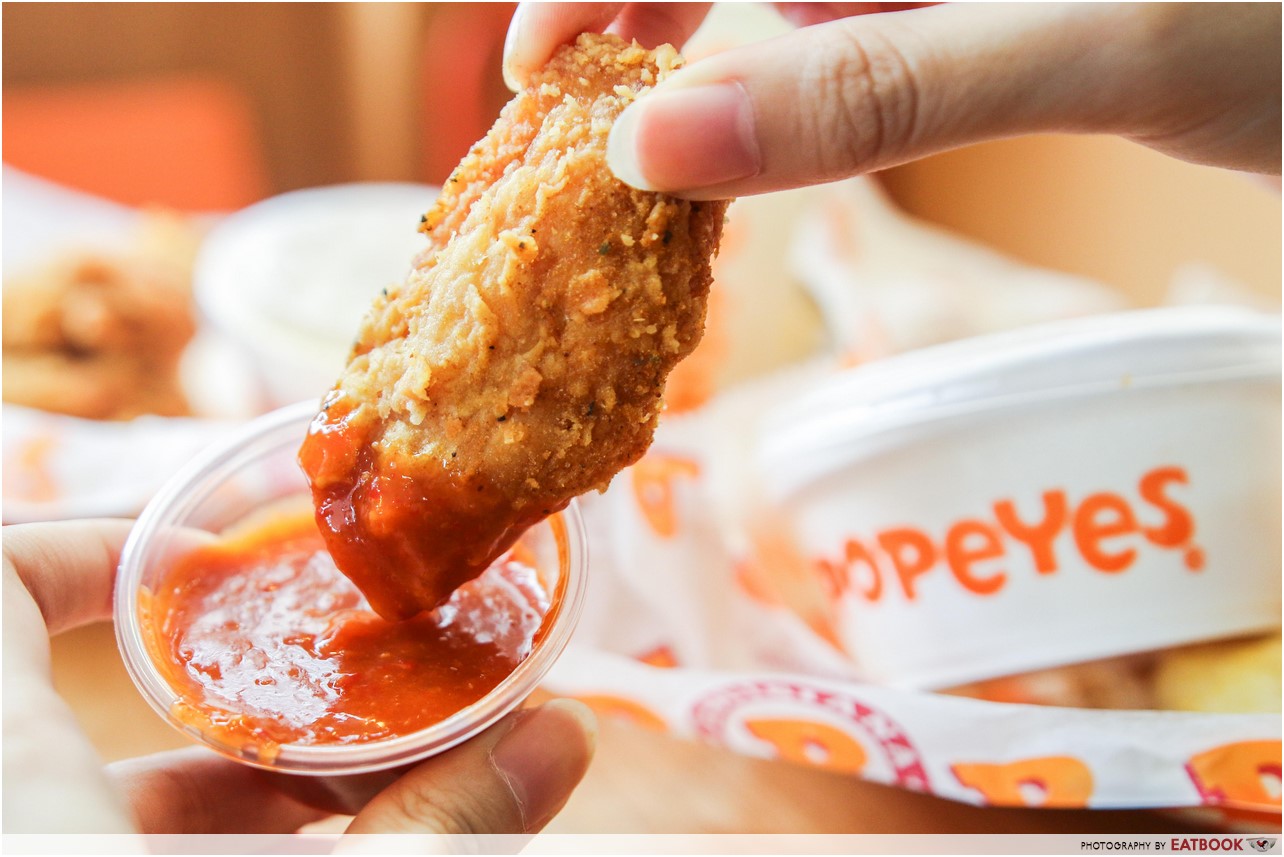 For stronger flavours, have your chicken with the Spicy Chilli Garlic Dip on the side. It reminded us of a thicker and less spicy version of chicken rice chilli, and enhanced the flavour of the chicken.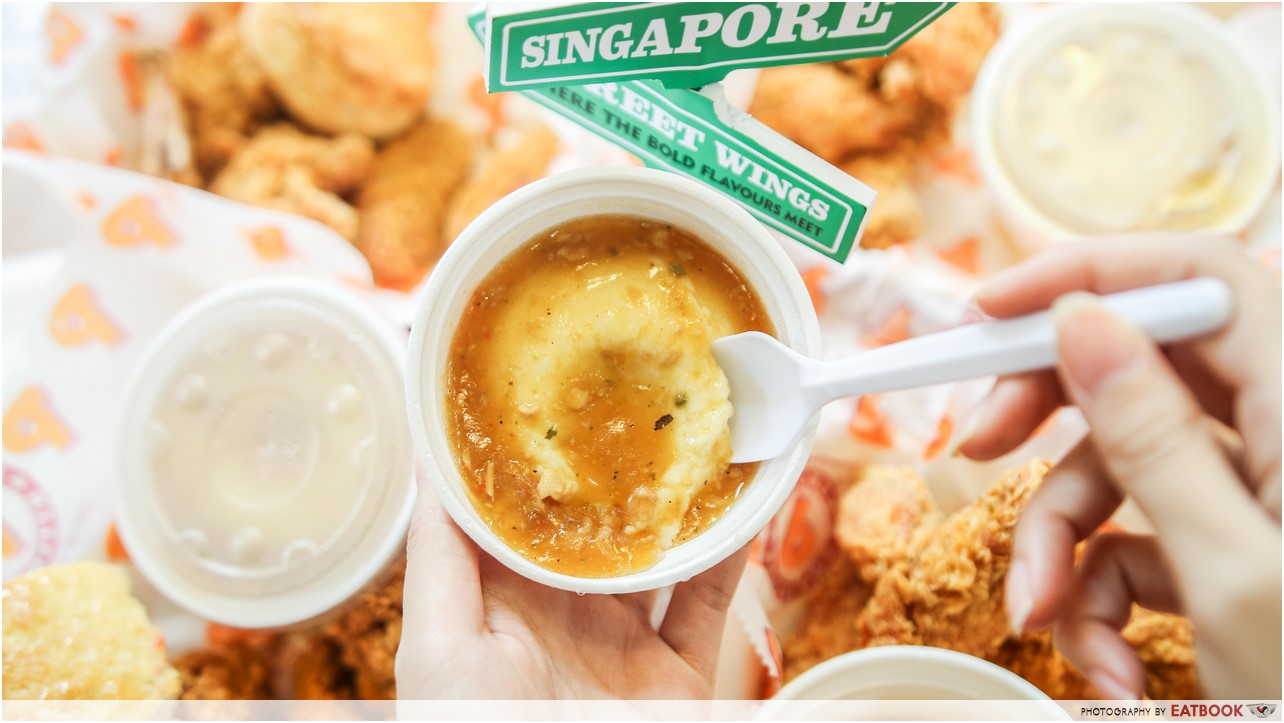 I'm the girl who steals mashed potatoes off my friends' trays like how others steal fries, and I couldn't help myself today either. Popeyes' mashed potatoes is smooth and comes slathered in their signature Cajun gravy, making it a real treat to have.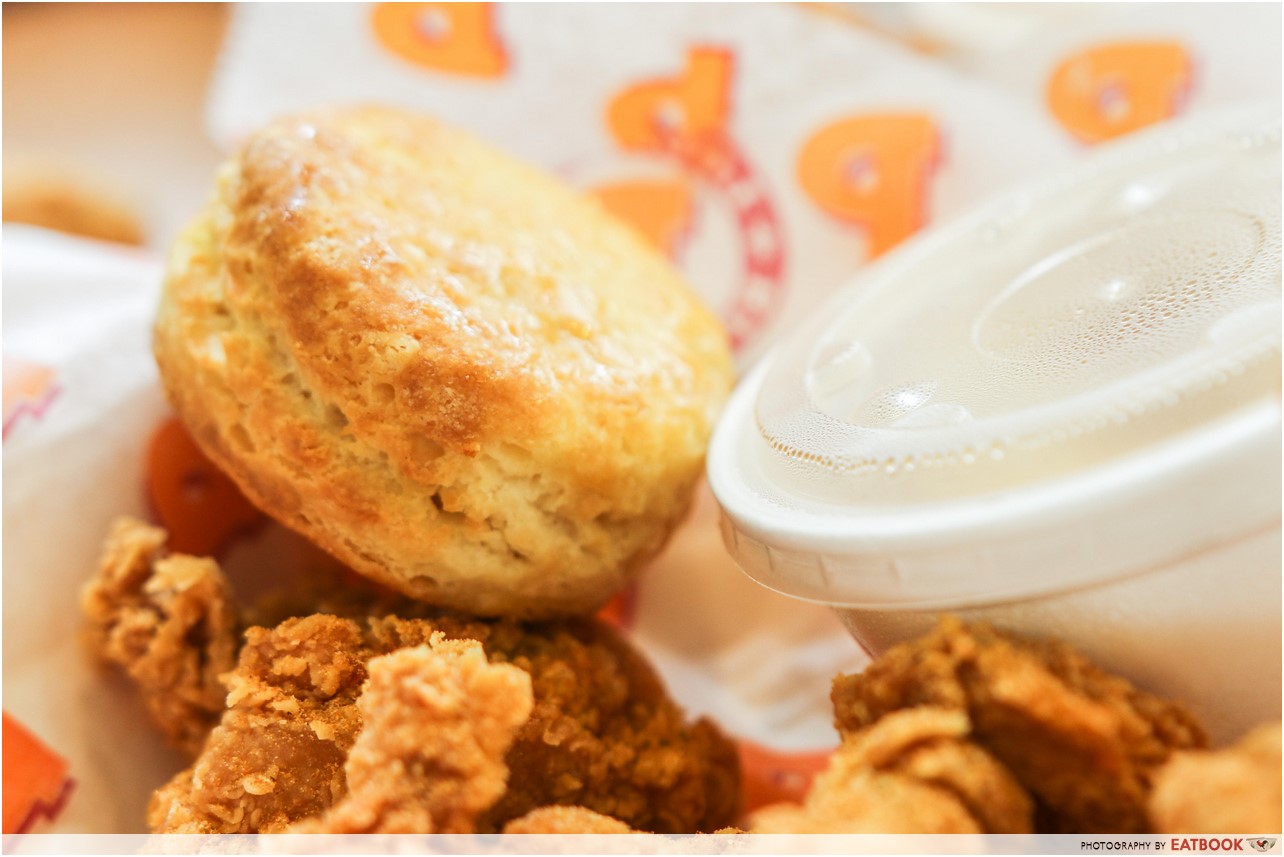 Fluffy biscuits with a honey sweet exterior and a buttery inside will always be a comforting side to fried chicken. The biscuit at Popeyes has a crusty top and moist interior, but I can never get past half of it because of how buttery and indulgent it is.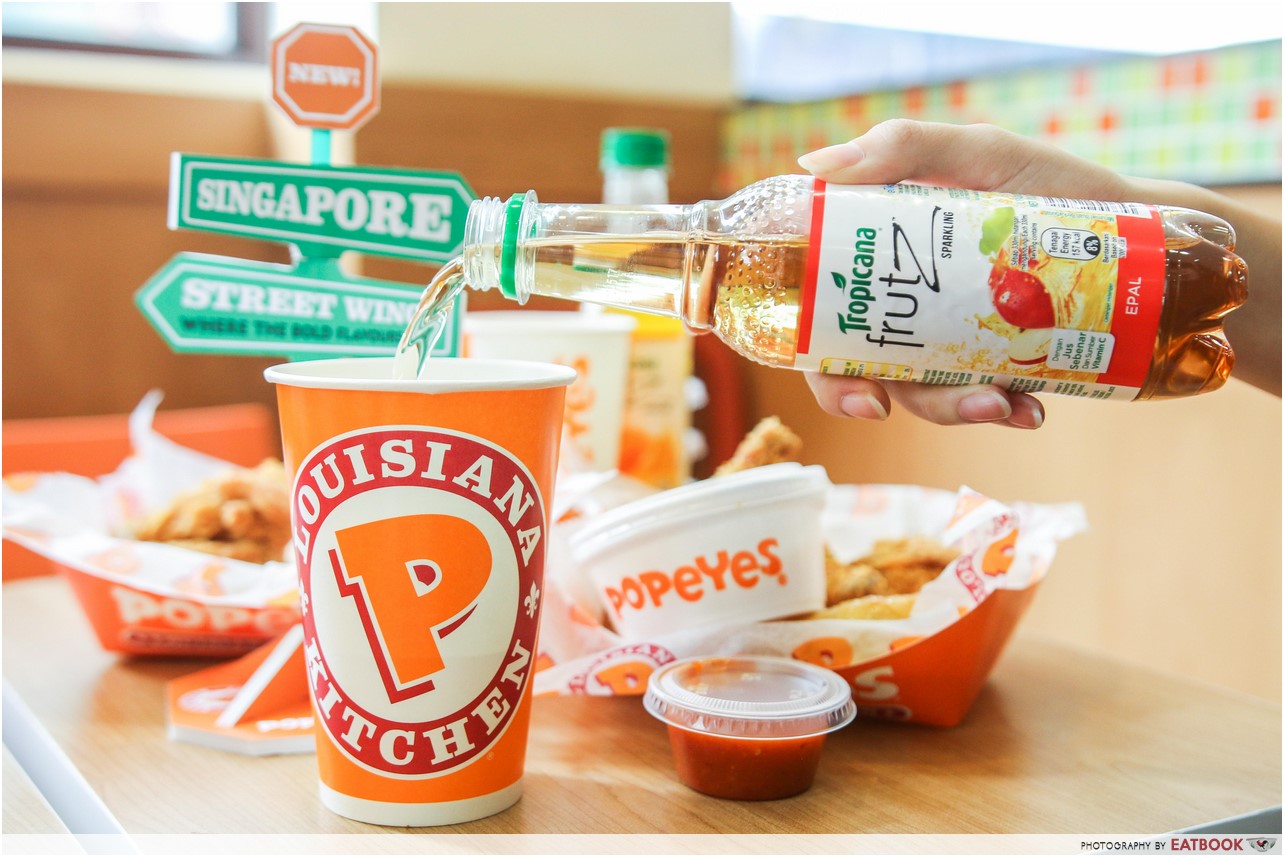 There's nothing better than a tongue-tingling drink when you're having fried food, so I was grateful for the fruit-flavoured sparkling soda that came with the set. The apple flavour won my heart with its refreshing taste and wasn't overly bubbly to the point where you feel a burp or a hiccup coming along.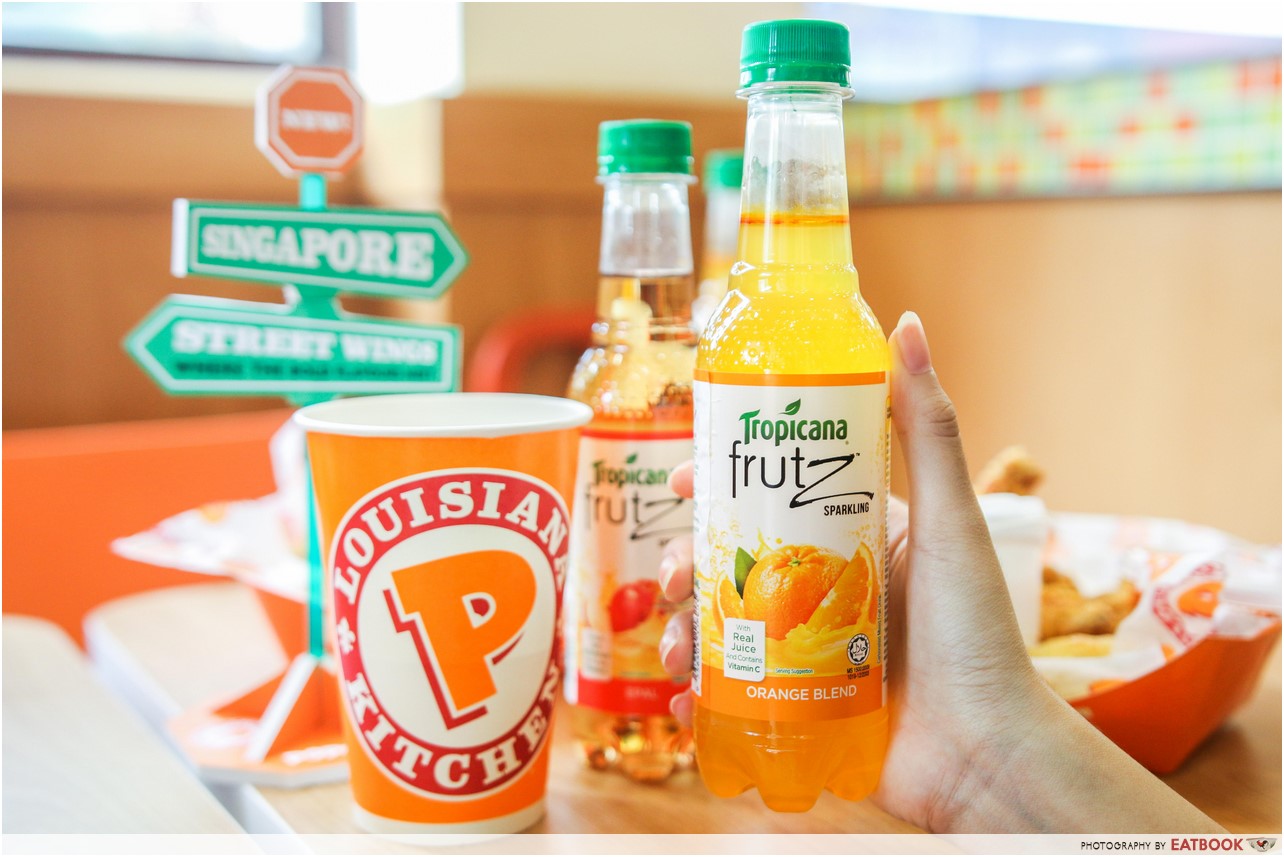 It was the same for the orange, but this wasn't as refreshing as the apple. Instead, it tasted like a mildly carbonated bottle of orange juice.
Ambience at Popeyes' Bugis Village outlet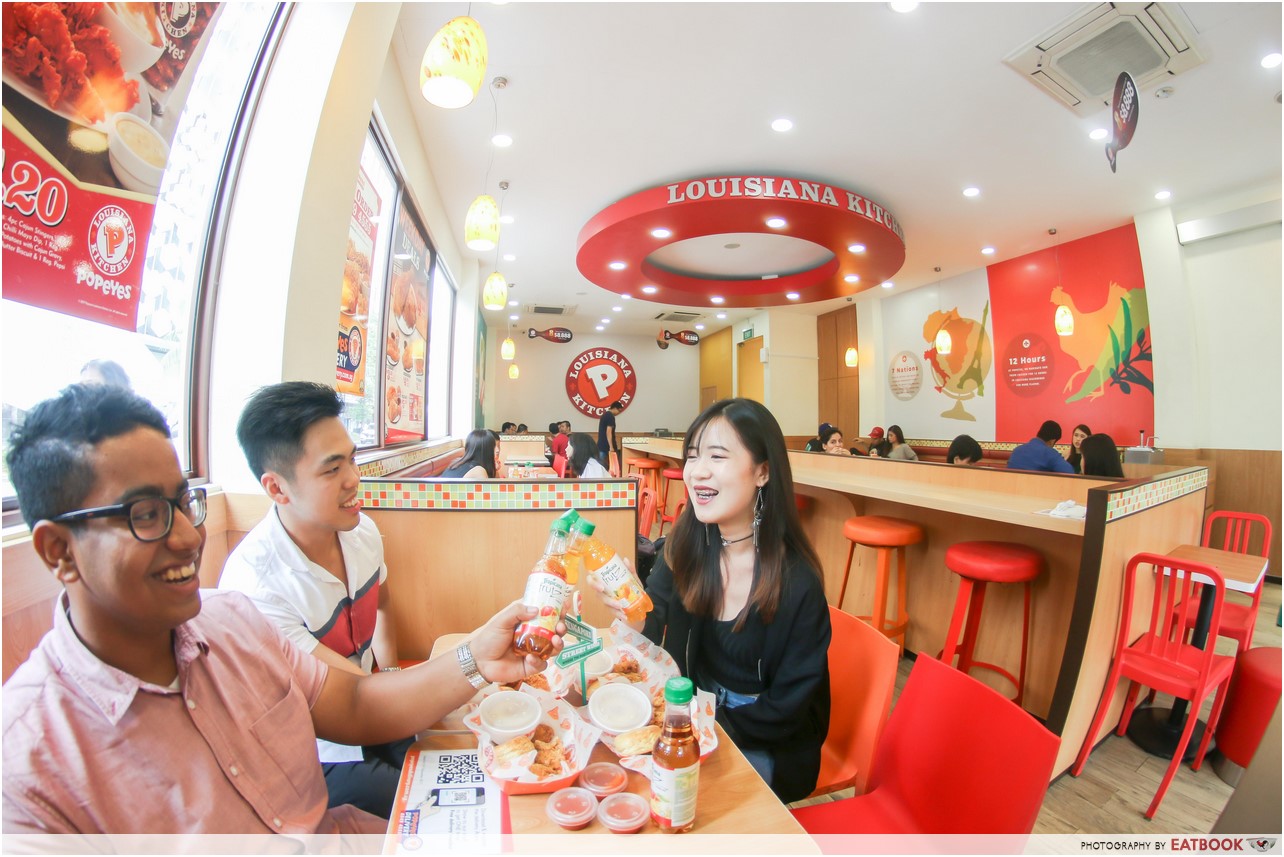 We popped by the outlet at Bugis Village for our meal, and they've got two separate indoor seating areas. One has the order counters and pick-up point, while the other has just seats.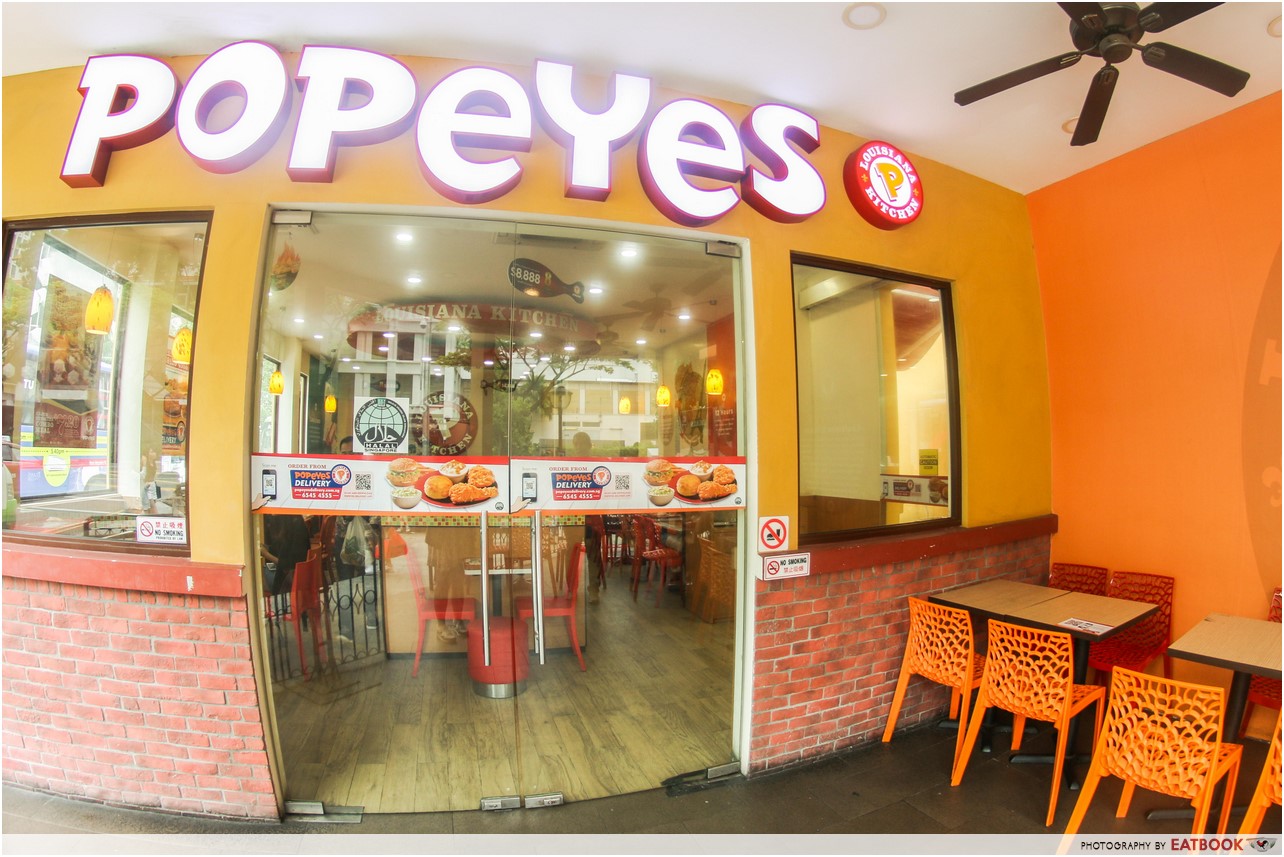 If that isn't to your fancy, there's also an alfresco area to get your fill of people watching.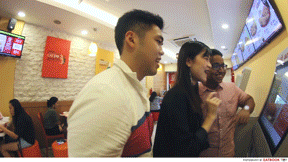 Orders are placed at self-service kiosks and you are given the option to pay with NETS, cash or credit card. When the order is ready, you can pick it up at the counter up front.
The verdict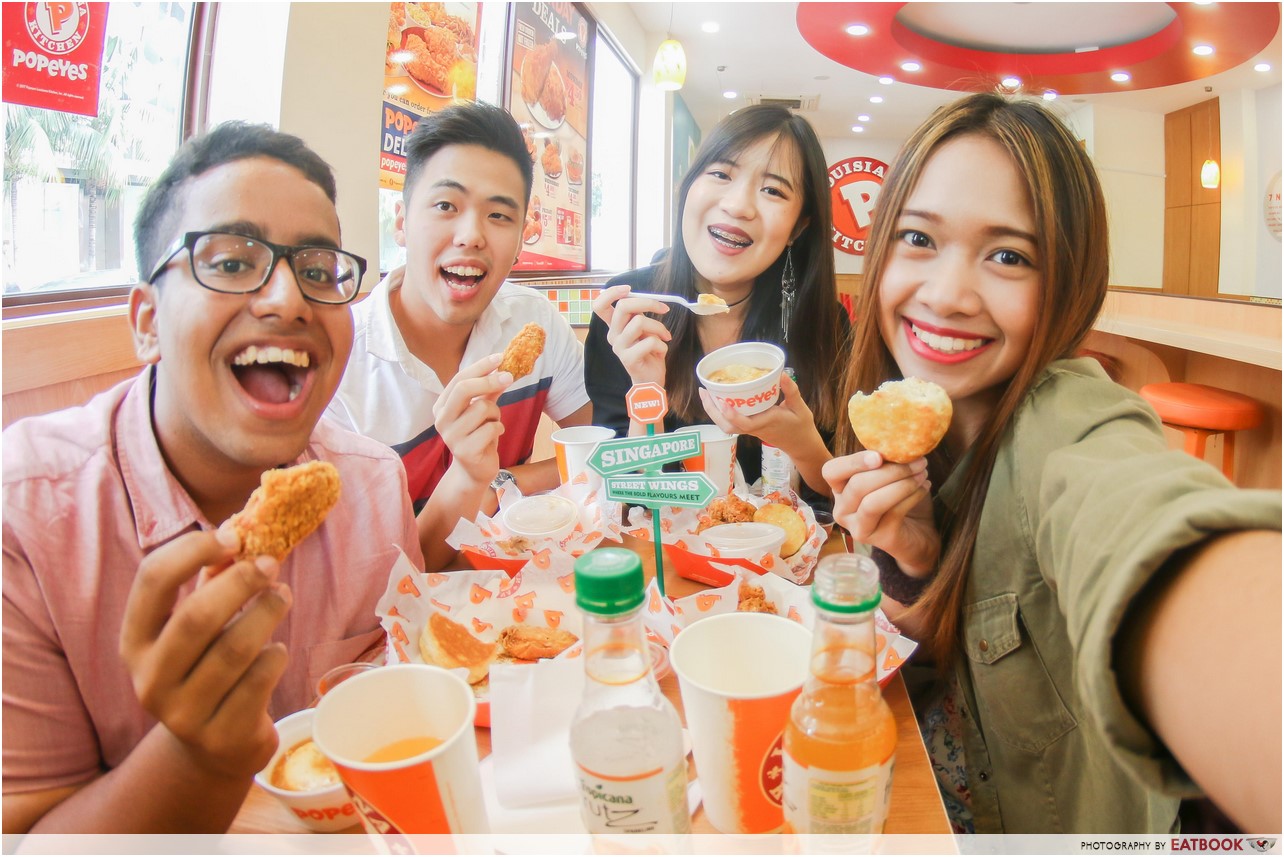 When the fast food cravings strike, you'll find me huddled in a corner devouring some of these Singapore Street Wings. They're not going to be here forever, so grab them once they're available from 11 April till 29 May at all Popeyes' outlets.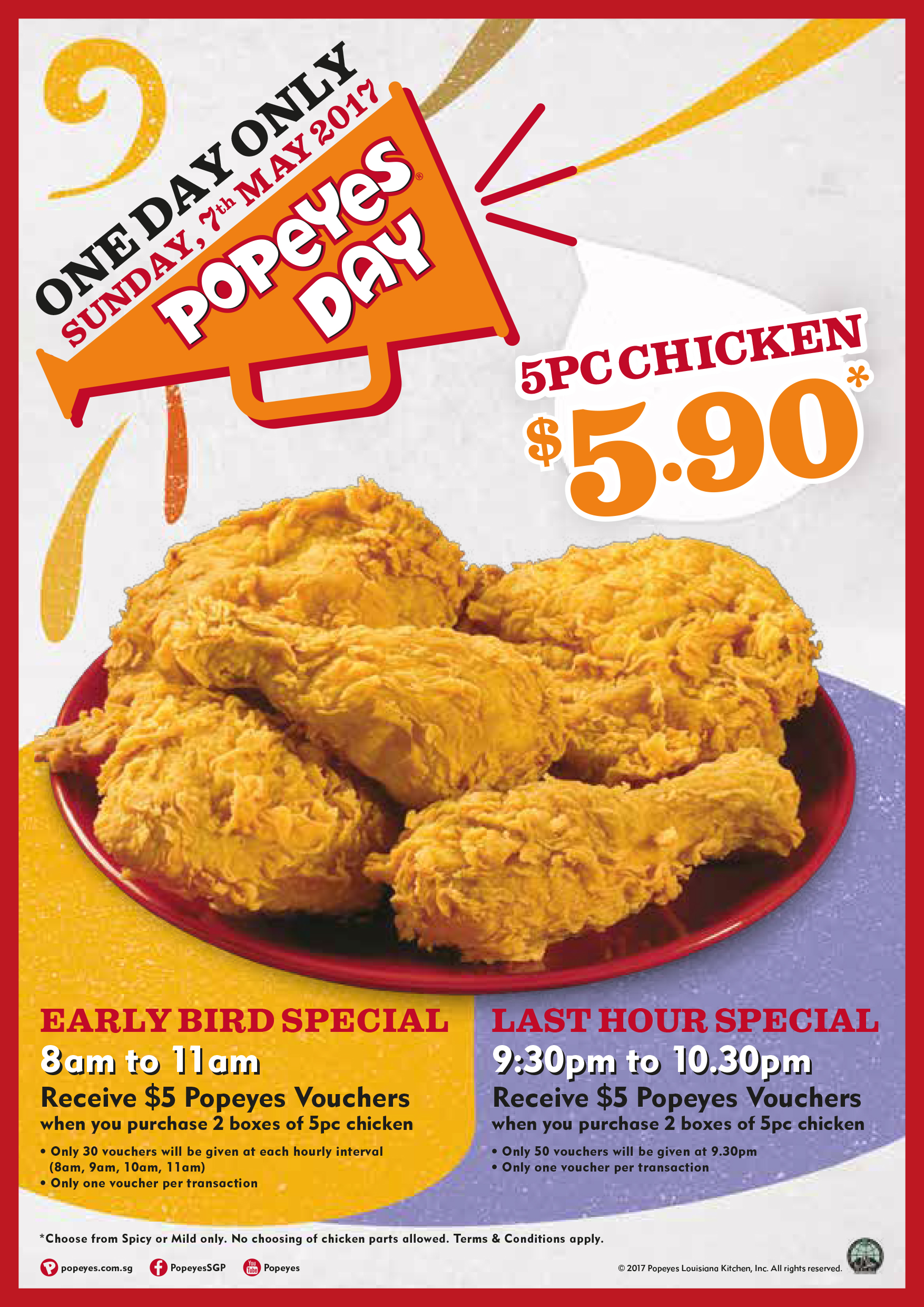 Here's more good news: on 7 May, you can get five pieces of chicken at $5.90 because it's Popeyes Day! There are also rewards for early birds and the ones who sleep late, so now you know where to get your chicken fix that day.
Address: 229 Victoria Street, Bugis Village, Singapore 188023
Opening hours: Daily 10.30am – 11pm (Bugis Village outlet)
Tel: 6337 8058
Full list of outlets
This post is brought to you by Popeyes.
Summary
Pros
– Value for money
Cons
– Five-spice flavour could be stronger
Recommended Dishes: Singapore Street Wings ($7.50)
Operating Hours:
Daily 10:30am to 11pm (Bugis Village outlet)
Tel:
6337 8058
Address: 229 Victoria Street, Bugis Village, Singapore 188023