---
Private home dining for a unique night out
---
There are many reasons why foodies are in love with private home dining experiences. Admittedly, the prices are pretty high-SES, but it's not just the food you're paying for. You're also paying for the chef's intricate attention to detail in personalising your meal. 
There's also the added perk of watching the chefs perform in the kitchen, as well as have them explain each course with such passion. But the real takeaway is the intimacy of the experience. Regardless of which house you pick, you are assured a fun time and a extravagant home-cooked meal that's fit for a king.
So if you're ready to experience what you've been missing out on, check out these 11 private home dining places!
---
1. Fussy Duck
---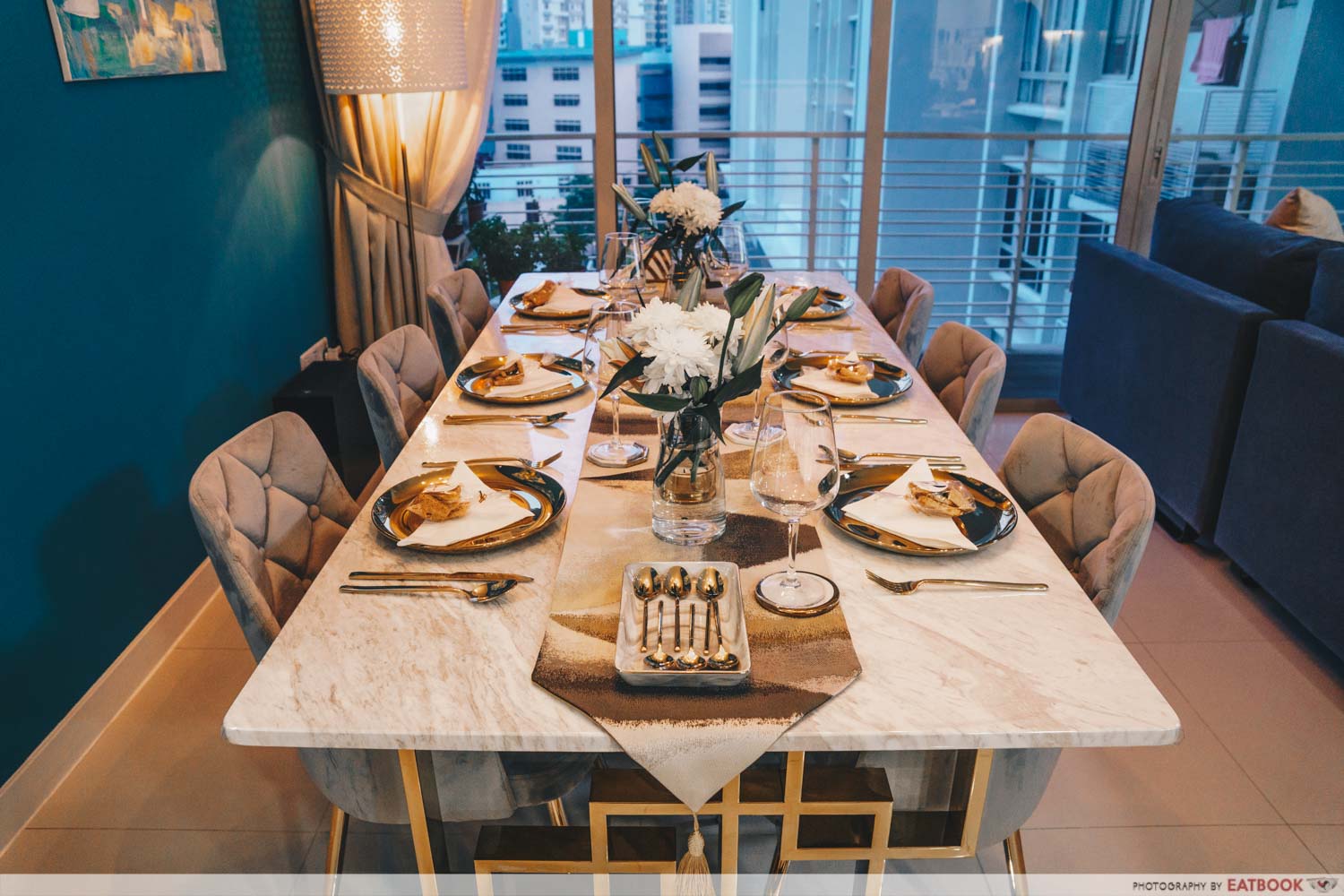 Step into Fussy Duck and you'll feel your shoulders instinctively relax. It could be due to the calming azure blue interior, the soothing background music, or the sincere warmth that chef Rajagopalan Kumar and his wife Ying Yi exude. It helps that every session is limited to six to ten guests, making every meal a quiet and intimate affair.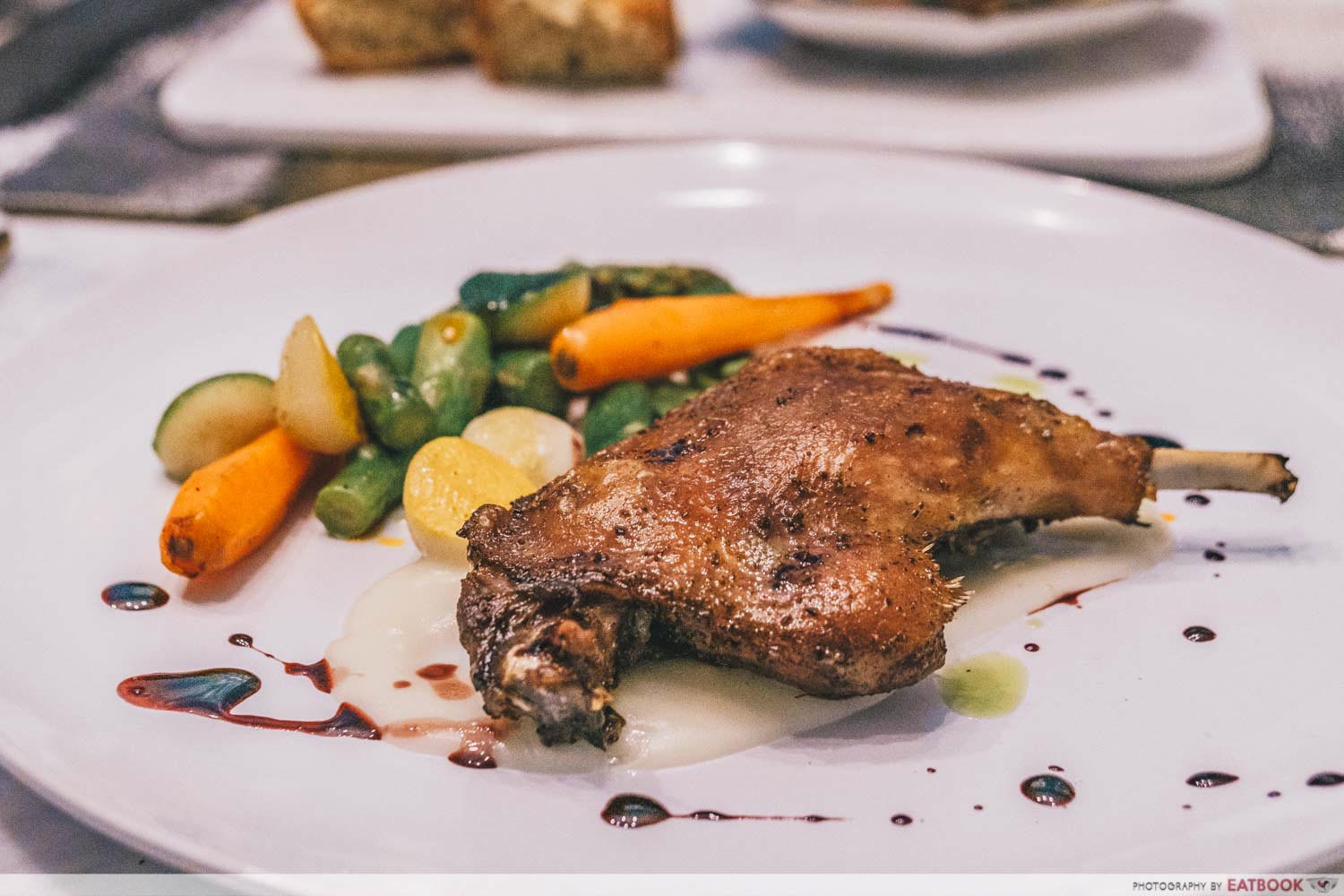 The pièce de résistance of their 5-course set ($80 per person) is the Duck Confit With Truffle Potato Foam And Glazed Vegetables. The fork-tender duck is soaked in duck fat for four hours, infusing the meat with a luxurious butteriness. A touch of red-wine reduction brings balance to the dish, as it cuts through the rich meat with its sour zing.
Not forgetting their Homemade Mushroom Ravioli, which spoils you with a glorious shower of Freshly Shaved Truffles. Unlike truffle oil, black truffle effuses a faint aroma that subtly elevates the shiitake mushroom filling.
Tel: 9014 6386
Website
---
2. The Ampang Kitchen
---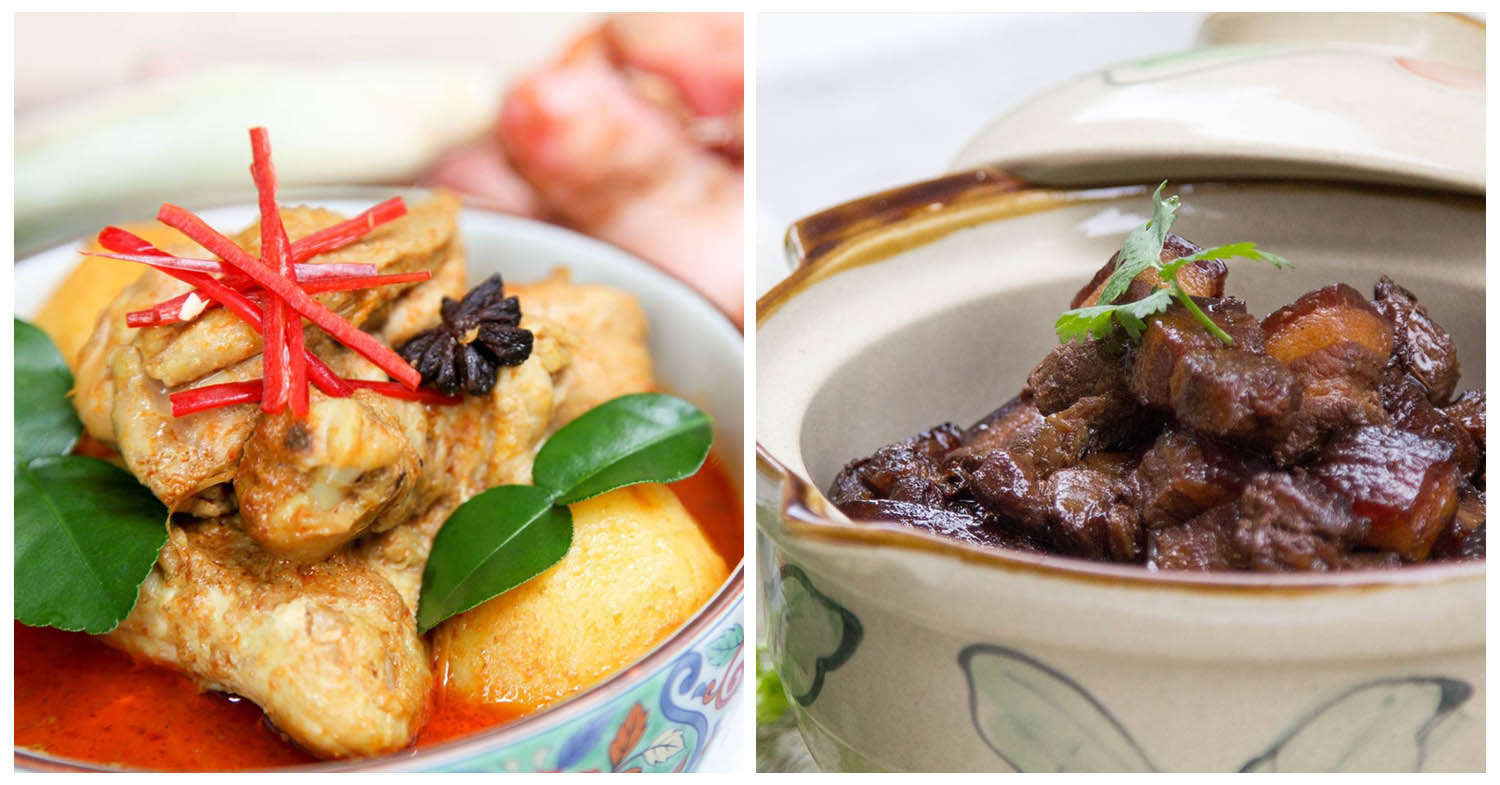 Image credit: The Ampang Kitchen's Facebook page
What's telling from the meticulously prepared dishes at The Ampang Kitchen is chef Raymond's deep love for Peranakan cuisine.
Prepared from a blend of 12 herbs and spices, his signature Nonya Chicken Curry is perfumed with accents of lemongrass and star anise. For a more multifaceted taste, add the curry to their Penang Dao You Bak (Braised Pork in Soya Sauce) and enjoy the full-bodied combination of sweet, buttery, and savoury.
The place is pretty flexible with timings, as there is both a six-course lunch menu ($60 per person) and a nine-course dinner menu ($100 per person) available. Don't worry if you are coming in a big group, as the place can accommodate up to 14 people.
Tel: 9618 7107
Website
---
3. Chef'd Club
---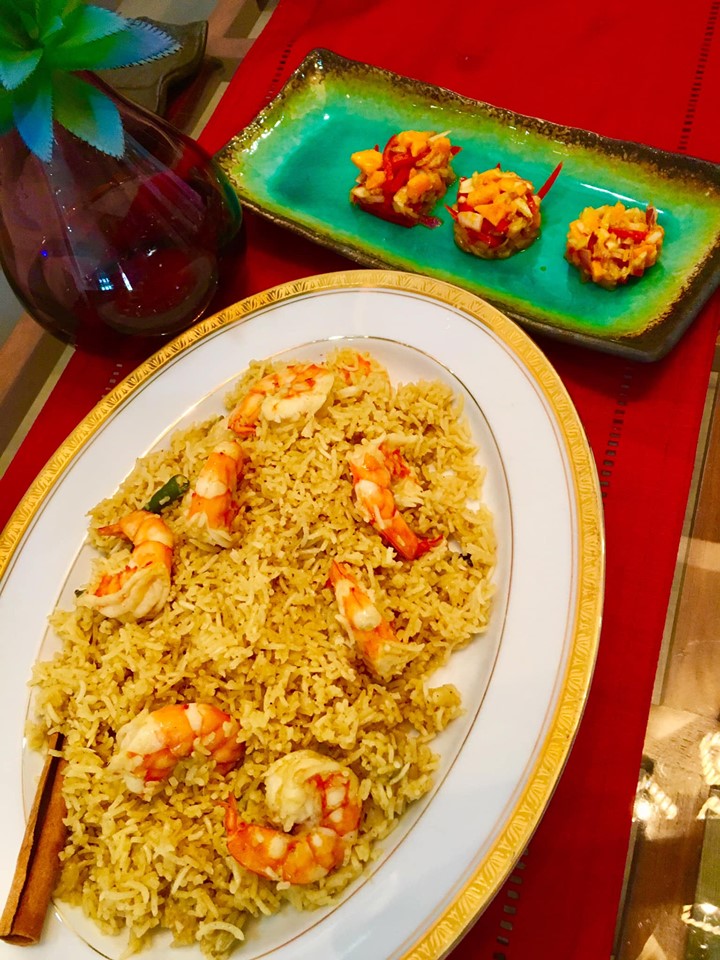 Image credit: Chef'd Club Facebook page
It's all about clean flavours at Chef'd Club. Hosting private dinner parties for over the last 20 years, home-chef Ashish Poddar has now opened up his kitchen to the public. There are around three to four sessions a month, with each specially crafted around a unique theme.
Diners can look forward to interesting sessions such as Progressive Indian Cuisine ($37) and All Charcoal Grilled ($72.50). We attended the former and were impressed with the vibrant yet comforting flavours that Ashish whipped up. Loads of attention also goes into the dishes, with each session requiring around two days for Ashish and his team to prepare. Check out their Facebook page for the latest events.
---
3. The Wood Ear
---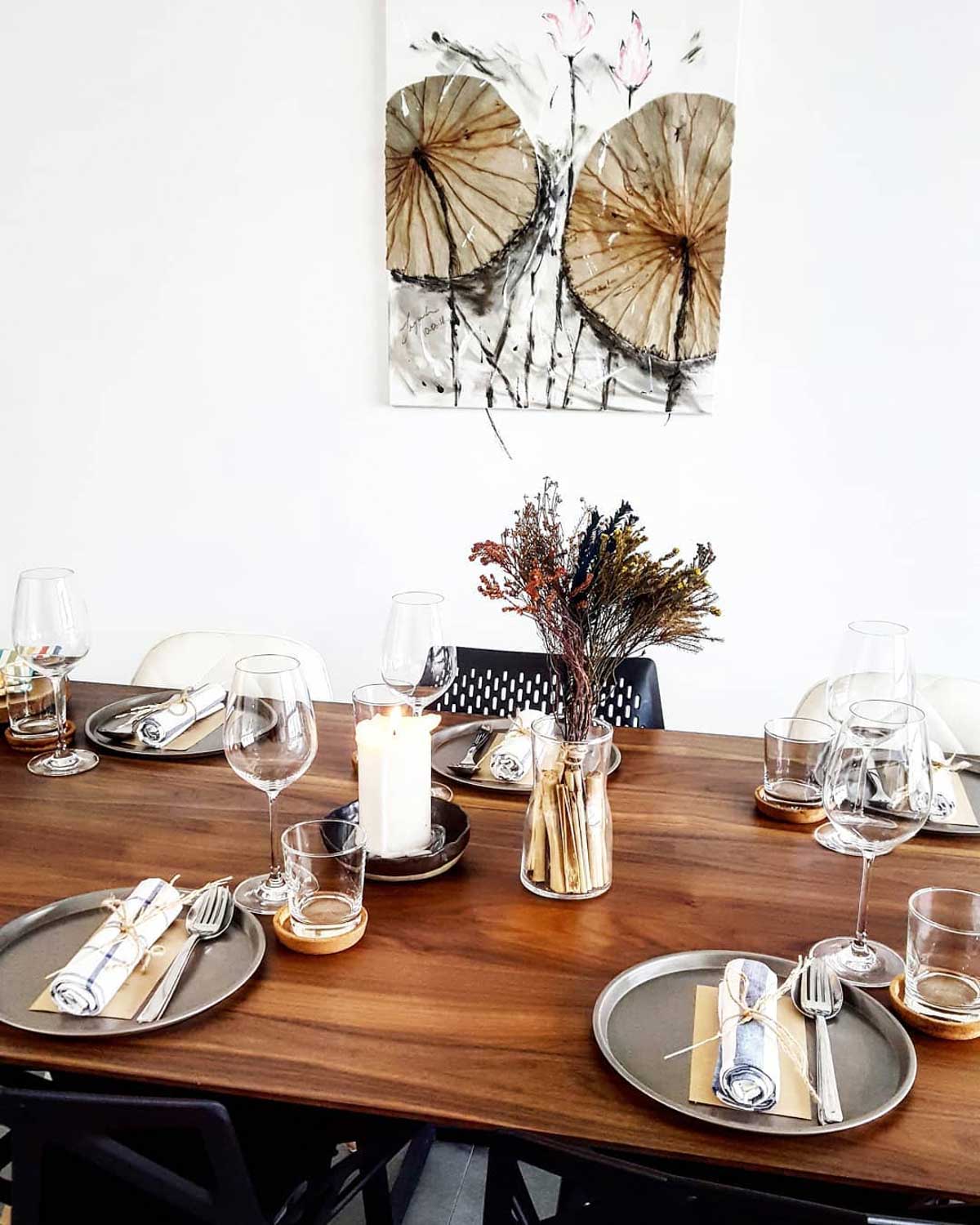 Image credit: @thewoodear
Tucked away in the quiet neighbourhood of Choa Chu Kang, The Wood Ear proves that private home dining can pop up in the most surprising places. Though the menu is constantly changing, you can expect gorgeously plated dishes from the hands of chef Jesper Chia.
And with their five-course meal set at $39.60 per person, they are one of the most affordable private dining choices you can find in Singapore. That being said, The Wood Ear only accommodates two to five people per session, so cross them off your list if you're hosting a big party.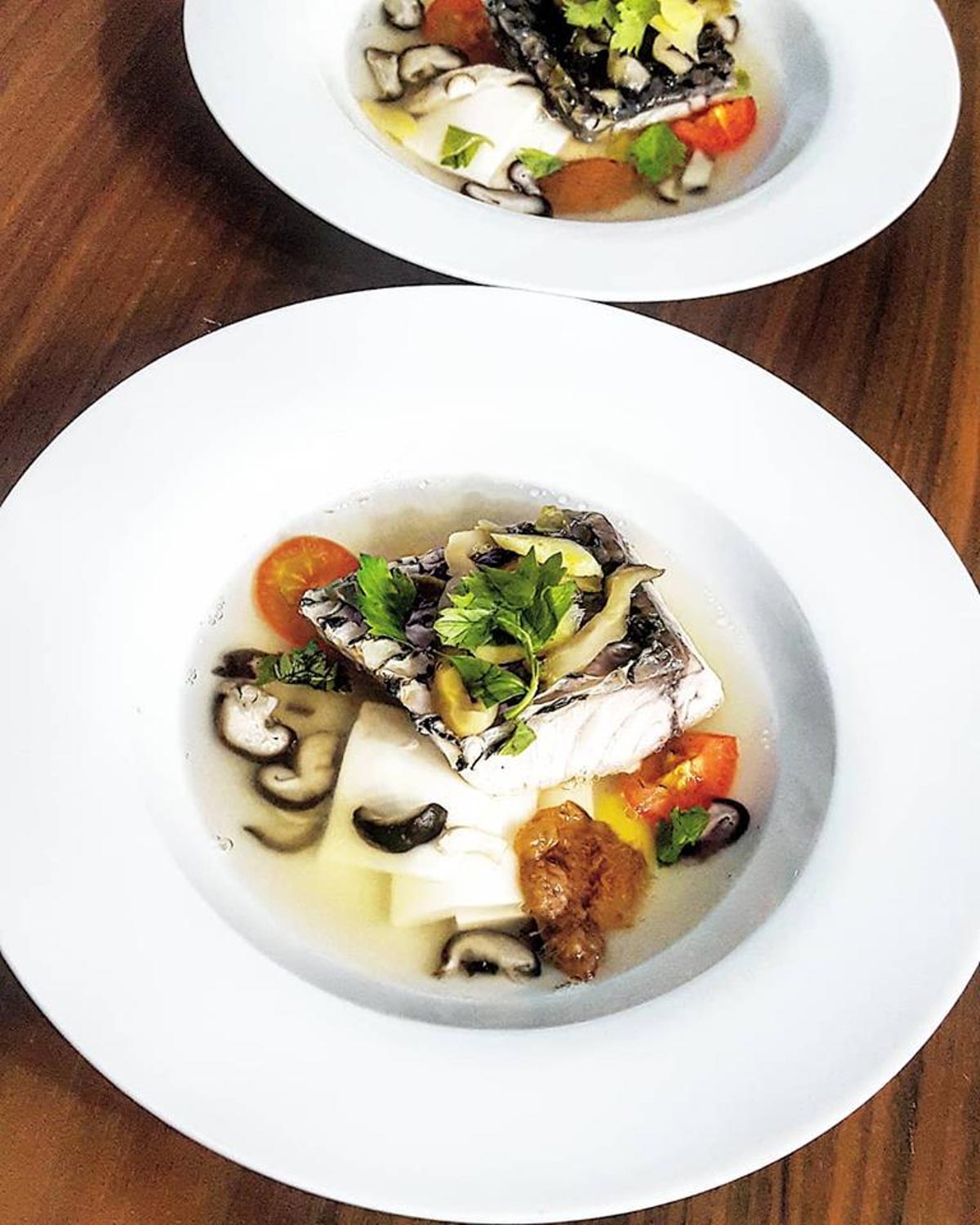 Image credit:@thewoodear
Special mention goes out to the delicate Teochew Style Steamed Barramundi. The combination of preserved vegetables and sour plum heightens the gentle taste with their tangy and salty kick.
Do note that The Wood Ear only opens on Saturdays, so be sure to keep your weekends free if you're planning a visit!
---
4. Dearborn Supper Club
---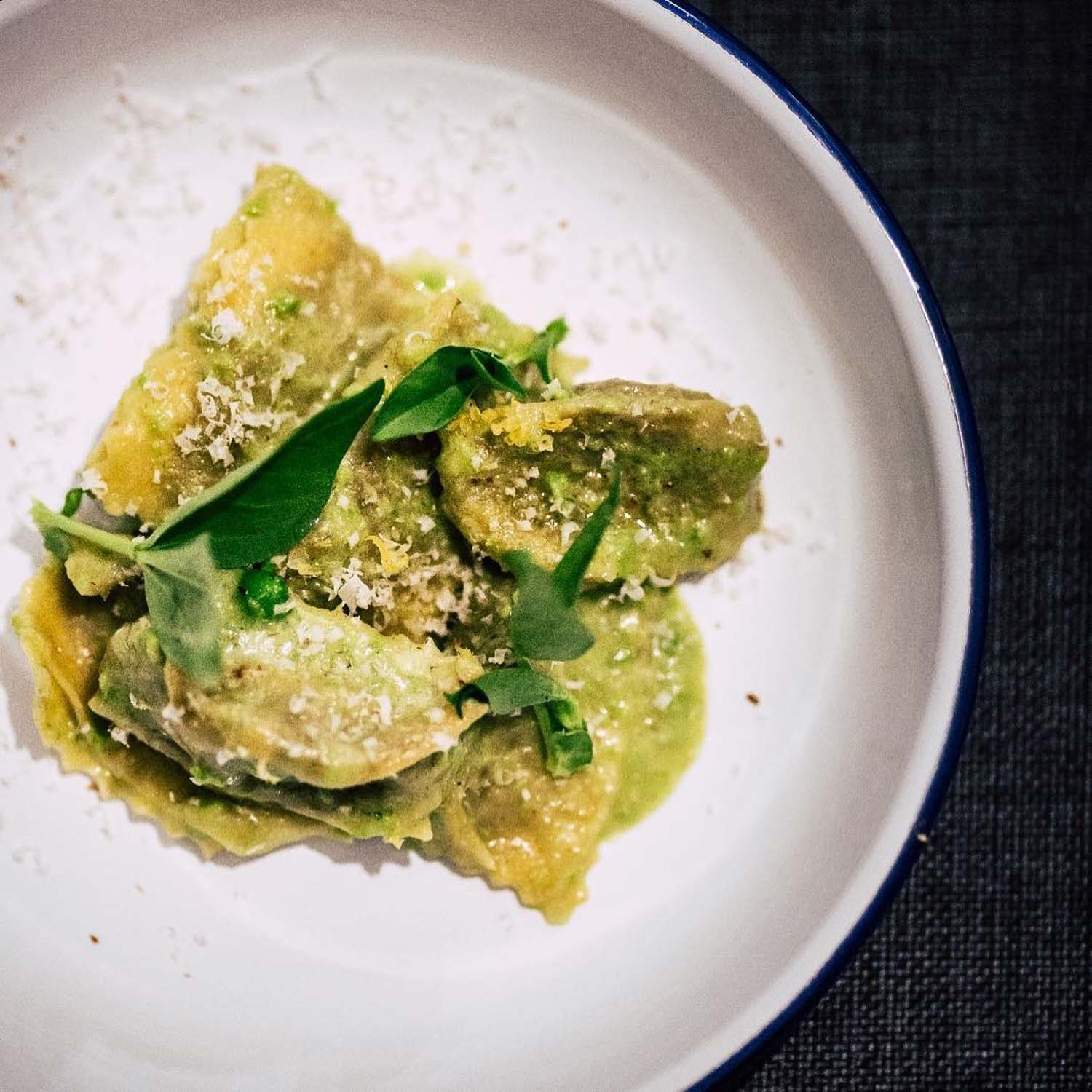 Image credit: @dearborn_sg
Dearborn Supper Club boasts a slightly heftier price tag, with their six-course menu priced at $138 per person. Yet, you will be getting every bang for your buck. Chef Chris Kong has previously worked with Michelin-starred chefs Tetsuya Wakuda and Guy Savoy, and his experiences shine through the food he serves.
To reduce their carbon footprint, the menu at Dearborn Supper Club features mostly vegetables and grains, with occasional inclusions of seafood. But you probably won't notice the absence of meat, as the dishes are just that flavourful.
The crowning glory is their Agnolotti Pasta, which reels you in with its blend of sweet pureed peas and creamy pecorino cheese. A creamy butter sauce then reinforces the robustly flavoured filling. Standalone, this combo overpowers you with its richness, but thankfully the mint is there to cleanse your palate with its refreshing bite.
---
5. FatFuku
---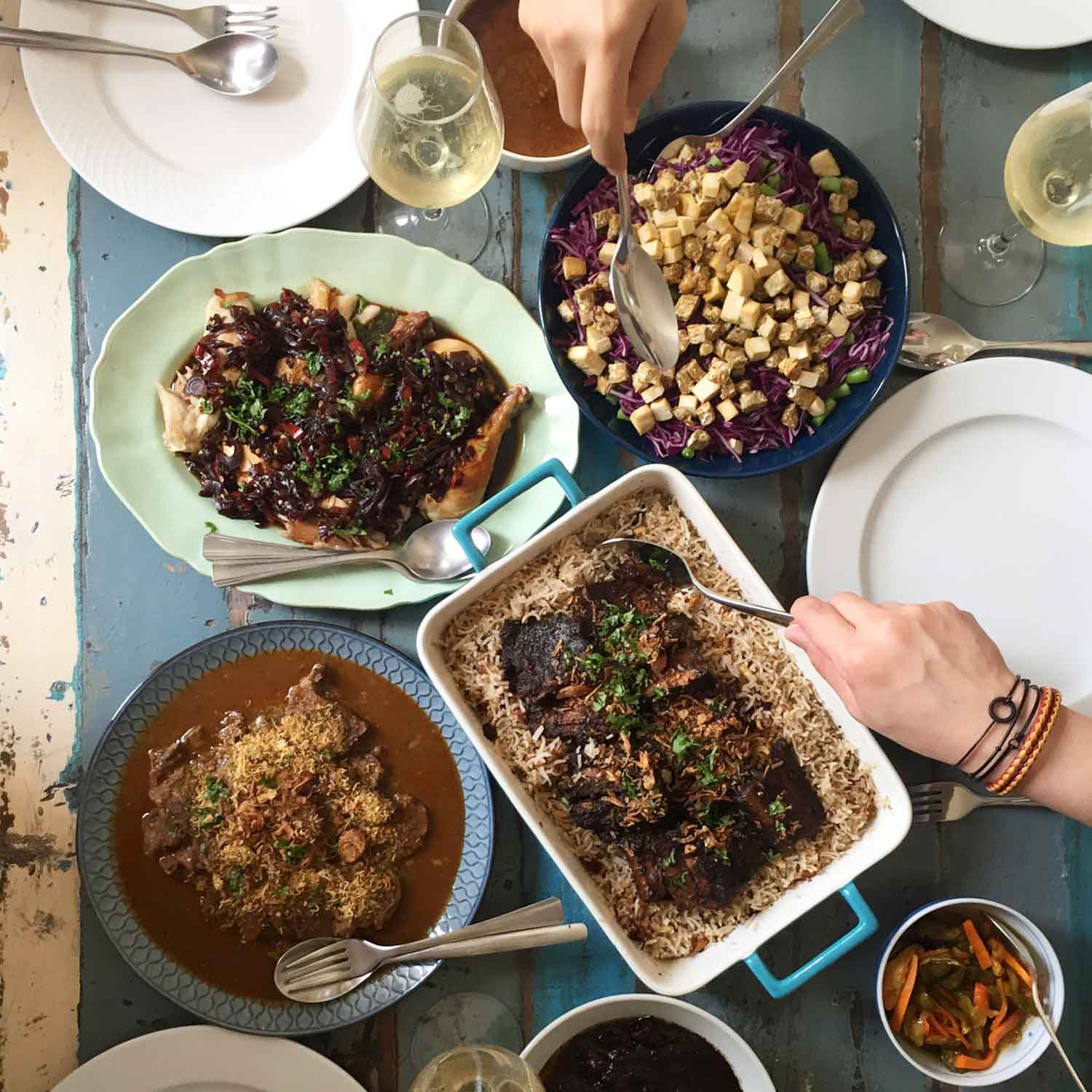 Image credit: @pixeve
Meeting Annette Tan during a tasting left me wowed by her comprehensive understanding of cooking. This expertise draws from her 10-year experience as a food writer and it shows in the seven-course menu ($95 per person) offered at FatFuku.
The selection here is an eclectic jumble of ideas, inspired by both her dining experiences and the Peranakan recipes of her late mother. Our favourite is the Pork Belly Buah Keluak "Biryani". The combination of buah keluak and sambal pairs nicely with the basmati rice while the pork belly is both luscious and tender.
Note that she doesn't host dinners on weekends; you can only swing by between Tuesday and Fridays, from 7pm to 10pm.
Opening hours: Tue-Fri 7pm to 10pm
Tel: 9387 6399
Website
---
6. Lynette's Kitchen
---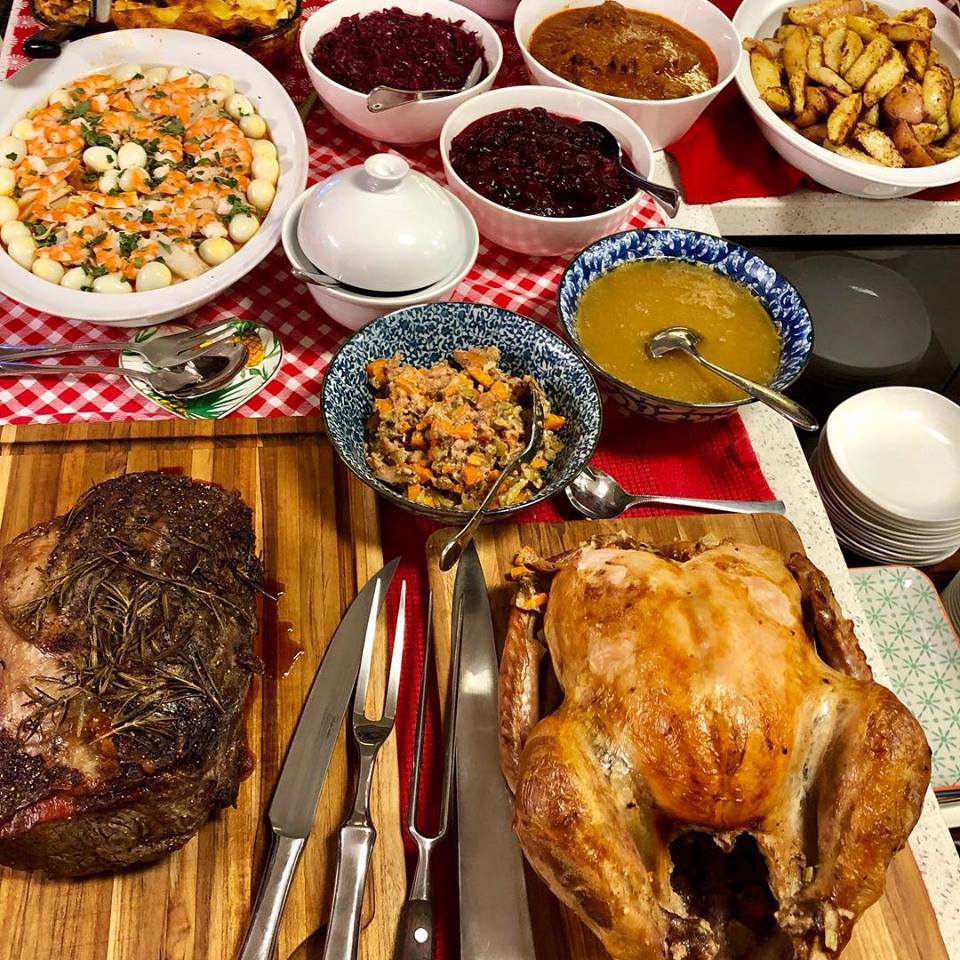 Image credit: Lynnette's Kitchen Facebook page
Be prepared to leave Lynette's Kitchen with your pants feeling extra-tight, as chef-owner Lynette Seah will spoil you with her generous servings. Having too many choices is another concern since there are both Peranakan and Western course meals to choose from.
The former is more affordable, with the eight-course menu setting you back $140 per person. Worth the extra calories and fighting with your friends for is the luxurious Beef Rendang. Patiently braised for three hours, the ribs effortlessly falls apart in your mouth. Sealing the deal is the lemak gravy, which is punctuated with traces of tamarind and supplies the meat with a luscious tang.
---
7. Ben Fatto 95
---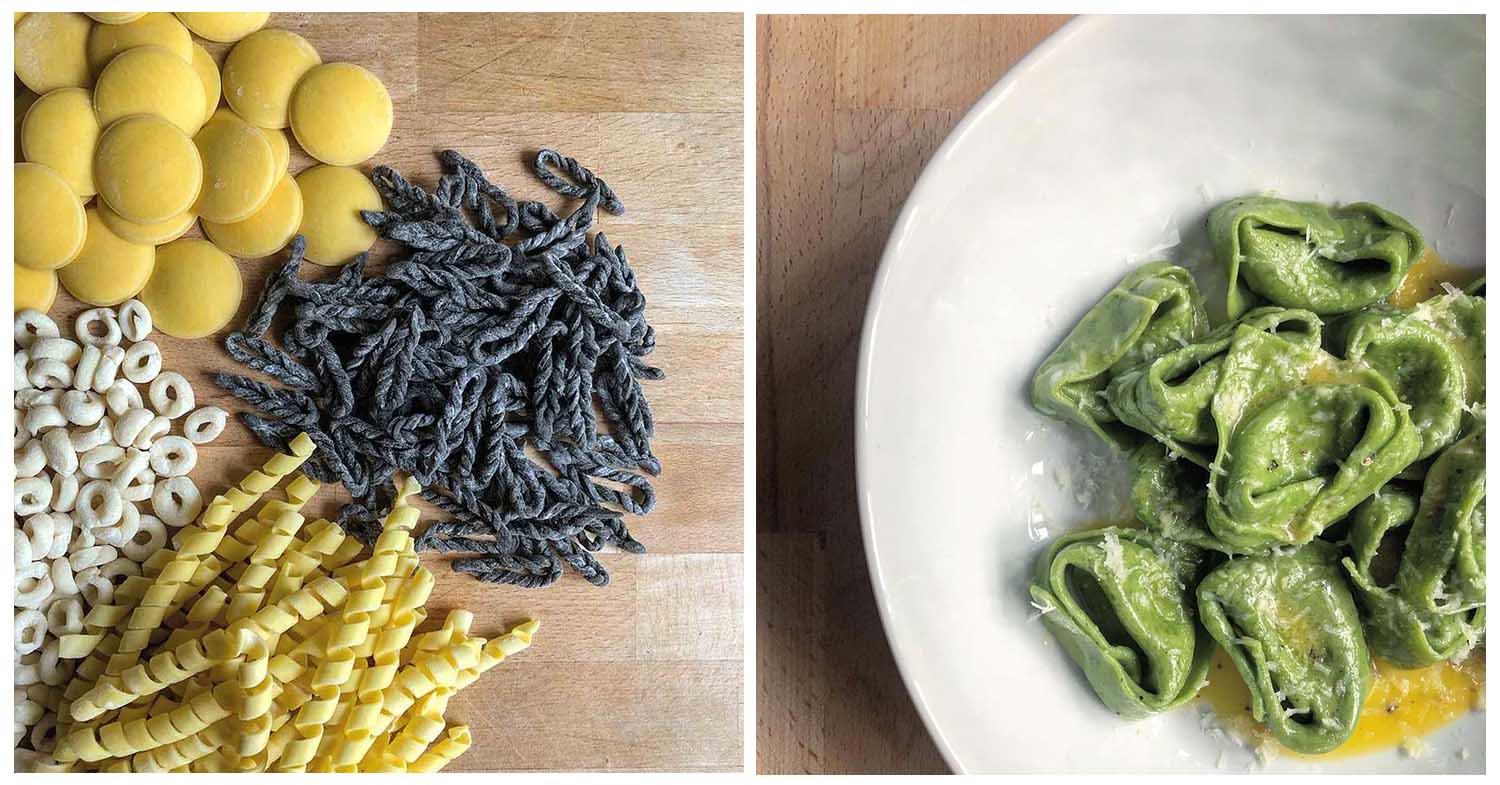 Image credit: @benfatto_95
The pasta dished up at Ben Fatto 95 is a cut above the rest. It's not just because they are freshly made. Traditional pasta-making tools, such as chitarra (wired pasta cutter) and mattarello (wooden rolling pins), are used,k and these give a unique texture to the pasta.
From the sheer effort chef Yum Hwa invests in the preparation, it's clear that he loves what he serves. And it's also why their six-course menu ($70 per person) feels less like a meal and more like an appreciation of all things pasta.
Needless to say, the dishes here are pretty legit, with tongue-twisting names such as Anolini, Malloreddus Nero and, of course, the Pappardelle Verde. Cooked till al dente, the spinach and egg pasta sheets are drenched in duck ragu and Parmigiano Reggiano, creating a carbolicious treat.
---
8. Lucky House Cantonese Private Kitchen
---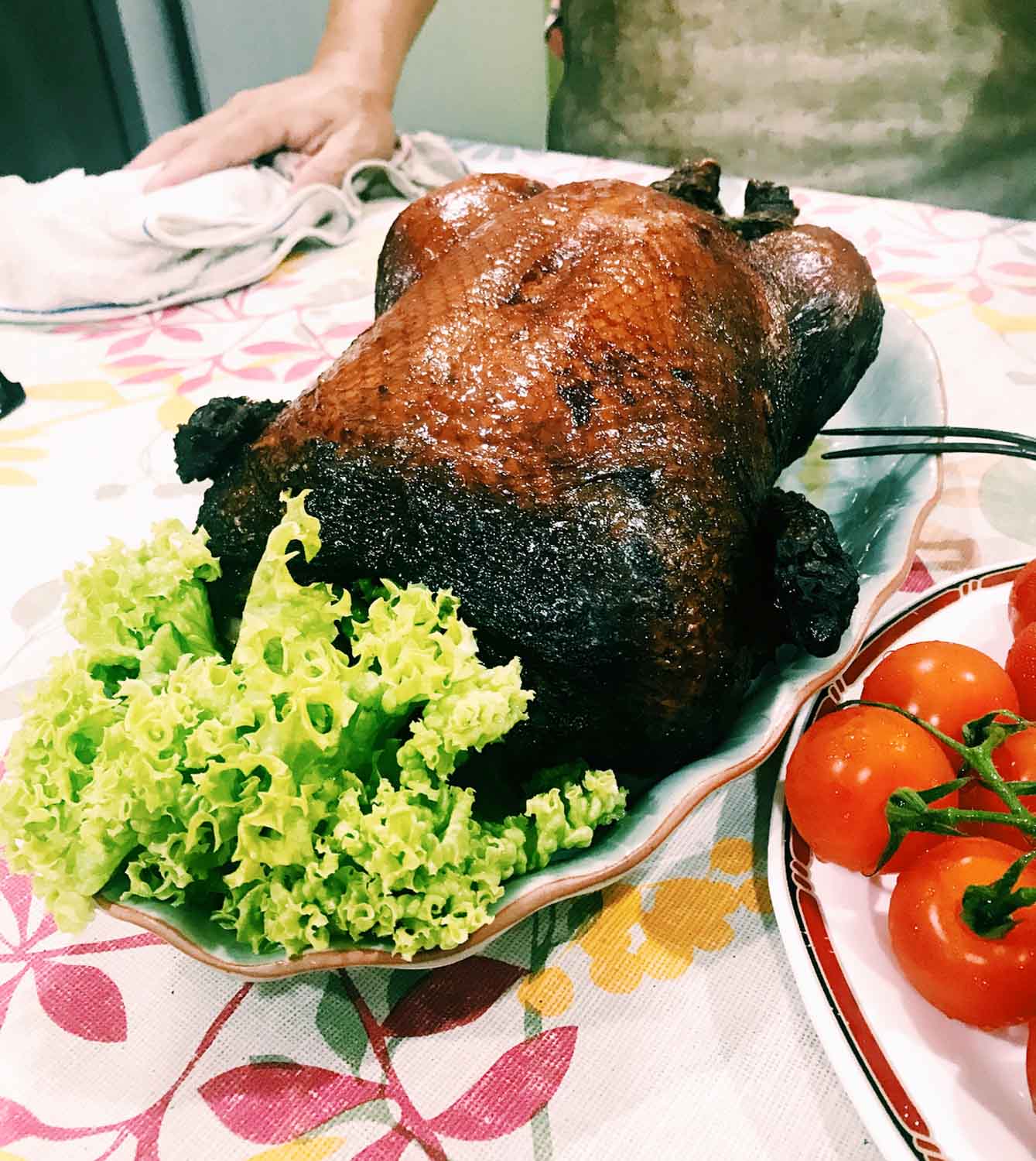 Image credit: @happygreedyfoodie
You know Lucky House Cantonese Cuisine is crazy popular when there's a three-month waiting list for their eight-course dinner menu ($80 per person). There's an understandable hype over their Lucky House Roast Duck, as it is marinated for two days and sun-dried for another. The result is a ridiculously tender meat that tears off with minimal effort. Perfumed with a charcoal smokiness, the skin unfurls in a burst of rich butteriness. 
You would have to make weekday dinner plans if you're keen to pop by, as they will only host you from Monday to Friday, between 6:30pm and 10pm.
---
9. TINOQ
---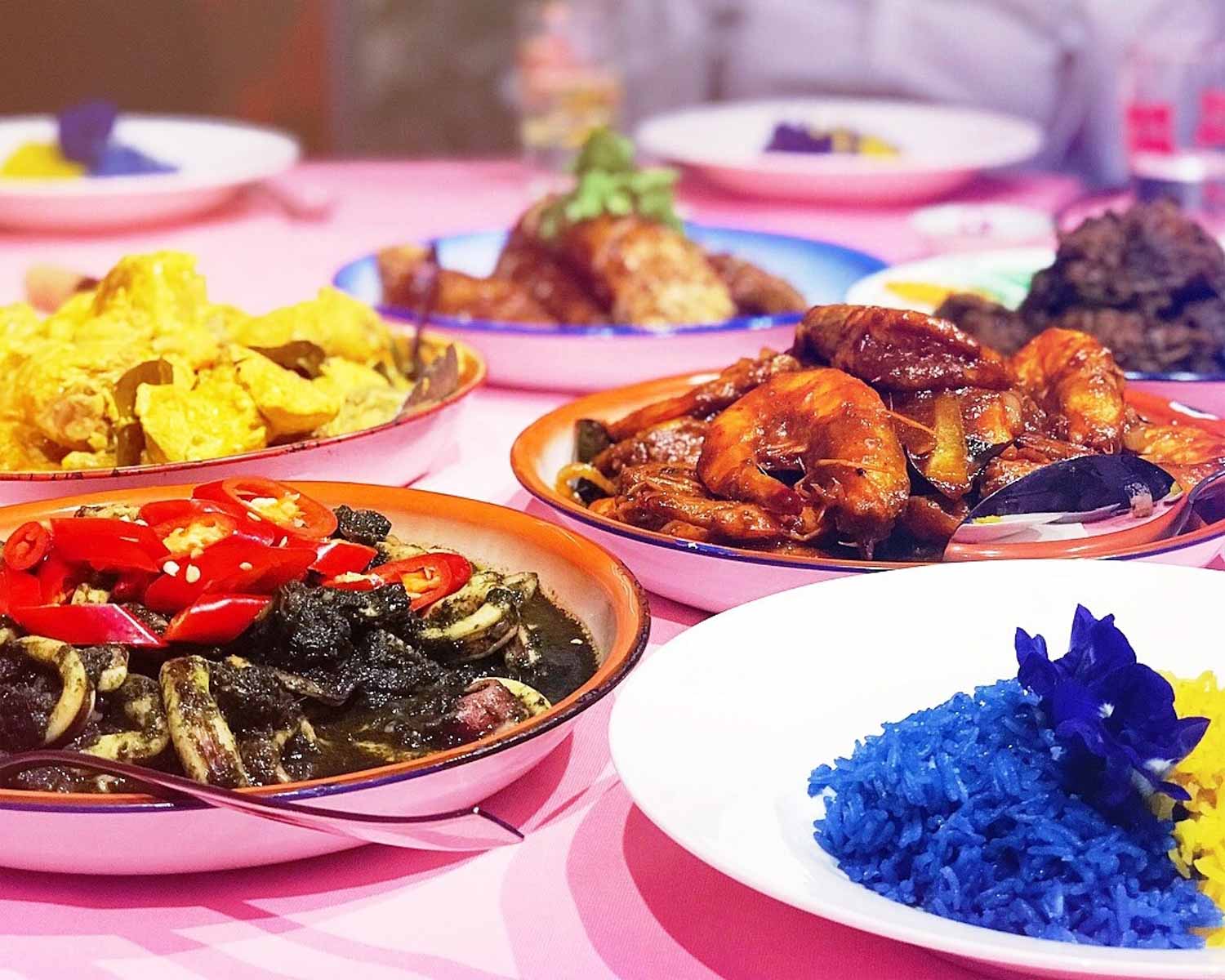 Image credit: @1cattynapinch
Walk into the two-room apartment of Tinoq Russel Goh – chef-owner of TINOQ – and you'll be surprised by the spacious and kaleidoscopic dining room. Not only does it comfortably fit eight to ten people, but it also blends flowery curtains, enamel vases, and pink lights into a gorgeous sight.
Equally diverse is his eight-course menu ($100 per person), which fills your bellies with hearty plates of Prawn Sambal Tunis and Minangkabau Rendang. But what keeps most people returning is the Ngoh Hiang. The savoury minced is laced with bursts of sweetness, courtesy of the diced winter melon packed into the roll.
FYI: Tinoq also happens to be the make-up artist for celebrities such as Constance Lau so don't be afraid to ask for tips!
Tel: 9338 6439
---
10. Intimate Suppers
---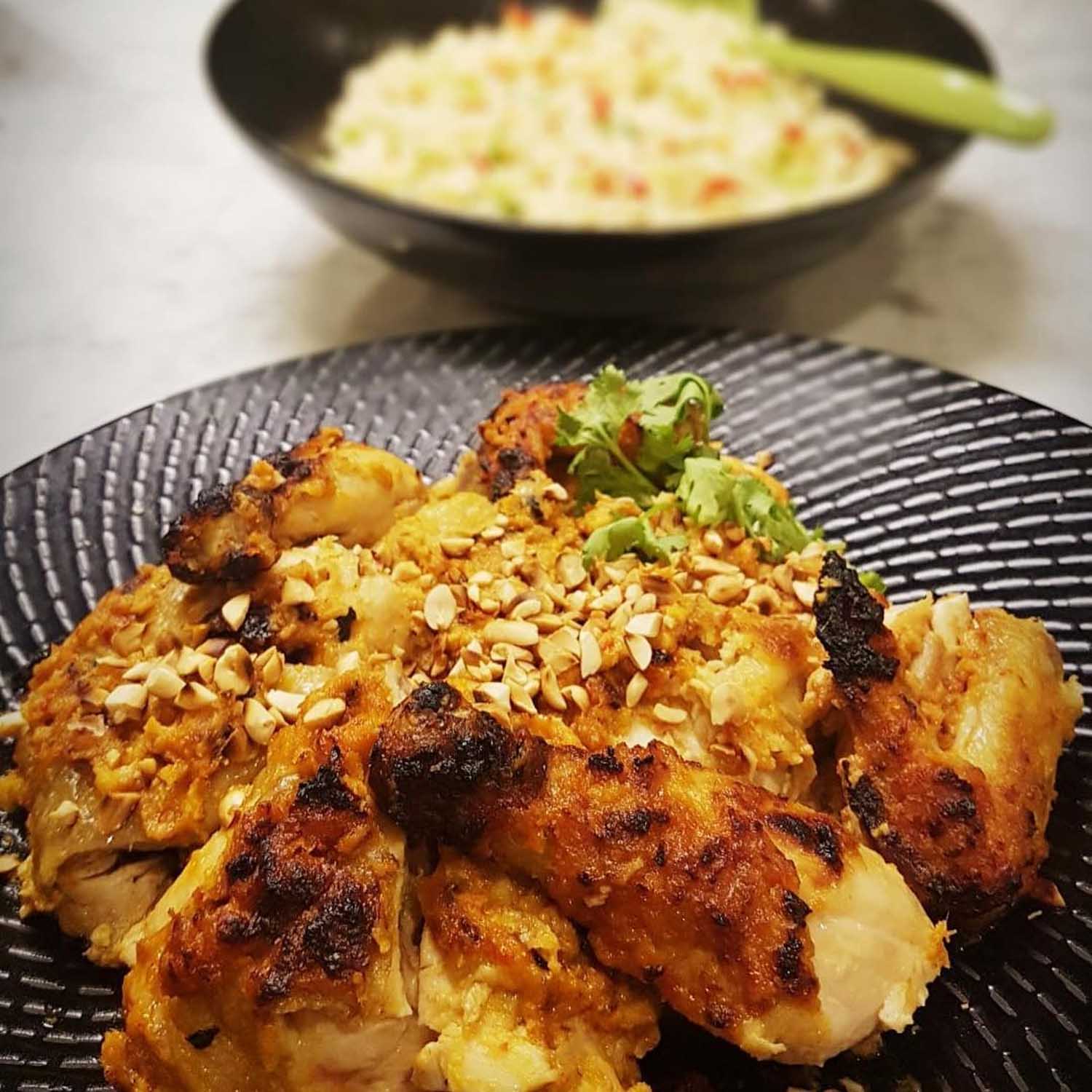 Image credit:@intimatesuppers
What I love most about Intimate Suppers is their emphasis on food as a communal experience. On top of their private dinners ($90 per person), there are also monthly events with themes such as "Tribute to Shakespeare" and "Retro Night". Ultimately, Intimate Suppers hopes to create a comfortable environment for friends and strangers alike to enjoy, explore, and simply have fun.
Of course, the food here is amazing as well. Celina Tan, the co-founder of Intimate Suppers, is a seasoned home-chef who is unafraid to experiment. Inspired by David Thompson's recipe, her Southern Thai Chicken Curry features spice-marinated chicken that is repeatedly grilled and soaked in curry. 
Tel: 9836 0223
Website
---
Private home dining – sincerity with every bite
---
Give private home dining a try and enjoy the unique experience. It's great if you love to mingle too, as there are times where you will be sharing a table with strangers, especially if you're coming in pairs. Leave us a comment below if we have missed out on your favourite places.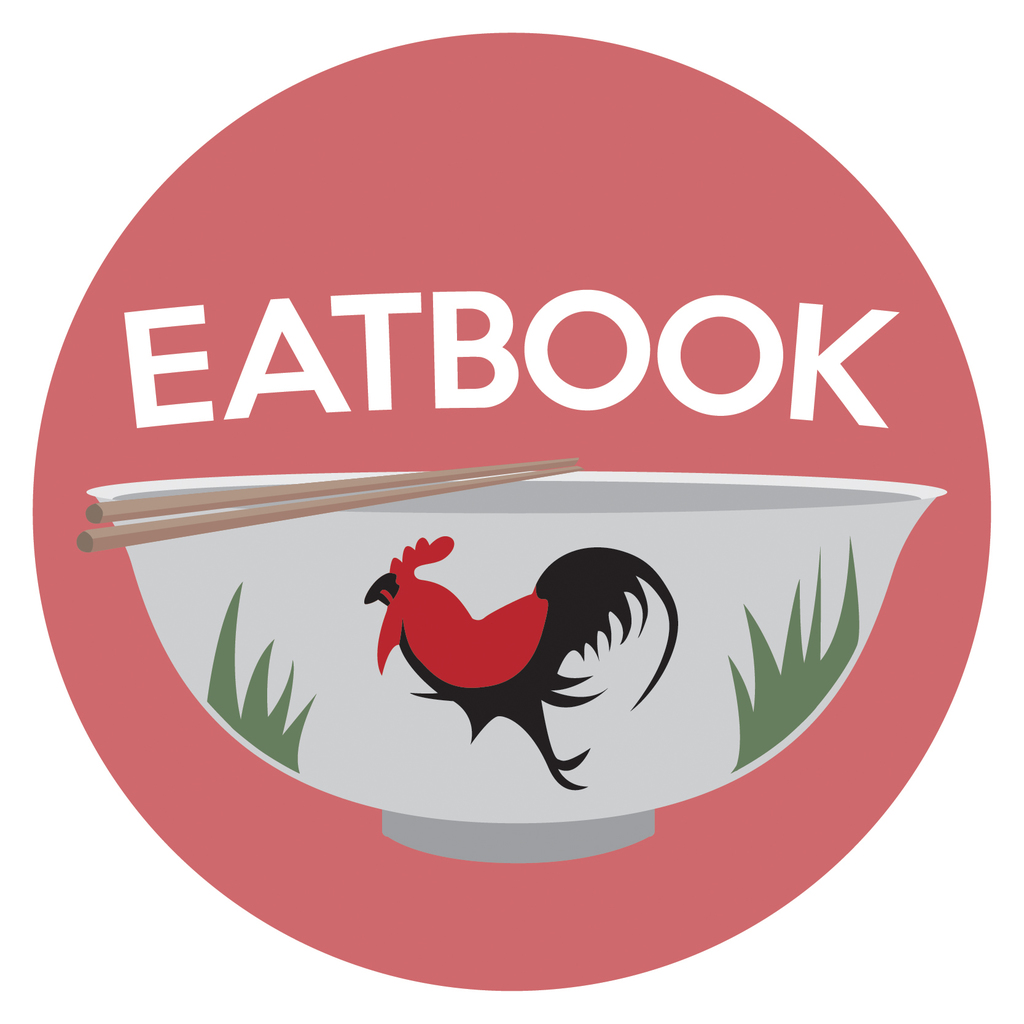 Drop us your email so you won't miss the latest news.