PUTIEN Duotou Clams 2022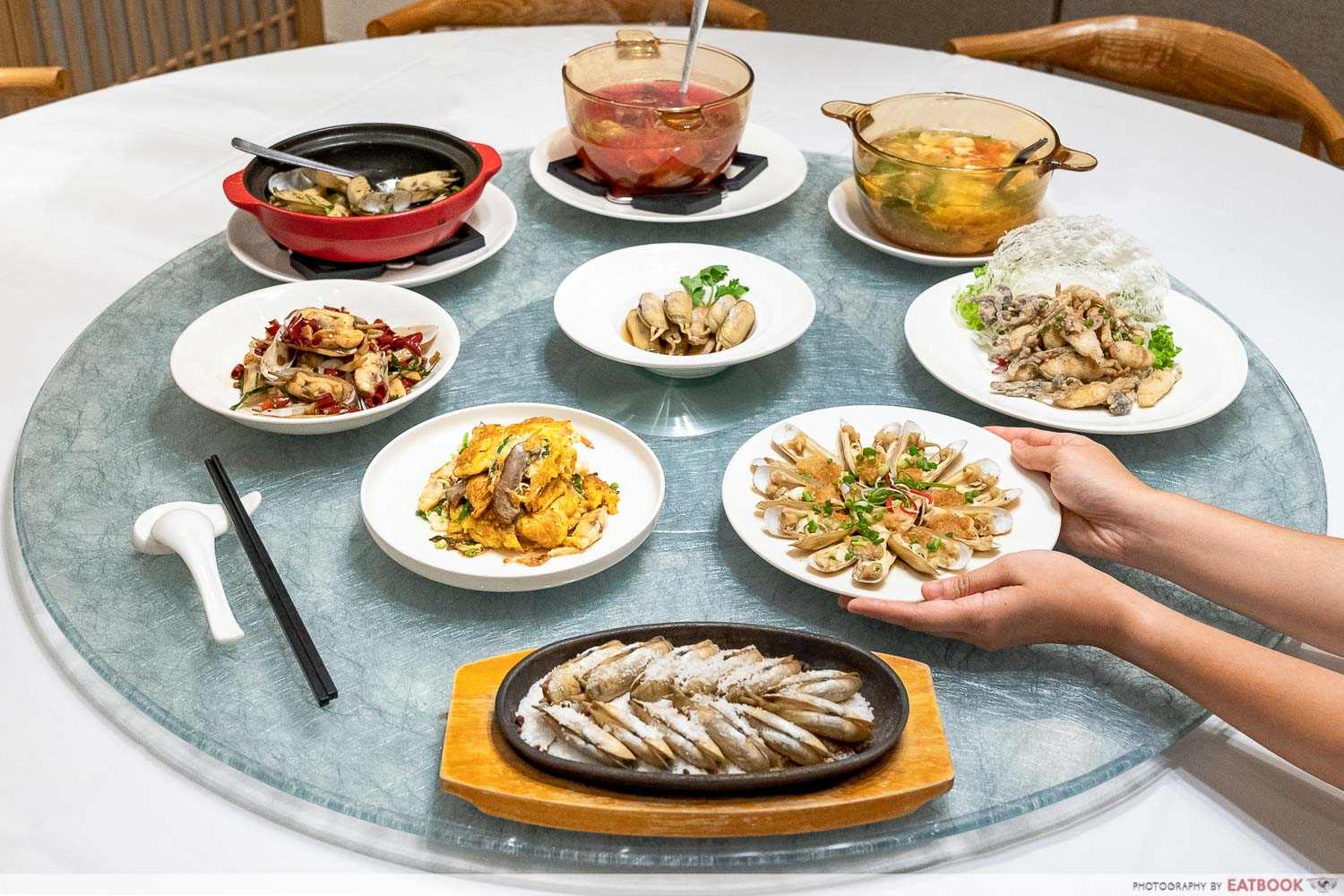 Seafood fans, heads up: PUTIEN's famous Duotou Clams are back again this year! You can now get your hands on the seasonal clams, exclusively available at the Chinese restaurant chain's 18 outlets islandwide, including their OG Michelin-starred location along Kitchener Road. There are nine clam dishes to choose from, each highlighting the season's bounty!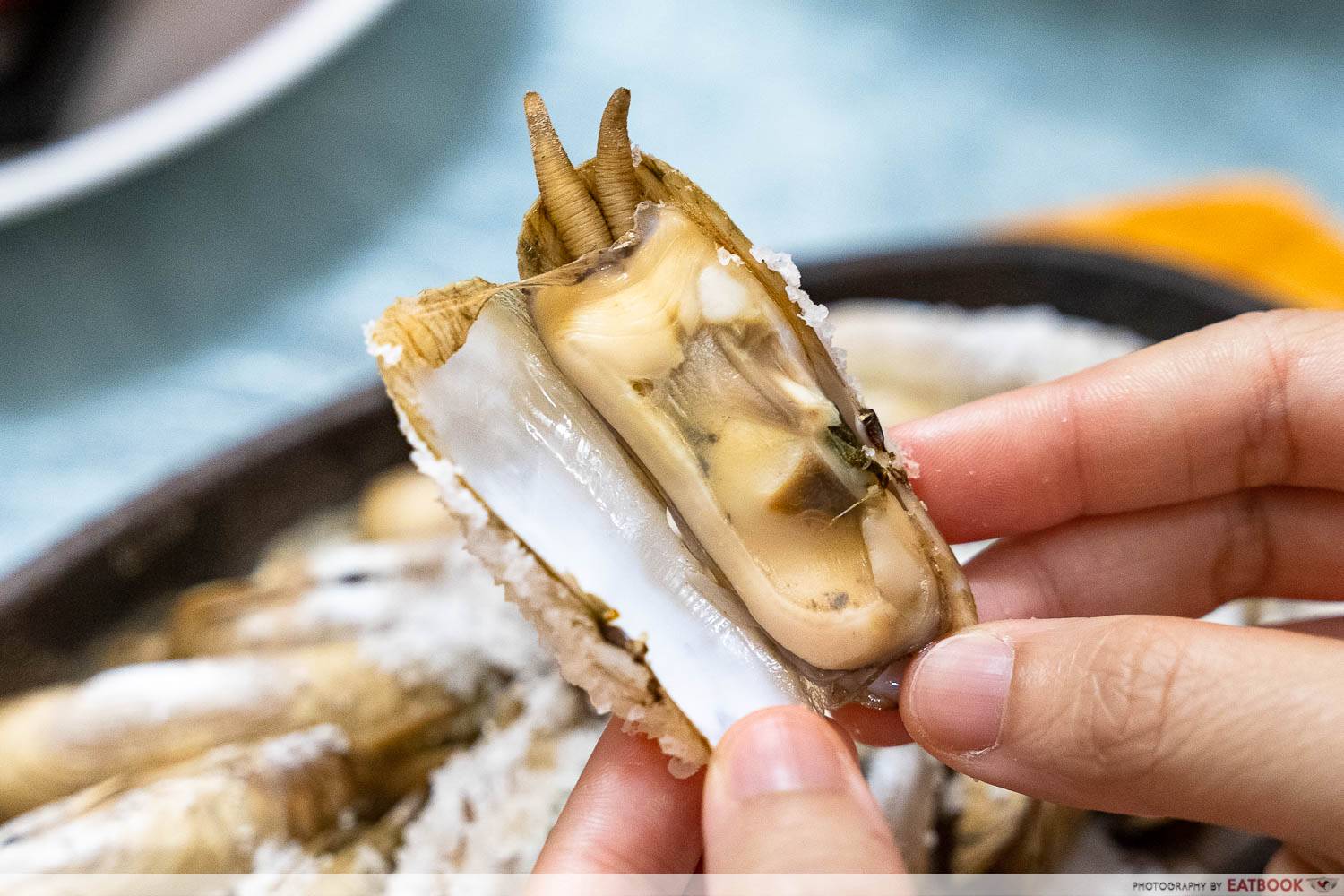 For those who are unaware, Duotou Clams make their appearance on PUTIEN's menu every year, between April till July when they're most in season. Popular for their sweet flesh and plump size, these fresh razor clams are harvested by hand in the Duotou village of Putian, Fujian. PUTIEN was officially named the ambassador of the Duotou Clams in 2019, so they're unique to the restaurant.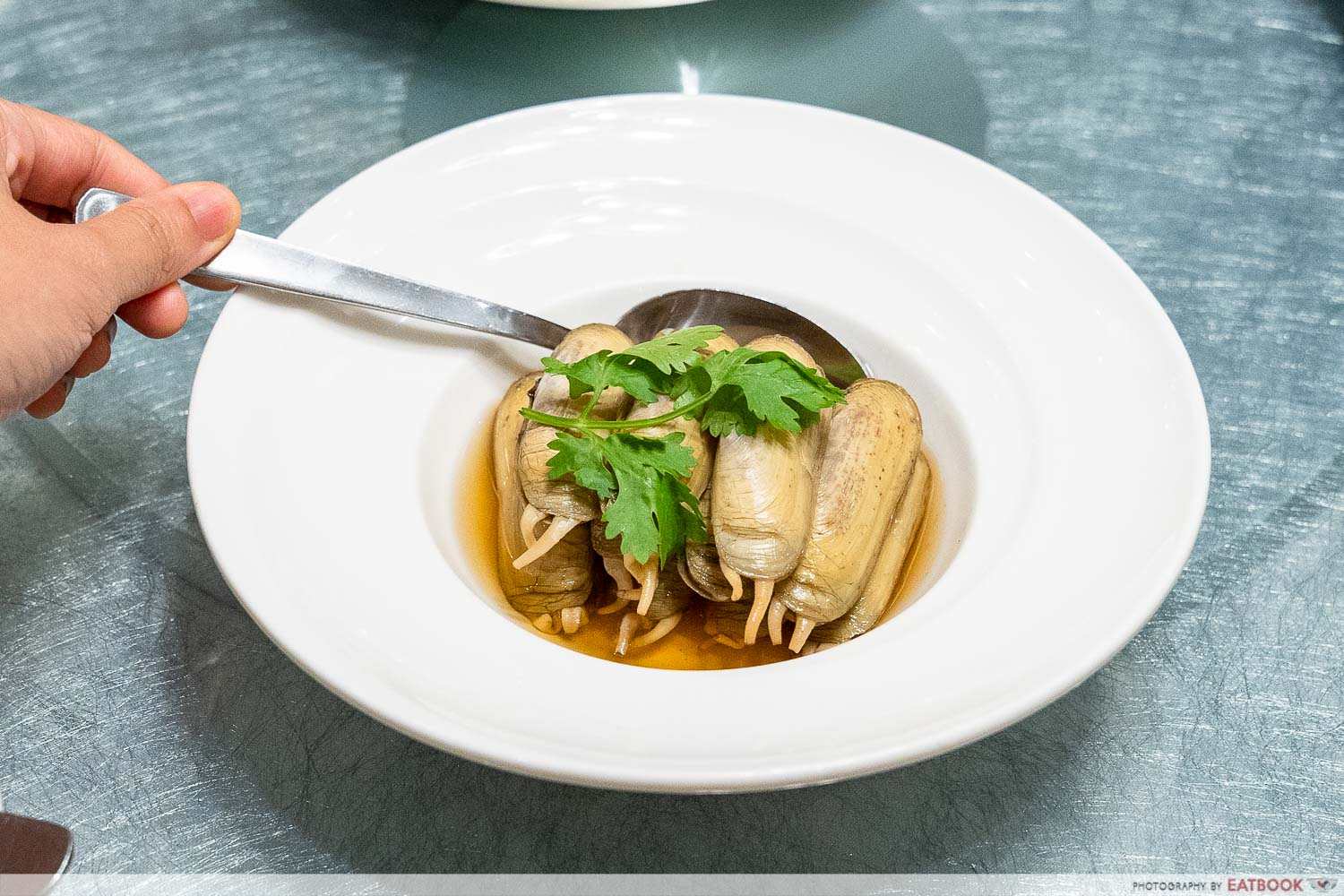 For a refreshing appetiser, cool off from the heat with the boozy Doutou Clams Steeped in Icy Lees ($22.80++), made from fermented rice wine. This cold dish makes an excellent starter as it's light on the palate, with a discernible aftertaste of the wine.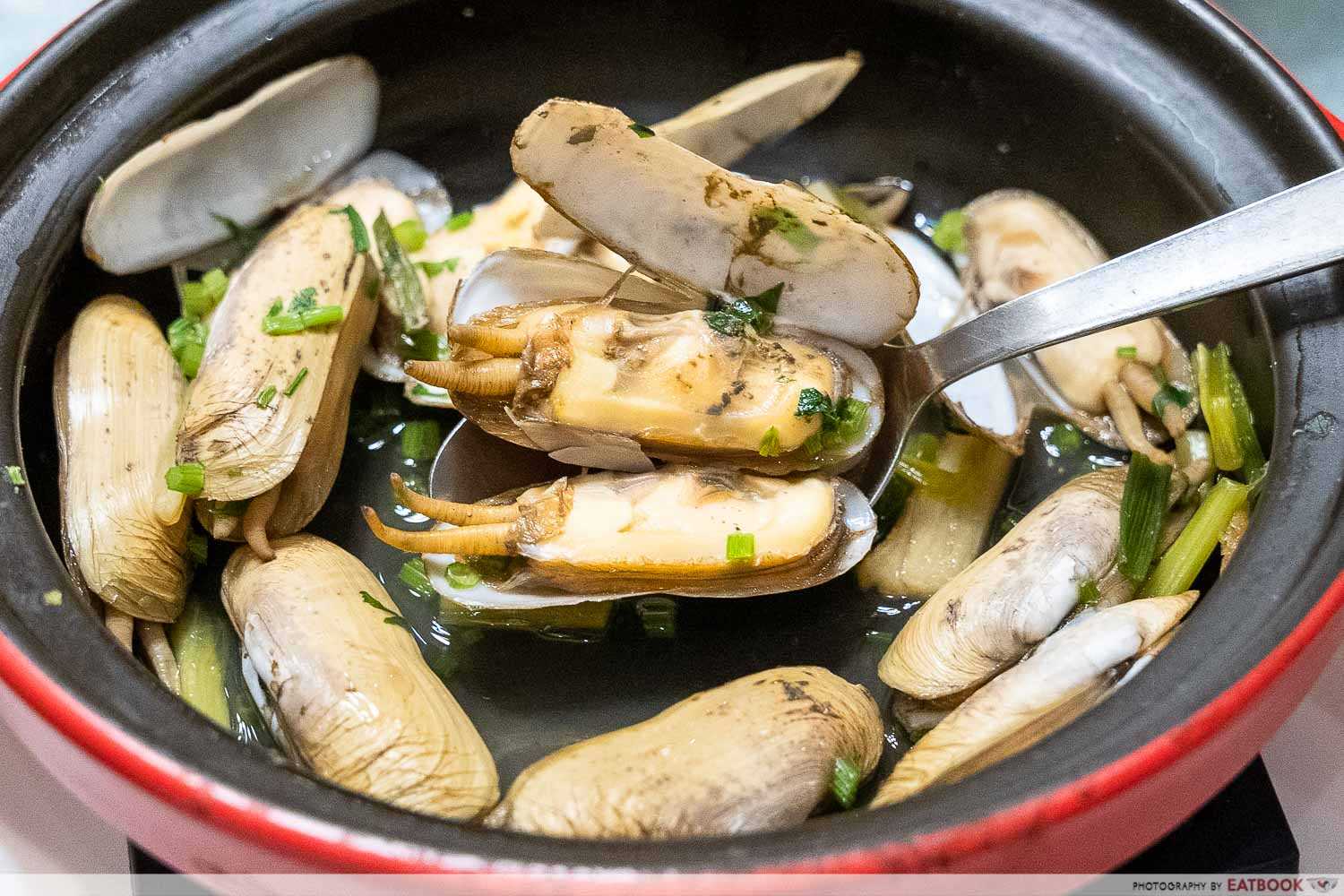 If you prefer a warm dish to start, the Duotou Clams Baked in Fujian Old Wine ($26.80++) is an alternative to consider. The sweet and fragrant Chinese wine, paired with the juicy clams, are a match made in heaven.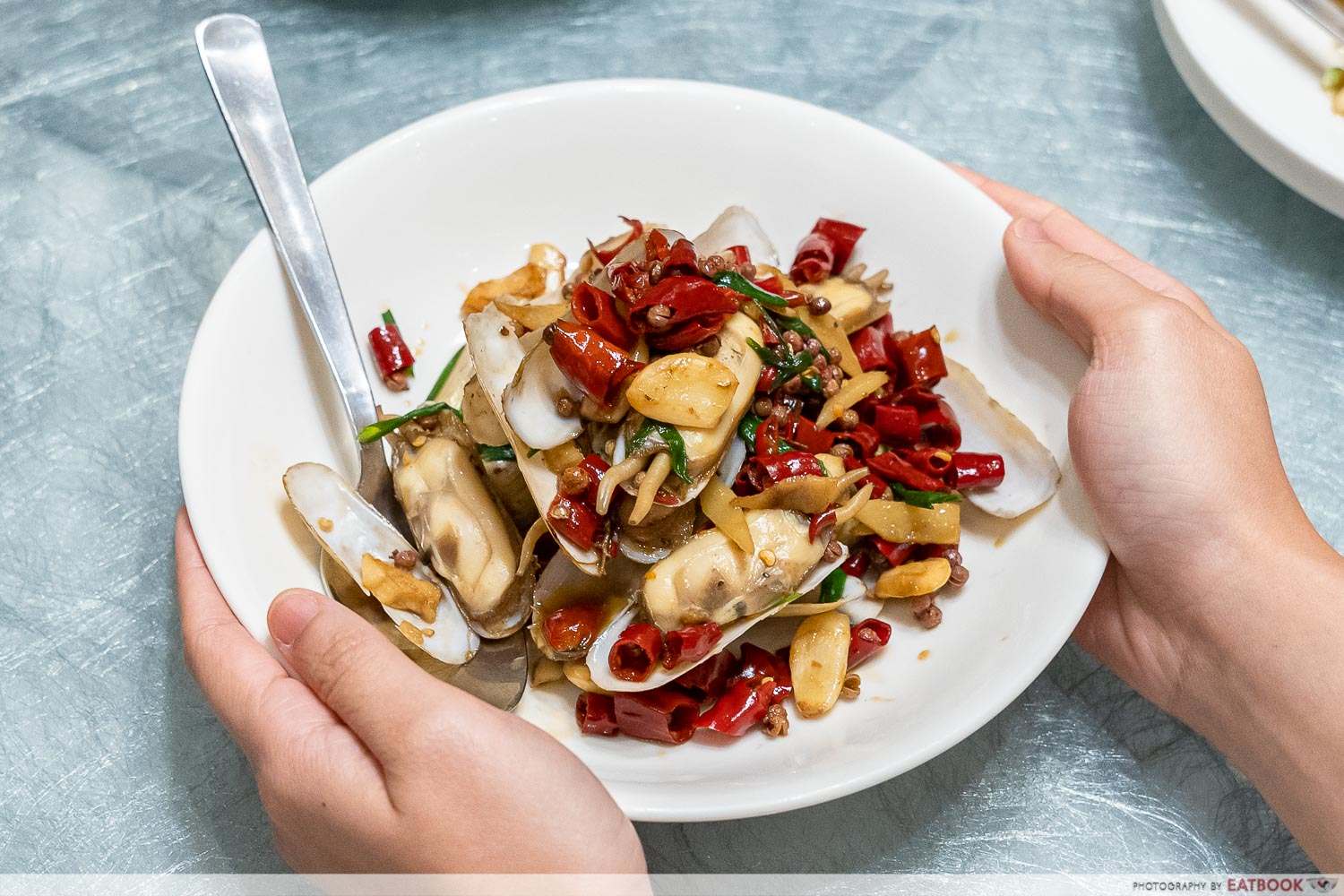 A new addition to the menu this year is the Spicy Fried Duotou Clams ($26.80++), a Sichuan-inspired dish that comes loaded with dried chili, peppercorns, and fragrant garlic. Slightly spicy, savoury, and umami all at once, this is one must-try if you're a fan of mala.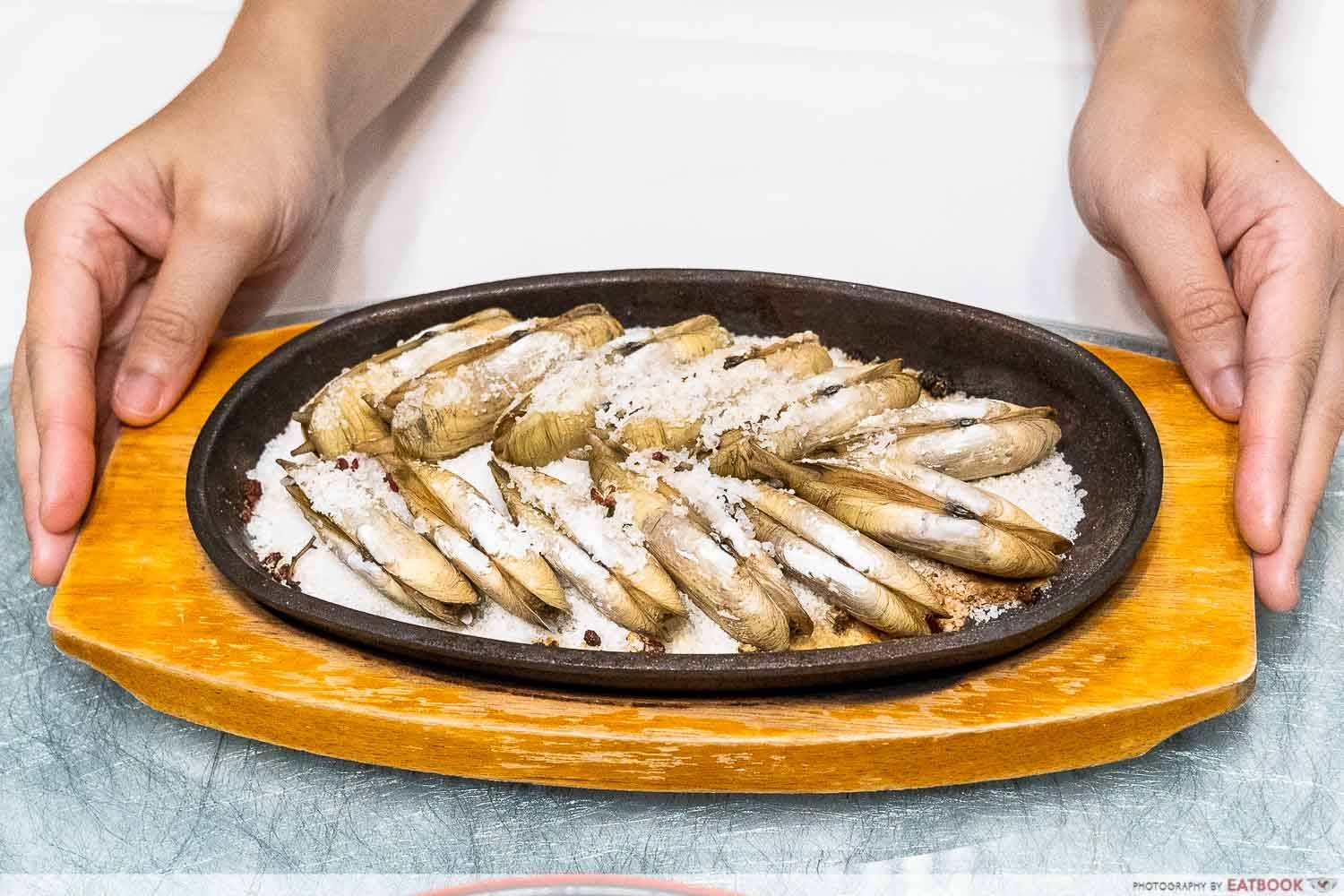 For something that's cleaner-tasting, turn to the Salt-baked Duotou Clams ($26.80++), served atop a bed of sea salt on a sizzling plate. This fan favourite has been around for five years and counting, and regulars love how the simple flavours of the dish complement the natural sweetness of the razor clams.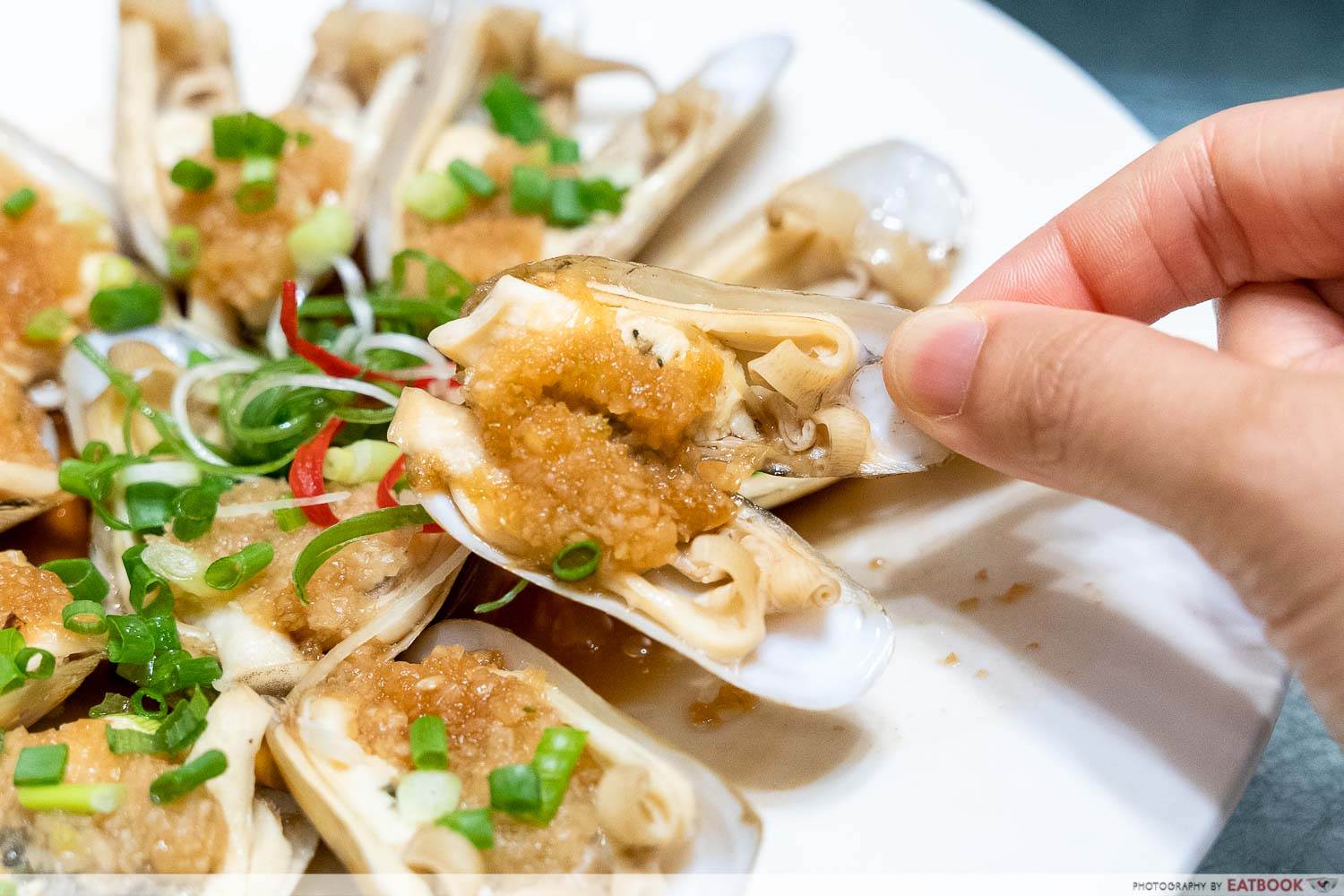 We also enjoyed the Steamed Duotou Clams with Minced Garlic ($26.80++), which came with finely minced garlic to cut through the briney, seafood flavour profile of the fresh clams.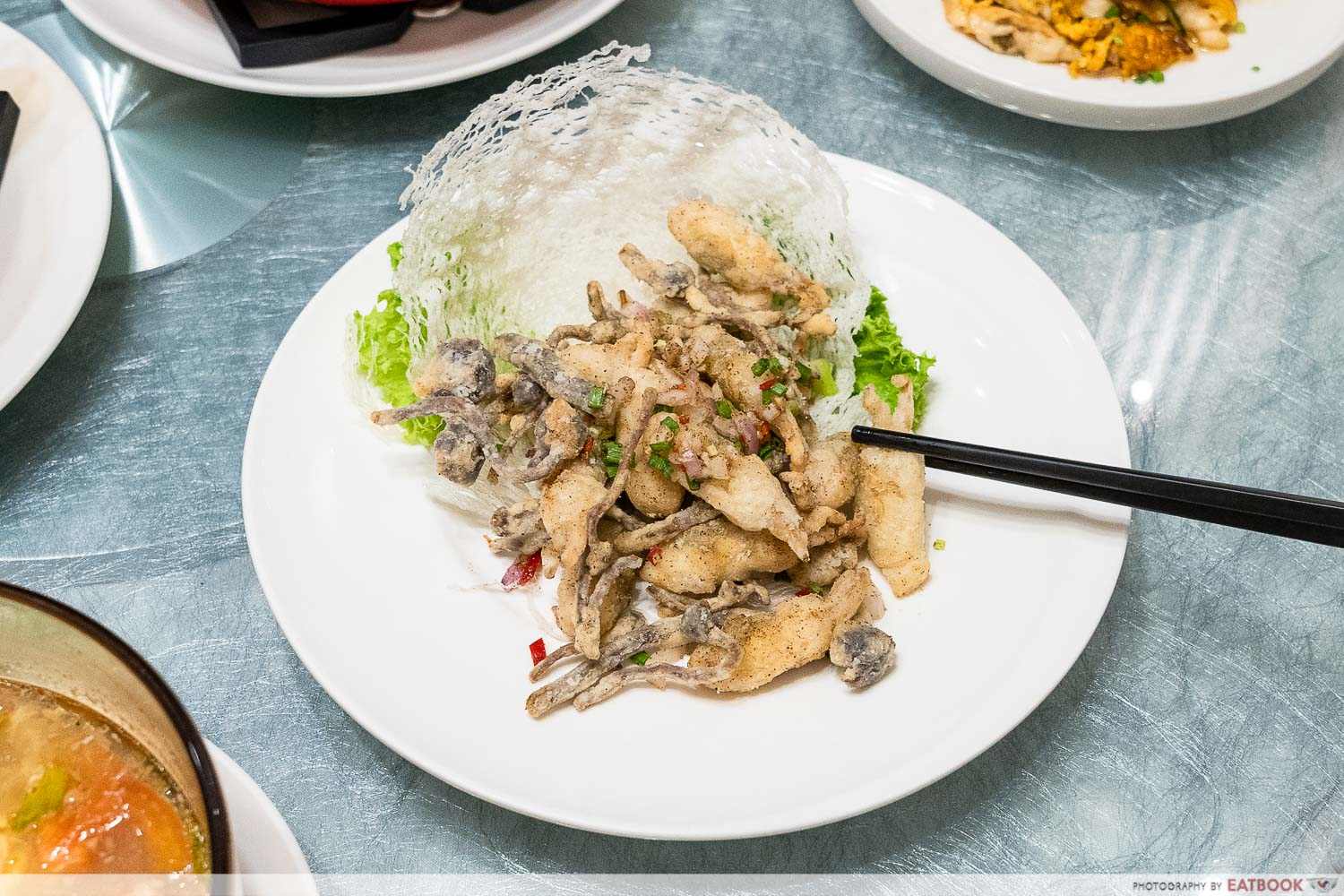 If you're looking for a crowd-pleaser for the whole family, you won't go wrong with the Salt and Pepper Duotou Clams ($28.80++). Lightly battered and deep-fried to crisp perfection, these clams and tea tree mushrooms are then coated in a simple dashing of salt and pepper.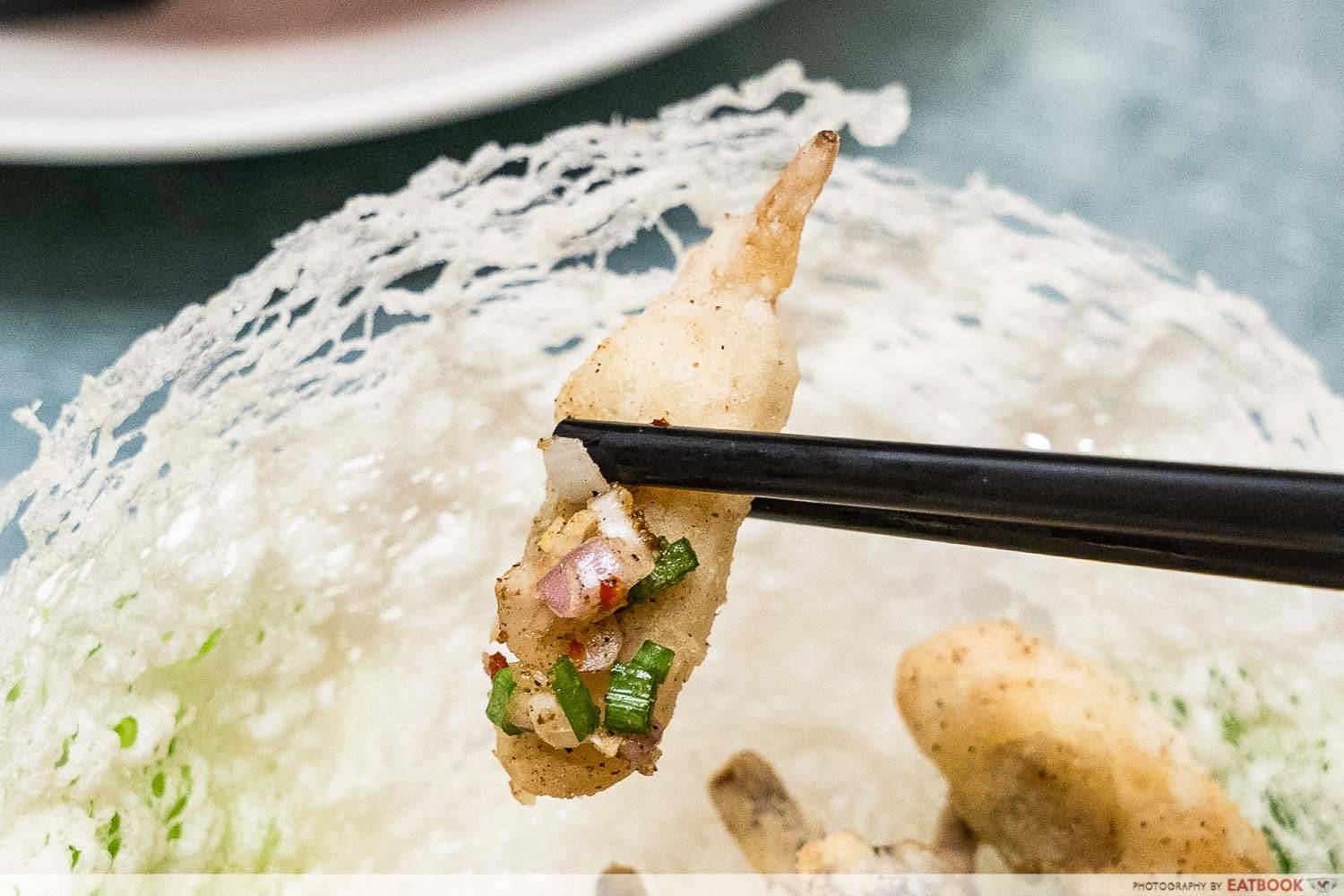 Each bite is light and crispy, reminding us a little of the classic Taiwanese Salt and Pepper Chicken dish. Pair it with a side of sake or beer for good measure!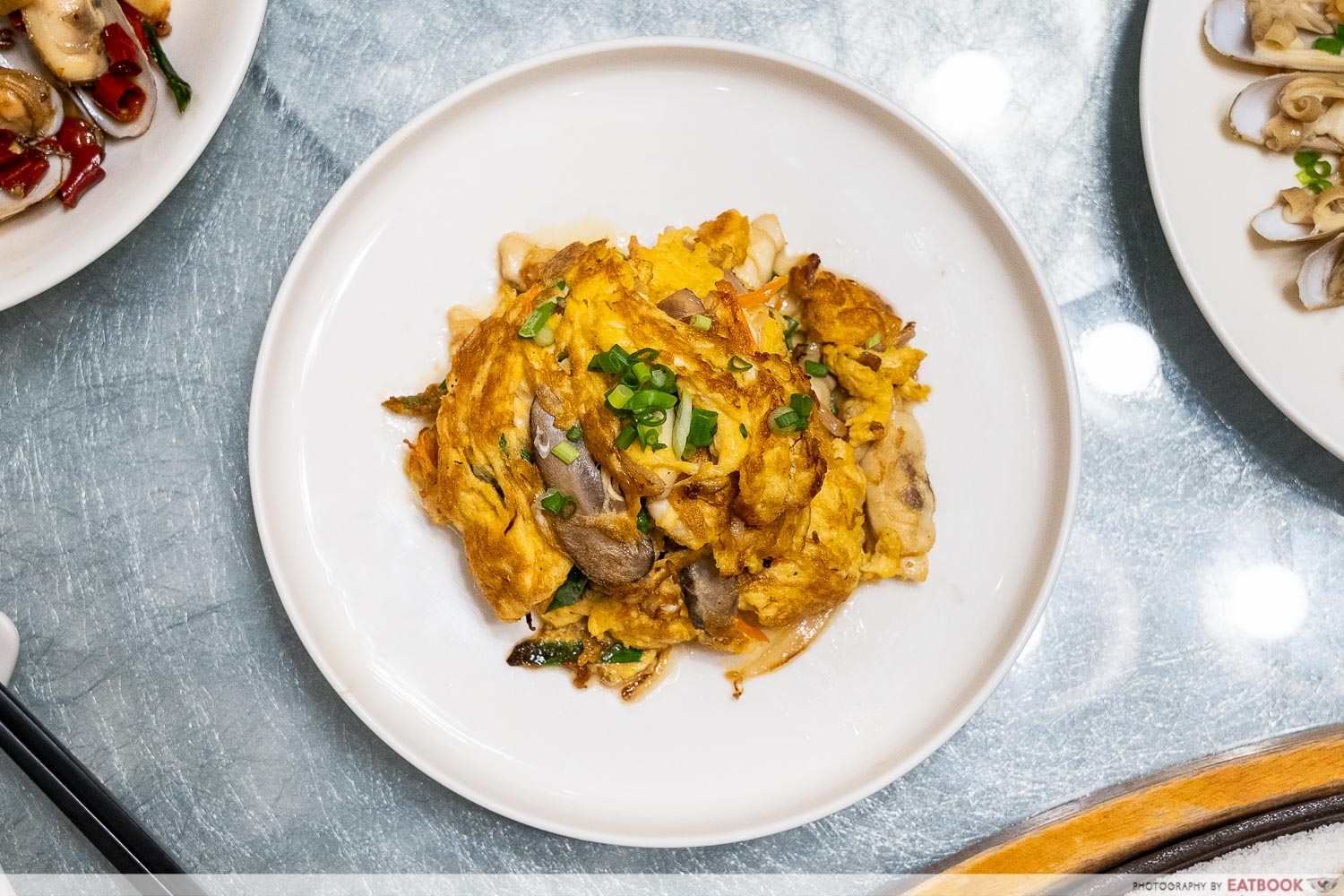 Another big hit at our table was the Scrambled Eggs with Duotou Clams ($26.80++). Zhnged-up with chunks of juicy clams, the fluffy omelette, which came with crispy edges, is elevated home-style cooking.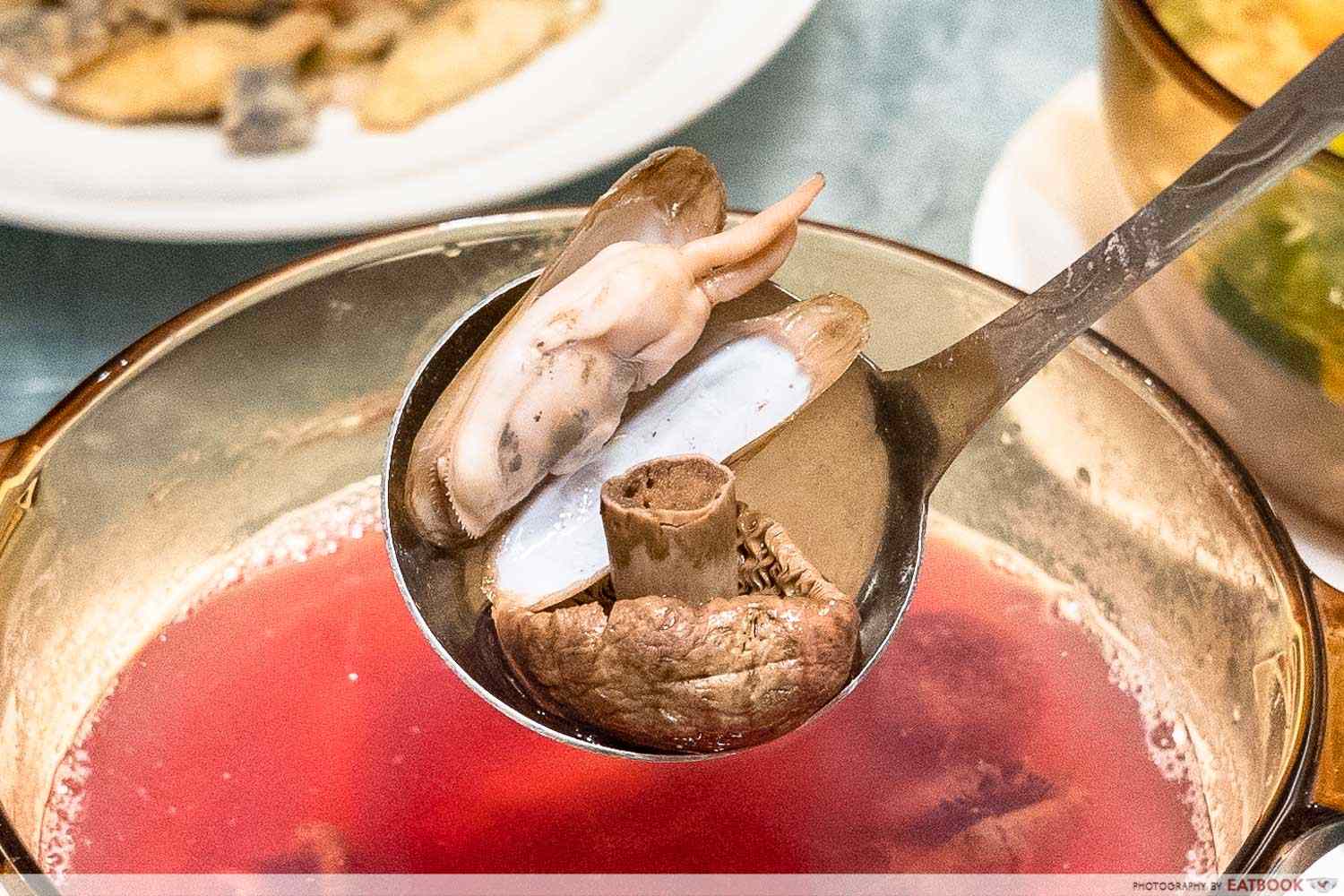 For something soupy to warm you up on a rainy day, the Red Mushroom Duotou Clam Soup ($28.80++) wouldn't disappoint. A highlight of this dish are the premium Red Mushrooms, which also star in the restaurant's signature Fujian lor mee. These rare dried mushrooms tint the light and nutritious broth into a pink shade that's oh so grammable.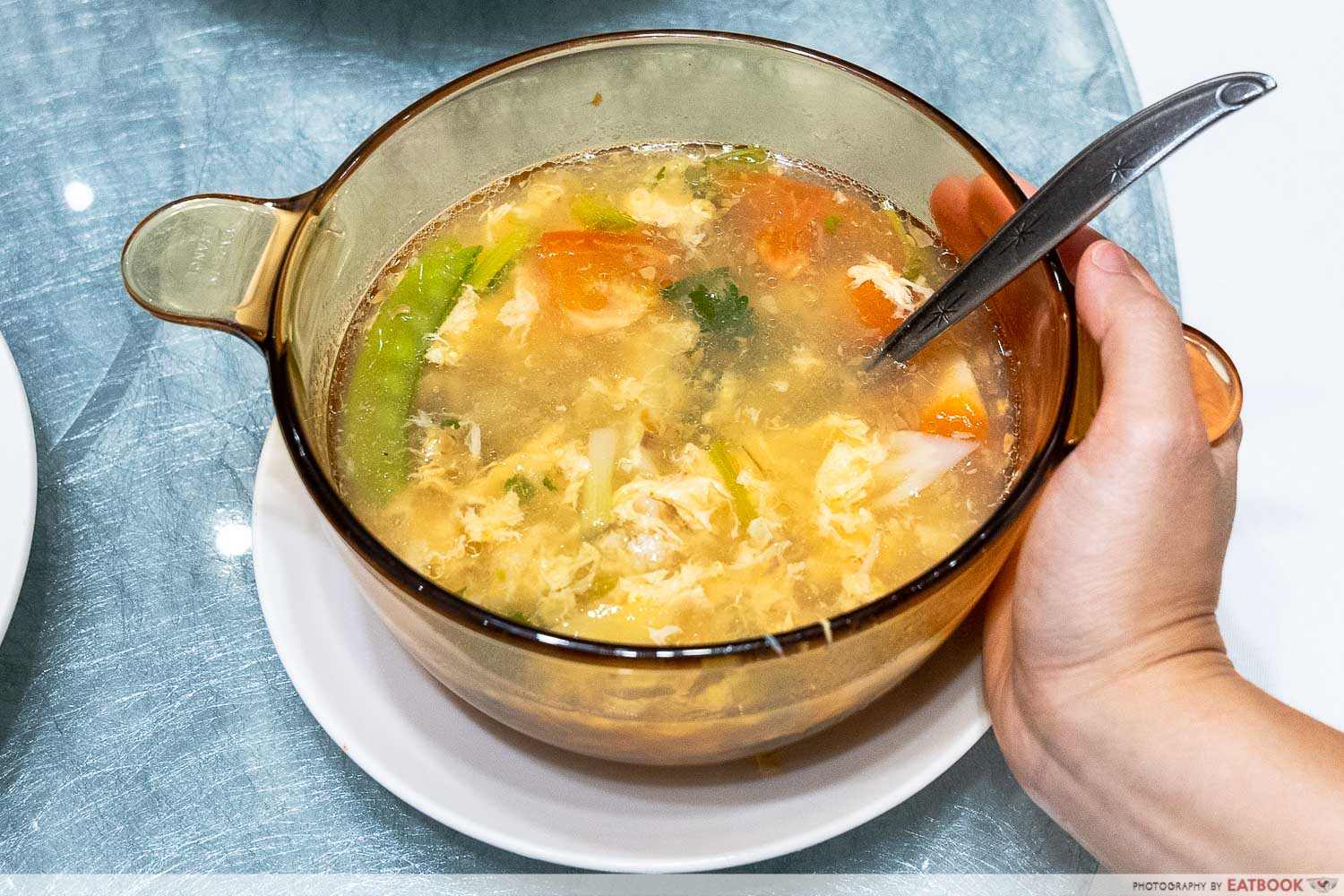 Alternatively, go for the Putian Farmhouse Clam Soup ($28.80++), a comforting egg drop soup loaded with veggies and juicy clams—perfect for completing your meal.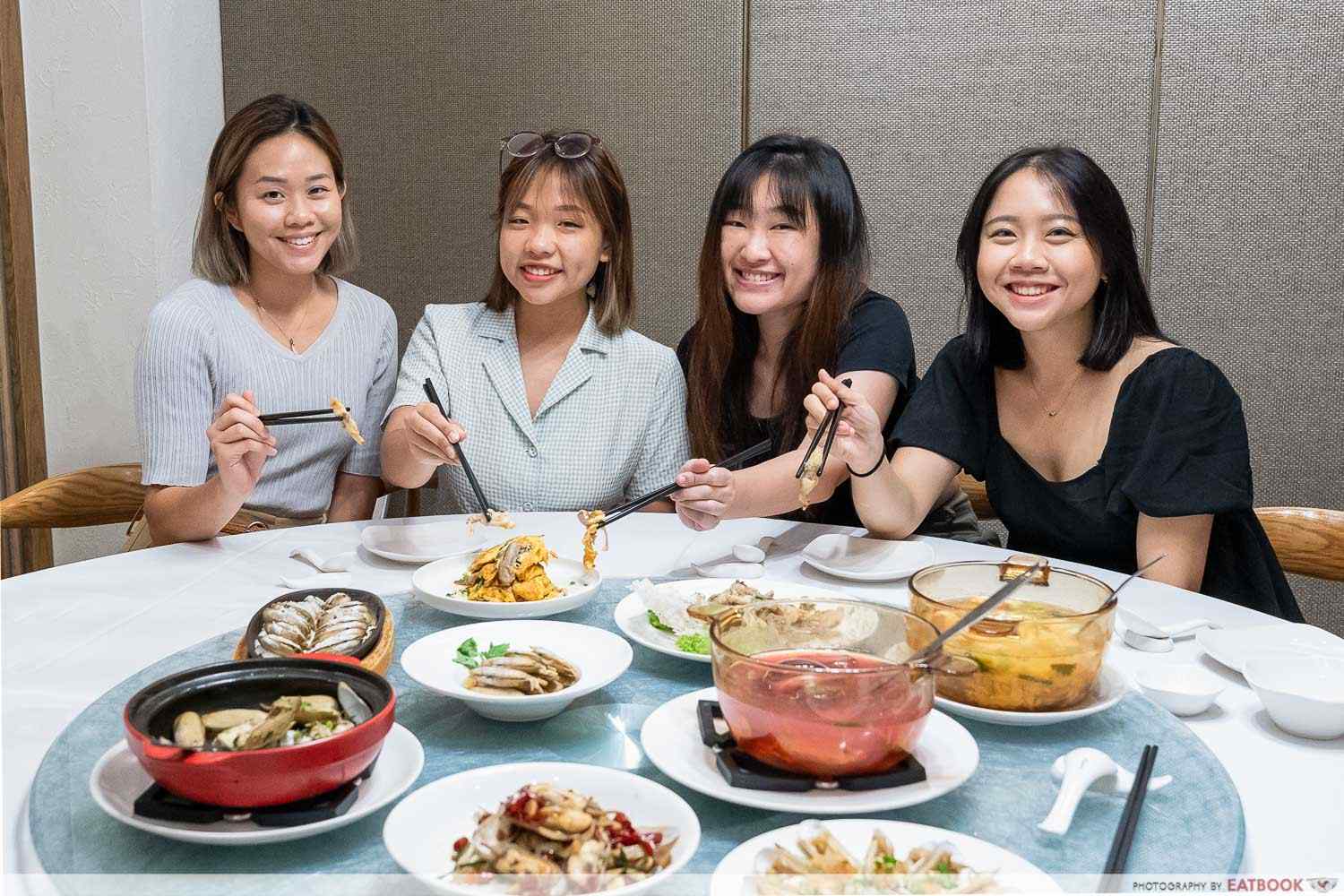 All nine Duotou Clam dishes are only available at PUTIEN restaurants for a limited time, from now till end July 2022. Here's even better news: you enjoy them in any two dishes for $43.80++. Try out these seasonal items stat, before they run out!
Photos taken by Tanya Tham.
This post is brought to you by PUTIEN.
CHOP CHOP By Putien Opens At NUS With Everything Priced Under $8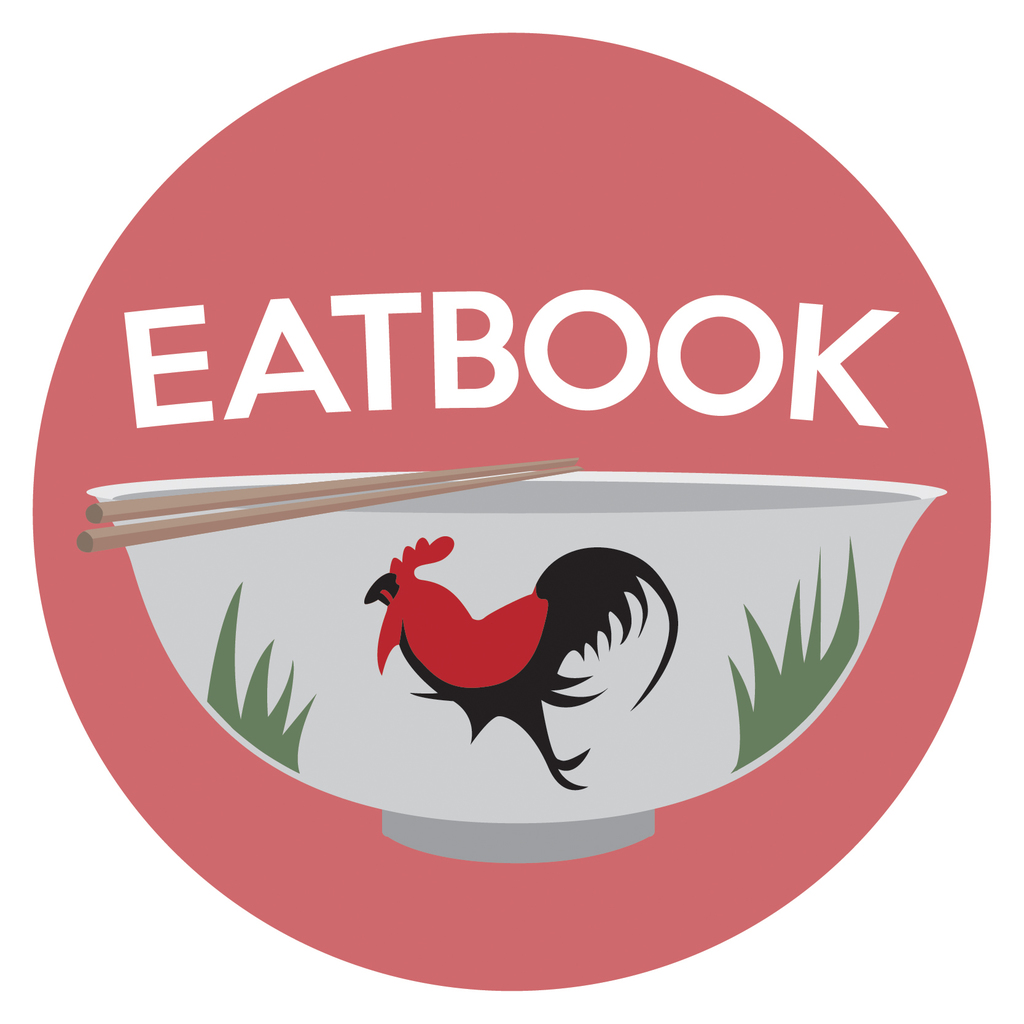 Drop us your email so you won't miss the latest news.