Halal wedding catering by Rasel Catering Singapore

When it comes to wedding catering, selecting the right one can be tedious. From the wedding venue to choosing food that everyone will enjoy, there are just so many things to consider.
Having attended a couple of weddings, food is definitely an important factor for me. That and a picturesque location make for the perfect setting to celebrate the love of two individuals.
One caterer to take note of is Rasel Catering Singapore. With over 22 years of experience, this homegrown catering business is known for their beautiful thematic setups and halal-certified fare, making it a trusted name in the industry.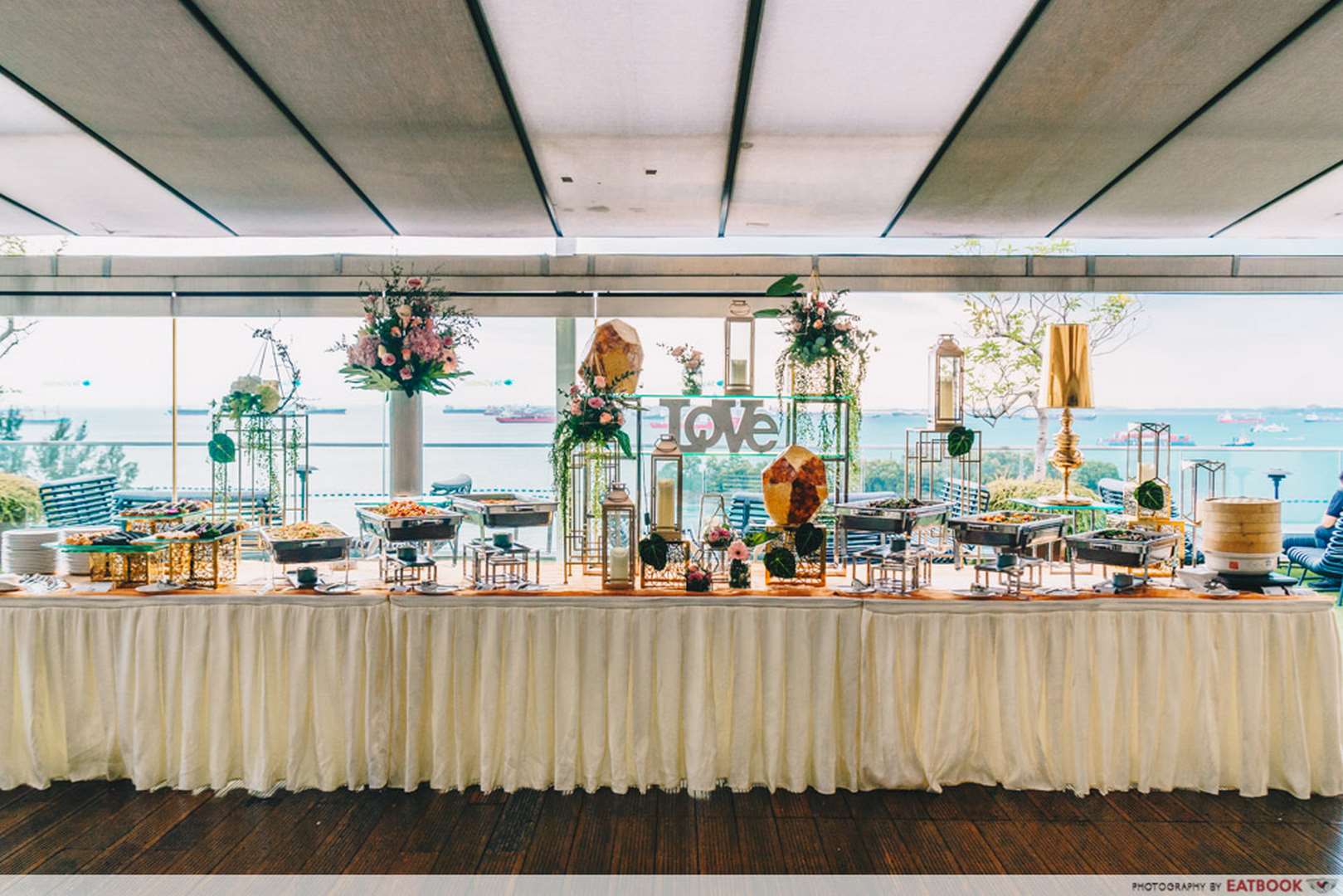 They have a wide range of wedding packages such as Chinese banquets and Western sit-downs. For their church buffet packages, prices start from $18+ per person. This features a fully customisable buffet line-up with four menus to choose from.
For a mix between form and function, get the Lavish ($28+ per person) which comes with an artisan dough bar, live station, savoury section, dim sum, and dessert table.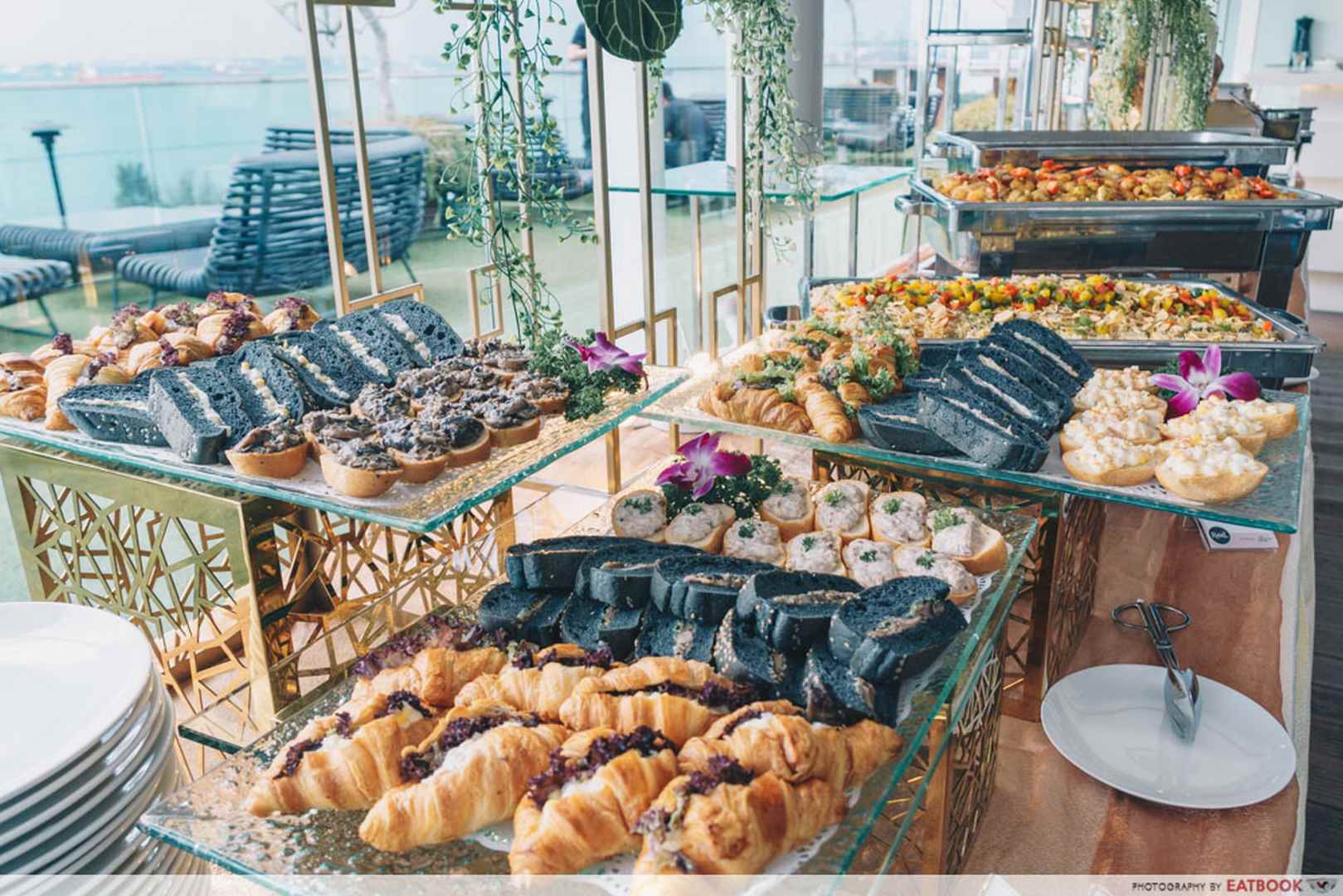 The dough bar features a wide variety of savoury pastries, stuffed croissants, and charcoal buns.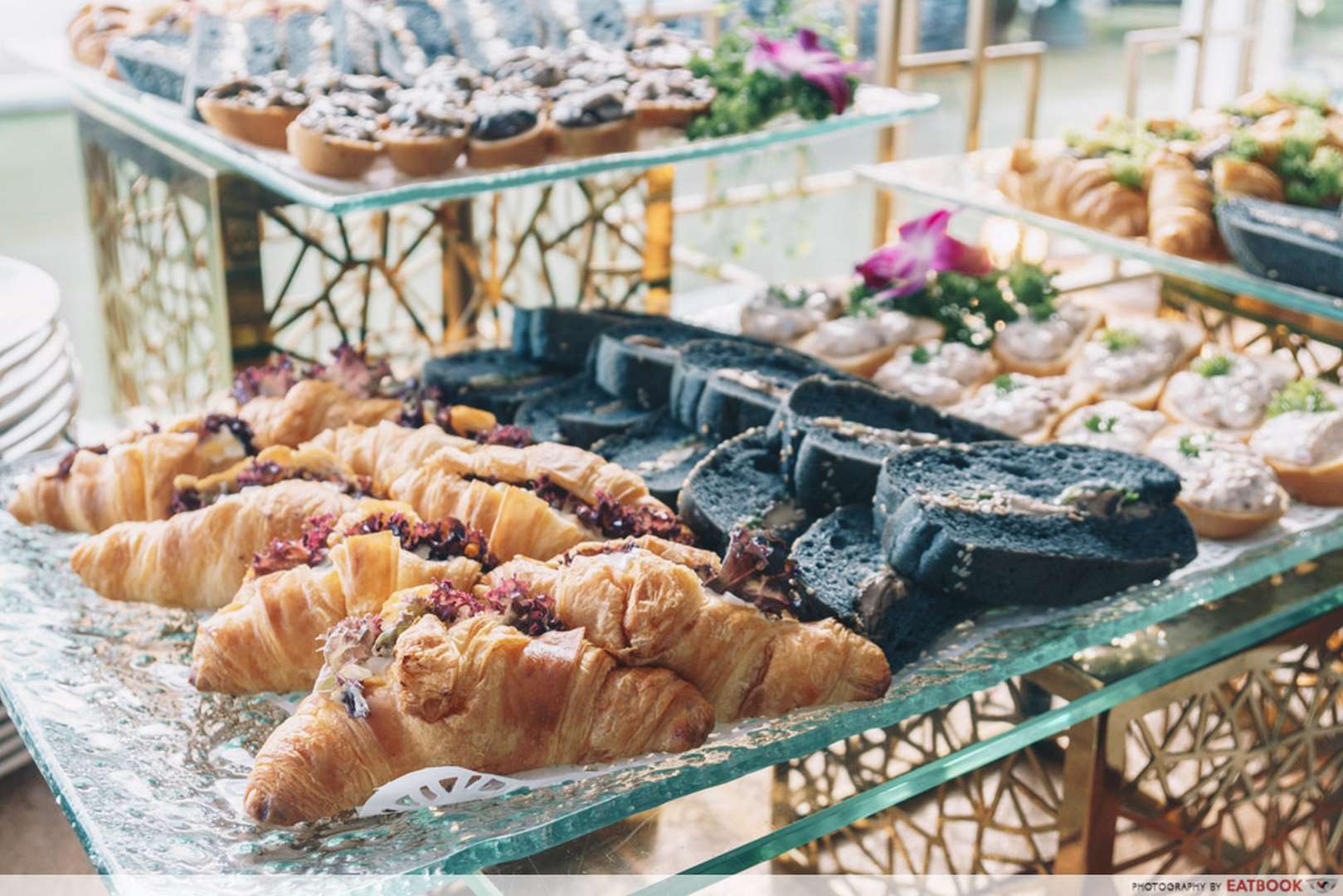 The croissants were light and crispy, with a rich buttery flavour. There are also a wide variety of fillings, with assorted mushrooms and peppery egg mayonnaise mixing well with the flaky pastry.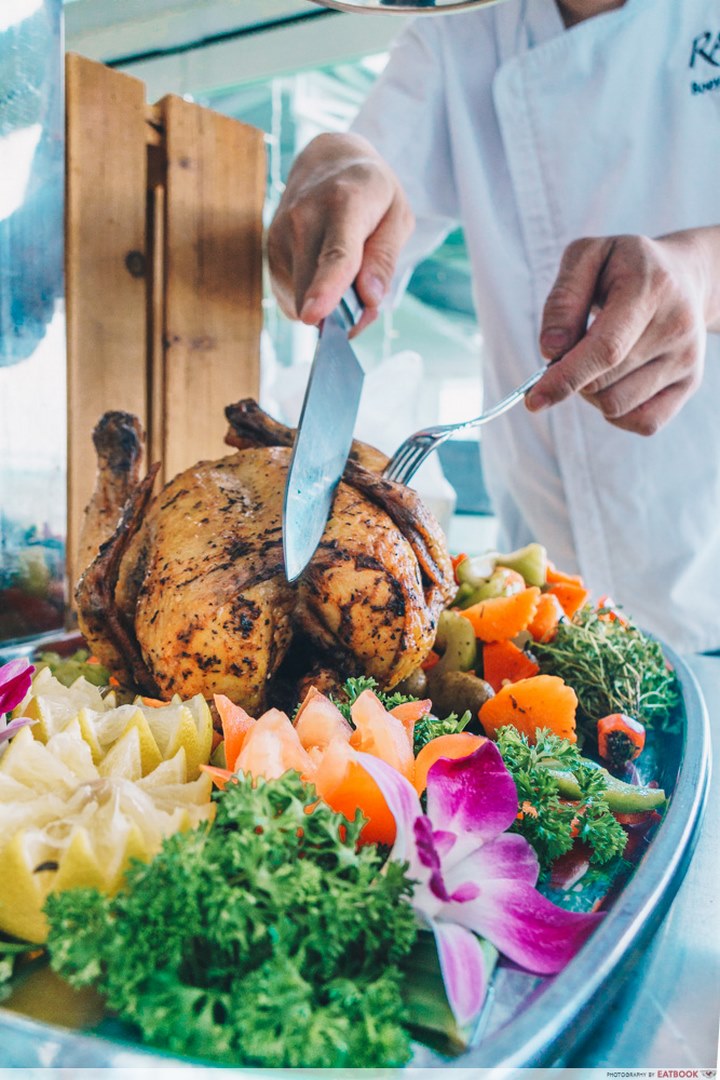 There are also live stations, all of which are expertly manned by a chef. Look forward to the 4-Hour Sous Vide And Roasted Whole Chicken Infused With Dry Ginger Ale. The tender bird is carved right before your eyes and served together with oven-baked root vegetables.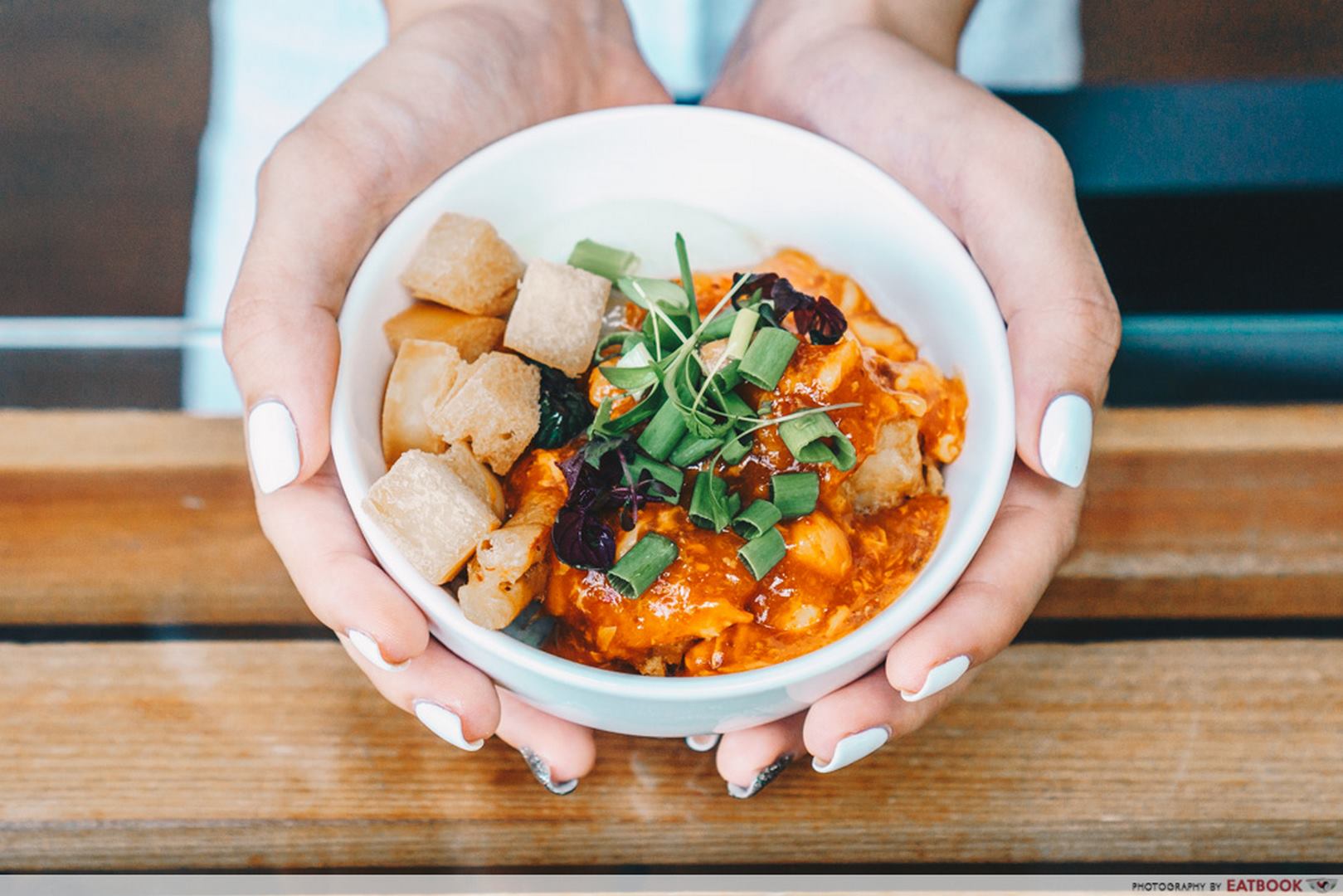 The customisable menu means you can change the dishes to suit your preference. Top up $3+ per guest for the Signature Chilli Crab Donburi. This dish combines creamy chilli crab sauce with crispy breaded prawn and cubed deep-fried mantou. All of this is then piled on top a fluffy bed of Jasmine rice.
I like how there are eggy bits inside, giving the sauce a nice and thick consistency. It's recommended to mash up the onsen egg and give the donburi a good mix so that you get all the rich flavours.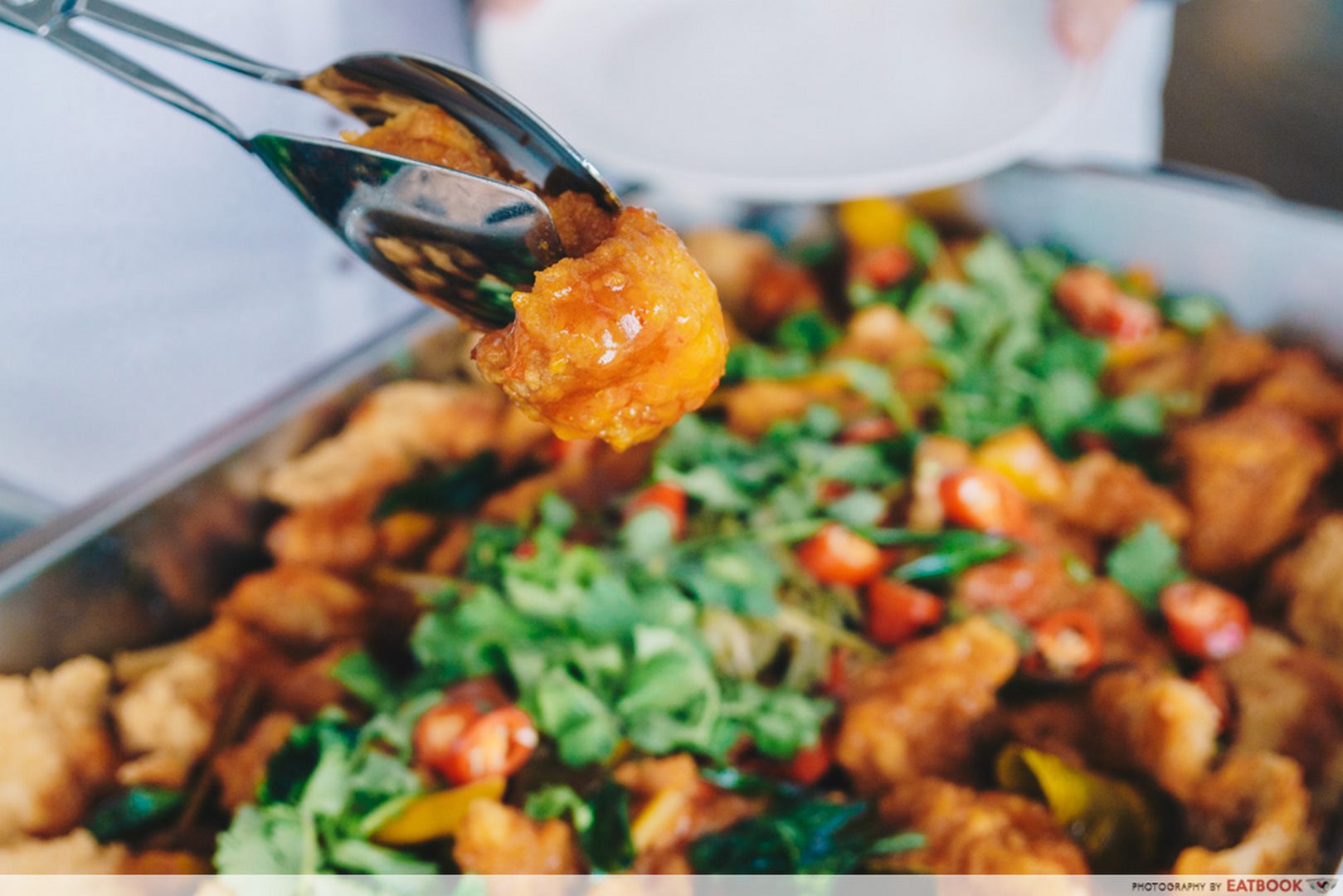 The package also includes several mains, such as the fiery Fried Fish with Nyonya Chilli. Spice lovers will like this dish as there's an intense kick coming from the chilli-padi-laced sauce.
There's also a pretty Traditional Seafood Pie that's filled with chunky bits of prawn and fish. Crusted whipped potatoes are then topped onto it for a rich and decadent treat.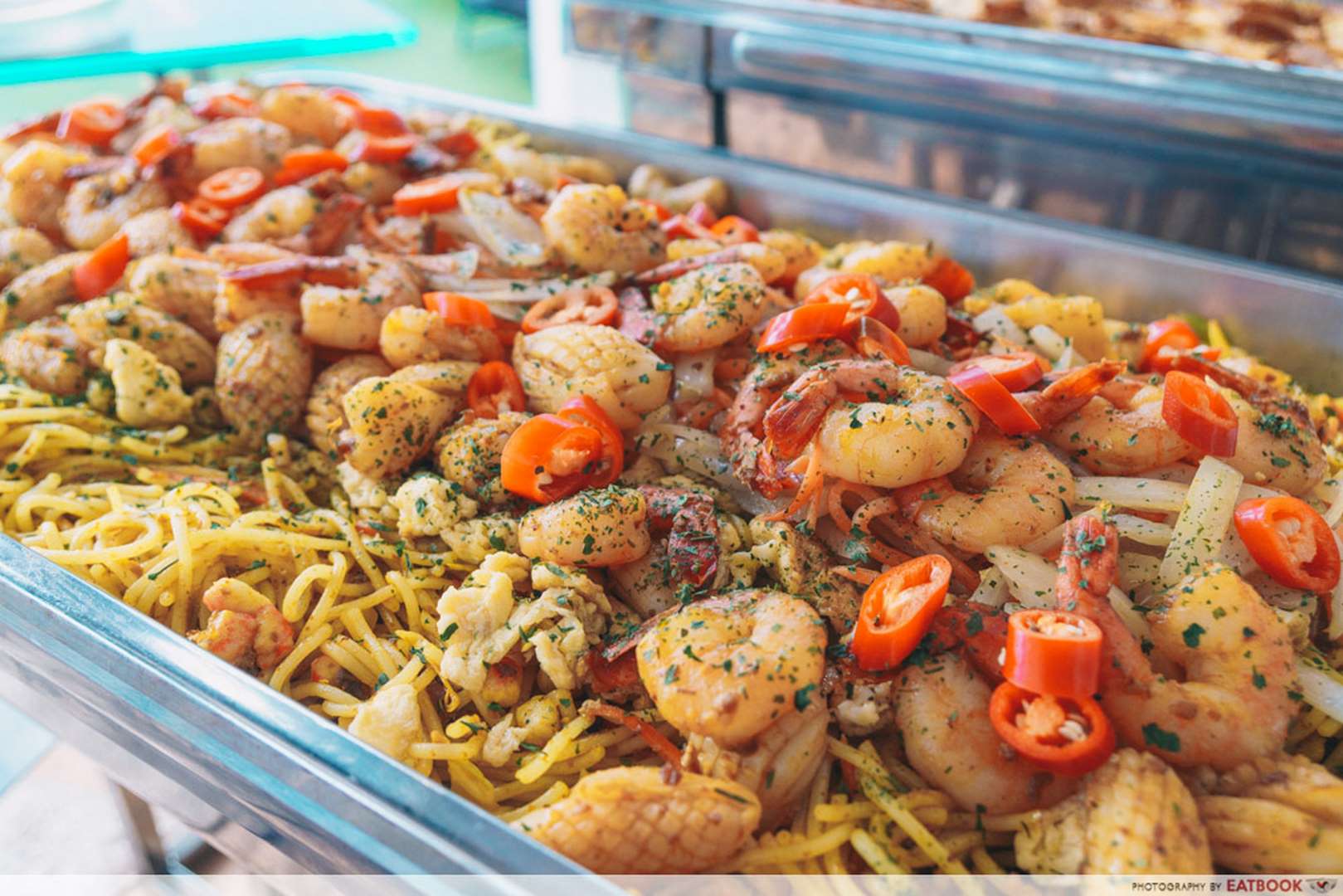 Wok Fried Laksa Goreng is another option for carb lovers, with prawns and squid fried together with the noodles. While it's easy to confuse this with the usual seafood pasta, the laksa leaves give this dish a fragrant and aromatic boost.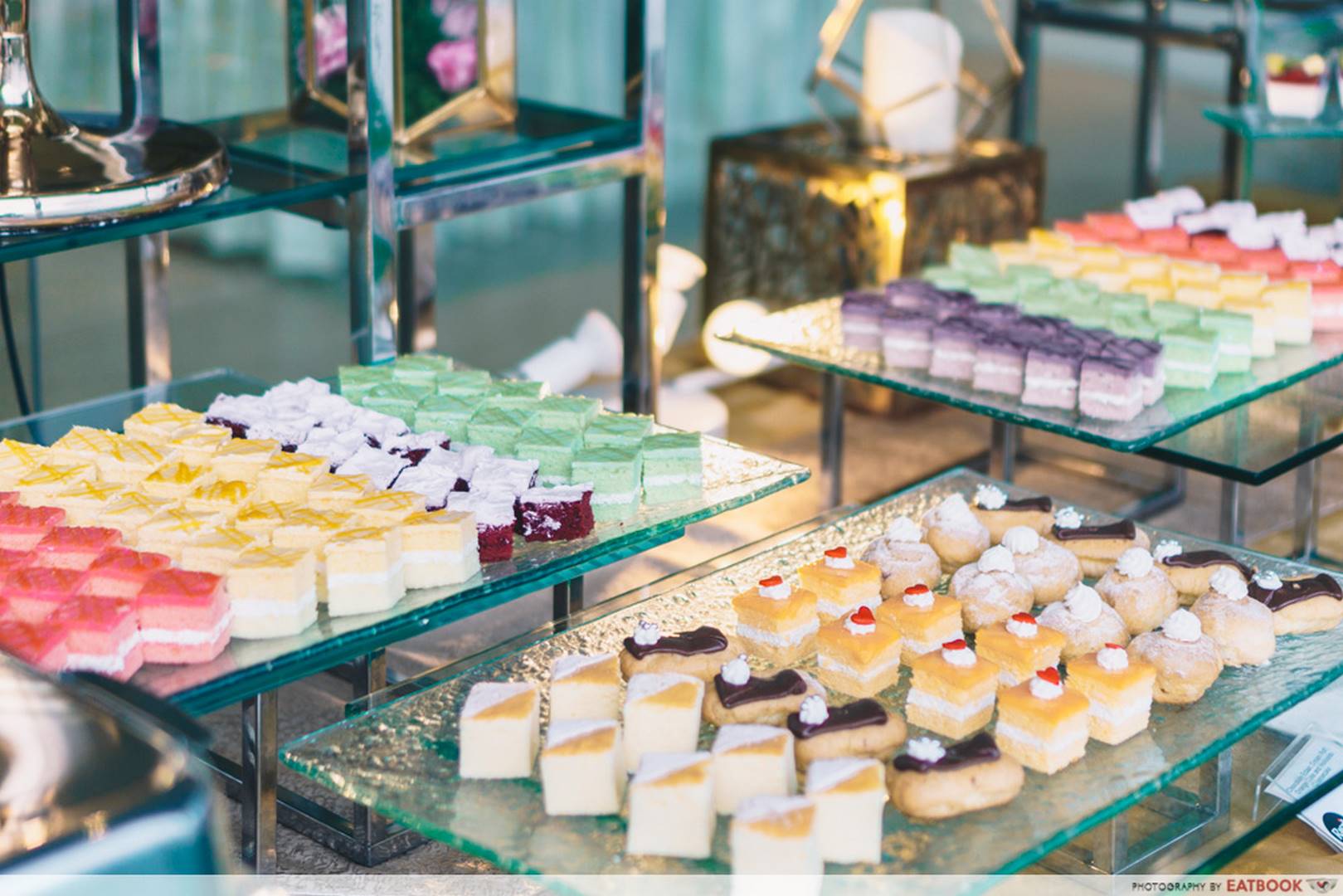 It's hard to say no to desserts, especially when they come in a myriad of flavours and colours. Looking good in cute bite-sized portions, there's a wide variety of puffs and cakes to choose from.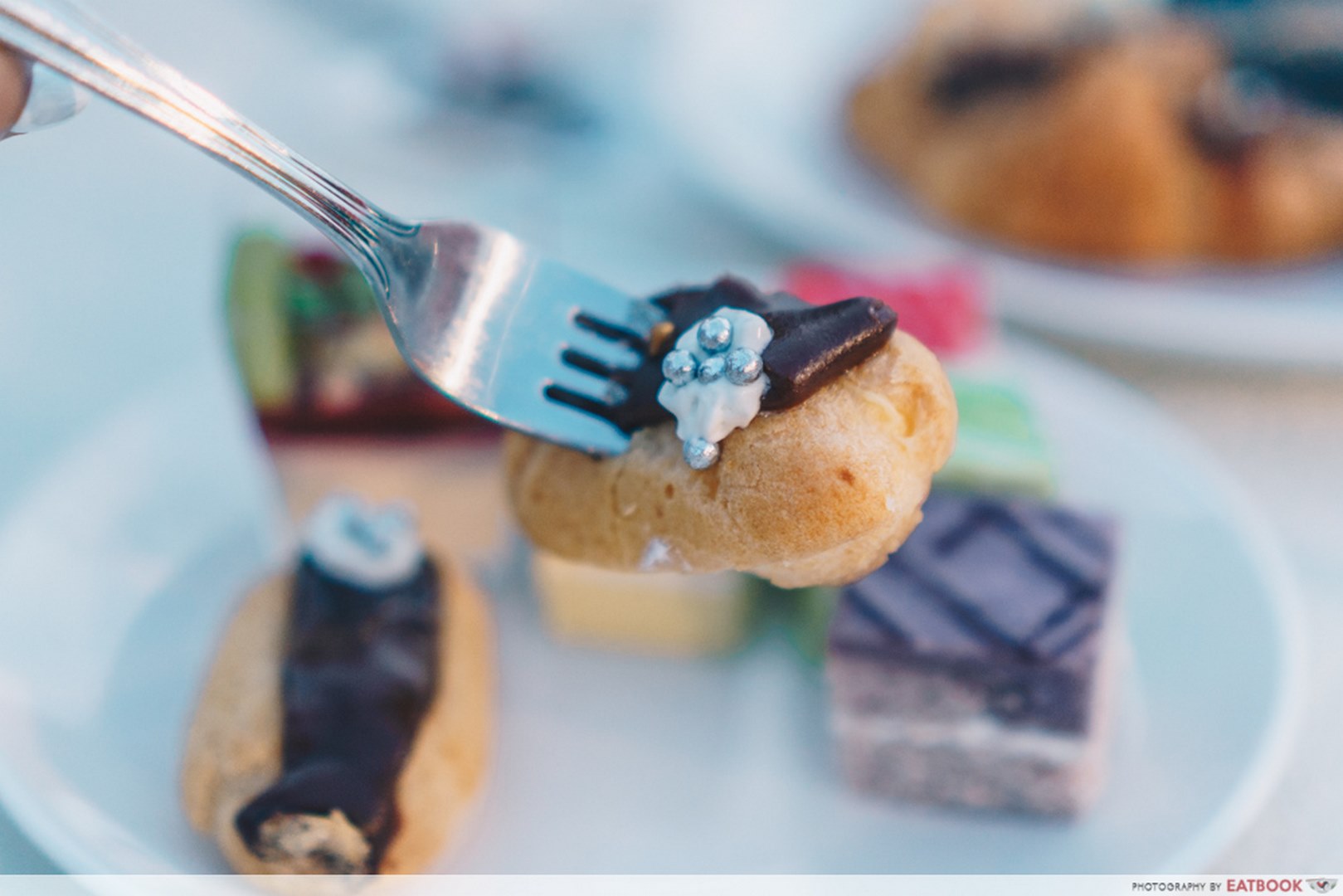 Chocolate Eclair, Cream Puff and Hokkaido Cheesecake are just a few of the pastries available. In line with this joyous occasion, edible silver pearls are placed onto the eclairs, giving them a luxurious touch.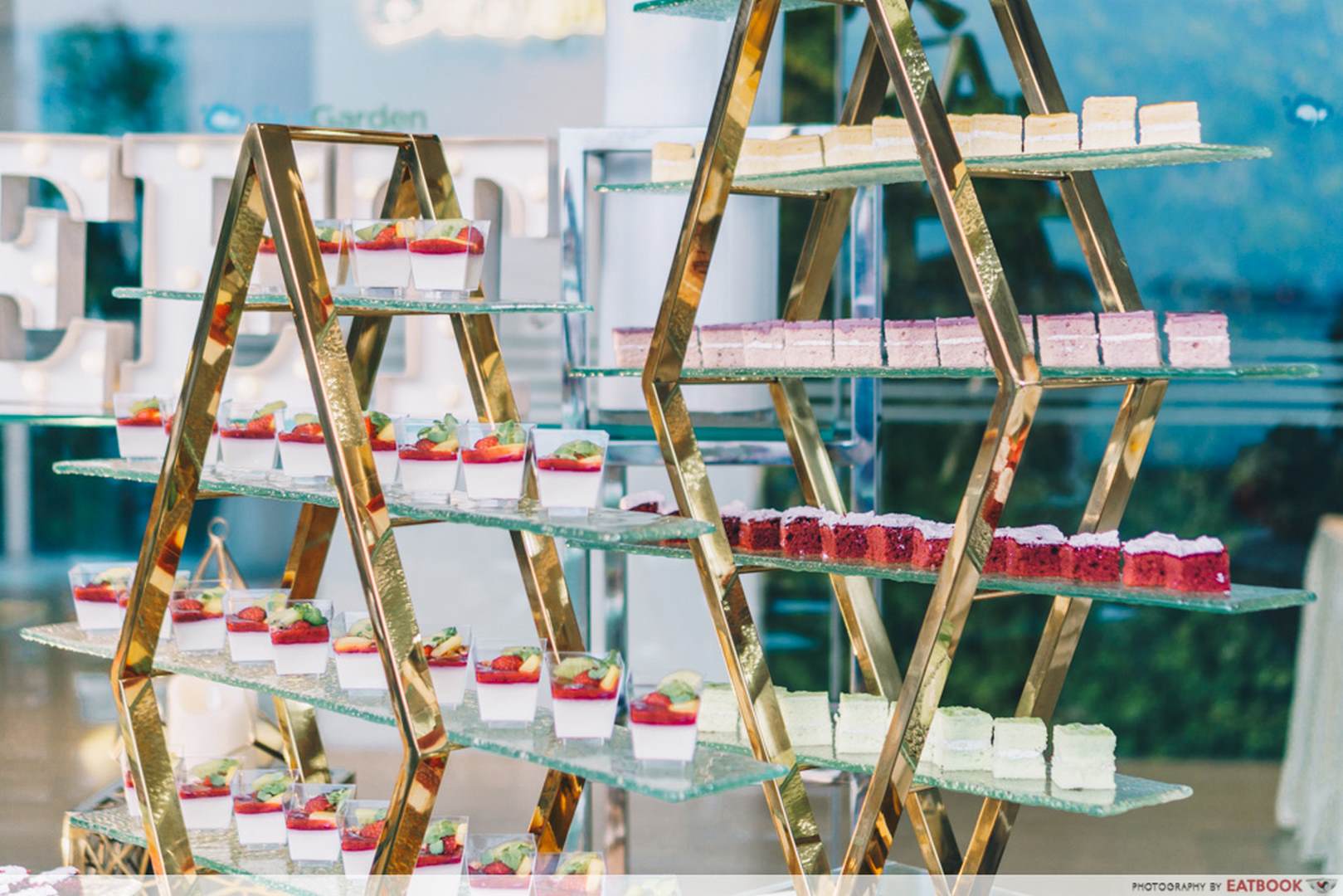 There is also a wide range of cakes on offer, with an array of colourful designs for guests to choose from.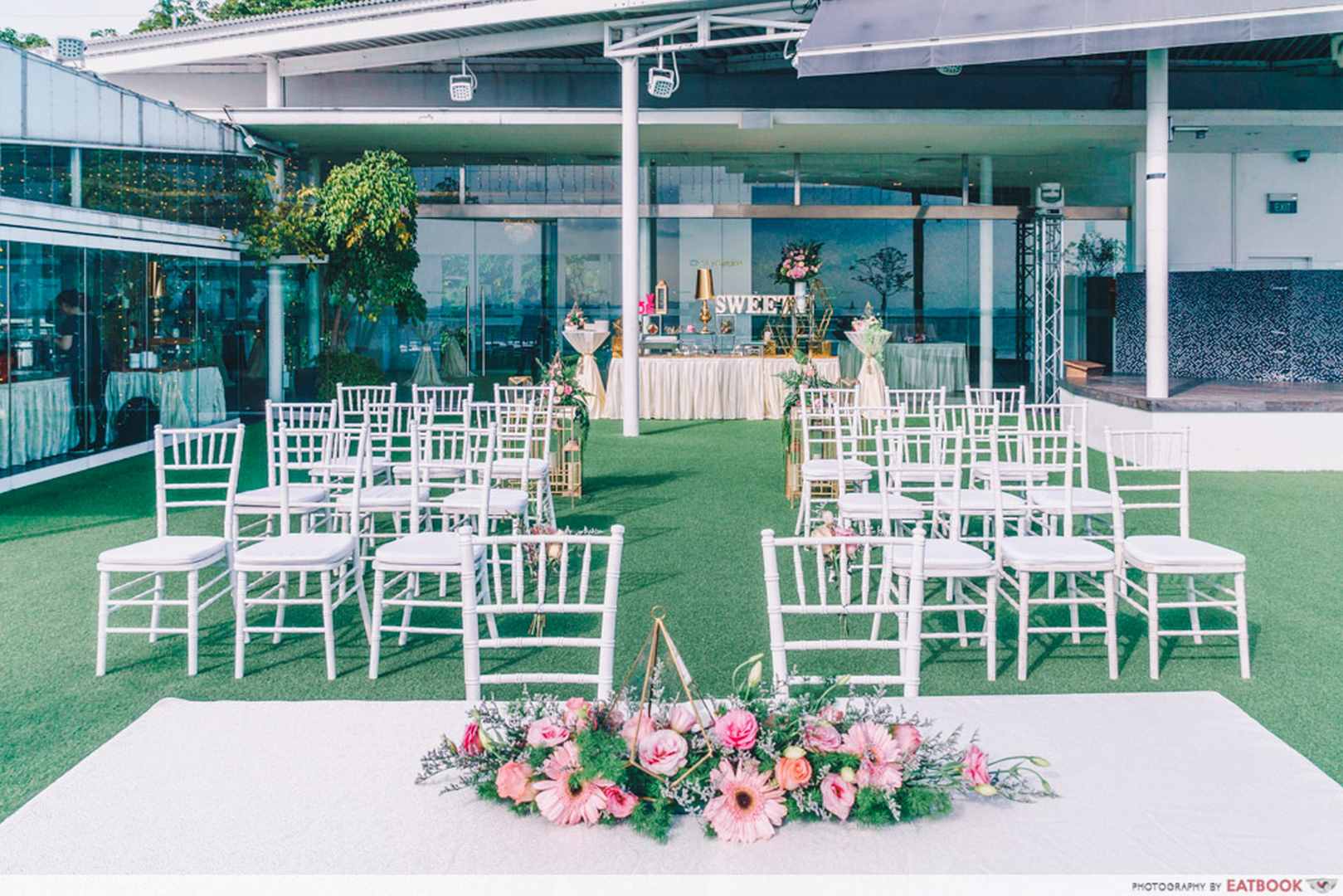 Rasel Catering Singapore also offers bespoke wedding packages, which include both catering and venue. This helps to save the hassle of sourcing for both separately. You can also save on costs as there will be special bundled rates.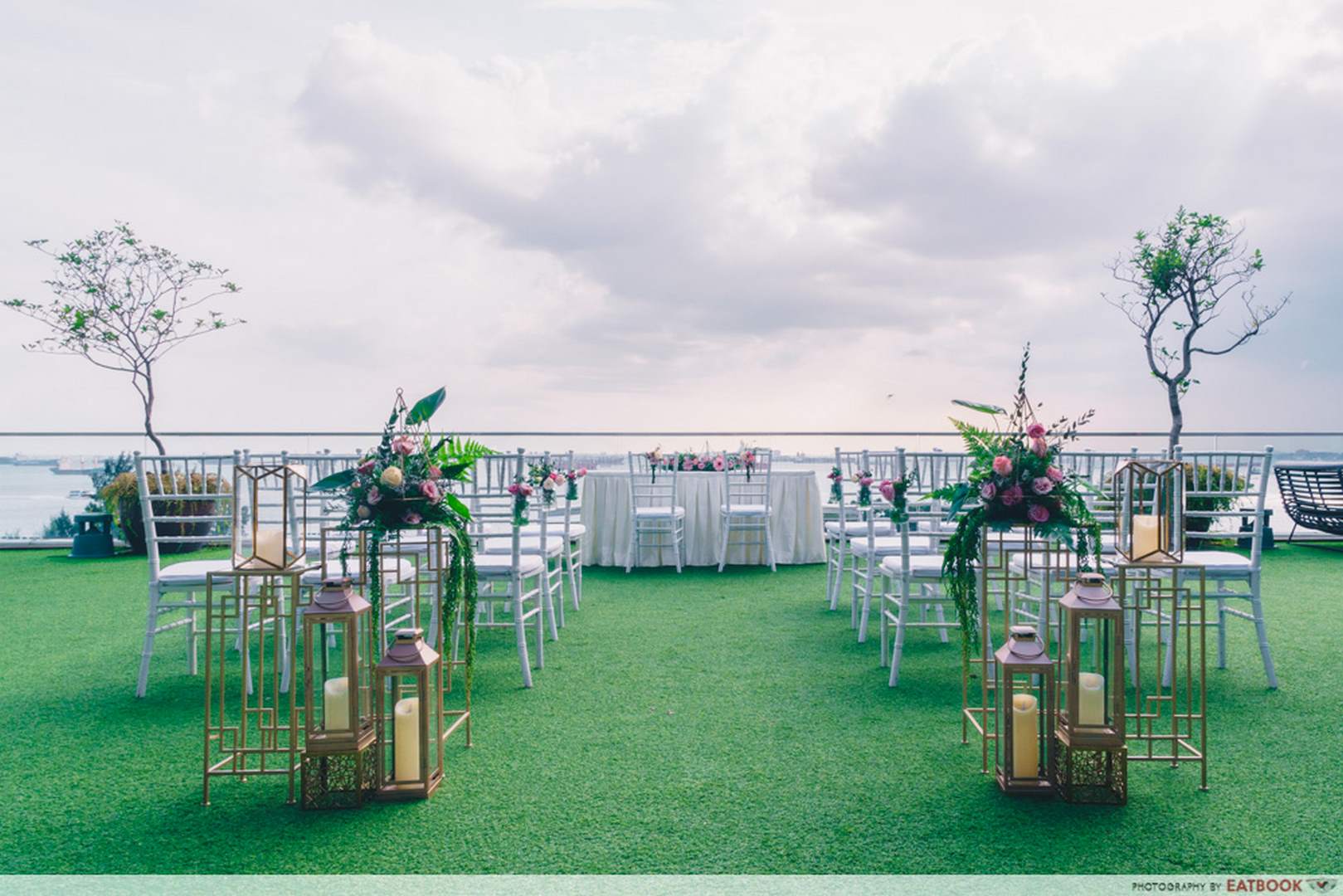 They have a wide variety of venues, which include Gardens by the Bay, The Arts House, and Sky Garden in Sentosa. Showcased in this article is the Sky Garden in Sentosa, boasting a wide rooftop alfresco area that overlooks the beautiful sea.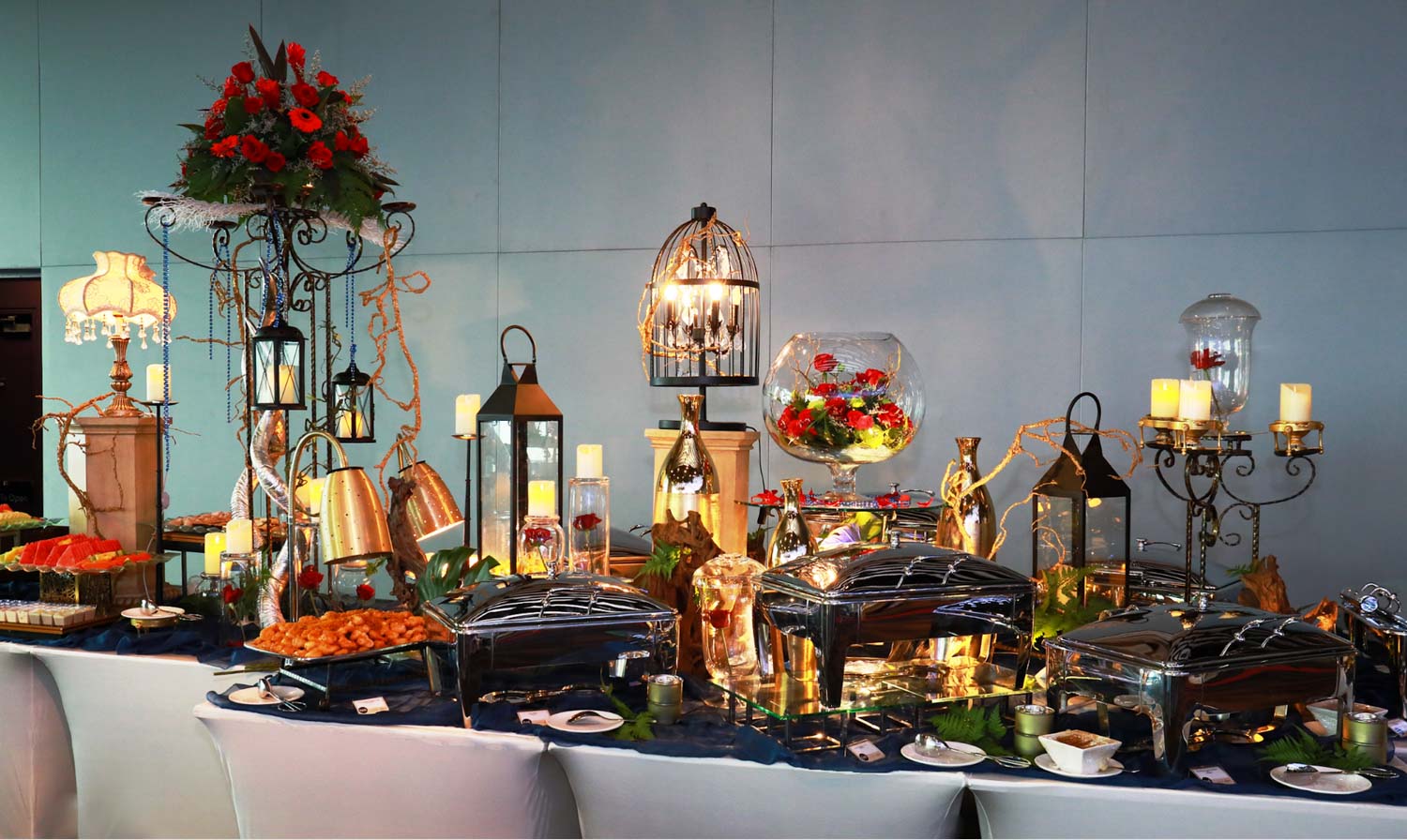 Each wedding package also lets you choose from four different themes such as Garden, Enchanted Blue, Joy-metric and Backyard Romance that come complete with an elaborate setup and biodegradable ware.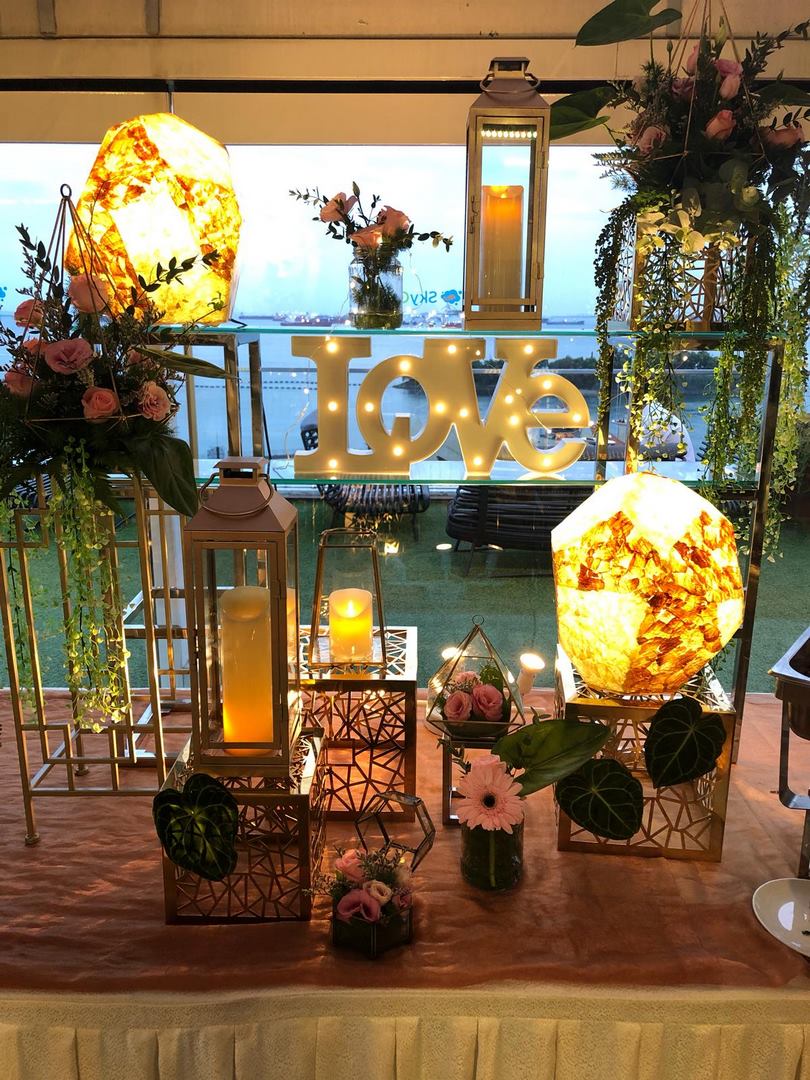 New to the lineup of exciting themes is the Joy-metric theme. This magical setup features plenty of soft and pastel colours, along with a slight ode to nature with eucalyptus and hydrangea flowers.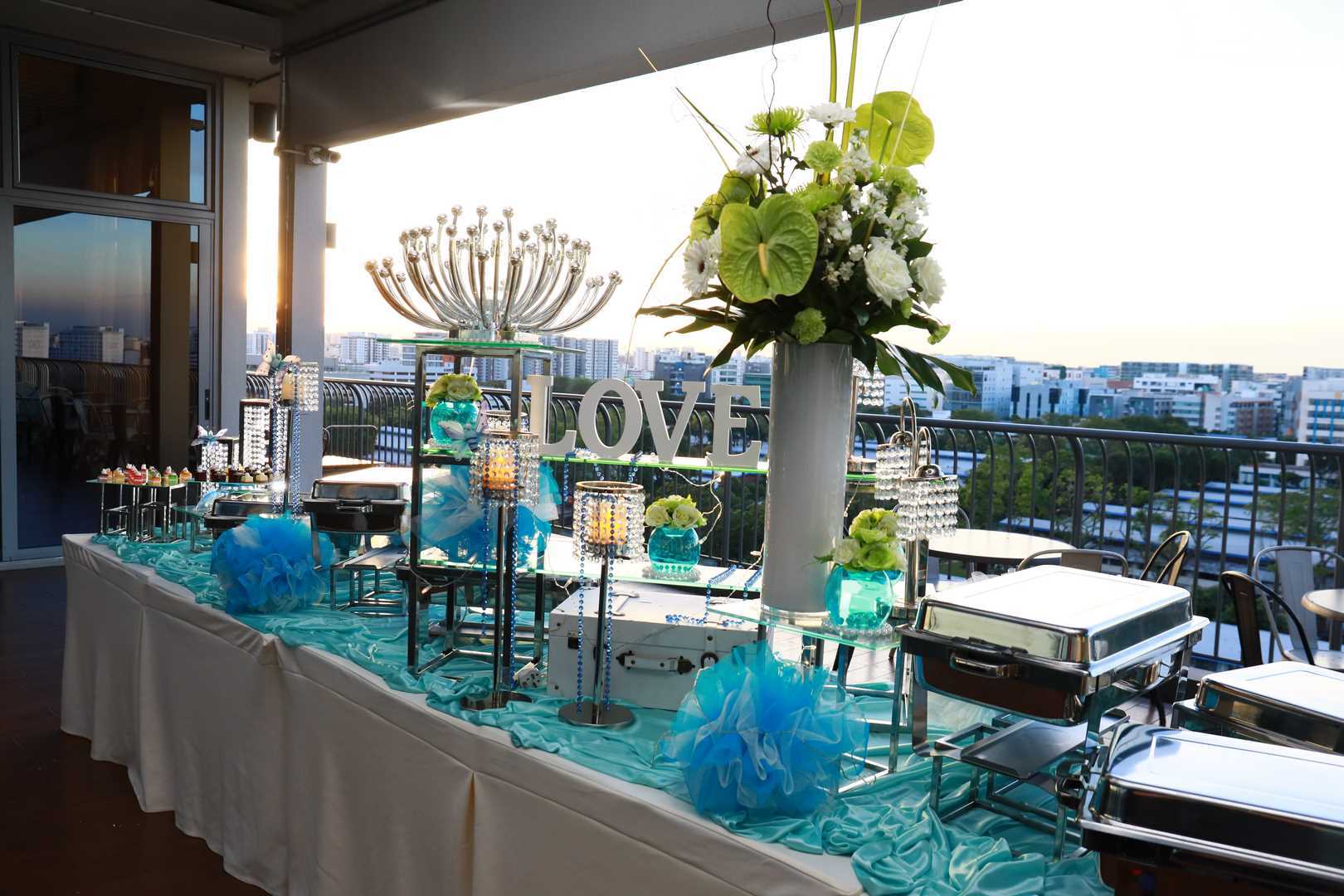 If you have other unique ideas for your big day, just ask the friendly staff. They will be able to help with any unique customisation to both the menu and setup.
---
Plan your dream wedding
---
With so many things to consider when planning a wedding, leaving it in the capable hands of a wedding specialist might be the most sensible thing to do.
Address: 253 Pandan Loop, Singapore 128432
Tel: 6777 7183
Website
Photos taken by Thaddeus Lim.
This post is brought to you by Rasel Catering Singapore.