REVAMP Bar & Kitchen sells lunchtime rice bowls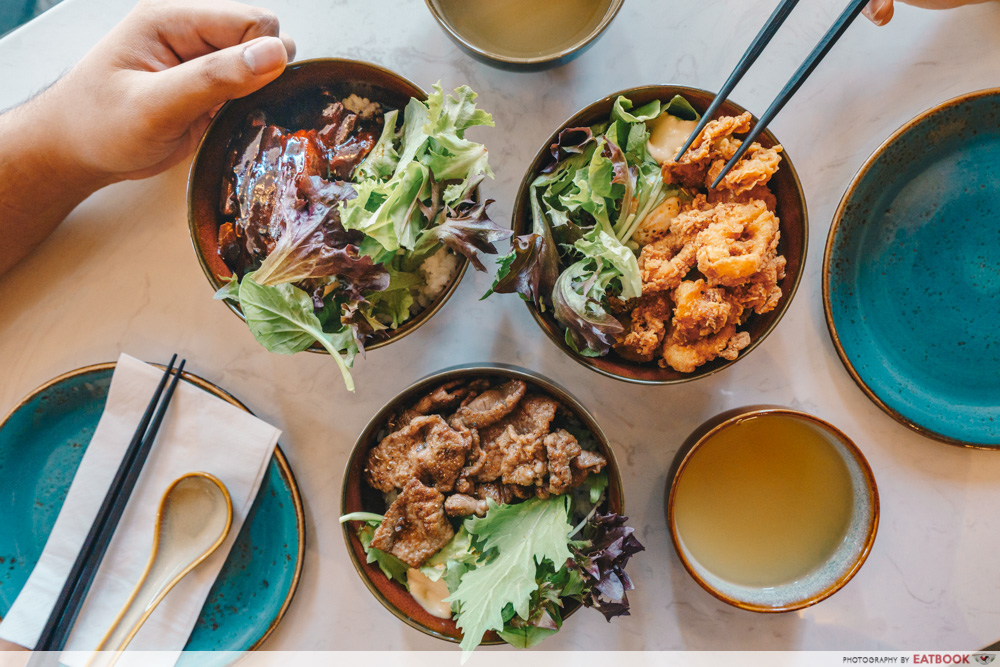 Being a fresh JC graduate and having my meals settled in a school canteen for the large part of my life, I've yet to experience the woes of finding reliable lunch places in the CBD. There's always the trouble of finding somewhere nearby that can satisfy everyone's budgets and preferences. Situated in Tanjong Pagar, REVAMP Bar & Kitchen seems like a rather promising contender with its simple concept of lunchtime rice bowls.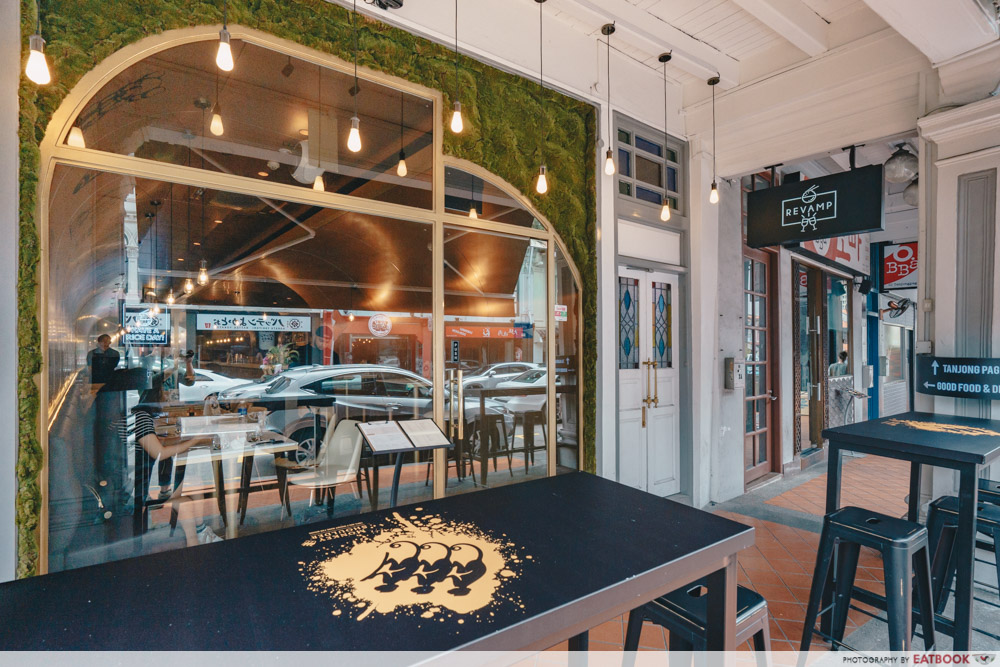 If you walk along the stretch of shophouses on Tanjong Pagar Street, the restaurant-cum-bar stands out with its modern decor. This is thanks to the owner Mr Wong, who is an established interior designer. He was the one behind the design of the restaurant. 
The recently opened REVAMP ambitiously pushes out two different menus in a day: one for lunch and one for dinner. The restaurant stays open till 1am to cater to late-night prowlers looking for supper, and there is also a bar that runs down the length of the entire space.
Food at
REVAMP Bar & Kitchen Review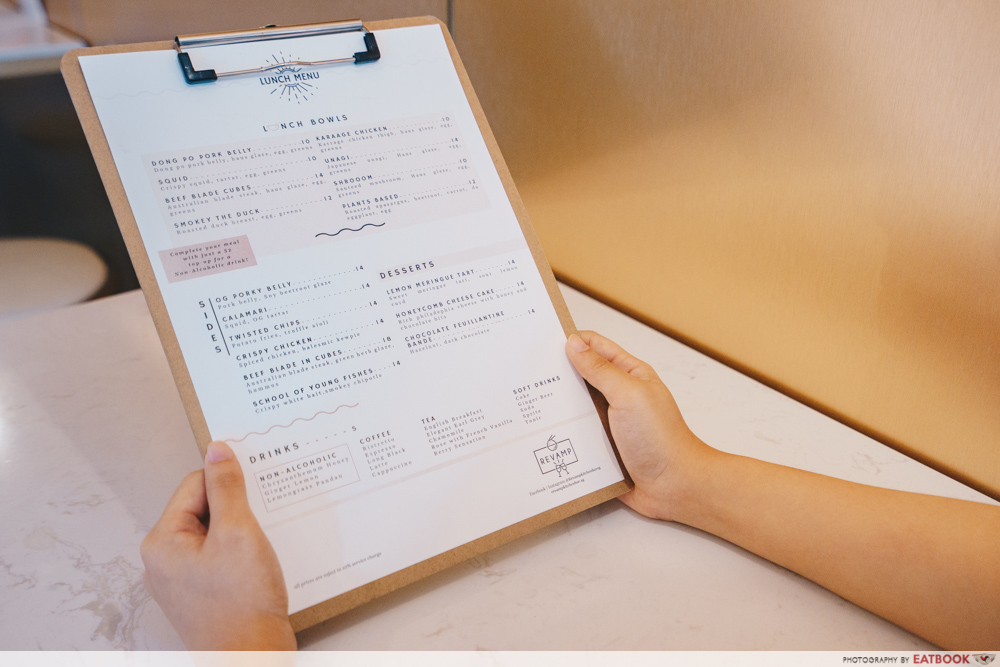 REVAMP's lunch menu is rather straightforward, offering only eight different rice bowls to choose from. Each rice bowls comes topped with a choice of protein, one jiggly sous vide egg, and a handful of crunchy lettuce. Each order is also accompanied by a bowl of warm miso soup.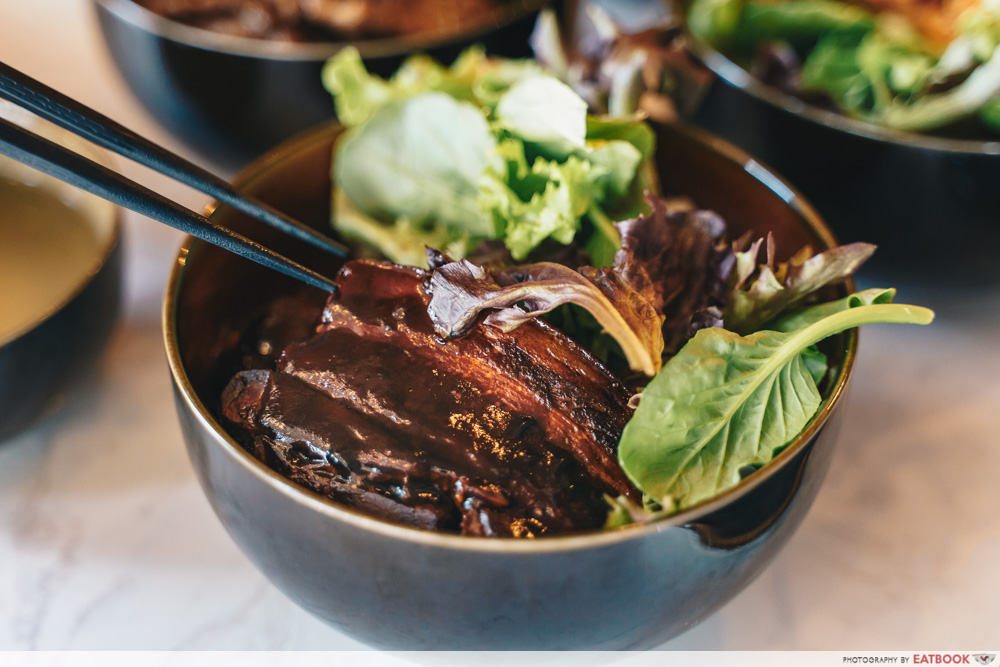 I reached for the dish I was most eager to try, the Dong Po Pork Belly ($10+) bowl. It arrived looking like a dreamy version of my ah ma's lu rou fan. Thick slabs of layered pork belly were laid atop a bed of rice and stacked on one another.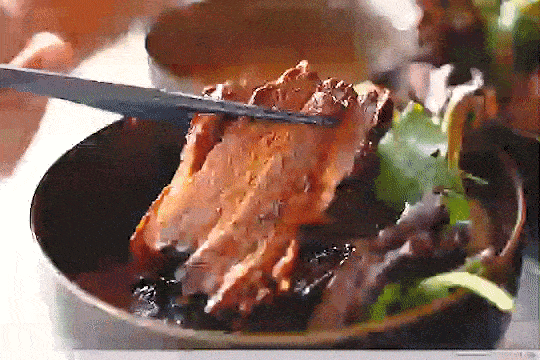 As I lifted up the hefty piece of meat, its dark glaze glistened appetisingly in the light. I could tell that some parts of the pork were lightly charred on the surface. Without holding myself back, I took a large bite of the juicy-looking chunk. Immediately, I tasted the sweet glaze that had been infused into the well-marinated meat, followed by a light smokiness from the char.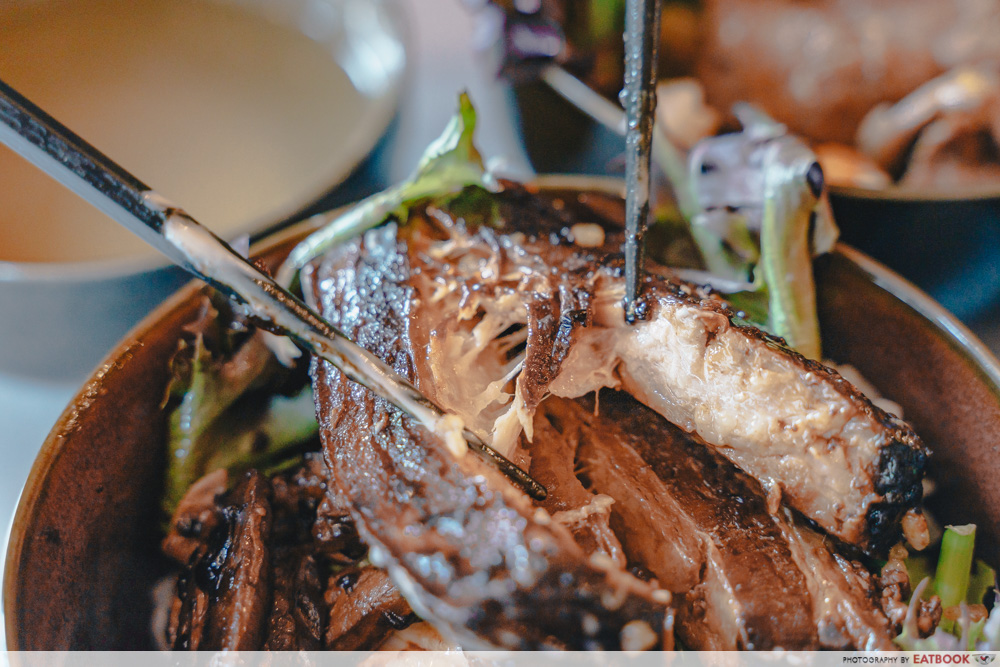 Each layer tore apart satisfyingly with a gentle tug—a definite sign of how tender the meat was. My favourite part was the buttery layer of gelatinous fats which melted right away in my mouth. I would say this rice bowl, along with its generous portion of tender pork belly, was the most 'worth it' at its $10 price tag.
The Squid ($10+) lunch bowl is piled with golden-brown nuggets of fried squid. Each piece is coated with a thick layer of batter, forming a crunchy and biscuity fried outer covering.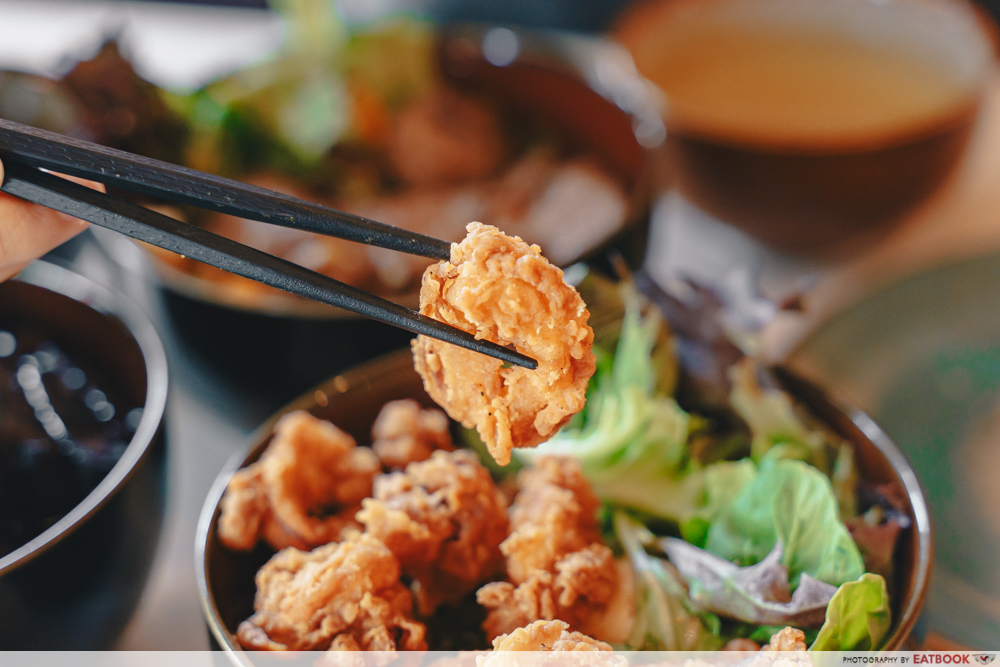 Although the batter contributed to a satisfying initial bite, I couldn't say the same about the texture of the squid. The squid meat was a tough workout for my jaw as it was likely cooked a tad too long, causing it to lose its succulent texture.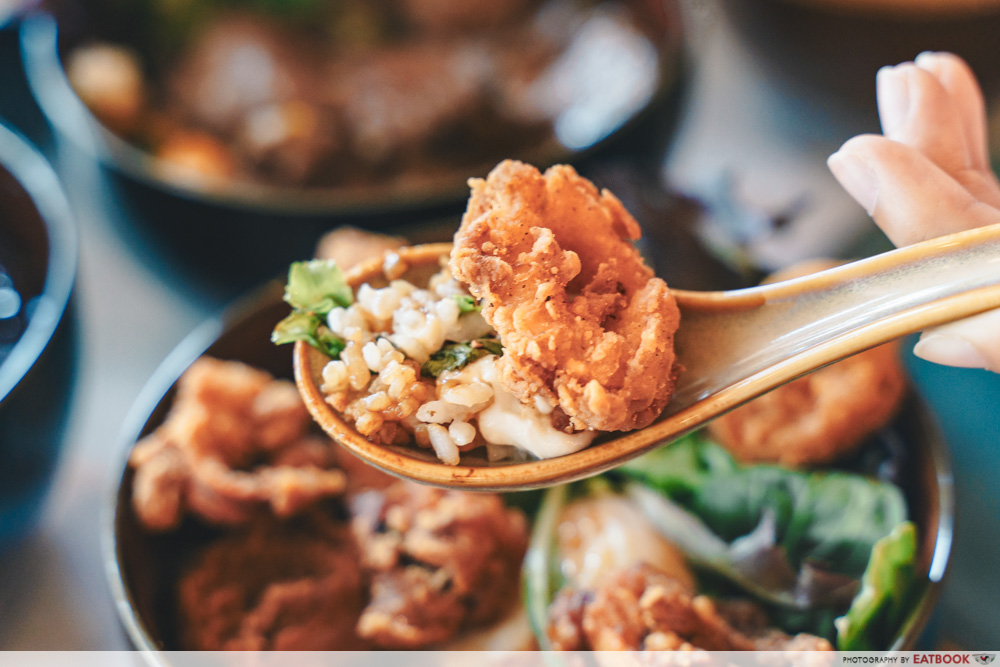 The saving grace of this dish was the tangy house sauce that came in a small dollop on the side. After I mixed the sauce in with the oozy sous vide egg and tried another spoonful, I found that it brought the dish together with its subtle tartness, cutting through the heaviness of the fried batter and rich yolk.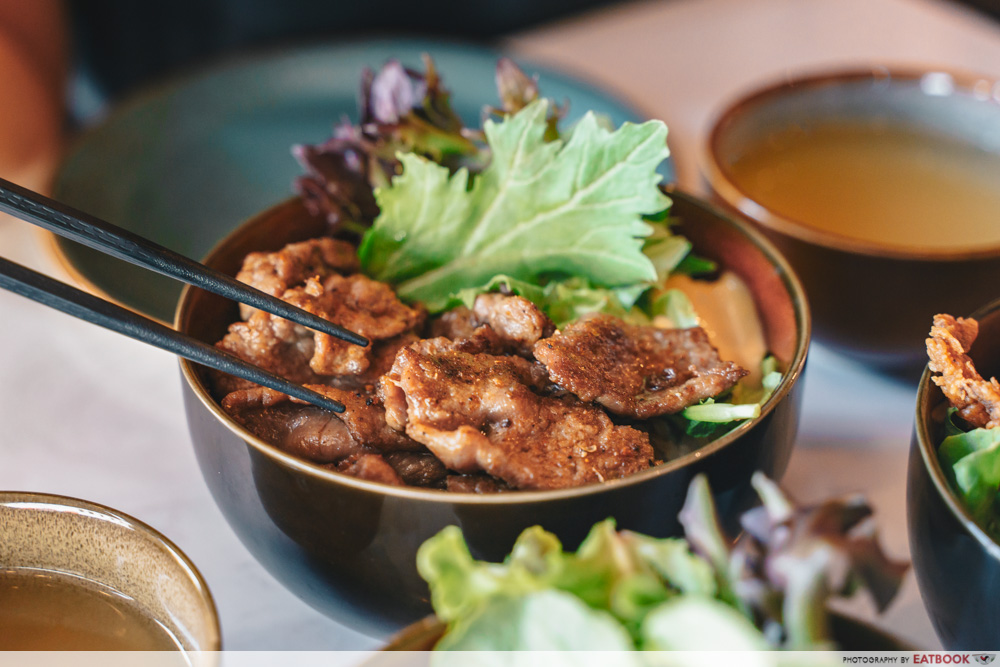 As a lover of red meat, I also picked out a bowl of the Beef Blade Cubes ($14+) to try. From the name of the dish, I envisioned the Australian blade steak to be served in cubes, and was a little taken aback when the bowl came with thin beef slices instead.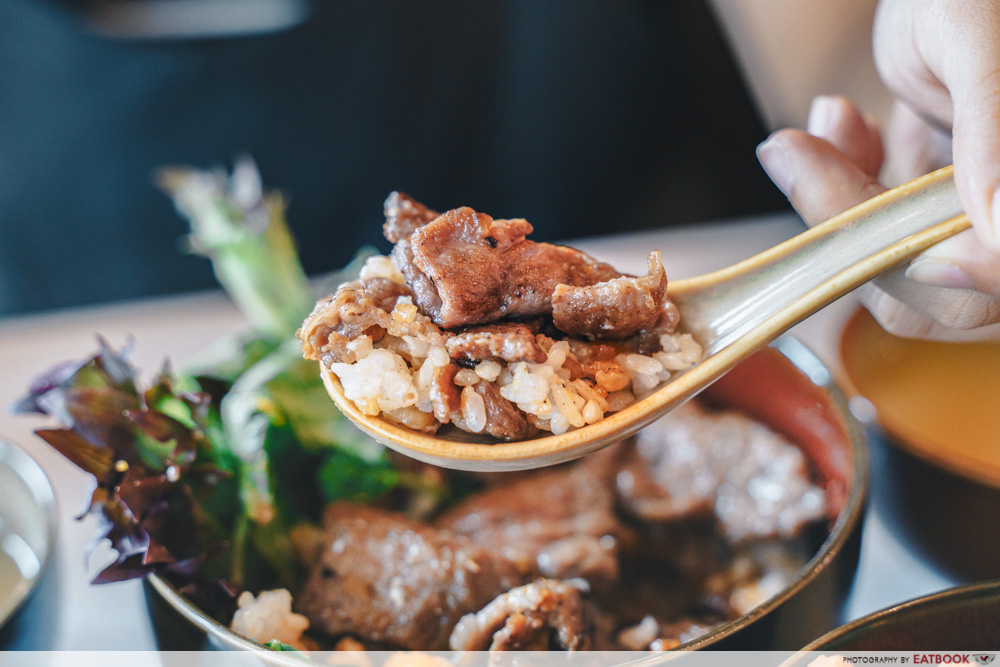 Having the meat cut this way meant that all parts of the beef were evenly cooked to well done, causing it to have a one-dimensional texture. Even so, the pieces of meat were surprisingly not too tough and the finer slices allowed it to soak up the peppery and savoury sauce well. However, I found the sauce to be a bit salty for my taste.
Ambience at REVAMP Bar & Kitchen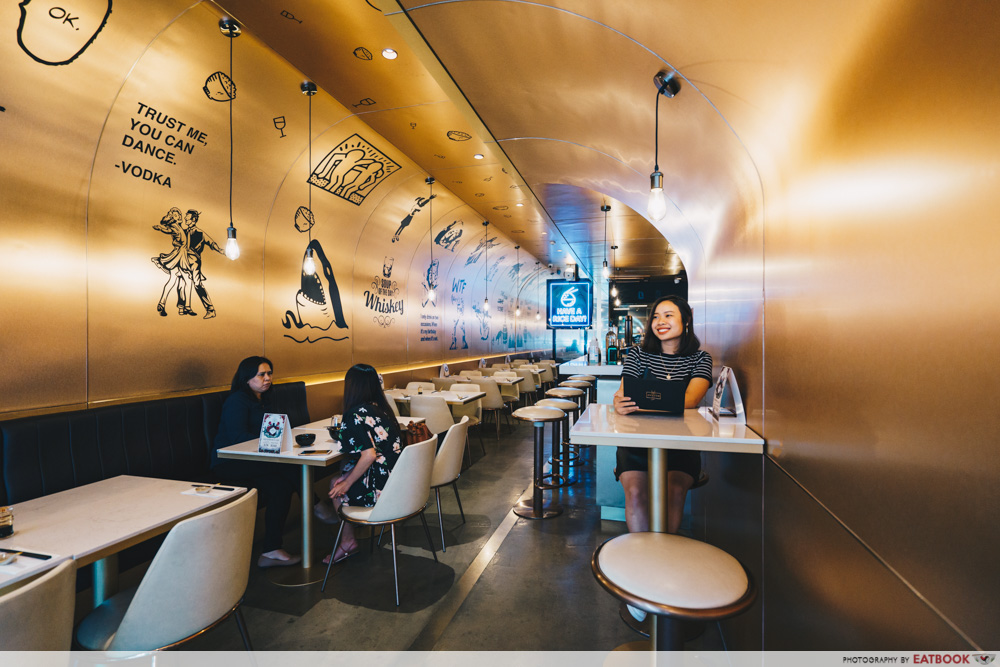 Located along the hip stretch of shophouses lining Tanjong Pagar Street, the restaurant is only a short four-minute walk from Tanjong Pagar MRT Station. The interior of this hole-in-the-wall diner exudes retro vibes with its pop-culture decals, copper-accented design, and naked lightbulbs hanging from the ceiling. 
With an impressive open bar occupying half the floor space, the humbly sized restaurant is a better fit for small groups and solo diners. If you're looking for a more spacious option, they also have tables set up outside for al fresco dining.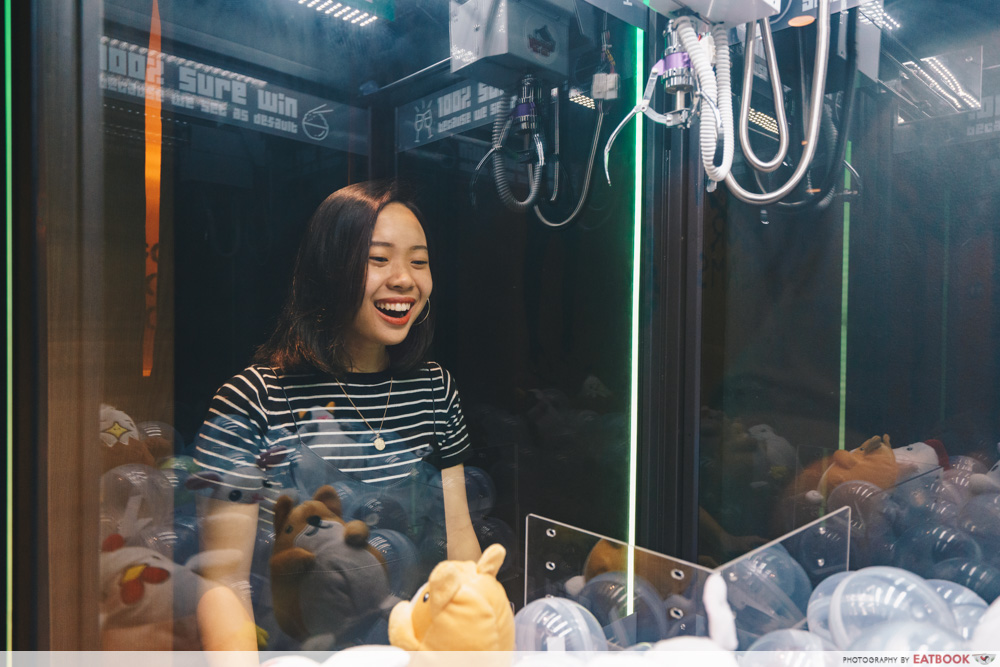 Hidden at the back of the restaurant is something you wouldn't expect to find in the sleek bar and diner. A life-sized claw machine is embellished with glowing neon lights and positioned in a dim corner of the diner to complete its arcade-like look. Just slot in a coin to score yourself some plushies, free menu items, and meal discounts off the sure-win 'Kiap Kiap' machine.
The verdict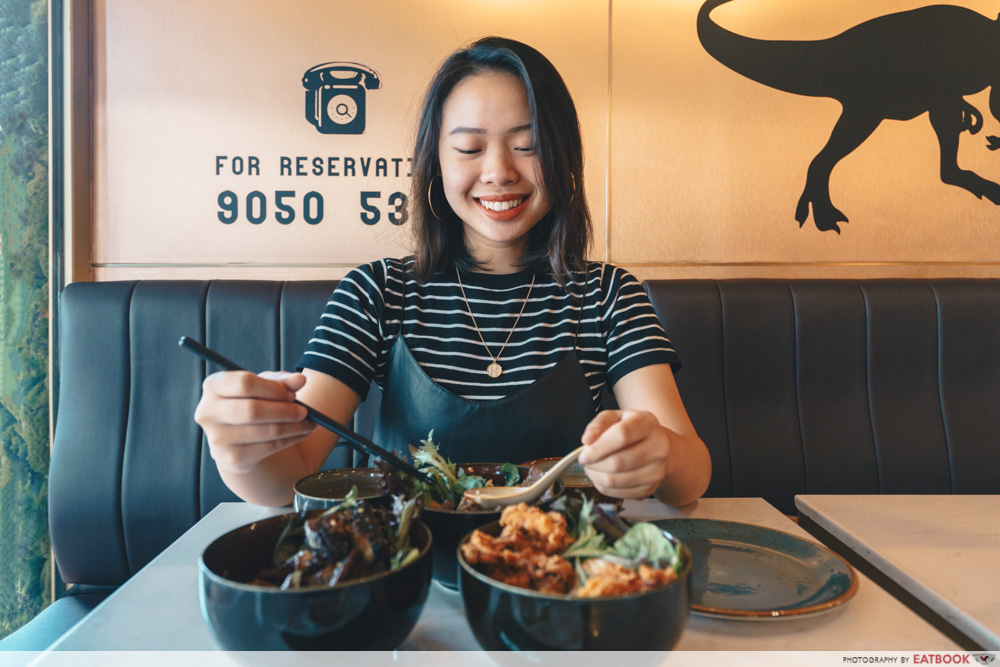 Overall, though the food prices were rather standard for a restaurant found in the CBD, what set REVAMP Bar & Kitchen apart was its modern take on classic Asian dishes. Should I ever visit in the future, I'll probably be because of its retro-aesthetic interior, which is great for lunch get-togethers or late night supper and drinks. 
If you're up for more affordable food in town, check out our review of Buta Kabayaki for restaurant-quality Japanese pork rice bowls. Or, if you're in the area looking for good food, check out our list of Tanjong Pagar Plaza food!
10 Tanjong Pagar Plaza Food Stalls For Halal Ramen And Thai Food
Address: 61 Tanjong Pagar Road, Singapore 088482
Opening hours: Mon-Thurs 11am to 1am, Fri-Sat 11am to 2am, Sun 11am to 6pm
Tel: 9050 5303
Website
REVAMP Bar & Kitchen is not a halal-certified eatery.
Photos taken by Lance Leoh
This is an independent review by Eatbook.sg.

REVAMP Bar & Kitchen
Summary
Pros
– Decent portions
– Nice ambience
– No service charge
Cons
– Rubbery squid
Recommended dishes: Dong Po Pork Belly ($10+)
Opening hours: Mon-Thurs 11am to 1am, Fri-Sat 11am to 2am, Sun 11am to 6pm
Address: 61 Tanjong Pagar Road, Singapore 088482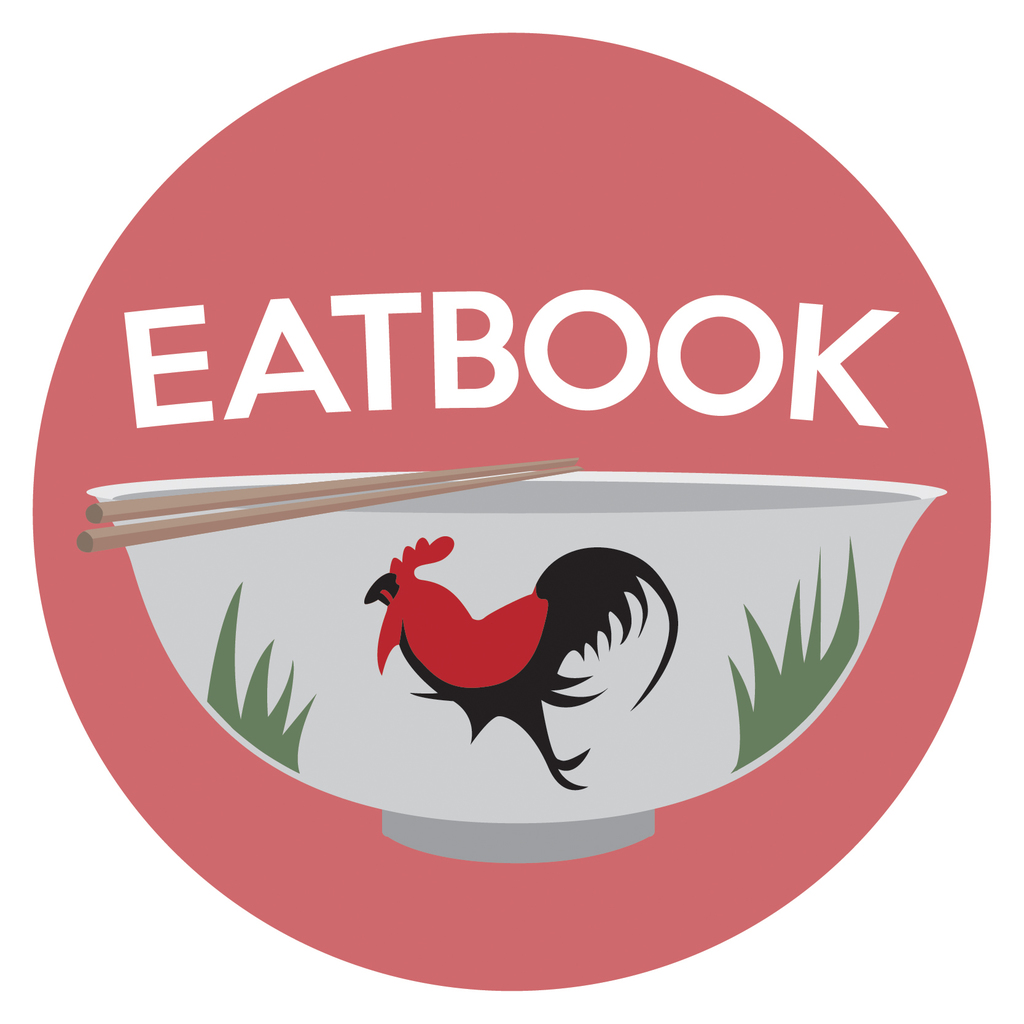 Drop us your email so you won't miss the latest news.