Robertson Walk has family-friendly eateries and more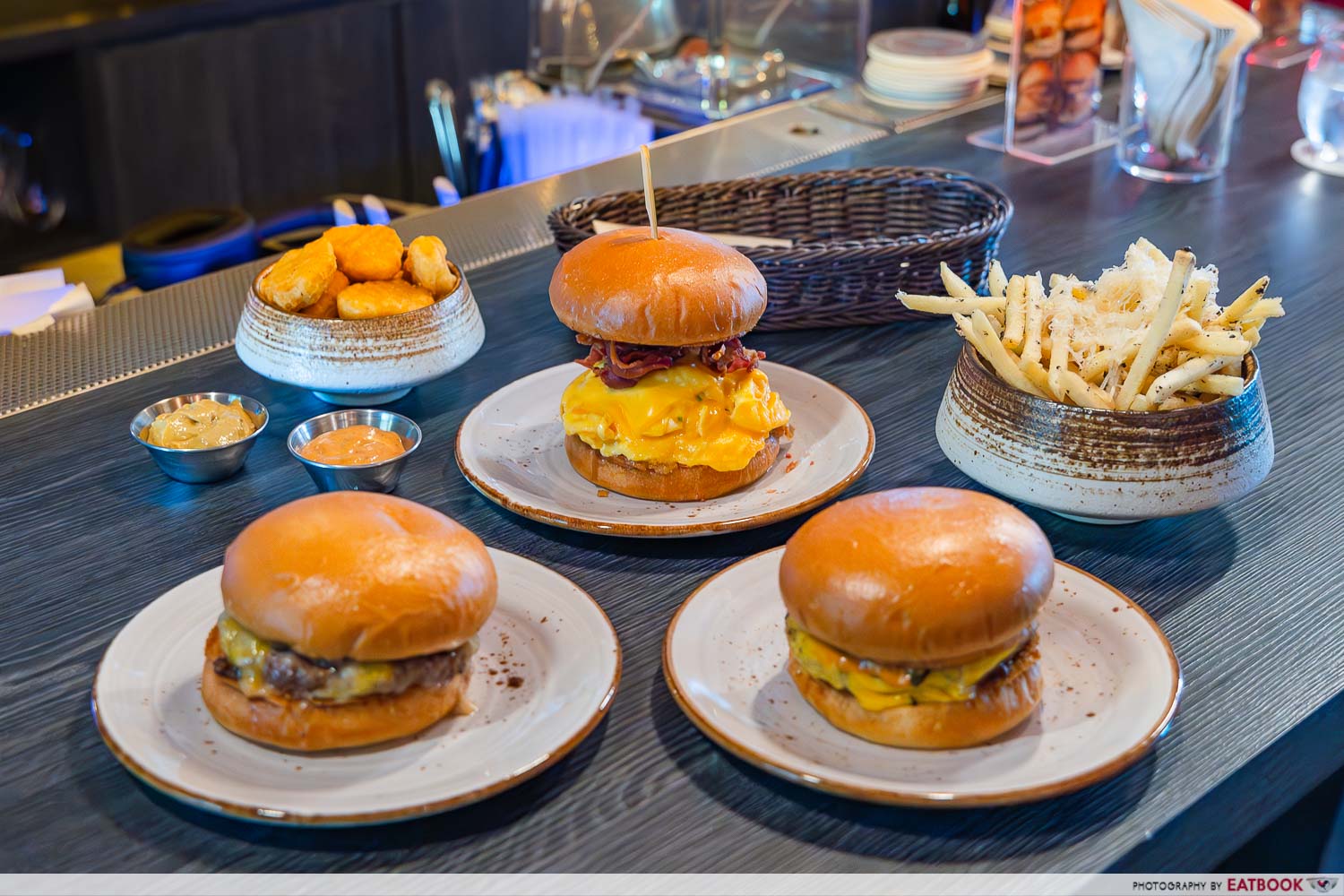 Just a five-minute walk from Fort Canning MRT Station is Robertson Walk, which, if you've not ventured there before, is a whole little enclave removed from the bustle of Clarke Quay just down the road.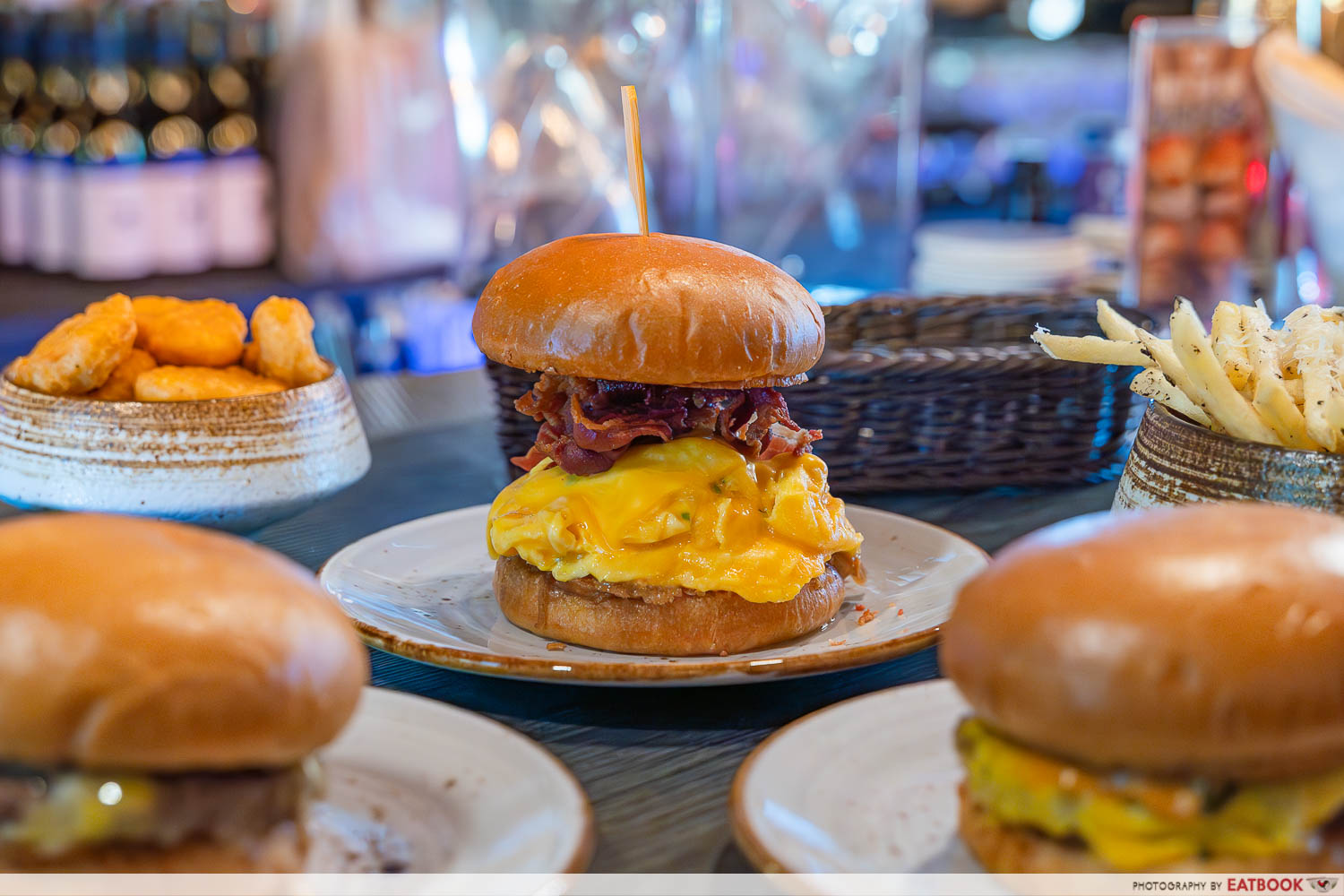 Right off the bat, there's Wildfire Burgers, which you'll see as you turn into the drop-off point at Robertson Walk. Founded in 2015, the Singaporean burger brand only opened at Robertson Walk earlier this year, with a full menu spanning milkshakes, sides, as well as their signature fried chicken and burgers.
The Eggstarter ($12++) is an all-day breakfast burger, which you can choose to add Crispy Bacon ($3++) or Spam ($4++) to. These are stacked on buttery scrambled eggs, with American cheese, caramelised onion, and chipotle mayo between toasted brioche buns.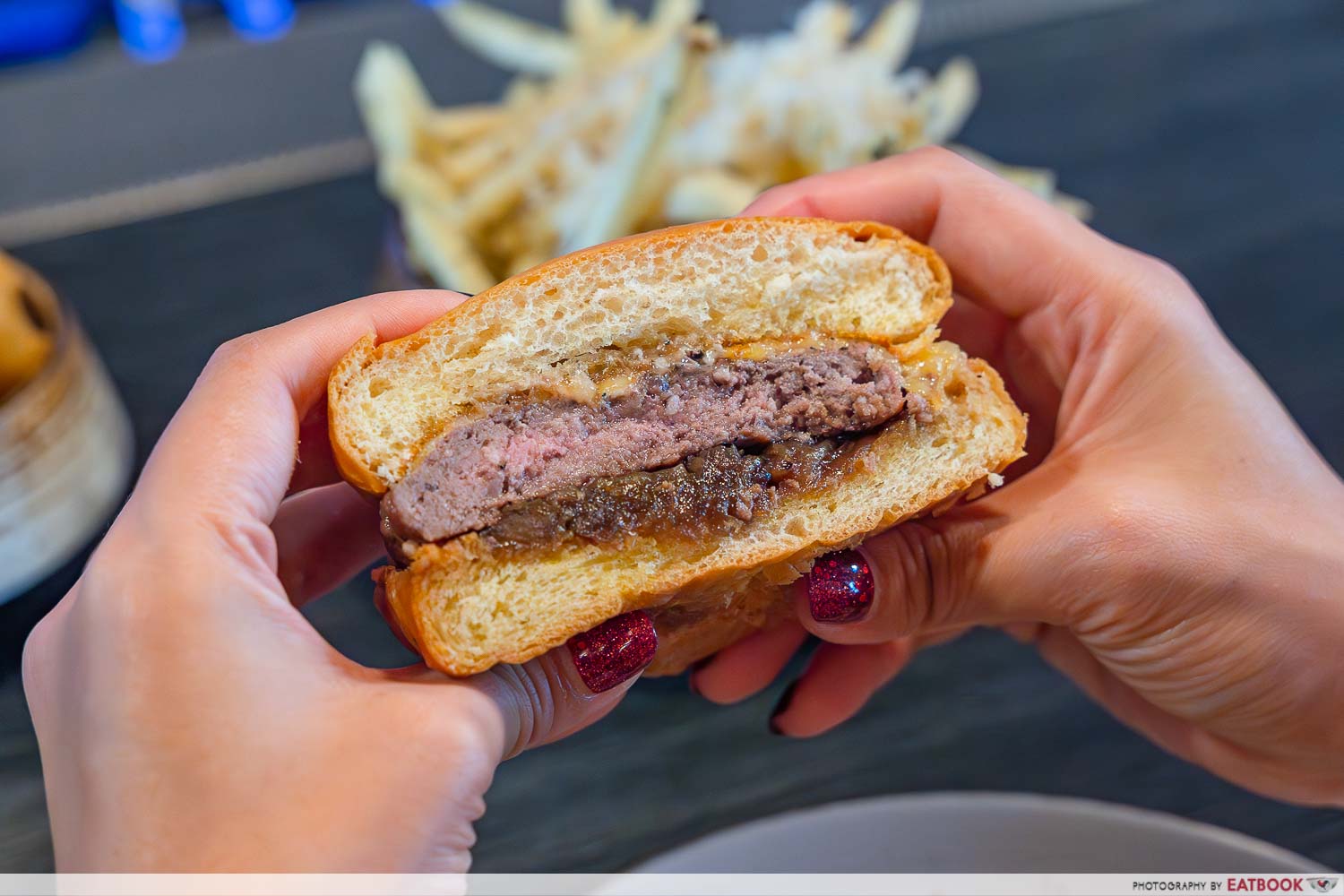 Otherwise, stick to the classics with Classic 001 Cheeseburger (from $13++), which sees a basic Black Angus  patty with their secret master sauce, caramelised onions, gherkins, and more. For something  more indulgent, consider the "Four Cheese" Burger (from $18++), with cheddar, mozzarella, Colby Jack, and Monterey Jack cheeses.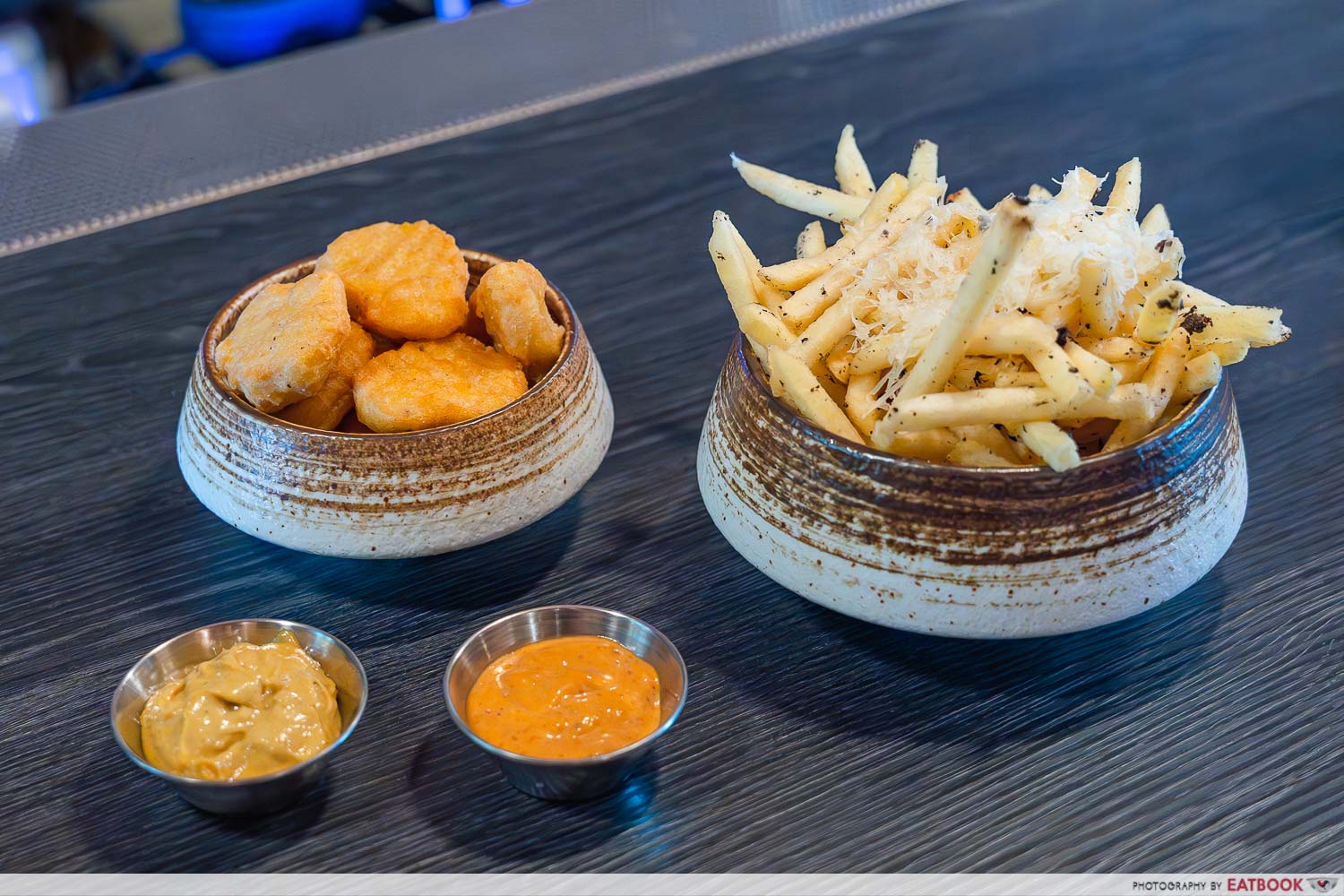 Kids will love their Golden Chicken Nuggets (from $8++), paired with your choice of Japanese Curry Mayo, Nacho Cheese, or Chipotle Mayo. If you're a fries on the side sort, give their Truffled Parmesan Fries ($12++) a shot━it's decadent and best enjoyed hot.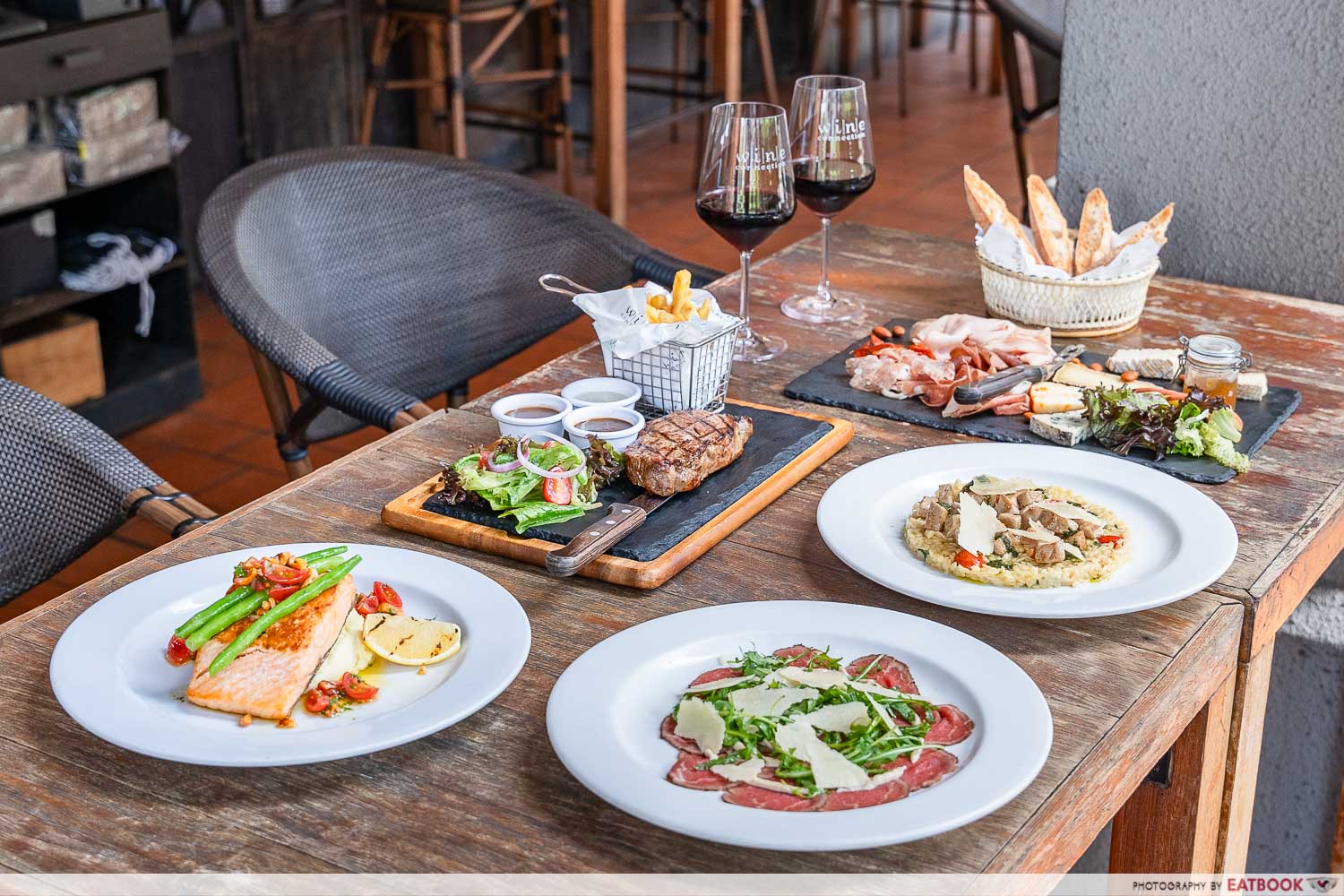 Wine-loving parents should put Wine Connection Tapas Bar & Bistro on their list for family-friendly mains and an exhaustive selection of tipples. Come on weekdays before 5pm to enjoy their set lunch deals at $16.90++, inclusive of a pizza or pasta, with a salad, soft drink or juice! A top-up of $6++ helps you stave off midday blues with a glass of red or white wine too.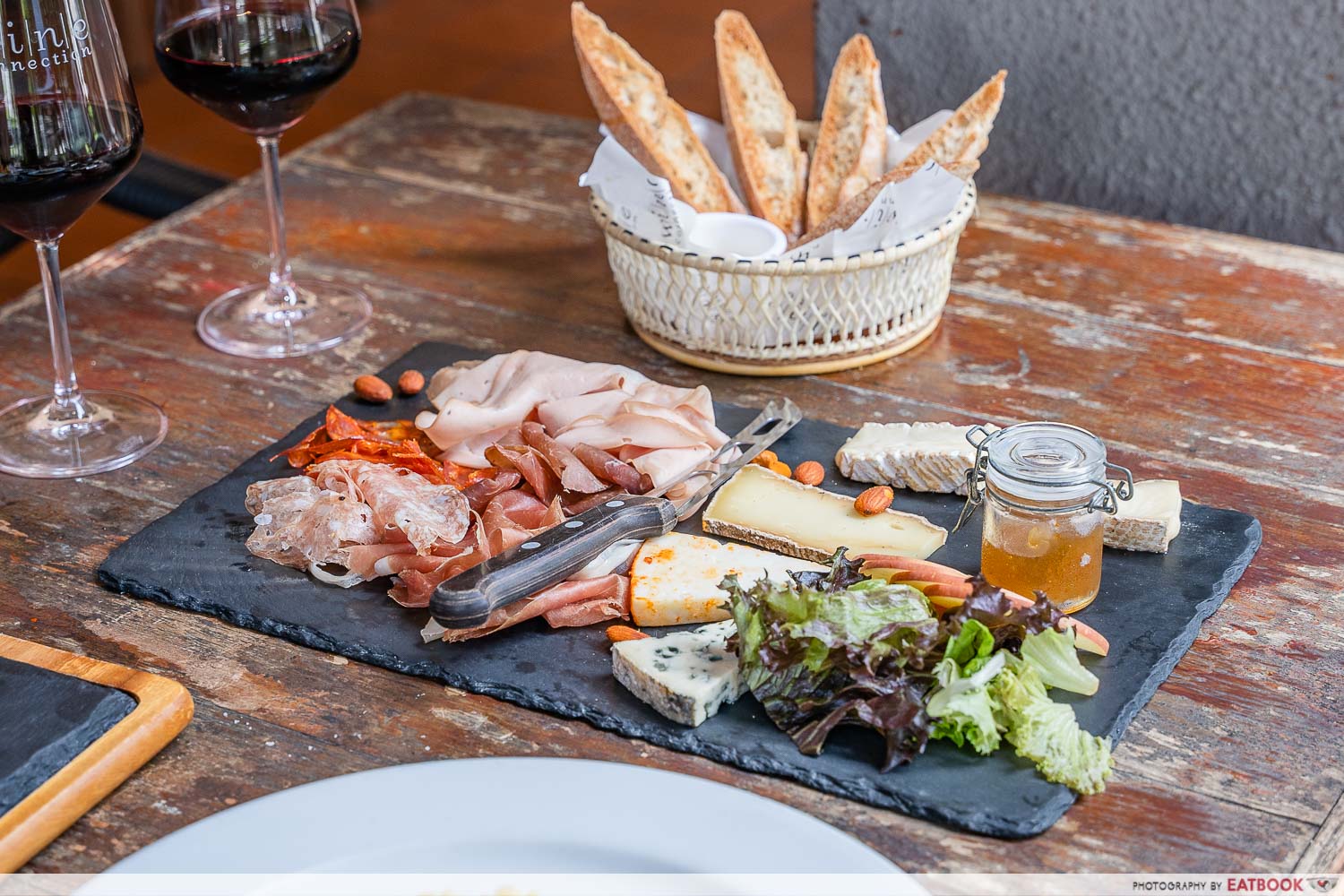 If you're here for the nibbles, consider a Mixed Platter ($46++), comprising European cheeses imported weekly from the continent. These include Tomme de Savoie, Saint Nectaire, Brie de Meaux, Spanish Paprika Goat Cheese and Bleu d'Auvergne, served with nuts and preserves. Then there's the cold cuts, of which you get pave, mortadella, pave, chorizo, and bresaola.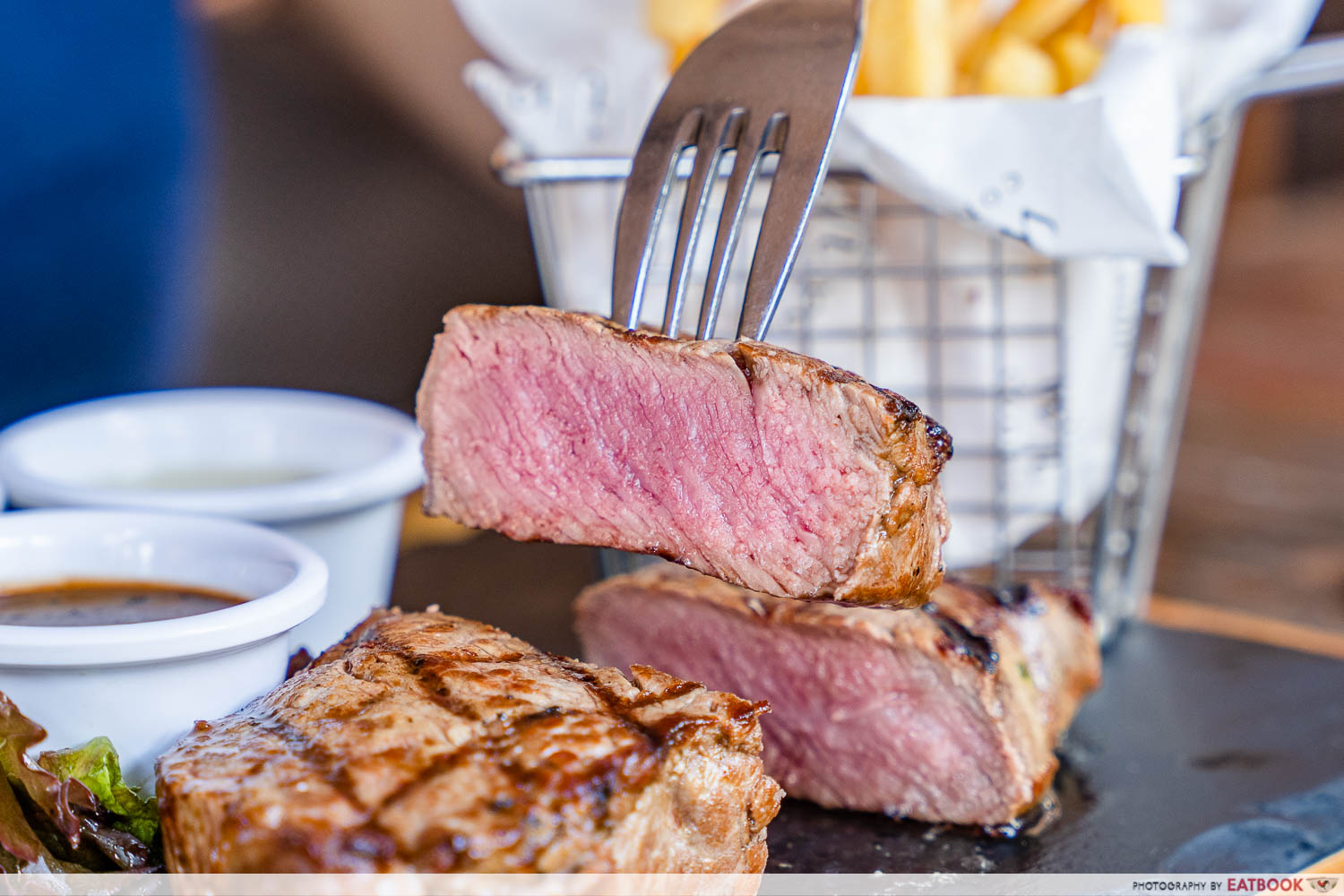 If you're looking for something more hearty, check out Wine Connection's Black Angus Sirloin ($29++): this 250g steak is a 150-day grain-fed cut, with a marbling score of 2+. It's served with salad, fries, and your choice of sauce.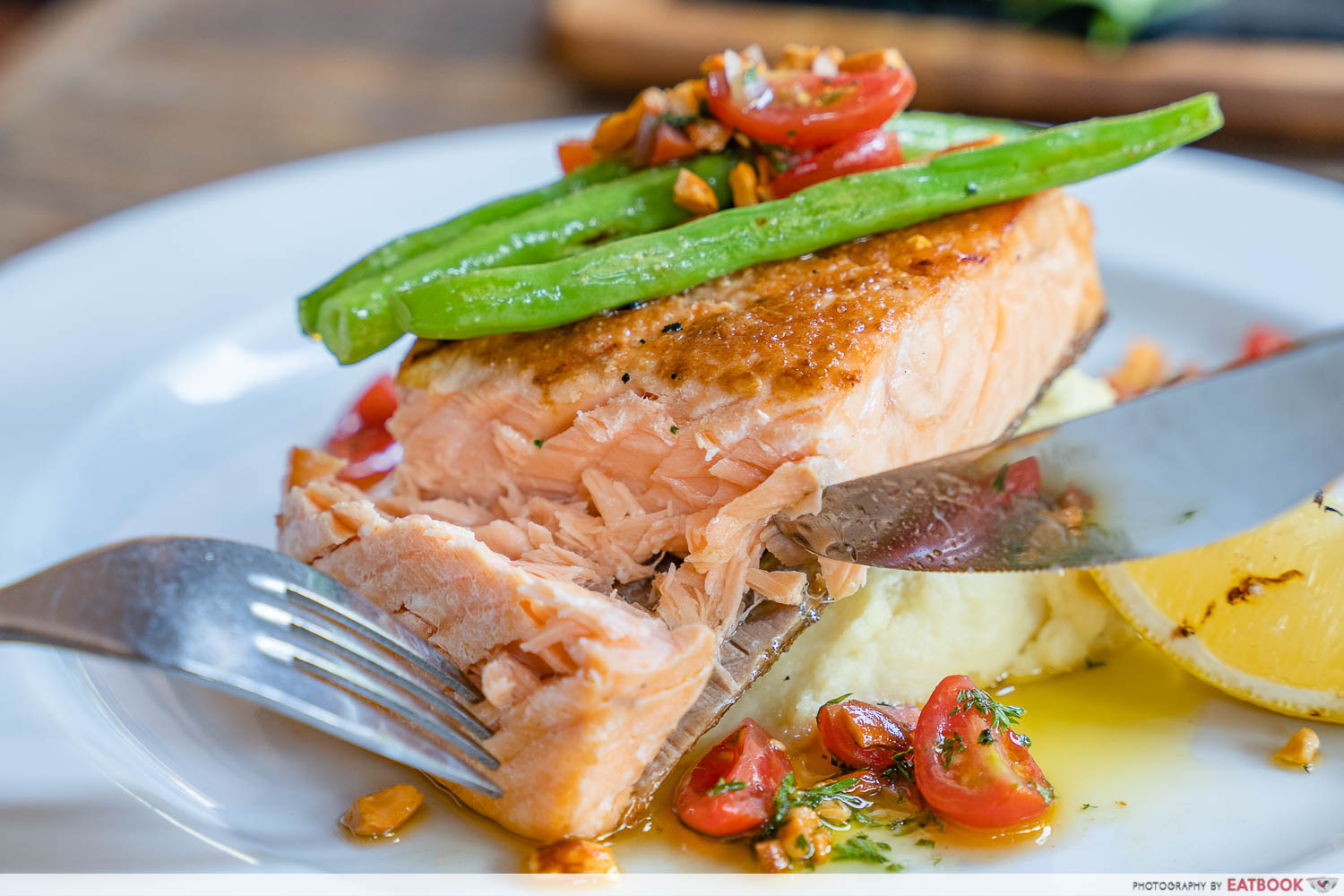 Alternatively, they've also got Salmon Fillet ($32++) on the menu, served with a buttery smooth mash and salsa verde.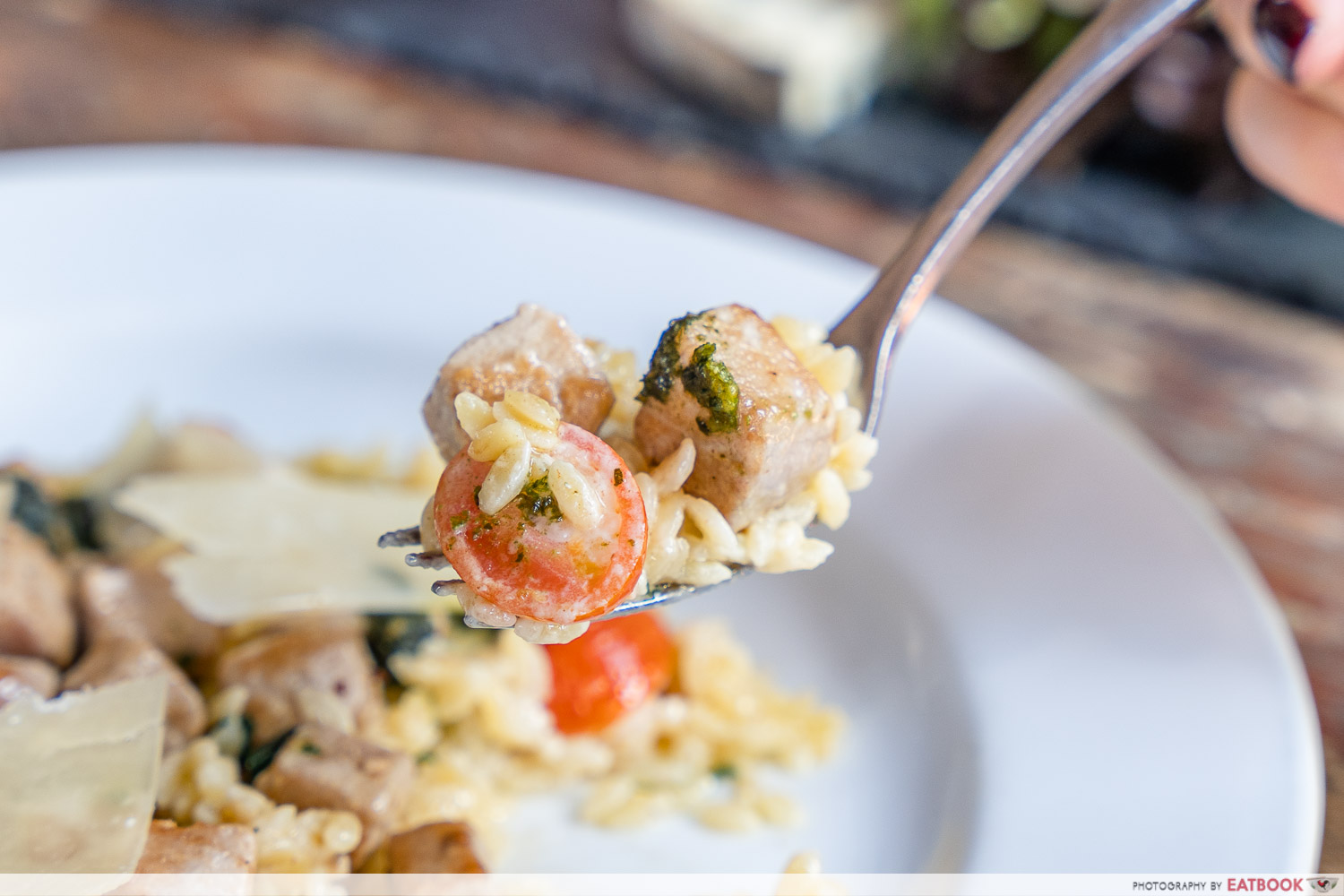 The Tuna Risoni ($19++) is a good option too; starring pan-seared tuna chunks on a bed of rice-shaped pasta that's been cooked like a risotto so every grain is infused with flavour.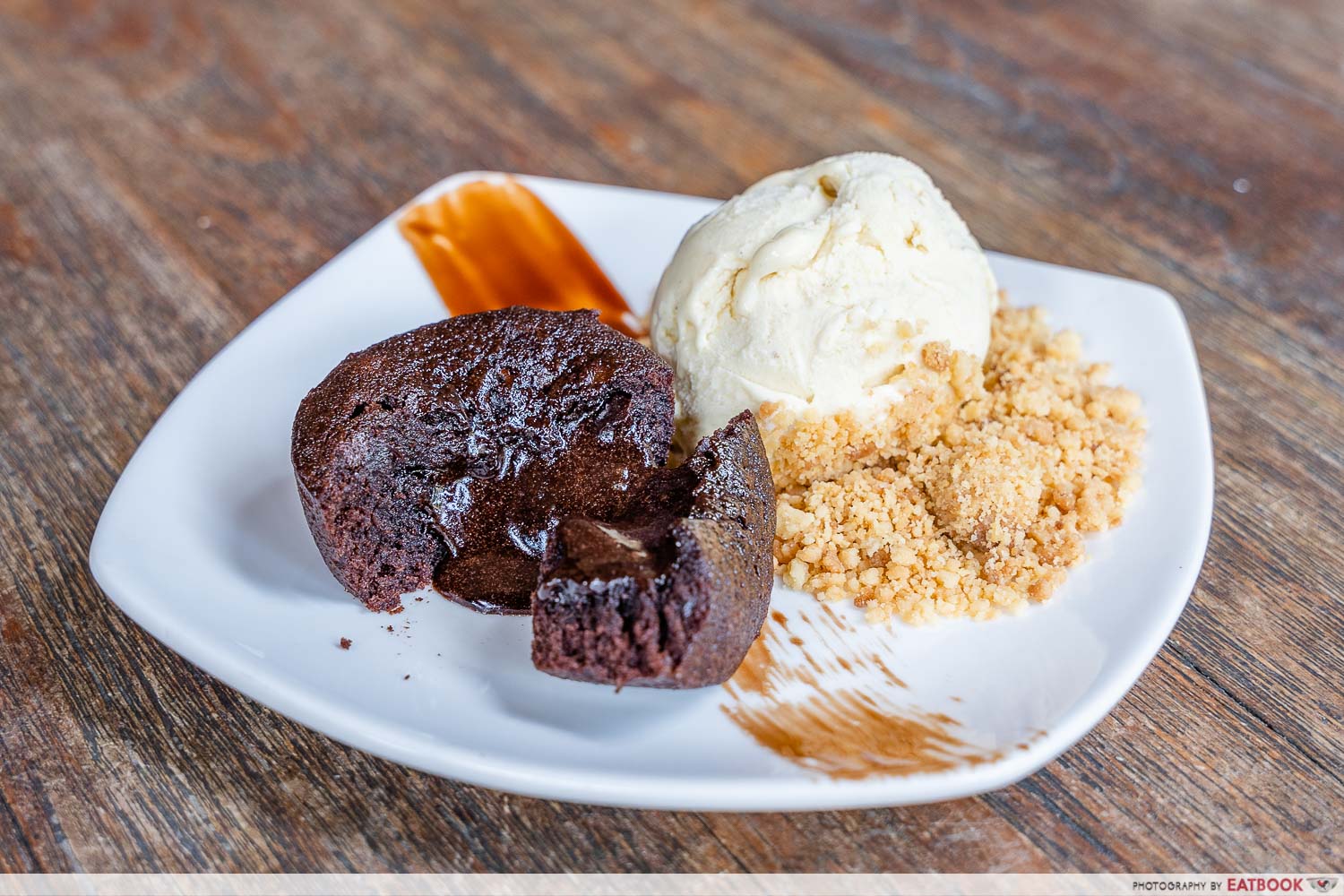 Kids and adults alike will adore their Chocolate Lava Cake ($12++), served with vanilla ice cream and lots of crumbles. If you're here before 5pm, check out their dessert and coffee set, which goes for just $9.90++!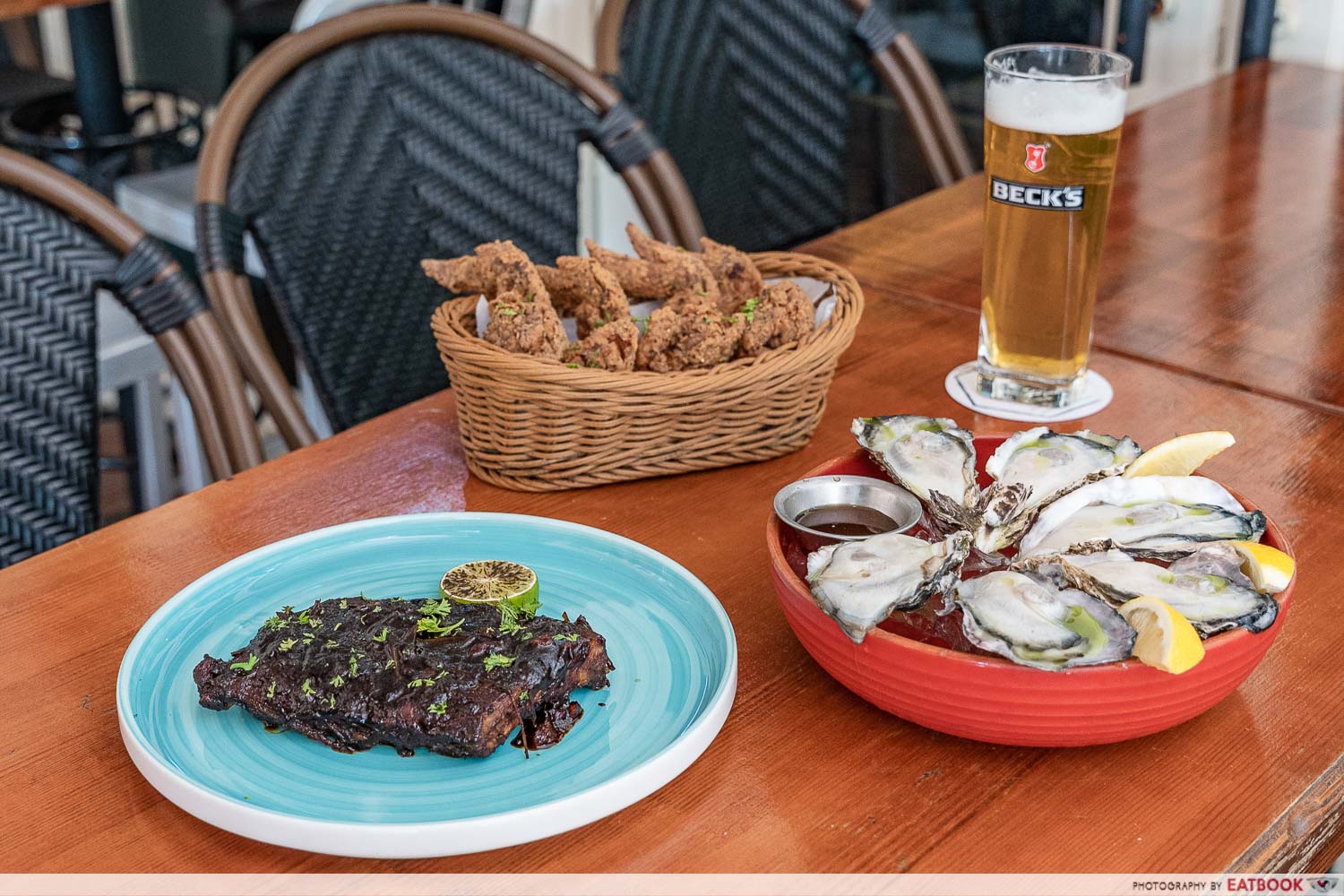 Head to Thunderbirds Sports Bistro if you're on the lookout for a casual hangout with good food. What's more, they're running a 1-for-1 promotion on Albens Cider, priced at $10 nett!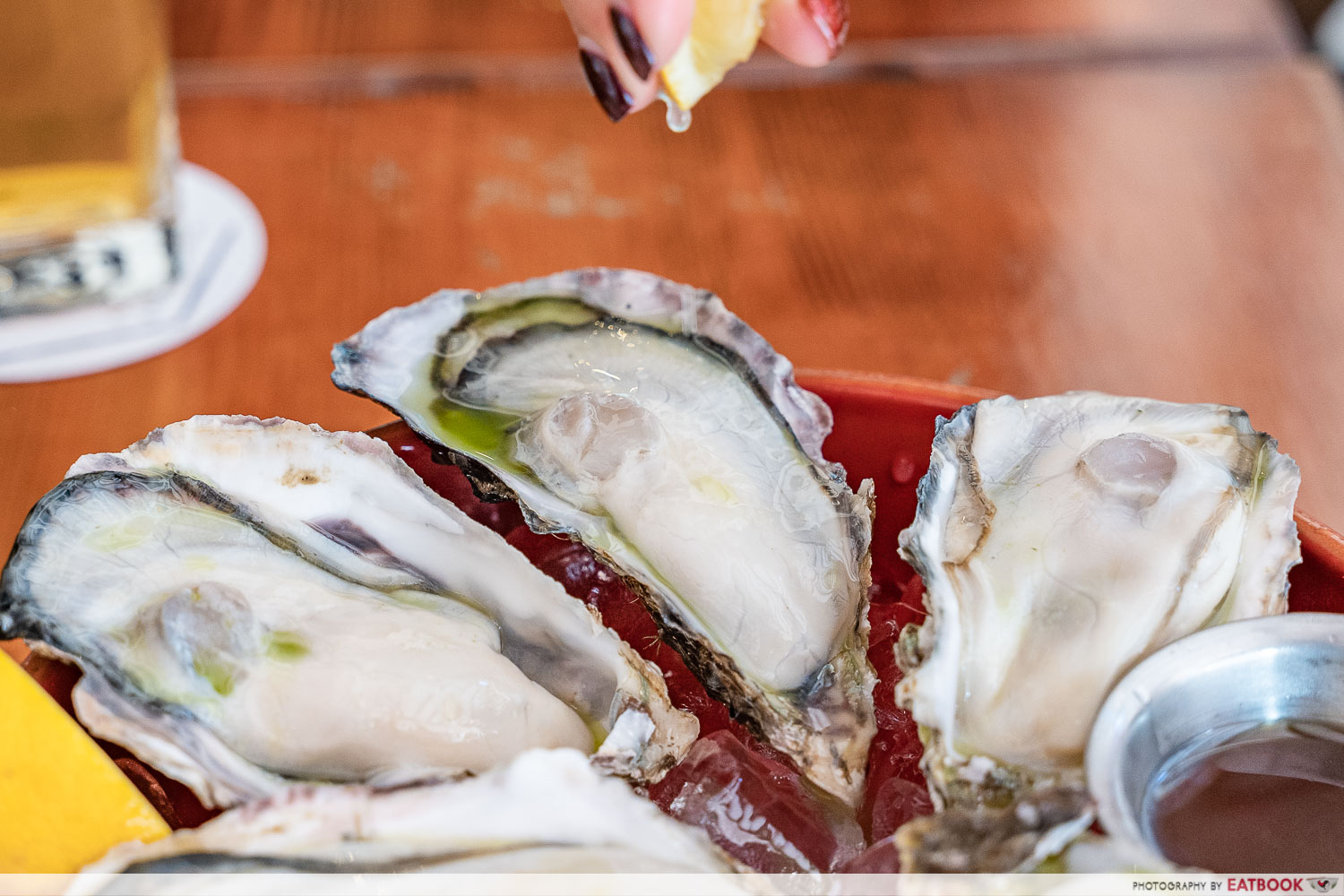 You can't go wrong with Jumbo Miyagi Oyster ($22++/$40++); the huge, meaty and creamy shellfish come with a yuzu ponzu dressing on the side, and basil-infused oil for that light herbaceous bump of flavour.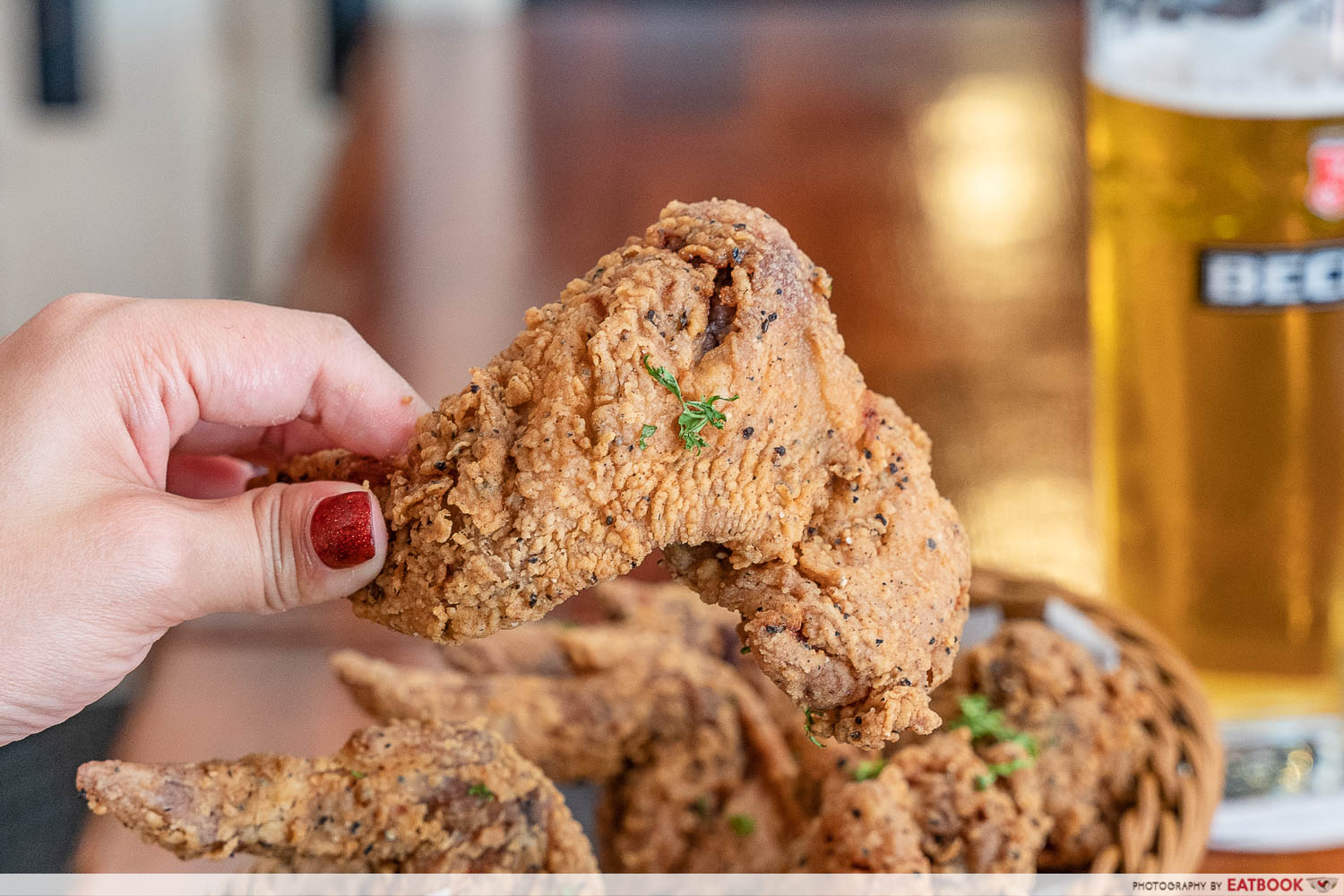 Go for gold with Thunderbird's Signature Fried Wings ($17++): served piping hot and utterly crisp, these wings are prepared with a house recipe, and are a great match with cold beer and a rousing match on the tele.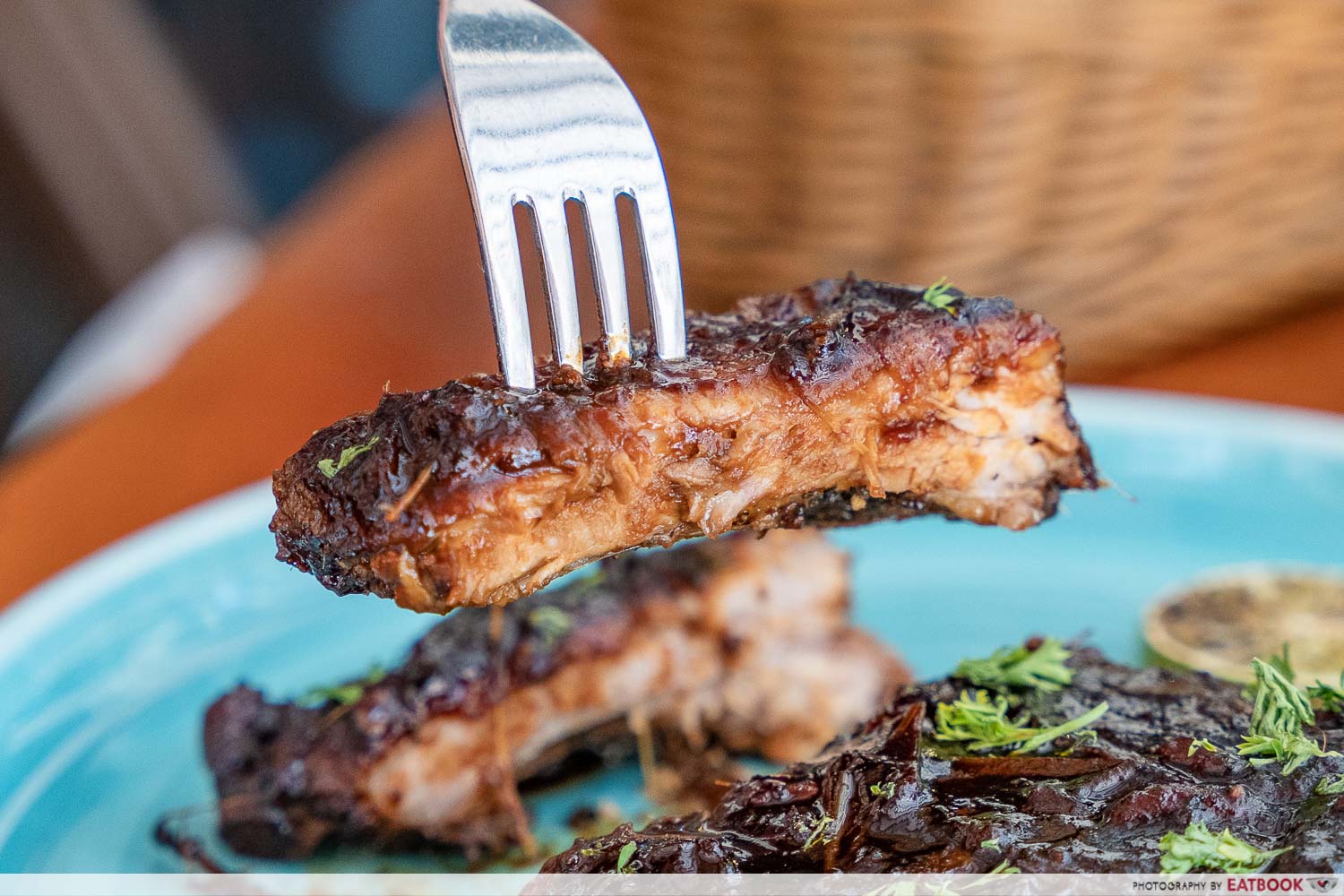 Another meat option to consider is Warung BBQ Pork Rib ($21++) for Balinese-style baby back ribs. Complete the experience with juice of charred lime for a tangy, smoky boost.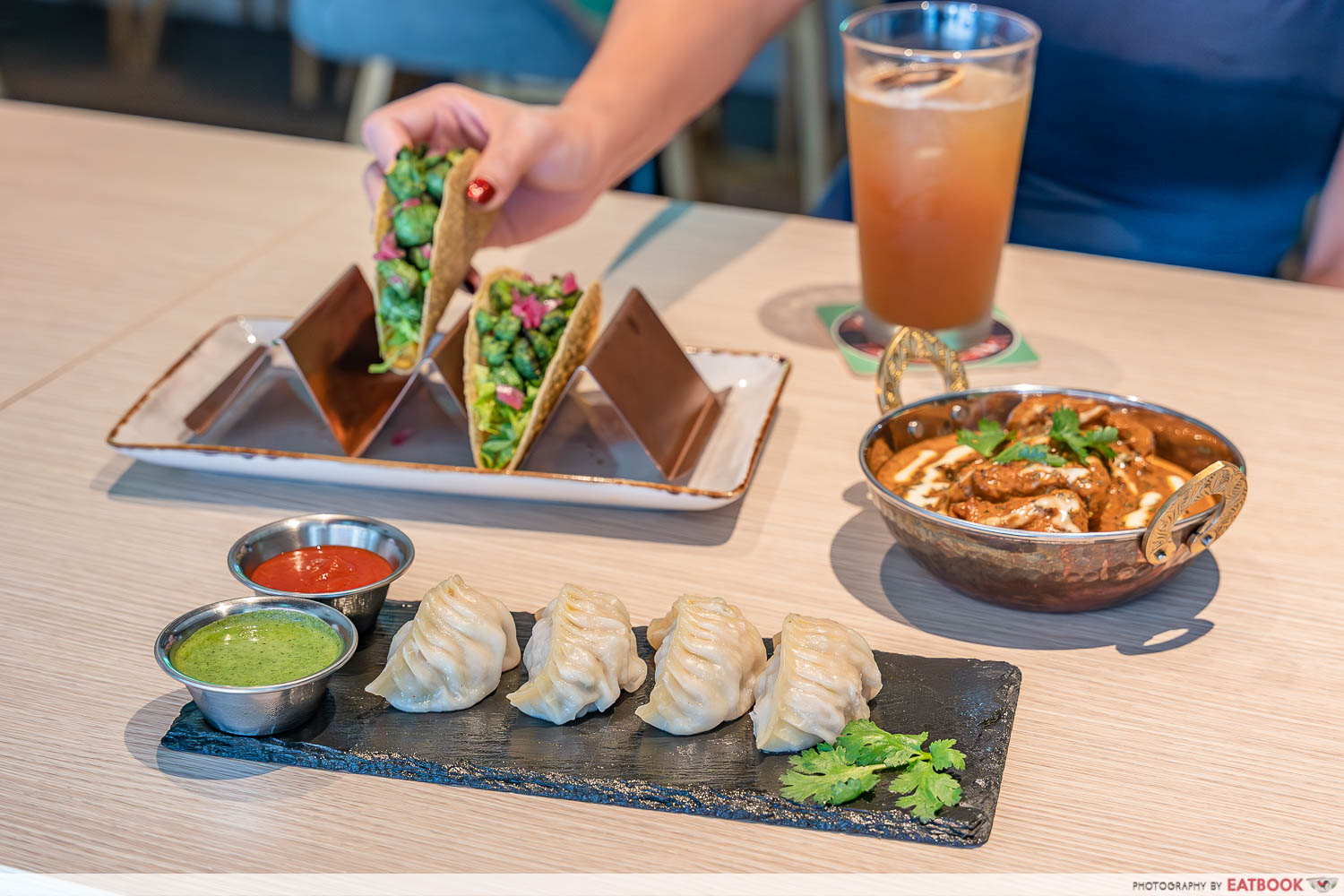 Just next door is Darjeeling Social, a relatively new addition to the Robertson Walk fray. The resto serves up Indian-Mexican dishes paired with a selection of 12 craft beers on tap, along with cocktails and coolers. Sports fans will love the huge screens they've got set up for match day, and Happy Hour everyday!.
There's Hariyali Fish Crispy Tacos ($18++), a green fish tikka that's given its verdant colour from a blend of herbs and spices, paired with pickled onions in a taco shell.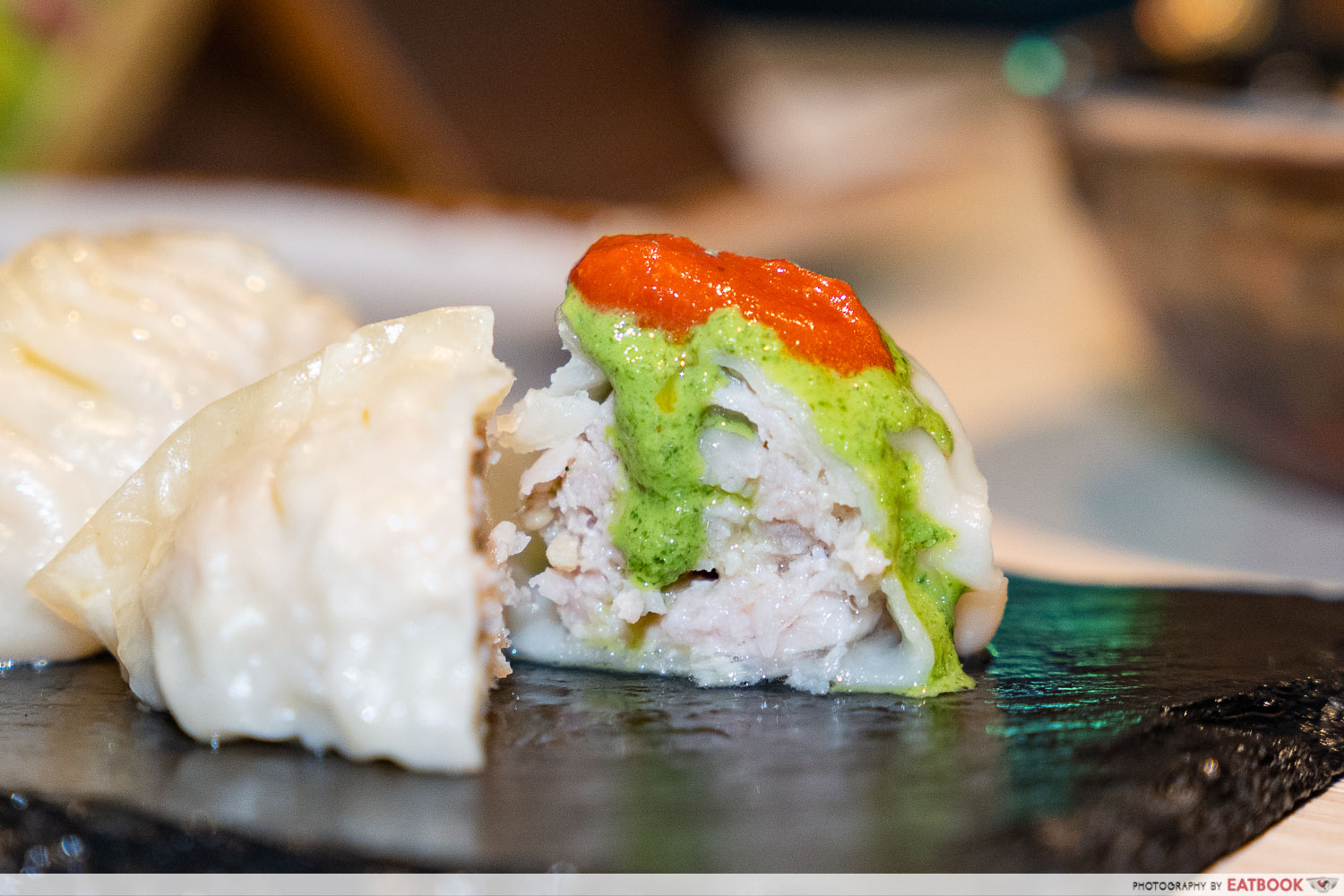 Order their Darjeeling Social Signature Momo ($15++) too. A momo is a steamed dumpling that originates from the Himalayas. It's served with a duo of dips, one of which is fiery red and as spicy as it looks.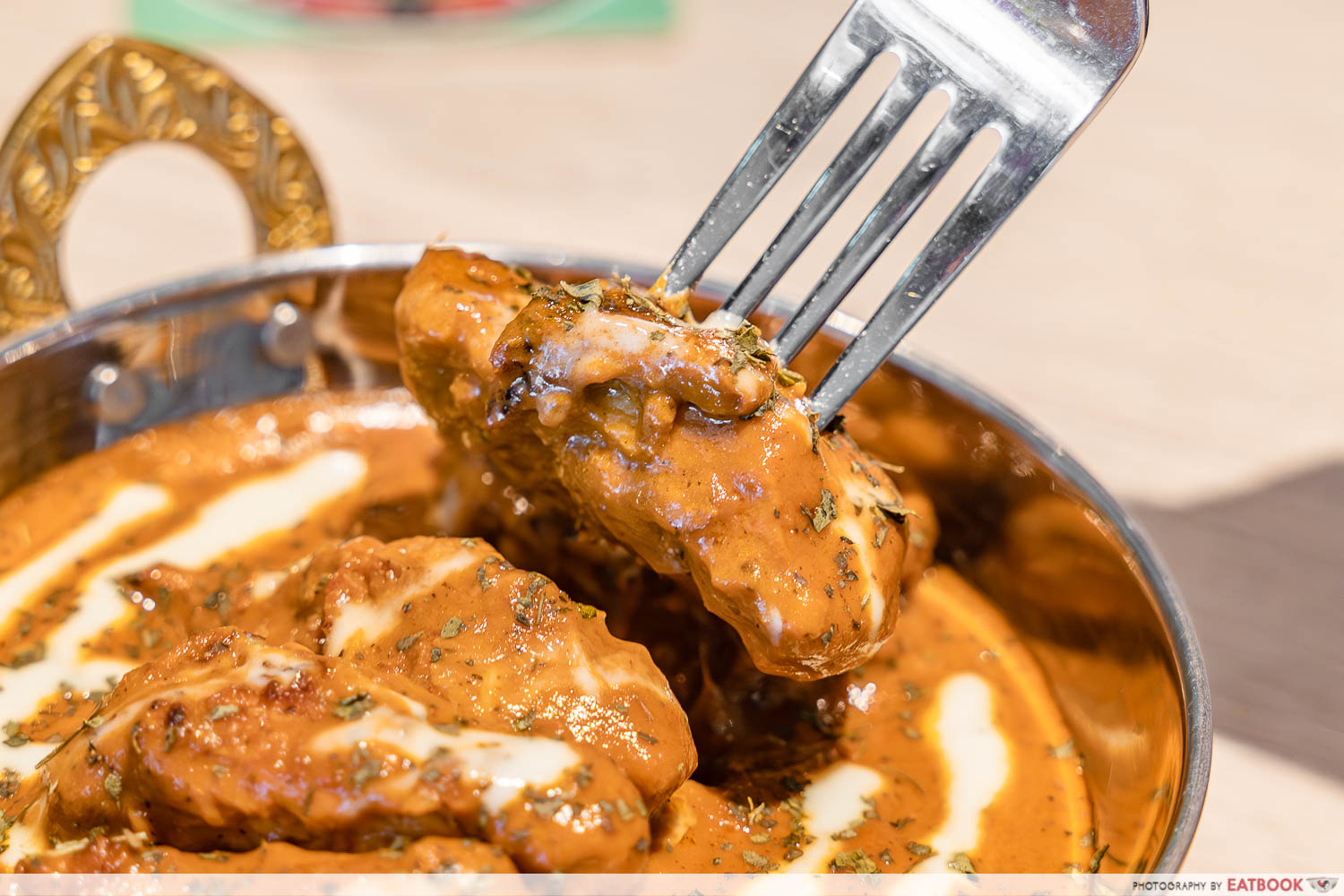 Another classic is their Signature Smoked Butter Chicken ($19++), a rich, spice-forward dish with charred boneless chicken chunks, that'll pair excellently with the Malabar Parotta ($4.50++) or a Kashmiri Pilaf ($5++/$11++).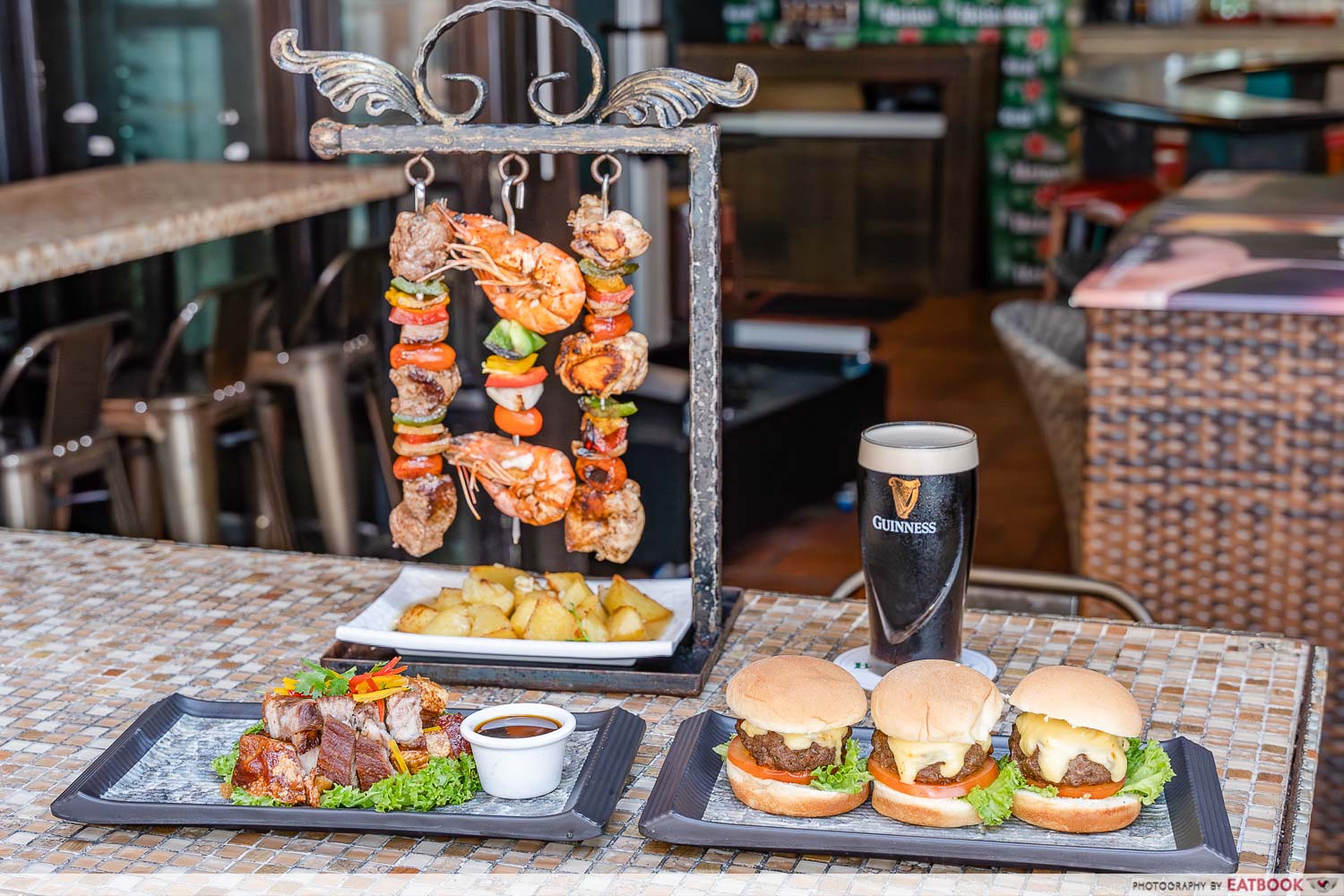 Rounding up our list of food spots in Robertson Walk is The Chamber, an al fresco bar that's open past midnight every day, and is one of the most popular venues to catch live soccer matches at.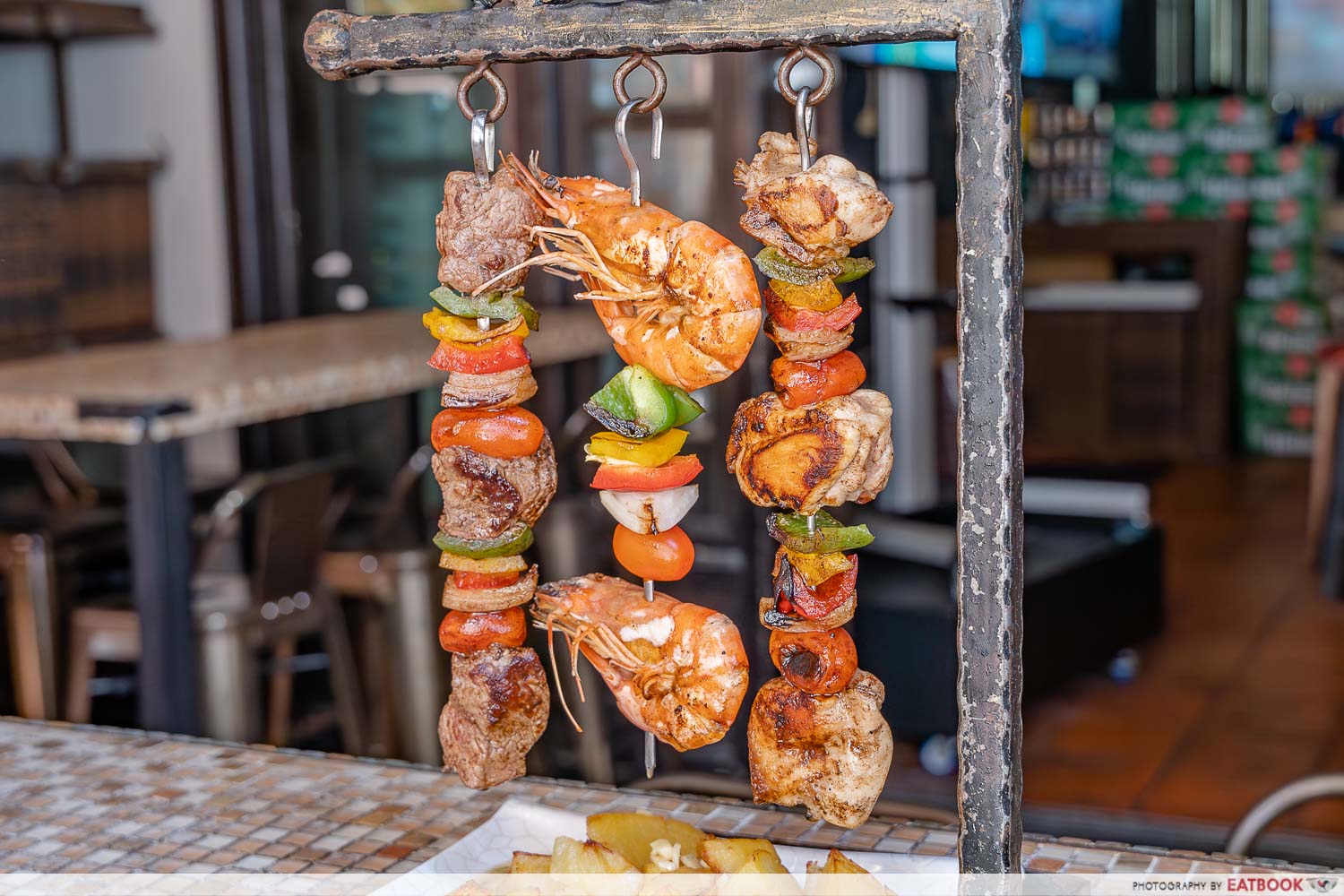 If you're here with a group, consider their Skewerz, where you get to choose three of four options: King Prawns ($10++), Beef Tender ($8++), Lamb Leg ($8++) and Chicken Leg ($6++).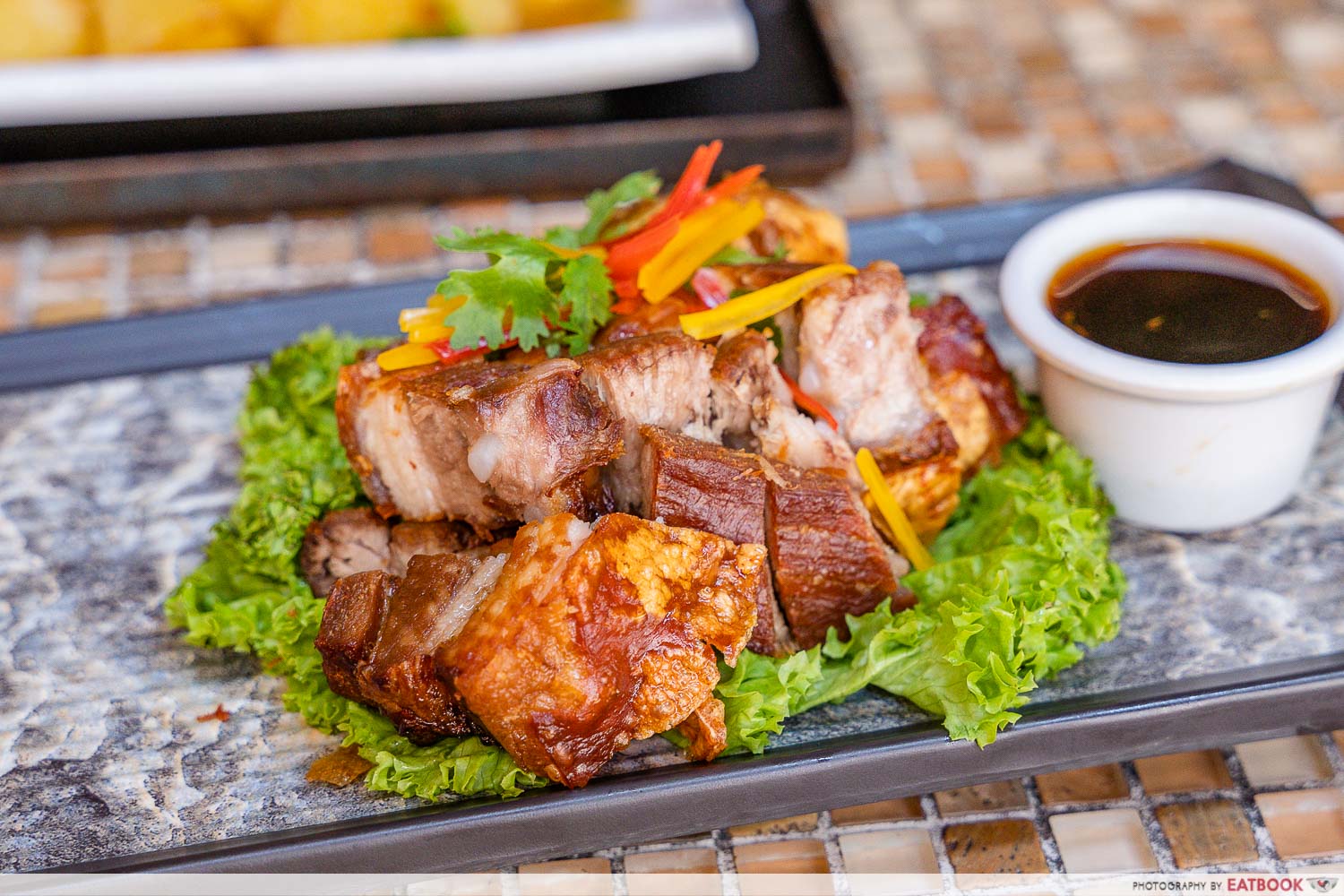 Perfect to go along with drinks is their Crispy Pork Belly ($16++), a chef's recommendation that they've accompanied with a gula melaka dressing on the side.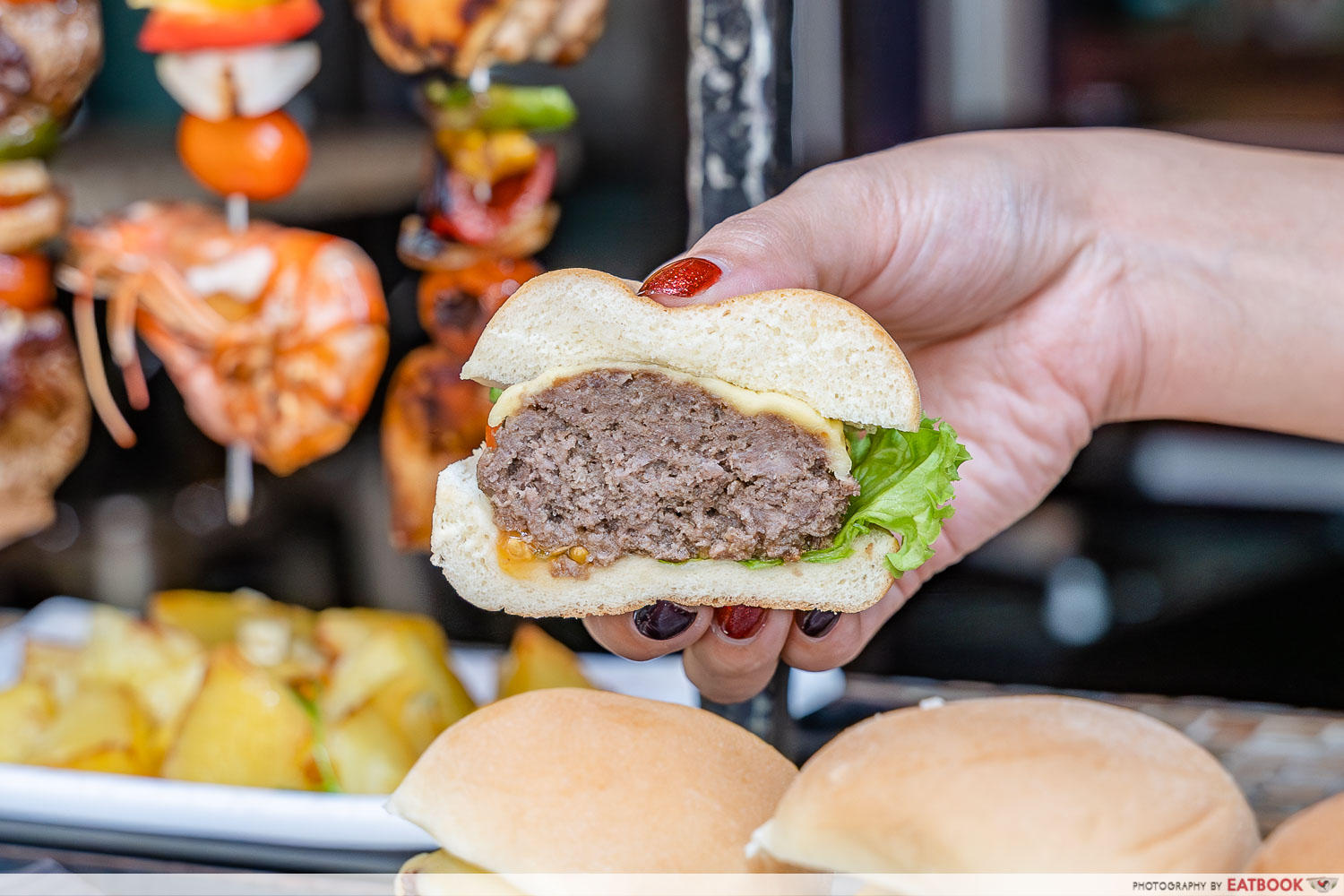 Ain't nobody's got time to chow down on an entire burger while watching a footy match, so The Chamber's got you covered with their Sliders ($18++), which you can choose to have with beef, pulled pork, or barramundi.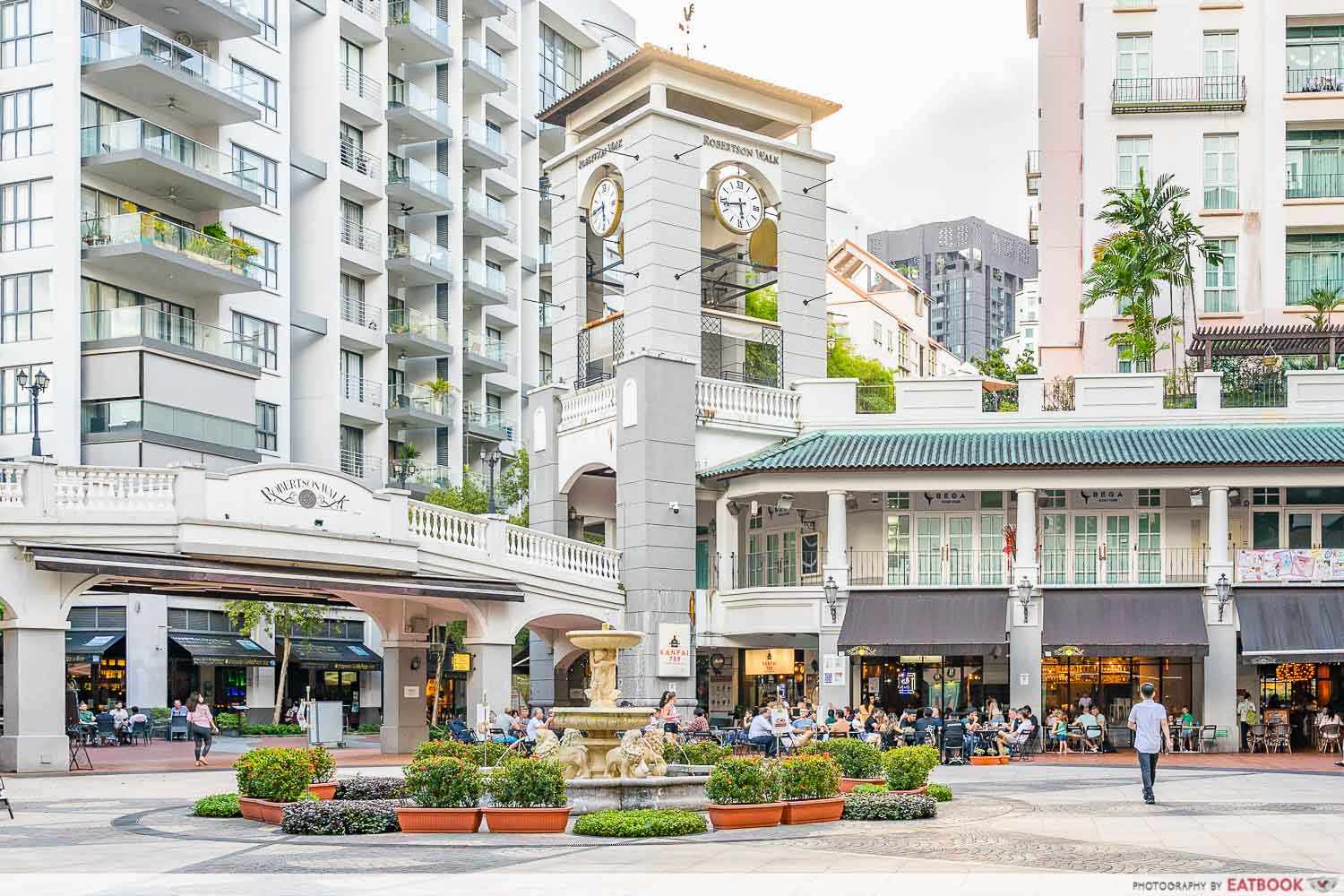 There are more than 10 eateries at Robertson Walk; we've barely scratched the surface of what's on offer. Whether it's Italian, Japanese, Korean, or even a specialty chocolate dessert cafe, there's something for diners of all ages and fancies.
Address: 11 Unity Street, Singapore 237995
Photos taken by John Lery Villanueva
This post was brought to you by Robertson Walk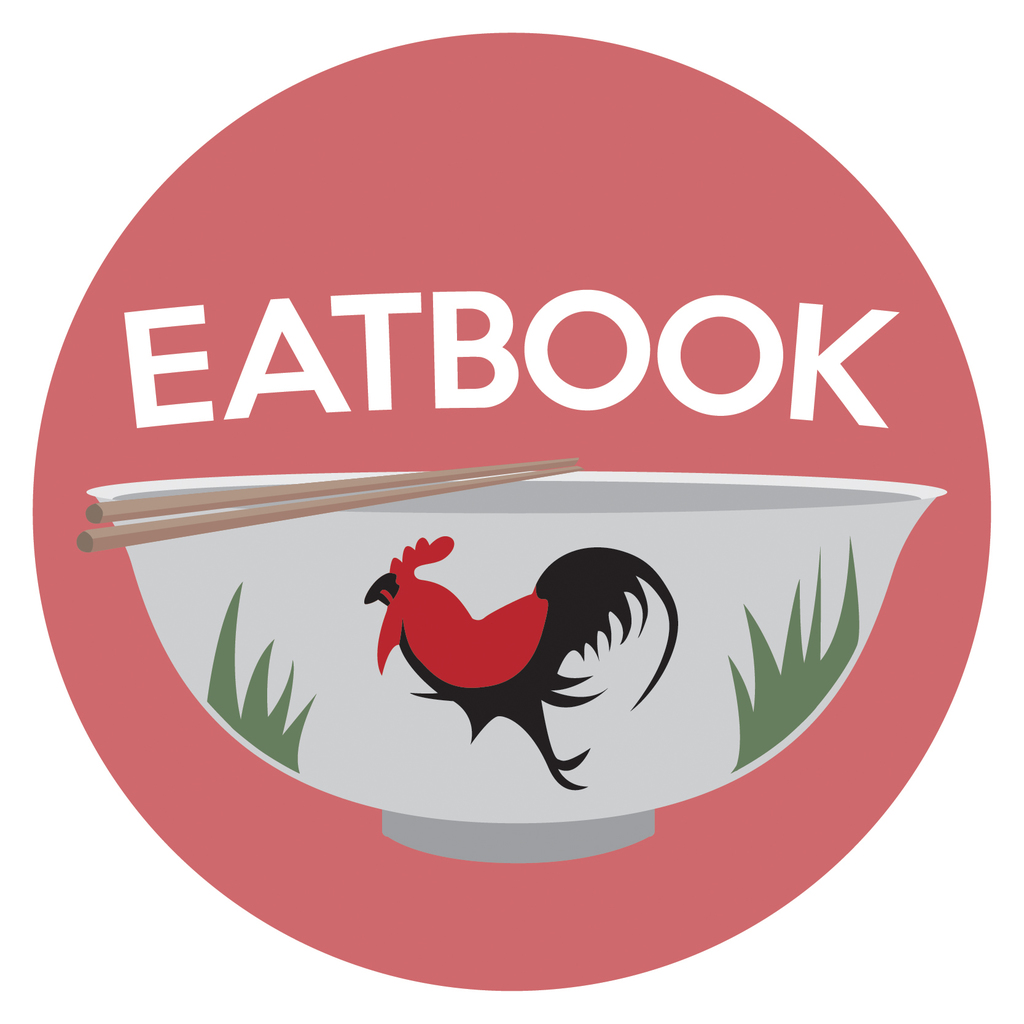 Drop us your email so you won't miss the latest news.