Get Indomie nuggets at Rumah Rasa
Update: The limited-time Indomie dishes mentioned are no longer available.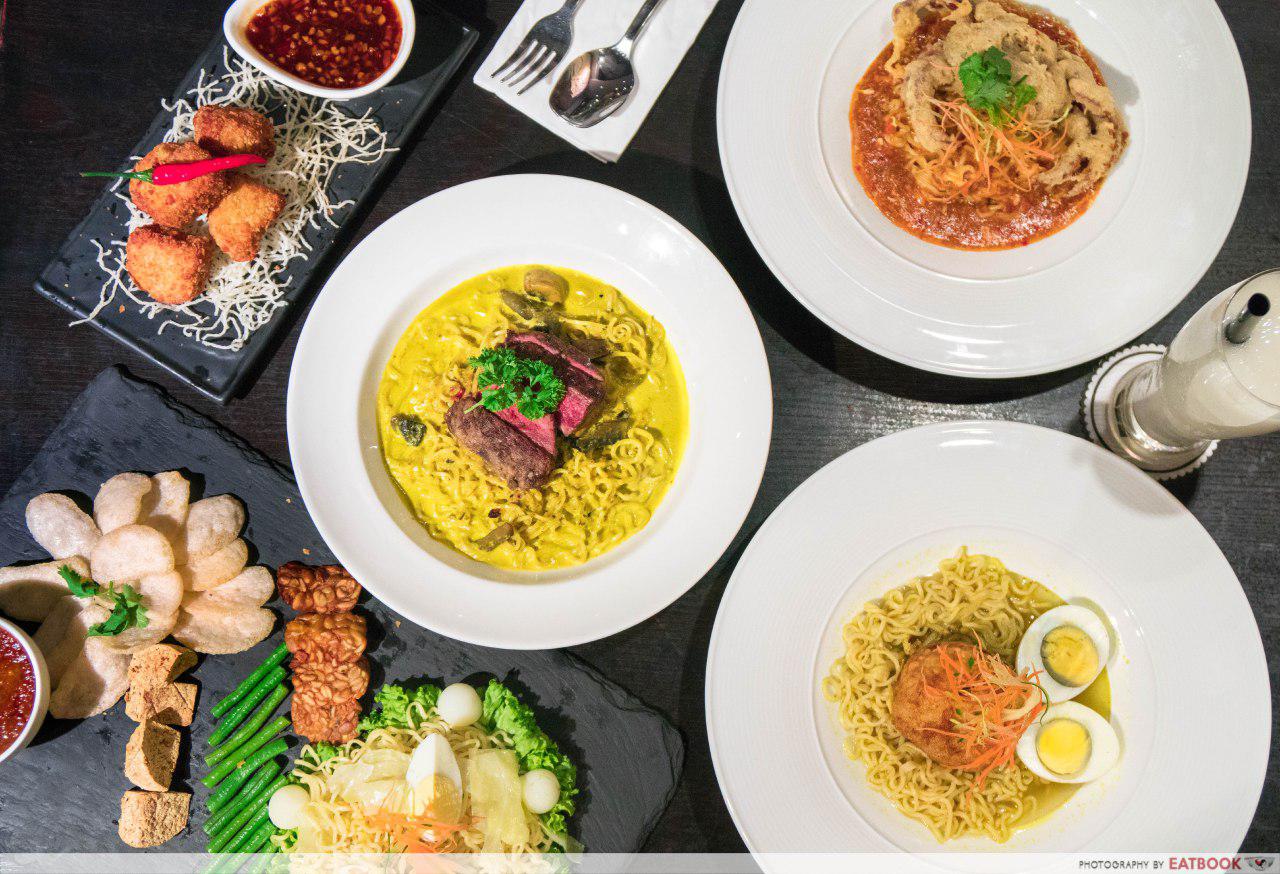 Without fail, instant noodles would always be my go-to meal whenever one of those random hunger pangs strike during wee hours. I would be extra and zhng the noodles up with eggs, sausages, chilli padi, or even kimchi. And my favourite brand is Indomie – I'd always ask my bestie, who's Indonesian, to bring some back for me whenever she returns to her hometown. I was over the moon when I heard that Rumah Rasa, a halal-certified Indonesian restaurant, came up with a new Indomie menu that's available from now till 29 March!
Food at Rumah Rasa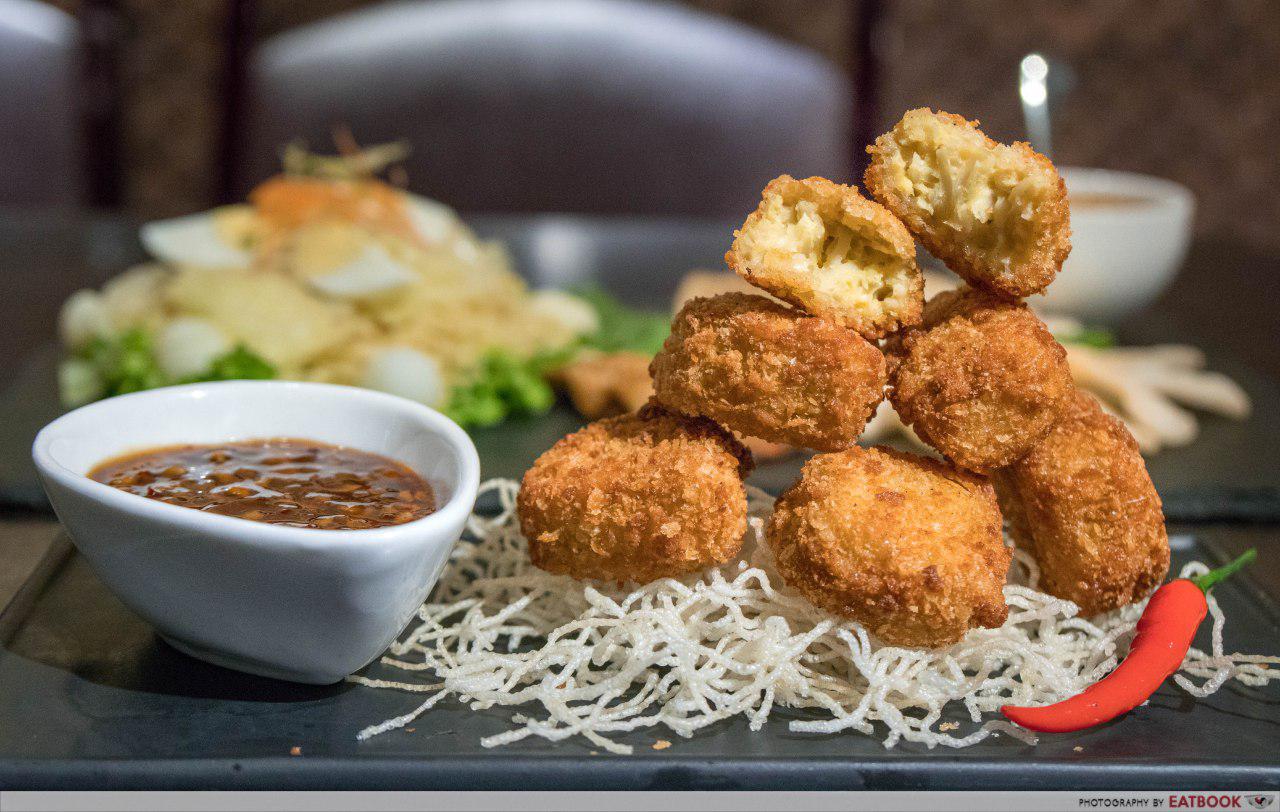 For appetisers, we had their Indomie Nuggets ($7.90++). Precariously stacked together were six pieces of piping hot nuggets with a special in-house chilli dip. It seemed like a regular nugget until we took a bite; inside the glorious morsels was actually Indomie! The noodles were boiled and mashed into a paste-like consistency then baked. After allowing it to rest, they were moulded and encased in bread crumbs, and deep-fried till golden brown.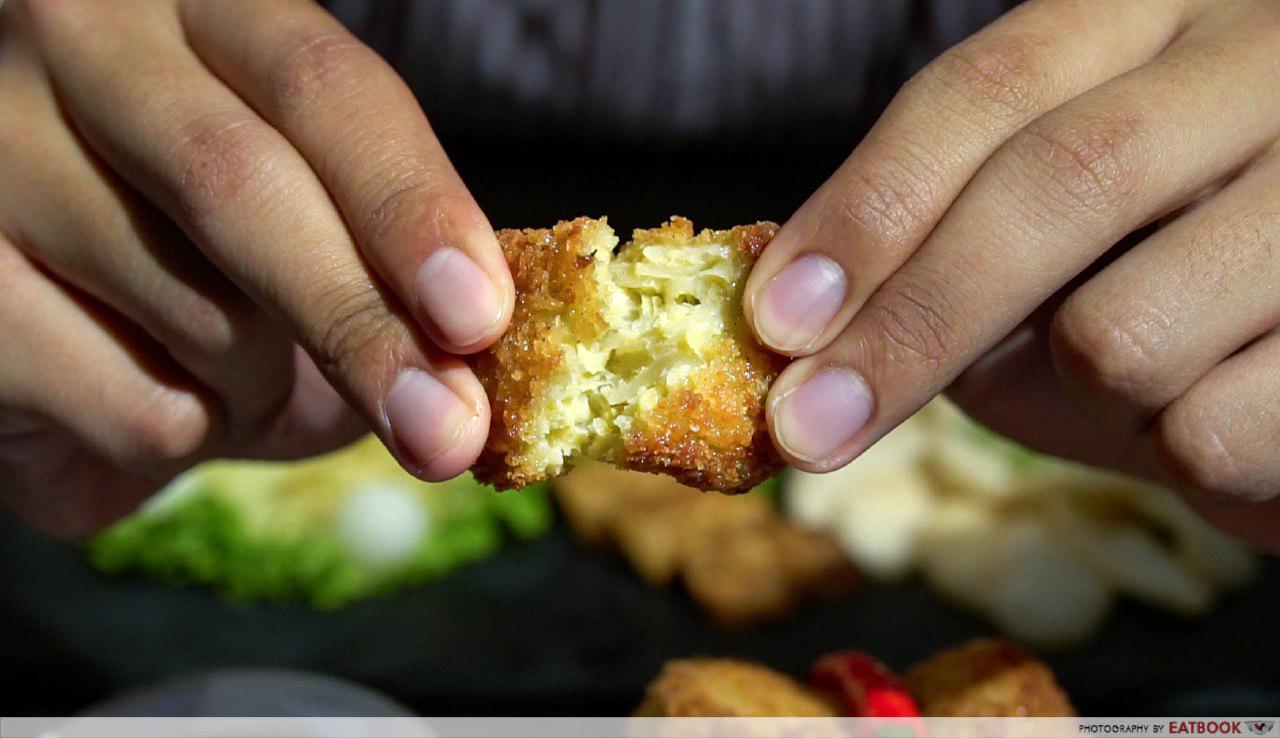 Its texture was like a cross between mashed potato and fishcake – QQ yet soft. The breadcrumbs gave an addictive crunch to the nugget. Dip it into the special house-made chilli sauce for a sweet and nutty kick. The sauce complemented the nuggets very well and we found ourselves going back for the dip after every mouthful. It was such a moreish dish that it disappeared into our tummies within moments.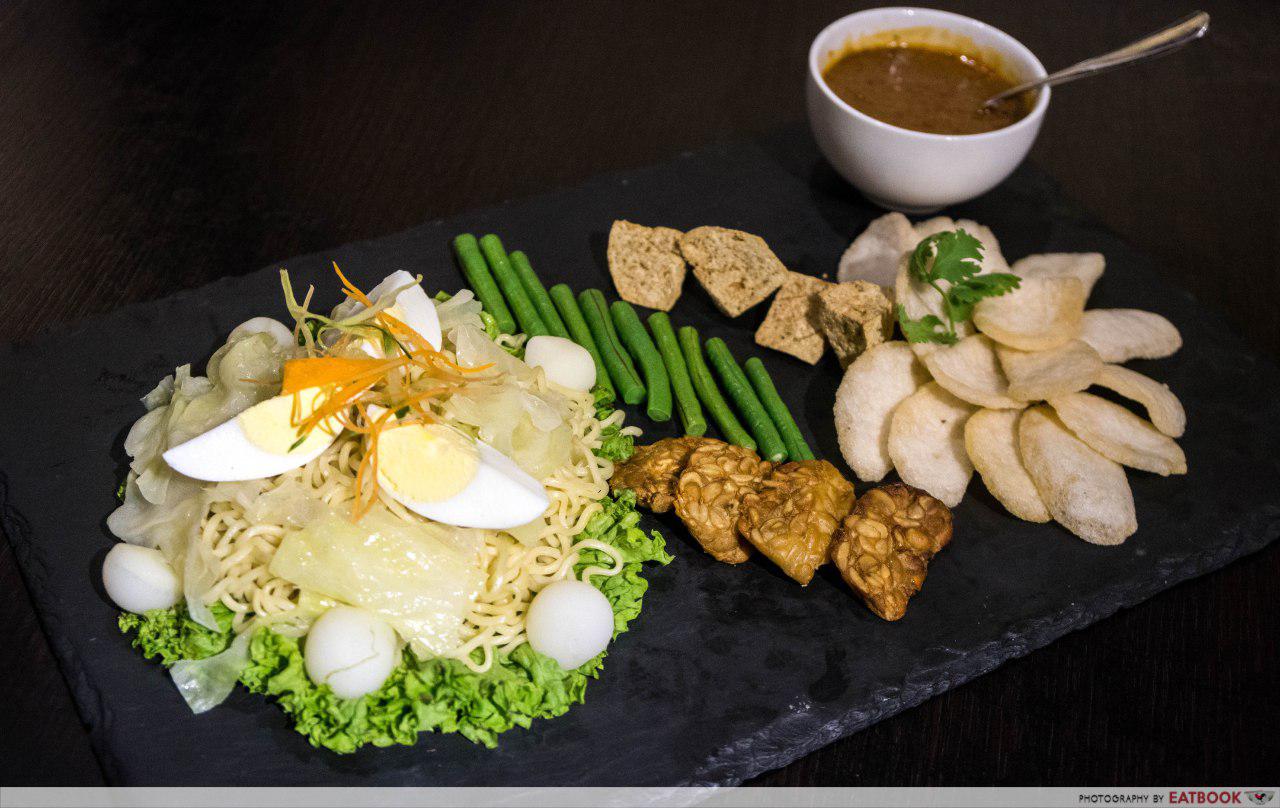 We were wowed by the presentation of their Tossed Gado Gado with Cold Indomie ($8.90++). I have never seen such a beautifully plated gado gado until now. Cold Indomie was placed on a bed of lettuce and garnished with slices of hard-boiled eggs, julienned carrots, and potato balls. Sides of crackers, long beans, tempeh, tofu, and peanut gravy completed the dish. Drench your noodles in the gravy and give it a good mix before slurping them up.
The peanut gravy was a tad bit sweet and doesn't cling to the noodles very well, sliding off every time we picked the noodles up. However, the gravy went really well with the other ingredients, and without the Indomie, this would've been a tasty plate of gado gado. 
My attention was immediately stolen by the intense aroma of their Sliced Beef Rump with Mushrooms Indomie in Lemak Chilli Padi Sauce ($9.90++). Atop the noodles sat slices of beef rump, showcasing hints of pink and red hues. The gravy was laden with coconut milk and turmeric, giving off a highly saturated yellow which contrasted with the beef in colour.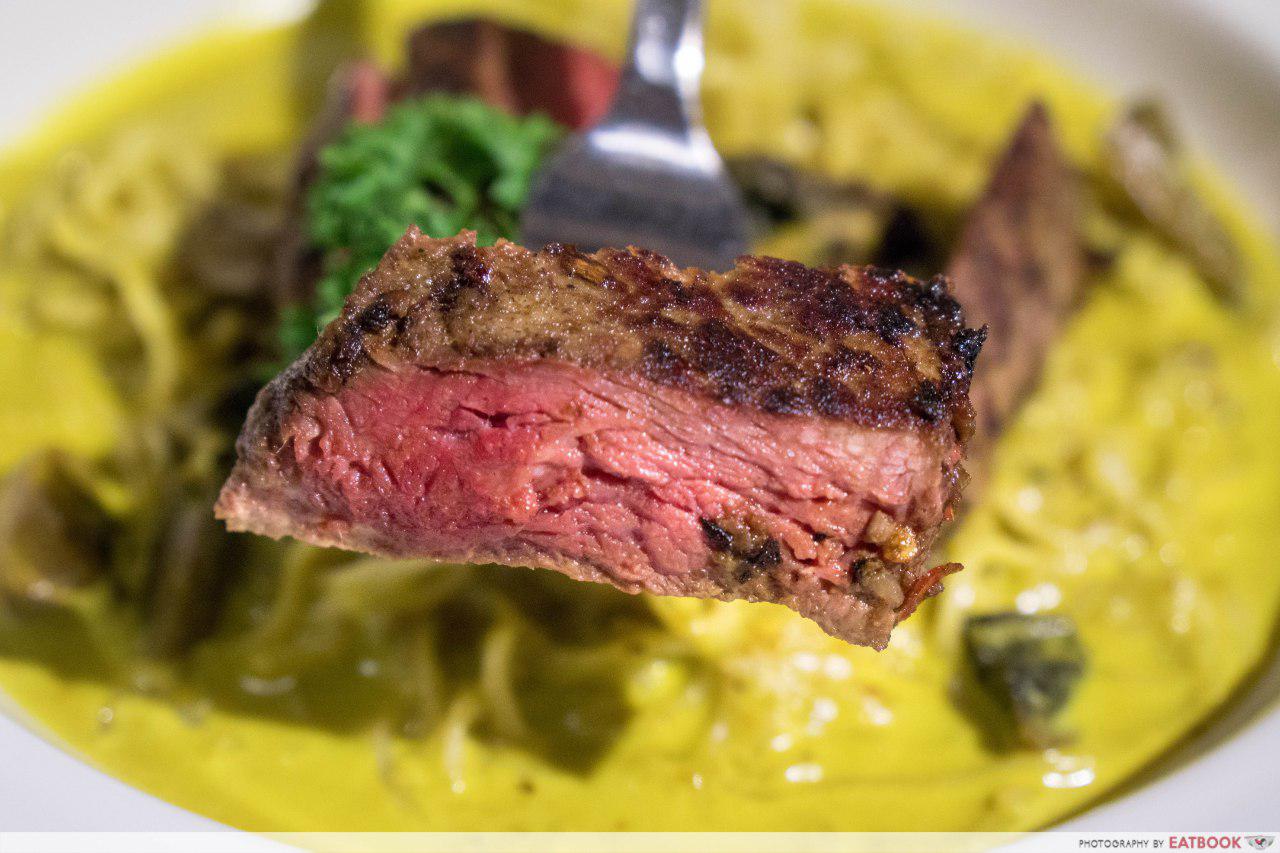 The beef will be cooked to medium by default but you can request for your preferred level of doneness when ordering. Despite being a lean cut, it was tender and retained some juiciness. The exterior was seared, adding hints of char to the flavour. The noodles were still quite bouncy.
Unlike the previous dish, this gravy clung onto the noodles well. Don't be fooled by this seemingly harmless gravy, it comes with a delayed spicy kick. Its full-bodied flavours were enhanced by the fragrant notes of turmeric leaves. It gets quite jelak after a while so make sure to order a refreshing drink to revive your taste buds.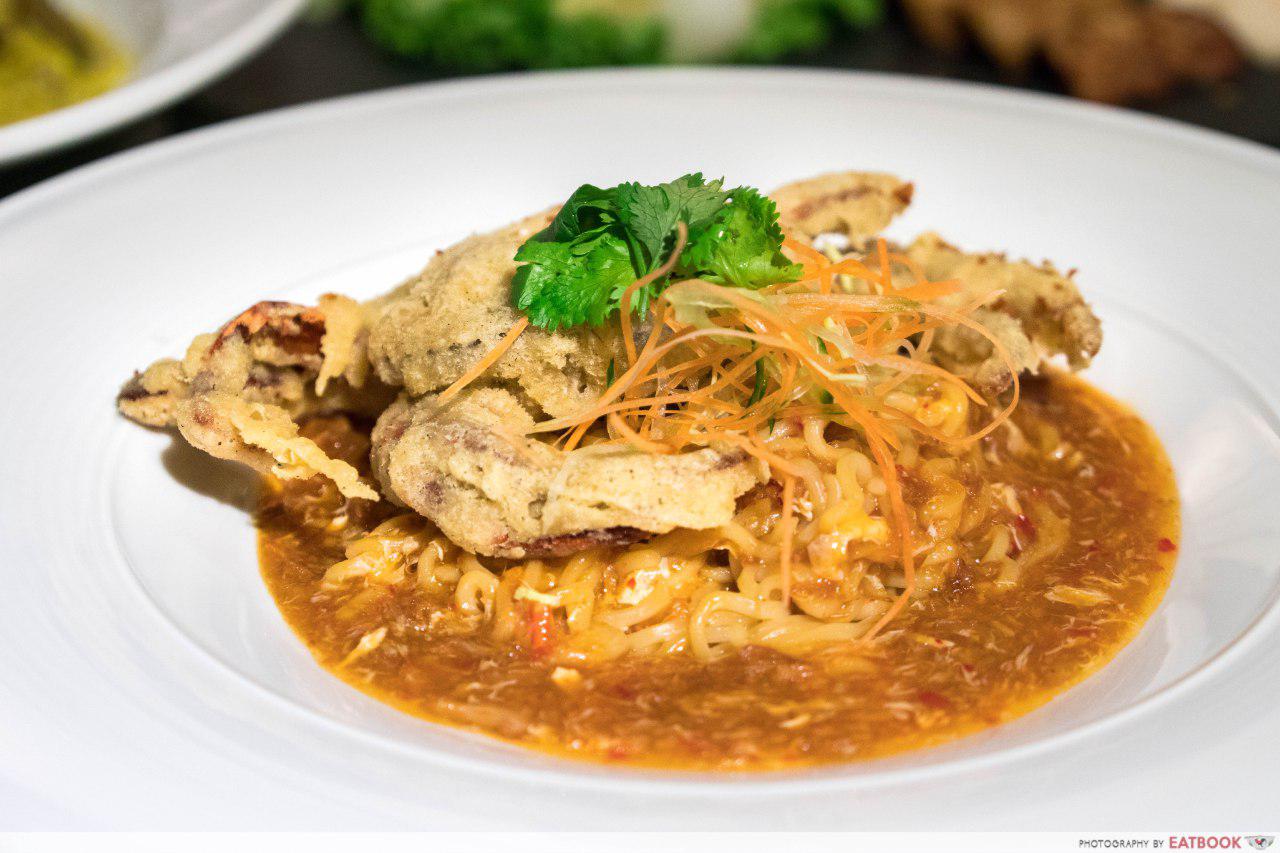 Crispy Soft Shell Crab in Chilli Crab Sauce ($9.90++) is their take on our iconic national dish. The instant noodles were doused in the luxurious, thick chilli crab gravy, with a deep-fried soft shell crab perched atop. The noodles were clumped at the bottom so make sure to give it a good mix to ensure that every inch of the noodles is covered in sauce.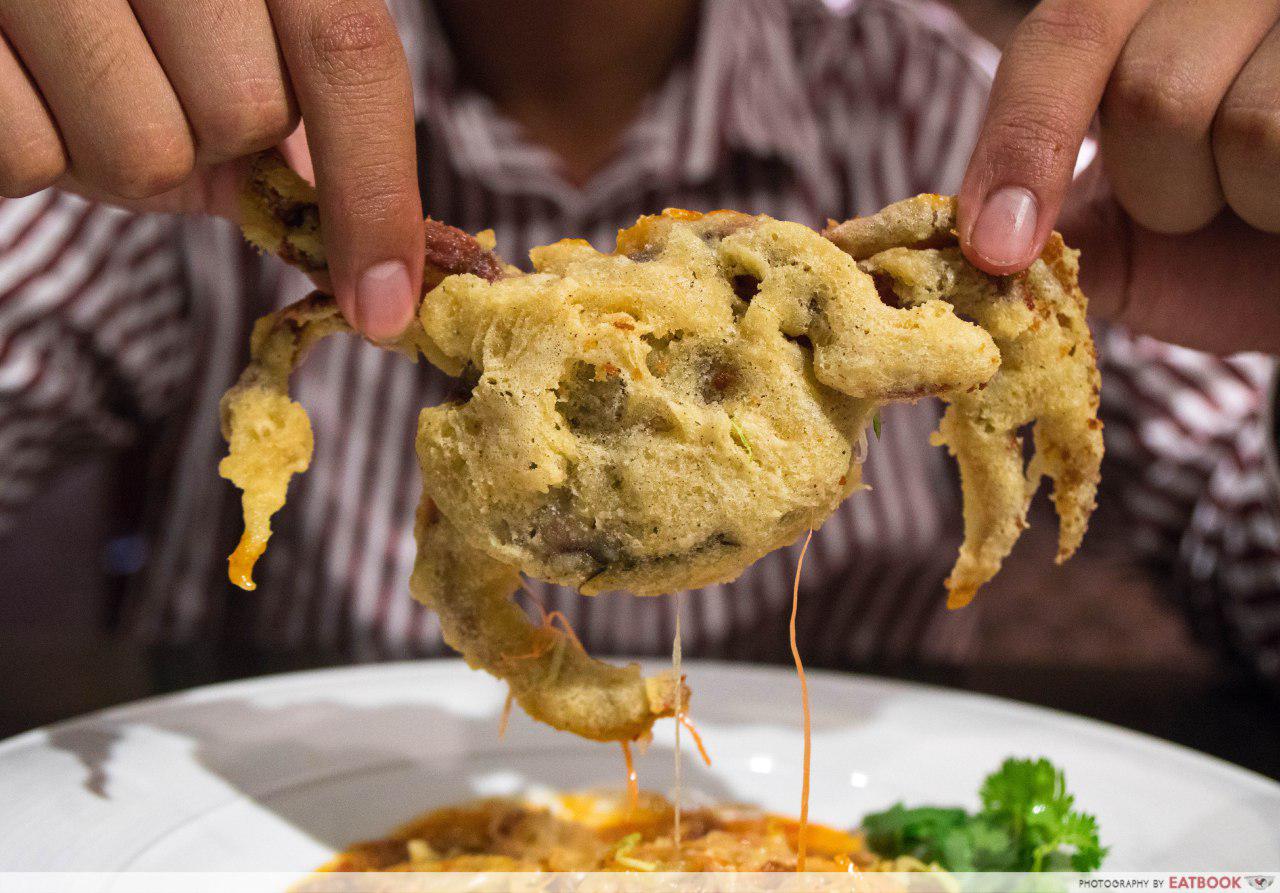 The gravy was sweet and savoury and had plenty of crab meat bits, adding texture to the robust gravy. We were surprised when we tried the soft shell crab; it was still super crispy despite us leaving it out for a while. It was coated with the right amount of batter but had a strange alkaline aftertaste.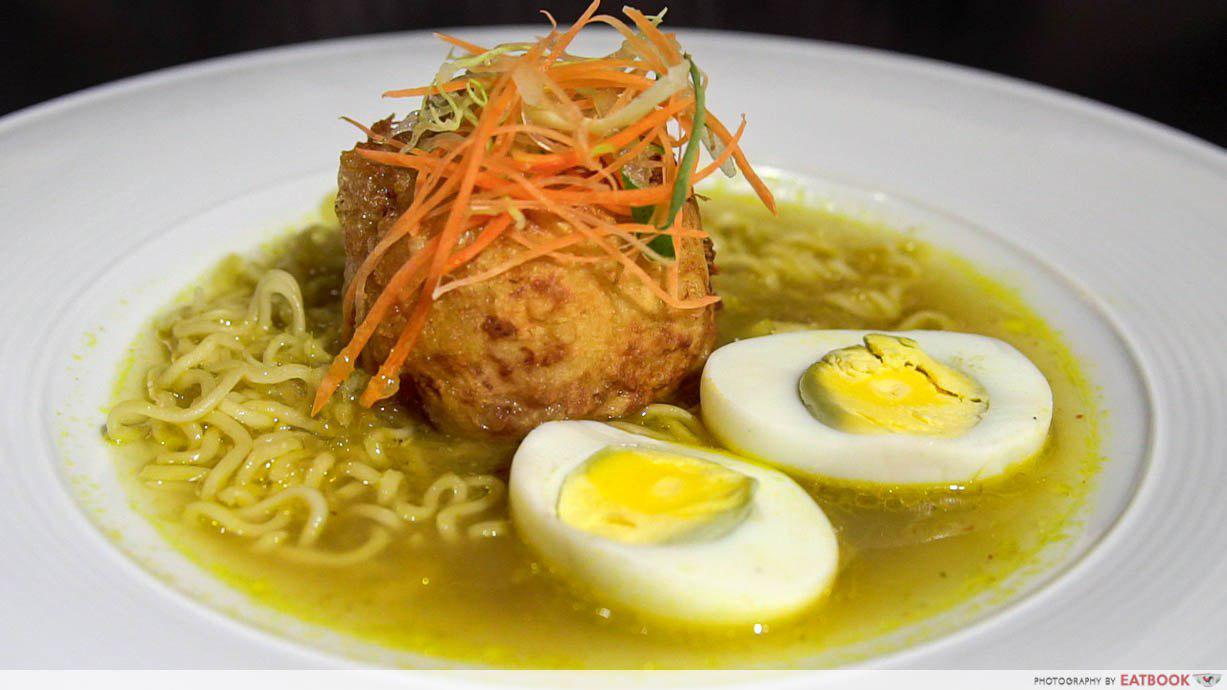 After all those heavy dishes, we were glad to have their Homemade Begedil Soto Ayam Indomie ($7.90++) which was lighter in taste. Sitting in the middle of the bowl was the huge begedil, with julienned carrots and cucumber that resembled a wig for the potato ball. Break open the begedil and you'll get bits of chicken resting in its core. The potato was nicely seasoned and it soaked up the soup, adding flavour to each bite. The soup was savoury and had a familiar homely taste, which reminded me of my mom's cooking.     
Ambience at Rumah Rasa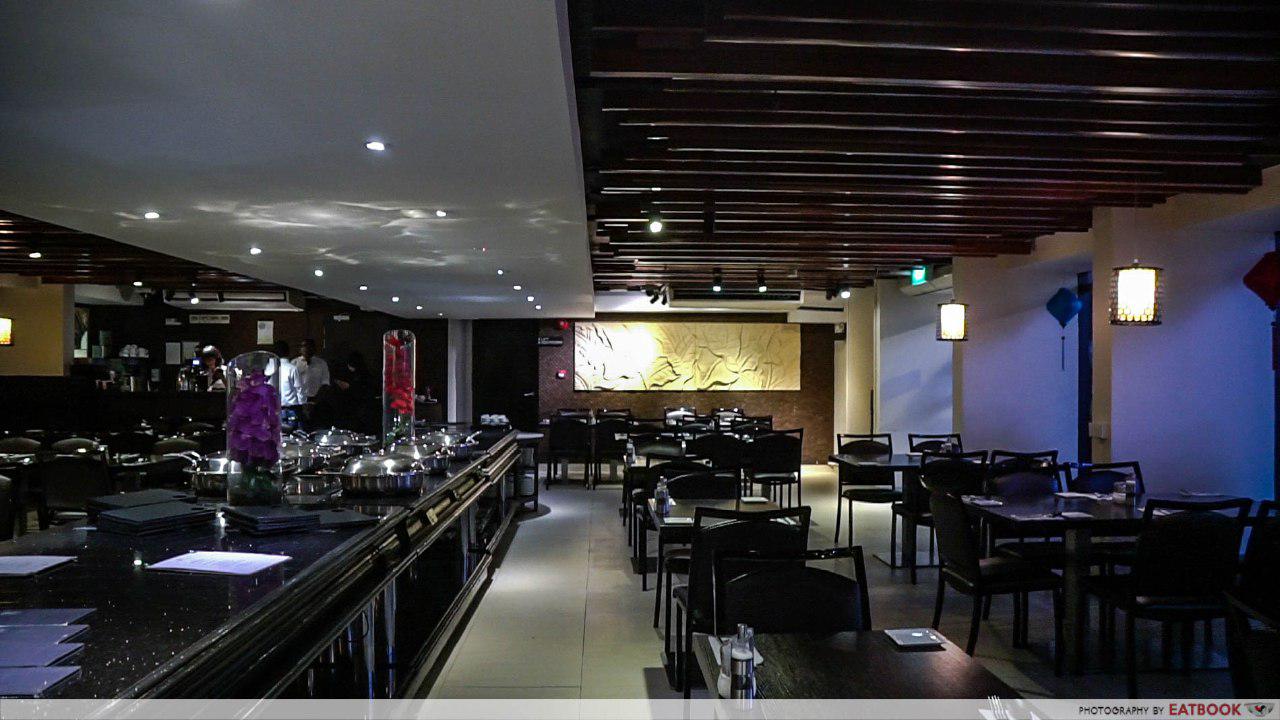 Rumah Rasa is located at Bay Hotel, which is situated just across VivoCity. This restaurant has a wide space, with both indoor and outdoor seats. Do note that these Indomie specials are only available from Monday to Thursday as they only serve buffets on weekends. 
You can expect a cosy interior that's furnished with dark wooden furniture and plants. Once you're done with your meal, head up to their rooftop bar, Propeller, for a scenic view of VivoCity and Sentosa. If you're lucky, you'll be able to catch a fireworks display from Sentosa at certain timings!
The verdict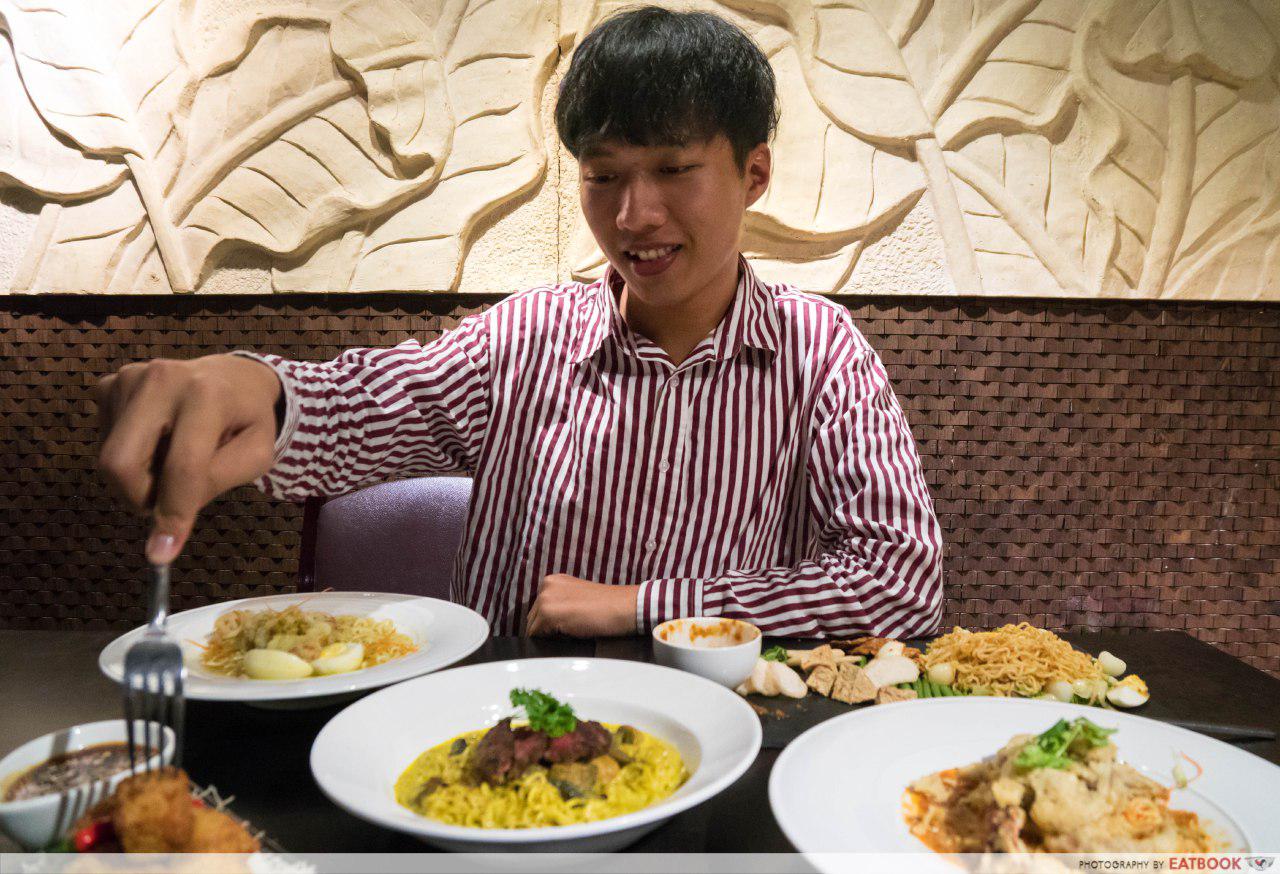 We left with a satisfied tummy, and also a commitment of no instant noodles for the rest of this month. It's pretty cool to know that Indomie can be made into atas dishes and still taste as good. Overall, it was a great experience and I would bring my friends and family there to let them try the dishes as well. If you're interested, remember to head down ASAP as this special Indomie series will only be available until 29 March. For those who are at HarbourFront and on a budget, check out the hidden gems at Seah Im Food Centre instead!
Address: 50 Telok Blangah Road, Bay Hotel, Singapore 098828
Opening hours: Daily 12pm to 10:30pm
Tel: 6818 6681
Website
Rumah Rasa is a halal-certified restaurant.
This was a media tasting at Rumah Rasa.
Summary
Pros
– Unique Indomie dishes
– Delicious Indomie nuggets
– Tasty chilli sauce
– Friendly staff
– Cosy ambience
Cons
– Available for a limited time only
– Dim interior
Recommended Dishes: Indomie Nuggets ($7.90++), Crispy Soft Shell Crab in Chilli Crab Sauce ($9.90++), Sliced Beef Rump with Mushrooms Indomie in Lemak Chilli Padi Sauce ($9.90++)
Operating Hours: Daily 12pm to 10:30pm
Address: 50 Telok Blangah Road, Bay Hotel, Singapore 098828