Ryu's serves elegant okamochi sets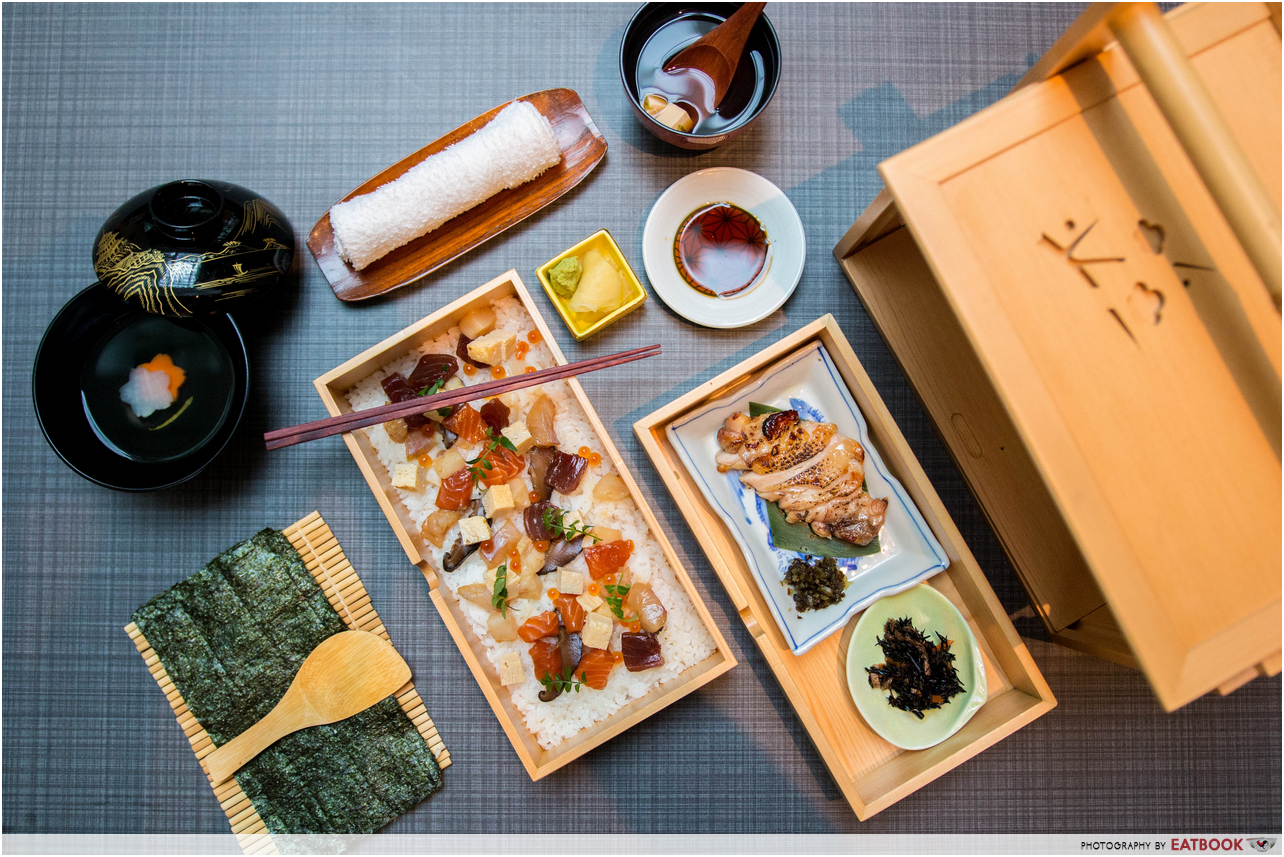 The Japanese are known for their impeccable manners, eye for detail and innovations. This is reflected in every aspect of Ryu's Japanese Restaurant, which offers friendly service and delicious food in a minimalist setting.

Although they are well-known for serving up omakase, we went down specifically for their okamochi, or wooden carrying box, which is a small chest of three drawers often seen in the Edo era over 300 years ago. I thought sushi in drawers set the bar high for beautifully-presented food, but chirashi in drawers just topped the charts.      
Food at Ryu's Japanese Restaurant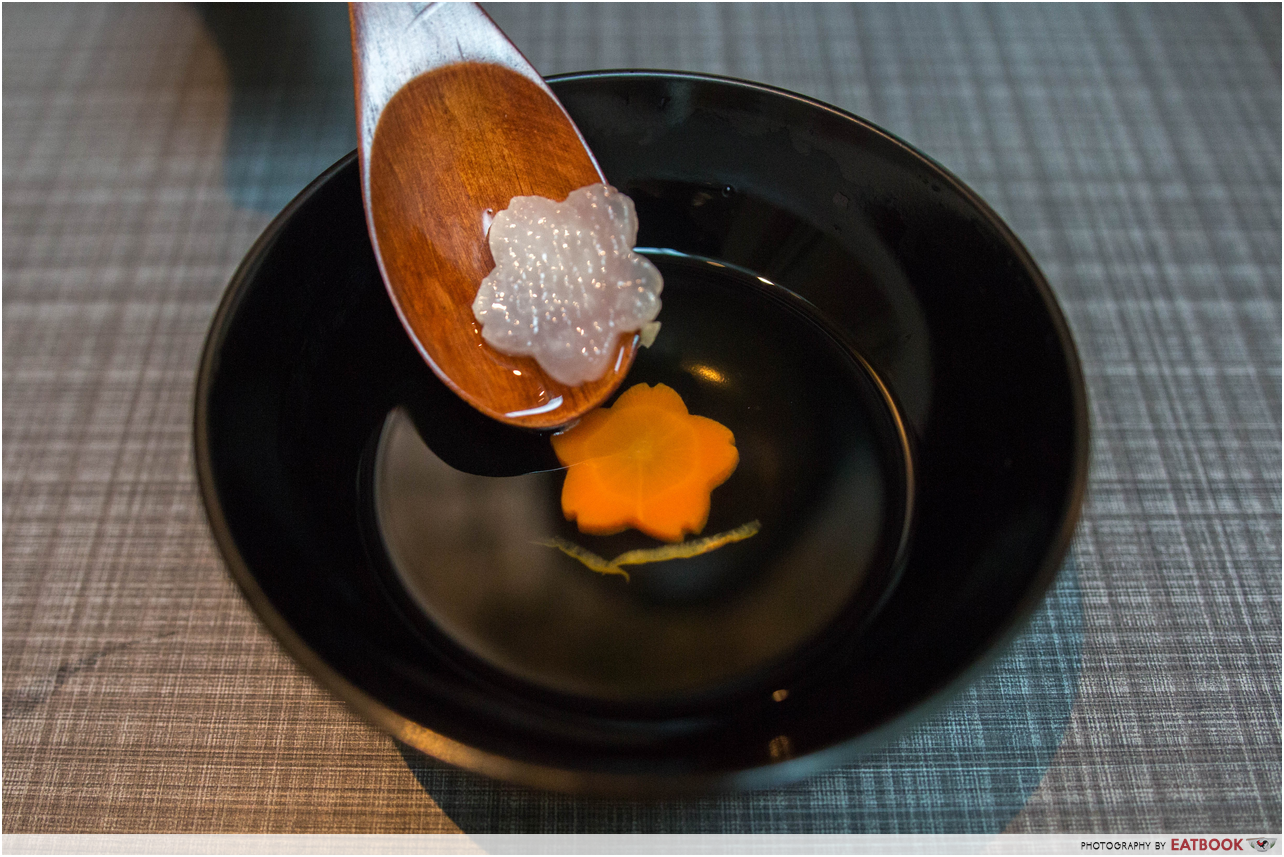 Once seated, we were each given a bowl of clear bonito broth. The waiter explained that this helps to warm up the stomach and cleanse the palate before a heavy meal.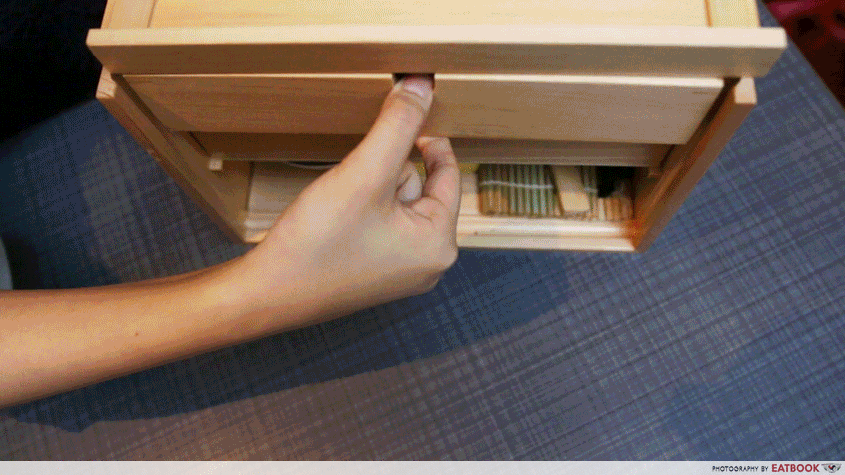 From top to bottom of the Okamochi Bara Chirashi-Sushi Set ($45++), we have grilled chicken with hijiki salad, Ryu's signature bara chirashi and finally, two sheets of seaweed, a wooden paddle and freshly grated wasabi and ginger.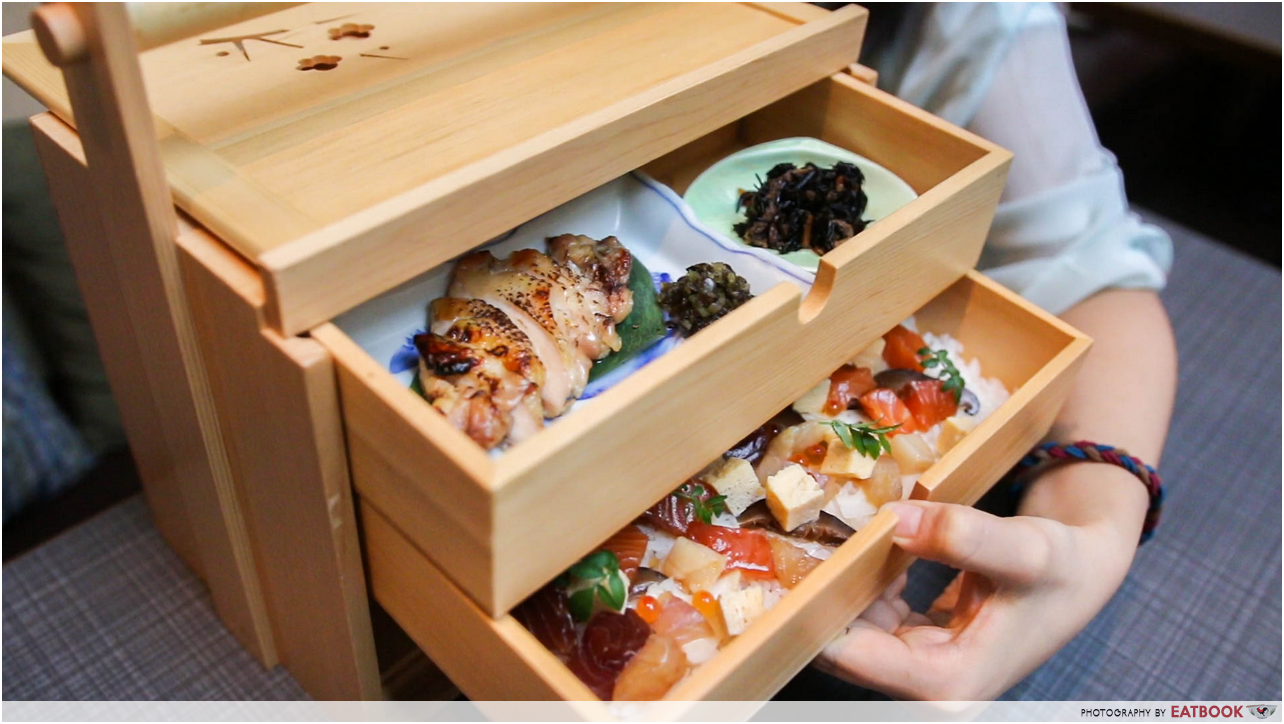 Upon pulling out the first drawer, the smell of grilled meat wafted out. It took a lot of self control to snap first and eat later.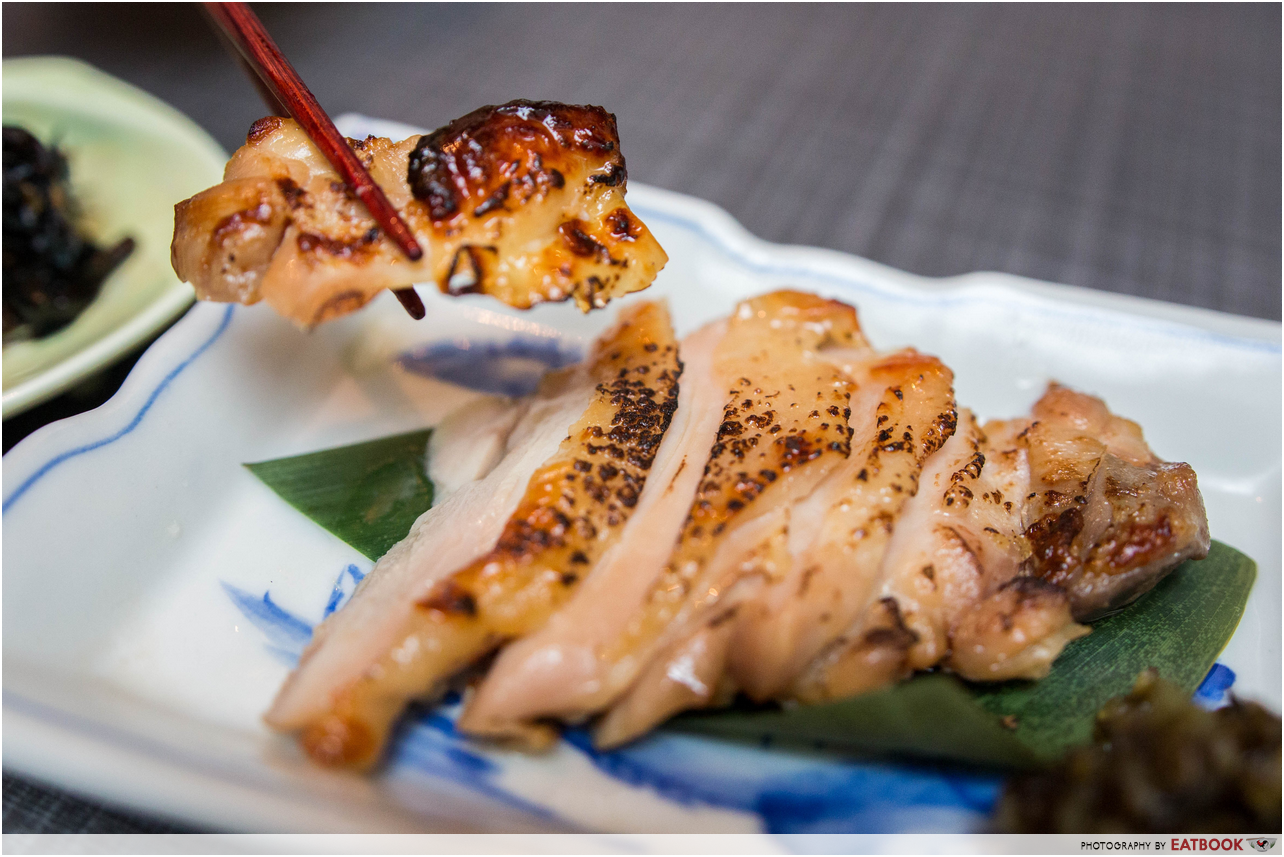 The chicken thigh was marinated for over 48 hours with three different types of miso paste: black, white and regular. The taste of miso was not distinct – I would not have guessed miso was part of its marinade if not for our friendly waiter.
The chicken thigh was grilled with its skin facing down, lightly caramelising the miso marinade to create a sticky and slightly sweet glaze. Paired with the smoky char, every mouthful is a delectable balance of mellow flavours that left me craving for more. Brownie points for not being greasy!  
Tip: have a bite of chicken with the pickled vegetables on the side for a sweet, smoky and salty combination all in one mouthful.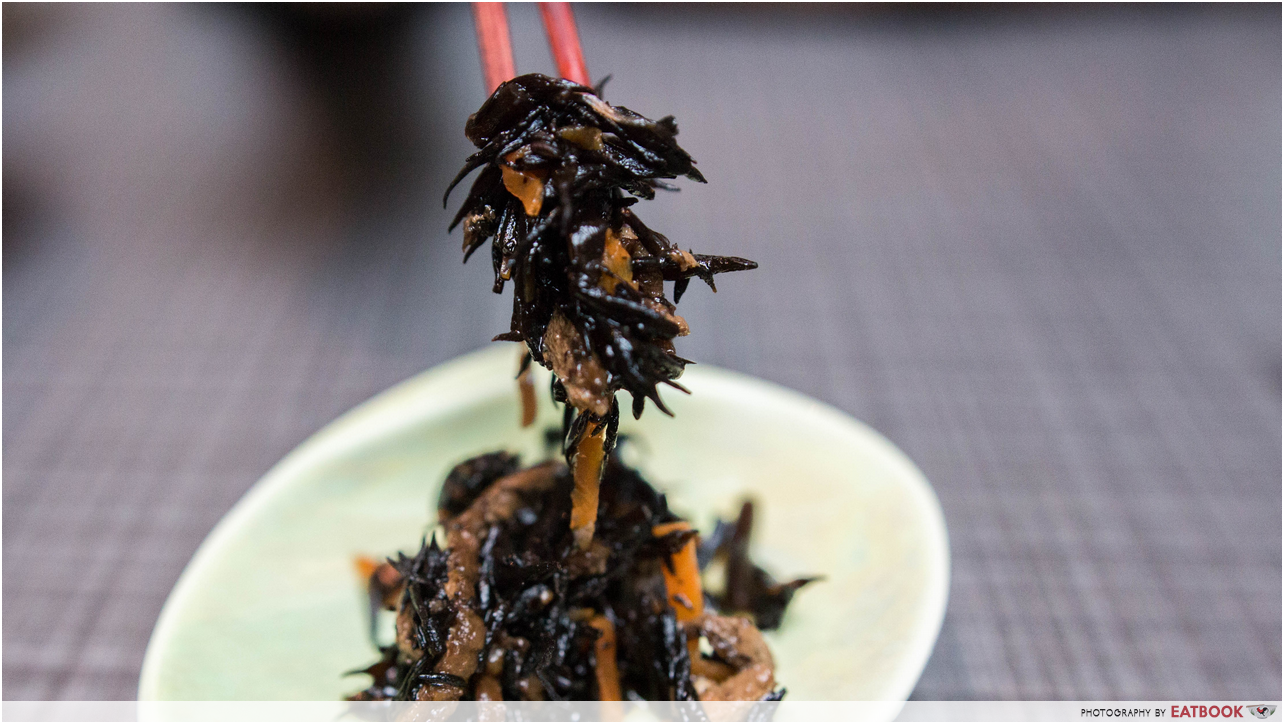 Placed alongside the grilled chicken thigh in the top drawer was Hijiki Salad. I've had my share of black food, but black salad was new to me. Hydrated hijiki seaweed was combined with julienned carrots, aburaage (deep-fried tofu pouch) and konnyaku (konjac jelly), before being simmered in a mixture of sugar and mirin. This unusual salad tasted predominantly sweet, with underlying notes of salty mirin.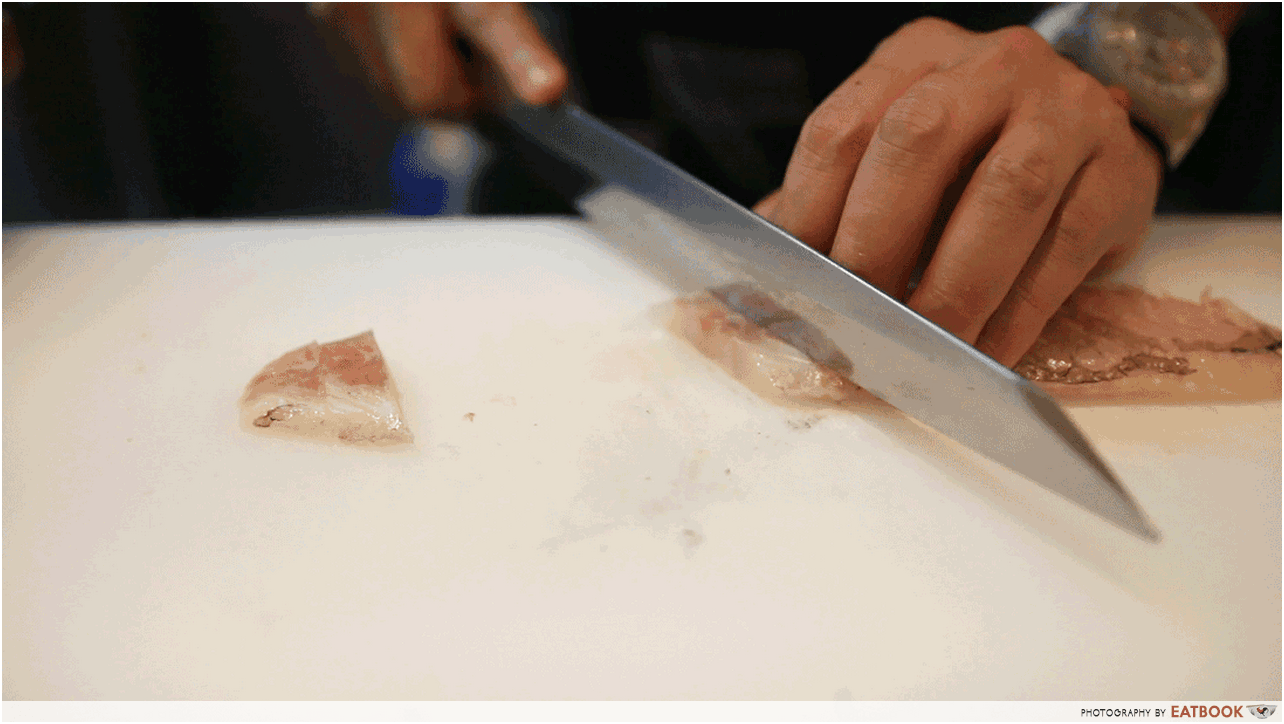 We managed to catch the Japanese chef in action as he prepared the bara chirashi component of our okamochi box. He deftly sliced the salmon, tuna and amberjack before tossing it in soy sauce and scattering it on a bed of fluffy Japanese rice.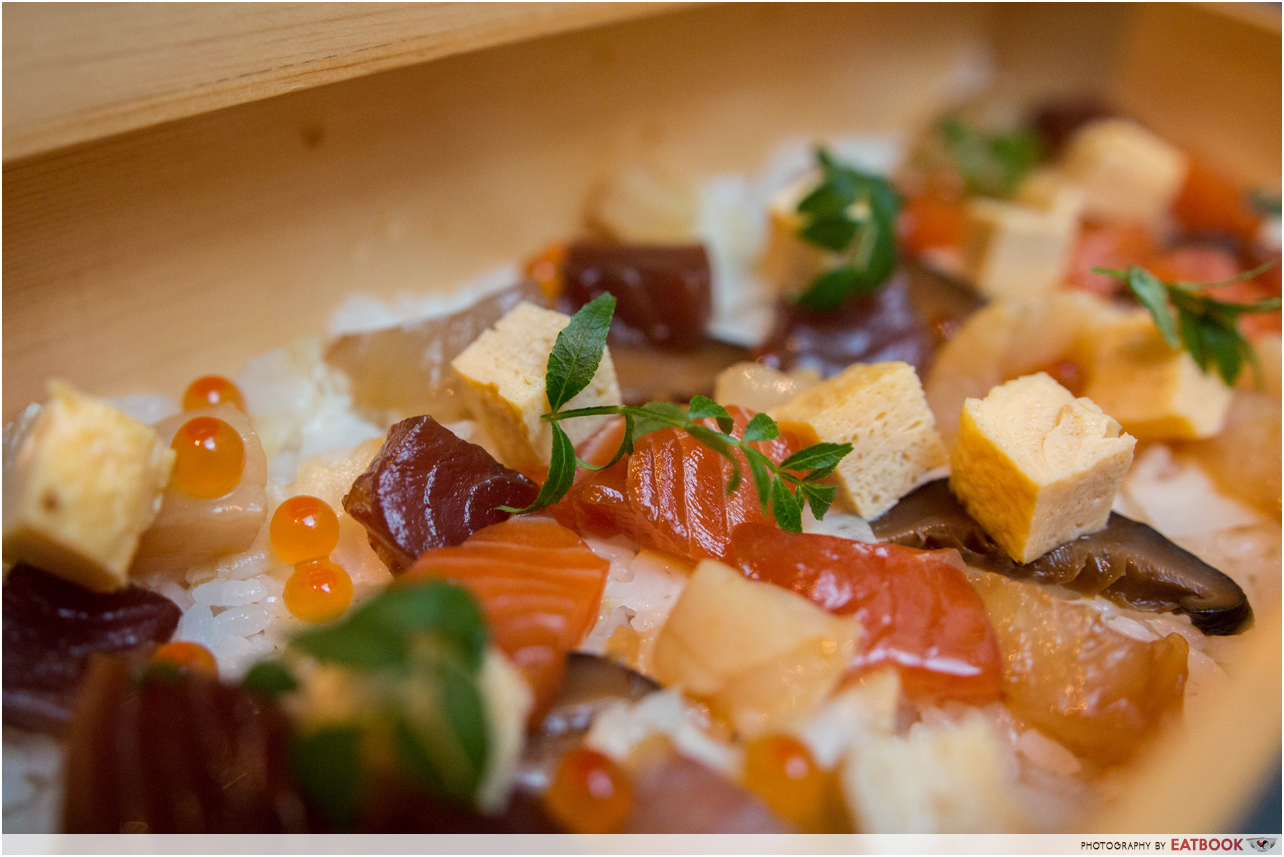 Ikura, cubed tamago and the leaves of a sansho pepper plant completed this dish. Out of curiosity, I tried a sansho pepper leaf on its own and was surprised by its slightly grainy texture and peppery, mint-like aftertaste. When paired with the rest of the ingredients, the leaves deepened the flavours of the other components, while layering on another layer of flavour with its mild taste of mint.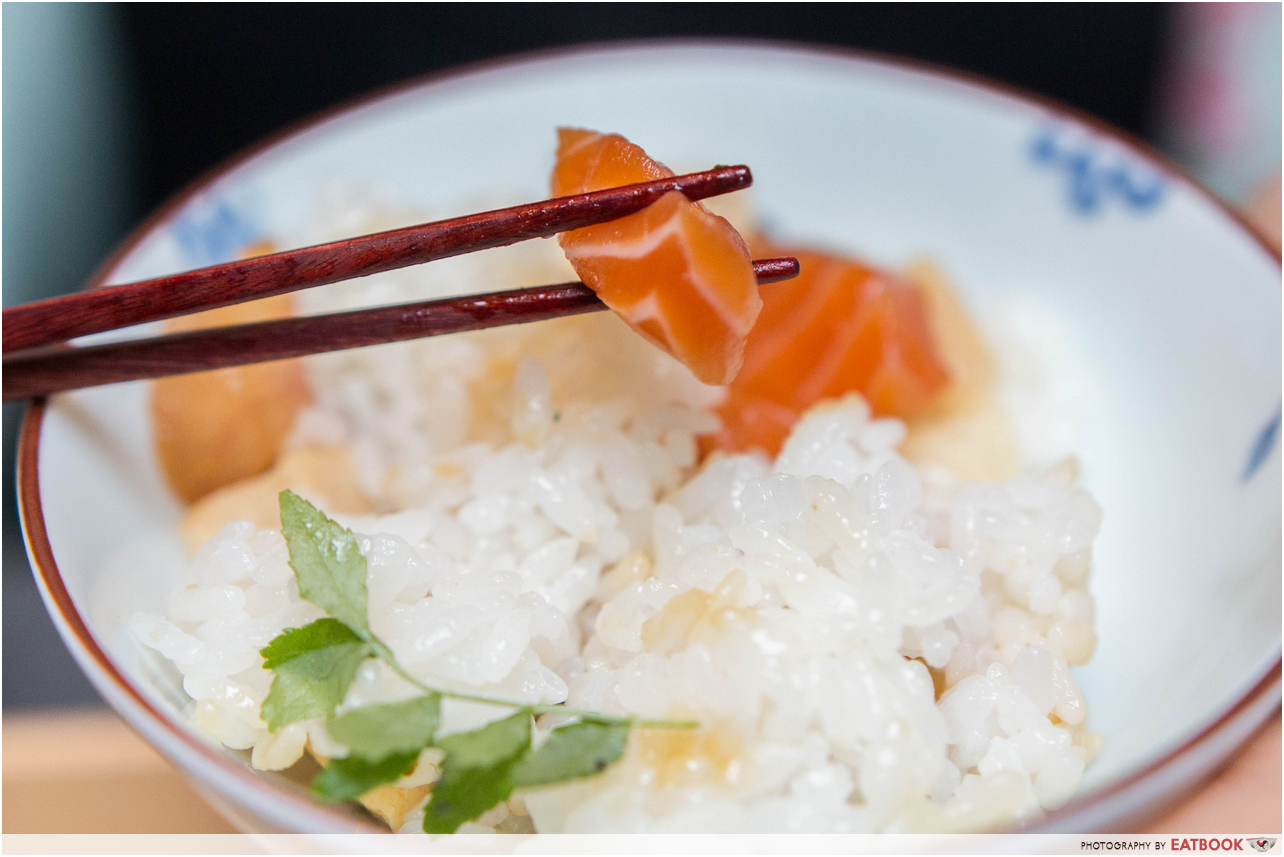 I like my sashimi to be almost melt-in-the-mouth soft, fresh, with no hint of fishy smell. No doubt, Ryu's sashimi checked off every box on my list, making it my favourite component of the bara chirashi.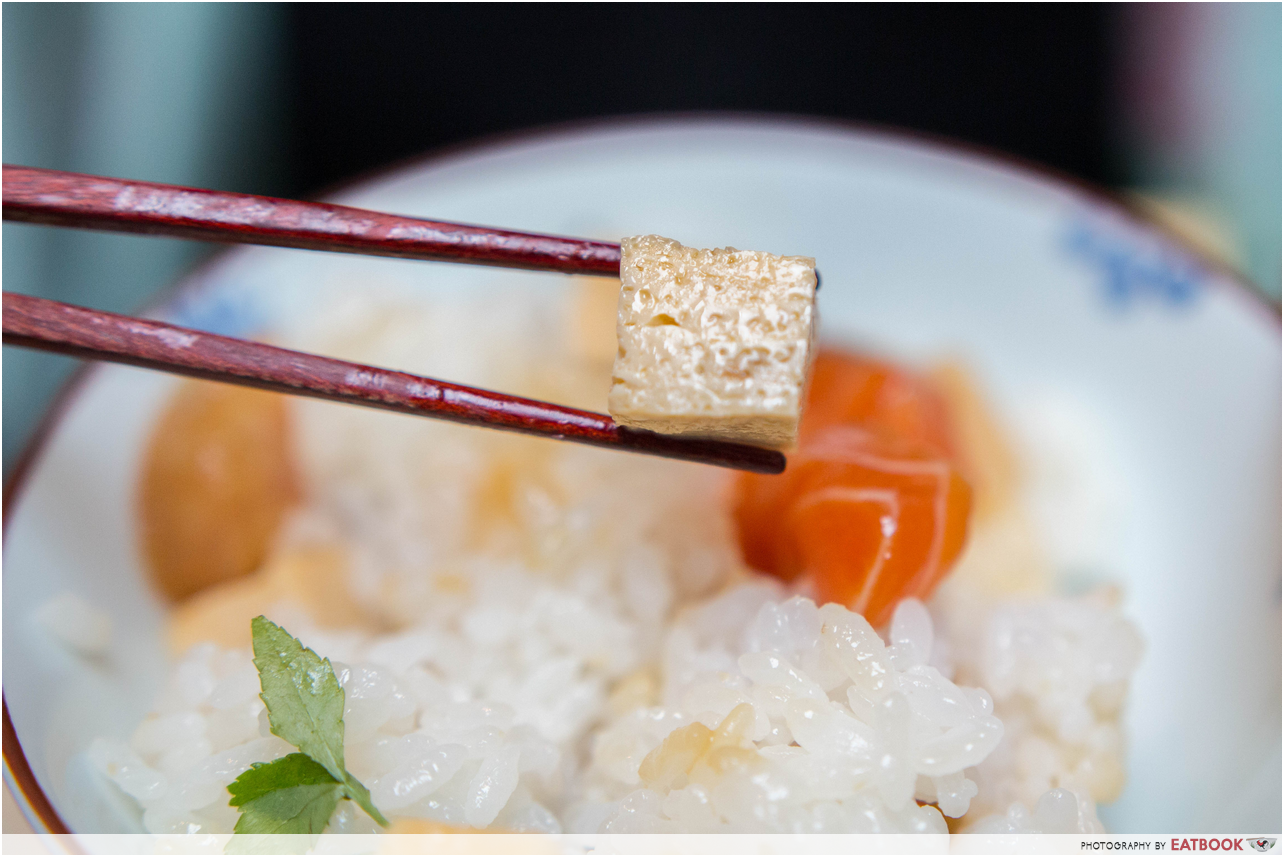 It might not be obvious in this picture, but I could clearly see the layers that made up the tamago. Each cube of tamago was lightly sweetened and had pockets of air that provided a light and fluffy texture – no dense and overly sweet tamago here!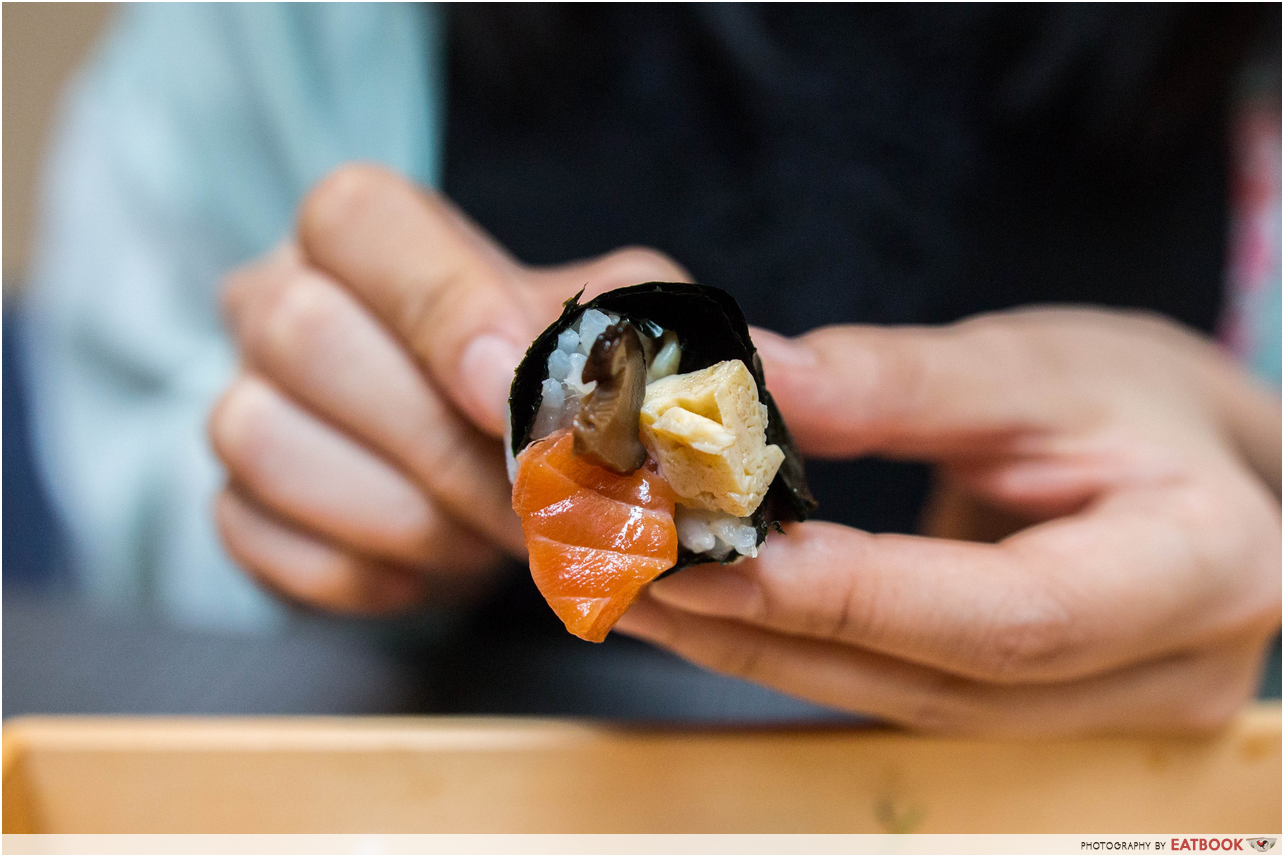 The bottom tier of the box spelt some hands-on fun, and I attempted to make a sushi roll with the equipments provided. Key word: attempted.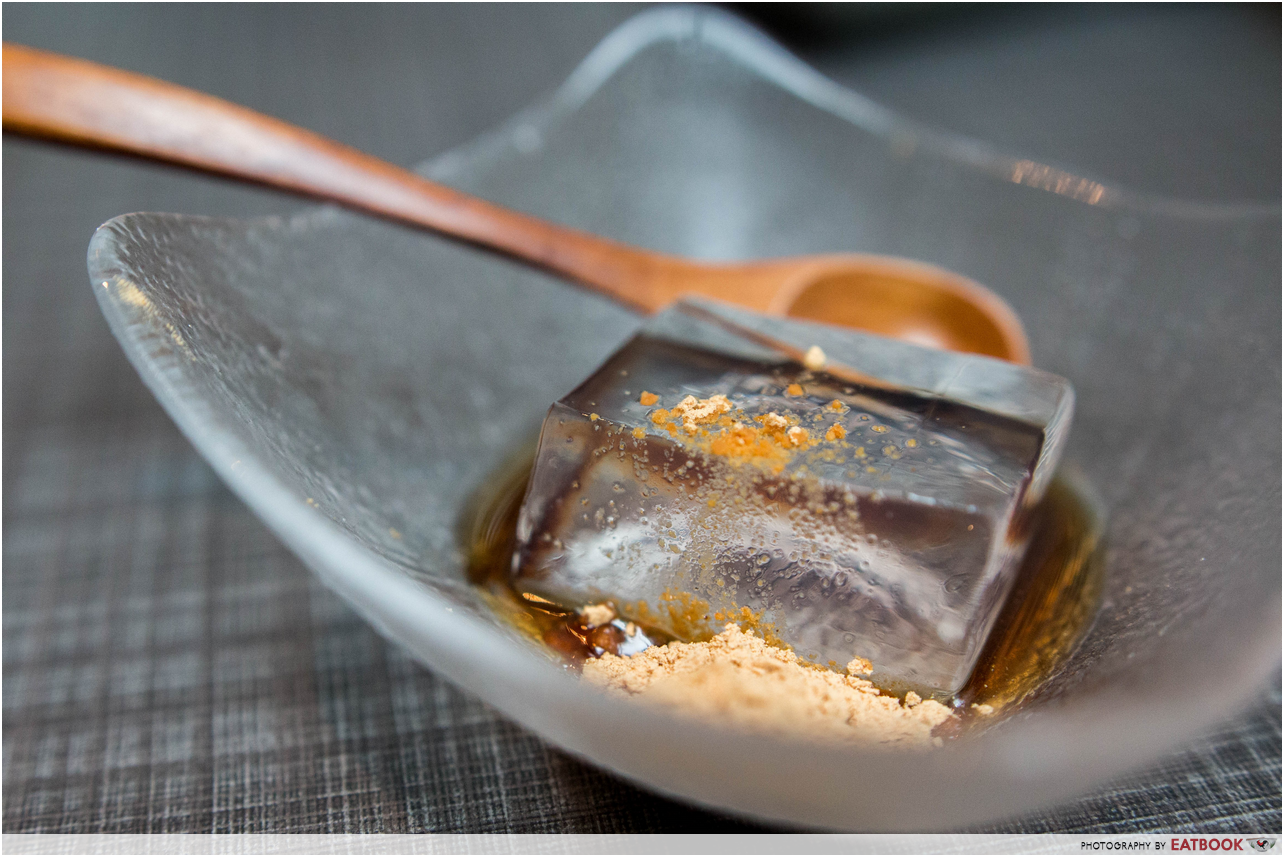 As part of the set, we got a dessert that used to make waves on Instagram – mizu shingen (water mochi). A clear cuboid was doused in kuromitsu (black sugar syrup), and topped with a scoop of kinako (soybean) powder. The waiter proudly exclaimed that the water used in their mizu shingen is from Mount Fuji.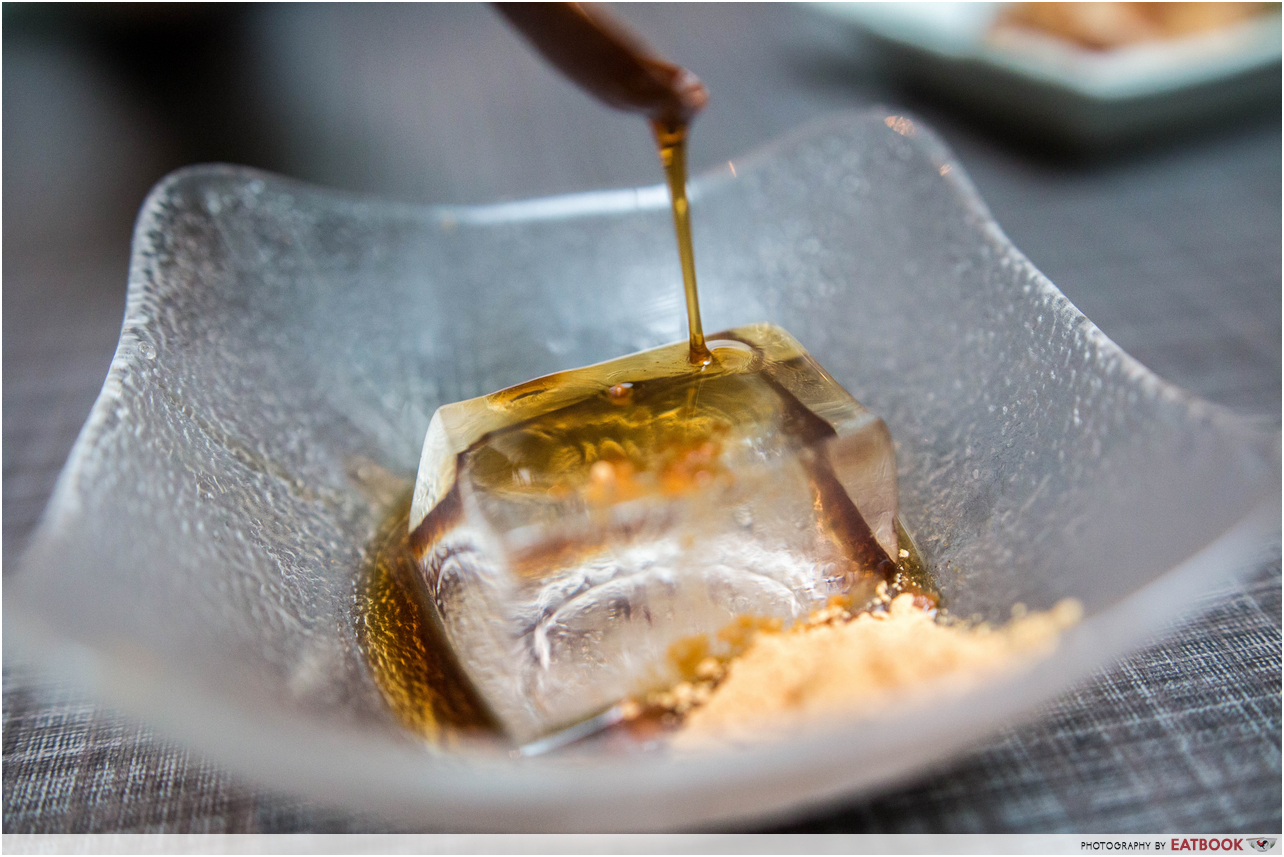 On its own, the mochi was tasteless, but had an incredible texture. It entered my mouth as a jiggly piece of delicate agar, then dissolved almost instantly into water. The kuromitsu added a strong agave-like sweetness, while the kinako powder imparted a nutty aftertaste. I thickened the kuromitsu by mixing it with the kinako powder, then drizzled it on top of the mochi.
Ambience at Ryu's Japanese Restaurant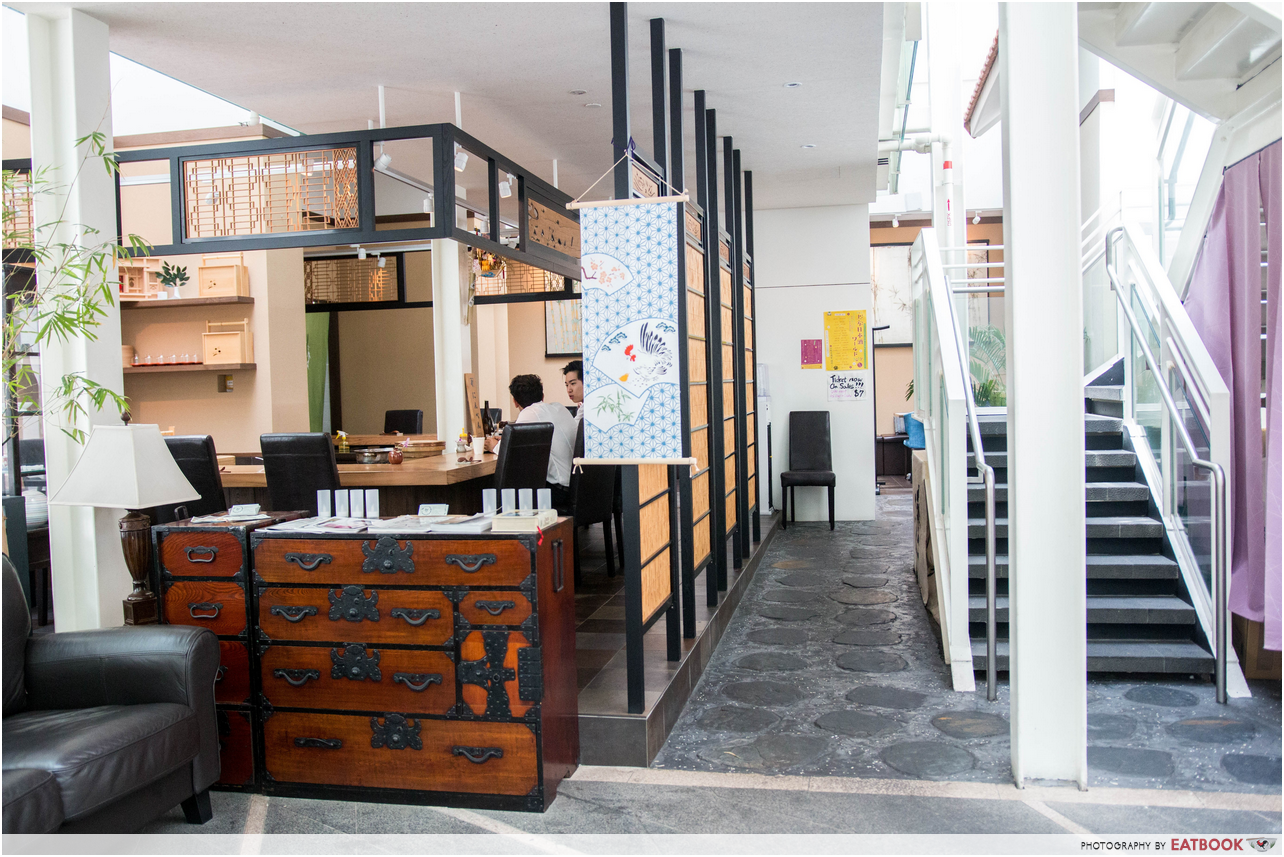 Furnished with wooden tables and shelves, and with a well-lit interior, Ryu's Japanese Restaurant exudes an elegant charm. Sit at one of their rectangular tables if you prefer more privacy, or plant yourself at the counter if you're an Insta-story addict and wish to document every process of the chef preparing your meal.
There's an upper deck as well, but that's only open during dinner hours.
The verdict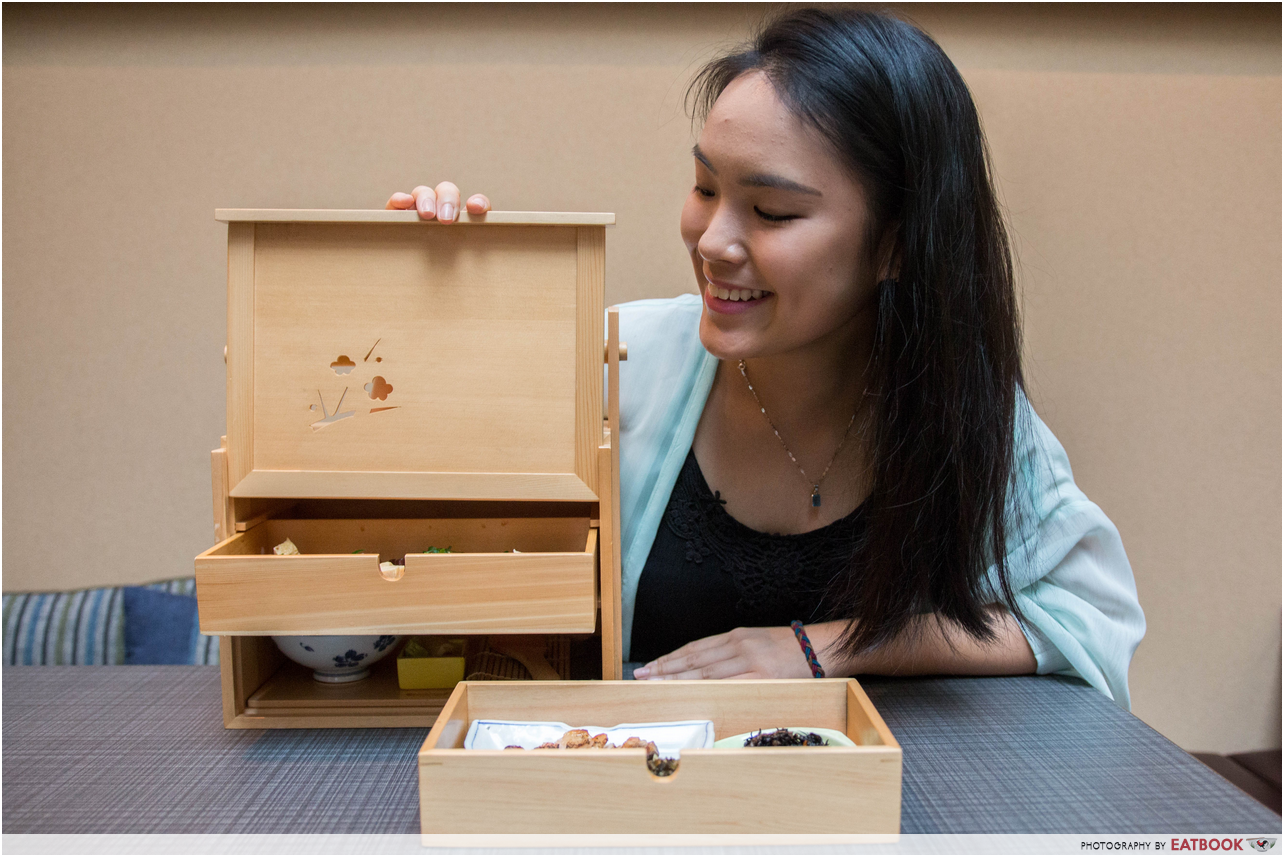 At Ryu's Japanese Restaurant, you definitely get what you pay for. The prices are on the steep side and, as much as I want to be a regular here, I'll settle for visiting during times I need a treat or special events.
Address: 15 Stamford Road, #01-87, Capitol Piazza, Singapore 178906
Opening hours: Daily 12pm to 2:30pm, 6pm to 12am
Tel: 6384 9087
This is an independent review by Eatbook.sg.
Summary
Pros
– Good quality and tasty food
– Great customer service
– Convenient location
Cons
– Expensive
Recommended Dishes: Okamochi Bara Chirashi-Sushi Set ($45++)
Operating Hours:
Daily 12pm to 2:30pm, 6pm to 12am
Tel:
6384 9087
Address: 15 Stamford Road, #01-87, Capitol Piazza, Singapore 178906