Handcrafted ice cream at Scoopz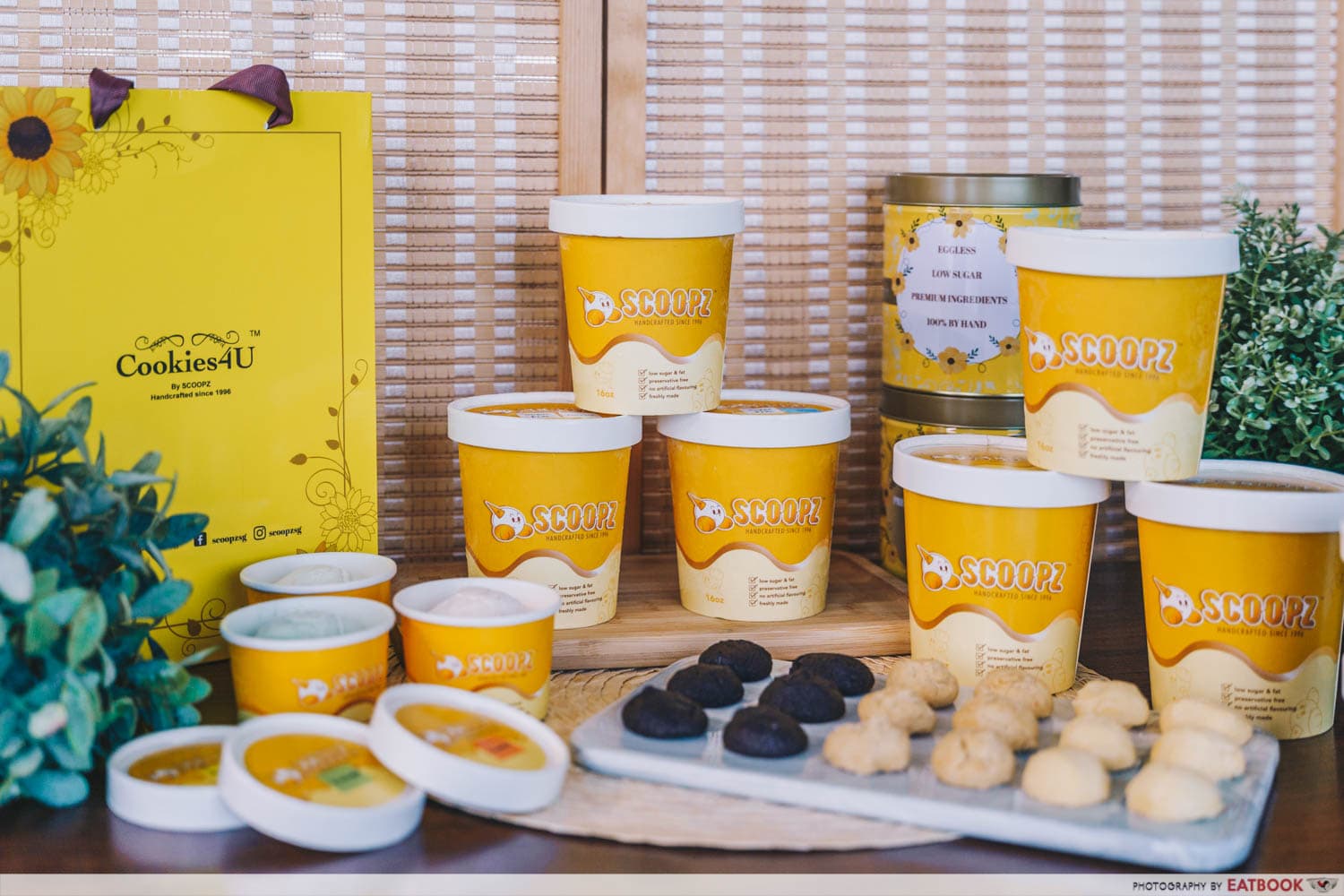 Whether you need a quick post-meal dessert or a remedy for Singapore's unforgiving weather, ice cream is always the answer. Scoopz has got your back when it comes to savouring some sweet treats at your convenience. This local brand delivers handcrafted ice cream right to your doorstep so you don't have to brave the heat and travel out of the house. 
Scoopz is Singapore's first homegrown ice cream brand since 1996. Being around for more than a decade, they must clearly be doing something right. 
You may be familiar with their previous outlet at Parkway Parade but since 2019, Scoopz has decided to focus 100% of their efforts on their e-store to bring personal touch to their customer. Indulge guilt-free as Scoopz's ice cream is low in sugar, and free from artificial flavourings, preservatives, and colourings.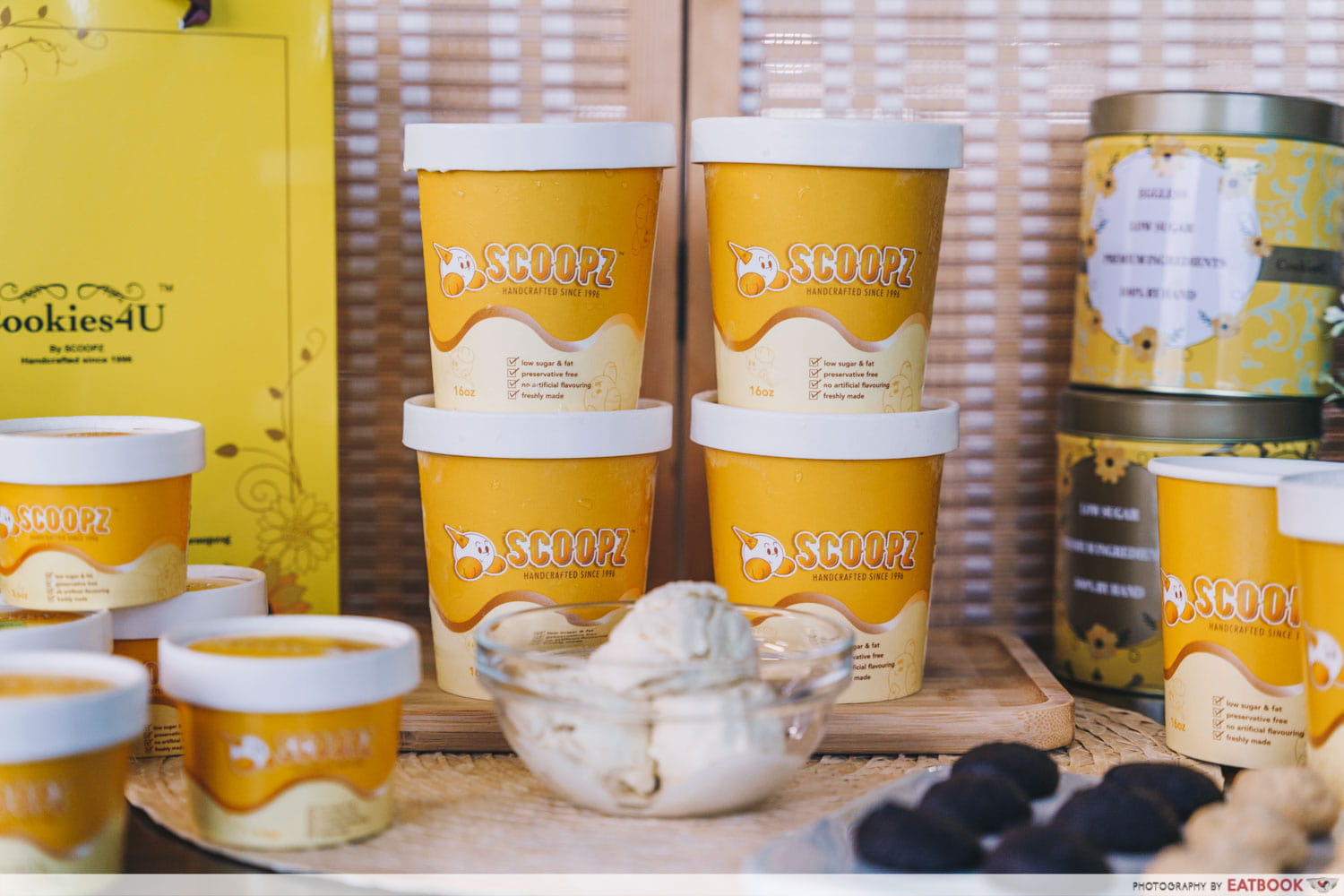 Their ice cream is prepared from scratch daily, using local ingredients and fresh fruits. This ensures the freshness and quality of Scoopz's ice cream is maintained. Expect an array of flavours ranging from tropical fruity options to familiar local tastes, with prices starting from $16 a pint.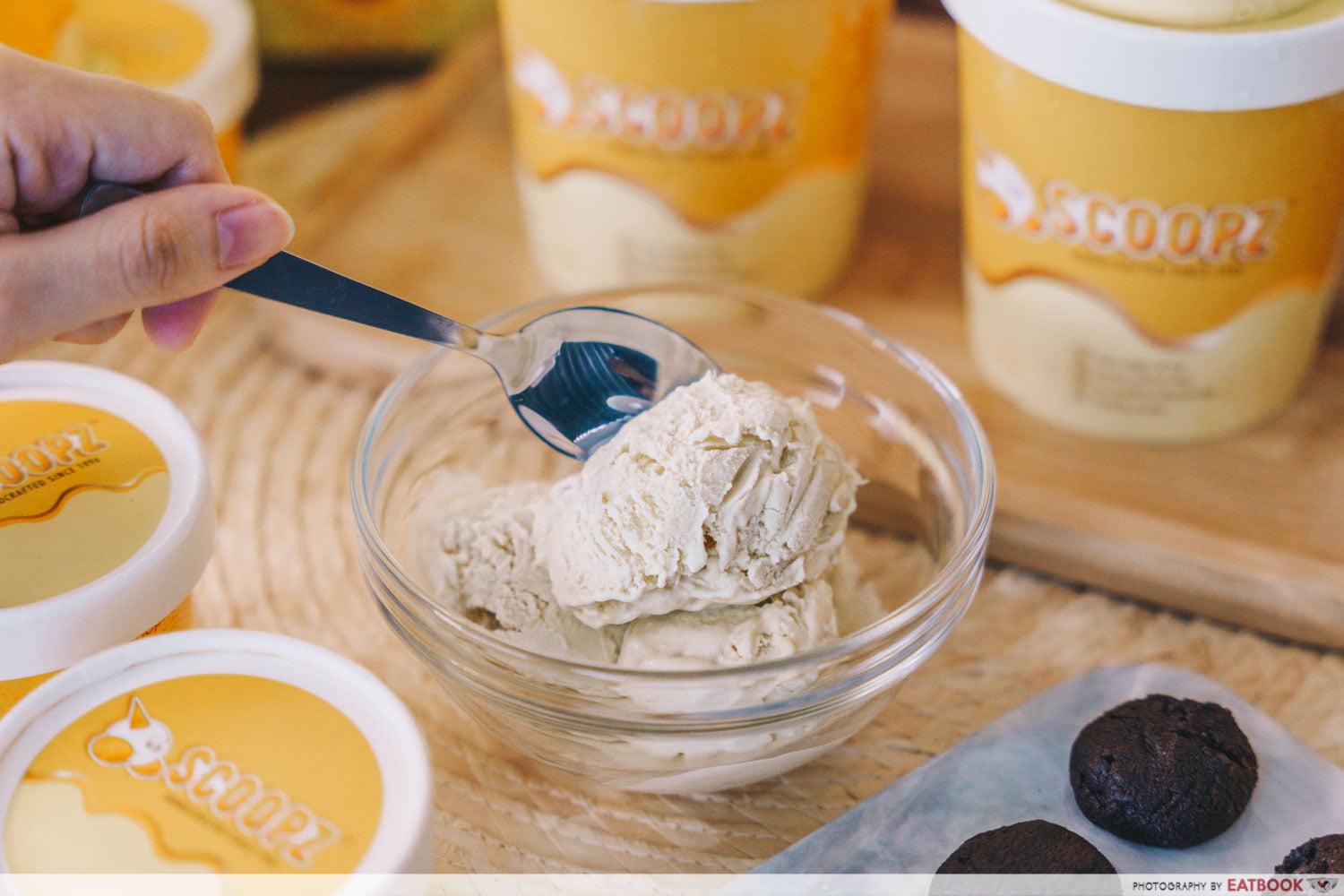 The signature flavour at Scoopz is Mao Shan Wang ($23 a pint), which contains real pulp from the king of fruit. This ice cream also comes in a sugar-free option that doesn't compromise on taste. 
The Sugar-Free Mao Shan Wang ($25 a pint) ice cream is touted to be Singapore's first. It's creamy, rich, and full of the bittersweet taste of real durian─you won't realise it's sugar-free.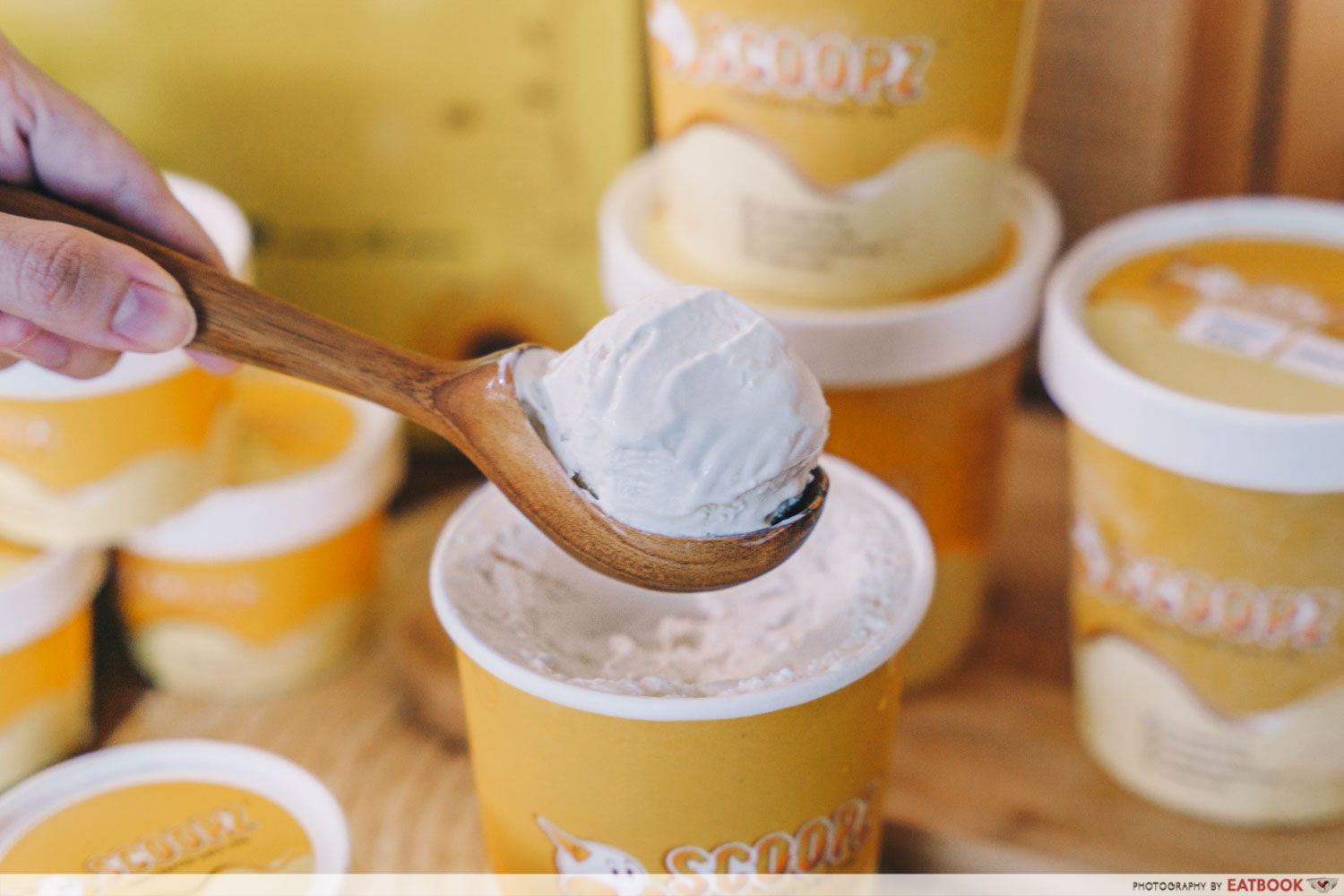 The Sugar-Free Soursop ($16 a pint) option has a natural fruity flavour with a refreshing tang. Though they dialled back on the sweetness, it's just as satisfying.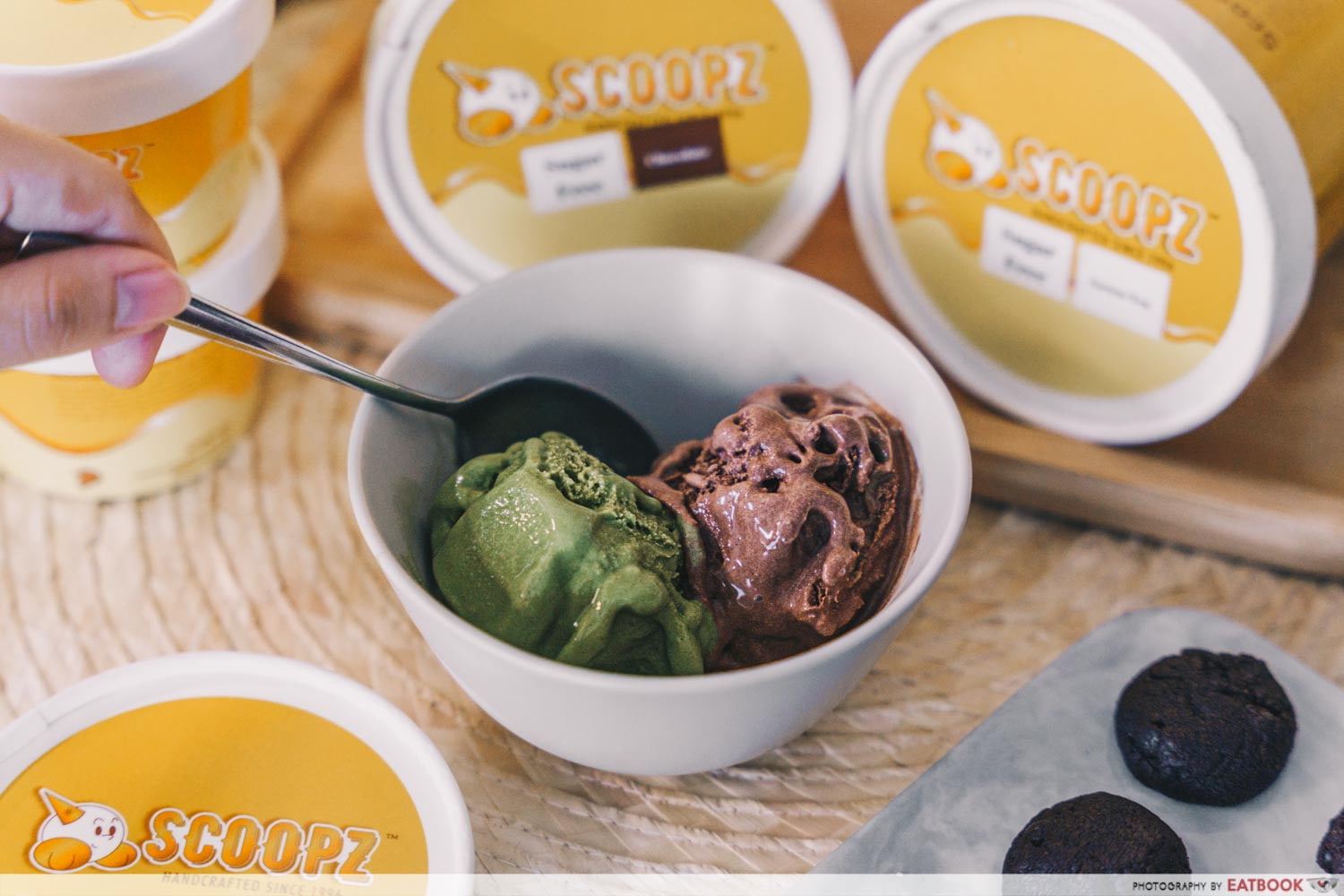 Apart from the fruity flavours in their sugarless series, Scoopz also offers classic ones, such as the Green Tea ($18 a pint) ice cream, rife with earthy and aromatic notes. Despite being sugar-free, the Chocolate ($18 a pint) was also decently sweet, with a strong taste of cocoa.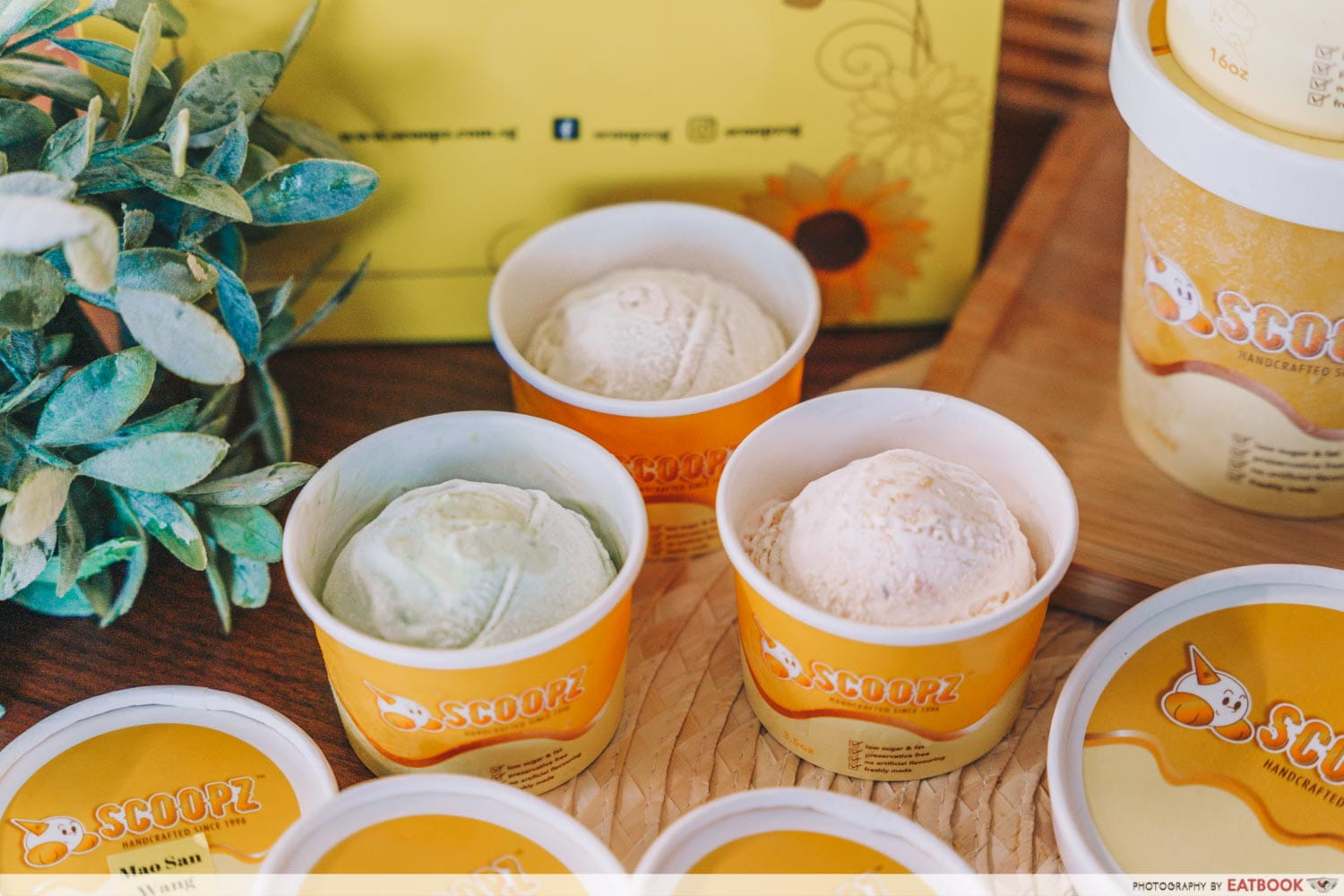 Scoopz's ice cream comes in single servings too. These go at $3.90 per cup, and that makes it convenient for you to get ice cream anytime, anywhere. To make this nifty pick-me-up even easier to eat on the go, it comes with a tiny spoon fitted under the lid. 
If you're an avocado-obsessed millennial like me, don't miss out on the Avocado ice cream. It has a delightful nutty taste, accompanied by a mild hum of sweetness. This is available in full-sized tubs too.
Scoopz fruity flavours are pretty extensive─you may find other unique ones such as Grape and Watermelon, all of which are available in both cup and pint sizes. Opt for another one of their signatures, Cempedak, which tastes similar to jackfruit.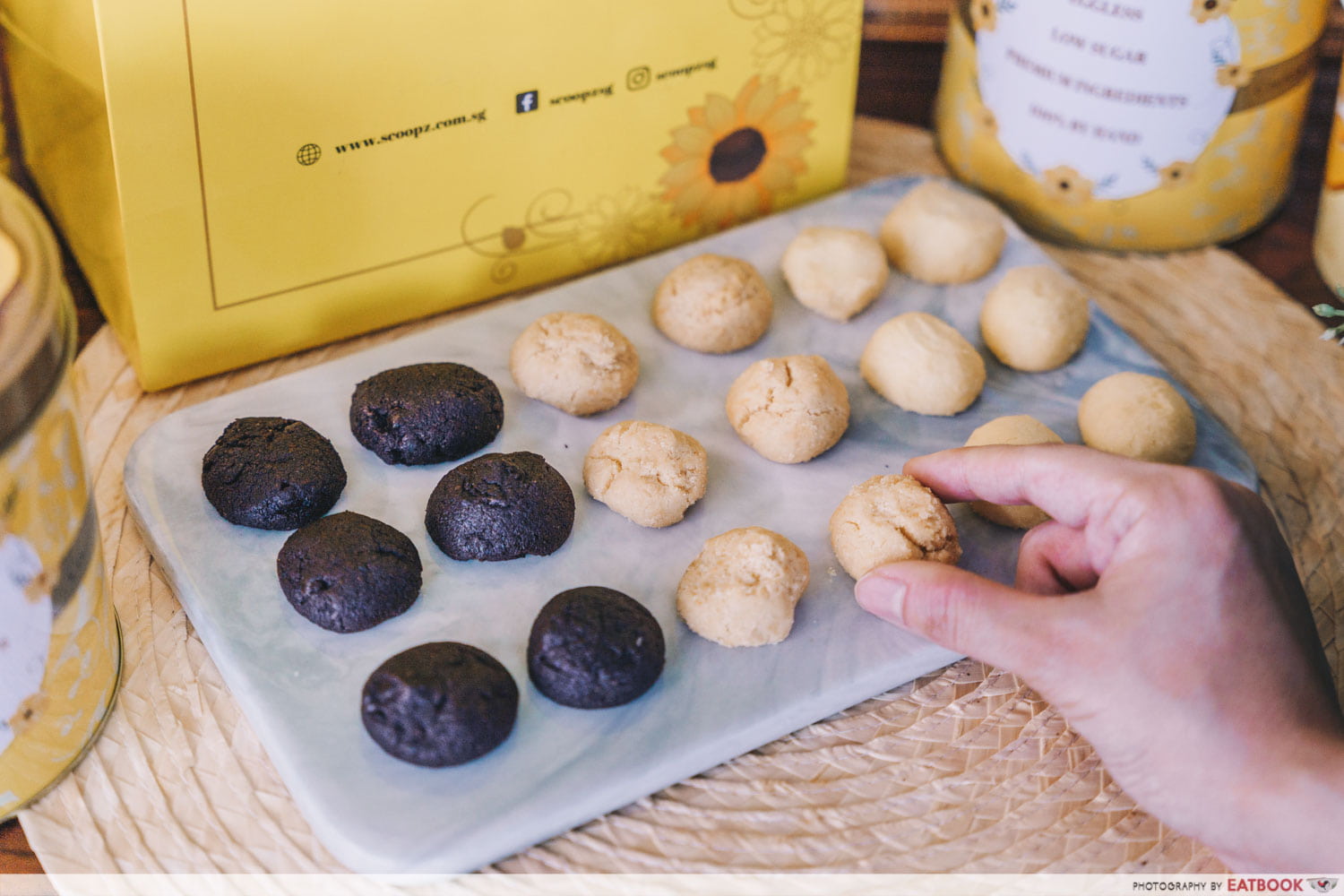 Ice cream isn't all Scoopz has to offer. Cookies4U by Scoopz presents handmade cookies that are eggless and low in sugar. Revel in their selection of cookies, including the Heavenly Dark Chocolate ($21.80), Golden Pebbles ($21.80), and Ah Ma Almond ($21.80). I recommend going with the Golden Pebbles. These melt-in-your-mouth nuggets are incredibly soft, crumbly and buttery. These bite-sized treats together with ice cream would make a great party staple for the upcoming festive season such as Christmas and Chinese New Year. 
Stock up your freezer with Scoopz ice cream now! You may place your order directly from their website. What's more, enjoy $8 off your first order with a minimum purchase of $40 by applying the code <eatbook8> when you check out. 
Photos taken by John Lery Villanueva.
This post is brought to you by Scoopz.