---
Seafood feasts without hefty price tags

---
If there's one thing that stops my family from ordering all the seafood dishes we want at a restaurant, it would be the hefty price tags that come with them. But that's not gonna hold us back at our next family feast, 'cause there's an upcoming flash sale that'll let us get up to 50% off at more than 20 restaurants!
Mark your calendar now, as The Chope Shop, Chope's e-commerce initiative, is putting a whole lotta restaurant vouchers up for grabs at their 16-hour EPIC Birthday Flash Sale that's happening from 8am to 11:59pm on 15 June 2017. The online sale is open to all Visa cardholders, and lets you snag $50 and $100 restaurant vouchers at $25 and $70 respectively. Of course, the laws of auntie-hood dictate that I gotta pick the best deals of the lot, so I'm going straight for those seafood lobangs!  
---
1. The Boiler

---
The Boiler serves fresh seafood in bags to ensure everything is evenly coated in a tasty sauce. The seafood here is done Louisiana-style, and you can pick from four sauces – Garlic Butter, Peppa' Butter, Sauce of the Month, and The Works, which offers three levels of spiciness.
For casual date nights, go for Boiler's Duo Bag (U.P. $52++ for two). This heavy bag includes prawns, clams, mussels, sausages, corn, and pan-fried buns. If you're heading down with your full squad, Boiler's Bombdiggity Bag (U.P. $149++) contains a larger portion of everything in Boiler's Duo Bag and it also comes with a crab!
Address: 18 Howard Road, #01-06, Novelty Bizcentre, Singapore 369585
Opening hours: Daily 11:30am to 2:30pm, 5pm to 10:30pm
Preview now
More information


---
2. New Ubin Seafood   
---
Despite New Ubin Seafood's relocation from Sin Ming to Hillview, loyal fans still make the extra effort to head over for some smashing seafood. Their crab dishes are prepared with live crabs that are delivered to them daily, and include interesting sauce options such as Garlic Baked, Spicy Masala, and Butter Cream. If there's a seafood-hater in your clique, other lip-smacking dishes such as their famous US Black Angus Ribeye Steak (U.P. $14 for 100g) and Kurobuta Pork Ribs (U.P. $38/$60) are also available.        
Check out other restaurants in Singapore that offer uncommon crab dishes!
Address: 63 Hillview Avenue, Level 6 (Canteen), Singapore 669569
Opening hours: Daily 11am to 3pm, 5:30pm to 10pm
Preview now
More information


---
3. K-Tower  
---
For the ultimate #TGIF celebration, head down to K-Tower with your pals. Go big with their 9-Tier Seafood Tower (U.P. $298++ for eight to 10 people), which comes with eight trays of seafood – including sea cucumber and lobster – and a seafood soup base. The heat travels up layer by layer, and lightly steams the seafood to retain their natural flavour and sweetness. If you happen to feel ravenous, an easy side dish to share would be Trilogy Rice Cakes with Honey (U.P. $5.90++ for five sticks). This dish is essentially made up of sweet potato, cheese, and pumpkin tteokbokki on sticks.
Address: 74 Amoy Street, Singapore 069893
Opening hours: Mon-Thur 11:30am to 2:30pm, 5:30pm to 10:30pm, Fri-Sun 11:30am to 2:30pm, 5pm to 10:30pm
Preview now
More information


---
4. TungLok Seafood

---
TungLok Seafood takes the usual crab bee hoon up a notch with their Laksa Crab Bee Hoon (U.P. $65++ per kg). This vibrant dish includes a whole crab as well as bee hoon that's swimming in a rich laksa broth. The slight heat from the spices used cuts through the rich coconut milk, and won't leave you feeling jelak. They also do splendid versions of crab classics such as chilli crab and black pepper crab, so jio your fambam for a crab feast here!
Check out other places in Singapore that serve signature bee hoon dishes!
Address: 181 Orchard Road, #11-05, Orchard Central, Singapore 238896
Opening hours: Mon-Sat 11:30am to 3pm, 6pm to 10:30pm, Sun 10am to 3pm, 6pm to 10:30pm
Preview now
More information


---
5. Uncle Leong Seafood (Punggol)

---
Shimmering Crab Sand Delight (seasonal price) from Uncle Leong Seafood caught the attention of foodies back in 2002, and subsequently propelled this restaurant to fame. Made with a butter-based sauce, this dish is exceptionally creamy and goes great with fried mantou. To complete your seafood party, get a plate of Creamy Pumpkin Prawn (U.P. $20++/$25++/$30++) that features deep-fried prawns glazed in rich and smooth pumpkin sauce.  
Address: 6 Tebing Lane, #01-03, Punggol East, Singapore 828835
Opening hours: Daily 4:30pm to 11:30pm
Preview now
More information


---
6. Dancing Crab

---
Be prepared to get your hands dirty at Dancing Crab, where you'll be enjoying seafood right off your table. Go for their Crawfish Combo (U.P. $75++) that's loaded with crawfish, sausages, corn, clams, and prawns. If you're not a fan of sharing portions, Lobster Roll (U.P. $29.90++) makes a good alternative for one. Fresh chunks of lobster mixed with tangy mayo are stuffed between well-buttered hot dog buns and served with a side of fries.    
Address of VivoCity outlet: 1 Harbourfront Walk, #03-10, VivoCity, Singapore 098585
Address of The Grandstand outlet: 200 Turf Club Road, #01-20/21, The Grandstand, Singapore 287994
Opening hours (VivoCity): Daily 11am to 3pm, 5pm to 10pm
Opening hours (The Grandstand): Mon-Fri 5pm to 10:30pm, Sat-Sun & PH 11:30am to 3pm, 5pm to 10:30pm
Preview now (VivoCity)
Preview now (Grandstand)
More information


---
7. Sawadee Thai

---
For a seafood feast with a twist, check out Sawadee Thai's contemporary Thai dishes. Their popular Thai Style Otah On Clayplate (U.P. $10++ for four pieces, $16++ for seven pieces) features blended mackerel fish, coconut milk, and traditional Thai spices that come together to create delicious pieces of this classic side. Thai Style Squid (U.P. $15++) is another dish all seafood lovers should not miss. Grilled before being sliced, the squid boasts a charred, smoky flavour that's enhanced by the house-made spicy sauce served on the side.
Address: 9 Tan Quee Lan Street, #01-01, TQL Suites, Singapore 188098
Opening hours: Daily 11am to 2:30pm, 6pm to 10:30pm
Preview now
More information


---
8. TungLok Teahouse

---
Besides dishing out delicious morsels of dim sum, TungLok Teahouse also offers a variety of seafood dishes. A must-order is TungLok Chilli Crab (seasonal price), which uses a mixture of orange juice and tomato sauce to create a sweet-spicy gravy that's laced with strips of egg. This outlet at Far East Square has round marble tables and wooden furnishings that'll make a great backdrop for a pic with the fambam after a filling meal.
Address: 9-13 Amoy Street, #01-01, Far East Square, Singapore 049949
Opening hours: Mon-Fri 11:30am to 3pm, 6pm to 10:30pm, Sat 11am to 3pm, 6pm to 10:30pm, Sun & PH 10am to 3pm, 6pm to 10:30pm
Preview now
More information


---
9. MOJO  
---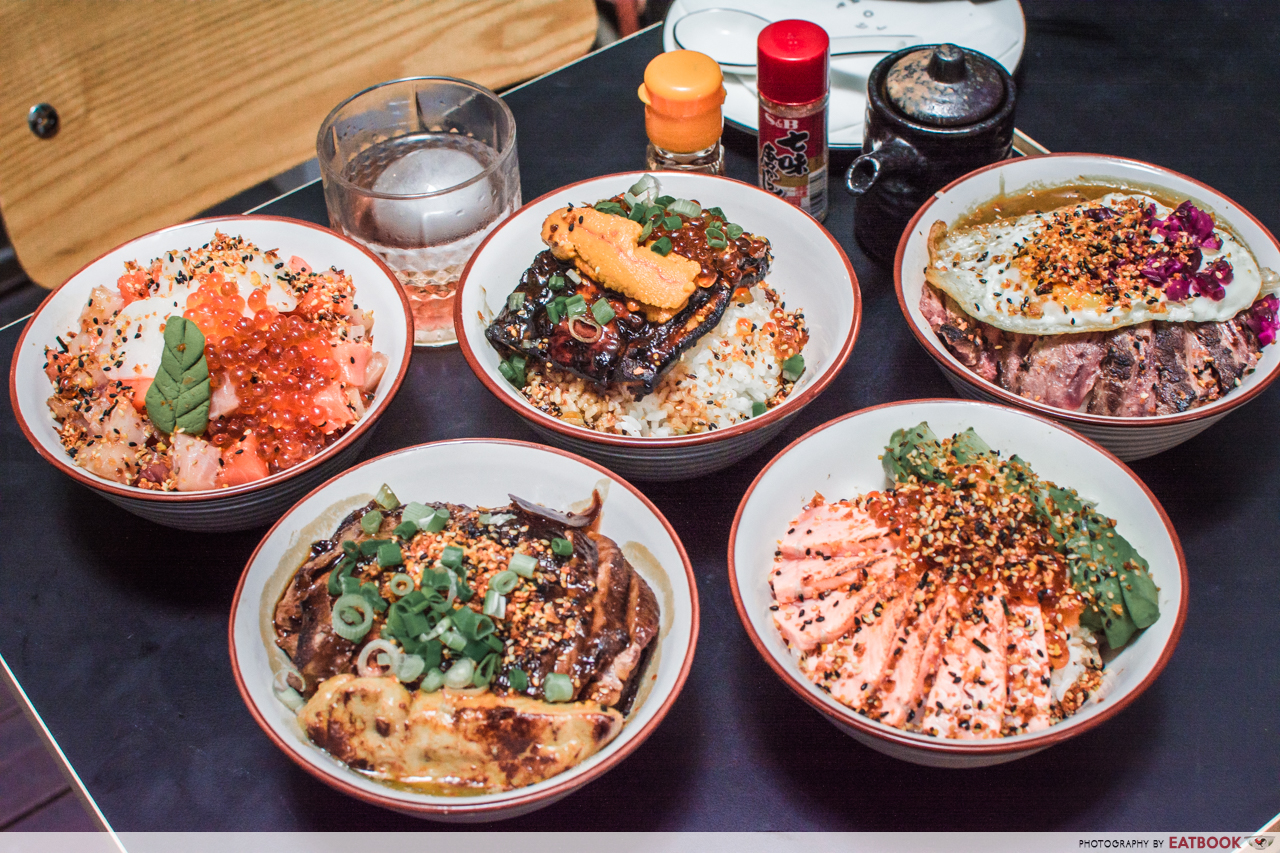 In collaboration with Sin Lee Foods, MediaCorp actor Shane Pow ventured into the F&B industry with MOJO as his brainchild. Serving up Japanese-inspired grain bowls for lunch, and yakitori and donburi after the sun sets, this is a one-stop destination for both #cheatdays and #chillnights. Dig into their latest rice bowls such as Aburi Salmon & Avocado ($23++) and Roasted Unagi & Uni ($29++) that are available at night. Sashimi lovers, their MOJO Chirashi ($24++) offers chunks of salmon, scallop, and a huge spoonful of ikura.
Check out other celebrity-owned restaurants in Singapore!
Address: 204 Telok Ayer Street, Singapore 068640
Opening hours: Mon-Sat 11:30am to 12am
Preview now
More information


---
10. Jamie's Italian   
---
Many know Jamie's Italian for their hearty plates of pasta, but not all are aware of their stellar seafood mains. If you're craving for something comforting, Venetian Fish Stew (U.P. $32++) has fish and shellfish simmered in a white wine and tomato sauce. Carb lovers will be glad to know it also comes with small semolina pasta and a slice of toast with garlic aioli. For a lighter meal, Seared Tuna (U.P. $33++) features flaky, chargrilled tuna steak topped with mashed avocado, tomatoes, fresh basil leaves, and a drizzle of extra virgin olive oil.
Address of VivoCity outlet: 1 Harbourfront Walk, #01-165/167, VivoCity, Singapore 098585
Address of Forum outlet: 583 Orchard Road, #01-01/04, Forum The Shopping Mall, Singapore 238884
Opening hours (VivoCity): Mon-Thur 12pm to 9pm, Fri 12pm to 10pm, Sat 11am to 10pm, Sun 11am to 9pm
Opening hours (Forum): Mon-Thur 11:30am to 10pm, Fri-Sat 11:30am to 11pm, Sun 11:30am to 10pm
Preview now (Forum)
Preview now (VivoCity)
More information


---
Feast with Chope
---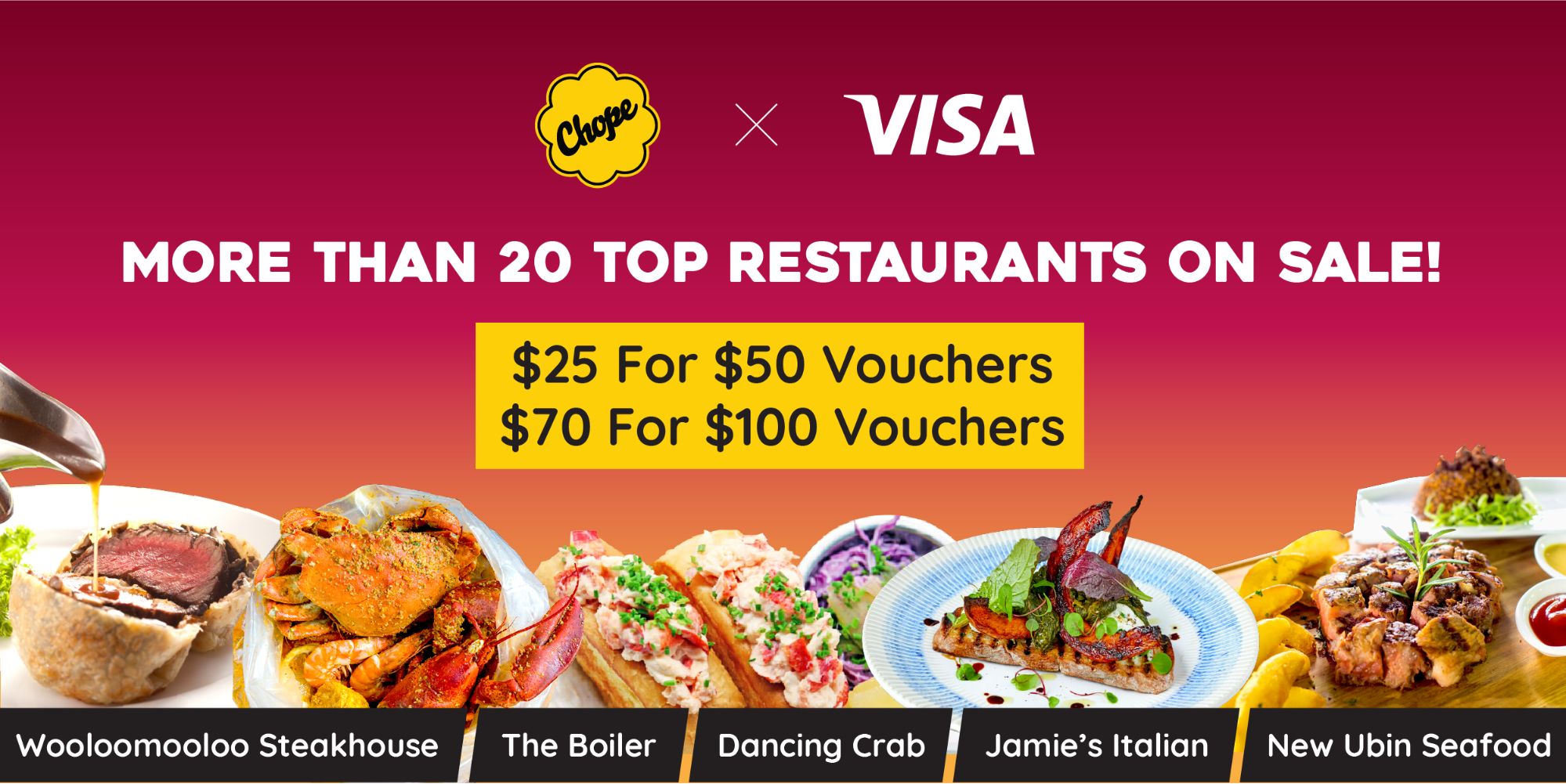 Make your seafood party easy on your wallet at Chope's birthday flash sale, where you can get vouchers that are worth $50 and $100 at $25 and $70 respectively! Aside from the restaurants mentioned above, you'll also find other popular places such as Wild Honey (Scotts Square and Mandarin Gallery), Wooloomooloo Steakhouse and Vatos Urban Tacos on the list.
All you need to do is key in the first six digits of your Visa card on the flash sale page to gain access to these deals, and check out with your Visa card.
Aside from these restaurant vouchers, there'll also be buffet vouchers on sale. These are catered to pairs, and allow the second buffet diner to pay $0.60 for the full spread as long as the first diner pays the regular price. Prices start at $38.60++ for two, and some buffet restaurants involved are Atrium Restaurant at Holiday Inn Atrium, Seasonal Tastes at The Westin, and Oscar's at Conrad Centennial.
The flash sale will be held on 15 June 2017, from 8am to 11:59pm, so remember to set an alarm 'cause the early bird catches the food!
For more awesome food lobangs during Chope's 6th birthday week, check out their $1 mains and 600 Chope-Dollars promotions!
Click here to find out more about Chope's flash sale!
This post is brought to you by Chope and Visa.
---
Featured image adapted from Instagram user diaryofjun's post.