---
Food at The Seletar Mall's Gastronomic Discoveries
---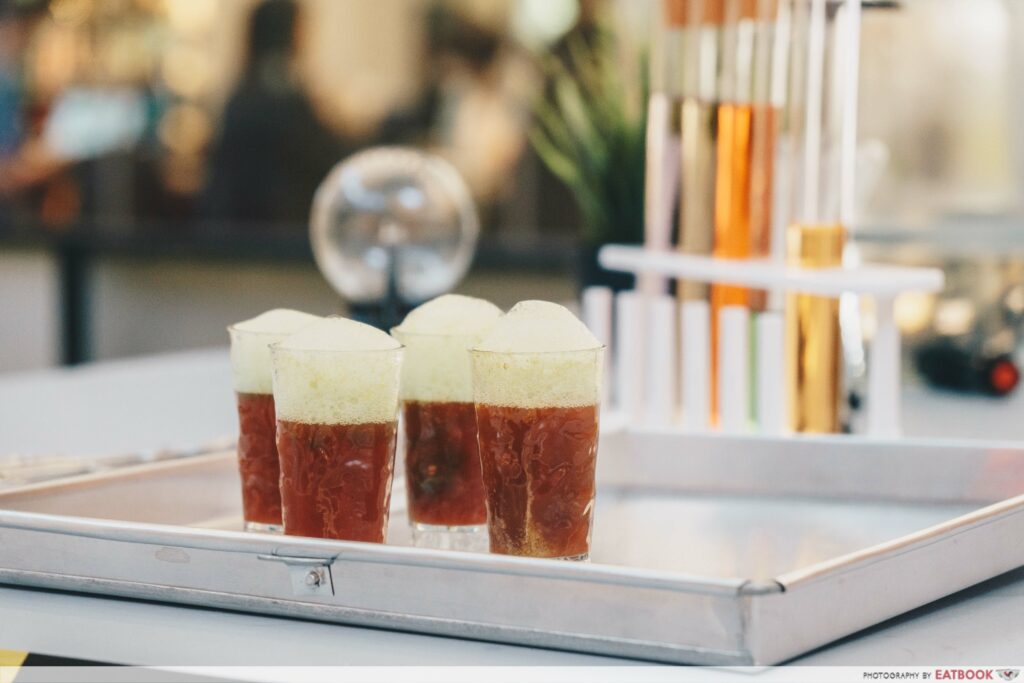 Almost anyone would be able to tell you that sugar, spice, everything nice, and chemical X will give you The Powerpuff Girls. Not many, however, will know how man-made caviar comes about or how water and potato starch can create a plate of transparent ravioli. If curiosity is overwhelming the science geek in you, or the mention of food simply triggers your cravings, you'll want to keep a lookout for The Seletar Mall's Gastronomic Discoveries!
Happening from 27 July to 9 August 2018, the event will feature a huge food science lab where you get to watch food being prepared using scientific techniques. Here are some interesting lab-made bites that you can expect at the event!
---
1. Ice-cream Burrito
---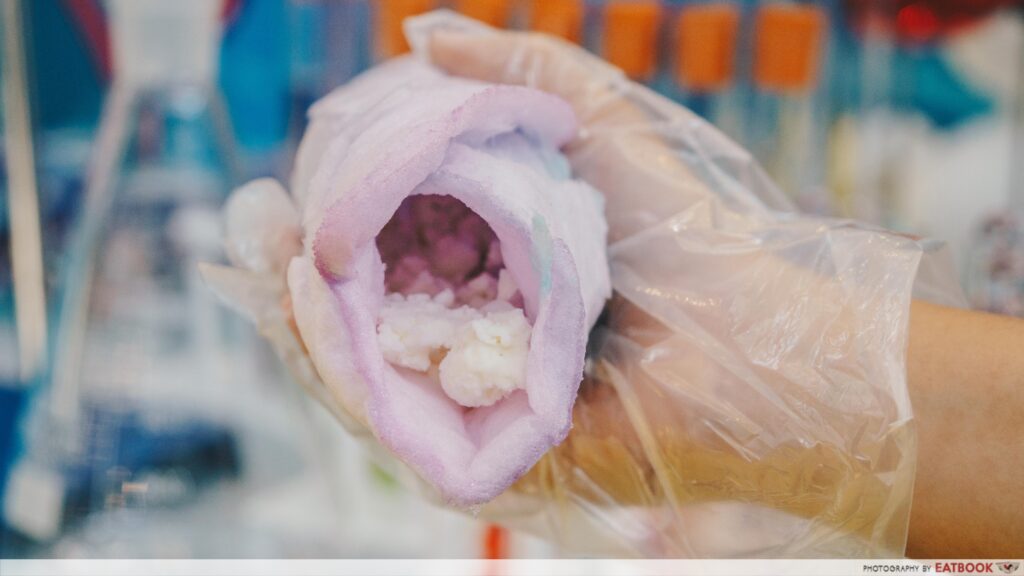 The Nitrogenius Lab zone is where you can watch a "scientist" transform milk into ice-cream within seconds, and then have the chance to wrap the smoking ice-cream in candy floss by yourself. While the ice-cream was not as smooth as gelato, the strong milky taste of the Ice-Cream Burrito was pleasant, refreshing, and especially fun with bits of liquid nitrogen smoke escaping the candy floss.
---
2. Dragon's Breath Fruit Loops
---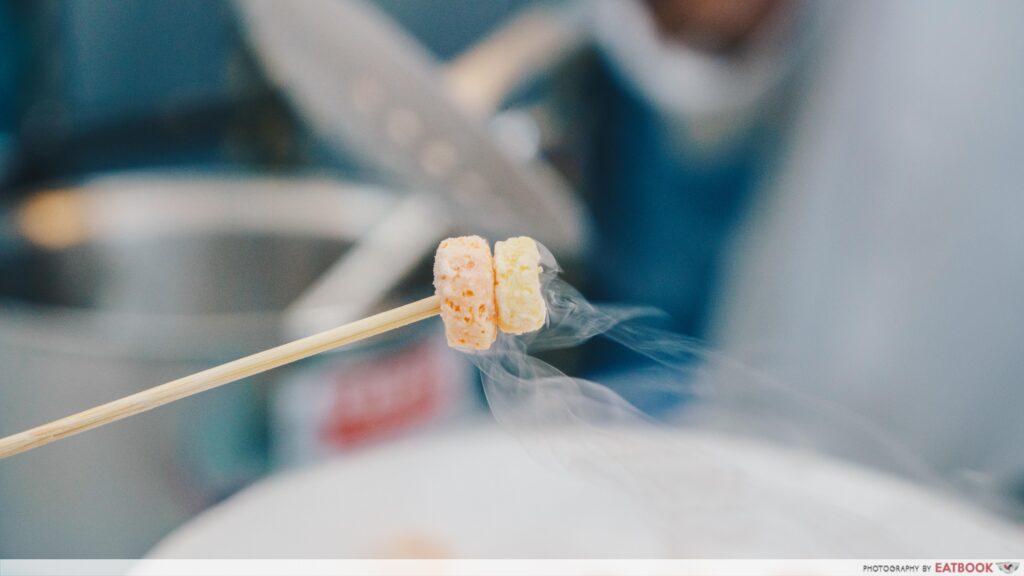 Found at the same zone as the Ice-cream Burrito, the Dragon's Breath Fruit Loops is made by soaking the cereal in liquid nitrogen. If you have already tried the ones at food festivals, you'd know it is pure fun. But taste-wise, it is pretty akin to eating nothing. With Fruit Loops replacing the usual tasteless cereal balls, those with a sweet tooth will have the time of their lives watching smoke come out of their mouths while munching on this all-time favourite snack!
---
3. Man-made Caviar
---

It's not everyday that we can afford delicacies such as caviar. To satisfy the bargain-loving self in you, check out the Man-made Caviar from the Spherification Factory zone! Using a combination of edible chemicals including sodium chloride and gluconate lactate, you can watch tiny caviar-like spheres form in the beakers. Served in small test tubes filled with 7 Up, pop the "caviar" into your mouth with a single shot and enjoy the chewy texture that will remind you of a combination of bubble tea pearls and aiyu jelly!
---
4. Man-made Egg Yolk
---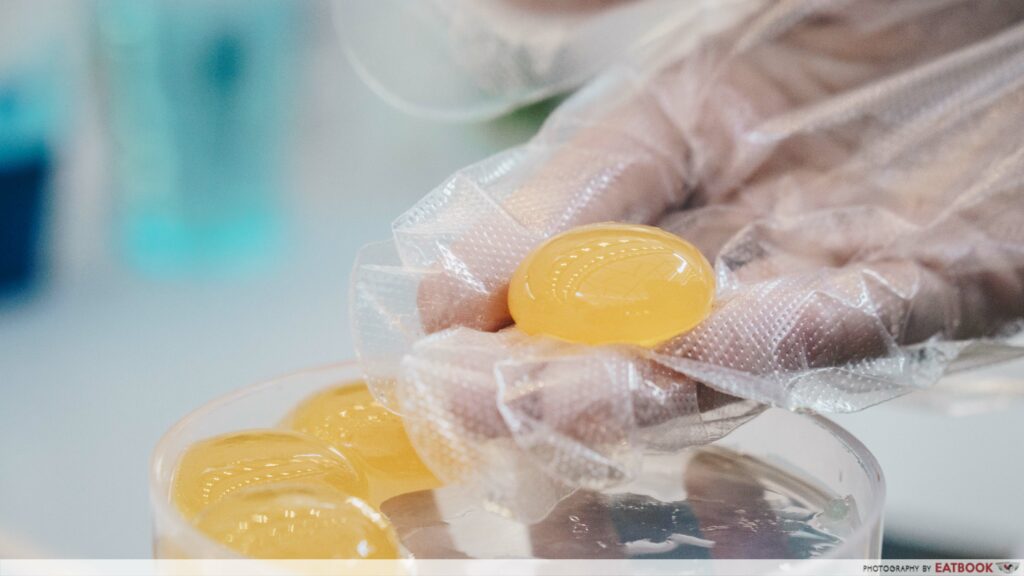 The Man-made Egg Yolk here is made using the same technique as that of the caviar. While the latter was all texture and no taste, you can expect the egg yolk to be an exploding jelly of mango juice. There's no glam way to eat this so just use your hands to pick the "egg yolk" up and let the dessert explode in your mouth!
---
5. Transparent Ravioli
---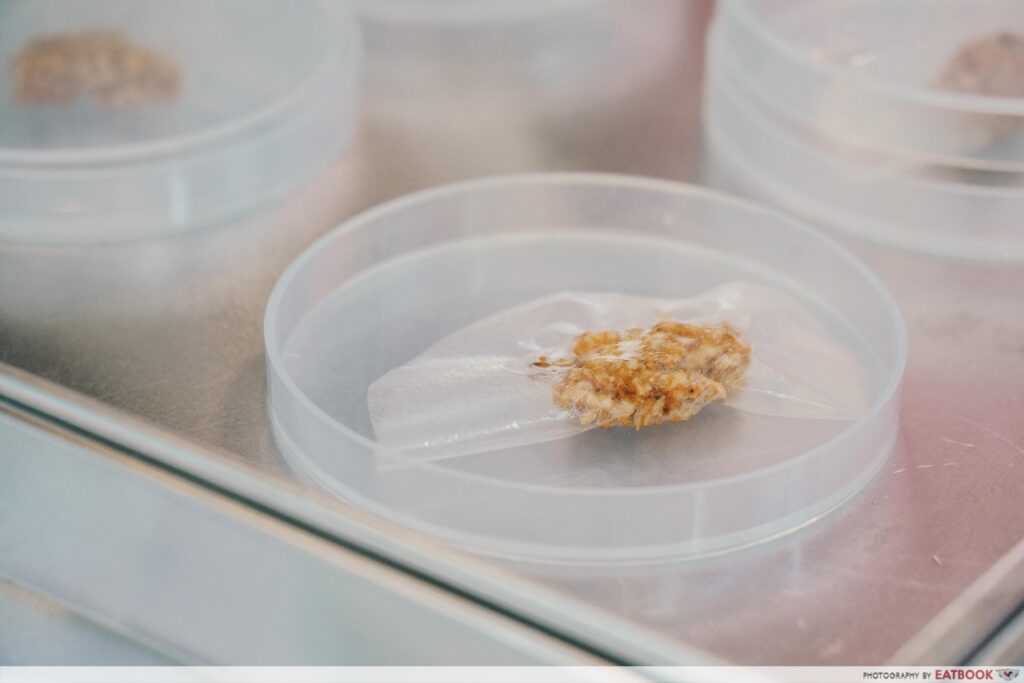 An atas delicacy you can find at Transparent Bistro zone is Transparent Ravioli. Appearance-wise, the ravioli was simply a small lump of meat with a thin layer of transparent foil enveloping it like a wanton. When we tried it, however, it quickly topped the rest as the tastiest dish. While the translucent plastic-like layer melts into nothing in your mouth, the minced chicken filling was savoury and reminded us of bolognese.
---
6. Water Drop Fruit Cake
---

At the same zone you will find the Water Drop Fruit Cake that took social media by storm months back. Also served in a petri dish, the hemispherical cake is made of agar, sugar, and topped with fruits. The dessert is mildly sweet and not jelak, so don't worry about downing the entire petri dish in one mouthful!
---
7. Talad Drink
---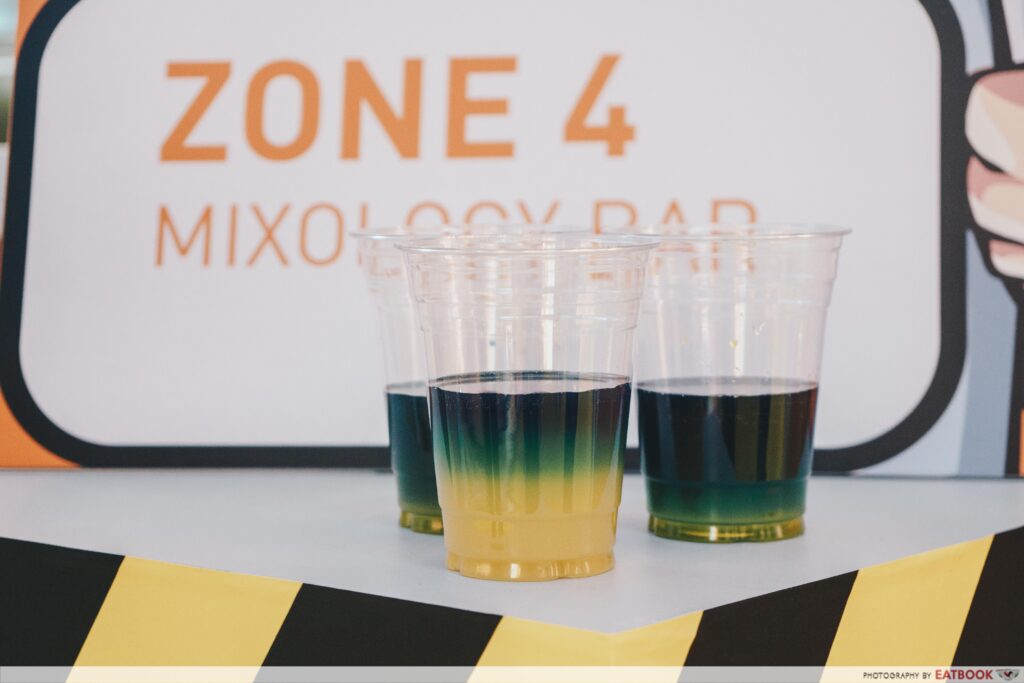 The Mixology Bar is where you can get your hands on interesting drinks such as the Talad Drink. We tried one that came in a gradient of three colours – yellow, purple, and blue. Made of mango juice, soda water, and coloured soda, the drink was created based on the concept of density, where the differences in densities cause the ingredients to separate from each other.
---
Others
---
1. Food Hacks Playground
---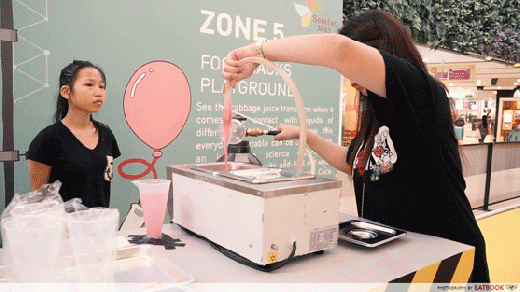 The highlight when we were there was getting our hands on an Edible Helium Balloon from Food Hacks Playground zone. Made using gum-like "secret ingredients", watch as they use a helium machine to inflate the gooey mixture into a huge gum balloon. That's not where the fun ends. Pop the balloon by biting and inhaling the helium and you can crack your friends up with your squeaky voice! 30 edible helium balloons are given out at random timings on Saturdays and Sundays, so cross your fingers before you pop by!
---
2. Games Zone
---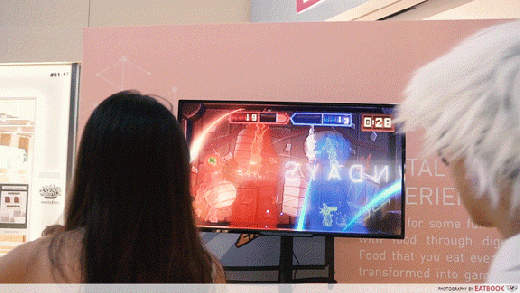 At the end of the trail, you'll find yourself at the Games Zone where you can challenge your friends to a game of Fruit Ninja Kinect 2. After all the eating, here is where you get active. Using your hands as weapons, slice the fruits that fly across the screen and the one who cuts up the most number of fruits in the given time wins!
---
Feast at The Seletar Mall
---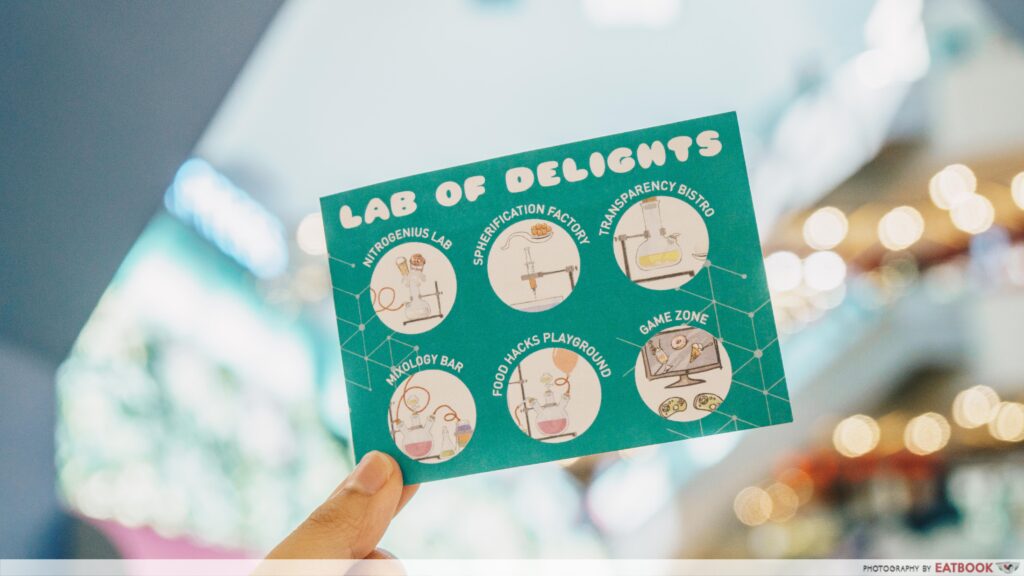 Here's the best piece of news – spend a minimum of $30* at the mall to gain entrance to the event and once you're inside, you can try all the food there for free! Also make sure you have a Lab of Delights card when you head in and have the card stamped at every zone to redeem a free gift before you leave!
You can also try your luck at a lucky draw that's happening from 20 July to 19 August. Just spend a minimum of $80 ($120 including FairPrice Finest receipts) for a chance to win. Get double the chance when you spend between 12pm and 4pm on weekdays! Prizes include $800 worth of SPH Mall vouchers, wine chillers, juicers and more.
Find out more about Gastronomic Discoveries at The Seletar Mall!
Address: 33 Sengkang West Avenue, Level 1 Atrium, The Seletar Mall, Singapore 797653
Event dates: 27 July 2018 to 9 August 2018
*Terms and Conditions apply.