Serious Fresh at Bedok Mall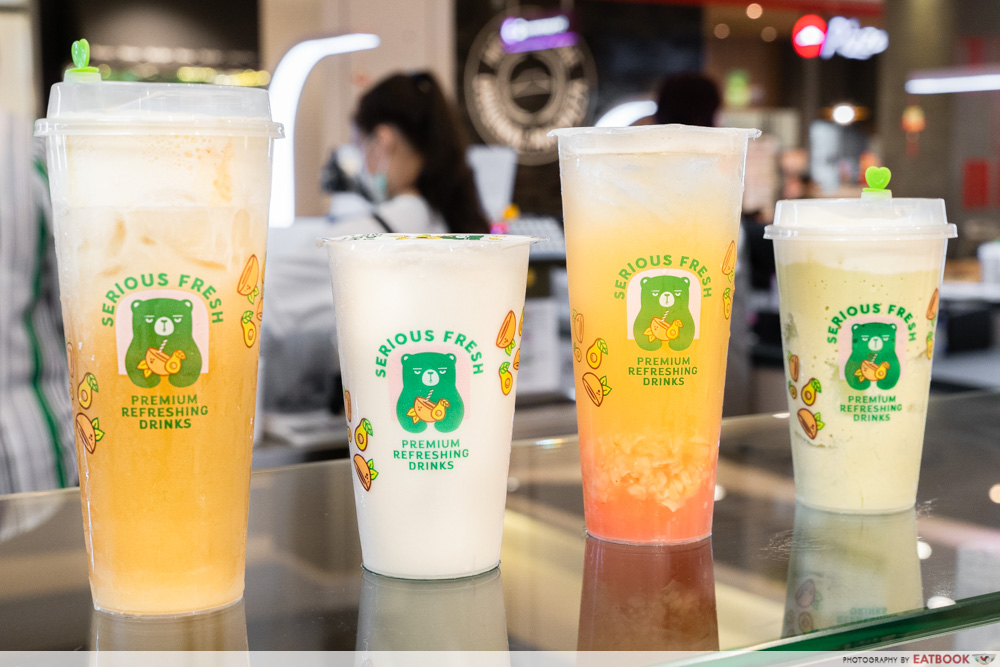 Singapore is far from a dearth of takeaway drink stores, but to have one that is able to hold its own against more well-known brands is no mean feat. Serious Fresh is able to do just that. New to the game, they already have stores at Northpoint, Tampines 1, and Bedok Mall. 
Just like Fruce, they offer a unique and wide variety of drinks with interesting toppings such as yam puree, sweet potato balls, sakura pearls, and more.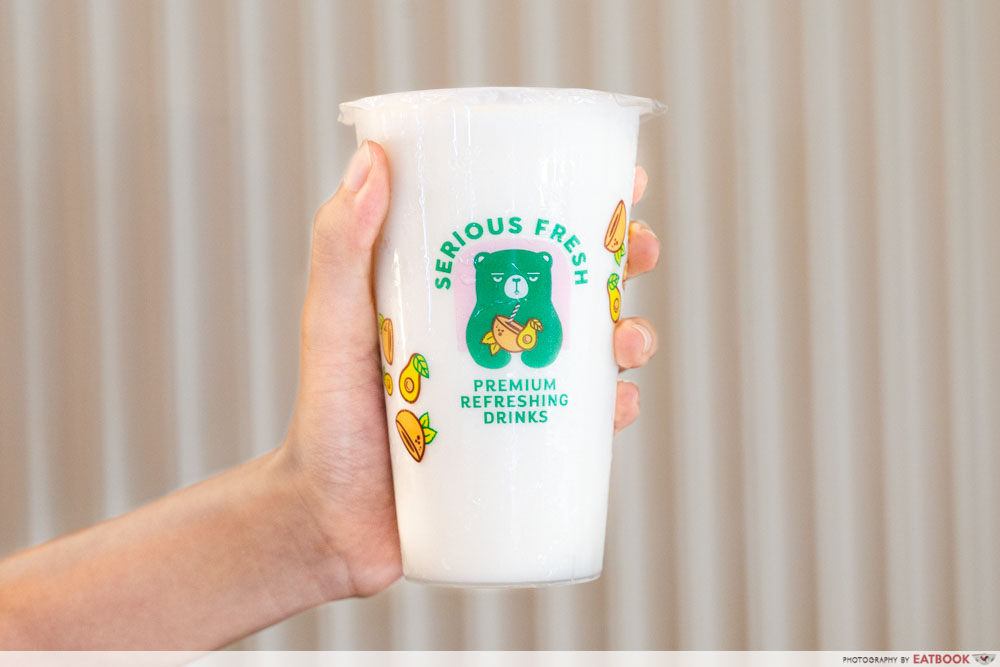 First up is their Signature Coconut Shake ($4.80). You can't go wrong with this refreshing classic on a hot day, AKA almost every day in Singapore. I especially enjoyed chewing the little coconut bits in the drink. Even though I felt super full after lunch, I still couldn't stop myself from continuously sipping this until it was all finished.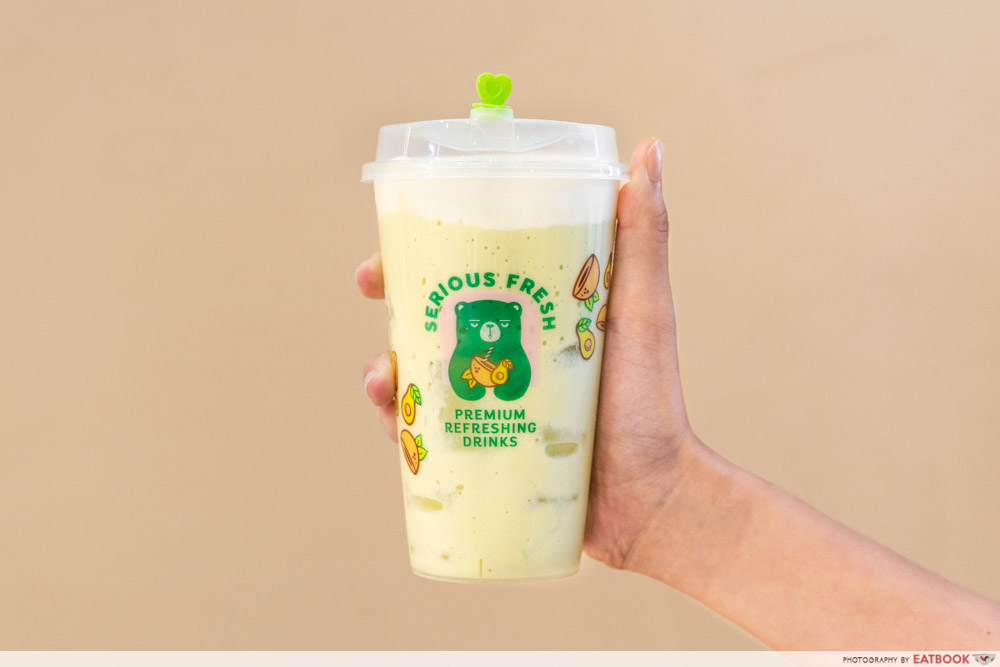 Besides coconut, Serious Fresh has a range of avocado milkshakes as well. Though I'm a big fan of avocado on toast, the idea of blending it into a drink has never sounded appealing to me. Despite my apprehension, Serious Fresh's Serious Avocado Shake with Cloud Mousse ($6.20) managed to change my mind. 
Fears of it being a chunky glob went out of the window as I sipped on their smooth blend of avocado and milk. The added sweetened condensed milk helped to mask the distinct avocado taste that some people find unpleasant. Super easy to drink, I would recommend this to people looking for an introduction to avocado drinks.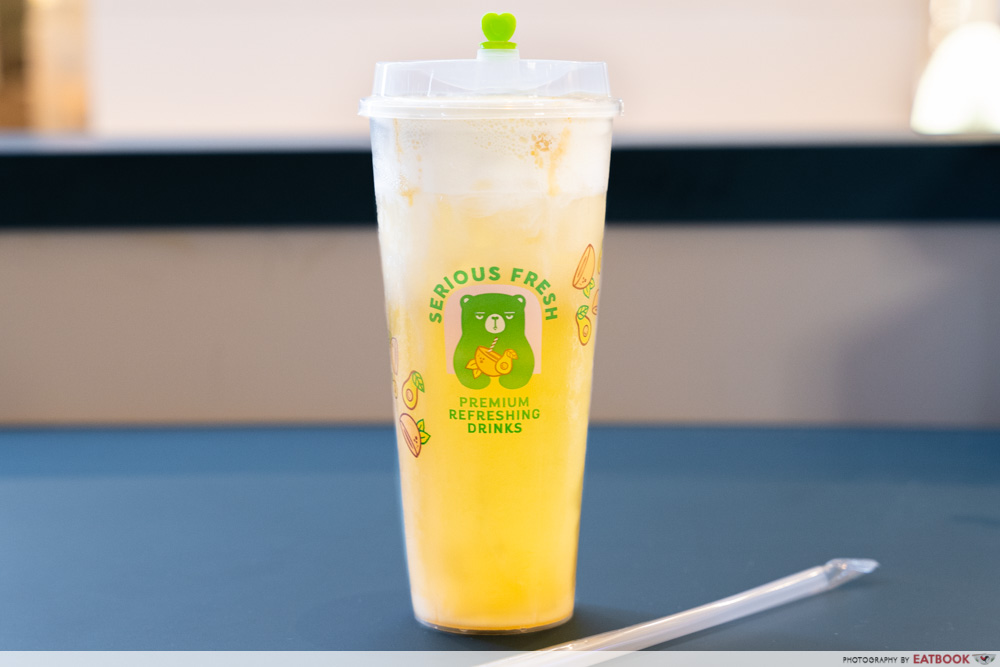 We also tried their Signature Four Seasons Tea with Cloud Mousse ($4.60). All their teas have either a tie guan yin or four seasons tea base, and are additionally flavoured according to the drink you've ordered—lychee, lemon, peach, and so on. Atop the layer of their signature Cloud Mousse is a drizzle of toffee syrup, which I found balanced the salty mousse cream.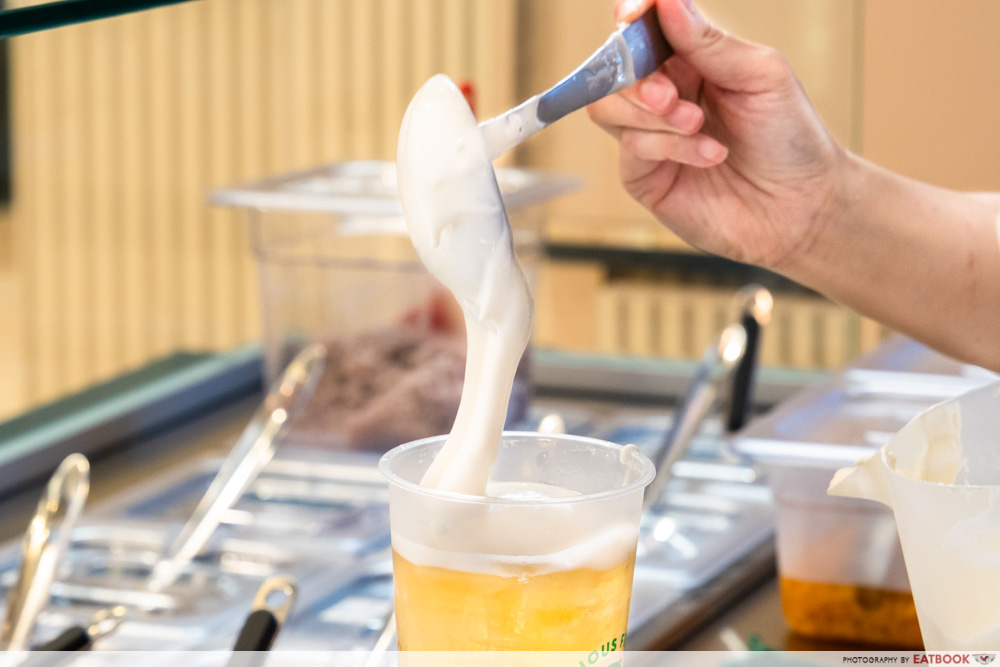 According to the owner, there are three ways of drinking their cloud mousse drinks. First is the normal way, through your straw, where you'll be able to taste the tea most prominently. The second is by sipping slowly through the hole on top to get an initial mouth of the cloud mousse followed by tea. To get the best of both worlds, tilt your cup 90 degrees for each layer to convene at the sipping hole.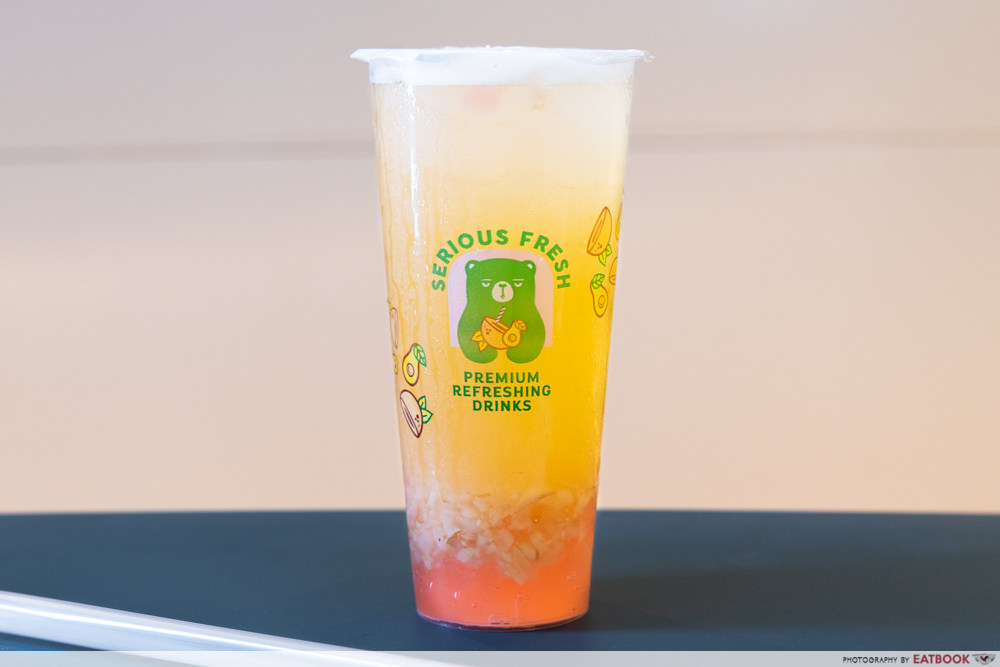 We also tried their Lychee Tea ($5.60), paired with their special sakura pearls. A gorgeous ombre of orange and pink, this was the one I was most excited to try. Their tea does fare a little more on the sweeter side, albeit with some lychee flavour. If you're worried about your health from consuming such sweet drinks, fret not, as Serious Fresh also offers stevia as a substitute for normal sugar.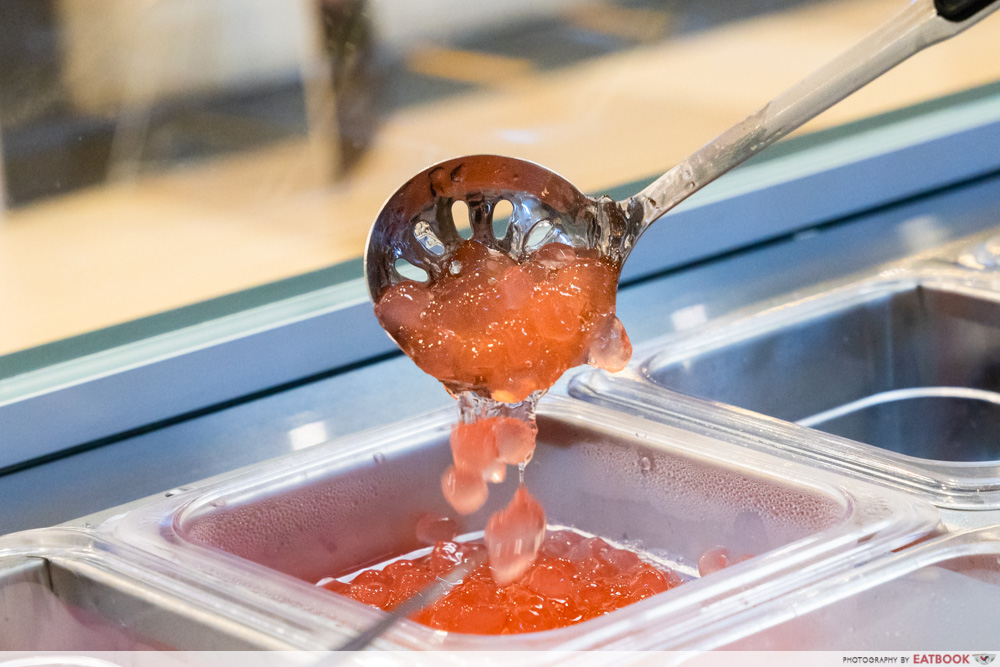 The sakura pearls are more similar to the consistency of jelly rather than chewy bubble tea pearls. This is where they differ from Fruce, which specialises in chewy mochi kurano pearls. Providing a nice sweet bite with each sip, this is definitely one of the safer options of their range of toppings.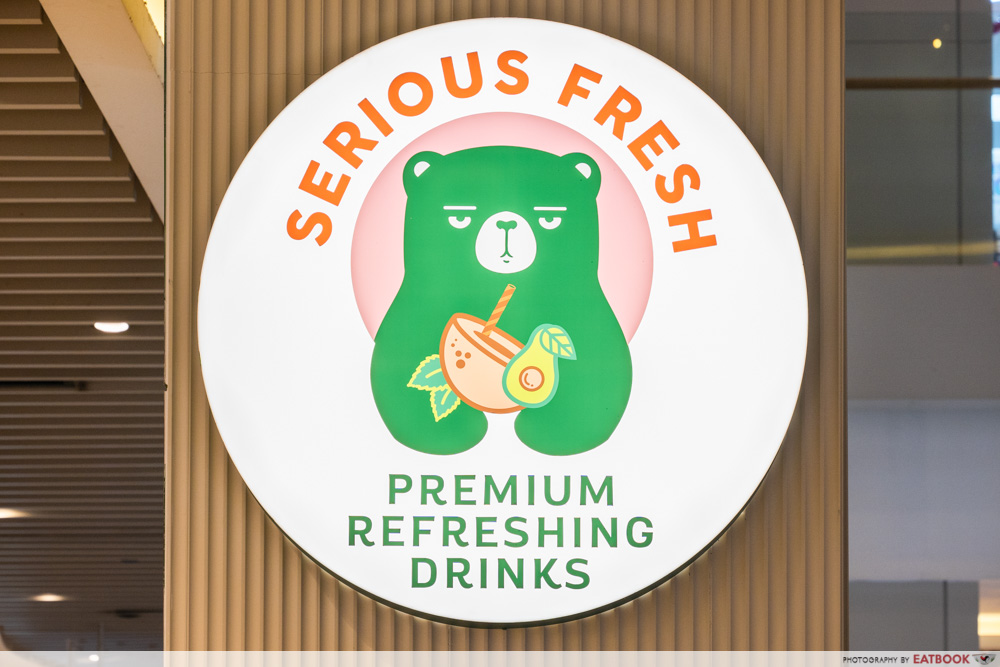 I must give credit where credit is due: the range of unique toppings available at Serious Fresh is something I haven't seen at other drink store brands in Singapore. From mint jelly and peach gum to sweet potato balls and yam puree, they definitely do a decent job at setting themselves apart from their competitors. 
For other coconut shake brands worth trying, check out our list of coconut shake brands that can rival Mr Coconut.
8 Coconut Shake Brands In Singapore That Can Rival Mr Coconut
Address: 311 New Upper Changi Road, Bedok Mall, B2-K17, Singapore 467360
Opening hours: Daily 11am to 9.30pm
Tel: 8500 6288
Website
Menu
Serious Fresh is not a halal-certified eatery.
Photos taken by Melvin Mak.
This was a media tasting at Serious Fresh.