Hold your family gatherings at Shang Social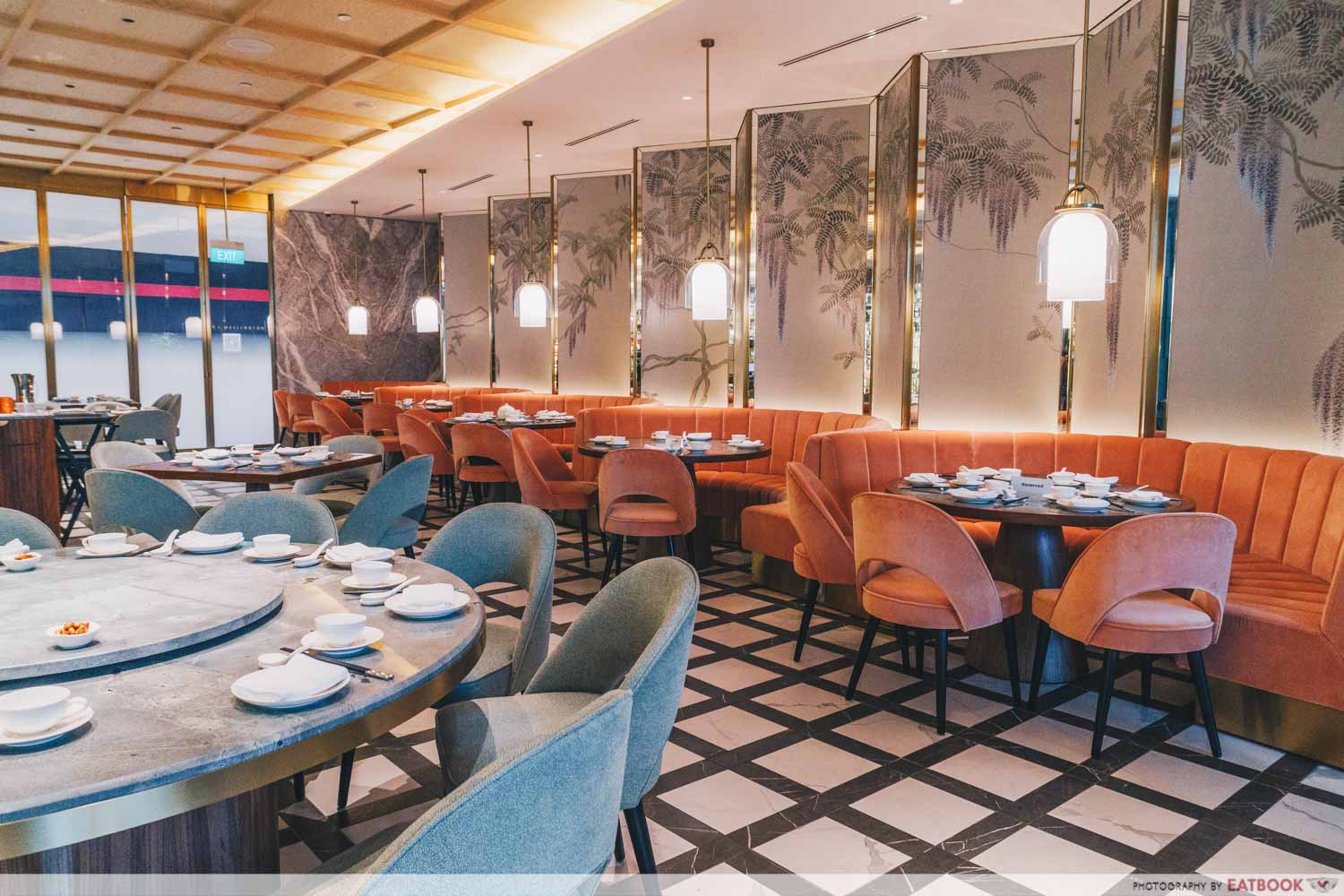 From five-star hotels to luxury villas, Shangri-La has got quite the grand empire. Joining the ranks of these atas places is Shang Social, a Chinese restaurant in Jewel.
The space is split into three concepts: DINING for fancy occasions, MRKT for casual meals, and BAR for drinks. making it a one-stop destination for fancy dates, cheap lunches, and drinks.
But what got me truly excited was the view you get of Jewel's seven-story waterfall. It's not every day you get to dine to such an impressive view.
Food at Shang Social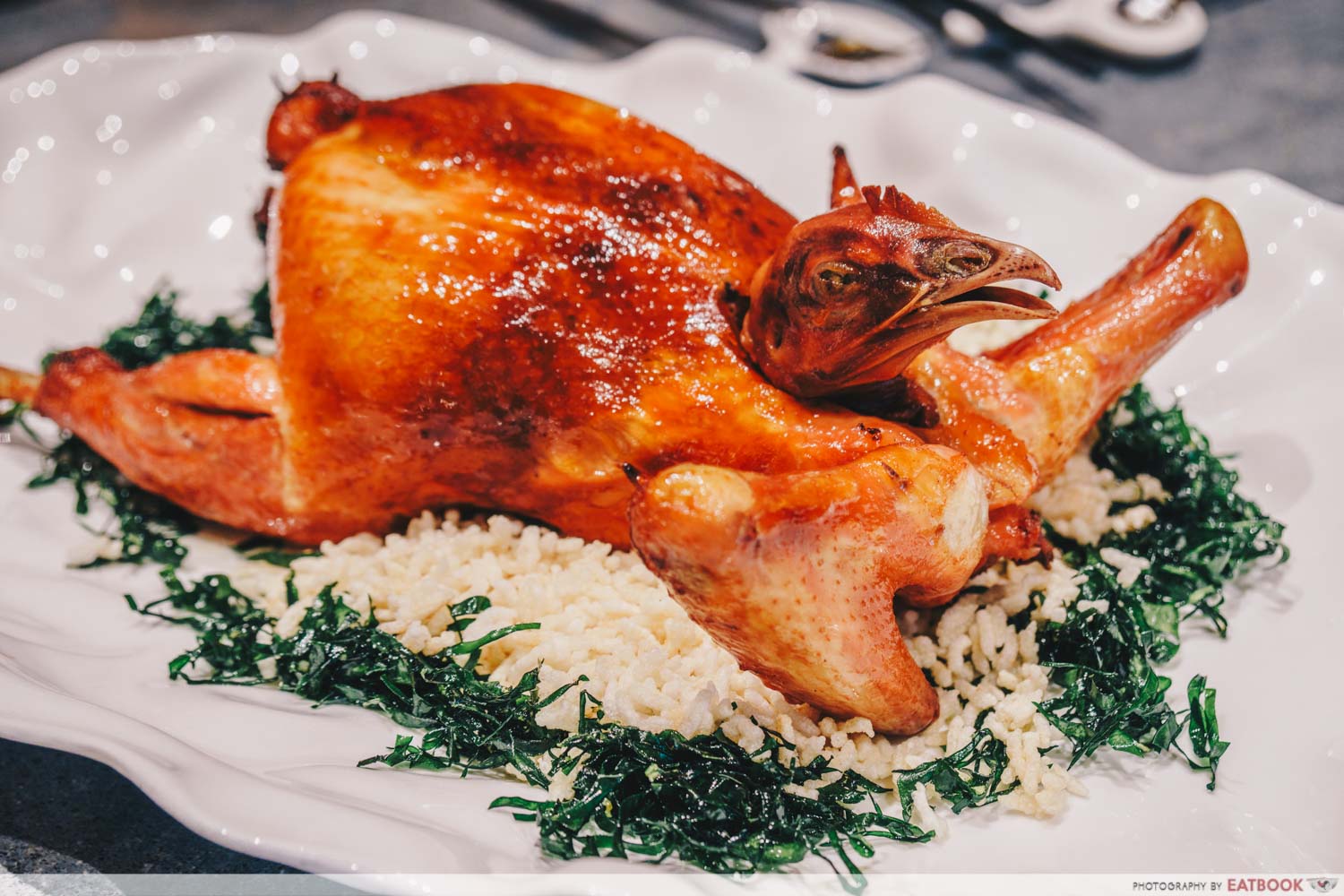 We were first seated at DINING boasting a lavishly furnished interior. The menu here is just as luxurious, which we expect no less from a restaurant by Shangri-La.
I knew things here were seriously posh when the Deep Fried Whole Boneless Chicken Filled with Fried Glutinous Rice ($78++) was paraded onto our table. The bird looked gorgeous with its luminescent sheen and artful plating. It was soon taken away by the waitstaff who carved it up into a few hefty pieces, which were then dressed with gorgeous pearls of fried glutinous rice.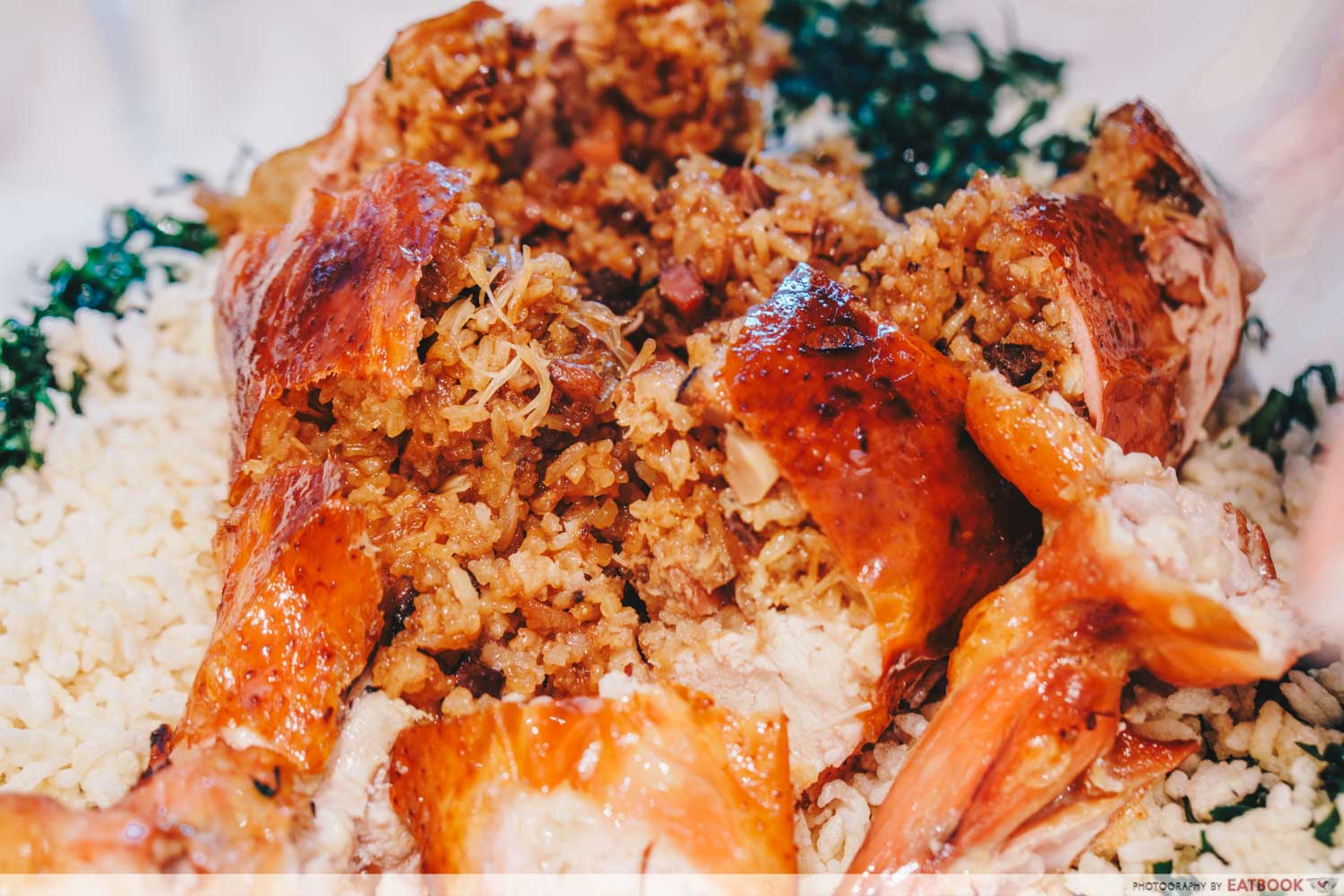 As a result of intensive drying and deep frying, the chicken skin shattered in my mouth like Peking duck. Coupled with fried glutinous rice, the crispy texture juxtaposed so beautifully against the soft and juicy meat. The flavours were also spot on. The meat was deeply infused with floral aromas from the glutinous rice stuffing comprising dried shrimp, mushrooms and preserved meat.
Do note that you will have to pre-order this dish a day in advance.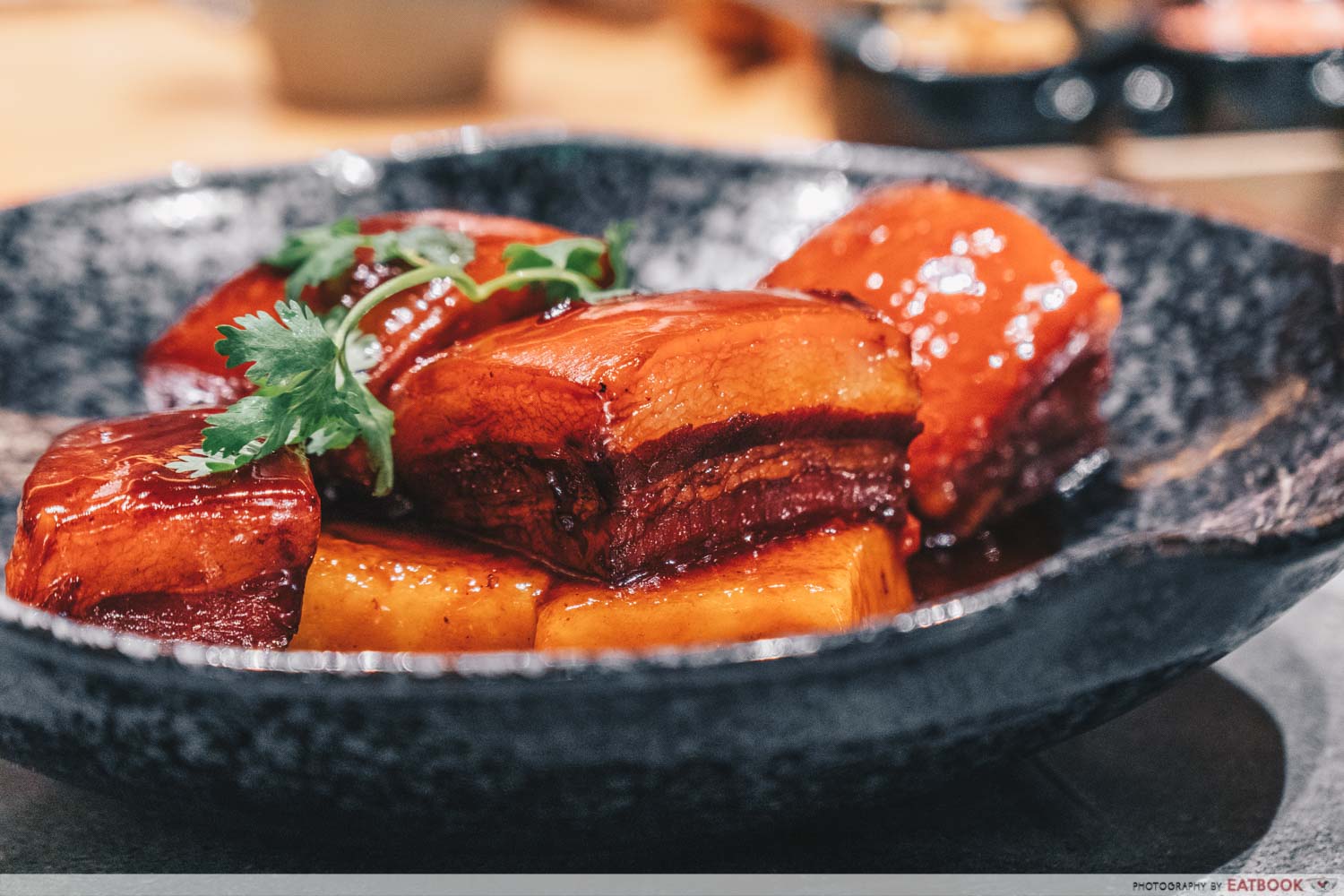 We then hit flavour town with the "Jiang Nan Wok" Braised Black Marbled Pork ($26++). Cubes of pork belly were slow-cooked in an umami-laden hong shao rou (red braised pork) sauce until they were gelatinous and infused with deep, earthy aromas.
The pork was really soft with all that jiggly fat. So much so that they kept falling apart when I picked them up with my chopsticks.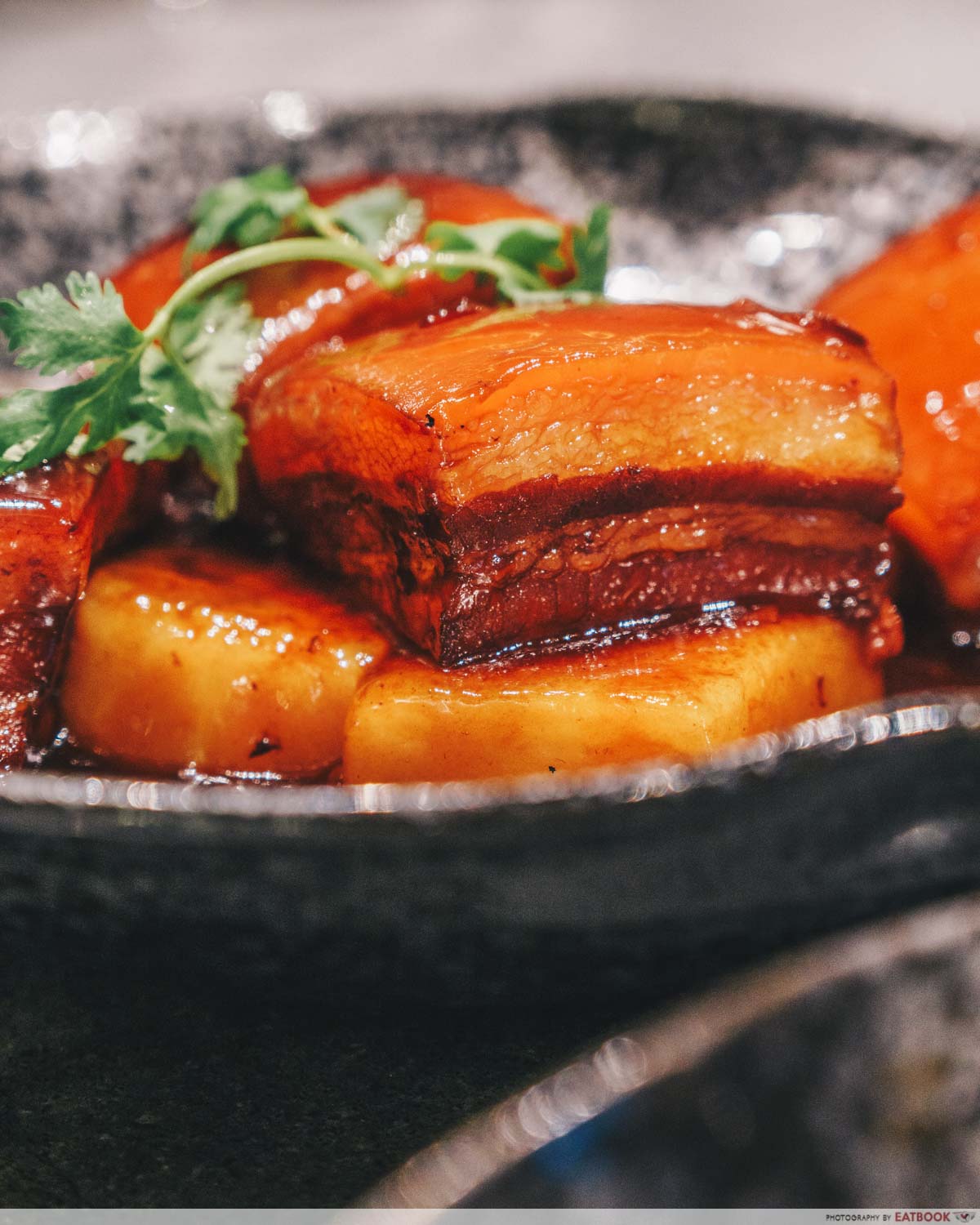 I didn't really appreciate the glutinous rice cakes lying beneath the pork though. I would have liked something crispy and fresh like turnips, to take the edge off the fatty heaviness of the pork.
The Deep Fried Glutinous Rice Ball with Eight Treasures ($18++) was quite the artwork. Dainty cups of glutinous rice were placed on wooden pedestals, with a bowl of stir-fried minced meat in the centre.
Tastewise, pairing the minced meat with glutinous rice balls provided an interesting complement of tastes and textures.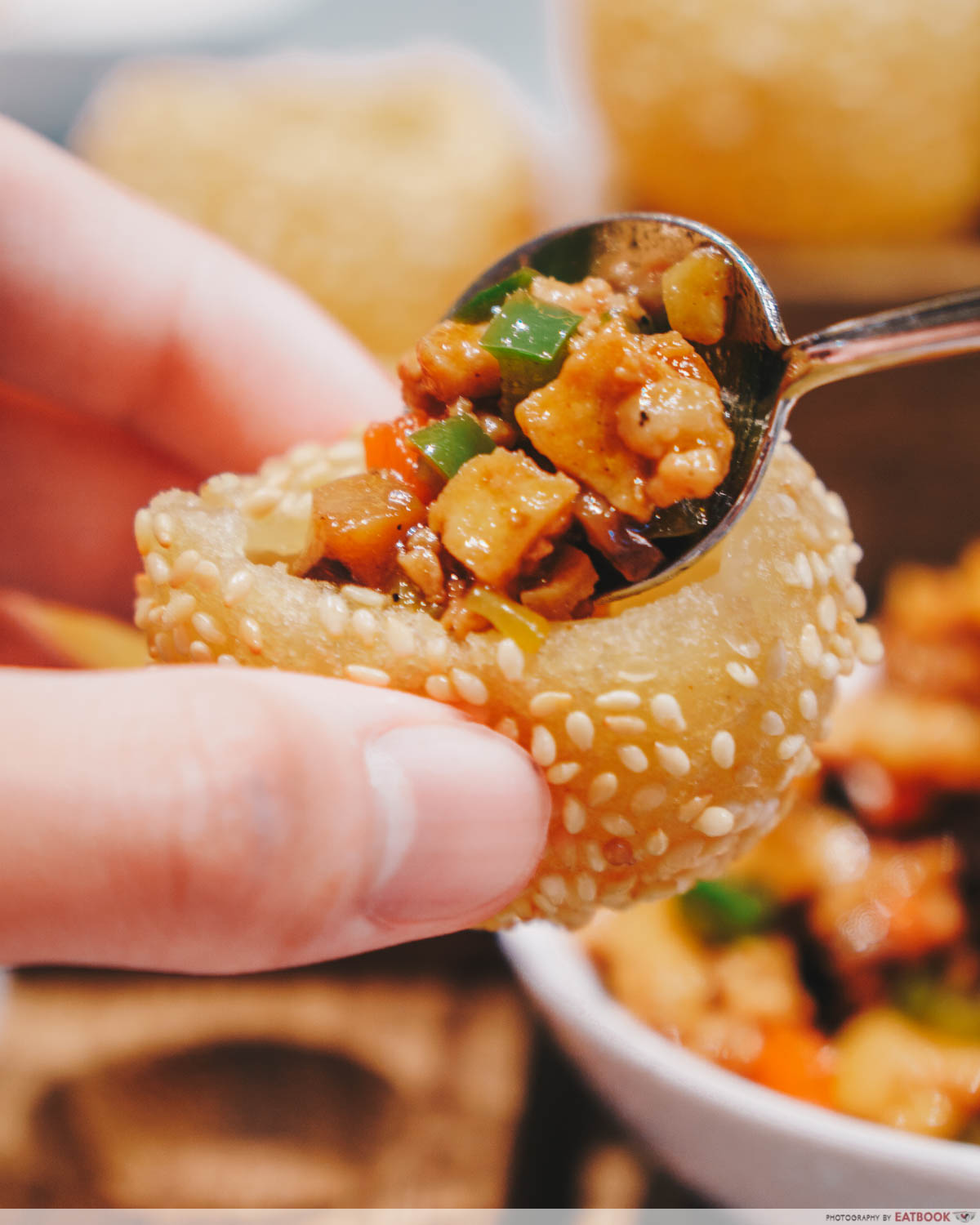 The chewy yet crusty glutinous rice balls were a great vessel for the soft and saucy eight treasures stir-fry. Those sesame-encrusted balls, though cloying on their own, mellowed into a gentle sweetness when eaten with the hearty minced meat.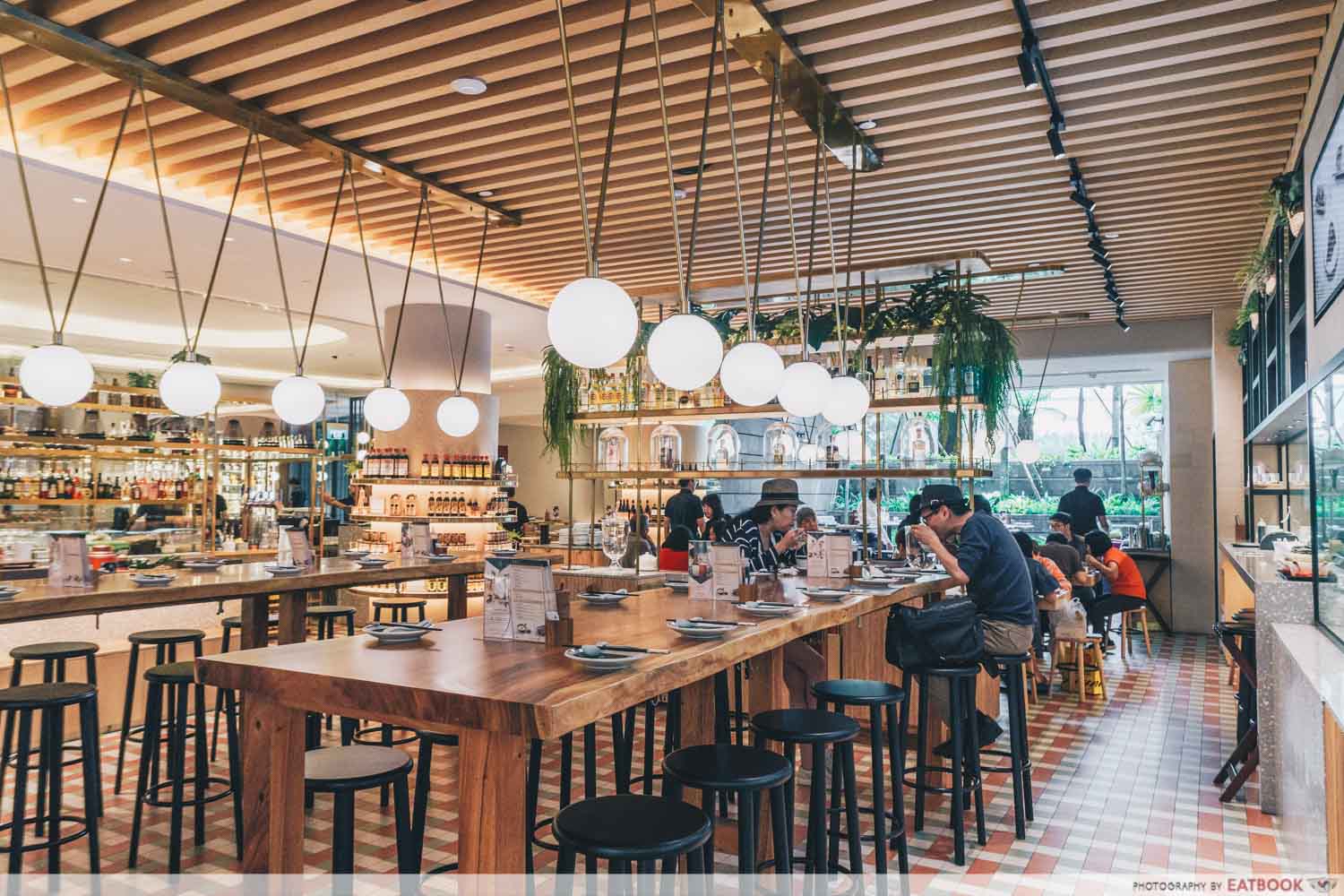 We then moved on to the more casual MRKT, which is styled in a rustic Boho chic vibe boasting wood grain communal tables, brass-plated light features, and an array of hanging horticulture.
Just like a yum cha restaurant, you can expect the typical dim sum and roast meats.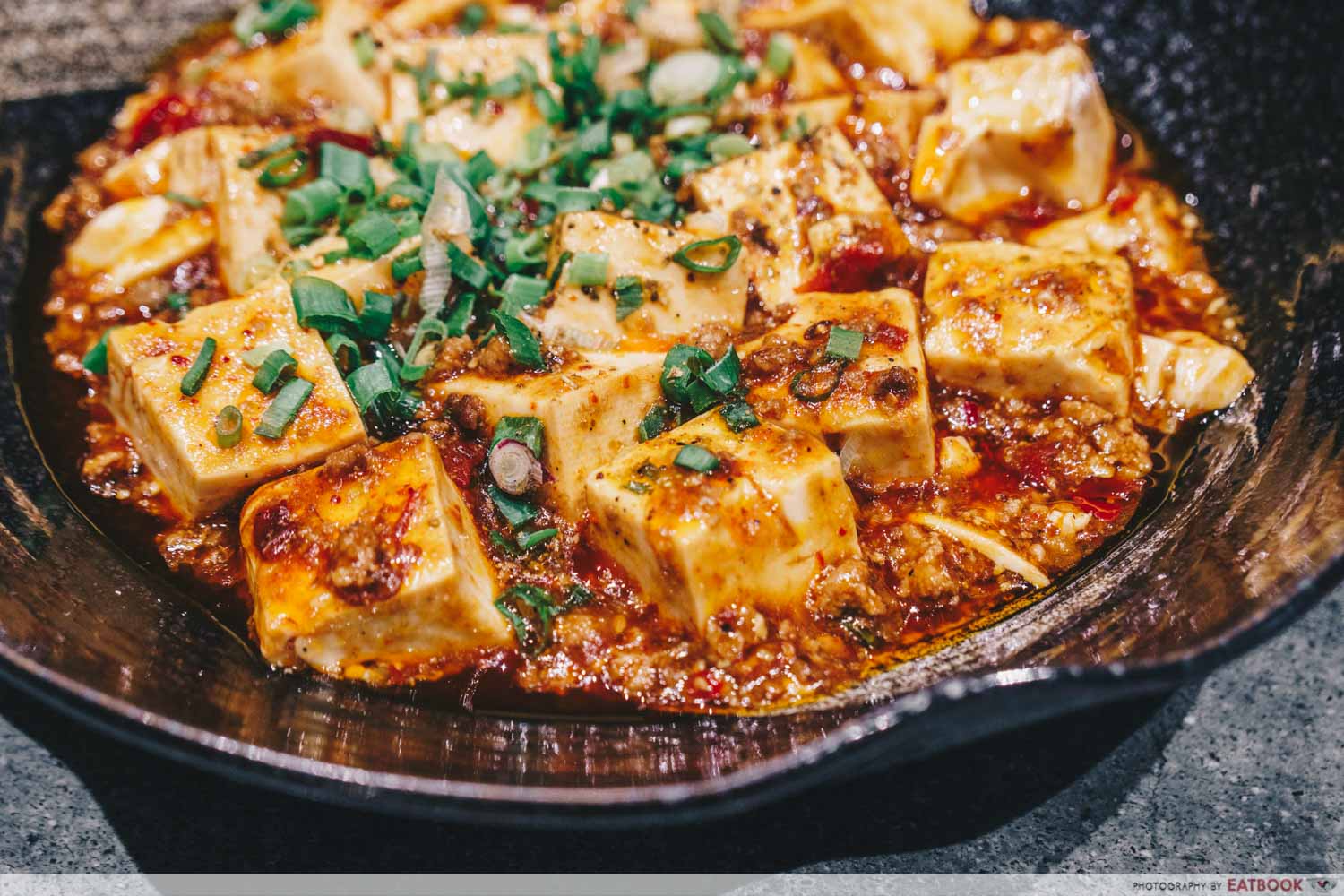 Here, I tried the Spicy Mapo Beancurd with Minced Beef ($18++) that was swimming in a crimson pool of chilli oil haphazardly speckled with spring onions.
I was initially reluctant to try it, having been told that the Sichuanese recipe was not mellowed to suit the local palate. Upon tasting it, however, I found the heat tolerable – mild almost. By the most conservative ma la xiang guo standards, the spiciness was only at xiao la.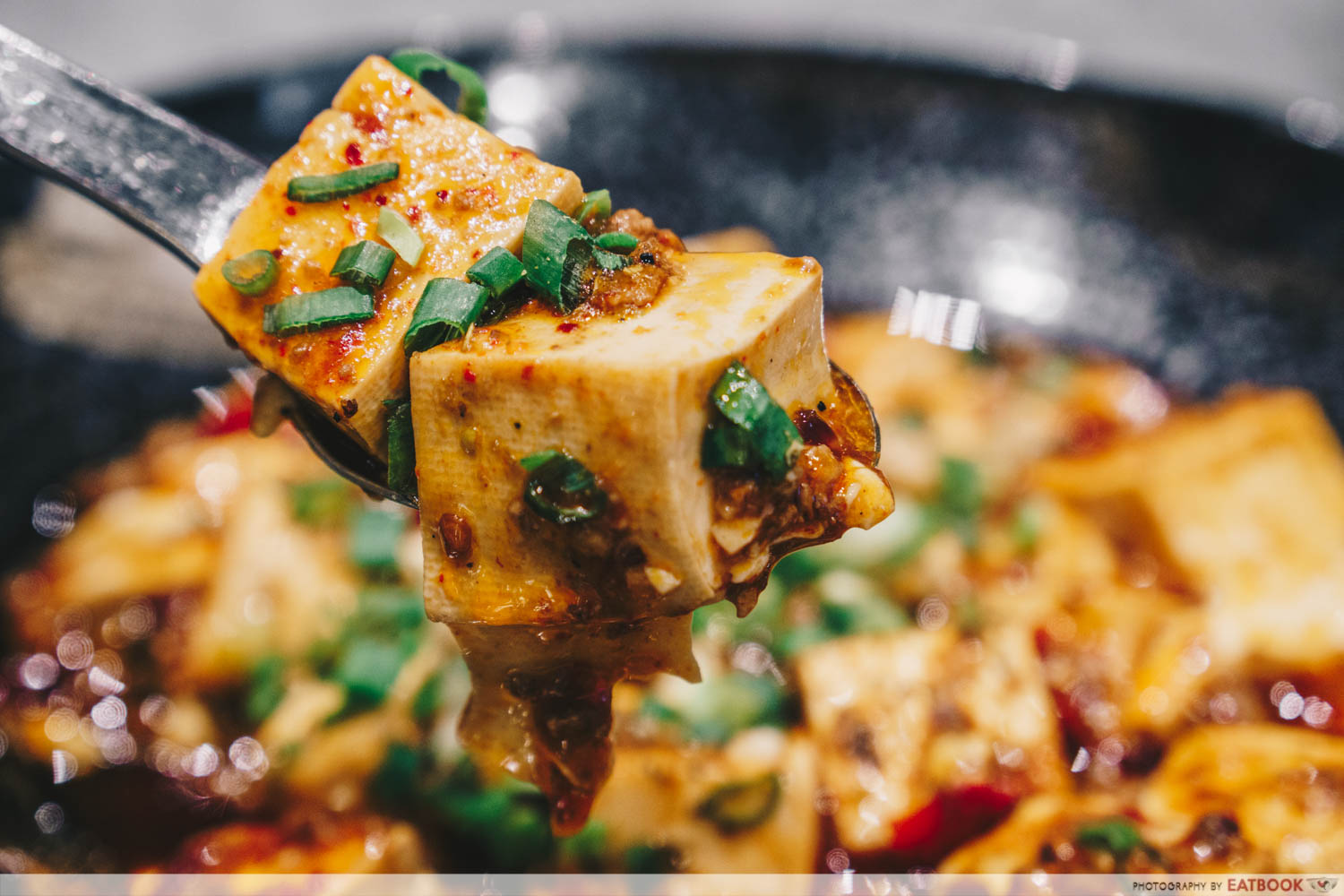 I expected bolder kicks of Sichuan pepper and stronger umami from the fermented bean paste. It would have been good if the same tongue-numbingly spicy mapo tofu I enjoyed in China was actually replicated here.
Bamboo Noodles with Dark Sauce & Lard ($6++) was one of the few noteworthy items here. Comprising just egg noodles, seasoning sauce, and lard, this simple dish presented a colourful spectrum of strong flavours. 
You'll love the bits of lard strewn into the bowl. They provide little pockets of concentrated porkiness that explode in your mouth.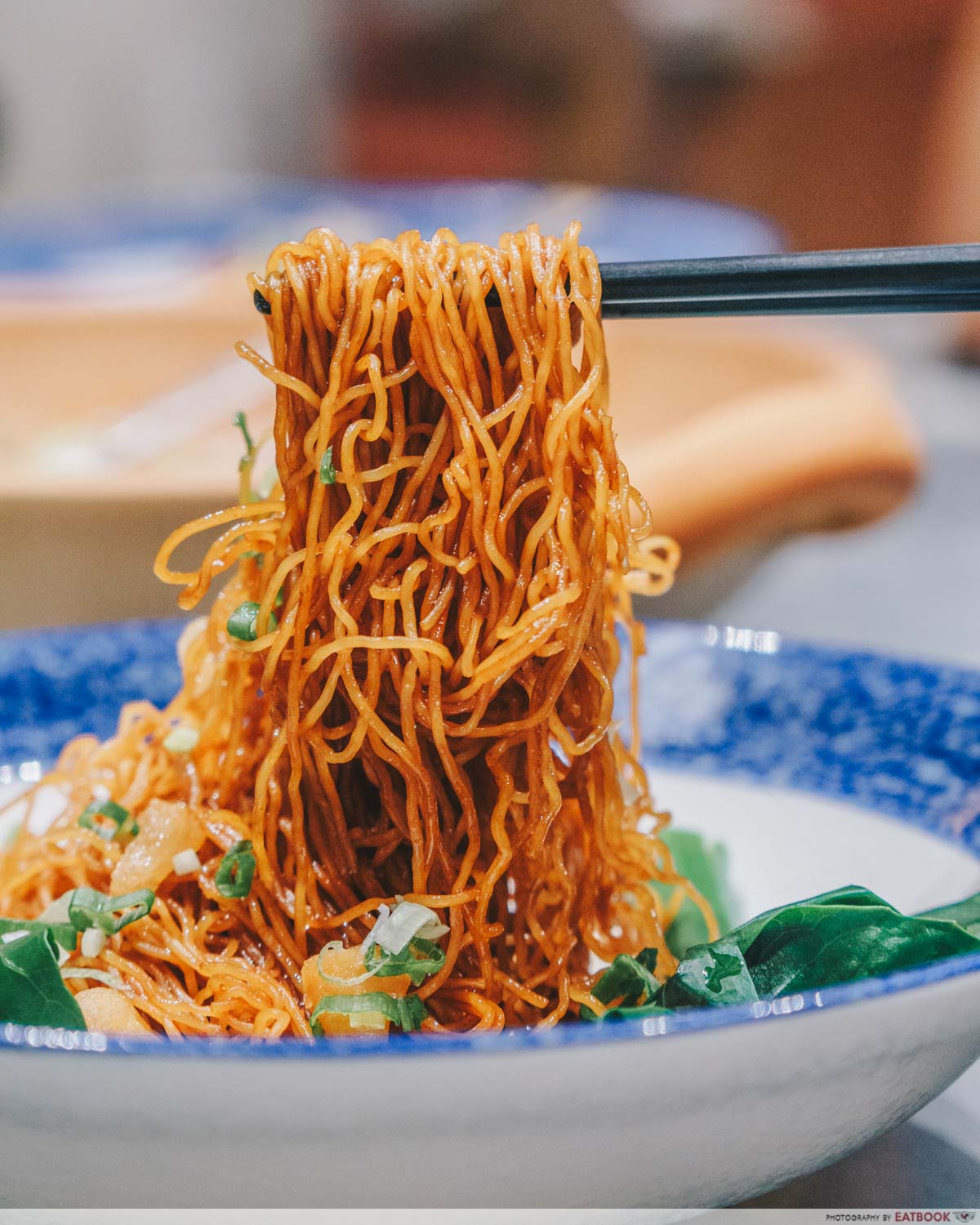 Similar to the noodles I'd find in Hong Kong, the ones here were uber springy; bouncy enough to provide texture yet still soft enough to be palatable.
I'm also surprised that there's no pungent taste of lye that's typical of such noodles. This was great as the simple sauce was able to come through so brilliantly.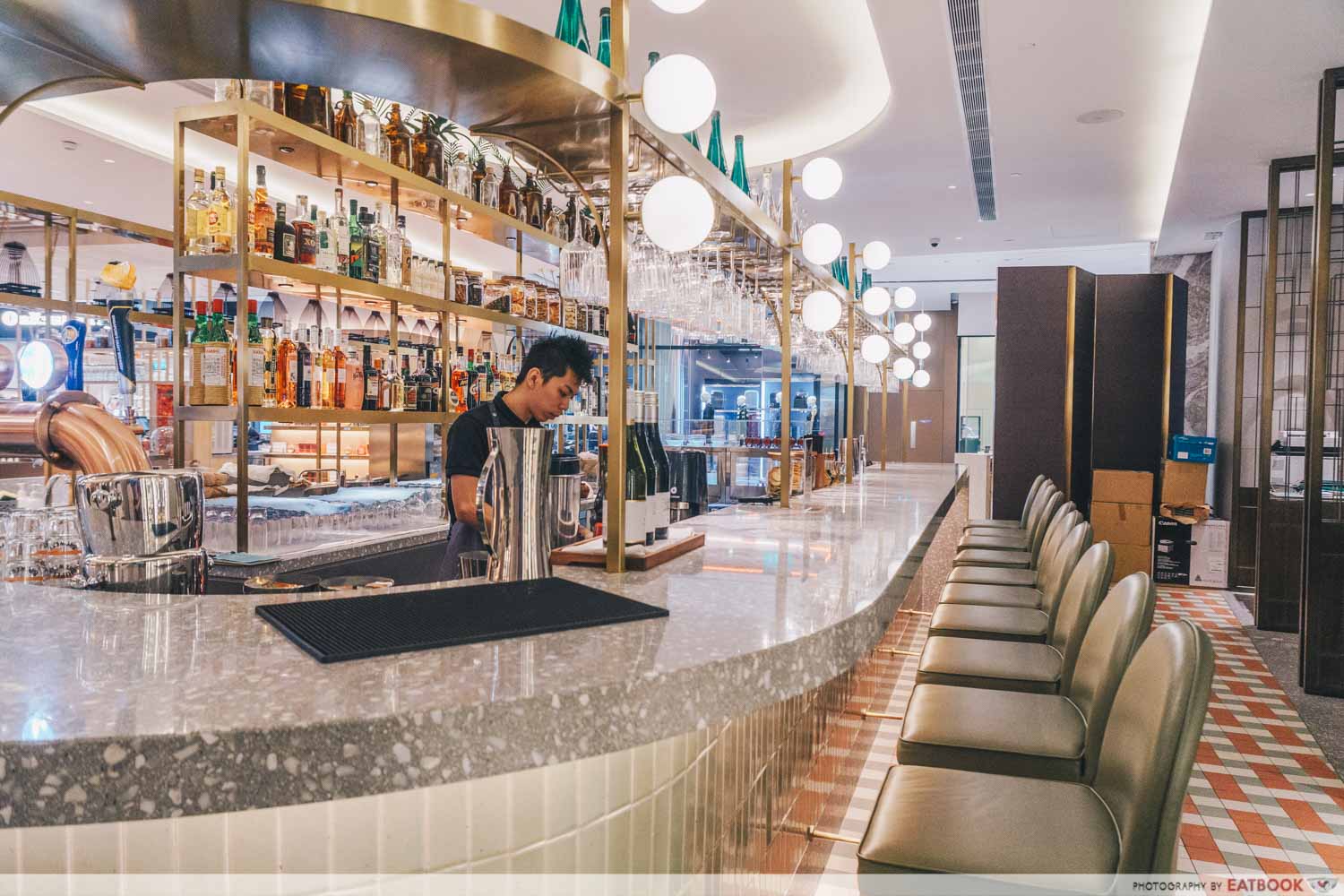 Having had our fill of food, my dining companion and I decided on a few drinks at the BAR.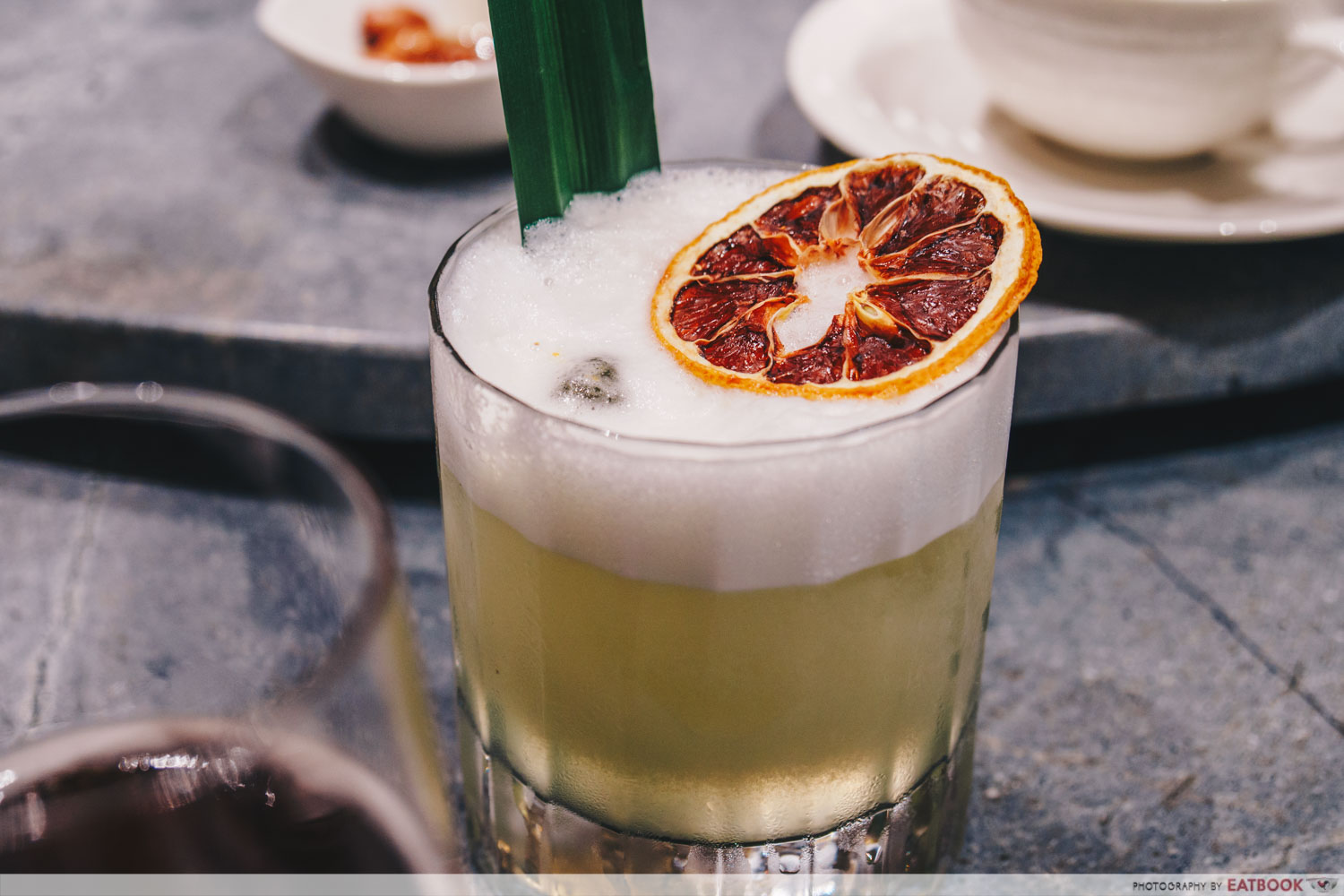 We washed our meal down with a delicious glass of Pandan Pandemonium ($20++) – gin that has been infused with pandan, then shaken with lemon juice and egg white.
The egg white and lemon juice produced a frothy layer, providing a smooth and creamy finish. I also appreciated the drink's long, delicate aftertaste. Herbal afternotes lingered in the mouth with traces of pandan surfacing right at the end.
Ambience at Shang Social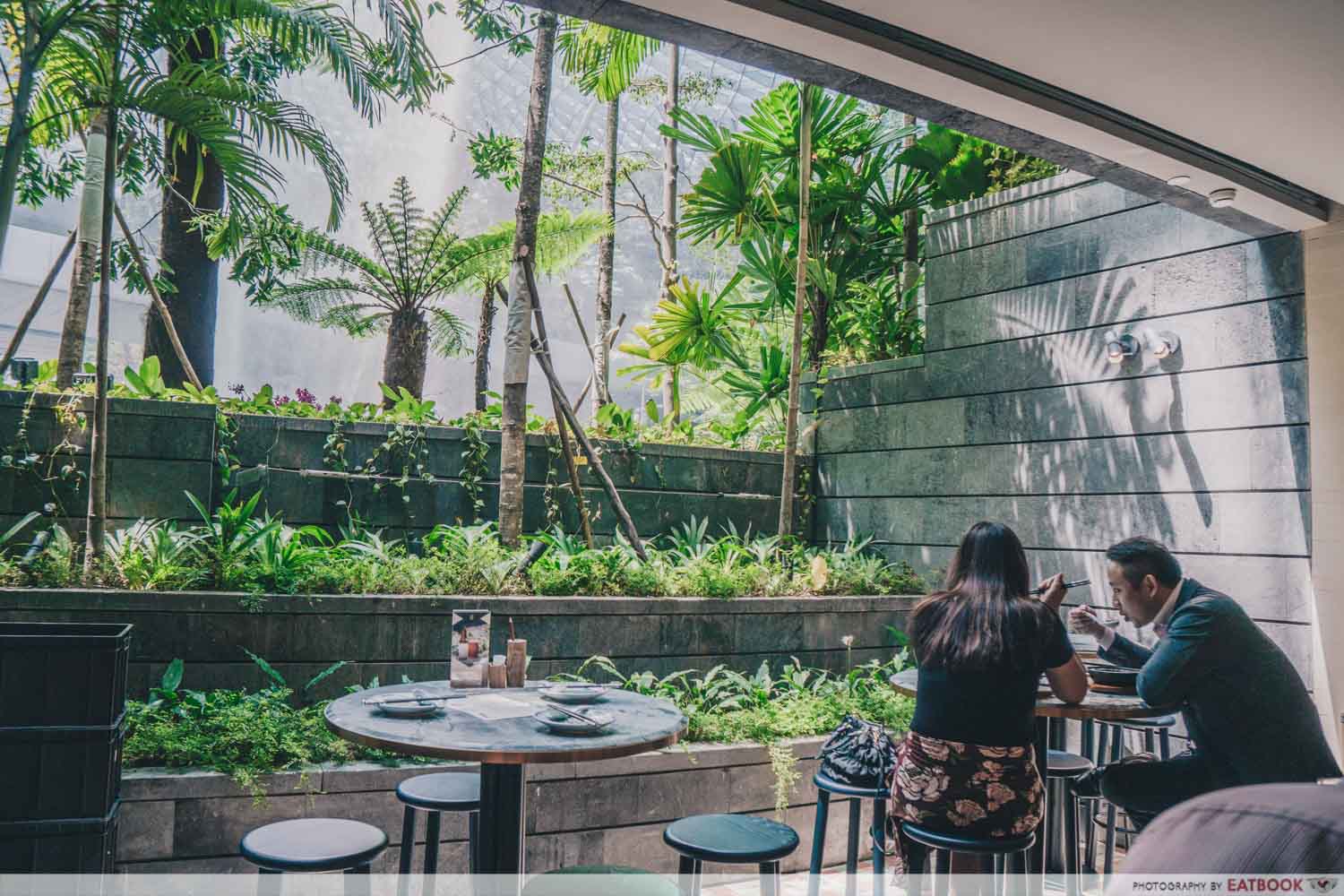 Shang Social felt posh yet unpretentious. Classy yet comfortable. Swanky yet sensible.
It didn't hurt that we had a stunning view of the Rain Vortex. As we ate, the distant sound of the waterfall serenaded the dining hall, adding to my dining experience.
My favourite section of the restaurant would undoubtedly be DINING. I love how regal and polished it felt, yet still so charming with its gentle pastel hue.
MRKT and BAR were also gorgeous, but if you wanna eat fancy, DINING is the place to go.
The verdict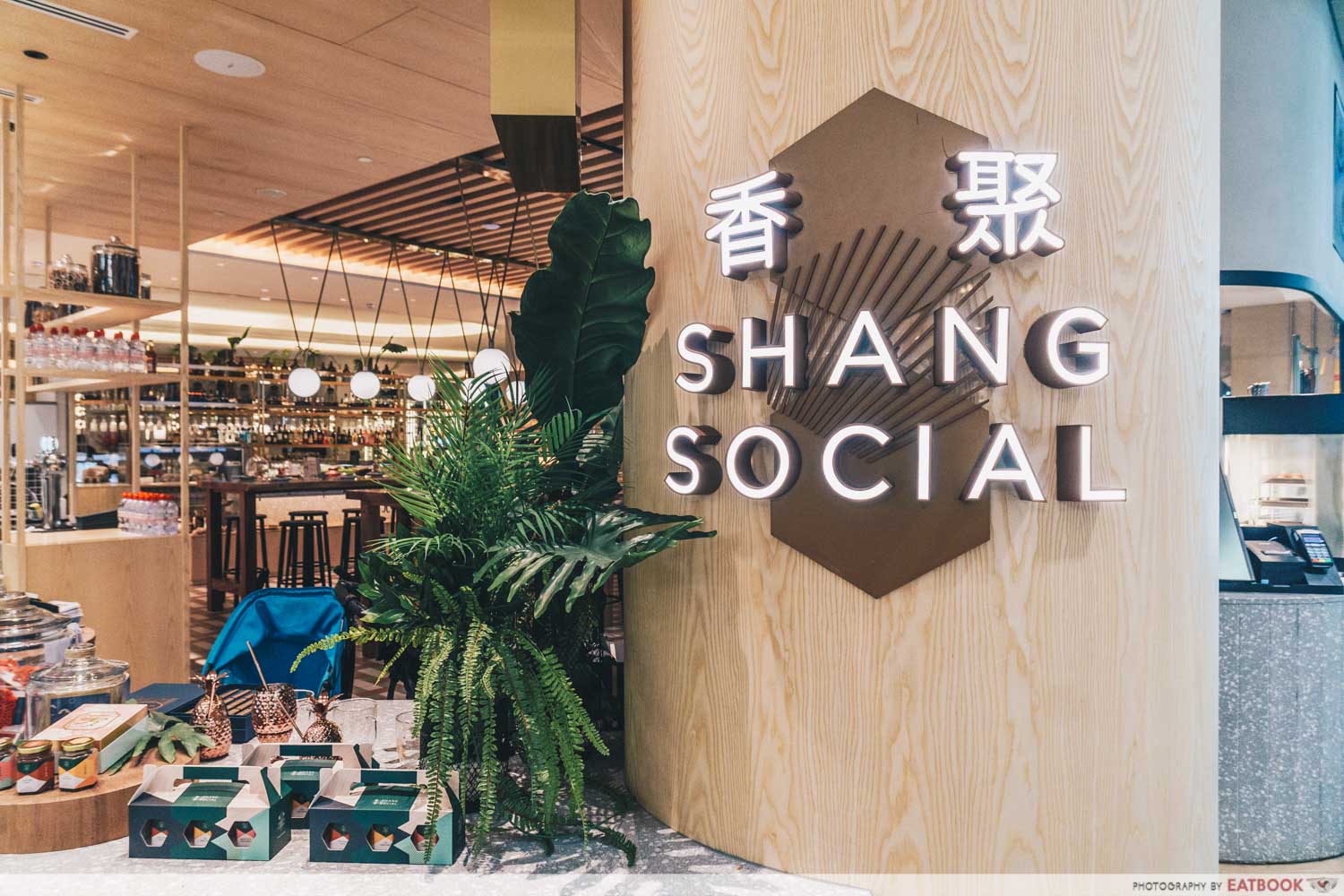 I recently visited Shang Social as a paying diner a few weeks after my first invited tasting. Though the ambience was beautiful as ever, the same subpar dishes – though improved – were still not to my liking.
Don't get me wrong. The bulk of the dishes are really amazing. It's just that for a Shangri-La restaurant, some dishes could have been executed better. 
If you do want to experience Shang Social though, I would definitely recommend heading down to MRKT. It's wallet-friendly and serves incredible nosh. BAR's a great place to grab a drink too, especially after having a lobster roll at Burger & Lobster or burgers from Shake Shack.
Address: 78 Airport Boulevard, #01-219/220/221/222, Jewel Changi Airport, Singapore 819666
Opening hours: Daily 9am to 10:30pm
Website
Shang Social is not a halal-certified eatery.
Photos taken by Leong Kit Shan.
This was a media tasting at Shang Social.
Summary
Pros
– Gorgeous ambience
– Most dishes were well executed
– Service was good
Cons
– Slightly pricey
– A few dishes could have been improved

Recommended dishes:  "Jiang Nan Wok" Braised Black Marbled Pork ($26++), Bamboo Noodles with Dark Sauce & Lard ($6++)
Opening hours: Daily 9am to 10:30pm
Address: 78 Airport Boulevard, #01-219/220/221/222, Jewel Changi Airport, Singapore 819666