---
Shepherd's pie delivery
---
Shepherd's pie is a popular dish seen during Thanksgiving and Christmas parties. However, it doesn't have to be limited to the festive season. If you are looking for something to spice up your regular dinner, or a hassle-free dish to bring to a large gathering, shepherd's pie is one of your safest bets. Whether you're planning a potluck, a birthday celebration, or the next holiday season, we've compiled a list of 10 shepherd's pie delivery options for you to consider.
---
1. Shepherd's Pie
---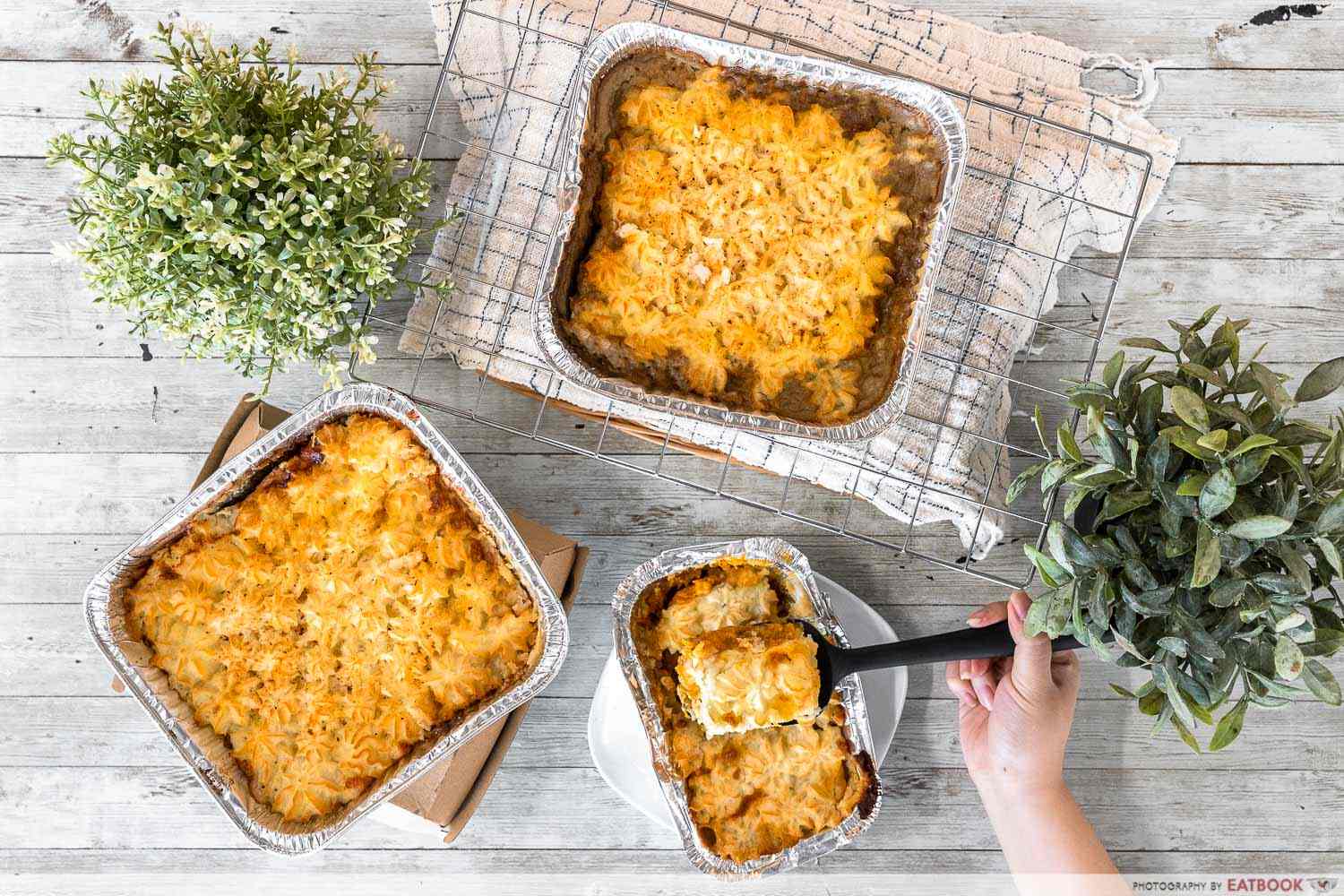 For an authentic, value-for-money shepherd's pie, check out Shepherd's Pie. They have an all-year-round supply, so you can enjoy a shepherd's pie at any time and for any occasion. Only the best ingredients, such as premium fresh meat, are used here, and their pies are baked fresh to order. What's more, their recipe is curated by a British chef, so they are confident that their pies are as authentic as it can get. If you are not satisfied, Shepherd's Pie guarantees a full refund for your order.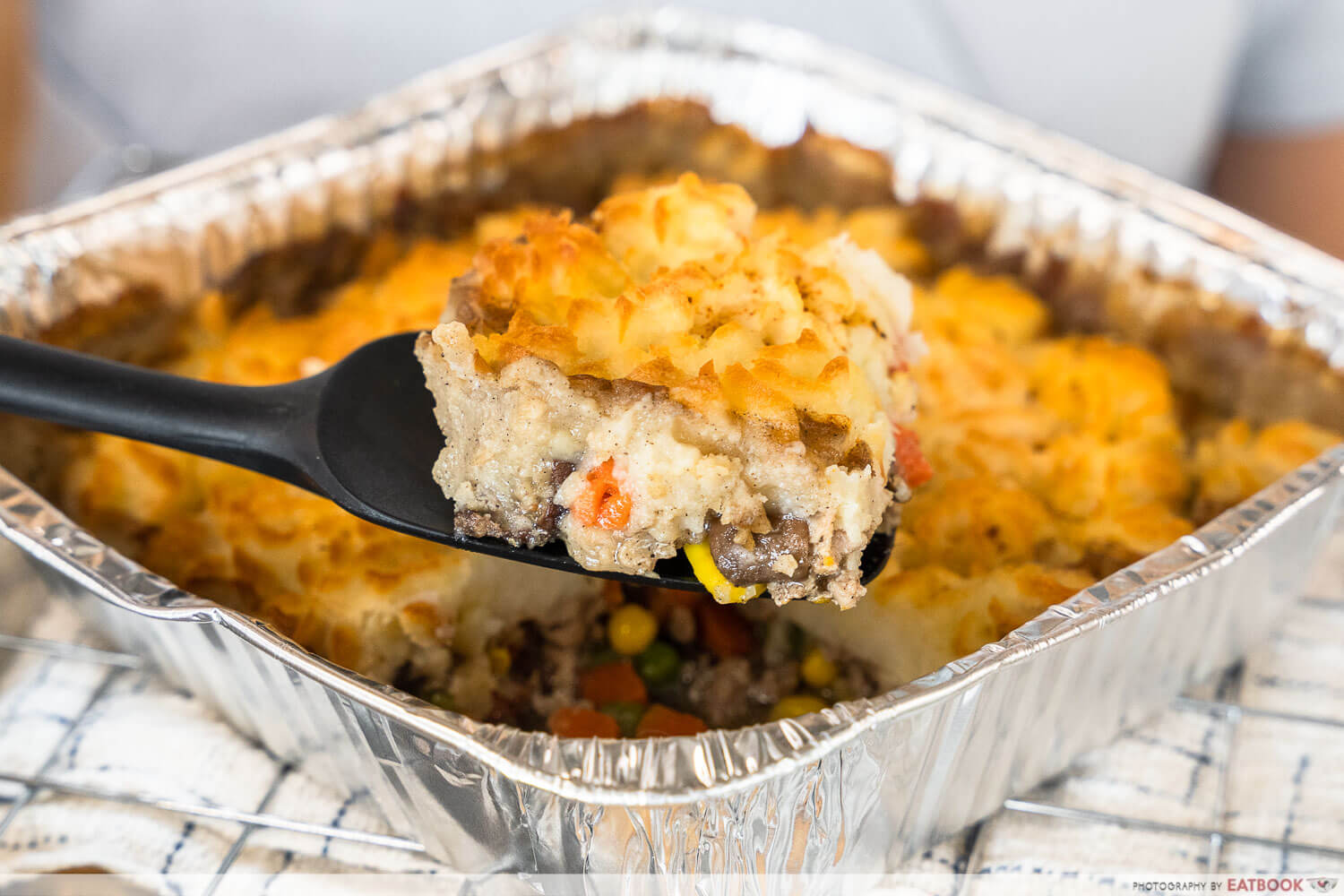 If you are spoilt for choice, consider their Cheezy Ground Beef Shepherd's Pie ($19.90/$32.90, U.P. $29.90/$42.90) or Cheezy Black Pepper Chicken Shepherd's Pie ($29.90/$35.90, U.P. $32.90/$46.90). Both of these come in two sizes, and comprise a flavourful base of meat, assorted vegetables, and a layer of cheesy mashed potatoes on top, baked to a beautiful golden-brown finish. If you like strong, peppery flavours, we recommend going for the black pepper pie!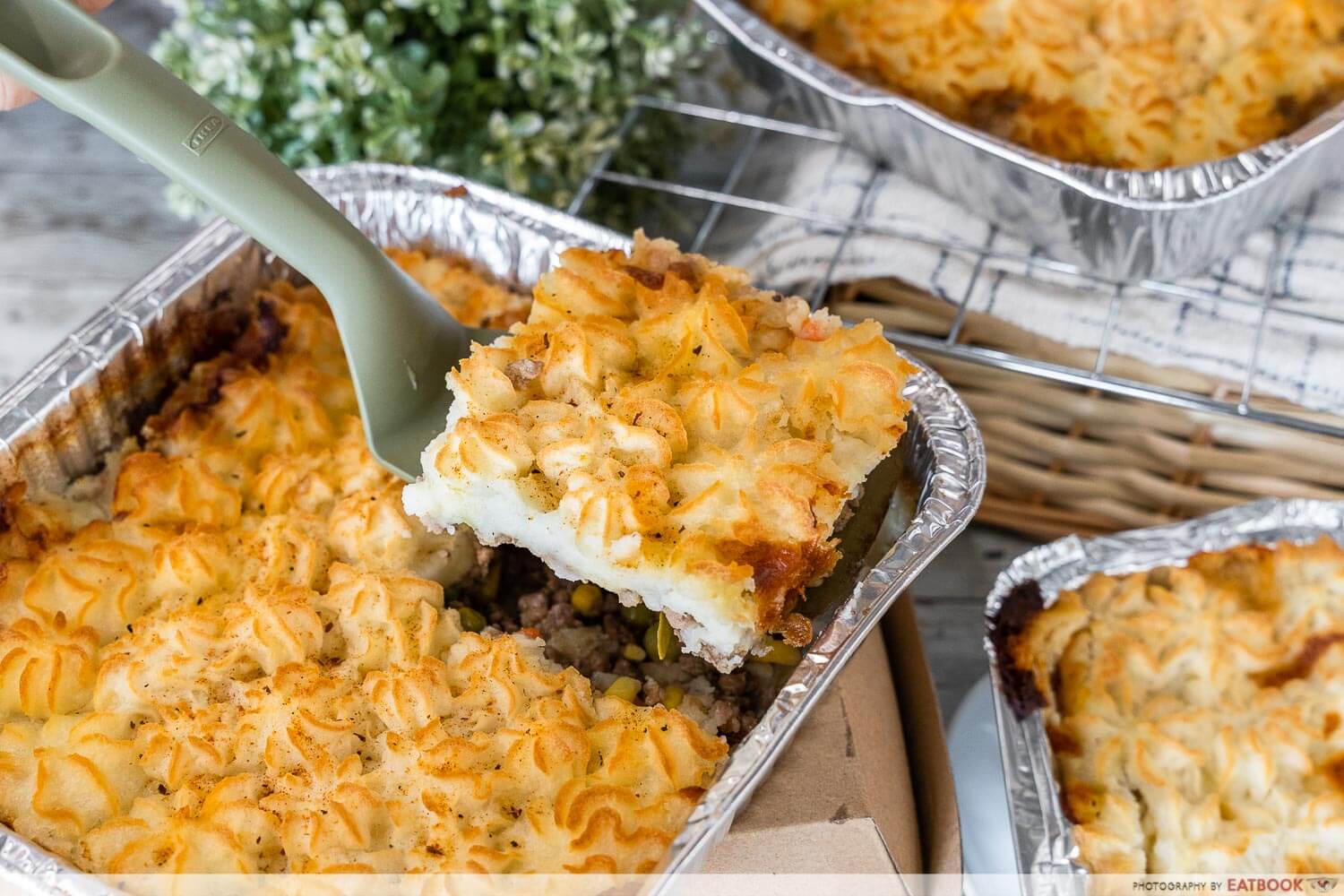 What makes Shepherd's Pie unique is their method of cooking, which harnesses the natural savouriness of the meat without being greasy. Each pie is tied together with a gravy that's been specially developed to enhance these flavours.
Shepherd's Pie assures quality as all of their meat supplies are packaged via thermoforming, which is known to retain freshness.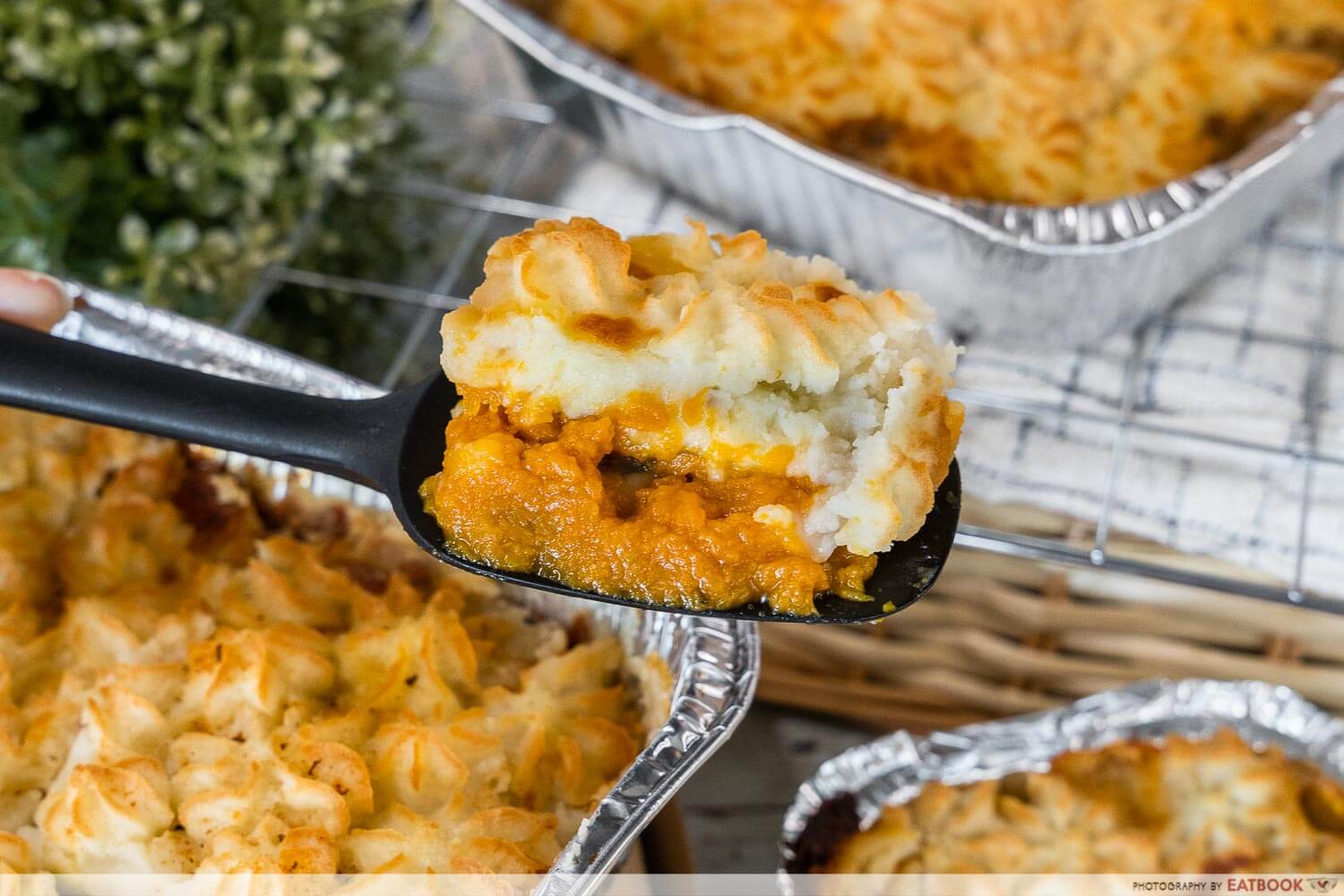 Shepherd's Pie also offers a vegetarian option—the Garden Vegetarian Shepherd's Pie ($24.90/$37.90, U.P. $34.90/$47.90). This has a base of pumpkin with cauliflower and zucchini, seasoned with herbs and spices, and topped with the same cheesy mashed potatoes. Do expect a tangy note as there's sour cream in this pie. 
Islandwide delivery is available from 12pm to 9pm, and is charged at a flat rate of $8 for orders below $60 and it's waived for orders exceeding $60. 
Order from Shepherd's Pie here!
---
2. The Shepherd's Pie
---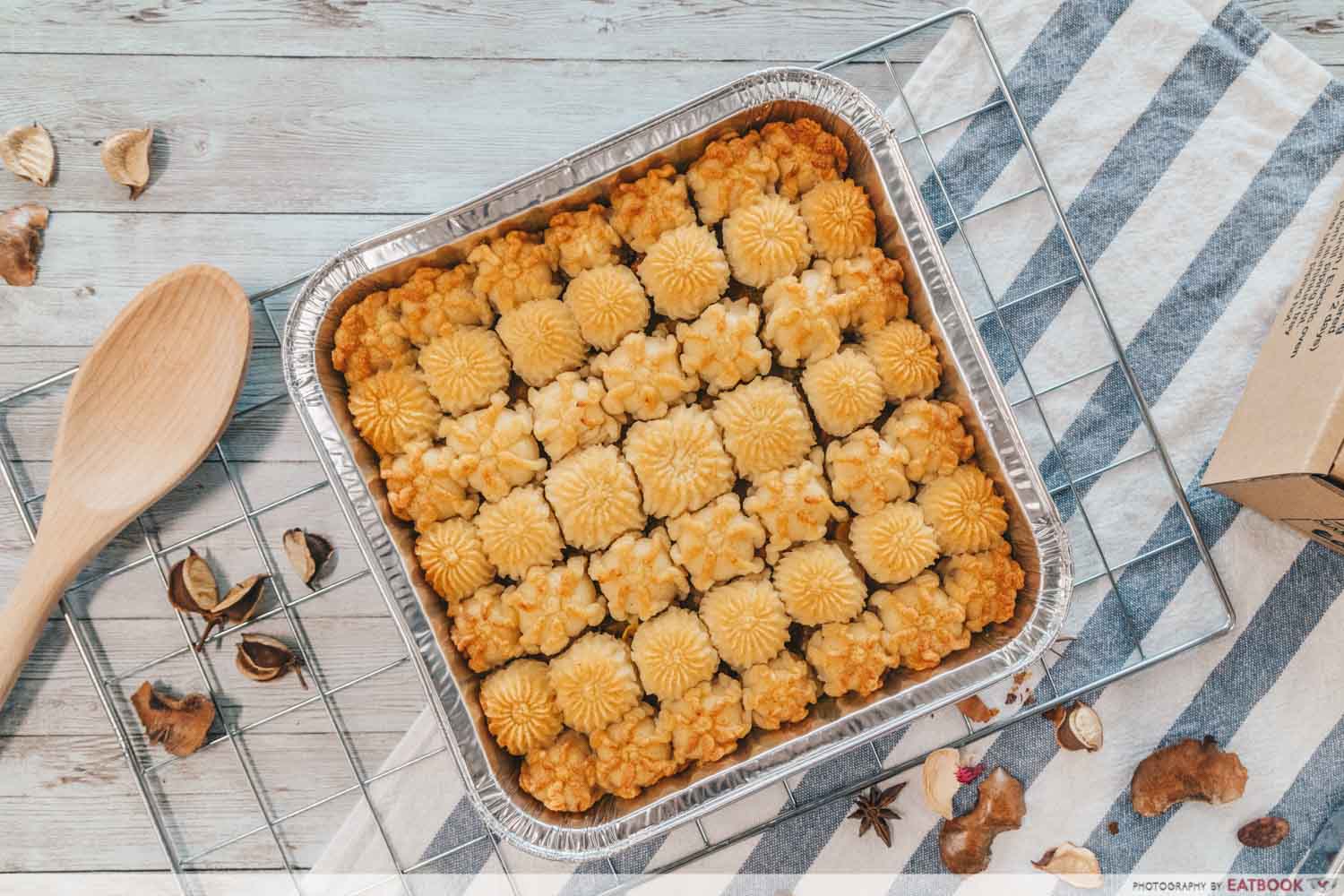 The Shepherd's Pie is a halal-certified bakery that also specialises in shepherd's pie. They offer flavours such as Baked Lamb Special ($43.90), Baked Teriyaki Chicken ($37.90), and Black Pepper Beef ($33.90), in portions which are perfect for sharing. You can opt to have them delivered freshly baked or frozen. Either way, that is one less dish to worry about! If you are just looking to enjoy it by yourself, go for the personal sized Classic Chicken Frozen or Classic Beef Frozen, which are priced at $8.90 each. 
There is a minimum order of one large size shepherd's pie for delivery, and an additional $3 on public holidays and the eves of public holidays. If your order is greater than $65, your delivery will be free of charge! Otherwise, head down to their central kitchen in Bedok to pick up your order.
Order from The Shepherd's Pie here!
Address: Block 3015, Bedok North Street 5, #06-05, Shimei East Kitchen, Singapore 486350
Opening hours: Daily 11am to 6pm
Tel: 6789 0707
---
3. Don Pie
---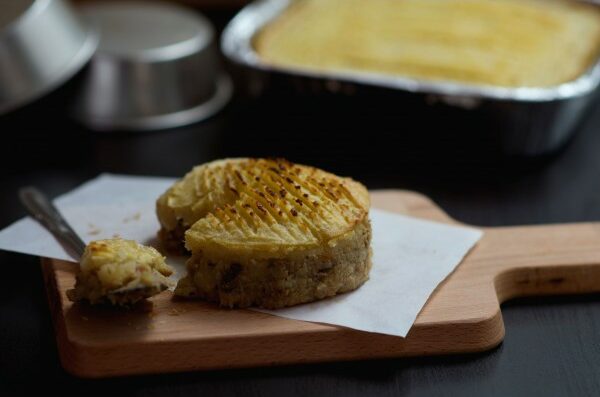 Image credit: Don Pie
Don Pie, known for their signature chicken pie, offers two types of shepherd's pie: beef and chicken. If you are looking to share, they have a Family Shepherd Beef ($27.90) and a Family Shepherd Chicken ($24.90) pie. Otherwise, they have a Personal Shepherd Beef ($8.50) and Shepherd Chicken ($7.50), both of which are sufficient for one hearty meal. 
You can either pick up your pie at their One Raffles Place flagship store, or have it delivered with a $6 charge, right to your doorstep! 
Address: 1 Raffles Place, #B1-07, One Raffles Place, Singapore 048616
Opening hours: Mon-Fri 8am to 7pm, Sat 8am to 3pm
Tel: 9143 0707
---
4. The Gourment Pie Company
---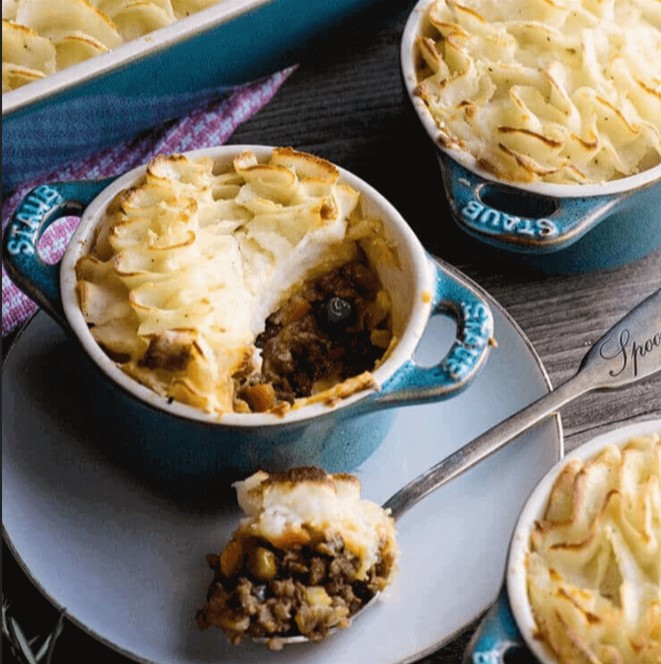 Image credit: The Gourmet Pie Company
If you are looking for a slew of sweet and savoury pies, check out The Gourmet Pie Company. With options ranging from Apple Pie to Beef Rendang Pie, they've got pies for any occasion. The Gourmet Pie Company offers two shepherd's pie varieties: Cottage Pie and Chicken Shepherd's Pie. Both come in four different sizes—Canape ($10 for five pies), Snack ($4.50), Hearty ($8), and Family ($58). At the Gourmet Pie Company, you can even opt for gluten-free options, so that nobody gets left out. 
If you are tight on time, you can receive your pies within 12 hours of ordering! Delivery fees will be waived if your order hits a minimum of $60, if not standard delivery is priced at $15. 
Order from The Gourmet Pie Company here!
---
5. Violet Oon
---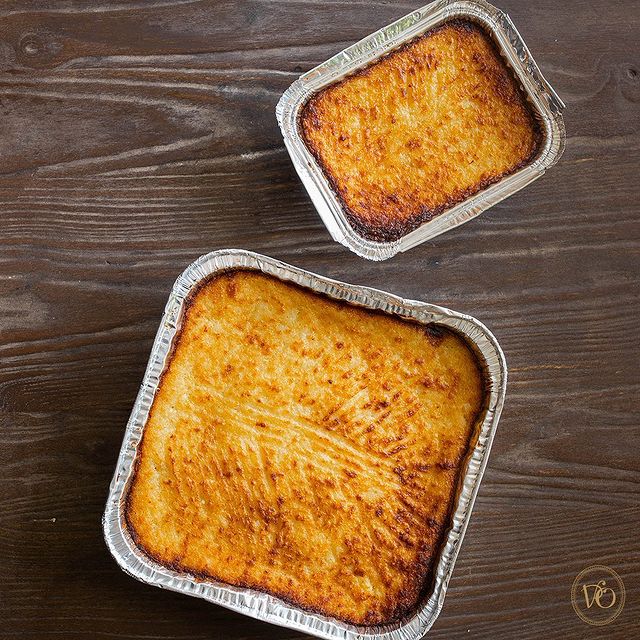 Image credit: @violetoonsingapore
For a fancy occasion, try Violet Oon—an authentic Nonya and Singaporean fusion restaurant. Their shepherd's pie is only available in two sizes: Large Tray ($66.34), and Small Tray ($62.06), where you'll get a set of three small portions. For a party of five, you can also consider pairing your pies with the Petit Feast. There are three different menus (from $125) to choose from, featuring homely Peranakan dishes such as Rendang, Sayur Lodeh, Dry Laksa, and others.
You can either collect your order at Violet Oon's National Gallery outlet, or have it delivered at a flat rate of $18, and $25 during public holidays, and the eves of public holidays. For orders above $125, delivery is free of charge.
Address: 1 St Andrew's Road, #02–01, National Gallery, Singapore 178957
Opening hours: Daily 12pm to 5pm, 6pm to 11pm
Tel: 9834 9935
---
6. Simply Good Pies
---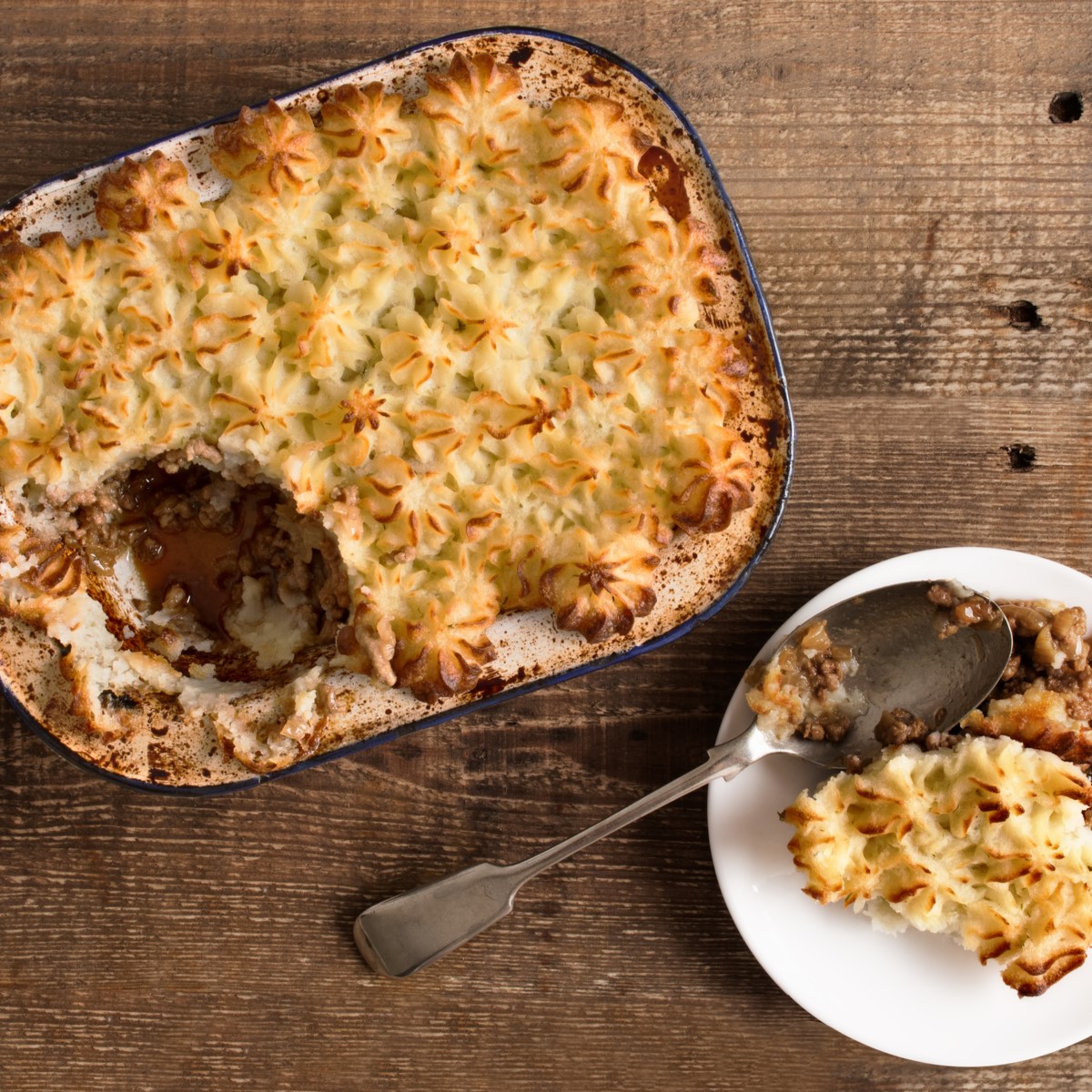 Image credit: Simply Good Pies
Simply Good Pies stands out from the crowd with their free-range, premium meat that's sourced from New Zealand. Here, they offer a Beef Cottage Pie, Lamb Shepherd's Pie, and even a Wild Alaskan Fish Pie. All their pies are either topped with your choice of farmhouse cheddar mashed potatoes ($19), or truffle cheese mashed potatoes ($21). If you are looking for more items to order from Simply Good Pies, consider their speciality—Classic English Pork Pie (from $18).
Orders below $50 will incur a delivery charge of $15, waived for orders greater than $85. If your order falls between $50 and $85, delivery will be at a discounted rate of $12.50.
Order from Simply Good Pies here!
25 Dessert Box Delivery Services For Beautiful Baked Goods From Home Bakers
---
7. The English House
---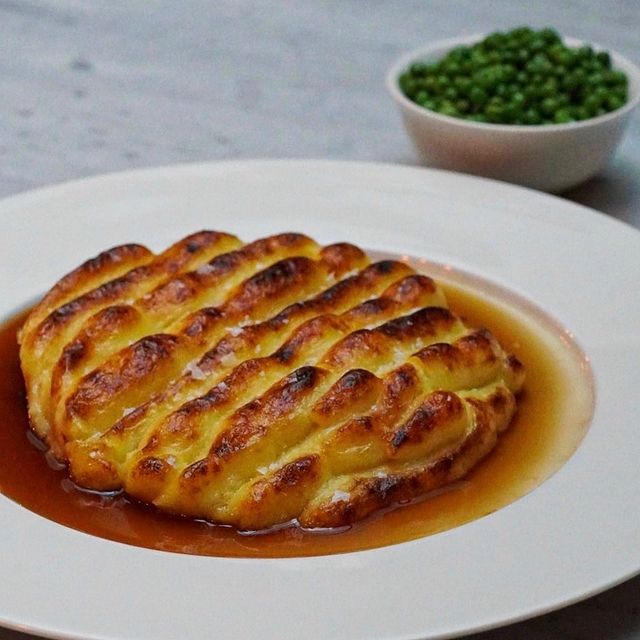 Image credit: The English House 
The English House, run by the renowned chef Marco Pierre White, serves a variety of classic British dishes. As the first British chef to have been awarded three Michelin stars in 1994, you can expect an authentic, high-quality shepherd's pie here at The English House. Priced at $46, their pie is layered with minced lamb and cubed carrots, and topped with mashed potatoes. Besides the English menu, there is also a Chinese and Asian menu that you can check out. Do note that these are only available from Mondays to Saturdays. 
Unfortunately, delivery is only available within a 15km radius from the restaurant and is free to selected areas with a spend of $150. Alternatively, you can pick up your order at The English House. 
Order from The English House here!
Address: 28 Mohamed Sultan Road, Singapore 238972
Opening hours: Monday-Saturday 11:30am to 10:30pm, Sunday 11:30am to 9:30pm
Tel: 6545 4055
---
8. The Royals Cafe
---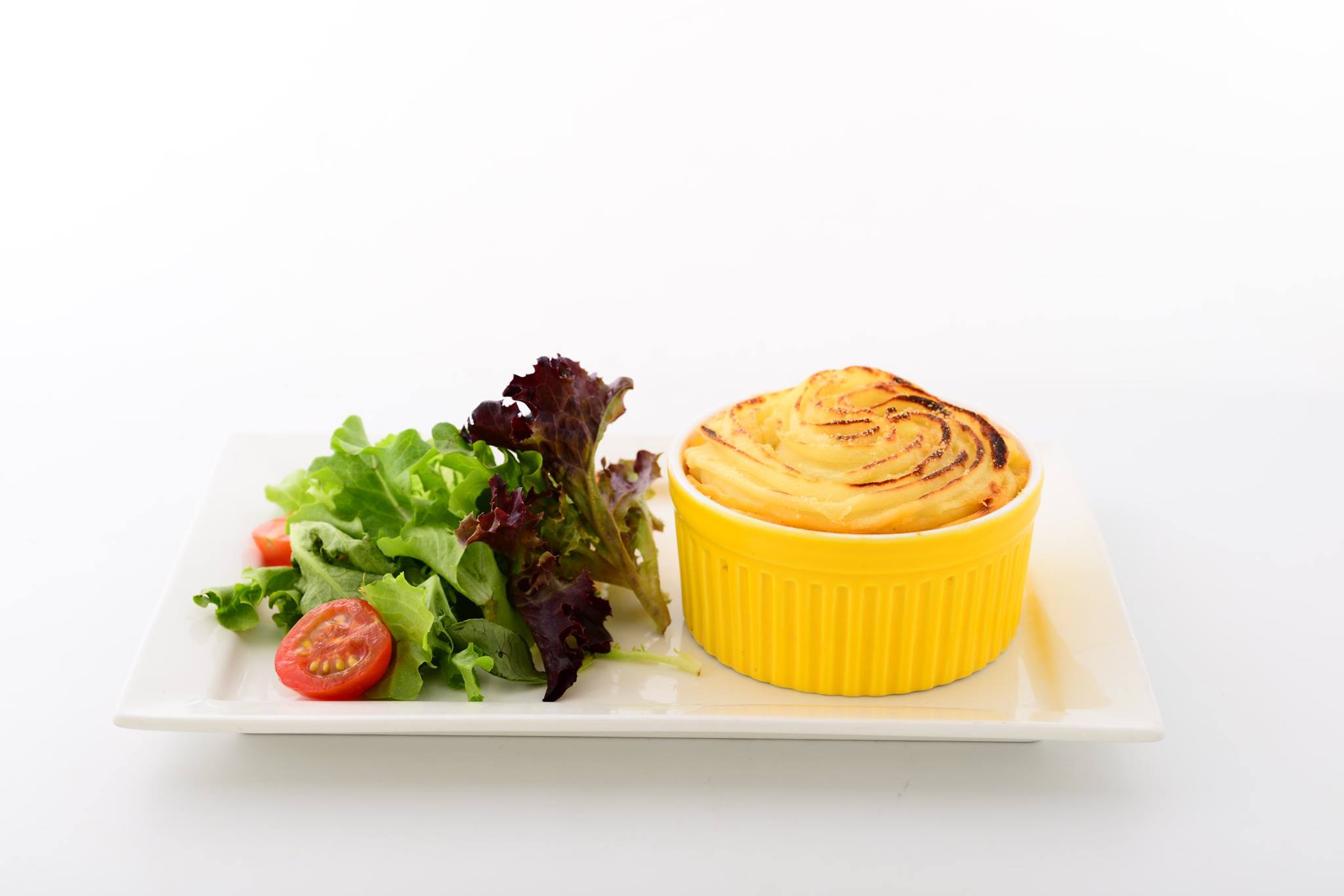 Image credit: The Royals Cafe 
If you are looking for a one-stop delivery that's also a halal-certified option, consider The Royals Cafe. Their menu features a spread of items ranging from cakes to main dishes, and finger food. If you are looking for a large sharing dish such as shepherd's pie, The Royals Cafe offers two kinds—Chicken and Beef—in small and large sizes ($25.80/$45.80). The former size can feed up to four, whereas the large pie is suitable for eight people. Alternatively, their tart-size, single-serving Shepherd's Pie ($4.10) is ideal for solo meals. 
Note that orders need to be made three days in advance. A flat rate of $16.05 is charged if you opt to get your shepherd's pie delivered, with a surcharge of $8 to $12, depending on the location. 
Order from The Royals Cafe here!
Website | Full list of outlets
---
9. Good Food People by SaladStop! 
---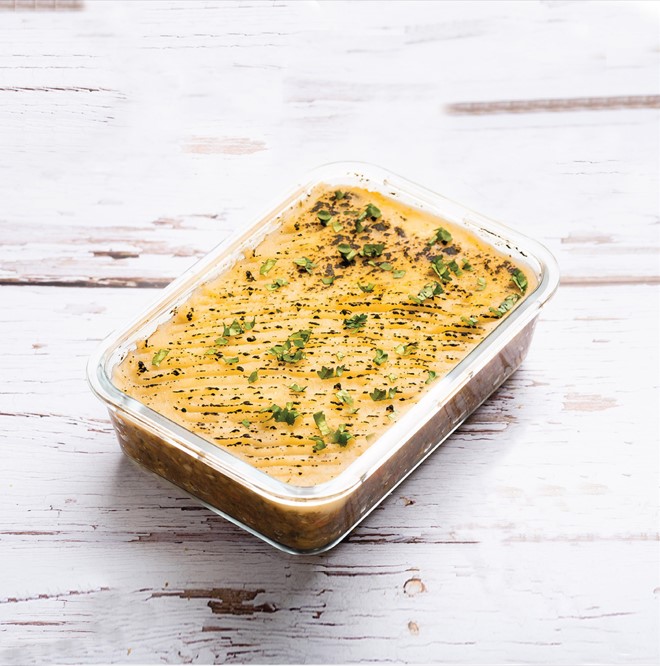 Image credit: Good Food People by SaladStop!
For a vegan option, check out Good Food People by SaladStop!. You can find a range of meal kits, bundle kits, pre-cooked meals, and many more plant-based options. Here, their Shepherd's Pie ($16.80) is made with Impossible meat, and comes frozen. Since it is already packaged in a tray for one, you can easily heat it up in the oven for a quick meal fix. Besides international fare, you can also find plant-based local dishes, such as Karana Buah Keluak ($14.50), Fable Rendang ($14.50), and others. 
Simply order $50 worth of items and your delivery will be free!
Order from Good Food People By SaladStop here!
---
10. Quentin Eurasian Restaurant
---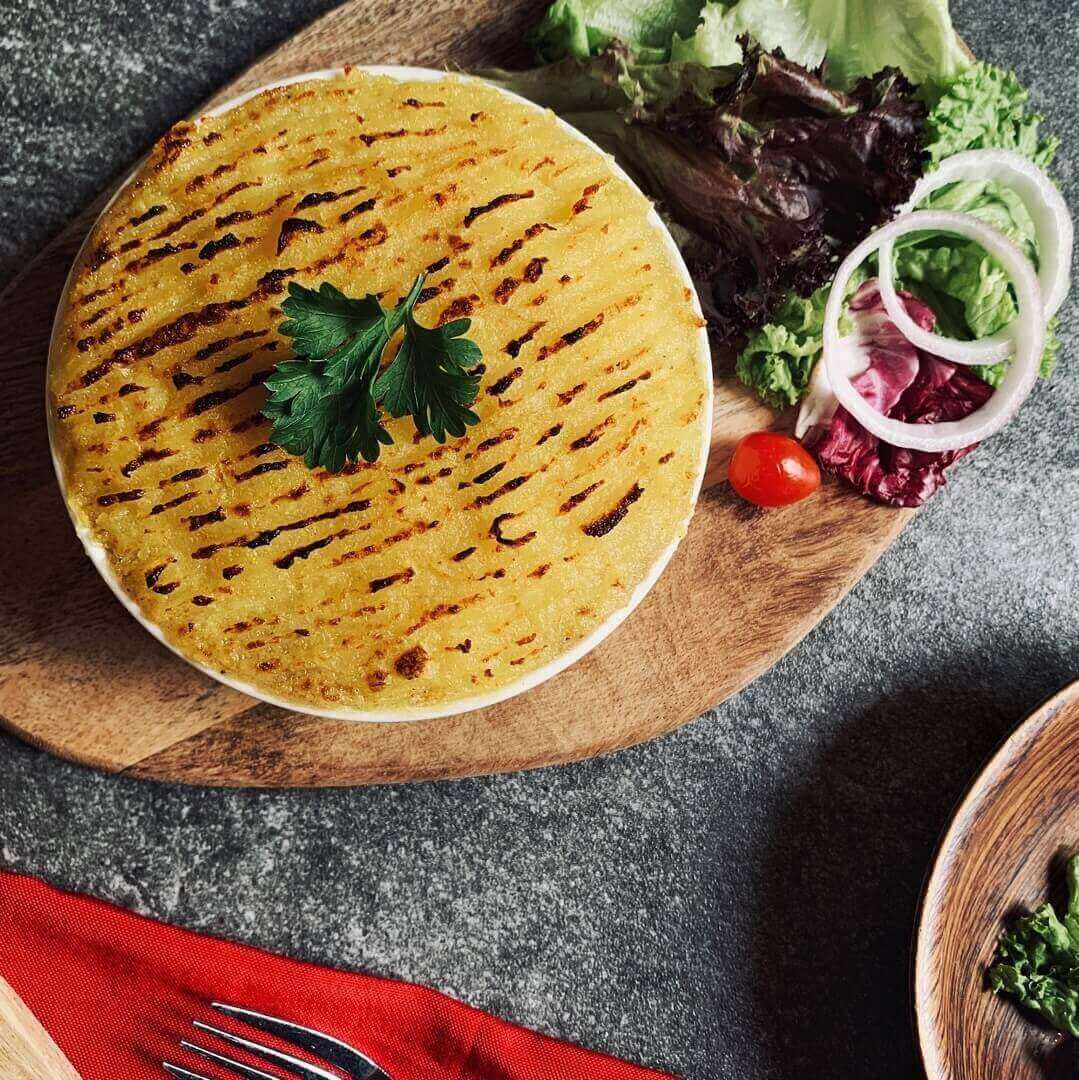 Image credit: Quentin's Singapore 
Check out Quentin Eurasian Restaurant for uniquely local fusion fare. You can find dishes such as Dry Mee Siam ($11.80), Fried Okra ($8.80), Black Ink Calamari ($20.80), Shepherd's Pie, and many more. The shepherd's pie here is available in a single ($14), or a mini-buffet portion ($80). Alternatively, you can consider their Family Feast C ($312.50), which includes a Shepherd's Pie, Roasted Chicken, Pot Roast Beef, and a few other mains, great for a party of 10 when regulations are relaxed. For an unconventional shepherd's pie, try their Curry Debal Pie ($80). This features a bed of spicy chicken chunks, sausage and pork belly, topped with a thick layer of mashed potatoes. 
Delivery is free for any order above $150, otherwise, it's a flat fee of $20 islandwide. You can also opt for self pick-up, where you can enjoy 20% off your total bill. However, a minimum order of $50 is required.
Address: 139 Ceylon Road, Level 1, The Eurasian Community House, Singapore 429744
Opening hours: Daily 11am to 9pm
Tel: 6348 0327
20 Korean Fried Chicken Delivery Services During This Stay-Home Period
---
Shepherd's pie delivery in Singapore
---
You don't always have to wait until the festive season to get your hands on a shepherd's pie. Simply place an order from one of these eateries to satisfy your craving! 
If you are looking for more delivery alternatives for your event, check out our guide on Korean fried chicken delivery, great finger food to start your event, and a dessert box delivery to end the occasion. 
Photos taken by Emily Teu.
This post is brought to you by Shepherd's Pie.
Featured image adapted from @violetoonsingapore's post.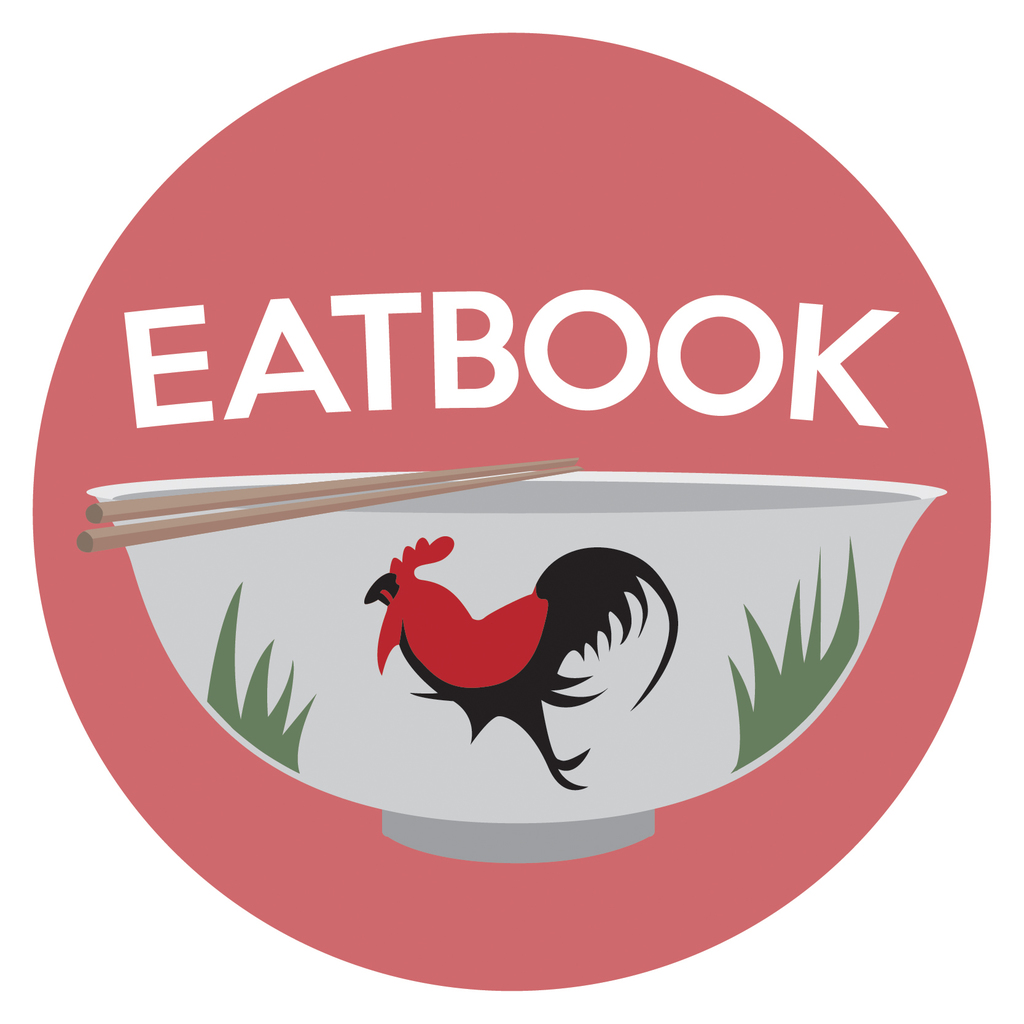 Drop us your email so you won't miss the latest news.