Sichuan food with Japanese influence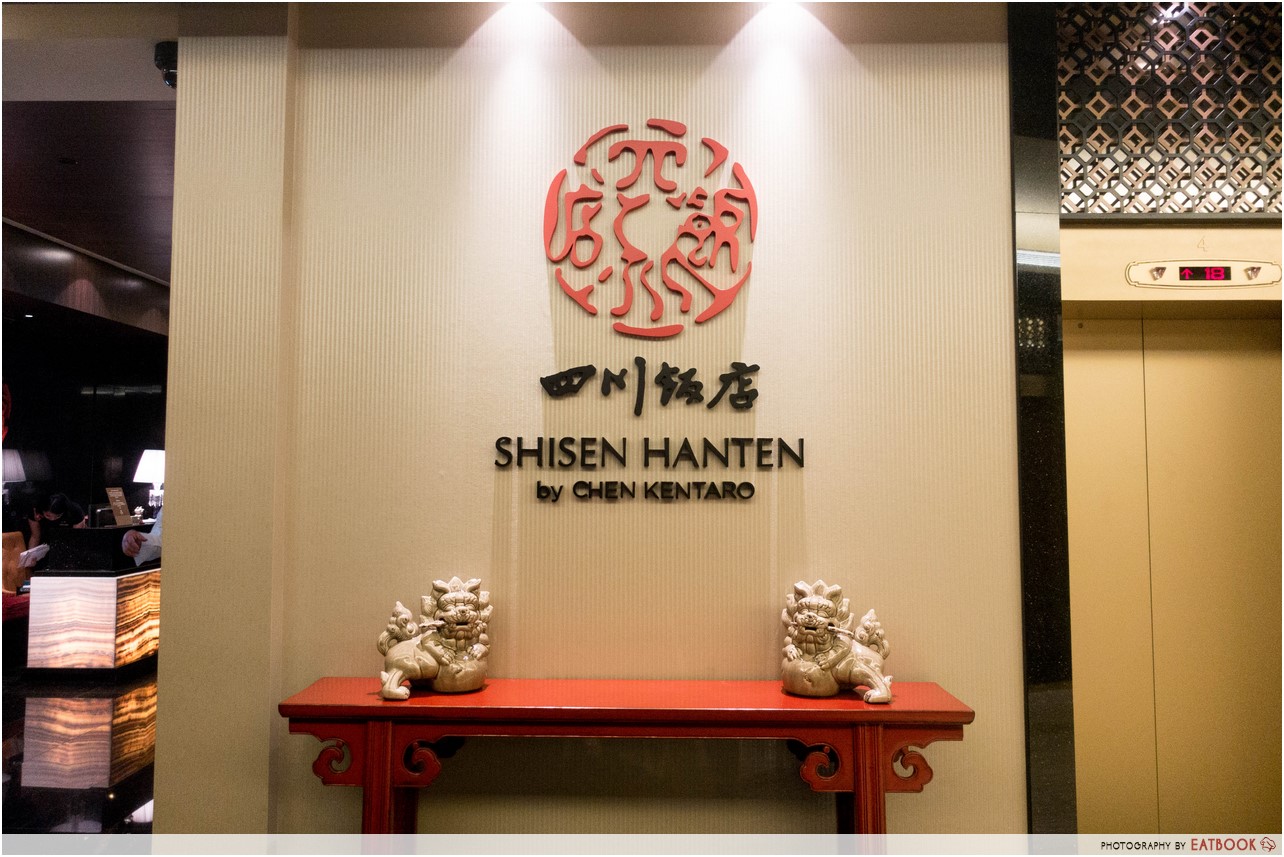 With 2 Michelin stars in its pocket, the first word that comes to mind when dining at Shisen Hanten is "ATAS". Even though its Chinese name "四川饭店" literally translates to "Sichuan Restaurant", the Sichuan dishes here by Chef Chen Kentaro are made with Japanese influences.
If you're wondering who Chef Kentaro is, he's the son of Chen Kenichi, AKA Iron Chef, and grandson of the late Chen Kenmin, who is known as the father of Sichuan cuisine in Japan.
Located within Mandarin Orchard, Shisen Hanten knows how to make you feel like a VIP. From stepping out of the elevator on the 35th floor onto a red carpet, to being ushered into a dining room that overlooks the bustling Orchard Road, my experience here was nothing short of posh.
Appetisers at Shisen Hanten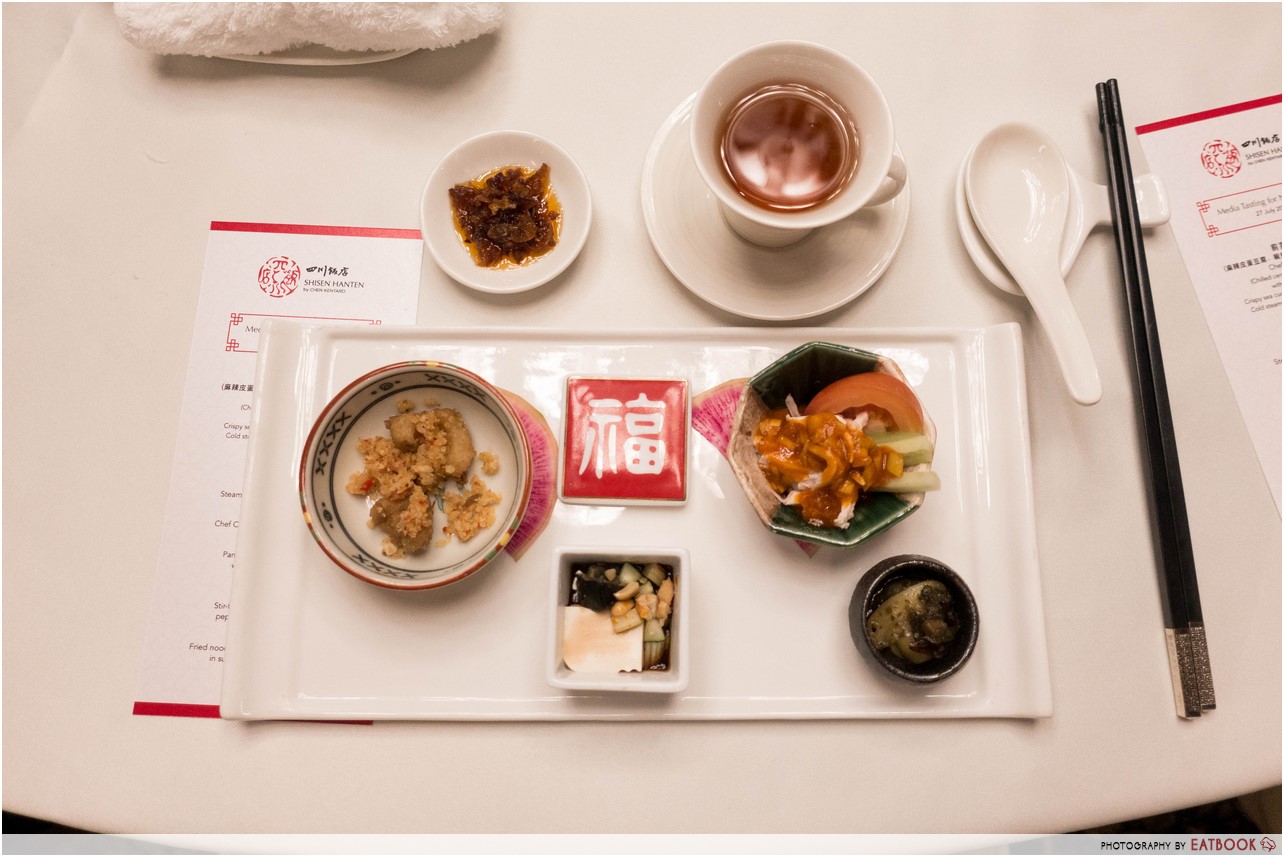 To start the night off, we were served a platter of appetisers in tasting portions. While all four dishes looked enticing, I immediately zoomed in on the crispiest item – Crispy Sea Cucumber with Salt and Pepper. On first bite, crisp golden batter generously seasoned with salt and chilli gave way to reveal a chewy piece of sea cucumber.
Excited to continue, I lifted the red lid to a bowl of Century egg and beancurd with Szechwan Sauce ($12++). Cubes of fresh cucumber, corn and cashews were lying atop a bed of silken tofu, and its spicy and savoury sauce really kickstarted my appetite.
As a loyal fan of steamed Hainanese chicken, Cold Steamed Chicken with Sesame Oil ($22++) stood out to me with a texture that was tender-to-touch. I especially loved the spicy kick of chilli sauce with fragrant notes of sesame oil against the coolness of cold steamed chicken.
Doused in a bitter century egg dressing, Japanese Eggplant with Century Egg made a good accompaniment to the rest of the appetisers. I love the softness of the eggplant, but the sauce was overwhelmingly bitter so I wouldn't eat this on its own.
Altogether, these four dishes painted a complete picture of the seven basic tastes in Sichuan cuisine – sweet, sour, salty, pungent, hot, spicy, aromatic and bitter – that set the path for the rest of the meal.
Mains at Shisen Hanten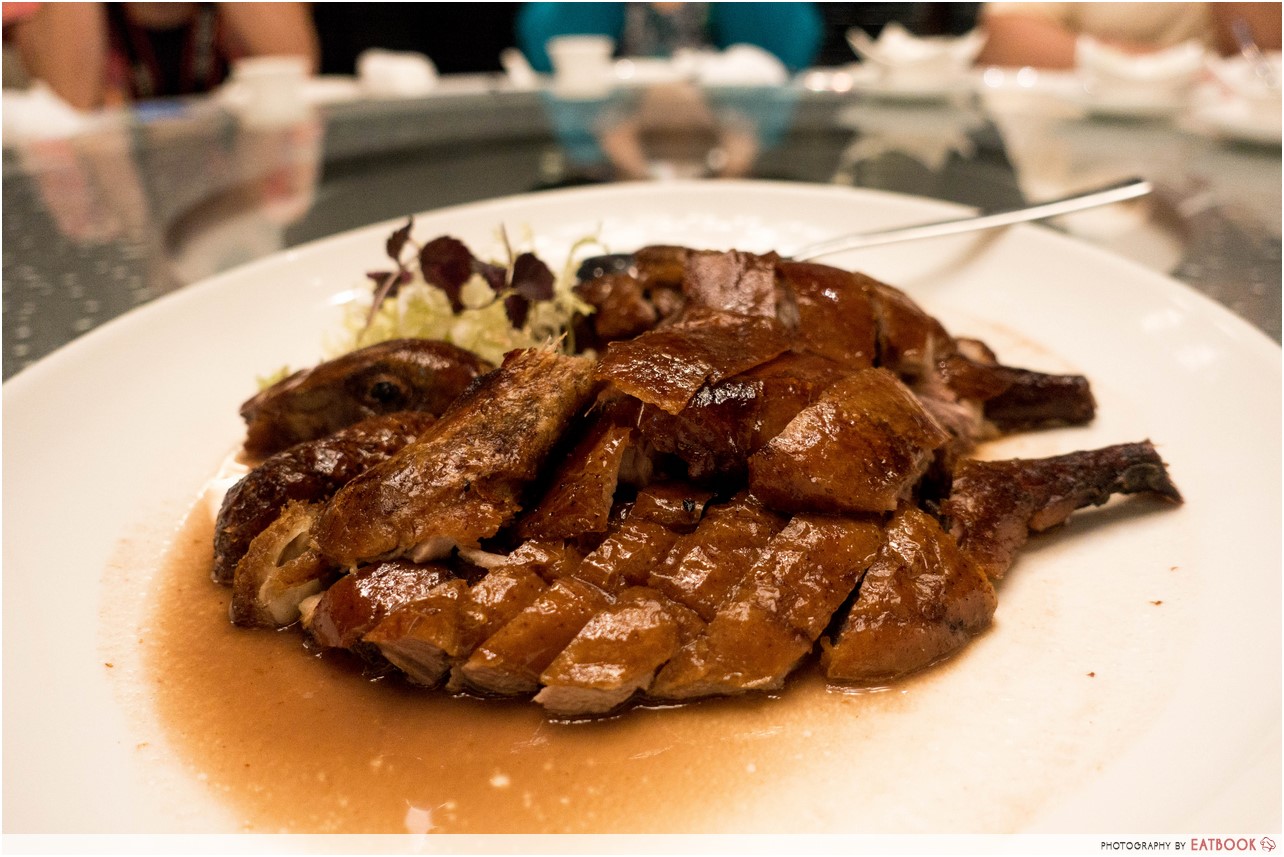 First to be served was one of Shisen Hanten's newest dishes, London Roast Duck ($34++ for half duck, $68++ for whole duck). For this dish, Chef Kentaro used fat Irish ducks for their succulent meat. I was told the meat was dried for 2 to 3 months and stuffed with Chinese herbs before roasting. This produces an aromatic herbal sauce that is used in the basting process, and a roast that is both tender and crisp, leaving a 'chicken liver' meatiness in each bite.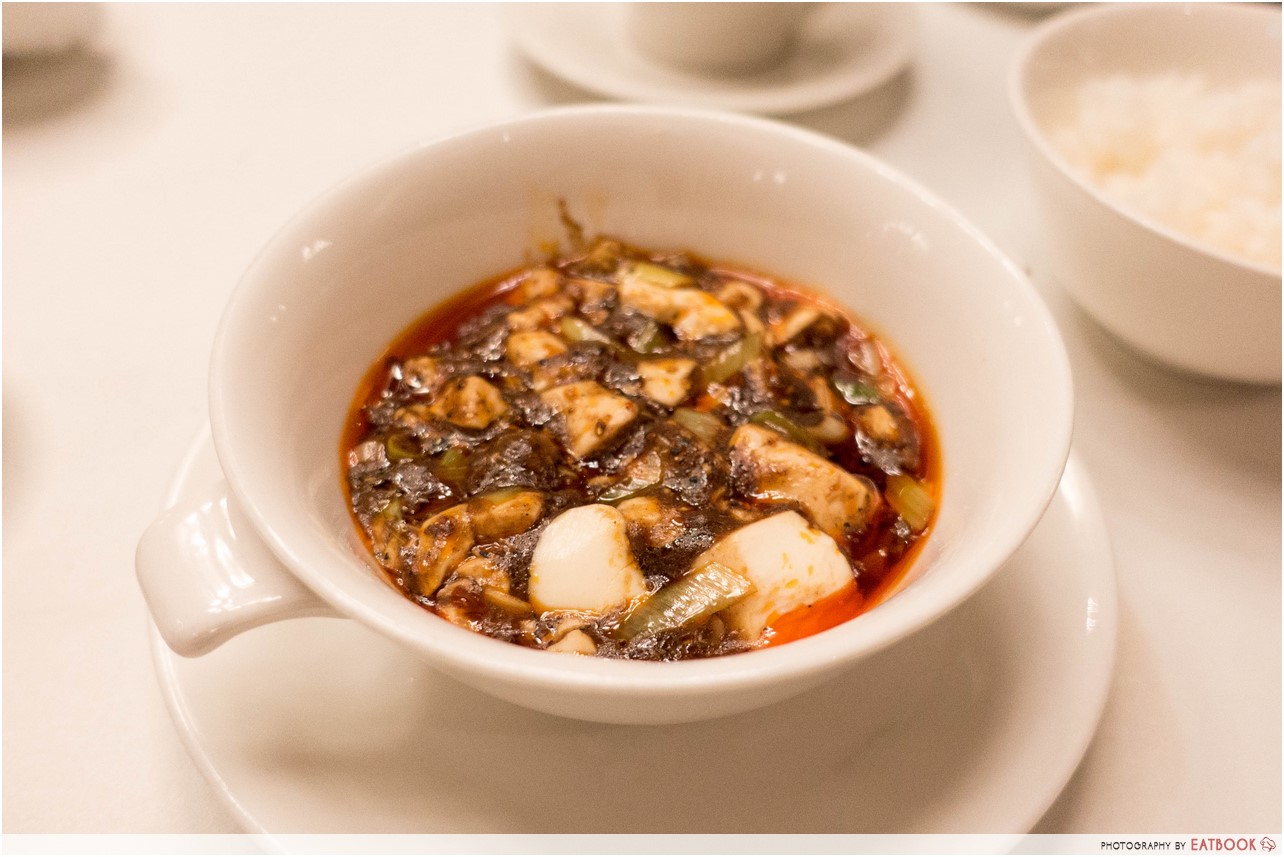 Although renowned as Sichuan's spiciest dish, Chen's Mapo Doufu ($22++) was not as spicy as I thought it would be. You can request for a suitable level of spiciness, so don't worry if spicy food is not your thing. I particularly loved the silky beancurd amongst the preserved vegetables, and the sticky consistency of this iconic sauce that came with a distinct taste of meat.
The numbing effect of Sichuan peppercorn came through after a few mouthfuls. It was incredibly intense, which is not surprising as the dish was made with Shisen Hanten's aged bean-paste of three years.
The bowl of Japanese rice served on the side was equally fragrant and outstanding with round and sweet grains. It had a distinctively chewy texture that captured the spicy ma po sauce perfectly.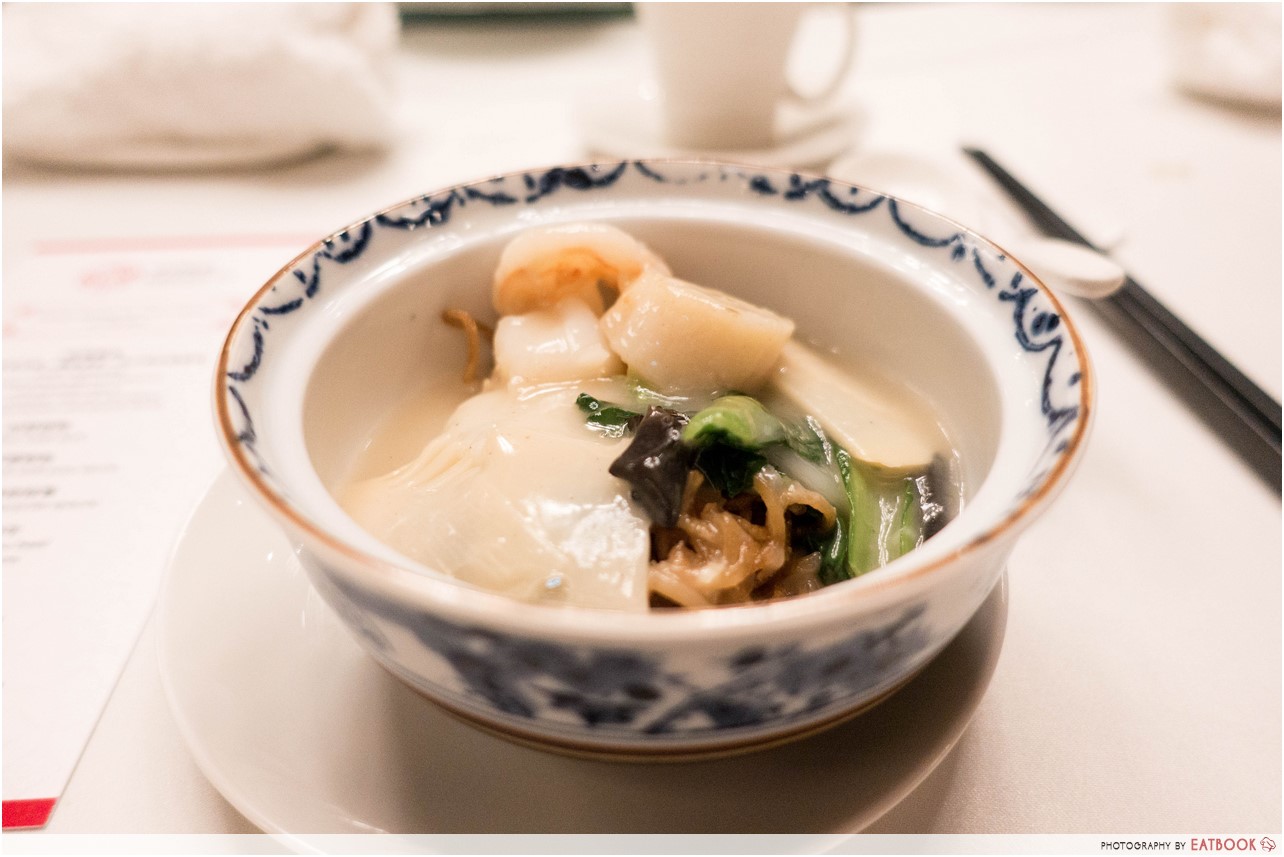 Fried noodles with seafood in thick superior broth ($28++) completely exceeded expectations, from the gelatinous bite of its prawns, to the softness of Chinese cabbage and freshness of scallops. Perfected by wok-fried noodles drenched in a creamy broth, this dish was satisfying for both tummy and soul.
The Verdict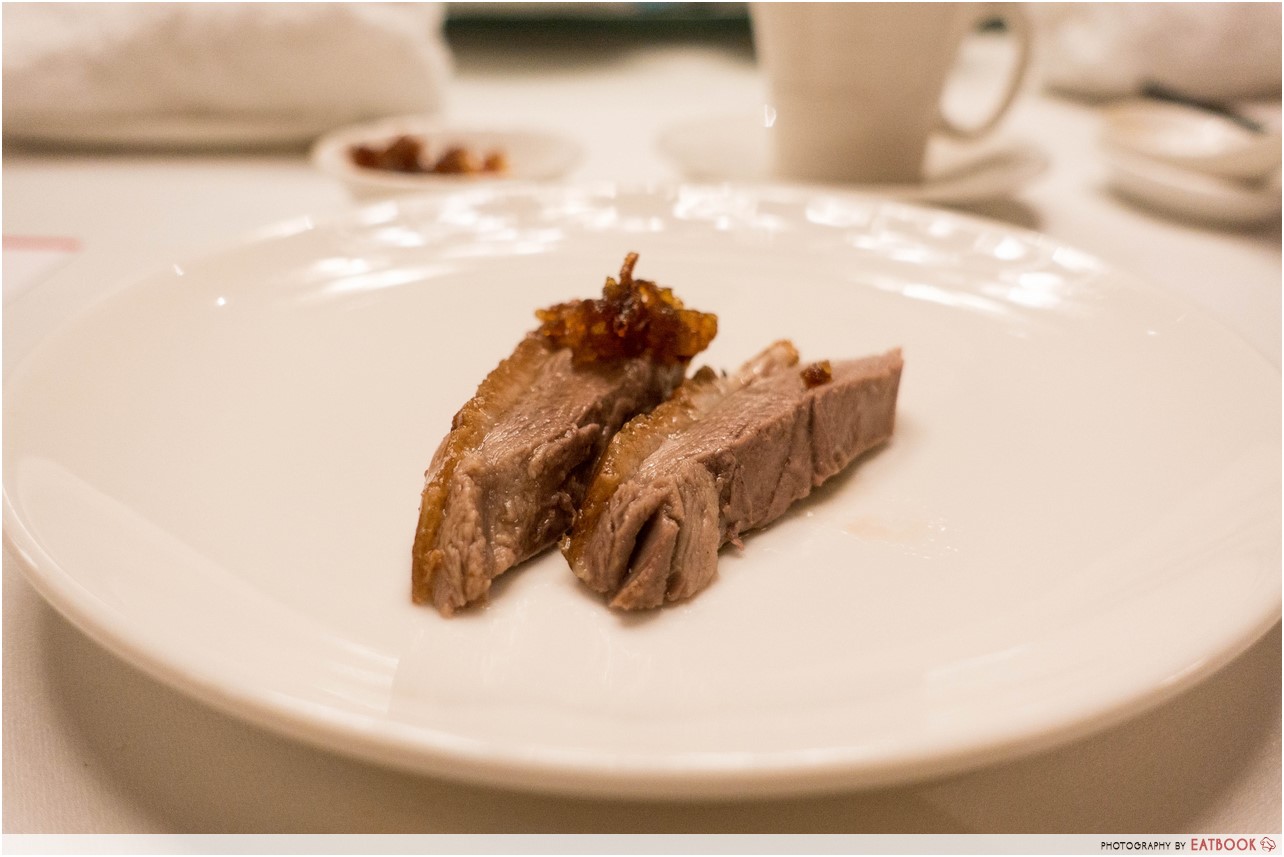 Shisen Hanten changed the way I thought of Sichuan cuisine. A traditional Sichuan meal mixed with contemporary Japanese influences, this definitely opened my eyes to how flavourful Sichuan cuisine can be. While I wouldn't frequent this place because of its prices, this is still a restaurant I would bookmark for very special occasions.
This was a media tasting at Shisen Hanten.
Summary
Pros
– Posh atmosphere
– Fresh ingredients used
– Exquisite dishes
– Convenient location
Cons
– Expensive
Recommended Dishes: London Roast Duck ($34++ for half duck, $68++ for whole duck), Chen's Mapo Doufu ($22++)
Operating Hours:
Monday – Sunday 12pm to 3pm, 6pm to 10pm
Address: 333 Orchard Road, Level 35, Orchard Wing, Mandarin Orchard Singapore, Singapore 238867