Sō Ramen's 1-for-1 ramen deal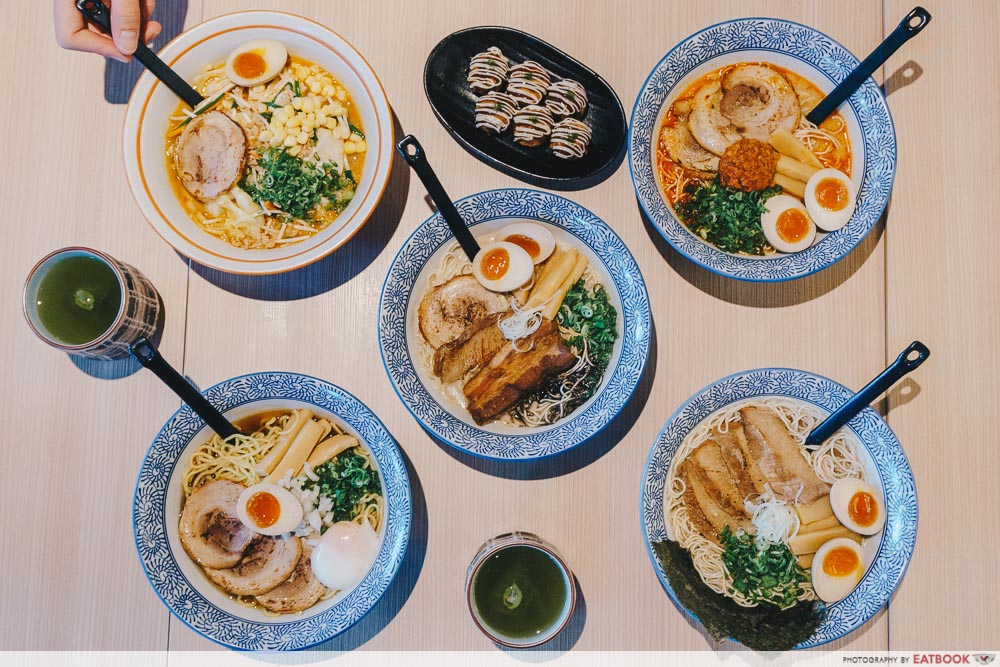 Sō Ramen is ringing in their second birthday with eye-popping 1-for-1 ramen deals in the month of April, available for any ramen on their menu.
This offer means you'll be able to pick up two bowls of ramen from just $8.90++, up to a mere $13.90++ for more premium variants. Considering those are already affordable prices for a single bowl of ramen, it's an absolute steal for two.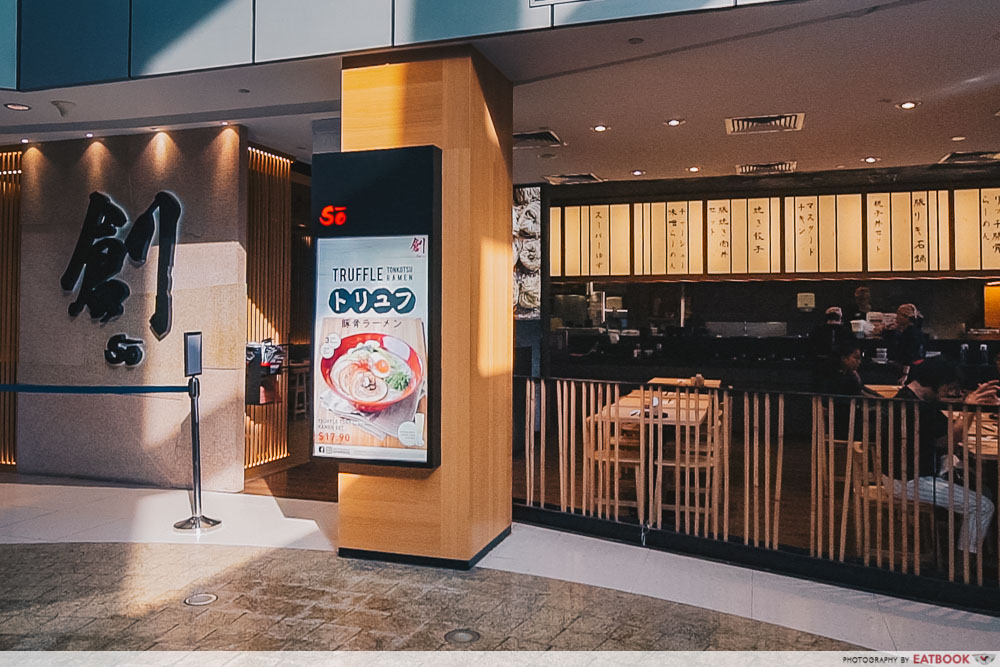 The deal will happen every Monday at one of the five outlets. Here's the list, so you ramen fanatics can mark your calendars:
1 April – Sō @ NEX
8 April – Sō @ BreadTalk IHQ
15 April – Sō @ Velocity @ Novena Square
22 April – Sō @ Bedok Mall
29 April – Sō @ Resorts World Sentosa
The ramen specialist offers wide variety. With three types of noodles, five soup variants, and an ensemble cast of toppings, everyone should be able to find their dream bowl of ramen here.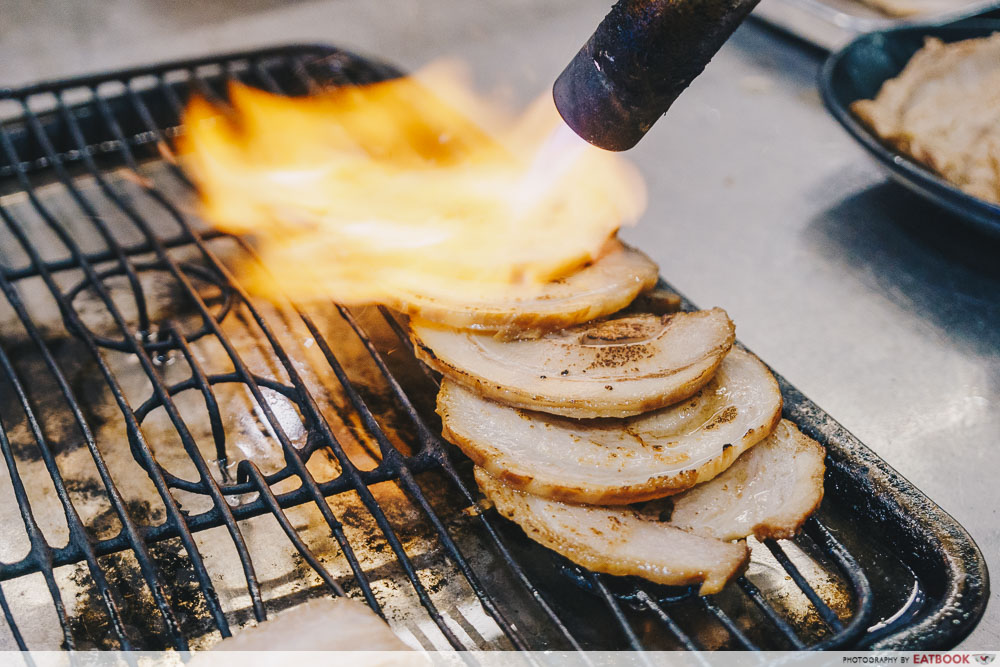 Effort is put into conceptualising and crafting each bowl – evident in the whopping eight hours their signature tonkotsu broth simmers for. Those painstaking endeavours blossom into deep flavour in every bowl.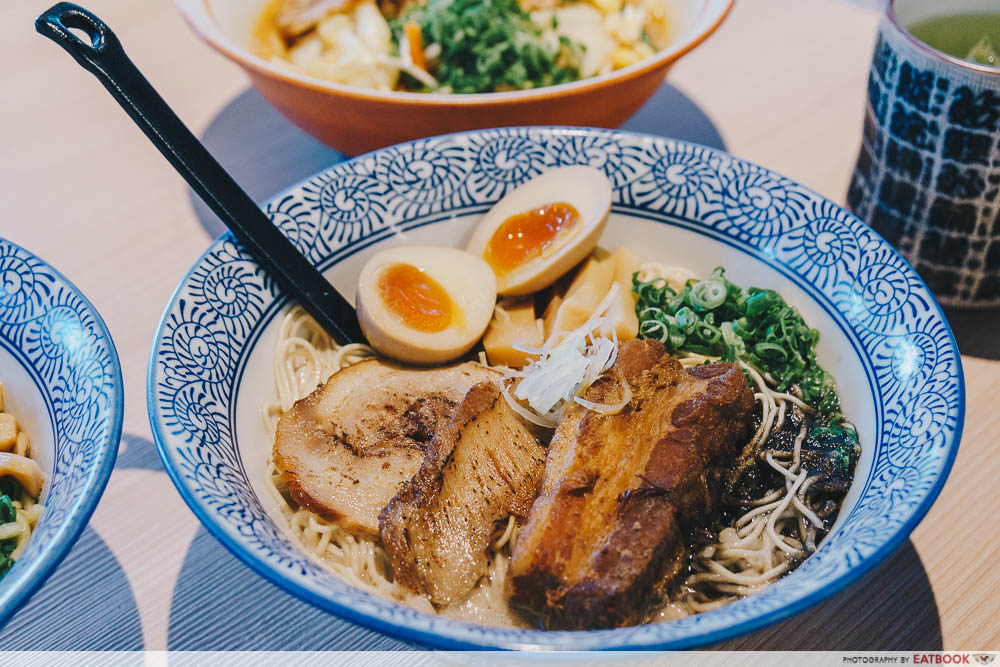 Those new to Sō Ramen ought to try the trademark Grand Tonkotsu Ramen ($13.90++). All their creamy tonkotsu-based soups are paired with spindly and slippery hosomen (thin noodles) that simply slide down your throat. That combo is enhanced by a trio of porky indulgence: freshly torched chashu, melt-in-your mouth pork cheek, known as toroniku, and a humongous slab of pork belly, or Buta Kakuni.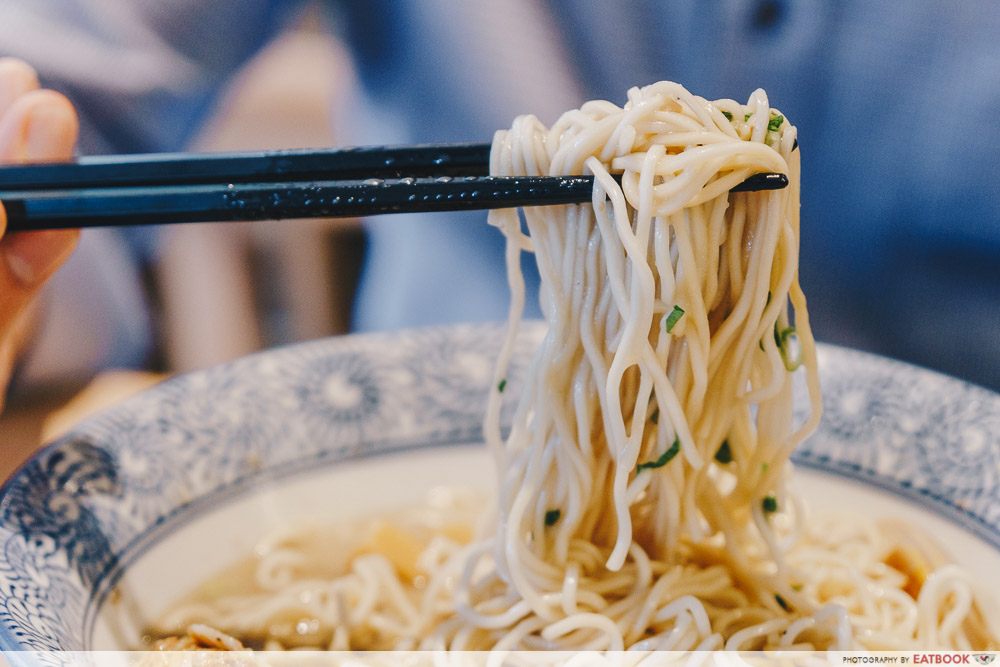 Those eight hours of simmering really came to fruition in this bowl. Joining forces with a dash of black garlic oil, the result was an exceptionally rich and creamy broth, with a subtle note of garlic astringency. That creaminess was accentuated by a supple ni-tamago reclining by the side of our bowl.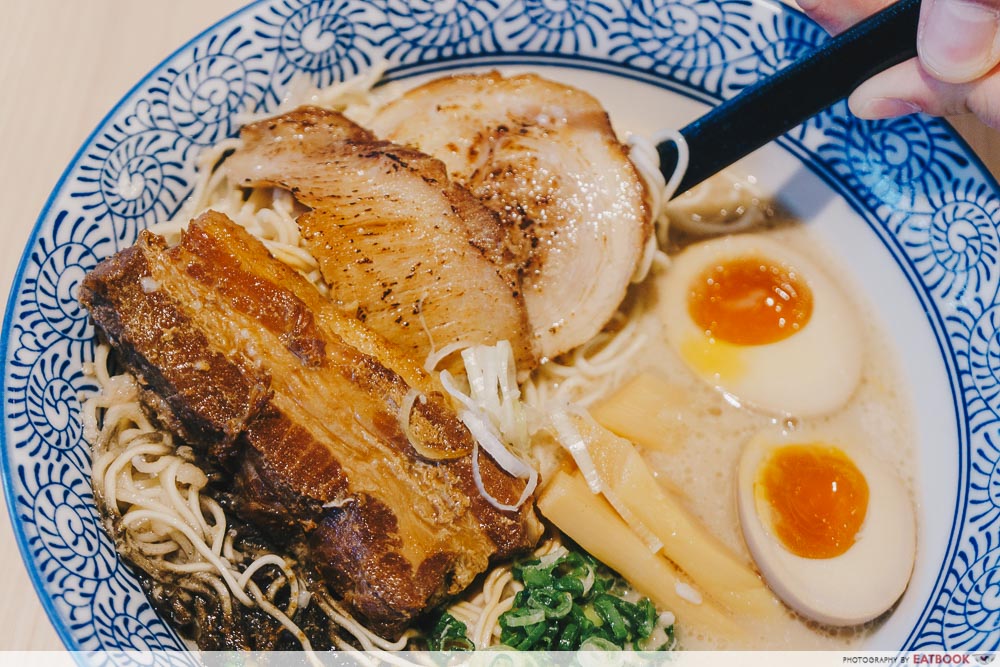 Watching the chefs torch our chashu and toroniku had us anticipating some smoky and meaty goodness. We certainly weren't let down.
Too many chashu in ramen joints don't have the right ratio of fat-to-meat, but this rendition struck the right balance. Our toroniku was just as unctuous as expected, complemented by a nice wisp of char. The pork belly remained tender too – despite its ridiculous thickness – with a mellow soy flavour.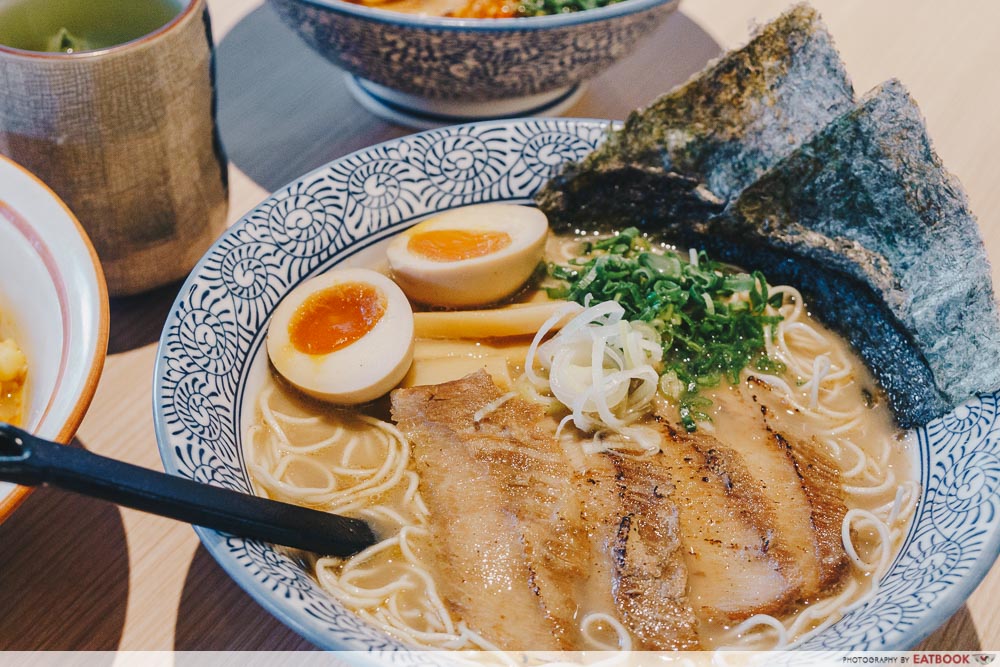 The Toroniku Uoboshi Tonkotsu Ramen ($13.90++) blends tonkotsu broth with smoked fish stock, adding a potent injection of briny umami flavour to the creamy broth.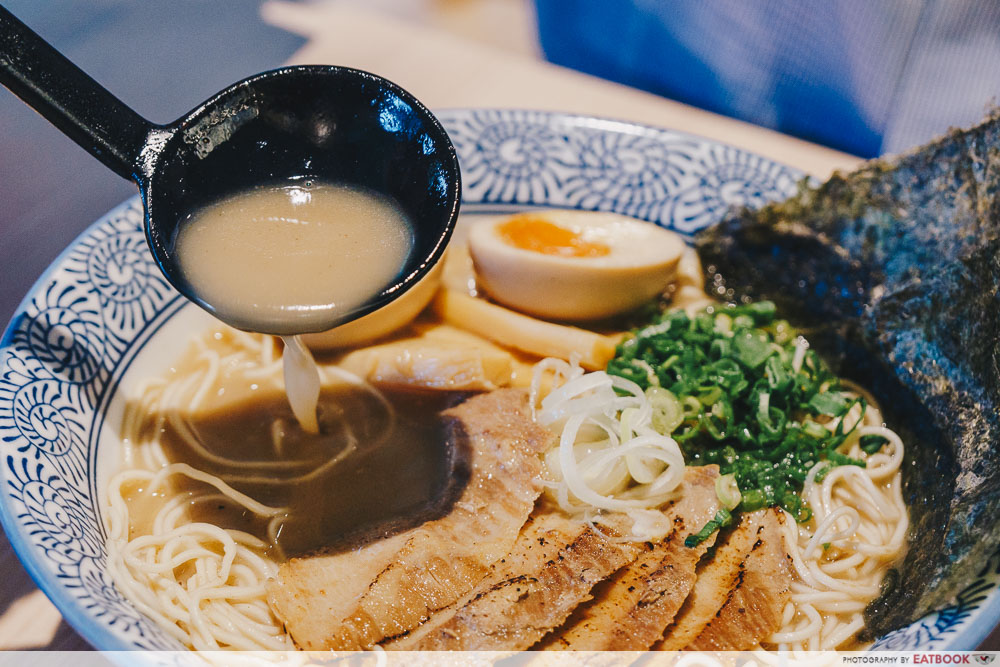 Toroniku lovers should head straight for this bowl, as four slices of fatty cheek meat adorn it. These luscious slices of pork complete what is already a sumptuous bowl of ramen.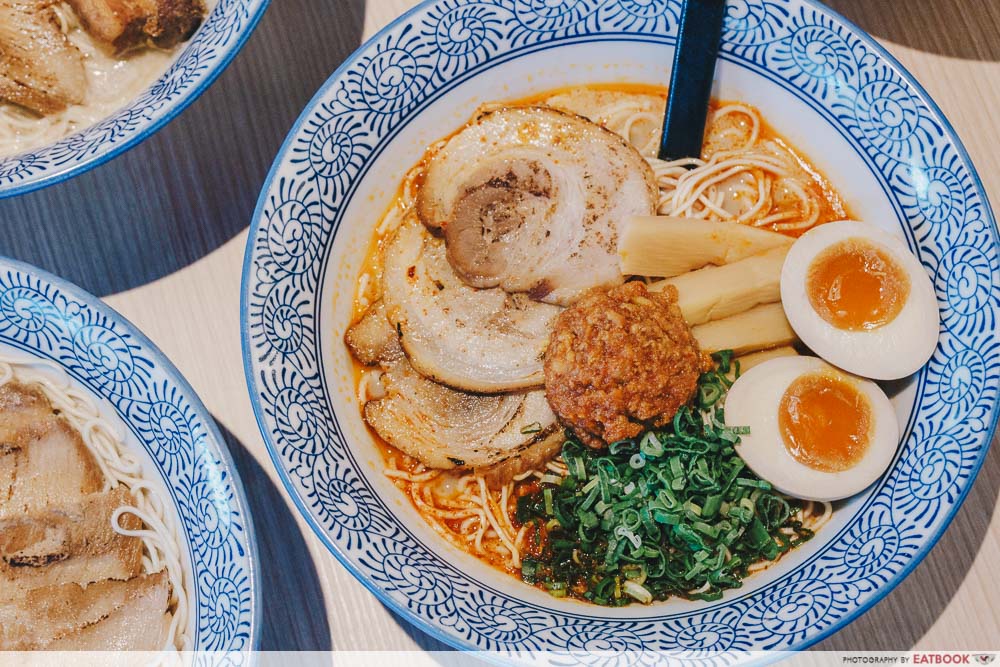 Our recent cold and rainy evenings are great for a fiery, sweat-inducing bowl of Tamago Spicy Tonkotsu Ramen ($12.90++). As this steaming bowl landed, our eyes were immediately drawn to the massive ball of spicy minced meat that crowned it.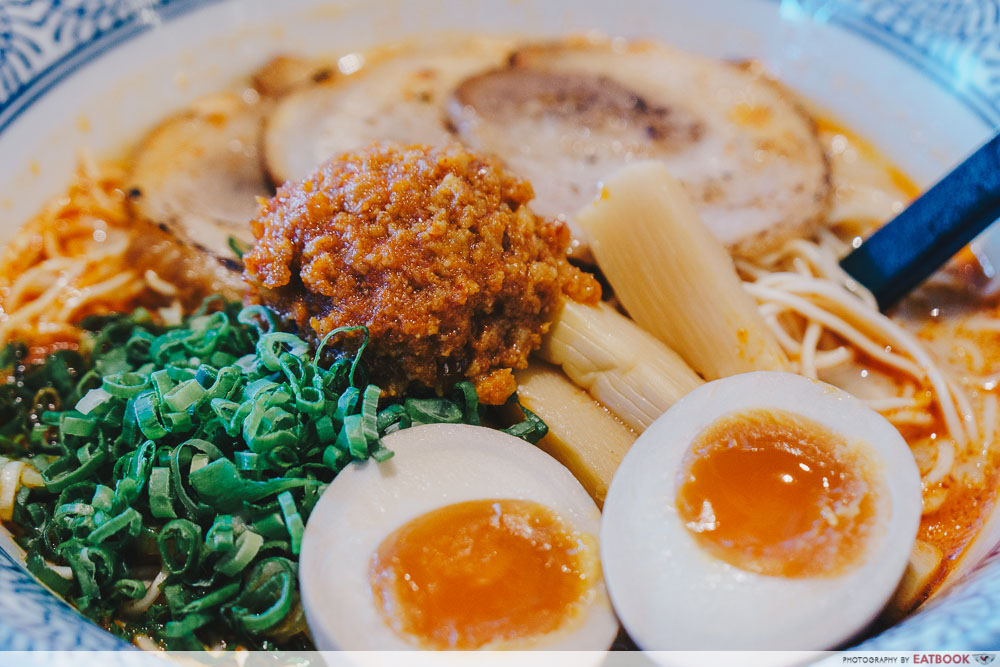 Chilli heat comes in upfront as we sipped the broth, but did not overwhelm the rich tonkotsu base. That impressive sphere also imbued the broth with robust meaty flavour, creating a full-bodied soup.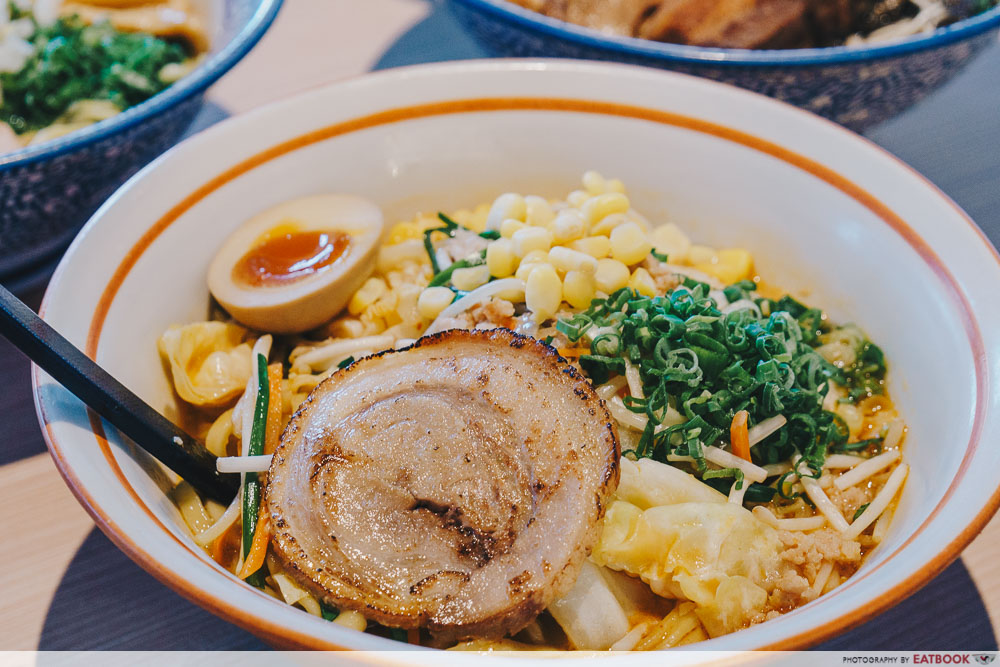 A shower of minced meat and mixed vegetables tops the orange-hued Yasai Cha Shu Miso Ramen ($11.90++), which contains broad and chewy yellow futomen noodles. Their miso soup is molded from a blend of over seven miso pastes. That results in a complex mixture of flavours, with garlicky, spicy, and nutty notes all working in unison.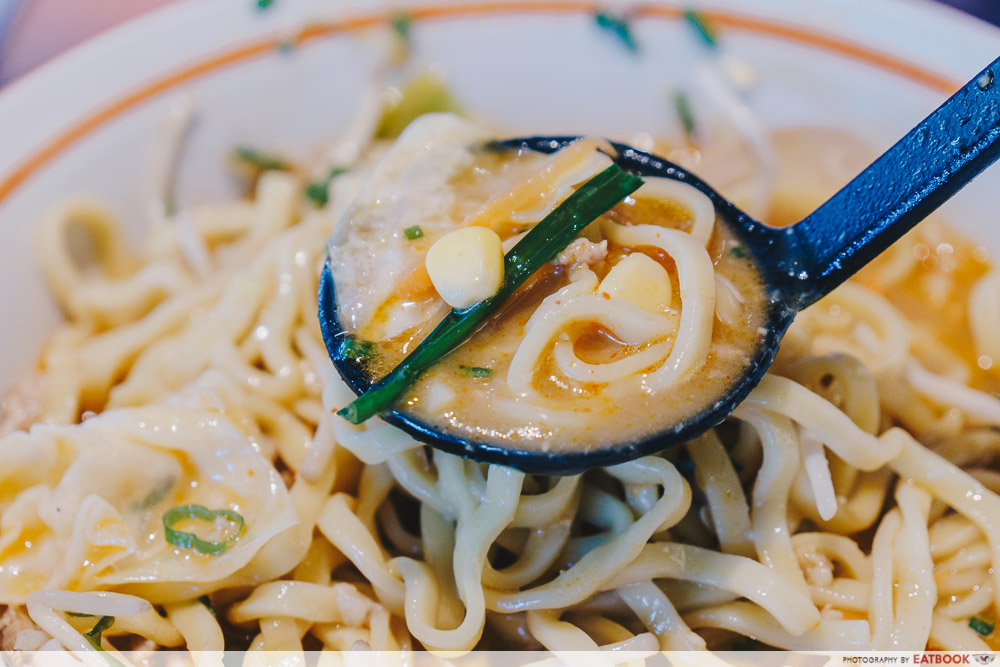 Those veggies aren't just for colour either. They add a welcome crunchy element to our dish that contrasts well with the overall richness of the bowl.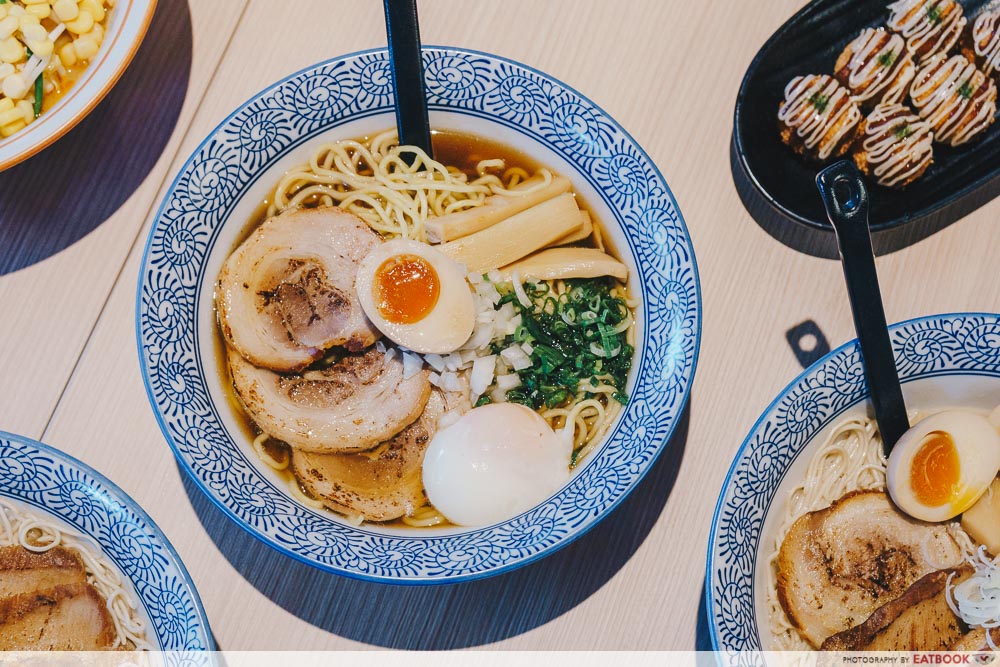 If you're looking for a lighter meal, the Tamago Shoyu Ramen ($12.90++) is your best bet. Curly and springy chijiremen noodles swim in a classic soy-based broth that's not nearly as heavy as its tonkotsu-based cousins.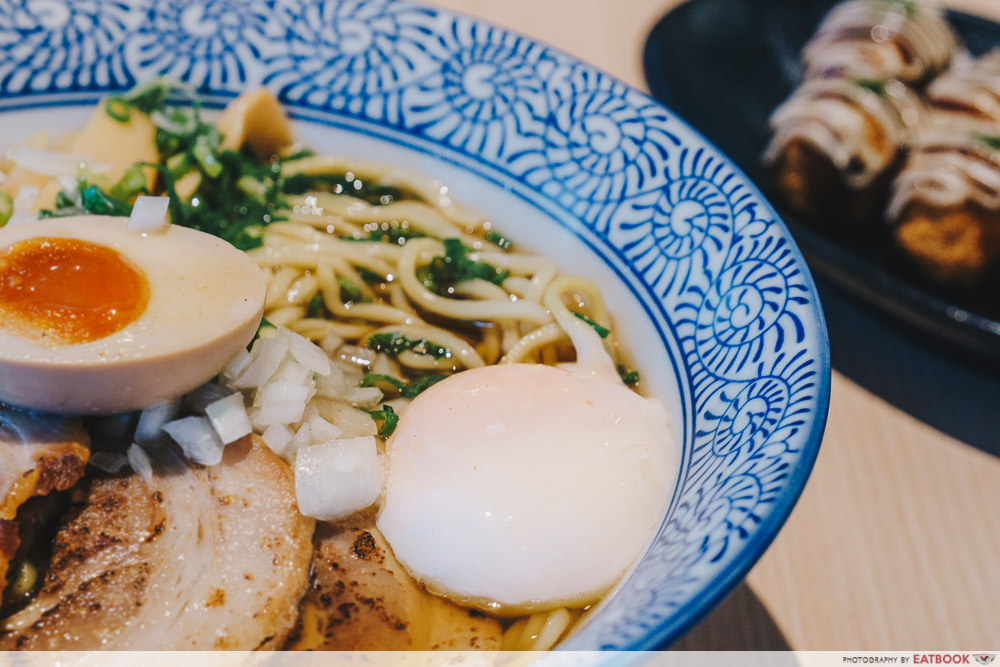 Onsen eggs are ubiquitous in donburi these days, but they make a guest appearance in this ramen. Its jiggly nature added a new textural dimension to the bowl.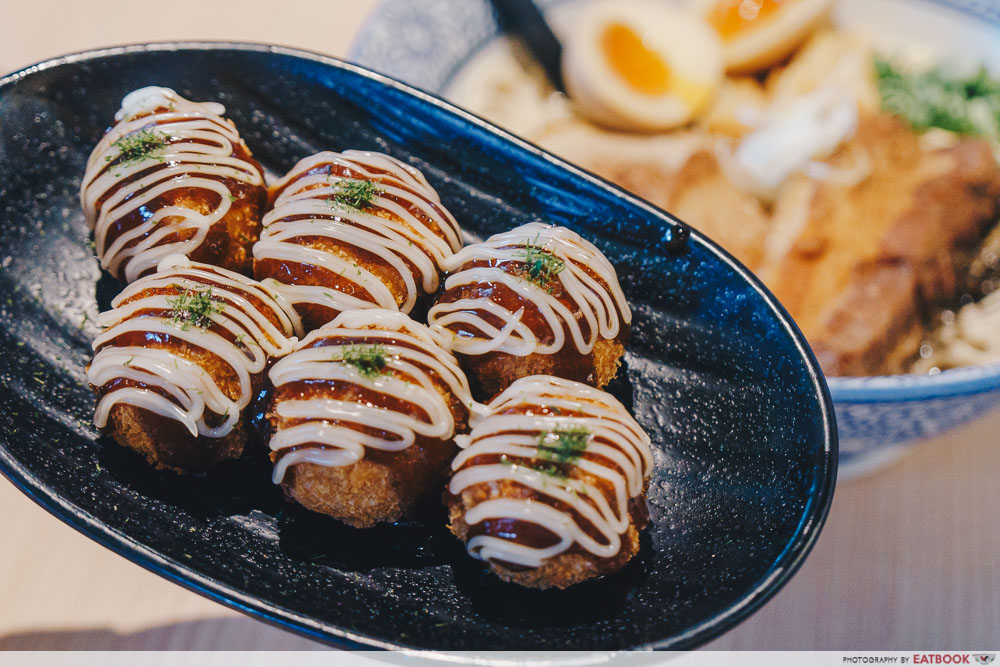 To complement your ramen, share a plate of Crispy Dango ($4.80++) with a friend. These orbs are fried chicken meatballs, dressed in a tangy medley of mayonnaise and plum sauce. For frequent visitors to the land of the rising sun, these flavours will take you back to okonomiyaki on the streets of Japan.
---
Get your noodle fix at S
ō
Ramen this April
---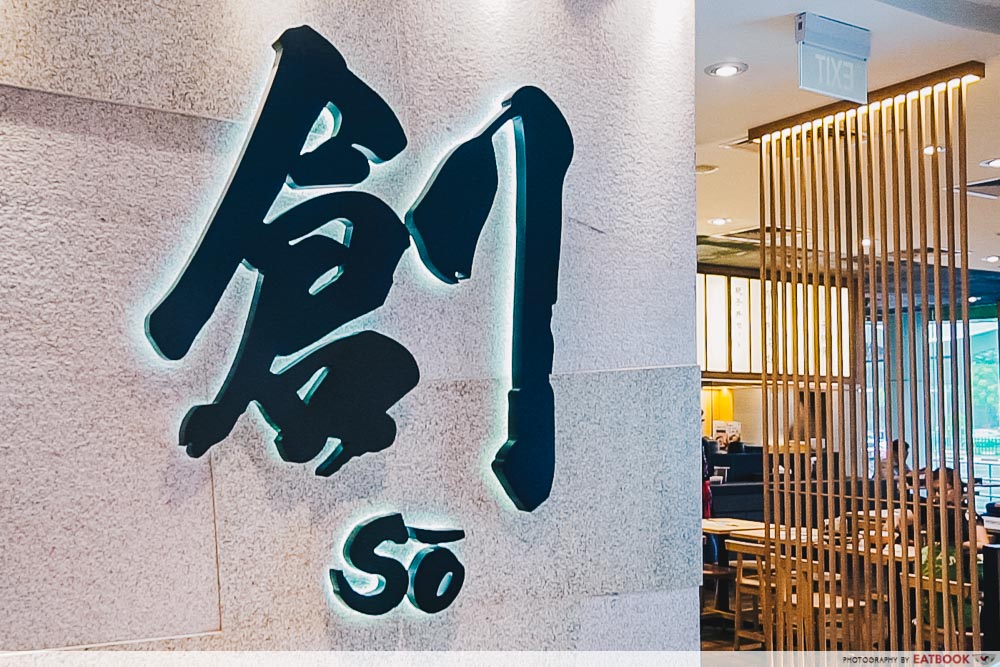 Ramen lovers and bargain hunters should be salivating at the prospect of this 1-for-1 deal*, so set your reminders for every Monday in April to join the party.
*Terms and conditions apply.
Address: 238 Thomson Road, #01-05, Velocity @ Novena Square, Singapore 307683
Opening hours: Daily 11am to 10pm
Tel: 6253 6066
Website | Full list of outlets
Photos taken by Pichan Cruz.
This post is brought to you by Sō Ramen.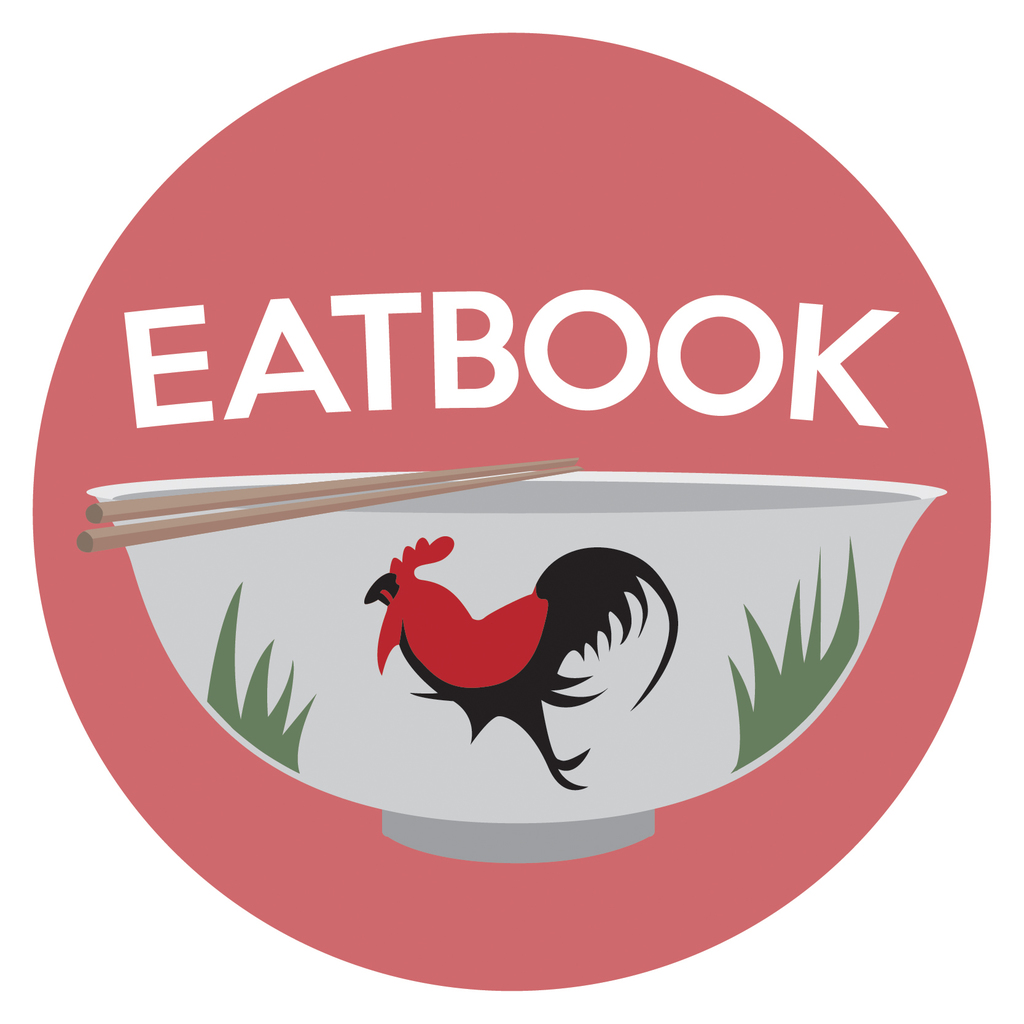 Drop us your email so you won't miss the latest news.