---
Get Christmas goodies at The Star Vista
---
Every year, Christmas festivities come at us full swing long before December even arrives. The holly jolly season tends to be hectic, as you scramble to buy gifts for friends and prepare for the upcoming celebrations. If you live in the West, The Star Vista is a pretty good bet for getting your shopping done in time. With plenty of festive feasts and holiday-themed sets, the mall is a great place to enjoy a Christmas meal or pick up a gift for friends on the right side of your Naughty Or Nice list.
---
1. Nando's

---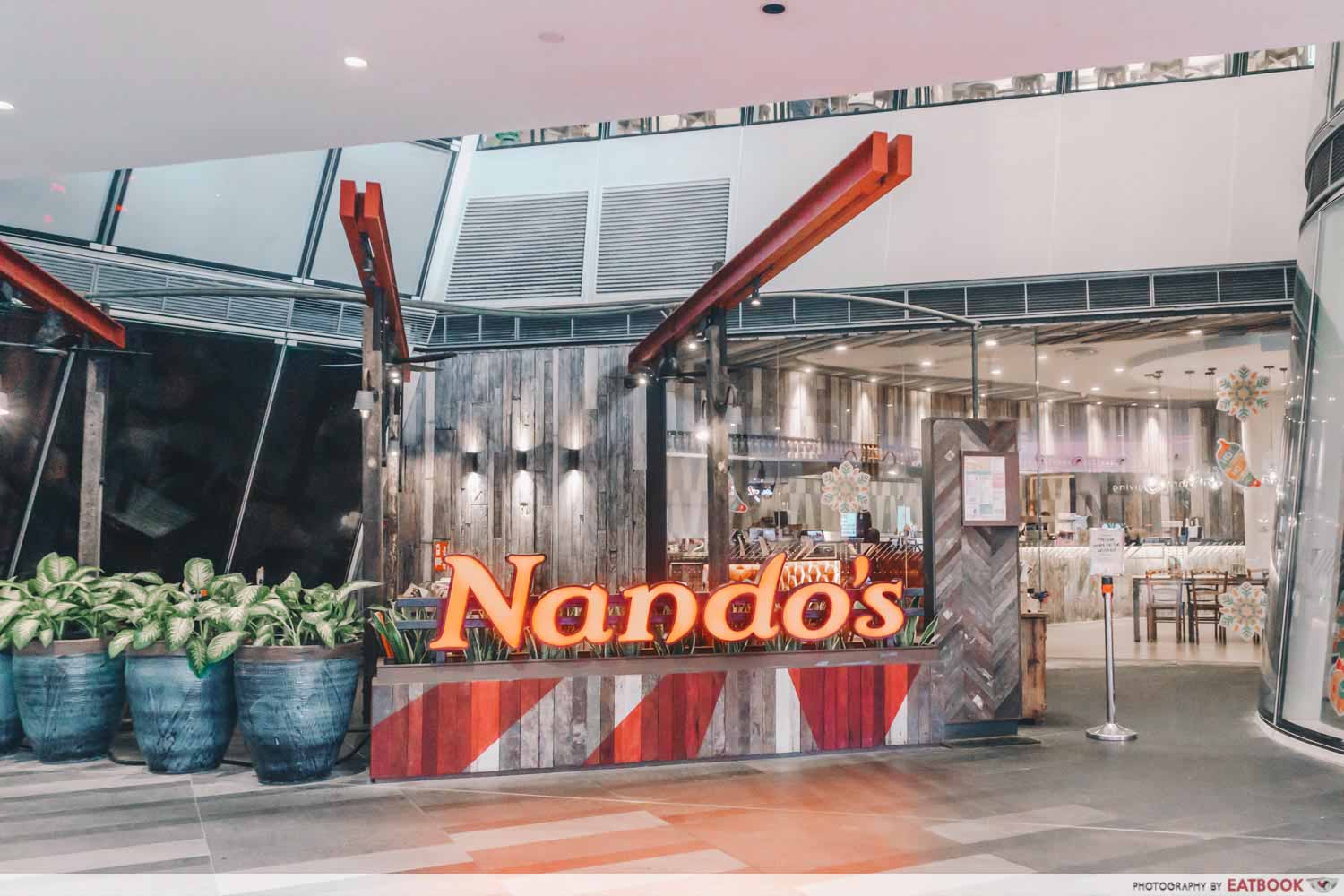 Nando's discontinued their spicy and sour Mango & Lime PERi-PERi sauce some time ago. Plenty of customers, myself included, were upset when our favourite flavour was taken off the menu. But from now till 12 January 2020, the tangy sauce is returning for a limited time as a Christmas special!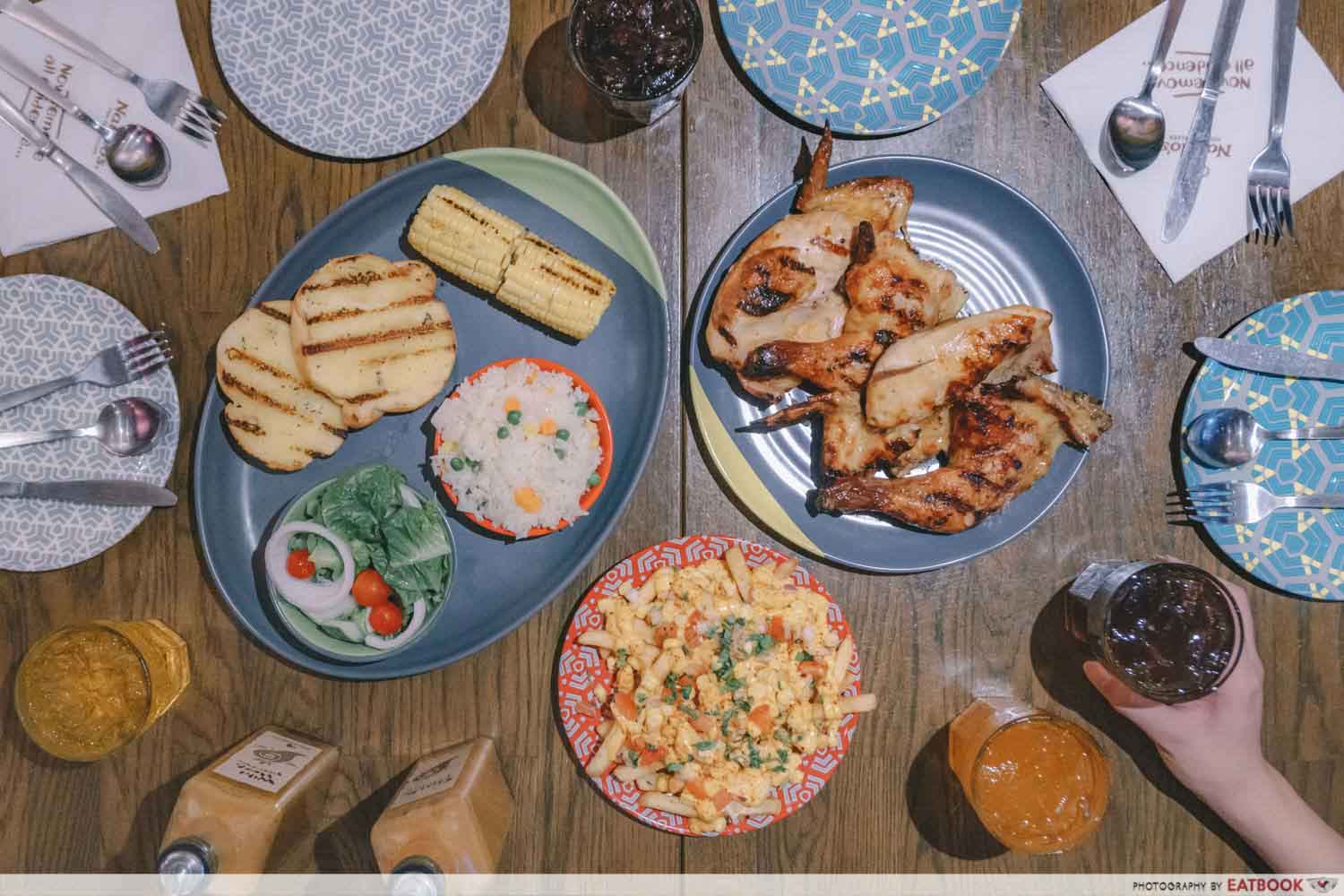 The fruity chilli is featured on Nando's Party Platter ($58.90++), a huge meal that can feed four. The festive set comes with a whole Mango & Lime PERi-PERi Chicken, four sides of your choice, savoury Cheese PERi-PERi Loaded Chips, and four bottomless drinks.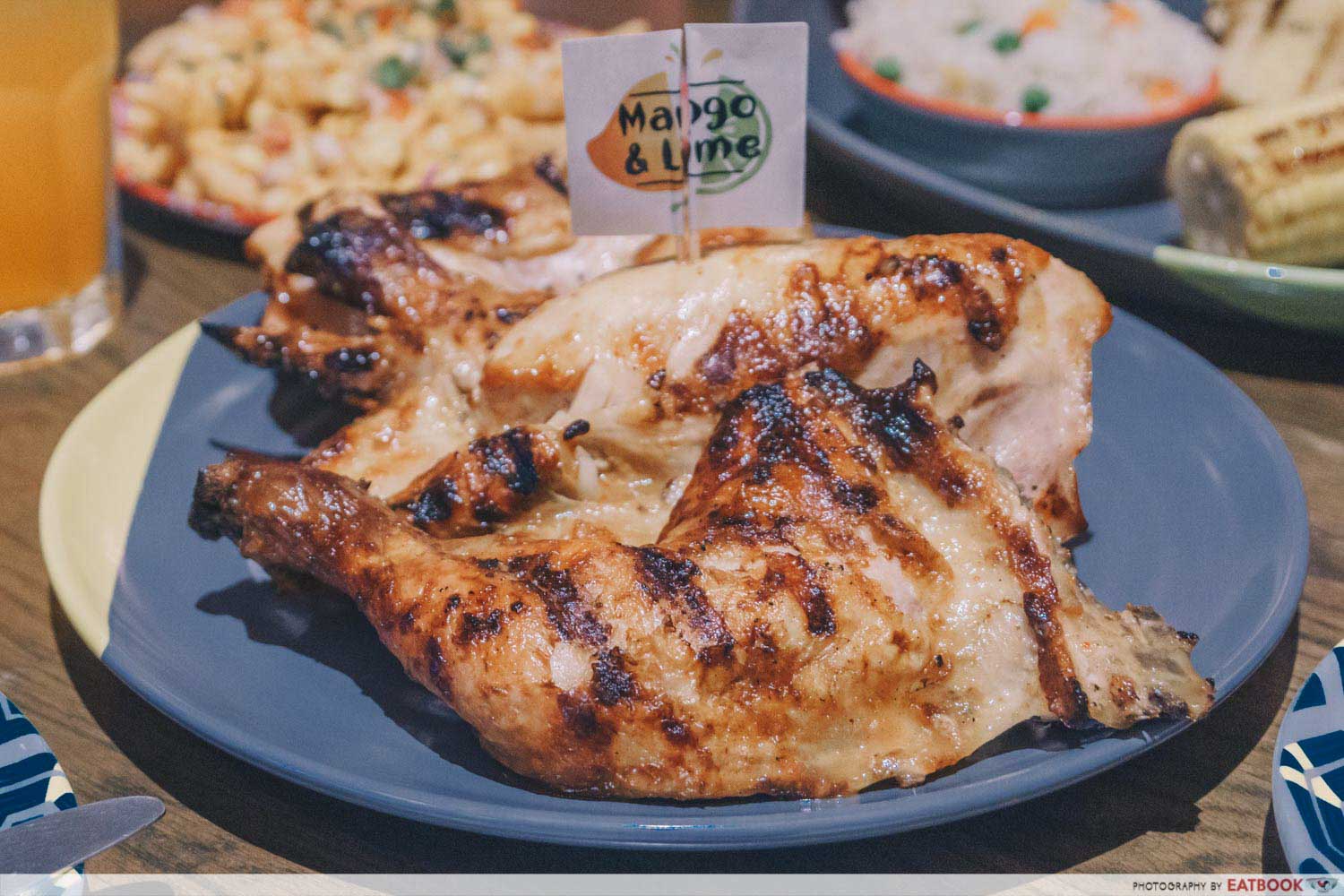 The Mango & Lime sauce gives the juicy chicken a powerful hit of citrus zest, along with the sweetness of mango. Don't worry if you can't take the heat; the sauce is more sweet than spicy. It's below Nando's Mild flavour on their spice meter. The flame-grilled chicken is smoky, succulent, and dripping with flavour. Its natural juices mix well with the sweetness, citrus tang, and spiciness of the sauce.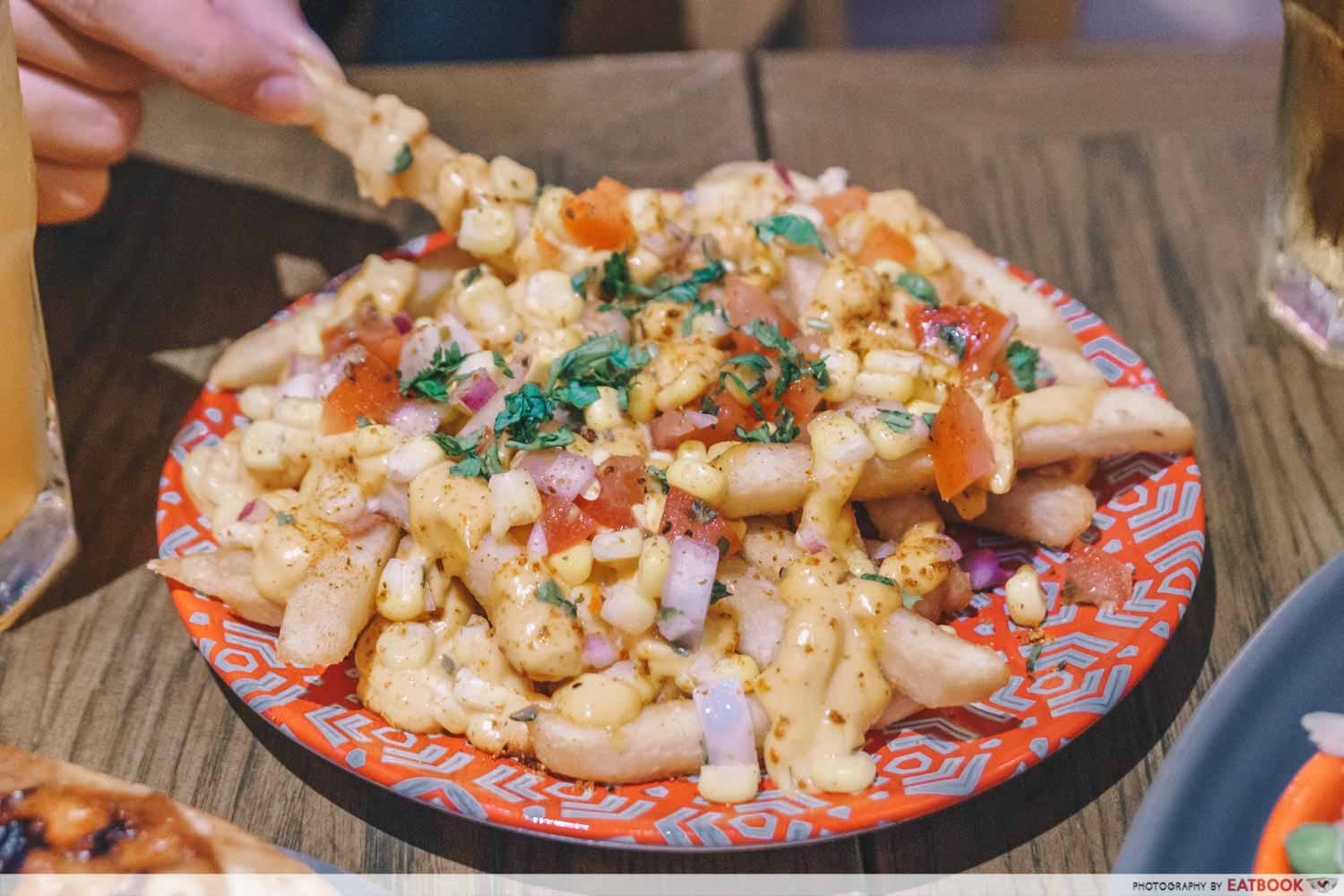 The plate of cheese-drenched chips that comes with the party platter is topped with salsa, onions and corn. The gooey nacho cheese has hints of PERi-PERi spice, and the signature taste of Nando's chilli is present in every bite of the thick fries. True to its name, it's completely loaded with cheese.
Unit number: #B1-09
Opening hours: Daily 10am to 10pm
Tel: 6694 0630
Website
---
2. Lemuel Chocolate
---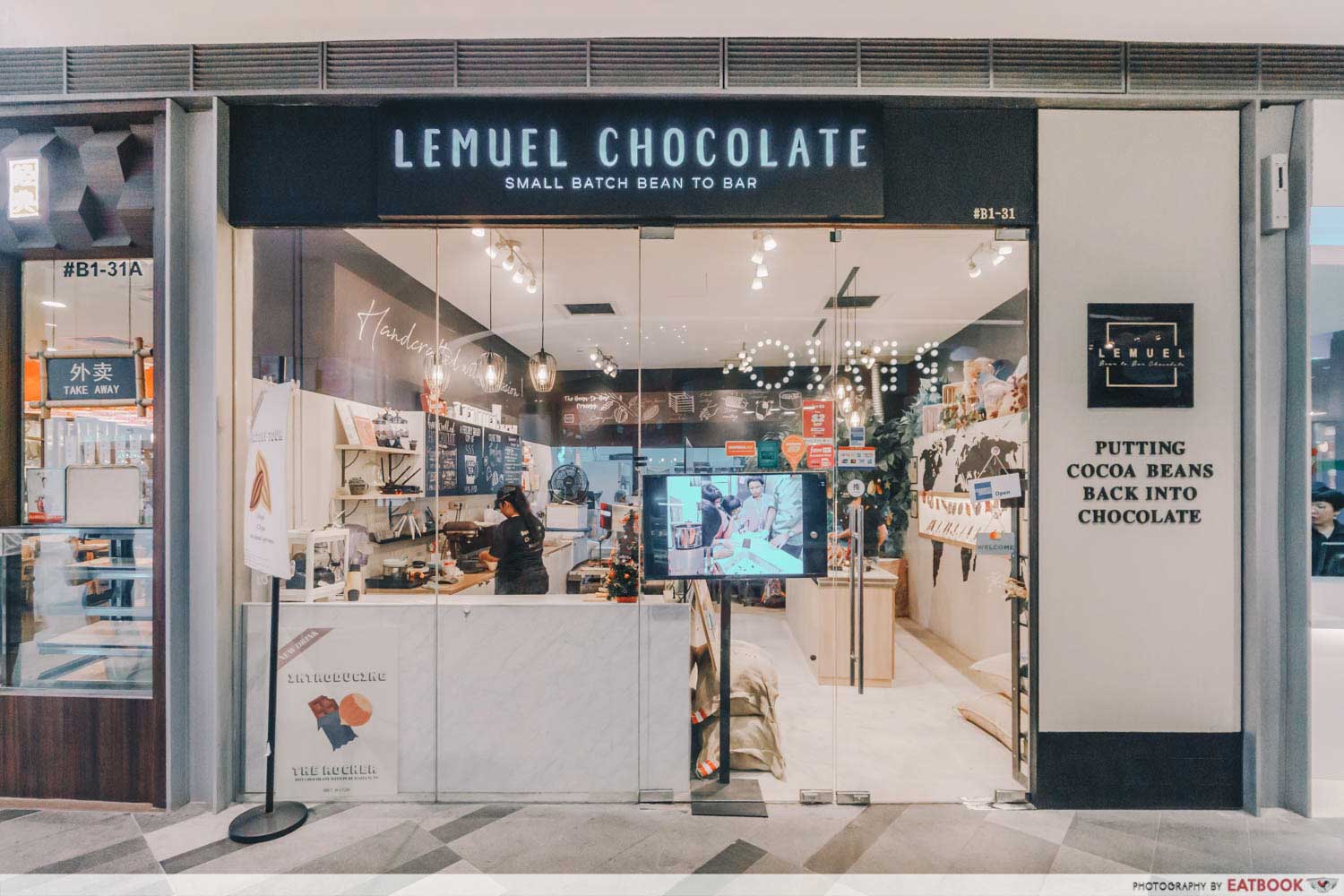 Ever since I read Charlie and the Chocolate Factory as a kid, candy production has sparked a sense of childlike-amazement in me. While reality doesn't have chocolate rivers and everlasting gobstoppers, Lemuel Chocolate still brings a sense of wonder when you step through its doors. The first thing you'll notice is the aroma of dark chocolate. The second thing you'll notice is the fancy chocolate-making room in the back, right behind a glass window.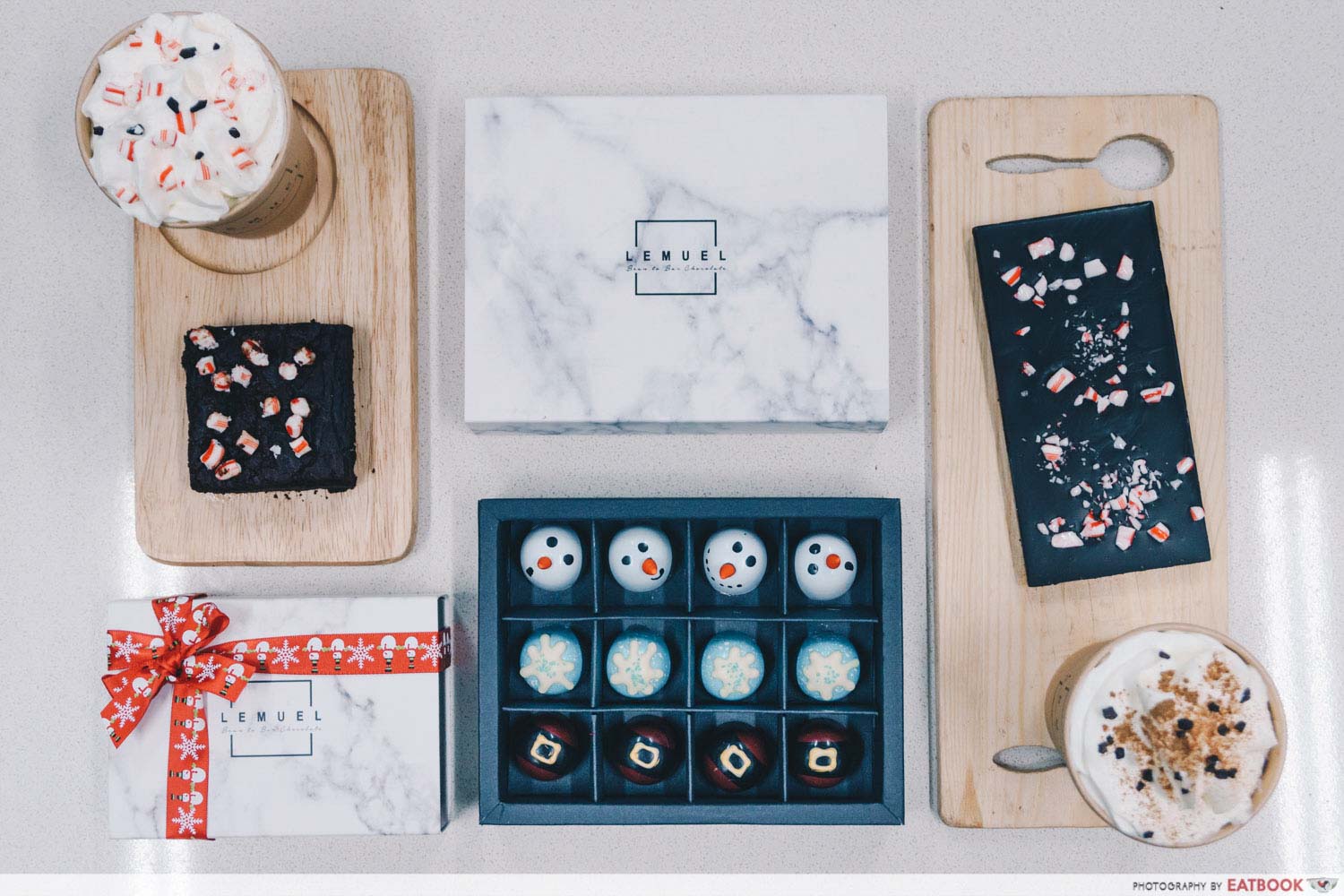 For Christmastime, they've come up with a range of holiday-themed treats. You can get chocolate pastries such as the rich Peppermint Brownie ($4.50), or their delightful Christmas Bonbons at $4 per piece. The chocolatier makes all their delicious sweets in-house, and offers factory tours twice a day, so you can get a behind-the-scenes look at how chocolate is made.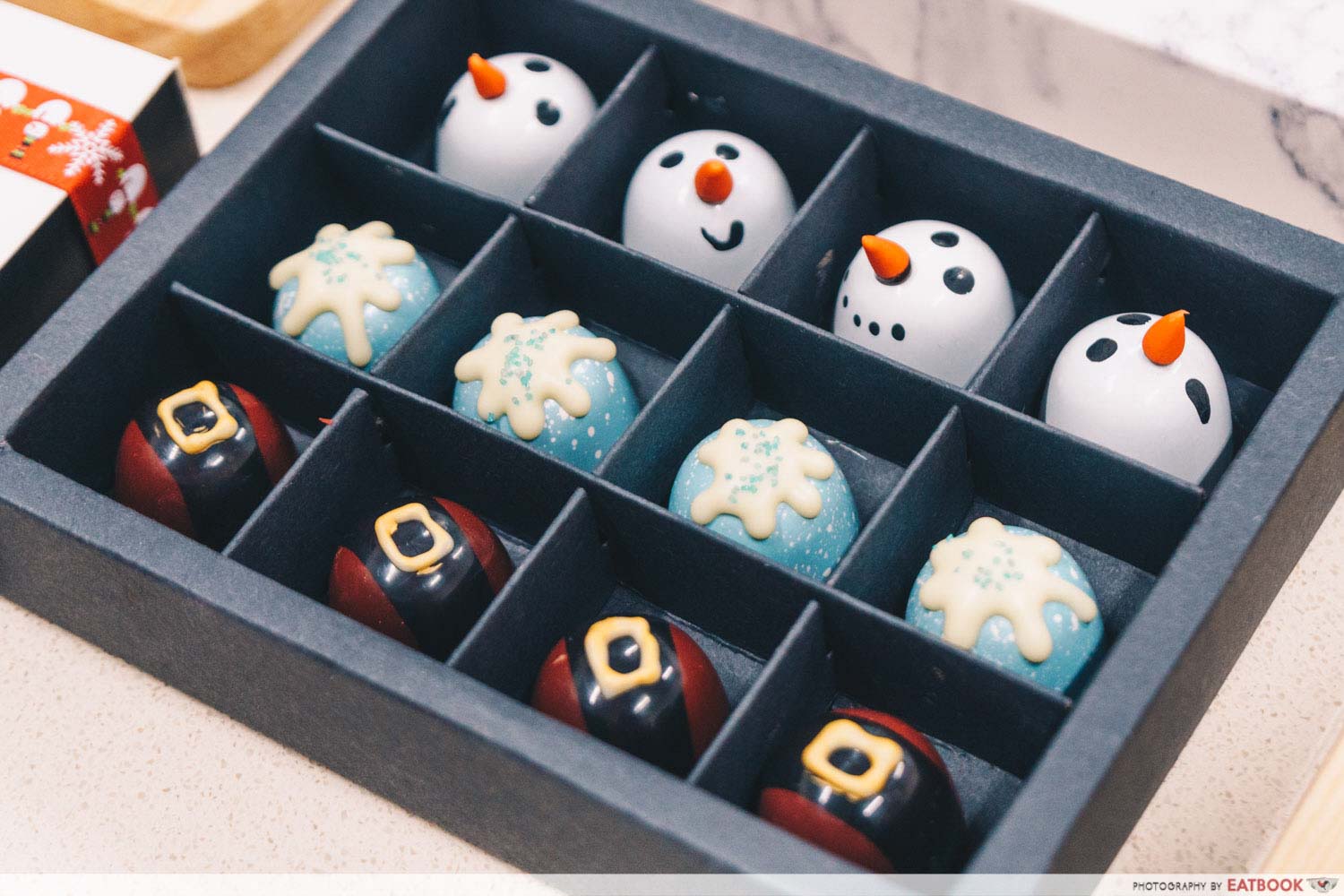 The adorable bonbons aren't just for show. Each of the wonderful little candies has a different flavour. The Olaf-esque snowman is Speculoos flavoured, Santa's belt has a bounty of Tiramisu within, and the icy snowflake has the taste of equally cooling Peppermint. The chocolate is silky, with a nutty, bittersweet taste of cocoa— great for Christmas gifts.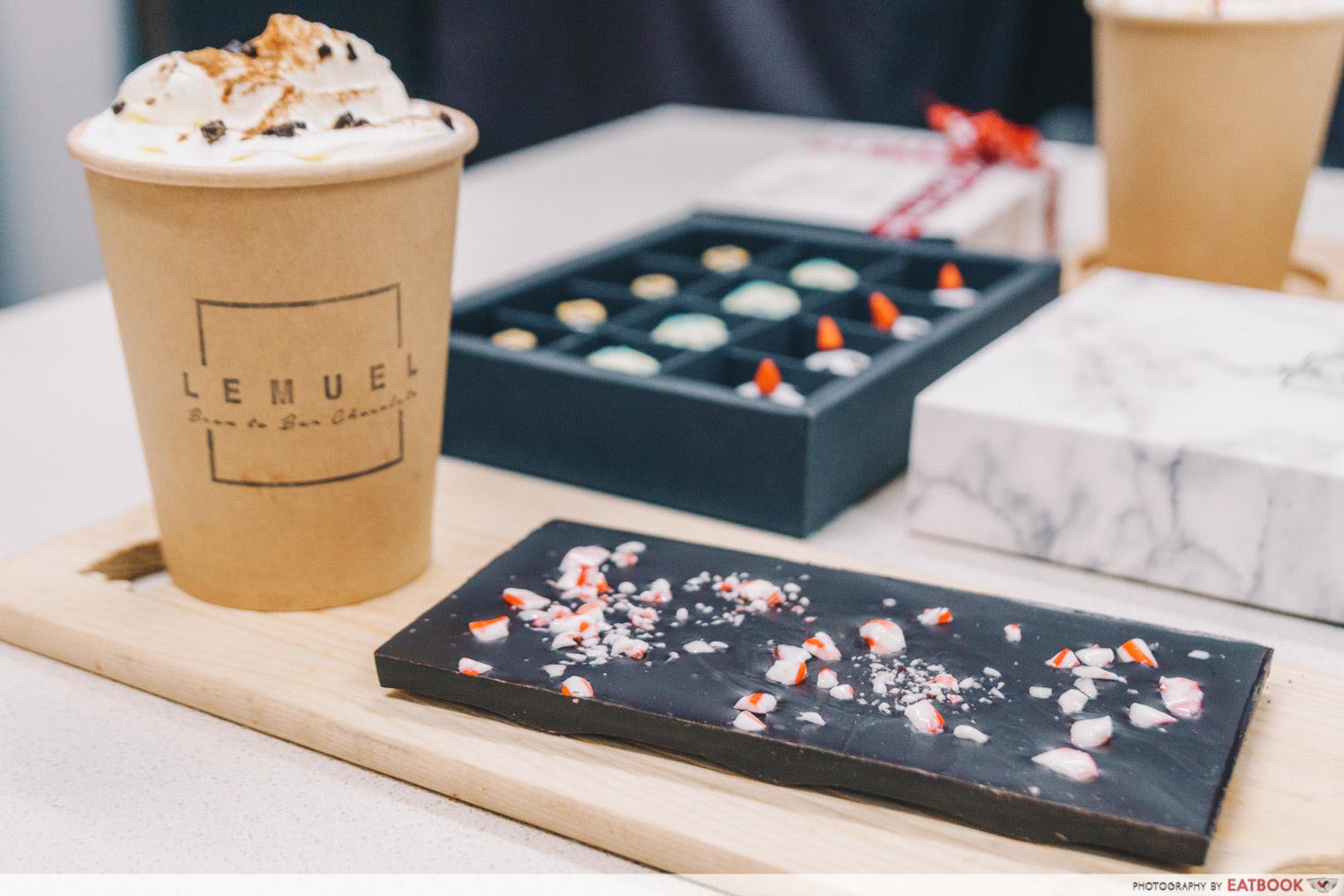 A bar of their single-origin Peppermint Chocolate costs $15. It's made of 70% cocoa, and painstakingly produced over five weeks in the in-house factory. The chocolate is far richer than anything you can get off supermarket shelves, and the texture is remarkably smooth. 
For the time being, Christmas drinks such as their Cinnamon Hot Chocolate and Peppermint Hot Chocolate are available at $7. The drinks are thick and flavourful, with the respective flavours infused into the concoction. The cinnamon imparts a strong aroma to the drink, and the peppermint gives a refreshing, cooling sensation to each mouthful of rich cocoa. 
Unit number: #B1-31
Opening hours: Daily 10am to 9:30pm
Tel: 9856 2163
Website
---
3. Rive Gauche
---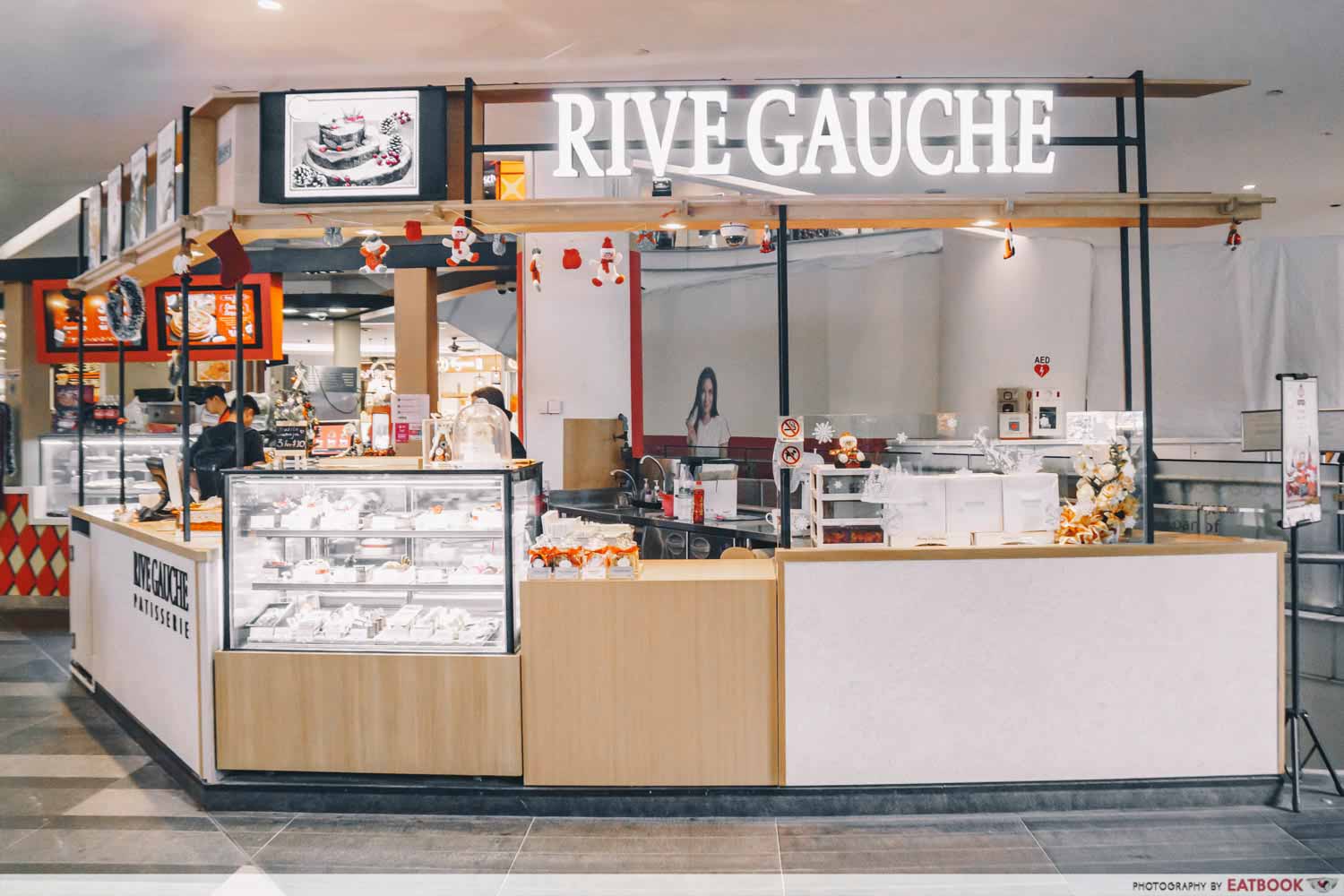 This French-inspired patisserie has a range of decadent cakes and pastries. For the most wonderful time of the year, Rive Gauche has pulled out all the stops and introduced a set of delightful Christmas cakes.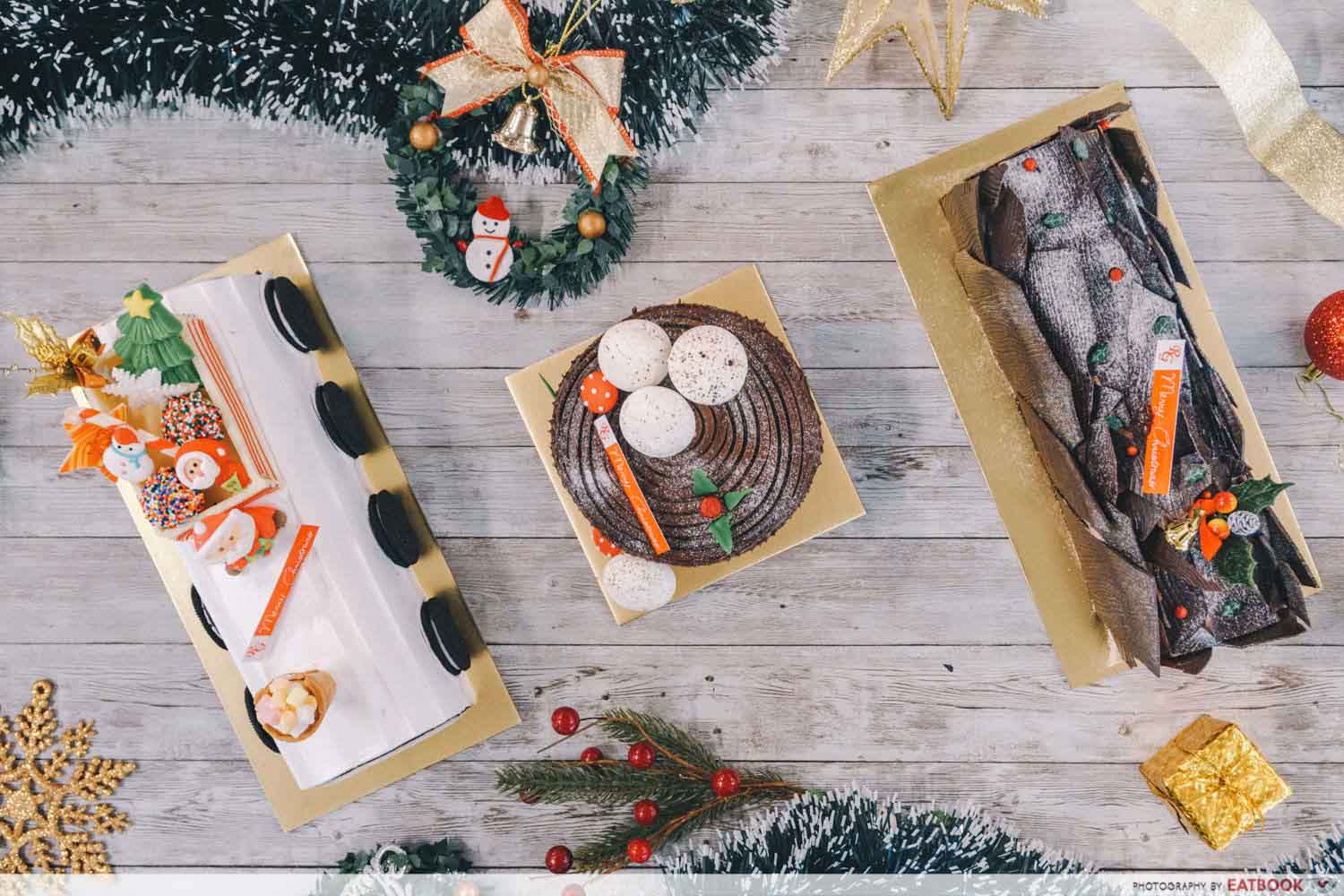 The Christmas range includes two log cakes and a brownie. There's the chocolatey Fete De Noel ($60), cookies and cream Santa De Noel, and a Christmas Brownie ($28).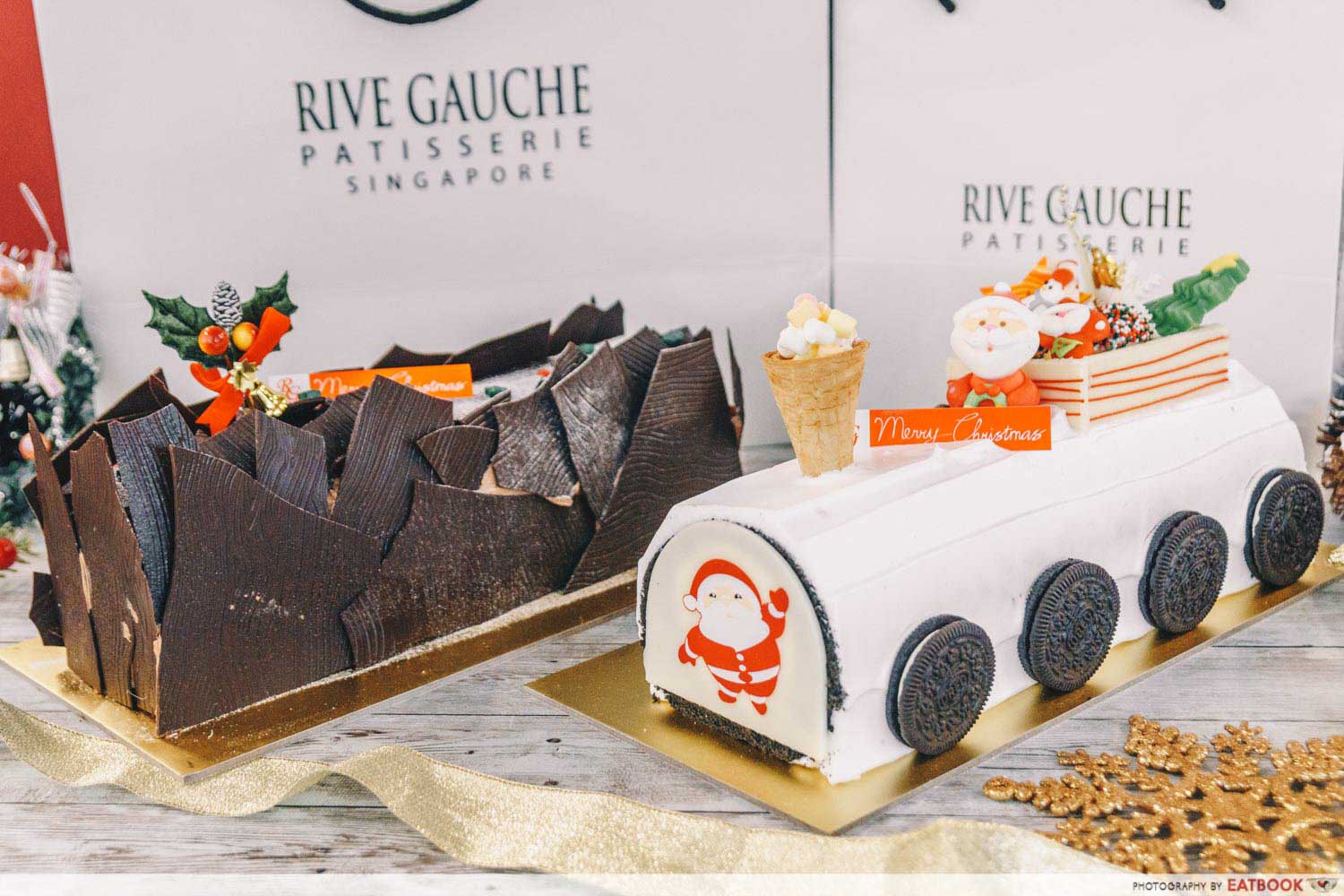 The Fete De Noel log cake is lined with shards of rich dark chocolate. The chocolate Roulade sponge cake is light and fluffy, with a swirl of cream inside. It's topped with bits of candy and a dusting of snow-like icing sugar. 
Shaped like a train, the Santa De Noel cake comes with Oreo cookies and a cone of mini marshmallows. The charcoal sponge cake has cream cheese inside. A sugary Santa sits atop the Polar Express. It's a lot more mellow than the chocolate cake, and the cookies and cream flavour is sweet and delectable.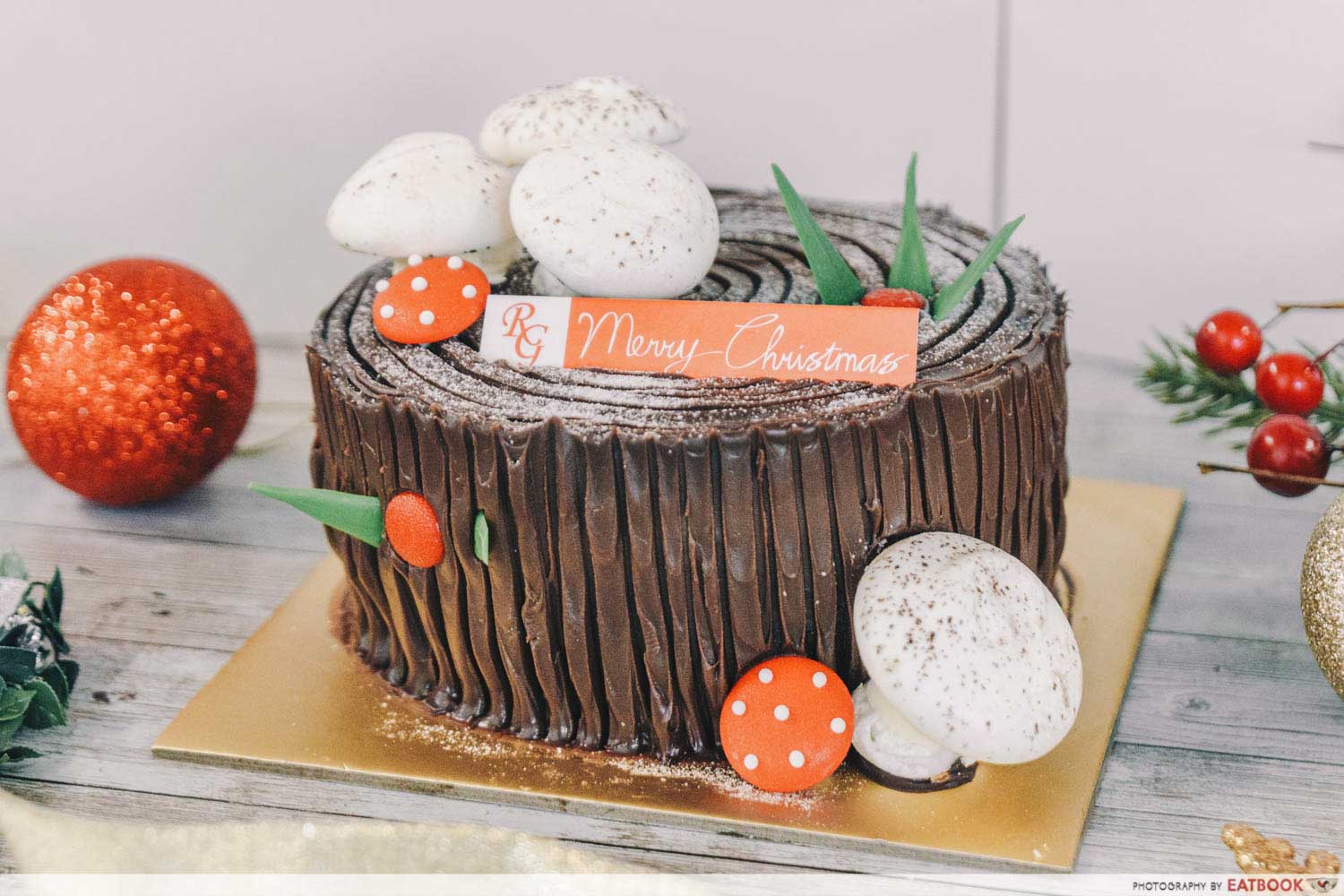 Of the three, the Christmas Brownie is the richest and sweetest. The baked brownie is sculpted into the shape of a tree stump, with sprigs of mistletoe and meringue mushrooms topping it. It is dense and has a strong chocolate flavour, with sweet chocolate chips inside.
Unit number: #B1-37C
Opening hours: Daily 1pm to 9pm
Tel: 6694 0858
Website
---
4. Cedele 
---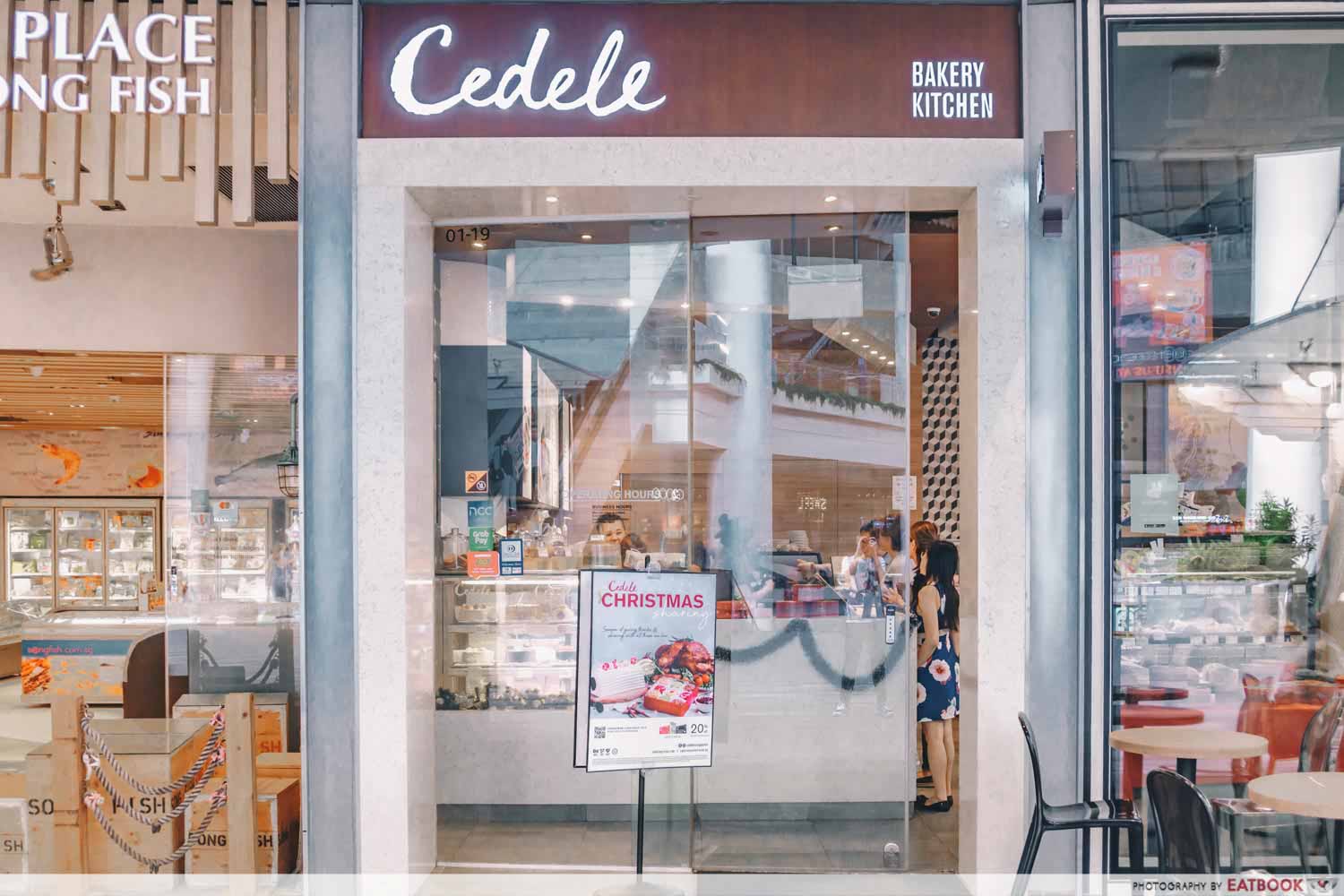 Apart from selling freshly-baked bread and cakes, Cedele at The Star Vista has a range of healthy, wholesome meals. Their food doesn't use any preservatives and is made with all-natural ingredients— perfect for health-conscious diners.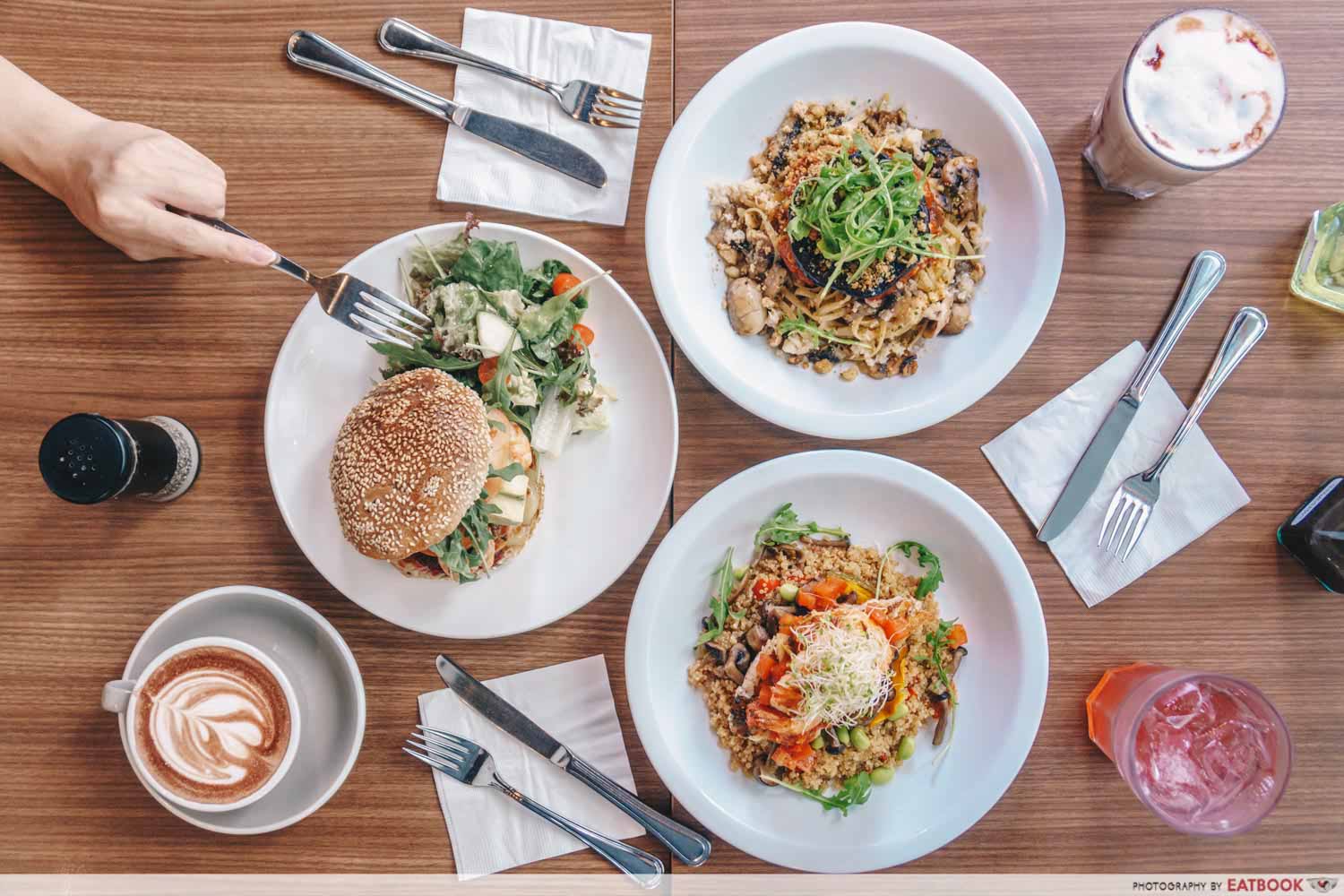 As part of their festive menu, you can get your hands on three of their mains. The Christmas Turkey Prawn & Avocado Burger ($22), Seabass & Prawn Quinoa ($22), and their vegan Cauliflower Bolognese ($18).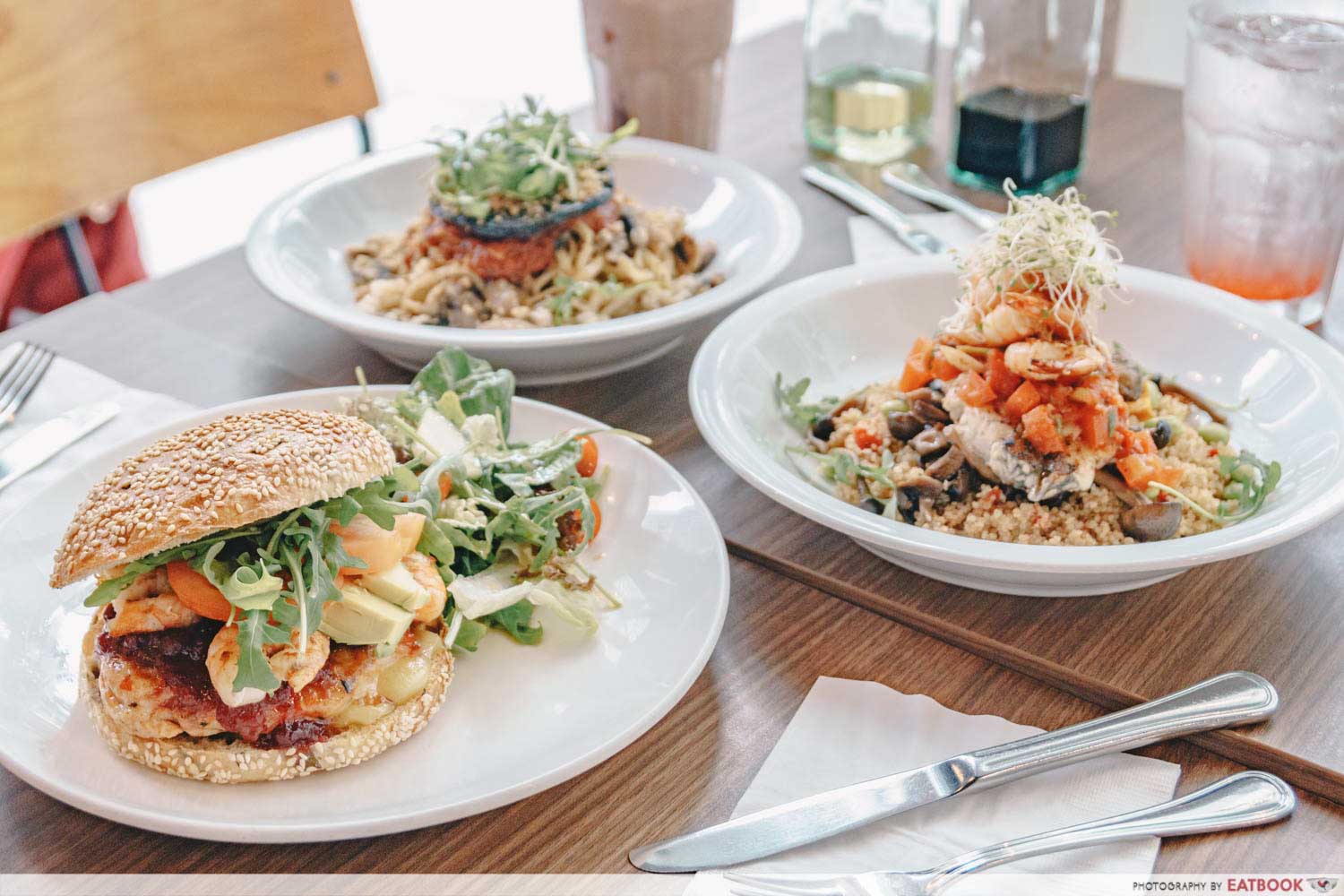 The turkey burger is thick and huge, comprising slices of tomato, avocado, several prawns, cranberry jam, and a hefty turkey patty. The patty is juicy and flavourful, and the succulent prawns give a satisfying snap when bitten into. All the ingredients work together to flavour each mouthful with refreshing natural flavours. 
My personal favourite is the Cauliflower Bolognese. It comes with a large portobello mushroom on top. The pasta dish has a serving of flavourful linguine, and the savoury tomato sauce coats it evenly. 
The fish in the seabass quinoa is fresh, clean-tasting, and delicious. It is soft enough to pry with a fork without being mushy. The prawns are huge and generous too, and the dish comes with chunky tomato salsa atop grains of light quinoa.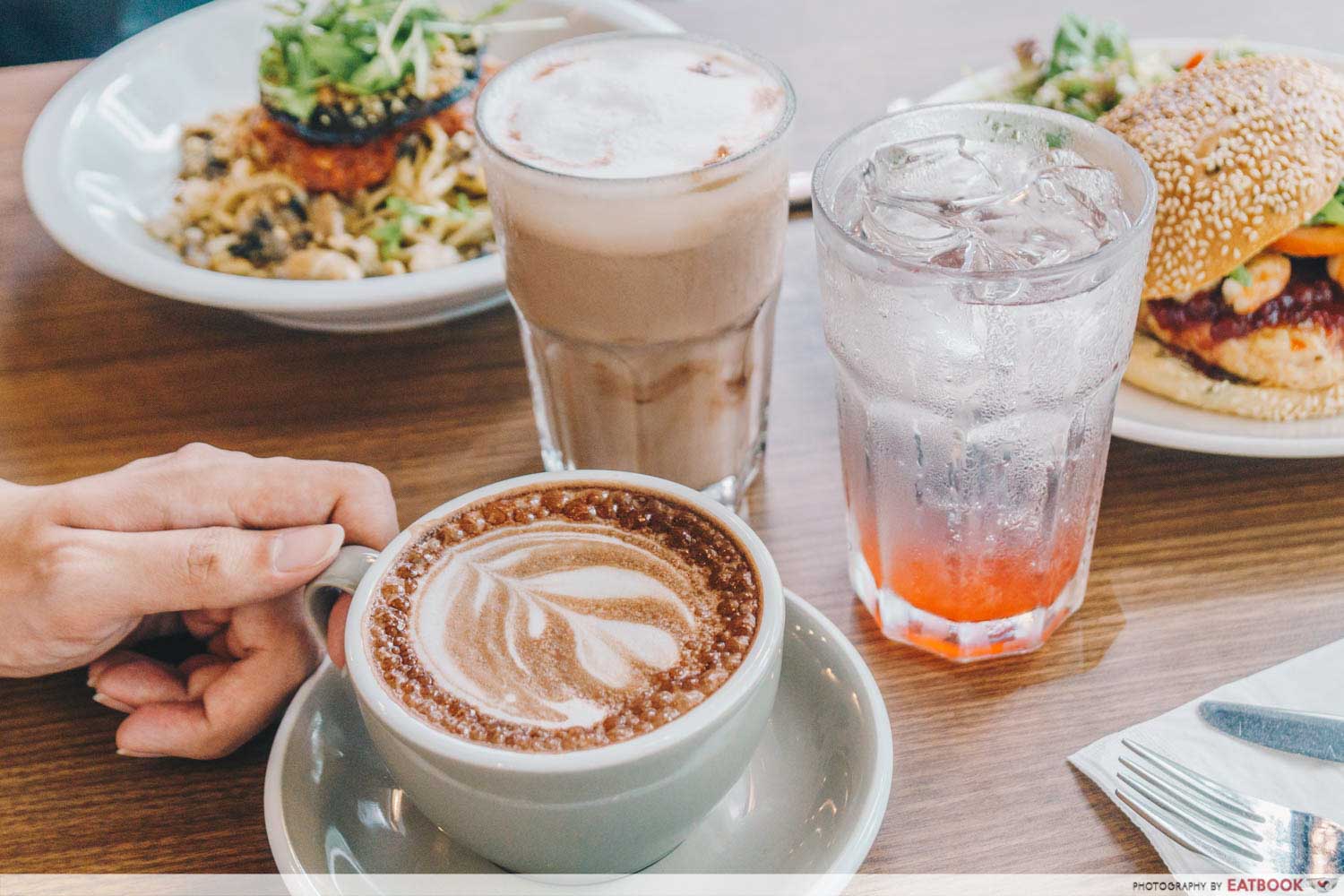 A set of Christmas drinks are also available. There's the Gingerbread Chocolate, which costs $6 warm and $7 iced. The taste of gingerbread gives a sharp sweetness to the sweet drink. The sweet and fizzy Raspberry Lemonade Fizz is usually $7.50, but you can get it as part of the Christmas Set ($28). The set comes with soup or salad, one of the Christmas mains, and a cup of the fruity drink. 
Unit number: #01-19
Opening hours: Mon-Fri 10am to 9.30pm, Sat-Sun 9am to 9.30pm
Tel: 6734 0763
Website
---
5. Pizza Hut 
---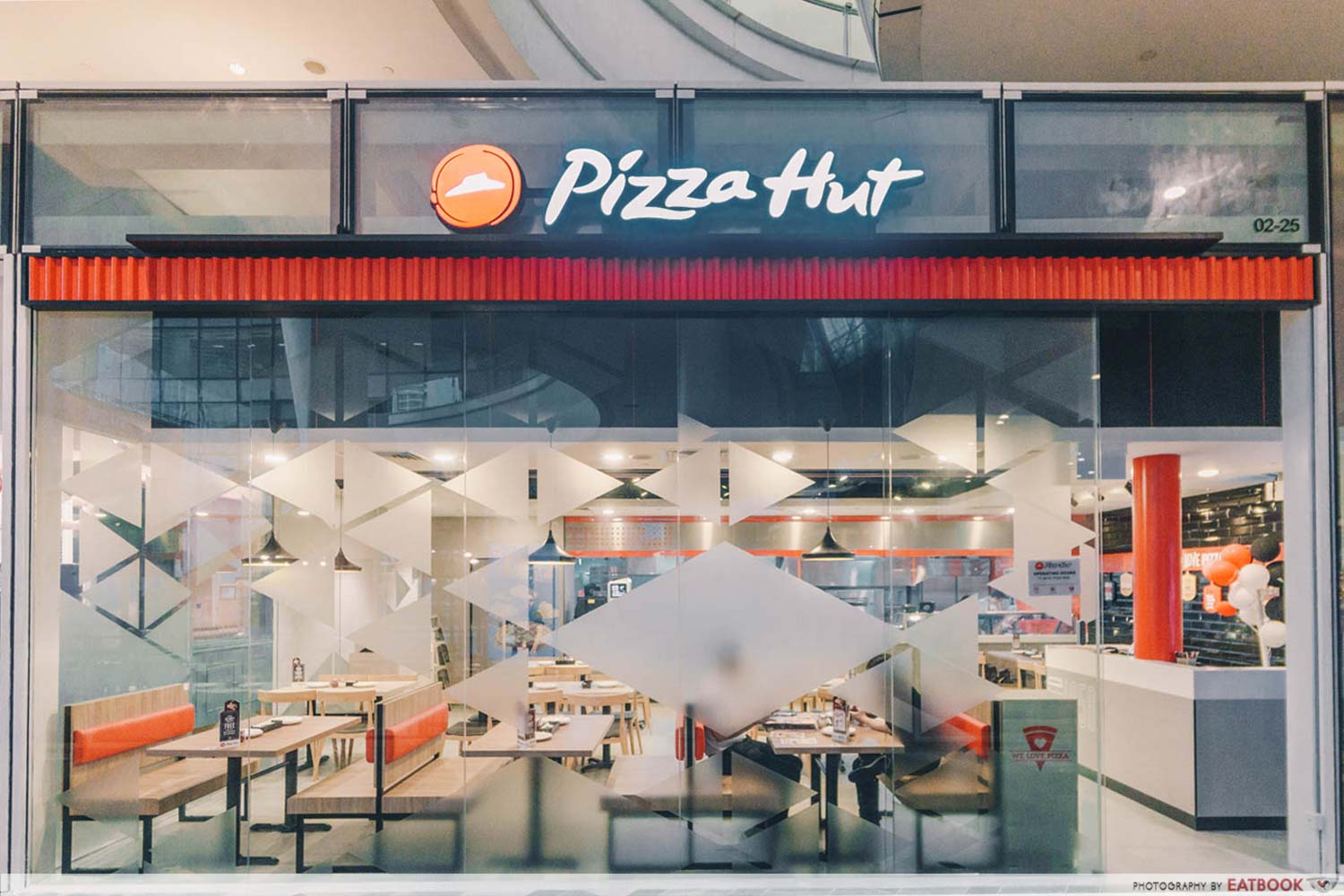 Pizza Hut's Knotty Christmas pizzas return this year, with crusts stuffed full of cheese and sprinkled with icing sugar and cinnamon. The outlet at The Star Vista opened earlier this month and has a slightly different setup from other outlets. Its kitchen is wide open, and you can watch the food being prepared from your seat.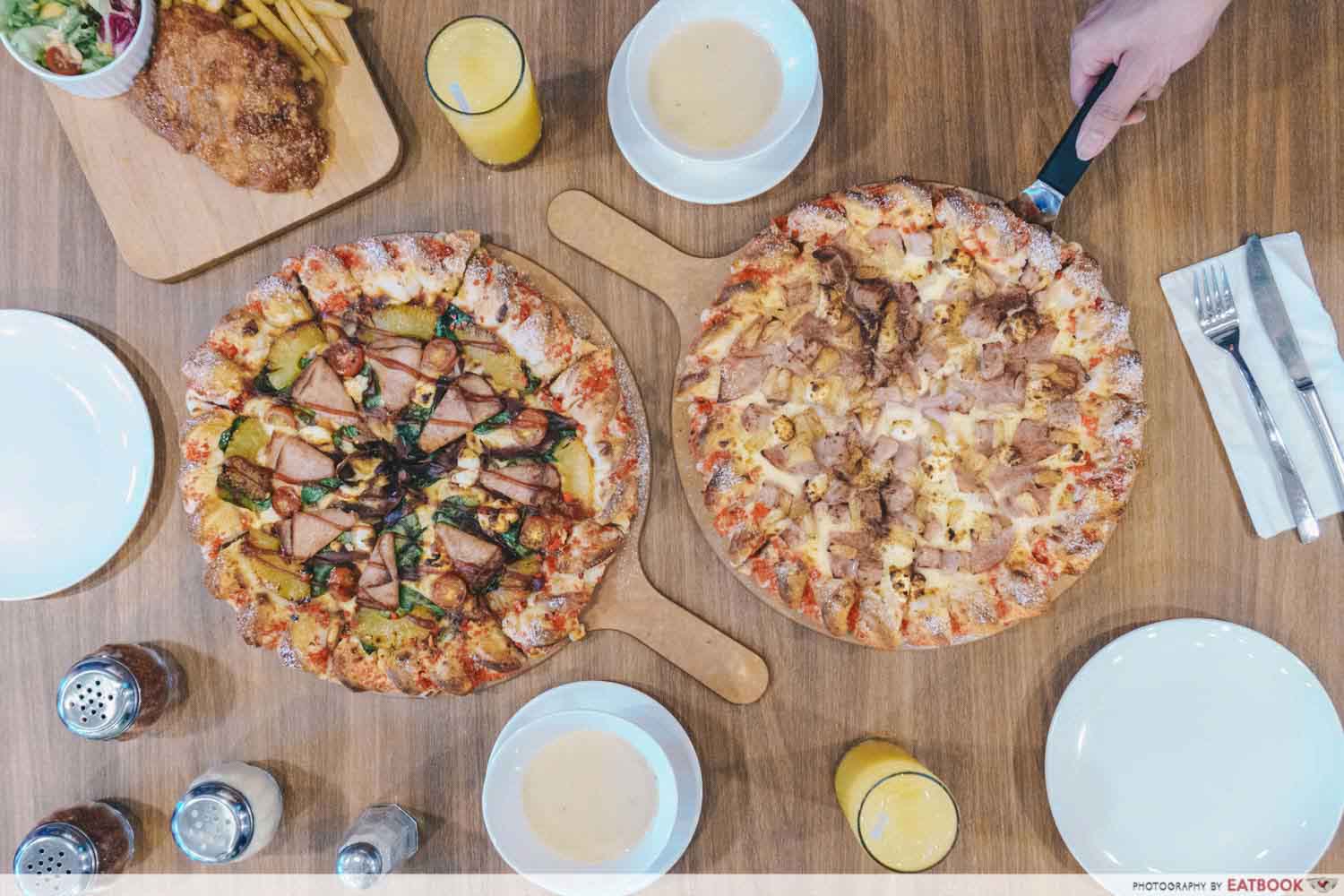 For the holiday season, the Knotty Cheesy Ham ($27.90++) and Knotty Cheesy Hawaiian ($27.90++) pizzas are back. The two pizzas come with a dusting of icing sugar, cinnamon, and red breadcrumbs for a splash of colour. Two people can split the Meal for 2 ($32.90++), which comes with one of the pizzas, two soups of the day, and two glasses of Sjora.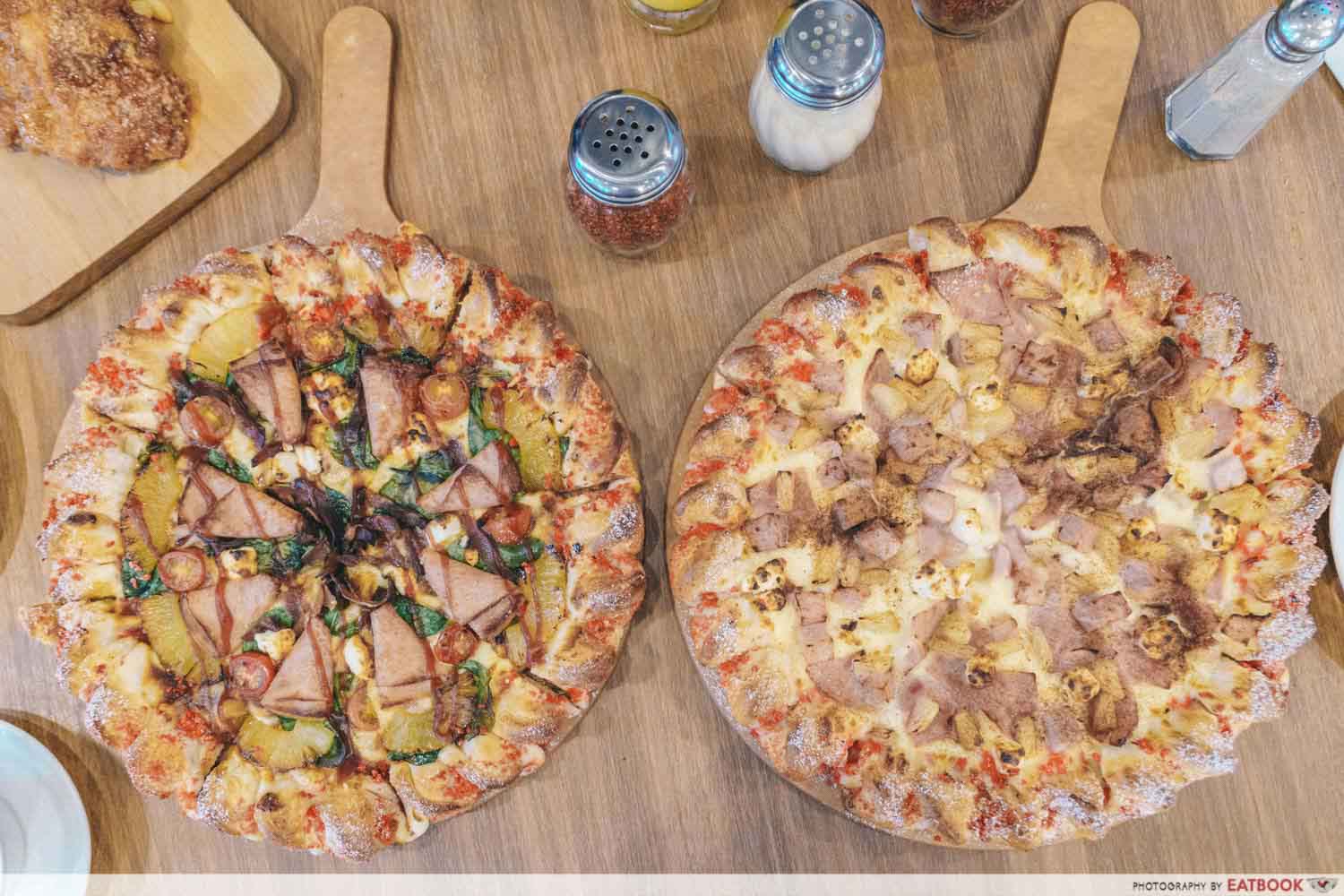 As soon as the ham pizza is set down in front of you, you can smell the aromatic sprinkling of cinnamon. The cinnamon melds together with the slices of succulent turkey ham, pineapple, and flavourful cream cheese. Bits of spinach and turkey bacon cover the cheesy pizza, giving it classic Christmas shades of red, white and green. The crust is stuffed to the brim with even more of the savoury cheese.
The Hawaiian pizza has chunks of chicken and slices of pineapple. It's stuffed with the same cheese but doesn't have the sweet onion sauce that is drizzled on the ham pizza. The sugar and cinnamon aren't invasive and help give the dough an almost churro-like taste.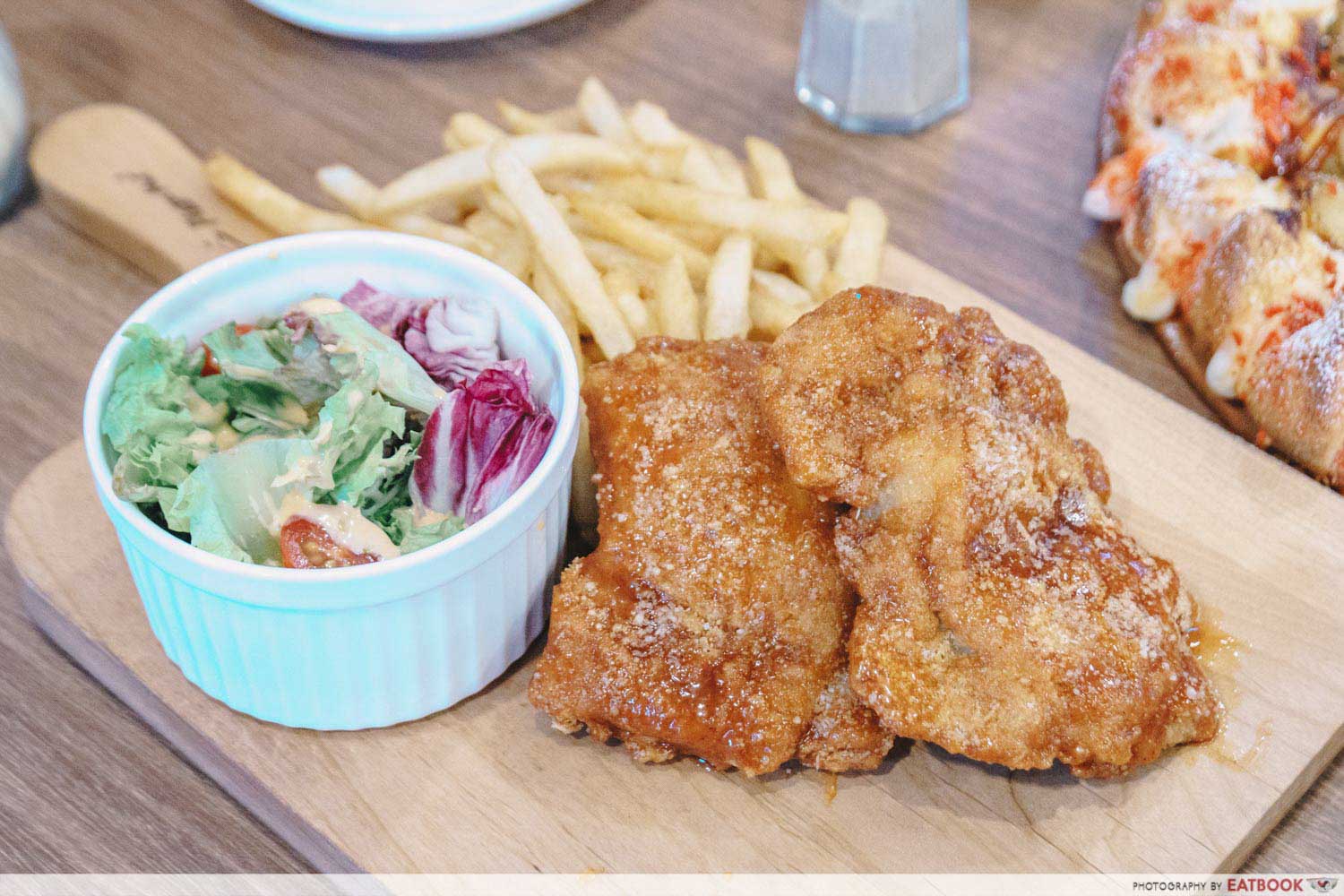 The Buffalo-ho-ho Chicken Cutlet ($15.90++) is another one of their festive offerings. The thick cut of spicy chicken comes with fries and a salad. The buffalo sauce gives it a sour and spicy kick, and the meat is juicy and succulent. While it's spicy enough to make your tongue tingle, it isn't so hot that it'll leave you gasping for water.
Unit number: #02-27A
Opening hours: Daily 11am to 10pm
Tel: 6694 5218
Website
---
The Star Vista brings holiday cheer 
---
Christmas is right around the corner, and soon, you might find yourself panicking over last-minute shopping. For those who live nearby, The Star Vista is a great place to get everything done at once. You can share a big Christmas meal with the family, snag a last-minute gift box of chocolates, or take home a delicious log cake for dessert after a sumptuous feast with the fam. 
Address: 1 Vista Exchange Green, Singapore 138617
Nearest MRT Station: Buona Vista (EW21/CC22)
Photos taken by John Lery Villanueva.
This post is brought to you by CapitaLand.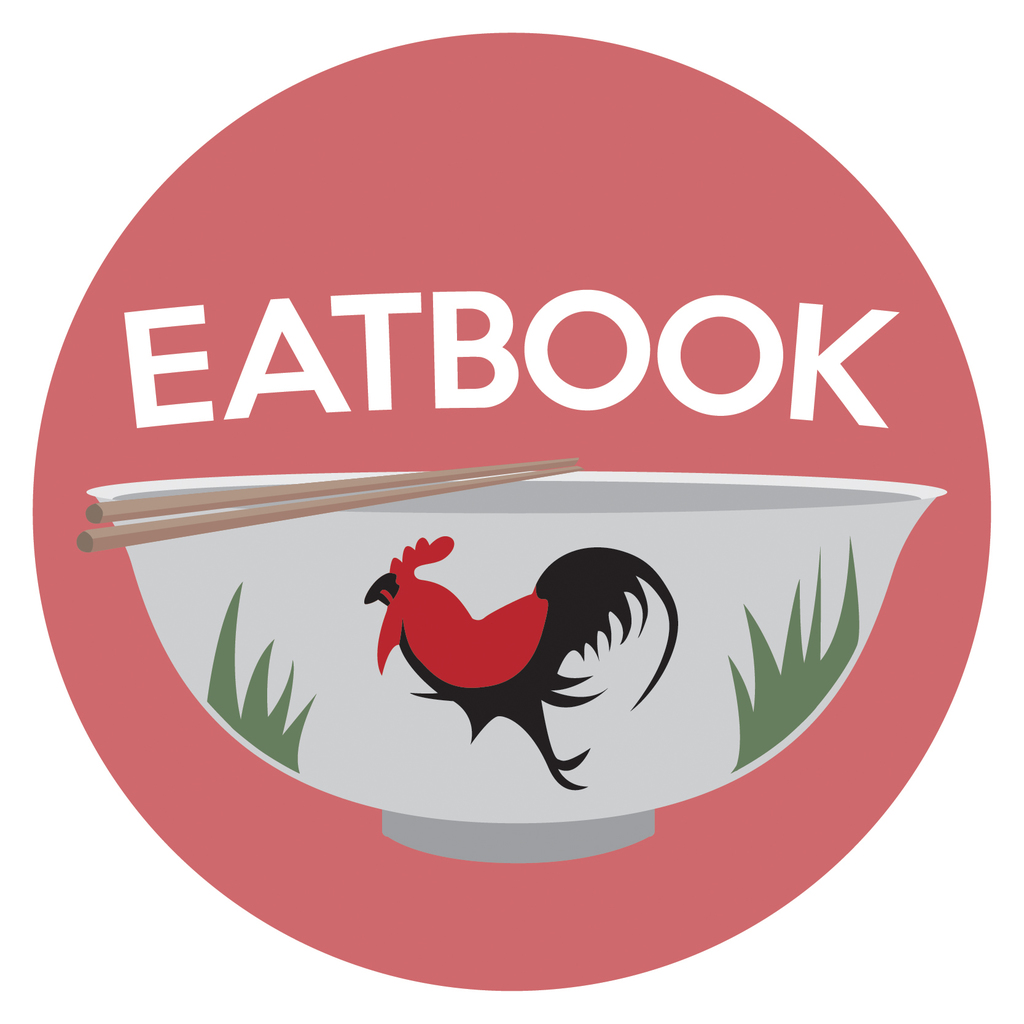 Drop us your email so you won't miss the latest news.