---
Starbucks Secret Menu Items
---
Every once in a while, we tend to crave something new and interesting; something unique and out of the world. Perhaps something like a Starbucks secret menu item, because we're quite done with the usual gold-but-old selection.
If you're a loyal Starbucks fan looking to spice up your dull Monday mornings or just an adventurous coffee enthusiast seeking a fresh and daring challenge, pick your poison from this list of Starbucks secret menu items.
---
1. Apple Pie Frappuccino
---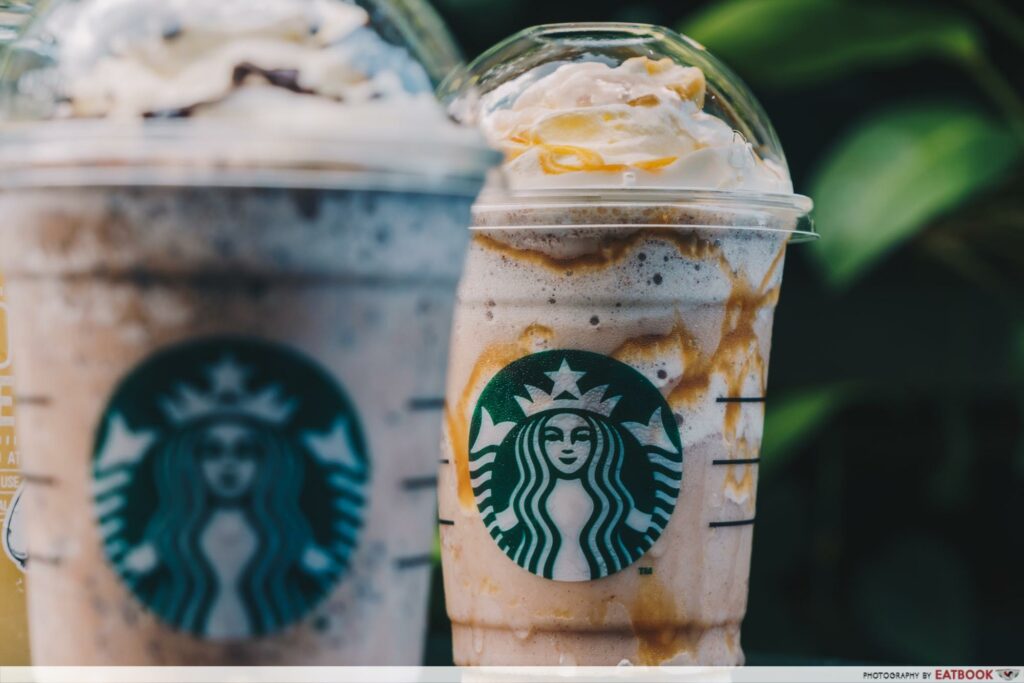 For all my fam who can't get enough of the underrated Apple Pie from McDonald's, this secret menu item will be your wildest dreams come true. It might not be gooey and there's no piping hot crispy crust, but it's the closest you'll ever get to a drinkable apple pie.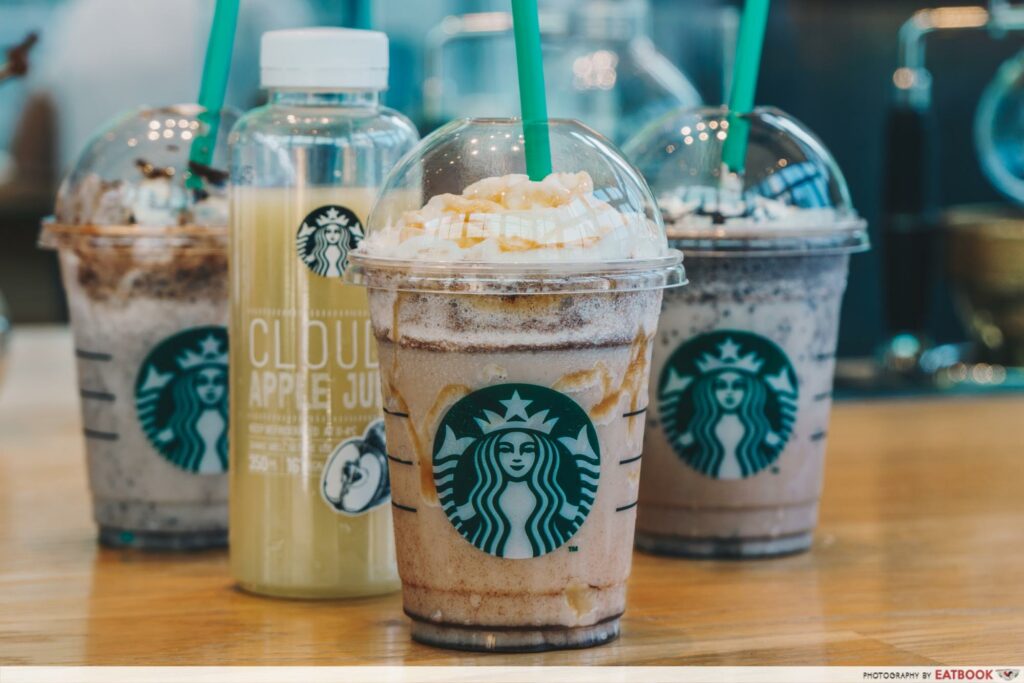 The Apple Pie Frappuccino ($11) is cold and smooth. It's not at all tart because the cinnamon powder comes through strongly.
Think Willy Wonka's Three Course Dinner Chewing Gum but instead of something you chew on, this perennial dessert is served in the form of a refreshing and uniquely-flavoured drink.
Pro tip from fellow frappe-fanatic, Renae: "Make sure to slurp down the apple pie drink fast because over time the juice, dairy and cinnamon powder coagulates to form a viscous snot-like gloop."
Recipe (Tall)
Caramel Creme Frappuccino ($6.40)
1/2 cup milk
1/2 cup apple juice ($4.60 for an entire bottle – you can keep the rest of the bottle for later)
Cinnamon powder
Add ice and blend
---
2. Mermaid Frappuccino
---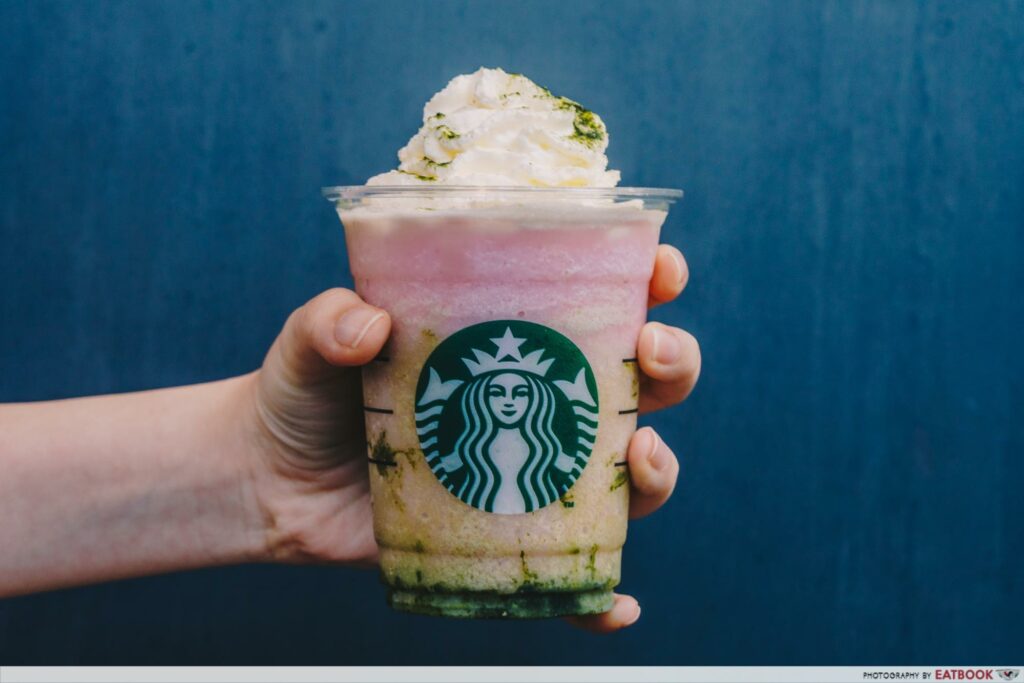 This one's a real looker and it turned some heads when we received it – shout out to the friendly barista at Starbucks United Square who crushed this challenge!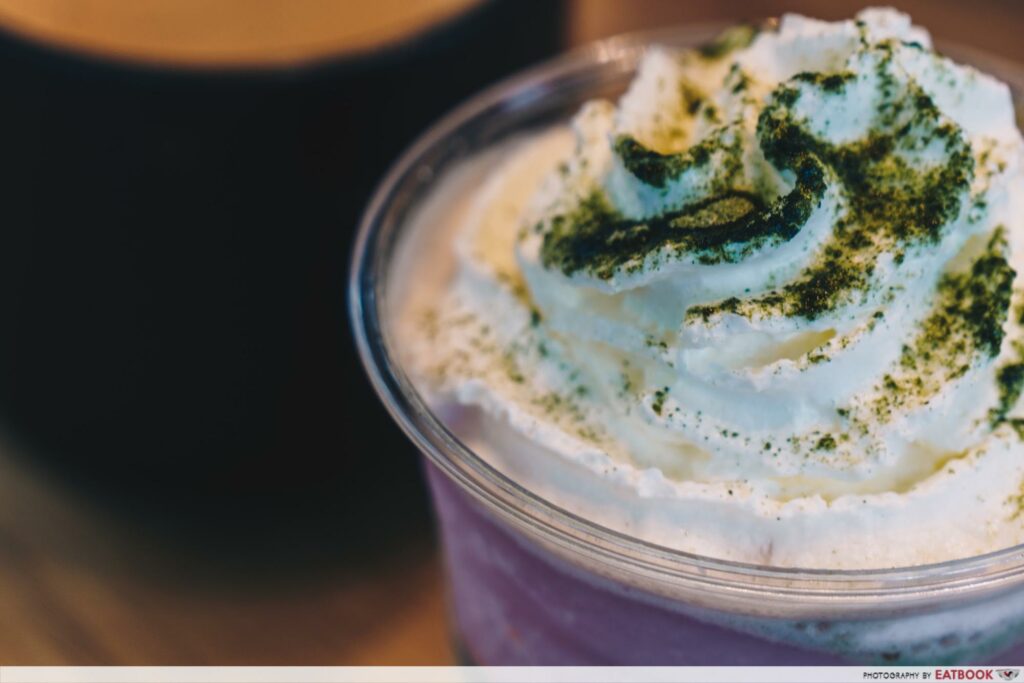 As you sip on the dreamy-looking Mermaid Frappuccino ($8.60), expect some strong fruity notes from the raspberry juice and not so much green tea. That being said, the green matcha powder offers a stunning contrast to the pastel pink mix.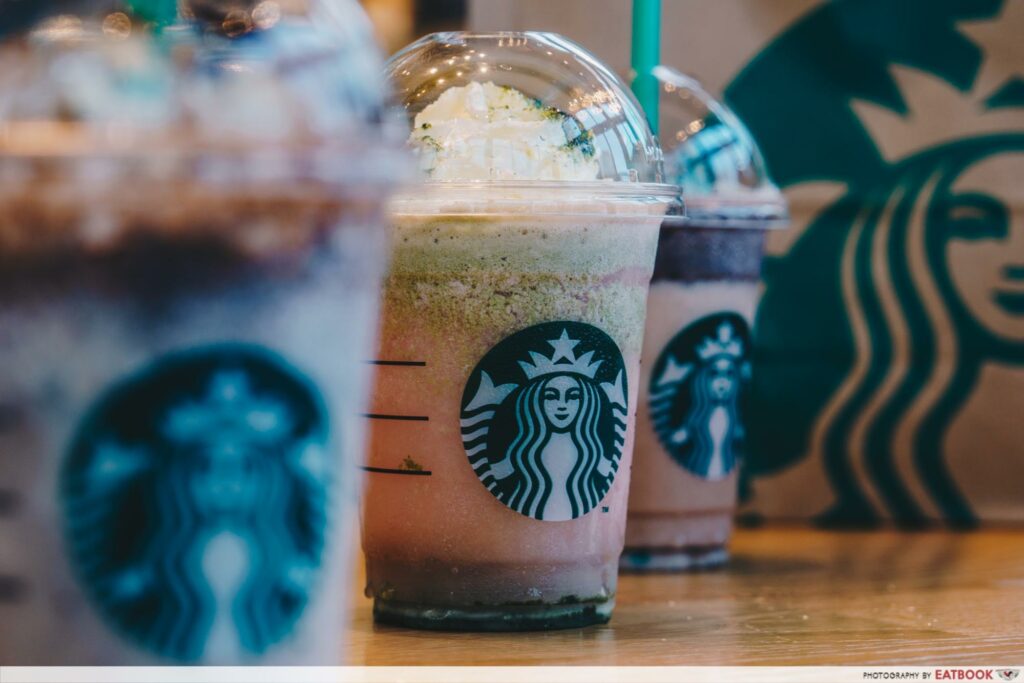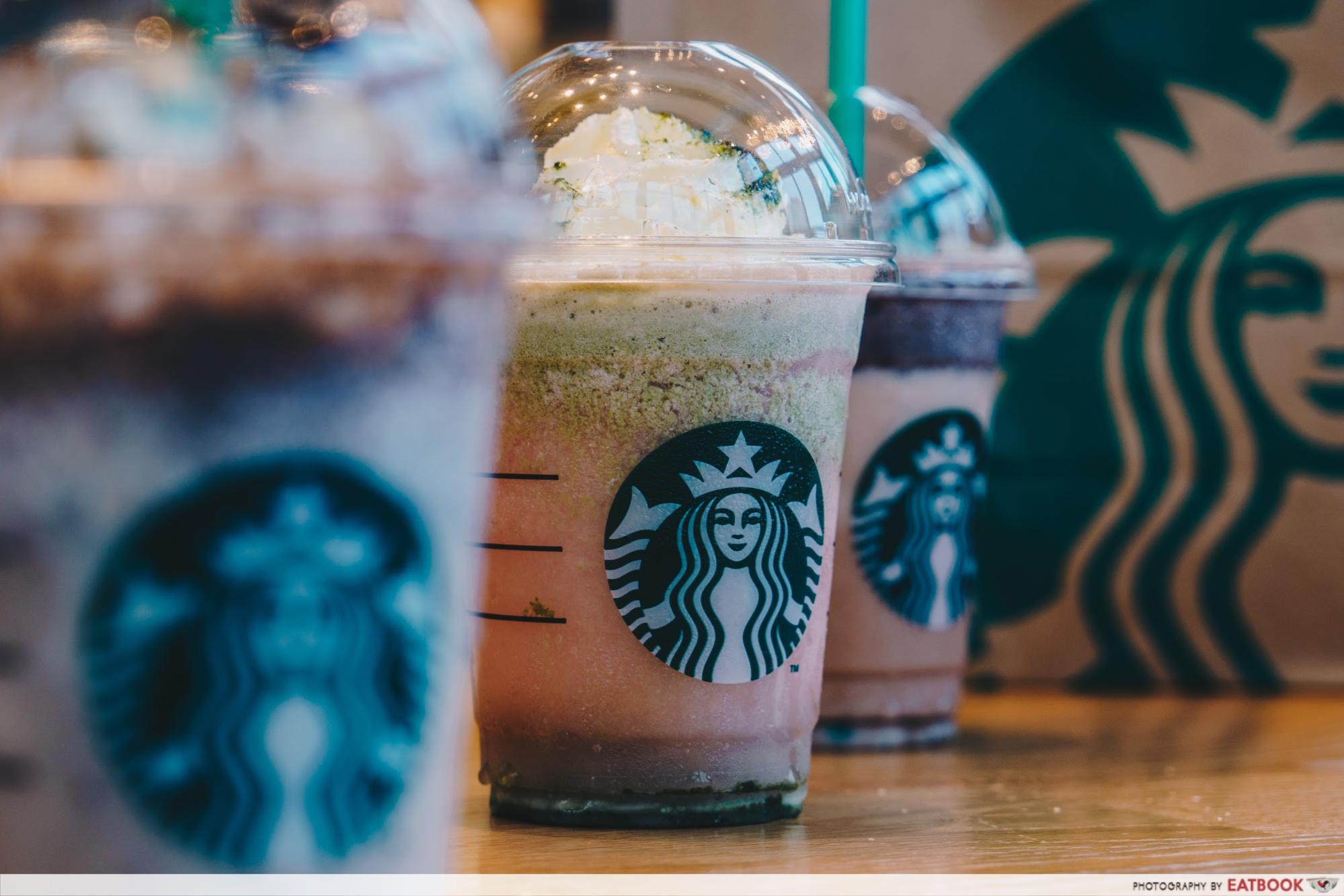 Besides looking like a symbolic representation of a mermaid princess, the drink is perfect as a sweet treat since it's creamy but not too thick. Our in-house taste-testers claim that it tastes like raspberry ice-cream, but without the weird syrupy aftertaste.
Recipe (Tall)
Raspberry Creme Frappuccino ($6.40)
Vanilla ($0.70)
White chocolate ($0.80)
Line the cup with green mixed drizzle (white mocha sauce, coconut milk, and matcha powder)
Topped with whipped cream and matcha powder
---
3. Ferrero Rocher Frappuccino
---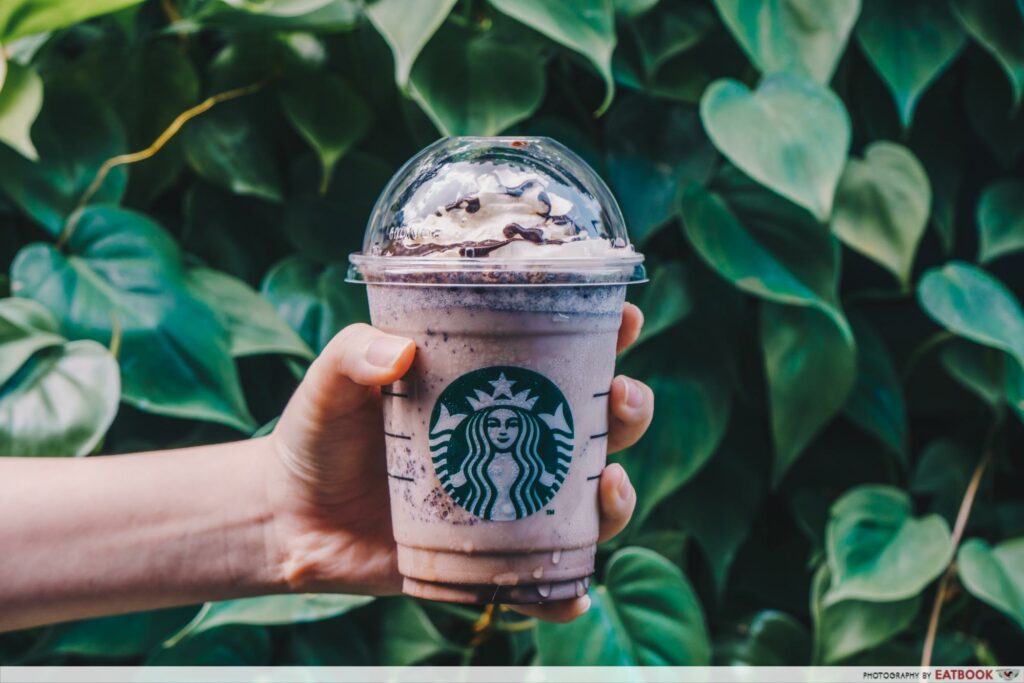 For something real indulgent, check out the Ferrero Rocher Frappuccino ($7.70). It doesn't come wrapped in gold foil, and there's no crunchy hazelnut in the center, but it does taste like a nutty, chocolatey treat because of the hazelnut syrup and generous sprinkle of java chips.
As with all the other frappes, there's no caffeine in it unless you request for it, so don't worry about experiencing an insane sugar PLUS caffeine rush after finishing this.
Recipe (Tall)
Chocolate Chip Frappuccino ($7)
2 to 3 pumps mocha syrup
1 to 2 pumps hazelnut syrup
Topped with Hazelnut and Mocha drizzle ($0.70)
---
4. Banana Split Frappuccino
---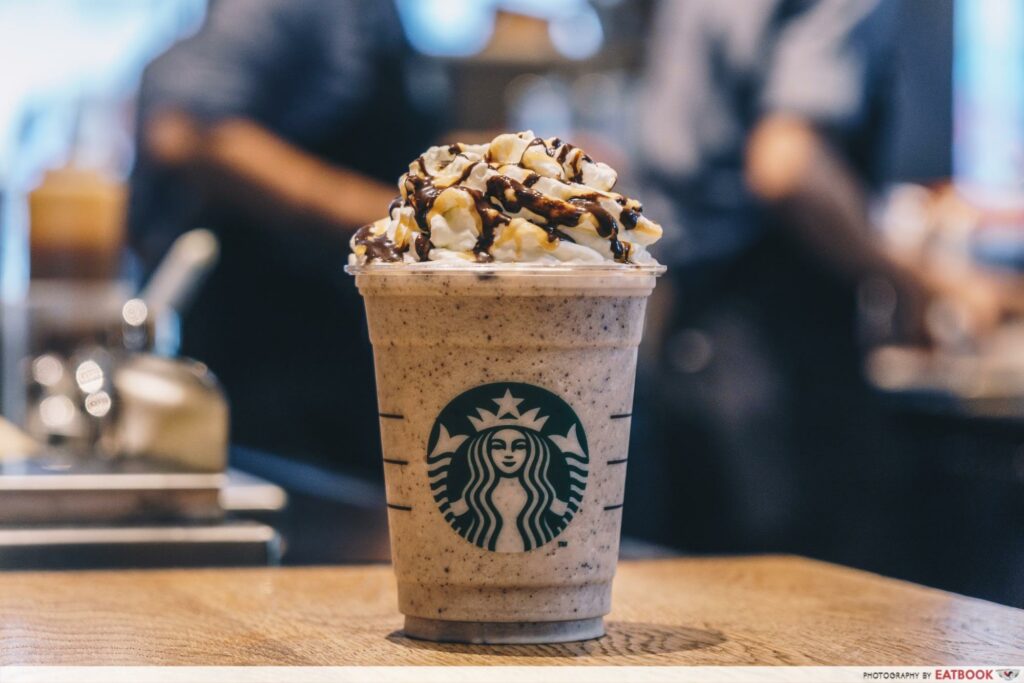 We all have those days when we can't decide if we want to eat healthy or if we just want to stuff our face with sugar and cream. It's a big MOOD and the Banana Split Frappuccino ($9.60) is exactly what you're looking for.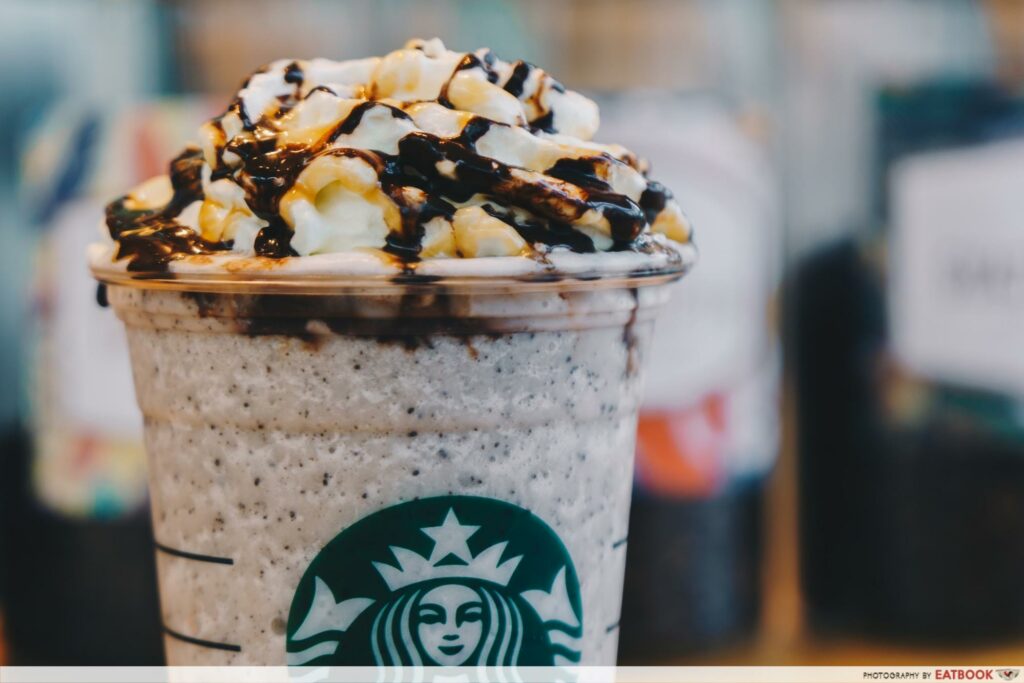 It tastes like a healthy and wholesome banana smoothie since an entire banana is blended into the drink, but with hints of raspberry and vanilla. For those looking to indulge, add java chips for some chunky goodness and get a generous serving of whipped cream if you're absolutely ballin'.
Recipe (Tall)
Raspberry Creme Frappuccino ($6.40)
Add vanilla syrup ($0.70)
Add caramel syrup ($0.70)
Add java chips ($0.80)
Add a whole banana ($1)
Top with whipped cream and caramel and mocha drizzle
---
5. Milk Tea
---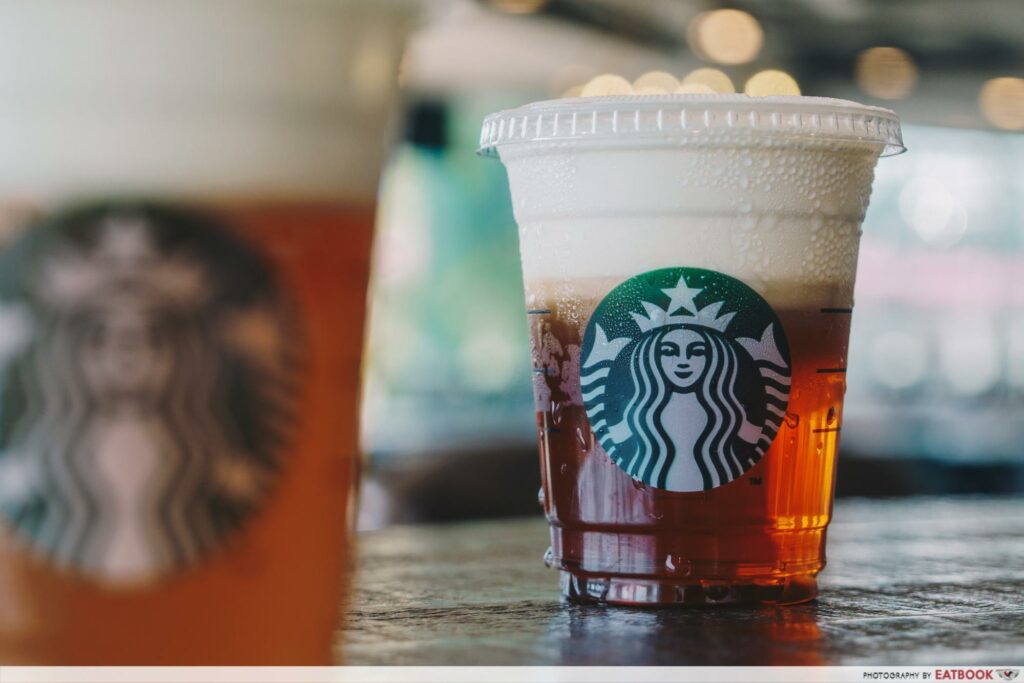 To all who live and breathe bubble tea, this is something you can try when you desperately need your BBT fix.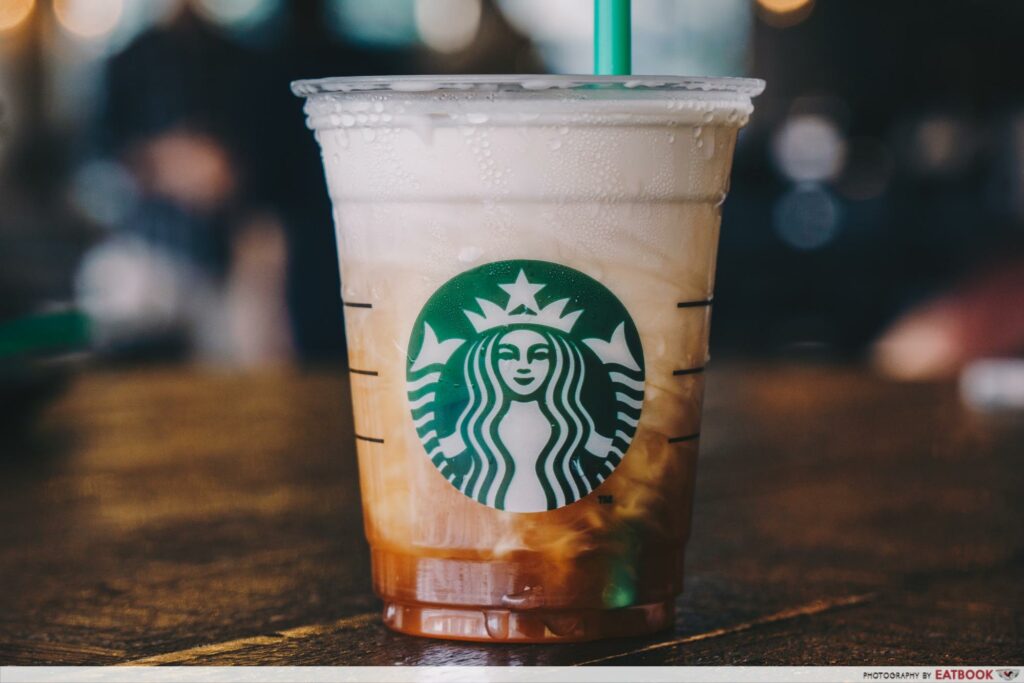 Before you mix it, the Milk Tea ($5.80) kinda looks like a dark beer with an almost-perfect alcohol-to-foam ratio. It's definitely prettier than a regular BBT, but the tea taste is rather subtle. So it's basically super-milky milk tea but at almost twice the price.
Recipe (Tall)
Unsweetened Black Iced Tea ($4.80)
No Extra Water Added
Sub Classic Syrup ($1)
Splash of Fresh Cream
---
6. Hot Butterbeer Latte
---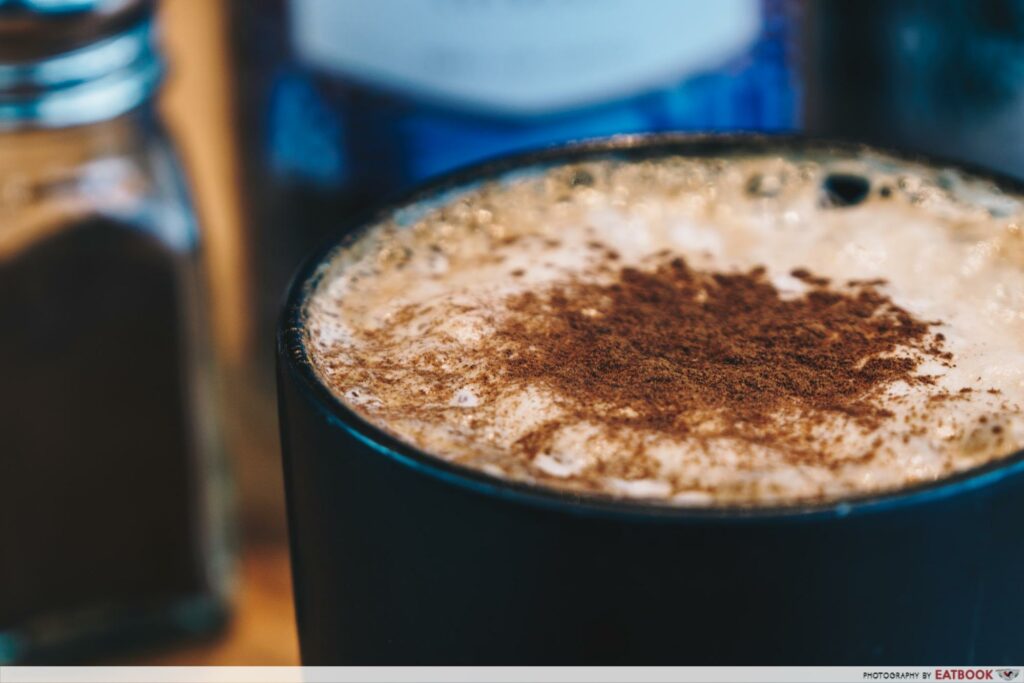 Potterheads will want to check out this toe-tingling drink that will make all its drinkers feel all warm and cuddly after taking a few sips.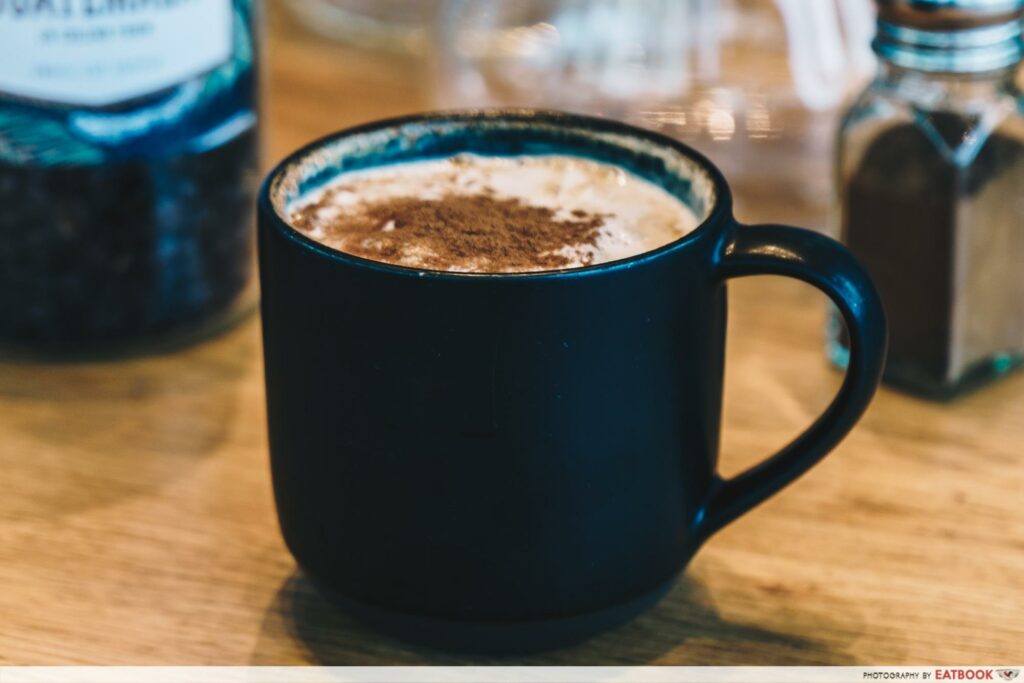 The Hot Butterbeer Latte is essentially a Starbucks Reserve Butterscotch Latte ($8.70), but with a healthy dose of cinnamon powder. You'll forget all about the ton of calories packed into this small cup of latte as your brain focuses on the addictive buttery and slightly savoury flavours.
There's the iconic fragrance and coffee taste, but the bitterness is not in-your-face. It's a masterful blend of sweetness and bitterness, with no one party overpowering the other. This drink is perfect for coffee noobs looking for a solid introduction to the fantastical world of coffee.
For a really Christmas-y feeling, spam the cinnamon powder and mix well to avoid coughing up a brown cloud.
Do note that this drink is only available at Starbucks Reserve stores in Singapore.
Recipe (Tall)
Butterscotch latte ($8.70)
Add espresso shot and milk
Sprinkle complementary cinnamon powder on top
---
7. Snickers Frappuccino
---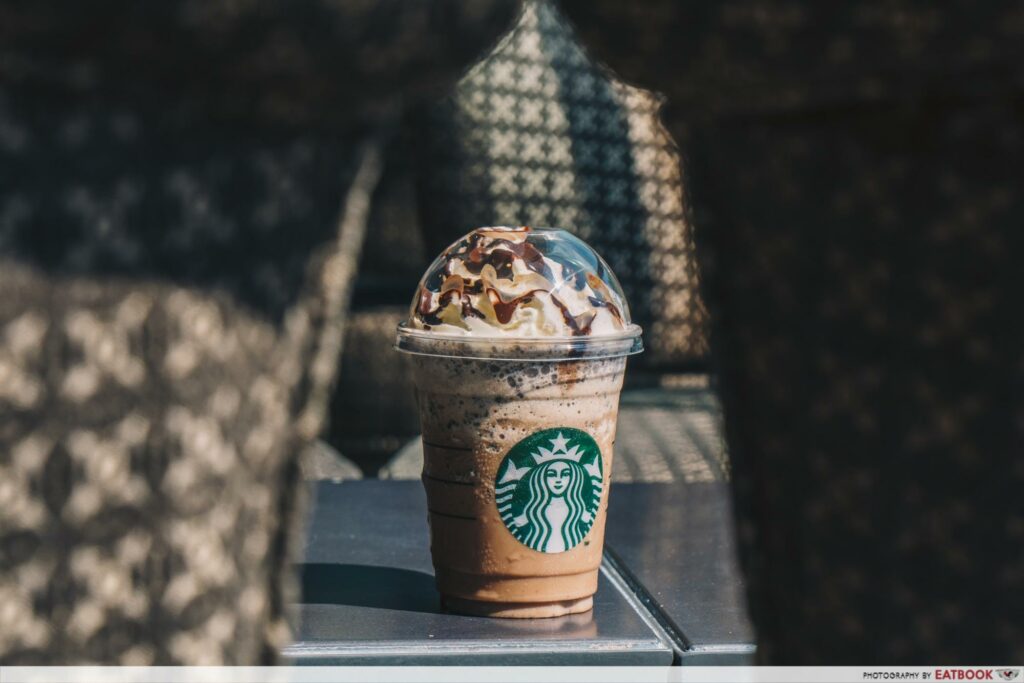 For a perfect and cold sweet treat on a hot day in sunny Singapore, check out the Snickers Frappuccino ($9.80). It contains everything you'll find in the popular chocolate bar – hazelnut, chocolate, and gooey caramel goodness.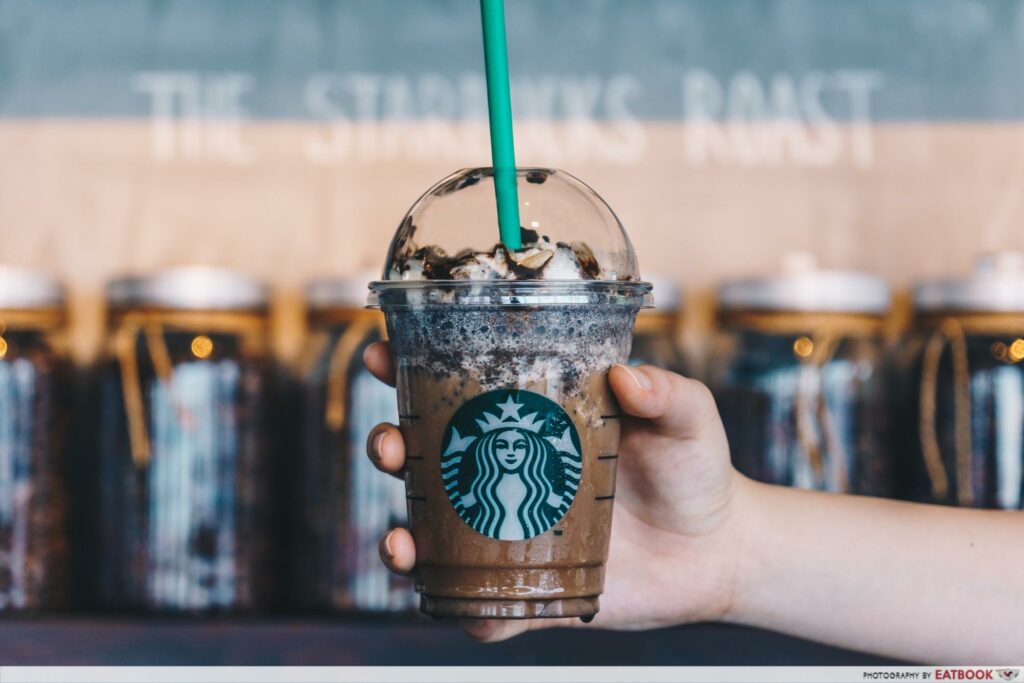 You have to give this a try if you go nuts for a nutty chocolate bar. The java chips give the drink an interesting texture while making it extra chocolatey. The whipped cream is super light and airy, making the drink seriously addictive; you'll finish this baby up in a blink of an eye.  
Recipe (Tall)
Caramel Frappuccino ($6.70)
1 to 2 pumps hazelnut syrup ($1)
Chocolate ($1)
Java chips ($1.10)
Top with whipped cream and mocha drizzle
---
8. Ariana Grande Cloud Macchiato
---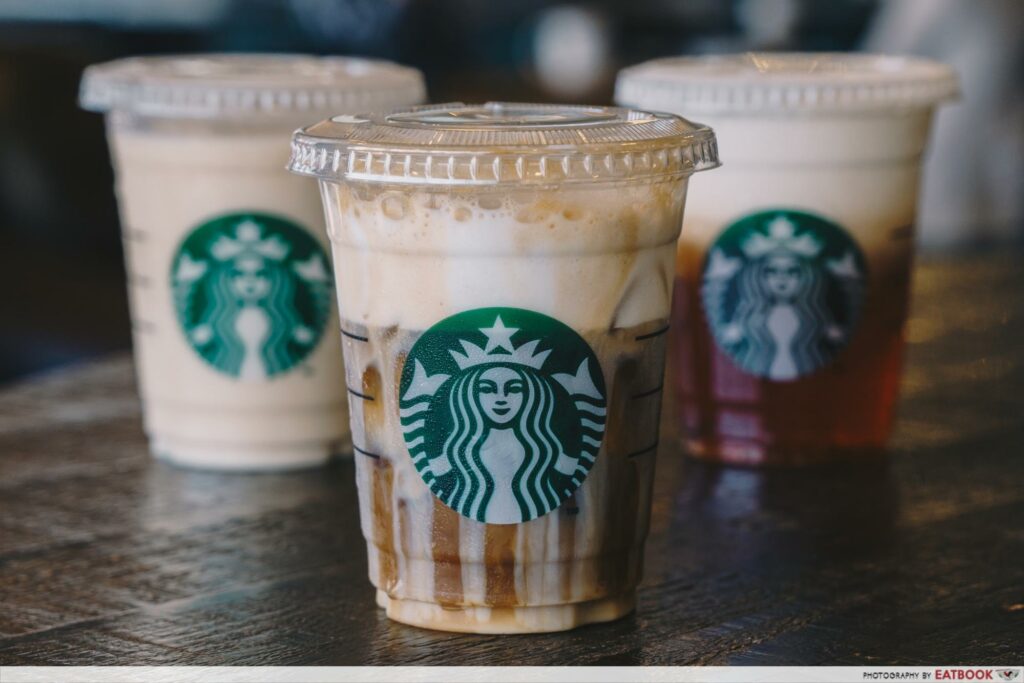 The Ariana Grande Cloud Macchiato ($8) looks kinda fancy and pretty 'cuz of the cloud of cold foam sitting on top of the drink, streaming down the sides of the cup.
Instagrammability aside, it's just good ol' coffee but without the unpleasant bitter aftertaste. There's also no intense drying out of your mouth 'cuz there's a ton of creamy foam. It's great for all coffee-lovers craving something hardcore but not too much.
And if you're on a sugar-free diet, you can just order this secret menu item without all the vanilla syrup.
Recipe (Tall)
Cold Foam Ice-Shaken Espresso ($7)
3 pumps of Vanilla syrup ($1)
Add coffee first then foam
Add 1 additional pump of vanilla in the blending of the cold foam
Drizzle caramel on top
Price: $8
---
Ordering secret menu items from Starbucks
---
While ordering these drinks are sure to help you rack up those enchanting gold stars, we can't promise that you'll absolutely love all of them. When we brought the unique concoctions back to the office and had some self-confessed Starbuckians give a taste-and-review, the verdicts were pretty divided so it's really all up to your personal taste and preferences.
3 Starbucks Recipes That Are Easy To Make Using Ingredients You Already Have At Home
Photos taken by Sharlene Lau.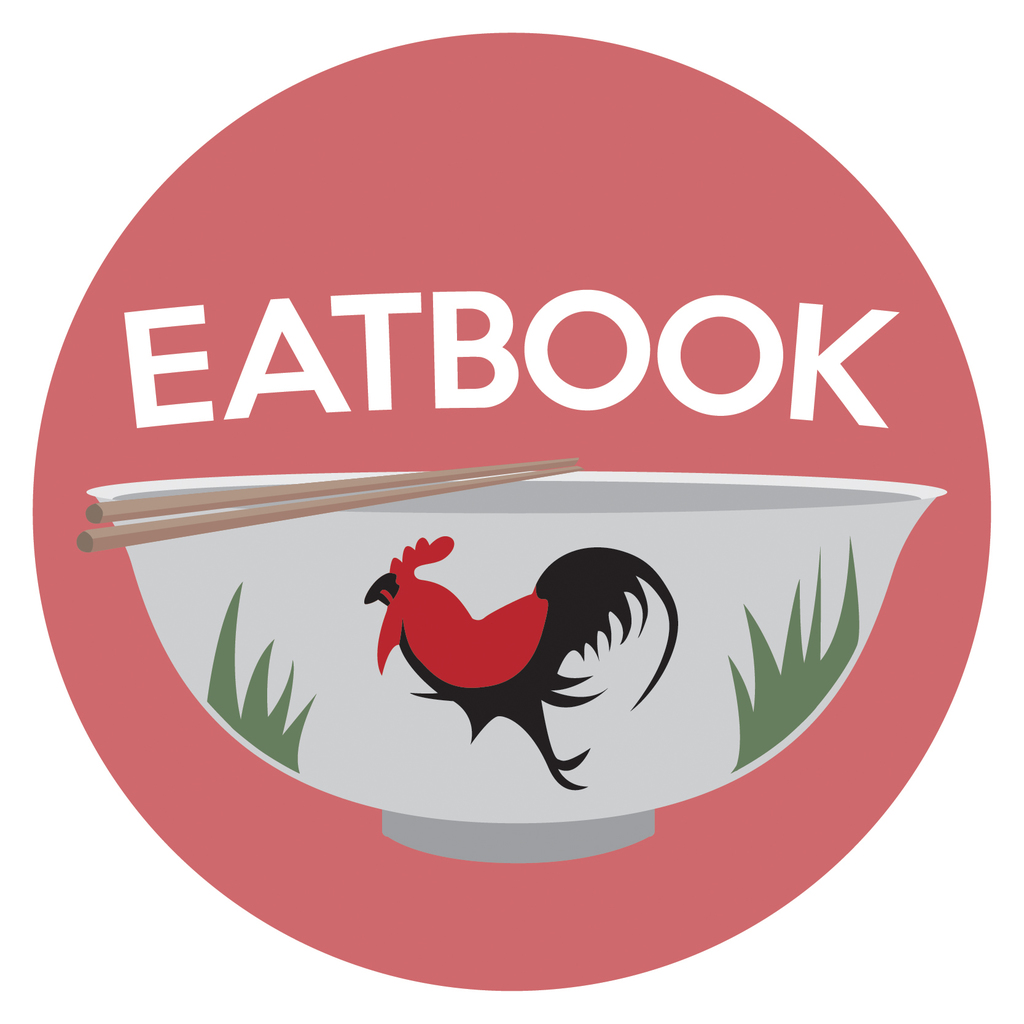 Drop us your email so you won't miss the latest news.