Steamroom with The Pillar and Stones is a 3-in-1 concept at Orchard
Update (4 April 2019): Steamroom with The Pillar and Stones has permanently closed.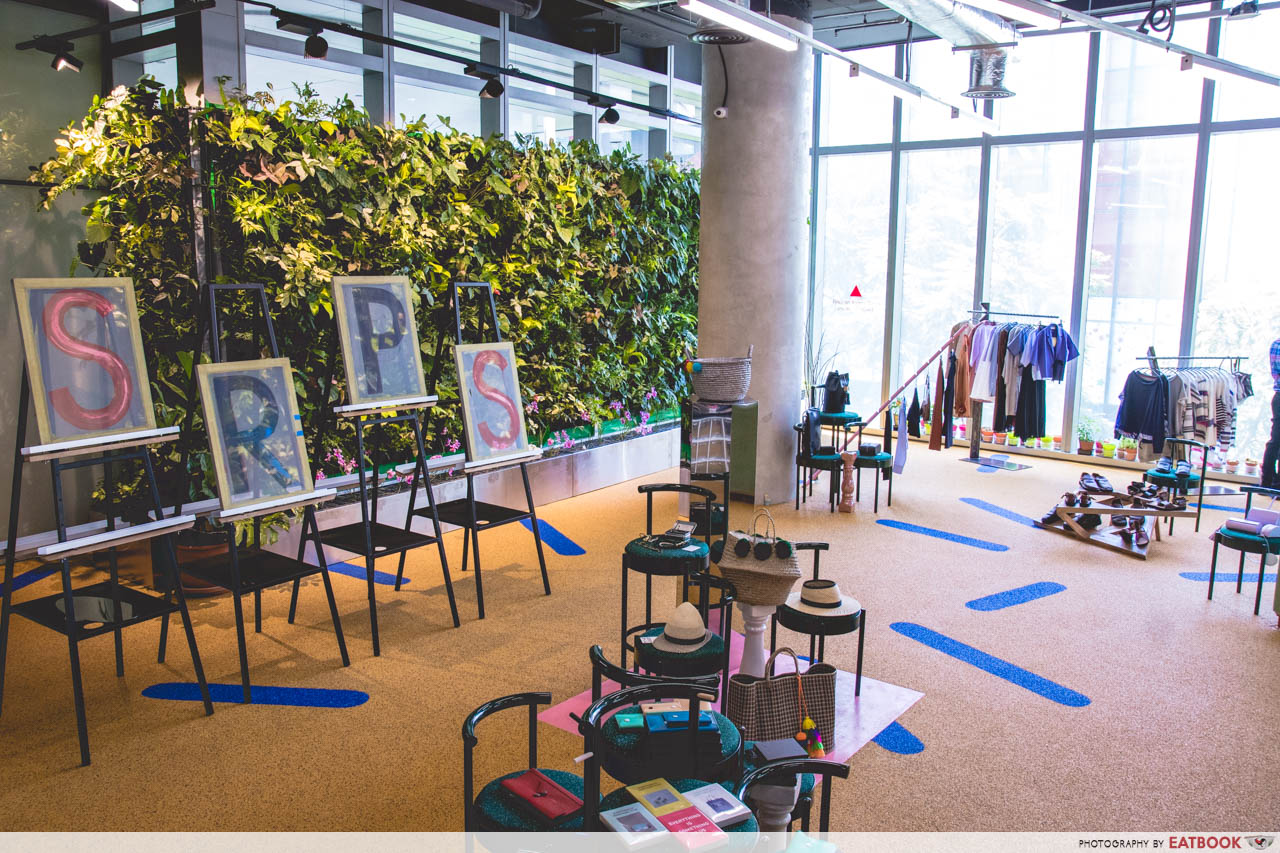 When I first arrived at Steamroom with The Pillar and Stones, I was extremely confused. It had such a long name, and I had no idea what any of it meant. Turns out, it encompasses three of my favourite things – tea, food, and shopping. "Steamroom" is in its name because of the steampunk machines used to brew their tea, "The Pillar" refers to the restaurant, because food is a staple we cannot go without, and "Stones" is their art studio and retail space.
Food at 
Steamroom with The Pillar and Stones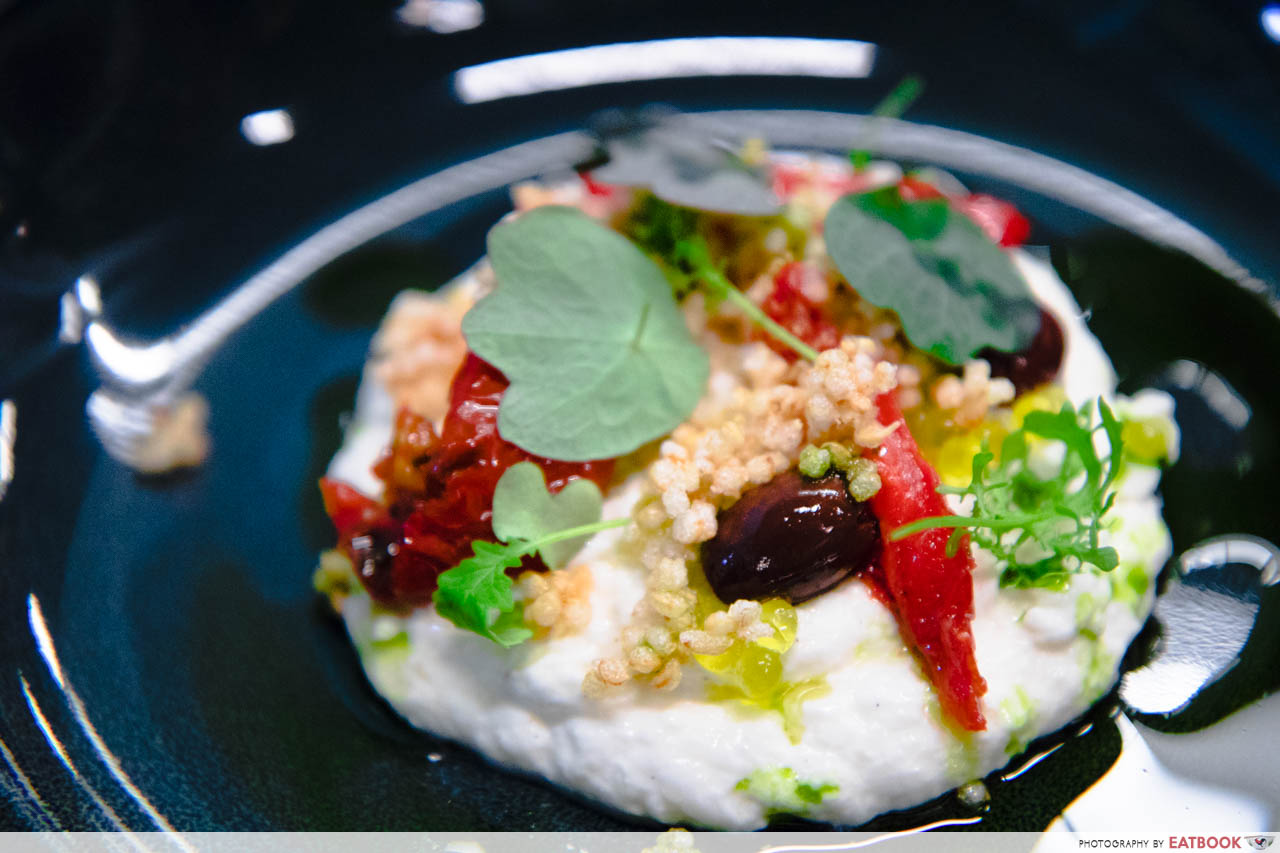 We started off with Burrata Cheese Salad ($15++). The burrata was fresh, and the amount of parsley oil was just enough to make the flavour shine. It was seasoned with only the basics: salt and pepper, and accompanied by dried, crispy quinoa to add a crunchy texture. It was also topped with olive oil caviar that added nice bursts of flavour.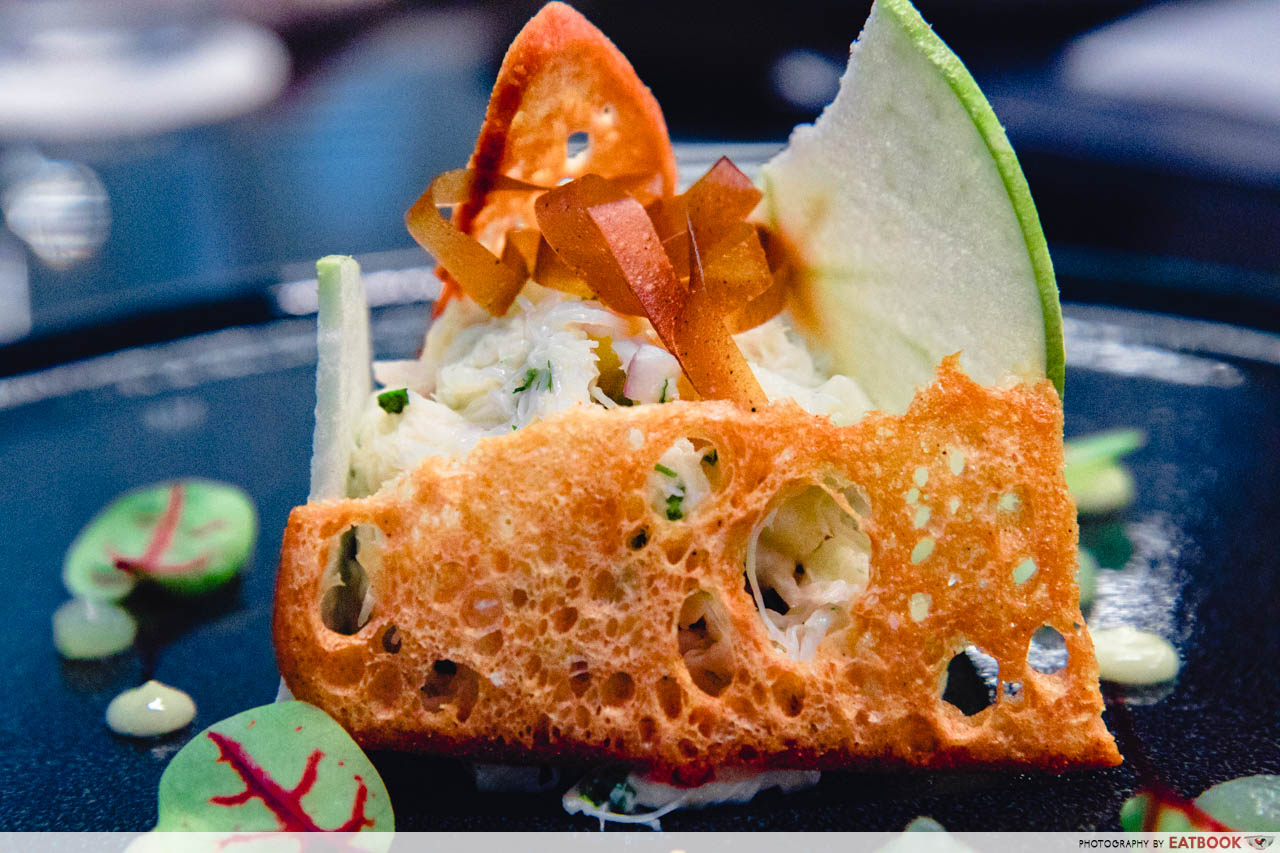 Spanner Crab Salad ($15++) was tangy, and tasted of parsley and wasabi. This dish was refreshing with generous chunks of tender crab meat. The fried parmesan accompanying it added texture and acted as a base to carry the meat.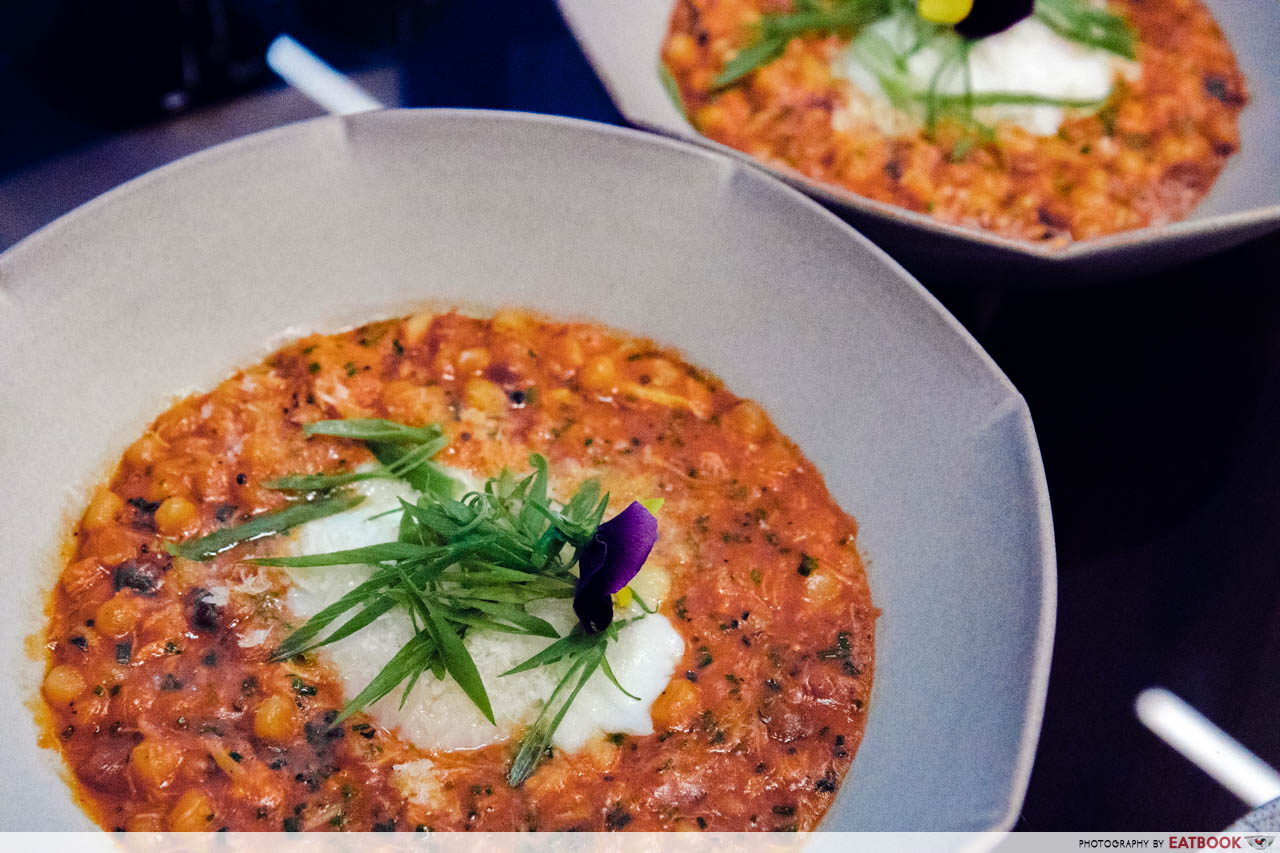 The mains were then rolled out, starting with Lobster Fregola Sarda Pasta ($28++). Balls of pasta were coated with a generous amount of sauce and lobster meat. The sauce was tomato based and was very tangy, never getting too rich.
The pasta was cooked al dente and was firm to the bite. An onsen egg was placed in the middle of the dish. We mixed it in to add a bit more flavour to an otherwise already delectable pasta dish.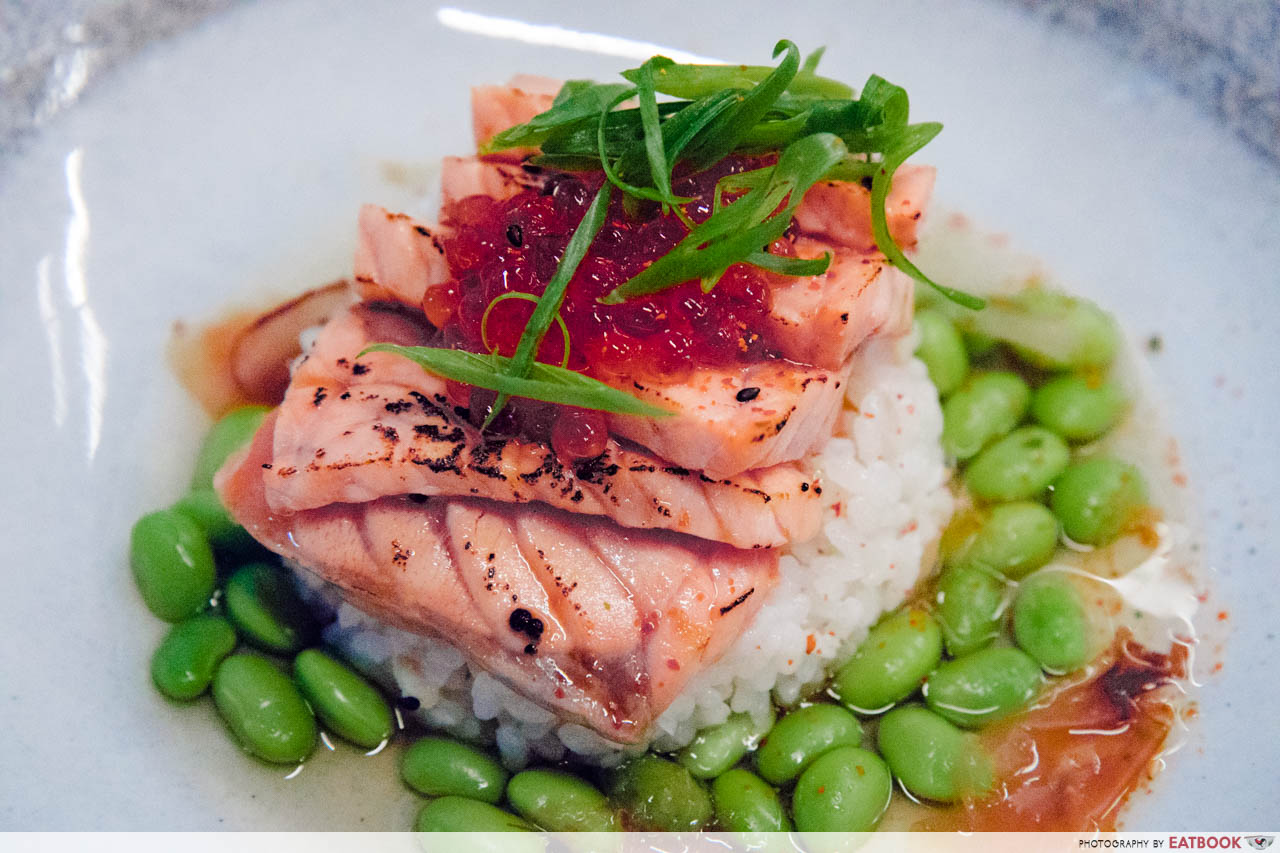 Salmon Ochazuke ($24++) had a very earthy, deep flavour to it. The dashi broth in this was rich, while the salmon itself lacked a bit of flavour, especially if not enough dashi was poured over it. The pieces of salmon, which were charred on one side and raw on the other, came topped with salmon roe that were bursting with umami.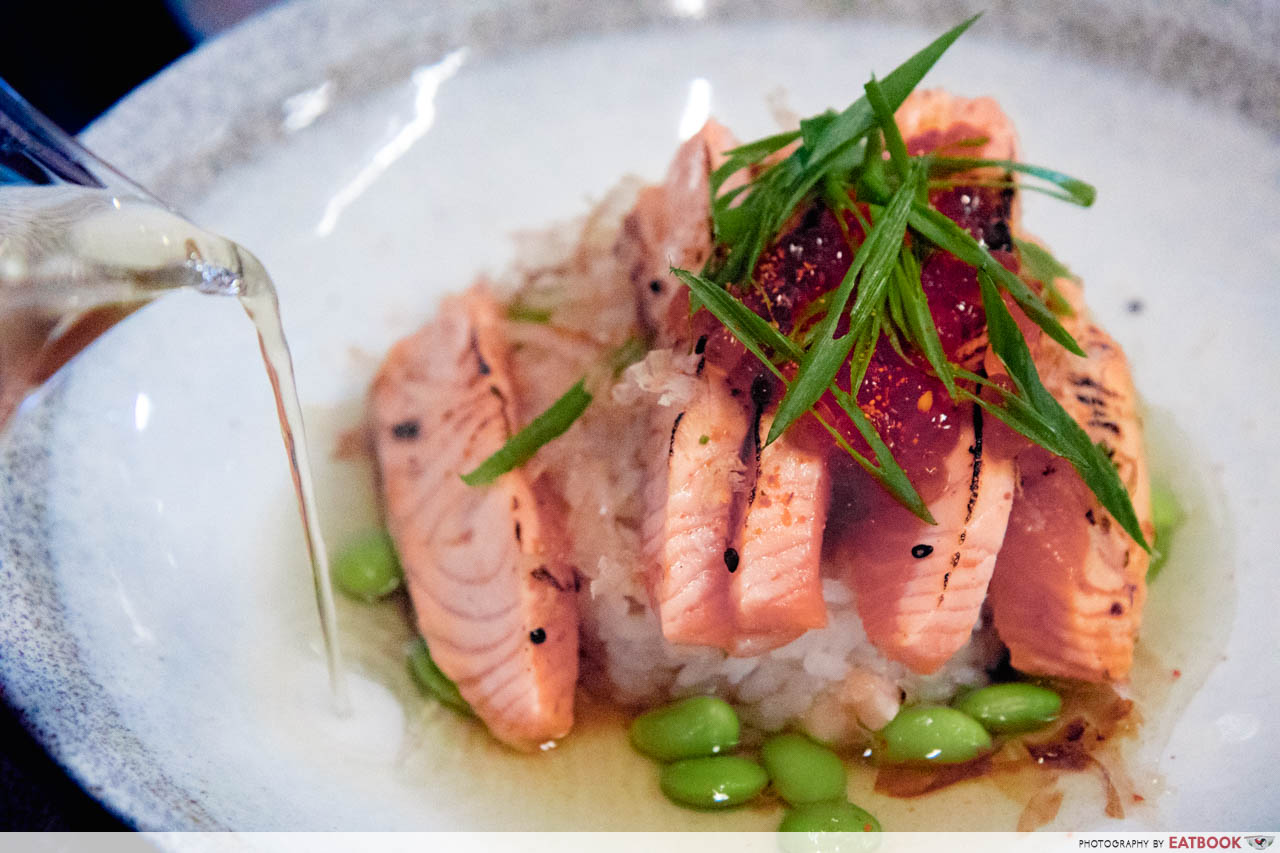 This dish could do with more dashi for the short-grain rice to soak up. That being said, this was overall a hit.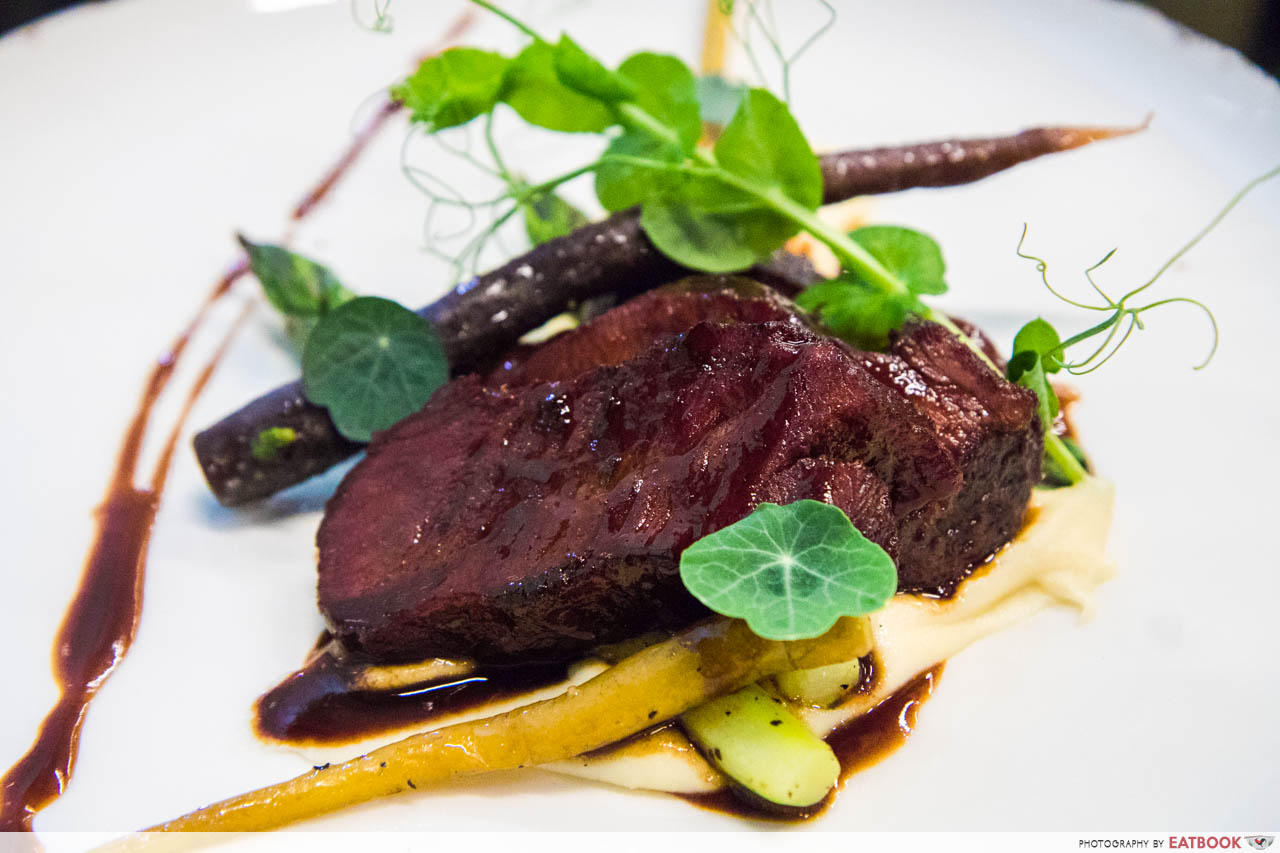 Braised Beef Cheeks ($32++) arrived looking terrifying, with long, pointed pieces of heirloom carrots and asparagus standing out. The meat turned out to be pretty good, as it was very soft and tender, although there was not much flavour to it. The sauce was decent, but the winning component was the browned butter potato puree. The flavour of browned butter added so much flavour and a nuttiness that regular butter lacks, making this the creamiest, most flavourful and addictive mashed potato I've ever tried.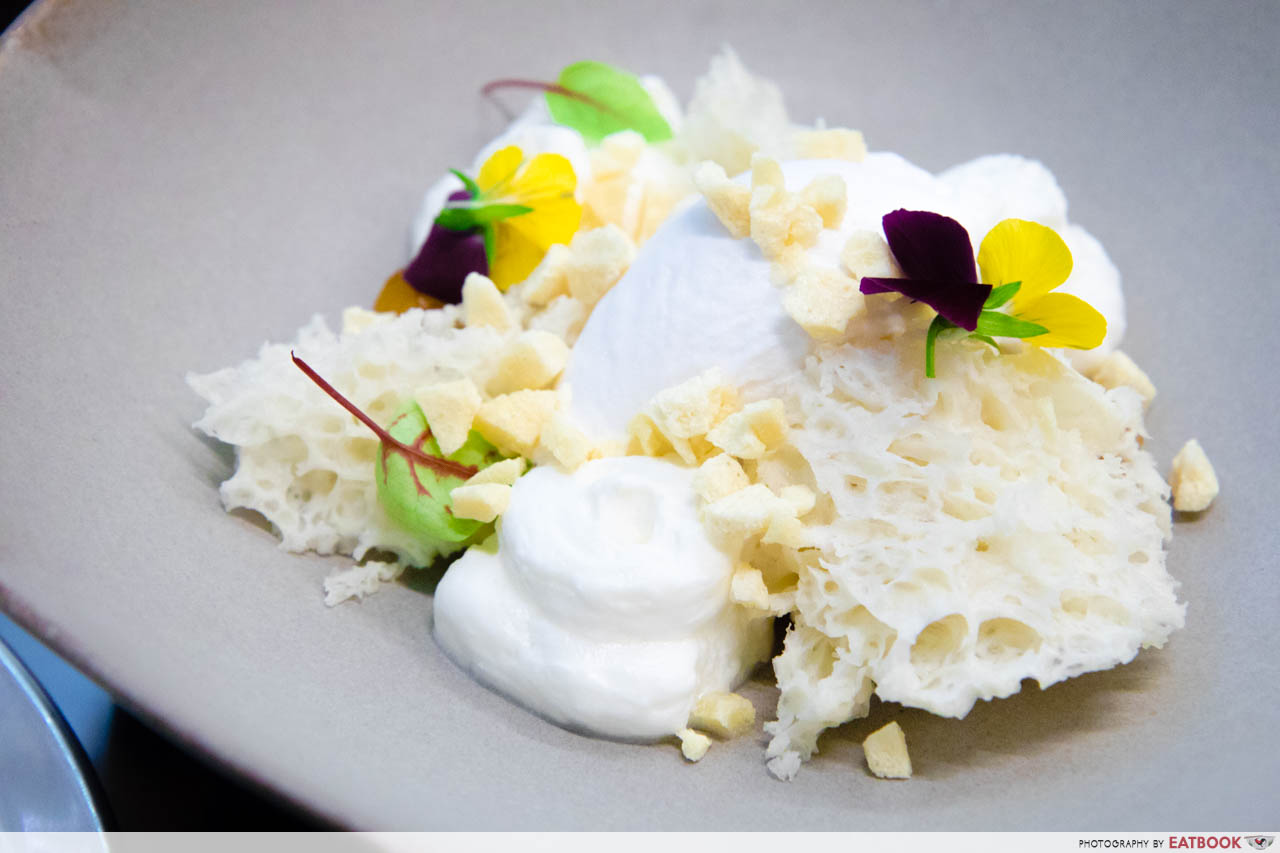 For desserts, we had Coconut & Pineapple Two Ways ($12++) first. The coconut sponge was the softest, fluffiest, most airy sponge I have ever had. Its flavour was also light, and the coconut cream and vanilla ice-cream accompanying it went so well together. The juicy roasted pineapples also added a bit more flavour, making this dish a major win.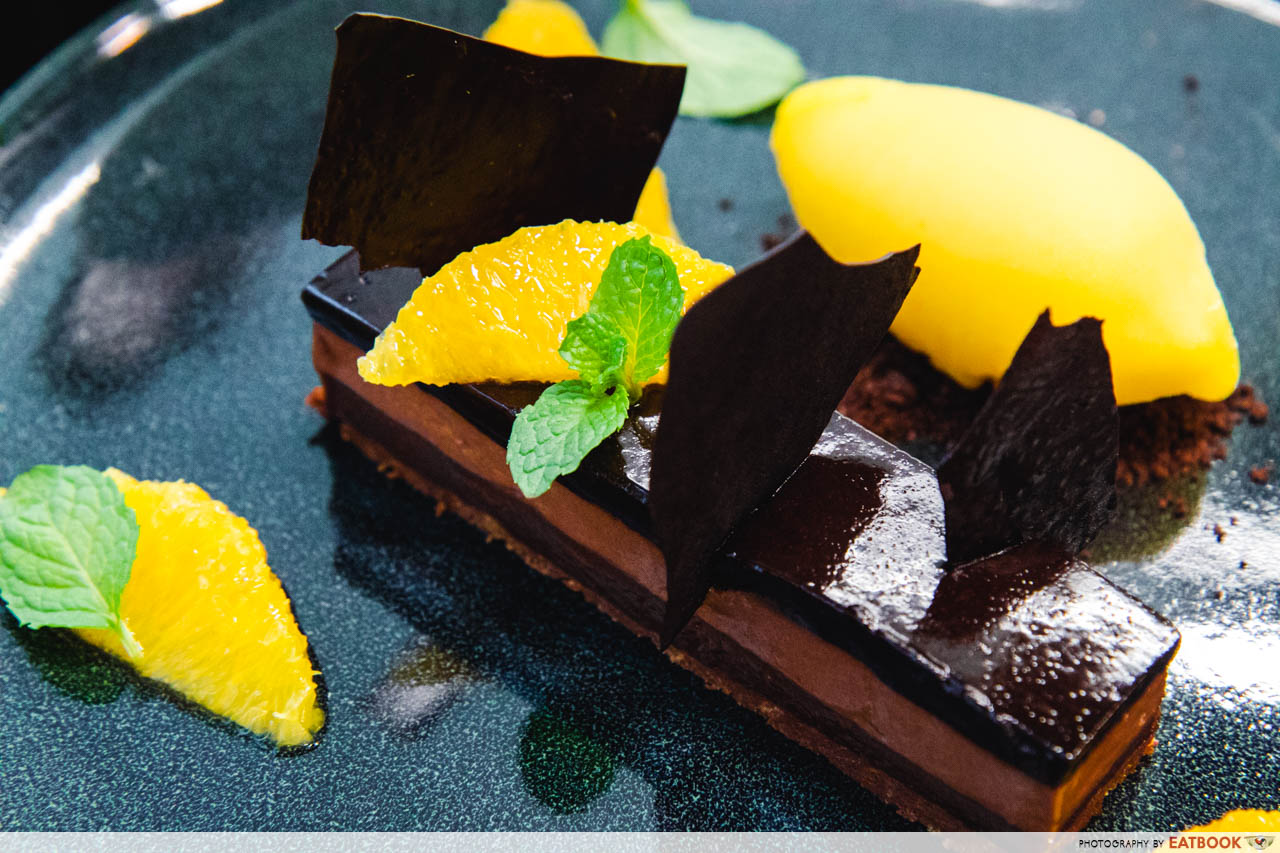 Chocolate Gâteau & Mandarin Orange Sorbet ($15++) came as a rich layered chocolate cake. The various layers were soft, crunchy, sweet, and bitter, but worked well together. The crunchy base was topped with chocolate mousse and then a layer of dark chocolate ganache. The mango sorbet was tangy, refreshing and light, and cut through the chocolate to prevent the dish from being cloying.
Tea at Steamroom With The Pillar And Stones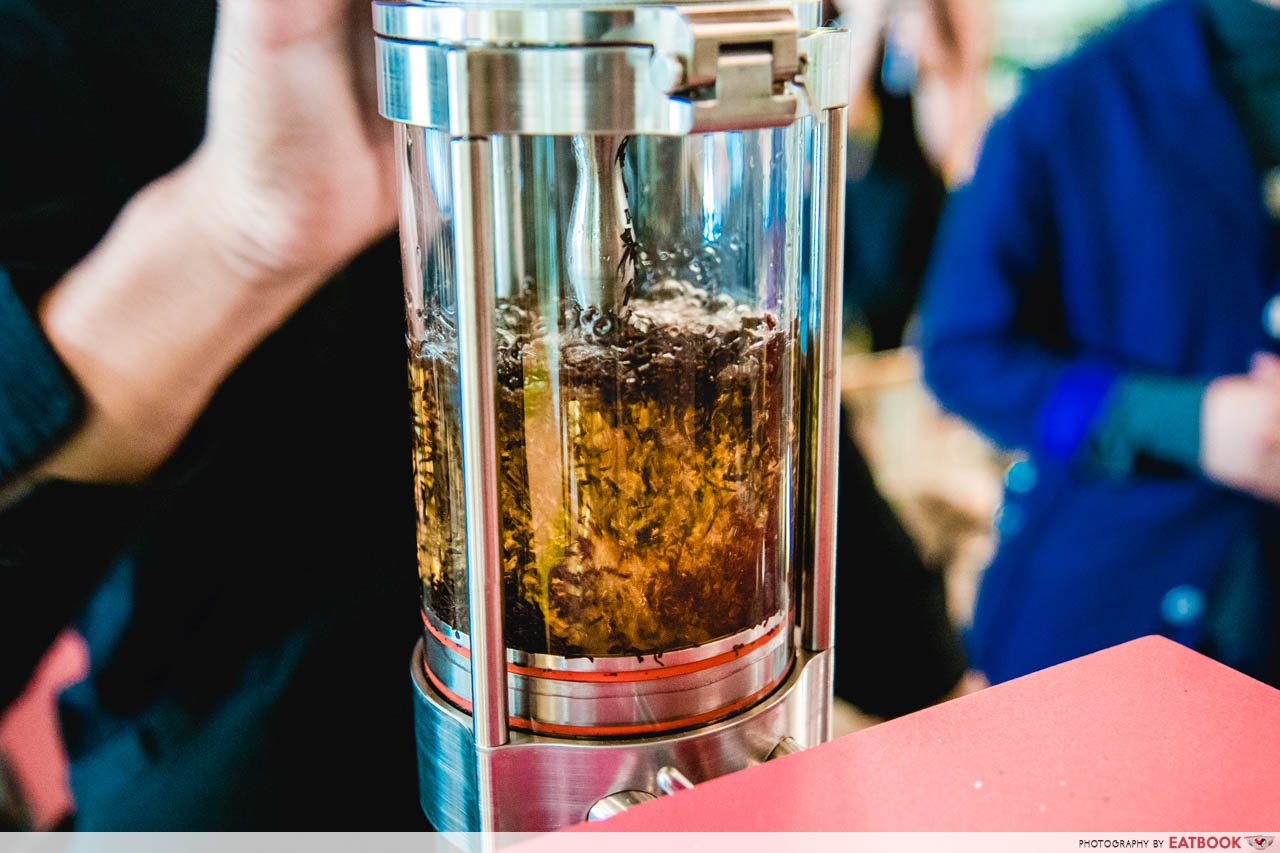 Steamroom is the tearoom here, and steampunk machines are used to prepare their tea. Using steam to flush the water upwards to brew the tea, the staff members take great care in controlling the temperature, pressure, and amount of water in the teas.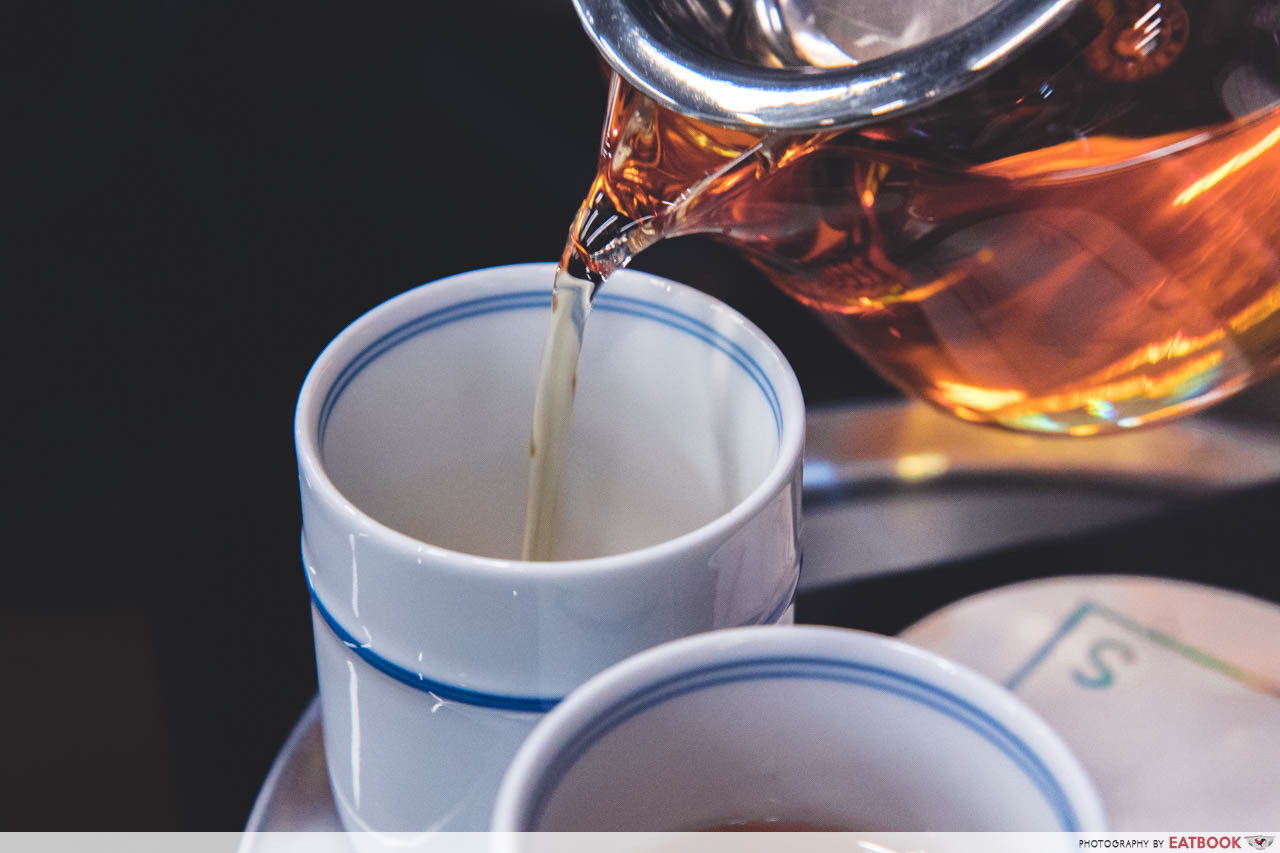 We tried Keemun Kung Fu Red Tea ($7.50++), which was pretty full-bodied and slightly floral. They focus mainly on Chinese teas, but they do have an assortment available, including a variety of oolong, black, and green teas.
Art studio and retail space at Steamroom With The Pillar And Stones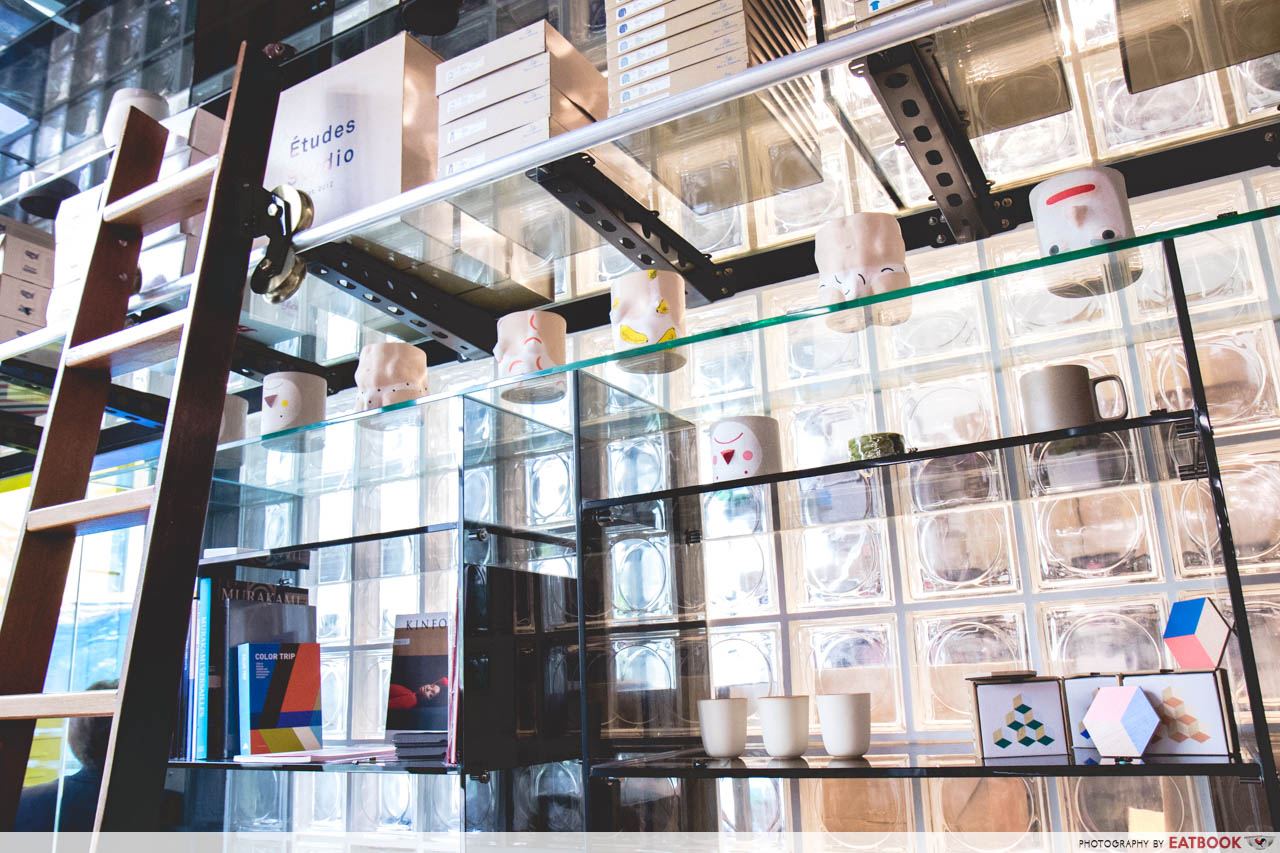 Stones is the retail space and art studio of Steamroom with The Pillar and Stones. They sell a range of things, from clothes to jewellery and notebooks. There's also a studio for you to create your own pieces of art. On weekends, they hold masterclasses at a fee for anyone who wants to improve on their technical skills.
Ambience at Steamroom with The Pillar and Stones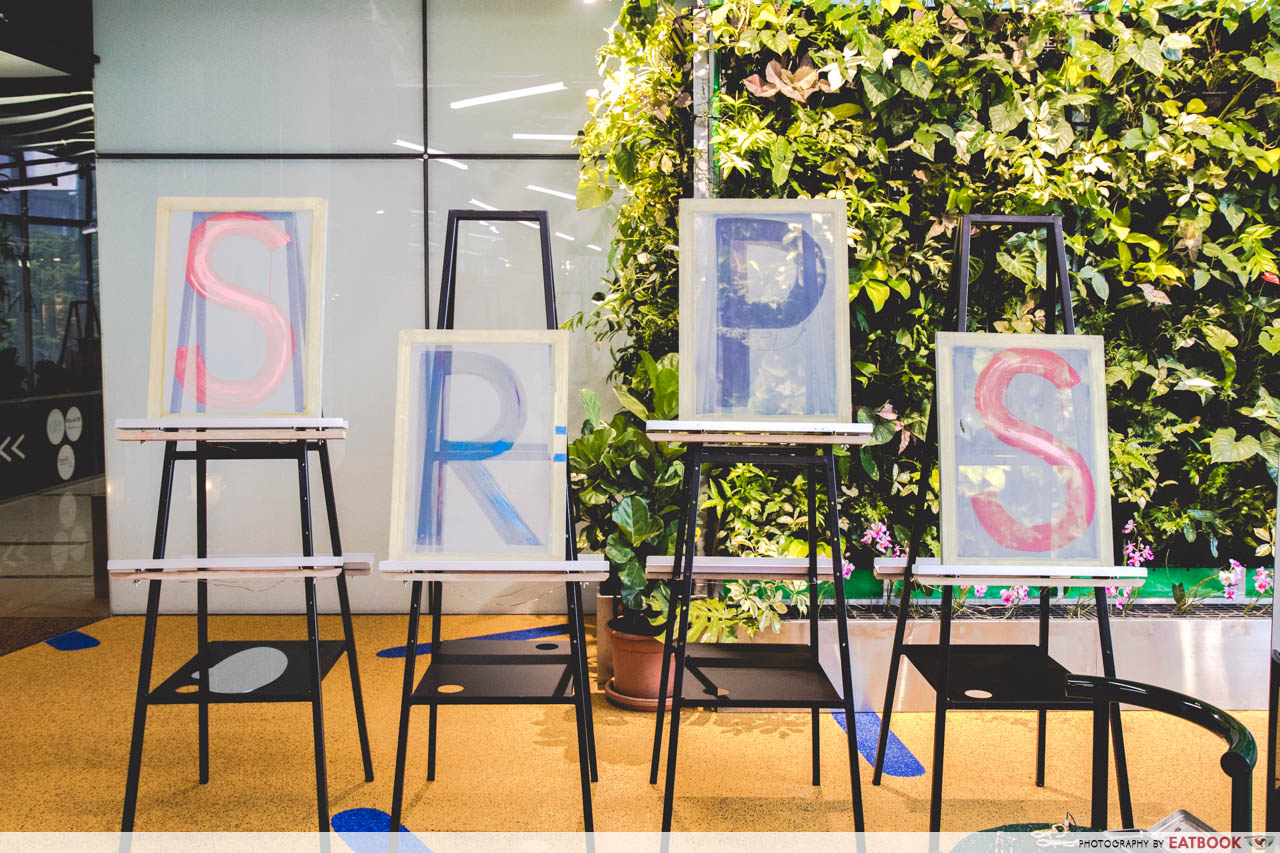 The space at SRPS is large and comfortable. They have separate sitting areas for Steamroom and The Pillar. If the restaurant gets too crowded, they'll open up the tearoom for dining guests as well.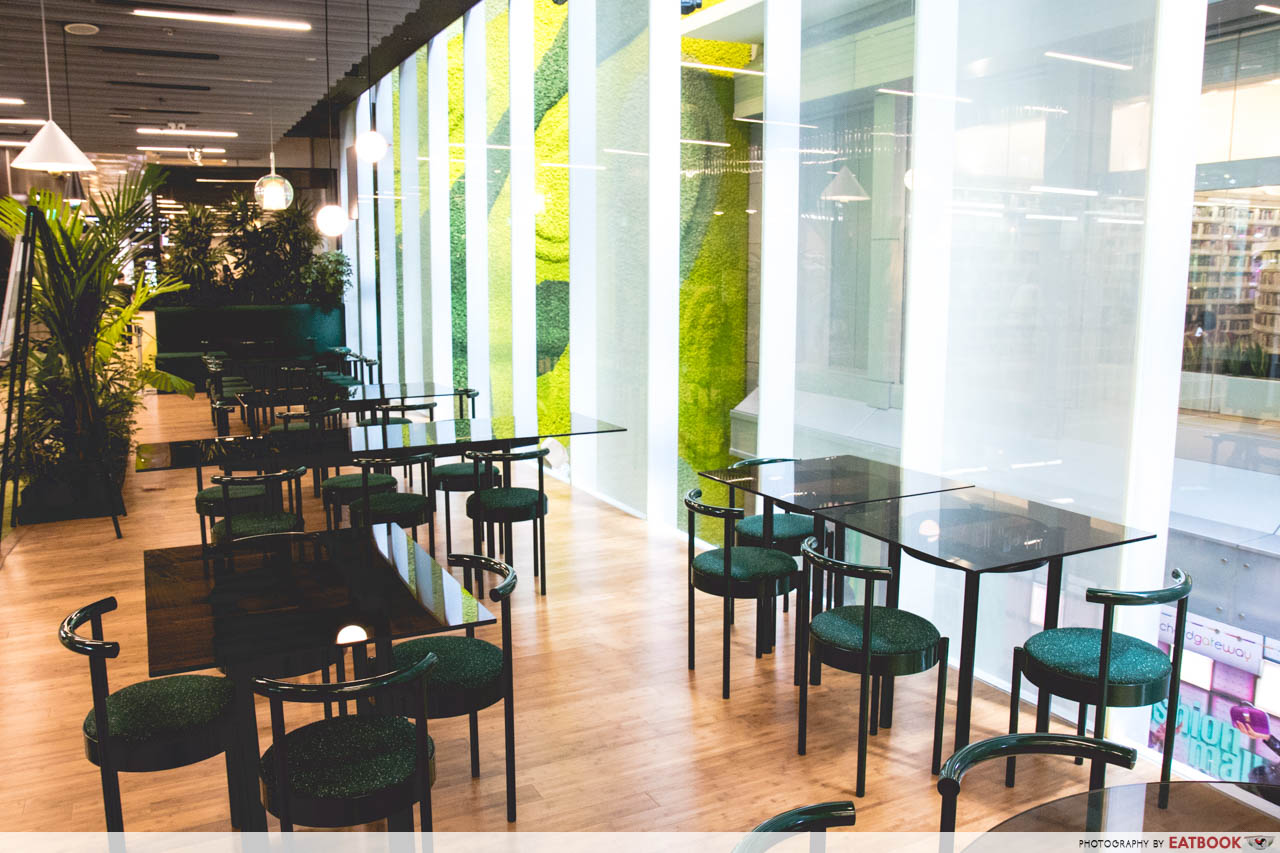 The staff members were quick and efficient in serving the food, and helpful when it came to explaining what was in the dishes.
The verdict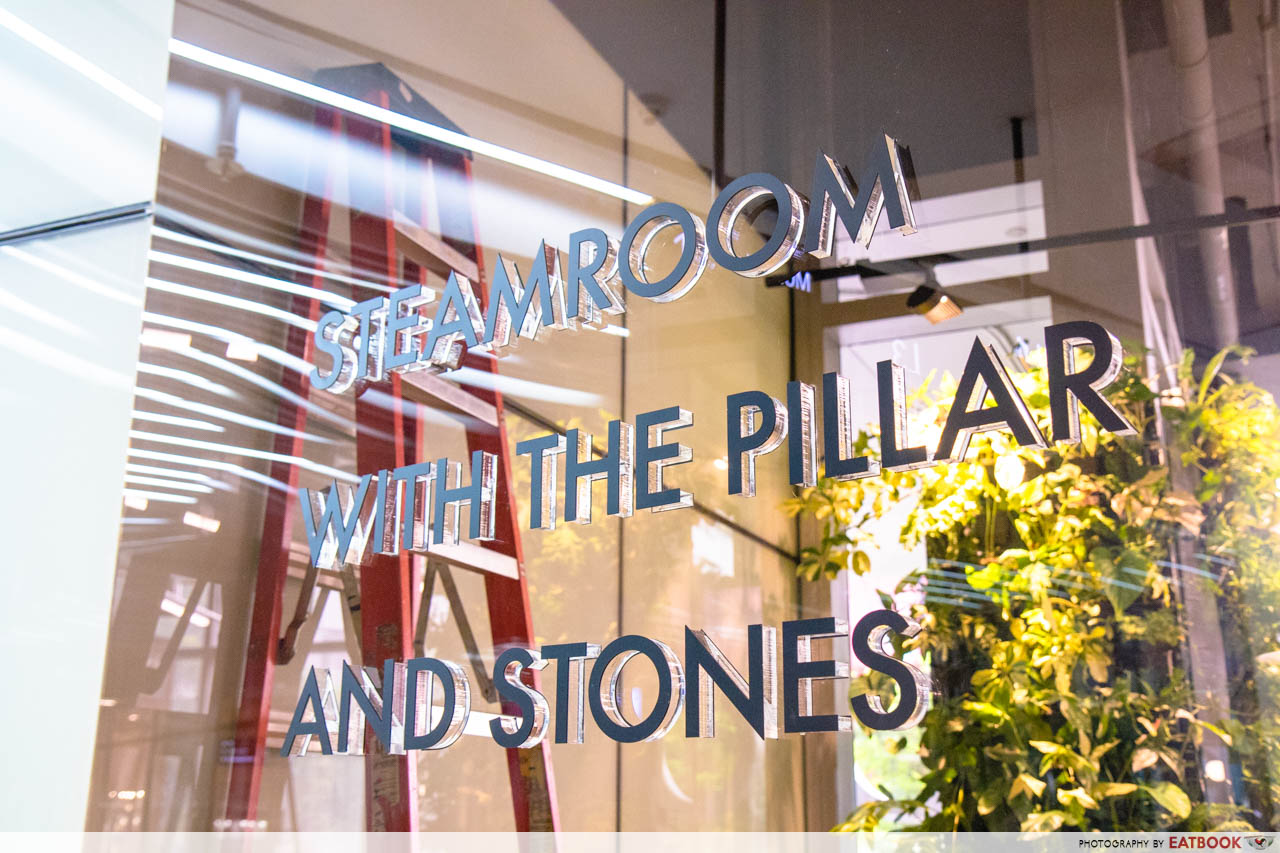 Steamroom with The Pillar and Stones no doubt serves good food. It is slightly on the pricey side, however, and is unlikely to become a regular go-to. That being said, I would recommend trying it out at least once, especially for their desserts. Check out these boutique cafes for more of such multi-concept spaces in Singapore.
Address: 181 Orchard Road, #03-08, Orchard Central, Singapore 238896
Opening hours: Daily 11am to 10pm
Food service begins at 11:30am
Tel: 6592 0571
Website
Menu
This was a media tasting at Steamroom with The Pillar and Stones.
Summary
Pros
– Good food
– Retail space and art studio attached
Cons
– Expensive
Recommended Dishes: Lobster Fregola Sarda Pasta ($28), Coconut & Pineapple Two Ways ($12)
Operating Hours:
Daily: 11am to 10pm
Tel:
6592 0571
Address: 181 Orchard Road, #03-08, Orchard Central, Singapore 238896