---
About Sumiya
---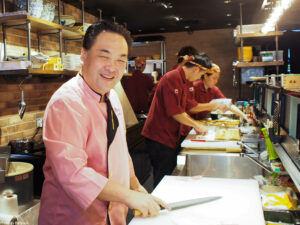 Sumiya's one of those Japanese restaurants I wish would remain hidden under the radar forever, because I like to keep good food secrets to myself. However, their popularity has been on a steady rise since the opening of their first outlet at Orchard Central, and my job requires to me to let this cat out of the bag. 
Their latest restaurant at Suntec takes a different focus, with a new menu that has more emphasis on seafood. Beyond their value for money donburis, and scrumptious meat skewers, Sumiya's also offers an extensive assortment of grilled fish, and customisable Japanese seafood hotpots. Here are some of our favourite dishes from their new menu:
---
Appetisers
---
Garden Salad – $10.80
---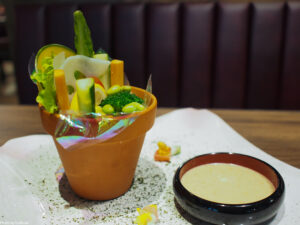 Unlike typical run-of-the-mill salads, Sumiya's version comes arranged with flair in a little flower pot. If this was meant to represent how fresh the vegetables were, Sumiya's garden salad sure did not disappoint.
---
Fresh Hotate Isoyaki – $11.80
---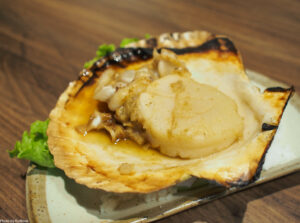 Scallops are notoriously difficult to work with – a second too long on the grill and it turns rubbery before you can say hotate. However, this charcoal-grilled Hokkaido scallop was an absolute delight. The sweet, plump flesh of the scallop was well infused with the aroma from the charcoal and the savoury flavours of the soya sauce dashi broth.


---
Fresh Bluefin Tuna Mixed Cube Sashimi – $48.80
---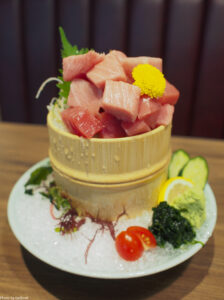 Serving sashimi in cubes is pretty unorthodox in Singapore, but we're not complaining about how the incredibly fresh tuna comes in convenient bite-sized portions. This heaping mountain of otoro, chutoro and maguro will burn a hole in your pocket, but the portions are reasonable and will comfortably feed two people.
---
Mains
---
Grilled Yellowtail Collar with Salt – $20.80
---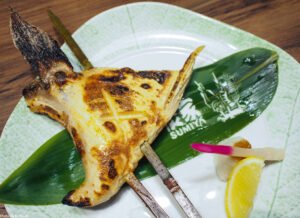 Sumiya's brand new grill allows fish to be slow-grilled vertically around a stack of smouldering charcoal. This Japanese style of grilling, known as irori genshiyaki, requires a longer time for the fish to cook, but the results are worth the wait.
The grilled yellowtail was tender, fleshy, and full of fatty omega 3 goodness, while still retaining an even crisp skin. With fish this fresh, all you need is a sprinkle of salt and a squeeze of lemon to bring out the full flavours of the meat.
---
Homemade Dried Renkodai – $28.80
---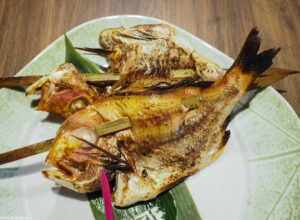 Other than grilling fresh fish, Sumiya owns  a drying machine that allows it to replicate the process of sun-drying fish. Using this method of drying out the fish before grilling it the irori genshiyaki way, results in the fish having a unique texture. The meat is tougher than a normal fish and quite stringy, but the natural sweet flavours of the fish are intensified and the fish still retains its moisture.
---
Ryoshi Mushi – Open Price
---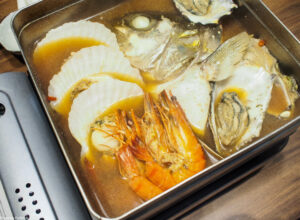 When it comes to Japanese hotpots, I've never ventured further than beef sukiyaki. But after trying Sumiya's Ryoshi Mushi, I am deeply convinced that fish hotpot is just too underrated in the Japanese culinary circle.
Sumiya does their hotpot in custom-made tins made to look like the traditional ones fishermen used to cook their fresh seafood on their boats in the past. Diners can choose to customise their own hotpot from Sumiya's fresh seafood counter (open price), or get the Hiroshima Oyster Ryoshi Mushi ($32 for 8 pieces).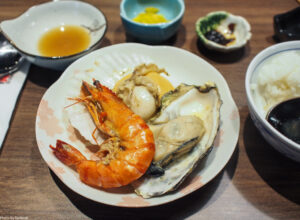 Our Ryoshi Mushi was a chef's selection of Amberjack cheek (market price), hiroshima oysters ($4 per piece), prawns ($5 per piece), and hokkaido scallops ($11.80 per piece), in a spicy miso soup base ($6).
The seafood was mostly fresh, but the scallops were slightly overcooked this time. However, the star of the show definitely had to be the miso soup base. The garlicky and spicy notes were well balanced out by the sweetness of the miso paste and seafood. The bold flavours were also enhanced by a dash of citrus flavour to give a well-rounded taste profile to the miso broth.
---
Drinks and Dessert
---
Sake – Starting from $2.20 for Tasting Portions
---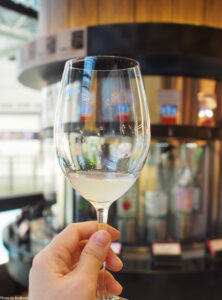 One of the highlights of dining at Sumiya would be their newest circular enomatic Sake dispenser that allows you to sample tasting portions of Sake. The price of these tasting portions start as low as $2.20, but you can also opt for a full glass of Sake.
There's even an in-house Sake sommelier to recommend sake pairings for your meals. Sake lovers will also be pleased to know Sumiya also offers a 5-course Sake tasting menu, priced reasonably at $68.80 per pax for a 5 course meal.
---
Sumiya Tropical Dessert – $18.80
---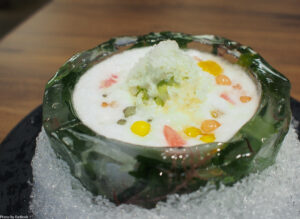 The tropical dessert is one of Sumiya's specials, and they only make a total of 15 bowls a day. Because of the limited quantities, diners typically call up to reserve a portion for themselves.
This modern day bobo chacha features a mixture of icy watermelon, rock melon, mango sago, red bean paste and green tea ice cream in a sweet concoction of coconut milk. It's served in an ice bowl that has been painstakingly carved and adorned with plants. While the tropical dessert is a refreshing, sweet end to the meal, I doubt I would fork out this amount of money for a literal bowl of ice.
---
Pumpkin-filled Karinto Manju with Green Tea Ice Cream – $8.80
---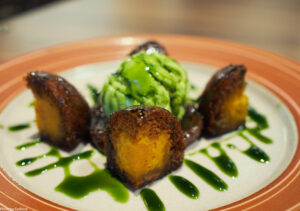 Traditional Japanese manjus are like our Chinese baos, which are essentially little buns with a sweet filling like matcha or azuki. Sumiya's baked manju has a crispy exterior, and is filled with a smooth pumpkin paste that is mildly sweet. It reminded me of our classic baked mooncakes, and goes well with the green tea ice cream. This is one of the more unique Japanese desserts I've seen around so far, and it's definitely worth a try.
This post was brought to you by Sumiya.
Summary
Pros:
Fresh seafood
Customisable hotpot options
Cons:
Steep prices
Recommended Dishes:
Blue-fin Tuna Sashimi – $48
Hotate Isoyaki – $11.80
Ryoshi Mushi – Open price
Opening hours:
1130am – 3pm / 530pm – 10pm
Address:
#03-332/333 Suntec City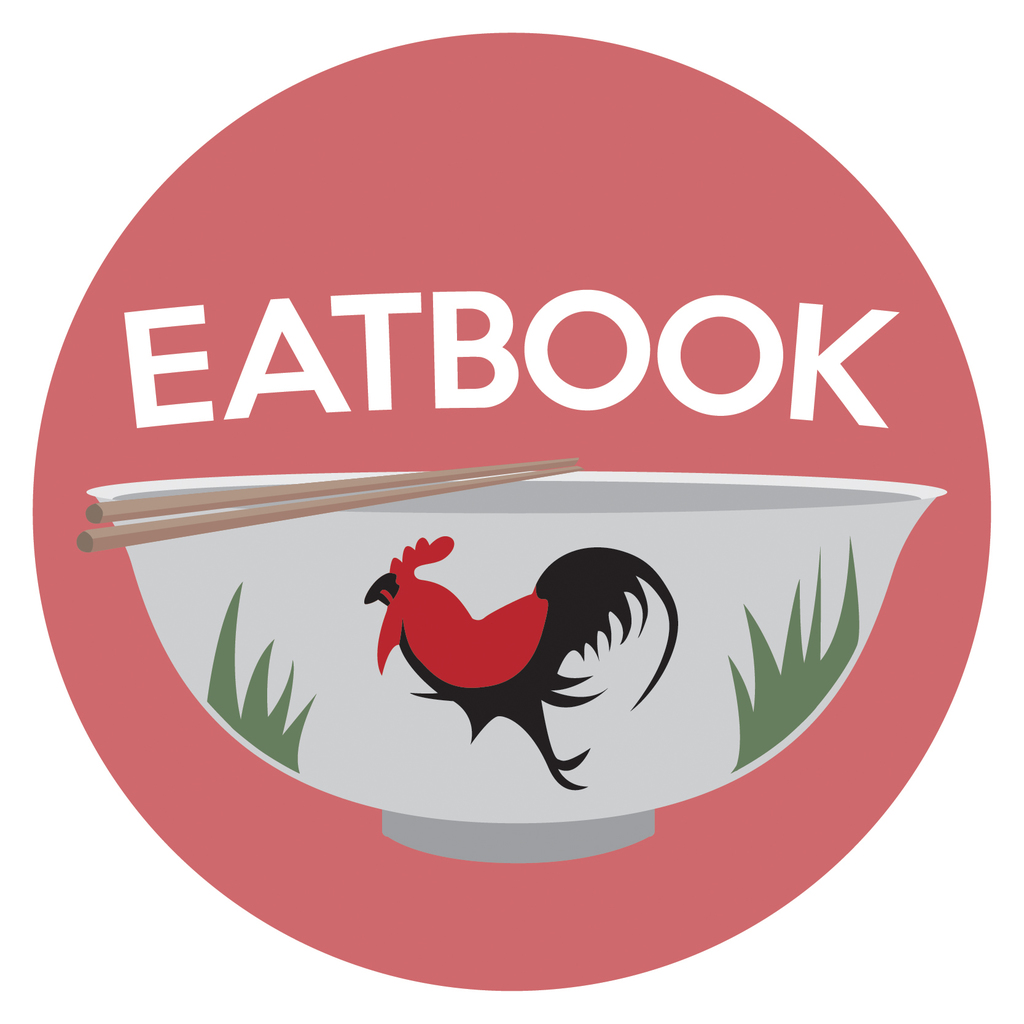 Drop us your email so you won't miss the latest news.