New seasonal spring menu at Sushi Tei
For quite some time, I've been looking to check off a picnic under Sakura cherry blossoms in Japan off my bucket list. Whilst unable to do so in the time being, I'm grateful for the presence of affordable Japanese food options available in Singapore to tide me over, with Sushi Tei one of the first that spring to mind. 
For the upcoming sakura season, they've concocted a menu designed to make you full of the joys of spring. It features the likes of Satsuma wagyu beef and camellia buri, a Japanese amberjack fish from Nagasaki. This menu is available at all Sushi Tei outlets islandwide.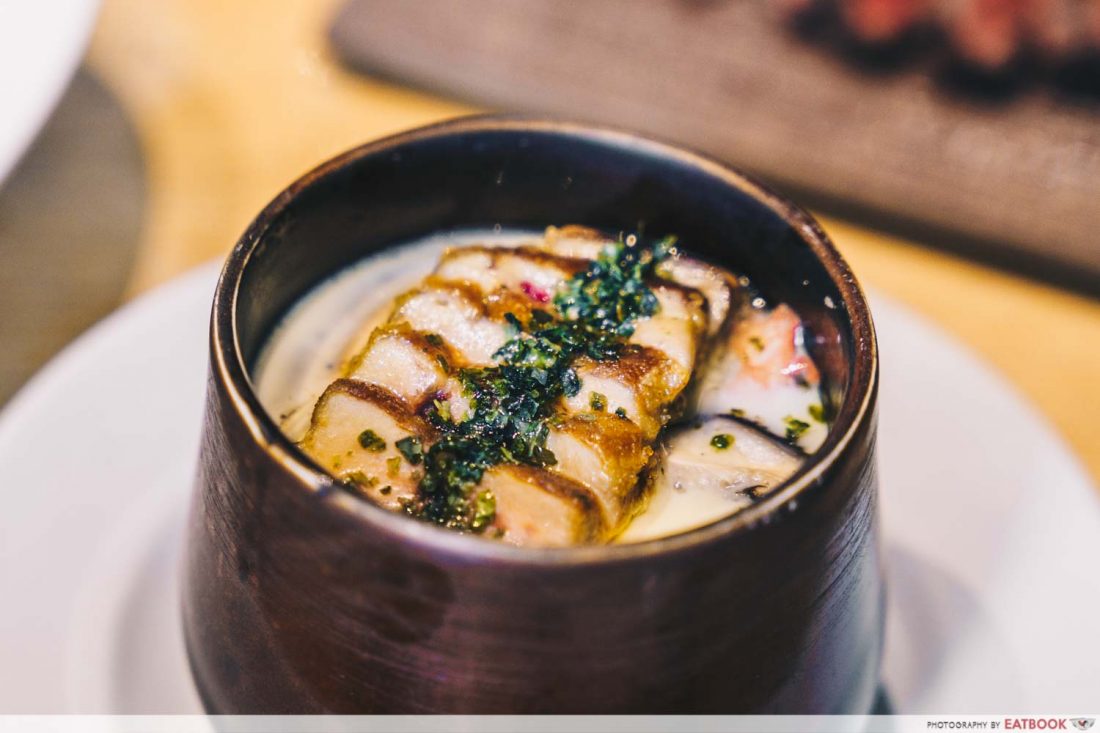 For starters, tease your palate with the Truffle Foie Gras Chawanmushi ($12.80++), a zhnged-up and decadent version of the Japanese egg custard dish. The extra thicc pan-fried foie gras topping was eye-opening, as it had a melt-in-your-mouth smooth and creamy texture while tasting pleasantly buttery, with a slightly crisp outer. 
The earthy truffle oil aroma was unmistakable, going really well with the rich foie gras and soft egg custard too. I could also identify shiitake mushrooms, actual crabmeat, and gingko nuts in the dish.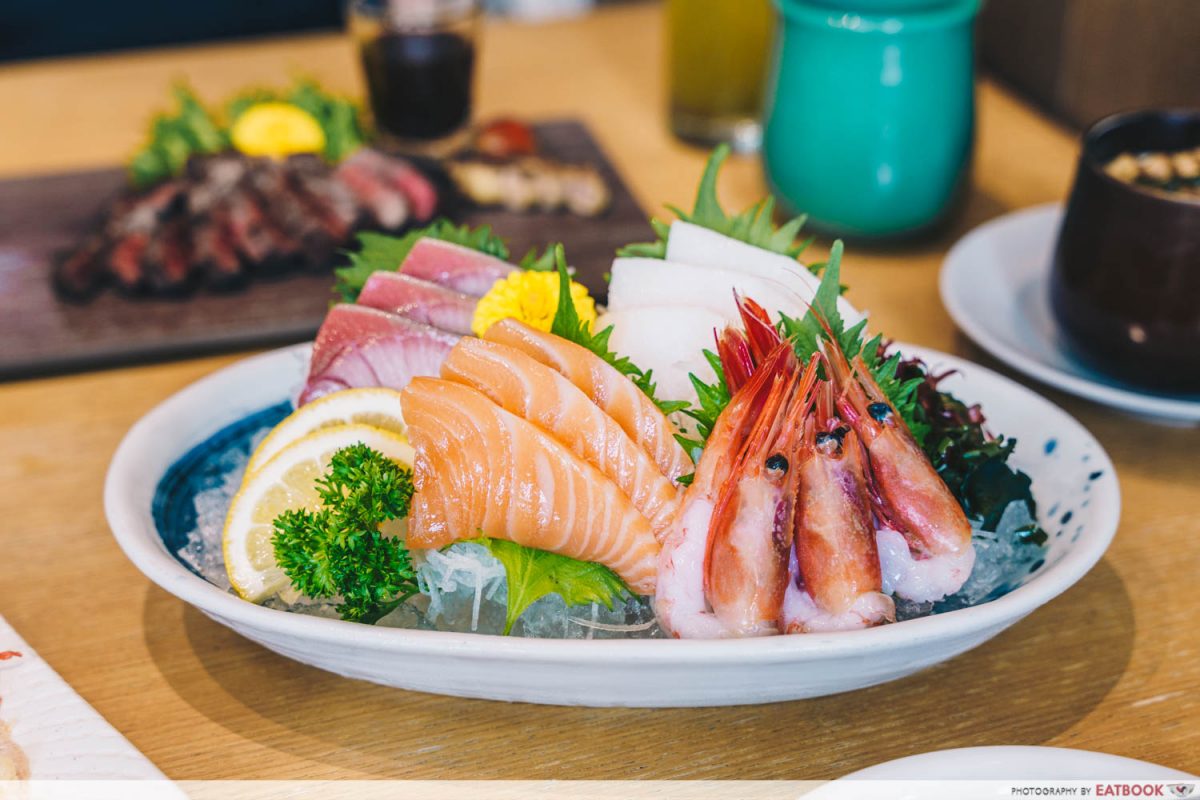 Their Sashimi Moriawase "Goto" 4 Kinds ($29.80++) didn't even have to fish for any compliments, as it had both the taste and variety factors covered nicely. The four heavenly kings of this dish would be salmon, sweet shrimp, swordfish and lastly, the special camellia buri. 
The "camellia" part comes from the fact that the fish is fed a camellia oil-rich diet beforehand. For those who don't know, camellia oil is really nourishing for your skin and brings down your cholesterol levels, due to the abundance of oleic acid, ideal for the health-conscious.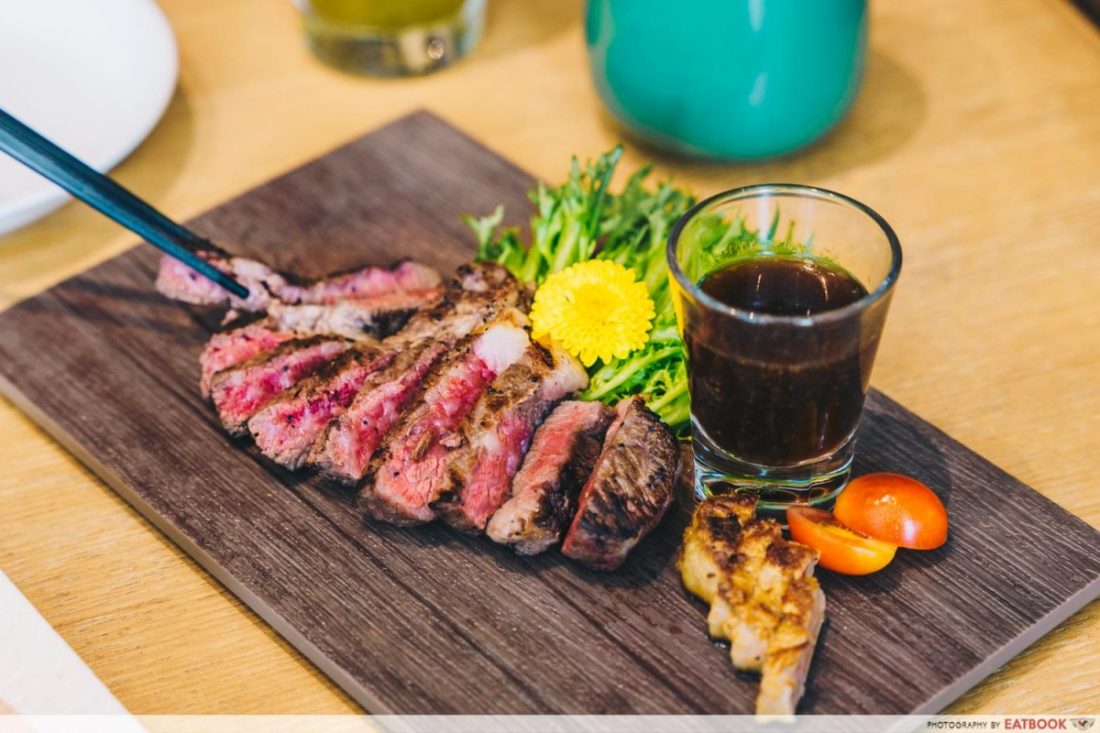 A hot crowd favourite would be the Satsuma Wagyu Steak Foie Gras ($33.80++), with the beef straight outta Mizusako Farm, which happens to be one of the biggest black cattle breeders in Japan. The juicy, succulent beef is served together with a portion of pan-fried foie gras and a shot glass of truffle steak sauce to go along as well.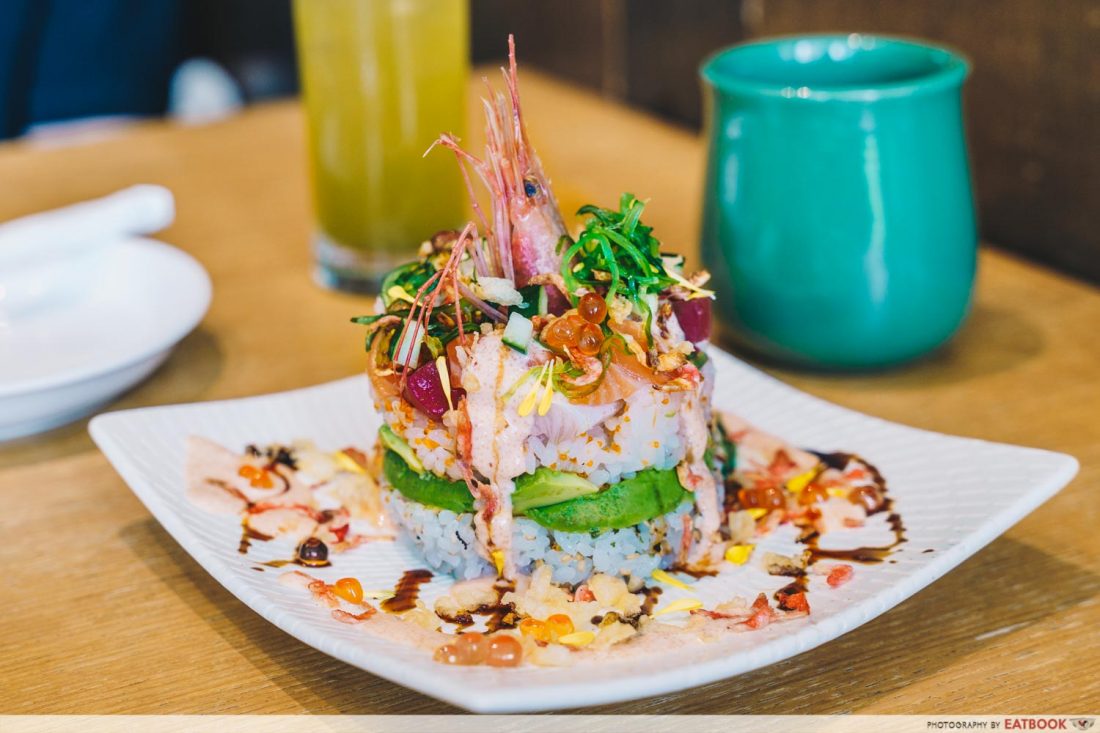 The IG-worthy Bara Chirashi Tower ($15.80++) is visually striking. Its unconventional stacked-up appearance is made possible with layers of vinegared sushi rice, avocado and sashimi placed on top of one another. The camellia buri makes its return here, concealed within the pile of mixed fresh fish. It is further decorated with slightly spicy mentai sauce and topped off with ikura fish roe to finish.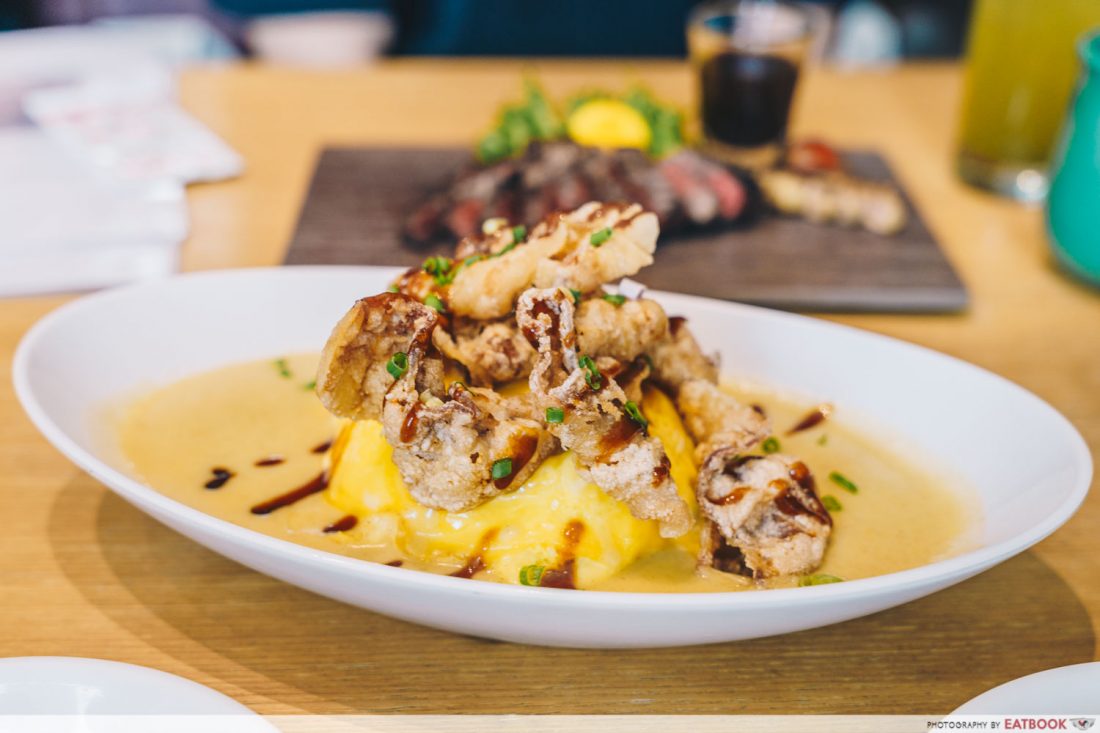 The Hokkaido-inspired White Curry Omurice ($15.80++) is delightful as well, with the highlight being the crunchy pieces of fried Kagoshima pork belly that remind me of fried pork scratchings. Encased in the fluffy omelette is a tangy tomato fried rice, drenched in a savoury white curry. A teriyaki-like brown sauce is splattered over the slices of pork belly, giving the dish a pleasantly sweet finish.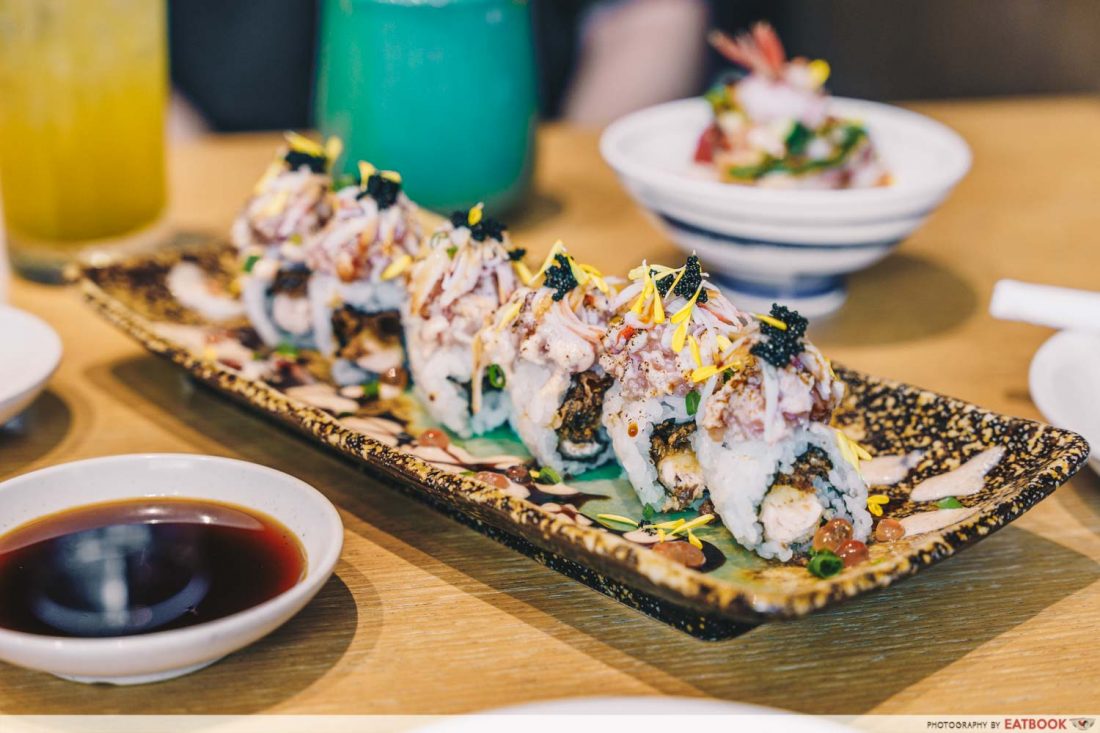 If you're still itching for sushi, count on the Kaisen Blossom Roll ($14.80++) as an ideal accompaniment to your meal. Other than a predominantly crispy fried salmon filling, you also enjoy a selection of seafood such as camellia buri, caviar, and cod roe mayonnaise as well.
A happy ending to your meal is their Edamame Cream Puff ($7.80++), with legit edamame bits in the cream. Best thing is they are air-flown straight from Japan!
Keisuke Chicken Yakiniku Tori Yaro Review: Chicken Yakiniku From $3.90 In A Kopitiam
If you're looking for other types of Japanese food around, check out our Keisuke Chicken Yakiniku Tori Yaro review for chicken yakiniku starting at $3.90 at a Geylang kopitiam. Alternatively, for those with a sweet tooth, read our Okada Coffee And Sweets review for Japanese-inspired desserts and drinks like coffee jelly and sweet potato latte around Katong.
Okada Coffee And Sweets Review: Japanese-Inspired Cafe With Coffee Jelly, Mont Blanc And Sweet Potato Latte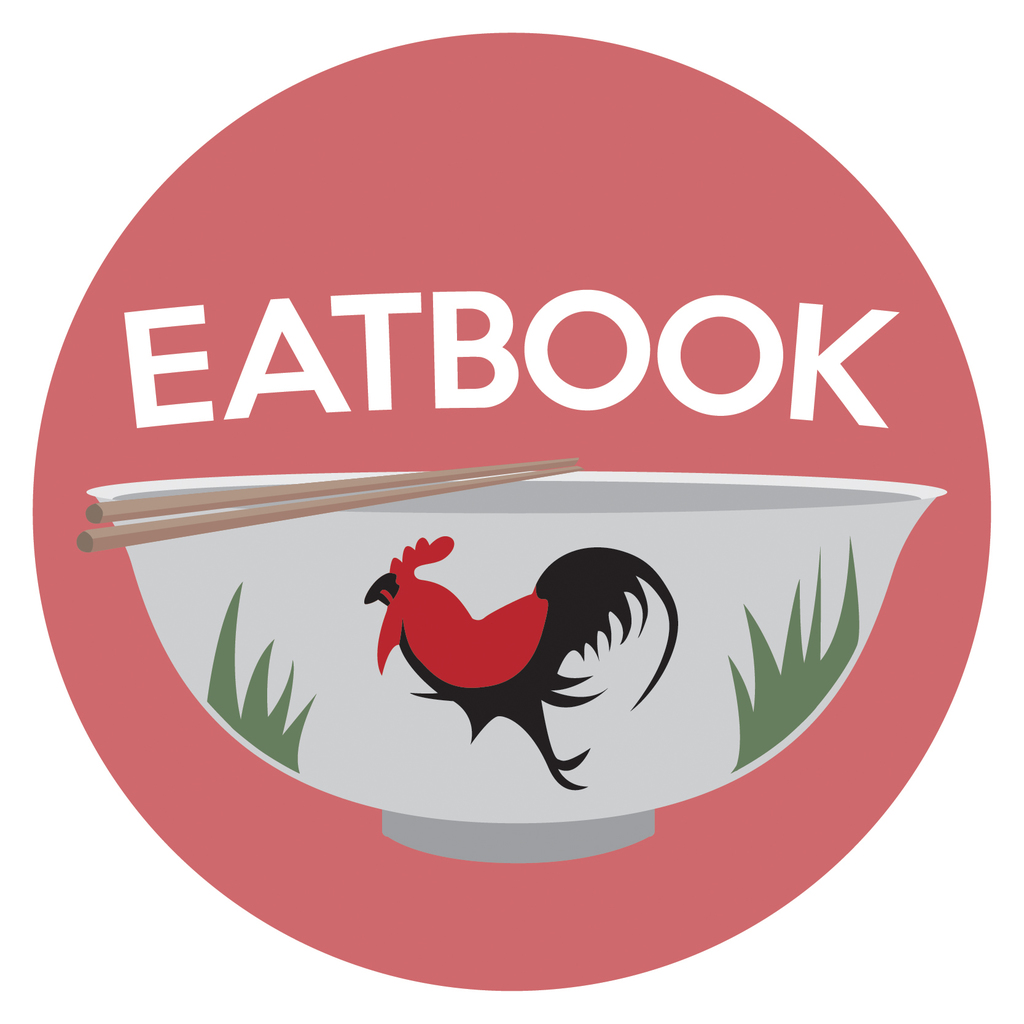 Drop us your email so you won't miss the latest news.