Keisuke Chicken Yakiniku Tori Yaro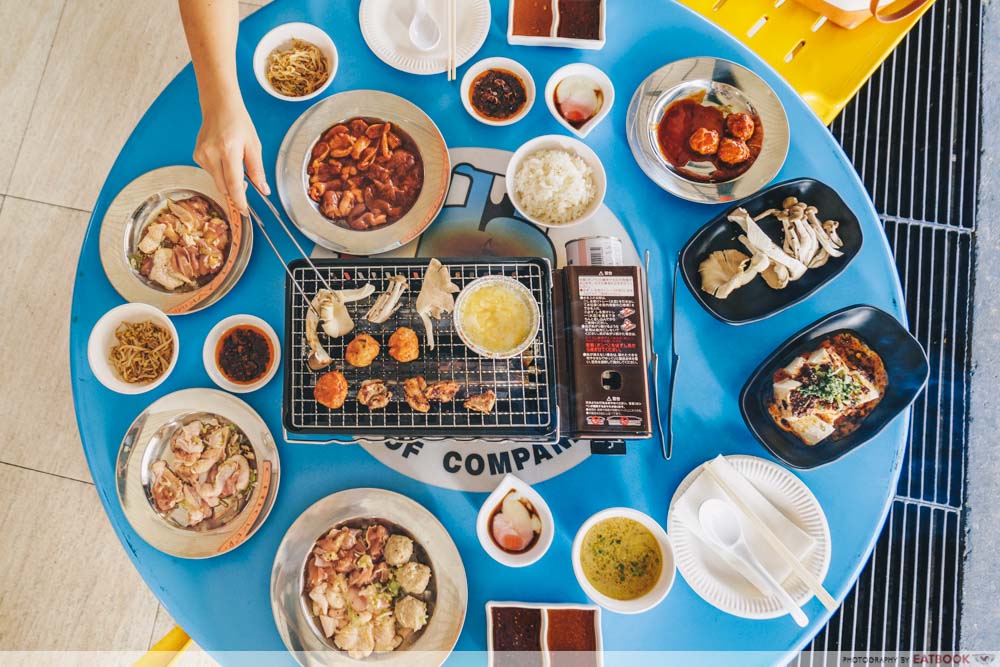 We were taken by surprise last year when Yakiniku Warrior broke into the kopitiam dining scene, introducing Japanese grilled meats to Singapore's UNESCO-recognised hawker culture. This year, the Keisuke Group, better known for their ramen restaurants, followed suit with Chicken Yakiniku Tori Yaro, a chicken-only grill stall in the heart of Geylang.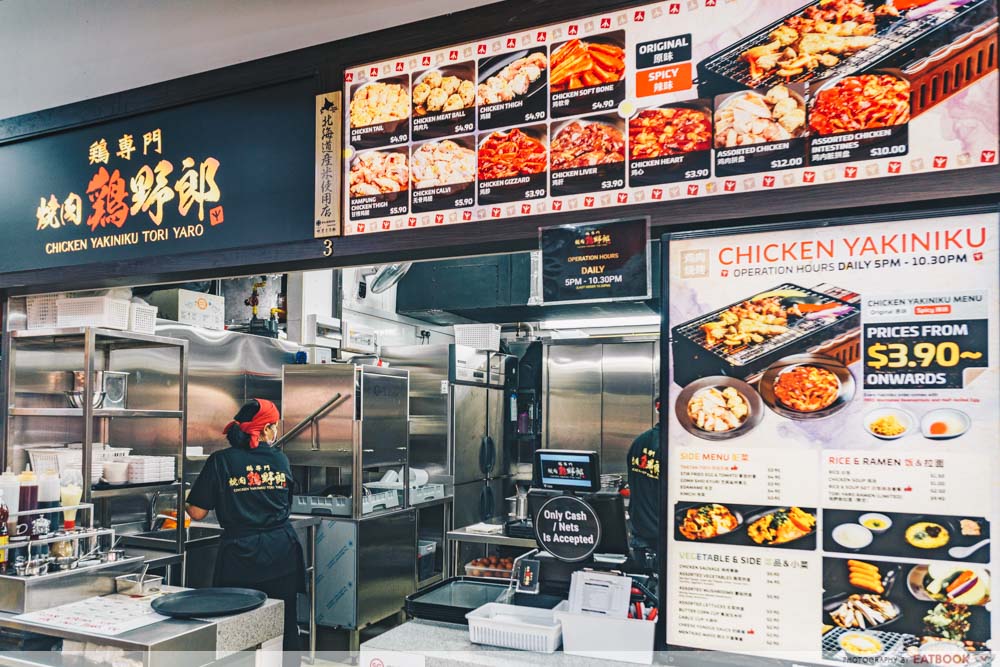 My interest was piqued when I heard that this speciality stall would only serve chicken, which is unlike other yakiniku joints that serve mostly beef and pork. I wondered if the selection would be satisfying, whilst heading down with my colleague to give it a shot.
Food at Keisuke Chicken Yakiniku Tori Yaro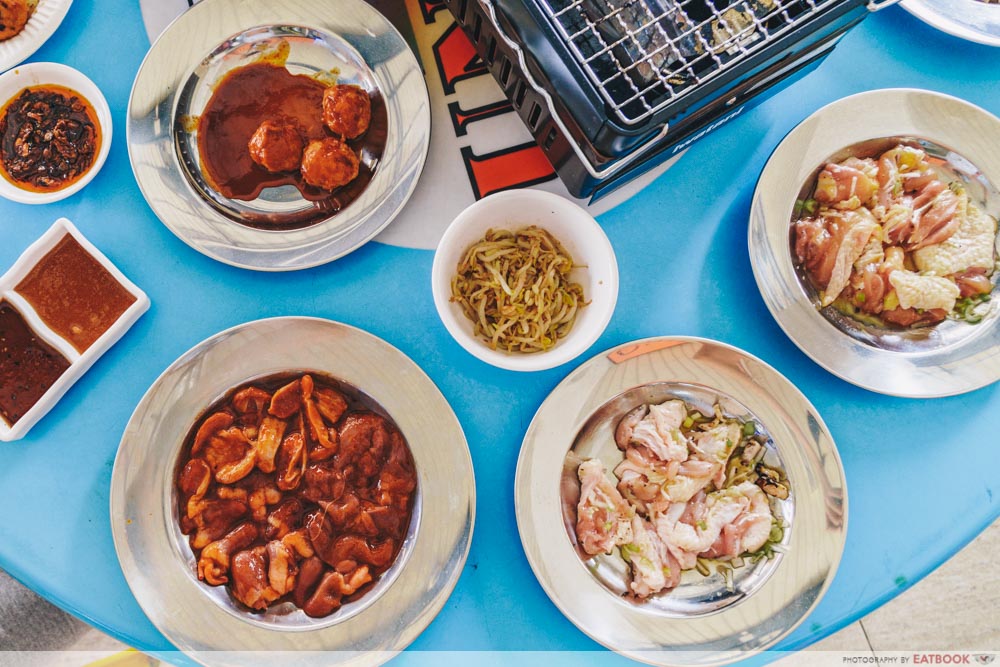 The menu here is succinct, with only nine assorted chicken bits up for choosing. These range from 100g-portions of Chicken Thigh ($4.90/$5.90), boneless wings aka Chicken Calvi ($5.90), and Chicken Tail ($4.90), and inside bitties such as Chicken Liver ($3.90). There's also Chicken Soft Bone ($4.90), which wasn't available when we were there.
To make things easier, they've curated two platters: Assorted Chicken ($12), and Assorted Chicken Intestines ($10). The former gives you 70g each of chicken thigh, tail, and meatballs; the latter comes with 70g each of liver, heart, and gizzard.
You get to opt between an original marinade and a spicy alternative, of which I much preferred the original. Each order comes with a serving of Keisuke's trademark marinated beansprouts and an onsen egg.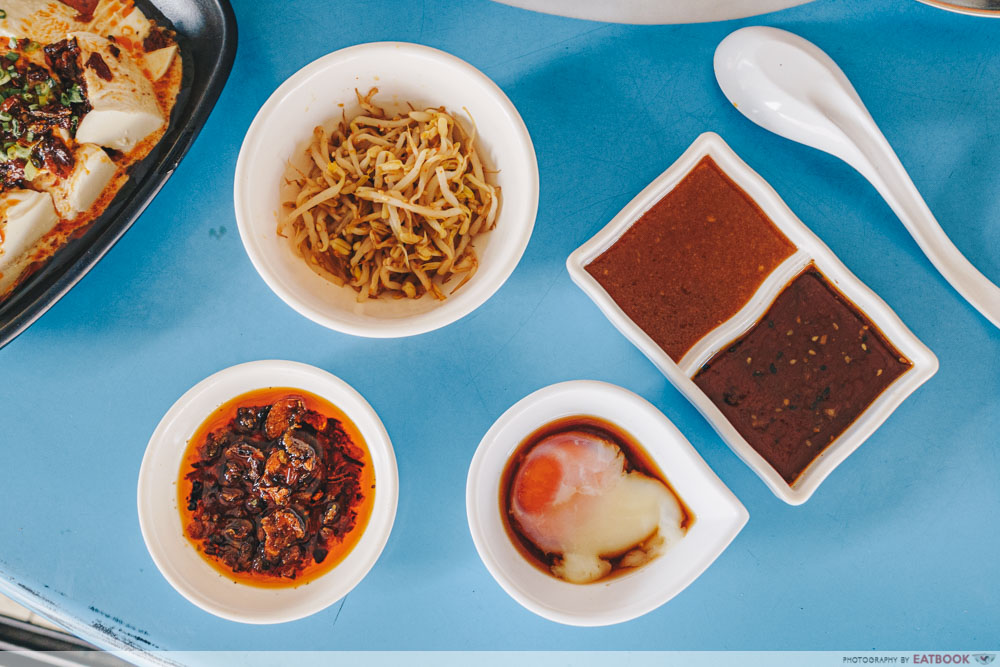 This egg was specially selected for its luscious orange-red yolk, and tastes richer than your regular egg. Also complimentary are the house-made Original Yakiniku Sauce, Special MISO Yakiniku Sauce, and a particularly toothsome chilli oil that's loaded with ultra-crispy garlic and shallots.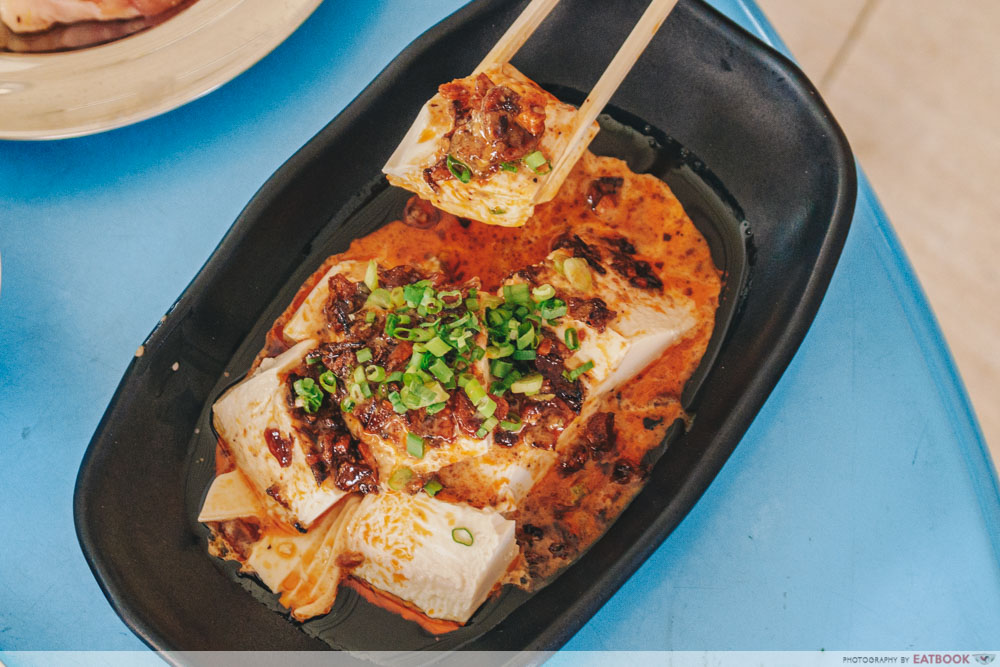 I was thrilled to see the chilli oil feature in this Tantan Tofu ($3.90), a chilled dish that is a nice palate refresher in between the grilled meats. As its name suggests, it's inspired by tantanmen, with a sesame-based sauce dressed with the moreish chilli oil.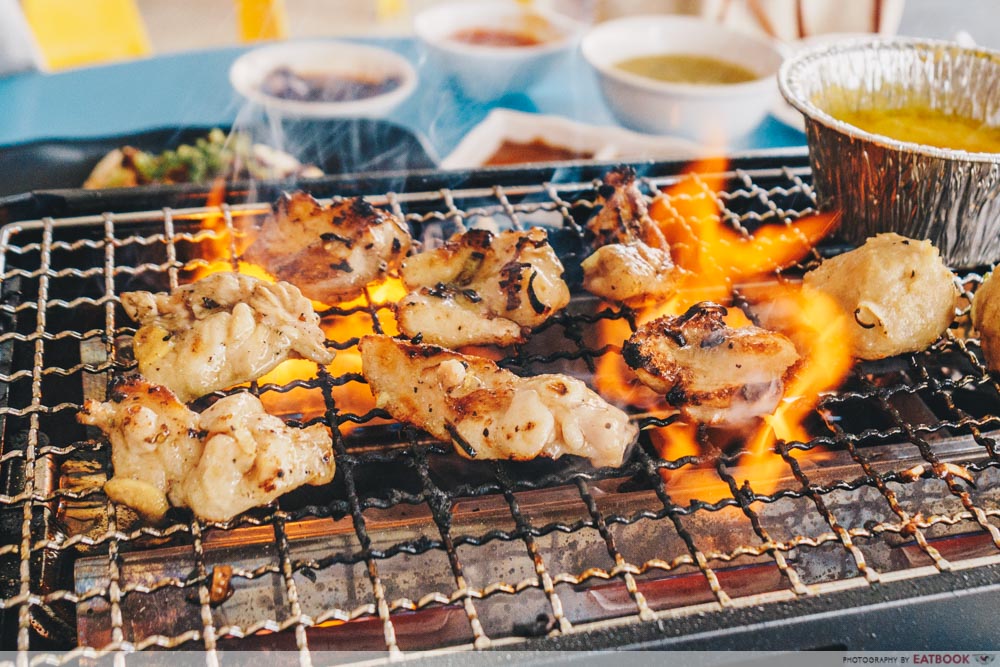 The grill at Chicken Yakiniku Tori Yaro is powered by disposable gas canisters, that gets rather hot. It flames up as well, when the fat drips onto the heating elements, so it's best to maintain a watchful eye on your meat. This is especially so with the chicken tail and chicken calvi, which come with lots of skin.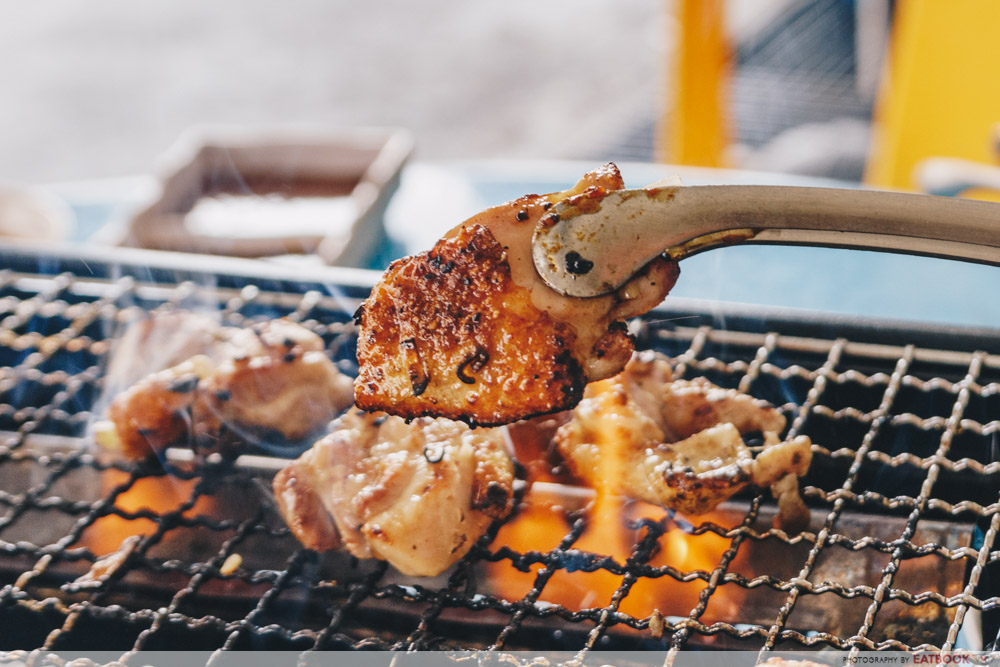 My favourite part of the meal was definitely the Kampung Chicken Thigh ($5.90), which had firmer meat that came with just the slightest bit of chewiness you can't get from non-kampung chickens. Lightly fragranced with the negi-shio marinade, it tasted sublime when slightly charred.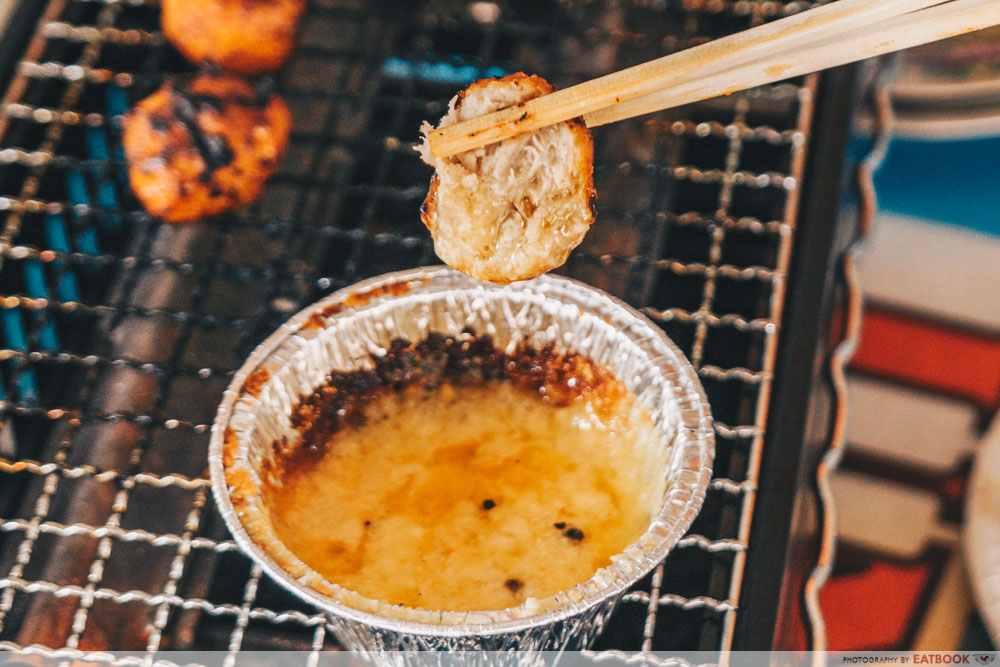 I was slightly disappointed with the Chicken Meat Balls ($4.90), which was rather soft, and almost mushy in texture. I also didn't find the Cheese Fondue Sauce ($2.90) very essential to my dining experience, although the mix of mozzarella, red, and yellow cheddar with milk might be pleasing to some.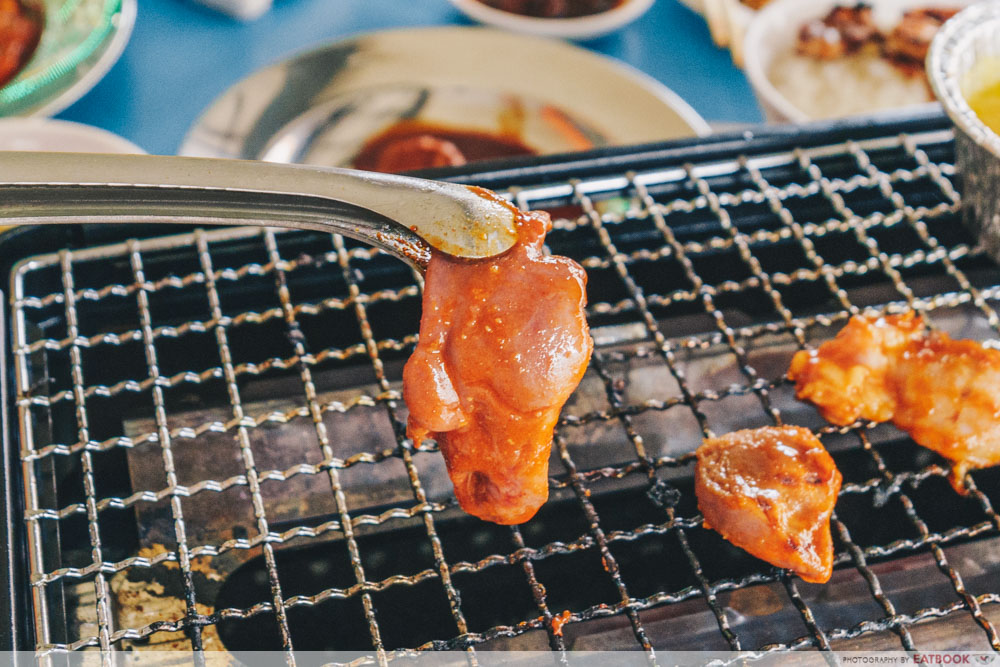 I'm no innard-guzzler, but I gave the ones here a go. They didn't convert me, but I can say that it wasn't an unpleasant experience. They tasted fresh when grilled well. I'd recommend having these with the spicy marinade.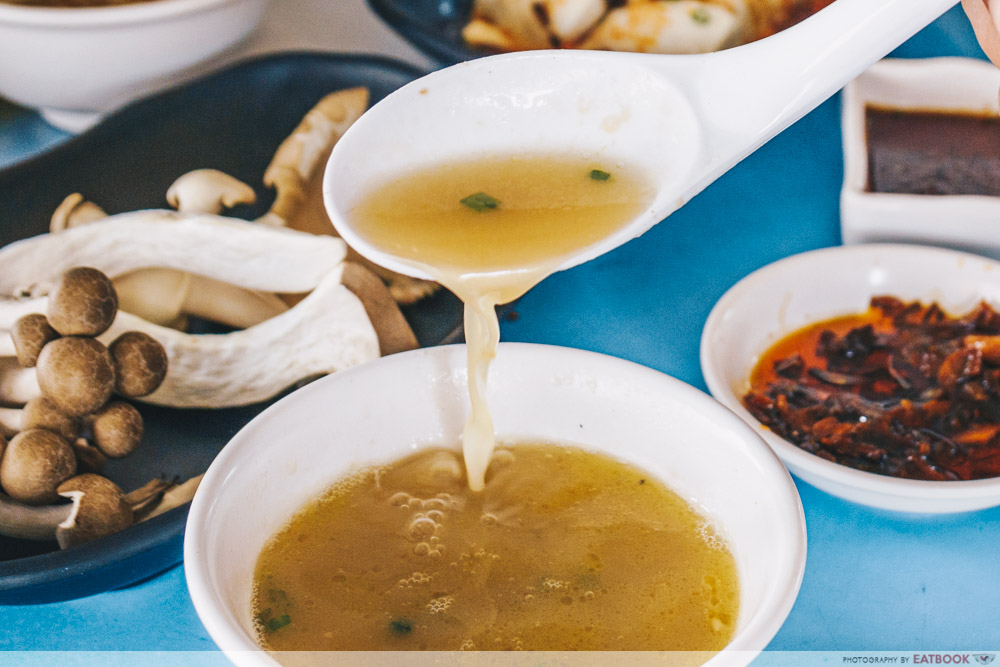 Do yourself a favour and order a Rice & Soup Set ($2.50), or just get the Chicken Soup ($1). If you're a fan of Keisuke's chicken ramen at 100AM, that's the same collagen-rich, chicken-based broth you'll get here. Alternatively, get the Tori Yaro Ramen ($9.90) that's essentially that same ramen, without the drumstick. Do note that there are only 50 bowls of this ramen available here daily.
Ambience at Keisuke Chicken Yakiniku Tori Yaro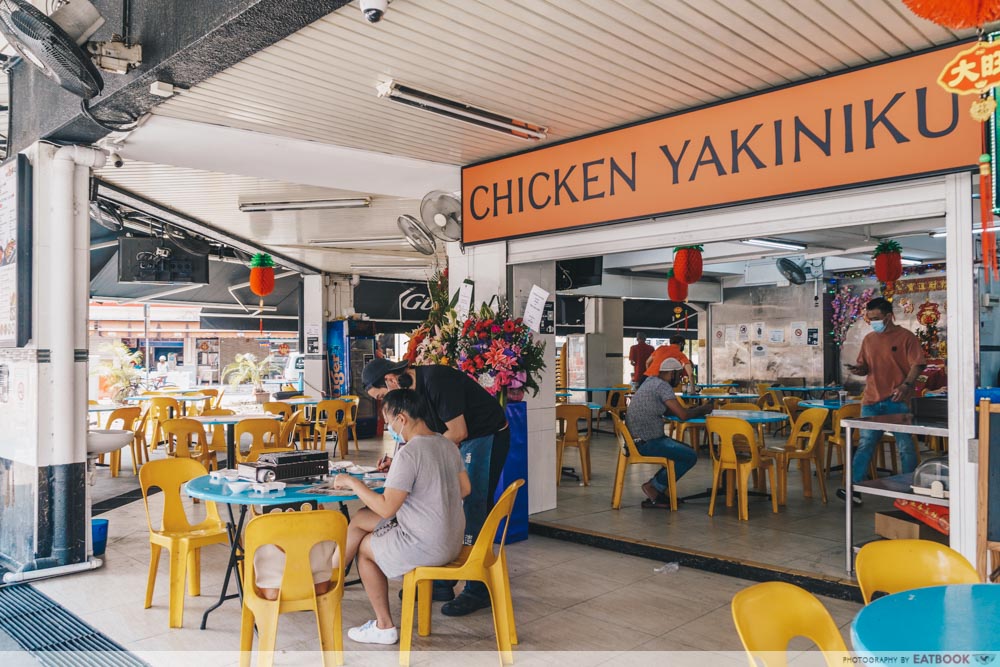 Chicken Yakiniku Tori Yaro is an eight-minute walk away from Aljunied MRT Station, but this walk is not sheltered. The coffeeshop is the corner unit on the first floor of Yinchuan Building, with a spacious expanse for al fresco dining.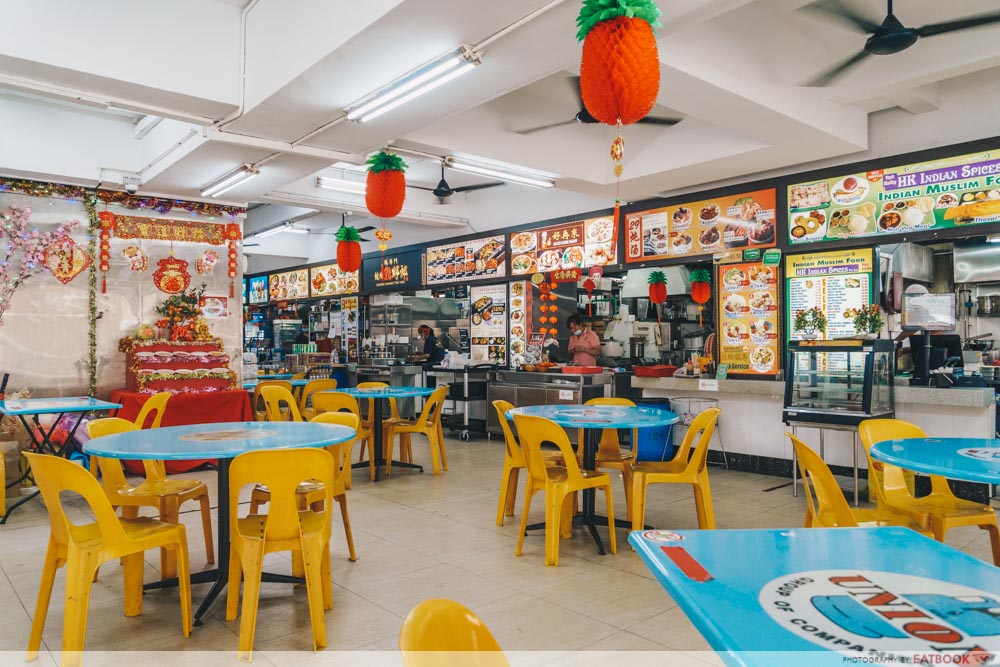 Due to the smoky nature of yakiniku, you're not allowed to sit inside the kopitiam. The semi-al fresco seats are limited, and some are only shaded partially by awnings. This might pose a problem if there should be a surprise shower, so it's probably best to go earlier to get a good seat!
Yakiniku-GO Review: Yakiniku Joint In Seletar Mall Has Grilled Meats From $2.90++
The verdict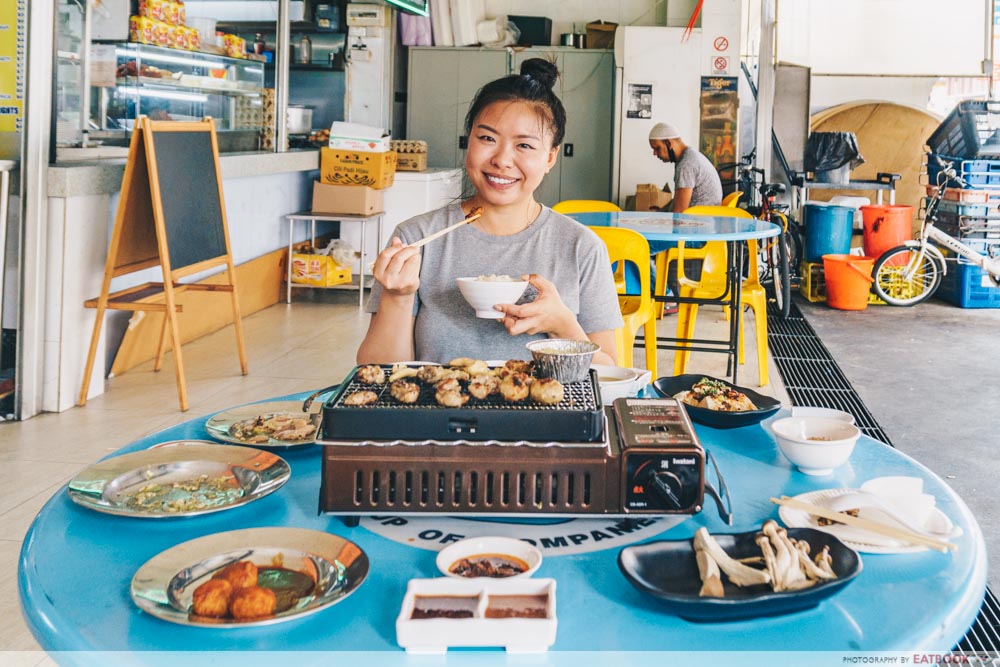 It was a novel experience having yakiniku in a coffeeshop. I really enjoyed the original marinade on the chicken, especially dipped with the Special MISO Yakiniku Sauce and the extremely fragrant housemade chilli oil.
With such low, wallet-friendly prices, Chicken Yakiniku Tori Yaro would be a great casual hangout for small groups of friends. It's also why I would close one eye with regards to the chicken meat ball, especially when the rest of the items I had were more than acceptable, even more so when you consider the low prices.
If you'd still prefer air-conditioned comfort, Yakiniku-GO at Seletar Mall also has affordable yakiniku! Otherwise, consider Yakiniku Warrior, which pioneered the concept of yakiniku in a kopitiam.
Yakiniku Warrior Review: Singapore's First Yakiniku In A Coffee Shop Has Barbecue Meat Platters From $6
Address: 2 Lorong 29 Geylang, Stall 3, Yinchuan Building, Singapore 388058
Opening hours: Daily 5pm to 10:30pm
Tel: 9720 3997
Website
Keisuke Chicken Yakiniku Tori Yaro is not a halal-certified eatery.
Photos taken by Syamira Rohaizad.
This was a media tasting at Keisuke Chicken Yakiniku Tori Yaro.
Keisuke Chicken Yakiniku Tori Yaro Review: Chicken Yakiniku From $3.90 In A Kopitiam
Keisuke Chicken Yakiniku Tori Yaro Review: Chicken Yakiniku From $3.90 In A Kopitiam -

7.5/10
Summary
Pros
– Tasty original marinade
– Wallet-friendly prices
– Chilli oil and Tantan Tofu are very fragrant
Cons
– Slightly inconvenient to access
– The menu only has chicken
– Chicken Meat Ball felt storebought
Recommended dishes: Kampung Chicken Thigh ($5.90), Assorted Chicken ($12), Tantan Tofu ($3.90)
Opening hours: Daily 5pm to 10:30pm
Address: 2 Lorong 29 Geylang, Stall 3, Yinchuan Building, Singapore 388058