Okada Coffee And Sweets near Katong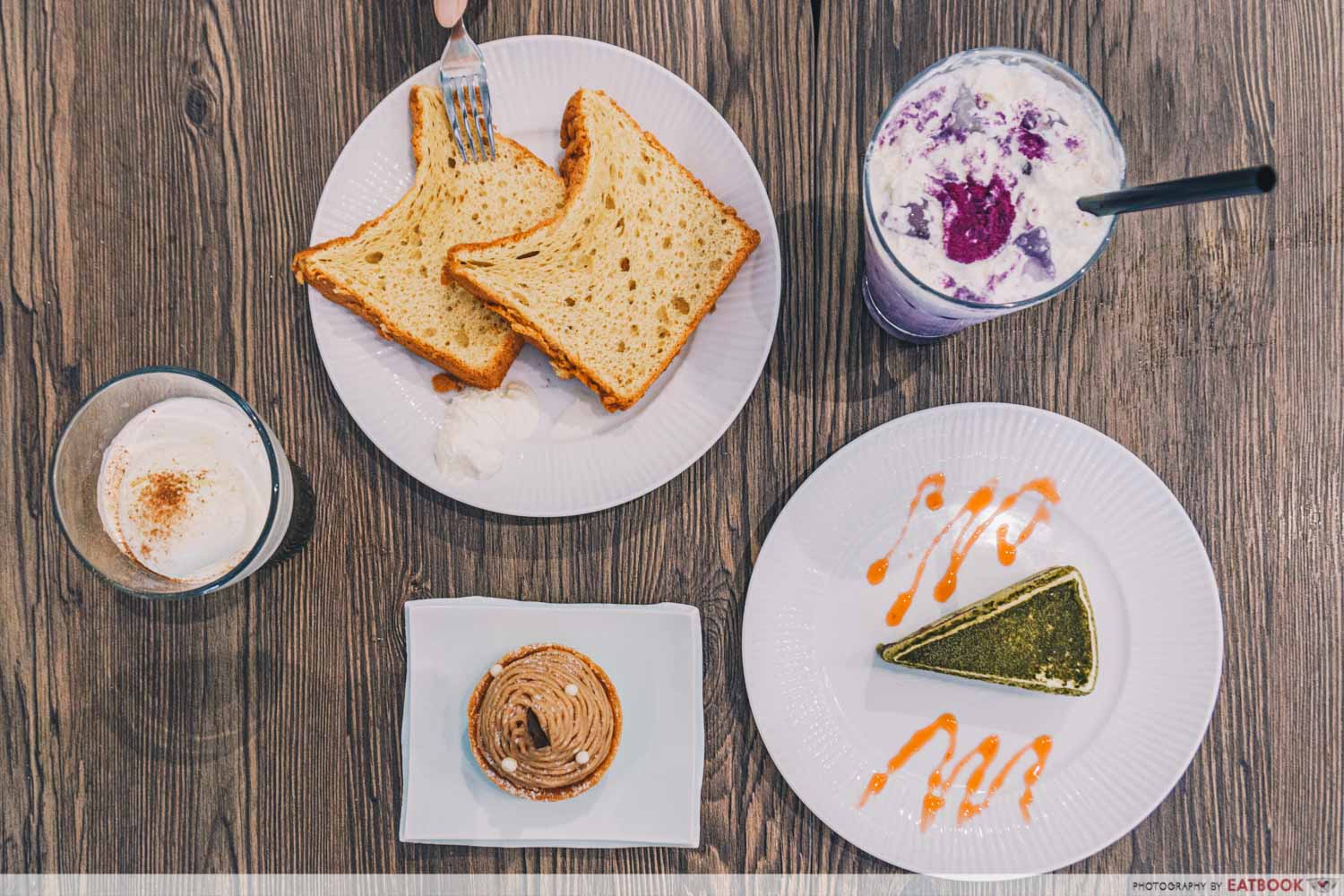 Desserts are my weakness, so I was pumped to visit Okada Coffee And Sweets, ready to plough through their sweets-centric menu. Tucked behind the charming streets of Katong, this Japanese-inspired cafe is also known for its coffee, perfect for a coffee-lover like me.
15 Best Coffee Cafes In Singapore, Including Local Roasters To Get Coffee Beans From
Food at Okada Coffee And Sweets
We started the meal with their signature Coffee Jelly With Ice Cream ($5.50). This dark-coloured jelly was served in a glass cup, with a scoop of vanilla ice cream on top.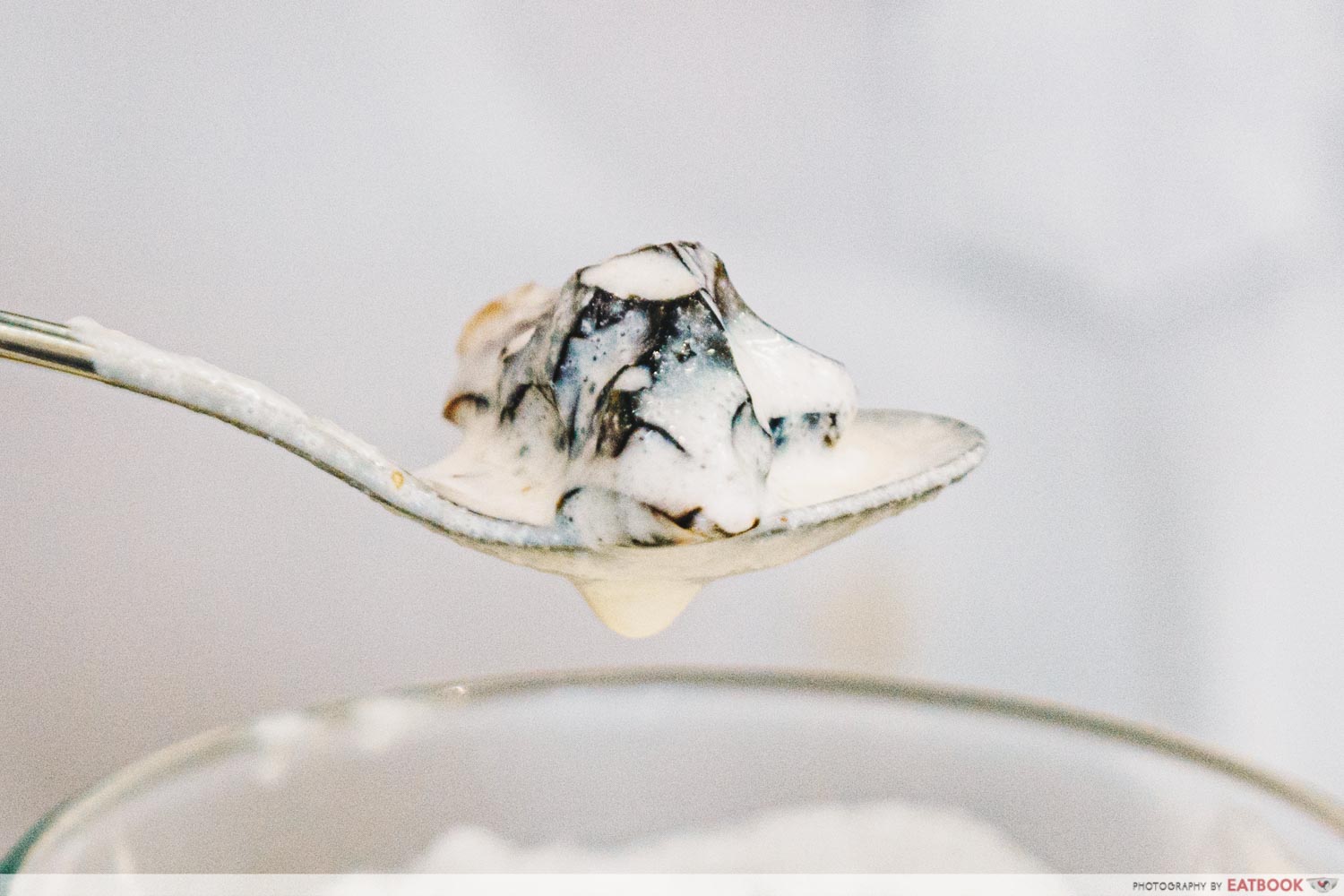 Being a caffeine addict, this dessert was really up my alley, as the jelly dissolved in my mouth with a strong coffee flavour. Any lingering bitterness was cut by the sweet vanilla ice cream, resulting in a well-balanced bite.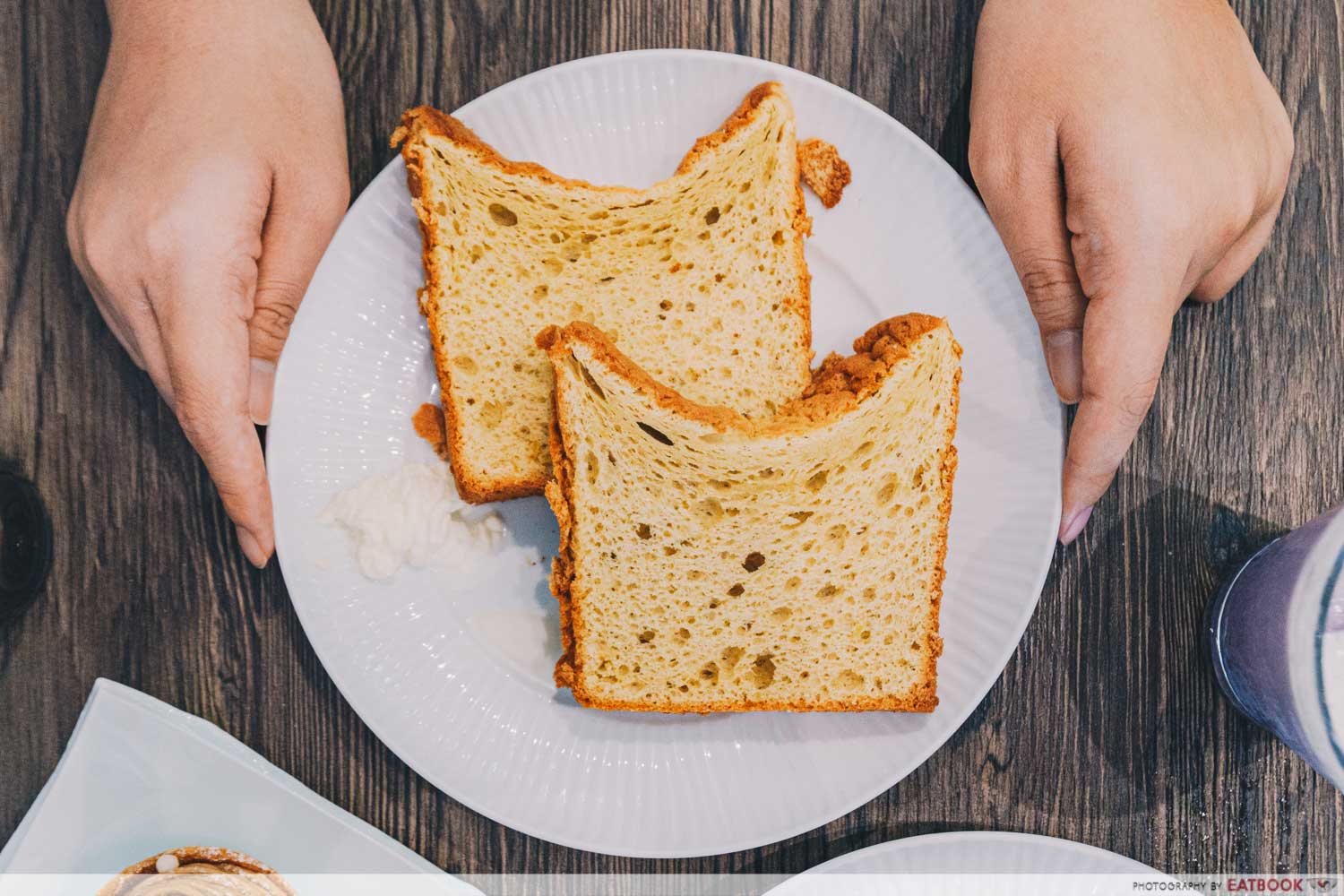 After the success of the coffee jelly, I was disappointed by their house-made Pillow Cake ($4). At first glance, this cake greeted me with an airy, sponge-like texture that reminded me of bread, nothing like the fluffy chiffon cake I was expecting.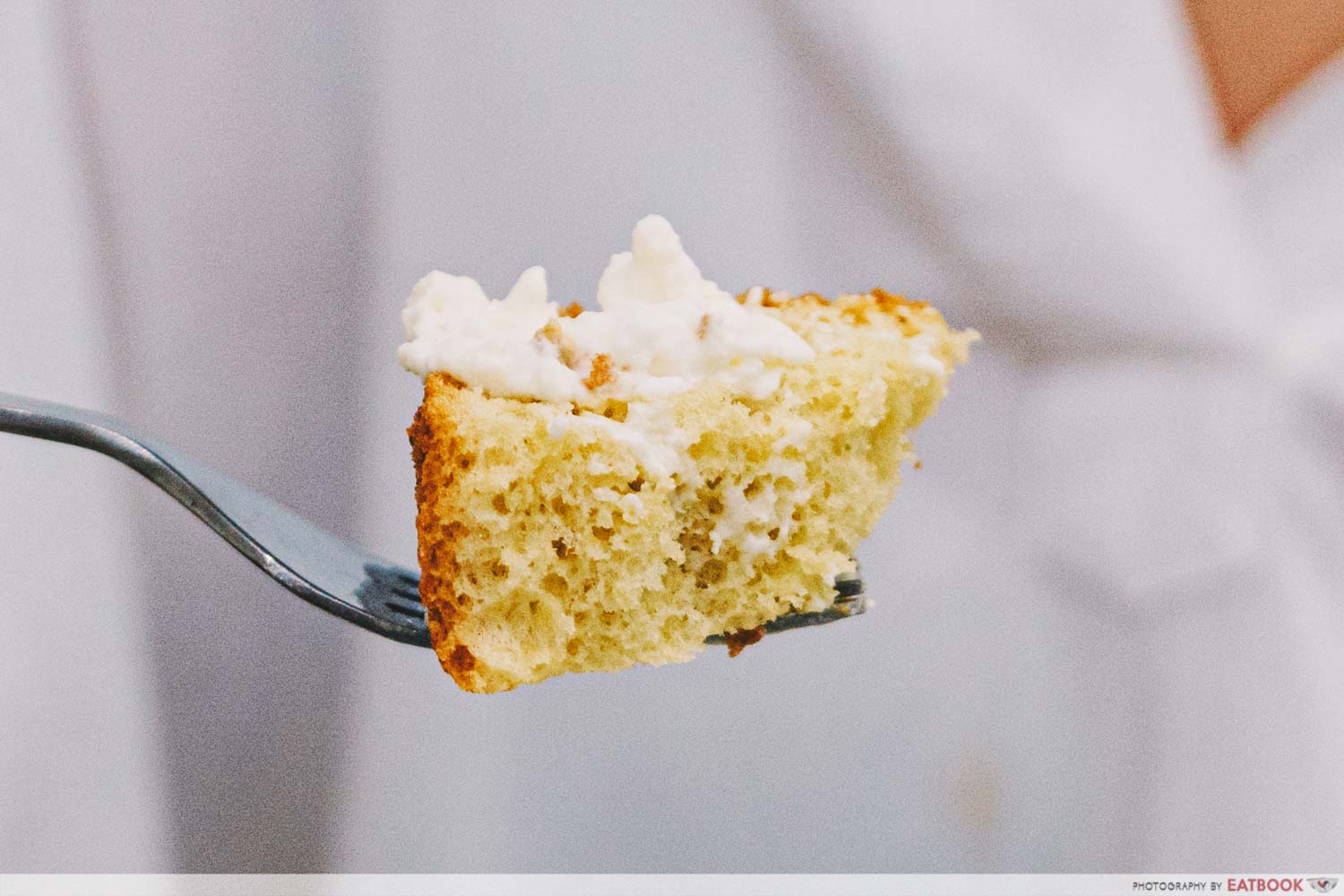 Taking a bite confirmed its appearance, as the pillow cake felt dry, much like stale bread. Flavour-wise, it was mildly sweet, with hints of butter and brown sugar, elevated by the accompanying cream.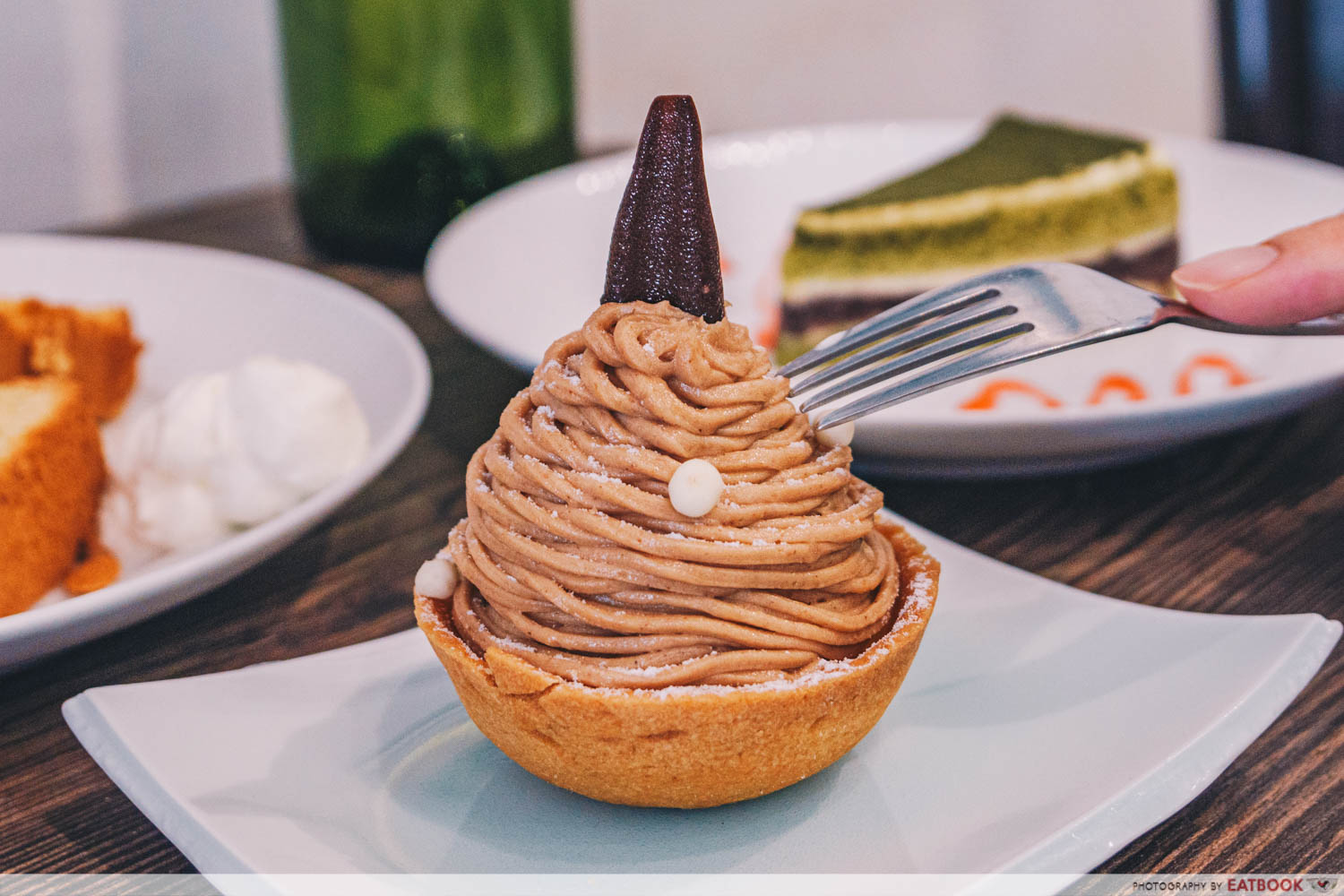 We moved on to the Mont Blanc ($8), which sported swirls of brown-coloured chestnut cream atop a firm tart base, embellished with white sugar pearls.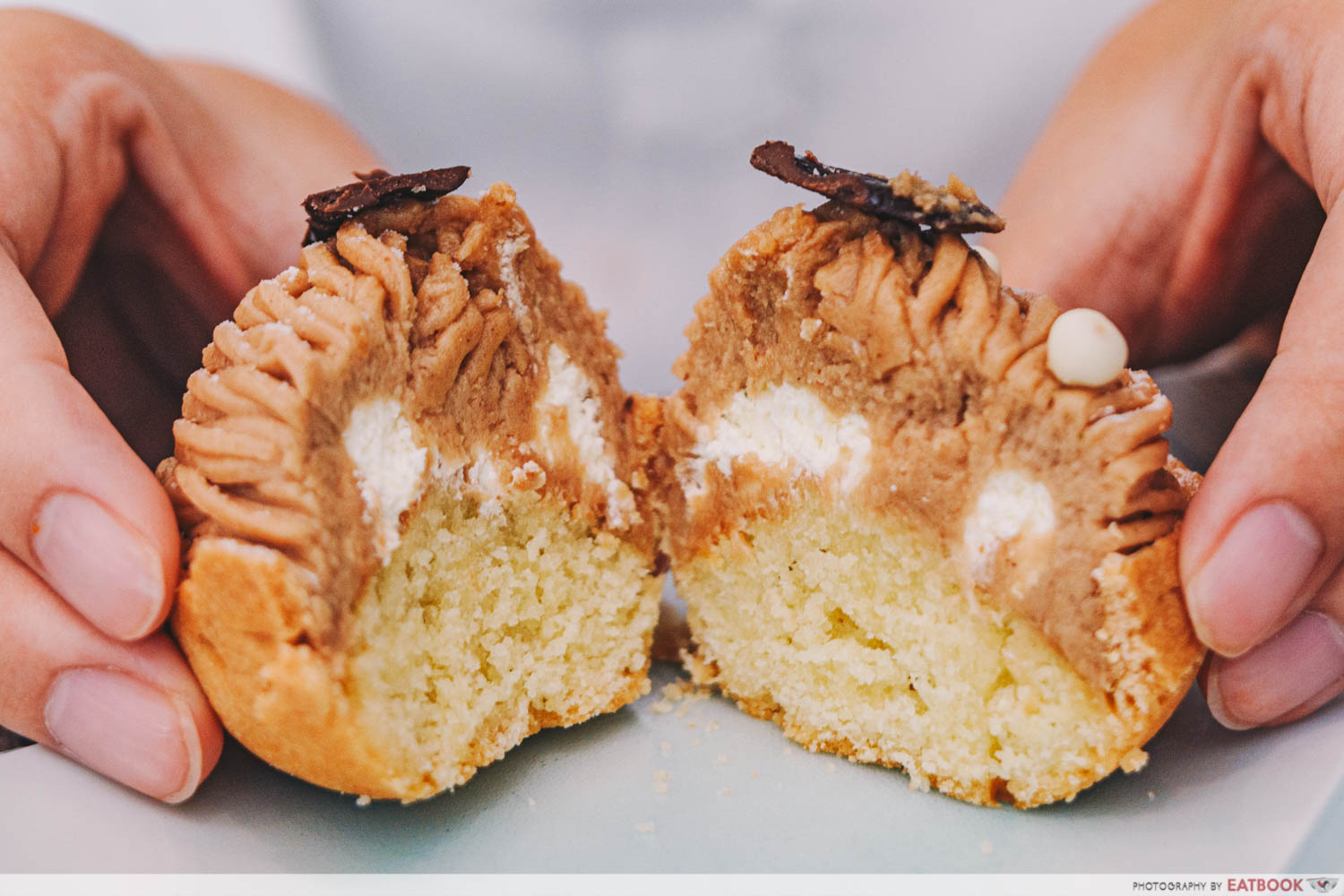 This came with puffs of whipped cream and chestnut bits within, visible only after we dissected the tart. The cream felt surprisingly light. However, the chestnut flavour was very subtle, mostly obscured by an artificial sweetness. Meanwhile, the tart base was difficult to cut through, and too hard for my liking.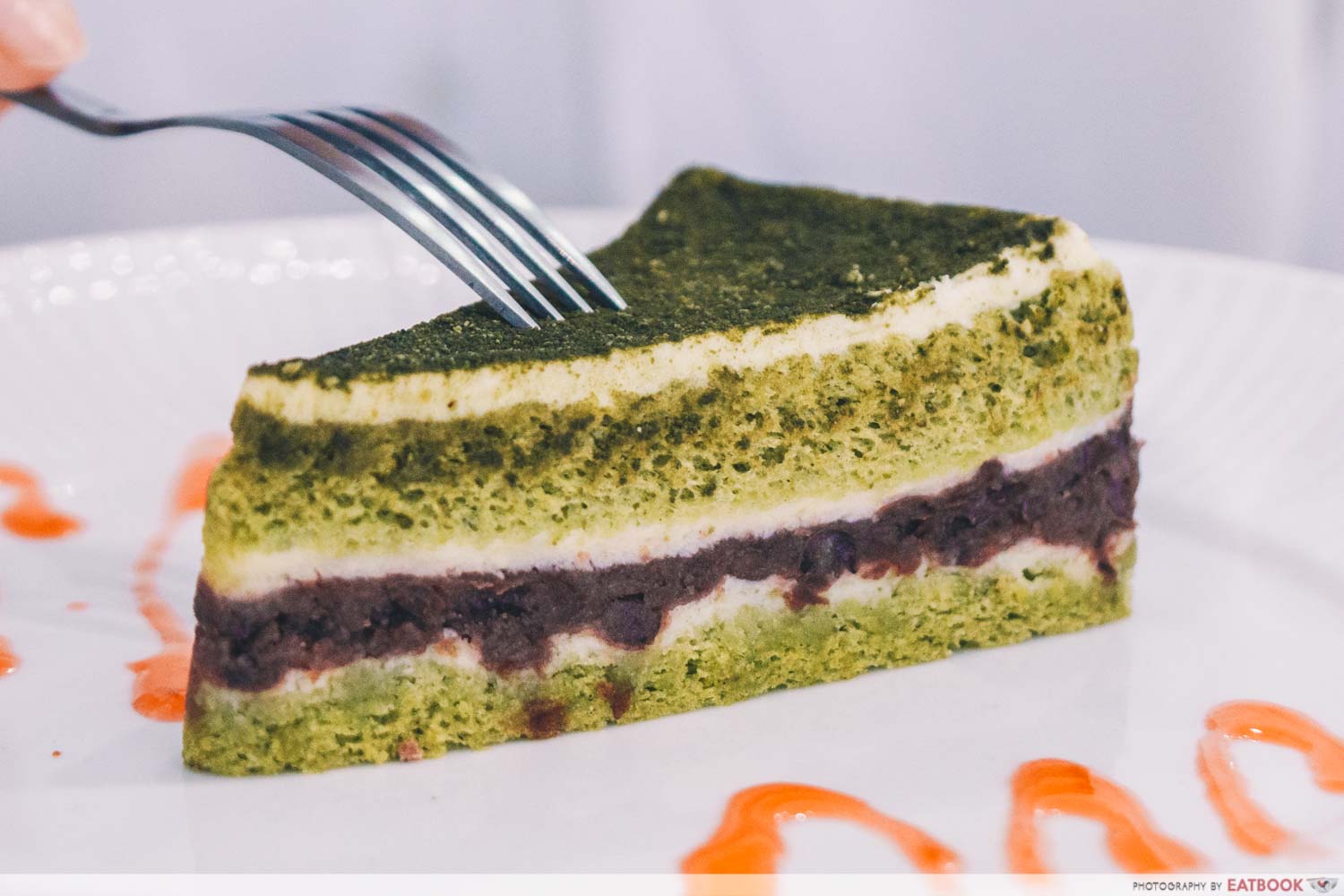 The last of our sweets was the Matcha Red Bean Cake ($6.40), layered with matcha sponge, matcha cream, and red bean paste.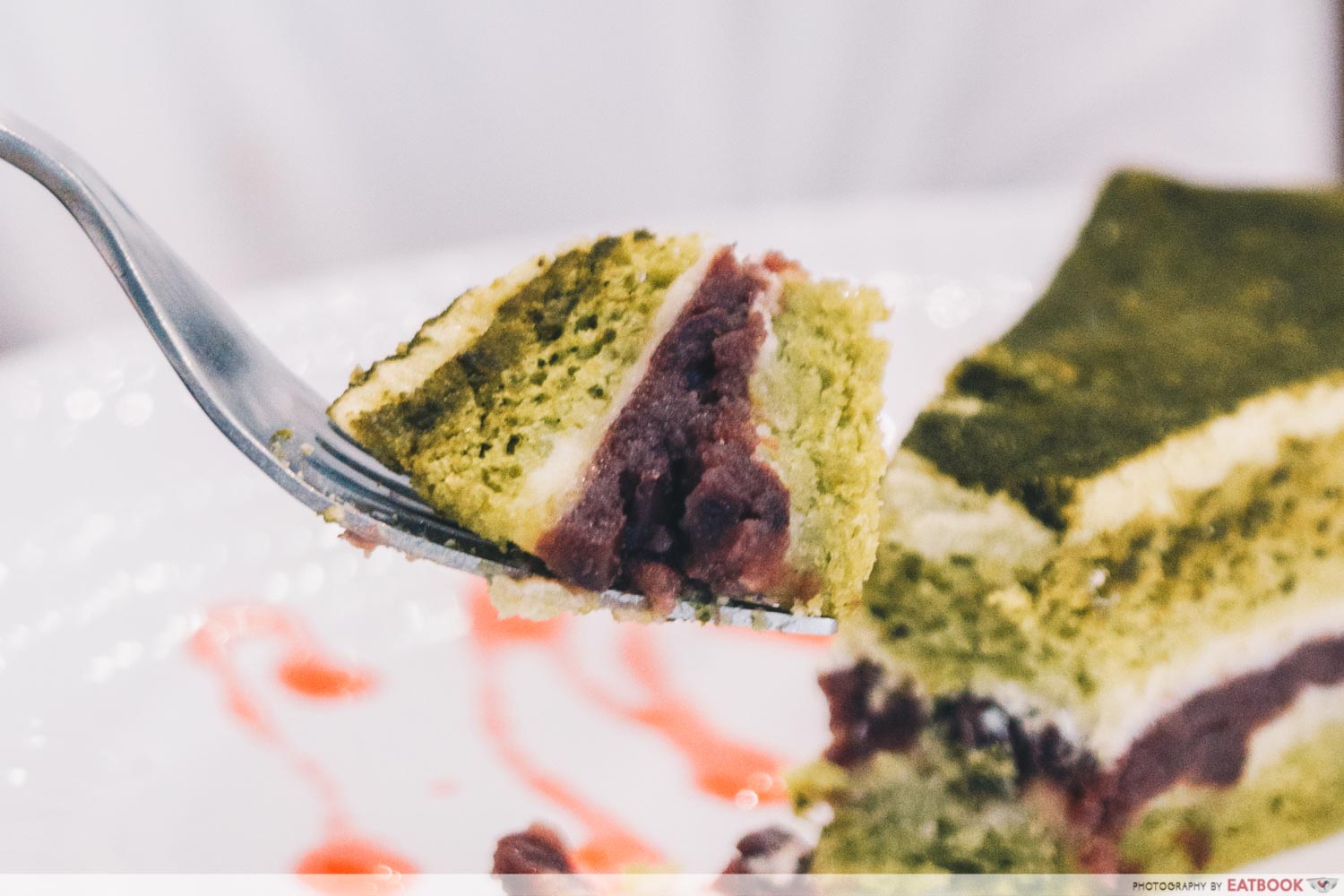 While the sponge cake felt dry, the matcha flavour was distinct, bringing a nutty fragrance and slight bitterness to the dessert. I also enjoyed the red bean paste, which complemented the matcha well.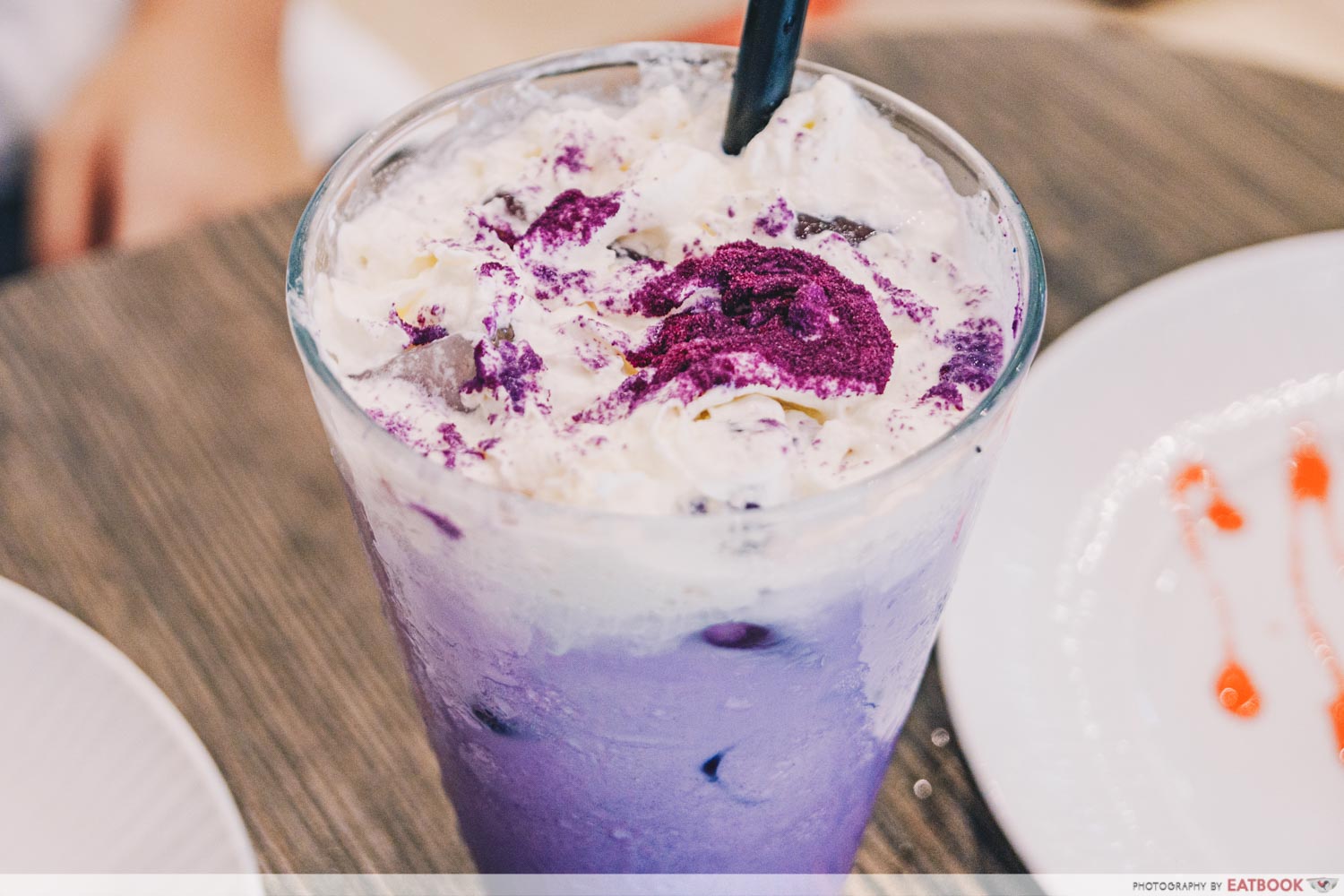 To wash everything down, my colleague and I opted for the IG-worthy Iced Sweet Potato Latte ($7.70). This drink was topped with a cloud of whipped cream and sweet potato powder. We were particularly intrigued by its ombre palette of purples.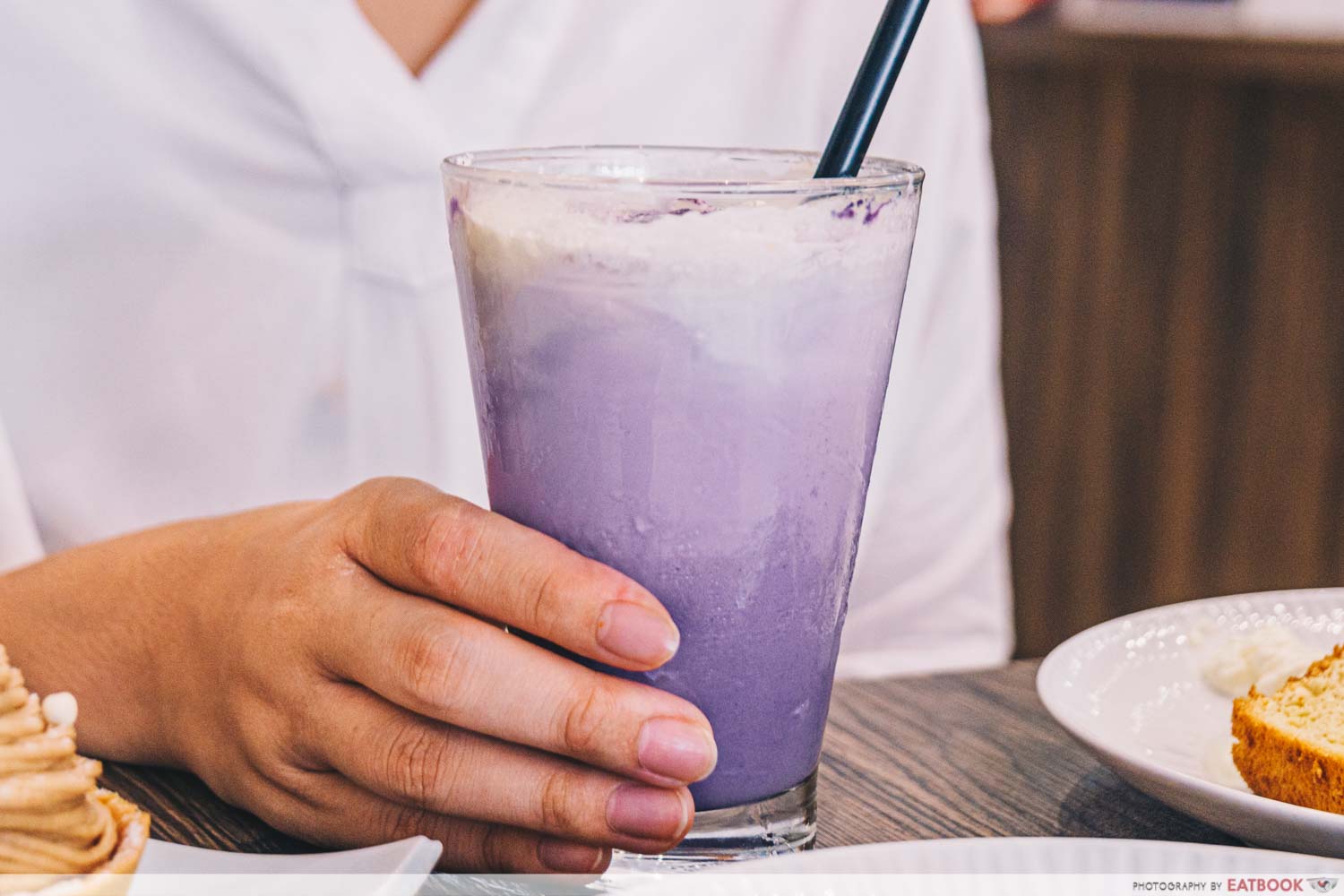 At first sip, I felt confused by the maltiness of the drink, as it reminded me of Horlicks. Slowly, I began to discern the earthy flavours of Japanese sweet potato, elevated by the thick consistency of the latte. While the earthiness of the sweet potato was slightly off-putting, I appreciated how the drink didn't taste overly sweet.
Ambience at Okada Coffee And Sweets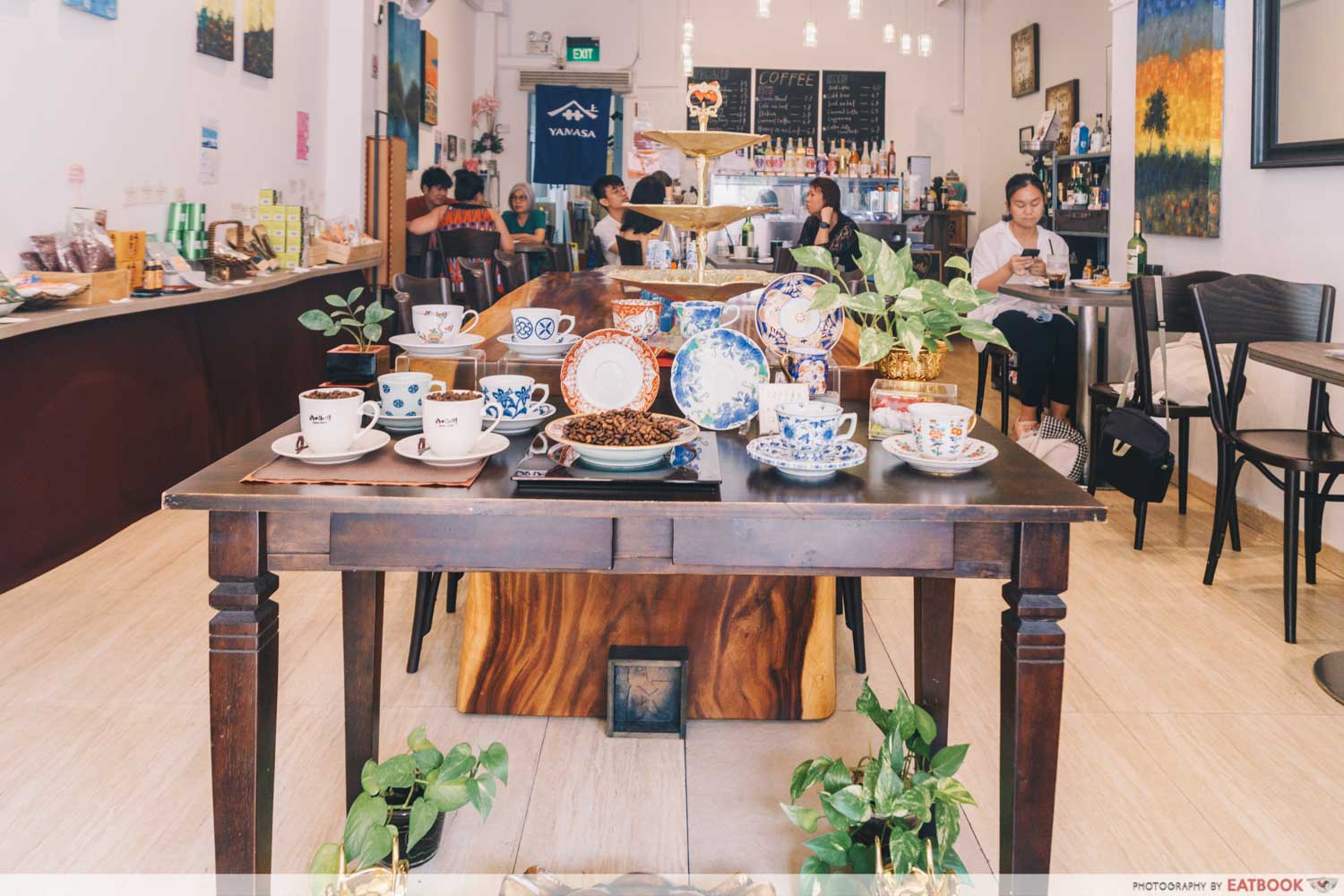 Okada Coffee And Sweets felt very rustic, decorated with Japanese trinkets in its nooks and crannies. Here, there are also Japanese snacks, ingredients, and beverages available for purchase. Meanwhile, Disney instrumentals blasting over the speakers added to the whimsy of the place.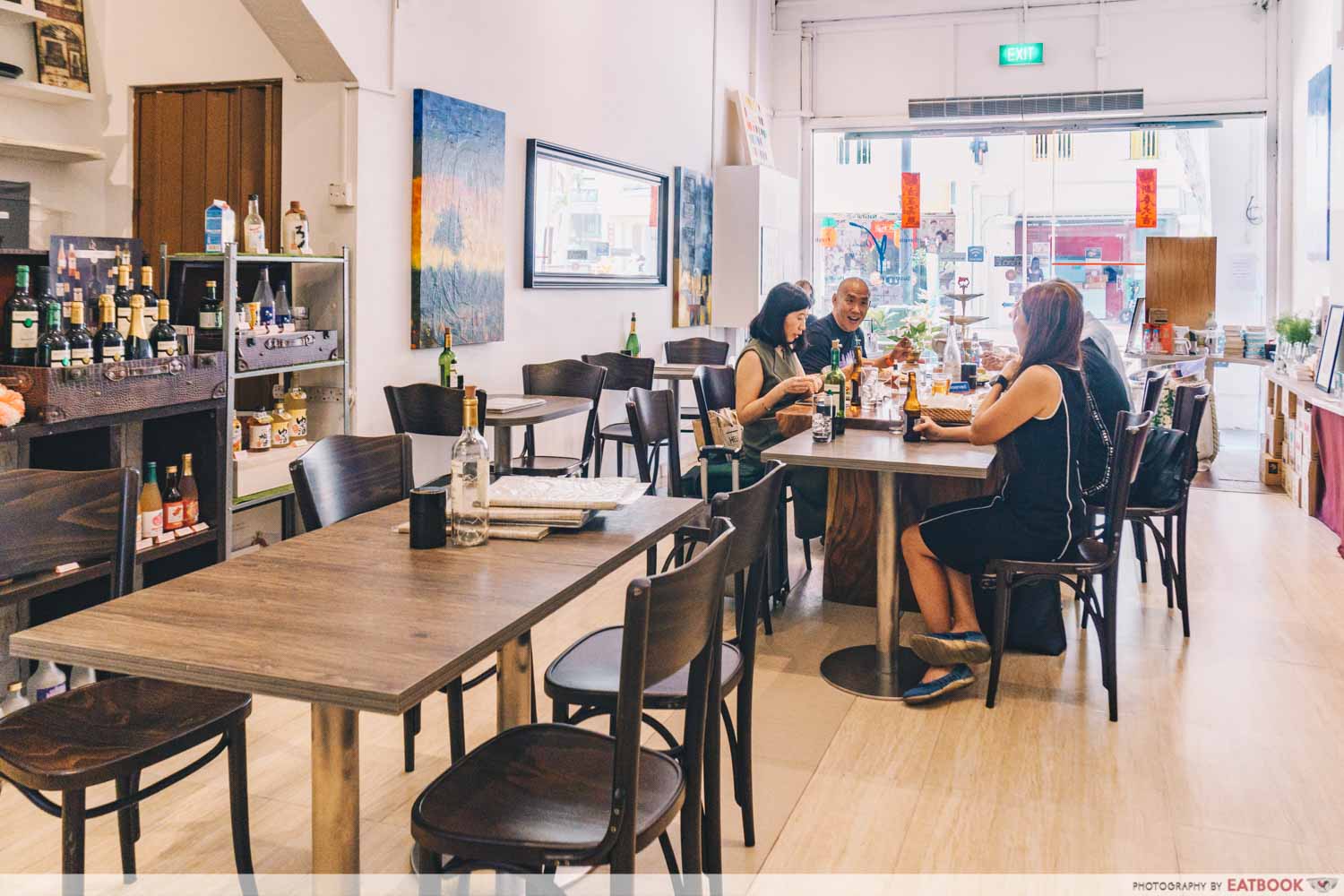 Hidden behind Katong, this cafe isn't very convenient to get to, requiring a 10-minute bus ride from Dakota MRT Station.
12 Katong Cafes For Foie Gras Pasta, Sourdough Waffles And Pancake Stacks
The verdict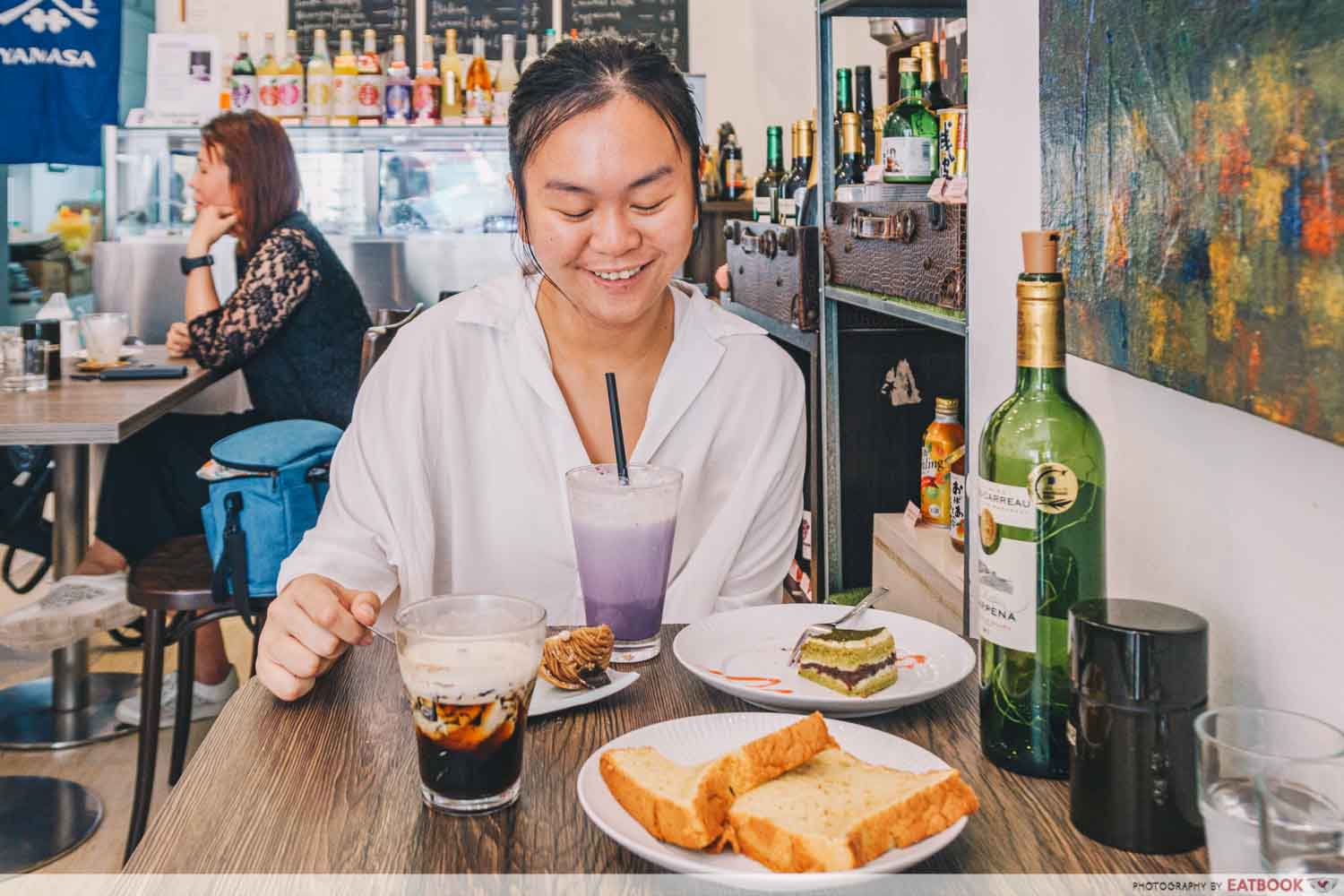 Apart from the coffee jelly, I felt that the desserts at Okada Coffee And Sweets mostly missed their mark, especially in terms of texture. Coupled with its inconvenient location, I don't see myself travelling all the way here for another meal. It still makes for a decent pit stop if you're in the area, and I'm intrigued to try their other coffee-based beverages if I do return.
For more dessert cafes, check out our Roji Monster review for IG-worthy Taiwanese shaved ice, or our Burnt Cones review for waffles and ice-cream, available until late night.
Address: 153 Joo Chiat Road, Singapore 427431
Opening hours: Tues-Fri, Sun 10am to 5pm. Sat 10am to 9pm
Tel: 6282 3725
Website
Okada Coffee And Sweets is not a halal-certified eatery.
Roji Monster Review: Cute Monster Shaved Ice And Ice Cream Waffles In Tanjong Pagar
Photos taken by Syamira Rohaizad.
This is an independent review by Eatbook.sg.
Okada Coffee And Sweets Review: Japanese-Inspired Cafe With Coffee Jelly And Sweet Potato Latte
Summary
Pros
– Coffee jelly had strong coffee aroma
– Matcha cake was well-balanced
Cons
– Pillow cake felt dry
– Tart crust in Mont Blanc was too hard
Recommended dishes: Coffee Jelly With Ice Cream ($5.50), Matcha Red Bean Cake ($6.40)
Opening hours: Tues-Fri, Sun 10am to 5pm. Sat 10am to 9pm
Address: 153 Joo Chiat Road, Singapore 427682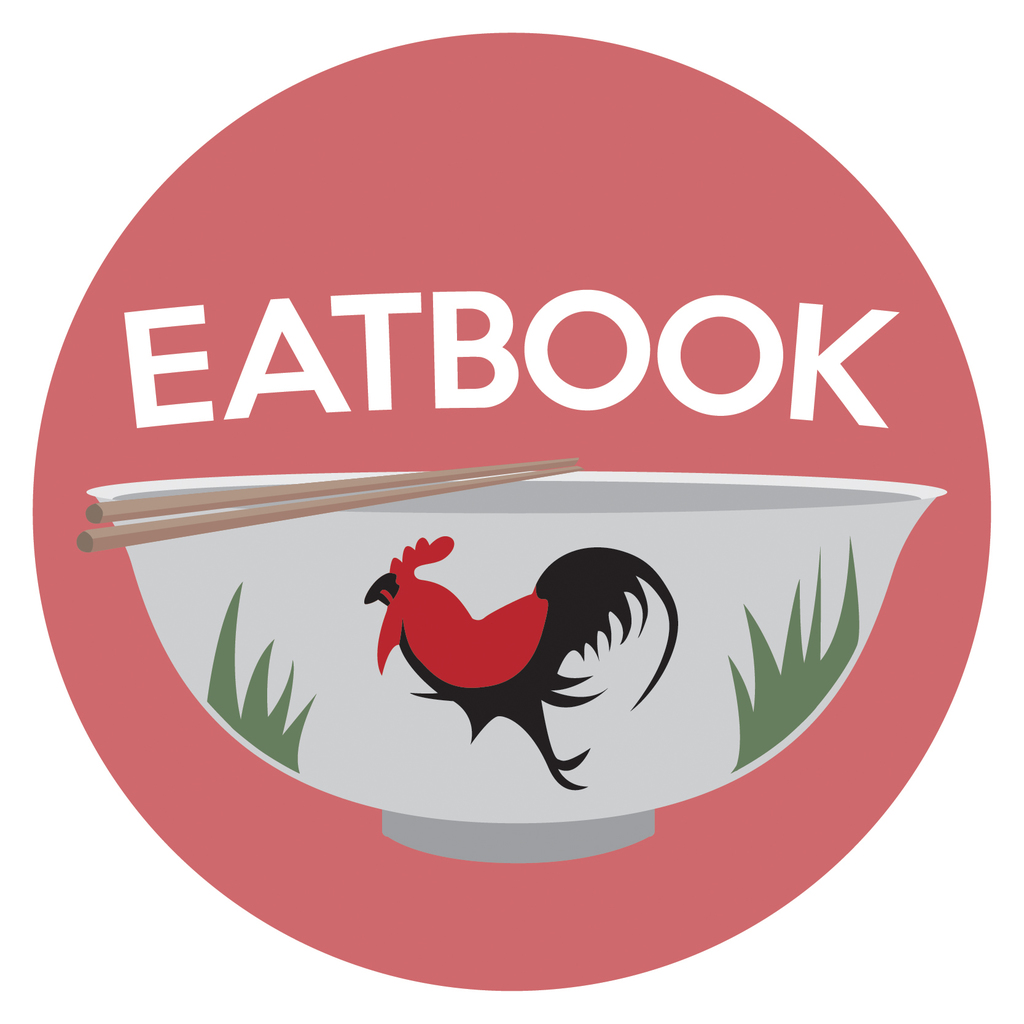 Drop us your email so you won't miss the latest news.