T Bob's Corner is a Muslim-owned cafe with a vintage theme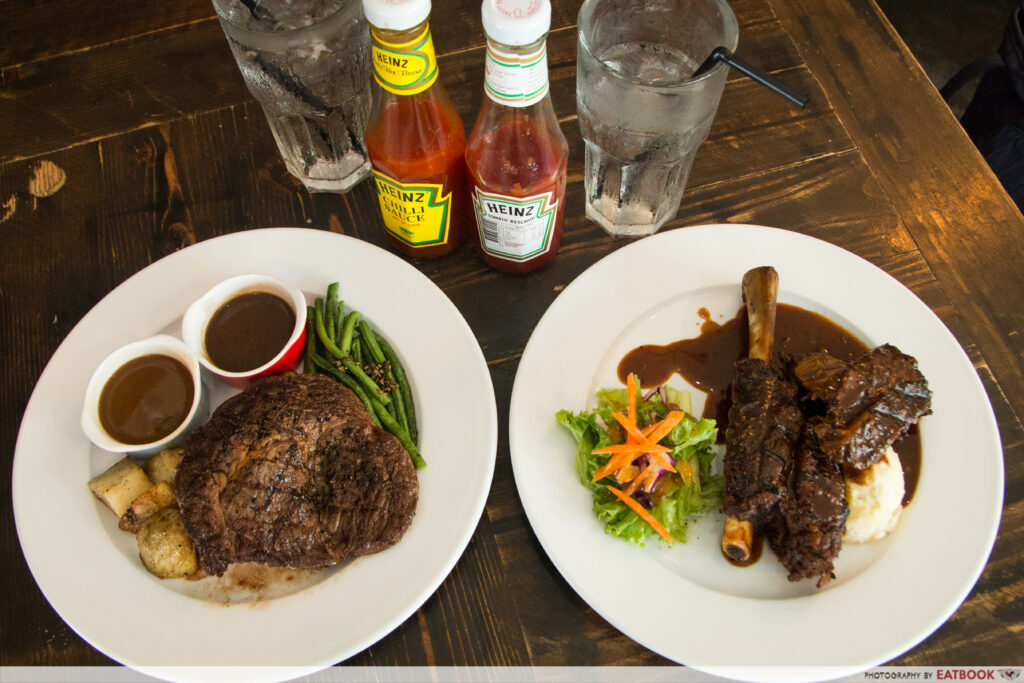 Influenced by most TV shows, I grew up thinking an ideal date would involve dining at a rooftop restaurant where we'd have steaks under the stars, and having dessert later while strolling at a park. Not much has changed my perception but perhaps, the cloudy night skies we so often get in Singapore. Settling down to reality, simply having a good steak would make an absolute game-changer. As I stepped into T Bob's Corner, a Muslim-owned Western cafe, their interior decor had me nodding in favour. If I could paint a picture, this place would be a great Texas-inspired setting where I would enjoy a thick and juicy steak along with a side of tender ribs.
Food at T Bob's Corner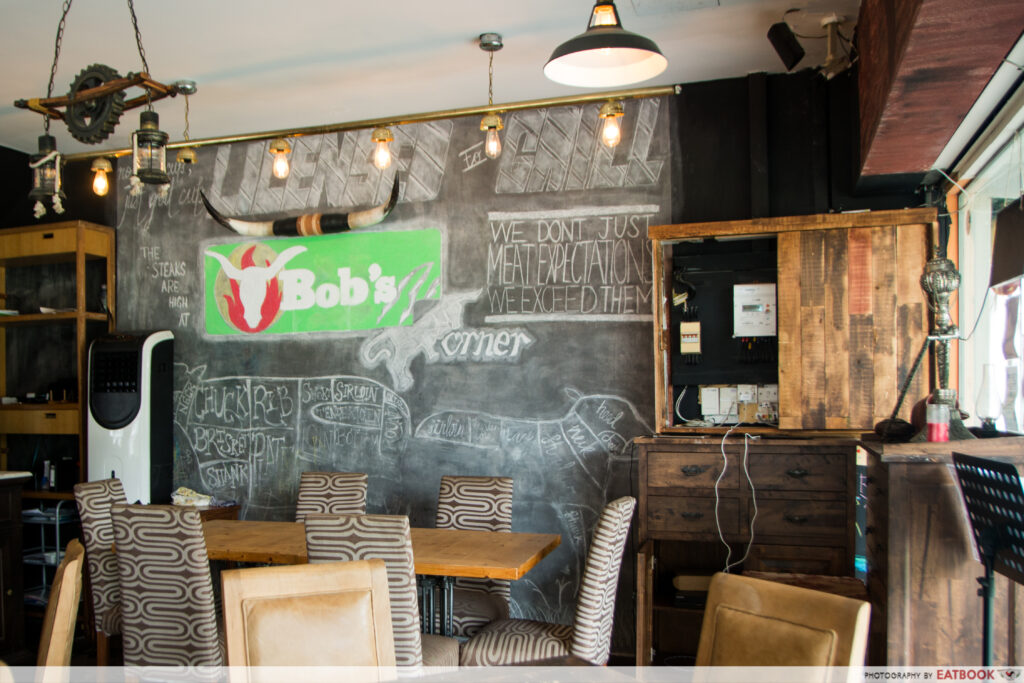 T Bob's Corner, besides being decorated with vintage upcycled furniture, serves a good selection of main courses including pasta, fish, lamb, chicken, and burgers. What's special about this cafe is that they offer different cuts of beef and mutton along with large platters, enough to feed your entire family, rather than just the typical single portions.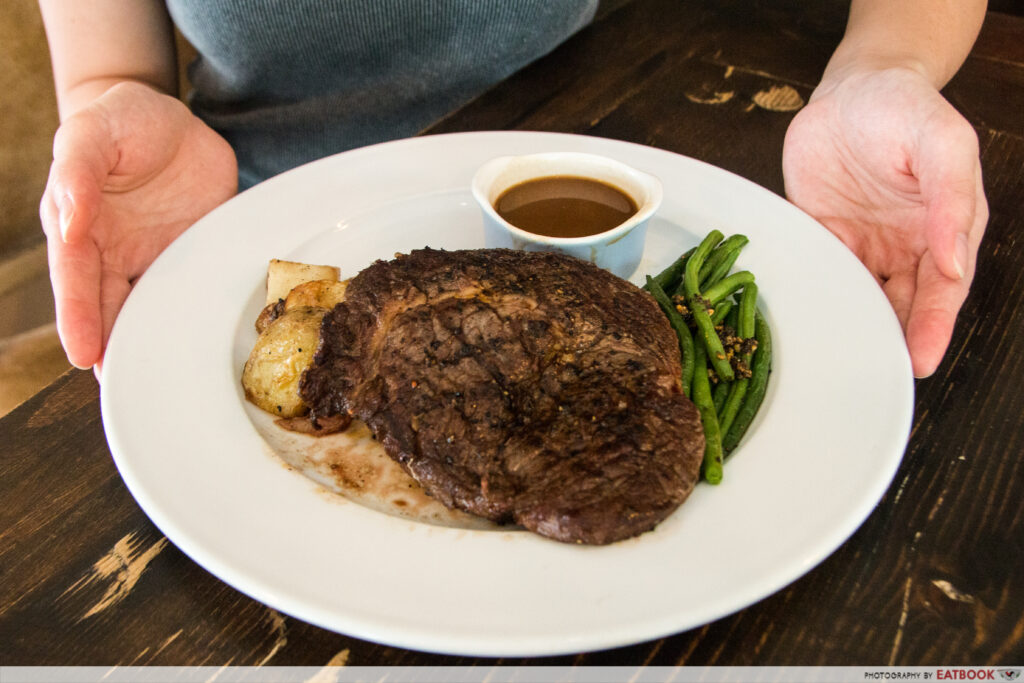 After waiting for a good 20 minutes, we were served with our first dish, the Ribeye Steak ($21.90++). It comes with a side of grilled chopped potatoes and vegetables of the day with your choice of either black pepper sauce or brown gravy. As our fickle minds couldn't decide, we went ahead with both. I was delighted to see such a generous cut of steak and without any hesitation, I dove straight in.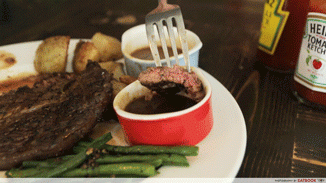 Looking forward to a tender and extra juicy steak, we ordered a medium rare. As I gave it a slice, the slightly red flesh emerged with abundant juices. Unfortunately, I was let down by how chewy and muscular the steak was. It was nothing that I would shout about.
The black pepper gravy was much too strong and peppery for my liking but I was glad the brown gravy won me over. Its sweet, yet savoury taste paired well with the grilled French beans and rescued the potatoes that were slightly overcooked and soft.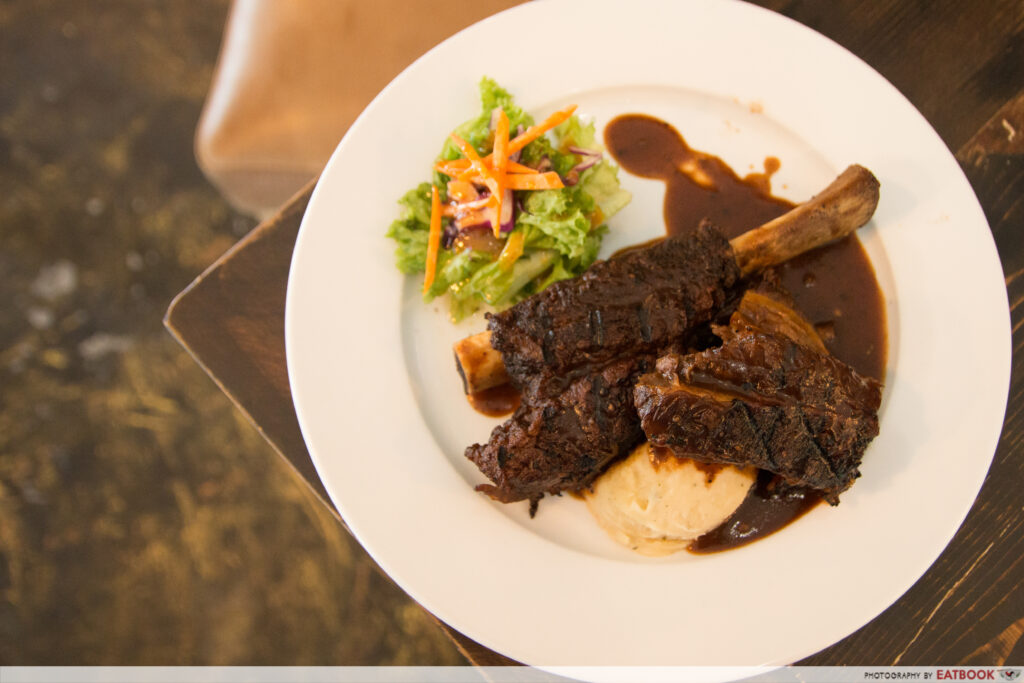 On to the next dish, the BBQ Beef Ribs ($30.90++). Short ribs tend to lean towards the pricier side as they are cooked for a relatively long period of time over low heat to prevent toughness. Since I'm a big fan of ribs, this hard-to-find cut and the fact that it is their specialty increased my expectations.
As I took a spoonful of the fluffy mashed potato and BBQ sauce, I was surprised by how, on its own, the mashed potato was sweet. The thick BBQ sauce complemented this dish well, giving off a sweet, yet smokey flavour.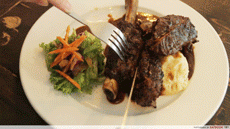 True to form, the ribs were tender. My knife slid right through the meat and I could pull it clean from the bone with my bare hands. Although the texture was promising, the meat lacked a little in seasoning. Since most of the savoury flavour came from the BBQ sauce, I wasn't entirely disappointed as I would prefer this to a MSG-saturated slab of meat. With that being said, the dish was much more enjoyable than the steak.
Ambience at T Bob's Corner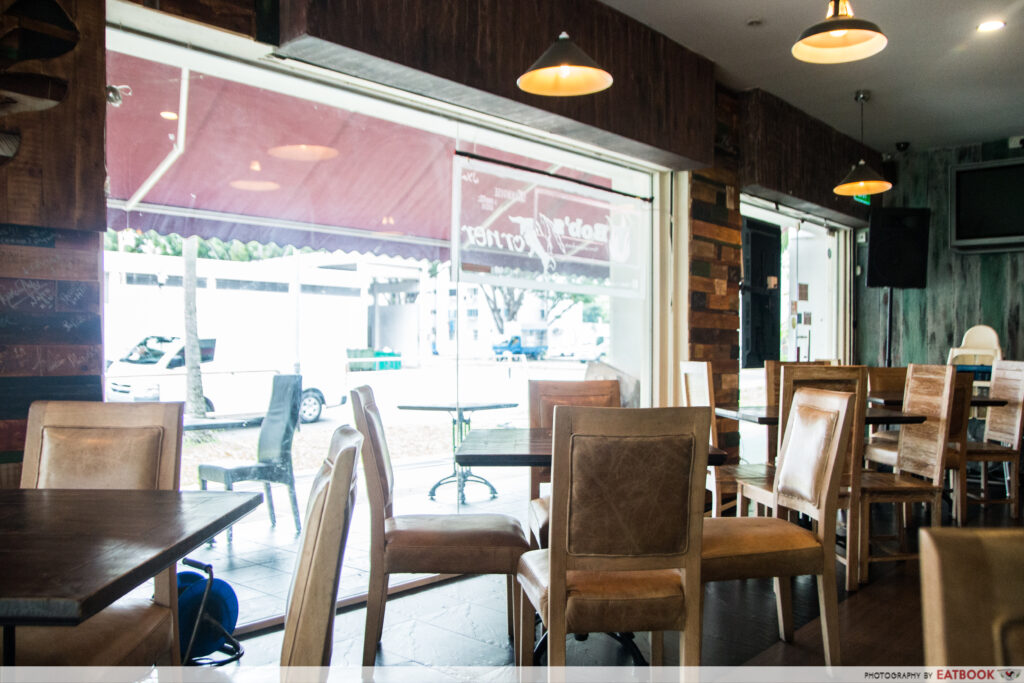 Found along a quiet road in Bedok North, T Bob's Corner, with its wooden walls and yellow hues giving off a vintage vibe, will definitely be hard to miss. However, I was disappointed that such a cosy atmosphere and steep price range came with unhelpful staff.
During an unfortunate encounter, I couldn't chew the steak well and had a piece stuck in my throat. Gagging at a cafe is unpleasant enough, but having looks from the staff was embarrassing. Needless to say, they acknowledged the incident with nothing more than stares. While we were not expecting five-star hospitality, it would have been nice if they offered some serviettes or warm water.
The verdict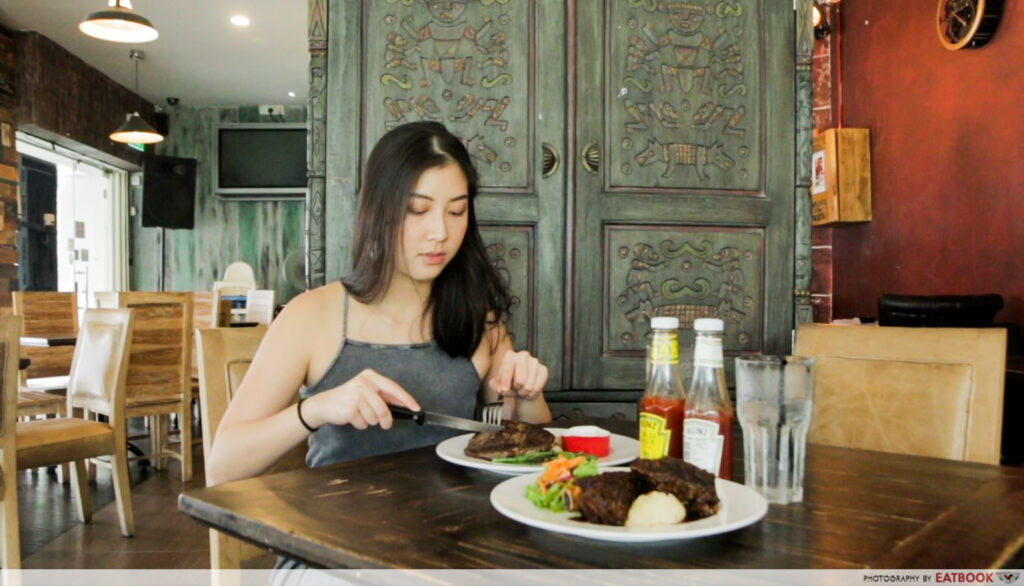 If you're a sucker for a cosy and rustic ambience, feel free to give this place a shot. However, you might want to order their other mains or sharing platters instead. Weighing out the quality of the food we tried, the inconvenient location, the price and unfriendly service, I would pass but some may beg to differ. For more Western grub at Bedok, check out The Pasta Boutique. If steak is what you're going for, this list of steak buffets can help.
Address: 527 Bedok North Street 3, #01-514, Singapore 460527
Opening hours: Sun-Thur 12pm to 10pm, Fri 3pm to 11pm, Sat 12pm to 11pm
Tel: 6449 8527
Website
T Bob's Corner is a Muslim-owned restaurant.
This is an independent review by Eatbook.sg
Summary
Pros
– Cosy and comfortable ambience
– Wide range of beef and mutton dishes
Cons
– Tap water is not complimentary
– Inconvenient location
– Steak and ribs were average
– Unfriendly staff
Operating Hours:
Sun-Thur 12pm to 10pm, Fri 3pm to 11pm, Sat 12pm to 11pm
Address: 527 Bedok North Street 3, #01-514, Singapore 460527