Bubble tea and mala flavoured Tao Kae Noi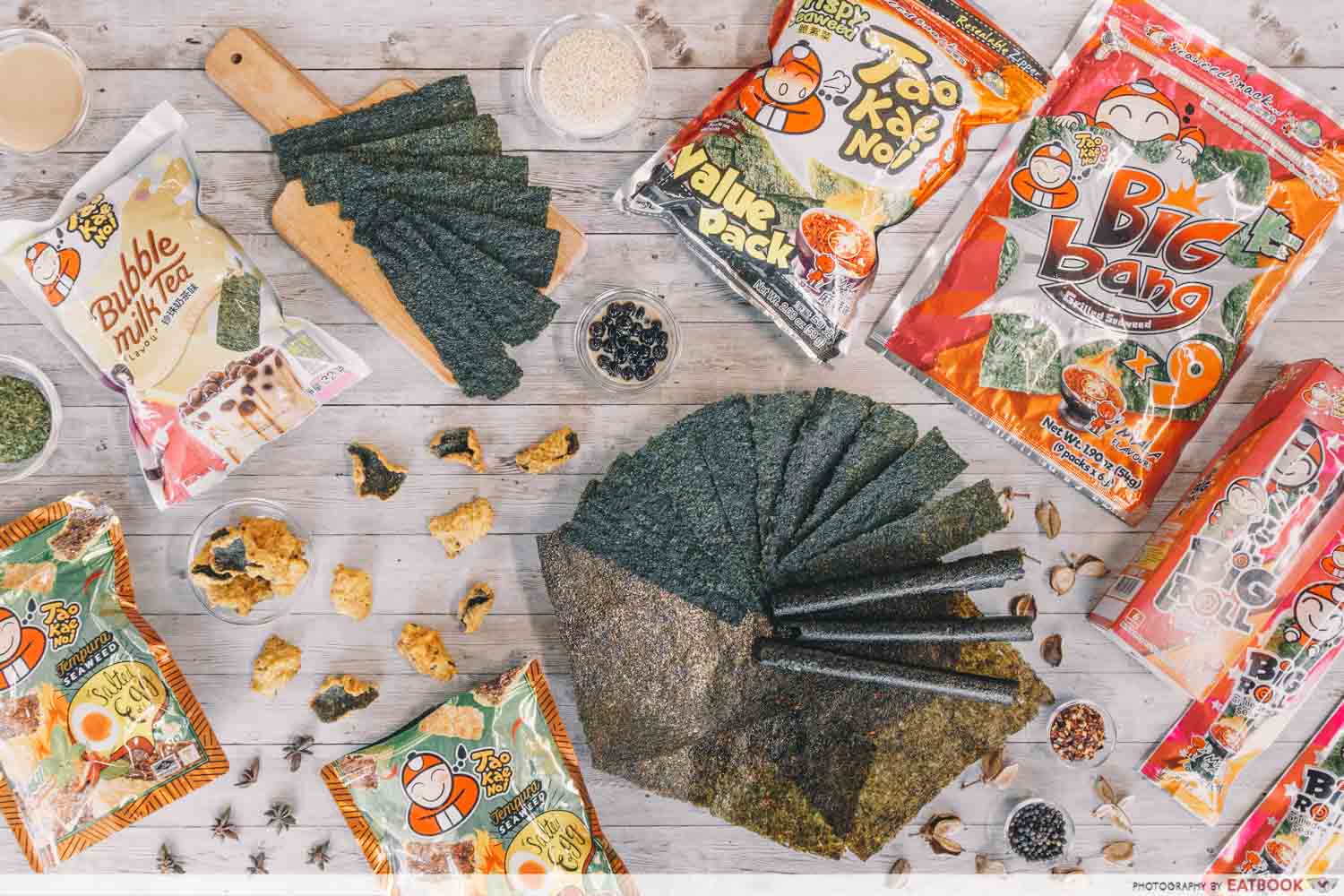 Tao Kae Noi's seaweed snacks are one of the go-to souvenirs Singaporeans buy during a trip to The Land of Smiles. Pretty soon, it'll be our Tao Kae Noi snacks which will be stuffed into the backpacks of tourists. Taking inspo from the two dishes that defined the 2010s, the brand has launched mala and bubble tea flavoured seaweed on our shores ahead of the rest of the world.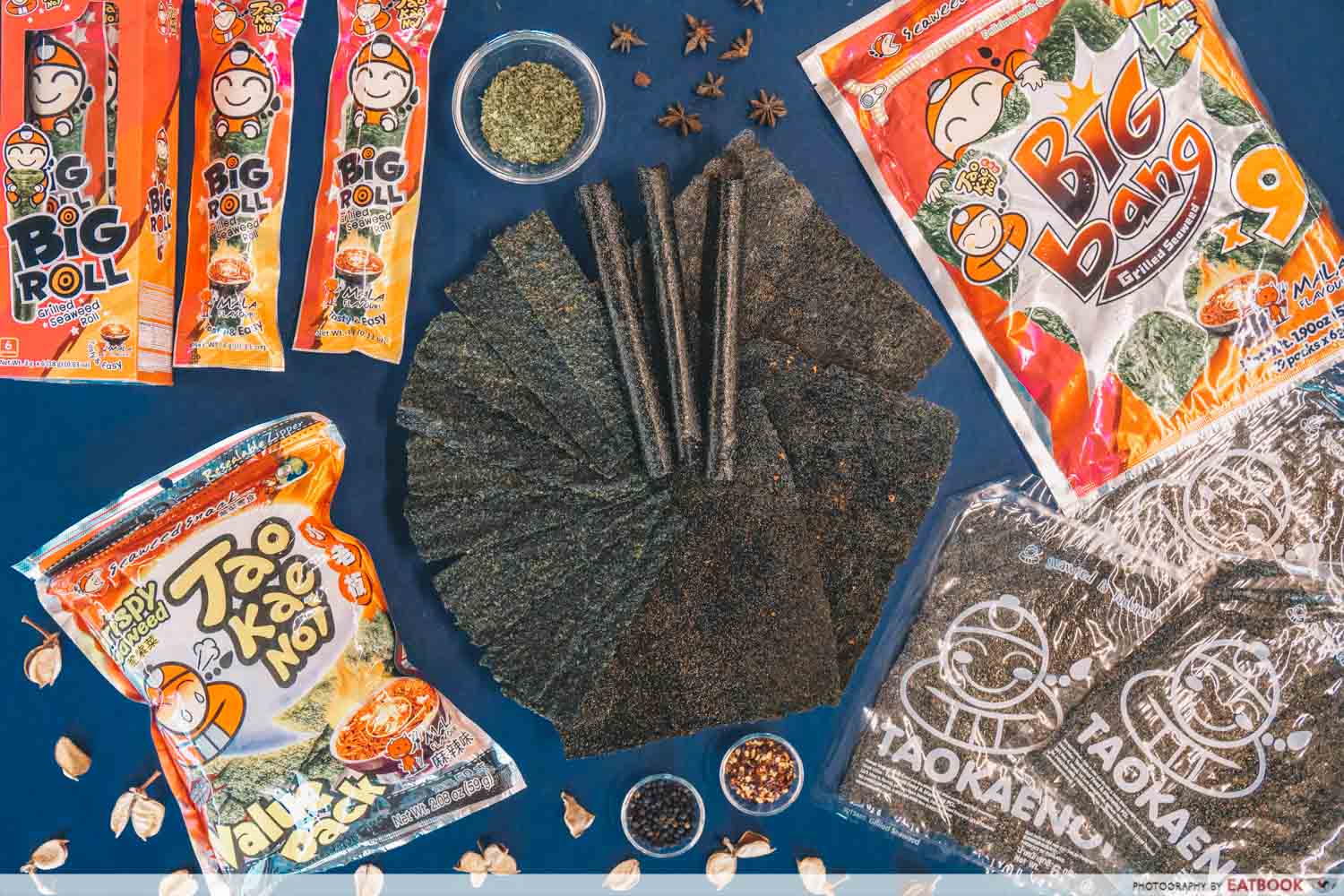 The mala snacks come in three variations, depending on how you enjoy your seaweed.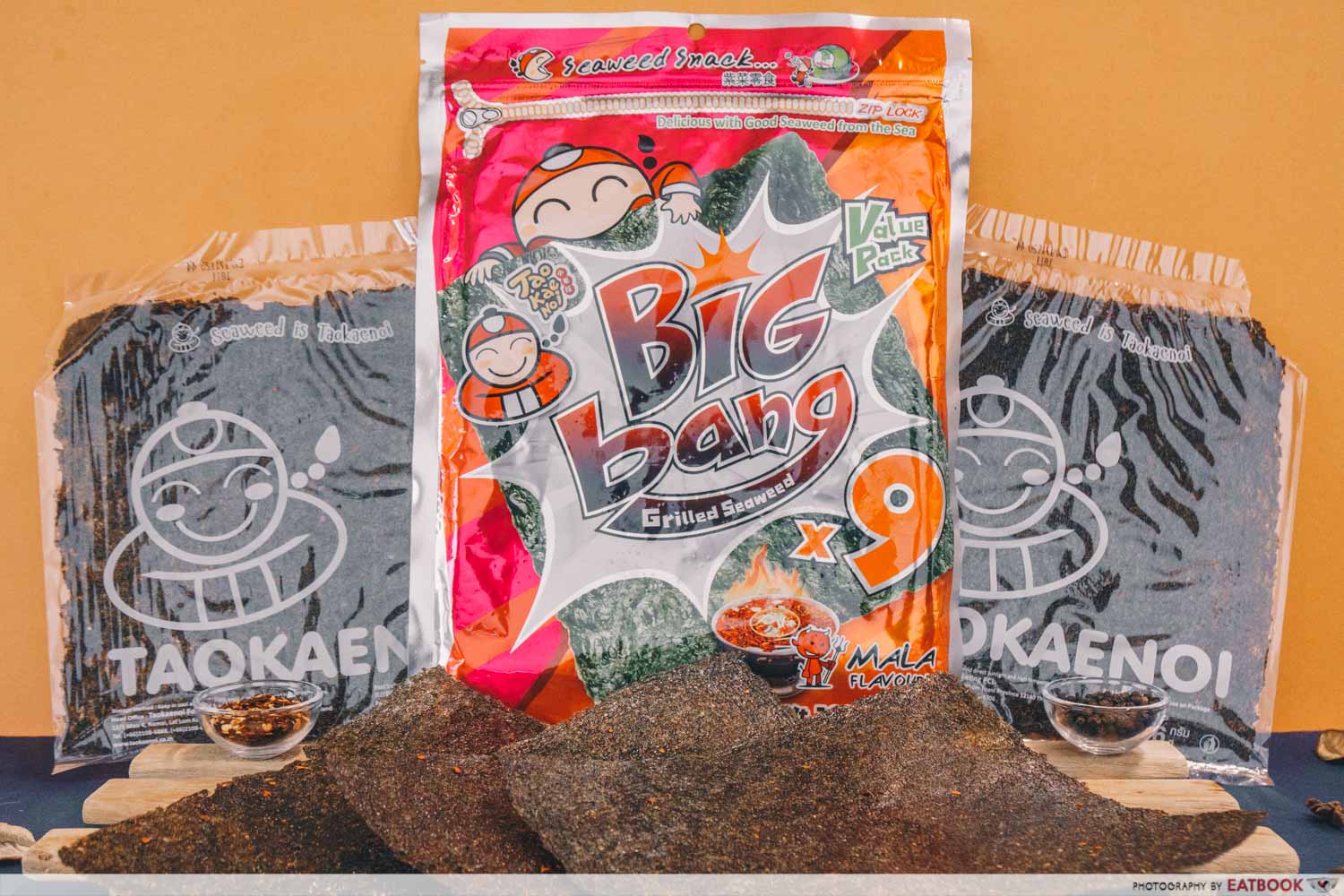 Unzip the Big Bang Mala ($3.25) and you'll find nine jumbo seaweed sheets. While they may look like the usual flavours that line office pantries, one peppercorn-laden whiff is all it takes to know this is mala through and through. The large sheets are grilled beforehand, allowing them to be fat- and cholesterol-free. Those looking to add a dash of spiciness to their meal can even cut the sheets up and use 'em as a garnish.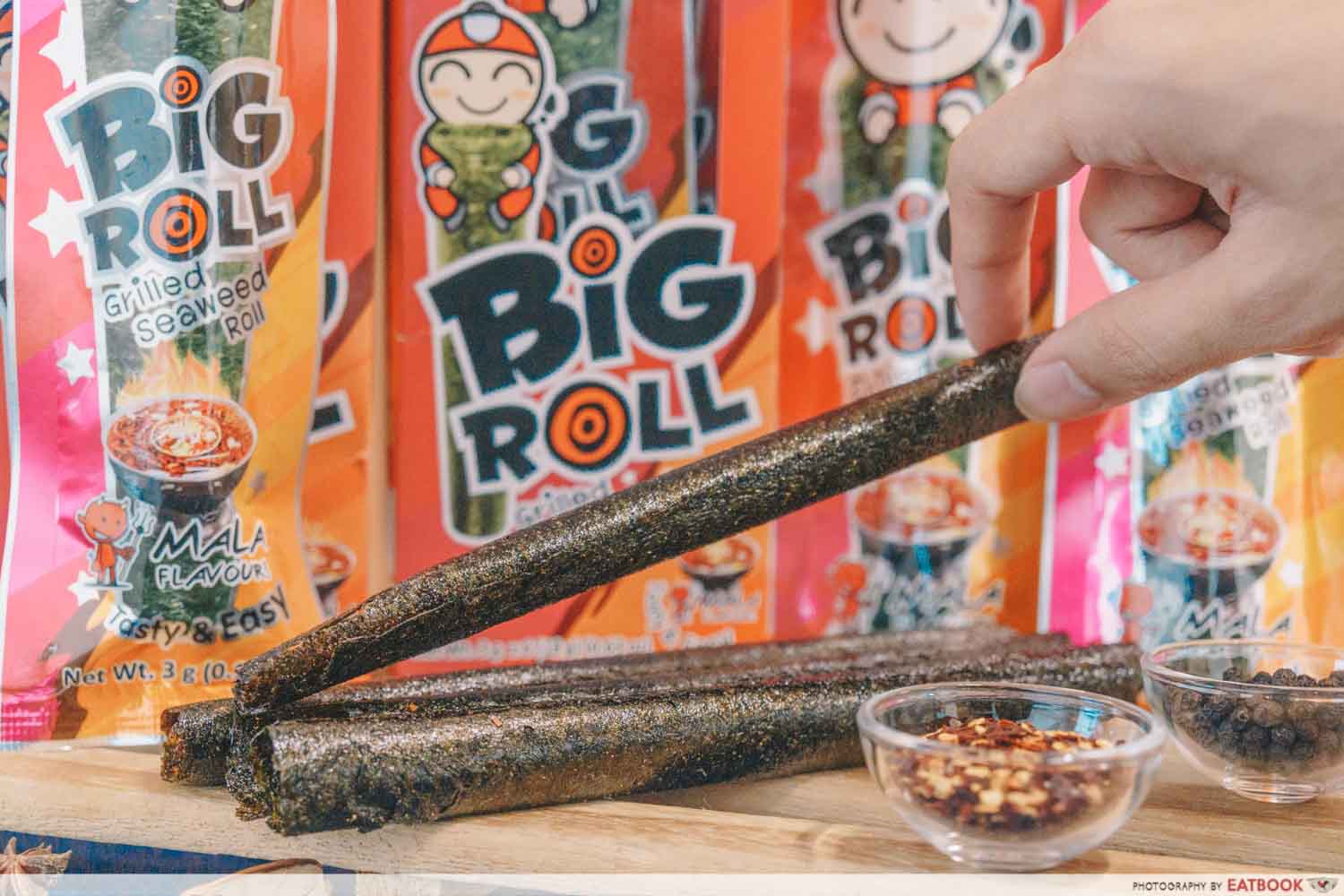 Unlike the other two mala snacks, the Big Roll Mala ($2.30) packs the most crunch. The snack is laden with piquant flavours along with treacly undertones, giving you a good mix of sweetness and spiciness. Each box comes with six rolls, so if you're feeling generous, share 'em with your favourite colleagues.
Brimming with crunchy strips, the Crispy Seaweed Mala Value Pack ($3.85) has the strongest punch of mala goodness. Thankfully, like all the previous snacks, it comes with a resealable zipper so you can ration 'em out throughout the day. If you have a small appetite, you can opt for the 32g pack at $2.70!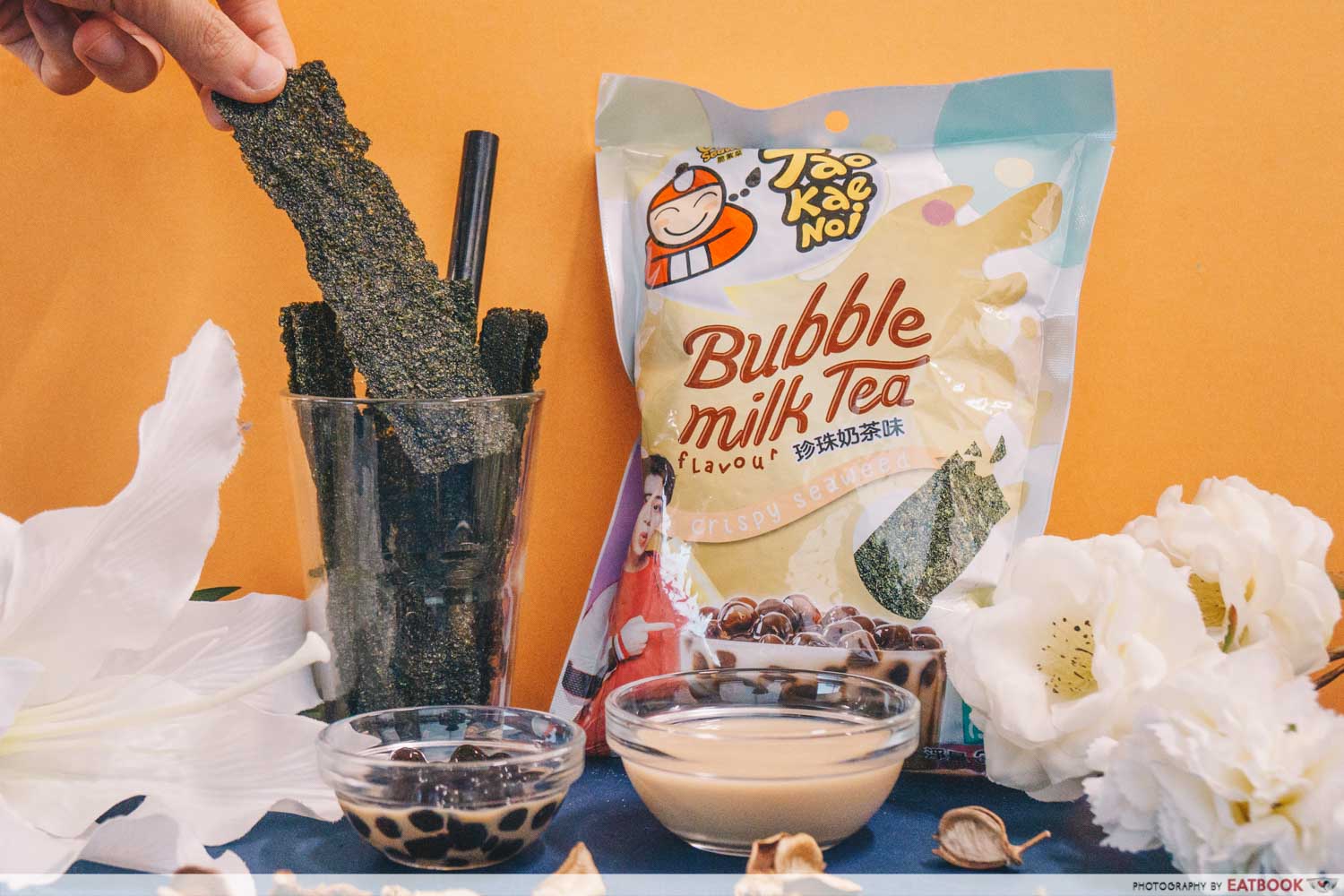 2019 has seen a wave of bubble tea-infused snacks, and joining them is the Crispy Seaweed Bubble Milk Tea ($2.70). The snack itself isn't too sweet and you can taste hints of milkiness with every crunch. Be sure to lick up all that milk tea seasoning for legit BBT flavours.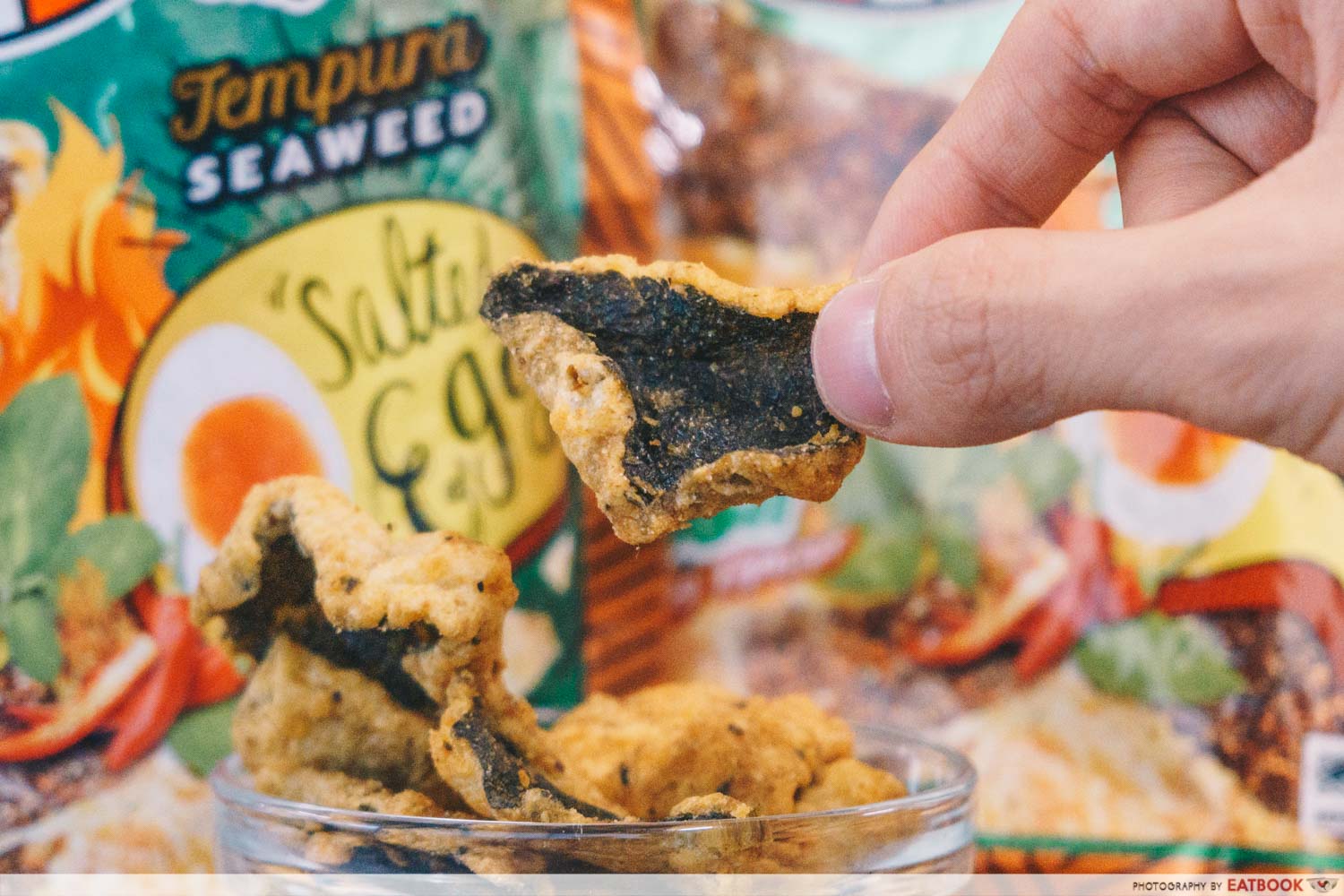 The Salted Egg Basil Tempura Seaweed ($3.20) is a step up from the original Salted Egg Tempura Seaweed, in that it has a mellow sweetness from basil to accompany the robust SEY flavour. Those who can't tolerate spicy food would wanna ease up on this snack as it has a fiery aftertaste.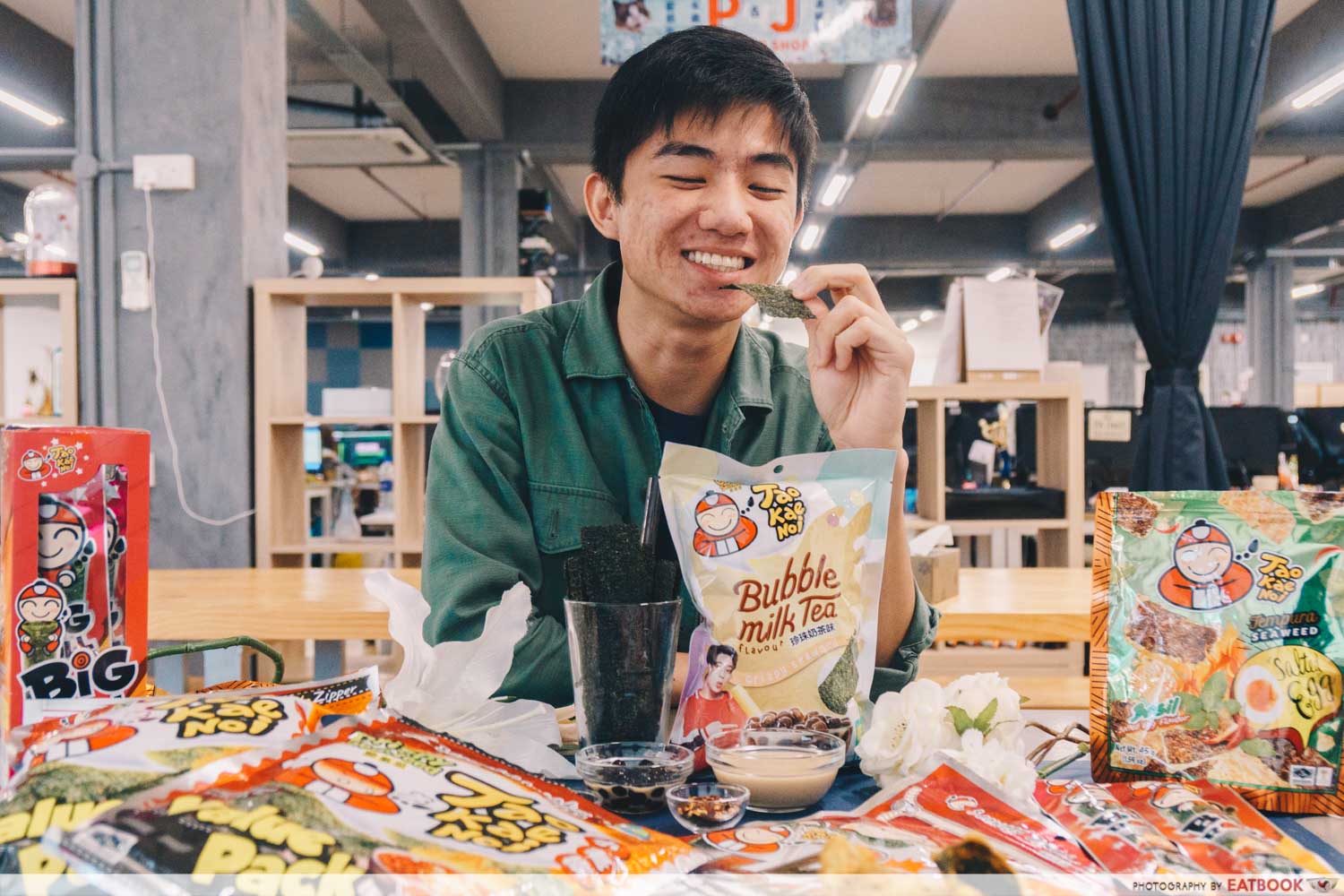 All these snacks can be found on RedMart, Qoo10, Shopee, TaoKaeNoi Land, and most major supermarkets in Singapore. For a greater reason to splash the cash, there'll also be a contest from now till 9 February 2020 where you can win 10 times cashback on your purchases—up to $1,000. 
This means that if you win by purchasing one box of Big Roll Mala, you'll get $23—that's a profit of $22.70! Since buying more lets you win more, be sure to compile as many orders as you can with your homies as you can walk away with $1,000!
To get in on this, all you gotta do is:
Purchase any Tao Kae Noi product from the retailers listed on their

Facebook post

, with no minimum spend.

On the

same day of purchase*, submit your entry via SMS to 76677 in the format:
TKN <Space> Receipt No. <Space> Amount Spent <Space> Retailer


Winners will be announced on

Tao Kae Noi Club's Facebook page

.
*Cut-off time is at 11:59PM on the same day of purchase.
Photos taken by John Lery Villanueva.
This post is brought to you by San SeSan Global.